Saying Goodbye to my Passport, and Nearly a Decade of Travel
It was three days prior to my flight to Chennai, India at the beginning of 2020 that I realized – oh crap – I only have three pages left in my passport! In the midst of desperately searching for page requirements for Indian and Sri Lankan visas, there was a small seed of satisfaction in me: I would actually fill up a passport with stamps.
It turned out the India visa required two pages, and the Sri Lanka visa required one page, but I also had a layover in London… unable to get a last minute spot to get an emergency new passport, I flew off to Asia with raging anxiety and a passport filled with paperclips and sticky notes instructing immigration where exactly to apply their stamps. Despite a few confused looks, it somehow worked.
NOTE | This is a pretty long blog post. If you're in for the long haul, grab a cup of tea or coffee and sit down to enjoy.
After that whirlwind trip, I swore I would renew my passport – which doesn't actually expire until early 2022. However, a global pandemic came into play and with the necessary lack of international travel, somehow sending off my passport (which due to a mishap in London still miraculously had one empty page left) into the ever-growing abyss of US government backlog was not enticing. After all, my boyfriend of seven years lives in the UK, and with closed US borders that single page was a tenuous thread to our only ongoing chance of reunion.
Now well into 2021, I realized that I was within six months of my passport expiring. Most countries don't allow entry within the last six months of passport validity, meaning I was basically left with a pretty yet useless book of stamps.
So, last week I did the customary photoshoot at the FedEx office, and sent off my precious passport for renewal. The next day, the New York Times published an article titled "Do you Need Your Passport Renewed? Good Luck" about the black hole masquerading as bureaucracy that is currently US passport renewals. I'm biting my nails, as I approach one year without international travel, without seeing my boyfriend, and a long-dreamed-of potential reunion in September (if I can get my paws on that new passport).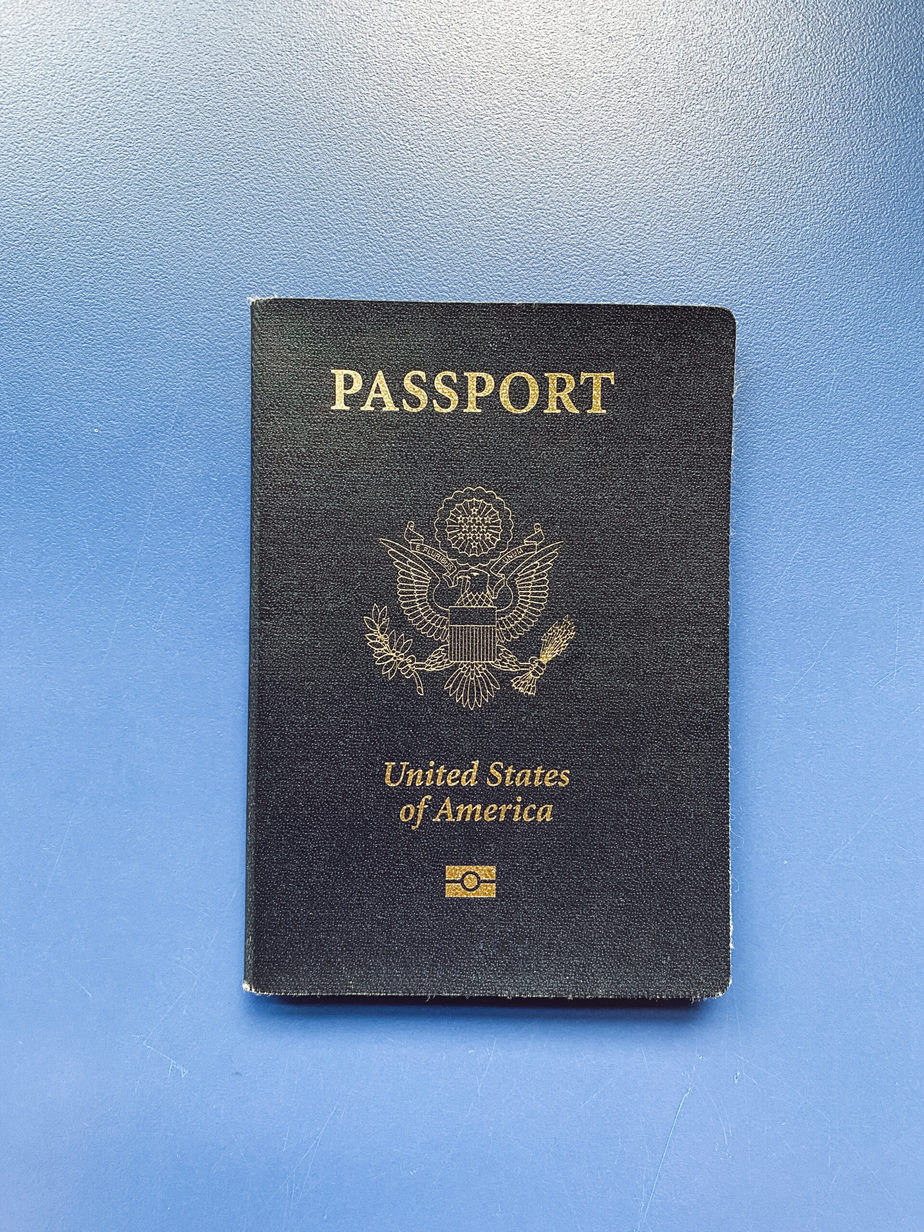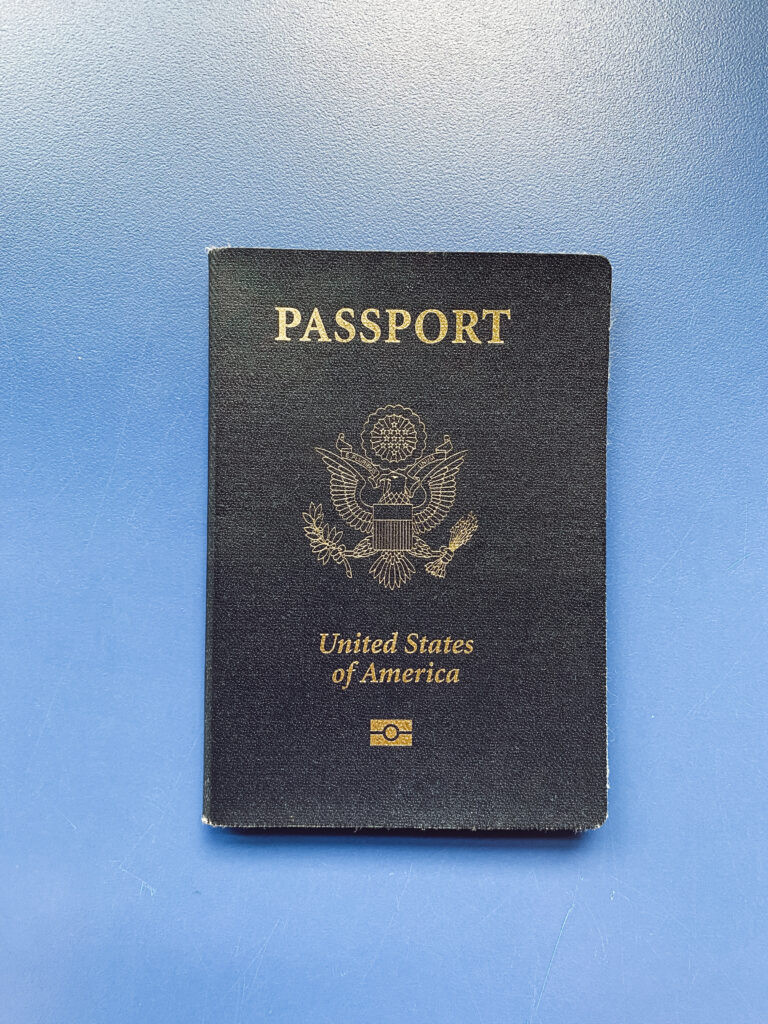 An Indulgent Look Back on a Stamp-Filled Passport
I posted about my passport renewal on my Instagram last week, and was surprised at the number of people who messaged me saying they'd be interested in a blog post recapping the stamps in my filled passport. It seems a little self indulgent to me, but honestly sometimes I yearn for my original days of blogging, where I'd word vomit my emotions of moving to the UK, moving away from the UK, losing my wallet in Prague, getting stranded in a town that Wikipedia argues doesn't exist in Germany, and more.
This is possibly THE most nostalgic blog post of all time, so I'll try not to go off on too many tangents (keyword try, not promise).
1 Passport, 10 Years of Travel
I last sent off my passport for renewal in 2011. It was the very end of my first semester in college, and I remember my parents nagging gently reminding me that I would need a new passport if I wanted to study abroad my junior year. Never mind that this was over a year prior to when I'd even need to decide where and if I'd study abroad. (If you can't tell, my parents are way better at advance planning than me).
I was actually quite sick at the time, as yet undiagnosed with celiac disease (that would come six months later), on a serious new medication that had my face somehow puffy and flaky simultaneously, and at a near-clinical level of sleep deprivation due to the glamorous first-semester-of-freshman-year lifestyle.
I remember putting on a baby pink shirt and marching down to my tiny college town's only post office, where they snapped a passport photo and immediately asked "um, do you want us to retake that?" My (ill-advised, cut in my dorm room) bangs were sticking up, and I most definitely had a double chin. But I was late for class. So I said "no, it's fine" and mailed off my photo and paperwork as quickly as I could.
Whoops. That hideous photo is the first page of my passport, the same passport that followed me through a life-changing study abroad experience, a second visa and move to England, over 30 countries across four continents, and close to a decade of travel. Regularly, immigration officials do a double take, and about 50% of the time they comment on how bad this photo is or how different I look now. (The new electronic face scanners at Heathrow actually don't recognize my face, and this always turns into an at least 30 minute debacle as I argue with the officials that no, no matter how many times I grimace and tuck in my chin and curl my upper lip at the camera, it is not going to recognize me).
I'll spare you, and my dignity, and not share that photo here.
Other than that constant reminder of one of the most awkward and sickly phases of my life, the passport is full of good memories – although some, like my UK visas, are also burdened with a sense of reminiscence and longing. I'll take you through page-by-page, and link to my travel blog posts from each country if you're looking for some more wanderlust.
Pages 8 + 9: UK, Spain, France, Italy, USA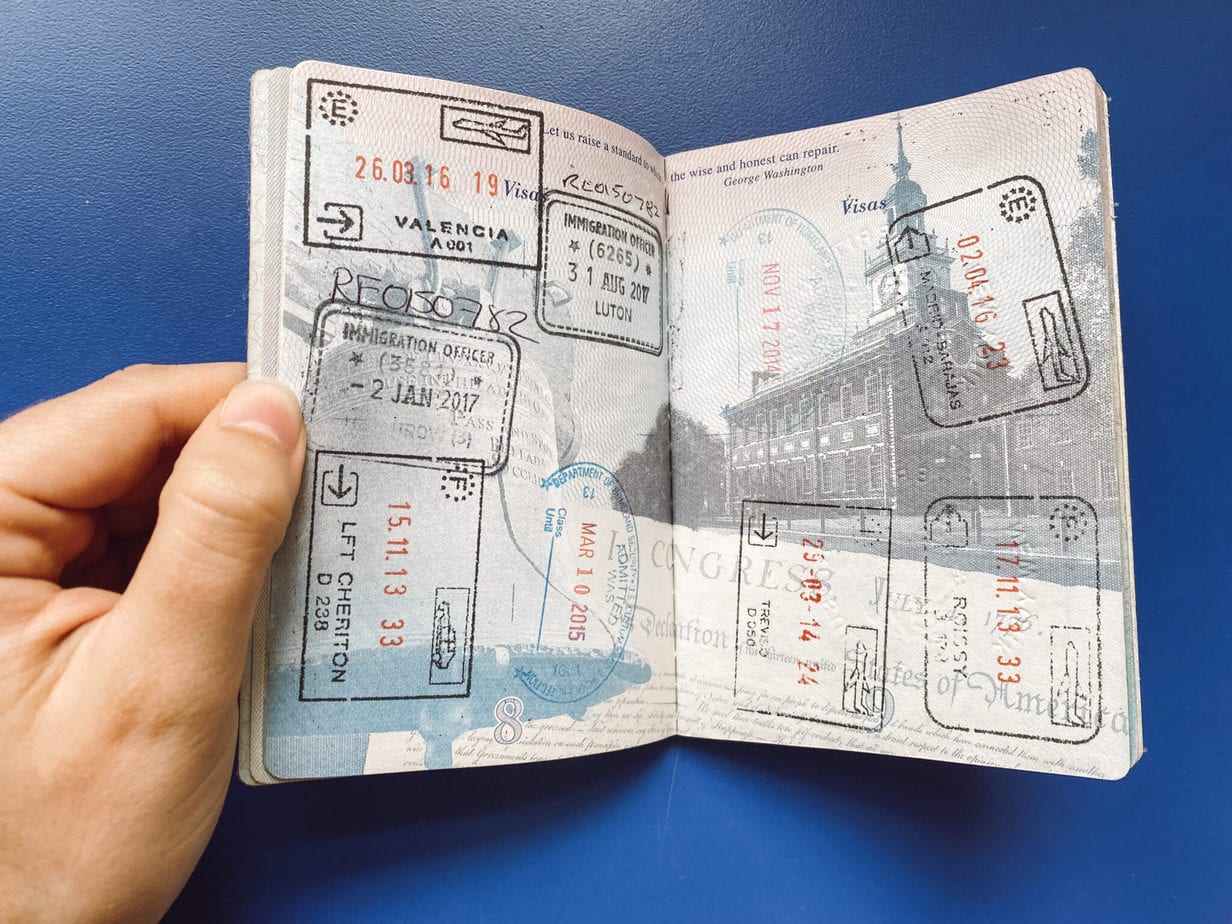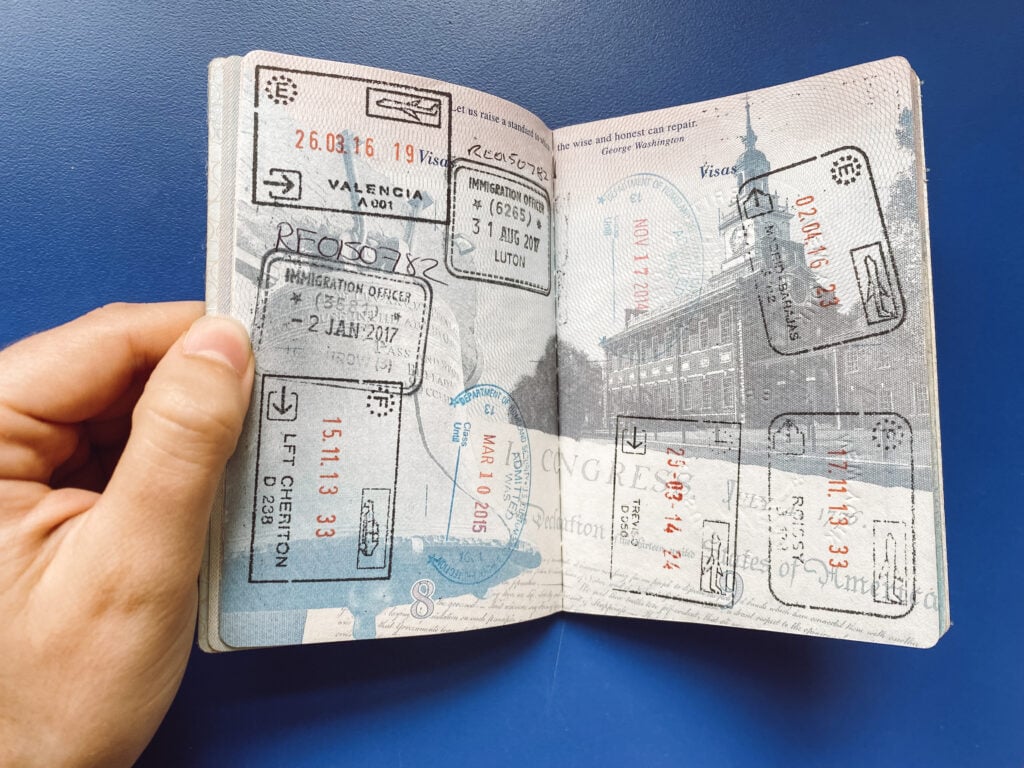 The first two pages of my passport are a mish-mash of stamps that are, in a way, representative of the hectic travel that made up a portion of my last decade.
Paris, France, in the bottom left, was a weekend getaway in 2013 with my American friends during my study abroad year in Exeter, England. It was November, absolutely freezing and I'd only packed one flimsy yellow raincoat. It was our first poorly-planned yet somehow perfect getaway of many that year. It was also a trip that solidified some friendships after I'd felt like I was floundering during those first few months of study abroad. I remember the Eiffel tower, huddling by an outdoor heat lamp to keep warm, some guy at a bar who told me I looked like Lara Croft, and texting Dan, who I'd met a few weeks prior at our university in England, from an old Nokia phone. (Also, we almost missed the flight back to London).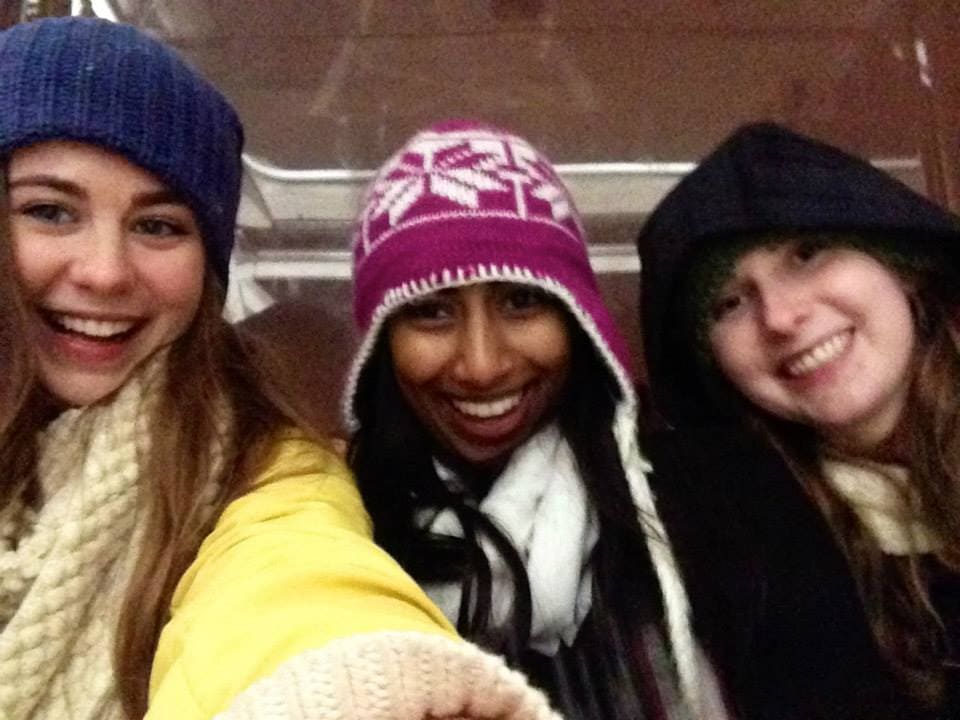 Treviso, Italy, in 2014 was part of the spring break "Eurotrip" that I embarked on with my American classmates during study abroad. Two friends, Jenna and Rekha, and I spent a few days in Venice before traveling down to Siena where we stayed in an organic vineyard and luxury homestay where we had five-course family-style dinners nightly. (I loved Agriturismo Marciano and took my parents there a few years later, and long to return again – for some reason, there's no stamp from that trip). After that, we met up with other friends in Athens and the Greek Islands (again, oddly no stamps). At the same time, I remember feeling sad and torn, because our magical study abroad year was ending and I missed Dan, and had no clue if I could handle, or even wanted, to start an international long distance relationship.
Related…
My Greatest Adventure: Studying Abroad for a Year in England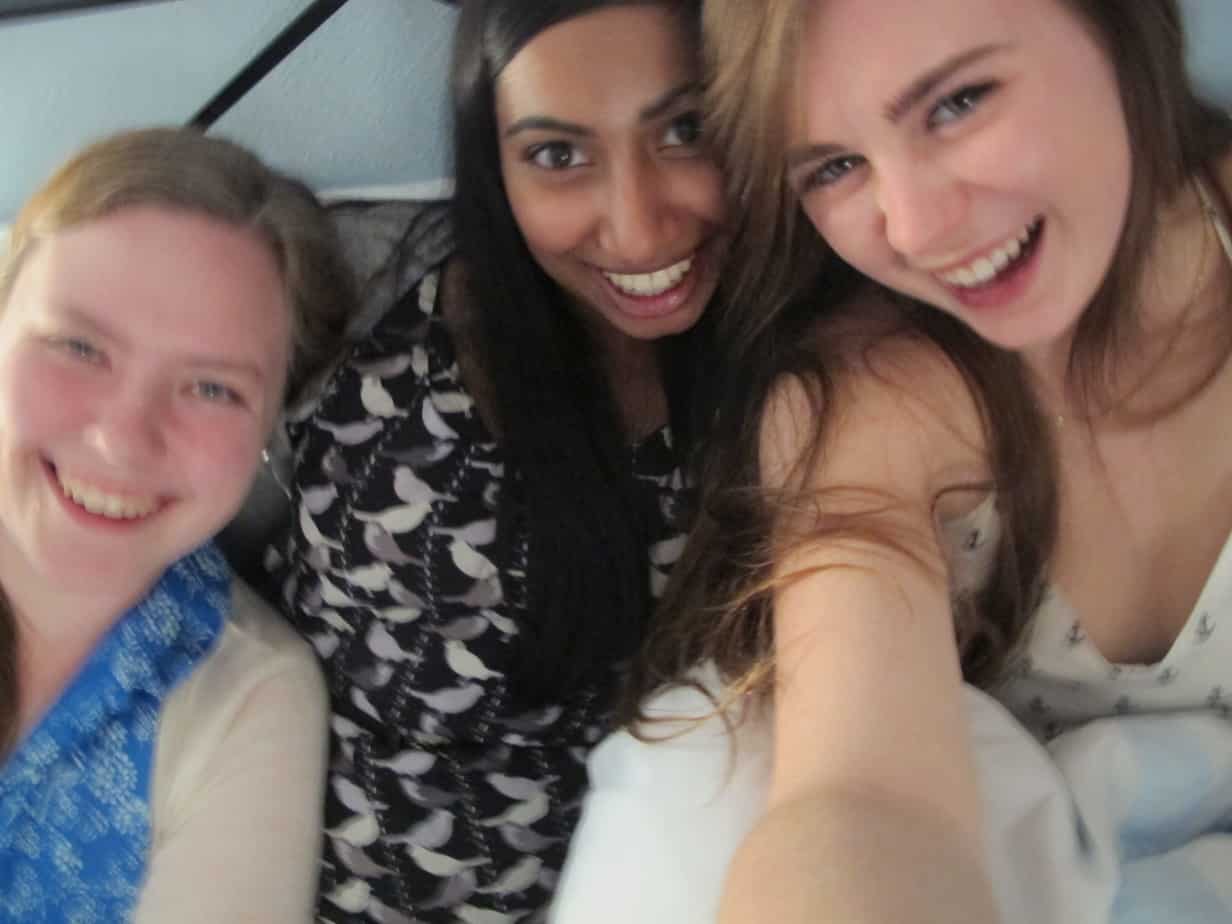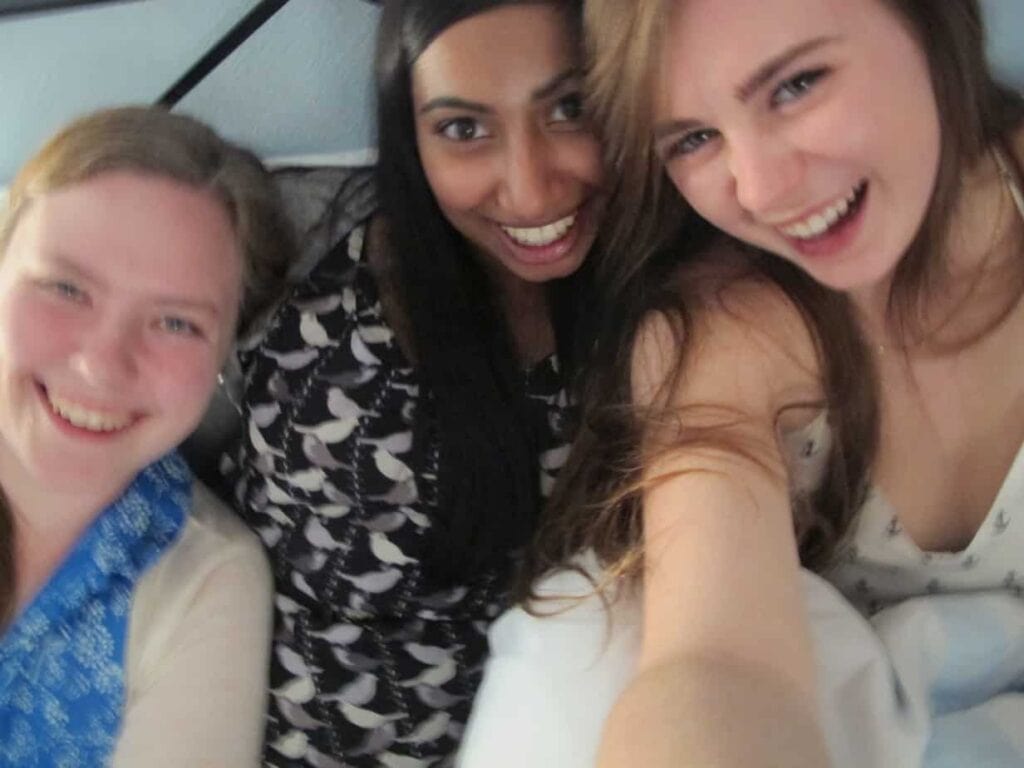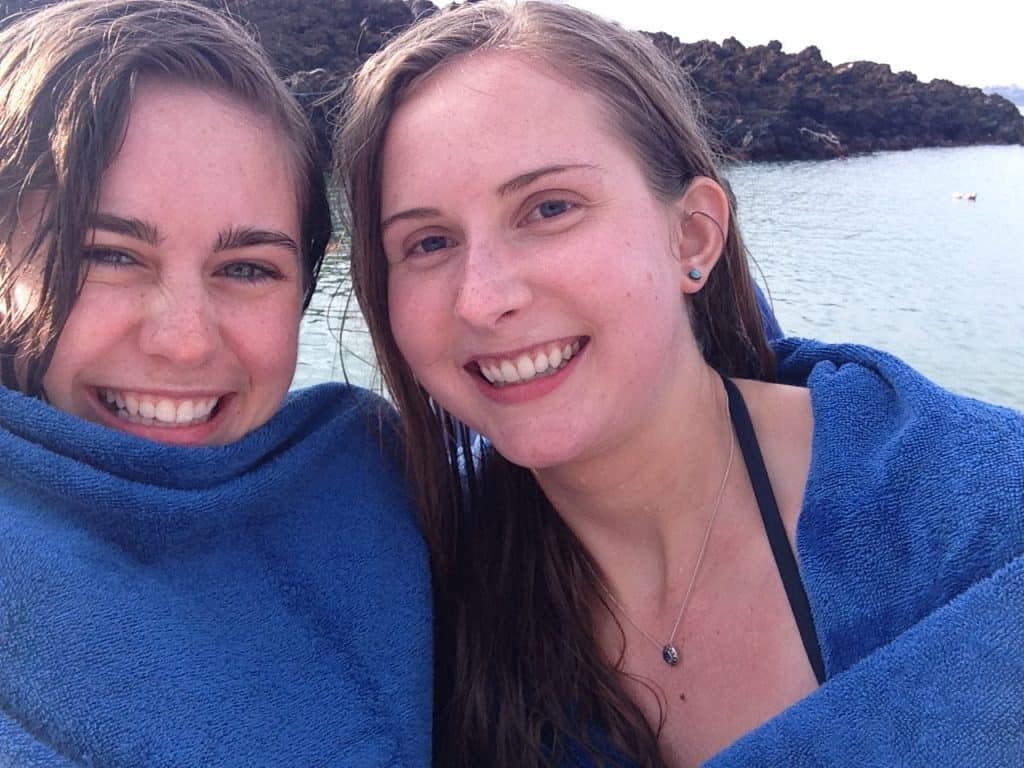 Valencia, Spain, in the upper left corner, was a beautiful five-day trip in 2016 with a good friend I made during study abroad – she was a British student living in the same flat as me that year, and when I ultimately moved back to England a year later we had quite a few adventures. We stayed in a lime-green painted Airbnb with a ginger cat under our charge, rode bikes through the city, started each morning with (gluten free) croissants and cappuccinos, and she instilled a love of caipirinhas in me as we stayed out until 2am nightly at various bars.
Related…
15 Photos That Will Inspire You to Visit Valencia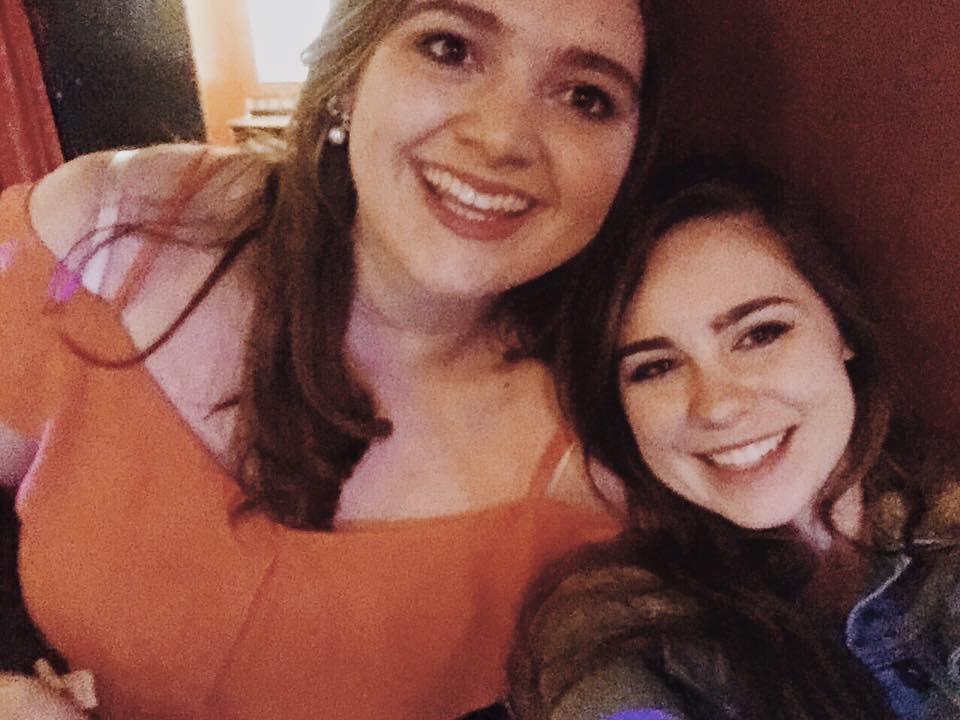 Madrid, Spain, in the upper right, I'm not quite sure how I managed a stamp because this was a domestic flight I took in 2016 right after the trip to Valencia. I spent two days navigating the city on my own, and took a side trip to nearby Cuenca to meet a friend from college. In Madrid, a woman with a typewriter in El Retiro Park wrote me a poem on blue paper, which I still have on a bulletin board. It was my first time really traveling solo, and I remember feeling immersed yet lonely.
Related…
Travel Impressions of Cuenca, Spain
Street Art of Lavapies, Madrid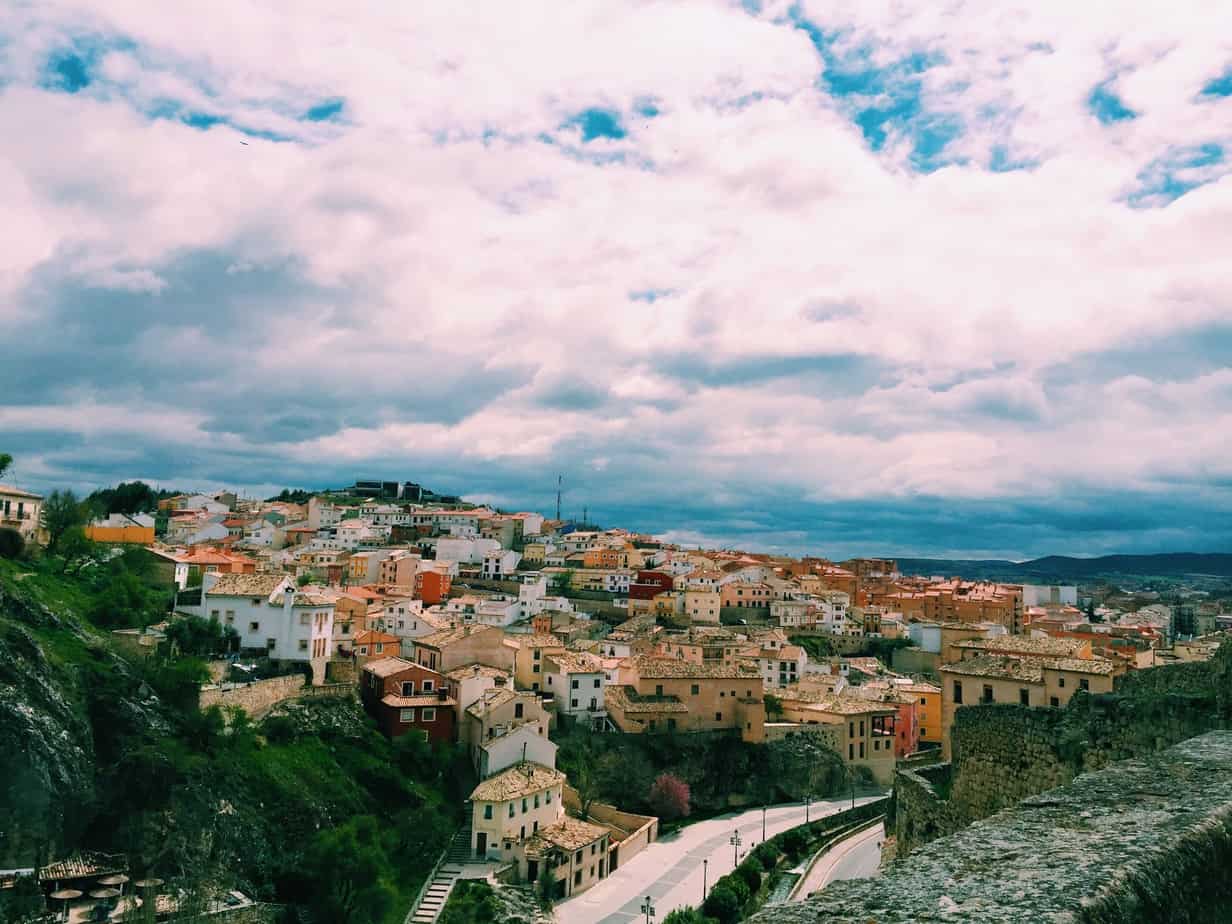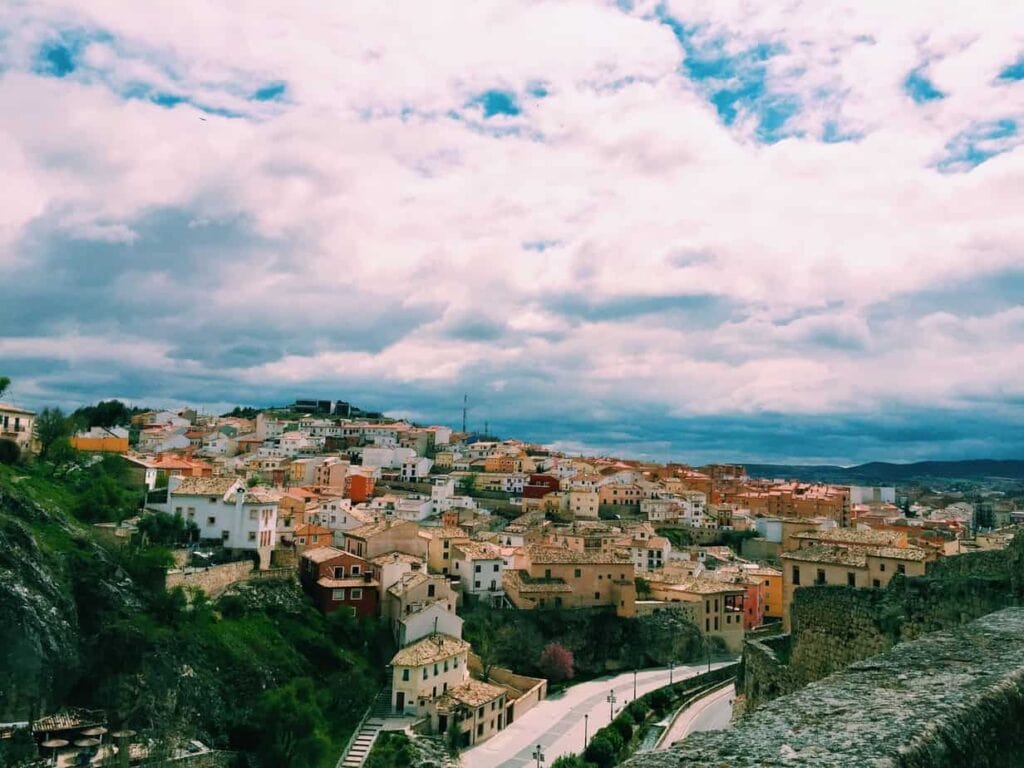 Pages 10 + 11: UK visa and UK entry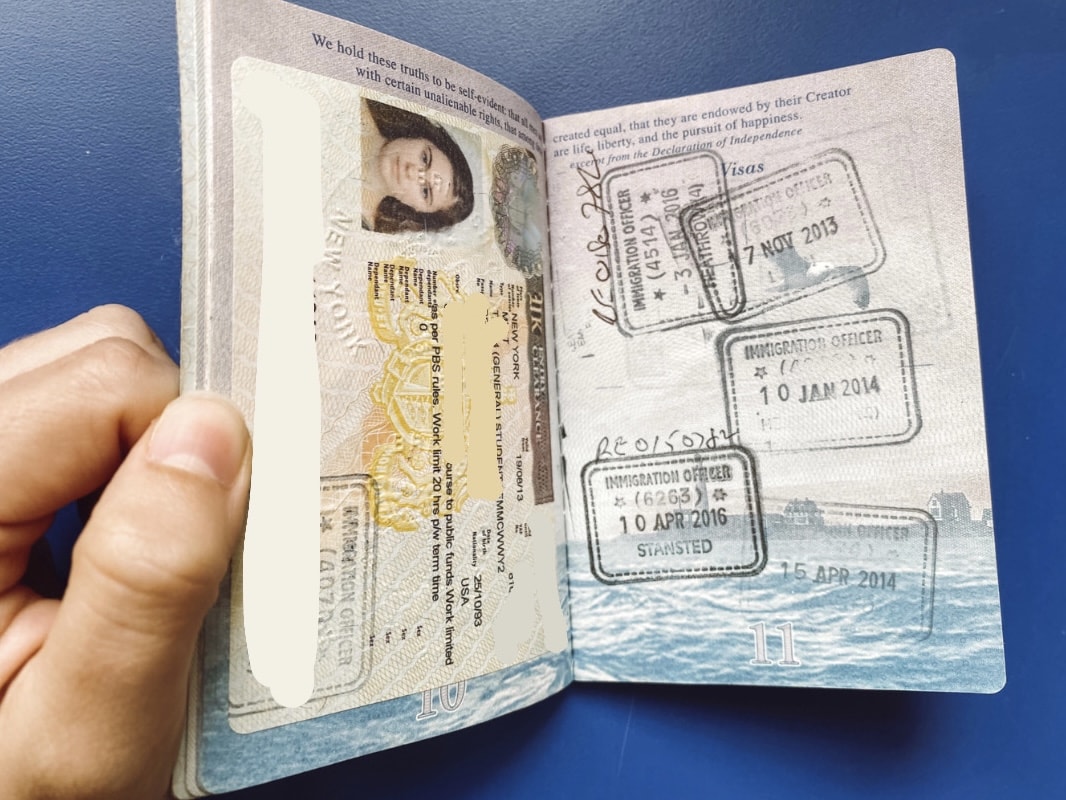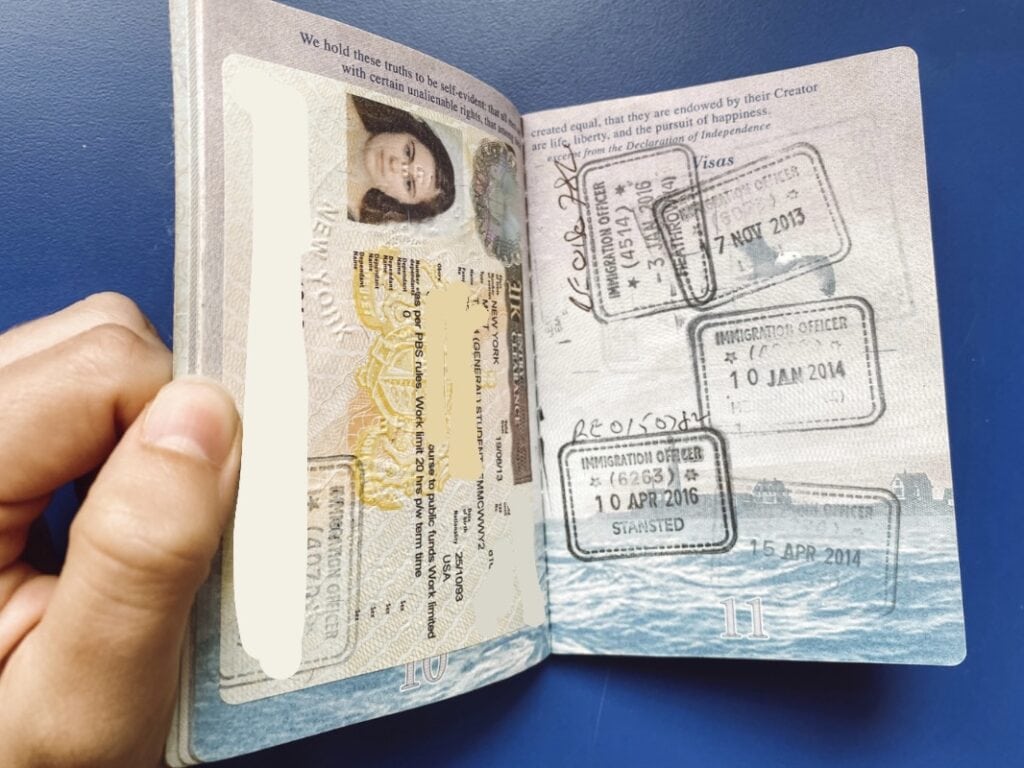 This page spread is also pretty representative of the past decade, and more specifically my discovery of my love for England and my inability to let that go.
My first UK student visa, for the year I studied abroad in England from 2013-2014, is on the left. Oh man, I was so clueless. I didn't even know you needed a visa to move to study in a new country, and I'd spent the prior summer blissfully ignoring all the well-planned instructions our study abroad professors sent us. A few weeks before my flight to London I got a rude awakening and had to pay to expedite my visa (ahem, just like I've had to pay to expedite my new passport in 2021… some things never change). In a way, my privileged naivety at that time is probably karma for the visa struggles that would dictate much of my next five or so years.
That year was… everything. It's cliche to say that study abroad changes you, but for me it really did awaken a love for travel and altered the course of my life. I had a tumblr blog at that time where I sporadically wrote study abroad blog posts, mostly for my grandma, so I don't have many links to share other than this wistful recap of my study abroad year.
PLAN | Visit my full United Kingdom page for more blog posts!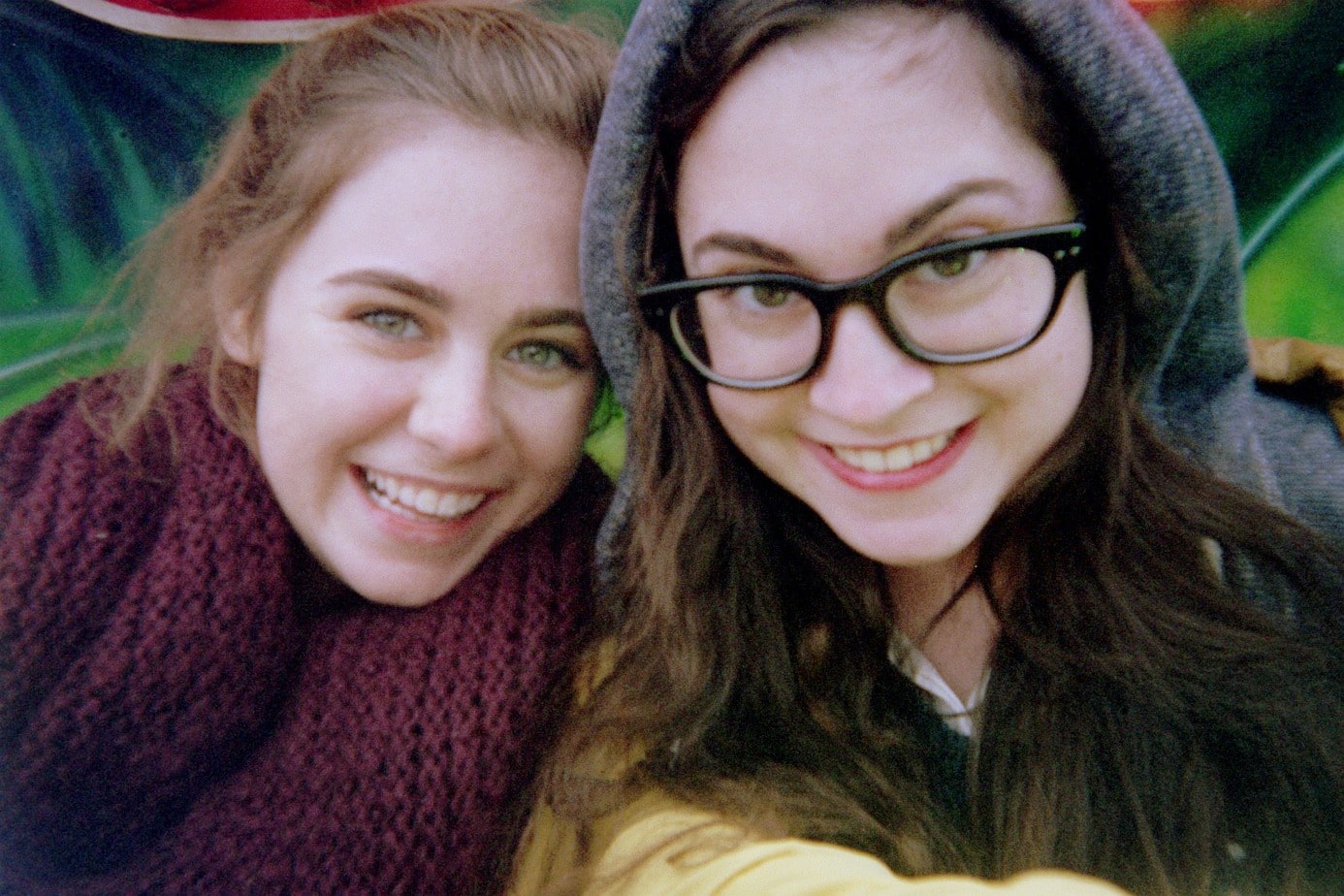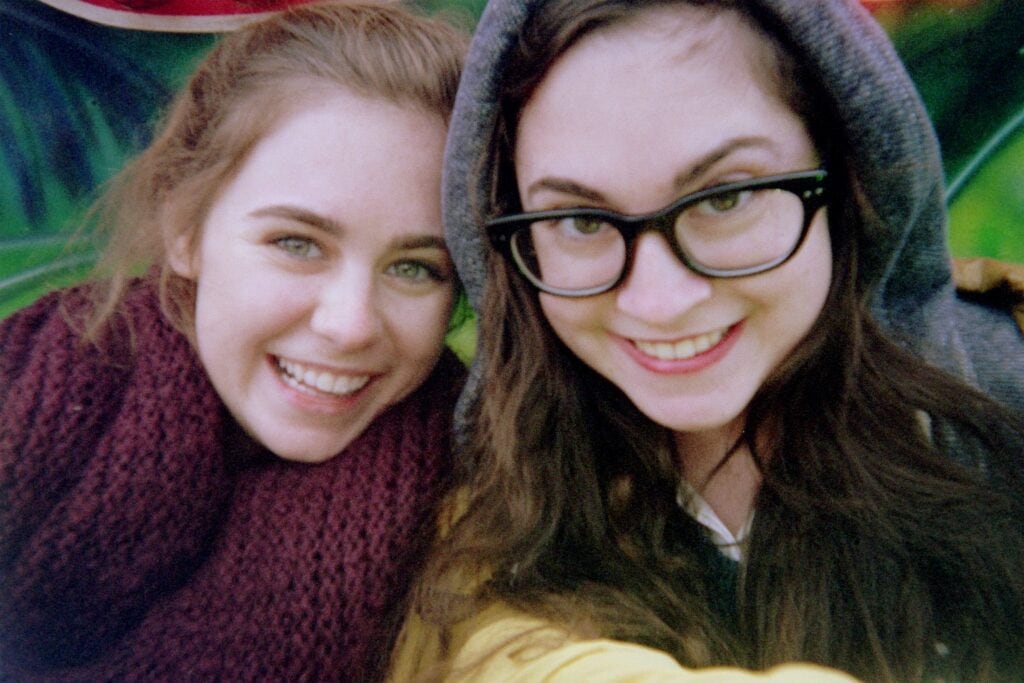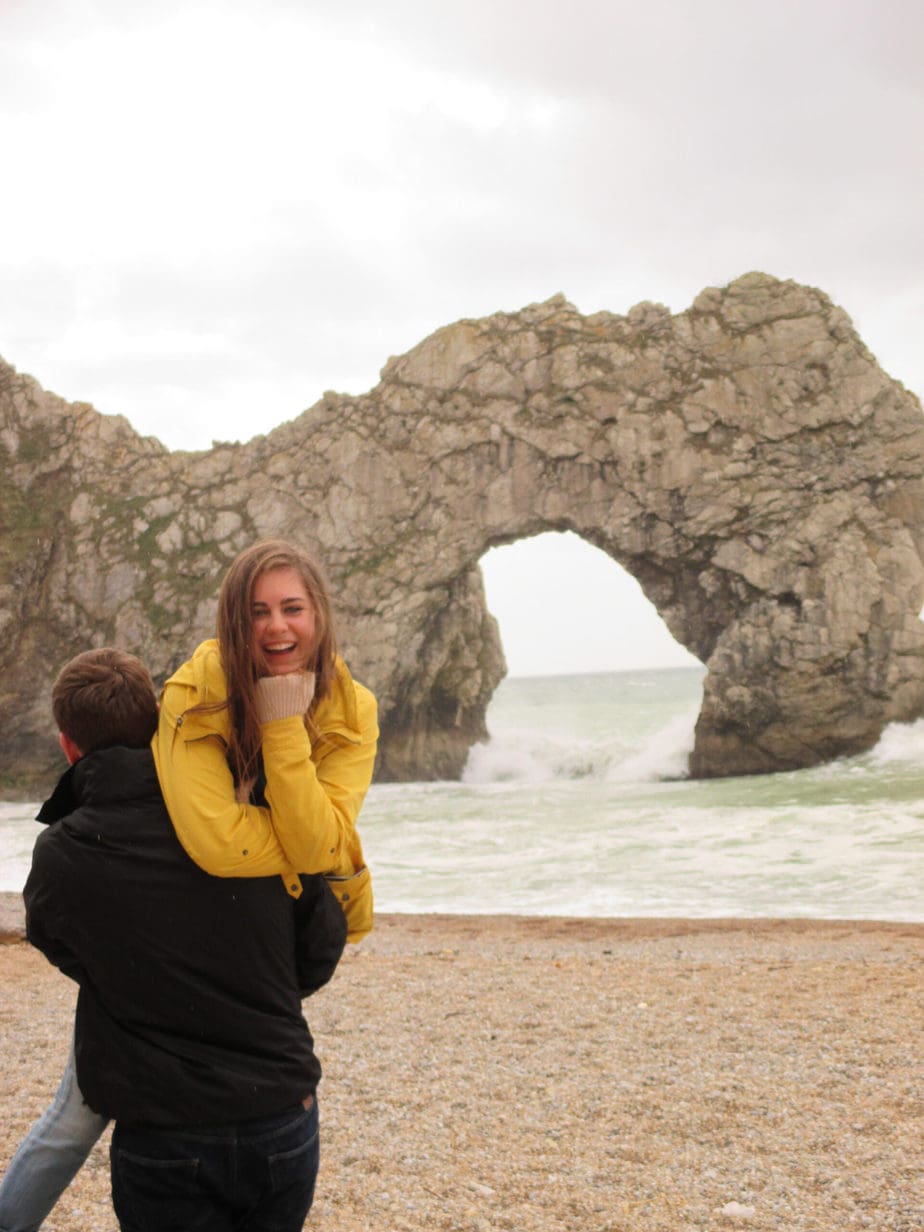 Pages 12 + 13: Norway, UK, France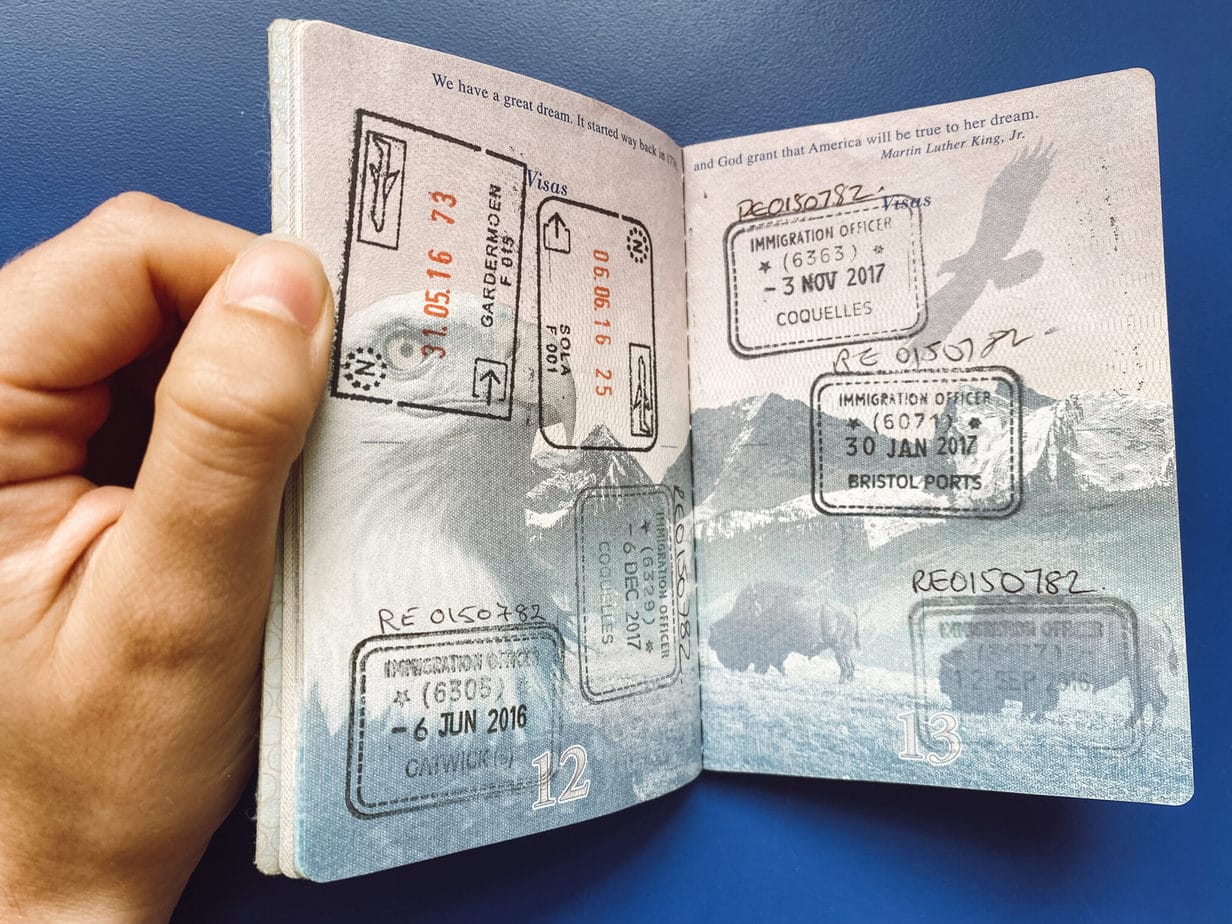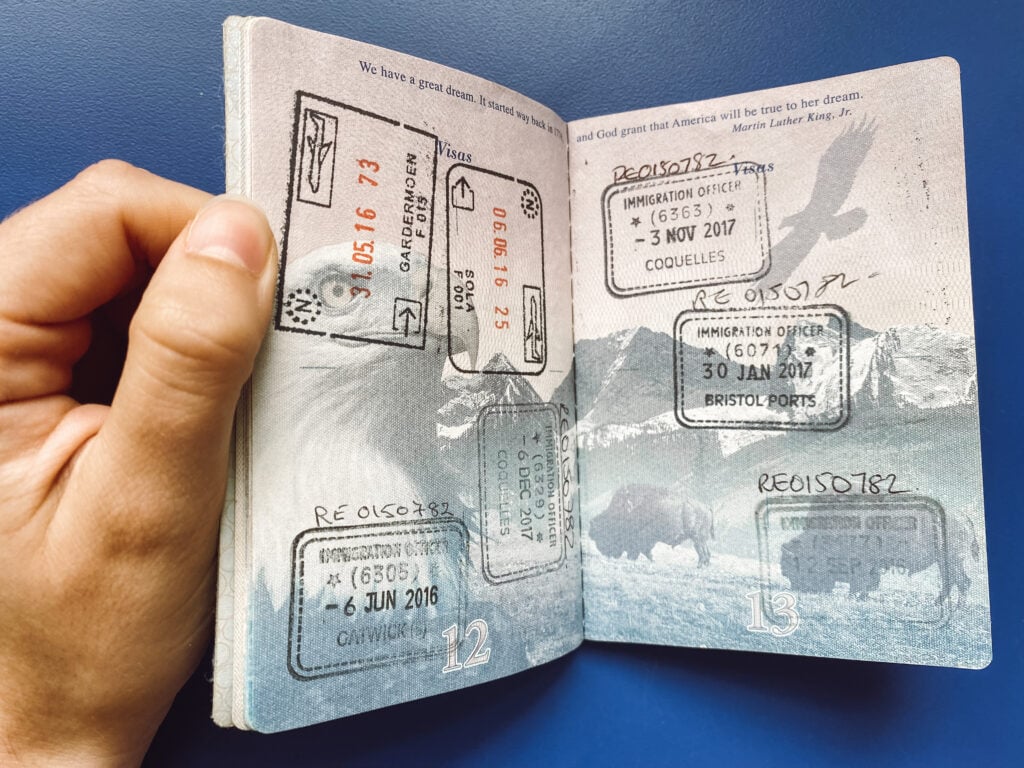 This page spread, ironically, is pretty thematic. It covers the evolution of my work with refugee populations during my Master's degree; stamps in my passport that the people I worked with were fighting so hard for the right to get, themselves.
Norway, in the upper left, was a trip I took in 2016. I was back living in England, completing my Master's degree, at that time. I'd just finished my first clinical placement, working in a refugee resettlement agency, where I'd met three Norwegian girls who also worked there. After placement finished they'd moved back to Norway to finish their degrees, and had given me an open invitation to visit them, which I took them up on that spring. I skipped class for a week to make it happen. We explored Oslo in the sun, I took an overnight train to Stavanger, hiked Pulpit Rock, had multiple barbecues, and drank wine as the sun stayed up until midnight.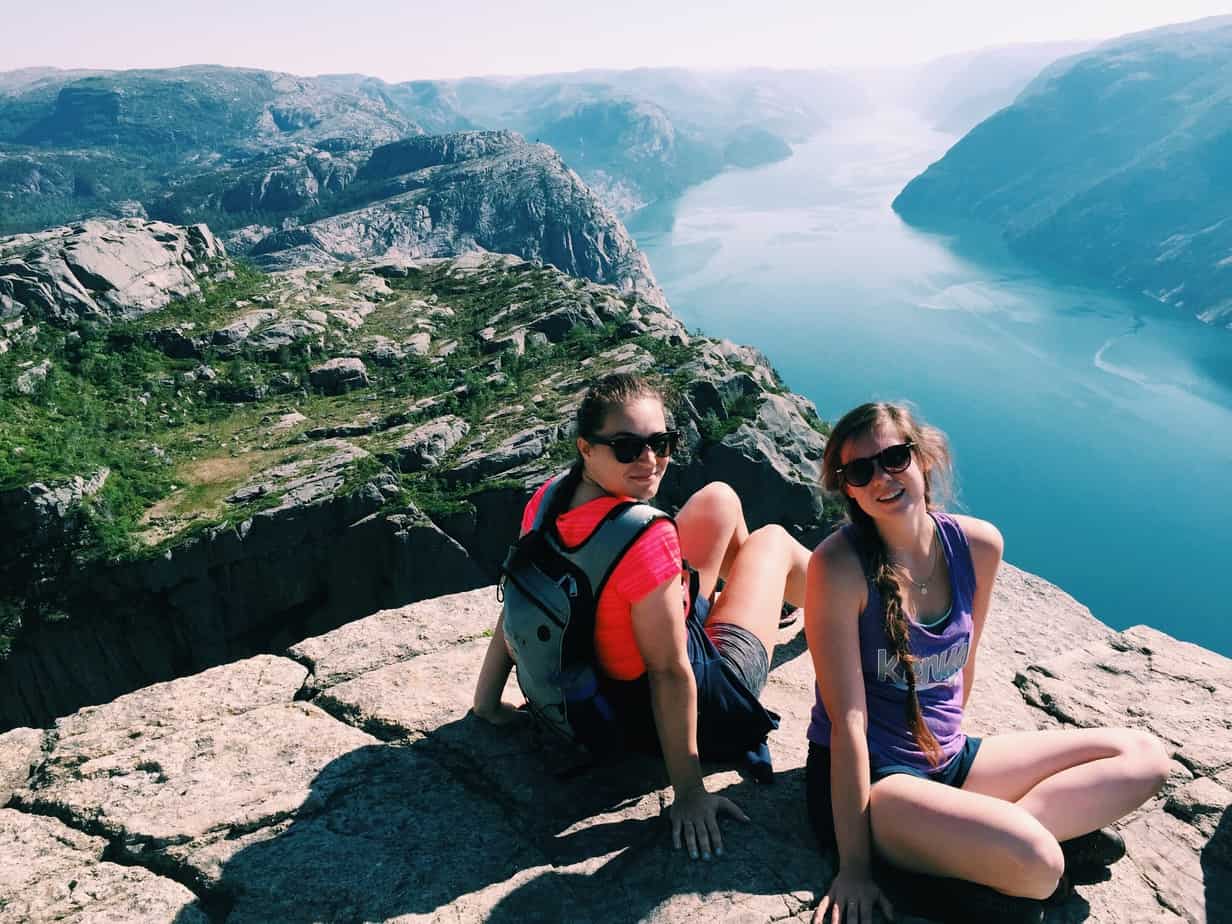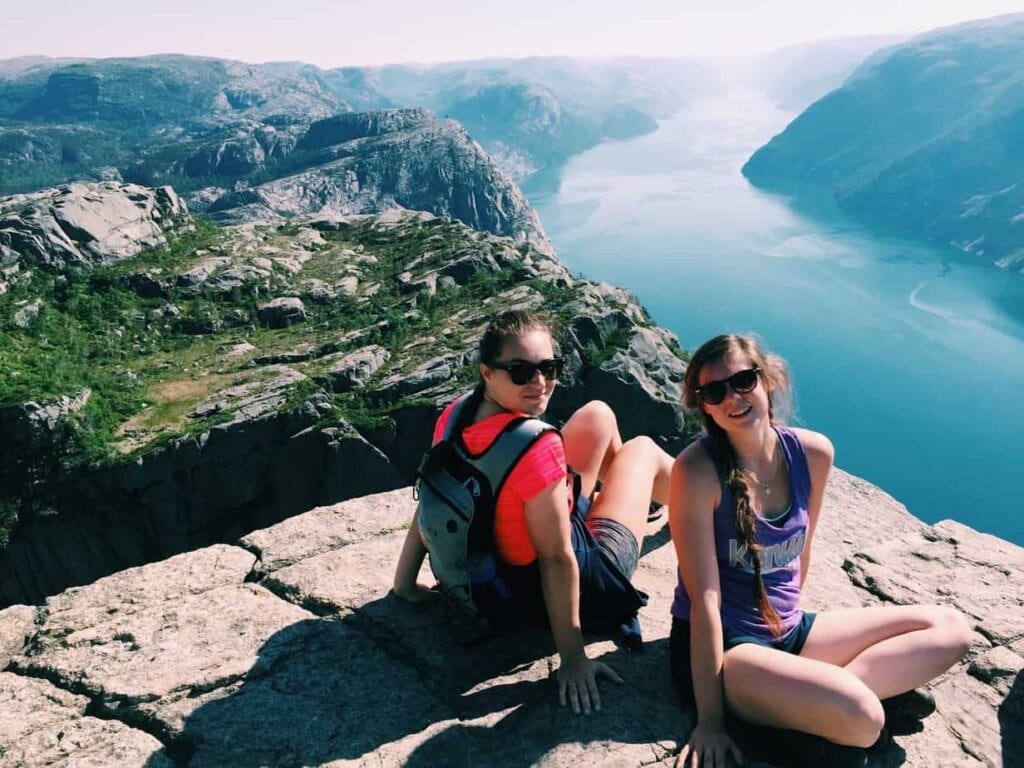 France is a place I visited quite a few times over the last decade, but these stamps from 2017 are from some of the time I spent working in the refugee camps in Dunkirk and Calais, on the northern border. I'd developed a mission of helping refugees during my Master's degree (a pretty big 180 from a couple years prior when I hadn't even realized I needed a visa to study in England), and was awarded a grant by my university to go work in a women's charity. In the multi-month dead-period between when I finished my coursework and graduated from my degree, I crossed the channel and lived in a tiny, sandy, lice-filled trailer with a few other women who worked for the charity. It was hard, and it was awful, and I was homesick and angry the entire time. I'm pretty sure I'm on some kind of banned list and could never get a visa to France due to the regular arguments we had with the French CRS, who at times took my passport and ID and input my data into their system. And what's even more disgraceful is that this same refugee crisis continues in 2021… but that's for another blog post.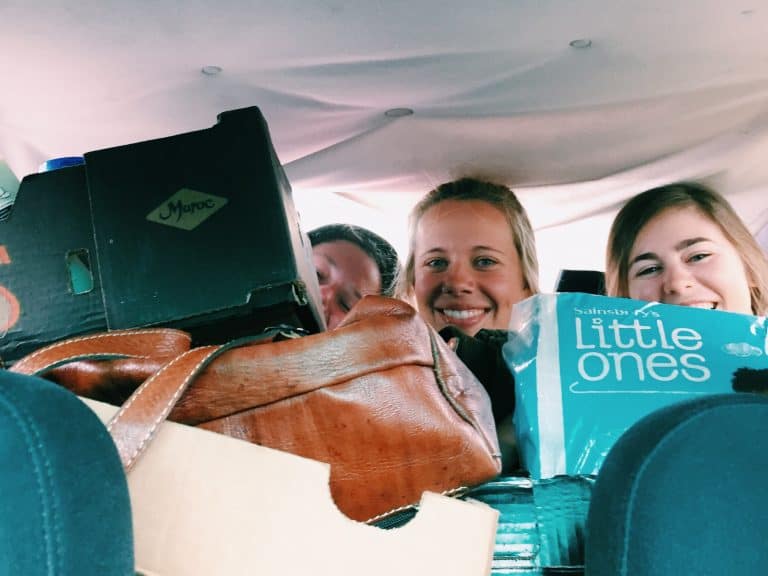 Pages 14 + 15: UK, Czech Republic, Spain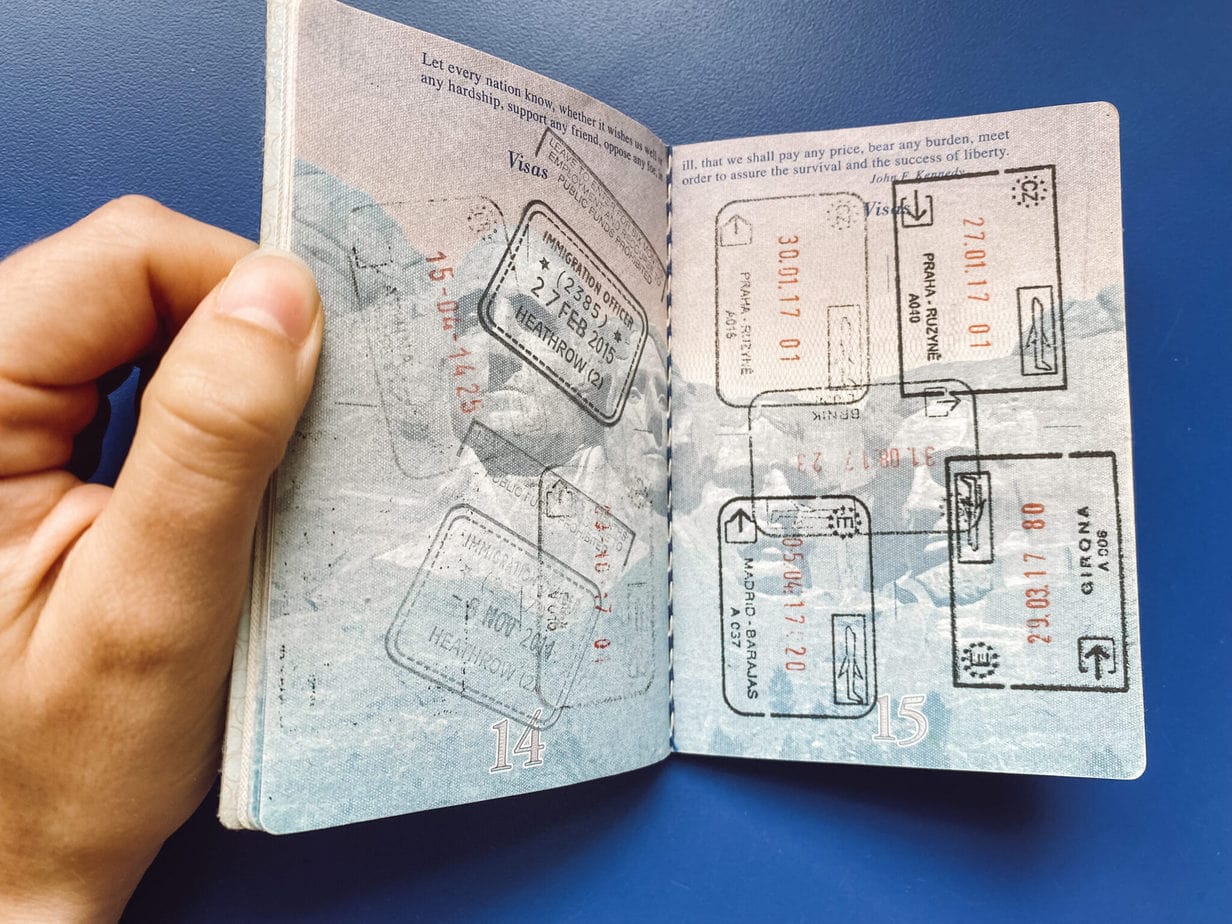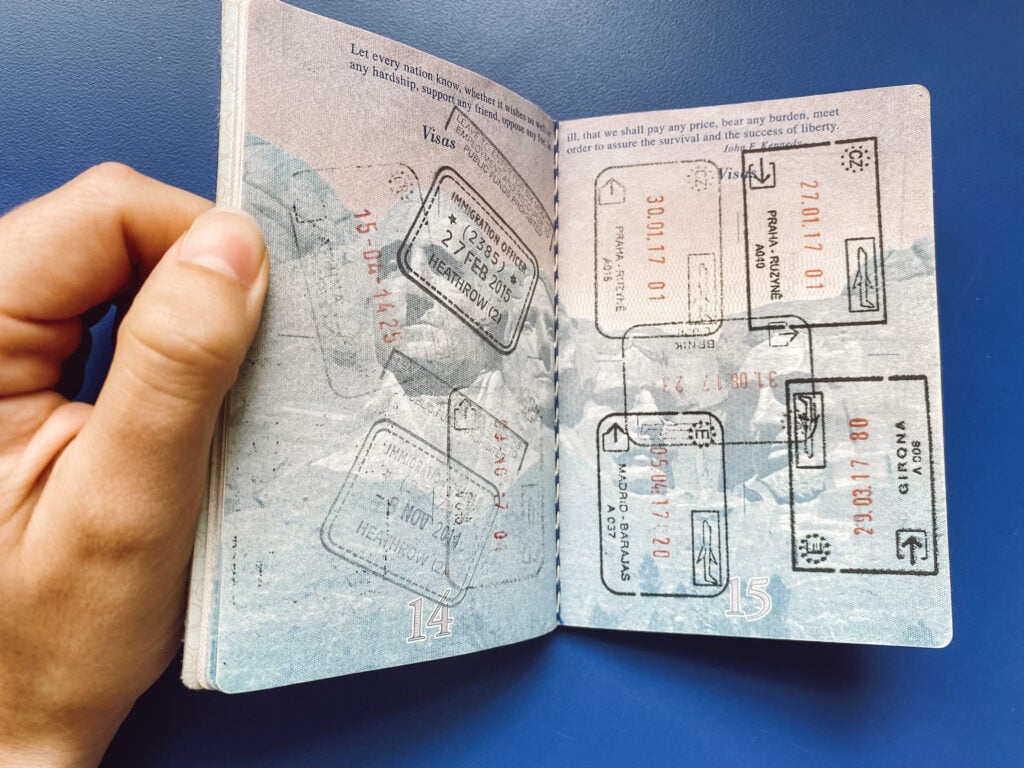 Prague, Czech Republic, in the upper right, is a wintery trip that Dan and I took in January 2017, during the second year of my Master's degree in England. Another trip that I sacked off a few classes for – but the £20 flights from Bristol were well worth it and somewhere I never could have afforded to fly to from the US. The trip was our Christmas present to each other that year. It was snow-covered, and we drank a lot of beer (me, of the gluten free variety), and went to a cat cafe. I accidentally left my wallet at a monastery which then involved a frantic uber and a close chase with a bathroom attendant the following dawn before our flight home.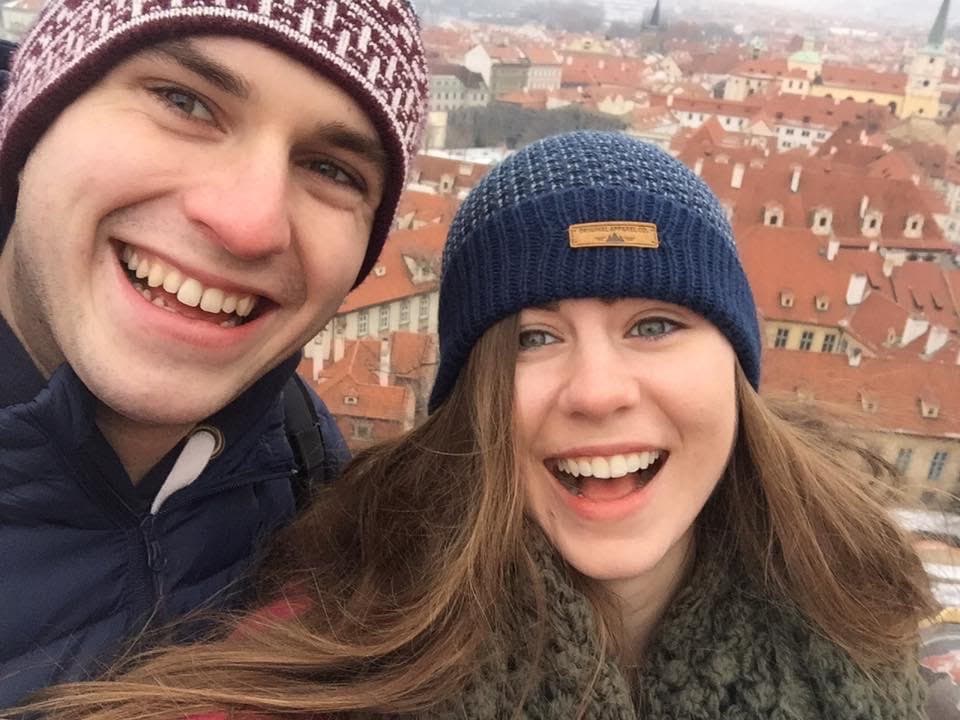 The Gatwick, Luton, and Heathrow stamps (on this page and many others) are testament to the nearly nearly four of the last nine years I spent living in England, and the frequent trips back and forth to see Dan the other years. So I won't go into detail on each UK stamp. There are quite a few. I will say that every time I arrive in London feels like coming home, but the stamp reminds me that this is not the case.
PLAN | Visit my full United Kingdom page for more blog posts!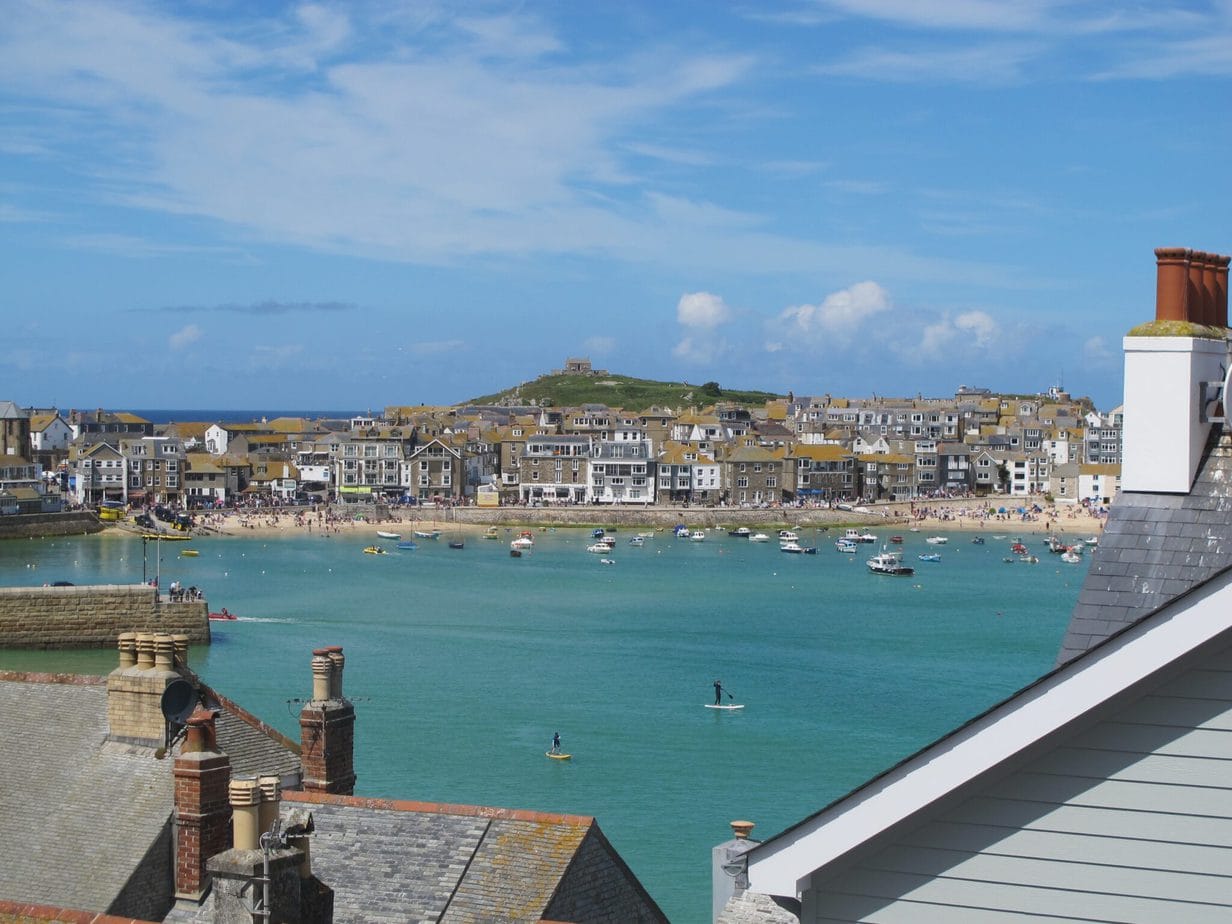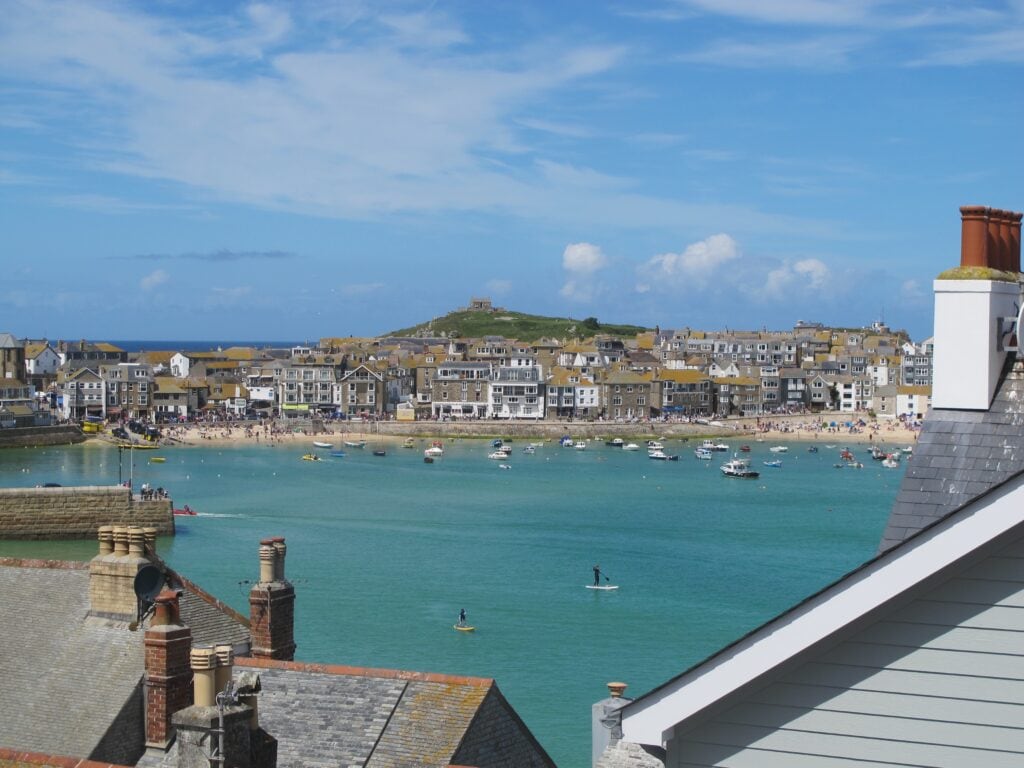 Girona, Spain, in the bottom right was another trip from 2017, the second year of my Master's degree. I had made a tight knit circle of fellow international student friends my first year of that degree, who all had returned to their home countries the following year. That left just myself and Vaish (my friend from India who was doing her entire degree in England not just study abroad) from that crew. So, Vaish and I jetted off to Girona over spring break to reunite with our friends Alexia and Angela in their home town. Vaish and I then took a train down to Barcelona for a few days, where we stayed in a posh hostel and drank elaborate cocktails, and I characteristically forced her on a trek to find a gluten free McDonald's late one night.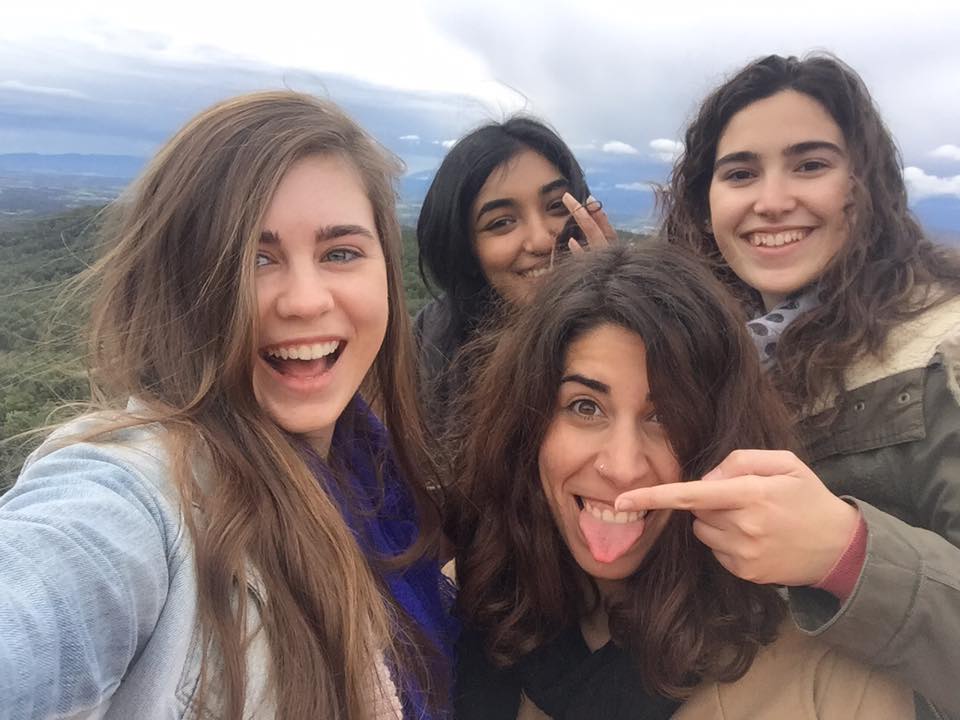 Pages 16 + 17: Schengen Area, Ireland, Iceland, UK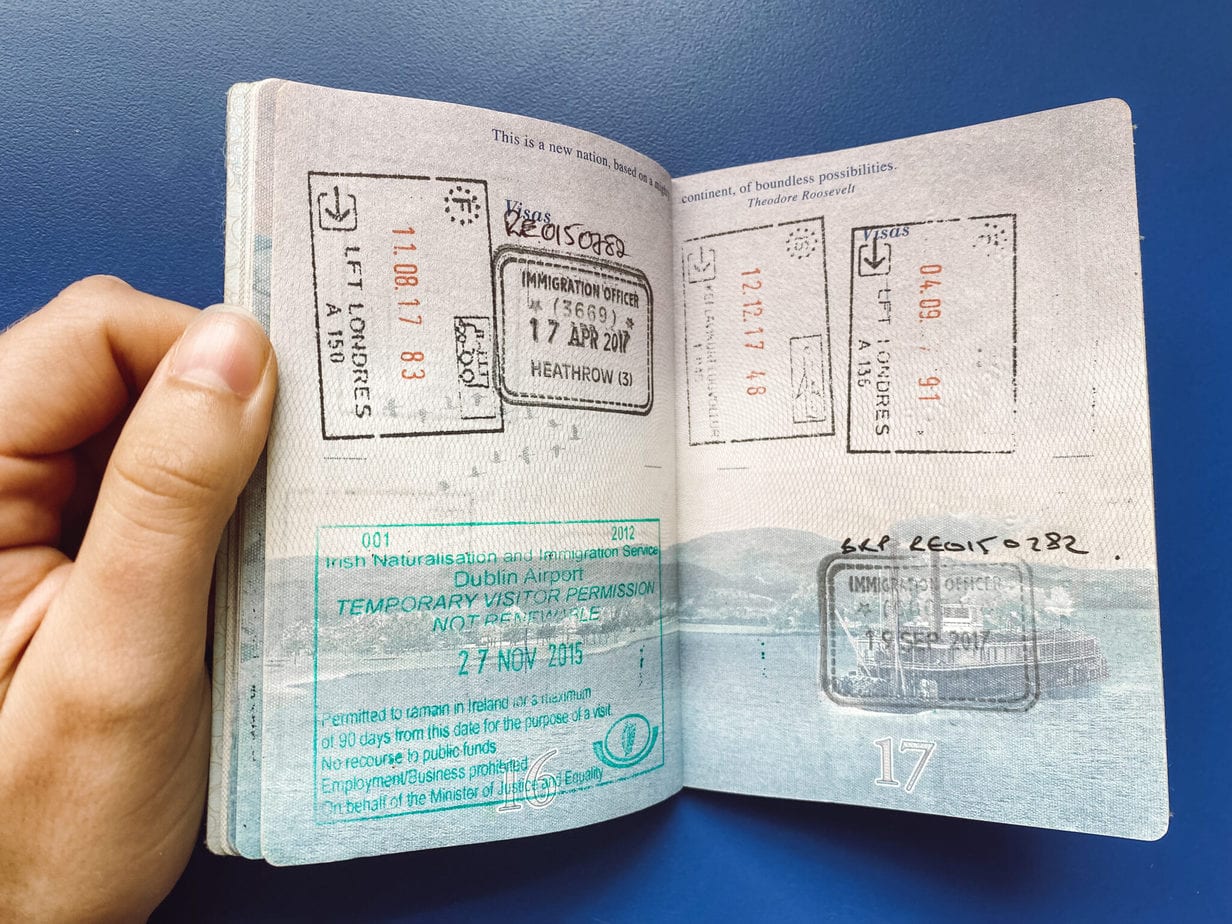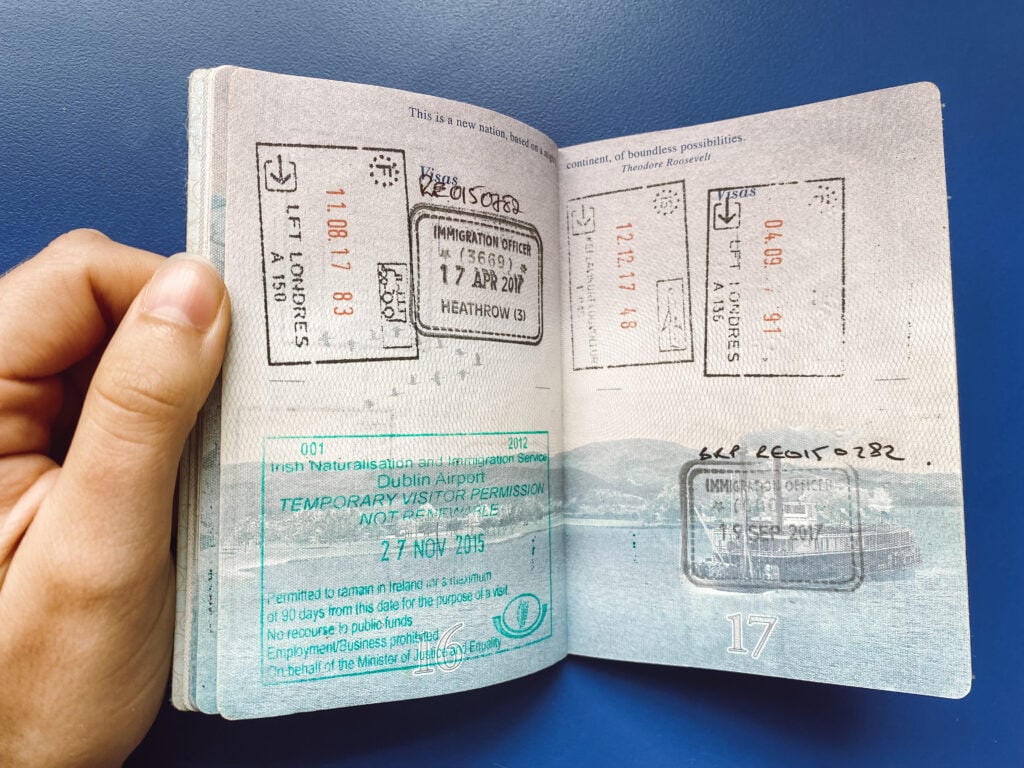 The "LFT Londres" stamp in the upper left was the entry stamp into the European Schengen area. In 2017, just prior to my Master's graduation, Dan and I took the Eurostar train (which we inexplicably nearly missed, despite arriving hours ahead of time at the train station) from London to Brussels, Belgium. That started a month-long "Eurotrip," my second of the decade, and signified the longest amount of time we'd spent together, 24/7, since we'd first met in 2013. From Belgium we traveled to Budapest, Hungary, and then on to Vienna, Austria, before spending a memorable 11 days road tripping across Slovenia.
People, including the guy at FedEx who took my passport photo a few days ago, often ask me what my favorite country is from all this travel – and while that's a more complicated question to answer, my go-to answer is often Slovenia.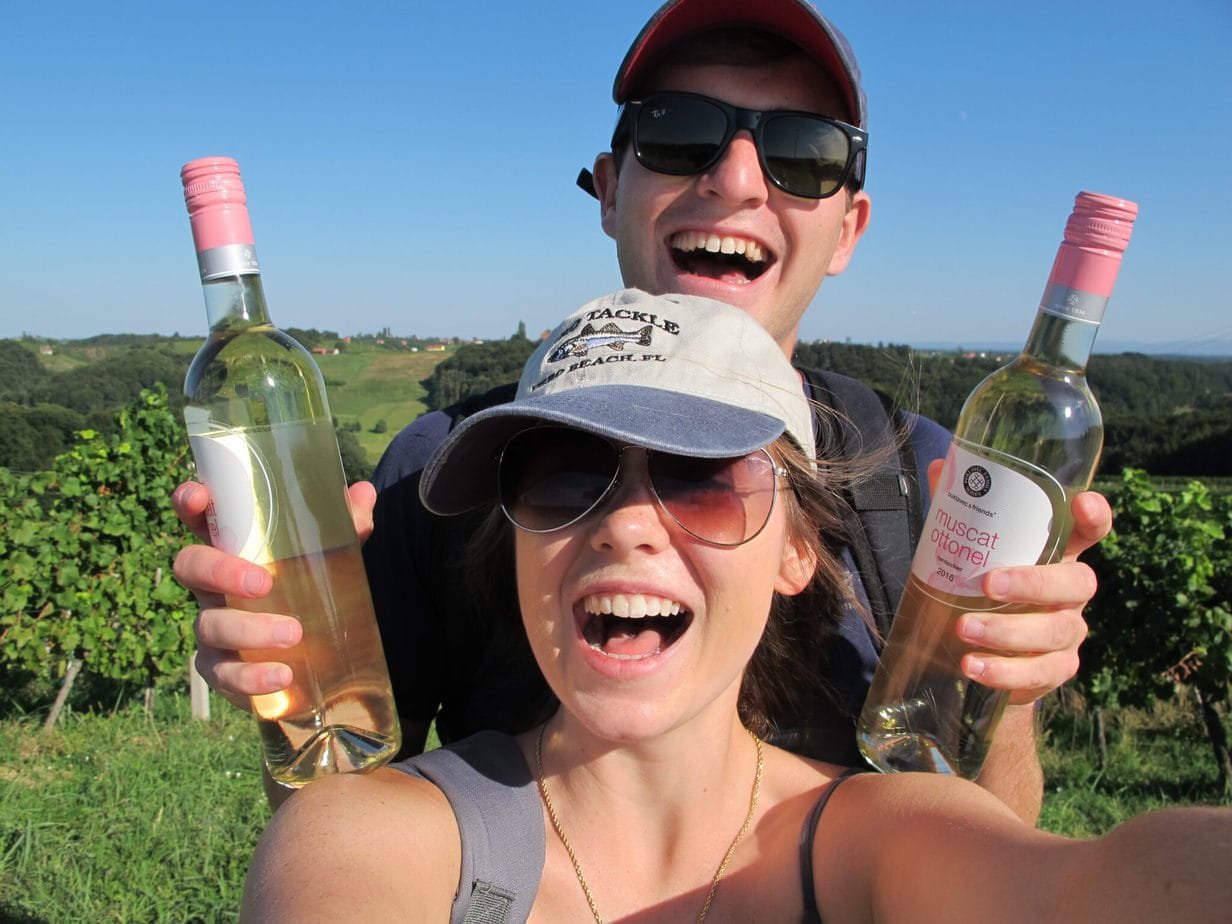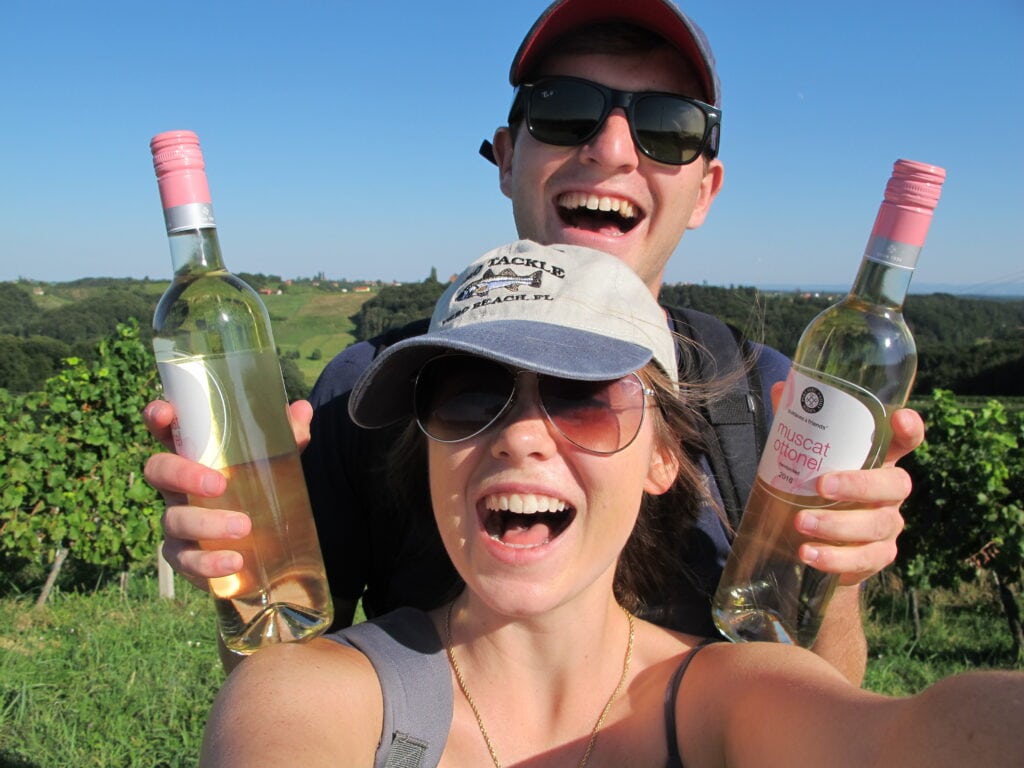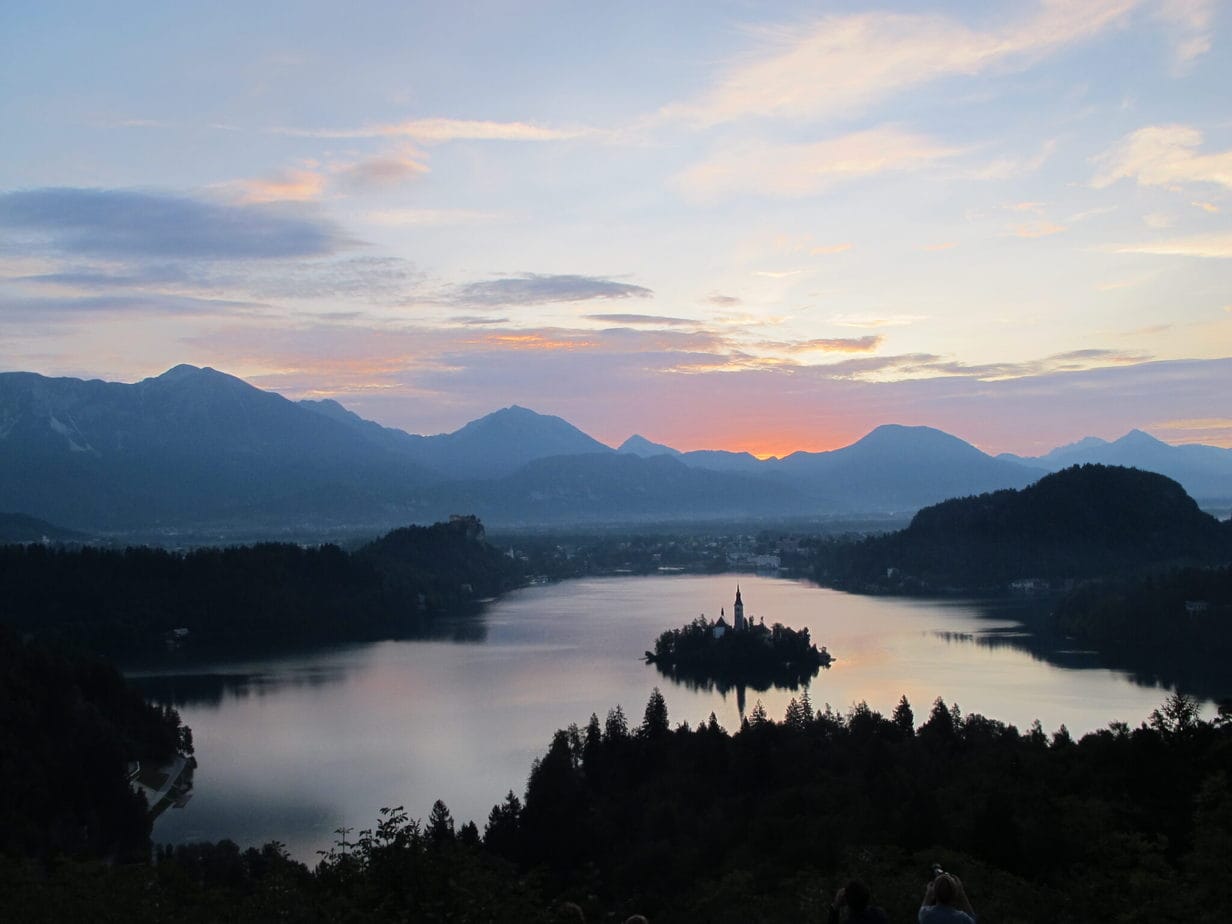 Ireland, in the pretty green on the bottom left, was a long weekend trip I took in November 2015, shortly after moving back to England and beginning my Master's program. It was Thanksgiving weekend, and I was feeling homesick because unlike my college study abroad year when I'd been surrounded by American friends and our two American professors, this time I was all on my own. So I flew to Dublin, where I met up with an American friend Veronica who was doing her Master's up north at Durham. Veronica brought along her friend, and the three of us got an Airbnb, brunched in Dublin, and went on a whiskey-filled literary city tour that one of my old college professors had recommended. We also took a day-long bus tour to the Cliffs of Moher, which was technically closed due to gale-force winds, but our very Irish bus driver "looked the other way" and we crawled against the winds to see it for ourselves.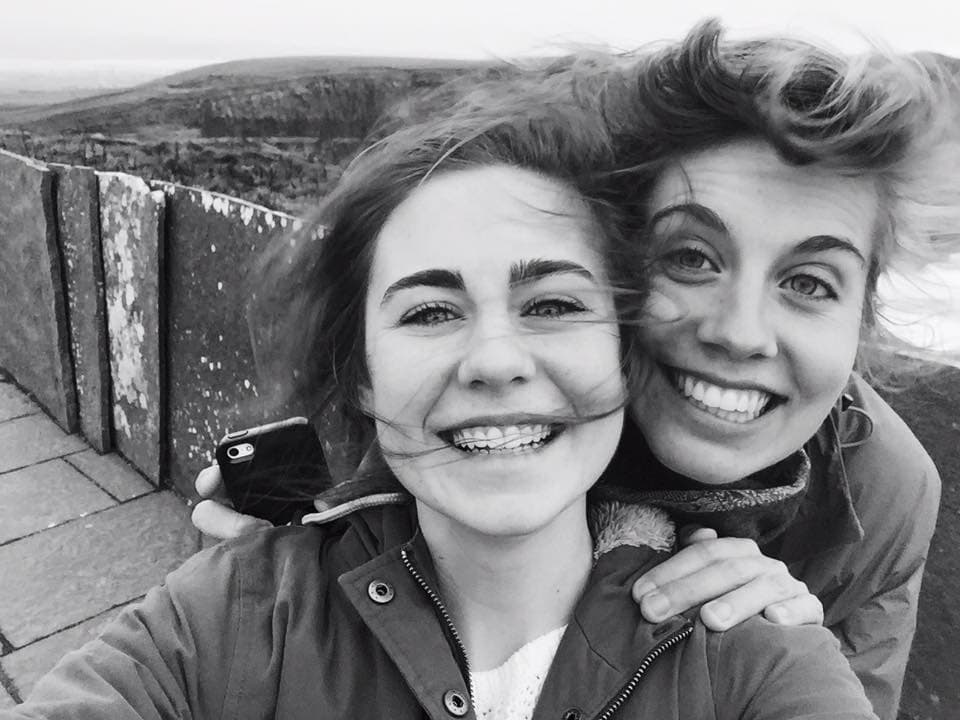 Iceland, the fading stamp on the upper inner right, is one of the most significant stamps in this passport. 12/12/17 is the day that my second UK visa expired, and the day that I booked my flight home to the US. (I made sure that I got every second I was legally given in the UK). Of course, being me, I timed a two day layover in Reykjavik, Iceland in the midst of my journey back to the US. All alone in a foreign country with two massive suitcases, AKA all my belongings in the world, I spent an interesting few days. I stayed in a space pod hostel, where I met a guy who invited me to road trip the golden circle in his rental car. I'd just been planning to wander the city so this was most definitely an upgrade. That night we teamed up with another guy from the hostel on a mission to see the northern lights. We drove across Iceland for hours with cheap gas station coffee, well until dawn, laying in the snow, rolling down hills, and staring intensely at the stars. I never saw the northern lights, but it was the best possible distraction from how terribly sad I was at that time.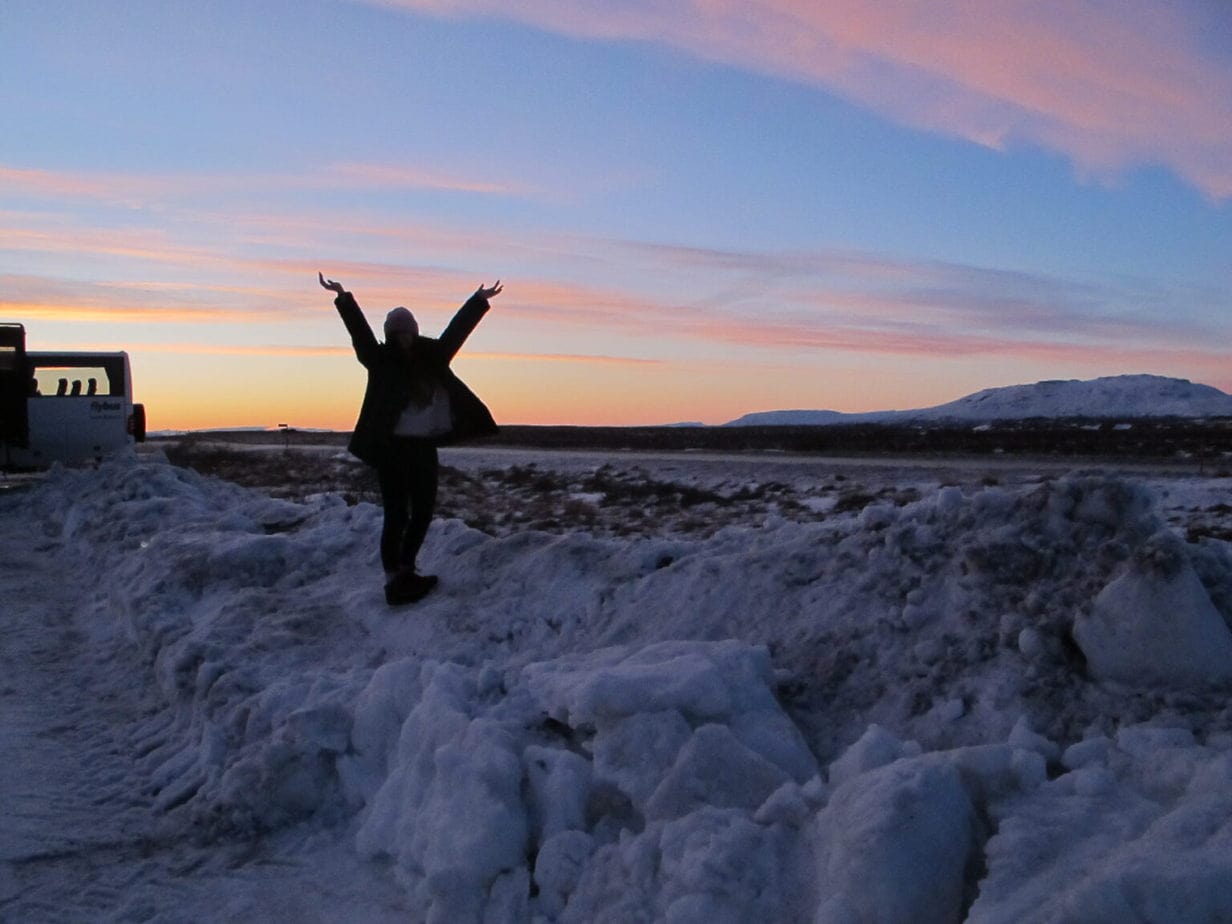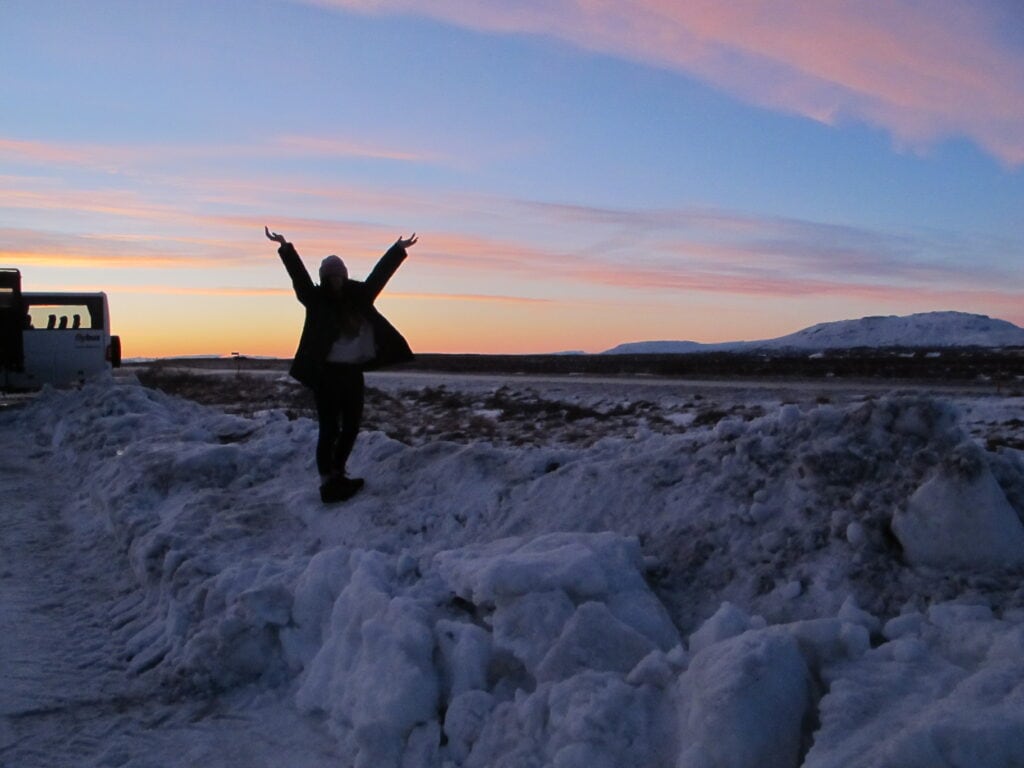 Pages 18 + 19: UK visa, Netherlands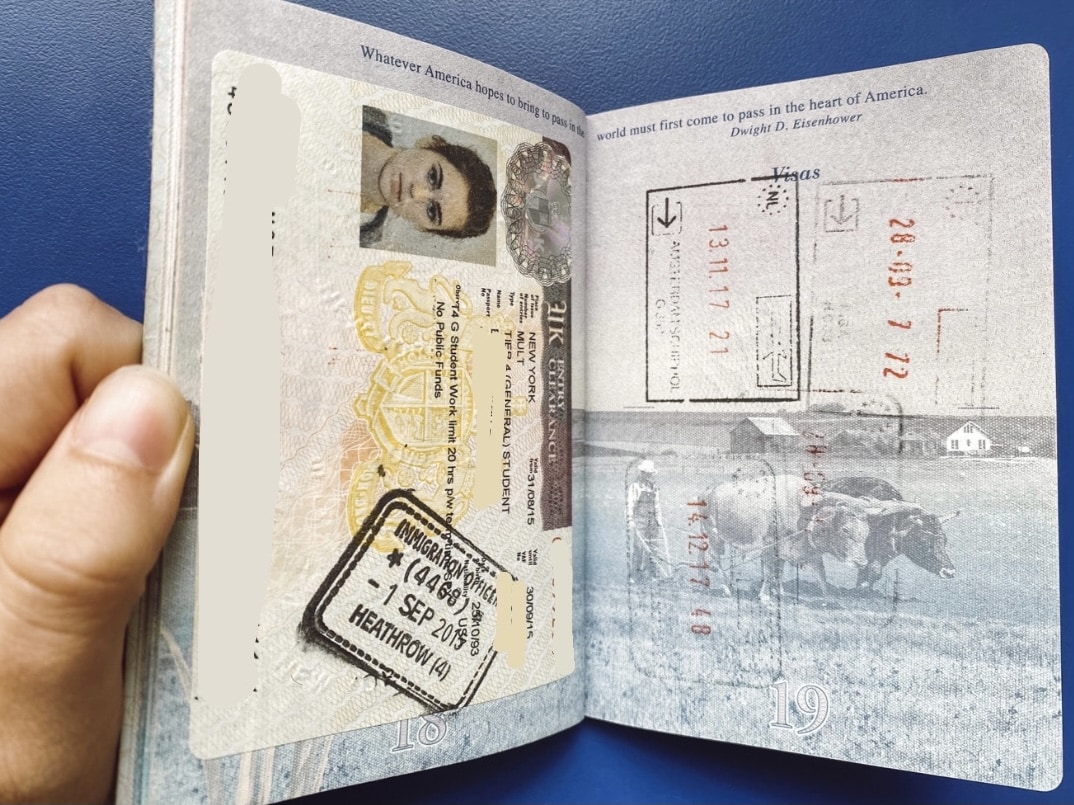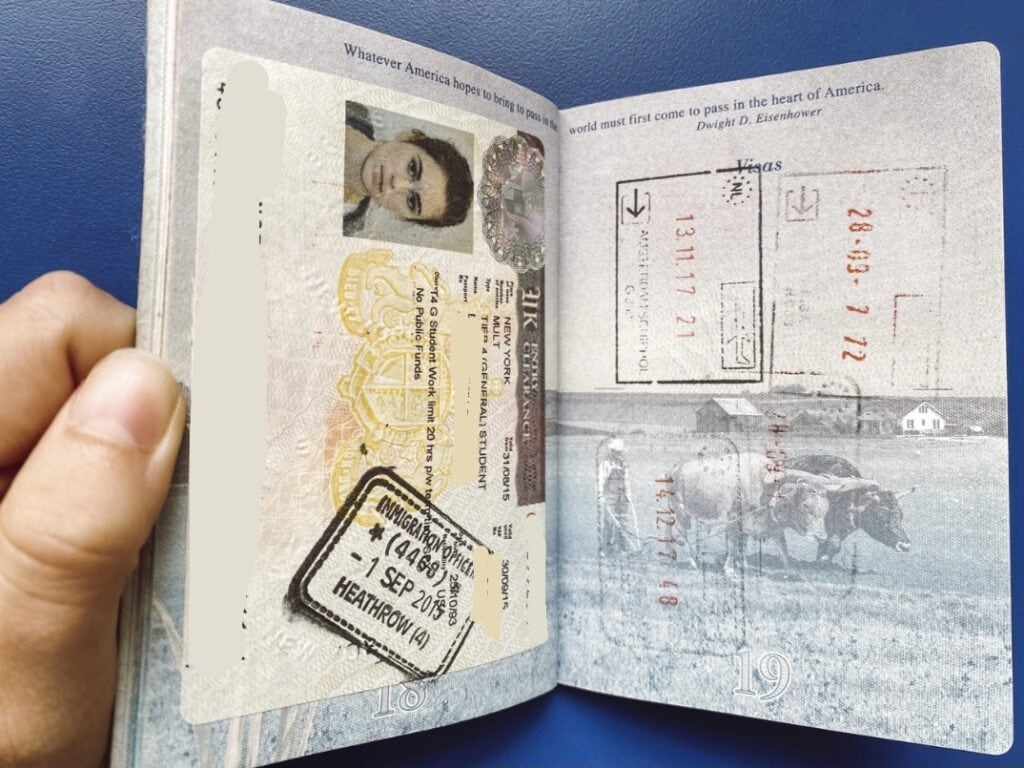 My second UK student visa, on the left page, was a lot more difficult and heart-wrenching to obtain than my first. After my junior year study abroad experience, I'd known that after graduating college in the US I wanted to return to the UK, but I wasn't quite sure how. In October 2014 I was flown to the UK to interview for a job, which I was offered, but then found out that they wouldn't be able to sponsor my visa. Things worked out, though, when I was offered a scholarship to attend grad school. I would live by the ocean, and only an hour away from where Dan was living at the time, and it all seemed to work out.
It seems to be a common theme but I left applying for my visa to the last minute. A few weeks before my course was supposed to begin, I got the closest fingerprinting appointment I could find, in Chicago. I remember working in the food truck, catering a wedding, until about midnight, and then taking an overnight Megabus to Chicago. I slept a couple hours on a friend's pull out couch, before getting an uber to Chicago's south side for my fingerprinting. When my female uber driver found out the neighborhood I was going to, she wouldn't let me be alone and waited for me. I took that as "you naive idiot, this is a dangerous neighborhood, how exactly are you planning to move across the world all on your own?" Still, I managed to do it and survive.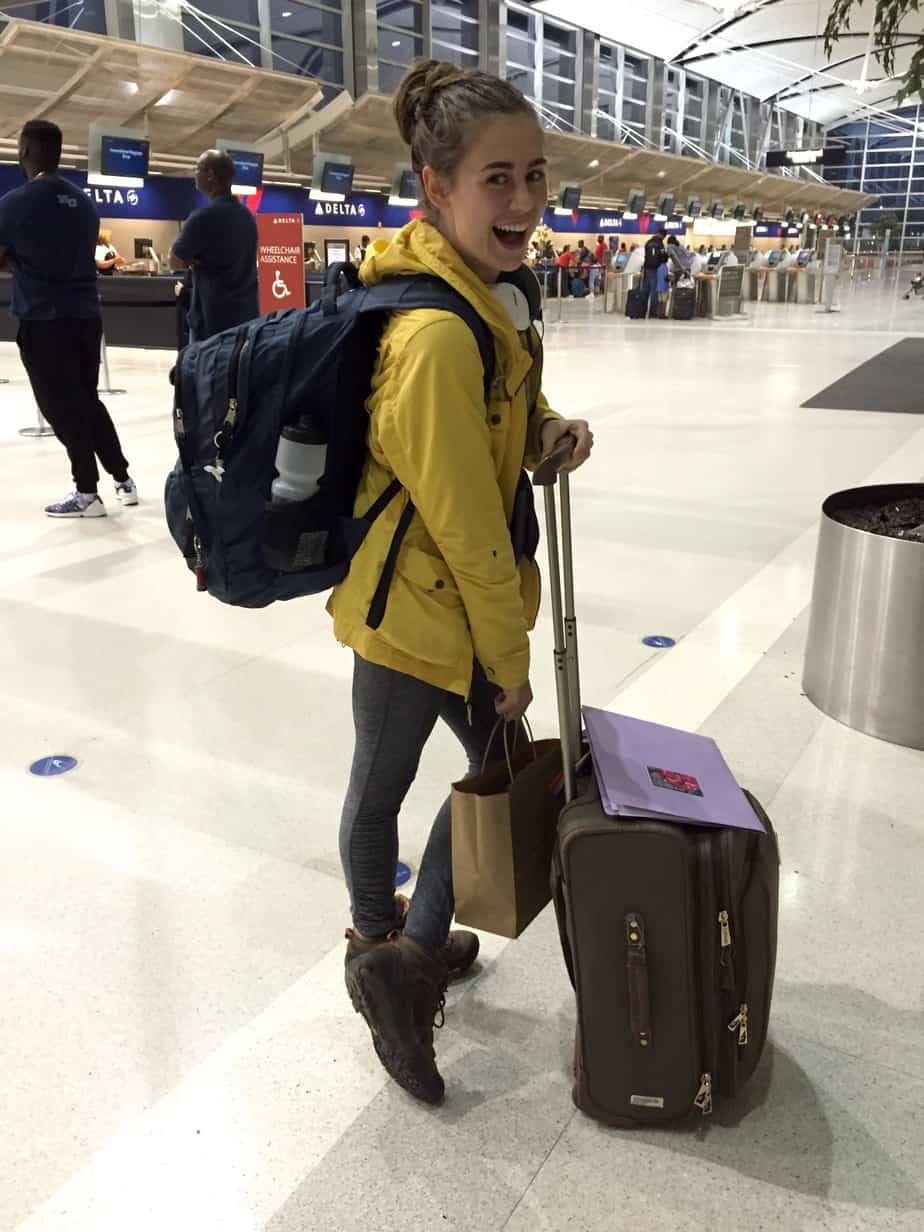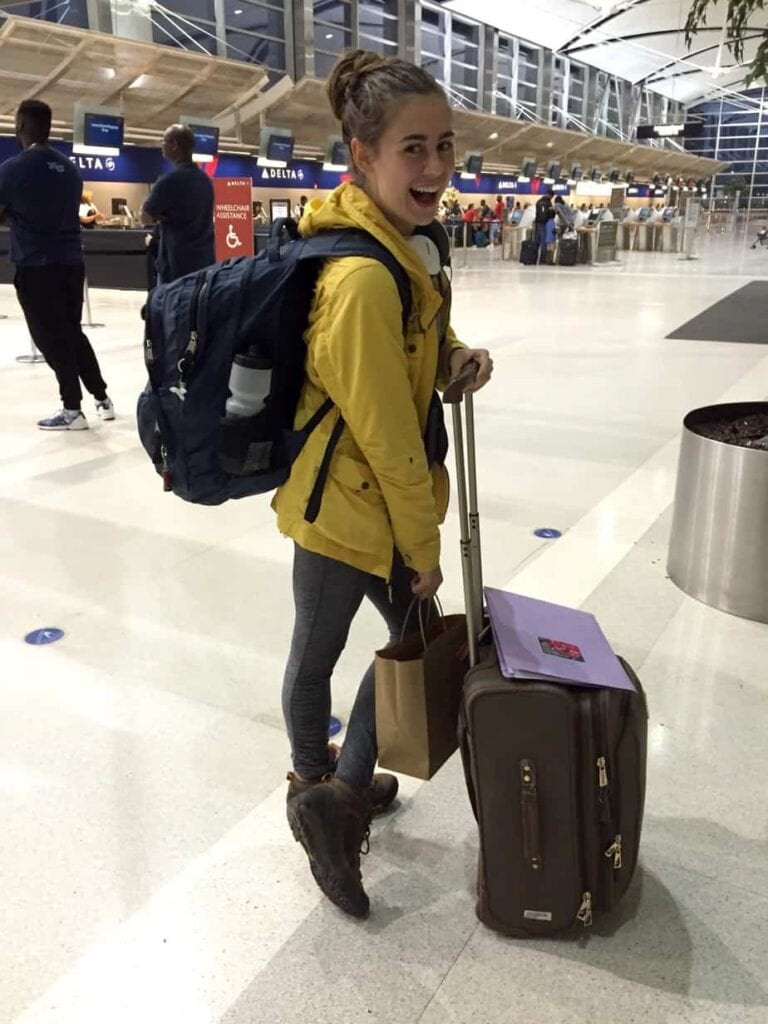 The Amsterdam, Netherlands stamps on the right page, and I believe the three other terribly faded stamps, are from a period I spent traveling after I graduated from my Master's degree. My graduation was in September of 2017 but the UK government was kind enough to tack on an extra three months to my student visa, in which I could get my affairs in order, or as I took the instruction – travel wantonly and desperately with no longterm plan. I was getting pretty sick again at that time, and knew I would be moving back to the US for both medical care and lack-of-a-visa reasons. I went to Italy (Cinque Terre and Siena) with my parents immediately after graduation.
Then over the three months, when I wasn't crashing at Dan's house, I traveled on my own. I visited Amsterdam, Copenhagen, went back to the French refugee camps, spent Thanksgiving in Munich with my childhood friend, and randomly got stuck at a newish friend's apartment in Bielefeld, Germany (we'd been planning to transport donations to the refugee camp, but her van broke down. I spent two weeks watching New Girl on her spare mattress while she broke up, got back together, and broke up again with her boyfriend, before I ultimately gave up on her and booked a 33-hour bus back to the UK).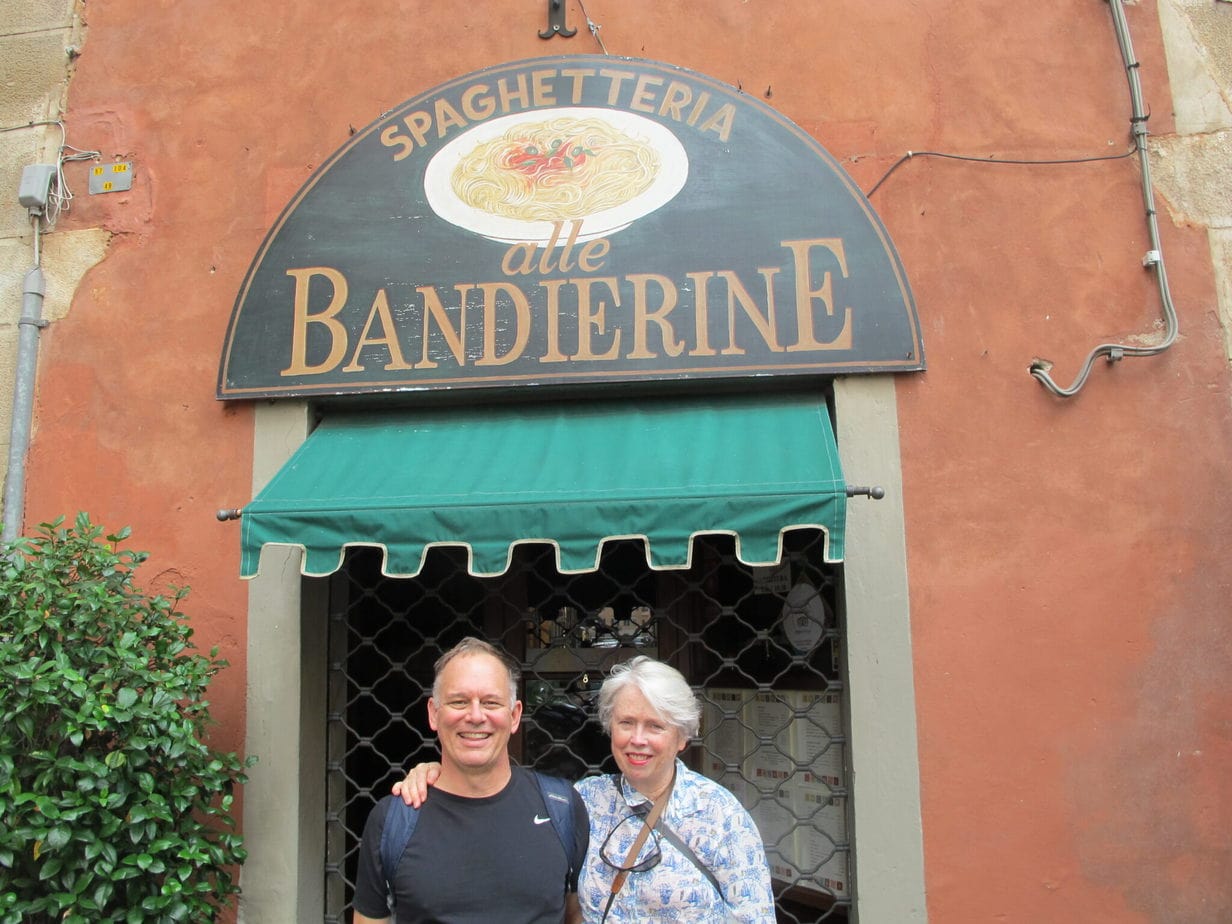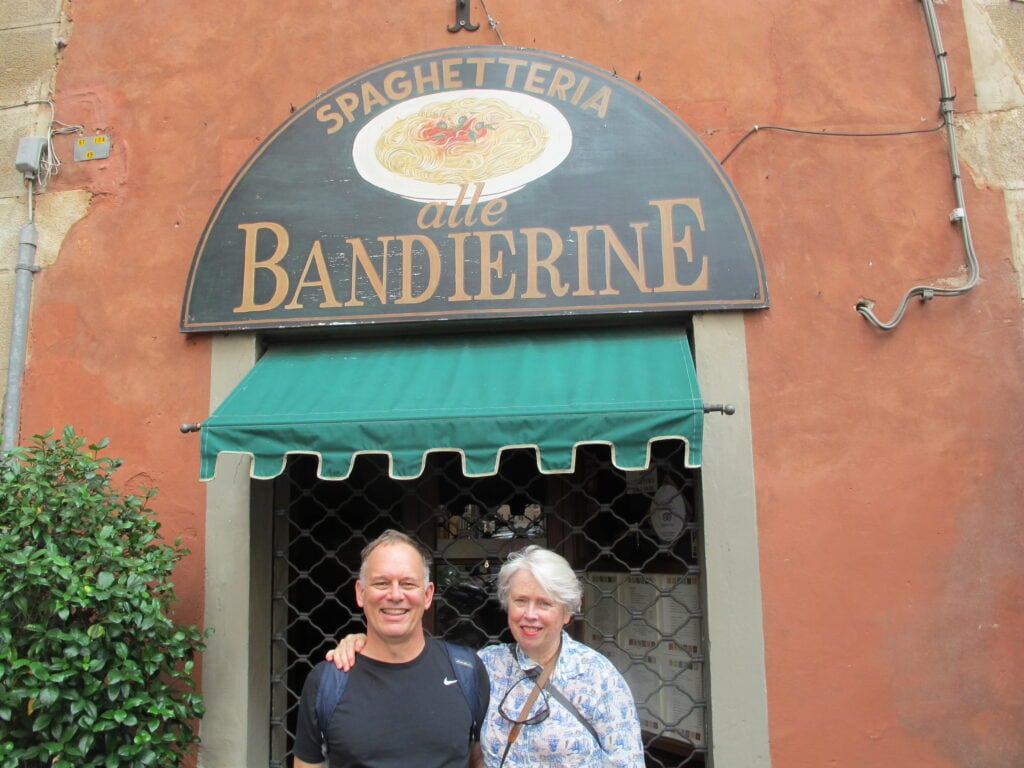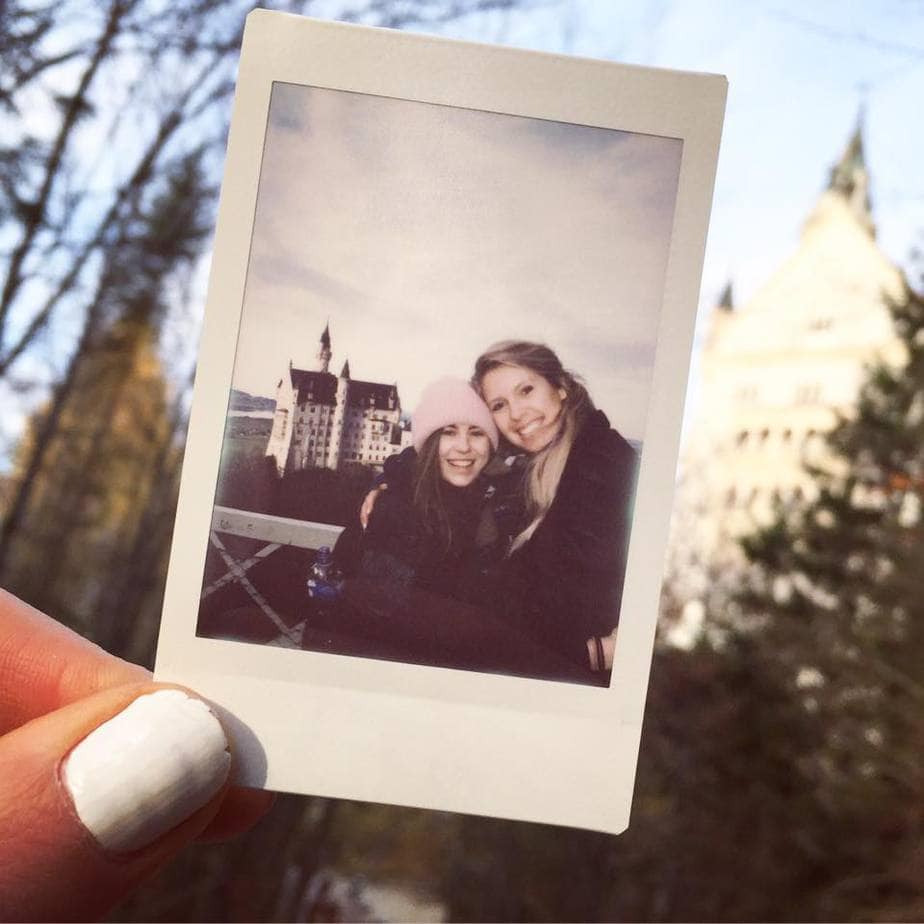 Pages 20 + 21: Portugal, UK, France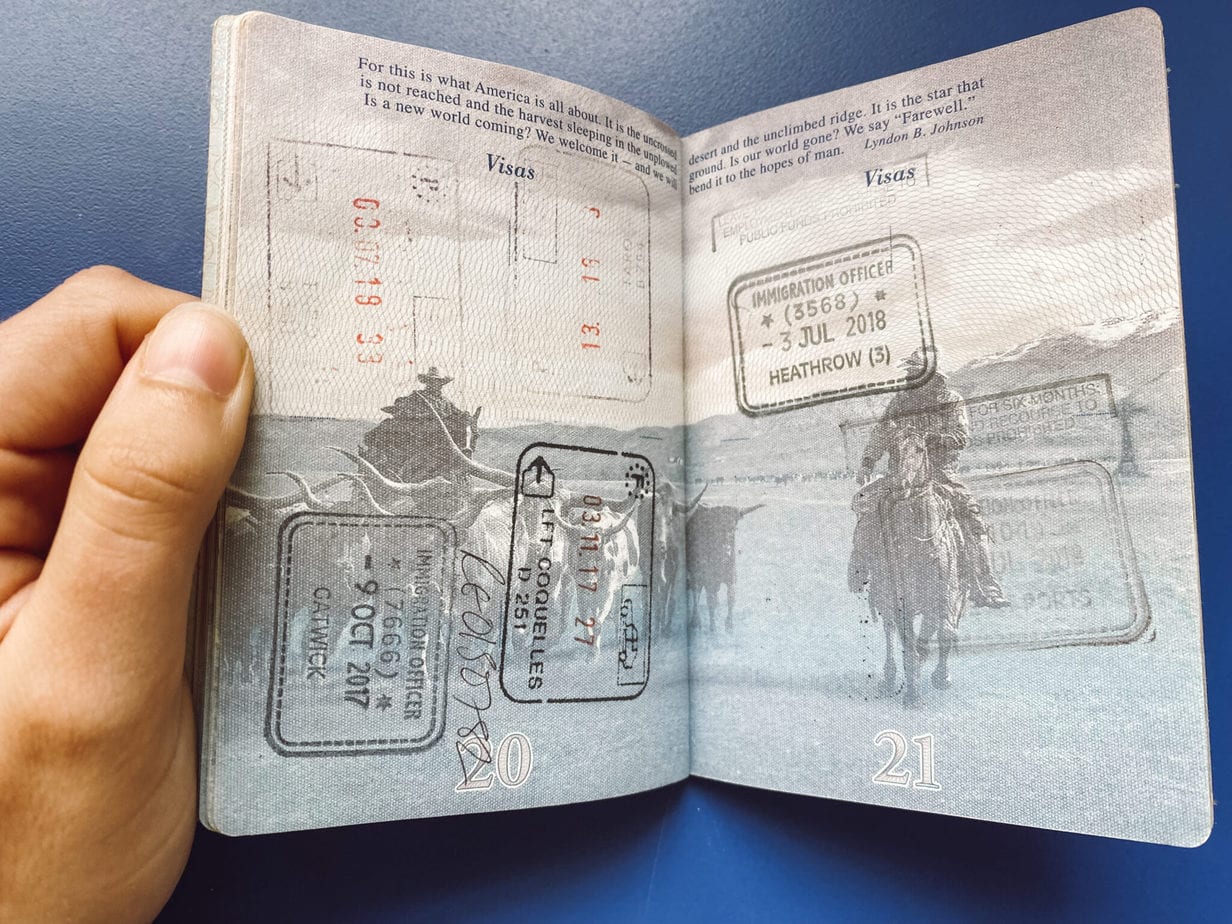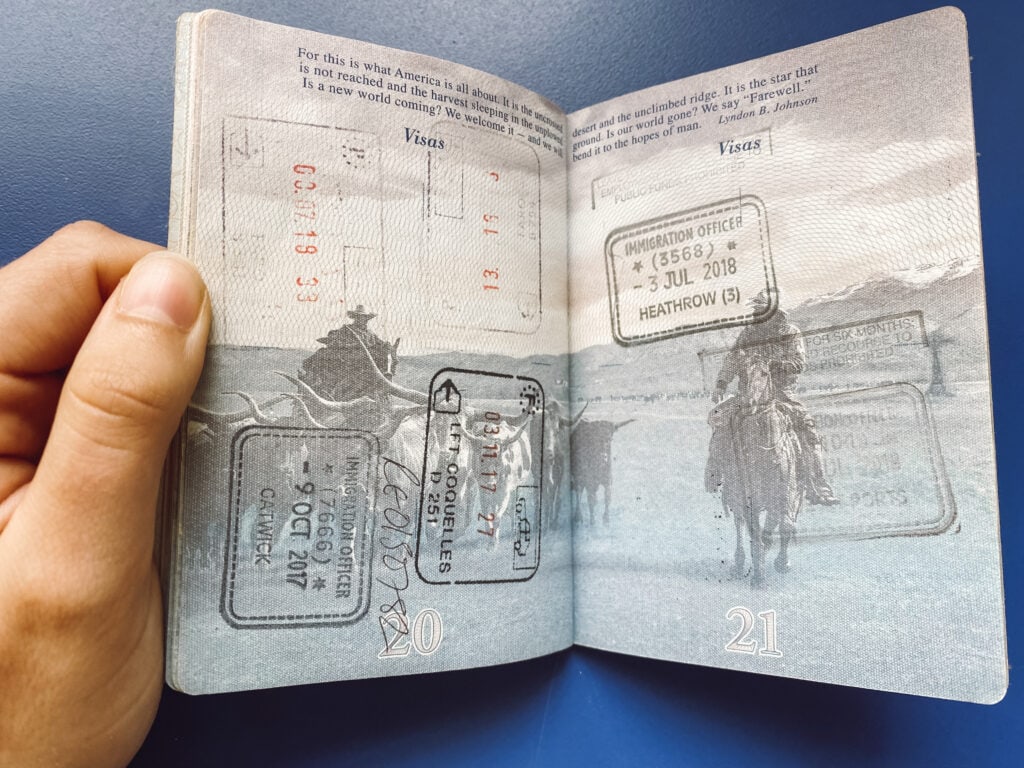 Faro, Portugal is the faded stamp in the upper inner left. I guess now we are moving on past the tumultuous era of my time living in England, when travel was just an overly tempting and overly cheap Ryanair flight at my fingertips. This was in 2018, so I was back living in the US and Dan and I were in our second round of international long distance relationship-ing. I flew to see him that July, and we attended Wimbledon together, and then flew to Portugal's southern Algarve coast. We stayed in a surf hostel, had barbecues, went paddleboarding through the coastal rock formations, and had a terribly eventful day attempting to learn to surf, in which one of our fellow surfers got carried off the beach to a Portuguese ambulance and I swore off surfing for the next three years.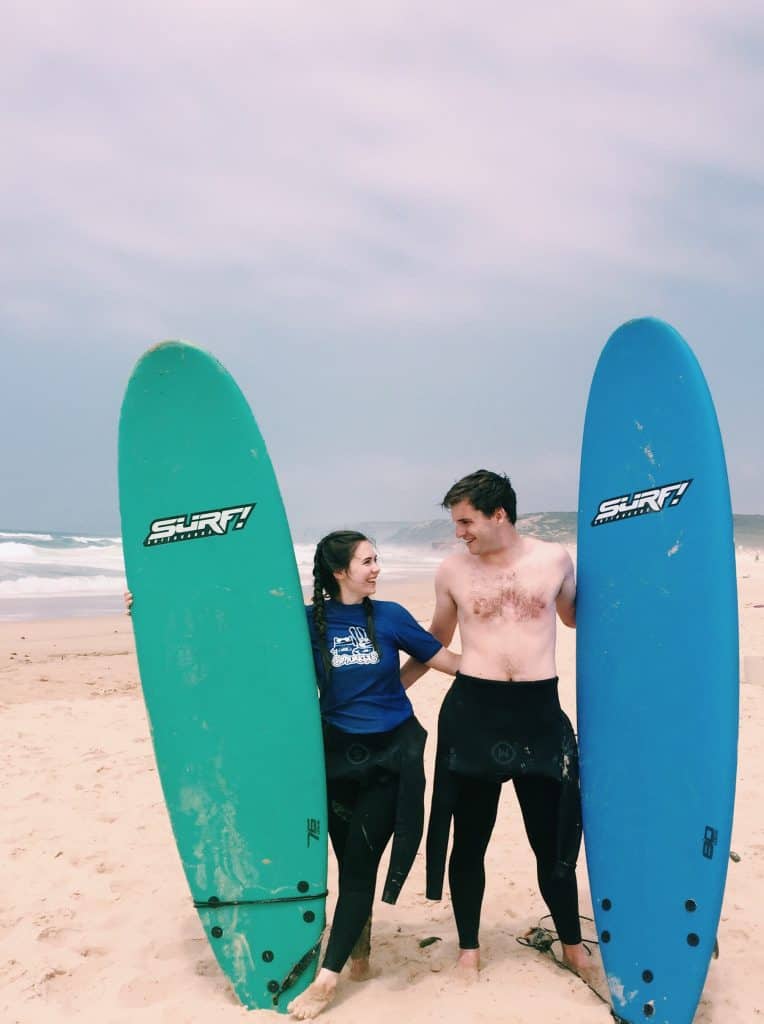 Pages 22 + 23: UK, Nepal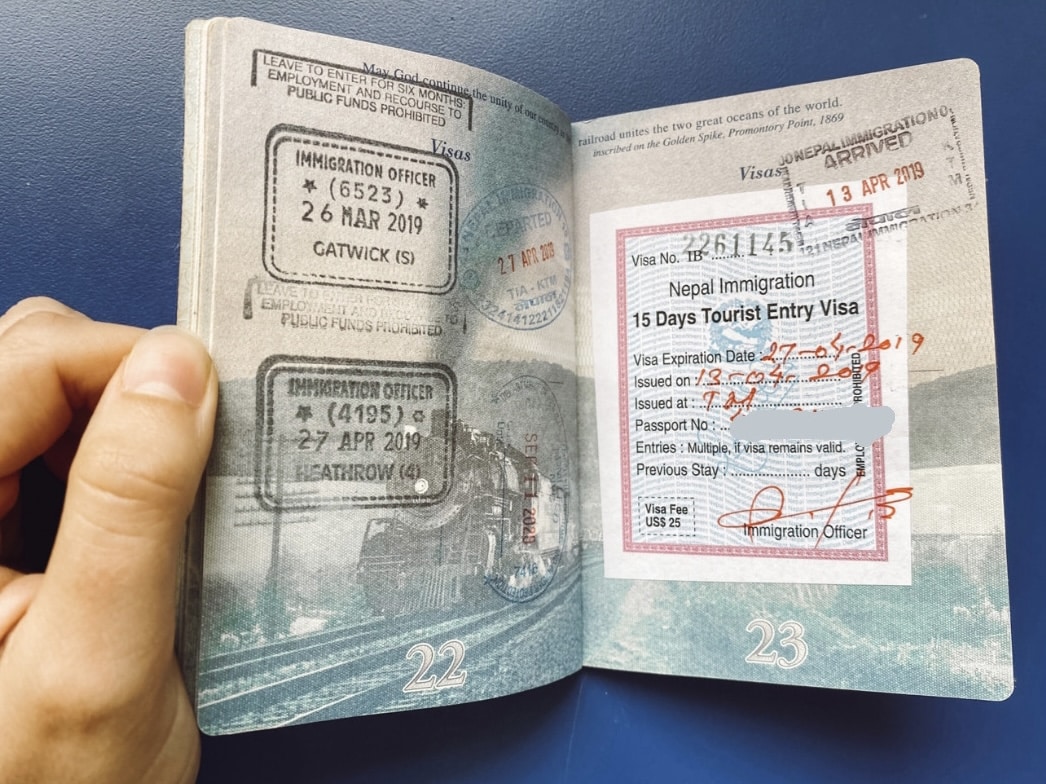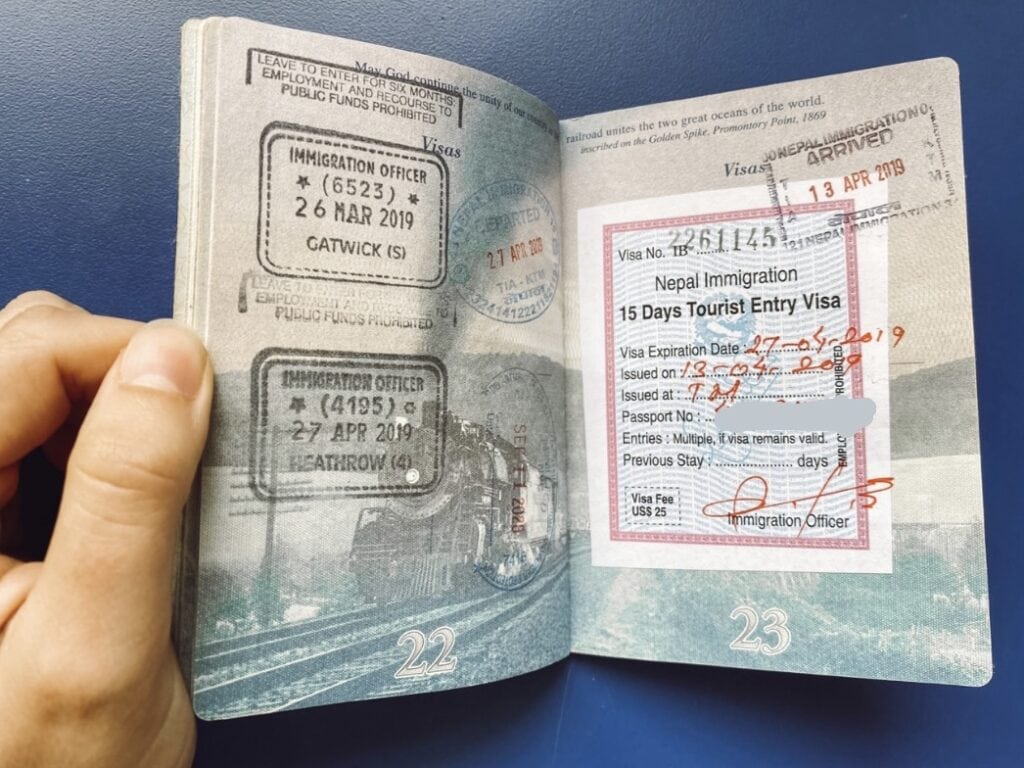 Nepal, the visa on the right page, is another of my absolute favorites. In April 2019 I flew to Nepal to trek to Everest Base Camp. I flew by myself and joined an all-women tour group (I'd come a long way from my first solo travel, those lonely days in Madrid in 2016). This trip was particularly meaningful because I'd recently had surgery and been diagnosed with endometriosis, and then set EBC as my lofty recovery goal. The visa itself, too, is memorable due mostly to my own stupidity. During my layover in New Delhi, India, I realized that I would need CASH to get my visa on arrival in Nepal. I only had a credit card. I ended up stuffing my pride and bumming $25 off a rather disgruntled fellow American in the airport, whose flight had been canceled, and who let me PayPal her back.
PLAN | Visit my full Nepal page for more blog posts.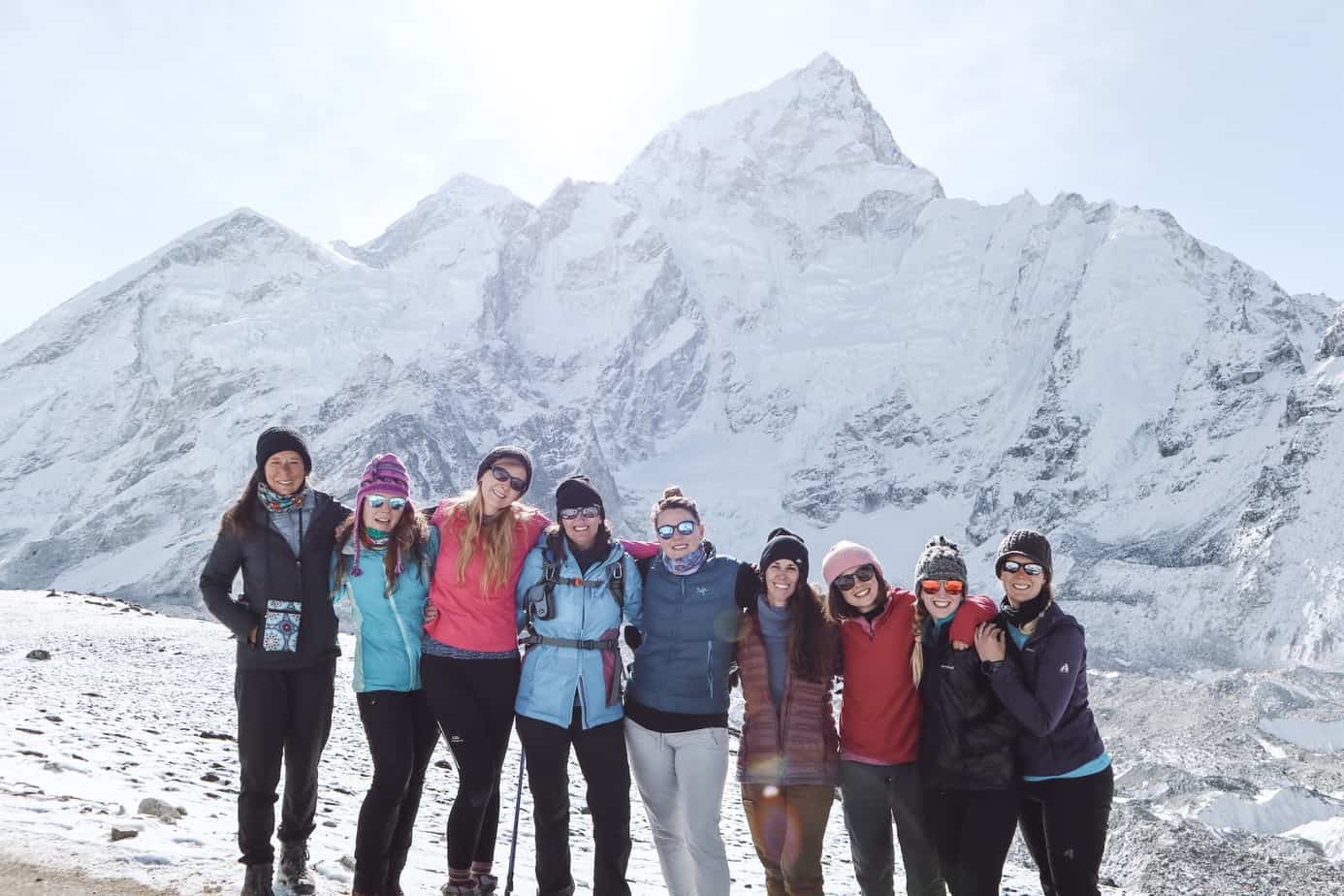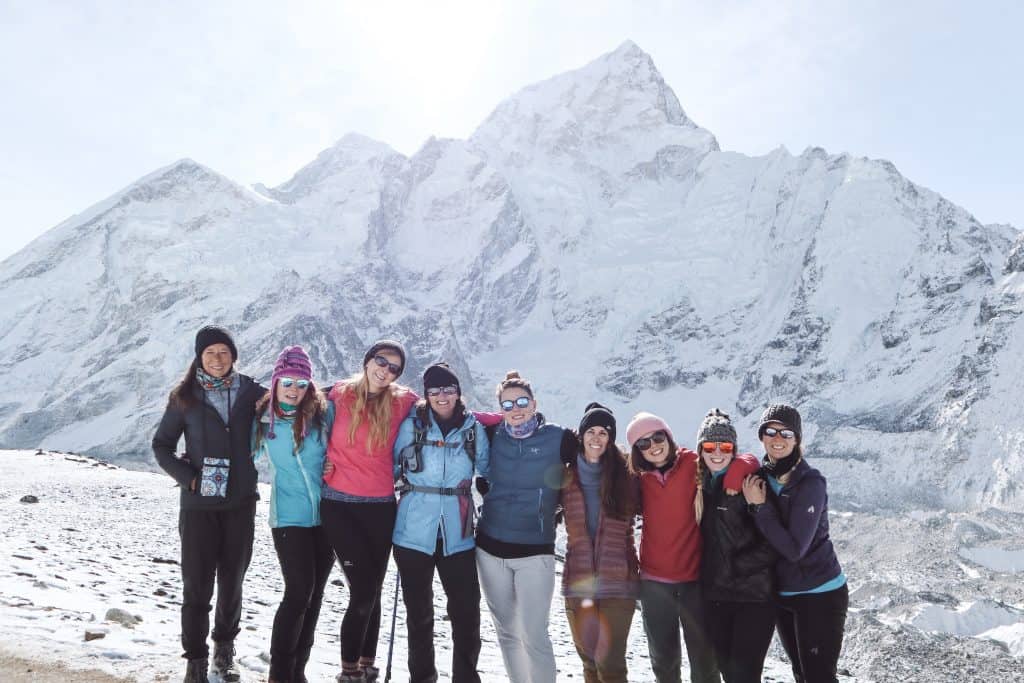 Pages 24 + 25: India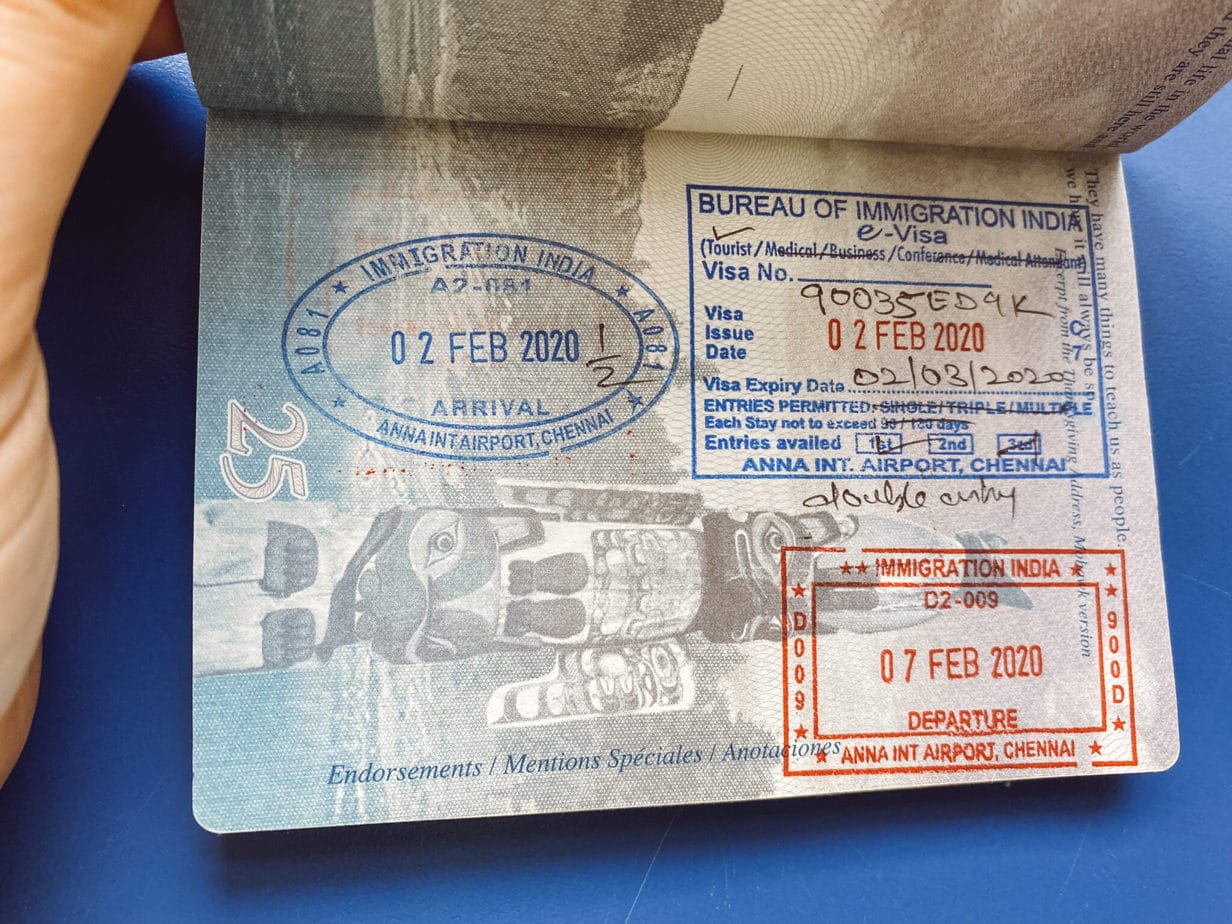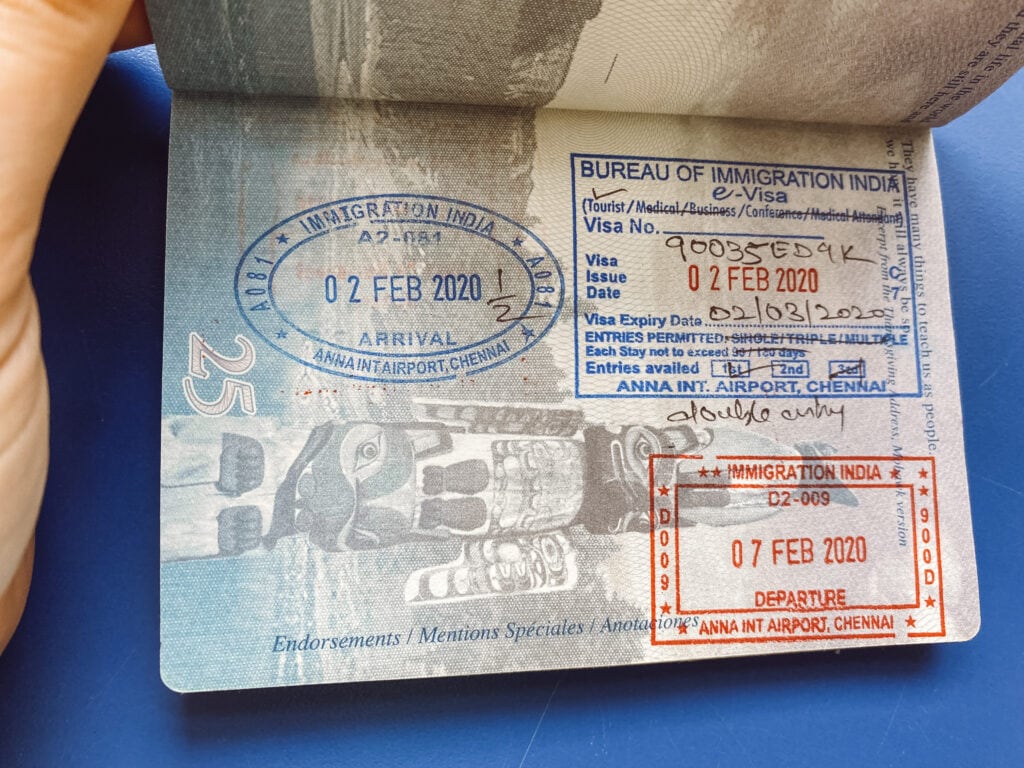 India was a trip I took in February 2020 – yes, right before the world imploded, but that's another story. My friend Vaish, who I mentioned earlier, invited Dan and I to her wedding! But this wasn't just any wedding… it was an 800 person traditional Indian wedding in which I would attend multiple events including arriving early to rehearse a dance we would perform on stage in front of all said 800 people. It was freaking awesome. It was so wonderful to reunite with Vaish, and my other international student friends from my grad school years in England.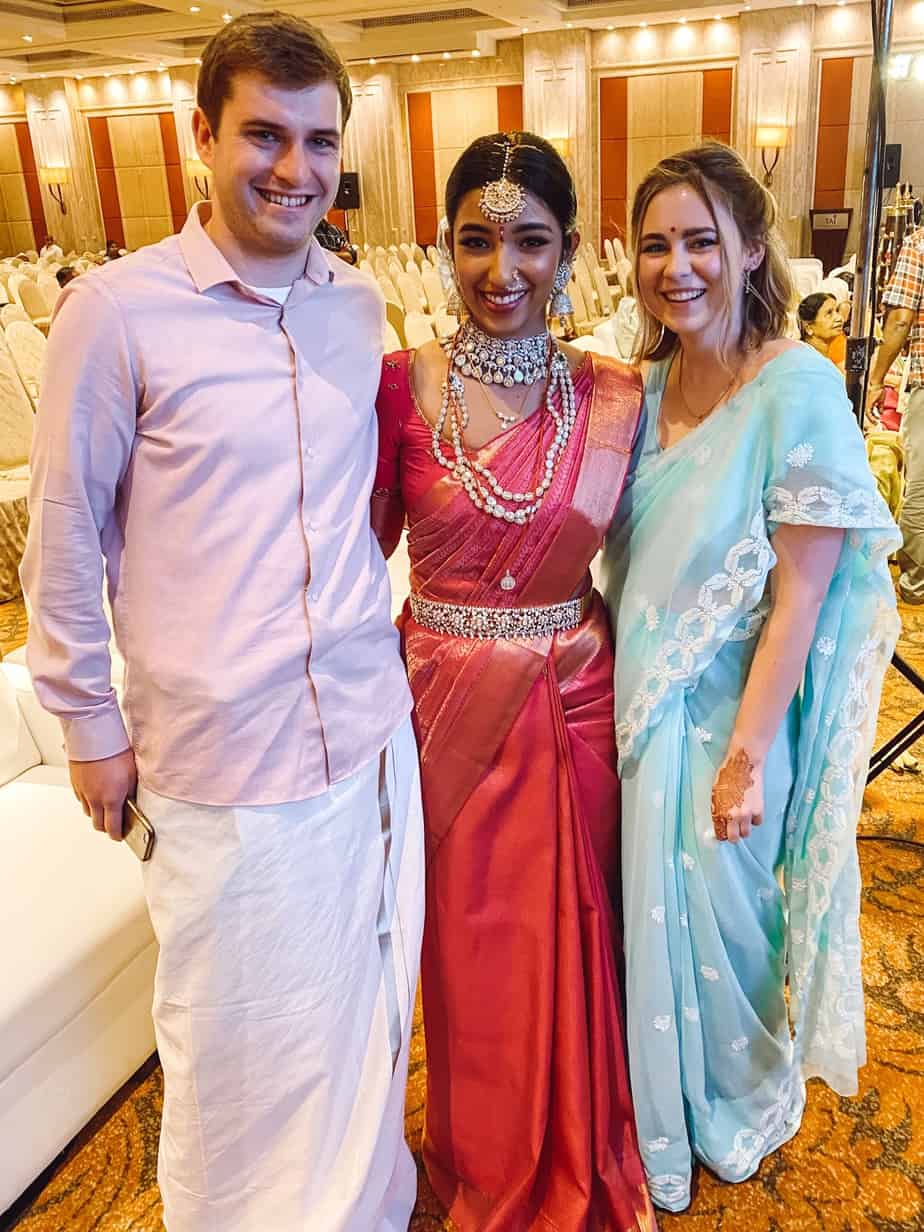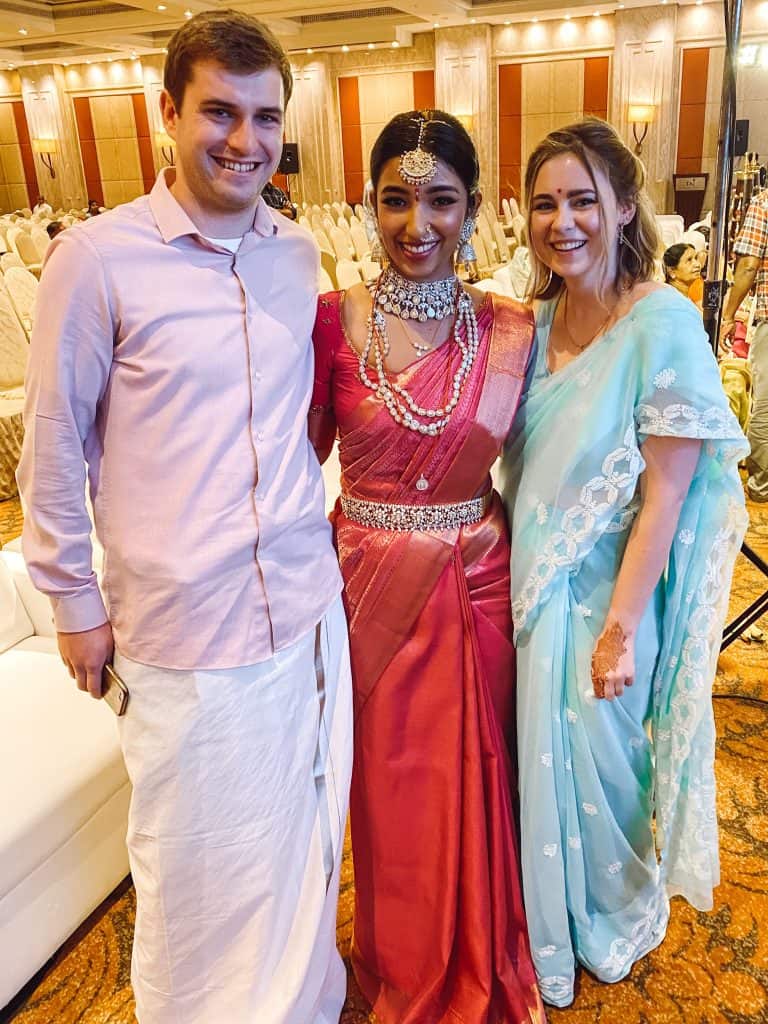 Pages 26 + 27: Morocco, Sri Lanka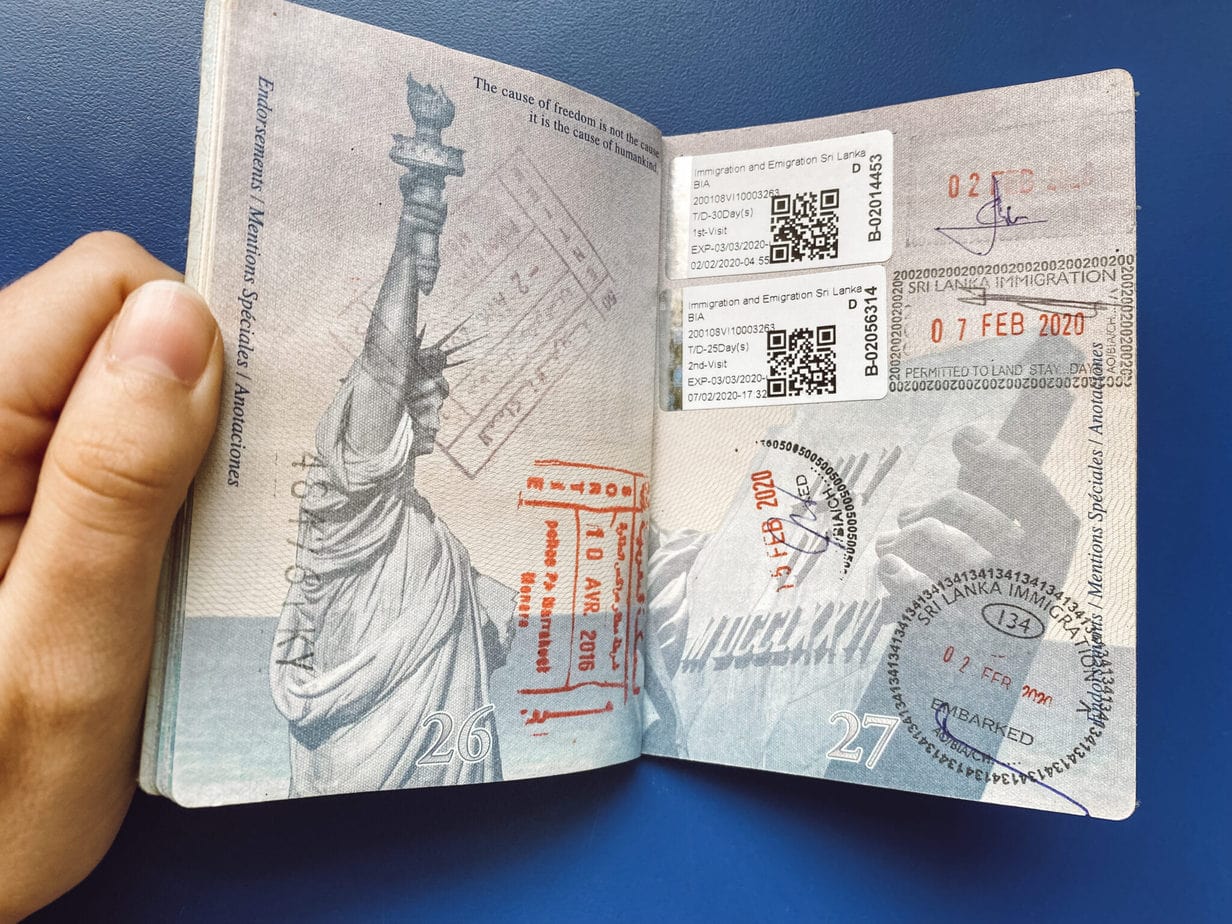 Morocco, on the left page, was stamped somewhat out of order, as this is actually a trip I took in 2016. During the same spring break I spent in Valencia and Madrid, Spain, I then flew down to Marrakech where Dan and I had our first ever vacation together. Sure, we had traveled to visit each other prior to that point, but we'd never gone on vacation. We stayed in the most amazing boutique riad, which I would return to in an instant, and really got to know Marrakech. We also spent a couple days out in the Sahara desert, sleeping under the stars. I would love to return.
PLAN | Visit my full Morocco page for more blog posts!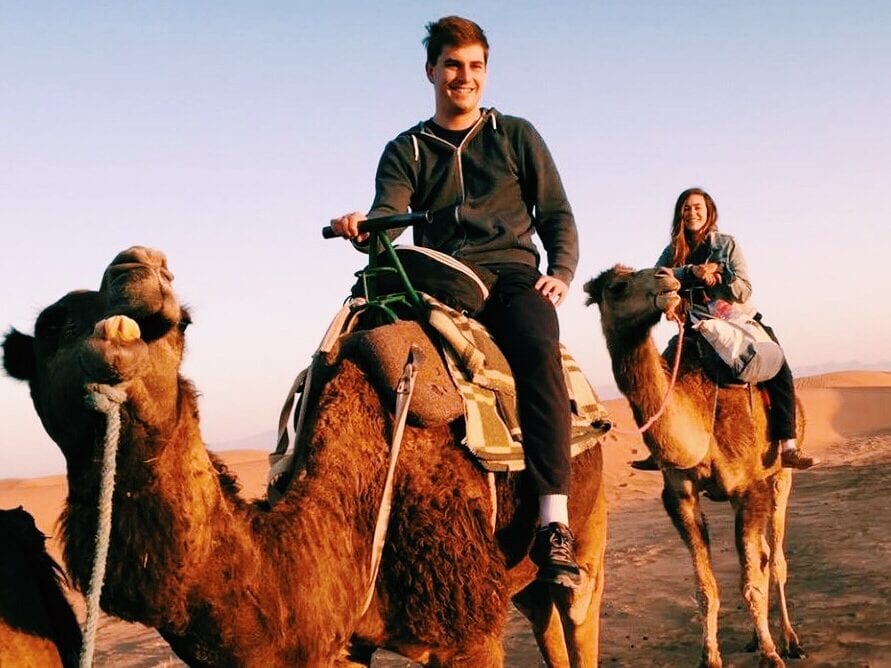 Sri Lanka, on the right page, was where Dan and I jetted off to in 2020 for a week after Vaish's wedding in India. (Ironic that our first and last international trips together ended up on the same page… I was an English major so I can find symbolism in anything by the way). This was another incredible trip that I have written extensively about on the blog. It was also right as the world was unraveling due to COVID-19. We really had no clue how much it was unraveling at the time, but between our flight in to Sri Lanka, when people here and there wore masks, and our flight out, when the USA had shut down all but 12 major airports, things drastically changed.
PLAN | Visit my full Sri Lanka page for more blog posts!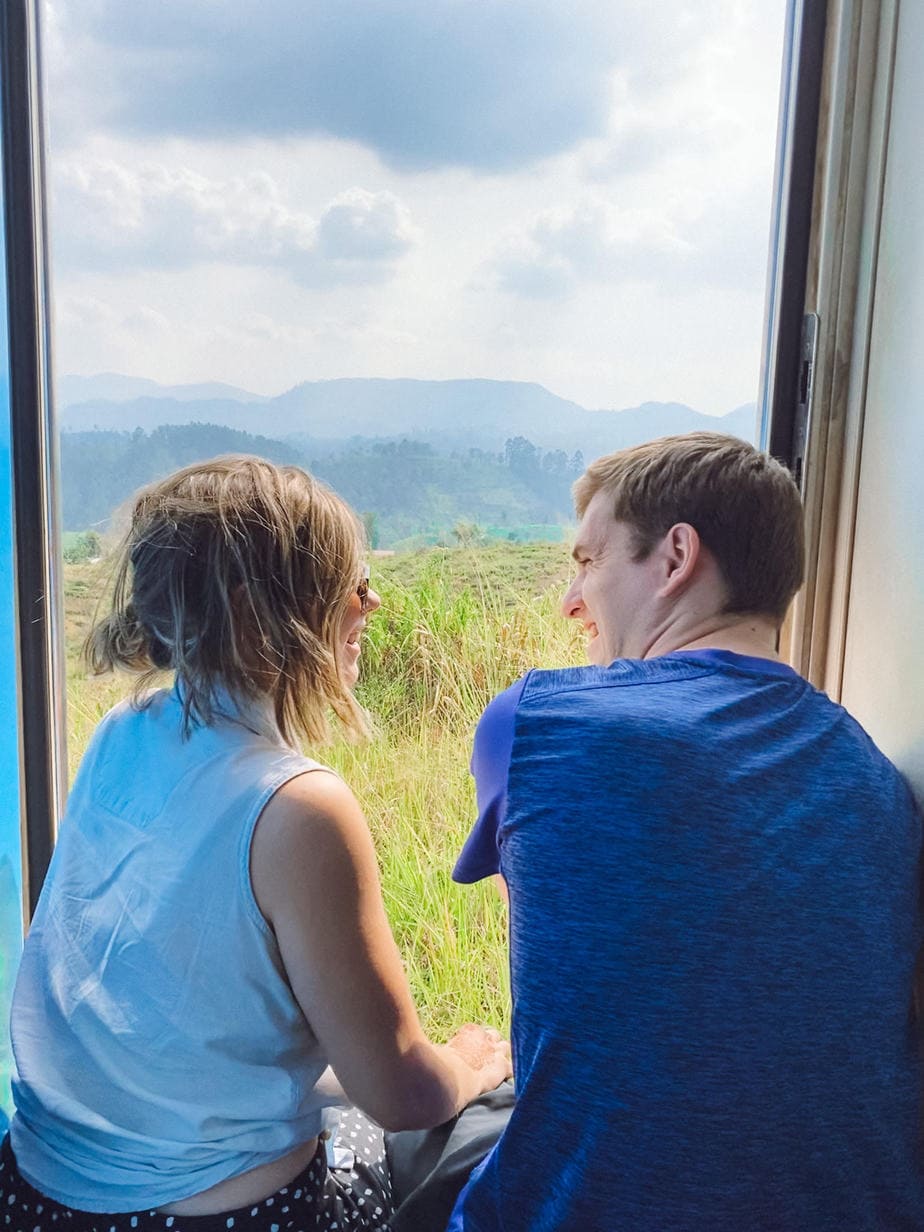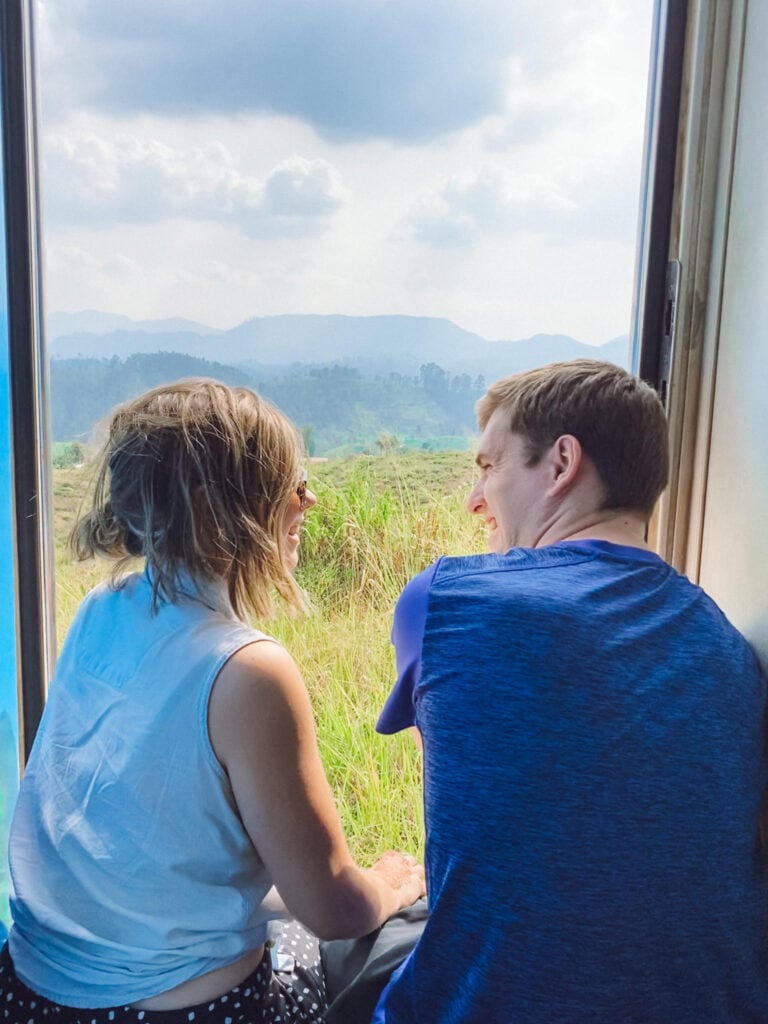 How a Decade of Travel Changed Me
Well, I told you this blog post would be self indulgent to say the least, so I'm impressed if you made it to this point. For me, though, writing this post has been incredibly cathartic.
For one, I can't quite believe a decade has nearly passed since I was a sleep-deprived college student in small town Ohio applying for my passport for study abroad. Time has gone too fast, and now arguably in my late 20s (is 27 years old mid or late 20s?), I often wonder if I've done enough with that time, or perhaps wasted it or taken it for granted. This has especially been my worry with these past three years that I've been back living in the USA, with both my career and my health a complete mess for a while there.
But writing this out, I realize how much I've smushed into this decade. At some points – like those final three months I lived in England – I think I almost stuffed in too much travel, and too much living, for fear of… I don't know what. Missing out on the vast potential of experiences in life? It was exhausting and took my health to a breaking point.
Also in writing this out, I've noticed some threads. There's first, my personal confidence and transformation (and I'm only partially referring to my glow up in passport photos). In 2012, I'd never gotten on a plane by myself before. Now, I've solo traveled to Iceland, Nepal, Spain, and so much more. I moved to another country by myself and made a life and career, and then I had the strength to say goodbye to that when I moved back to the US.
I also see my friends in these stamps. The deep friendships that I made with people from all around the world, that have solidified in travels together. I've felt really lonely the last six or so months, partly due to working too much, partly due to a global pandemic, and partly due to being isolated here in Michigan with most of my close friends spread across the world, far away from me in both distance and, now, time since our last reunion. These stamps remind me that those friends are still out there, and I'll see them again someday.
And perhaps most of all, I see a love story. The story between Dan and I, who met at a Halloween party during my study abroad year in England, who was meant to be a casual fling. A story I can trace through this book of stamps – of trips we took together, of trips I took to him, of trips I took without him and spent missing him, always, somewhere in the back of my mind. And that one, single empty page represents the hope we held out on that borders would open and we could reunite earlier this year. I always would have loved travel, with or without Dan, but there certainly wouldn't be so many UK stamps, and I certainly wouldn't be the same person.
The Next Decade of Travel
While the guy at FedEx was cutting my passport photos, he asked me where I was going. I was a little taken aback, before I said, "I don't know. Everywhere?" On the official paperwork, though, which asks the same question (it's very American to assume you need to have a trip booked to want a new passport), I wrote England, because I'm nothing if not predictable.
I'm in a limbo period while I'm passport-less. Between my old passport and my new. The last decade of travel and the next. The pre-pandemic travel era and the post-pandemic travel era. During this limbo, in two weeks from today, I fly to Atlanta for a major surgery for endometriosis. A surgery which, I hope, improves my pain and quality of life, and can lead to plenty of travel… and living… over the next decade.
So, what exactly does the next decade of travel hold? Well, I have some ideas and some deep hopes. None that I'm quite ready to share with the world wide web.
I will say… this time, I ordered the 52-page passport.