The Ultimate Guide to Gluten Free Cinque Terre, Italy
Italy is one of the best countries for gluten free travel, but I couldn't find any information on gluten free Cinque Terre restaurants before our trip. Nevertheless, off we went to Cinque Terre. I figured there are worse things than living off gelato and limoncello…maybe my stomach wouldn't feel so empty if I distracted myself with the colorful villages around me?
So, how did the gluten free Cinque Terre scene turn out? I spent a lot of time searching out safe gluten free restaurants, and I'm here to share them with you. I don't want you spending your holiday time looking for places to eat, like I did – enjoy the scenery!
This really is the ultimate guide to gluten free Cinque Terre, Italy. Below you can find:
A gluten free Italian translation card
Restaurant recommendations village by village

Gluten free Riomaggiore
Gluten free Manarola
Gluten free Corniglia
Gluten free Vernazza
Gluten free Monterosso

General tips such as what village to stay in
Traditional Cinque Terre gluten free foods
A downloadable map
Enjoy and happy gluten free traveling!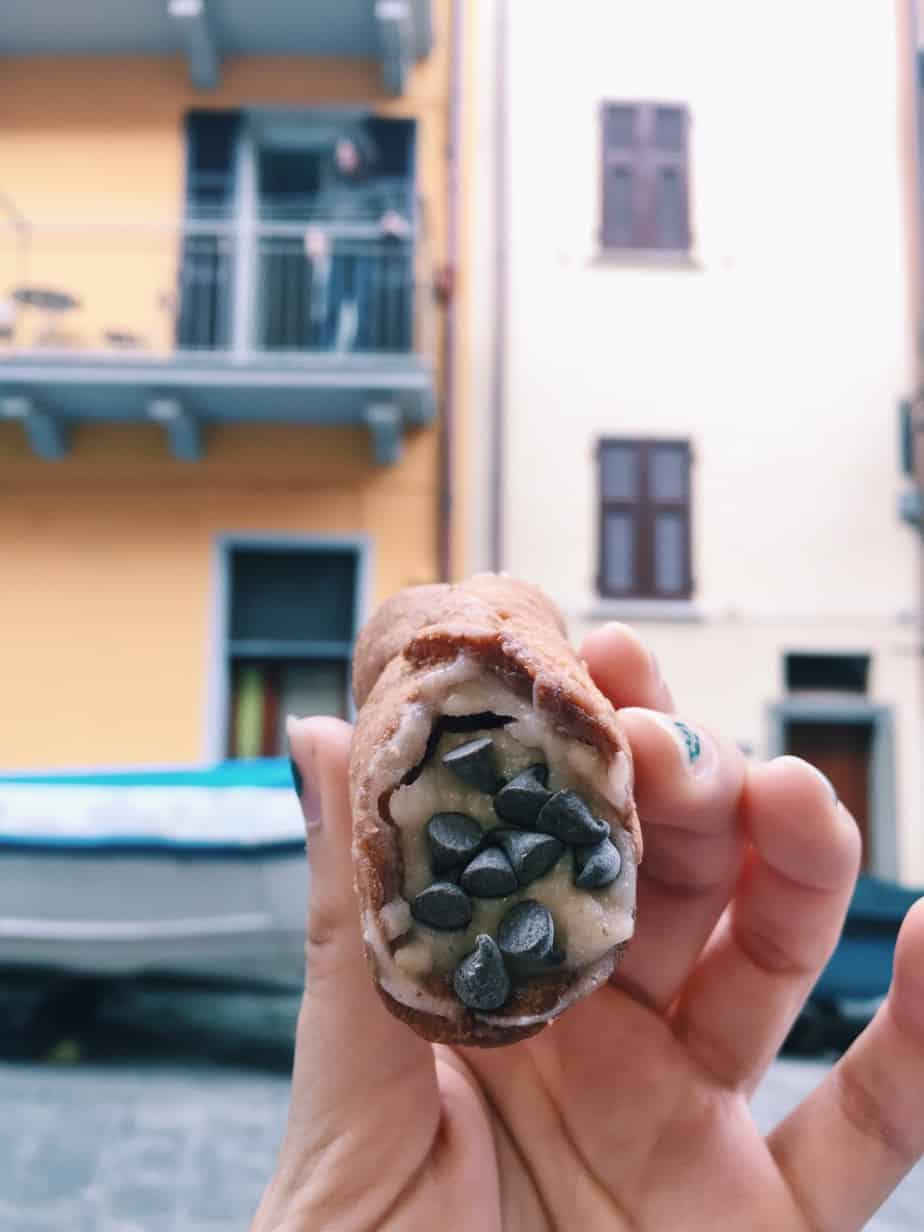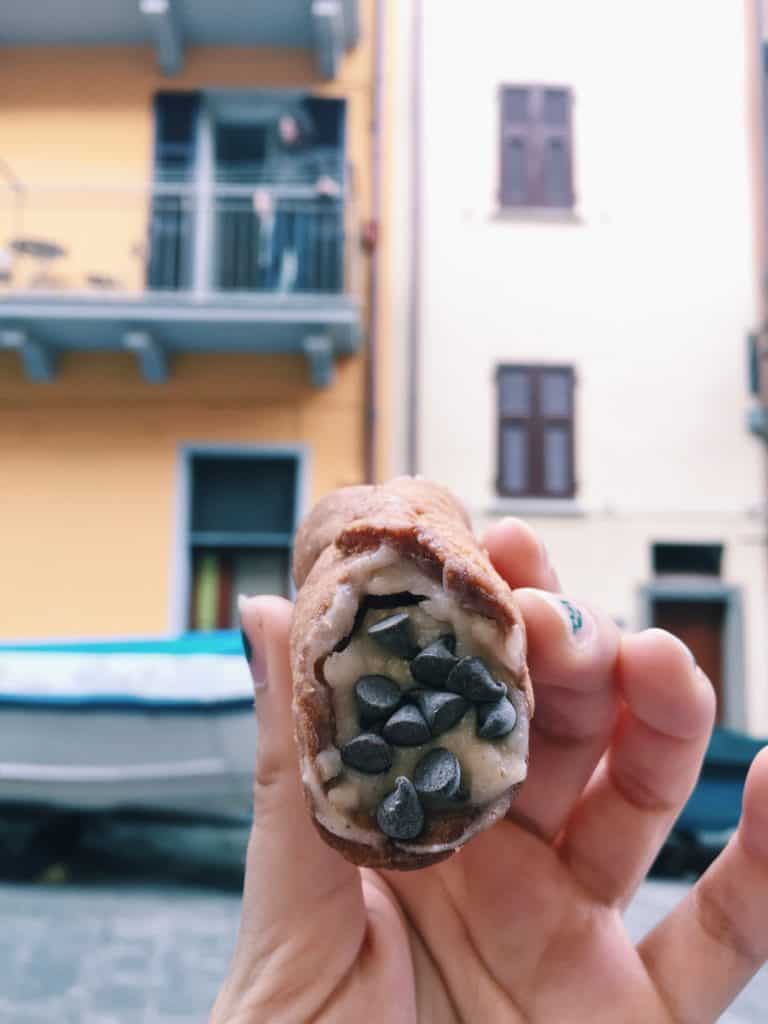 A gluten free translation card for Italy
I've traveled quite a bit through Italy, and I actually found Cinque Terre was one of the worst places for gluten free travel and celiac disease awareness. Now, I'm not saying I had a bad experience by any means – celiac disease is extremely well recognized in Italy. It's one of the best countries I've ever traveled for gluten free food!
For some reason, though, this awareness just seems a bit less in Cinque Terre. So, like anywhere, you still need to communicate your needs, especially regarding cross contact, extremely clearly.
For communicating in Italian in Cinque Terre, I highly recommend this translation card from Legal Nomads. You can buy it online and download it to your phone.
I love the Legal Nomads translation cards because Jodi, the creator, has celiac disease. I personally use them and highly recommend! These cards go in depth and discuss cross contact and Italy-specific foods – no other translation card on the market does that. Click the image below to read more about the translation card.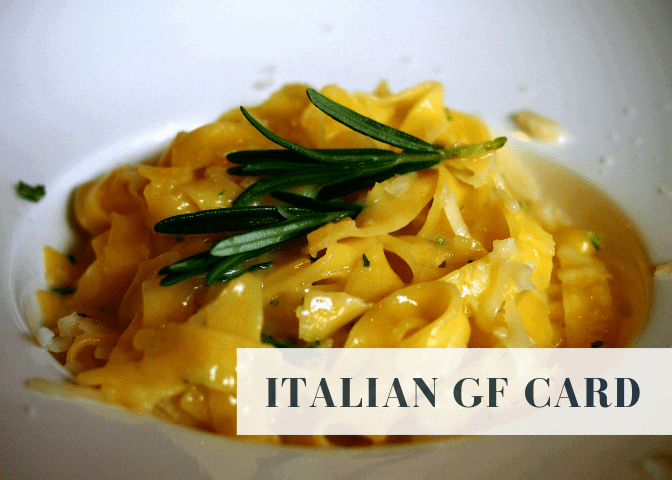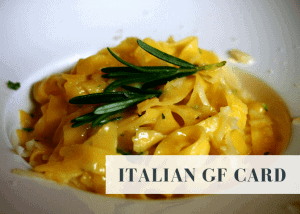 5 tips for gluten free Cinque Terre, Italy
1. Eat all the farinata
Lucky for us, a traditional Cinque Terre specialty is Farinata, which is a naturally gluten free pizza-like dish, made of chickpea flour. You can find it in every village at any takeaway place! Just be sure to check about cross contact.
2. Make dinner reservations
If you're gluten free and traveling to Cinque Terre, I recommend taking the time to plan ahead (and you're already halfway there as you're reading this post!). You have to make dinner reservations at most places anyway, thanks to the seething number of tourists in all seasons, so make sure you book a reliable gluten free restaurant!
3. Choose where to stay wisely
From a gluten free standpoint, I would recommend basing yourself in either Riomaggiore or Manarola.
Manarola has the most gluten free food options (lunch, sweets/pastries, and dinner), but Riomaggiore has the best dinner restaurant (Veciu Muin).
According to reviews on Tripadvisor, Monterosso has tons of gluten free restaurants as well (although we only tried one which was a bust) but I personally think this is the least "authentic" feeling village, and wouldn't have enjoyed staying there as much.
Ultimately try not to overthink what village you stay in as it's so easy to travel between villages on the train.
We stayed in an Airbnb in the gorgeous marina area of Riomaggiore. There are tons of Airbnbs in Cinque Terre and this is the best and most popular accommodation choice – especially for us gluten free travelers, as you get your own kitchen.
4. Book your accommodation early
Speaking of where to stay in Cinque Terre, decide early! Those prime house rentals get booked up fast. The Cinque Terre is very popular with tourists so I would advise booking six months ahead of time to have the most choices (I know… as someone who doesn't even know where I'm living six months ahead of time that's crazy to me too). We booked our accommodation three months ahead of time and there were limited options left.
5. Bring supplies
You'll find a 5Terre Coop in each village, which is a very small grocery shop. I was able to find gluten free biscuits/cookies which I ate as a somewhat sad breakfast, but you won't find gluten free pasta, bread or other food here. So if you are looking to cook at home in your apartment, make sure you buy pasta/bread elsewhere and bring it to Cinque Terre with you.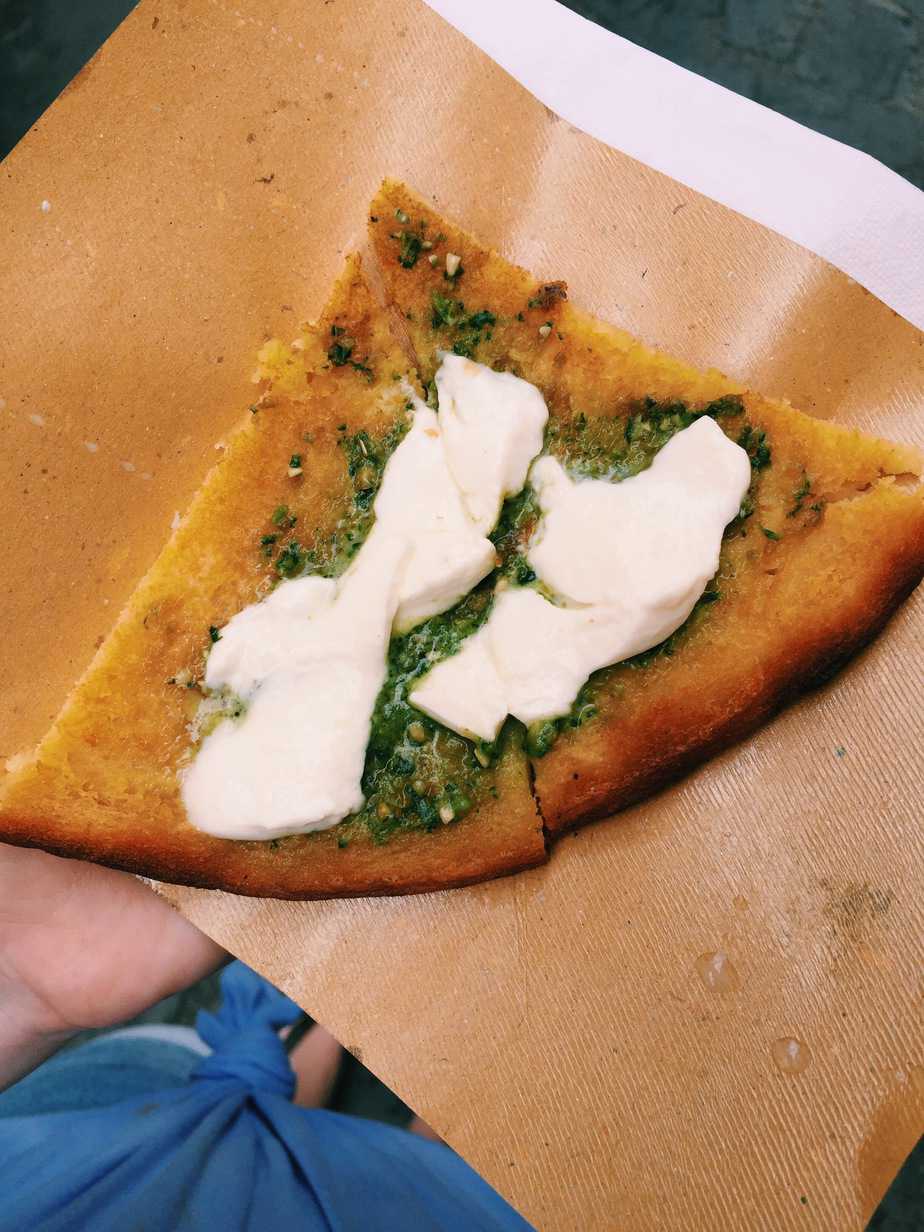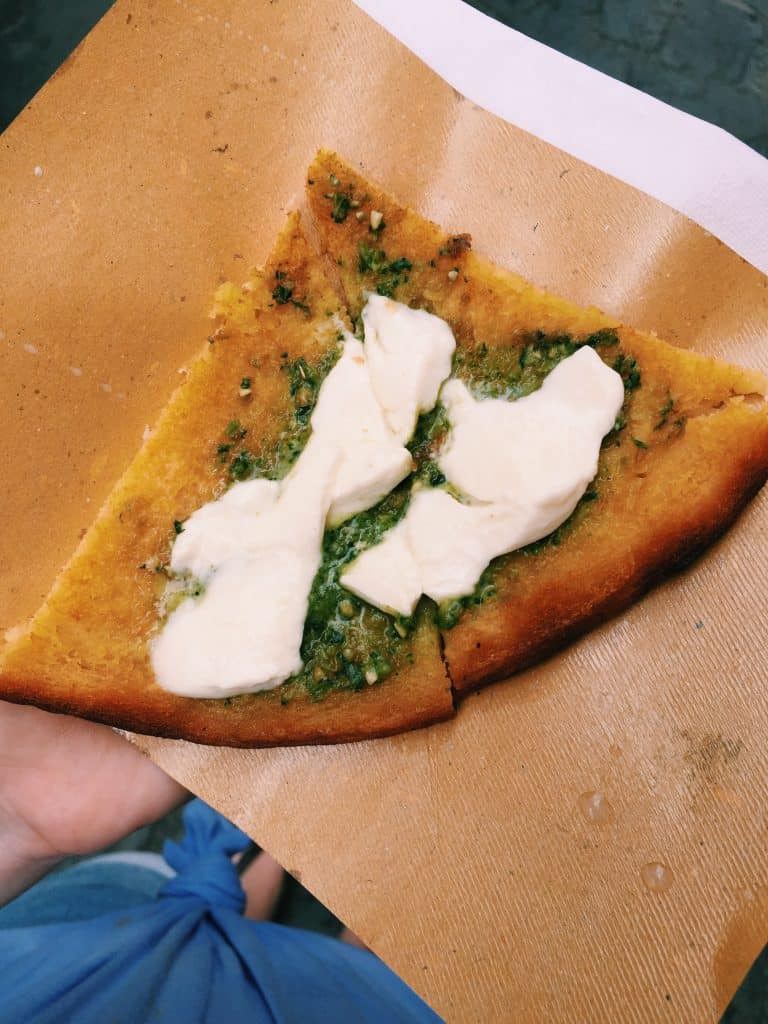 Gluten free Riomaggiore
Riomaggiore is the southern-most village, where we stayed, with a beautiful but small marina and the best gluten free dinner option. I loved staying here and would highly recommend it! Book an Airbnb in the marina, preferably with a little terrace to watch the sunrise and sunset – it was the dream!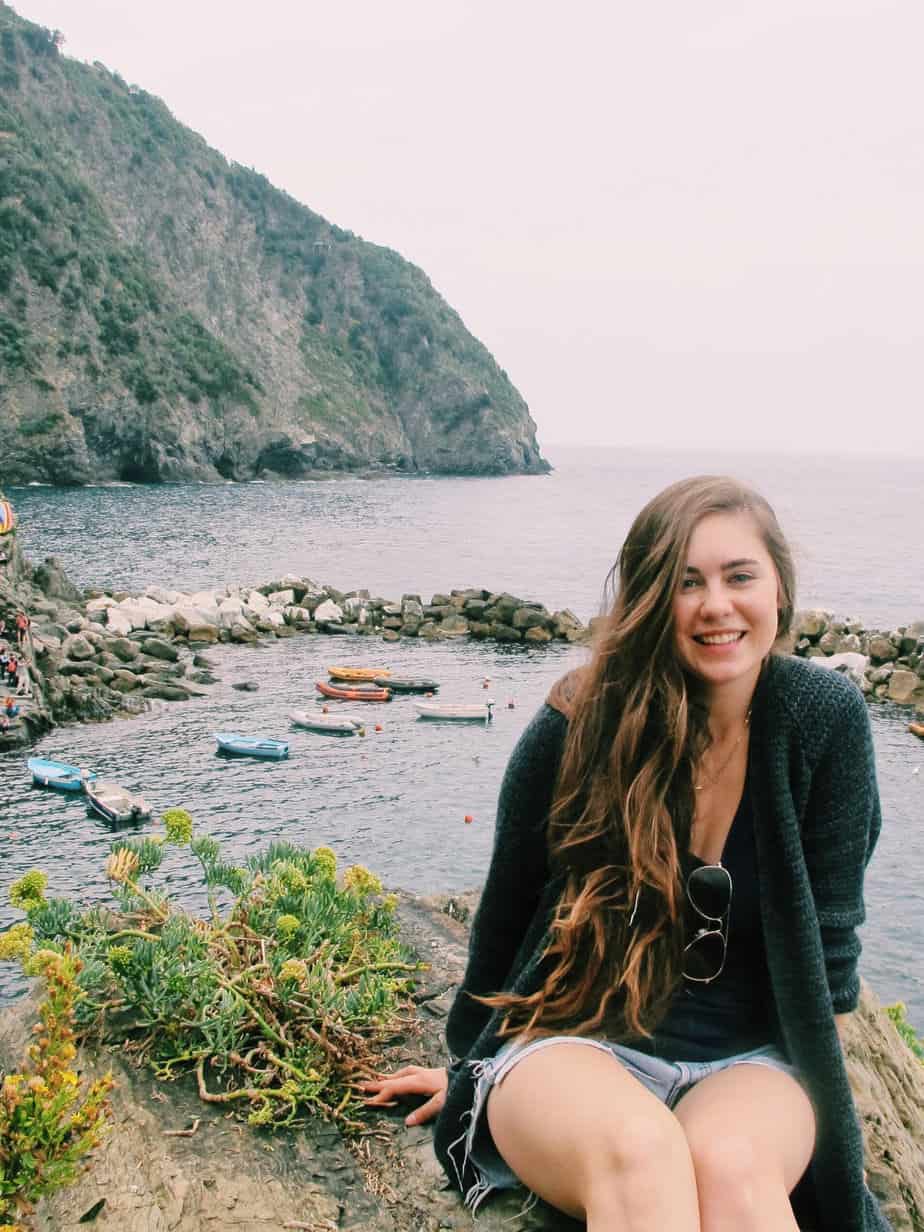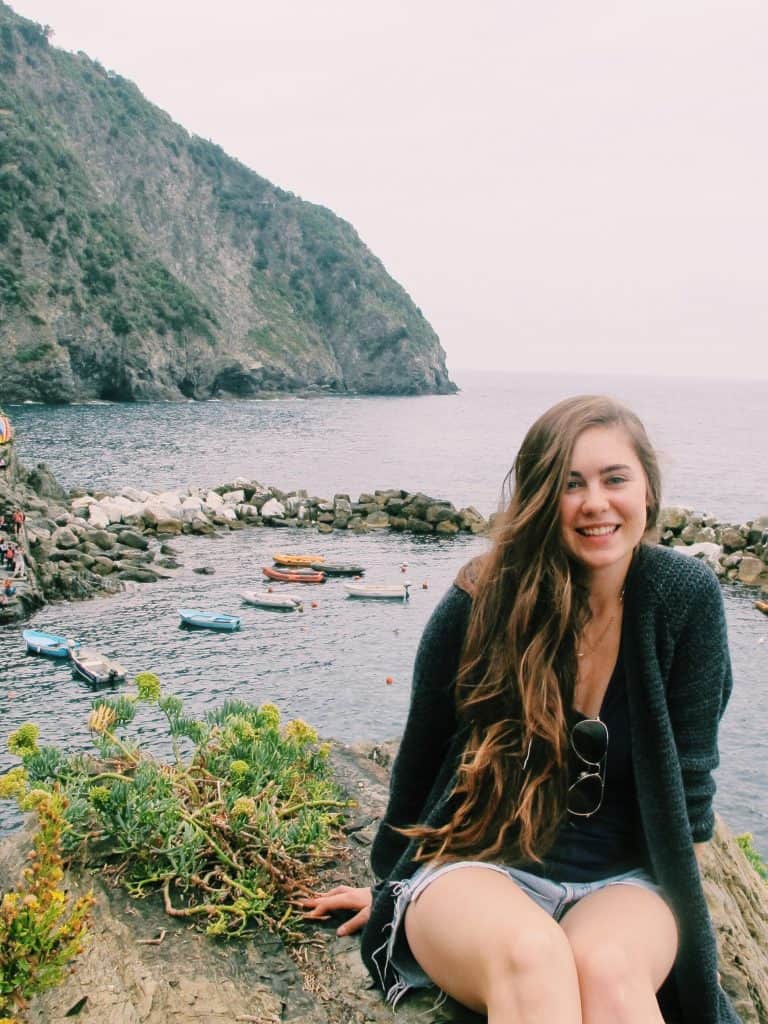 Veciu Muin | Riomaggiore
We ate dinner at Veciu Muin twice (our first and last night). It became clear by our last night that Veciu Muin is the best and most reliable gluten free dinner we were going to find in Cinque Terre.
It's a simple and unpretentious place, further up the main road so quieter than other restaurants. You don't need a reservation, but I would recommend it as there aren't many other options if you can't get a table.
Veciu Muin offers both gluten free pasta and pizza. The pasta is only pre-packaged spaghetti, but you can have any sauce (minus the lasagna)…I loved the pesto pasta, and the ragu was good as well.
They have tons of pizza options, but the pizza base is just a cooked frozen base. I decided to save my pizza appetite for Florence. Although I was underwhelmed in comparison to other dinners I've had in Italy, the food was good and, most importantly, the staff understand cross contact (although I did use my translation card and would recommend you do too!).
Veciu Muin // Via Colombo, 83, 19017 Riomaggiore SP, Italy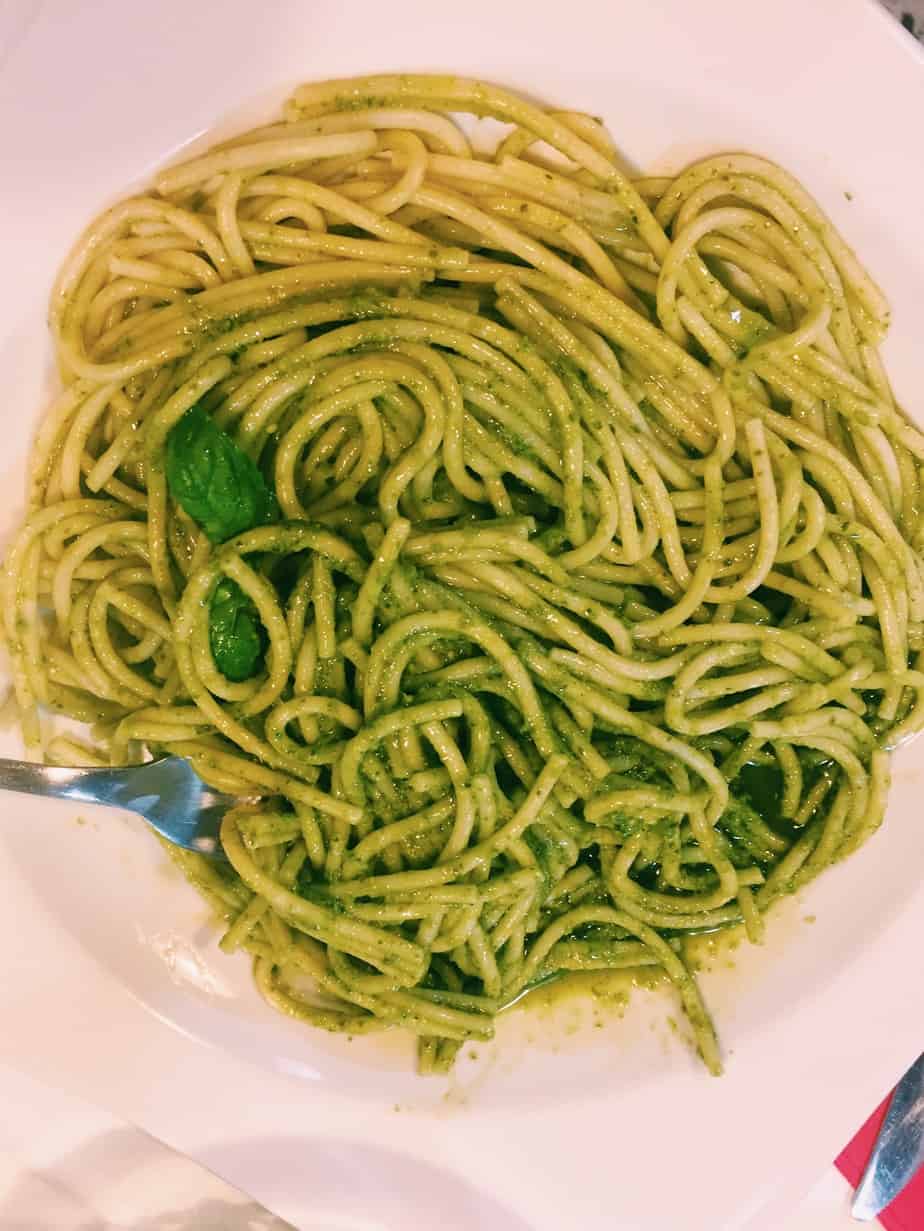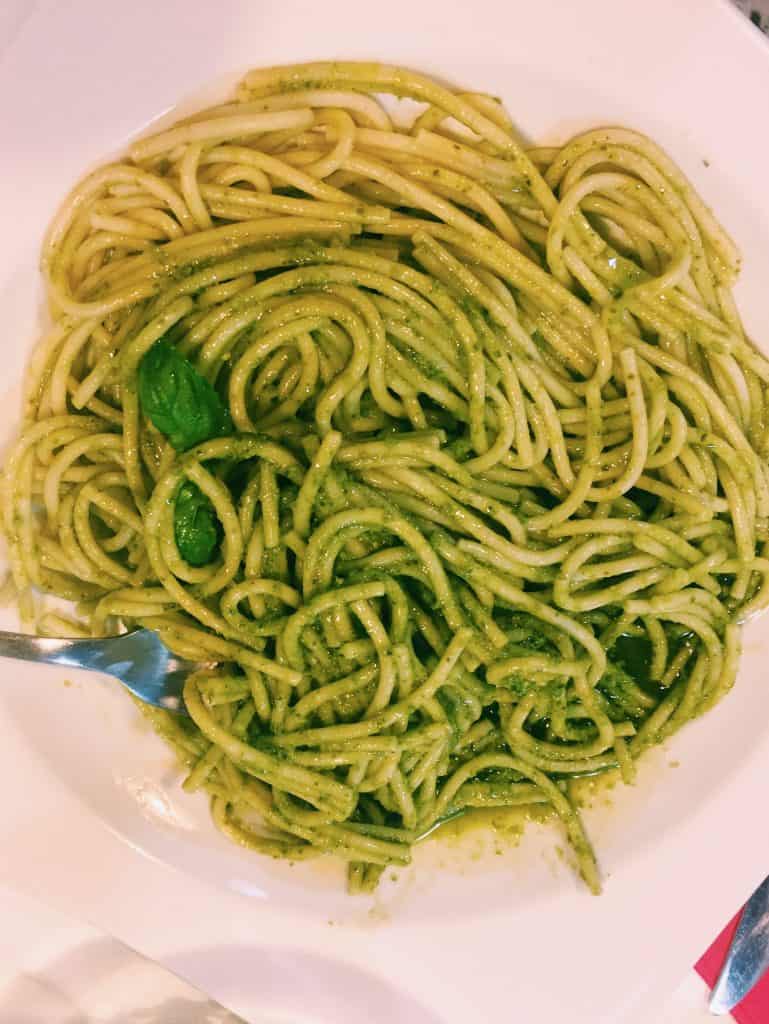 La Grotta | Riomaggiore
La Grotta does NOT offer gluten free pasta or pizza (contrary to some reviews online). However, the waiters are knowledgeable and knew straight away what dishes were naturally gluten free.
There is a really good seafood risotto (for two people) here that was gluten free and it is worth eating here for that alone. After all, you must eat seafood whilst in Cinque Terre!
La Grotta // Via Colombo, 247, 19017 Riomaggiore SP, Italy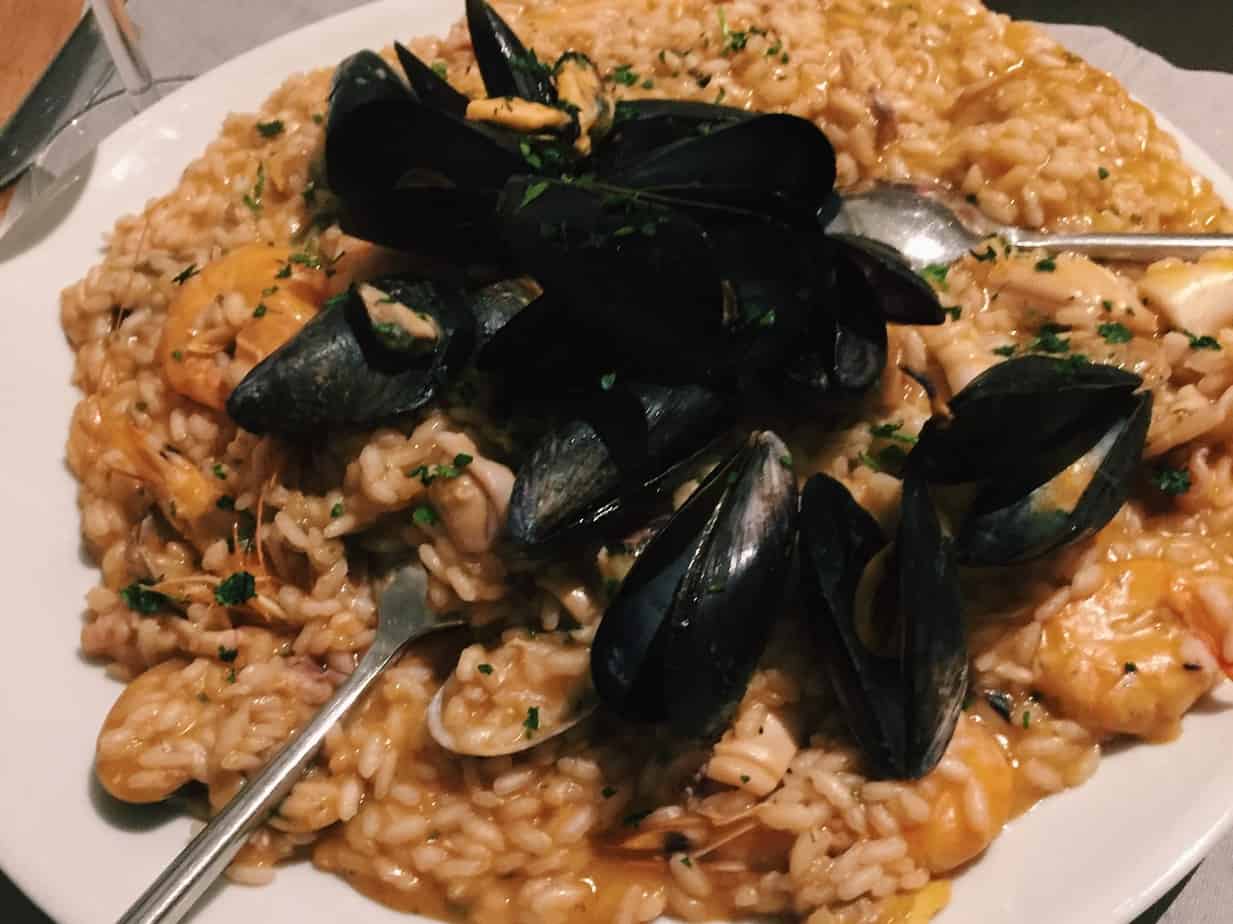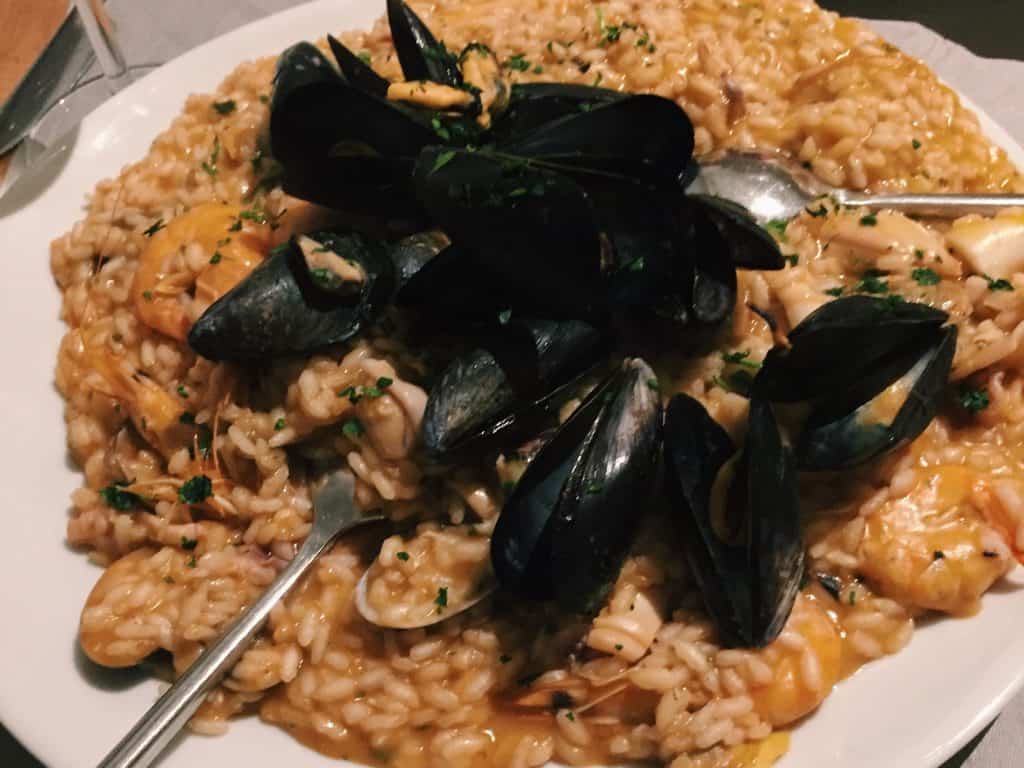 Rio Bistrot | Riomaggiore
Rio Bistrot is a small but elegant restaurant in Riomaggiore that has gluten free bread (no pasta or pizza, though). It is right in the marina with a stunning view, but quite expensive. Our Airbnb was in the marina so we decided it wasn't worth the price as we were already paying for the same view 😉 However I did have a chance to chat to the waitstaff about their gluten free options as I was walking by!
Rio Bistrot // 19017 Riomaggiore, Province of La Spezia, Italy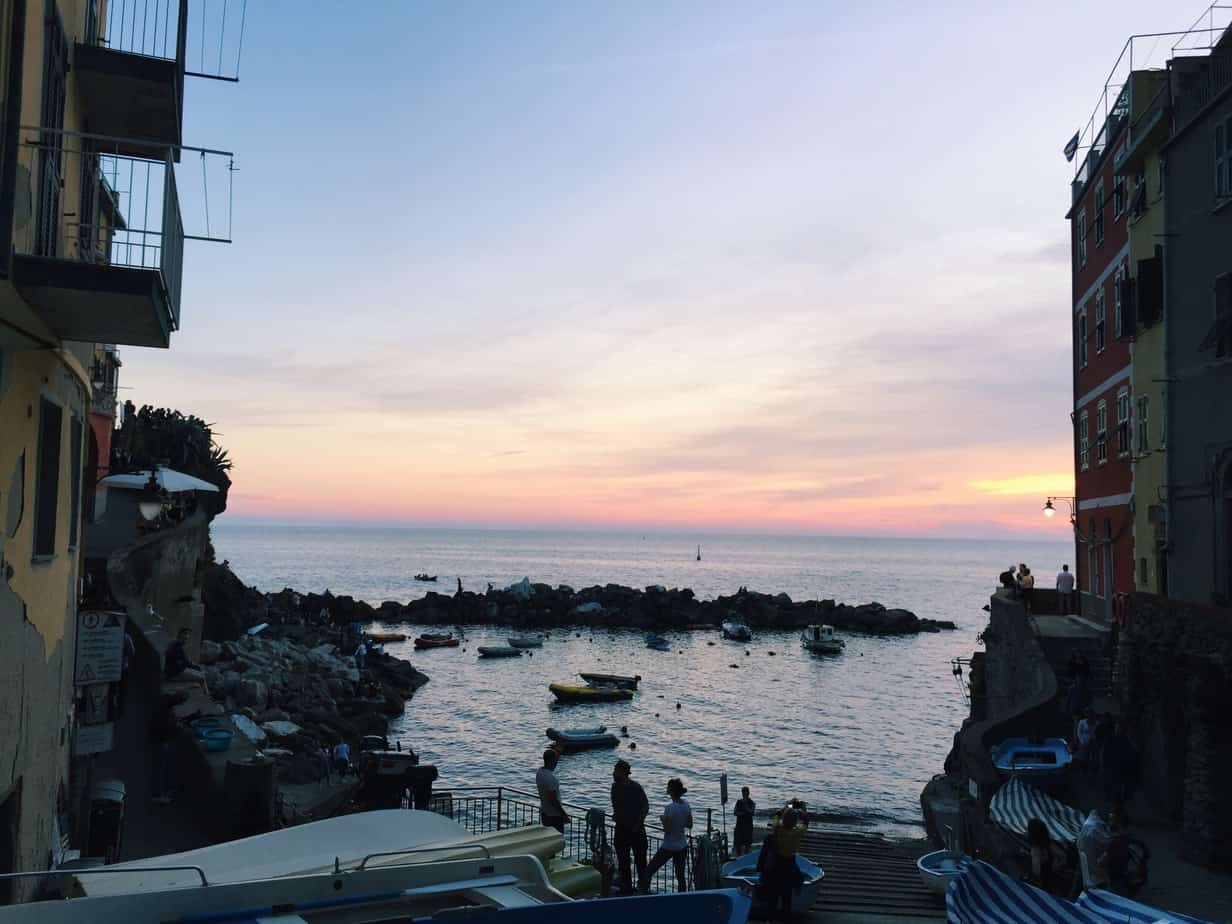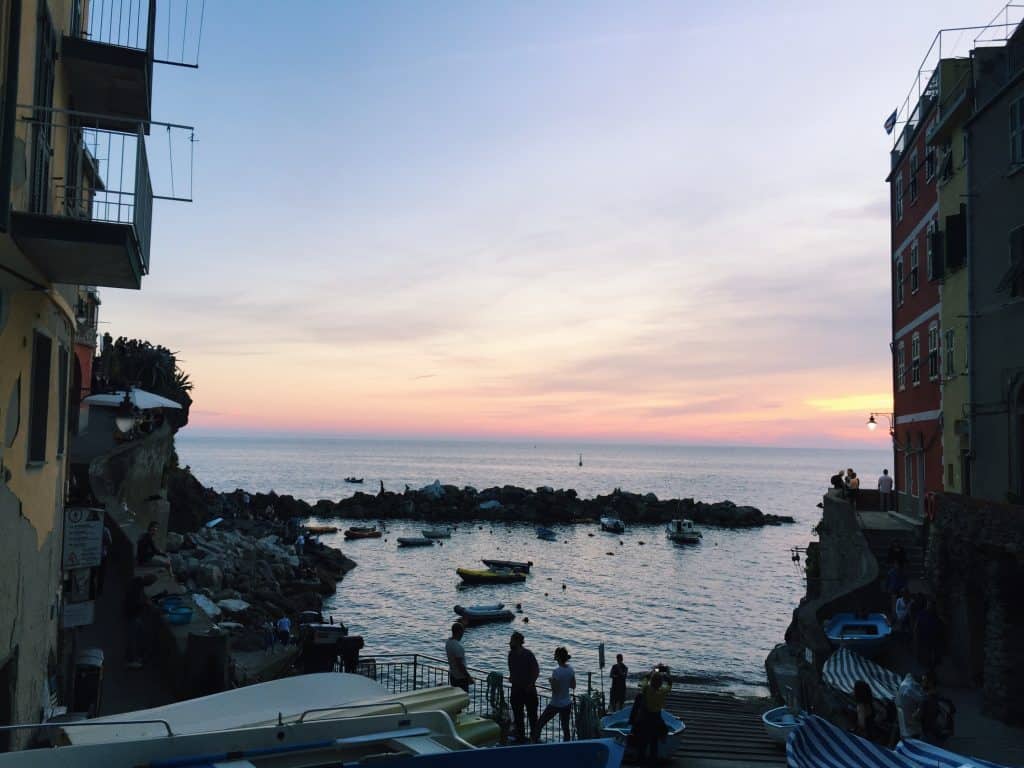 Alimentari Franca Market | Riomaggiore
Alimentari Franca Market is a small market in Riomaggiore that sells gluten free noodles, bread, and cookies! It's perfect if you are also staying in Riomaggiore like we did, and to be honest it's one of the better markets you'll find in all of Cinque Terre.
Alimentari Franca Market // Via Cristoforo Colombo 253,

19017 Riomaggiore,

Italy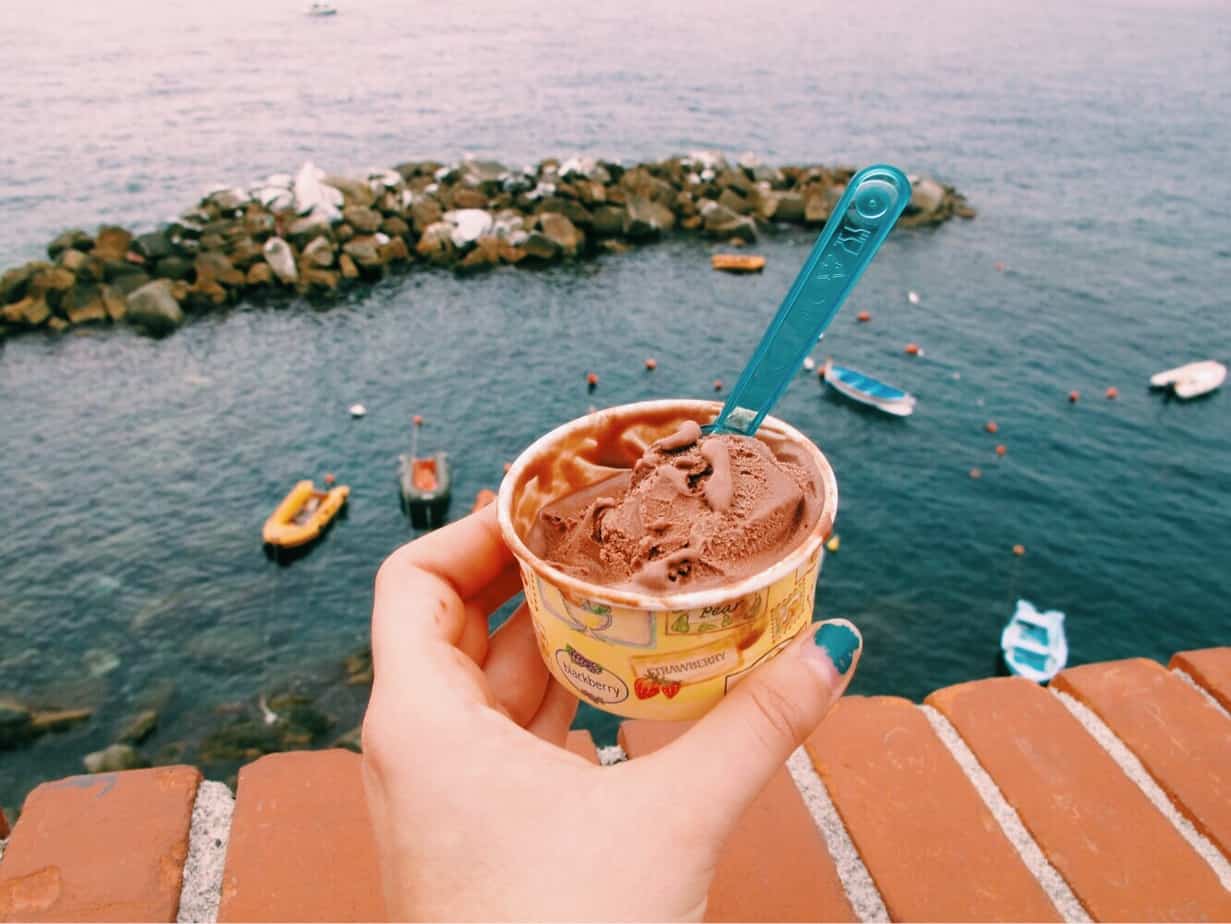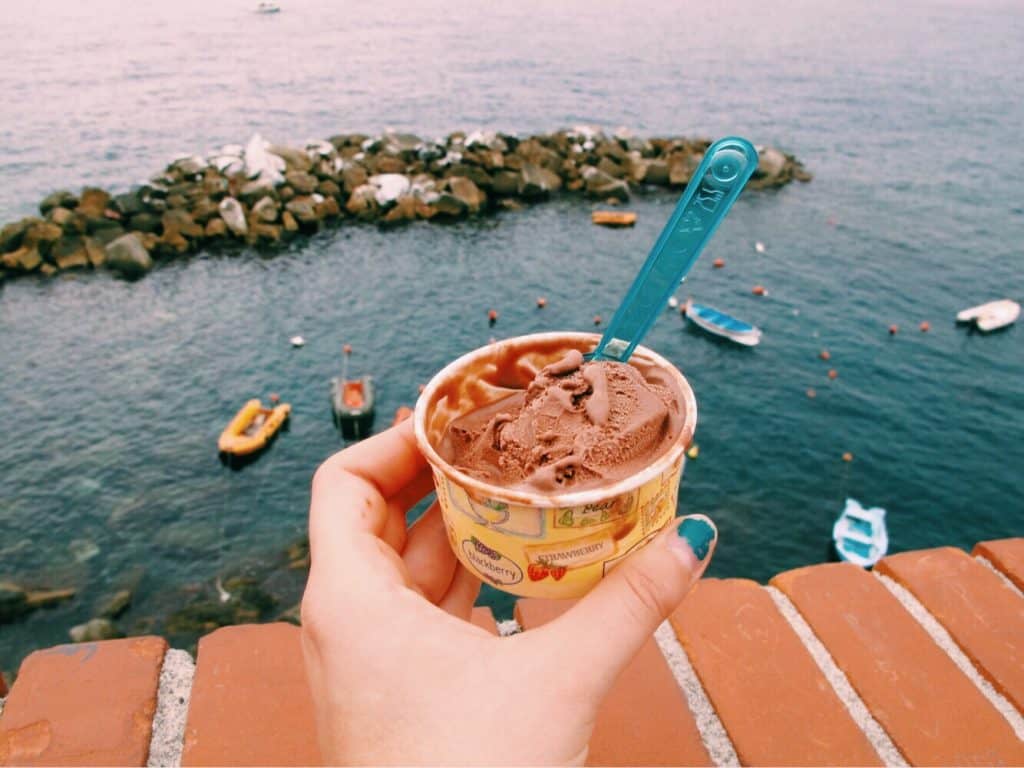 Gluten Free Manarola
Manarola is the village second from the south. It is known for its views and access to the most difficult inland hike. Manarola became my favorite village, thanks in part to its large amount of gluten free options!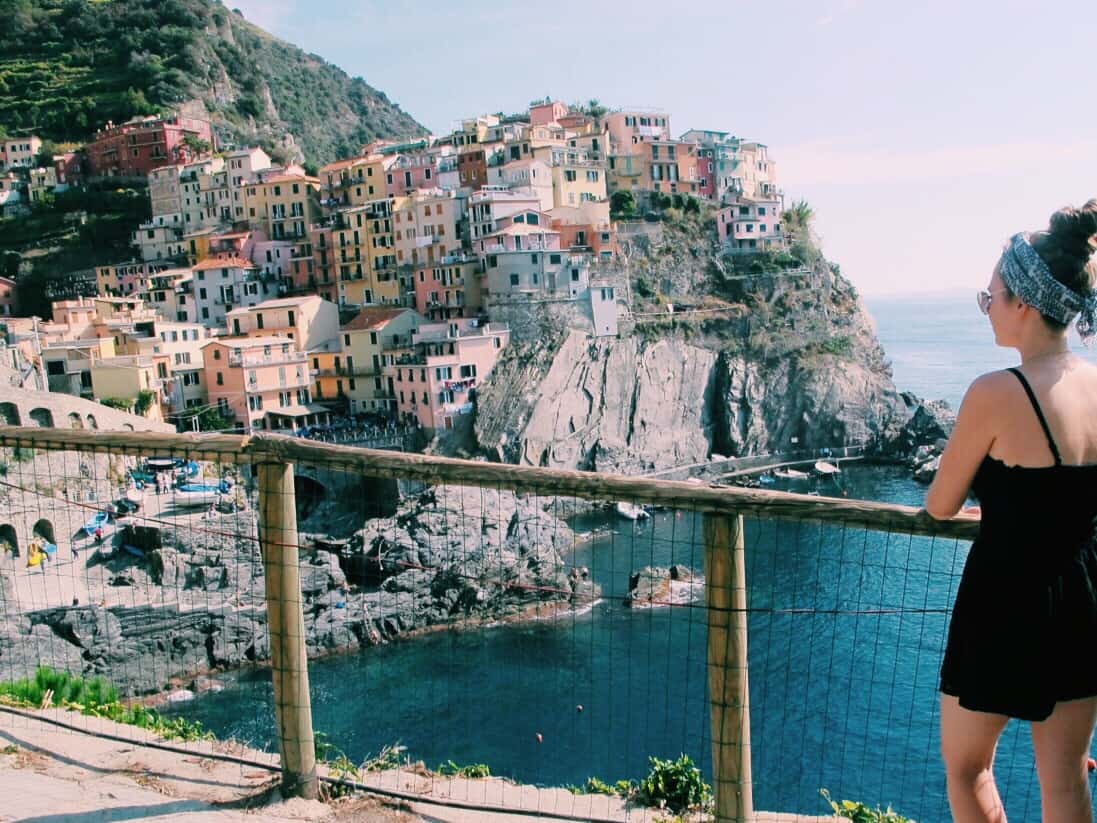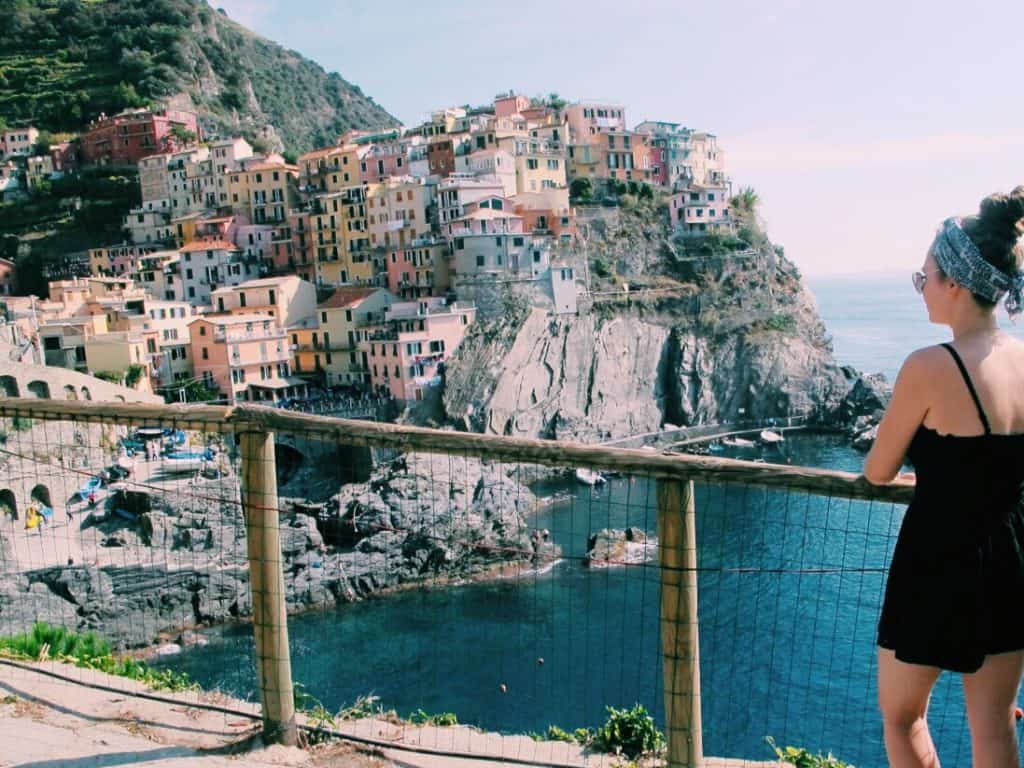 Gelateria Cinque Terre | Manarola
If you are gluten free in Cinque Terre, you have to go to Gelateria Cinque Terre. I saw a sign that said "senza glutine" and had to look in!
Here, you can get gluten free cannolis, other gluten free pastries, crepes, brioche buns, and even gluten free cones for your gelato! There are lots of vegan options, too.
Note: there are two Gelateria Cinque Terres. The one with gluten free options is the one located closest to the sea (turn left out of the train station, not right). Also, when we were there it opened at 11am not 9am, as it says on TripAdvisor.
Gelateria Cinque Terre // Via Renato Birolli, 74, 19017 Manarola SP, Italy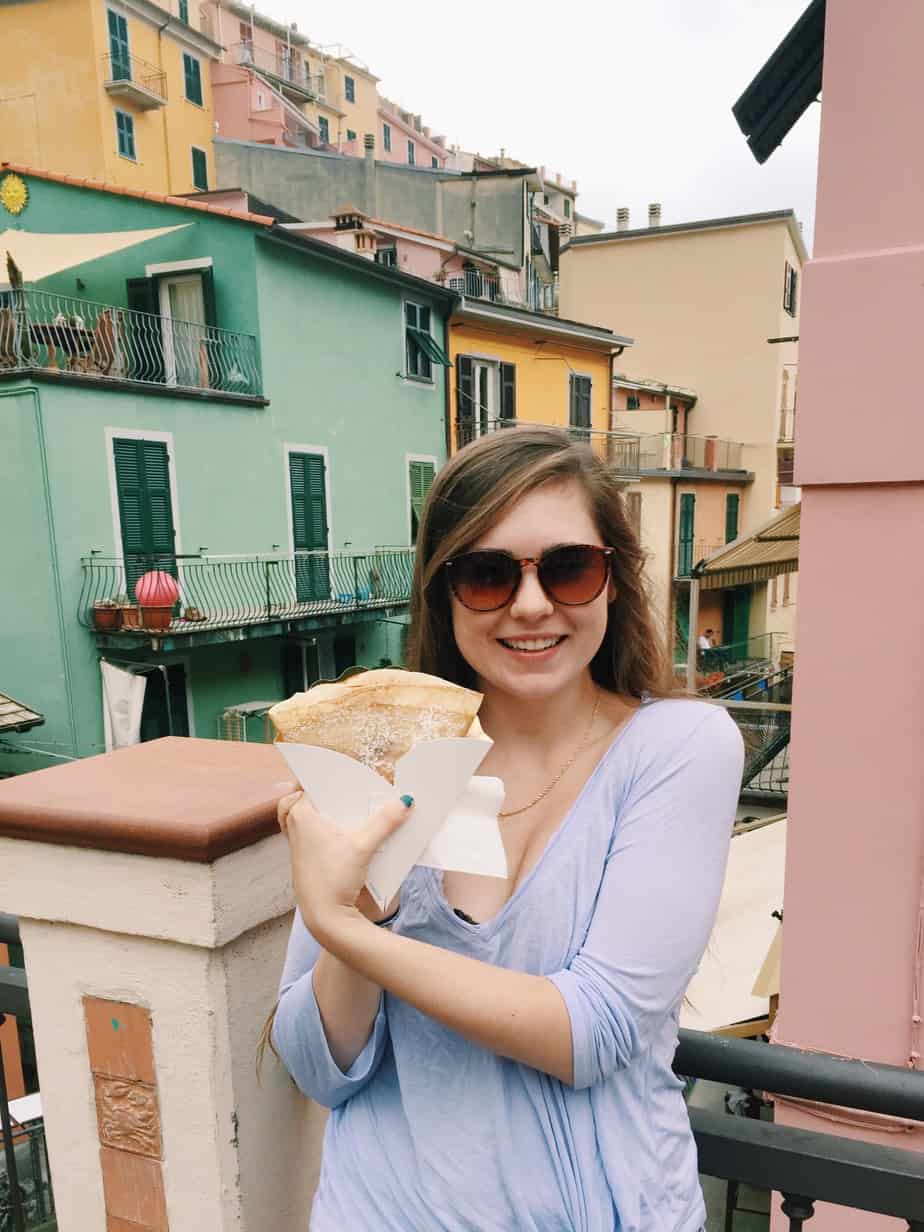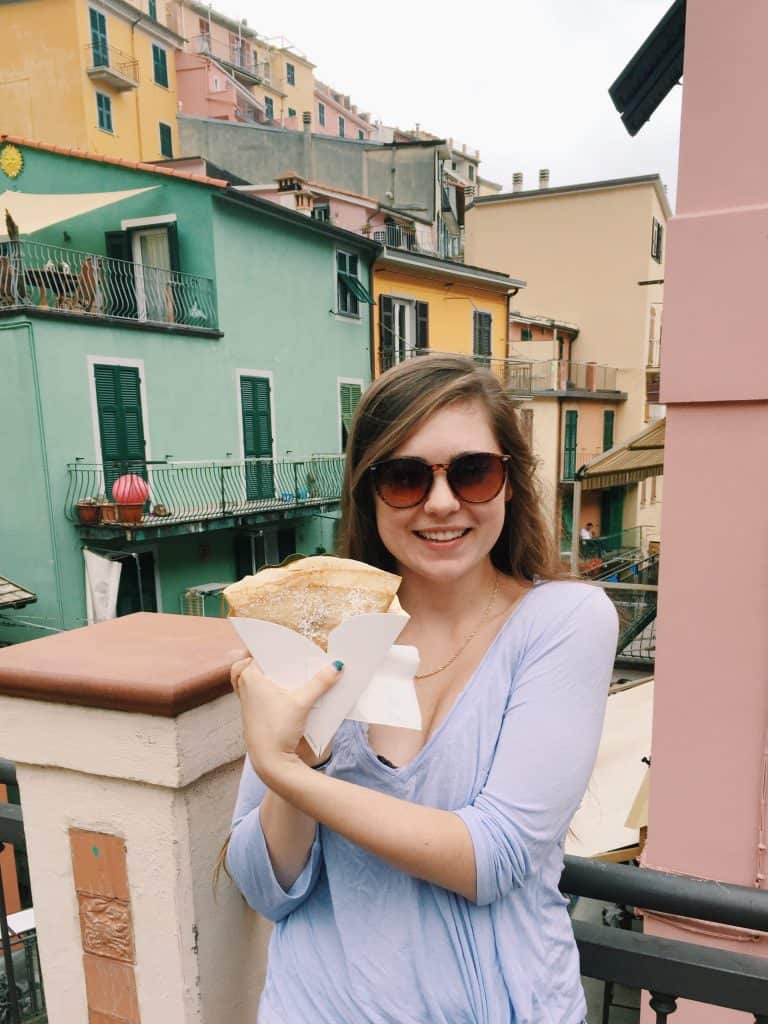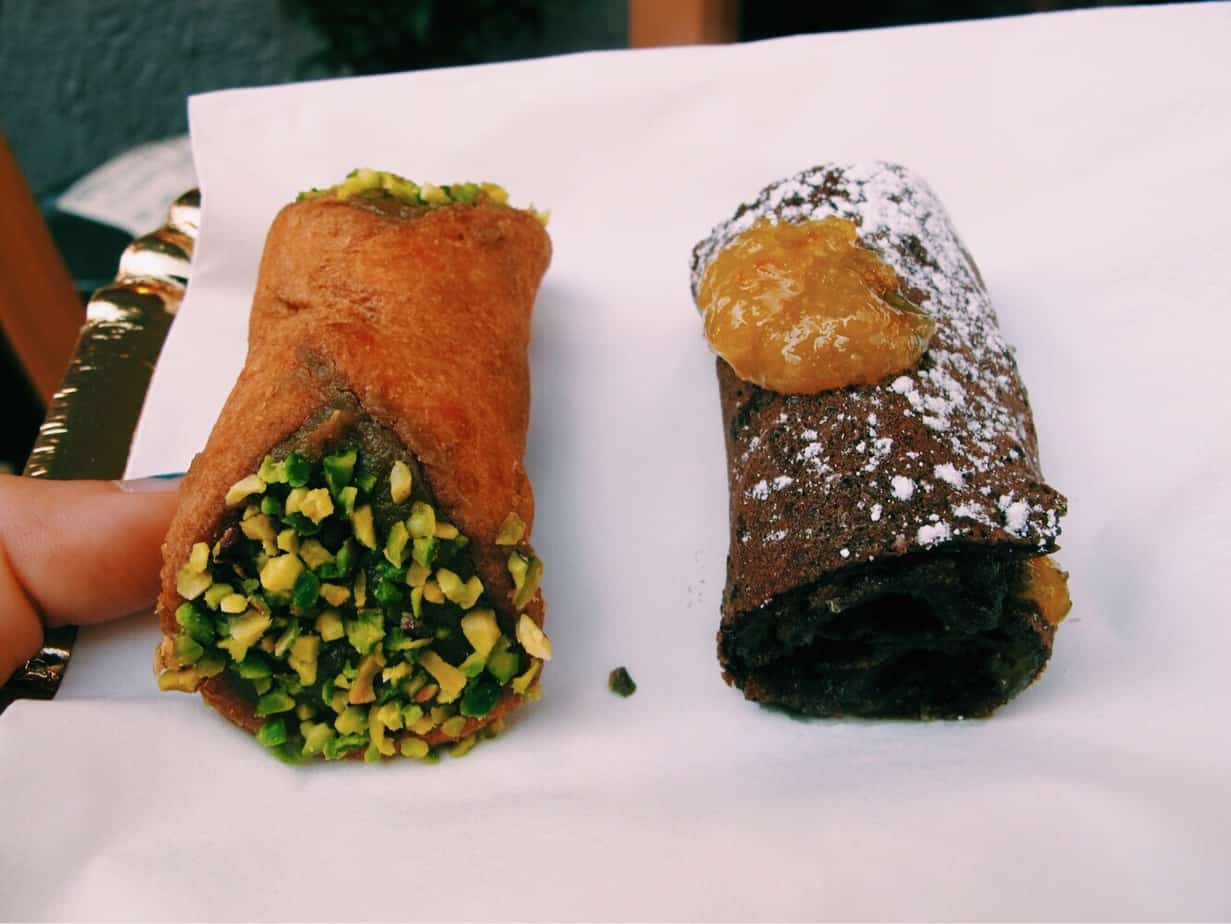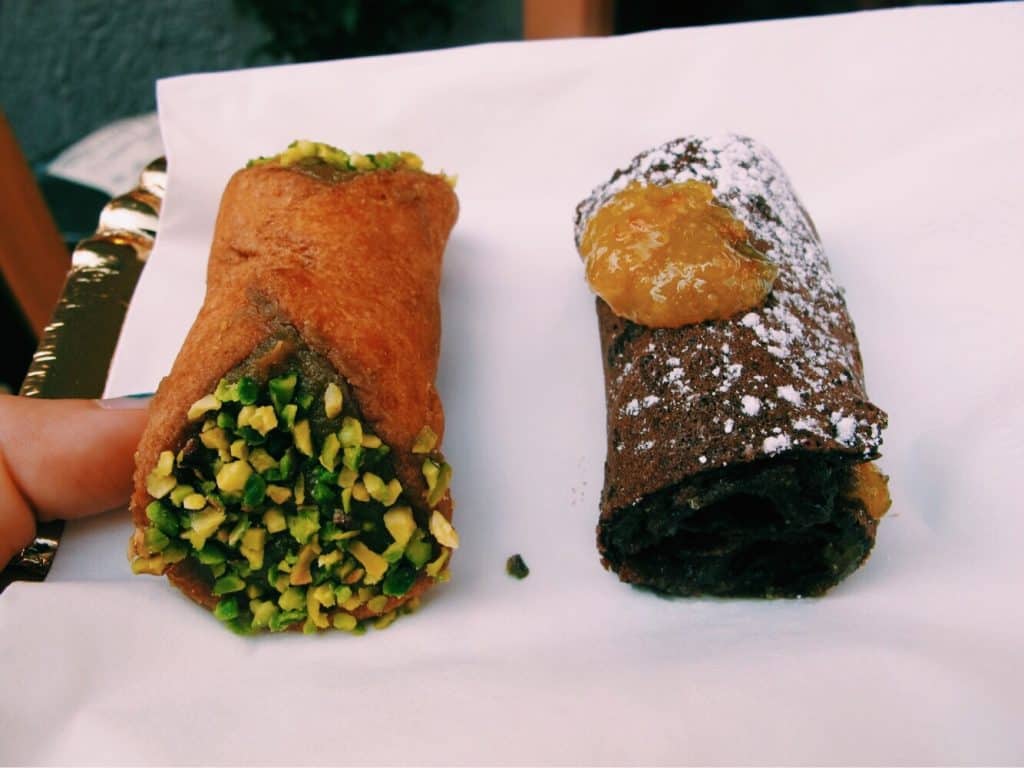 Il Discovolo | Manarola
Il Discovolo is right across the street from Gelateria Cinque Terre and has tons of gluten free options. These include pasta, pizza, cookies, pastries, paninis, farinata, and more.
However, there is a caveat. The restaurant is a bit rogue. I, unfortunately, was not able to eat here myself because it was closed for our whole visit (completely inexplicably… no sign on the door and we checked its working hours multiple places). I don't think this was a one-off experience as I've read some similar reviews online.
However it also has really good gluten free reviews online and all the signs outside the door advertise it as "Senza Glutine." One reader has contacted me, though, to say that she believes she was glutened after eating a croissant from here. That's the only negative review I've heard so I wouldn't necessarily count Il Discovolo out… just be sure to ask lots of questions.
As far as gluten free Cinque Terre options go, this place sounds like a must visit but good luck on it being open!
Il Discovolo // Via Renato Birolli, 124, 19017 Manarola SP, Italy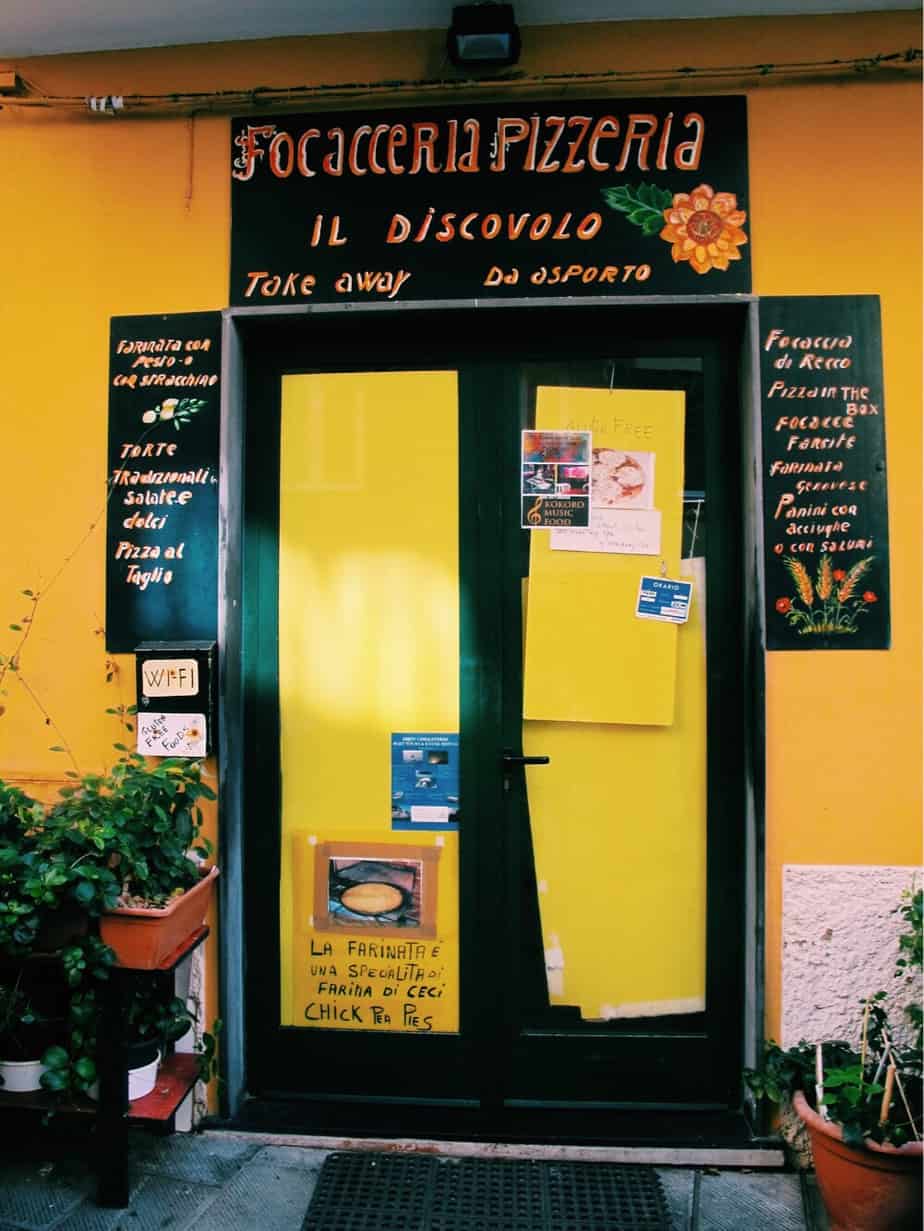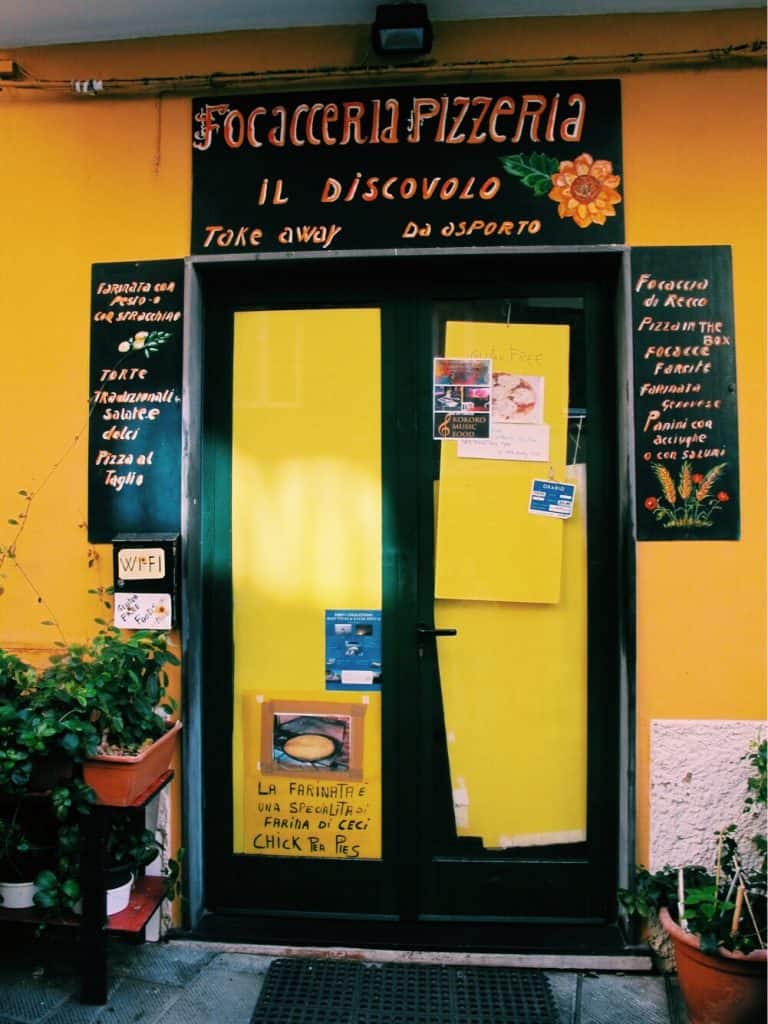 La Cambusa | Manarola
La Cambusa advertises gluten free pizza, and it's right in the area of Il Discovolo and Gelateria Cinque Terre. We didn't eat here purely because we had already eaten by the time I discovered it… but I would definitely try it next time!
If you get a chance to eat at La Cambusa, please leave a comment below and let us know how it was!
La Cambusa // Via Renato Birolli, 114, 19017 Manarola SP, Italy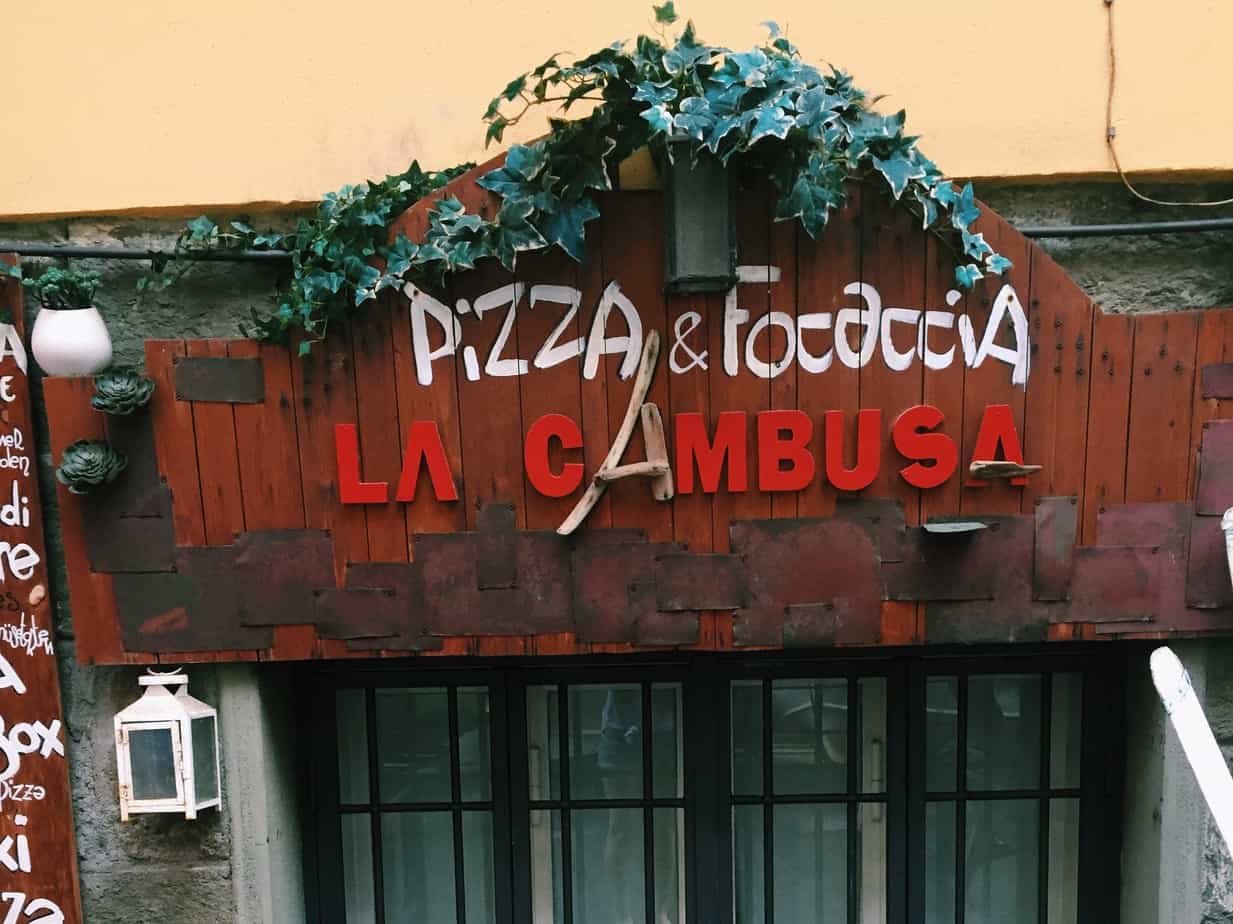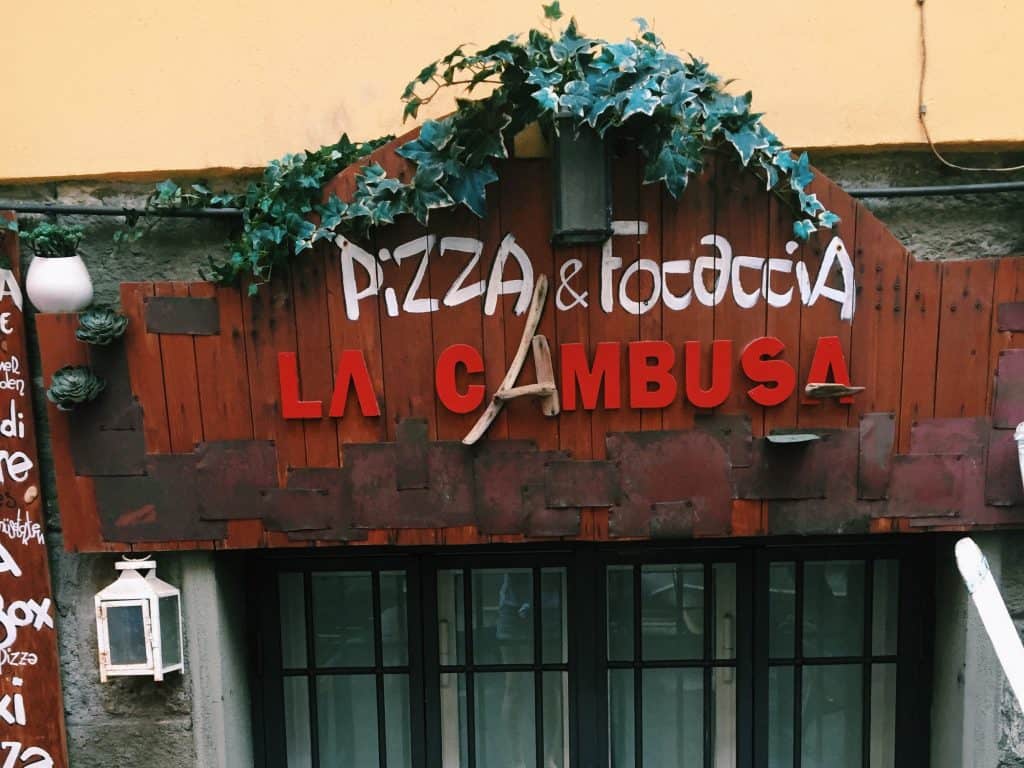 Nessun Dorma | Manarola
We ate at Nessun Dorma on the day of Great Gluten Free Disappointment when Il Discovolo was closed. For a second choice, Nessun Dorma was actually pretty great… it's kind of an iconic restaurant in the Cinque Terre for its absolutely stunning views from the terrace.
We were lucky to snag a table by the edge, and spent our lunch sipping cocktails and admiring the bright blue waters and colorful cliffside houses.
I have to say I was a little disappointed that for such a trendy restaurant, Nessun Dorma serves NO gluten free pasta, bread, or pizza. However the waiters were knowledgeable and I had a nice caprese salad. It's worth eating here purely because the views and drinks are unbeatable.
Nessun Dorma // Localita Punta Bonfiglio, 19017, 19017 Manarola SP, Italy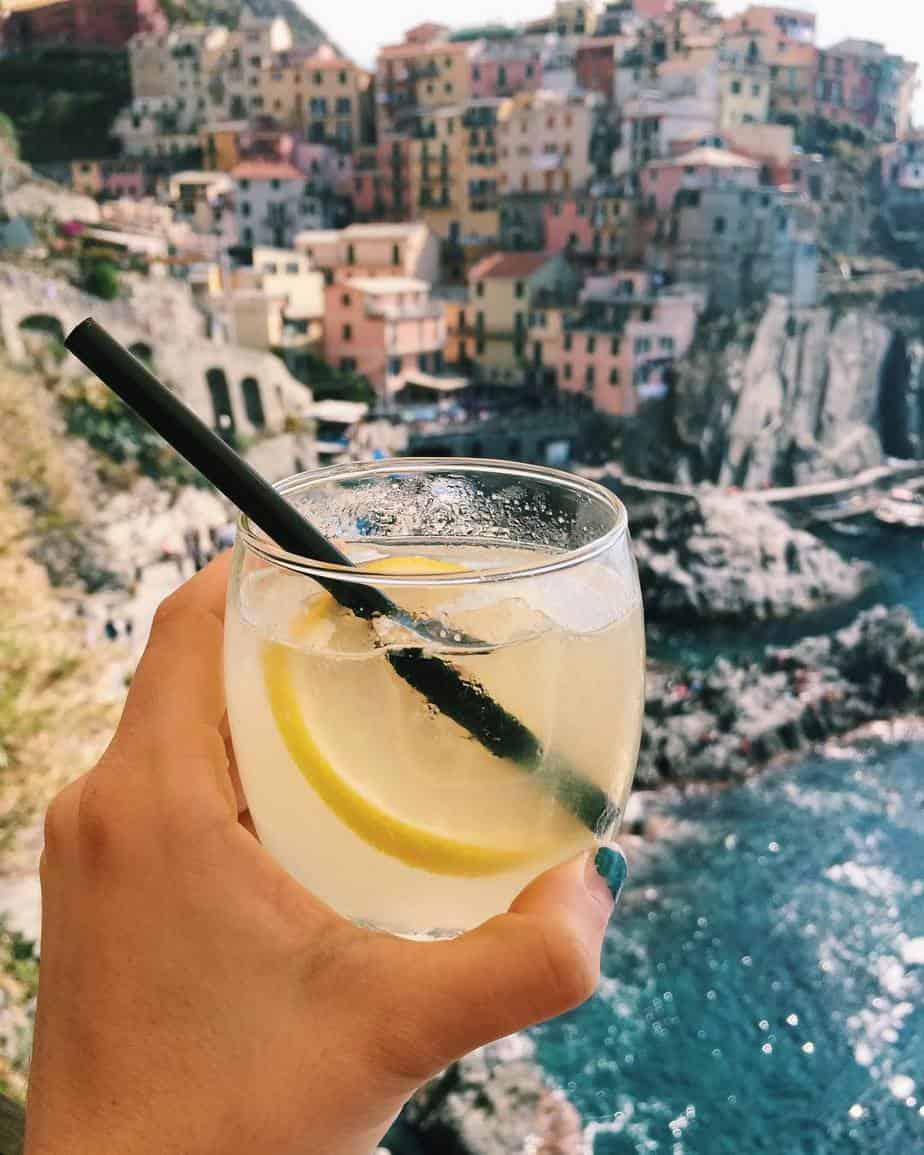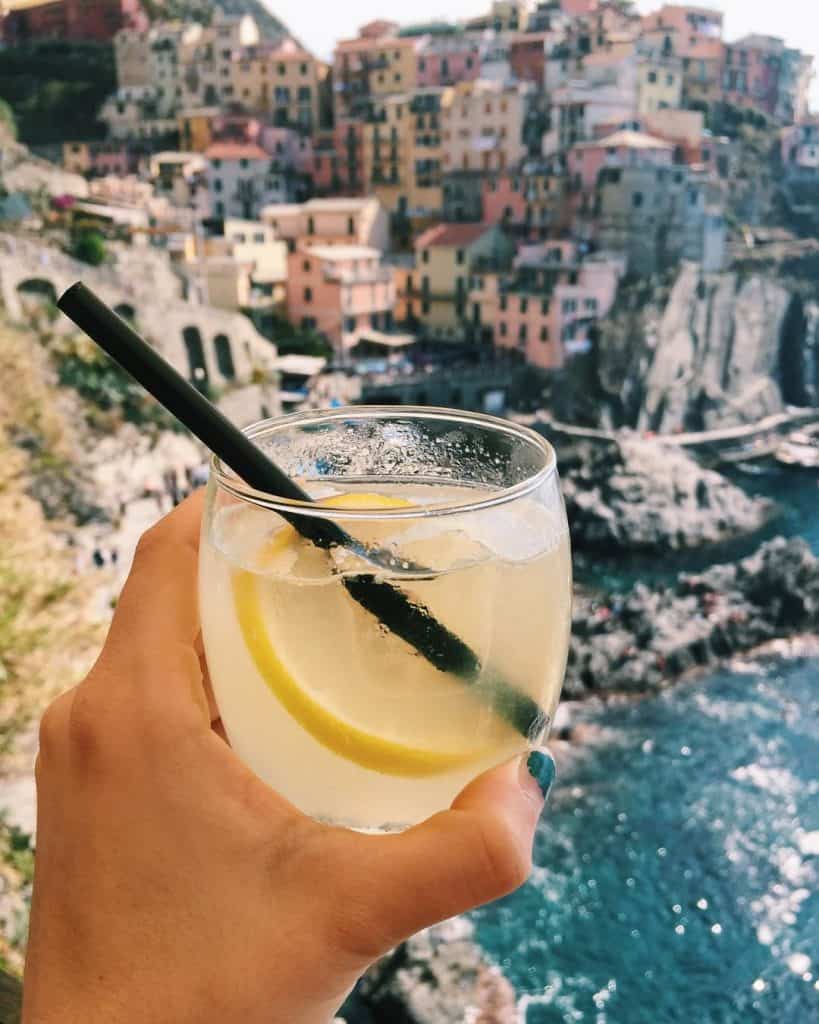 Dal Billy | Manarola
Dal Billy, similar to Nessun Dorma, is known as having one of the best views (and food) in all of Manarola. Keep in mind you do have to put in quite a hike to get to these views – worth it though!
Dal Billy serves lots of naturally gluten free seafood options. They also offer gluten free pasta! This is definitely a destination-restaurant for many people, so be sure to book ahead, especially if you want to grab a spot on the terrace.
Dal Billy // Via A. Rollandi, 122, 19017 Manarola SP, Italy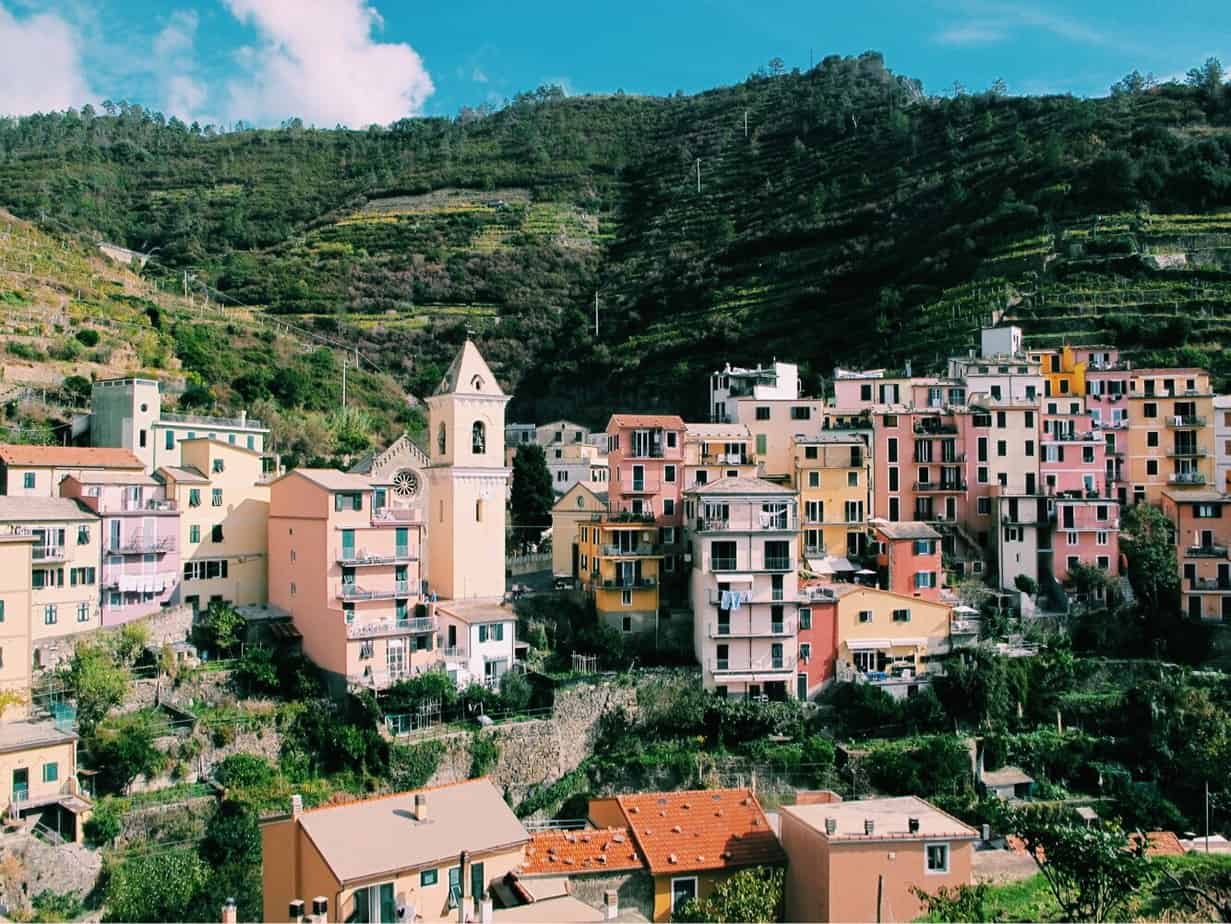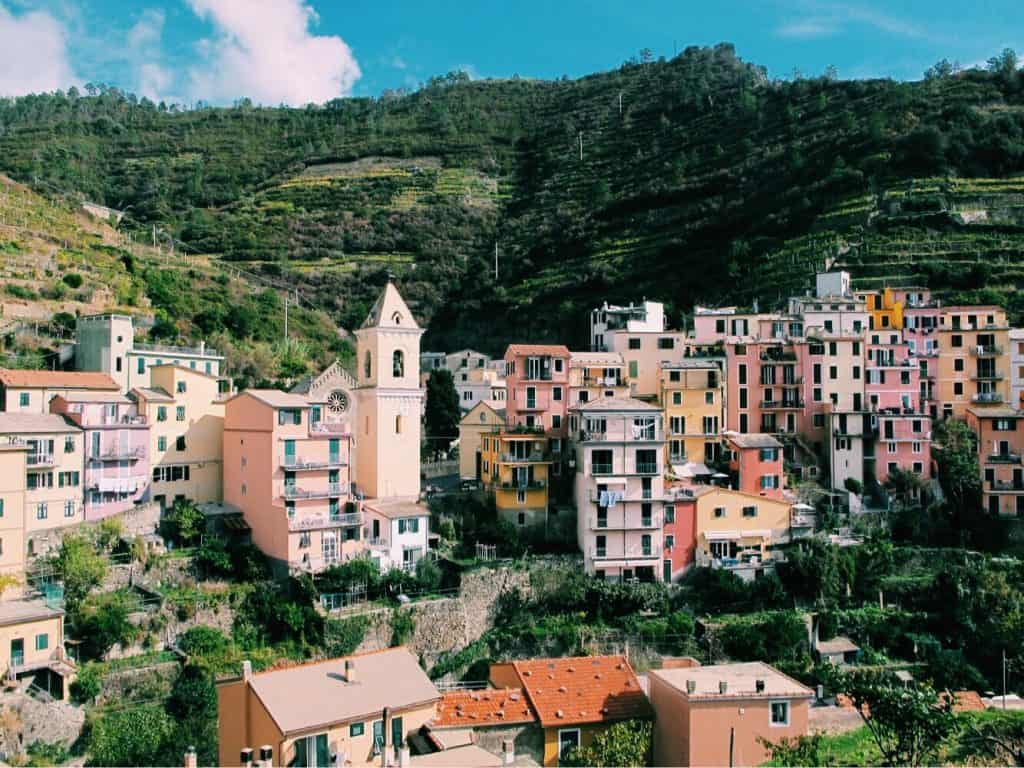 Gluten free Corniglia
Corniglia is the most remote of the five villages. It is located high up on a cliff, with a long walk down to the sea. People usually spend the least amount of time here, but it seems to also be the most untouched by tourism (it's still pretty touristy). Due to the timing of our hikes, we didn't actually eat in Corniglia. However I did walk around town and find some restaurants that have gluten free offerings, which I will share below!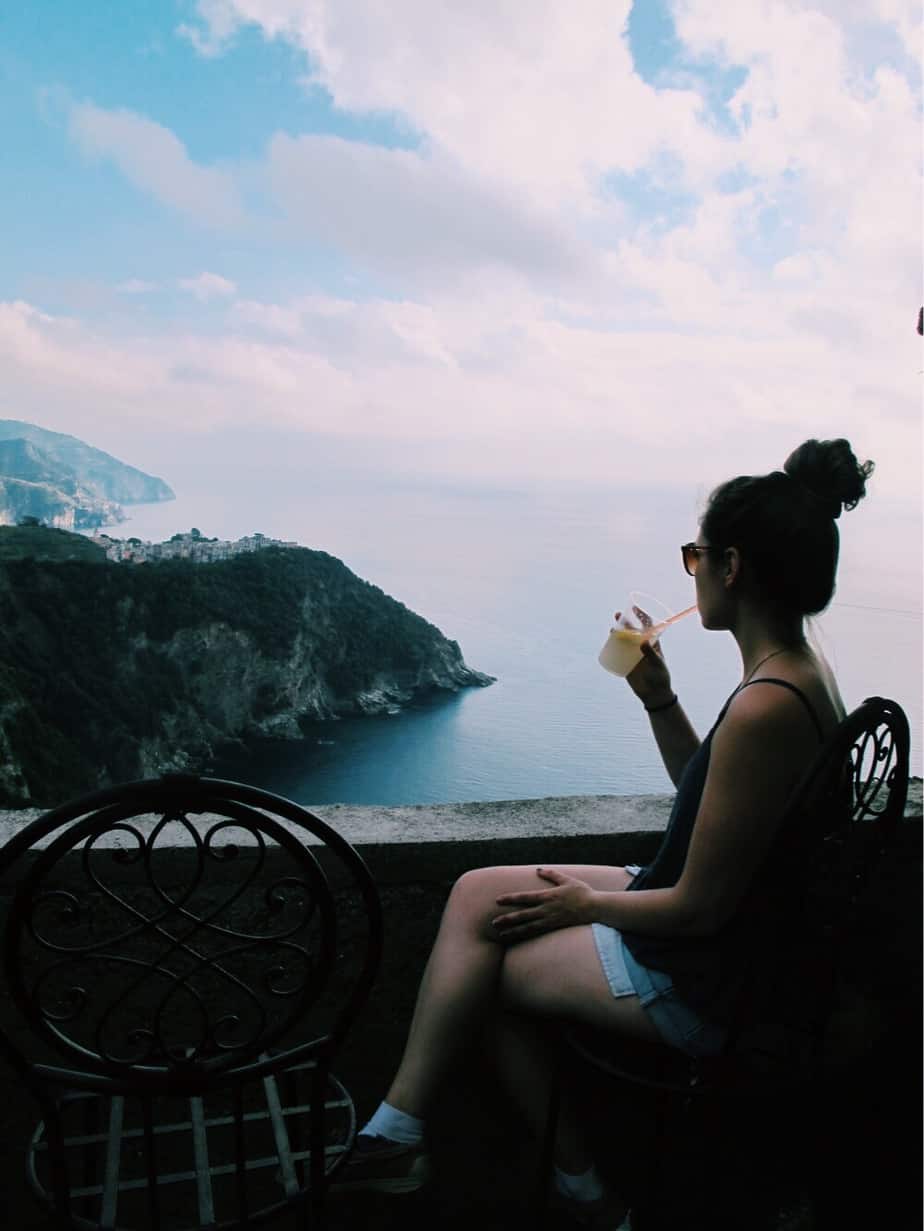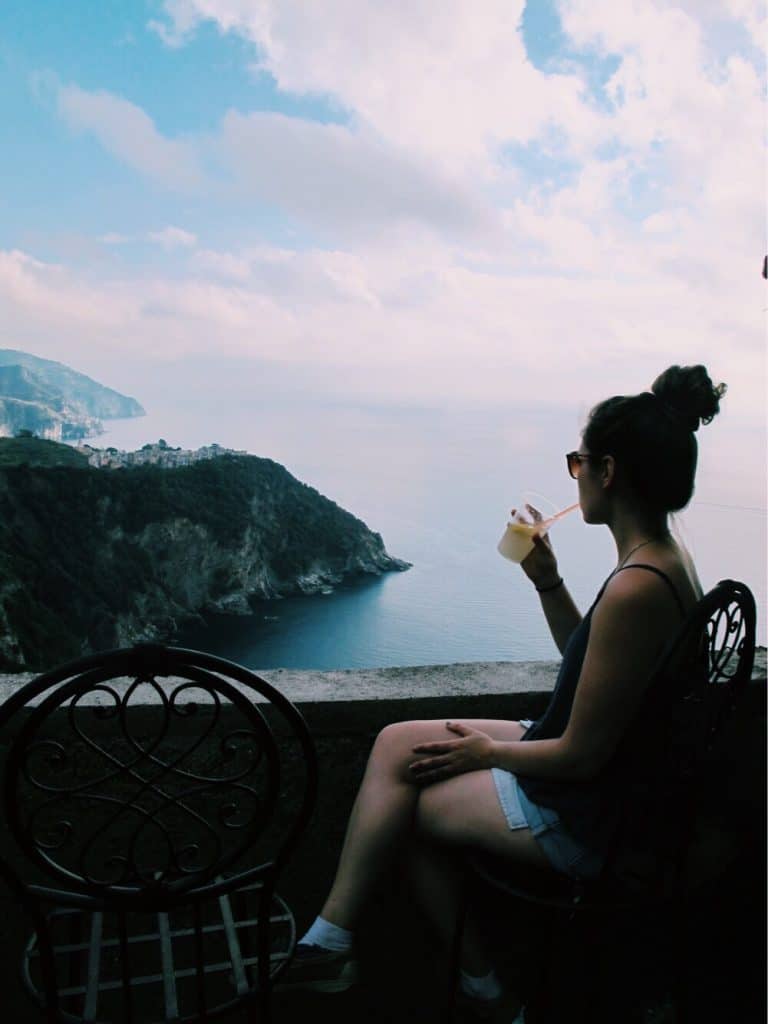 Caffe Matteo | Corniglia
Caffe Matteo is a small, very Italian cafe in Corniglia. They offer gluten free pizza! Please be sure to check with the chef about cross contact.
Caffe Matteo // Via Fieschi, 157, 19018 Corniglia SP, Italy
Km 0 – NO GLUTEN FREE OPTIONS ANYMORE!
Km 0 was another cafe in Corniglia. During our visit, they served gluten free paninis. I've updated this for 2022 to note that they have sadly discontinued the paninis and all other gluten free options. So if you see any other reviews online, please note that they are outdated. It looks like the only gluten free spot in Corniglia now is Caffe Matteo.
Gluten free Vernazza
The second from the north village, Vernazza, is gorgeous with a wide harbor perfect for taking a boat trip. There is also a popular castle overlooking the town. I found it to be a bit "Disney" though – it was absolutely crawling with day trip tourists and with only one exit this causes big issues at the train station! However… I did find my favorite gluten free lunch spot here!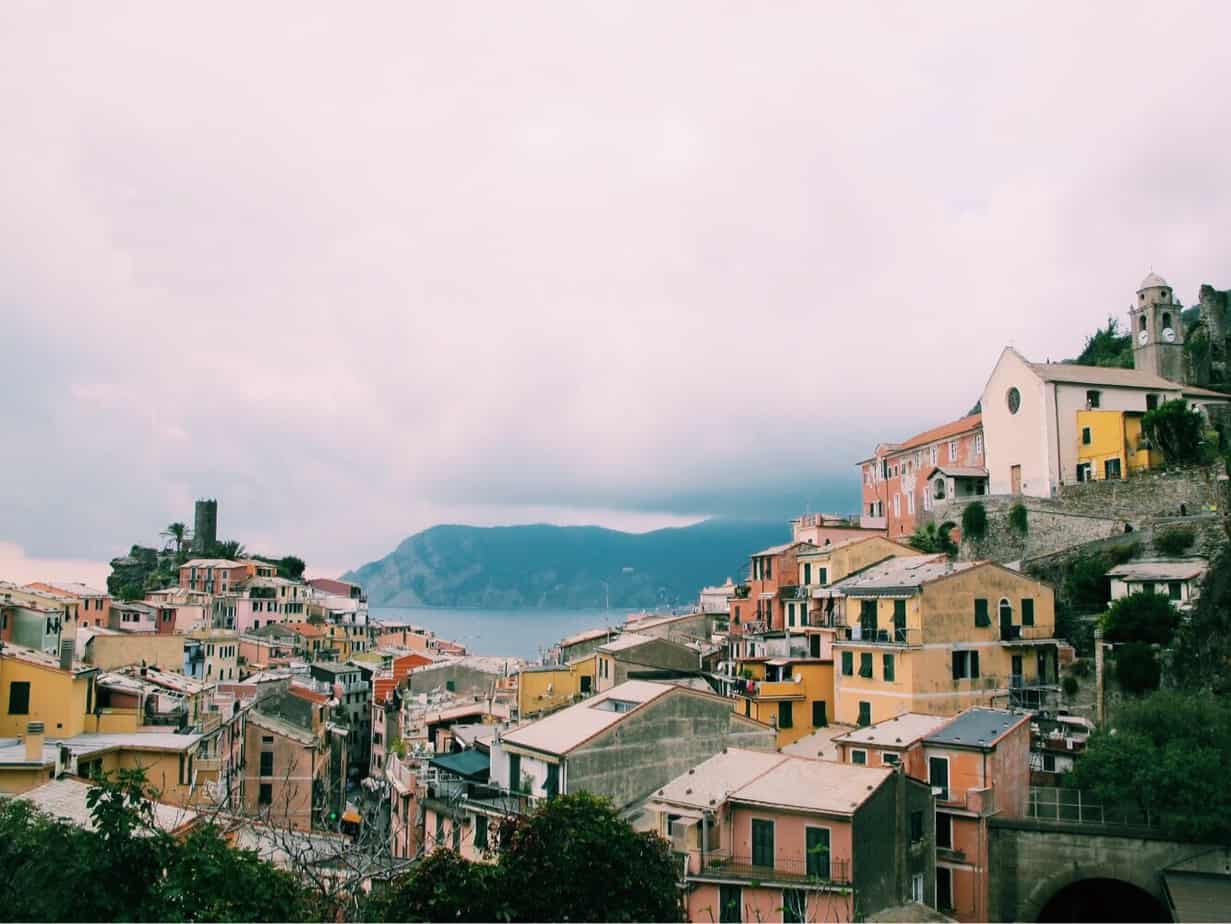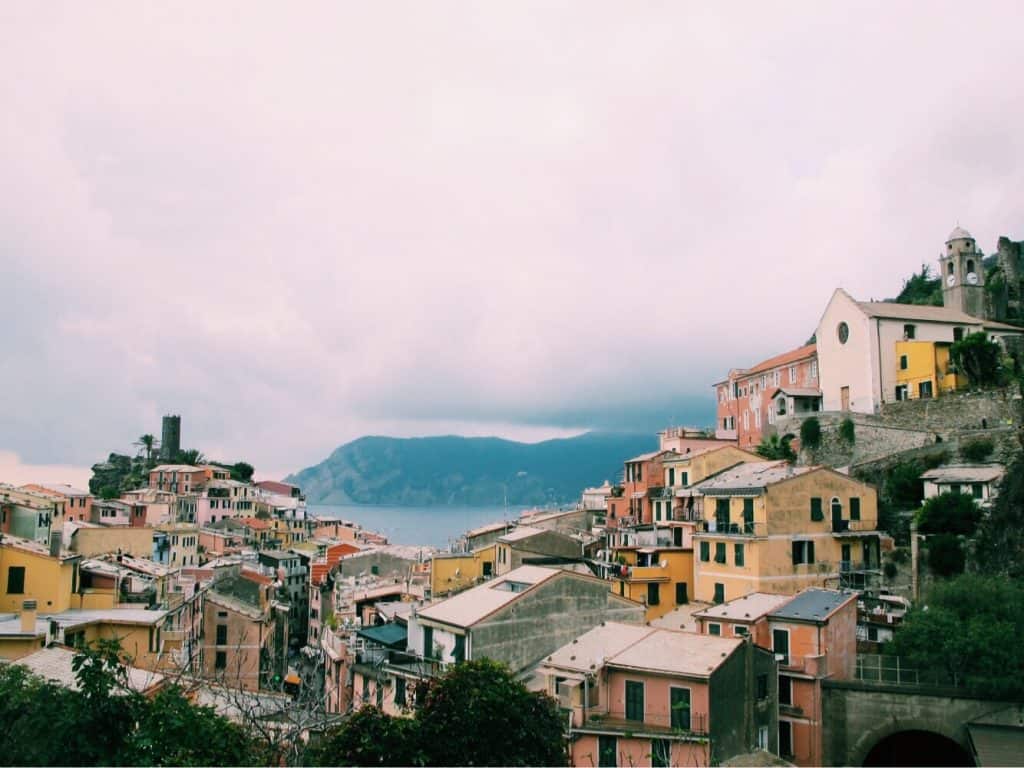 Lunch Box | Vernazza
Gluten free in Cinque Terre? You must eat lunch at Lunch Box! They reliably, always have gluten free focaccia made by a local baker – and it is SO good!
You can eat on their cute terrace or do takeaway. There is even gluten free Tiramisu here! Just beware that they are closed on Fridays.
Lunch Box // Via Roma, 34, 19018 Vernazza SP, Italy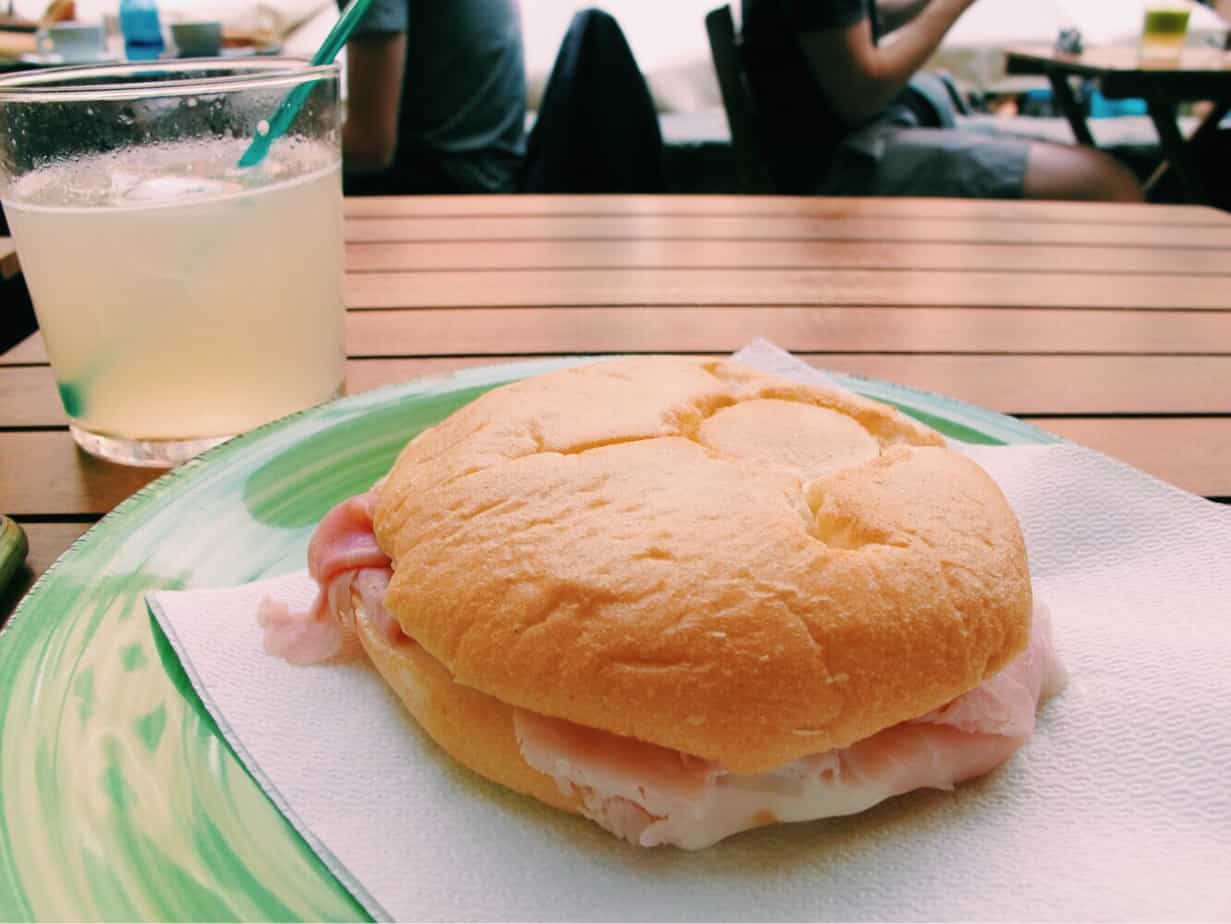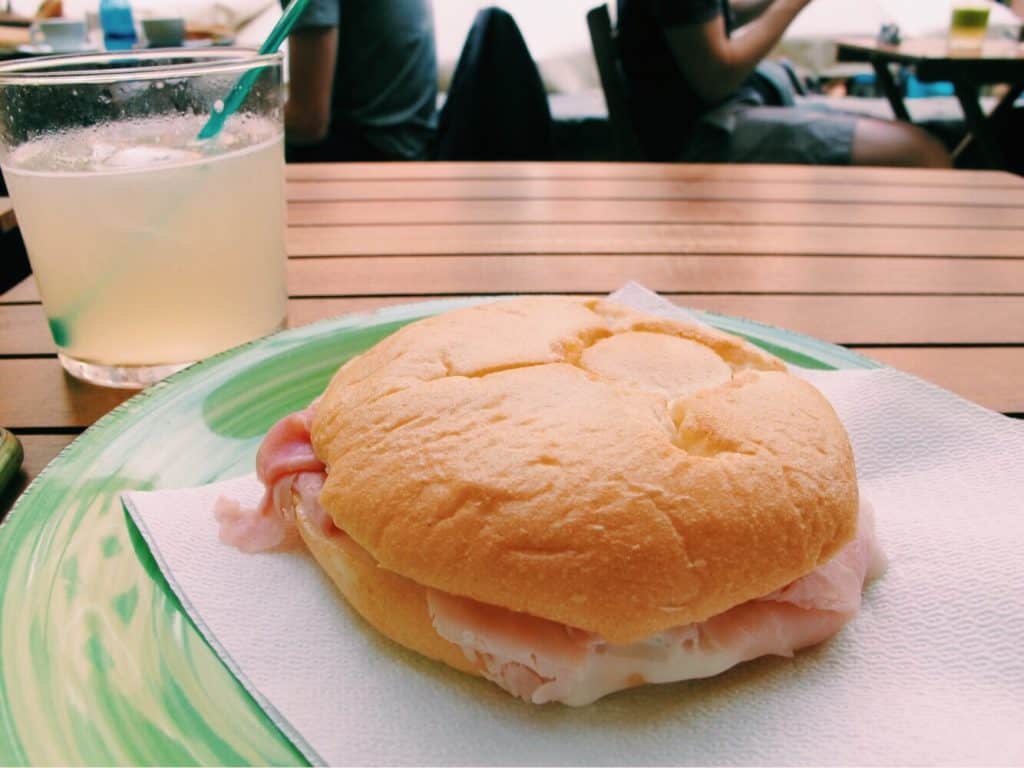 Gelateria Vernazza | Vernazza
Gelateria Vernazza is widely known as the best gelato spot in all of Cinque Terre. So many non-celiacs recommended this place to me, and I was curious if it offered any gluten free options!
I know that gelato is (usually) technically gluten free, but cross contact can be a huge issue, what with the cones and biscuits that are often places in the gelato case as decorations.
I was happily surprised at Gelateria Vernazza – all of the gluten free gelatos are labeled (and when we visited, they were all gluten free!). If there are gluten containing flavors, ask the staff to use a clean scoop. Recently, Gelateria Vernazza also started offering gluten free cones!
Gelateria Vernazza // Via Roma, 13, 19018 Vernazza SP, Italy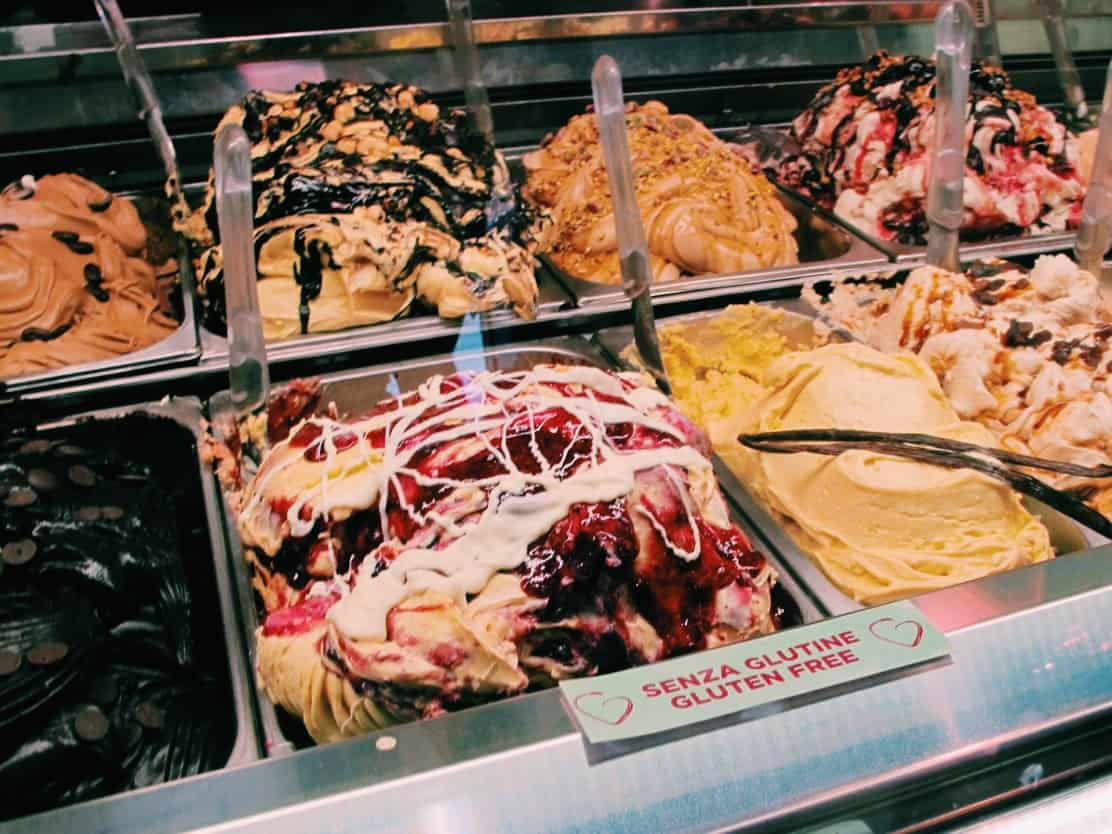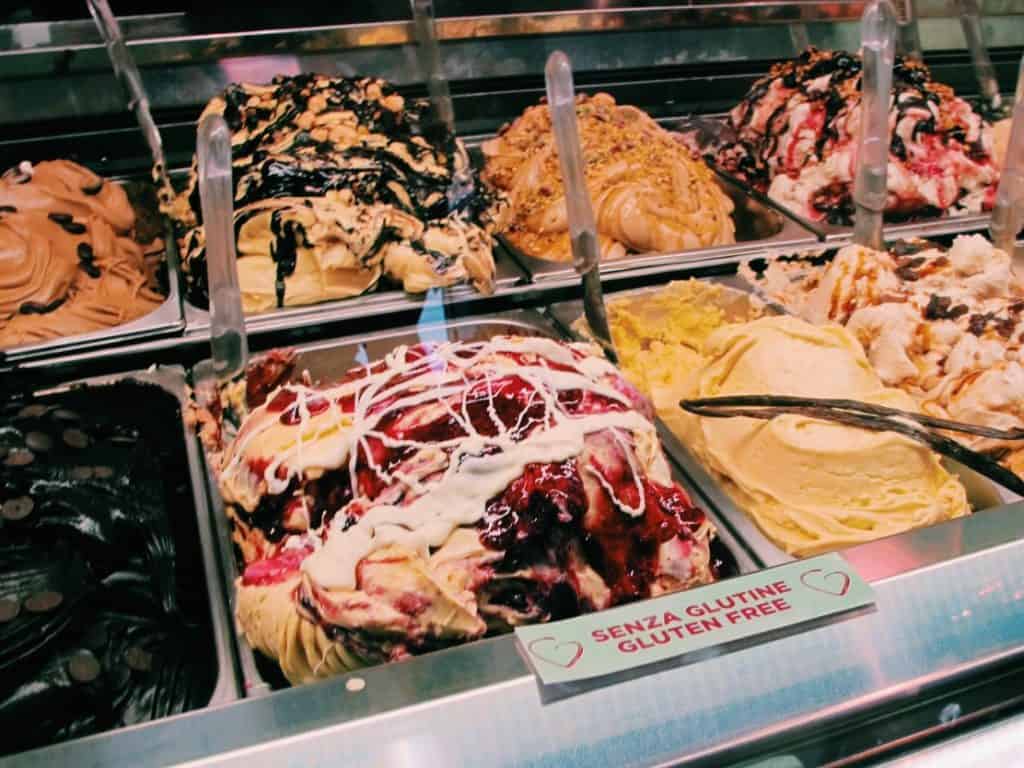 Gluten free Monterosso
The biggest and most commercial of the villages is Monterosso, at the northernmost end. It also has the best and biggest beaches for swimming and sun bathing. Monterosso feels more like a "town" than a "village" per se. There are many gluten free restaurants in Monterosso but we spent the least amount of time here – to me, it didn't have the same charm. As the biggest and most commercialized of the villages, I'm sure there are many other options out there so it is worth investigating past my recommendations.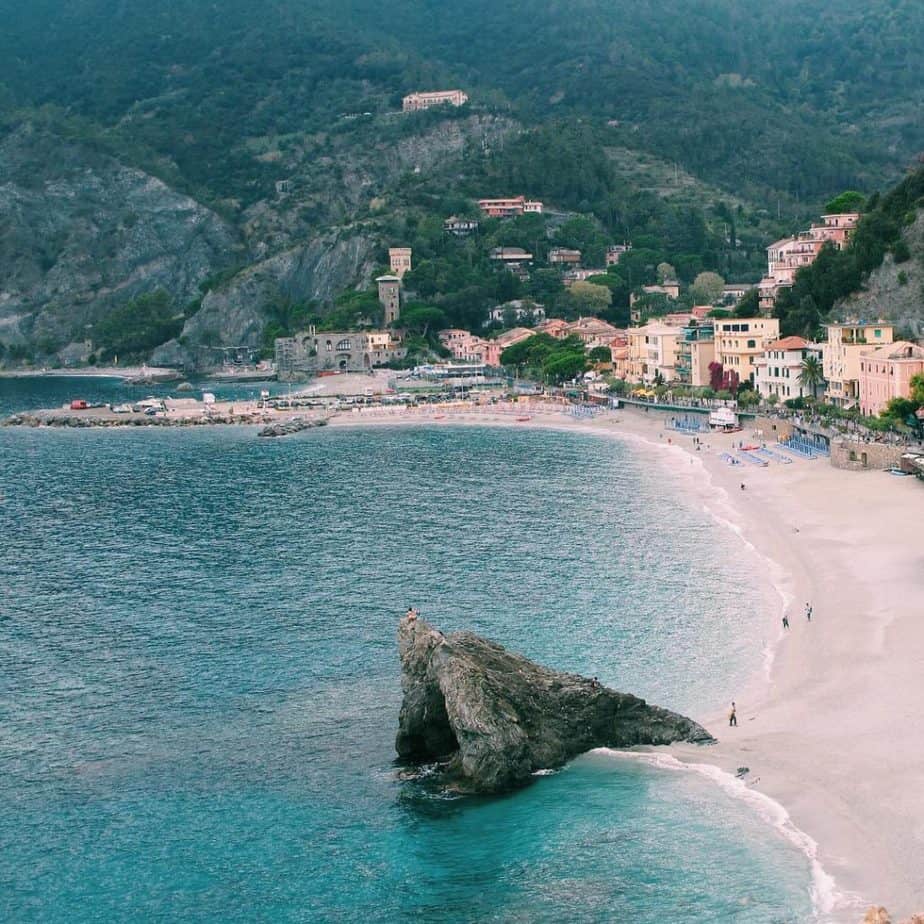 Gastronomia San Martino | Monterosso
We ate at Gastronomia San Martino on our evening in Monterosso. We came here because I read there was gluten free pasta, however these reviews were outdated.
Instead, I had a naturally gluten free asparagus and seafood salad which was, actually, quite good. The menu here changes nightly so I would confirm there are gluten free options before you settle in.
If you want something casual and truly 'Italian' feeling in Monterosso, this is a good option.
Gastronomia San Martino // Via San Martino, 3, 19106 Monterosso al Mare SP, Italy
La Barcaccia | Monterosso
On the higher end, you have La Barcaccia. This is another classic Italian restaurant. It serves gluten free pasta and the staff is knowledgable about celiac disease. Make a reservation ahead of time and be sure to mention that you're gluten free when you do so.
La Barcaccia // Via Molinelli, 6, 19016 Monterosso al Mare SP, Italy
Pizzeria La Smorfia | Monterosso
Pizzeria La Smorfia is arguably the best gluten free spot in Monterosso. Here, you can order gluten free pizza! There is also gluten free beer available. Be sure to ask about cross contact.
Pizzaeria La Smorfia // Via Vittorio Emanuele, 73, 19016 Monterosso al Mare SP, Italy
A map to gluten free Cinque Terre…
As always, my gluten free guides are working documents! Restaurants close, new restaurants pop up, menus change… so if you have any other insight on the gluten free Cinque Terre experience, please let me know and I will update this post accordingly. It is currently updated for 2022.
Otherwise… grab your Italian translation card, and get ready to eat some gluten free cannoli, pasta, pizza, and crepes in one of the most beautiful coastlines in the world. Happy traveling, and happy eating (Senza glutine, of course)!
Sarah xx
Browse all my gluten free travel guides here. Including:
And many more!
Pin it for later…