For the final post in my series on the incredible Everest Base Camp trek, I'm sharing a complete Everest Base Camp packing list! I mean, I've packed for a lot of trips, but nothing prepared me for the intensity of packing for Everest Base Camp. If you're sitting there glassy eyed, overwhelmed, and screaming inside about packing for EBC… I've been there!
Before I left for Nepal, I created my own Everest Base Camp packing list to keep track of what I would need for this trek. I spent hours trying to decipher what I would actually need (and why!). If you are planning your own Everest Base Camp trek, I want to save you that time! Seriously, put it to better use, like training.
Download my printable Everest Base Camp packing list here!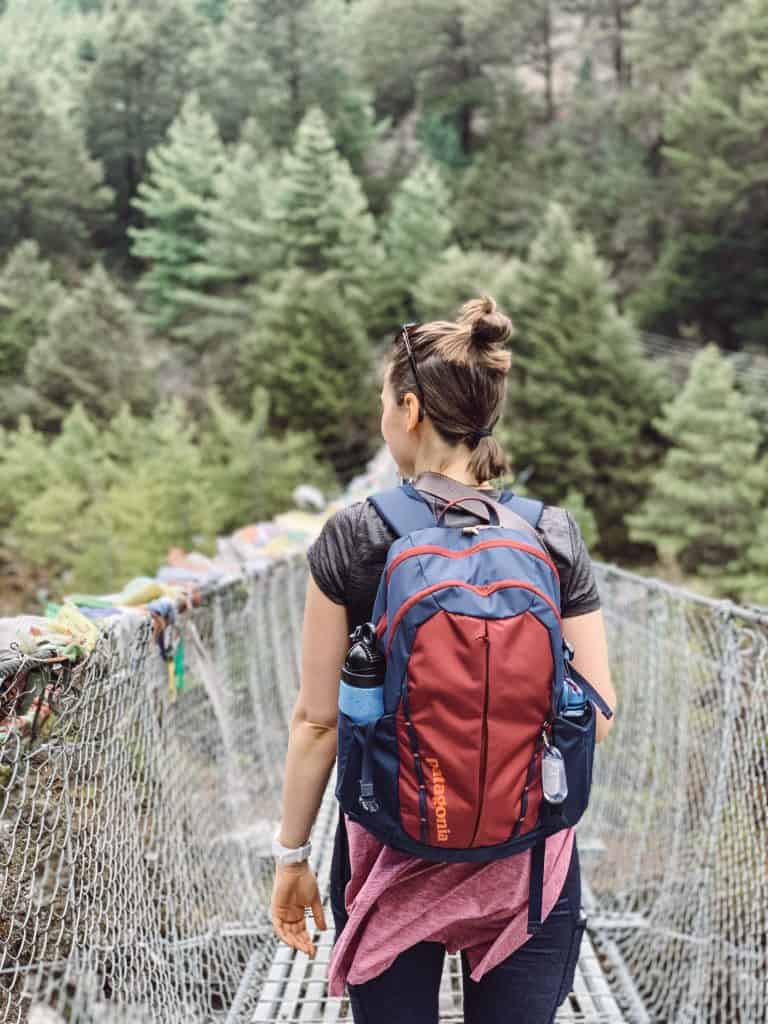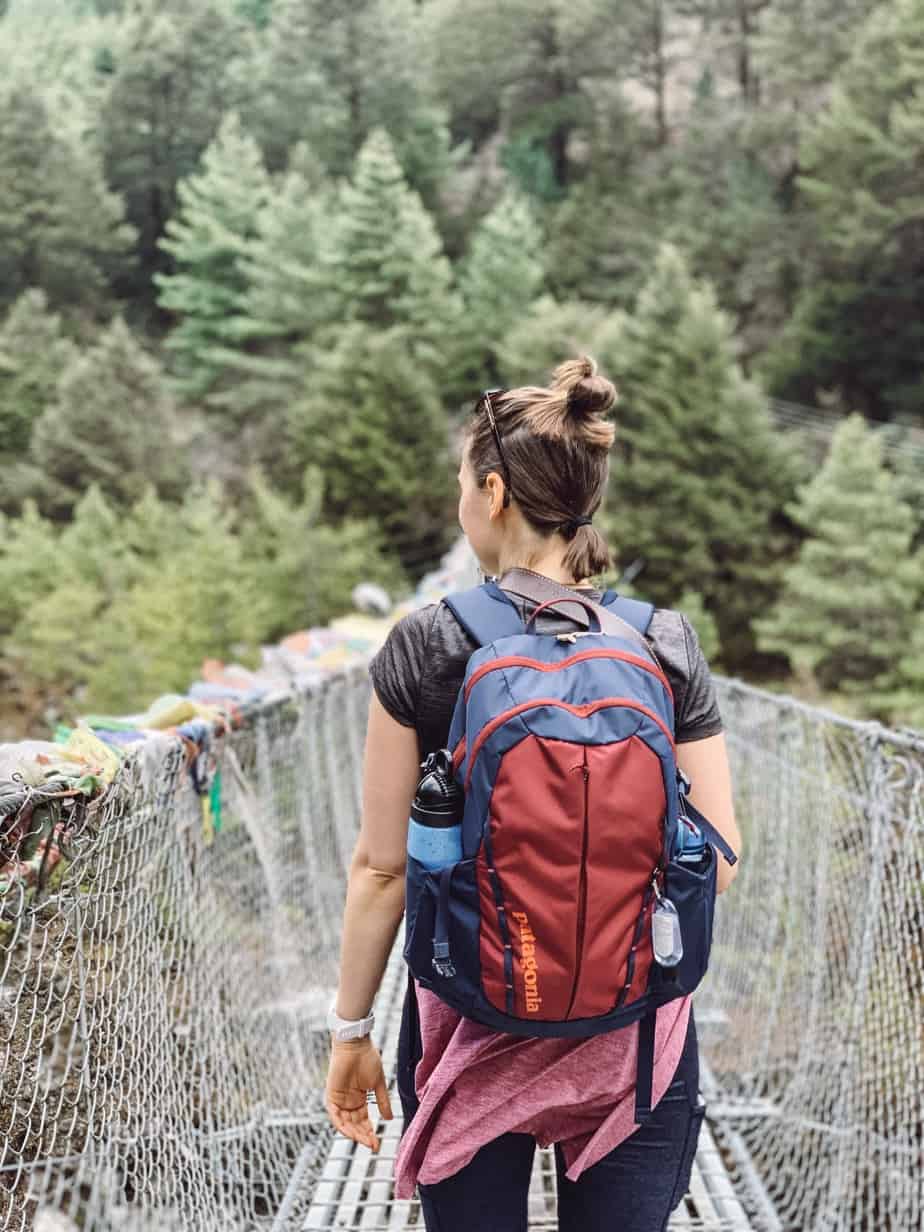 How is this Everest Base Camp packing list organized?
Okay, buckle up, friends (or grab a cup of coffee), because this blog post is LONG. I'm giving you ALL the details on what you need, why you need it, and where to get it. This isn't your average bullet point packing list. This Everest Base Camp packing list covers:
bags and backpacks
footwear
trekking clothes (base layer, insulating layer, and shell layer)
teahouse clothes
trekking accessories
toiletries
medication/first aid
snacks
electronics
entertainment
documents
what I wish I'd brought!
I'm also sharing some packing considerations, how to organize your pack, and how to budget (because buying everything on an Everest Base Camp packing list could be expensive AF). And of course, you can download a printable packing list here.
Ready? Let's go!
Packing considerations: Should you hire a porter?
In relation to packing – if you are using porters, you'll need a waterproof duffel bag (80-90L) and a daypack (20-30L). With no porter, you'll need a trekking backpack (45-60L), AKA you'll take less stuff and different gear. I highly recommend doing a guided trek with porters. Here's why:
Carrying more weight puts you at higher risk of altitude sickness, so better to let porters carry who are used to the atmosphere!
You may enjoy the trek more without carrying so much.
You are supporting the local economy – but remember to tip!
You can make connections and lasting relationships with local people, and experience the Himalayas in a more authentic way.
My biggest tip for packing for Everest Base Camp
The best thing I did when I packed for EBC was to use PACKING CUBES! I was late to jump on this bandwagon because I thought packing cubes were an unnecessary expense. And I still don't use packing cubes for every trip, but wow, are these life changing for organizing your Everest Base Camp packing list. I recommend the first thing you go out and buy is the 5-piece travelwise packing cube set (the exact set I used).
Why are packing cubes so helpful on this trek? Basically, you are packing and unpacking your duffel bag every. single. day. You arrive to a new teahouse nightly, where the rooms are small and unheated. In short, you don't have the space, time, or energy to deal with unpacking! I saw most of my fellow trekkers throw their belongings around and stuff them back into the duffels, making it impossible to find items after just a couple days on the trail. With packing cubes, I had more time to relax, and my stuff stayed cleaner! Honestly, for your own sanity, use packing cubes.
This is how I recommend breaking up your packing cubes:
cube 1 (large): teahouse clothes
cube 2 (large): trekking clothes – insulating and shell layers
cube 3 (medium): trekking clothes – base layer
cube 4 (medium): underwear and trekking socks
cube 5 (small): snacks
Of course this will vary a bit from person to person. I found the important part was keeping my "teahouse clothes" separate from the clothes I trekked in, so they stayed clean and cozy! Now… onto the good stuff!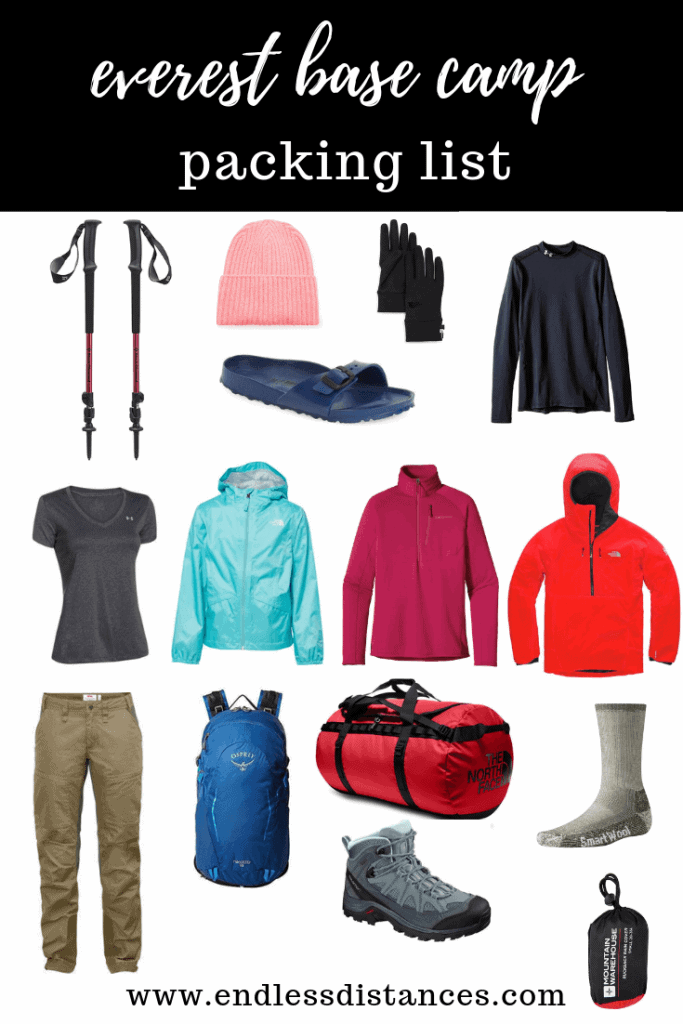 ---
Everest Base Camp Packing List: Bags and Backpacks
If you're on a guided trek, you only need to carry a day backpack. The bulk of your belongings will be in a waterproof duffel bag which your porter carries. Many tour companies provide you with a waterproof duffel bag – confirm whether you need to buy your own or not.
→80-90L waterproof duffel bag: The bag your porter carries, which holds all your belongings. | Recommended: North Face Base Camp Duffel (size L), Patagonia Black Hole Duffel (100L), or TYTN Duffel Bag (cheapest option).
→24-30L day backpack: A lightweight backpack to carry your trekking essentials. Get one with a waist strap and ergonomic fit to avoid injury. Recommended features include internal water bladder holder, side mesh pockets, and attached rain cover. | Recommended: North Face Recon Backpack (30L), or Osprey Sirrus Backpack (24L)
More bags: Amazon | North Face
---
Everest Base Camp Packing List: Footwear
Footwear is your most important purchase, so don't skimp on it (scroll to the bottom of the post for budgeting tips). You need high quality boots and socks. Buy them 3-6 months prior to your trek to break them in.
→Hiking boots: Waterproof, comfortable hiking boots with ankle support. Leather takes longer to break in, goretex you can break in quickly. I advise buying these in person with a fitting – and be sure to wear your trekking socks to the fitting. | Recommended: I love Salomon brand hiking boots.
→Trekking socks (x4-5): Sturdy socks to help prevent blistering. | Recommended: Smartwool Trekking Socks (my favorite) or Wrightsock Coolmesh Socks (unique double layer prevents blisters)
→Liner socks (x2-3): Thinner socks to wear underneath trekking socks to make them last longer without washing. | Recommended: Balega Athletic Socks
→Sandals: You'll wear these in the teahouses because trust me you won't want to touch those floors. Get a loop strap so you can also wear them with socks (because it's going to get very cold!). | Recommended: Waterproof Birkenstocks
More footwear: Amazon | Birkenstock
---
Everest Base Camp Packing List: Trekking Clothes
You will be packing trekking and teahouse clothes in separate packing cubes. Your three main layers of trekking clothes are base layer, insulating layer, and outer shell. You can even do a packing cube for each (I did!).
Base layer
The layer closest to your body, which wicks sweat away from your body, but will also get the sweatiest!
→Sports bras (x2-3): For the ladies. | Recommended: Organic Basics Silvertech Bras are perfect because they're quick dry, and the material is antibacterial so you can wear it for days without smelling!
→Underwear (x5): Plan to wash once. Definitely get quick dry, breathable material. | Recommended: Organic Basics Silvertech Briefs (Women), Organic Basics Silvertech Boxers (Men)
→Short sleeve shirts (x2-3): Quick dry, wicking material (no cotton!). The number you bring depends on how hot/cold you run, and the season you're trekking. I brought two but wished I had three. | Recommended: Under Armour V-Neck
→Leggings (x1-2): Personally I loved trekking in leggings! One pair of mid-thick weight leggings is enough. Make sure to get a pair with side pockets for your phone, toilet paper, etc. | Recommended: Aerie Play High Waisted Pocket Leggings (I wore these and they were PERFECT)
→Trekking pants (x1-2): One pair of trekking pants should suffice for women who will also wear leggings. Men may prefer two pairs. I'd advise buying these at home because most trekking pants sold in Kathmandu are counterfeits and very poor quality and may break down on the trek. | Recommended: Trekking Pants on Amazon (cheapest option)
→Thermal base layer shirt (x1-2): This will keep you warm at night, and during trekking in the highest altitudes where it's cold. To be honest, I put my base layer on and didn't take it off for about three days when it was the coldest! | Recommended: Under Amour ColdGear Mock Neck (Women), Under Armour ColdGear Mock Neck (Men)
Insulating layer
The second layer which is made of warmer material.
→Long sleeve shirts (x2): Quick dry, wicking material. I chose to always wear mine over a short sleeve shirt, so I had more control over my temperature. | Recommended: Under Armour Twist Crew
→Half zip: A light, wicking material, long sleeve half zip is a perfect insulating layer for the lower altitudes, especially when you stop trekking for lunch and get cold. | Recommended: Under Armour Streaker Half Zip
→Fleece: Your go to insulating layer is a lightweight fleece. The trick is not to buy a heavy fleece because you can always layer your shell if you're cold. Look for a polartec 200 (the scale that fleece is commonly measured on). | Recommended: North Face Glacier Alpine Fleece Full Zip (Women), North Face Glacier Alpine Fleece Quarter Zip (Men), Polartec 200s on Amazon
Shell layer
Your outermost layer, which protects you against wind, rain, and snow. It should be made of a waterproof and wind resistant material.
→Waterproof/Goretex jacket: A high-quality raincoat is essential. Although it can downpour on the EBC trek, wind is a more common issue. A goretex, wind-resistant material will protect you in the higher altitudes. This can also prevent altitude sickness. | Recommended: North Face Venture 2 Rain Coat (my favorite, and so good I won't recommend another one!)
→Waterproof pants: Keep these in your daypack and pull them on over your trekking pants/leggings when it downpours. | Recommended: Viking Waterproof Pants (Men), Viking Waterproof Pants (Women)
→Down jacket: This will be your warmest layer. You will be coldest in the unheated teahouses, because you're not moving. Personally I only wore my down jacket when I was sleeping, but it was essential. | Recommended: North Face Summit L3 Coat (Women), North Face Summit L3 Coat (Men)
→Gloves: A lightweight pair of gloves should be enough for the EBC trek. Get a pair with digital compatibility so you can take photos on your phone with your gloves on. | Recommended: North Face Etip Gloves
→Warm knit hat: Any beanie-style hat that covers your ears. I basically wore mine the entire trek. | Recommended: Any warm hat will do, but if you want one like my favorite pink hat in all my photos, check here.
→Sun hat: To protect your face in the lower altitudes when it's warmer. | Recommended: Strapback Cap
→Scarf: A wide scarf will keep you warm in the teahouses and keep you modest if you explore any temples in Kathmandu. | Recommended: I always travel with Encircled's Chrysalis Cardi which can be worn 8 ways. Read more about it here.
→Neck buff/gaiter (x2): Worn on the lower half of your face, this will protect you from wind and dust and make breathing easier. | Recommended: Bring a lightweight buff for lower altitudes and a fleece buff for higher altitudes.
More trekking clothes: Amazon | North Face | Organic Basics | Under Armour
---
Everest Base Camp Packing List: Teahouse Clothes
Keep these in their own packing cube. Having clean clothes to wear in the teahouse and while sleeping is one of those small pleasures on the EBC trek that will keep you feeling human!
→Fleece-lined pants: A warm and cozy pair of pants to sleep in. The fleece will keep you insulated as it gets freezing in teahouses overnight. | Recommended: Under Armour Rival Fleece Pants (Women), Under Armour Rival Fleece (Men)
→Long underwear pants: A thin pair of long underwear to wear under your fleece lined pants in the highest altitudes. If it's very cold you may choose to trek in these. | Recommended: Under Armour Cold Gear Base (Women), Under Armour Base 2.0 (Men)
→Fleece-lined socks: A pair of your favorite fuzzy socks will keep your feet warm each night. Trust me, you won't want to wear your trekking socks. | Recommended: Double Thermal Layer Socks (Women), Fleece Lined Extra Thick Socks (Men)
→Long sleeve shirt: An extra, clean shirt to wear in the teahouse when you change out of trekking clothes. I love silvertech material as it will keep your shirt from smelling, even though you'll wear it nightly. | Recommended: Organic Basics Silvertech Long Sleeve (Women), Organic Basics Silvertech Long Sleeve (Men)
→Crewneck sweatshirt: Something cozy to keep you warm at night. | Recommended: Nike Dri Fit Pullover
→Eye mask: You'll likely have at least one roommate in the teahouse, so bring an eye mask to help you sleep while lights are on. | Recommended: OLESILK Eco-friendly Silk Eye Mask (comes with ear plugs!)
→Ear plugs: Teahouses have thin walls, so trust me on this one. | Recommended: Soft Banded Silicone Ear Plugs, Bose Noise Canceling Headphones (I slept in these because they are so much more effective! A worthy investment.)
More teahouse clothes: Amazon | Under Armour | Organic Basics
---
Everest Base Camp Packing List: Trekking Accessories
All the accessories you'll need on the trail and in the teahouse.
→Packing cubes: As I mentioned, packing cubes are SO helpful on this trek. | Recommended: 5-piece Travelwise Packing Cube set.
→Sleeping bag: You need a 0°F (-10°C) sleeping bag as teahouses don't always provide bedding, and it gets very cold at night. | Recommended: North Face Summit Series Sleeping Bags, Amazon 0 Degree Winter Sleeping Bag (cheapest)
→Trekking poles: Even if you don't usually hike with trekking poles, you'll want them for EBC. These help so much with balance, and distributing weight over the constantly up and down terrain. | Recommended: Black Diamond Trail Pro Trekking Poles
→Waterproof daypack cover: It can downpour without warning so bring a rain cover to protect your belongings. Make sure it matches the size of your daypack. | Recommended: Mountain Warehouse Backpack Covers, Frelaxy Rainproof Daypack Cover (15-90L)
→Dry bag: On a similar note, a dry bag will further protect electronics inside your daypack. Highly advise it for anyone trekking with a valuable camera. | Recommended: Mountain Warehouse Dry Bag
→Sunglasses: These can also help protect your eyes from the wind!
→Headlamp: There is a chance you'll trek in the dark (we did!). Headlamps are also useful to read or write in your teahouse room if your roommate is asleep. | Recommended: Rechargeable COB Headlight – highly advise a rechargeable one because batteries are hard to come by!
→Microfiber towel: I showered three times during the 11-day trek. You may shower even less. In either case, a microfiber towel will dry super fast after use. | Recommended: Mountain Warehouse Microfiber Towel Size L
→32oz water bottle: Keep a big bottle in one of your daypack's mesh pockets. You should be drinking 3-5 liters per day. | Recommended: 32oz Nalgene water bottle – made of high quality super tough material that can even double as a foam roller!
→Filter water bottle: Pack a bottle with a filtration system in case you run out of purification tablets. | Recommended: Berkey Sport Filter Bottle – I used this and filled it up straight from the tap. Never had an issue or got sick. Plus it saved me money as I didn't buy much bottled water! Read more about Berkey in this blog post.
→3L water bladder: So you can drink from the tube without taking your pack off – life changing! Get one with a bite valve cap as otherwise it will get very dusty very fast. | Recommended: Leader 3L Hydration Bladder
More trekking accessories: Amazon | North Face | Mountain Warehouse
---
Everest Base Camp Packing List: Toiletries
Some toiletries are obvious, and others are a little more specific to EBC.
→Toilet paper (x3): You can buy this at home or in Kathmandu. There is also some for sale in Namche Bazaar along the trek. Bring at least three, as well as (*hot tip!*) some plastic bags to keep them from getting wet.
→Brown paper bags: To pack out your used toilet paper and trash, because leave no trace!
→Toiletry bag: A TSA-approved bag to keep everything together. | Recommended: Clear Travel Toiletry Bag
→Shampoo and conditioner: For the rare shower you get to take! Showers are generally 500-1000rs at teahouses, but well worth it.
→Dry shampoo: This will help de-grease your hair and keep you smelling fresh on the (many) non-shower days. | Recommended: Acure Dry Shampoo
→Body wash: Bring a powder or paste that's less likely to explode in your duffel all over your trekking clothes! | Recommended: Exfoliating Detox Body Soap
→Wet wipes: Meet your new version of a shower! Seriously, wet wipes are everything on the trail, especially at high altitudes. | Recommended: Babo Botanicals Body Wipes – one pack lasted me the entire trek
→Toothpaste and toothbrush: For obvious reasons. Remember not to use tap water to brush your teeth. | Recommended: A bamboo toothbrush will keep you zero waste!
→Handheld mirror: I'm so glad I packed one because 1) there are not always mirrors in the teahouses 2) you can stay in your sleeping bag and use a hand mirror! | Recommended: Camping Mirror
→Sunscreen: The sun is even more intense at high altitude. Wear sunscreen on your face and all exposed skin every single day, no matter how cold and cloudy! | Recommended: I swear by ThinkSport SPF 50+. It's effective, sensitive-skin friendly, nontoxic, and reef safe.
→Hand sanitizer (x2-3): You'll be hard pressed to find soap in any bathroom on the EBC trek. If you don't want to get sick, layer on the hand sani. | Recommended: Hand Sanitzer with Caribiner Clip
→Essential oil: This is a small thing with a big impact. Every night I put some lavender essential oil on my neck and it helped me relax so much. | Recommended: doTerra Lavender Essential Oil
→Laundry supplies: You'll want to do laundry at least once on the trail. I recommend the "shake" method. Put your clothes in a big 2-3 gallon plastic bag. Add some water and some non-toxic powder detergent. Shake it around! Then, rinse off your clothes while you shower. Do this before an acclimation day so your clothes can dry.
→Menstrual cup: For menstruating travelers, a period cup is so much easier than trying to dispose of tampons and pads on the trail. Even if you aren't usually a cup user I recommend it for this trek. | Recommended: Organicup
→Thinx: On the same topic, I love Thinx period underwear and they are useful for the same reasons as above on the EBC trek. Use my link for $10 off your first pair.
More toiletries: Amazon | Thrive Market
---
Everest Base Camp Packing List: Medication / First Aid
There are many chances to get ill and injured on the EBC trek, but not many pharmacies. Bring your own mini pharmacy along to problem solve and help you enjoy your trek that much more.
→Blister kit (x2-3): Absolutely necessary. The trick is to place these on "hot spots" to prevent blister formation. | Recommended: Dr. Frederick's Hydrocolloid Blister Bandages (super high quality and effective)
→Water purification tabs: The water in Nepal is not safe to drink. Bring along iodine tablets to purify water and so you save on buying bottled water (plus it's better for the environment). This is how I drank and I had no issue.
→Diamox: Get a prescription from your home doctor for the only medication proven to prevent altitude sickness. You start Diamox the day before ascent, and discontinue as you descend. Diamox is sold in Nepal but there is no guarantee it's not counterfeit. Sort this a month before you depart.
→Other prescription medication: Tell your doctor you're embarking on the EBC trek, and ask for prescriptions for the following medications in case of emergency.
Ibuprofen 800mg – that over the counter painkiller doesn't always cut it on EBC
Muscle relaxants – to help with possible muscle spasms
Ciproflaxin – general antibiotic can combat the "Khumbu Cough" so common on the trek
→OTC medication: Buy the following over the counter medications before your trek. Stomach ailments, diarrhea, constipation, chest colds, and more are very common on the EBC trek, and pharmacies are not always available.
Aleve – or your own preferred painkiller
Laxatives
Cold and flu medication
Antiseptic ointment
→Vitamins and supplements: With the onslaught of germs, stress of high altitude trekking, limited variety of food, and poor hygiene, it is highly recommended to supplement your diet with vitamins. Here is what I took, and recommend:
→Cough drops/hard candies: Suck on these to keep your mouth moist at high altitude.
→Chapstick: Your lips will get very chapped at altitude.
More first aid: Amazon | Thrive Market
---
Everest Base Camp Packing List: Snacks
Snacks deserve their own section because your EBC snack game has to be on point! I literally packed an entire packing cube of snacks and ate all of it. This is what's going to keep you going on the trail, and many great trail snacks aren't available in Nepal, so pack accordingly!
→Jerky: By far my best purchase was a full pack of Epic Jerky Bars…you're not advised to eat meat on EBC because it goes rancid as porters carry it up the mountain. If you're not used to being vegetarian for two weeks your body may suffer. Jerky gave me that extra protein I needed to keep going. | Recommended: Epic Jerky Bars 12-Pack
→Nut butter: Another burst of protein that will keep you moving. | Recommended: Justin's Almond Butter sachets 10-Pack
→Probar Bolts Energy Chews: These are the only energy gummies I eat because they're 1) tasty AF, 2) highly effective, 3) certified gluten free, organic, etc. | Recommended: Probar Bolts 12-Pack
→Granola bars: The OG trail snack. Bring your favorites. | Recommended: KIND Bars
→Chocolate: Because mandatory.
→Nut mix: Another great snack choice and will last well in your luggage.
→Nairn biscuits: I'm obsessed with these gluten free biscuits as they fill you up SO much and give lasting energy. | Recommended: Nairn Chocolate Biscuit Bars
→Dried fruit: Another energy-filled snack. Mango, apricot, and apple all pack really well.
→Electrolyte tabs: I advise drinking one liter of electrolyte water a day. | Recommended: Nuun electrolyte tablets
→Tea sachets: Bring your favorite teabags along to save a little money. It's much cheaper to order hot water and put your own teabags in, than it is to order tea.
More snacks: Amazon | Thrive Market
---
Everest Base Camp Packing List: Electronics
Electronics can be heavy, so only take these necessary items! Remember to charge everything before you depart as electricity is limited on the trail.
→Camera: Definitely take your camera along to capture the stunning landscapes and intense experience. | Recommended: I love my Canon EOS M6 because it's mirrorless and lightweight, but still has DSLR capabilities. I also recommend a water resistant camera case.
→GPS Watch: Incredibly useful on this trek for tracking you steps, elevation, heart rate, and VO2 max. | Recommended: Garmin Vivoactive GPS Watch (I love mine!)
→All chargers: Inclusive of phone, camera, watch, kindle, battery chargers, etc.
→Power banks (x2-3): Charging devices is a major issue on EBC. Some teahouses let you pay to charge, others have no charging at all. Bring (and pre-charge) at least 2 portable batteries. | Recommended: PowerGear Portable Battery Pack is lightweight and easy to carry in a daypack. Anker PowerCore holds a massive amount of charge but is heavier so keep in your duffel. Many people also take Solar Chargers attached to day packs to overcome this issue. I recommend bringing all three.
→International outlet adaptor: Nepal uses plug types C, D, and M. Bring a universal adaptor that includes these types. | Recommended: Power Plug Adaptor 150+ Countries
→Noise canceling headphones: To listen to music, but also to block out noise in the teahouses at night. Two words: Thin walls. | Recommended: Bose Noise Canceling Quiet Comfort
More electronics: Amazon | Garmin | Bose
---
Everest Base Camp Packing List: Entertainment
Keep yourself and your fellow trekkers entertained when you're not on the trail!
→Kindle: For unwinding at night and on acclimation days. Be nice to your porter and don't pack heavy books! | Recommended: Kindle Paperwhite (waterproof and 2x the previous storage!)
→Cards: It's pretty much an EBC trek tradition to play cards at the teahouse nightly!
→Journal: I highly advise journaling your experience! Read my own EBC diary here. | Recommended: Moleskin Notebook
→Pens and pencils
---
Everest Base Camp Packing List: Documents
Keep your documents in order before and during the trek.
→Document holder: Get one that's RFID-blocking and waterproof. | Recommended: RFID-blocking Travel Wallet
→Passport: Valid for at least 6 months.
→Photocopy of passport: Always travel with one.
→Visa photo and money: Everyone needs a visa to enter Nepal. The visa machines are often not working so bring a passport sized photo. To pay you'll need USD CASH (yes – cash!), that's crisp and new – any wrinkles will NOT be accepted.
15 day visa – $25USD
30 day visa – $40USD
90 day visa – $100USD
→Rupees: Take enough out in Kathmandu because there are not many ATMs on the EBC trek, and the existing ones often aren't working.
→Itinerary: Definitely bring the EBC itinerary provided by your company so you can refer to it before each day of trekking.
→Vaccinations: Check recommended vaccinations here.
---
Everest Base Camp Packing List: What I Wish I'd Brought!
Everyone packs for Everest Base Camp slightly differently. It was so interesting seeing what everyone else in my group brought! We basically had an entire pharmacy between the nine of us. There were some ingenious things my fellow trekkers brought (and happily shared!) that I would definitely recommend bringing on your own trek.
→Travel foam roller: It's short and hollow (so you can pack items inside it to save space) and will absolutely save you from soreness on the trail. | Recommended: Trigger Point Grid Foam Roller
→Kinesio tape: My ankles felt quite weak on the third day, so thank goodness someone brought kinesio tape. Multiple people borrowed this during our trek! | Recommended: Kinesio tape and illustrated guide
→More hand sanitizer: Honestly you can never have too much hand sanitizer on this trek.
→Fabric softener sheets: One absolute legend on my trek had the bright idea to pack her duffel with a few fabric softener sheets. The result was good smelling clothes for 12 days… it's the small things, right?!
---
How to save money on your Everest Base Camp packing list
Someone told me that whatever figure you've budgeted for your Everest Base Camp packing list… double it! I'm not disagreeing that packing for EBC is an expensive undertaking – it should definitely be a financial consideration when you decide to book the trek. However, there are definitely some ways to save money.
Budgeting tips:
Rent: You can rent trekking poles and sleeping bags in Nepal. I spent $20 to rent trekking poles and $30 on a sleeping bag – which saved me a lot of money on items I might not use again any time soon!
Borrow: Hit up your friends and family who love hiking or camping. Chances are they will lend you some useful items. I was able to borrow rain pants, a fleece, buffs, and more from friends! Plus, they enjoyed seeing their belongings make it to base camp 🙂
Second hand stores: You can get many of the trekking clothes and teahouse clothes items for significantly reduced prices if you shop second hand.
Use Thrive Market: I discovered this awesome website that sells specialty items at wholesale prices. I bought many of my toiletry and snack items at 30-50% off what they sell for in store or on Amazon! Thrive Market is a subscription service but you can take advantage of their free trial. I ended up getting the subscription anyway because I saved so much money! (*Thrive Market is only available in the USA!*)
Bulk order on Amazon Prime: For items that aren't cheaper on Thrive Market, or only available on Amazon (primarily the trekking accessories, some toiletries and some snacks), I recommend doing a bulk order. With Amazon Prime, you get exclusive deals and free shipping – there is also a free trial if you're not already a member. I saved a lot of money taking advantage of Amazon.
Splurge items:
While you can cut costs in some areas, there are a few items on your Everest Base Camp packing list that you should really invest in. These are:
Hiking boots
Trekking socks
Daypack
It's really important to buy these items high quality, and fitted to you personally. Why these specific items? If your hiking boots are cheap and break, you will suffer on this trek. Same with trekking socks – this is your line of defense against blisters. And you do not want blisters on this trek. You also want a high quality day pack to avoid muscle spasms or injury. Luckily, all three of these items will be useful beyond just the Everest Base Camp trek.
Get your printable Everest Base Camp packing list!
Honestly, packing for Everest Base Camp is one of the biggest challenges of this trek! Once you get through this, all you have to do is walk to base camp, right? 😉 Good luck to all of you planning this trek, and feel free to leave me any questions or comments below.
Sarah xx
Pin it for later…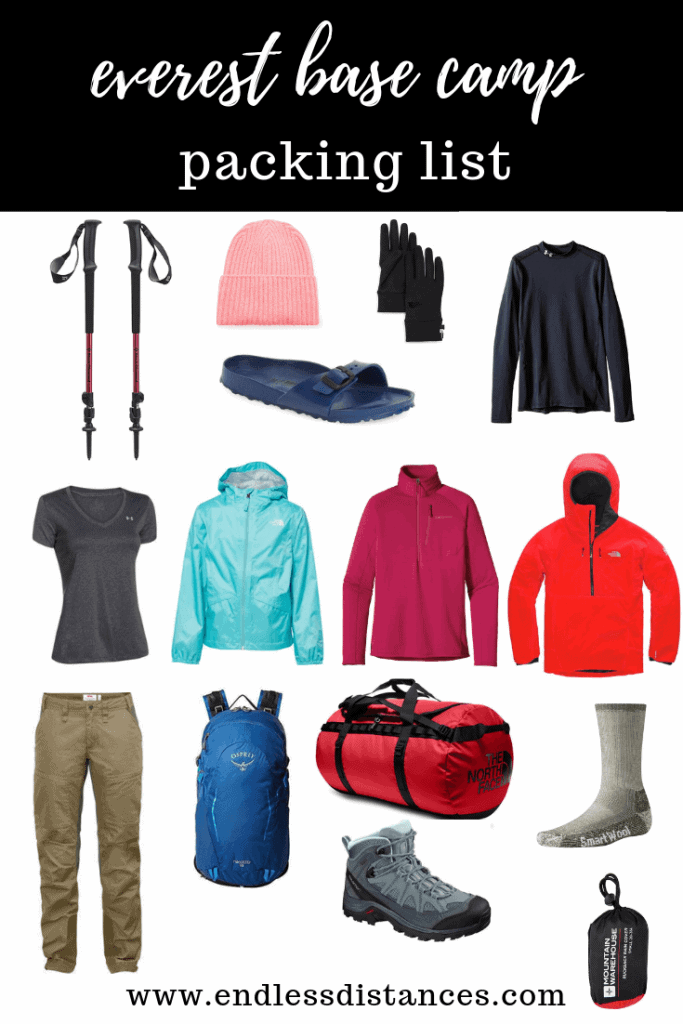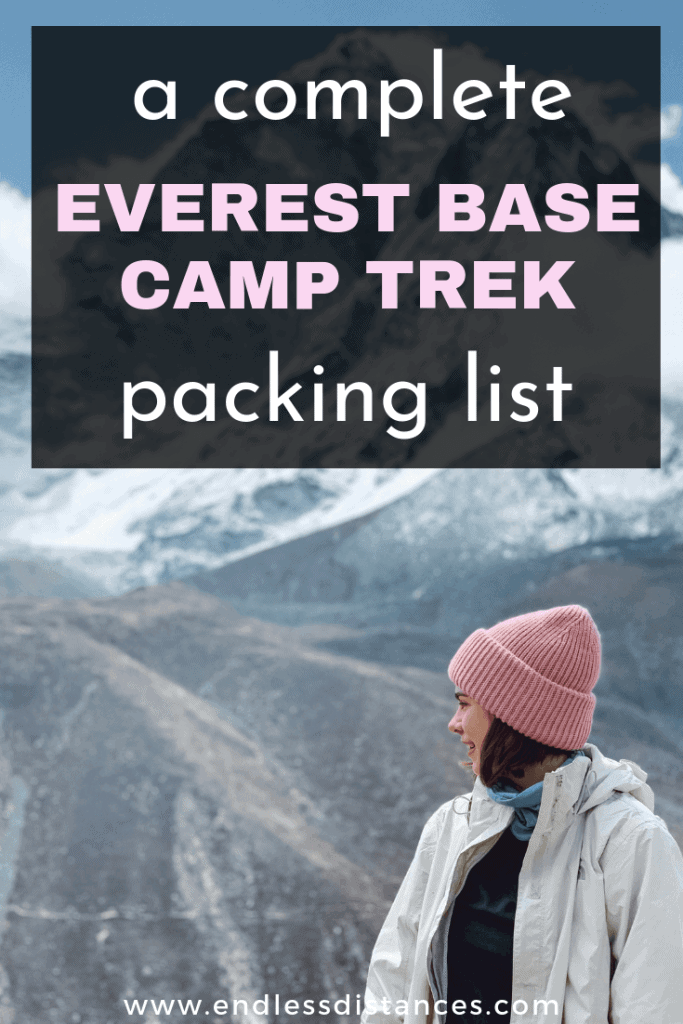 *This post contains affiliate links. If you make a purchase through one of these links, I may make a small commission, at no extra cost to you. Thank you for supporting Endless Distances!