Gluten Free Girona Spain: A Complete Travel Guide
If you are looking for gluten free Girona Spain advice… you have come to the right place! As you know by now, my care free foodie-traveling lifestyle is slightly hampered by a little devil called gluten. Never fear in Girona, though: I ate til my heart's content! Of course, this came with the help of my Girona-resident friends Alexia and Angela, who were perfect tour guides, translators, and gluten free Girona connoisseurs.
I also have to thank them for so graciously dealing with my gluten free complications – it can be difficult to travel with celiac disease for your own safety, but it's also difficult for the people who you travel with. They may not know all the details of your condition and diet, and will have to go out of their way for you in ways they obviously wouldn't if they were just eating on their own! So a big thanks to my lovely travel buddies for their graciousness. I hope their guidance plus my own experience can give you a good guide to the ins and outs of gluten free Girona!
This gluten free Girona guide includes:
A Catalan translation card
Common phrases to know
100% gluten free Girona bakeries
Nondedicated restaurants in Girona with gluten free options
Grocery stores with gluten free options
Traditional dishes that are naturally gluten free
And more!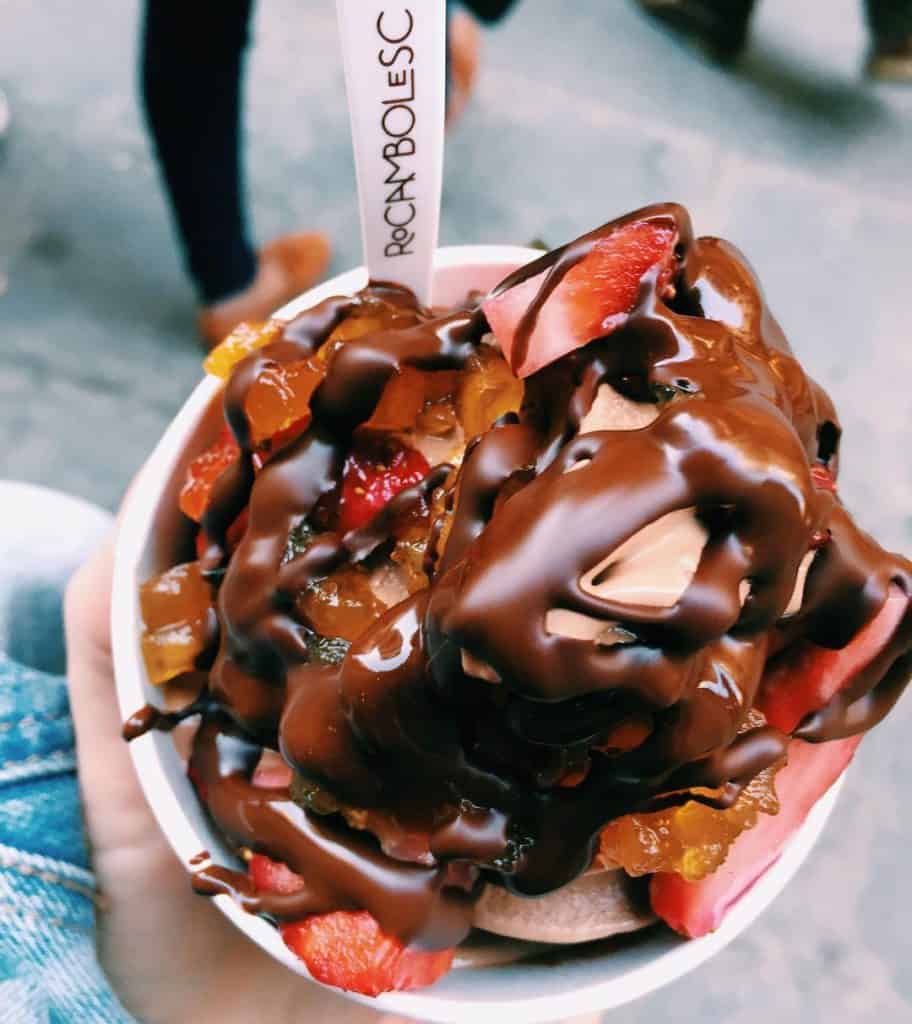 A gluten free translation card for Girona and Catalonia
You might not be aware, but people in Girona speak Catalan, not Spanish! Of course, the languages are very similar (and you can get by if you're fluent in Spanish). However there are some big cultural implications due to Catalonia's ongoing struggle for independence from Spain. As such, it's much more polite and respectful to communicate in Catalan than Spanish. If you're also traveling to nearby Barcelona, keep in mind that is actually the capital of Catalonia so this is especially important there!
For communicating in Catalan in Girona (or anywhere else in Catalonia), I highly recommend this translation card by Jodi of Legal Nomads. Buy it online (for the price of a tapas), and download it straight to your phone.
I love Jodi's translation cards because she is a celiac herself. Her cards go in depth unlike any other card, discussing cross contact and local cuisine. Click the image below to read more about the translation card.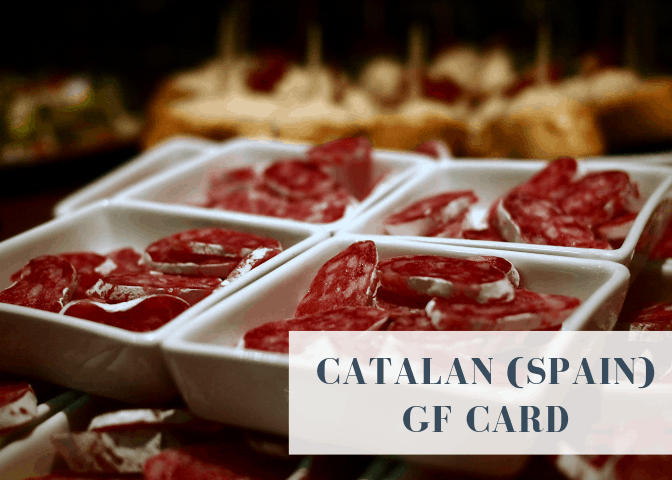 Traveling elsewhere in Spain? You can also purchase a Spanish translation card for destinations like Madrid, Seville, Valencia, and more.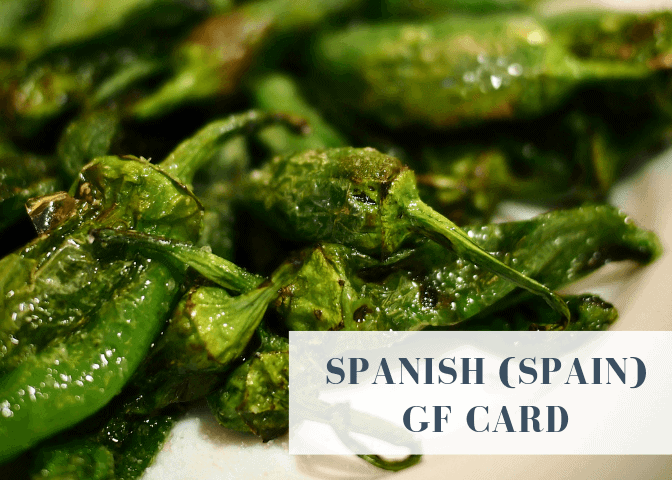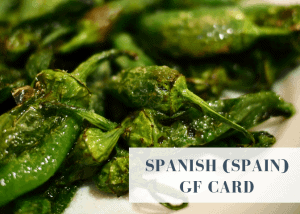 Common phrases to know in Catalan for gluten free travelers
I highly, highly recommend traveling with the Catalan translation card. However, it can also be useful to know some specific phrases. This will help when you're reading ingredient lists, signs outside restaurants, menus, and more.
Useful phrases to know in Catalan include:
I'm celiac = Soc celíac
Gluten = gluten (easy, right?)
Wheat = blat
Wheat flour = farina de blat
Without gluten = sense gluten (this is different because in Spanish they will say "sin gluten")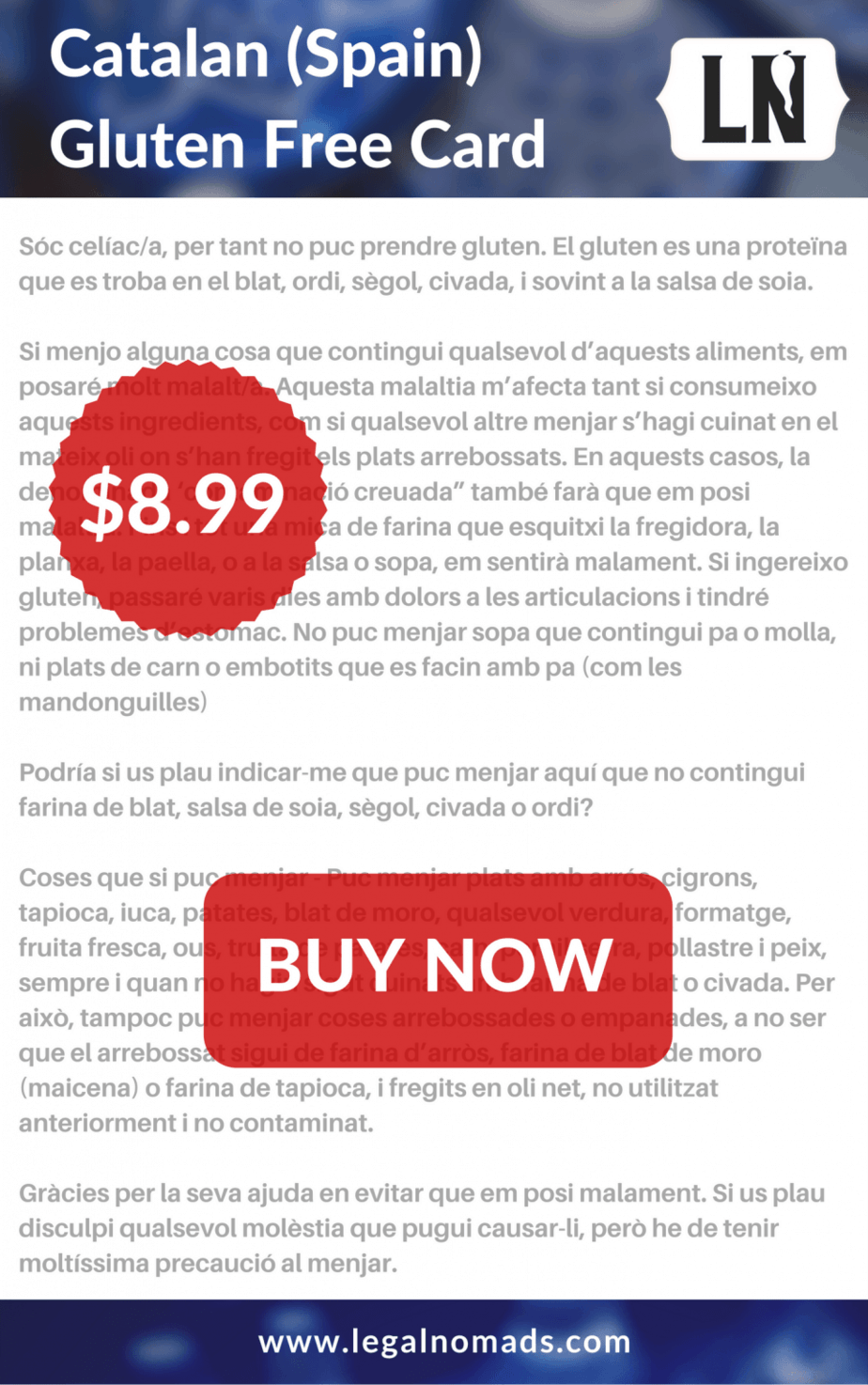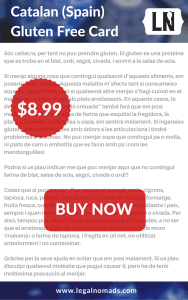 Dedicated gluten free Girona bakeries
Sadly when I was last in Girona, there were no dedicated gluten free restaurants or bakeries. I've updated this post for 2023, however, as there are now two 100% gluten free establishments in Girona! You're in luck. If you go to these bakeries, please let me know your experience in the comments!
Watelia Patisseria
Watelia is a Girona bakery that is 100% gluten free (or sense gluten as they say)! I'm honestly so bummed that this wasn't open during my last trip to Girona. This should be your first stop in Girona – you can grab gluten free pastries, empanada, donuts, and so much more. The selection also includes many traditional Catalan pastries.
Watelia // carrer minali 10 17004 Girona, Spain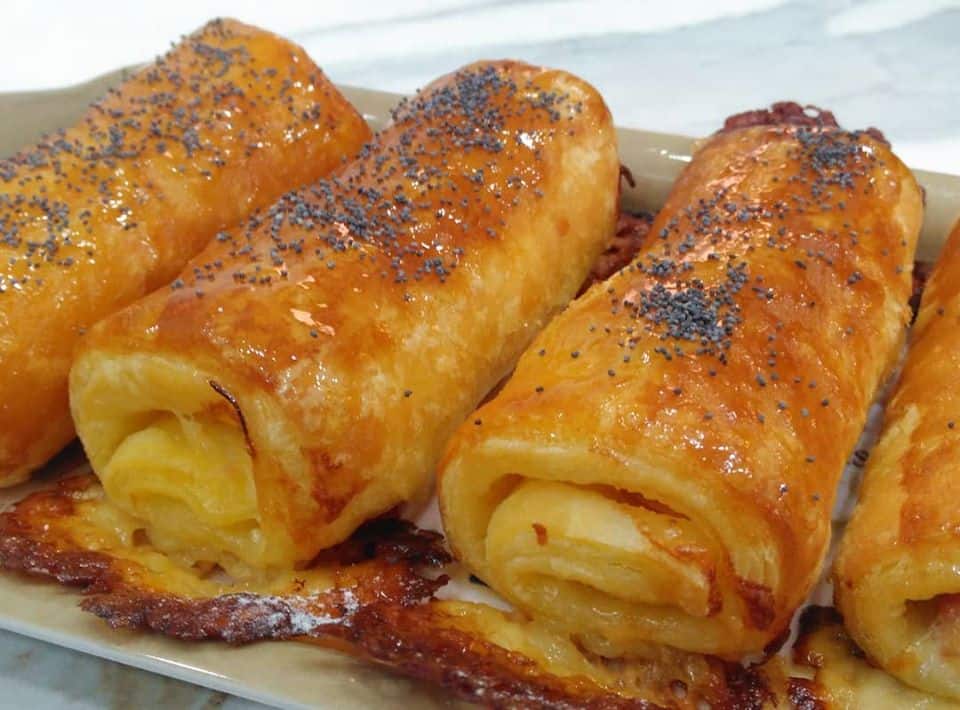 Obrador Gluten Free
Obrador Gluten Free is a 100% gluten free bakery that opened in 2019 and serves delicious looking pastries. They are located on the northern end of Girona proper so might be a bit harder to reach by walking, depending on where you're staying.
Address: Obrador Gluten Free, Passeig de Sant Joan Bosco, 35 17007 Girona
Bye Bye Blat
Bye Bye Blat is another 100% gluten free bakery and cafe in Girona (blat means wheat in English, so it's called Bye Bye Wheat… how fun!). You can grab lunch here, as well as gluten free flour mixes, gluten free specialty pastries, and even gluten free beer!
Bye Bye Blat //

Placa Salvador Espriu 7

,

17002 Girona,

Spain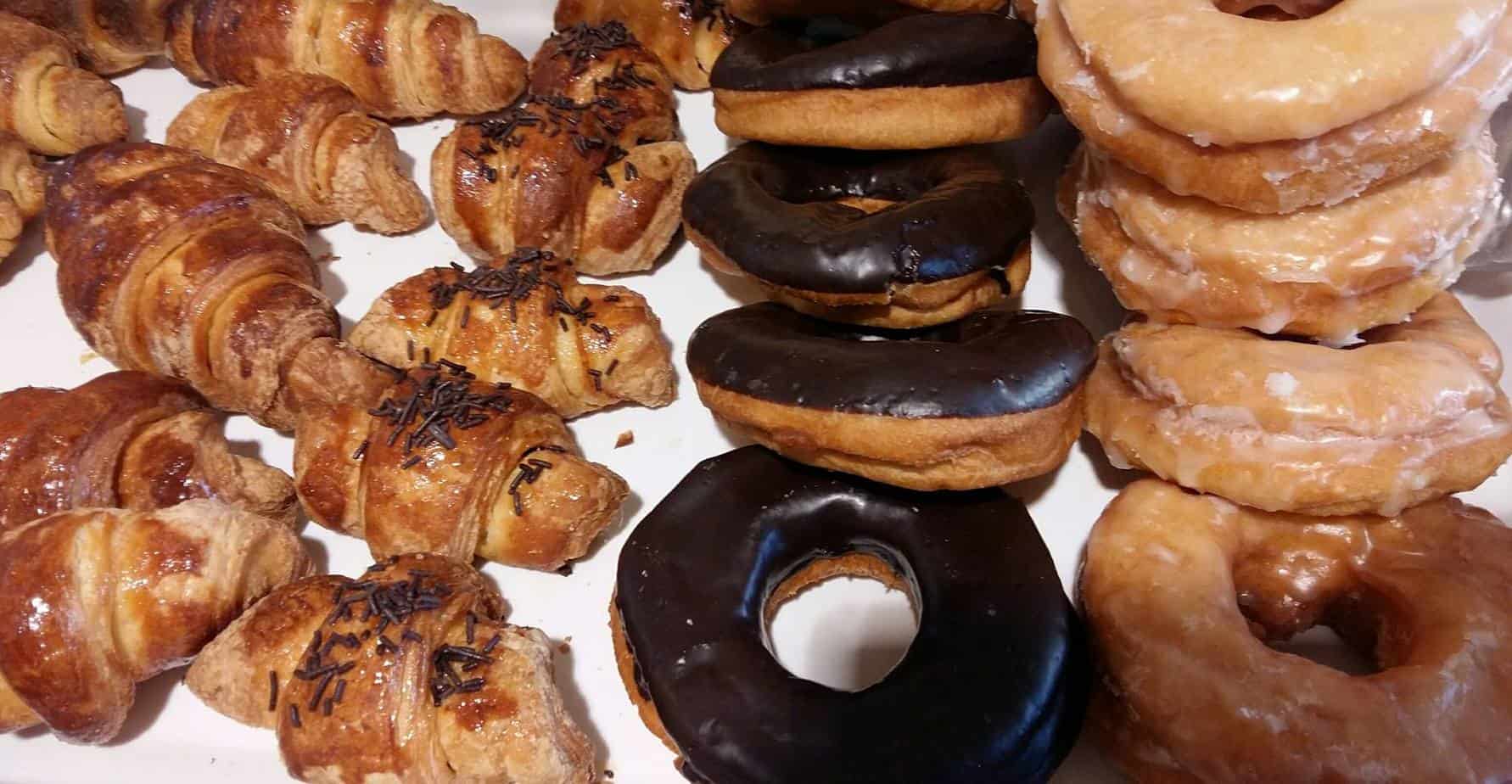 Nondedicated gluten free Girona restaurants
Although these restaurants aren't 100% gluten free, they do provide gluten free options! They also take steps to reduce cross contact, which I'll discuss individually for each restaurant.
Rocambolesc Gelateria
Let's start off with my personal favorite – Rocambolesc Gelateria. Gelato counts as a restaurant, right? I mentioned in my post on 10 free things to do in Girona how obsessed I am with Rocambolesc – it's widely known as the best gelato in all of Spain (with only two locations: Girona and Barcelona).
The gelato and toppings are incredible and even better than that, they are very allergy conscious and list allergens on all of the toppings, which I appreciated!
It's personal for everyone, but ice cream parlors/gelaterias are actually the settings I'm most wary of being glutened (mystery ingredients, cones, shared scoops…). However I ate here three times with no ill effects – the staff are very careful and aware of cross contact!
Rocambolesc Gelateria //

Santa Clara, 50

,

17001 Girona,

Spain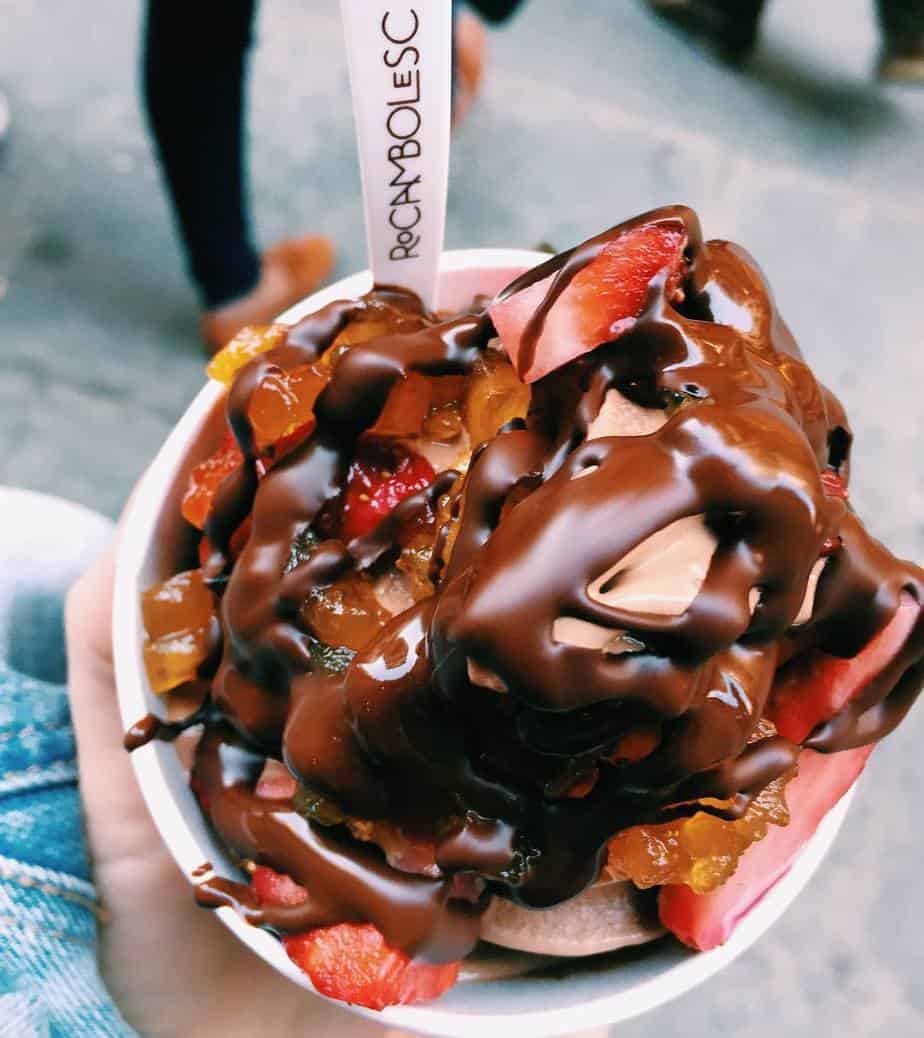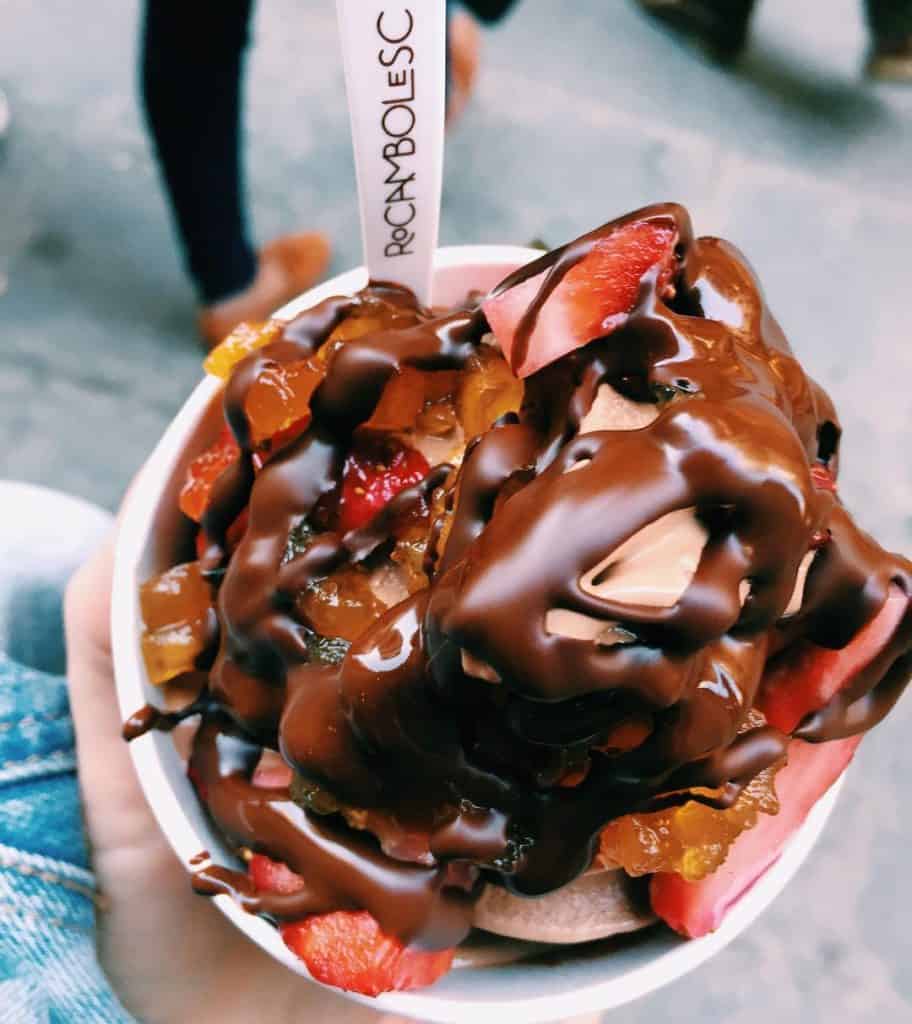 L'exquisit Girona
L'exquisit is an adorable little cafe overlooking the River Onyar. We came here for brunch almost every day because they carried gluten free bread – I had traditional Catalan sandwiches with jamon, tomatoes and cheese each morning.
Since my trip to Girona I've seen one review stating L'exquisit no longer carries gluten free bread or cakes. So I reached out to their staff and as of 2022 have been reassured that they still carry gluten free options! The coffee and views are also wonderful so I recommend a visit!
L'exquisit // Carrer Ballesteries, 3,

17004 Girona,

Spain
Konig
Konig is an odd but yummy German-tapas chain that is local to Girona. It has a few locations across the city and province (including independence square) and is infamous for the best patatas bravas in Catalonia. This is coming from my friend who has lived in Girona for over 20 years!
As far as tapas goes, their patatas bravas is gluten free (just double check that they weren't prepared in a shared fryer, when I visited it was a dedicatd fryer). These are the best I've ever had. Konig also offers gluten free beer (which I am definitely a convert to after Prague)!
They have a location in Vilablareix which hosts a wide array of gluten free substitutes (breads, cakes, pastries etc) so if you are looking for more options than naturally gluten free and beer, head to the Vilablareix location! Here is the Vilablareix "sense gluten" menu.
La Vedette
La Vedette is a popular crepe place that serves gluten free buckwheat crepes with a huge variety of fillings. We went here for dinner and I ordered the Dolca savory buckwheat crepe, filled with goats cheese, brie, salad, almonds, and honey and tomato vinaigrette.
They are also really accommodating and offered to serve the cheese fondue with potatoes for dipping (instead of bread) but I was already stuffed so opted not to. I definitely recommend a visit to La Vedette for any gluten free Girona visitors.
La Vedette// Carrer De La Barca, 17,

17004 Girona,

Spain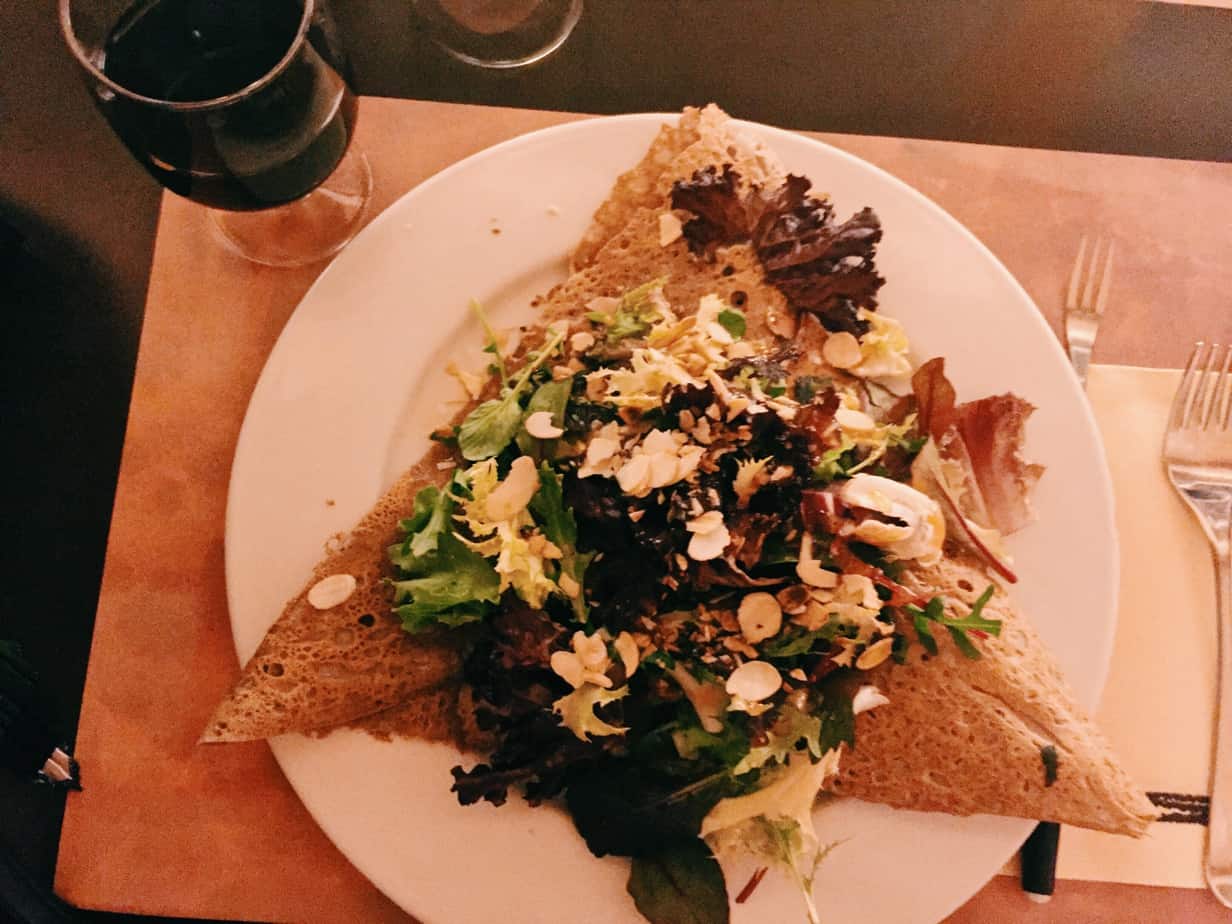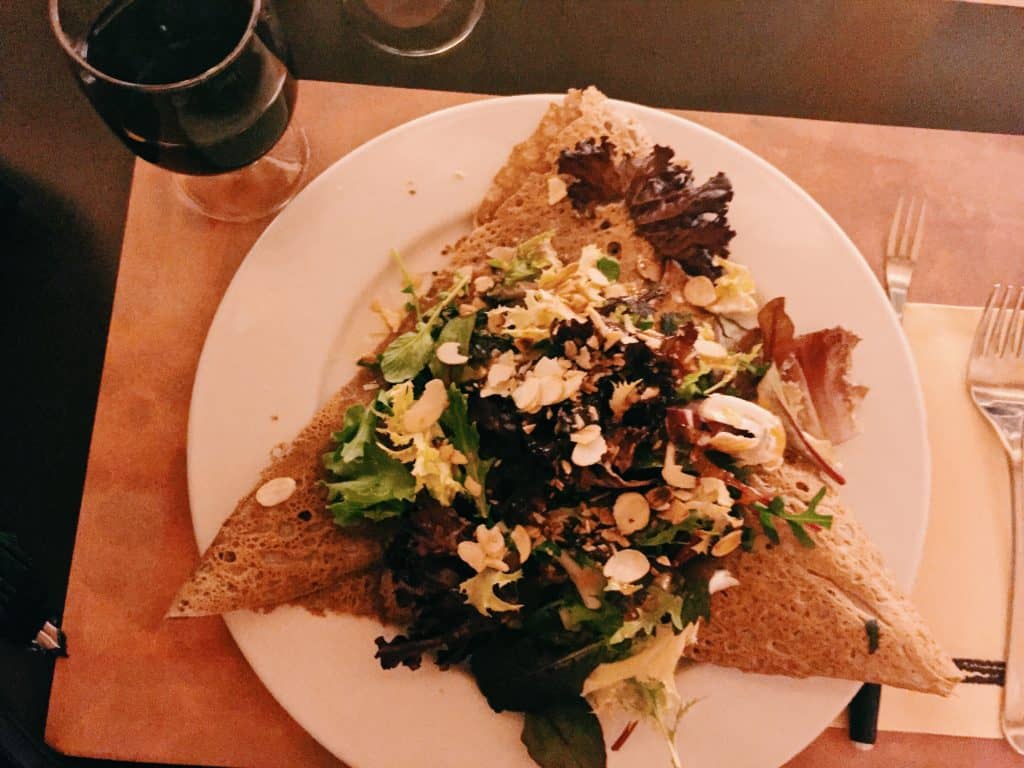 The River Café
I didn't make it to River Café which was one of my only regrets in Girona (I was busy munching away on homemade tortilla in my Catalan friends' apartment). River Café is one of the best gluten free Girona restaurants based on their many, many options. Gluten free items are marked on the menu and include gluten buns for burgers, gluten free chicken strips, croquettes, and more! The gluten free food is prepared in a separate kitchen and comes out on a different colored plate. It has a great location as well. River Café is definitely on my list for a return trip to Girona.
The River Cafe // C.de la Barca,

2,C. de la Barca en el barri vell

,

17004 Girona,

Spain
La Fabrica
We attempted to brunch at La Fabrica (my friends introduced it as the best brunch place in Girona) but it was completely full so I would recommend a reservation. The space is beautiful, rustic and industrial, and a hot spot for all the cyclists heading through Girona.
La Fabrica is known for its coffee but also has many gluten free (as well as vegetarian and vegan) options too, according to the menu! These include gluten free bread and even gluten free cheesecake! If you get a chance to eat here, please comment below and let us know how it was.
La Fabrica // Calle de la Llebre, 3,

17004 Girona,

Spain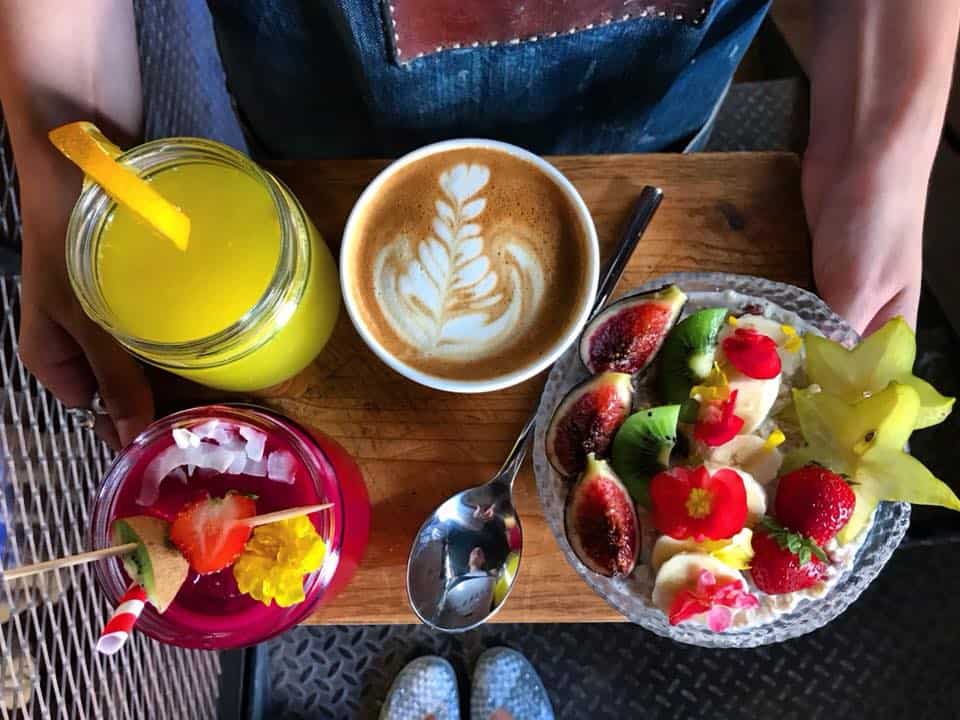 McDonald's
I've now added Spain to my growing list of countries (including Hungary, Portugal, Italy, Netherlands, and Norway) where I've taken advantage of gluten free McDonald's. It still blows my mind – this is not the McDonald's of my childhood!
At any McDonald's in Catalonia/Spain you can request a "sense gluten"/"sin gluten" burger, which is prepared separately and comes in a gluten free labeled box. I was also shocked that you can order a burger for 1 euro (this is probably not a new thing but to us out-of-the-fast-food-loop gluten free folk it is)!
Girona grocery stores with gluten free options
We actually did a lot of our own cooking rather than eating out at restaurants, which was such a nice way to save money and spend time together. Plus it was so easy for me thanks to amazing gluten free ranges!
Caprabo
Caprabo is the more upscale/expensive grocery store which has a wide "sense gluten" selection.
Mercadona
For cheaper prices but equally large selection, there's Mercadona.
I was able to purchase gluten free pasta, baguettes, cookies, animal crackers, and even pizza for our day in the mountains! And of course the gluten free Girona experience isn't complete without homemade tortilla, which is naturally gluten free 😉
Naturally gluten free food in Catalonia / Spain
I've found that the easiest way to cover yourself in any foreign country is to be aware of their traditionally gluten free foods (this is how I survived in Morocco, Sri Lanka, Nepal, and many other countries).
When eating naturally gluten free foods, you still have to watch out for cross contact. Some sneaky places I found cross contact in Catalonia were shared fryers (patata bravas is a big one to watch out for), beer mixed in the sangria, and wheat flour mixed into the cured meats.
Here are some traditional naturally gluten free foods you will find during your gluten free travels through Girona, Barcelona, and the rest of Catalonia and Spain.
Dishes
Spanish omelette (tortilla): Made of egg, potatoes, and occasionally vegetables/meat (and lots of oil). This is a staple food you'll find most places – the Catalan tend to eat it for dinner but I thought it made a nice breakfast as well.
Paella: a risotto type dish often served with seafood, vegetables, or meat. Ask about use of food coloring or stock cubes to confirm it is gluten free.
Huevos rotos: Egg with cured ham and potatoes. Again you might want to check that the cured ham is gluten free.
Tapas
Patatas bravas: This is my favorite tapas…essentially potatoes with bravas sauce (similar to aioli/tomato sauce). Ask to confirm that the sauce is gluten free but it usually is. Also confirm that the potatoes were cooked in a dedicated fryer if they were fried at all.
Huevos estrellados: A fried egg with chorizo or jambon. Check that the meat is gluten free.
Escalivada: Roasted vegetables.
Anchovies or Boquerones en vinagre: Anchovies.
Ensaladilla rusa: Potato salad.
Pulpo a la gallega: Octopus and potatoes.
Calamares a la plancha: Grilled squid. Check to make sure it is not battered.
Aceitunas, pepinillos y cebolletas: Olives, pickles and spring onions.
Jamon serrano: Cured ham.
Desserts
Flanes caseros: Cream caramel flan.
Natillas caseras / Tocino de cielo: Toffee custard / normal custard.
For a more extensive list of gluten free traditional Spanish foods, I recommend this list of recommendations from Madrid's Celiac Association.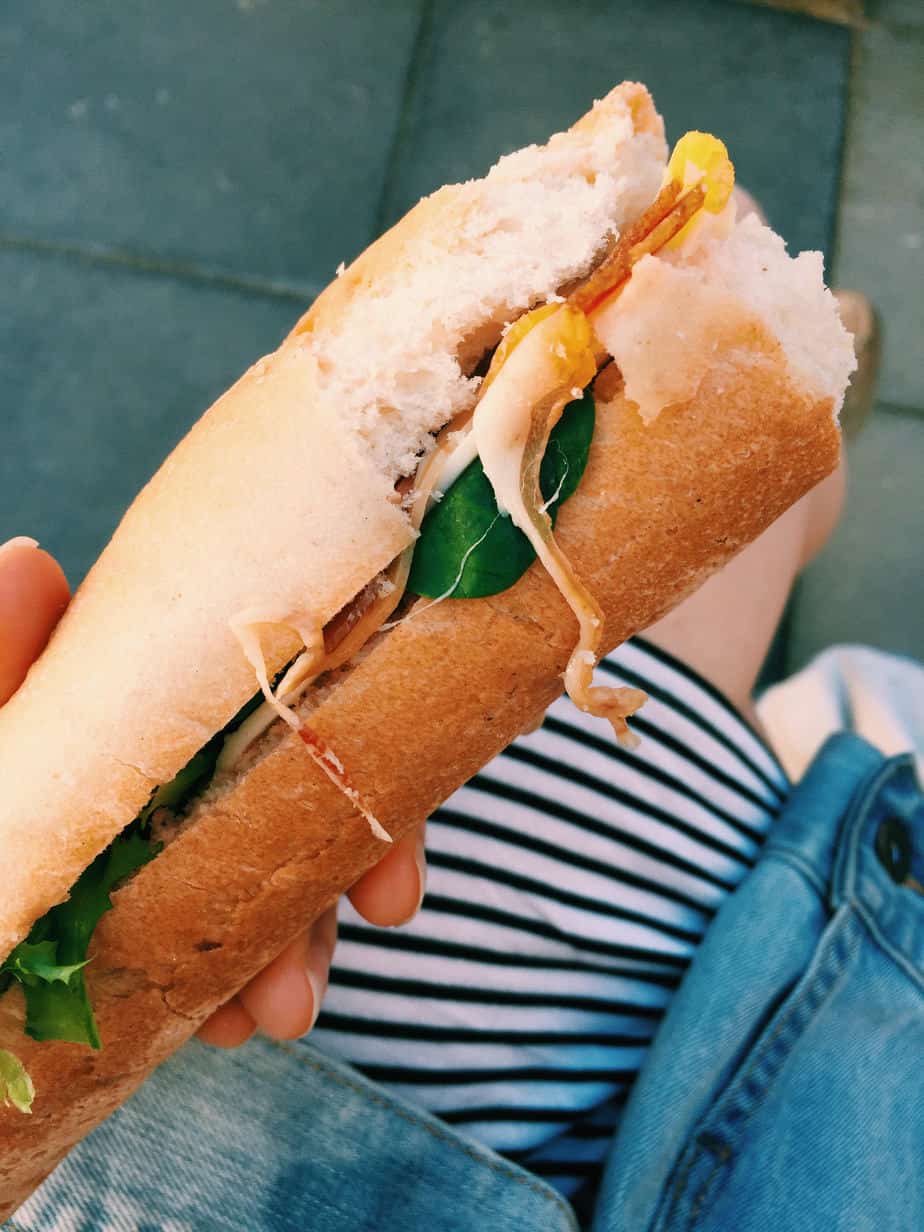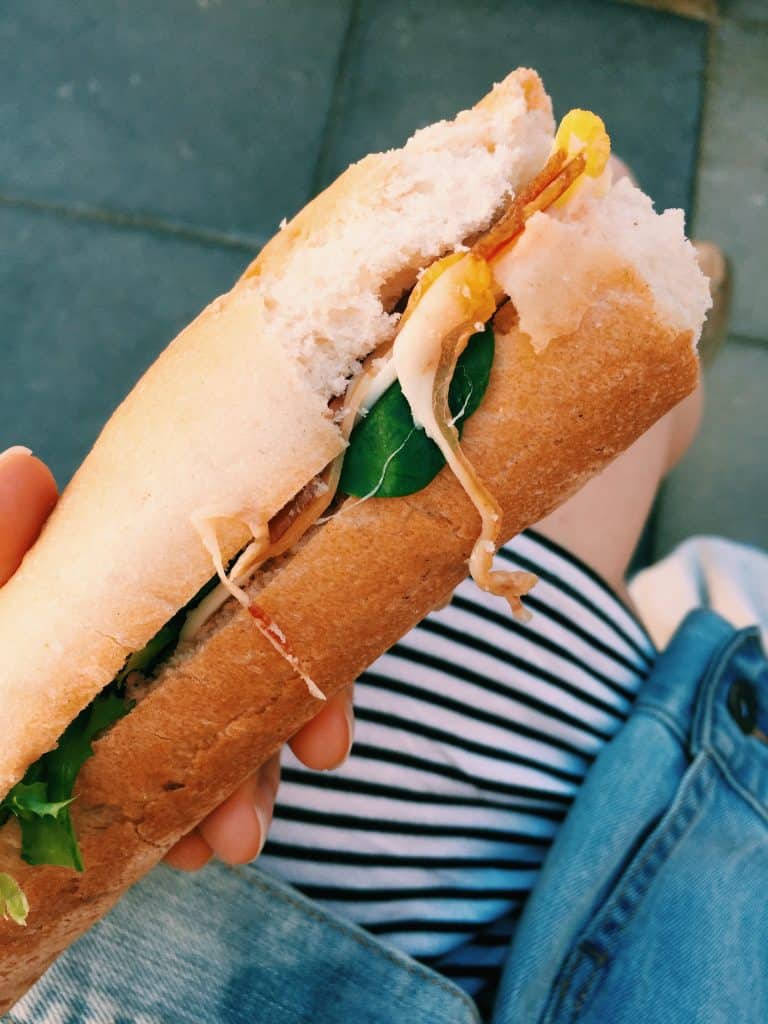 I hope that is helpful for all of you. There are many options for celiacs and gluten intolerants in Girona – from the naturally gluten free traditional foods, to three 100% gluten free bakeries, and so much more. I recommend taking that gluten free Catalan translation card, and having the time of your life! Girona is a very doable city to eat gluten free in.
If you're looking for things to do in Girona (in between eating, of course), check out my list of 10 free things to do in Girona. I got all the insider tips from my friends Alexia and Angela, who live in Girona. One day trip I recommend is Dali's Castle in Pubol – an absolutely surreal museum and the road trip to reach it will take you through Girona's beautiful small towns.
If you're heading elsewhere in Catalonia or Spain, read my posts on 24 hours in Madrid, including Madrid's coolest street art district. Get inspired to visit Valencia, or head even further off the beaten path to Cuenca Spain, a tiny city with the best street art I've ever seen.
Happy gluten free traveling, as always. I hope you enjoy Girona. If you eat anywhere based on my advice, be sure to let me know in the comments!
Sarah xx
Browse all my gluten free travel guides here. Including:
And more!
Pin it for later…