South India Gluten Free Guide: A Travel Guide For Celiacs
South India is known as the gluten free friendly alternative to North India. I've always loved Indian food and often find it's a safe harbor of gluten free options wherever in the world I'm visiting. So I was very excited to try out real Indian cuisine when I visited South India! Part of my trip was attending my friend Vaish's week-long wedding extravaganza in Chennai, so I was particularly comforted that I'd have someone local to help guide me through what was (and wasn't) safe to eat.
What did I discover? Well, while South India may be more gluten free friendly than its Northern counterpart, there are definite challenges in eating gluten free safely here. I did actually get glutened once, which was an unpleasant lesson for me in how careful I had to be when finding food to eat. Luckily, other than that one instance, I had an unbelievable experience eating 'til my heart's content (and dancing til dawn at the wedding).
I've created this South India gluten free guide based on my experience, combined with input from my friend Vaish who helped me eat gluten free safely throughout the wedding week. My hope is that I can help you navigate the gluten free India scene safely and stress-free!
In this South India gluten free travel guide, you'll find:
Translation cards
Common phrases to know
South Indian dishes that ARE gluten free
South Indian dishes that ARE NOT gluten free
Attending an Indian wedding with celiac disease
South India gluten free restaurants

Gluten free Chennai, Karnataka, and Goa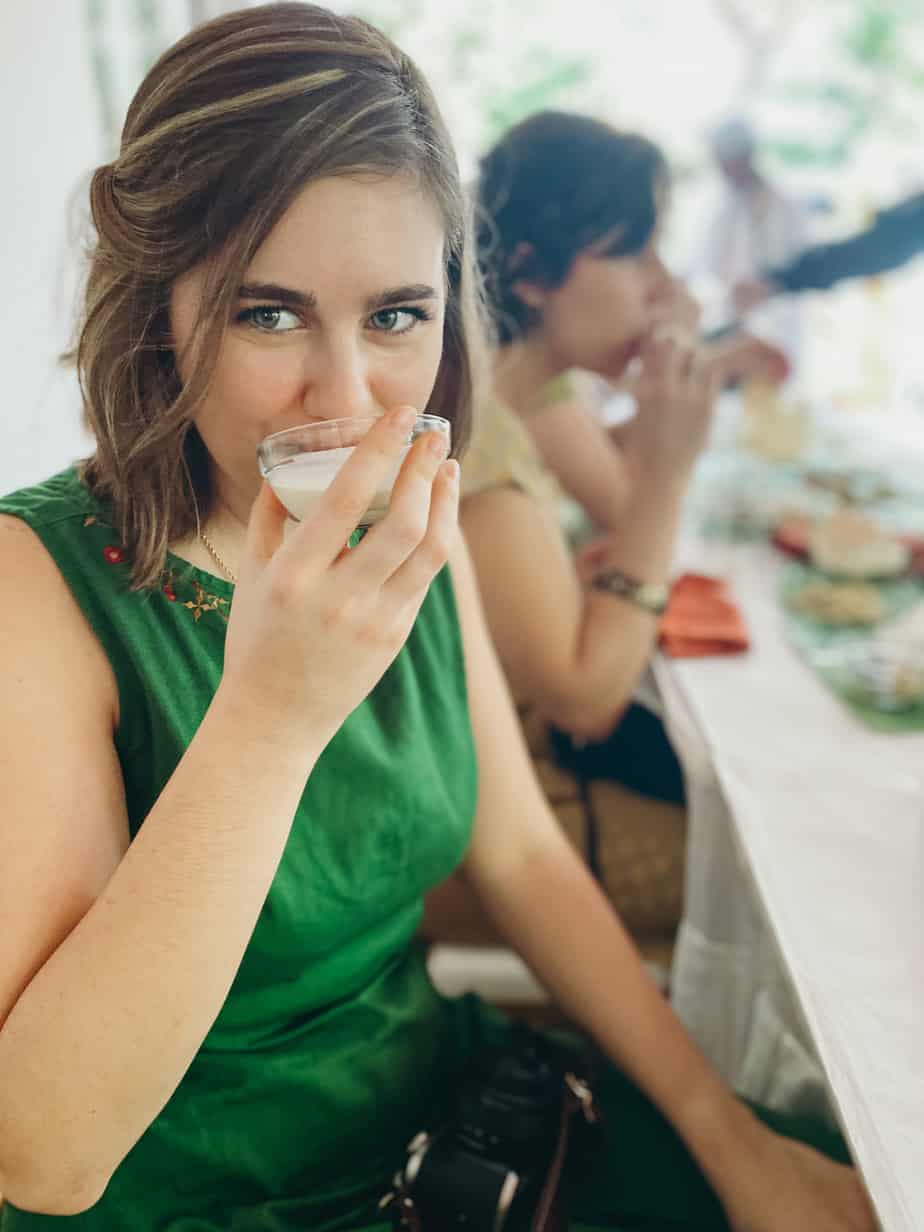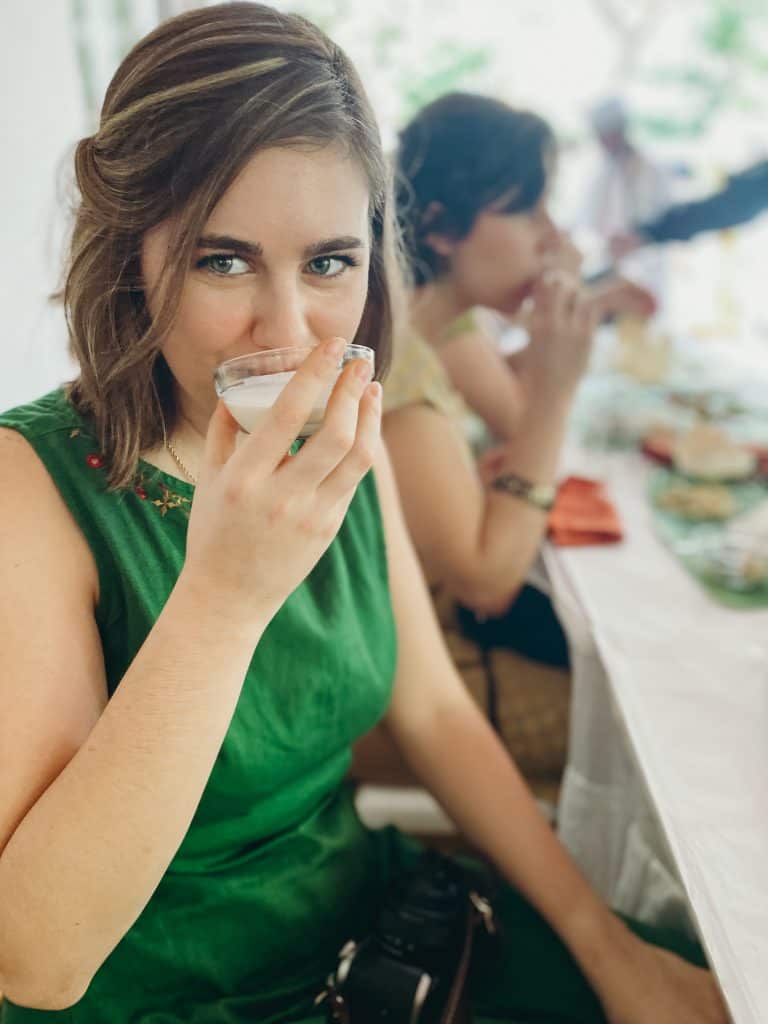 Do you need a gluten free translation card for South India?
TL;DR: Yes.
Celiac Disease and the concept of "gluten" are not widely recognized in India. Celiac Disease India says there are many people with celiac in India – it is just sadly under diagnosed. Most celiac diagnoses are in the North, where wheat is a huge part of locals' diets (and therefore celiacs get very sick!). Unfortunately this means lack of awareness and diagnosis is rampant in South India. Here, the cuisine includes less wheat, and therefore people may not become symptomatic enough to seek medical help (although, obviously, they are still sick on the inside).
When talking to servers, you therefore need to be specific about ingredients, and especially sources of cross contact like shared fryers. Also, be careful of gluten free flours like rice and lentil that are sometimes cut with gluten containing flours. Combine those factors with a language barrier, and it can be really difficult to find food you're confident is gluten free.
Having a gluten free translation card in India is 100% necessary and I could not have eaten safely here without one. 
Choosing the right gluten free translation card in South India
There are many languages spoken in India. Most Westerners associate Hindi with India, but this is mostly spoken in the North. Many people in South India don't speak Hindi at all, so a Hindi translation card is not really appropriate.
Your first step is to look up the region you're traveling to, and figure out what language is spoken there. Where we traveled in Tamil Nadu and Chennai, the main language was Tamil.
I highly recommend purchasing your translation card from Select Wisely which has a huge selection of languages including every language spoken in South India. Below are the languages and translation card links, along with the regions they're spoken in.
Gluten free translation cards for South Indian languages are linked below:
In parentheses, I've put some major cities you might be visiting in those states.
Click the image below to read more about the gluten free translation card.
*Note: I recommend purchasing Select Wisely's translation card and NOT using the free card available online. I believe that one has a poor translation. I used it for the first few days and was glutened.
Some common phrases for gluten free travelers in India
A gluten free translation card will get you far in India but there are other issues you need to consider. Although literacy is vastly increasing in India, keep in mind that as of the 2011 census, around 25% of the population can't read. This includes people who are servers in restaurants and stalls, and may be the one you're showing your translation card to. Usually, however, people are too polite to tell you they don't understand – they will nod and smile. That's why I always, always recommend asking to speak with the chef.
It's useful to have some back up verbal knowledge in certain terms like these:
Maida – white flour
Atta – whole wheat flour
Semolina – another term for wheat flour
Rawa / Suji – another term for wheat flour
Hing / Asafoetida – a powder ingredient that is technically gluten free, but sometimes cut with wheat flour
If you've spoken to the chef, shown your translation card, used the phrases above, and are still unsure that you're communicating your gluten free needs effectively – LEAVE! Remember that it's totally okay to turn around and leave if you're not comfortable eating somewhere. Your health comes first.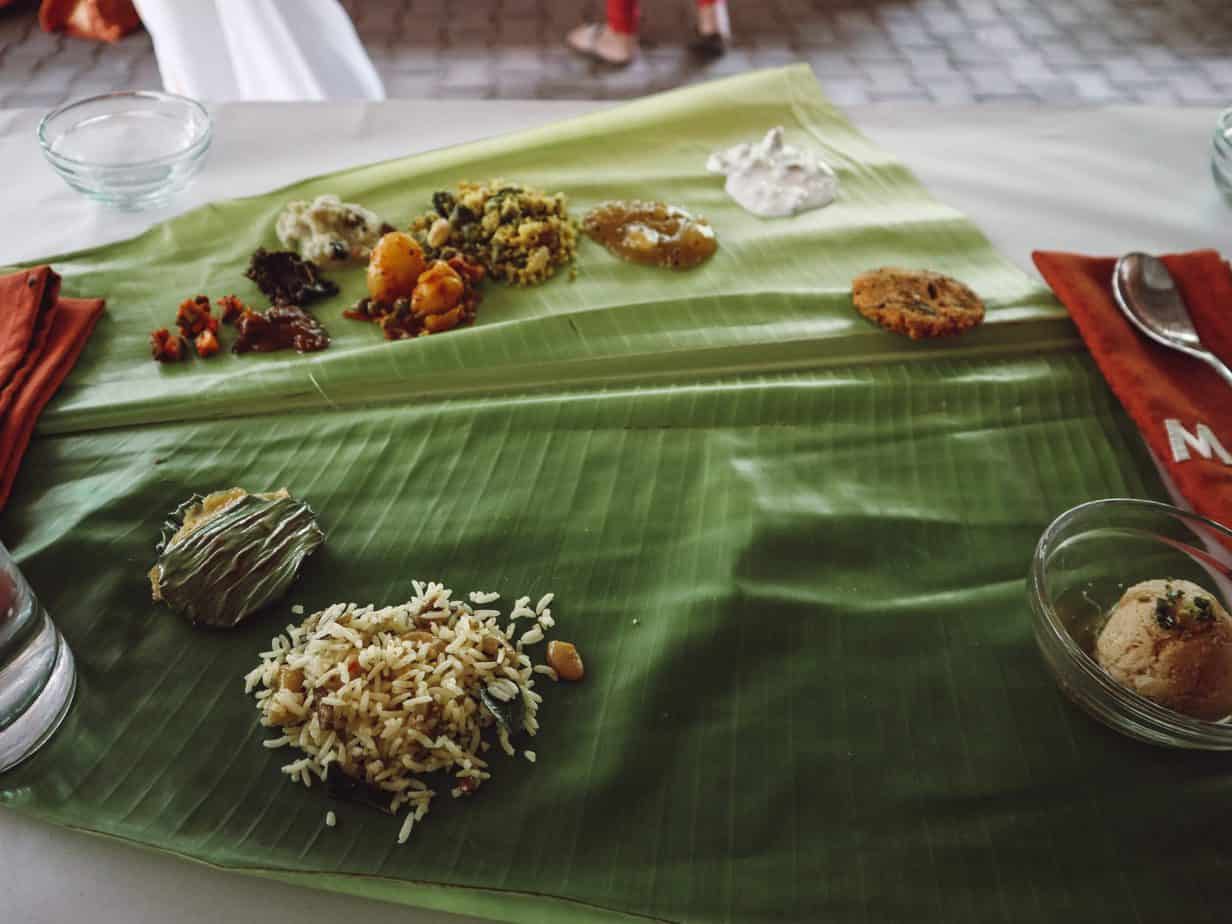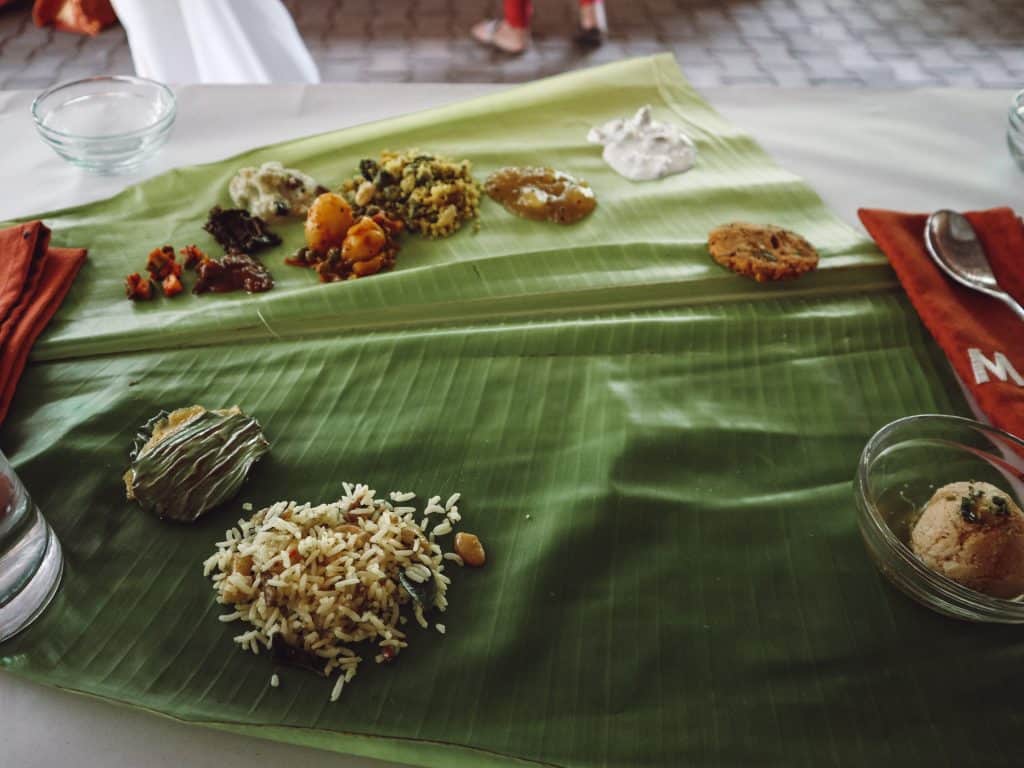 South India gluten free: What you CAN eat
Soooo much of the South Indian cuisine is naturally gluten free! You'll find rice, lentil, or coconut flour is the basis of many breads and dishes. The food here is delicious and I totally fell in love with its unique style – much lighter and less saucy than Indian food that's popular in the West.
Idly
You will see idly (idli) all around South India, especially at breakfast! They are circular, spongy, and doughy and look like a little dumplings or bread. Idly are gluten free as they are made from fermented lentil and rice flour – which gives them a sour taste that might take some acquiring! I loved idly and had them with most breakfasts – dunked in various accompanying sauces.
Idly are prepared by steaming. There's not much risk of cross contact but I always recommend confirming with whoever prepared them. Any accompanying sauces can be a sneaky source of gluten, so check about those too.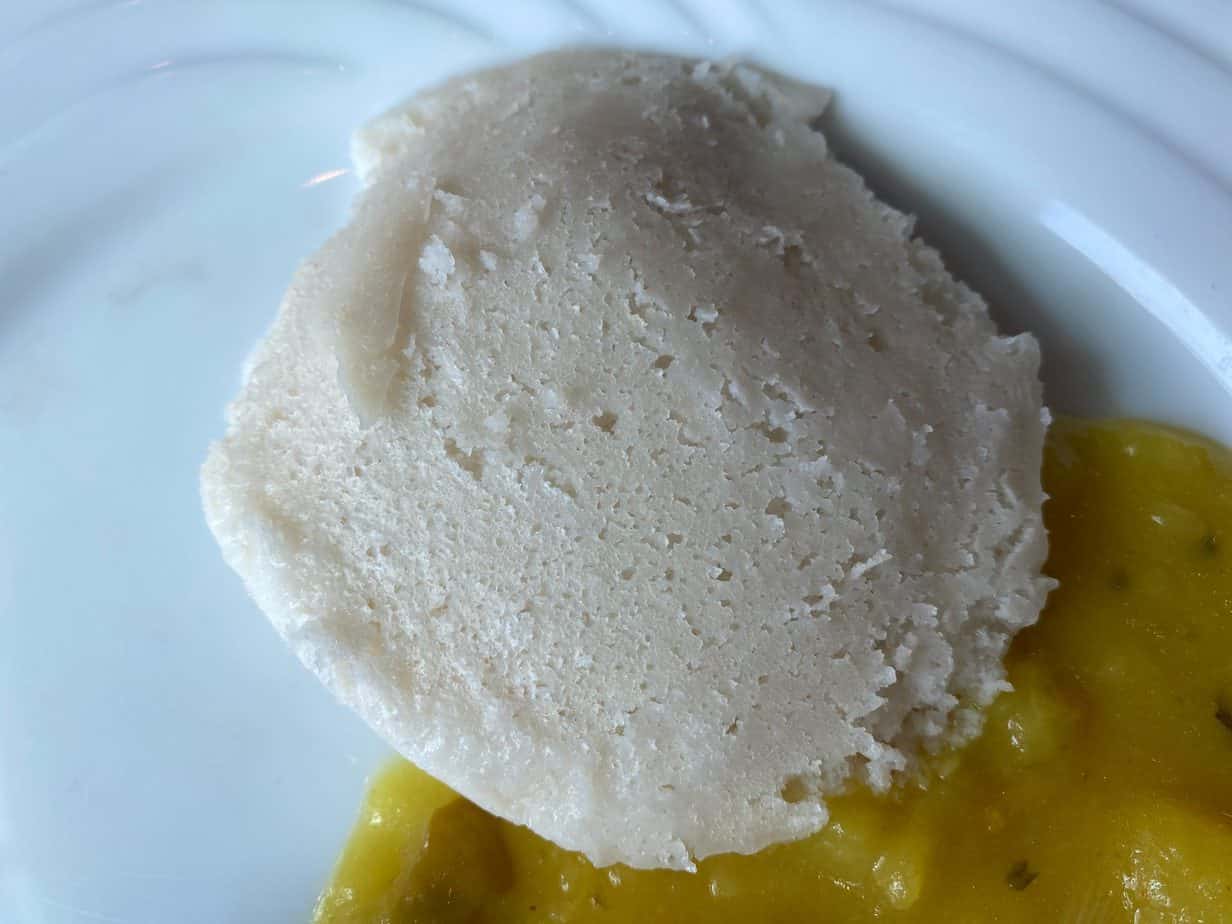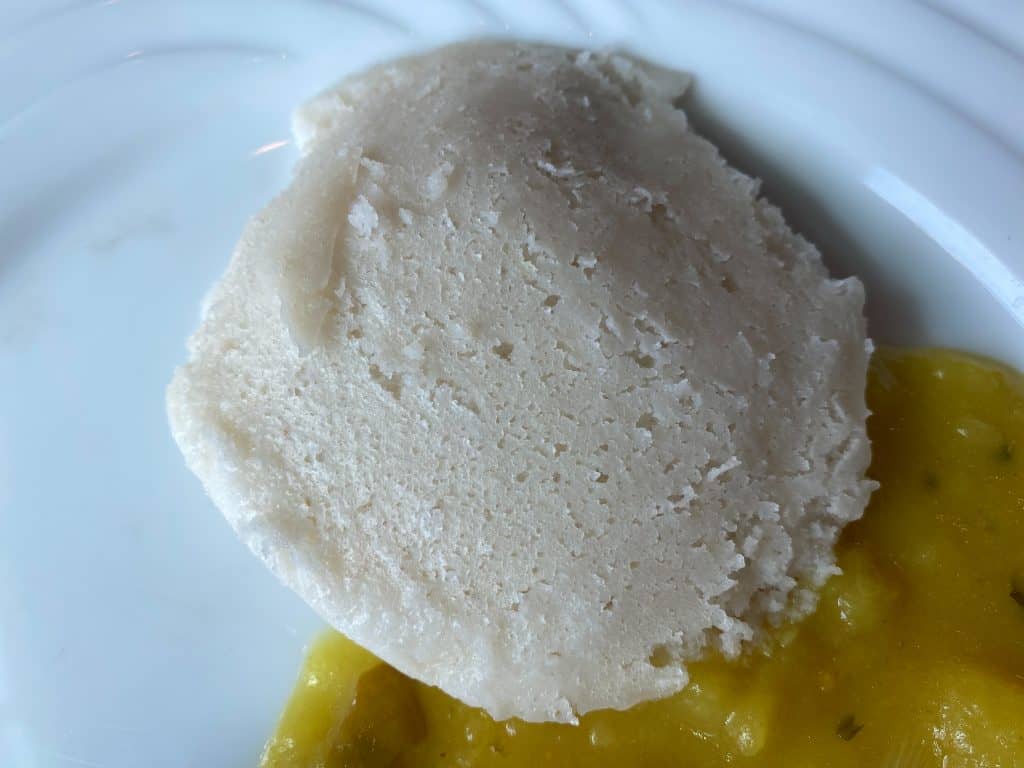 Dosa
Oh dosa… how I love you! South India is famous for dosas (some regions more than others), and lucky for us most dosa are naturally gluten free! A dosa is basically a thin, crispy crepe, made from lentil and rice flour. They can come plain, or filled with potato masala curry or other curries.
I want to warn you that not all dosa are gluten free so please ask questions of the chef!  You should also look out for things like cooking on a griddle shared with wheat/bread (ask them to prepare in a separate pan if possible), or wheat flour in the batter (this is the case for one type called rava dosa). I was surprised how many times I was told a restaurant's dosa wasn't gluten free. Luckily Somerset Greenways, where we stayed in Chennai, had gluten free dosa (read more about the hotel further down!)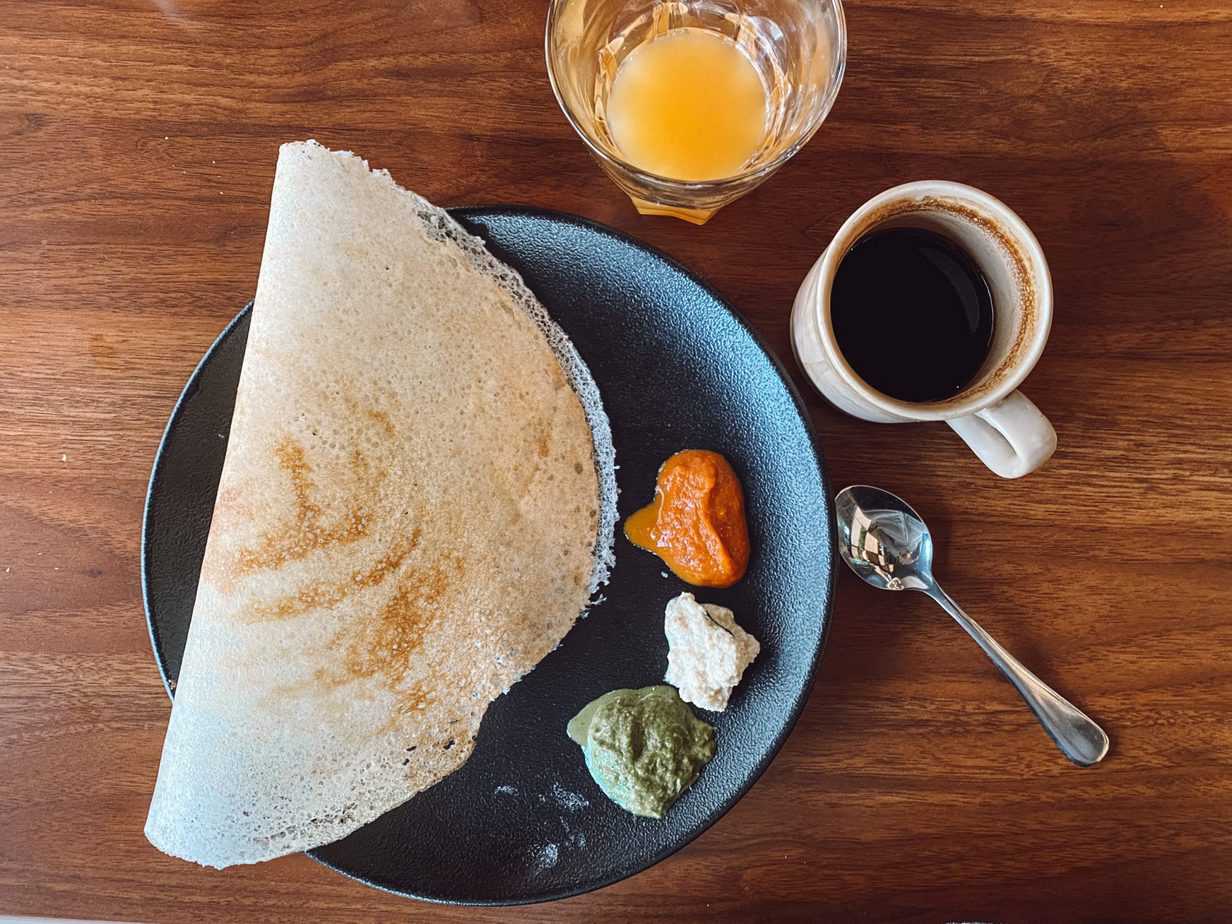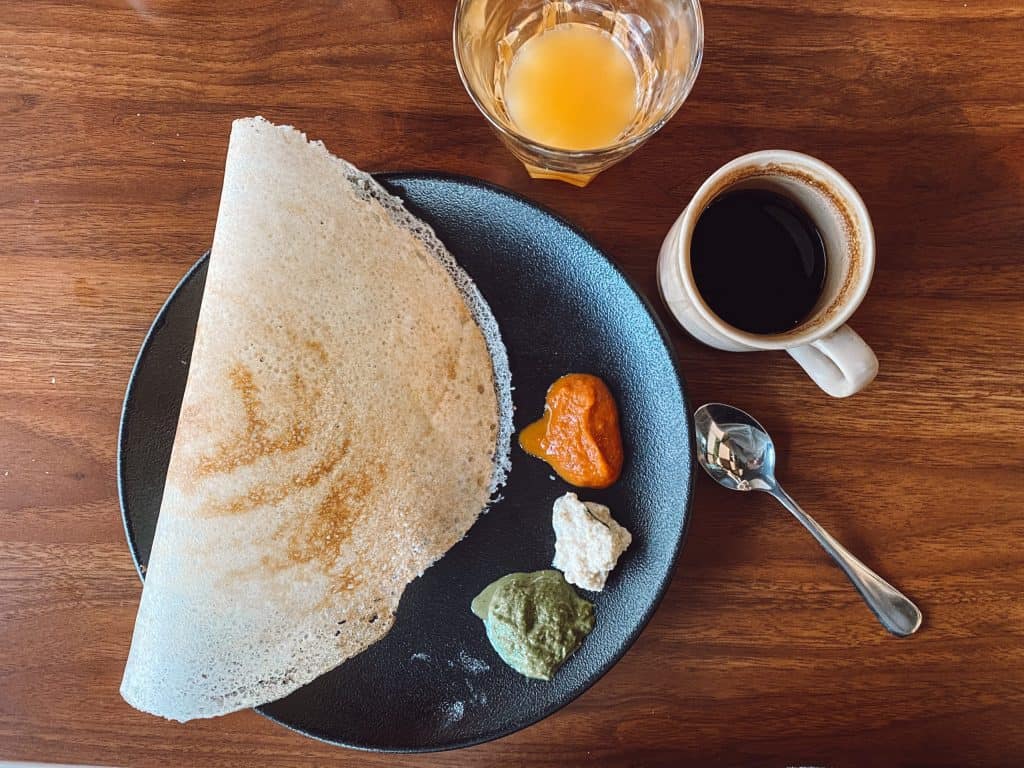 Rasam
Rasam technically means "juice" in Tamil, but it is actually a very thin, very spicy soup that's served in South India. It is naturally gluten free and is often served as a starter – I had it at the Nalagu ceremony for my friend's wedding. The soup is made with ingredients like tomato, tamarind, turmeric, mustard, pepper, and other spices.
Koottu
Koottu – yum! This is a stew that's popular in South India. It's quite thick (unlike rasam), and is made from lentils, vegetables (such as potatos), spices, and sometimes coconut. I had this with breakfast pretty often, and also during the Nalagu ceremony!
Poha
Poha means flattened rice, and that's pretty much what this is! It's usually yellow in color, due to the addition of turmeric. Other ingredients like cashews, onion, potatos, peas, and more might also be added. This is a pretty common breakfast food!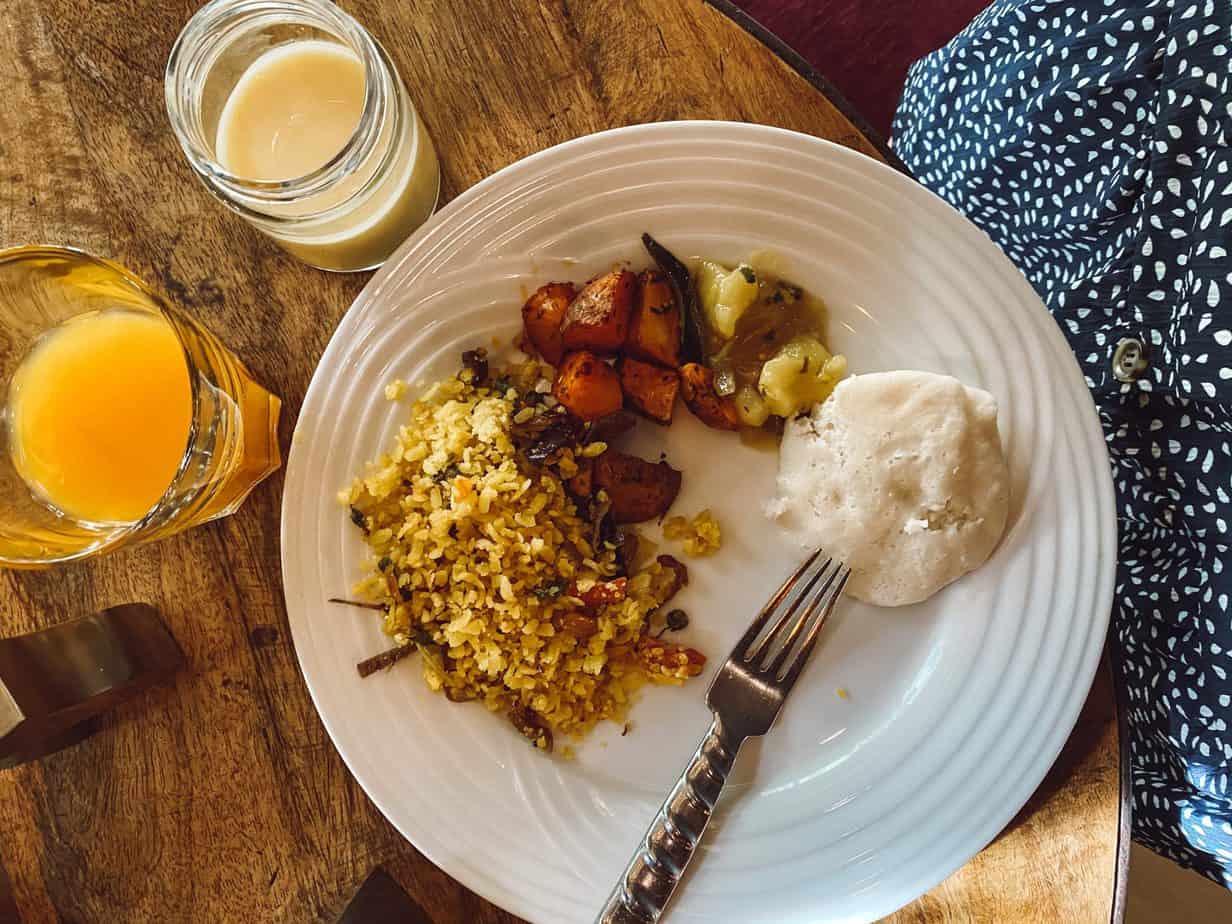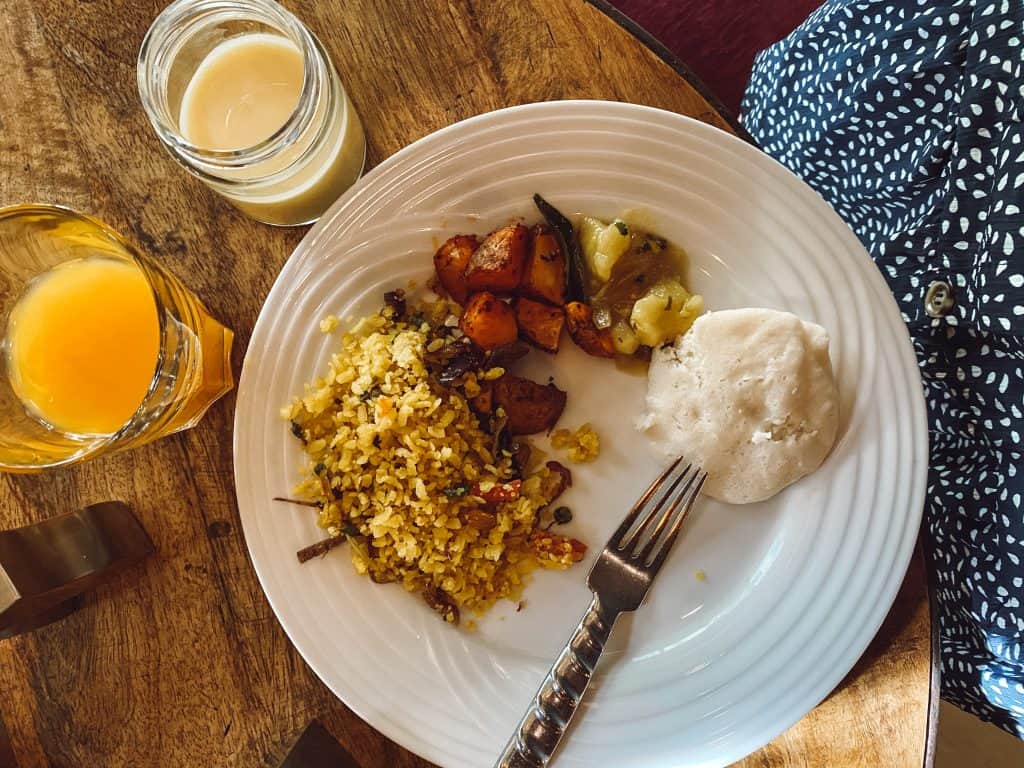 Pathiri
A Pathiri is a thin, doughy pancake made from rice flour – naturally gluten free! It's served with dinner as a way to soak up your food from the banana leaf (yup, food is served on banana leaves! I'm getting to that!). Pathiri is most common in Kerala but we also ate them at the Kappa Chakka Kandhari restaurant in Chennai (one of my favorite meals ever – more on that further down).
Appam
I am OBSESSED with appam, y'all. This is a chewy, doughy, and lacy (filled with holes) kind of pancake that is really popular in Kerala, but also found in Tamil Nadu and even Sri Lanka. It's made of fermented rice flour plus coconut milk that gives it this perfectly sweet taste. Vaish says her family eats appam for breakfast pretty much every day, but we also had it with dinner at KCK!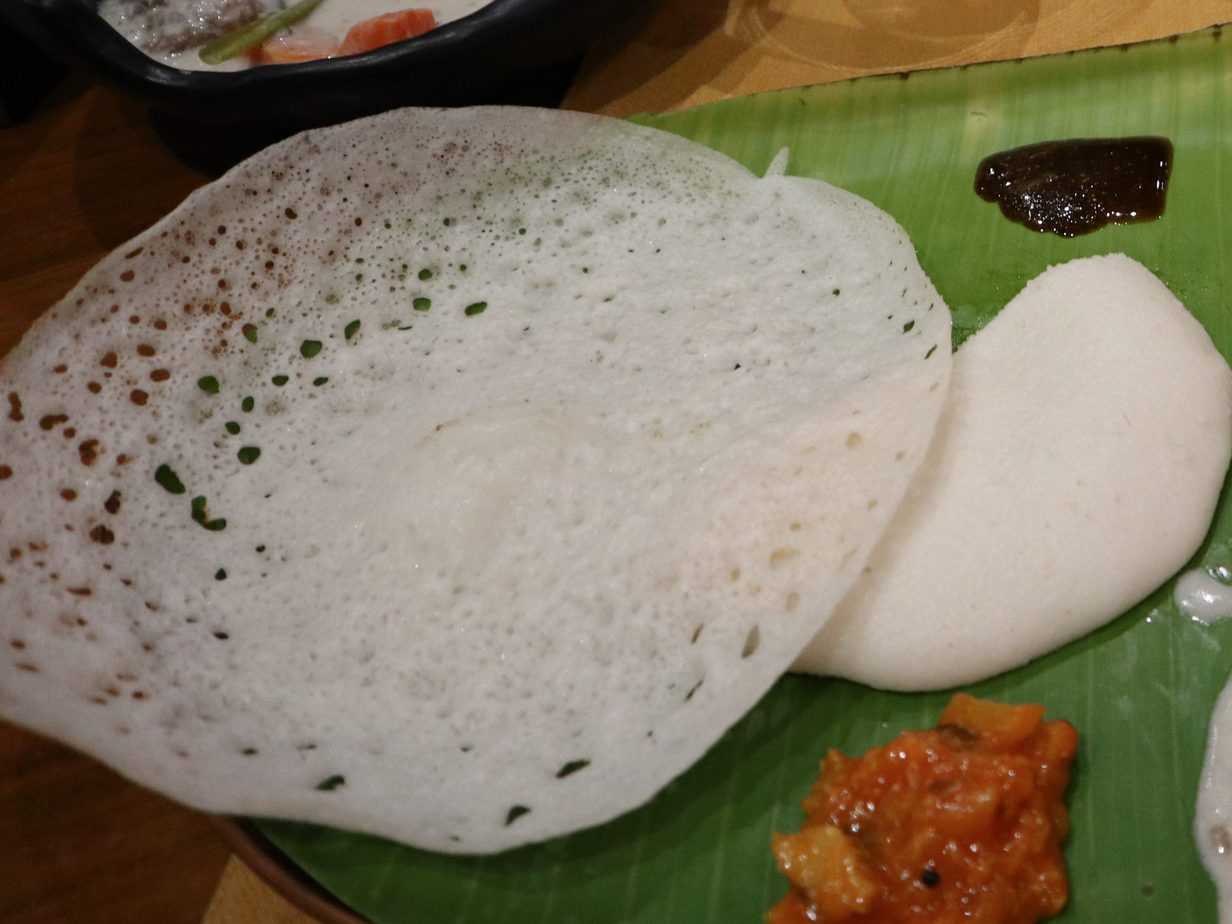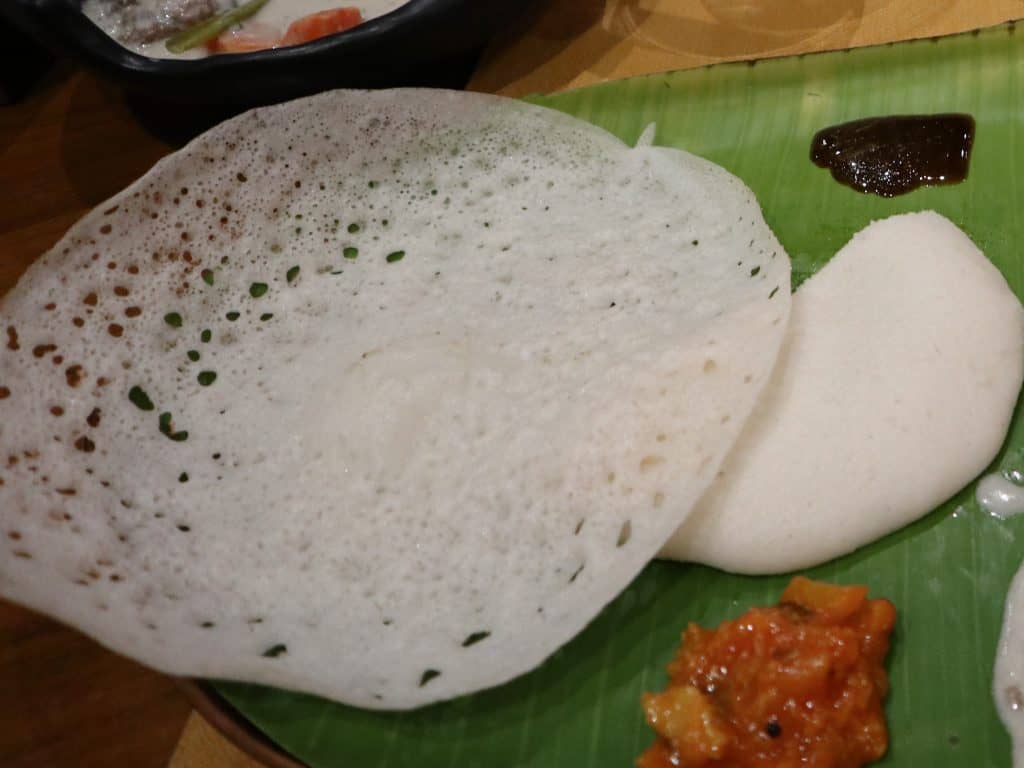 Vattay Appam
Vattay Appam is another kind of appam, but, according to Vaish, it's steamed so it becomes thicker. I loved this one, too!
Biryani
A Biryani is a rice-based dish that is popular all over India, and recognizable from many Western Indian restaurant menus, too! Biryani is pretty variable, but can be served with a variety of vegetables or meat mixed in with the rice.
It's also often served with accompanying sauces. These are usually pretty heavily watered down and for that reason I'd avoid the sauce, not because of gluten, but because the water often isn't filtered and can make you sick.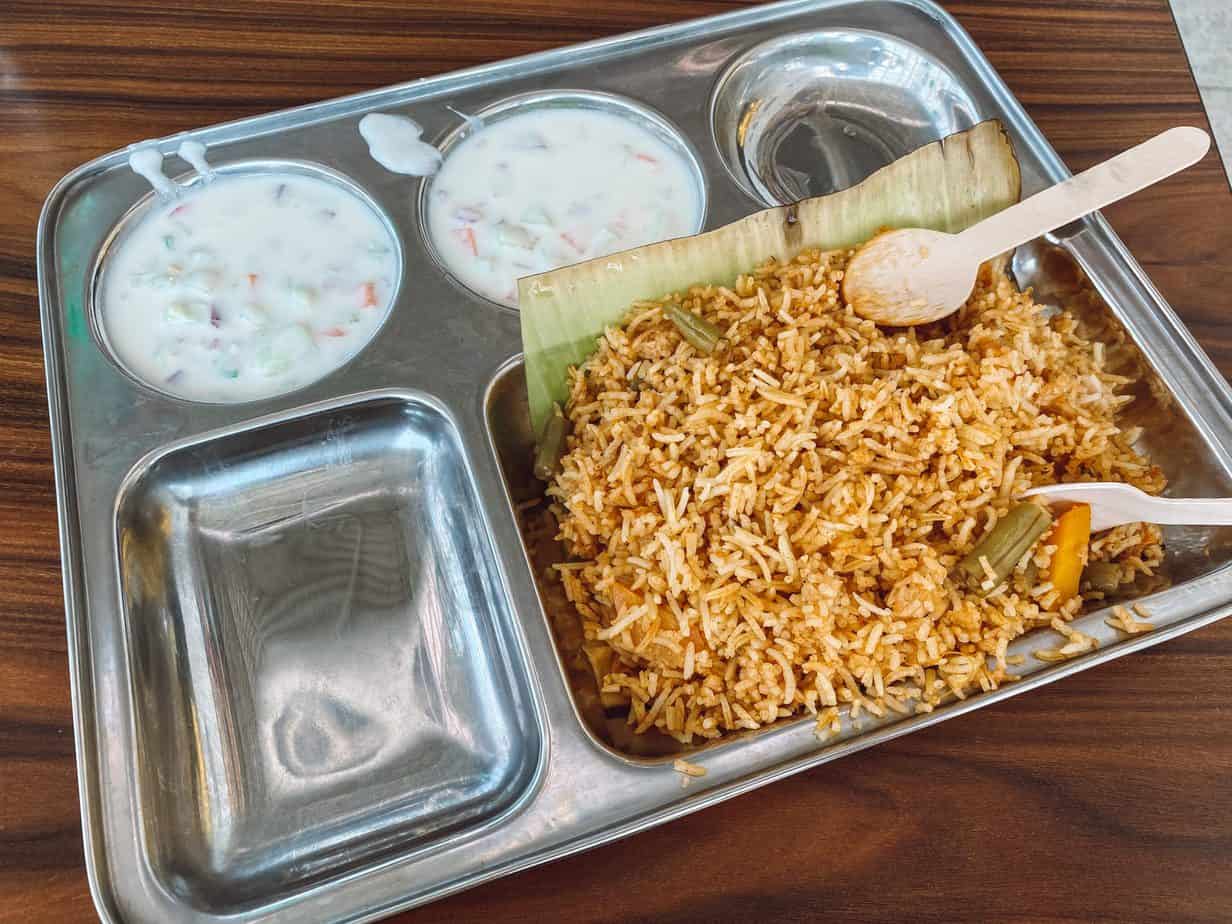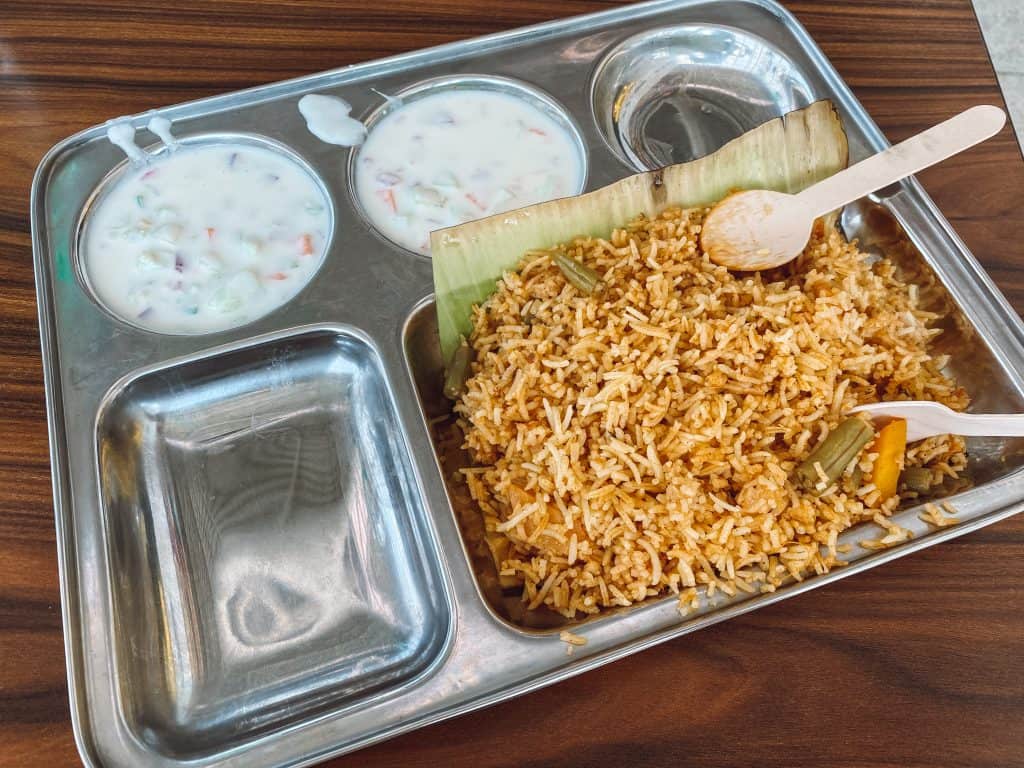 Mani Puttu
Mani Puttu are steamed rice balls that are cooked in coconut milk. They are quite sweet so this dish is often served as dessert! We also found (and ate) this dish in nearby Sri Lanka.
Paalada
A Paalada is kind of like a rice pudding – but a little more liquidy and way sweeter! It's a popular dessert item in Kerala and is found in other areas of South India, too. Of course, 100% gluten free!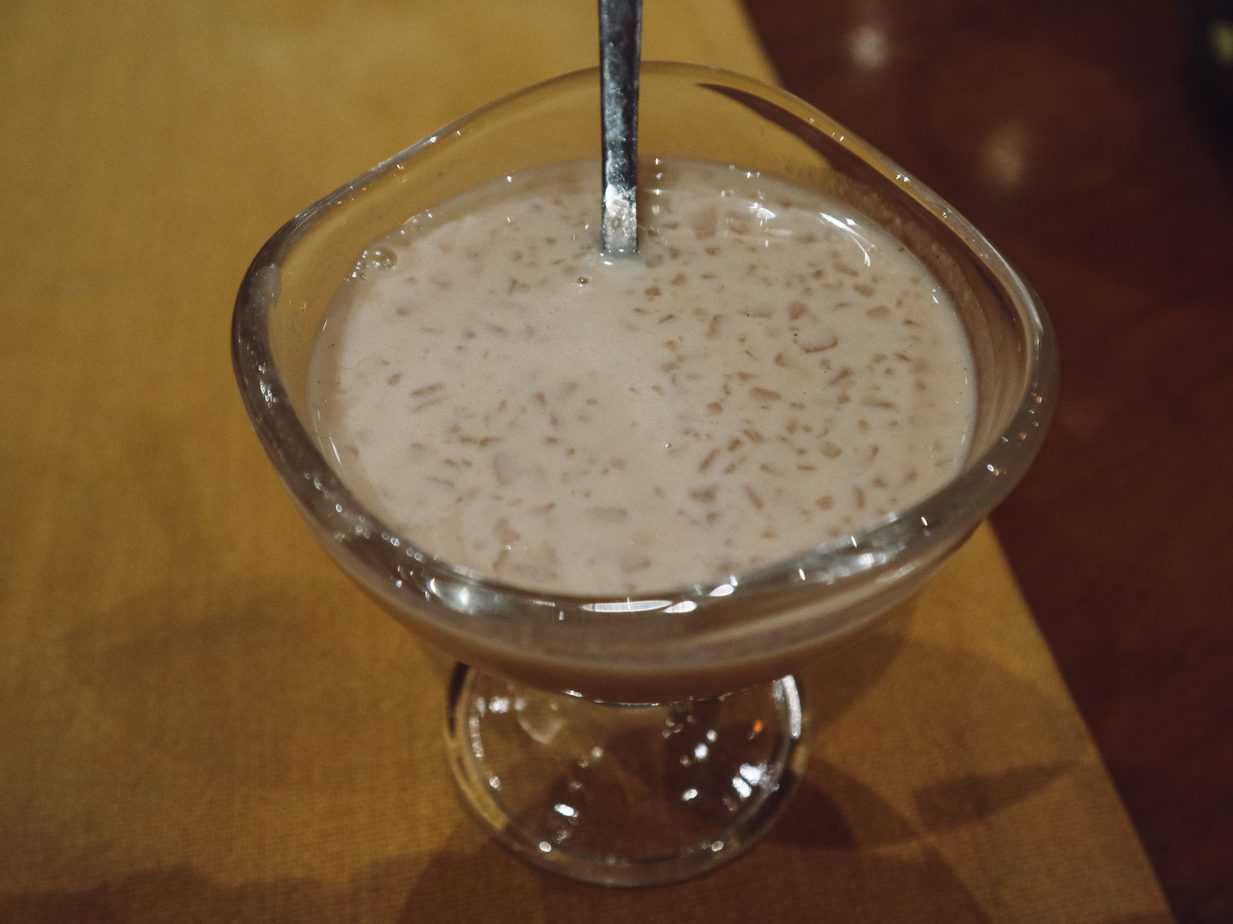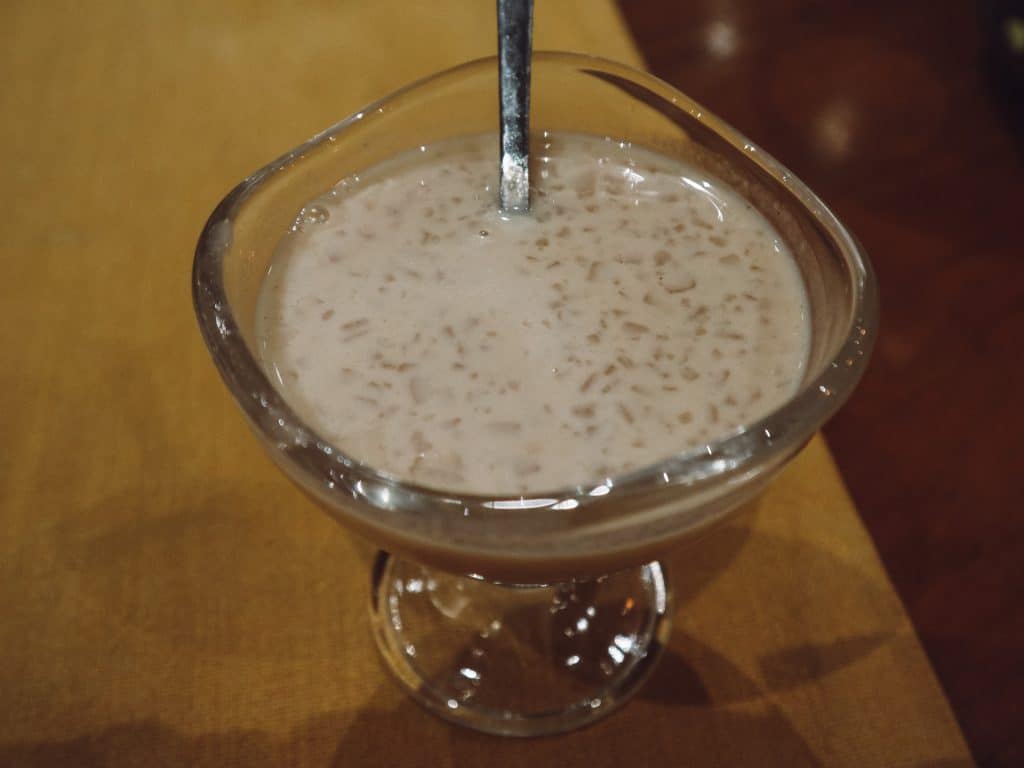 Everything else
There are soooo many more South India gluten free dishes than the ones I've mentioned above. This is because so many of the grains used are naturally gluten free (millet, coconut, rice, lentil). Always be sure to check with the chef using your translation card to confirm. Below are a few dishes Vaish calls "extremely traditional South Indian":
Chamagadda pulusu – taro root cooked in sauce
Avial – a coconut based curry with tons of vegetables, from Kerala and Tamil Nadu
Chow Chow Kootu – a dal curry
Puli Inji – a brown sweet and sour pickle curry, from Kerala and Tamil Nadu
Gongura Pachadi – a chutney with onions and chilis
Khoon Khizi – chopped jackfruit with coconut, cooked in a banana leaf, from Kerala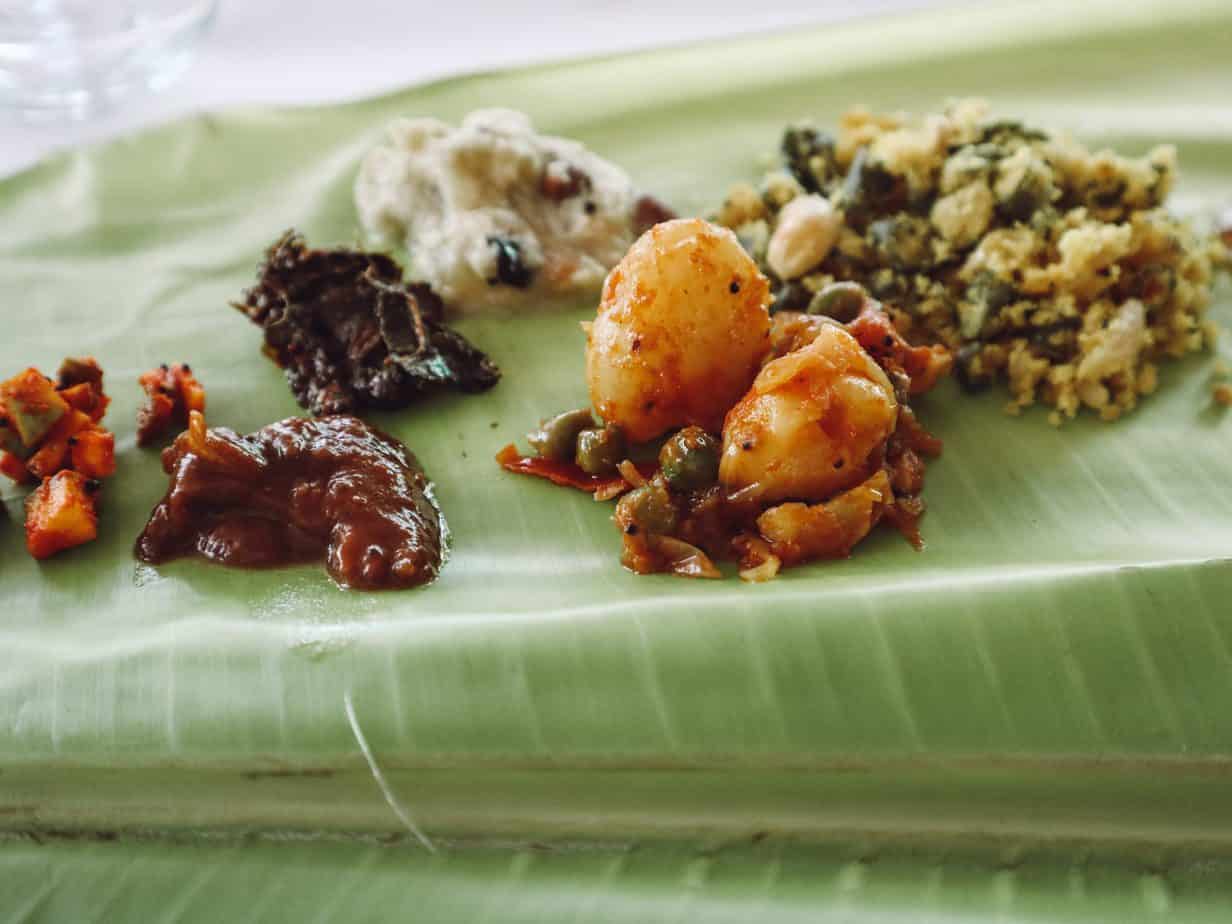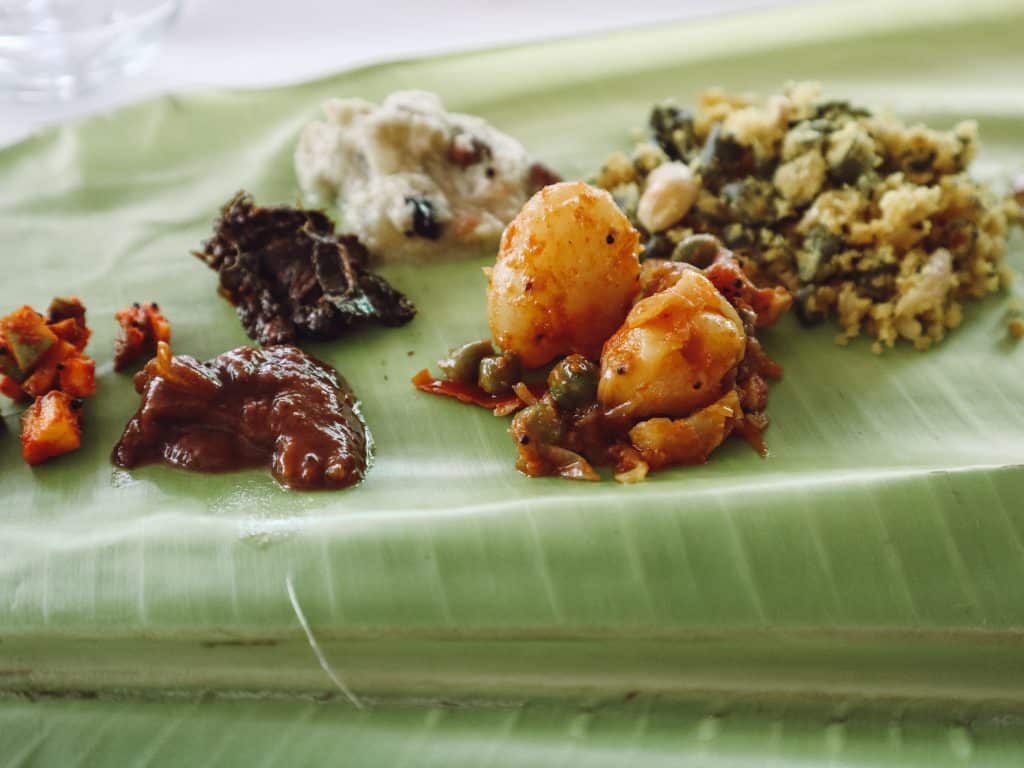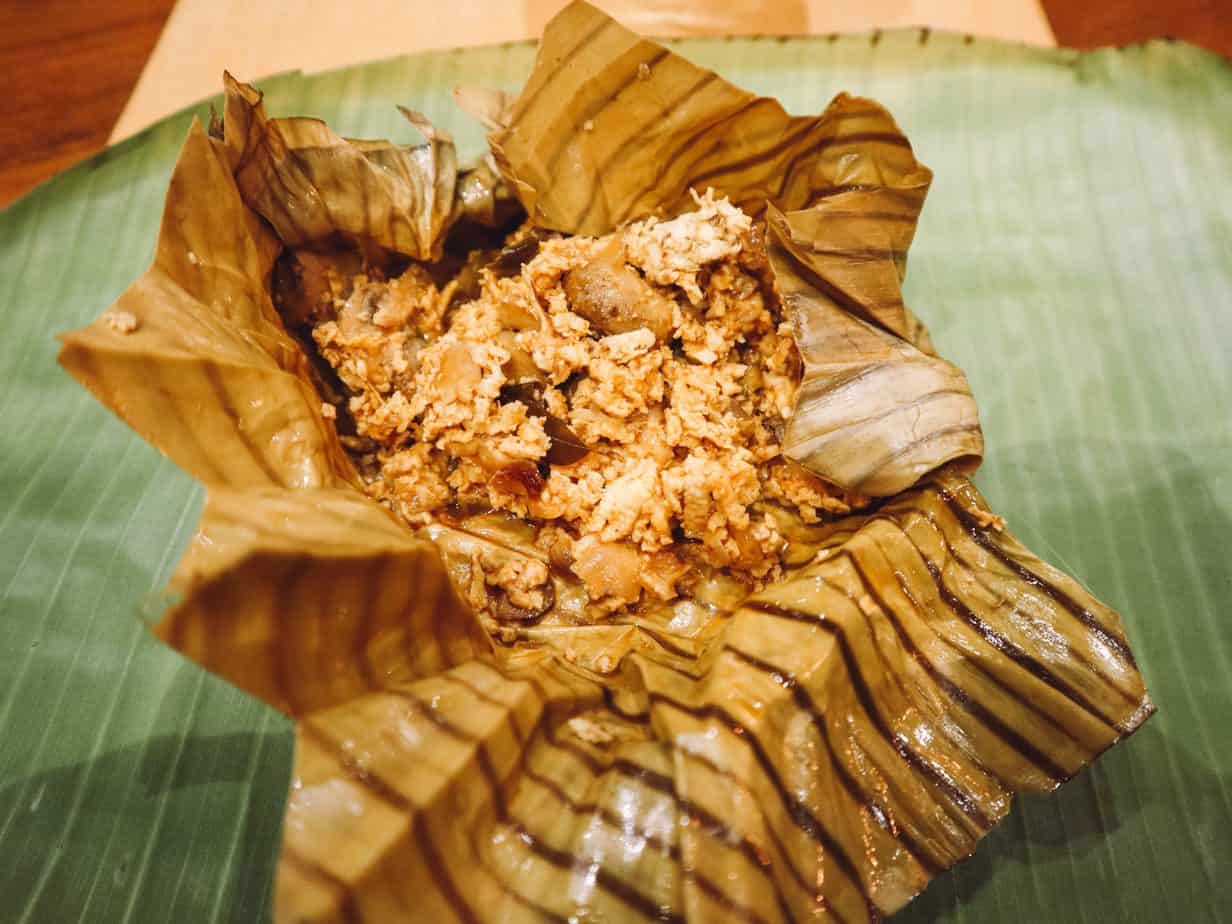 South India gluten free: What you CAN NOT eat
Like anywhere, there are also some dishes in South India that you should strictly avoid if you're celiac. And there are other dishes that fall somewhere in between – depending on cross contact. Below I've listed the no-no's, as well as some technically gluten free dishes that have a high risk of cross contact.
Poppadoms – risk of cross contact
I loooove poppadoms, which are a very crispy lentil-flour flatbread. They are served alongside lunch or dinner, for you to crack and dip in sauces or various dishes. Typically in the West, poppadoms are naturally gluten free. However I found I had to be a little more careful in India, especially regarding cross contact with oil that has been contaminated with wheat.
Basically, poppadoms are probably safe in South India, but you should always check!
Medu Vada – risk of cross contact
Medu Vada are another dish, like poppadoms, that is technically gluten free but you need to watch out for the oil it was fried in. I found medu vada so funny because they look like mini donuts! Instead, they're actually made of lentil flour, and then deep fried. They are served with breakfast or sometimes as a side dish.
Be sure to ask about the oil these are deep fried in to confirm if it's safe to eat!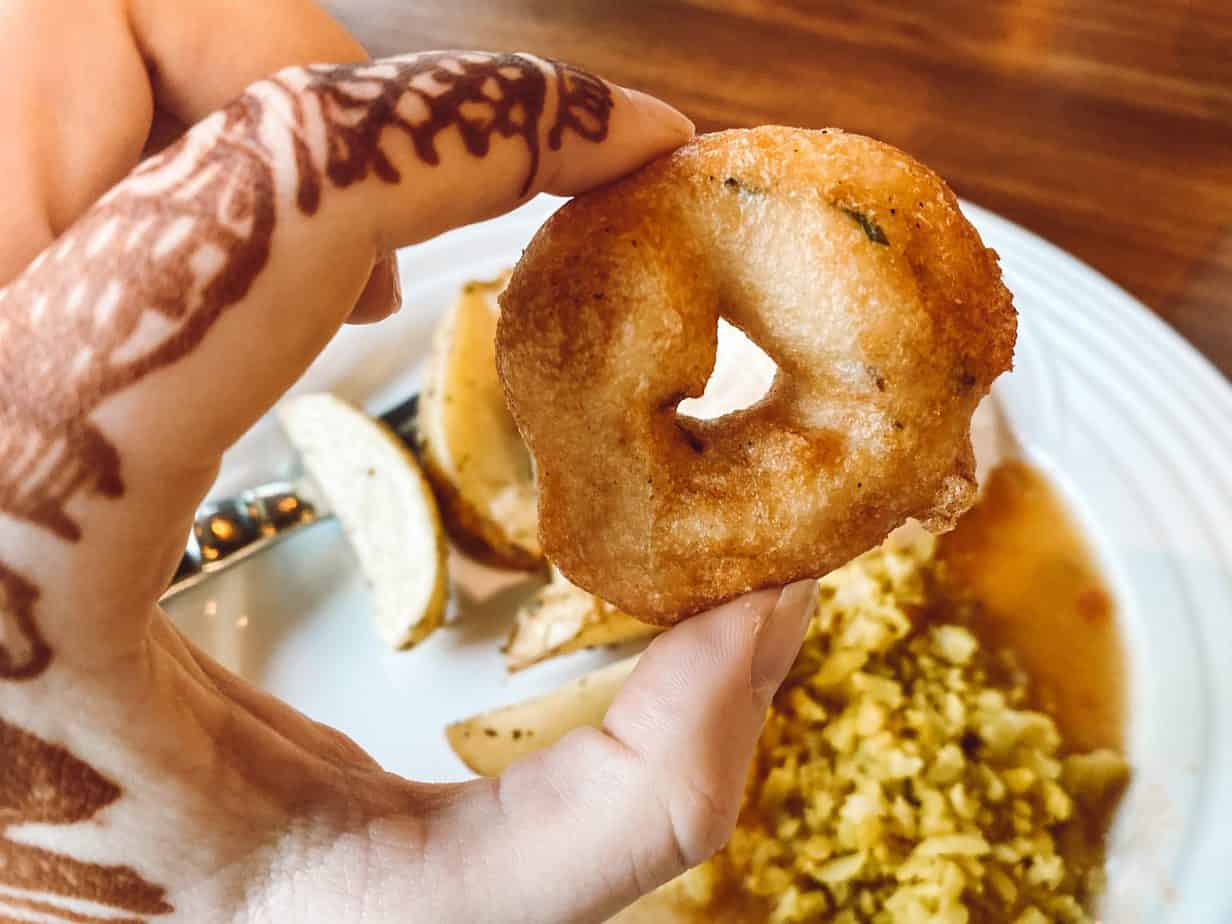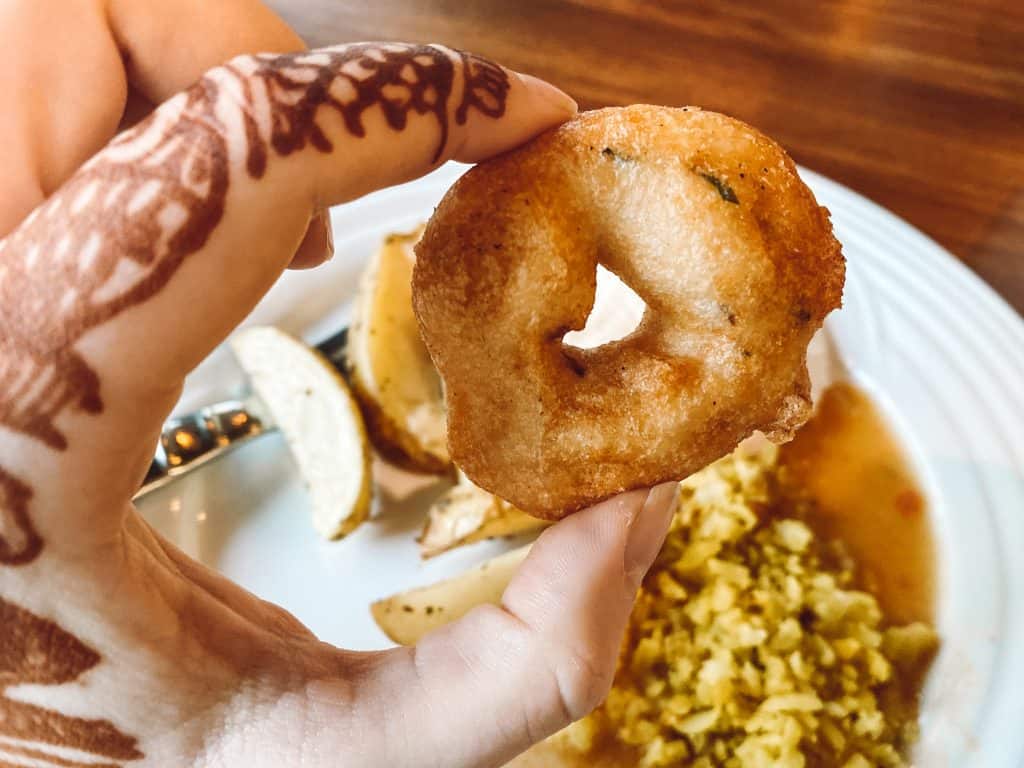 Sambar – risk of cross contact / contains asafoetida
Sambar is a spicy lentil soup that's often a bit thinner than koottu, but quite a bit thicker than rasam. It's mostly made of lentils, plus various spices – and that's where the issue lies. Sambar is naturally gluten free but this isn't always the case! Every time I asked, I was told it contains gluten. This was due to added hing/asafoetida (see note above), which is often cut with wheat flour.
I did not eat sambar in India and would advise you communicate clearly with the chef before eating it yourself.
Naan
Naan is a flatbread made from wheat flour – if you've ever been to an Indian restaurant anywhere, you're probably familiar with it! Obviously, it is full of gluten and not safe for us to eat.
Roti
Roti is another kind of bread, but unlike naan it is unleavened. This is also made with wheat so is not safe for us gluten free folks to eat!
Rava Kesari
Rava Kesari is a dessert dish in South India that is definitely not gluten free. It is made from semolina (wheat flour), drenched in sugar and ghee.
Corn Panki
Corn panki are little patties made primarily from corn kernels and spices. However they are almost always prepared with semolina (wheat flour) in the batter. This is actually the dish I ate in India that I *thought* was gluten free but…as my body kindly informed me… wasn't. They look cute but beware the corn panki!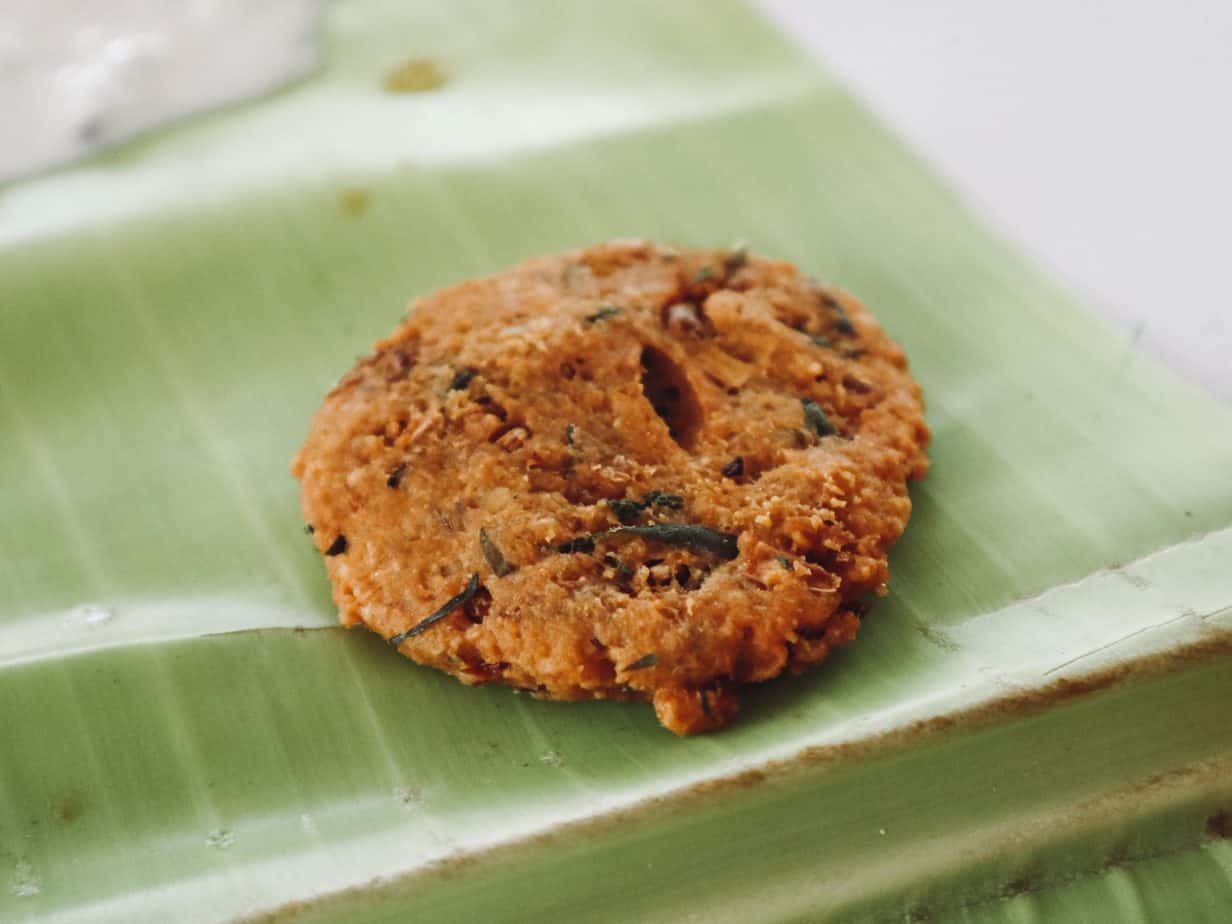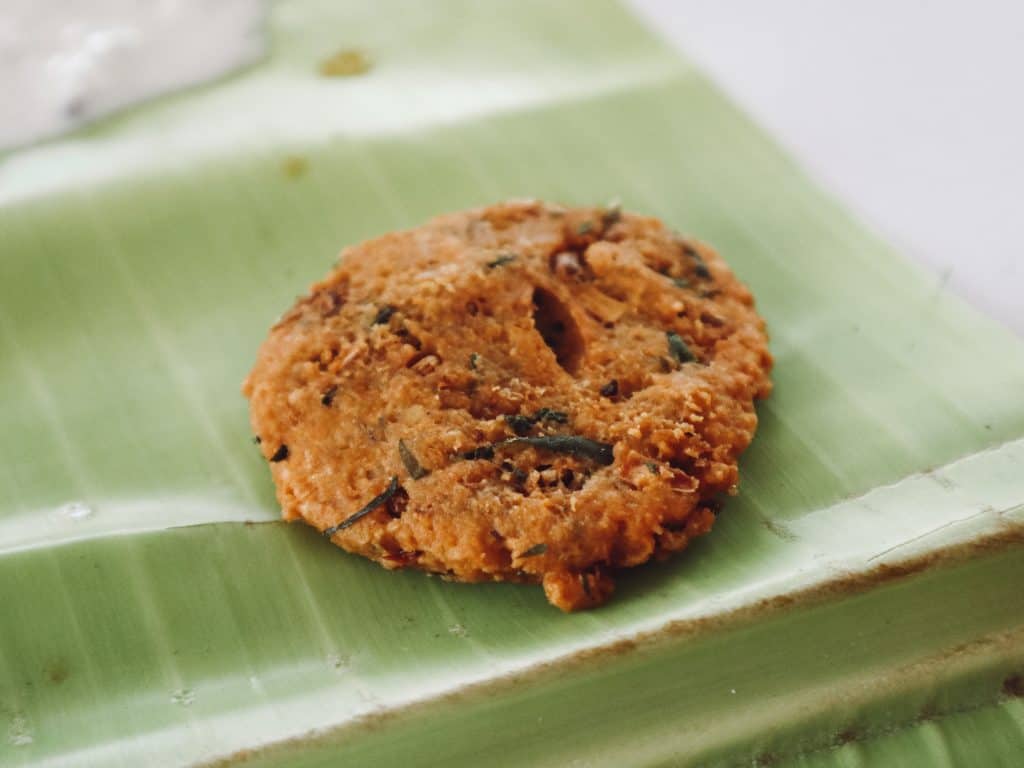 General things to know about eating in South India
I know it can feel like a lot to navigate gluten free travel in a foreign country. On top of that, there are also new social norms for you to learn!  Here are some things to be aware of in South India.
Food is served on banana leaves. Yup! This is traditional in Kerala but you'll also find your plate replaced with a big ol' banana leaf in other regions, too.
Banana leaves are used in cooking. They double up as cooking utensils and techniques as well as plates!
People eat with their hands. It's also common, like other places in Asia, for people to eat with their hands instead of with utensils. This is usually the case when eating off banana leaves. You can use breads (such as gluten free idly or appam) and rice dishes to scoop up sauces.
But not everywhere. Not everyone eats with their hands, especially at higher end restaurants.
And never with your left hand. If you're eating with your hands, use your right hand. The left hand is reserved for "bathroom" activities so it's considered unsanitary to eat with it.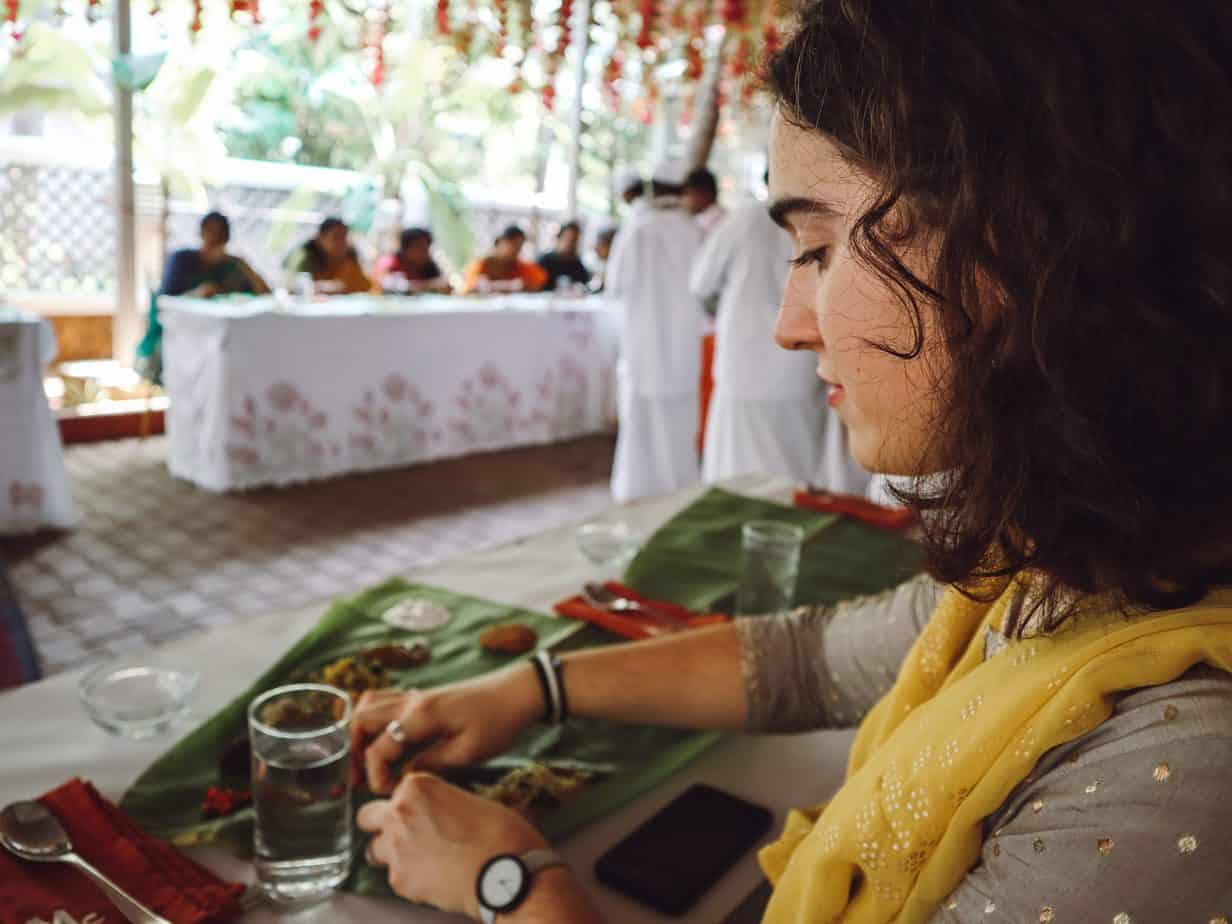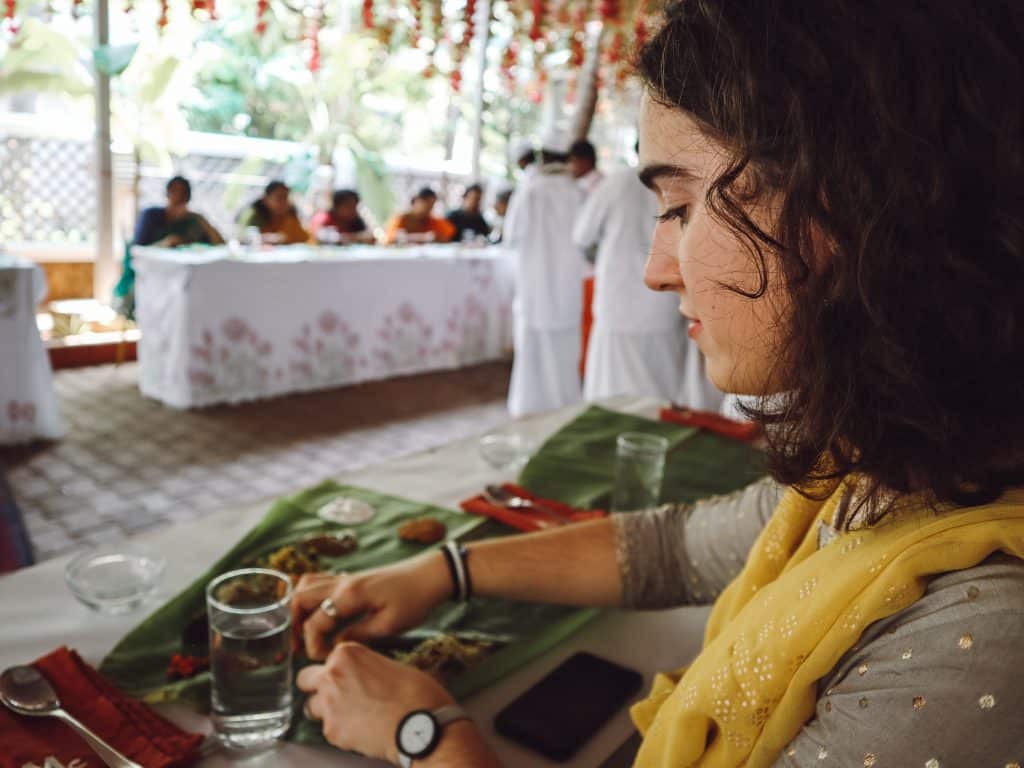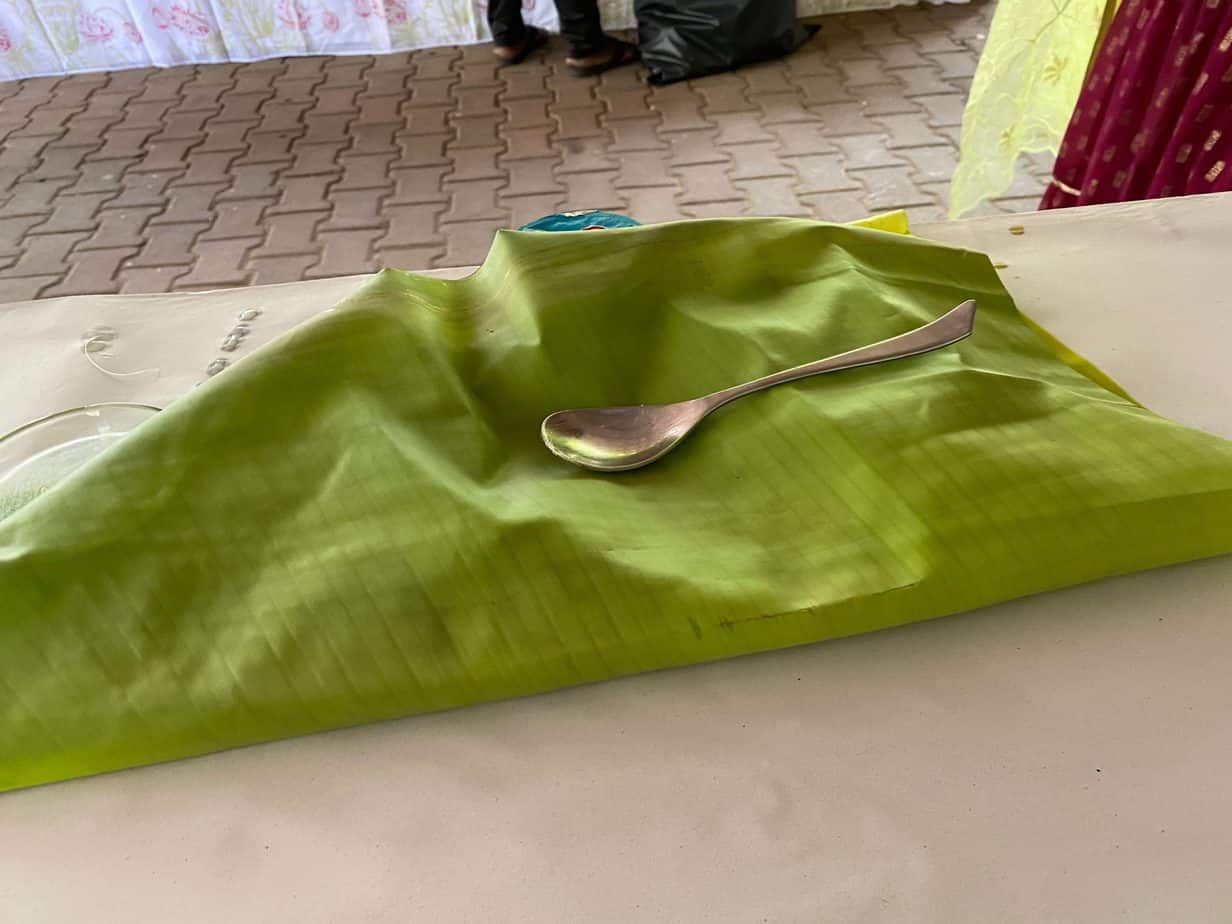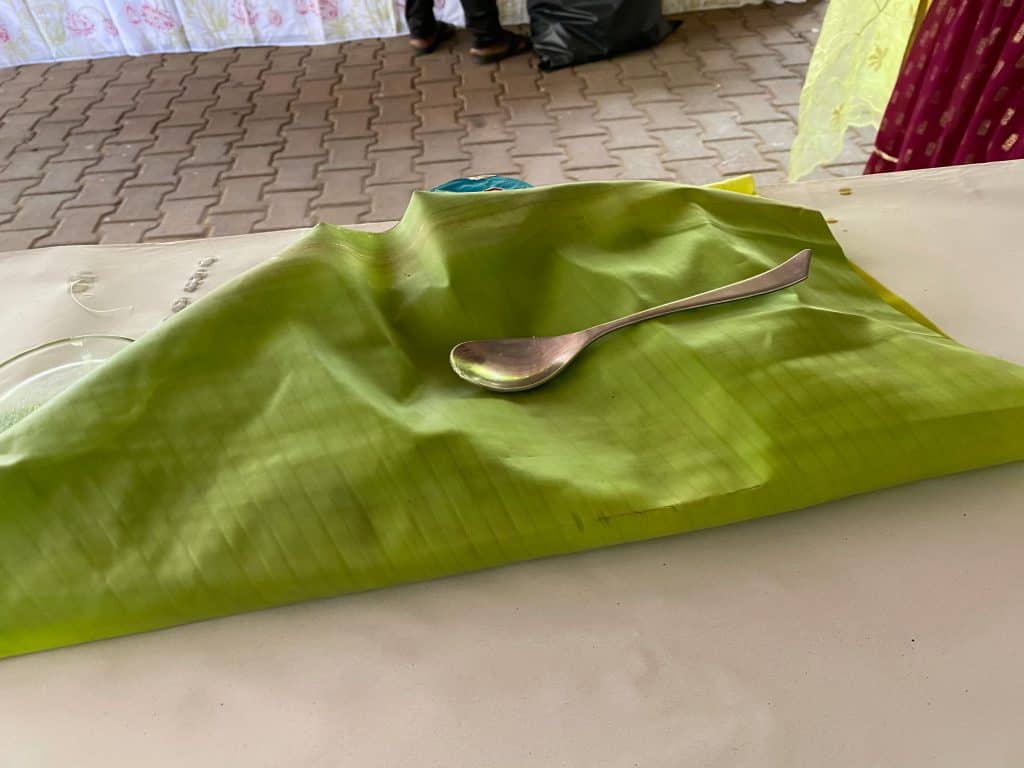 Attending an Indian wedding with Celiac Disease
CONGRATULATIONS if you've been invited to an Indian wedding (also, like, congrats to your friend getting married!). Attending a traditional Indian wedding can be the experience of a lifetime for those of us from outside the culture. I looked forward to my friend Vaish's wedding for years and traveling to India, being reunited with her and our other friends, and partying for a week straight was a top travel experience ever.
Indian weddings are typically about a week long but obviously it is going to vary by local tradition, your friends' preferences and style, and how many events you are invited to. I'm working on a full blog post about attending a wedding in India so stay tuned for that!
For gluten free travelers, your diet is definitely you should discuss with the bride and groom long before the actual wedding.
I messaged with Vaish maybe four months before the wedding to explain all my needs (including cross contact). This gave her enough time to then consult the caterers for every single event (there were four that involved food, plus food at all the dance practices). She then sent me menus for each event which marked what dishes were gluten free.
Of course, I didn't know what half the names of the dishes meant! Which is why I would also highly recommend having a point of contact with the catering team at the wedding. Your friend will know who to connect you with. Keep your gluten free translation card on hand at all times as you'll want to show that again.
I developed a pretty nice system where a manager from the catering team found me at every wedding event and explained all the dishes to me early on. My only other advice would be to make sure you eat first, especially if this is a buffet situation, which it probably will be at many of the wedding events!
South India gluten free restaurants
Like many places, I think that to eat gluten free safely in India it is more important to understand the cuisine and communication, than to target actual restaurants. Part of the joy of traveling here is going with the flow (as much as a celiac can, that is).
Saying that, below I'll go through some restaurants and hotels in various regions that are known for being celiac friendly, and worth making the trip to visit!
*If you have other personal suggestions for safe gluten free restaurants in southern India, leave me a comment so I can add them!
Gluten Free Chennai Restaurants (in Tamil Nadu)
Chennai is the capital city of Tamil Nadu. This is where we attended Vaish's wedding, so most of the meals we ate were associated with that. However we did eat out a few times so here are my recommendations!
Somerset Greenways Hotel
Somerset Greenways is the hotel we stayed in during the wedding – it is so lush, with great views and a rooftop patio and infinity pool! The fab news for celiacs is the restaurant in the hotel (Broken Bridge Cafe) serves breakfast and lunch. I was so happy when I saw signs up about allergies – I spoke to the manager every day and he was so helpful (his name is Kolangiappar, if you go!). There was tons of stuff I could eat!
This hotel is higher end than most backpackers will want, but if you're going to splash out on accommodation then it's definitely worth it.
Somerset Greenways // No 94, Sathyadev Ave, MRC Nagar, Raja Annamalai Puram, Chennai, Tamil Nadu 600028, India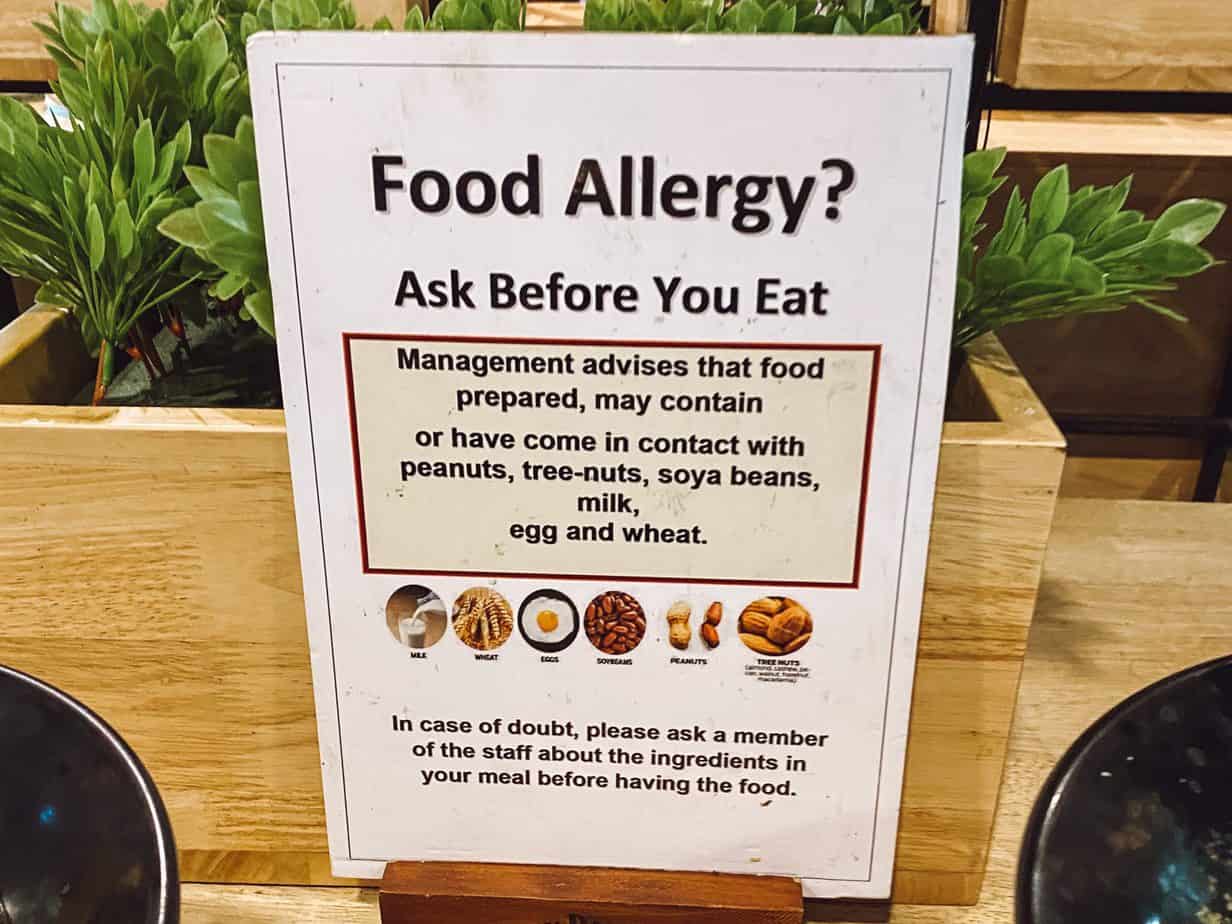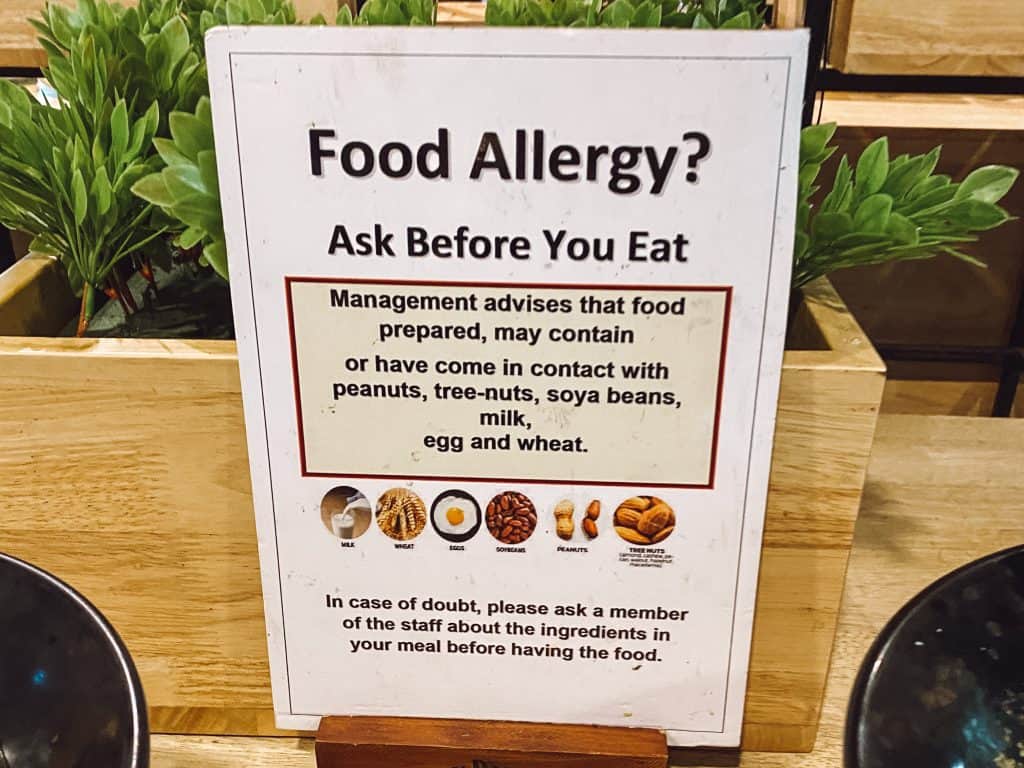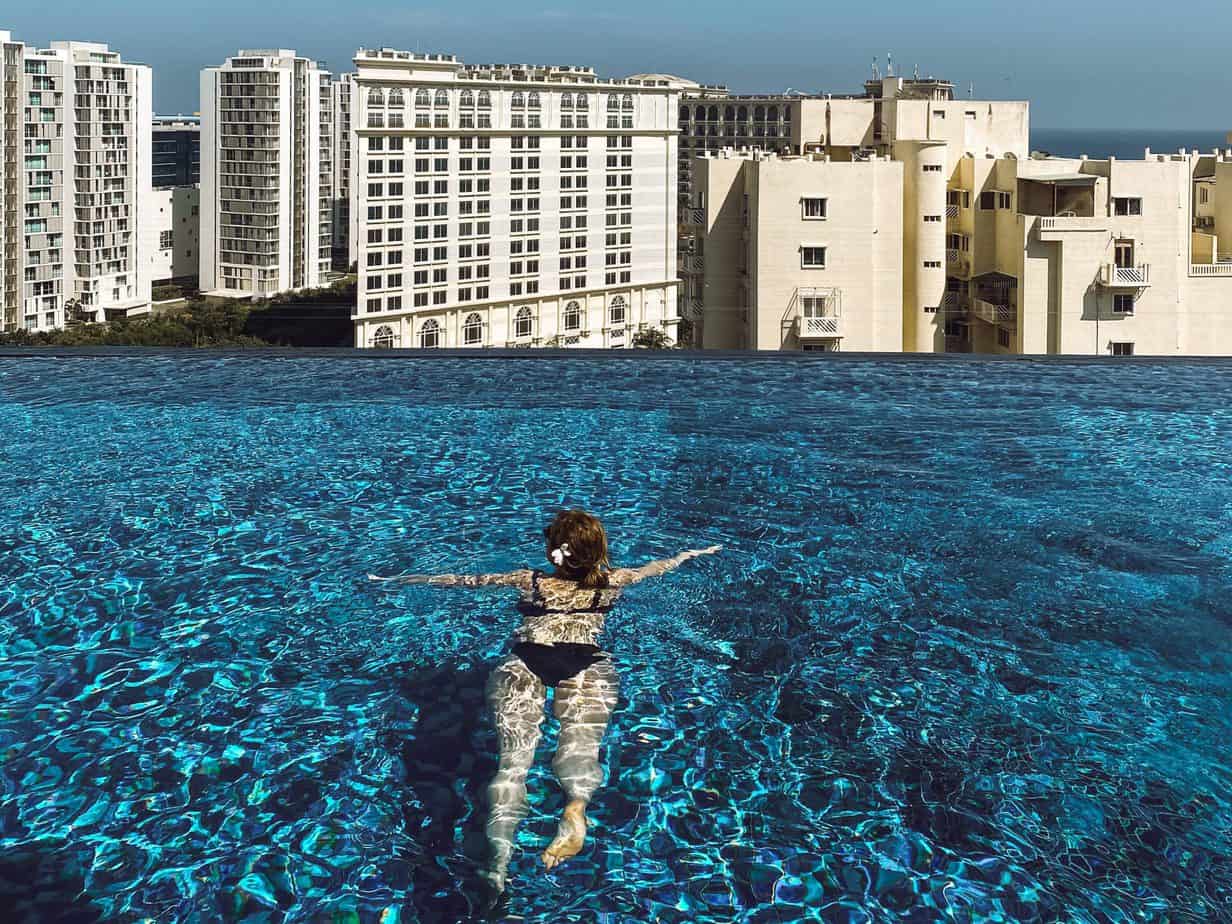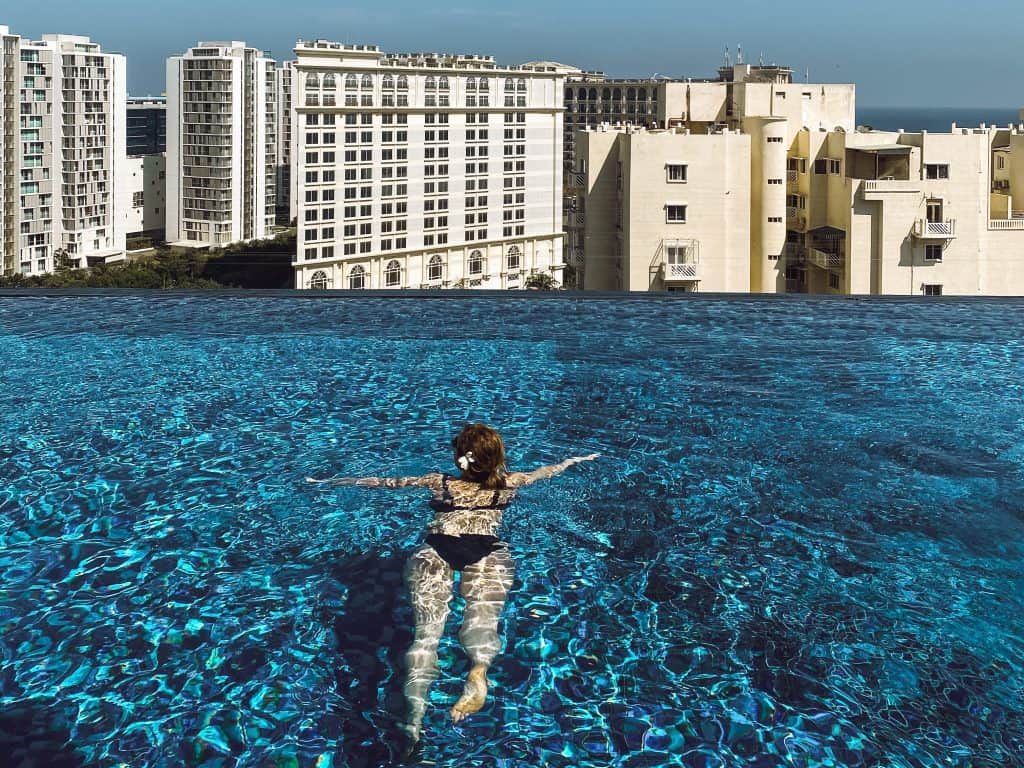 Kappa Chakka Kandhari
One of my BEST. MEALS. EVER. You absolutely must eat at Kappa Chakka Kandhari while in India. The chef sources recipes  from mothers' kitchens, and food is served on banana leaves in the traditional Kerala style (which is arguably the most gluten free friendly region in India). Conde Nast ranked KCK as the 23rd best restaurant in India and trust me, it shows. Dan and I had a seven course meal for… about $10 per person. Crazy!!
The menu here is almost totally gluten free. I spoke directly to the chef, who told me the few things containing gluten, and then basically ordered his favorite dishes for us. He told me that KCK hopes to be 100% gluten free very soon!
Kappa Chakka Kandhari // #10, Haddows Road, Nugambakkam, Chennai – 600 006
There is a second location in Banglore!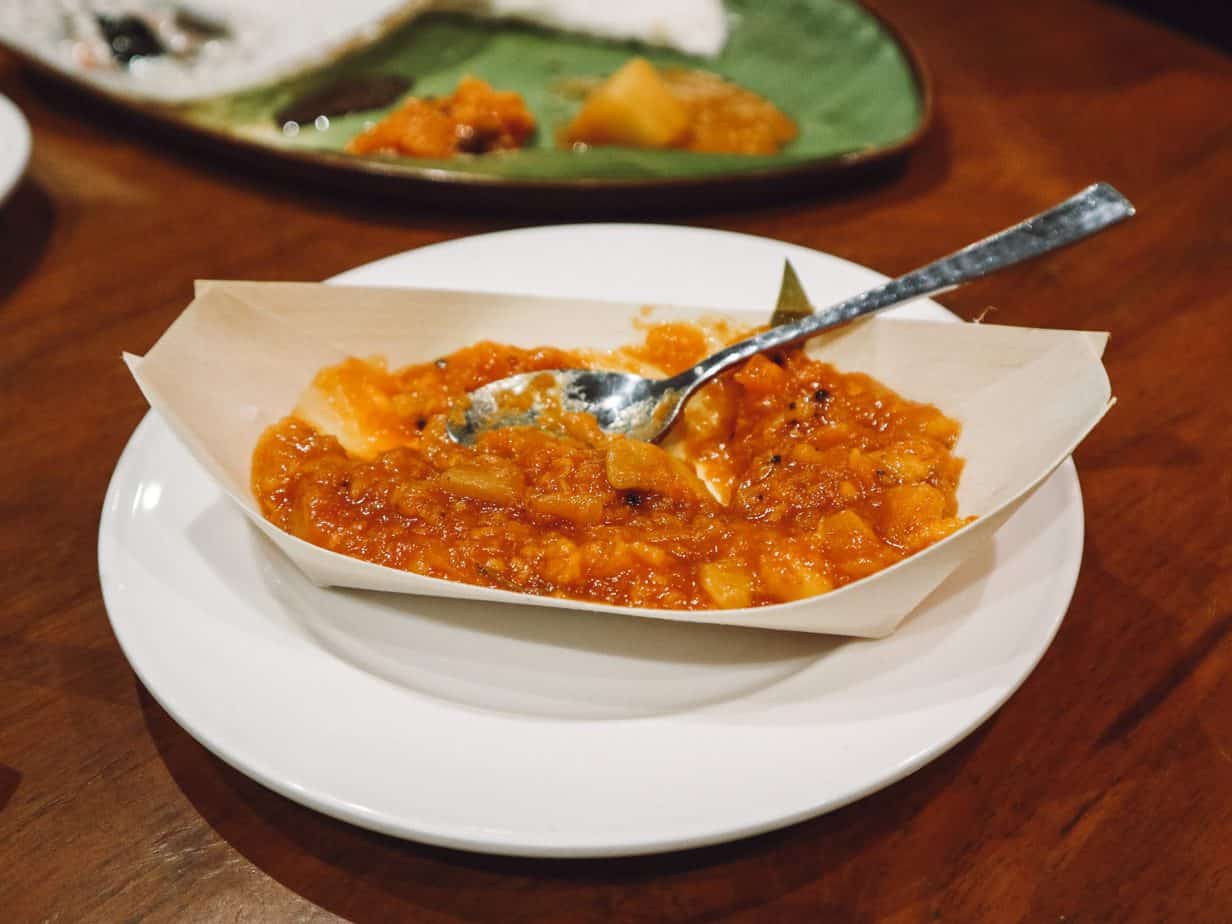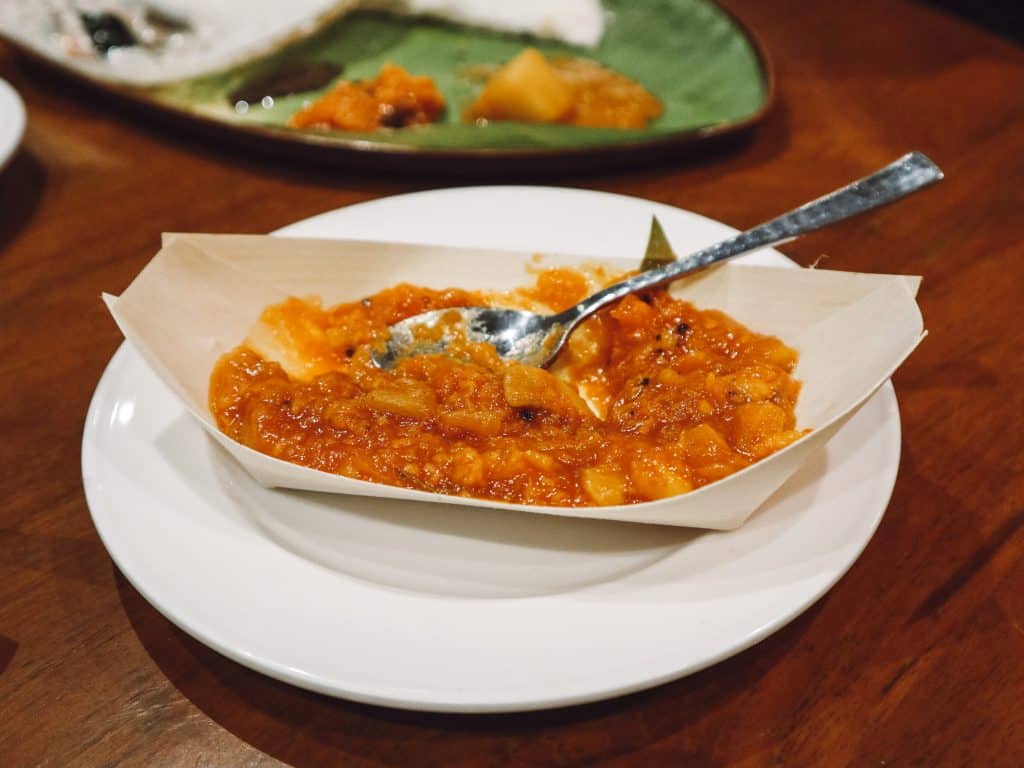 Gluten free Goa
House of Grains – in Panjim
House of Grains is… wait for it… a DEDICATED gluten free restaurant in Panjim, in the state of Goa! A lot of South Indian food is naturally gluten free, but House of Grains serves up dishes like gluten free chocolate cake, cookies, and sandwich bread!
House of Grains // Anjuna Mapusa Rd, Tonca, Kamat Kinara, Caranzalem, Anjuna, Goa 403509, India
Gluten Free Karnataka Restaurants
Kappa Chakka Kandhari – in Banglore
I haven't personally been to Karnataka or its city Banglore, but there is one restaurant I can personally attest to, having visited the Chennai location! I highly recommend a meal at KCK's second location.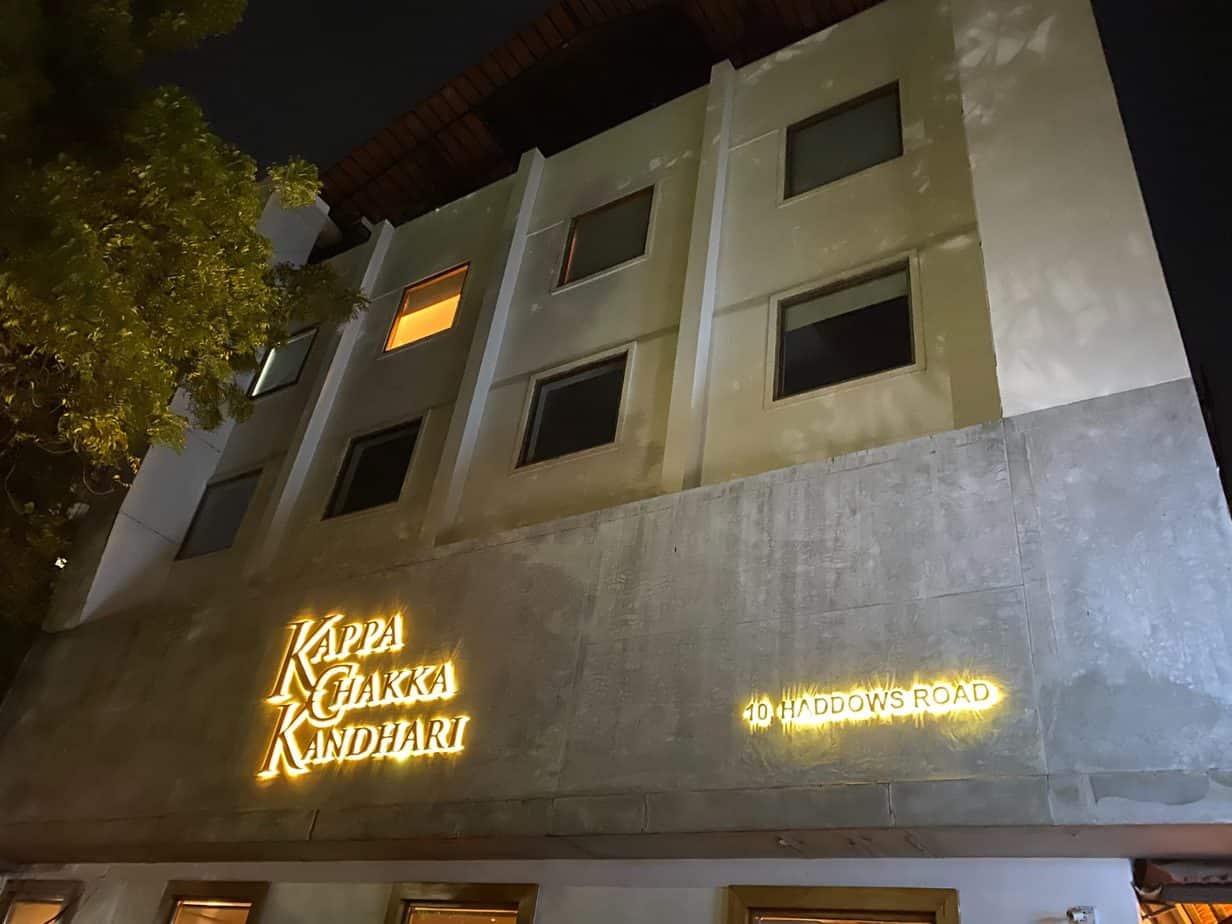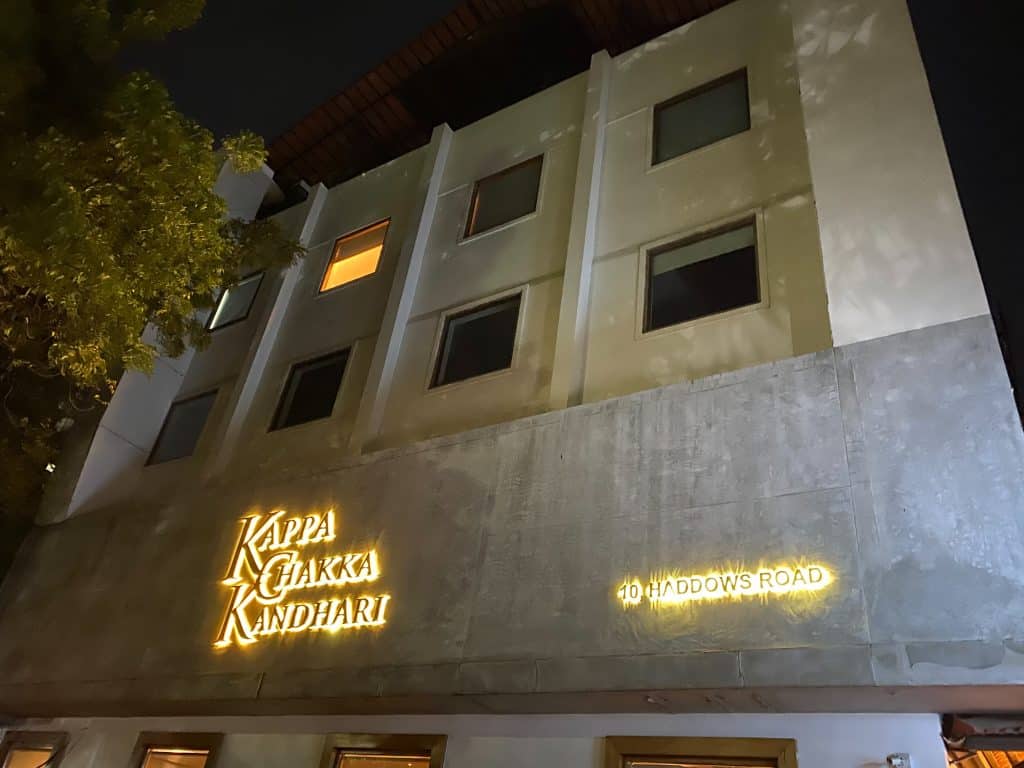 Happy gluten free traveling in India!
There are waaaay more restaurants than the above that can cater to celiac travelers – that's just a few suggestions. Remember your translation card, educate yourself on the naturally gluten free (or gluten filled) local cuisine, and you should have an incredible time eating your way through India.
Suggestions or questions? Let me know in the comments below!
Sarah xx
Pin it for later…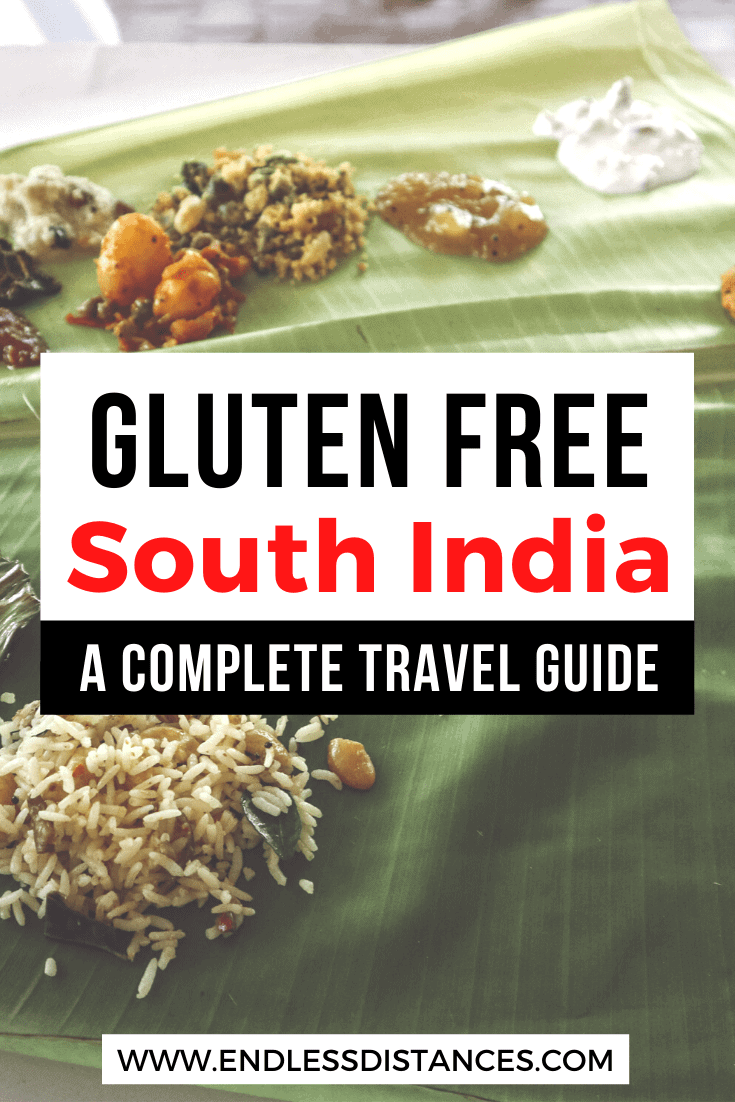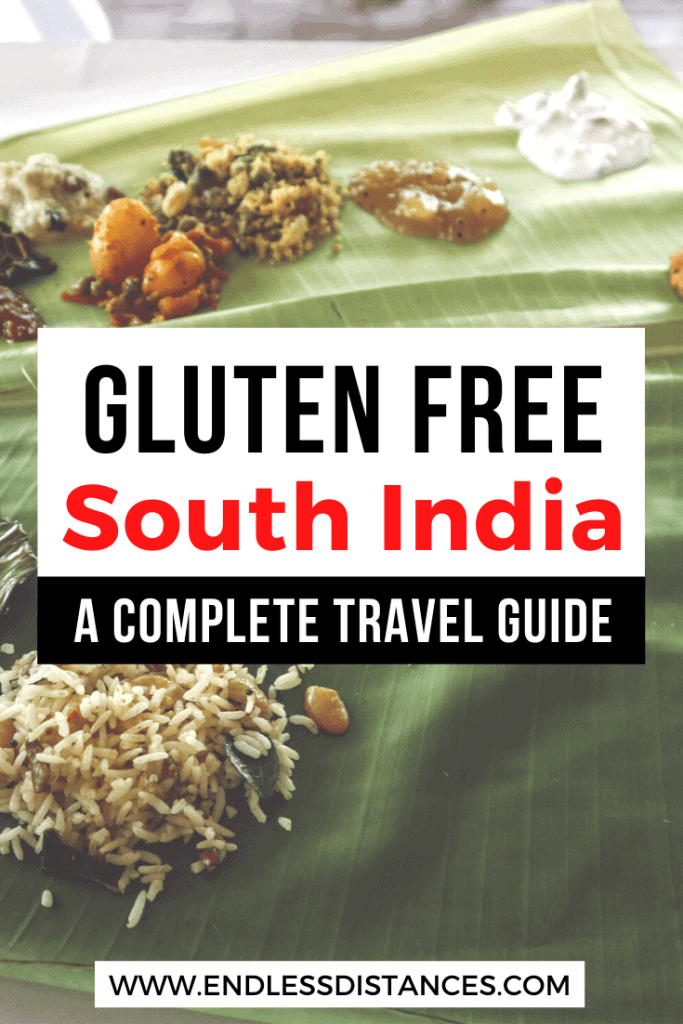 *This post may contain affiliate links. If you click and make a purchase, I may make a small commission, at no extra cost to you. Thank you for supporting Endless Distances!