I recently stayed at a very unique, funky hotel… right in the middle of London's Heathrow Airport! Meet YotelAir London Heathrow, an airport hotel that at once elevates the typically boring and soulless airport hotel into something fun and interesting, yet keeps the whole experience to a budget. Yotel has actually been described as "Heathrow sleeping pods," and you know I love a good sleeping pod experience (like during my layover in Iceland), so I had to check it out.
YotelAir is absolutely designed with the traveler in mind and this is what makes it both so fun and so efficient. From the room design itself, to the hour-by-hour booking process, this is the perfect hotel for travelers using Heathrow. It's definitely worth staying here if you have a long layover (no matter the time of day), or an early morning flight.
*This post contains affiliate links. If you click on a link I may make a small commission at no extra cost to you. Thank you for supporting Endless Distances! This post is completely un-sponsored by Yotel Air and all opinions are my own.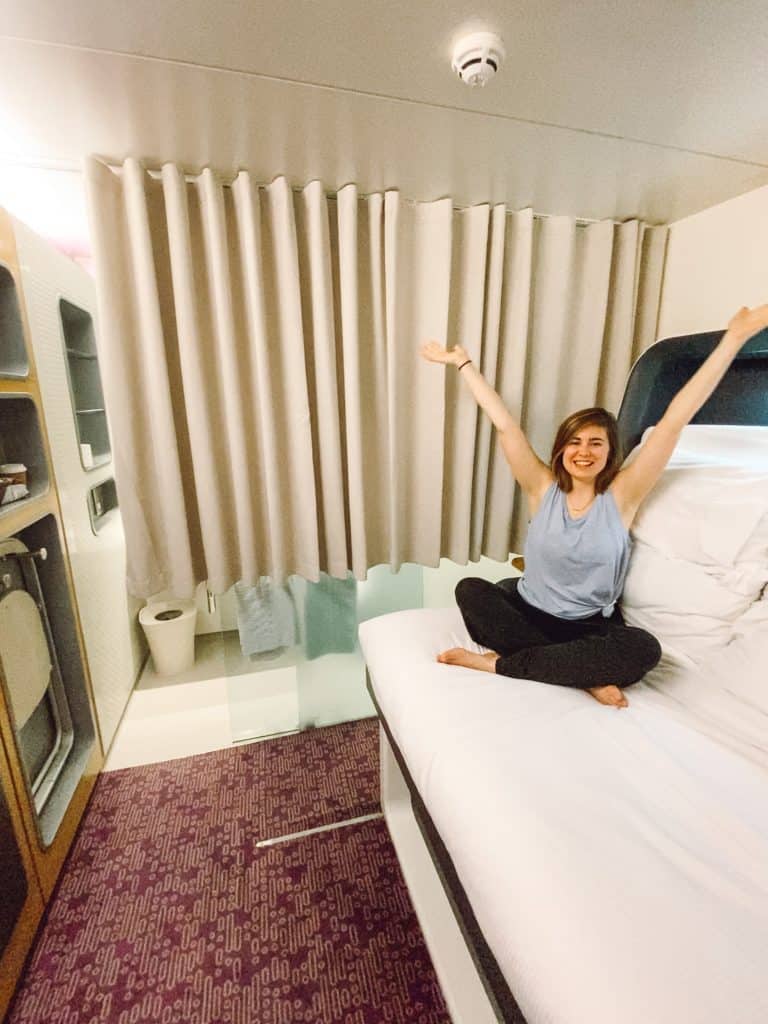 Why we decided to stay at YotelAir London Heathrow
I decided to stay at YotelAir London Heathrow thanks to a recent 13.5 hour layover in London. Our flight from Colombo arrived around 7pm, and my connecting flight to Chicago was the following morning around 8am. My budget backpacker days aren't completely behind me, but I'm not sure I ever would have willingly chosen a 13.5 hour night on the floor of Heathrow's terminals. So I'm glad another option existed: YotelAir.
For Dan, who flew with me from Colombo, London was his final destination (international long distance relationship and all), but he decided to stay the night at YotelAir with me. We decided to make it into a full 'date night' dinner and experience.
Here's our experience and what we thought of YotelAir, plus tips for your own stay.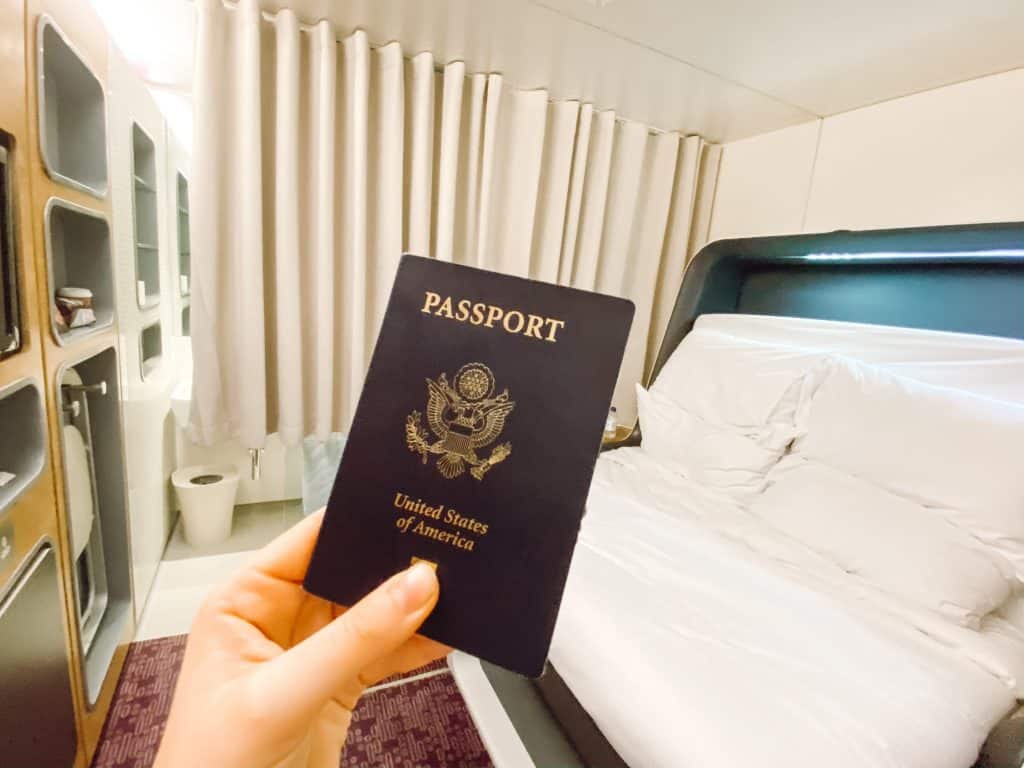 Booking a stay at YotelAir London Heathrow
We booked our stay at YotelAir online ahead of time and I'd recommend you do the same as it is often fully booked. You can book here for best rates.
YotelAir is unique because you book your stay hour-by-hour. So for example with a 7pm flight arrival time, we booked our slot from 8pm to 9am the following morning (when Dan's bus was leaving). If you have a shorter or longer layover you can book accordingly. Even if you only want to book it for a few hours between long hauls, you'll have the chance to shower and power nap in the coziest bed.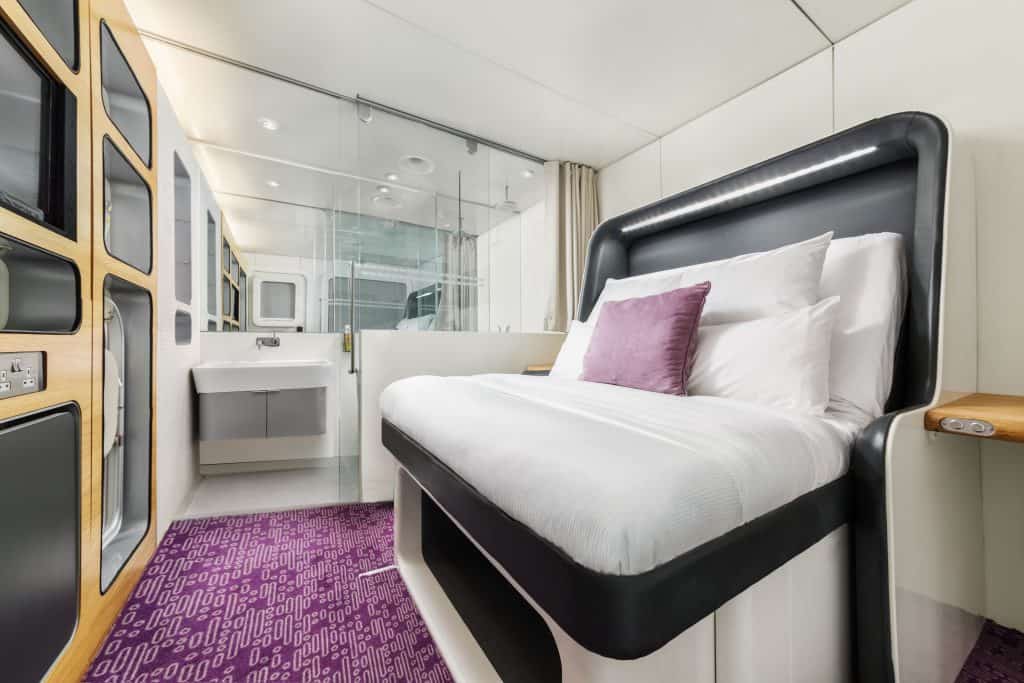 What terminal is YotelAir in?
YotelAir is located before security in Heathrow Terminal 4. There is free transport (by train) between terminals at Heathrow, so it's very fast and easy to get to Terminal 4 even if that's not where your flight arrives or departs.
Notably, because YotelAir is located before security, you will need to go through customs after an international arrival flight in order to stay at YotelAir. You'll need to factor in this time on either end of your layover when deciding whether a stay at YotelAir is worth it. Also, depending on your country of origin, you may have to arrange a UK transit visa, which is something to consider (being from the US, I did not have to do this).
To give you an example, our flight arrived in Terminal 3. It took about an hour to go through customs, collect Dan's baggage (as London was his final destination – mine was checked through to Chicago), and get the free train to Terminal 4 where YotelAir is located. In the morning, my flight departed from Terminal 3 so I left our sleeping pod room about two hours before my flight in order to get to the terminal and go back through security. This was a generous amount of time, so I didn't feel rushed at all. The result, with my 13.5 hour layover, and factoring in that our arriving flight was an hour delayed, was about 9-10 hours at YotelAir in terminal 4. For me it was totally worth it! However if you have a shorter layover of six hours or less, it might be a tighter fit.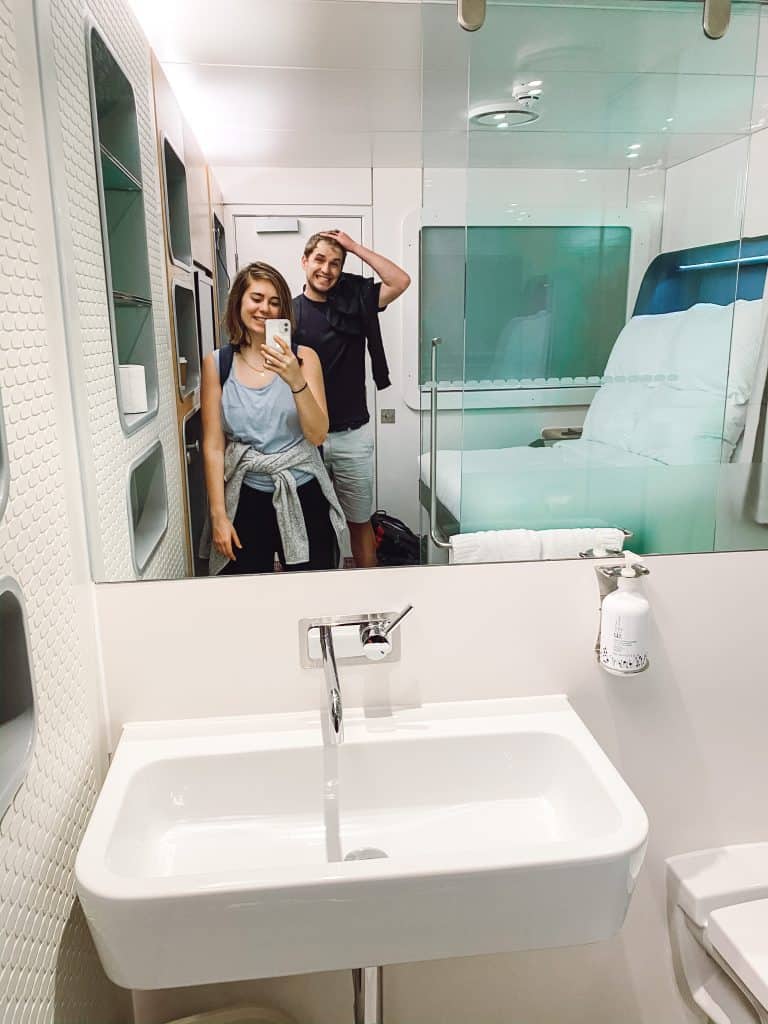 Directions to YotelAir Heathrow
There is plenty of signage directing guests to YotelAir throughout Heathrow, and we had no trouble finding it. But if you're worried about finding YotelAir within the maze of Heathrow airport, here's my advice.
1. Take the free inter-terminal train to terminal 4 if you didn't arrive there
2. Once in Terminal 4, follows the signs to floor 0
3. Once on floor 0, walk to the end of the arrivals hall (follow the signs for YotelAir) and take the escalator to YotelAir's reception
4. Walk straight ahead and you will see signs for YotelAir's reception (called 'mission control')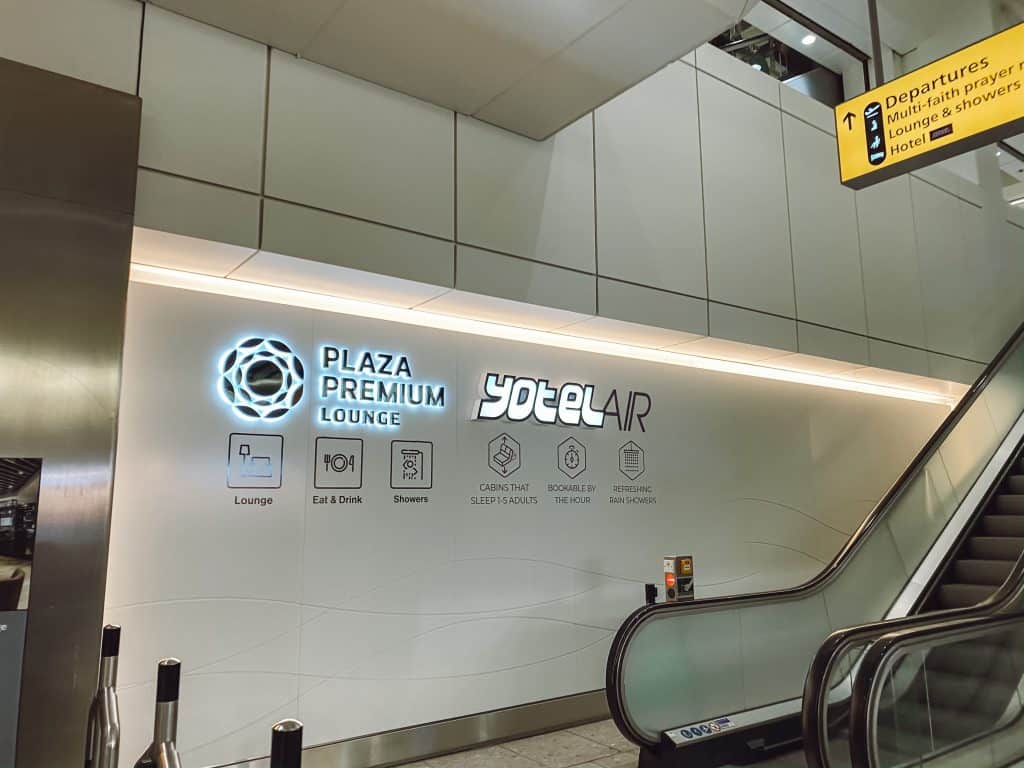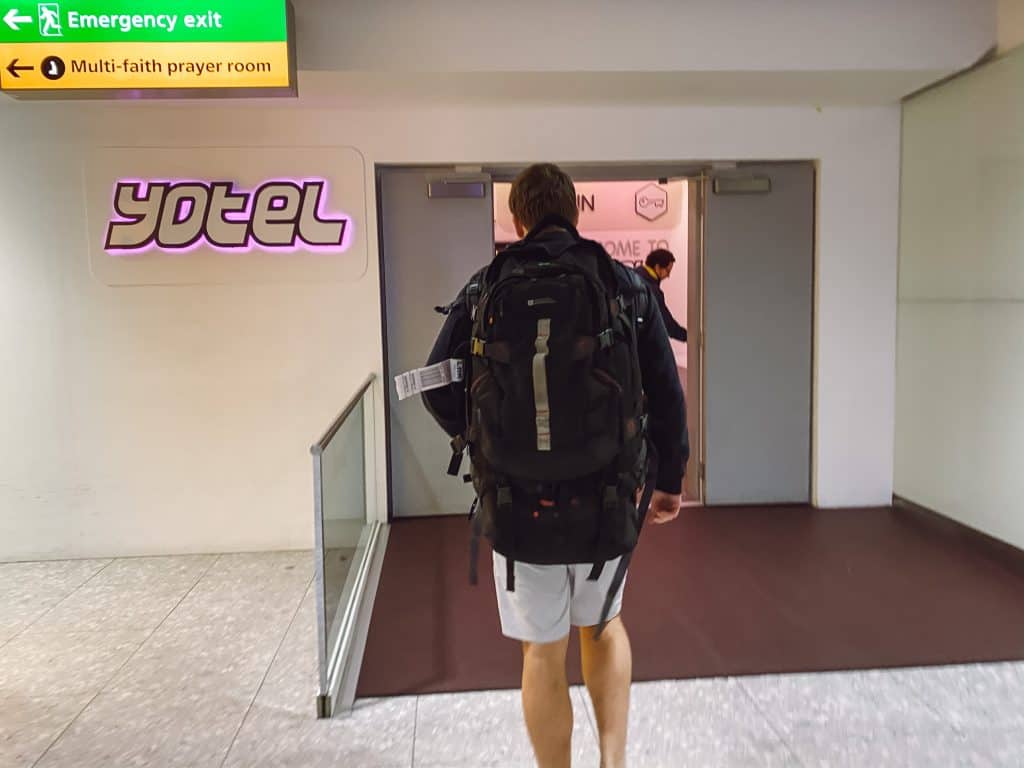 Checking in to YotelAir London Heathrow
The hotel has this low-level magenta lighting that feels both funky and relaxing. The reception is staffed 24/7 and we happened to have this eccentric Russian guy to help us. Upon arrival you're offered a free drink. Dan chose a bottled water and I got hot peppermint tea, which I was desperate for after two weeks in India and Sri Lanka. There is also free coffee and tea offered round the clock, whenever you want it.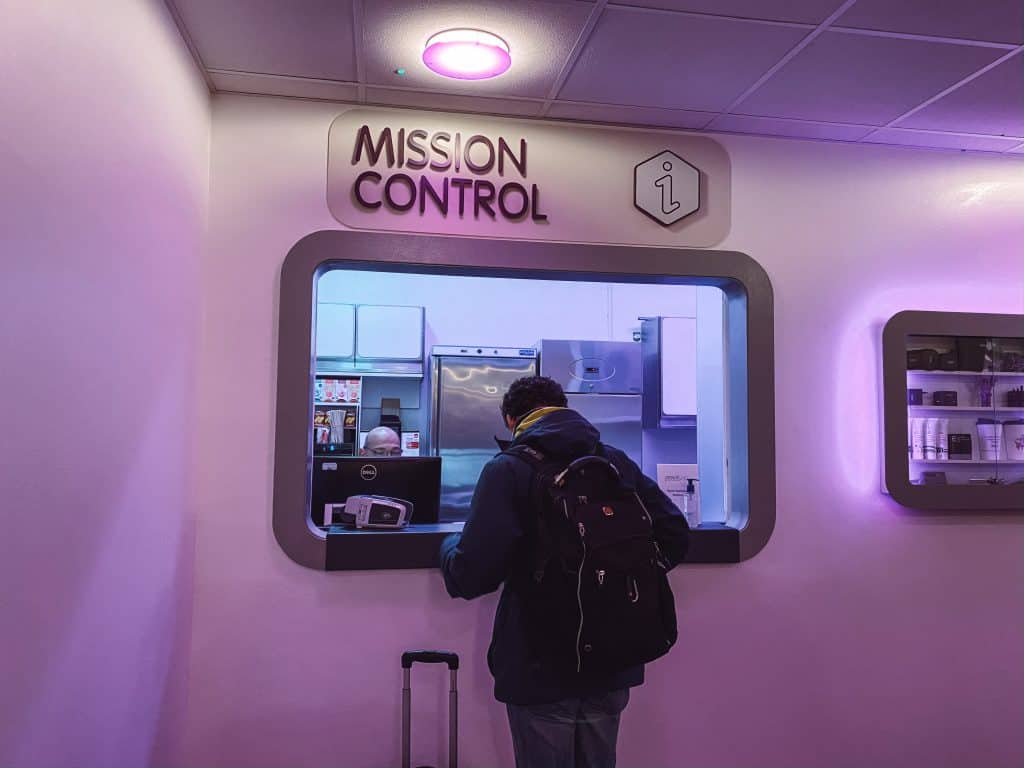 We were allocated room 13 and the wonderful Russian guy offered us the option to switch rooms if we were superstitious… I thought this was funny but I guess being in an airport and all it's understandable!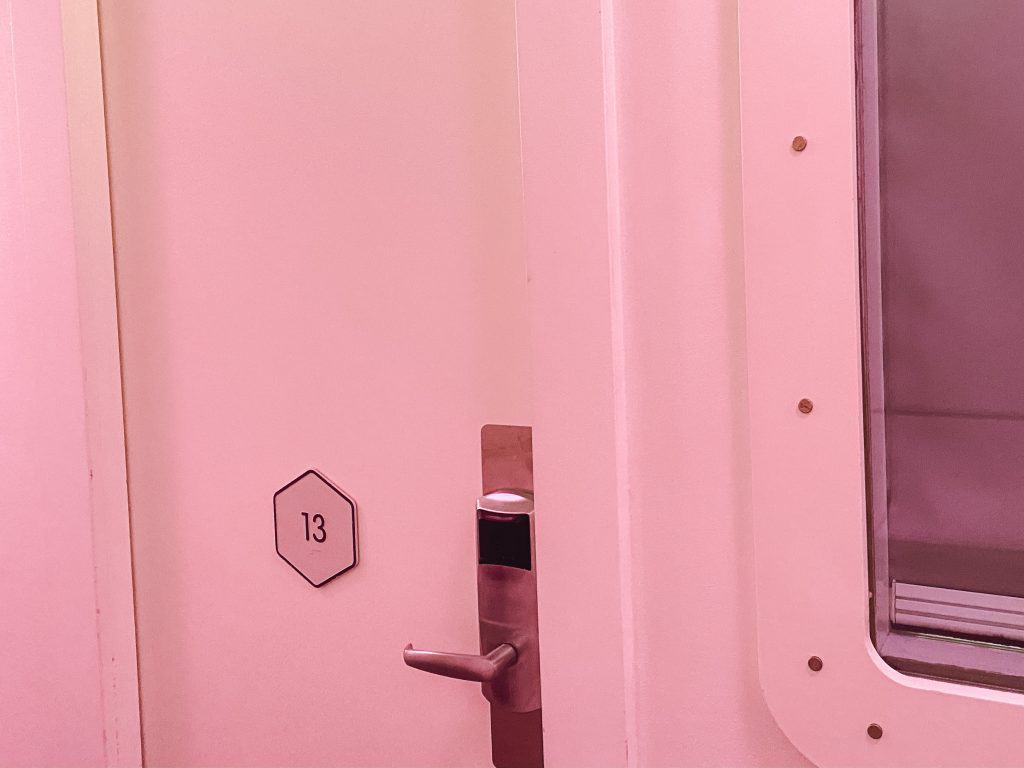 Russian Guy led us along the magenta-lit hallway to our room, passing a variety of other rooms and windows into rooms along the way. He gave us the quick run down and then left us to our own devices.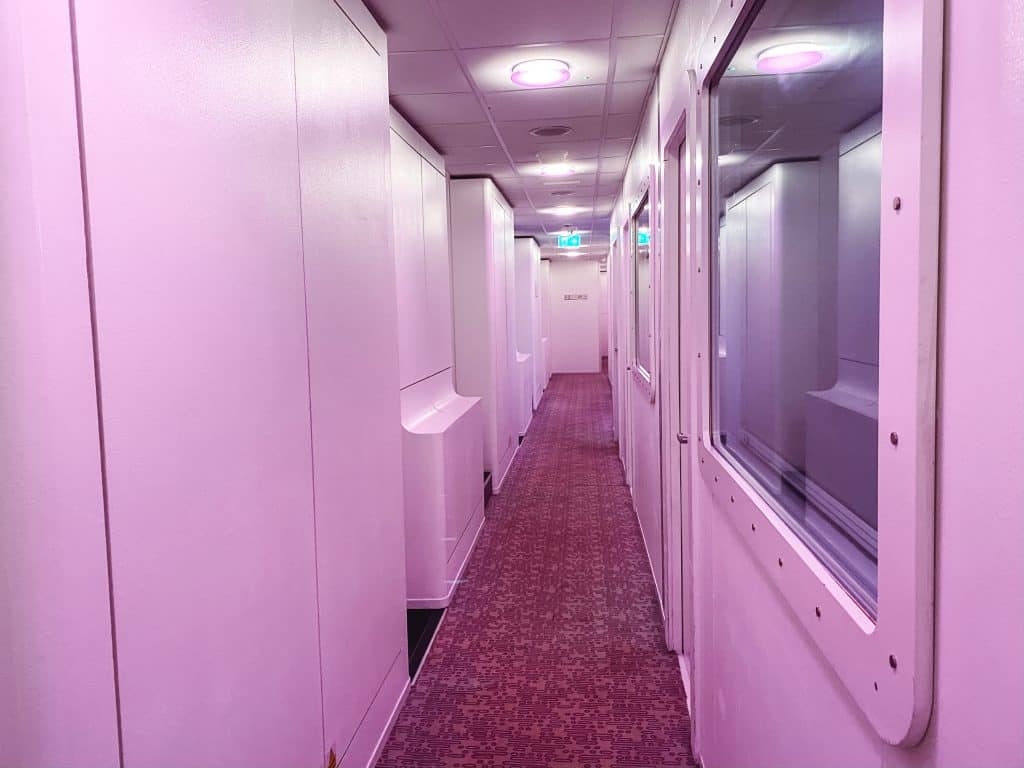 YotelAir London Heathrow room review
The YotelAir rooms are referred to as Heathrow sleeping pods by many people. But having slept in actual sleeping pods in Iceland, I have to say YotelAir is sooo much more than that. The rooms may be compact but they are still rooms (although fi you book a single room, it is much more pod-like… see some photos below!). The rooms are all super high tech and efficiently spaced, and this is where I say it's perfectly designed for the traveler!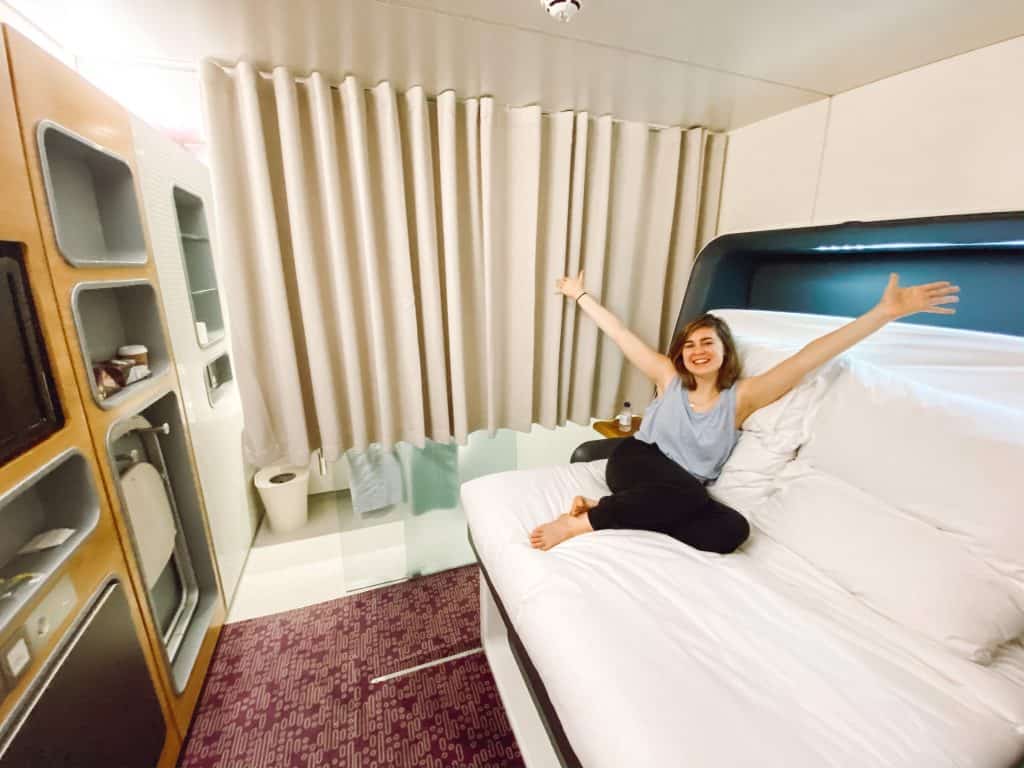 Our double room had a big window out into the hallway, with a privacy shade. There was also a control panel with four settings for the lights, including fully on, bathroom on, black out, and that low-level magenta hue.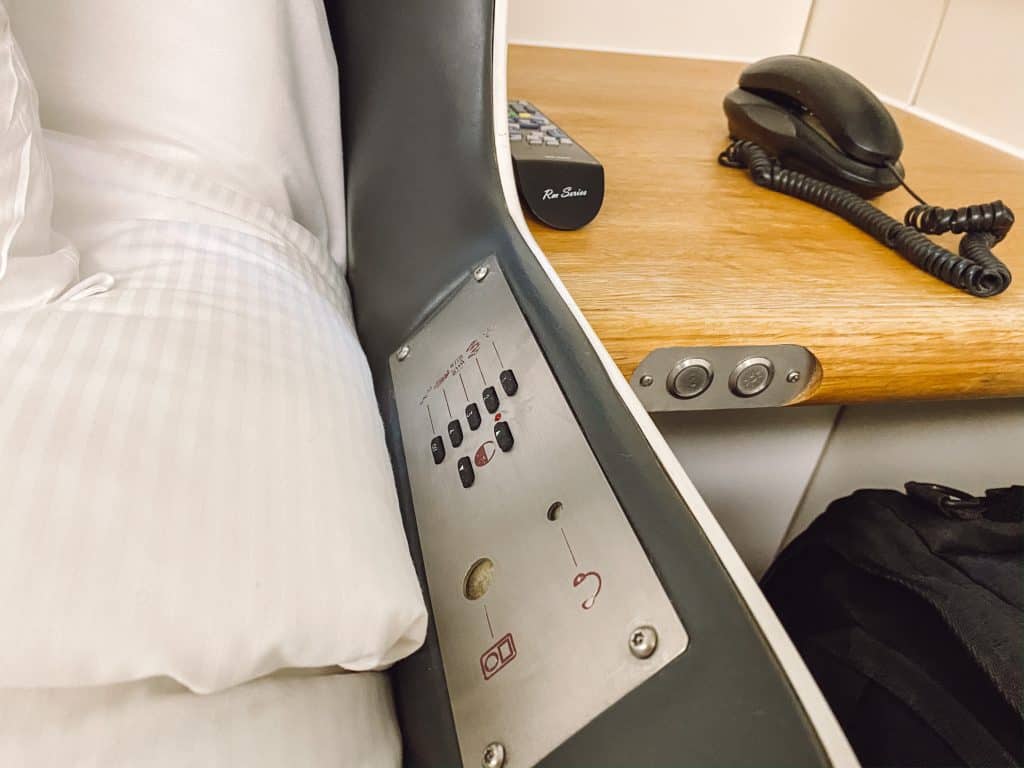 The bed is maybe the room's coolest feature. Our bed was flanked by nightstands and was elevated into the wall kind of like a couch, to create more space in the room. However, with the simple press of a button on the control panel, the bed slowly rolled out to occupy the length of the room. How clever! There was also hollow space beneath the bed designed for storing luggage.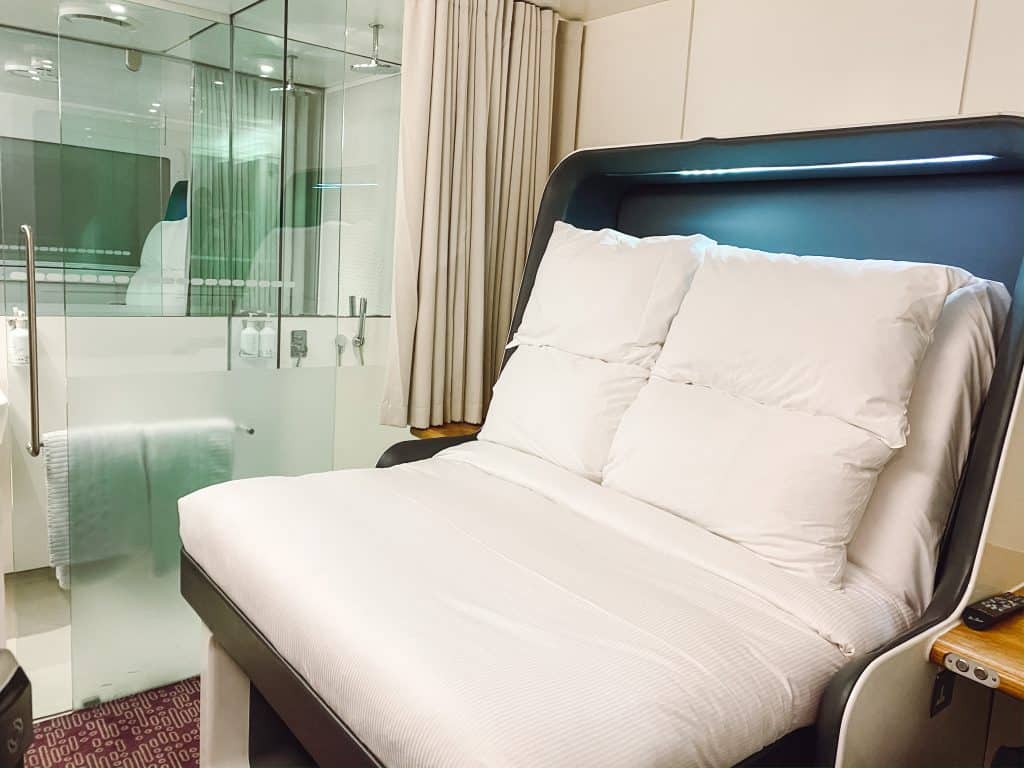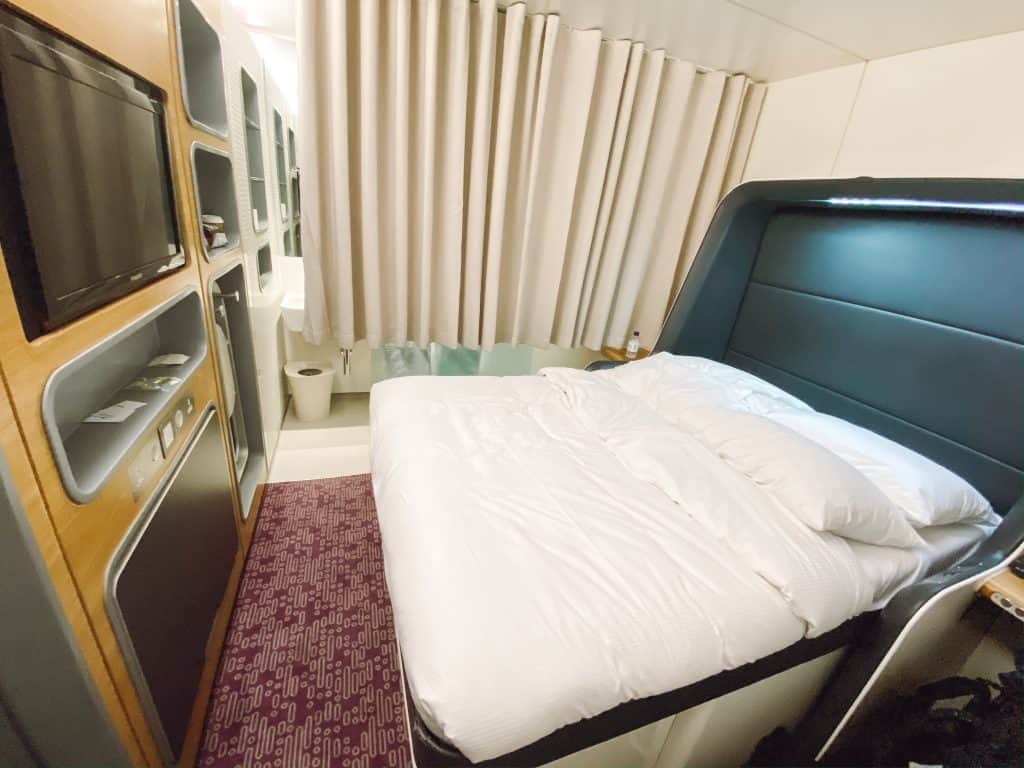 The wall facing the bed was where all the gadgets are stored. We had a big flat screen TV, a full length mirror with a hook and hangers, plus a few shelves and multiple outlets (including UK, European, and USB plugs). There was also a folding table you could pop out directly from the wall (when the bed is rolled up), and a folding chair hanging into a nook on the wall.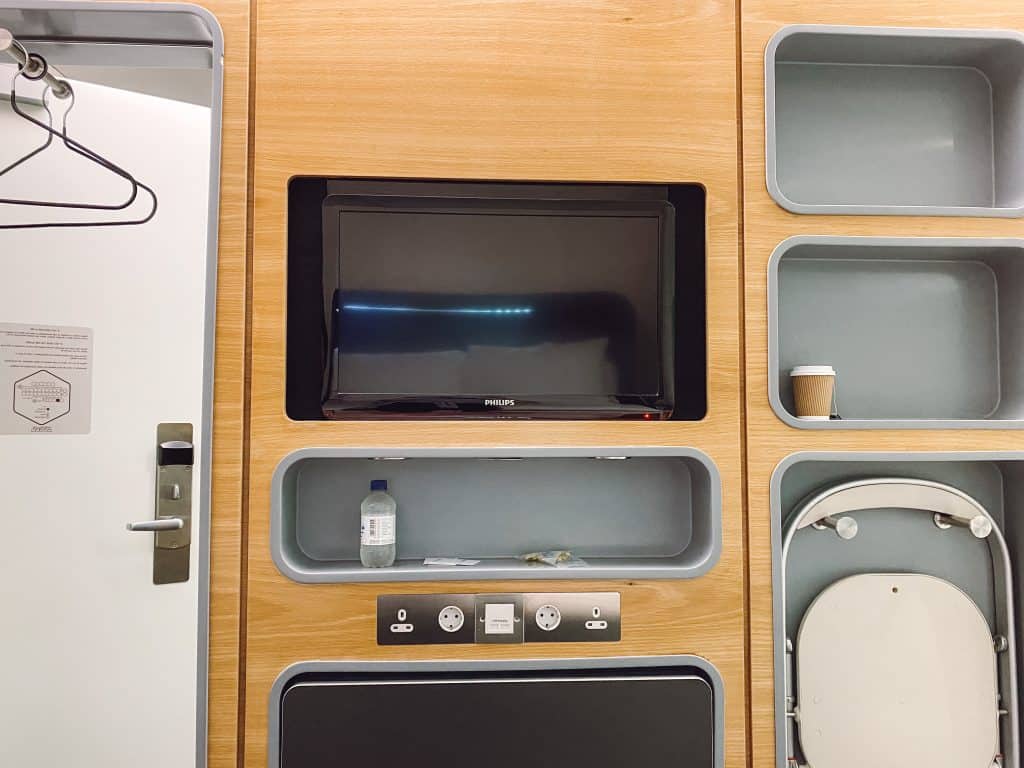 The room also had a private, fully kitted-out bathroom which was surprisingly and perfectly spacious, considering the hotel's compact design. There was a sink, hooks, toilet, and rain shower. Shampoo and body wash are included, plus unlimited free-of-charge towels.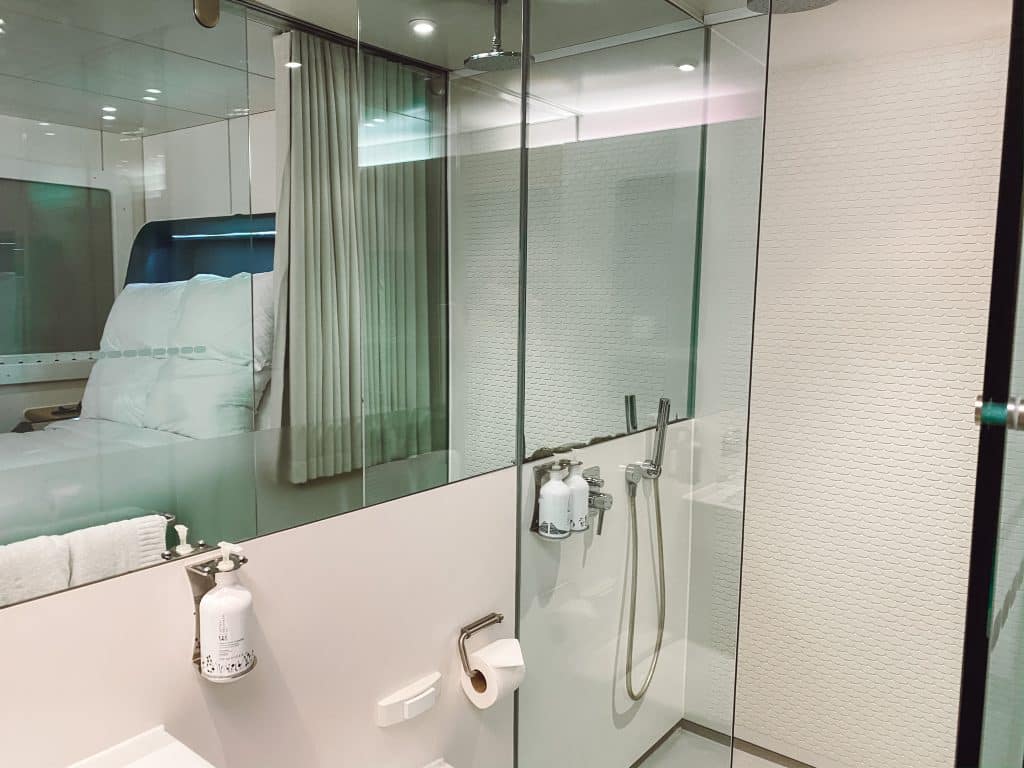 Thanks to this super thoughtful design, Dan and I (plus all our stuff) didn't feel cramped at all at YotelAir. Plus, the bed was incredibly comfortable with the fluffiest duvet – an absolute dream to sink into after a long haul flight.
Areas to improve for Yotel
We obviously loved our stay but I want to touch on some areas for improvement as I like to keep my reviews the realest of real with y'all.
First, there was no in-room mini fridge (small space and all) which I tend to like in my hotels. However there is a fridge in reception that you can store things in. The room also has limited temperature control. We felt it was a bit warm but weren't confident the thermostat we had was actually changing the room's temperature.
Additionally, because the room is enclosed and has no windows to the outside world, I felt very disoriented. Due to pre-flight nerves, I kept waking up in the night, and with no visible clock (and my phone plugged in the outlet across the room), and no window light to orient myself, I kept getting out of bed to check the time. In retrospect, this has an easy remedy: Reception offers free alarm clocks to those who want them. If I were you, I'd use an alarm clock, not for the alarm, but just to have a visible time.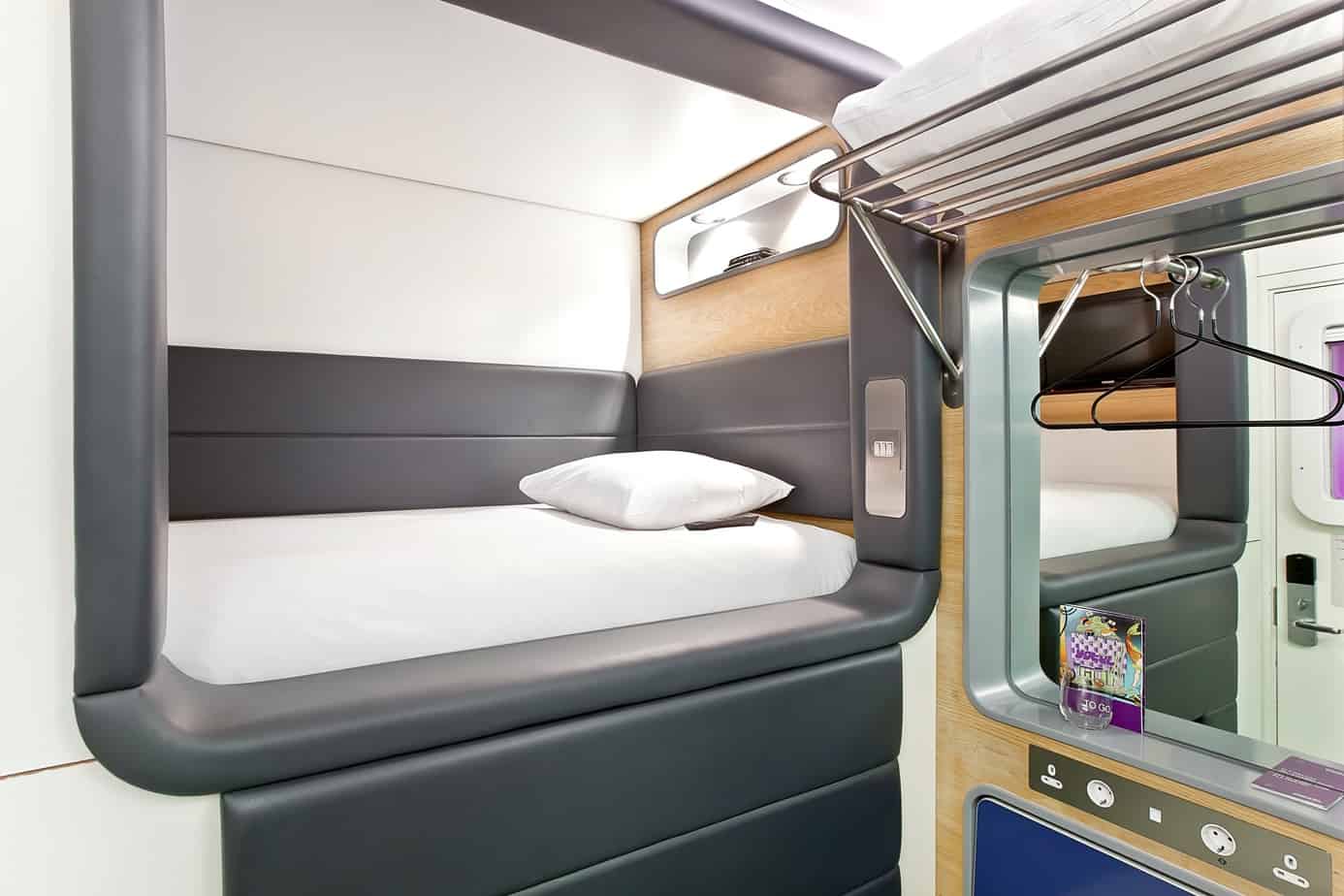 Eating at YotelAir and before security in Heathrow Airport
YotelAir offers complimentary tea and coffee (which I definitely appreciated as I picked up a cappuccino to go on my way to Terminal 3 in the morning). You can also order breakfast, lunch, or dinner from their selection although this is somewhat limited and wasn't ideal for someone like me who has to eat and travel gluten free!
Dan and I actually had dreams to have dinner at Wagamamas after our flight, but overlooked the fact that Wagamamas is located after security, so we had no way to get to it. In fact, there are very, very few food options in the arrivals halls or before security areas at Heathrow. So our fancy dinner date dreams were dashed, and we dropped into an M&S in Terminal 3's arrival hall instead.
Once we arrived to YotelAir, we popped out the folding table and folding chair, and extended the bed to act as the second chair. Then commenced a (very luxurious) meal of takeaway sandwiches, crisps, and cookies. I do love a Wagas but this was pretty fun and we did get to test out YotelAir's dining capabilities!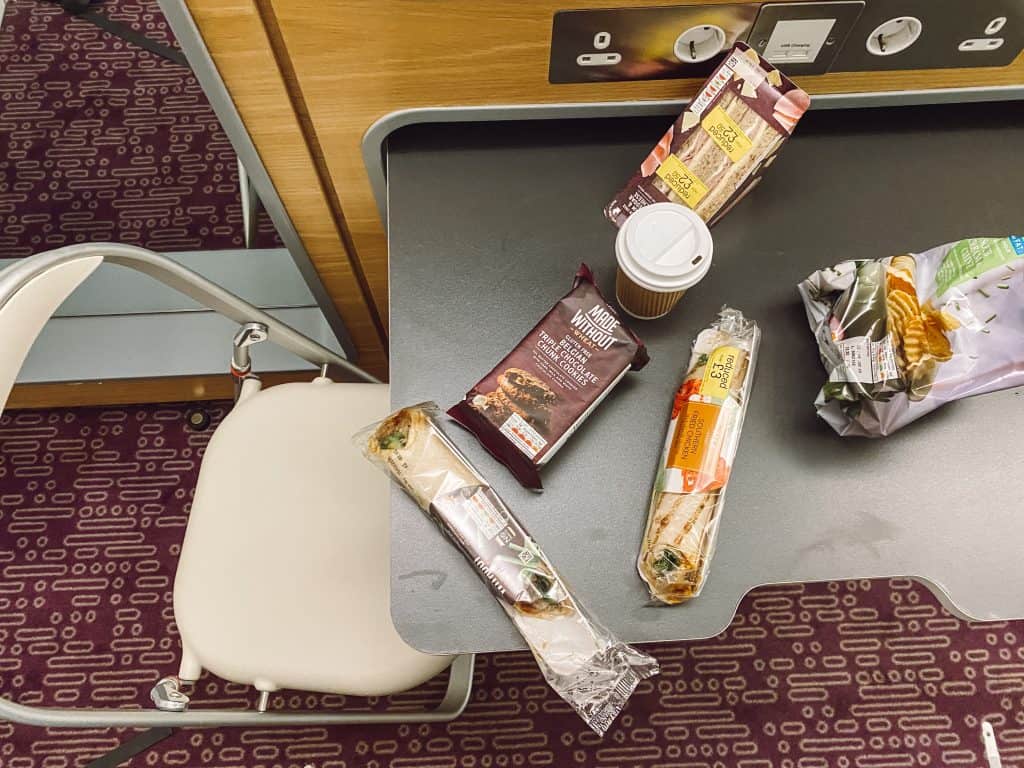 Final thoughts on YotelAir London Heathrow
I really enjoyed our stay at YotelAir and was surprised how incredibly smoothly the whole thing went, despite having to go through customs and transfer between terminals. If you are in the same boat in that regard, I wouldn't worry – it's easy!
The room also exceeded our expectations and the bed with its fluffy duvet and four pillows was absolutely dreamy. I would stay in YotelAir again in a heartbeat if I had a long layover or early flight from Heathrow – and I actually wish I'd tried it out years ago!
The details…
What? YotelAir, an airport hotel at London Heathrow
Where? Terminal 4 of London Heathrow Airport
Room types? We stayed in a double room but there are also standard single cabins and even triple rooms.
Cost? Check prices and availability here.  Rates vary depending on time slots and room types
Other locations? You can also find YotelAir in airports like Singapore, Amsterdam, Paris, Istanbul, and London Gatwick. Plus there are city locations across the world.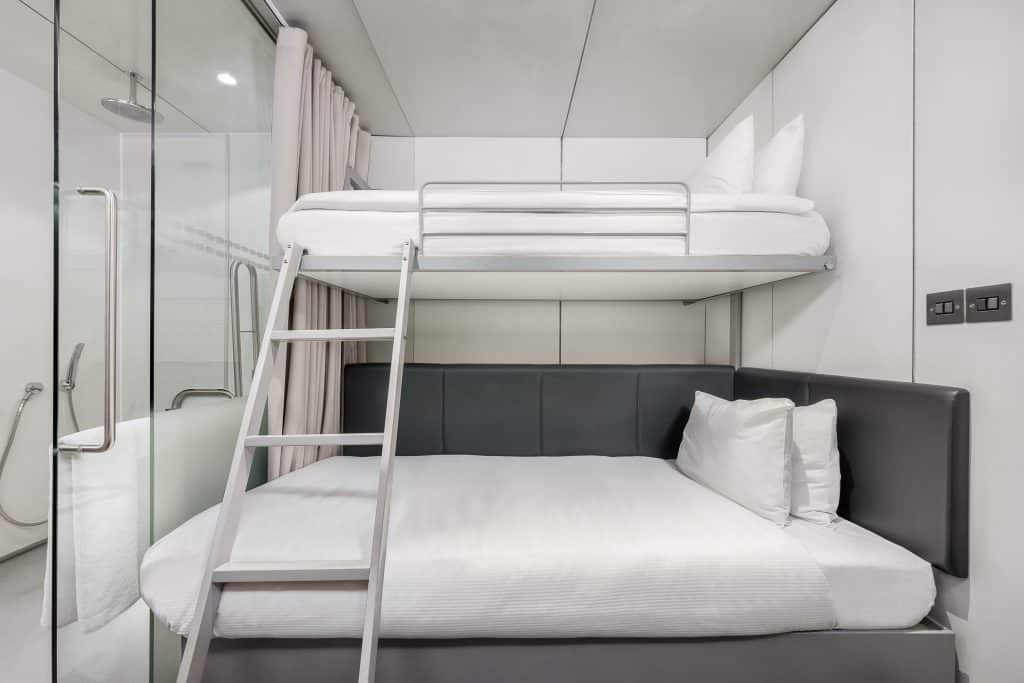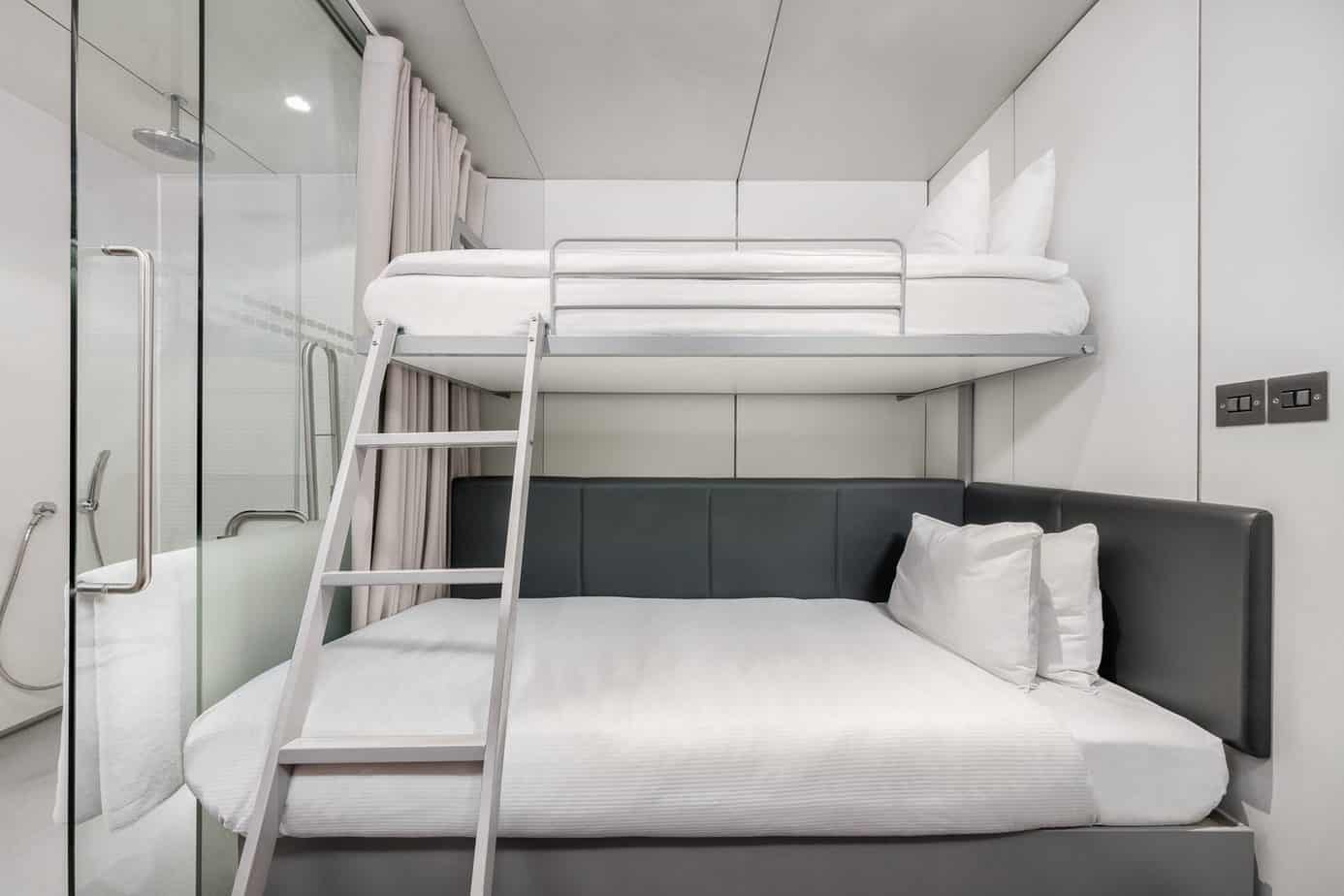 Have you ever stayed in an airport hotel as cool as YotelAir? I'd love to hear about it in the comments below, and be sure to let me know if you have any questions!
Sarah xx
Pin it for later…
*This post contains affiliate links. If you click on a link I may make a small commission at no extra cost to you. Thank you for supporting Endless Distances! This post is completely un-sponsored by Yotel Air and all opinions are my own.