YotelAir London Heathrow Review: The Coolest Heathrow Sleeping Pods
I recently stayed at a very unique, funky hotel… right in the middle of London's Heathrow Airport! Meet YotelAir London Heathrow, an airport hotel that at once elevates the typically boring and soulless airport hotel into something fun and interesting, yet keeps the whole experience to a budget. Yotel has actually been described as "Heathrow sleeping pods," and you know I love a good sleeping pod experience (like during my layover in Iceland), so I had to check it out.
These Heathrow sleeping pods are absolutely designed with the traveler in mind and this is what makes it both so fun and so efficient. From the room design itself, to the hour-by-hour booking process, this is the perfect hotel for travelers using Heathrow.
It's definitely worth staying here if you have a long layover (no matter the time of day), or an early morning flight.
UPDATE 2022: There have been a LOT of developments in the Heathrow sleeping pods scene in the last year. Sadly, YotelAir closed (but they still have a location at Gatwick). However, there are three NEW sleeping pod options at Heathrow. I've updated this post to include all the information below.
Heathrow Sleeping Pods: Available Options in 2022
I'm updating this post in 2022 due to the unfortunate closing of YotelAir Heathrow. I have reached out to their team about any plans they have to reopen their airport hotel in terminal 4, and will keep this post updated as soon as I hear back.
In the meantime… you still need a place to sleep at Heathrow, right?! And if you're like me, the idea of spending a 10+ hour layover on the hard, grimy airport carpet doesn't sound that appealing…
Thankfully, there are currently three possible Heathrow airport sleeping pods. The (sort of) bad news is that they are part of airport lounges – for one of them, you have to meet certain criteria to use it, but for the another one you can buy a (pricy) day pass.
The current Heathrow Airport sleeping pods are:
British Airways Forty Winks Lounge
Virgin Atlantic Clubhouse
No1 Lounge (temporarily closed)
I've included more details on each of those options below. If you're less interested in a "sleeping pod" experience (usually pay hour-by-hour, smaller space) then you may prefer a hotel at Heathrow.
The current Heathrow Airport hotel options are:
British Airways Forty Winks Lounge
The British Airways Forty Winks "nap lounge" recently opened within their First Lounge in terminal 5. This is far and away, in my opinion, the current best sleeping pod option at Heathrow. I mean, they have actual pods! Let me explain.
British Airways partnered with RestWorks (which is an innovative "workplace sleep technology" company) to bring seven EnergyPods to their lounge. These are literally sleeping pods. They have a privacy visor and gravity neutral positioning, and are designed for power naps.
How Can You Book British Airways Sleep Pods at Heathrow?
The EnergyPods are actually self service, so you don't need to book ahead of time. Of course that has its pros and cons. With only seven pods, they could easily be filled up.
Who is Eligible?
Okay, this is where the bad news comes in. Not everybody is eligible to use the British Airways sleeping pods at Heathrow. Bummer, I know.
You have to first be eligible to enter the British Airways First Lounge, by meeting these criteria:
Flying first class on a British Airways or American Airlines flight
Gold Member of the British Airways Executive Club
Emerald Member of any of the OneWorld airline frequent flyer programs
You can check the full and updated eligibility criteria on British Airways' website. Note that eligible people are allowed to take one guest.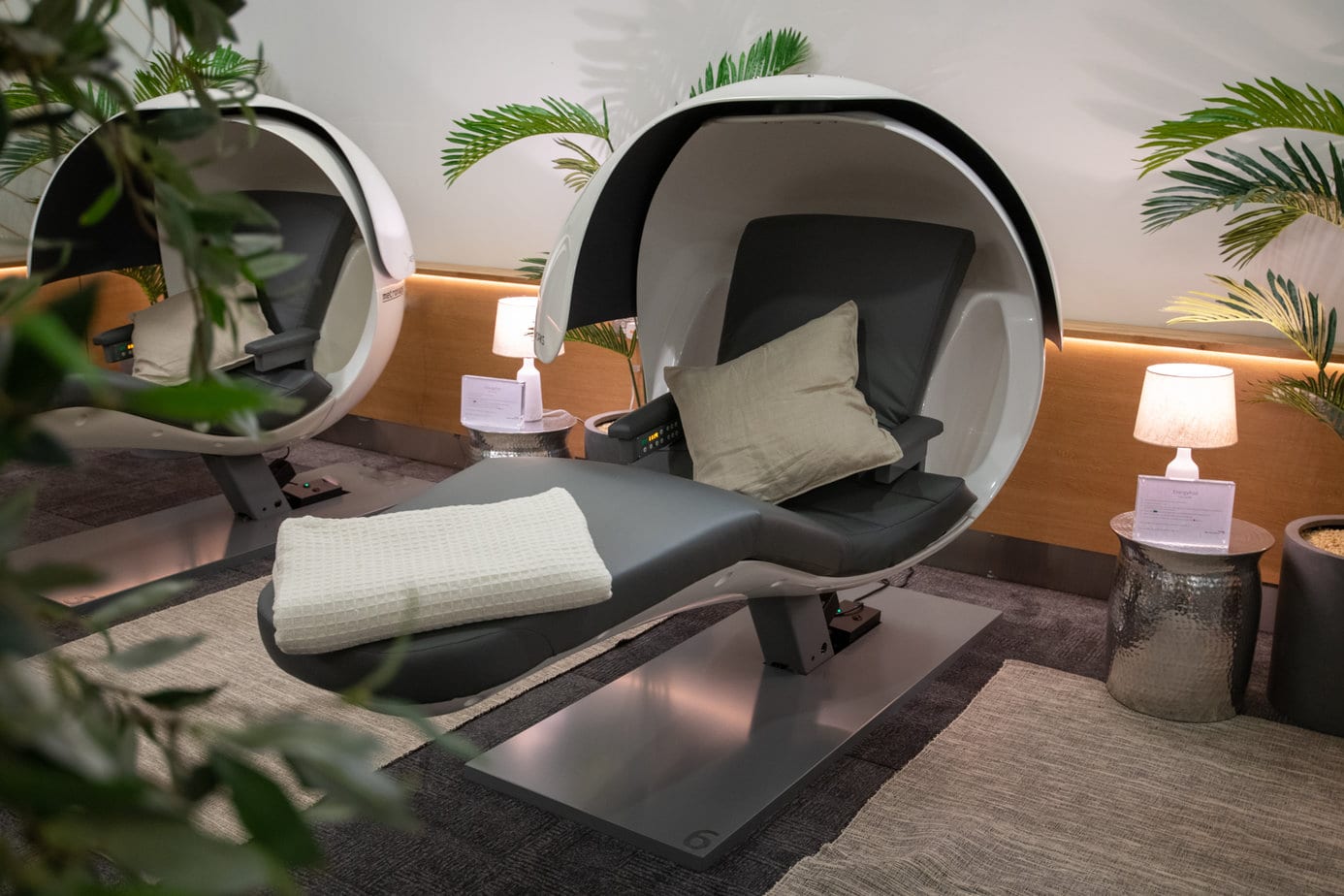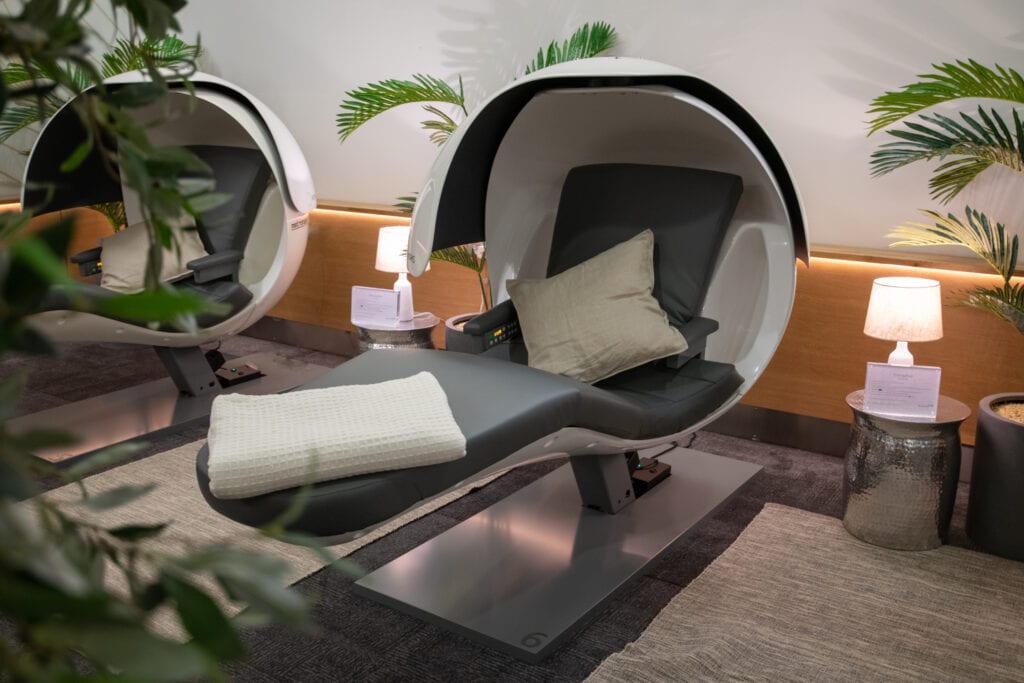 Virgin Atlantic Clubhouse
The Virgin Atlantic Clubhouse lounge is located in Terminal 3, and this is your next best sleeping pod option at Heathrow.
The lounge is pretty expansive (it even includes peloton bikes – not my cup of tea during a jet lagged layover but go figure!). One part of the lounge is called the "snooze area."
This area is quiet, with dim lights and soft recliners. All in all, way less high tech than the British Airways option and obviously way less amenities than the former YotelAir option. It's honestly a stretch to even call them sleeping pods.
Who is Eligible?
Again, because this is an airport lounge, only certain people are eligible to visit.
In order to enter the Virgin Atlantic Clubhouse, you must meet these criteria:
Flying upper class on Virgin Atlantic
Club Gold members
Delta One members
Delta SkyMiles Diamond Medallion or Platinum Medallion card holders
Virgin Australia Velocity Club Gold, Platinum, or The Club card holders
Flying Blue Platinum card holders
You can check the full and updated eligibility criteria on Virgin Atlantic's website.
No1 Lounge (CURRENTLY CLOSED)
No1 Lounge in Terminal 3 is unfortunately another Heathrow sleeping pod that's currently closed. I'm hopeful they will reopen soon, though! I'll keep this post updated.
At No1 Lounge you can book an ACTUAL sleeping pod! Rooms start from £20/hour and you must book a minimum of three hours. Formerly, they were only available from 6am-10pm, so this is not an overnight sleeping option. Good for a daytime layover, though!
Who is Eligible?
When they are operating, anybody who is flying out of Heathrow is eligible to book a stay at No1 Lounge (it doesn't matter what terminal your flight departs from). The capsule hotel/lounge is located airside (after security) so you must already be checked into your flight. Your booking also includes access to No1 Lounge itself.
My Experience: Why I Decided to Stay in Heathrow Sleeping Pods
UPDATE 2022 | Below I share my experience at YotelAir London Heathrow, which in my opinion was the very best (and most affordable) sleeping pod option at Heathrow. As I mentioned, unfortunately they closed recently. I've reached out to their representatives to ask about reopening plans, and will keep this post updated as soon as I hear more! If you are still interested in YotelAir, they do still have an airport hotel at Gatwick Airport. Check rates and availability here.
I decided to stay in a Heathrow sleeping pod thanks to a 13.5 hour layover in London. Our flight from Colombo arrived around 7pm, and my connecting flight to Chicago was the following morning around 8am.
My budget backpacker days aren't completely behind me, but I'm not sure I ever would have willingly chosen a 13.5 hour night on the floor of Heathrow's terminals. So I'm glad another option existed: YotelAir.
For Dan, who flew with me from Colombo, London was his final destination (international long distance relationship and all), but he decided to stay the night at YotelAir with me. We decided to make it into a full 'date night' dinner and experience.
Booking a Stay at YotelAir London Heathrow
We booked our stay at YotelAir online ahead of time and I'd recommend you do the same as it is often fully booked.
YotelAir is unique because you book your stay hour-by-hour. So for example with a 7pm flight arrival time, we booked our slot from 8pm to 9am the following morning (when Dan's bus was leaving). If you have a shorter or longer layover you can book accordingly.
Even if you only want to book it for a few hours between long hauls, you'll have the chance to shower and power nap in the coziest bed.
What Terminal is YotelAir in?
YotelAir is located landside (before security) in Heathrow Terminal 4. There is free transport (by train) between terminals at Heathrow, so it's very fast and easy to get to Terminal 4 even if that's not where your flight arrives or departs.
Notably, because YotelAir is located before security, you will need to go through customs after an international arrival flight in order to stay at YotelAir. You'll need to factor in this time on either end of your layover when deciding whether a stay at YotelAir is worth it.
Also, depending on your country of origin, you may have to arrange a UK transit visa, which is something to consider (being from the US, I did not have to do this).
To give you an example, our flight arrived in Terminal 3. It took about an hour to go through customs, collect Dan's baggage (as London was his final destination – mine was checked through to Chicago), and get the free train to Terminal 4 where YotelAir is located.
In the morning, my flight departed from Terminal 3 so I left our sleeping pod room about two hours before my flight in order to get to the terminal and go back through security. This was a generous amount of time, so I didn't feel rushed at all.
The result, with my 13.5 hour layover, and factoring in that our arriving flight was an hour delayed, was about 9-10 hours at YotelAir in terminal 4. For me it was totally worth it! However if you have a shorter layover of six hours or less, it might be a tighter fit.
Directions to YotelAir Heathrow
There is plenty of signage directing guests to YotelAir throughout Heathrow, and we had no trouble finding it. But if you're worried about finding YotelAir within the maze of Heathrow airport, here's my advice.
1. Take the free inter-terminal train to terminal 4 if you didn't arrive there
2. Once in Terminal 4, follows the signs to floor 0
3. Once on floor 0, walk to the end of the arrivals hall (follow the signs for YotelAir) and take the escalator to YotelAir's reception
4. Walk straight ahead and you will see signs for YotelAir's reception (called 'mission control')
Checking in to Heathrow Airport Sleeping Pods
The hotel has this low-level magenta lighting that feels both funky and relaxing. The reception is staffed 24/7 and we happened to have this eccentric Russian guy to help us.
Upon arrival you're offered a free drink. Dan chose a bottled water and I got hot peppermint tea, which I was desperate for after two weeks in India and Sri Lanka. There is also free coffee and tea offered round the clock, whenever you want it.
We were allocated room 13 and the wonderful Russian guy offered us the option to switch rooms if we were superstitious… I thought this was funny but I guess being in an airport and all it's understandable!
Russian Guy led us along the magenta-lit hallway to our room, passing a variety of other rooms and windows into rooms along the way. He gave us the quick run down and then left us to our own devices.
YotelAir Heathrow Sleeping Pods Room Review
The YotelAir rooms are referred to as Heathrow sleeping pods by many people. But having slept in actual sleeping pods in Iceland, I have to say YotelAir is sooo much more than that.
The rooms may be compact but they are still rooms (although if you book a single room, it is much more pod-like… see some photos below!). The rooms are all super high tech and efficiently spaced, and this is where I say it's perfectly designed for the traveler!
Our double room had a big window out into the hallway, with a privacy shade. There was also a control panel with four settings for the lights, including fully on, bathroom on, black out, and that low-level magenta hue.
The bed is maybe the room's coolest feature. Our bed was flanked by nightstands and was elevated into the wall kind of like a couch, to create more space in the room.
However, with the simple press of a button on the control panel, the bed slowly rolled out to occupy the length of the room. How clever! There was also hollow space beneath the bed designed for storing luggage.
The wall facing the bed was where all the gadgets are stored. We had a big flat screen TV, a full length mirror with a hook and hangers, plus a few shelves and multiple outlets (including UK, European, and USB plugs).
There was also a folding table you could pop out directly from the wall (when the bed is rolled up), and a folding chair hanging into a nook on the wall.
The room also had a private, fully kitted-out bathroom which was surprisingly and perfectly spacious, considering the hotel's compact design. There was a sink, hooks, toilet, and rain shower. Shampoo and body wash are included, plus unlimited free-of-charge towels.
Thanks to this super thoughtful design, Dan and I (plus all our stuff) didn't feel cramped at all at YotelAir. Plus, the bed was incredibly comfortable with the fluffiest duvet – an absolute dream to sink into after a long haul flight.
Eating at YotelAir and Before Security in Heathrow Airport
YotelAir offers complimentary tea and coffee (which I definitely appreciated as I picked up a cappuccino to go on my way to Terminal 3 in the morning). You can also order breakfast, lunch, or dinner from their selection although this is somewhat limited and wasn't ideal for someone like me who has to eat and travel gluten free!
Dan and I actually had dreams to have dinner at Wagamamas after our flight, but overlooked the fact that Wagamamas is located after security, so we had no way to get to it.
In fact, there are very, very few food options in the arrivals halls or before security areas at Heathrow. So our fancy dinner date dreams were dashed, and we dropped into an M&S in Terminal 3's arrival hall instead.
Once we arrived to YotelAir, we popped out the folding table and folding chair, and extended the bed to act as the second chair. Then commenced a (very luxurious) meal of takeaway sandwiches, crisps, and cookies.
I do love a Wagas but this was pretty fun and we did get to test out YotelAir's dining capabilities!
Final Thoughts on YotelAir Heathrow Sleeping Pods
I really enjoyed our stay at YotelAir and was surprised how incredibly smoothly the whole thing went, despite having to go through customs and transfer between terminals. If you are in the same boat in that regard, I wouldn't worry – it's easy!
The room also exceeded our expectations and the bed with its fluffy duvet and four pillows was absolutely dreamy. I would stay in YotelAir again in a heartbeat if I had a long layover or early flight from Heathrow – and I actually wish I'd tried it out years ago!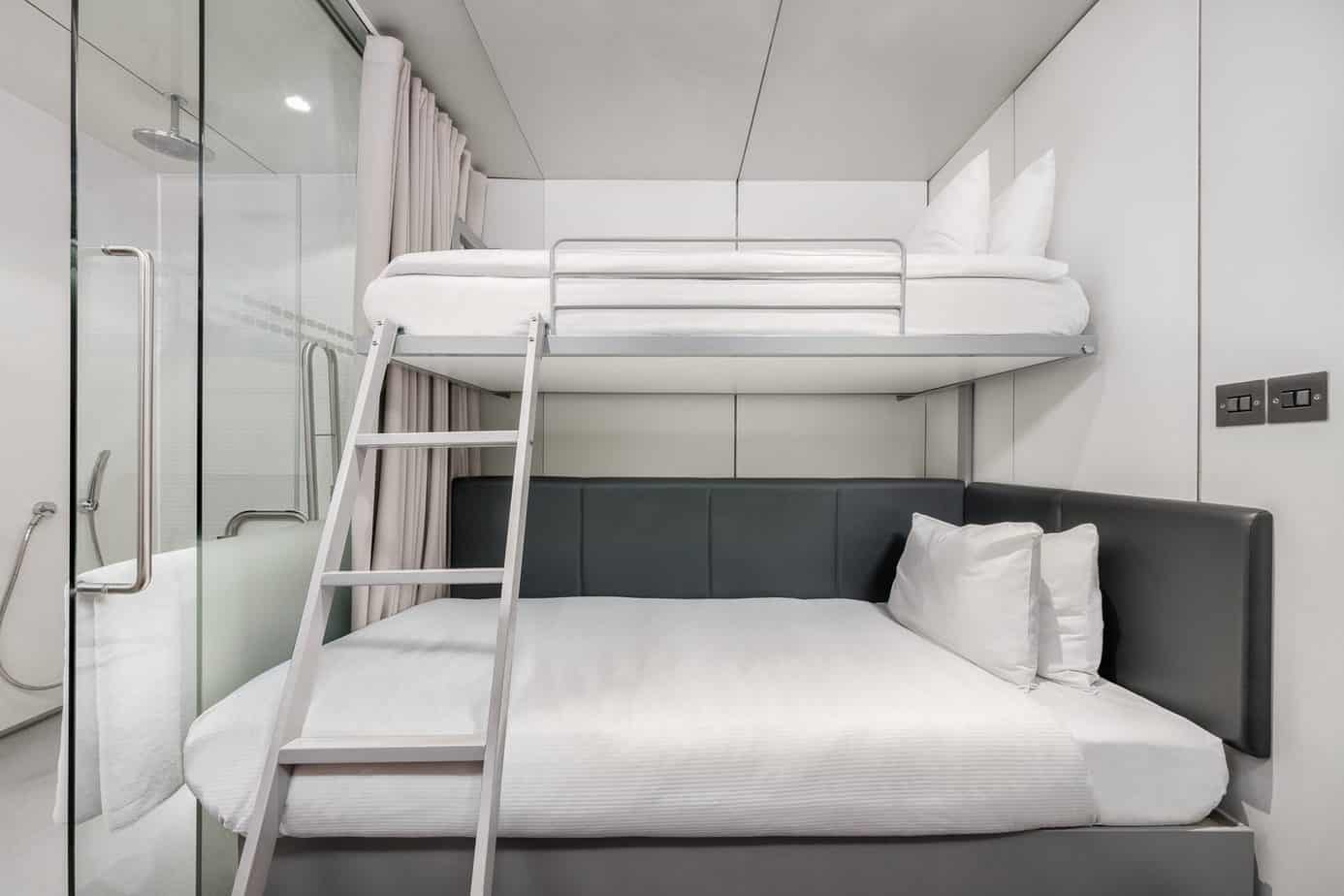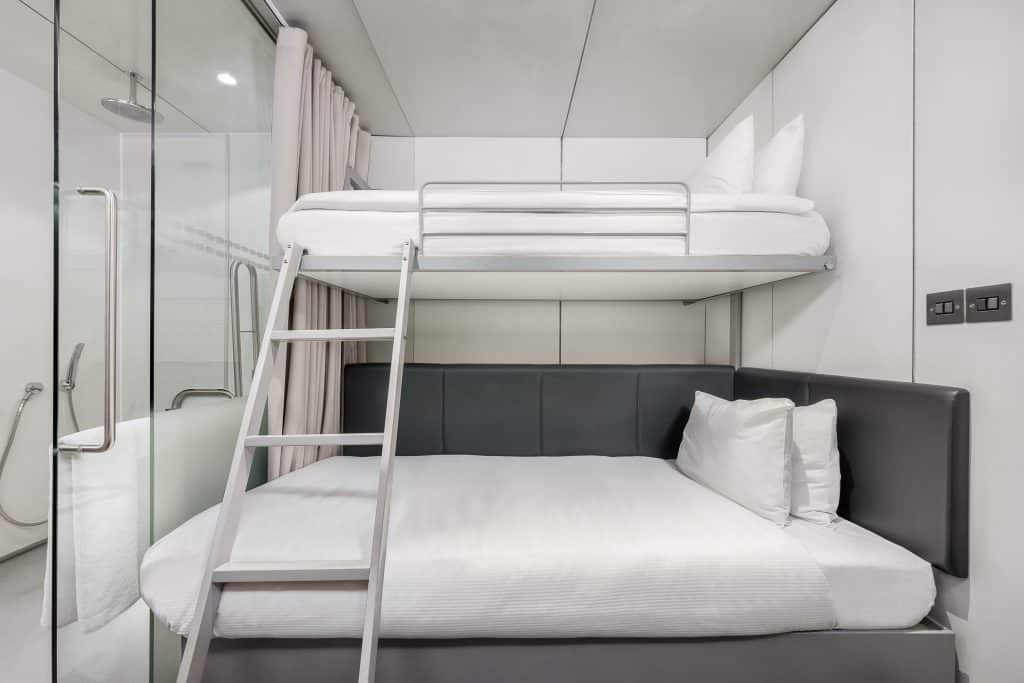 Final Notes on London Heathrow Sleeping Pods (2022 Update)
As you can see, since I stayed at YotelAir in early 2020 there have been quite a few developments (for… obvious reasons). I'm disappointed they closed, but hopeful they'll reopen in the future which is why I'm leaving this review up until I hear from their team.
In the meantime, check out the three available sleeping pod options I mentioned at the beginning of the post. I personally think that the British Airlines Forty Winks Lounge sounds like the very best option available – although it's quite a bit pricier than YotelAir was.
I'll keep this post updated as soon as I hear more. If you've stayed in a sleeping pod at Heathrow, comment below and let me know your experience!
FAQ
Does Heathrow have sleep pods?
Yes, Heathrow has sleep pods. Currently, you can sleep in an EnergyPod in the British Airways Forty Winks lounge. Virgin Atlantic Clubhouse lounge also offers a "snooze area" but not private pods. The No1 Lounge and YotelAir sleeping pods are currently closed.
Do you have to pay for Heathrow pods?
You do not have to pay for Heathrow pods if you want to sleep at British Airways' or Virgin Atlantic's lounge. However, you must first be eligible to enter the lounge. For other hotels and sleeping pods at Heathrow you have to pay a booking fee.
Is there anywhere to sleep at Heathrow Airport?
Yes, you can sleep at Heathrow Airport in sleeping pods, hotels, and lounges. You are also permitted to sleep within the terminal itself, but staff may gather overnight sleepers into one area for monitoring.
What can I do for an overnight layover at Heathrow?
If you have an overnight layover at Heathrow, consider booking a stay at Aerotel London Heathrow (Terminal 3), Hilton London Heathrow (Terminal 5), or Sofitel London Heathrow (Terminal 5). You can also sleep in the EnergyPods in British Airways' Forty Winks Lounge, if you are eligible to enter. You are also permitted to sleep on the airport floor.