Gluten Free Portugal: A Guide to Lagos and the Algarve
Dan and I went to Lagos in the Portuguese Algarve this summer, and had an wonderful week of chilling in the sun, drinking cocktails, coastal hiking, and surfing! Of course I was also on a mission to find the best gluten free Lagos Portugal food to share with all of you. I wasn't sure how gluten free Portugal as a country was, knowing that some of their most popular delicacies are gluten-filled pastries (looking at you, pastel de nata). I was curious to find out, and luckily, was not disappointed!
In this gluten free Portugal guide I am sharing general tips for eating gluten free in Portugal, and specifically the beautiful southern Algarve region.
As we were based in Lagos, I'm also focusing on the best gluten free Lagos restaurants, grocery stores, and the hotel we stayed at (which was perfect for being gluten free), and even a gluten free McDonald's! As always, just scroll to the bottom of the post for your downloadable map to gluten free Lagos Portugal.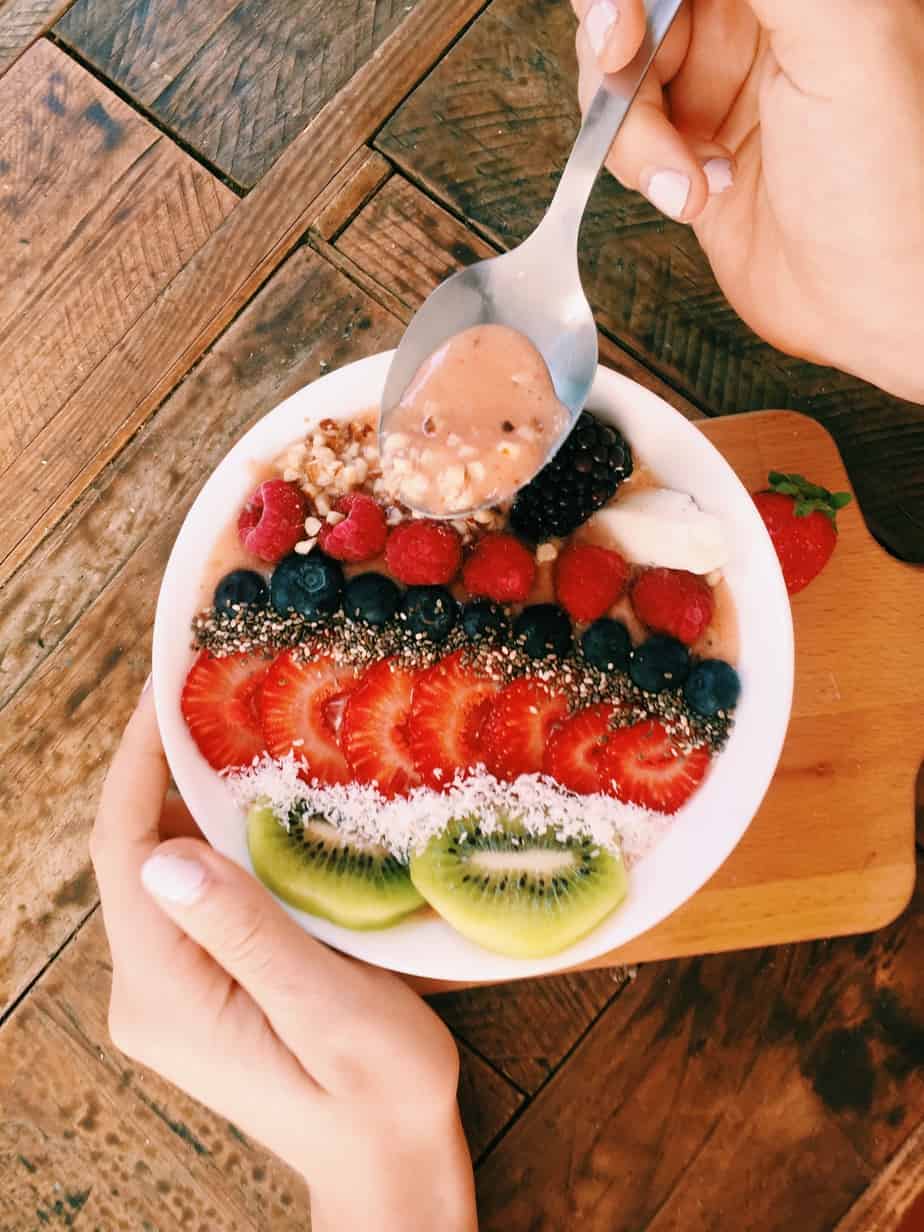 A gluten free Portugal translation card
As you probably know, people in Portugal speak… Portuguese! Many people do speak English, especially in the major cities. However, even there you will encounter a language barrier. This is even more pronounced in smaller towns, like Lagos, in the Algarve or other regions. The language barrier will definitely cause issues when you order gluten free meals, especially if you have cross contact questions.
For communicating in Portuguese while in Portugal I highly recommend this translation card. It is made by Jodi of Legal Nomads and is the exact one that I used in Portugal. It was my lifeline and pretty much the sole reason I did not get sick! Buy it online and download it straight to your phone.
I love Jodi's translation cards because she is a celiac herself. She partners with native language speakers to create accurate, in-depth cards that cover cross contact (which all other translation cards I've seen do not mention). Click the image below to read more about the translation card.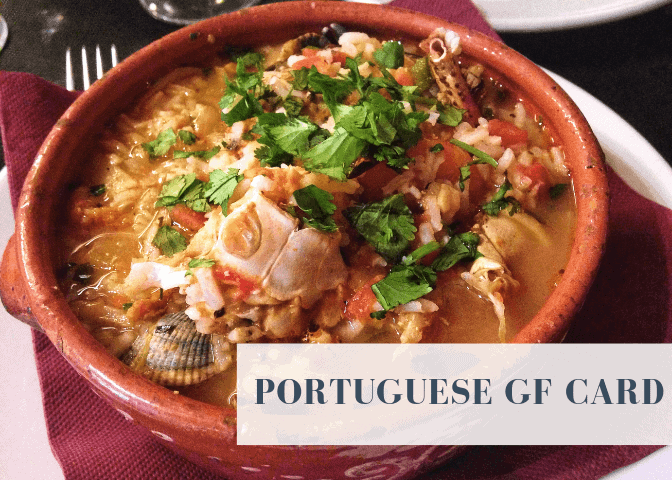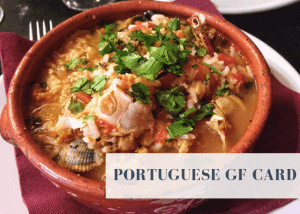 Gluten free in Portuguese
While I 100% recommend purchasing Jodi's gluten free Portugal translation card (I couldn't have gotten by without it), it is also useful to know some common phrases.
Celiac in Portuguese = celíaco
Gluten free in Portuguese = livre de glúten or sem glúten
You may also see "isento de glúten" on food packaging, which indicates that item contains no gluten.
Additionally, you will see "sem glúten" outside restaurants, indicating they have gluten free options.
Celiac disease is very well recognized in Portugal. There is a national celiac disease foundation, called the Associação Portuguesa Celíacos (APC). They accredit restaurants – primarily in Lisbon – that are trained in celiac disease and offer safe gluten free food.
You may see either of the two logos below, which indicate an APC accredited restaurant:
Gluten Free Lagos Portugal: Where to Stay
Now onto our trip to the Algarve, where we were based in Lagos! Lagos is a gorgeous seaside town frequented by tourists, but not too touristy. It's a great central location for exploring all of the Algarve.
Regular readers know that I believe where you stay is very important for celiac and gluten intolerant travelers! Staying in a gluten free friendly environment will put you on the right path for having a great trip.
In Lagos, we stayed at Bura Surfhouse and I have a full review of our experience here. We stayed in the studio apartment which came with a private kitchen area and refrigerator.
Bura is only a few minutes walk from the main grocery store that has a huge variety of gluten free options (including takeaway salads, gluten free pasta, bread, cakes, cookies, and more).
Bura also runs 'family' dinners 3-5 times per week. I chatted with the chef beforehand and he was able to make gluten free options for me in a safe and cross contact free way! In fact, the best meal we had was the Piri Piri Chicken BBQ and this entire meal was 100% gluten free for everyone!
Related: Bura Surfhouse: Why You Should Come to Lagos Portugal For This Hostel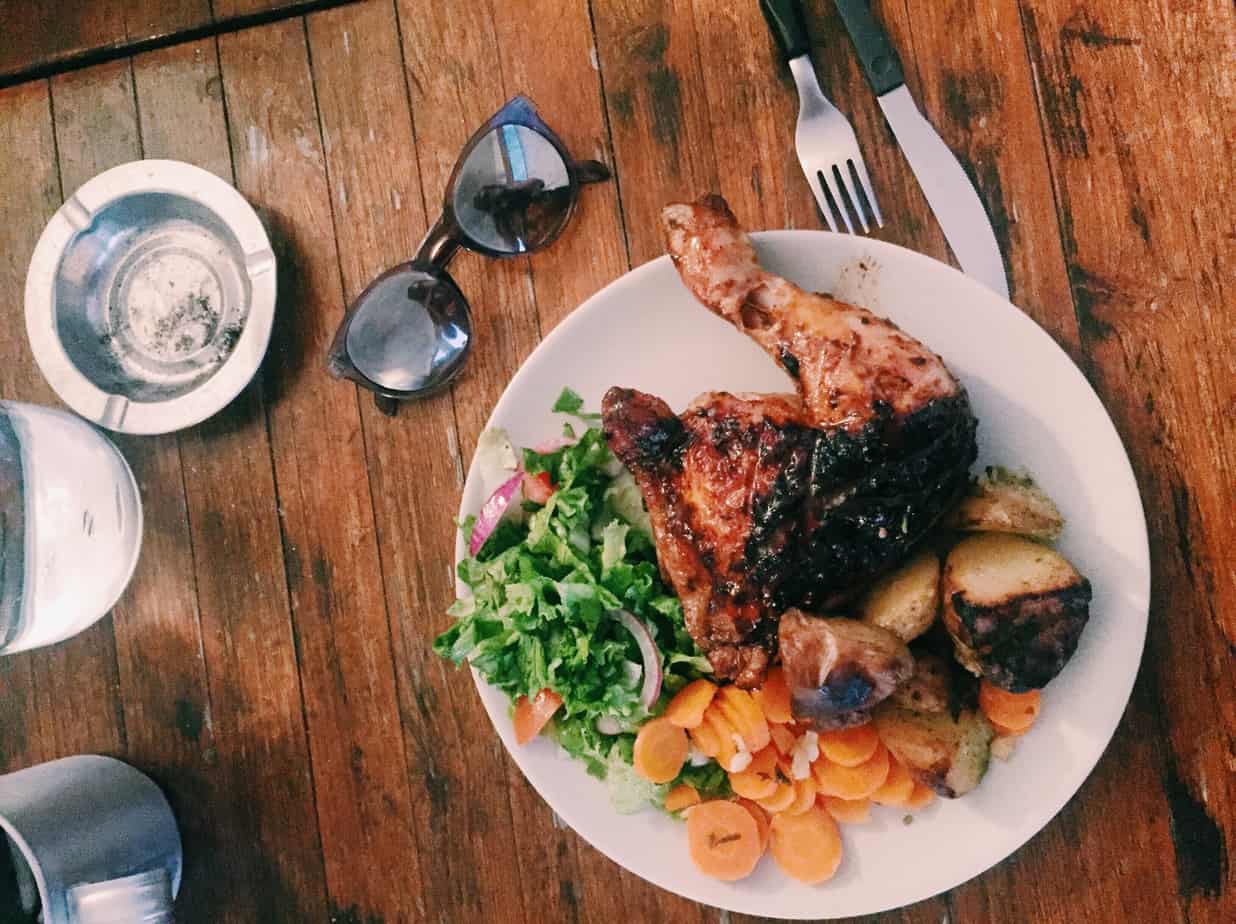 Gluten Free Lagos Portugal: Grocery Stores
Intermarché Super
This is the best grocery store in Lagos in terms of gluten free finds. It is about a 10 minute walk from the old town, however it is just around the corner from Bura Surfhouse making it very convenient for people staying there. Here you will find a huge gluten free section with gluten free bread, pasta, cakes, pastries, cookies, and more. Be careful as some of the gluten free items are intermixed with organic/vegan items which are not necessarily gluten free, so double check the label before you buy.
Address: Intermarche Super, Lugar da Pedra Alçada – Ameijeira Verde, 8600-546 Lagos, Portugal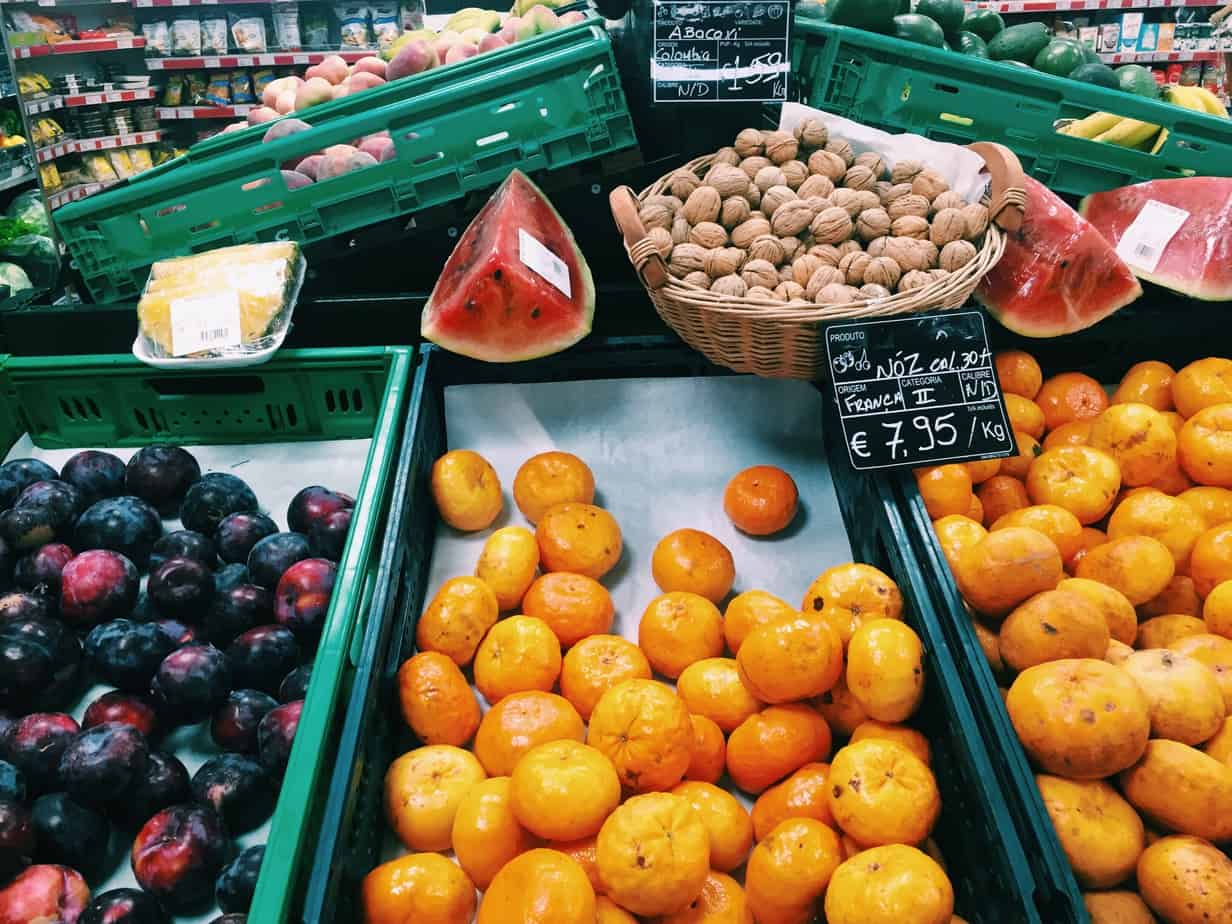 Gluten Free Lagos Portugal: Portuguese Restaurants
Unfortunately there are no dedicated gluten free restaurants in Lagos, Portugal. In fact, as far as I can tell, there is only one 100% gluten free establishment in the entire Algarve region (scroll down to my section on gluten free Algarve restaurants for that).
However in Lagos there are plenty of nondedicated restaurants that can prepare your food safely. In the following sections I'll discuss these restaurants in Lagos, starting with those that serve traditional Portuguese style food!
Casa de Pasto o Ze
Casa de Pasto o Ze came recommended from another Celiac (thanks Zoe!). It is a family owned joint on the water front, serving traditional Portuguese food. In particular, they have many seafood dishes and based on reviews the swordfish is their most popular.
I decided to spring for the swordfish and it was worth it… flaky and rich and perfect! However, note that the staff here are not fluent in English, but the owner is so sweet and so overly concerned with the experience of her diners. She was kind of hovering around us as we ate the way my Grandma does!
The gluten free translation card from Legal Nomads was 100% necessary here, and enabled me to eat some of the best food of our trip! If you only stop at one gluten free Lagos Portugal restaurant, make it Casa de Pasto o Ze.
Address: Casa de Pasto o Ze, Portugal, R. da Porta de Portugal 91, 8600-315 Lagos, Portugal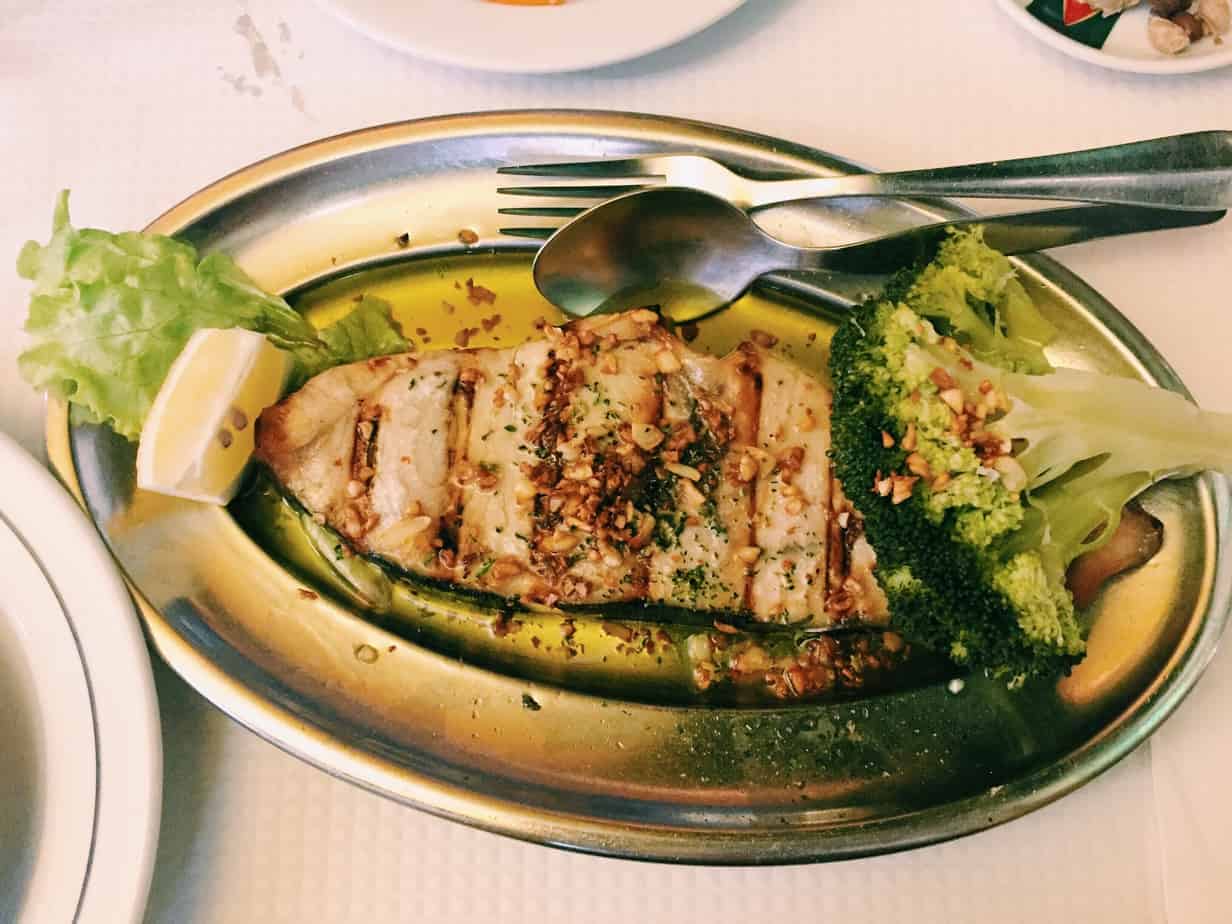 Don Sebastiao
We did not go to Don Sebastiao on this trip but it is high on the list for next time and was recommended to me by other travelers with celiac disease. Don Sebastiao is on the Michelin list for this area and is known as the best restaurant in Lagos.
Here you can find naturally gluten free items such as seafood or meat-based Portuguese dishes. This is another place that the gluten free translation card would come in handy! Note that it is on a higher price scale than other options.
Address: Don Sebastiao, R. 25 de Abril 20-22, 8600-763 Lagos, Portugal
Gluten Free Lagos Portugal: Cafes
Lagos has a lovely little cafe scene… you know the kind of very instagrammable, cutesy places with a healthy focus. These were the three best for gluten free options (we ate at all of them!).
Goji Lounge Cafe
Goji Lounge Cafe is the absolute cutest cafe in Lagos and it has lots of gluten free options to boot. Gluten free items are listed on the menu and you have a huge variety of choices.
Dan and I shared a caprese salad which was so fresh and nutritious, and we each had a smoothie. I would definitely return to Goji Lounge Cafe.
Address: Goji Lounge Cafe, R. Marreiros Netto 61, 8600-315 Lagos, Portugal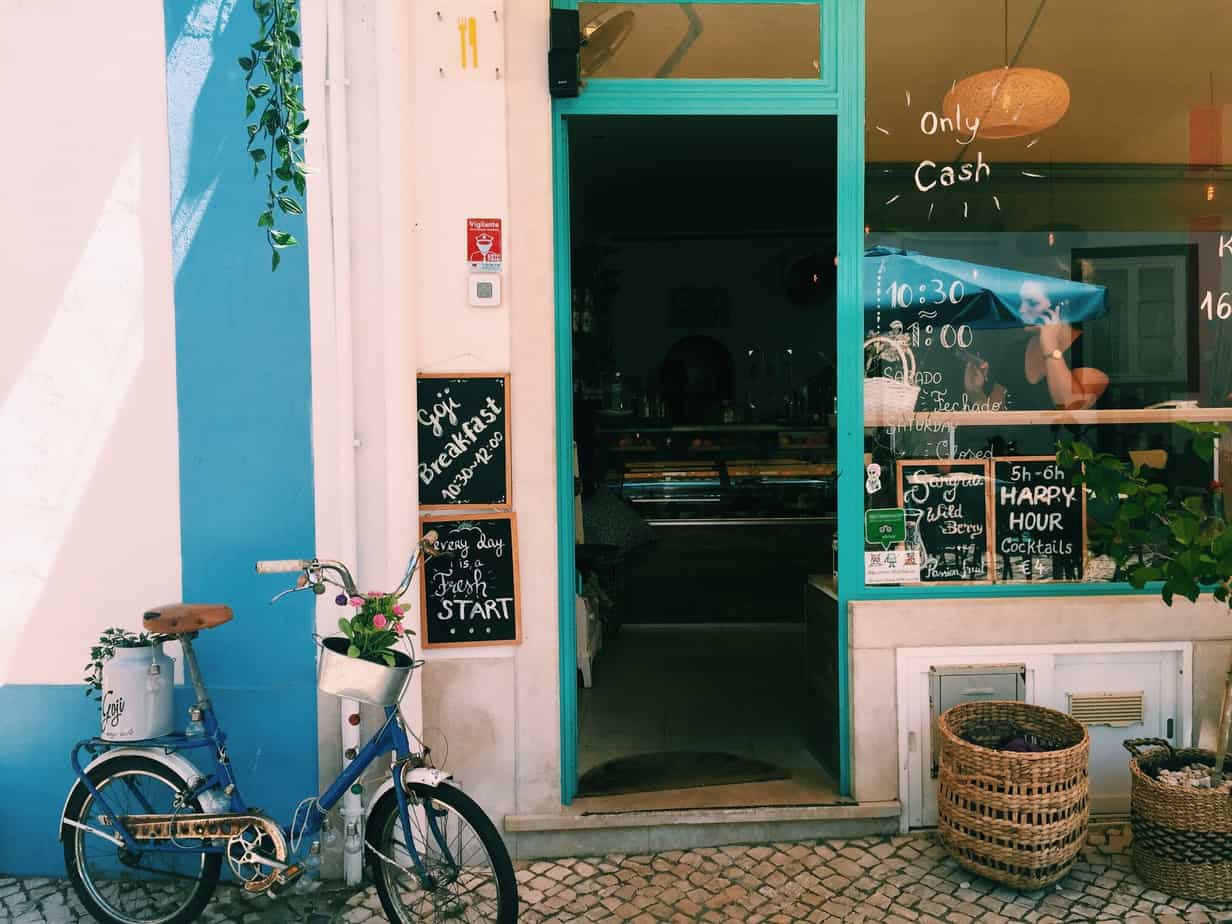 Goldig Cafe & Takeaway
Goldig Cafe & Takeaway is an adorable cafe also located in Lagos old town, featuring health-focused foods and many gluten free items. You can even buy a loaf of home made gluten free bread here! Just be sure to check ahead of time as their hours tend to change.
Address: Goldig Cafe & Takeaway, R. Infante de Sagres 64, 8600-315 Lagos, Portugal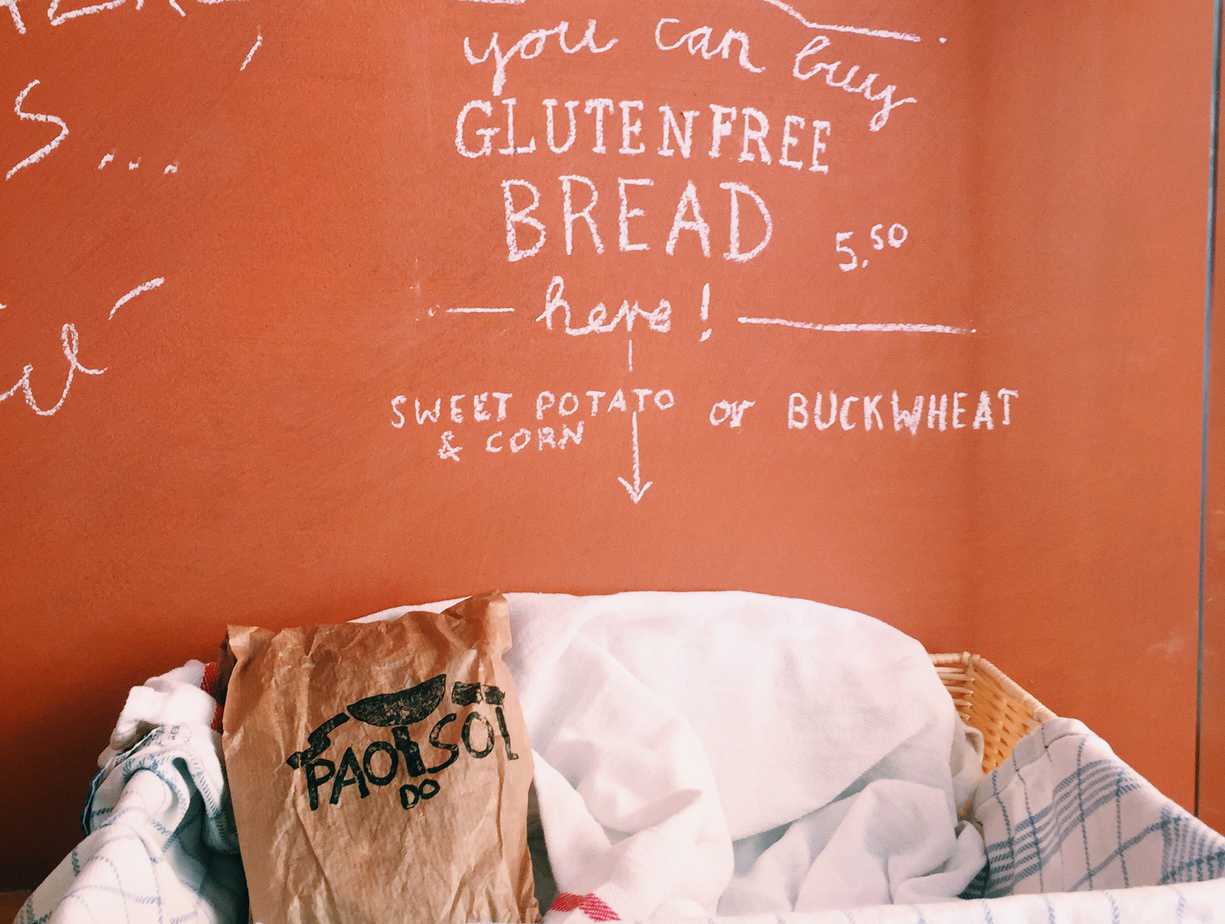 Sweet & Temptation – NO LONGER HAS GLUTEN FREE OPTIONS (2022)
Sweet & Temptation is another cafe that had gluten free crepes prepared on a separate surface back when I visited, and which I previously recommended visiting, but please note that they DO NOT have gluten free crepes any more. The owner contacted me in October 2022 to inform me of this. Please do not go to this location expecting gluten free crepes; it doesn't sound like there is any celiac safe option here anymore.
Side note: I would like to remind you that while I provide gluten free travel advice based on my experience, and I do my best to keep these guides updated, it is always your responsibility to double check gluten free options. I have to do the same when I travel, too!
Please do not write a bad review of a restaurant online just because they discontinued their gluten free options. While this is certainly disappointing, a bad review can greatly affect the restaurant's livelihood. I do think it is acceptable to write a review on Find Me Gluten Free, where the audience is purely other gluten free folks, and even mention the lack of gluten free options on TripAdvisor or Google Maps, but it certainly doesn't require a 1 star review. Ultimately it is your responsibility to double check gluten free options before you visit. A quick Instagram DM or email often does the trick, in my experience.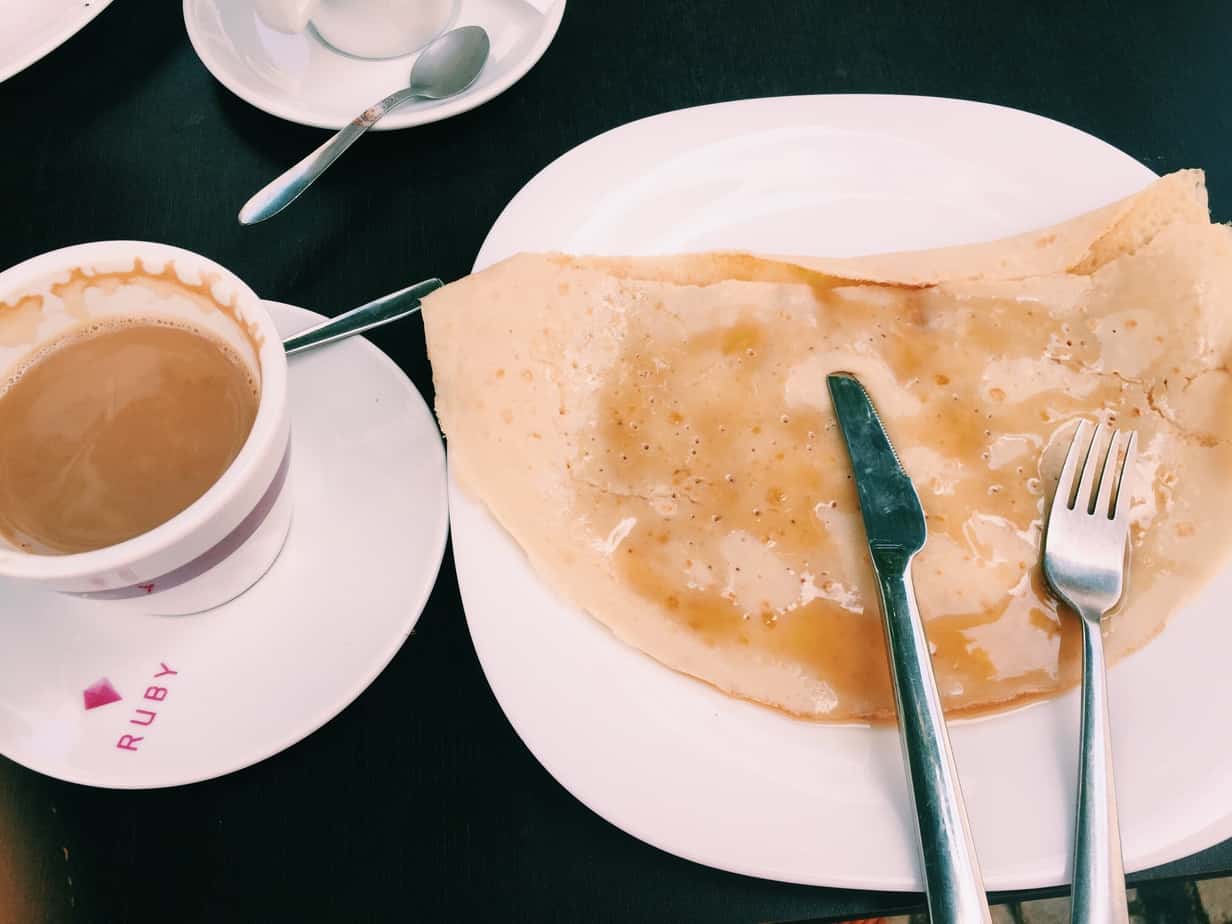 Gluten Free Lagos Portugal: Other Restaurants
There are many other restaurants for the gluten free Lagos Portugal traveler… Below are some of our favorites! We went to all of these except for Ol Bastards, for reasons which I describe below.
McDonald's
Obviously first I have to mention the Lagos McDonald's!!! As some of you might be aware, various countries in Europe offer gluten free McDonald's. There are strict cross-contamination rules that come along with this. The buns are sourced from Schar and the burgers come wrapped separately. You can find gluten free options at any McDonald's in Portugal!
When I discovered that there are gluten free McDonald's in Lagos, of course we had to go. The McDonald's in Lagos is a bit of a trek (20-30 minute walk) out of the city centre. But a gluten free traveler has gotta do what she's gotta do, right? I wasn't going to come all the way to Portugal and let a 20 minute walk prevent me from eating McDonald's (much to Dan's chagrin).
If you look on the Lagos McDonald's TripAdvisor page, the number of horrible reviews is actually laughable. The poor place has a 1.5 star rating, with reviews like 'horosso' and 'worse McD of all time'… So we were a bit nervous but to be honest the place was completely fine, clean, and reasonably timed service. I'm not sure what all those reviews are about!
McDonald's // Rua dos Lagos, Lagos 8600-382, Portugal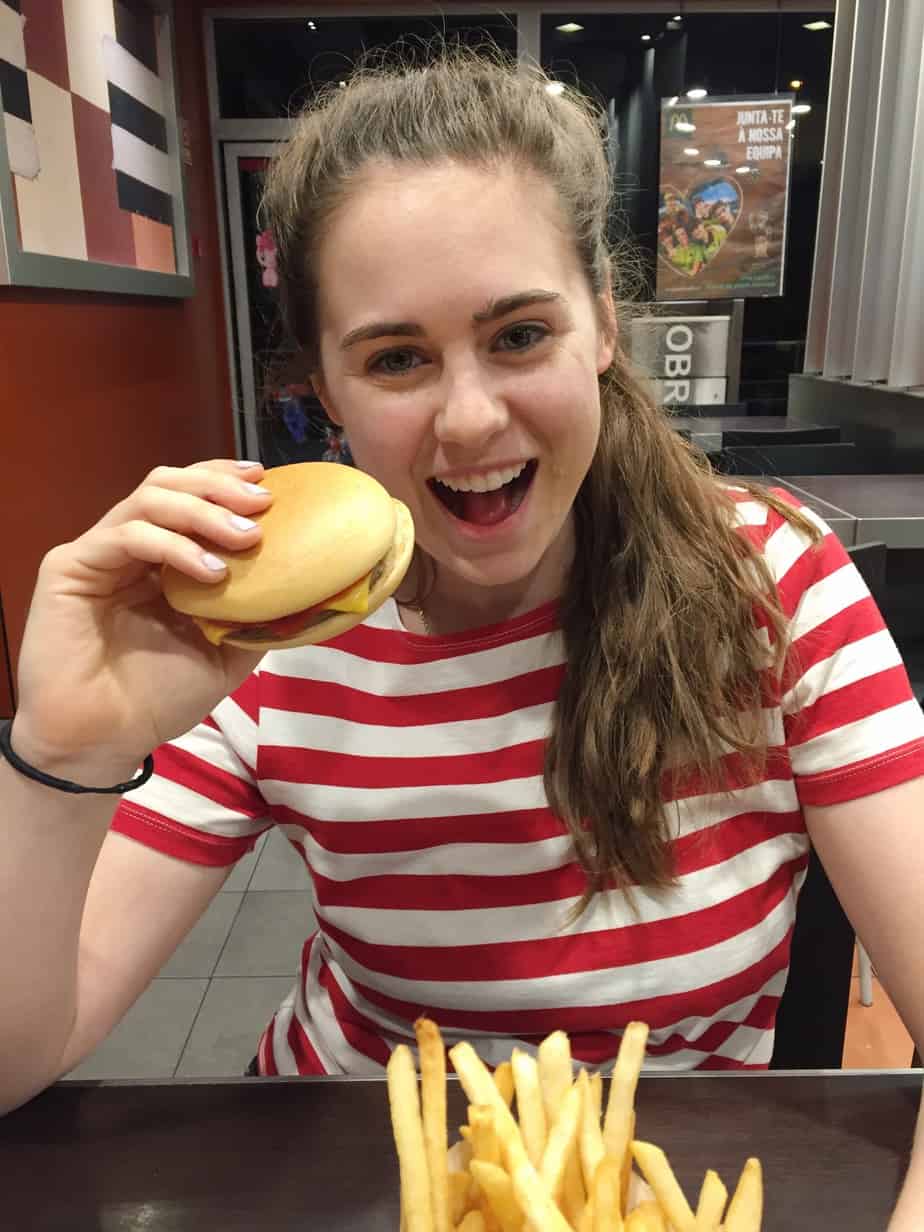 Enjoying my gluten free McDonald's!!!
Pomo
Pomo is an Italian style restaurant in Lagos old town. They have a couple tables to eat in but are mainly a takeaway restaurant. You can mix and match various sauces with noodles and the good news is… they have gluten free pasta! Additionally, the staff has a good understanding of celiac and cross contact practices.
Pomo // R. Infante de Sagres 56, 8600-315 Lagos, Portugal
Kisa Real Italian Food
Kisa is another Italian restaurant in Lagos. Kisa has a fun surfer vibe and a very trendy interior. They offer lots of gluten free options such as pasta and pizza!
Kisa Real Italian Food // R. Silva Lopes 24, 8600-623 Lagos, Portugal
Nah Nah Bah Burgers
Nah Nah Bah once won the award for #1 burger place in the world! And they are certainly still reaping the popularity from that. Obviously their focus is on burgers, and you will find a huge array of burgers (all with very… inappropriate innuendos. See below). They do not offer gluten free buns, but the burger patties themselves are gluten free so I was able to get a 'Rude Boy' burger without the bun. To be honest the burger and toppings were so filling I didn't mind not having a bun!
Nah Nah Bah // Tv. do Forno 11, 8600-632 Lagos, Portugal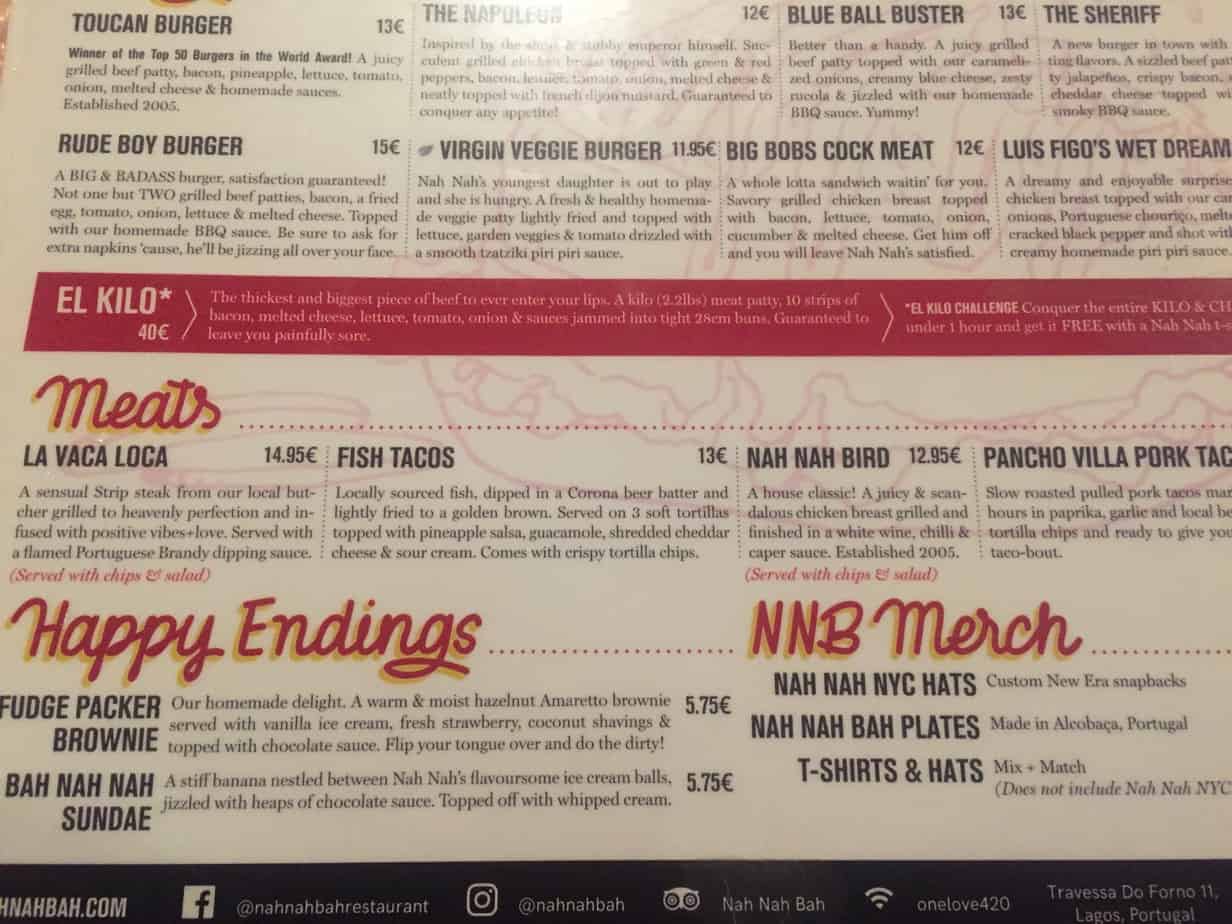 Beats & Burritos
At Beats & Burritos you will find Mexican style burritos in a fun environment. They do not offer gluten free or corn-based burrito wraps, but you can order a 'burrito bowl' without the wrap! It is a great option for gluten free Lagos Portugal travelers who want something simple.
Beats & Burritos // Tv. do Cotovelo 4, 8600-558 Lagos, Portugal
Ol' Bastard's (definite cross contact, not celiac safe)
Ol' Bastard's is a trendy British-style restaurant in Lagos Portugal. They claim to offer gluten free fish and chips, and you will find lots of fabulous reviews online about how good this is. However, be warned that the corn battered fish and chips are fried in the same oil as gluten containing foods. Therefore, they are not suitable for celiacs but may be appropriate for some people who are gluten intolerant. Ultimately it is up to each person to make decisions regarding their own health, and Ol' Bastard's is very open about their fish and chips not being suitable for celiacs. I did not eat at Ol' Bastard's because of this but I just wanted to put the information out there.
Ol' Bastard's // R. Cândido dos Reis 115, 8600-315 Lagos, Portugal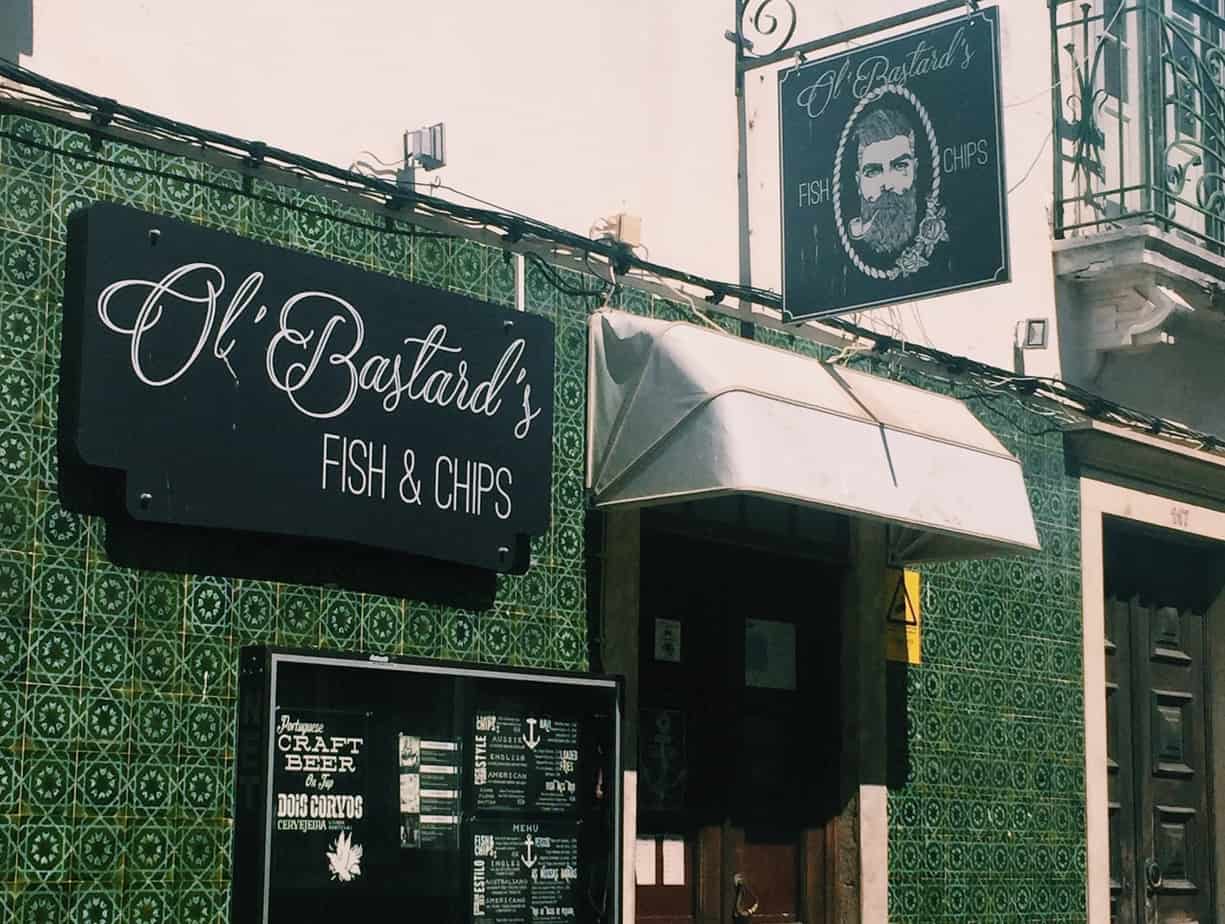 Gluten Free Lagos Portugal Map
As always, here is Lagos Portugal gluten free map to restaurants, hotel, and destinations. You can download this map for your own use if you have the Google Maps app, and use it without data/wifi wherever you are!
Gluten free Algarve restaurants
Lagos is situated in the Algarve. The Algarve is a gorgeous southern coastal region in Portugal. We loved having Lagos as our home base, as it didn't have that "resort town" feel, and of course there were tons of gluten free options. However there are plenty of other towns you might base yourself in: Faro, Albufeira, Tavira, Luz, and more.
Below I'll list some gluten free Algarve restaurants that may be convenient for you. The APC has accredited a few restaurants within the Algarve – you can see the whole list here. Please note that I have not eaten at these myself, this is just from personal research, and you should always use your translation card and talk to your server.
Albufeira
Senhor Frog's – A separate gluten free menu including gluten free pizza! According to reviews, staff have extensive knowledge of celiac disease and pizzas are prepared in a cross contact free way.
Restaurant Bailote – Staff have extensive knowledge, and there is a gluten free menu that includes pizza, pasta, and even garlic bread!
Restaurante Casa Nova – The owner's daughter has celiac disease so they are knowledgeable and take precautions. There is a dedicated gluten free fryer and the menu includes gluten free pasta and pizza.
Clay Oven – An Indian restaurant where most dishes are gluten free and staff is knowledgeable.
Faro
True Food* – The only 100% gluten free restaurant in the Algarve!!! True Food is dedicated gluten free and lactose free, and will be heaven for you. Worth a trip even if you are not staying in Faro. There is a huge variety of food on offer, including gluten free pizza, pastries, cakes, and more.
Amore Mio Faro – An Italian restaurant that serves gluten free pasta and pizza.
Tavira
Avenida – Only naturally gluten free foods here (no gluten free bread products), but the staff is knowledgeable.
Luz
Paraiso da Luz – A family run restaurant serving traditional Portuguese food. The server is dedicated gluten free.
Boaty's Tapas Cafe – All menu items are gluten free except for three. They also have creme brulee for dessert.
Tomik – Gluten free options include gluten free pancakes!
Eating gluten free in Portugal in other regions?
Not just sticking to the Algarve? I don't blame you! Portugal is a stunning country, with colorful cities filled with mosaics, bright colored tram cars, remote castles, and… plenty of gluten free food! We loved relaxing in the Algarve, but many people choose to city-hop their way around the country.
Wherever you choose to go in Portugal, your gluten free Portuguese translation card should serve you well. The same dialect is spoken throughout the country.
Looking for specific gluten free restaurants in Portugal? The APC is a great resource. Use this page to search accredited restaurants or shops within any city in Portugal.
The same naturally gluten free traditional foods from the Algarve region (such as grilled meat, piri piri chicken, seafood), can be found in other areas of the country, too.
In a pinch you'll also find McDonald's throughout the country, which, as I mentioned, serve celiac safe gluten free hamburgers!
If you're wanting a gluten free pastel de nata, the famous Portuguese custard tart… make your way to Lisbon. Zarzuela is 100% gluten free and specializes in this pastry!
I hope this post helps anyone traveling to the Algarve, Lagos, or other areas of Portugal on a gluten free diet. There are lots of options for gluten free travelers if you look around. I highly recommend purchasing that gluten free translation card – for the price of a cocktail – to open up even more safe options for yourself!
Browse all my gluten free travel guides here. Including:
Cinque Terre Italy gluten free guide
Bucket list of gluten free afternoon teas in London
Happy eating and happy travels!

Pin it for later…