Gluten Free Marrakech: A Guide on How to Eat Gluten Free in Morocco
I'm wrapping up my posts on our time in Morocco with my top tips for gluten free Morocco travel. I'll also focus on gluten free Marrakech restaurants, hotels, and tips because that is where we spent the majority of our time!
I'll be honest, finding gluten free, celiac safe food in Morocco was my greatest anxiety before our trip. It's understandable, right? Besides the language barrier, the general awareness of gluten and celiac disease is pretty low in Morocco, at least compared to what I was used to living in the UK.
So how did I fare eating gluten free in Morocco? I found that gluten free travel in Morocco is not only doable, but enjoyable, and largely stress-free. Through our time exploring the gluten free Marrakech scene, and even on an overnight trip in the Sahara, I never got sick once!
Think of this as your complete guide to gluten free Morocco travel, with specific business recommendations in Marrakech.
In this article, you'll find:
A Moroccan translation card
Common phrases to know
Naturally gluten free Moroccan foods you CAN eat
Moroccan foods you CAN'T eat
13+ gluten free Marrakech restaurants
Where to stay in Marrakech if you're gluten free
Gluten free Essaouira
Gluten free Casablanca
And more. Grab a coffee (or Moroccan mint tea!), settle in, and let's go! You're about to have an incredible trip.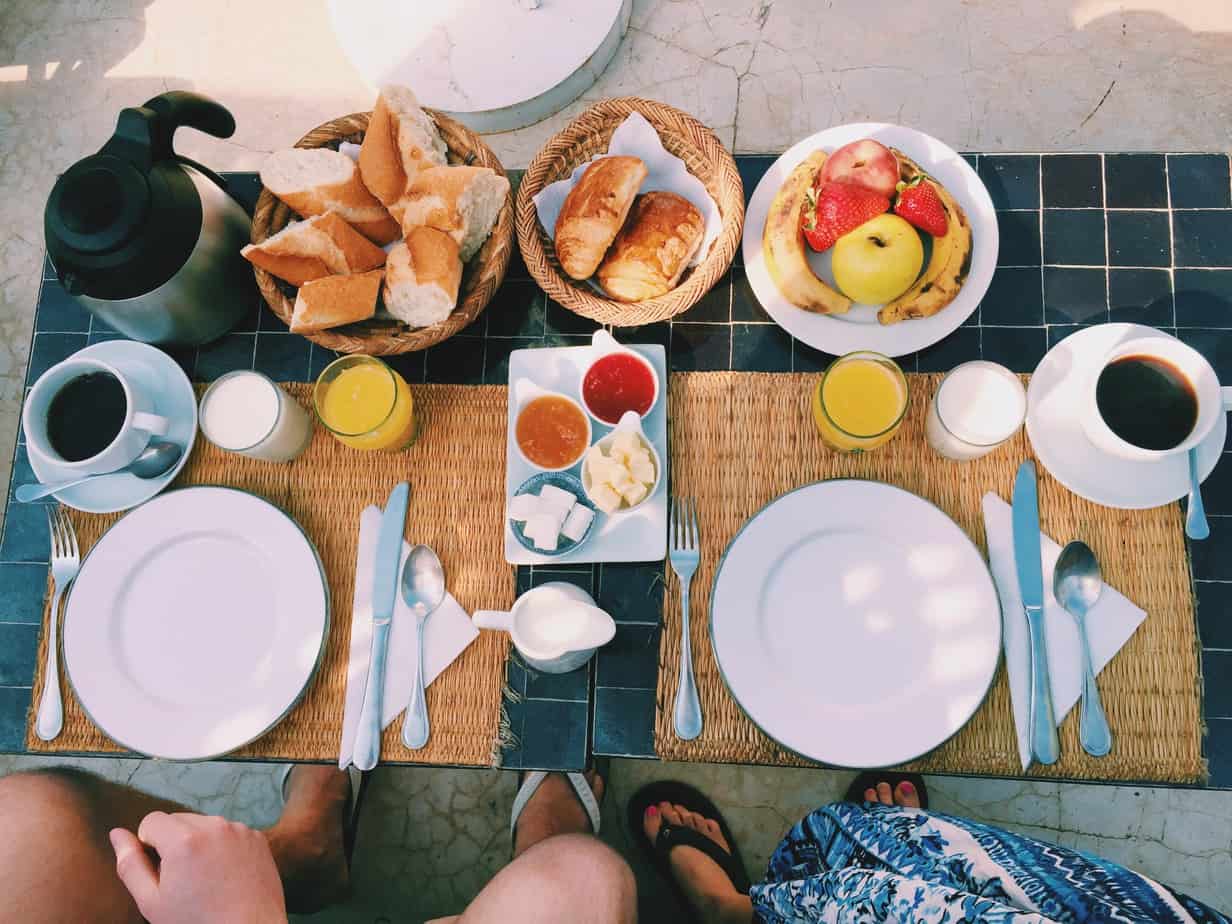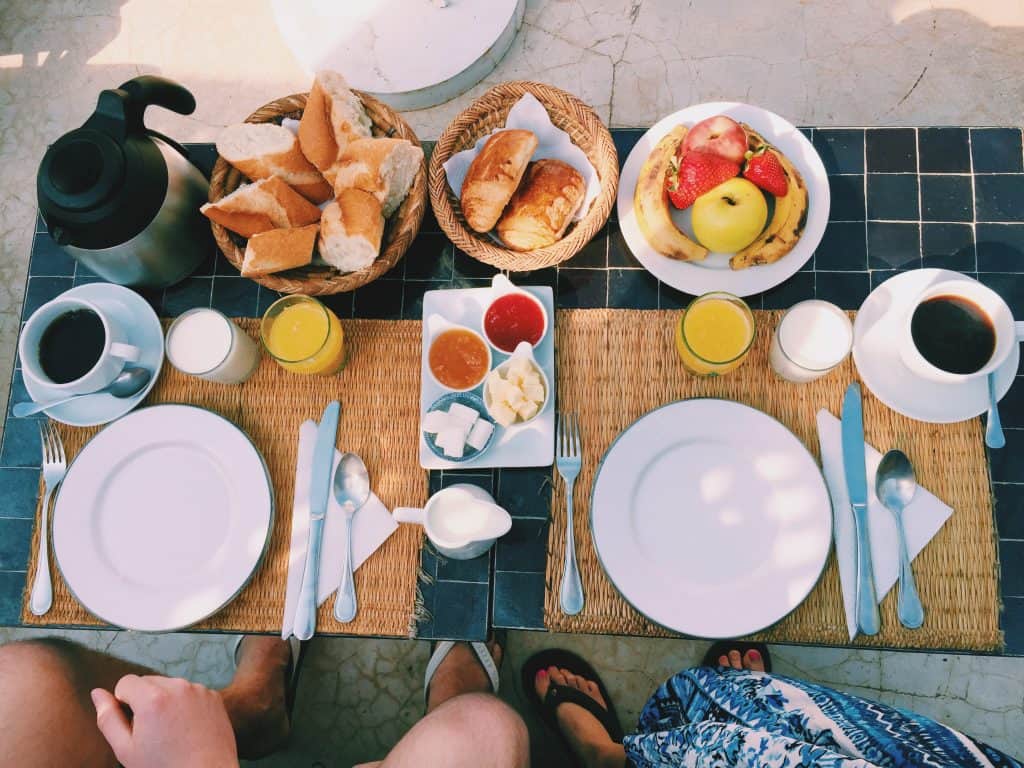 A gluten free translation card for Morocco
In Morocco they speak Moroccan Arabic and French. I can generally get by in French, which was helpful on this trip, but I was so glad I had a gluten free translation card to discuss my specific gluten free needs, like cross contact. The language barrier is undoubtedly your biggest stumbling block to safe gluten free Morocco travel.
For communicating in Moroccan Arabic in Morocco, I highly recommend this translation card by Legal Nomads. You can buy it online and download it directly to your phone.
I love Jodi's translation cards because she is a celiac herself. This translation card goes in depth unlike any other card on the market (for instance, I haven't found any other card that discusses cross contact). Click the image below to read more about the translation card.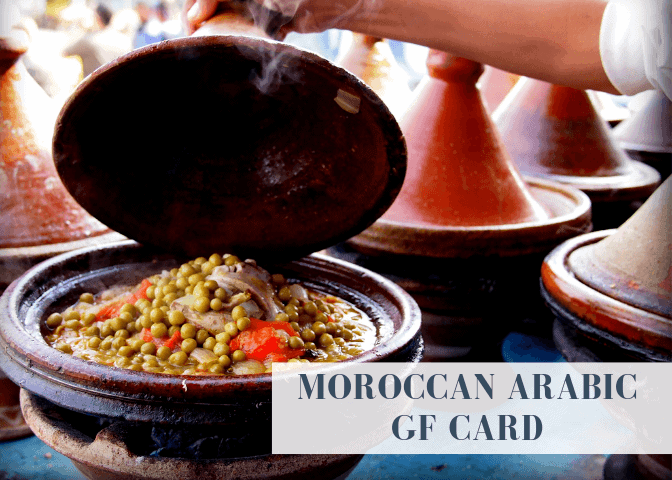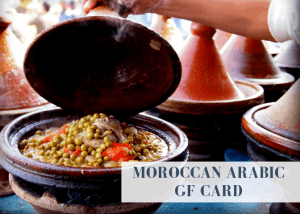 Some common phrases for gluten free Morocco travelers
While I 100% recommend traveling with the Arabic translation card, it's also useful to know some common phrases. Like many countries, sadly celiac disease and gluten aren't very well recognized in Morocco.
I actually find this surprising because, according to recent research, celiac disease is highly prevalent in Morocco. The celiac gene (HLA-DQ2) is twice as common in Morocco than the international average. Unfortunately, it's highly under diagnosed and as of 2022 there is no Moroccan celiac association.
Because of this, I recommend rephrasing the way you talk about gluten. Gluten is a protein – but when you're speaking about your dietary restriction in Morocco, rephrase it in more commonly known terms such as bread, wheat, pastry, flour, etc.
I often would greet waiters in French with:
"je suis allergique au farine et le pain…." / "I am allergic to flour and bread"
OR
"Je ne mange pas le farine, le pain…" / "I do not eat flour, bread"
I didn't even attempt the Arabic (I got as far as hello, thank you, and counting to 10, but I'm definitely not at the gluten-discussing level yet!). I saved that for the translation card, which you can click below to learn more about!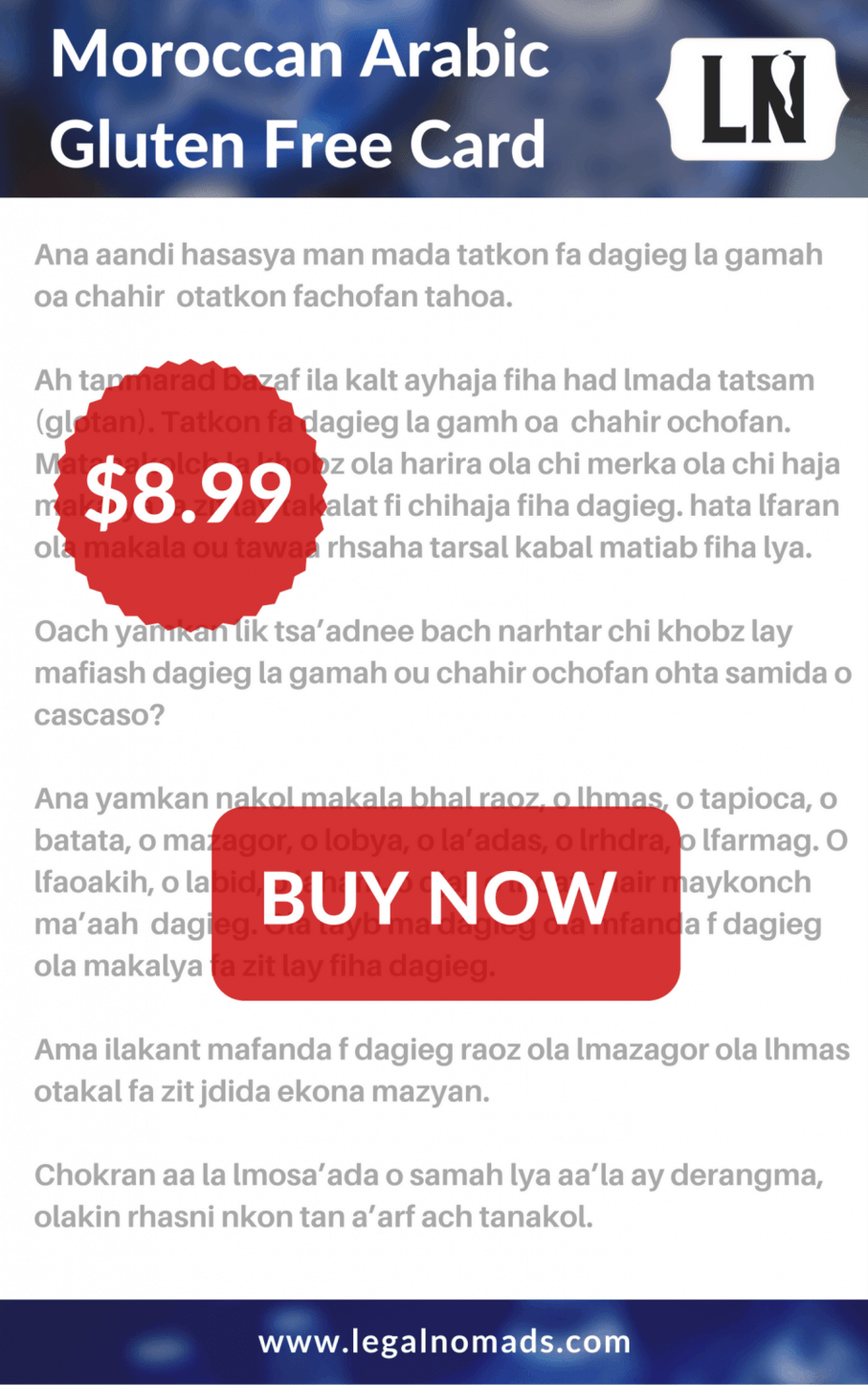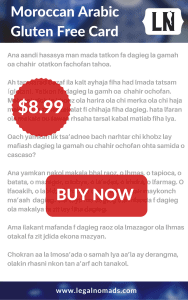 Gluten free Morocco foods: What you CAN eat
I hope I haven't scared you away with all this talk of language barriers (I'm just trying to prepare you!)… because there are so many Moroccan foods that are naturally gluten free! Of course, there are some cross contact issues you'll need to look out for which I'll discuss below. Let's take a look at some of the naturally gluten free dishes in Morocco.
Tagine / Tajine
When traveling gluten free in Morocco you are going to rely on tagine. And more tagine. Did I mention tagine?
This is an absolute staple dish in Morocco, and it's naturally gluten free. It's essentially a stew cooked in a cone-shaped earthenware pot. There are many types of tagine – chicken and lemon is the classic, but you'll also find beef and prunes, and vegetable.
I had tagine almost every day and tried to experiment with different kinds so as not to get too sick of it (kind of like I did with dal baht in Nepal). Luckily tagine is really tasty and most restaurants have their own spin on the classic dish. You'll find tagine sold even at the smallest shack restaurant out near the desert, so you'll never be without a gluten free option!
In terms of cross contact, there are some things you need to be aware of. Tagine is often served with bread, which is used kind of like a utensil to scoop up all the stewy goodness. Ask for yours to be served with rice (and a fork or spoon) instead. Sometimes tagine is served as a communal dish. Make sure you either get your own serving first before it's contaminated with bread, or don't order the communal version!
Tangia
At first I thought this was yet another way to spell 'tagine,' but tangia is actually a separate dish. The differences lie in the cooking vessel and method, as well as the meat. Tangia is a slow cooked lamb stew – it tastes incredible and is naturally gluten free. Like tagine, it is often served with bread so you'll need to take the same precautions.
Zaalouk
Zaalouk is a stewed salad of eggplants and tomatoes. It's incredibly sweet and savory at the same time. Luckily for us, it's naturally gluten free.
Fruit and yogurt
Obviously fruit and yogurt are naturally gluten free, and there is a lot of them in Morocco! Moroccan breakfasts are pretty bread heavy, so I usually stuck to fruit and yogurt instead.
Shakshuka
For a heftier breakfast option, you might find shakshuka. This isn't a traditional Moroccan dish, but due to Middle East influences you will definitely find it around. Shakshuka is actually one of my favorite gluten free savory breakfasts to make at home – it's a tomato and red pepper stew cooked with eggs. Of course it's best eaten by dipping (gluten free) bread into the yolks, so you'll have to go without that in Morocco.
Omelettes
Moroccan restaurants also commonly sell omelettes (due to the French influence) so if I wanted a lighter lunch (or sometimes for breakfast) I would order this. A Moroccan omelette is not your average omelette. It is a bit spicier and oilier but I loved the taste! Make sure to show your translation card so it's prepared on a clean surface and not served with bread.
Our absolutely amazing riad (highly recommend staying there – one of my favorite hotel stays ever) served me omelettes and yogurt for breakfast instead of the normal gluten-y option, which I so appreciated!
Other naturally gluten free Moroccan foods
This isn't a complete list of all gluten free foods you'll find in Morocco.
I also ate a lot of salads. These are usually gluten free but you should use your translation card to confirm no couscous, farro, or other gluten grains are included.
Grilled meats and sausages are also common and likely gluten free, although I did not eat any. Wheat is often used as a binder in sausages and I didn't want to risk it – although you'd probably be safe using your translation card.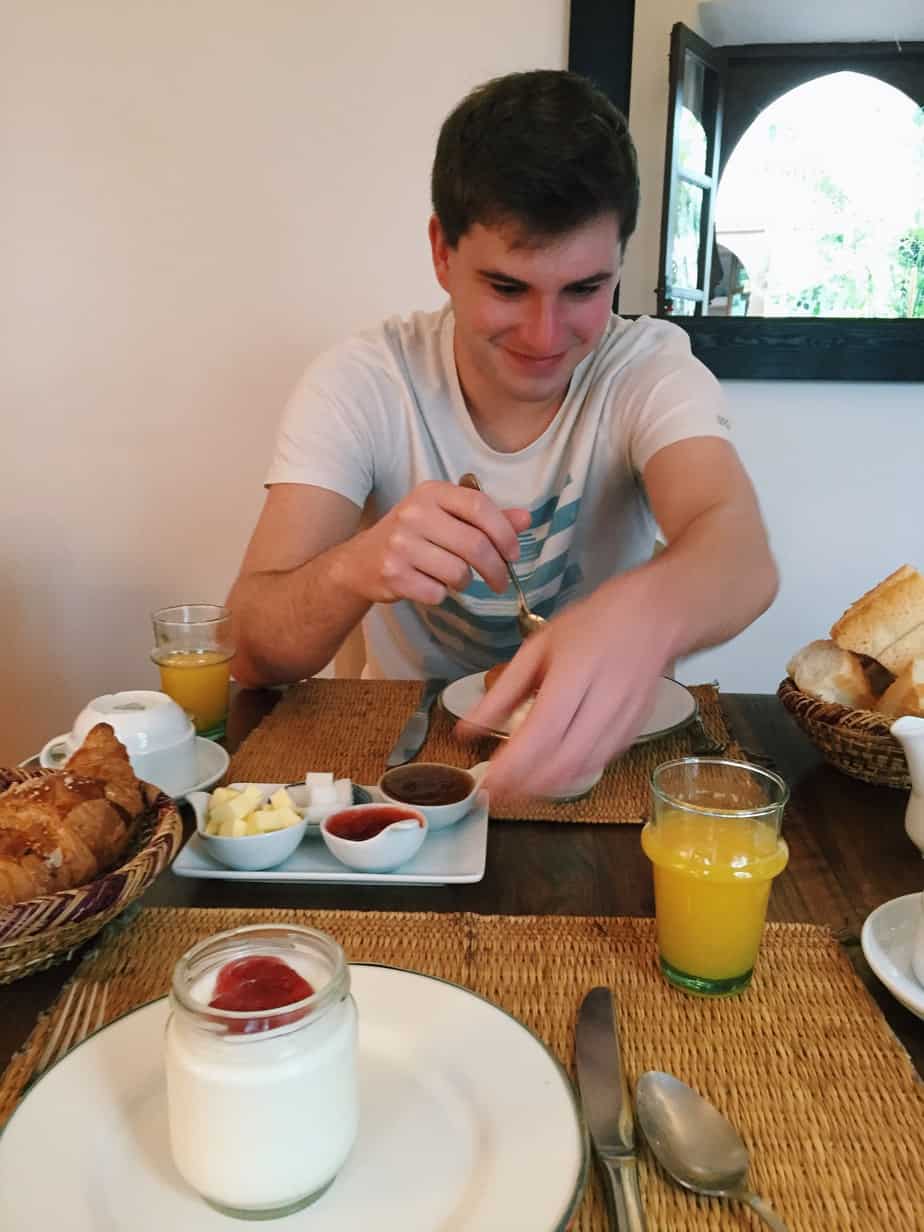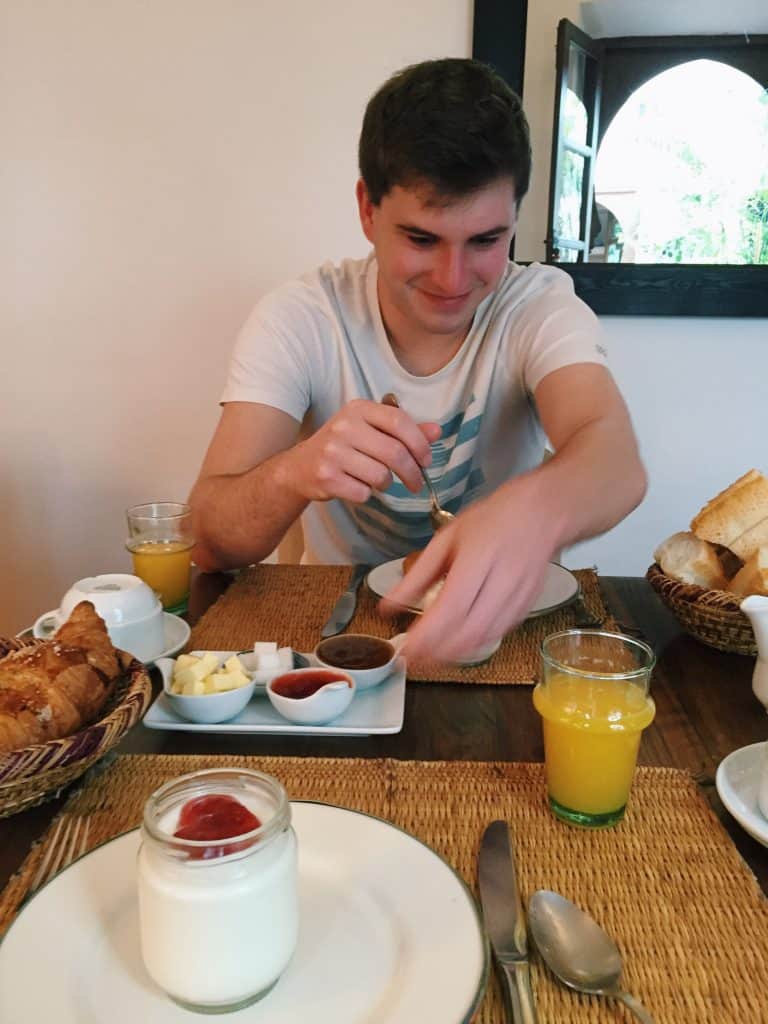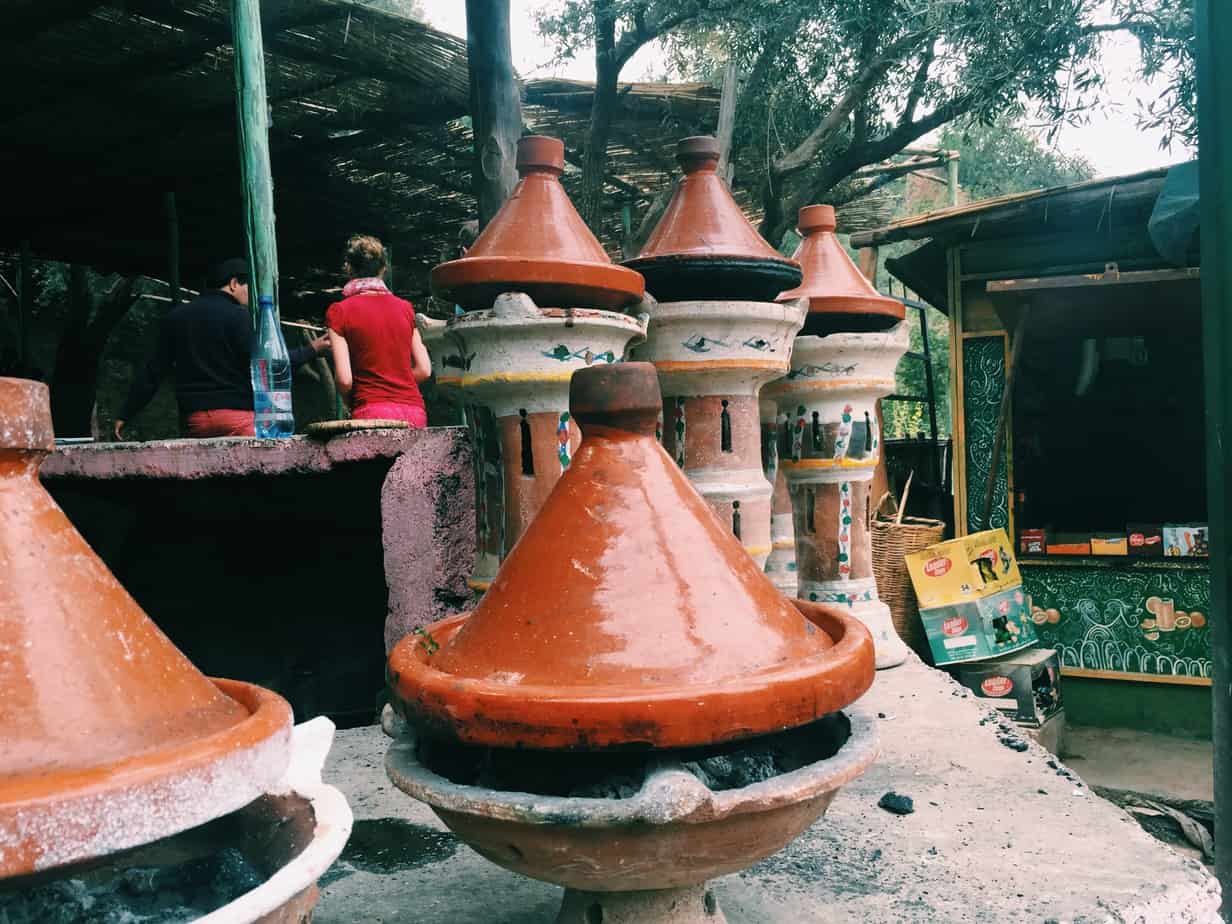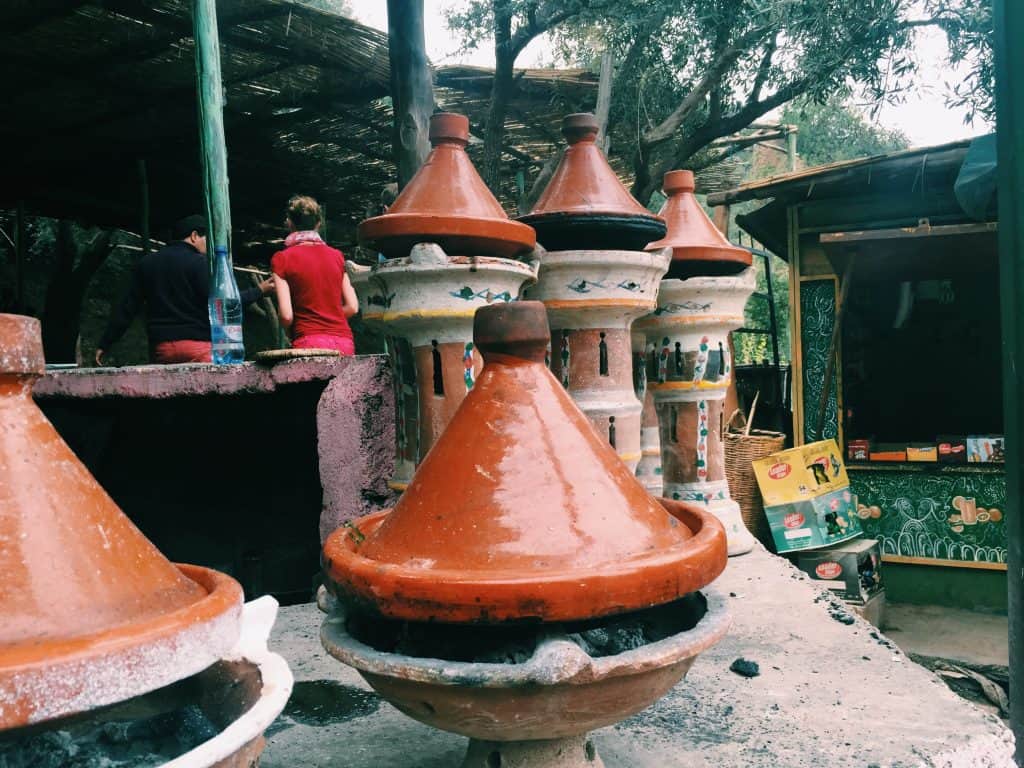 Gluten free Morocco foods: What you CAN NOT eat
Just like there are some reliable gluten free foods in Morocco, there are also a few you should avoid at all costs. Some are obvious, and some less so.
Bread
Moroccans love their bread. It's often made communally in street ovens, meaning everywhere smells like fresh bread all the time. I mean it's lovely, but UGH. Unsurprisingly, you'll be hard pressed to find any street oven containing artisanal gluten free dough. Like I mentioned, be careful if you eat tagine in a group because it's often served with dipping bread. I had to swipe up my tagine first on our night in the Sahara Desert.
Couscous
Another classic dish is couscous – made from durum wheat. It looks like rice or quinoa, but is basically tiny pasta. This is a definite gluten-containing no no. If you're dining at your hotel, you could ask for the couscous to be cornmeal or rice.
Riad Dar Zaman, where we stayed in Marrakech, was able to accommodate me with gluten free corn-based couscous which was a fun surprise! However, most restaurants in town can't accommodate this.
Harira
Harira is a famous Moroccan vegetable soup. It's almost always thickened with flour so you should avoid at all costs.
Pastries
There are a lot of pastries in Morocco and none of them are gluten free. Some examples include briouat, ktefa, mhancha, and more.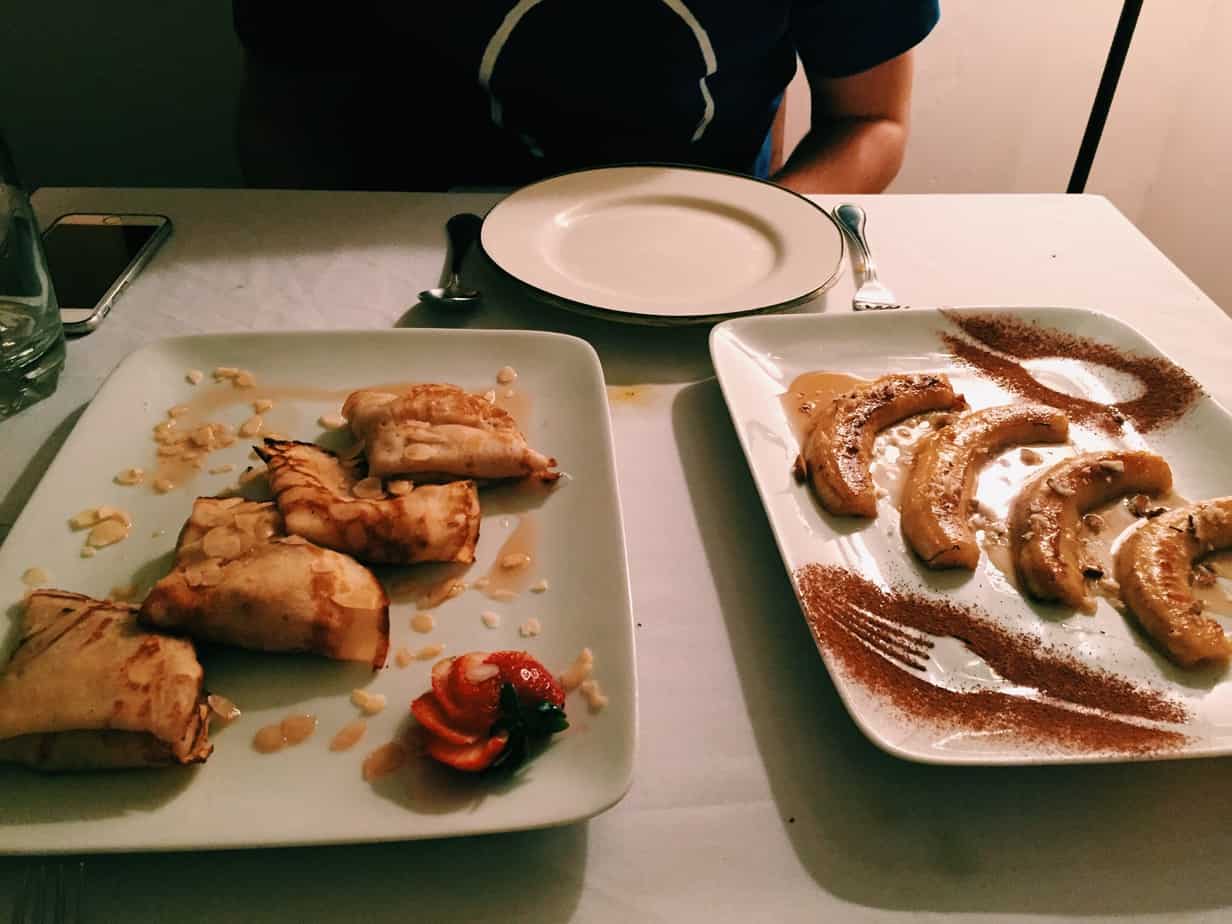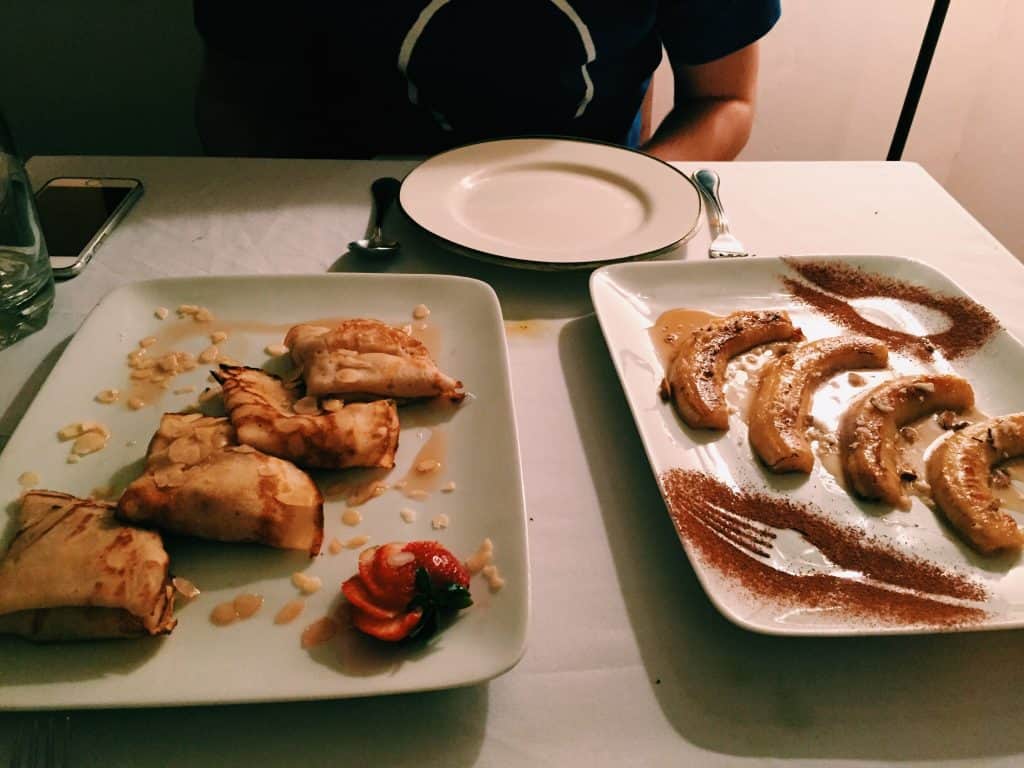 Eating gluten free in Marrakech
Most people who visit Morocco spend some time in Marrakech. Marrakech is an incredible city – a combination of new and old, where you'll weave through market stalls, avoid motorcycles zooming down lanes, peruse rows of colorful rugs, and listen to the sound of prayer floating in the wind. People say that Marrakech is a "love it or hate it" kind of place, and I definitely loved it.
We spent a couple weeks in Marrakech, so I got a really good feel for the Marrakech gluten free scene. Most people don't spend as long in Marrakech, but like I said, I loved it.
Marrakech is incredibly crowded so it will be difficult to navigate to specific restaurants or locations – in my experience it was much less stressful to just eat where we happened to be when we got hungry! Luckily, I could do this safely with the gluten free translation card.
I also created a Google My Maps (which I've embedded further down in this article) with notable restaurants. That way I could pull out my map when we got hungry and we could navigate to the closest restaurant with gluten free options.
13+ gluten free Marrakech restaurants
Despite the general lack of celiac disease and gluten recognition in Marrakech, there are some notable restaurants. I share all the restaurants we ate at in my secrets of Marrakech article. While I ate safely at all of those restaurants, some are more worth going out of your way for gluten free options. I will discuss the 13 best Marrakech gluten free restaurants below!
1. La Creperie de Marrakech
Gluten free crepes, anyone? La Creperie de Marrakech serves gluten free buckwheat crepes, made on a clean surface (be sure to use your translation card to discuss cross contact). I haven't eaten here myself but have heard it's celiac safe. If you go, let me know your experience in the comments!
La Creperie de Marrakech // 14 Petit Marche de Gueliz,

Route de Targa

,

Marrakech,

Morocco
2. Henna Art Cafe
Marrakech Henna Art Cafe is a cute cafe south of Jemaa el'Fnaa (the main square). Gluten free foods are marked on the menu and the staff here know about celiac disease – a definite feat in Marrakech!
This is where I got henna done, as it is the best and safest place to get henna done in Marrakech! The women who do henna here are true artists and get fair pay, and the quality of the henna won't burn or infect your skin.
Henna Art Cafe // 35 Derb Sqaya |

Riad Zeitoun Lakdim

,

Marrakech 40000,

Morocco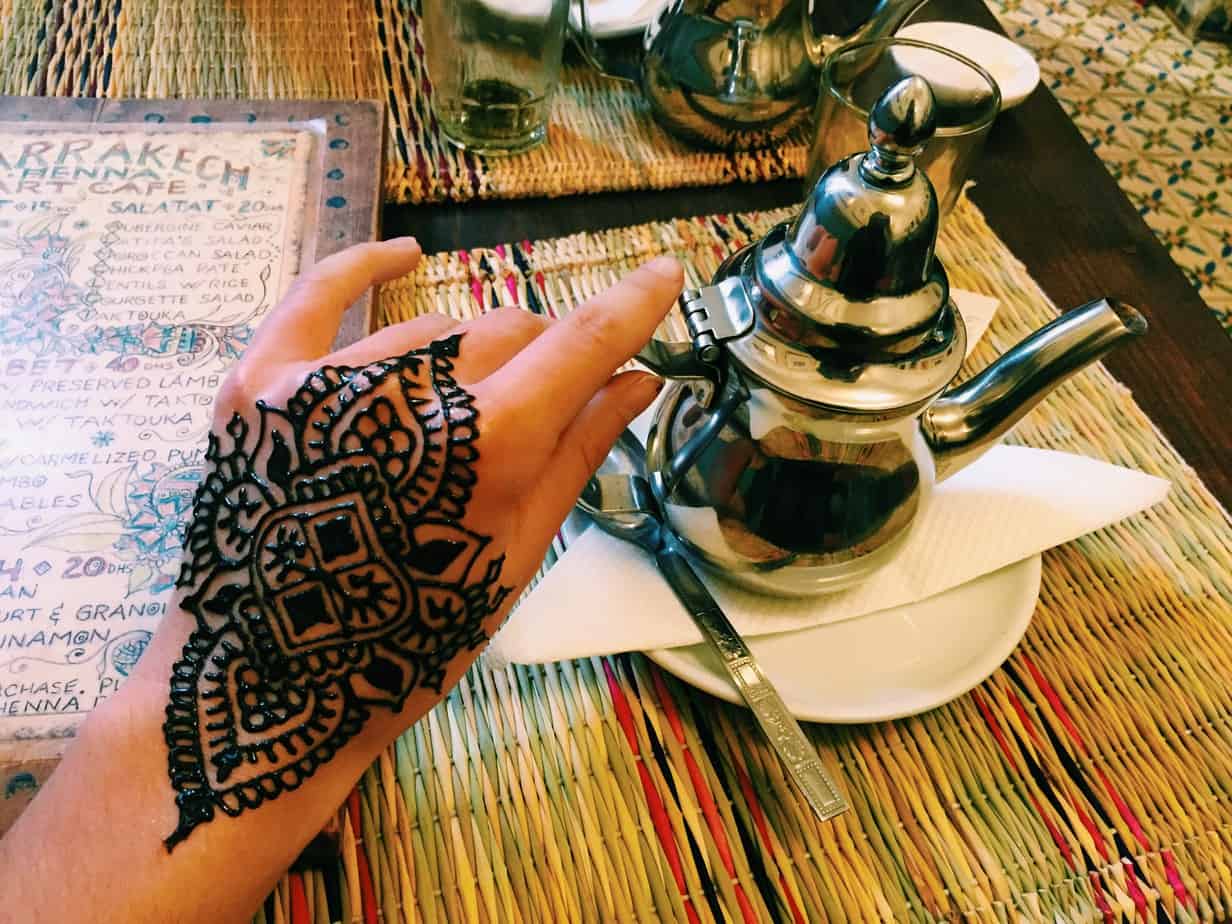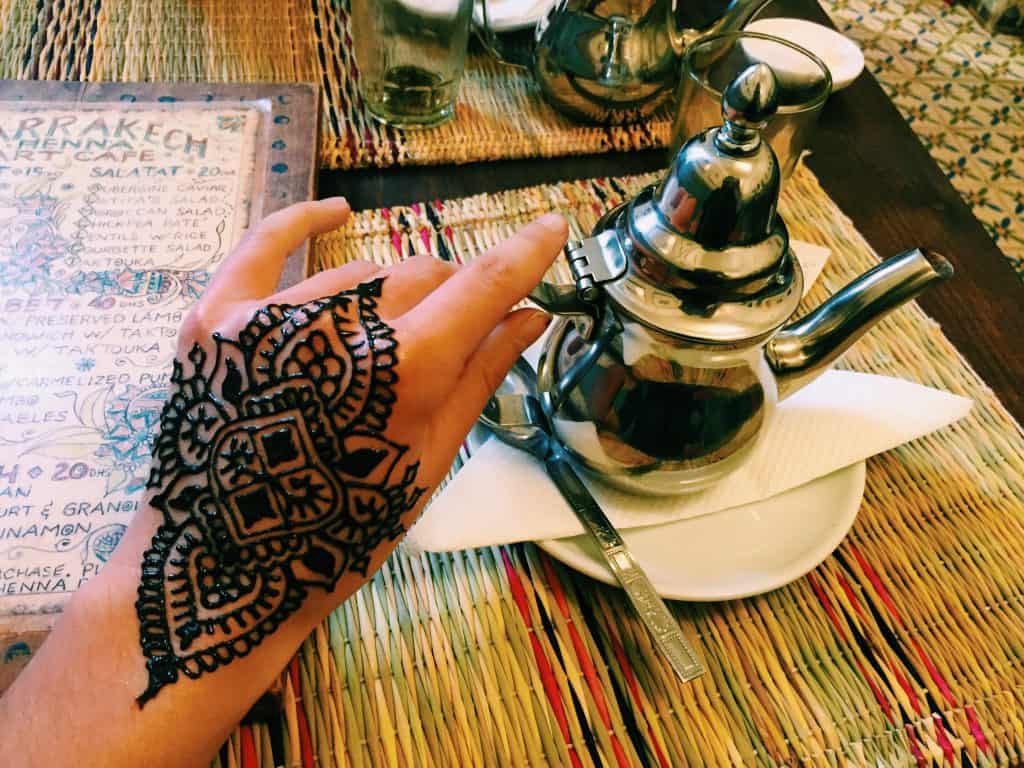 3. Taj'in Darna
Taj'in Darna is a truly underrated restaurant! I know it looks a bit unassuming from the outside, but I showed my translation card here and the staff knew exactly what I needed. They advised me what I could and couldn't have (which gave me confidence), and I ended up eating tagine and salads here with no reaction.
We ate here three times. It's incredibly cheap for how good the food is. Taj'in Darna is located right next to Jemaa el-Fnaa and a minaret, so you can listen to the call to prayer while you eat dinner and people watch the busy square.
Taj'in Darna // 50 Place Jamaa El Fna,

Marrakech,

Morocco
4. Amal Women's Training Center
Amal Women's Training Center was not only one of the best places we ate, but maybe the best thing we did in Marrakech. It is a highly rated restaurant, and also a nonprofit training center for disadvantaged women. And the food is out of this world. You can come here to eat lunch or dinner, or better yet sign up for a cooking class at the Amal-Targa location like we did!
I'd eaten so much tagine in Morocco that, well, I had to learn how to make it. We spent an afternoon in their sunny courtyard, making tagine. Of course, tagine is naturally gluten free, but you get an added feeling of confidence about cross contact when you make something yourself 🙂
I've actually since written about Amal Women's Training Center for a few publications. If you want to learn more about this incredible initiative, read here or here.
Amal-Gueliz // Rue allal Ben Ahmed et Rue Ibn Sina, Gueliz, Marrakech, Morocco // breakfast 8-10am daily, lunch 12-3:30pm daily.
Amal-Targa // Lotissement Harouchi, Sofia Targa, Marrakech, Morocco // lunch 12-3:30pm daily, cooking classes offered daily but book ahead.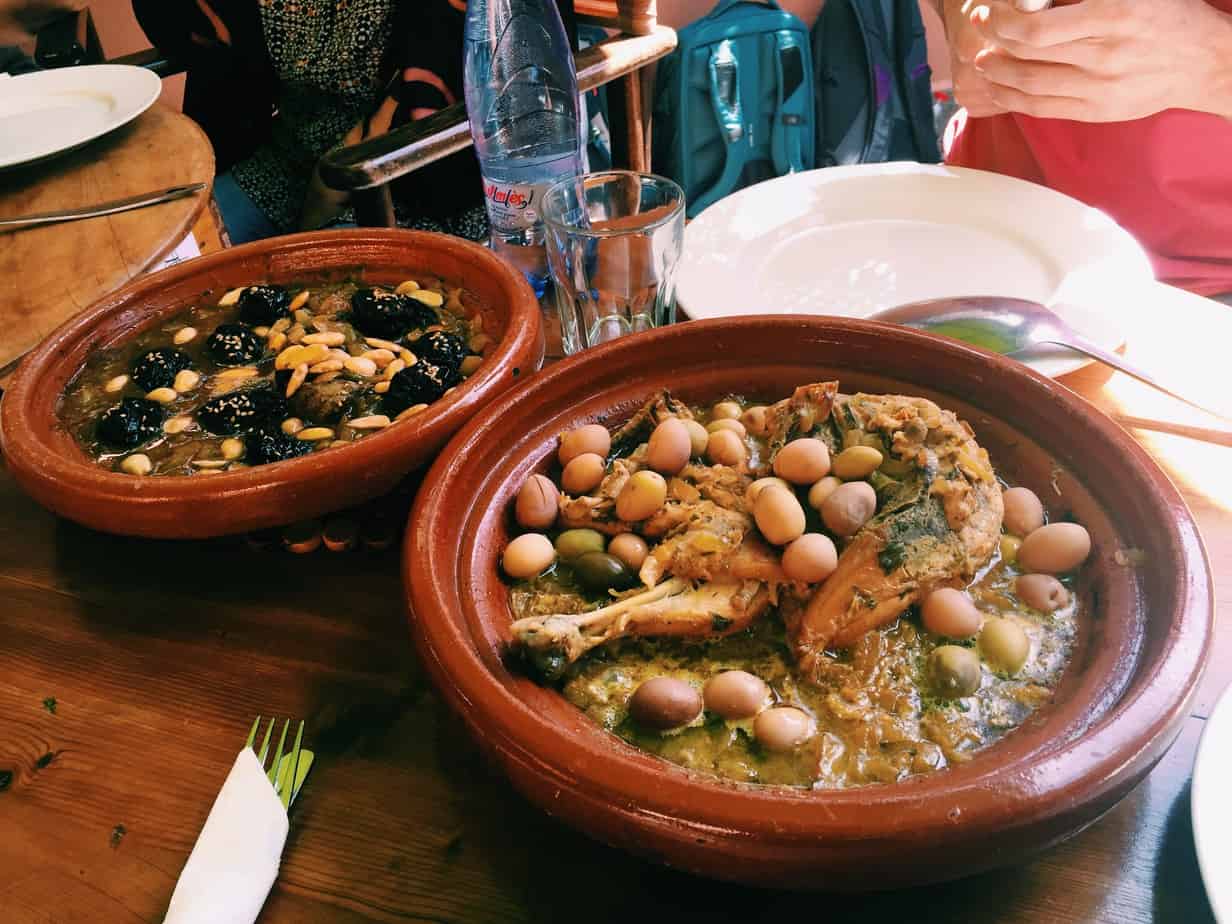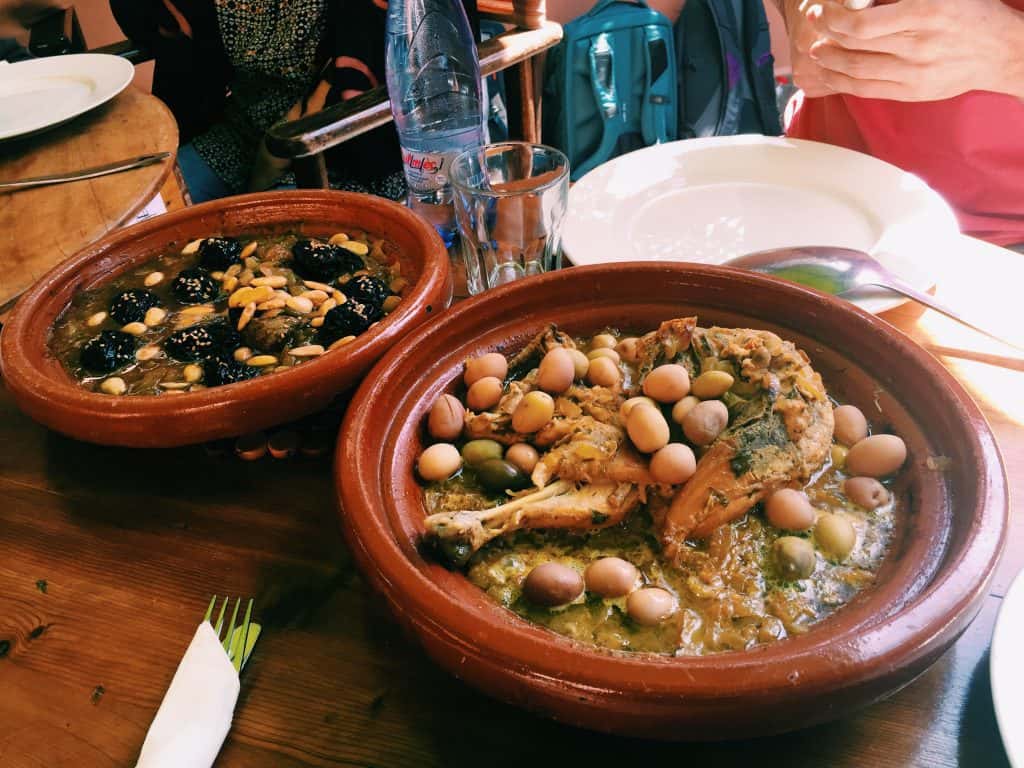 5. Kosy Bar
Kosy Bar is slightly more upscale bar, close to the spice market – I wouldn't go out of my way to eat here unless you are already in the area. There is a good view from the top terrace. We settled in and ordered the salad tasting plate. The salad tasting plate was 100% gluten free, and included zaalouk as well as a few other salads.
Kosy Bar // 47, Place des Ferblantiers,

kzadria, en face de palais Badii

,

Marrakech 40000,

Morocco
6. La Mamounia Hotel Restaurant
La Mamounia is the place to go if you're craving a gluten free feast in Marrakech! It's an upscale hotel in the heart of Marrakech, but you can eat here even if you're not staying at the hotel.
The restaurant has maybe the best, most celiac friendly spread in all of Marrakech: fresh, homemade gluten free bread (cornmeal based), extremely knowledgeable staff, and even gluten free desserts like chocolate cake! Sadly I did not get a chance to eat here during our time in Marrakech, but it's top of my bucket list for next time.
La Mamounia // Avenue Bab Jdid, Marrakech 40000 Morocco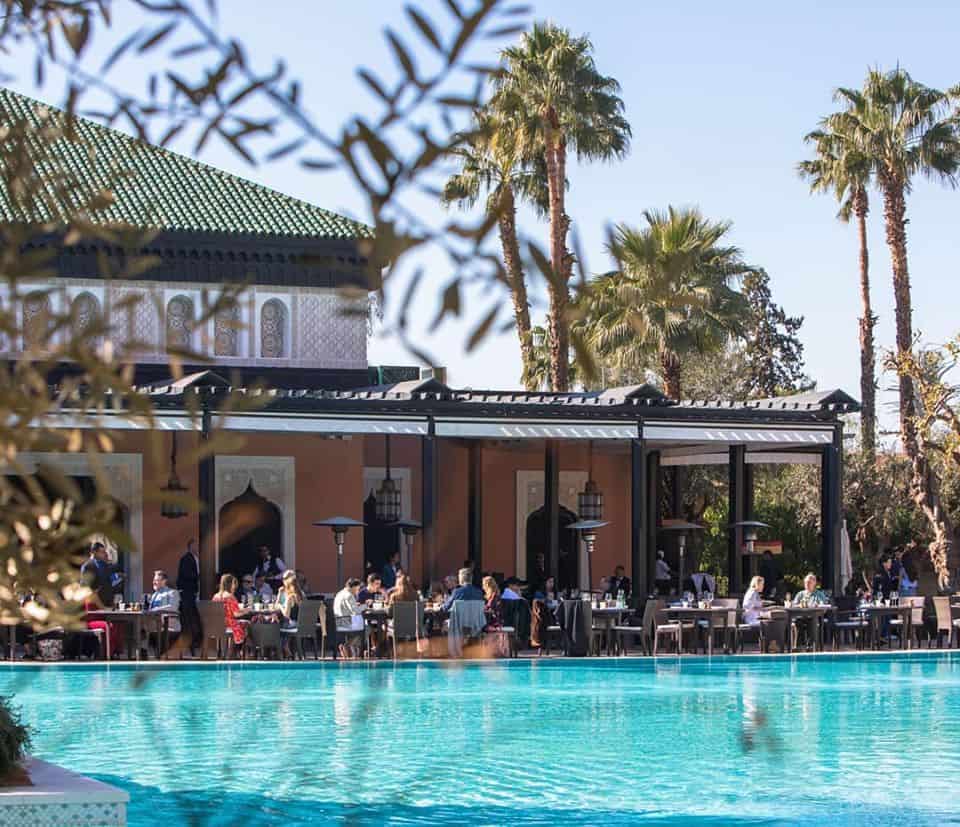 7. NOMAD
NOMAD is most definitely the go-to trendy restaurant in Marrakech. It is the flagship restaurant of Kamal Laftimi's group of restaurants (which also includes Cafe des Epices, Le Jardin, and LE KILIM, which I discuss below!). We ate at NOMAD without a reservation, but I would highly recommend booking ahead. As you enter the outdoor terrace, they even give guests straw hats with 'NOMAD' written on them – so fun!
In addition to my own positive experience eating at NOMAD, I spoke to someone from their team. They told me:
"Regarding our staff's knowledge about the gluten free/celiac disease, please know that when a client is gluten free or has any allergies they make sure to have all the information and the proper knowledge about it to make sure that the client has a good experience."
Fabulous! You know what's even better? All gluten free dishes are marked on the menu with three little stars. There is even gluten free bread on demand – however make sure to mention this when you make your booking as they will make it beforehand (because we didn't make a reservation in advance, I did not get to try the gluten free bread myself).
NOMAD // 1, Derb Aajrane |

Raba Lakdima

,

Marrakech 40000,

Morocco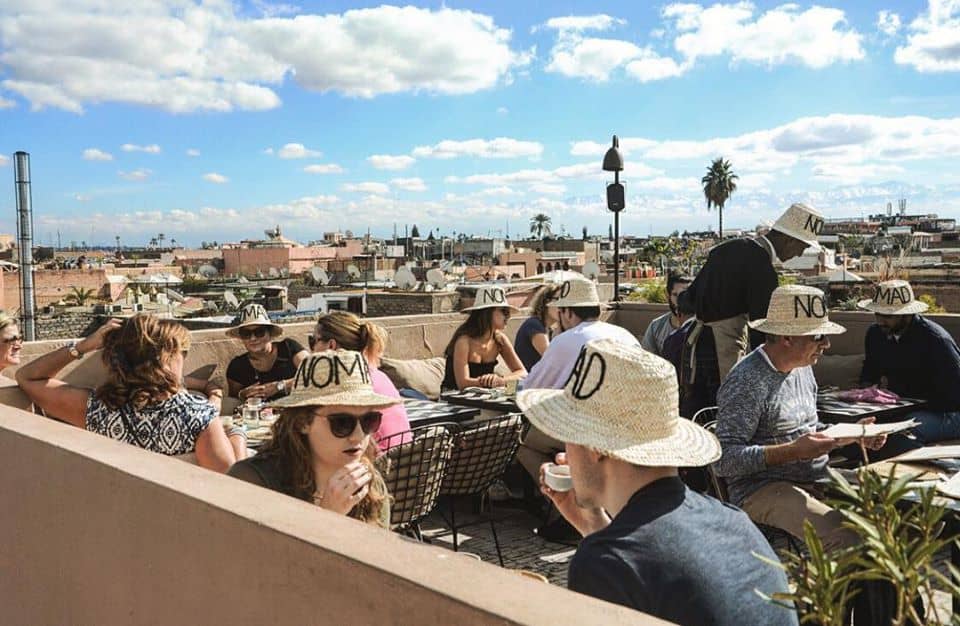 8. LE KILIM
LE KILIM is the newest restaurant in the Kamal Laftimi/NOMAD group of restaurants. It's described as a "Beldi-Chic" place that offers a combination of modernity and tradition. There is a focus on traditional Moroccan dishes, remixed in a modern way.
The online menu does not mark gluten free options, but a representative told me that the printed menu marks gluten free items with three little stars, and similarly to NOMAD there is gluten free bread if you ask ahead!
LE KILIM // No 3 REZ-DE-CHAUSSEE, Immeuble Dani 36 Sis Angle Rue La Liberte & Rue Tarik Ben Ziad,

Marrakech
9. Cafe des Epices
Cafe des Epices is another member of the Kamal Laftimi/NOMAD group. It's in the heart of the medina, and marks gluten free items on the menu (again, with three little stars), and offers gluten free bread if you book ahead.
We ate here and had an incredible view of the souks. Also, we appreciated that there are more Western options here, which is good if you get sick of eating tagine every day!
Cafe des Epices // 75 Rahba Lakdima, Marrakech Medina, Morocco
10. Le Jardin
Le Jardin is the fourth and final member of the Kamal Laftimi/NOMAD group. You know the story by now – gluten free dishes are marked on the menu with three stars, and book ahead for gluten free bread.
Besides the gluten free options, I loved this restaurant because it truly feels like a garden oasis escape from the hectic souks.
Le Jardin // 32 Souk Sidi Abdelaziz, Marrakech Medina, Morocco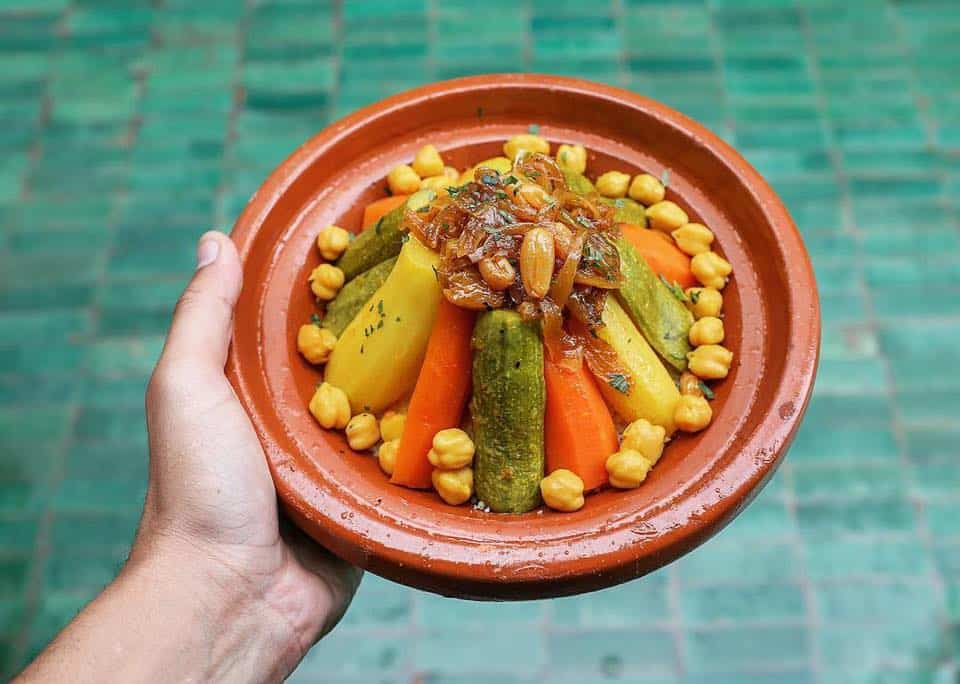 11. Pepe Nero
Pepe Nero is actually an Italian restaurant in Marrakech – a good choice if you're getting tired of the daily tagines. I didn't eat here myself but it comes recommended as having gluten free items marked on the menu. I have read some questionable reviews, though, mentioning that not all of these dishes are actually gluten free.
Because it's a bit of a trek to get to Pepe Nero (if you're staying in the medina), I would take this recommendation with a grain of salt and try to contact them ahead of time to confirm gluten free options. Personally I wouldn't go out of my way to eat here, but would definitely give it a try if I was in the area.
Pepe Nero // 17, derb Cherkaoui |

Rue Douar Graoua

,

Marrakech 40000,

Morocco
12. Food stalls in Jemaa el-Fnaa
The Jemaa el-Fnaa is the bustling central square of Marrakech's old town. It is absolutely a must-do experience to come here and feel the energy. The square is filled with rows of street food stalls and it is on many people's bucket list to eat here. Obviously, for celiacs and gluten intolerant travelers, street food is a little more complicated.
If you choose to try the street food at Jemaa el-Fnaa, you will definitely need to employ your gluten free translation card. Additionally, food poisoning is an issue in Morocco, especially with street food. Our amazing friend and riad host Yassine (from Riad Dar Zaman) recommended only eating at stalls 1, 14 (fish), 25, 74 (soup), to avoid food poisoning.
Personally, I did NOT eat at the food stalls, mostly because I didn't want to deal with the anxiety of both possible glutening and possible food poisoning. Spoiler: I didn't get sick a single time while in Morocco, but most people I know who've traveled to Morocco have had some level of food poisoning. Sometimes, I think being a celiac is a strange blessing in that our restaurant caution saves us from "normal traveler" sickness!
If you're like me, explore the square and then eat at a nearby restaurant like Taj'in Darna (#2 above).
Jemaa el-Fnaa //

38 Jemaa el-Fna, Rue El Ksour

,

Marrakech,

Morocco
13. The best smoothies of my life
I guess I did try one street food in Marrakech – these smoothies! This smoothie stall is honestly the best kept secret in all of Marrakech. Dan and I waited in line for 20 minutes, alongside a crowd of locals (that's how you know it's good!), every single day for these smoothies.
They are 100% gluten free and SO FREAKING GOOD. The stall is right off Jemaa el-Fnaa and does not have a name, but I discuss how to find it in this post.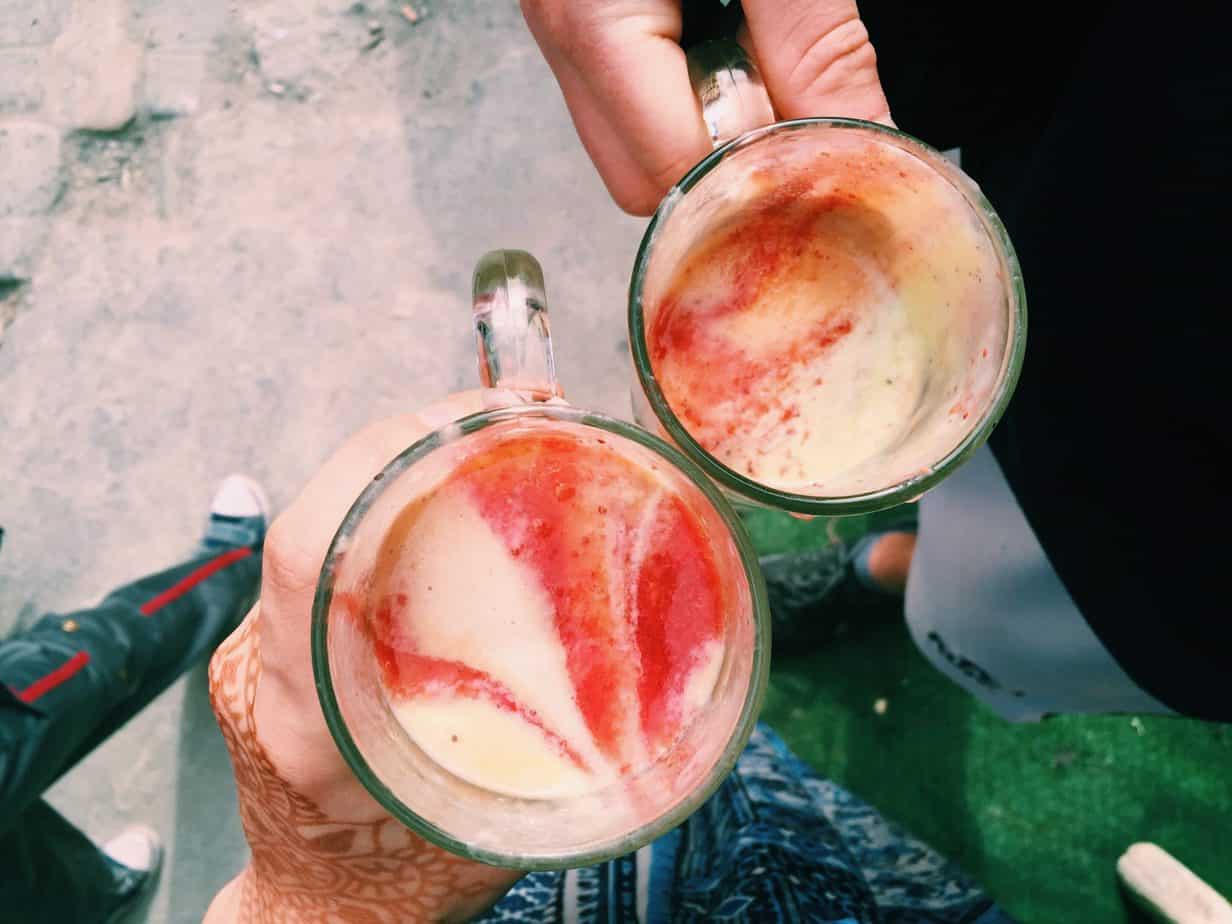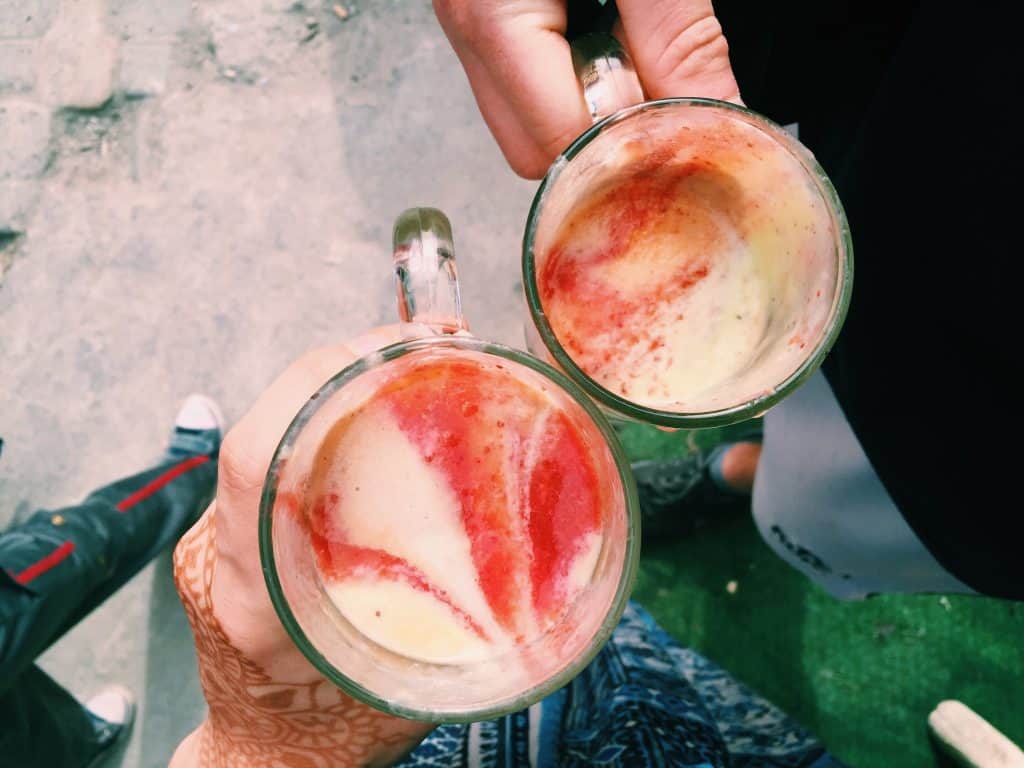 Where to stay in Marrakech if you're gluten free
I always try to find accommodation that caters to celiacs. In general, it makes for a much more stress free experience if you can eat breakfast or dinner where you're staying. We hit the jackpot in Marrakech!
Riad Dar Zaman – a gluten free haven in Marrakech!
We stayed at Riad Dar Zaman and I highly recommend it if you are gluten free in Marrakech. I still dream of this riad – it's one of the best places I've ever stayed.
Riad Dar Zaman is a small, boutique riad that is elegant yet affordable. It is owned by a British expat but the two men who work there are locals from Marrakech. Their names are Hassan and Yassine and they were so friendly and helpful about everything, and especially about being gluten free in Morocco! We stayed up late into the night chatting to Yassine.
Riad Dar Zaman catered to my gluten free needs with special breakfast omelettes and poached bananas with caramel sauce for dessert. They can also offer gluten free couscous (cornmeal-based), and even gluten free cooking classes.
Riad Dar Zaman, Hassan, and Yassine truly made being gluten free in Morocco so much easier for me! (As a side note, our stay wasn't sponsored at all. I just found them online and we loved our stay so much I have to mention it for other gluten free travelers.)
Book your stay at Riad Dar Zaman here.
Other gluten free accommodation in Marrakech
If Riad Dar Zaman isn't your style, here are a few other accommodation options in Marrakech that cater to gluten free folks.
La Mamounia Hotel ($$$): An upscale palace-hotel in the medina. The on site restaurant is maybe the most gluten free friendly in all of Marrakech (it is #6 in my list of gluten free Marrakech restaurants!)
Marrakech Riad ($$-$$$): This is a hotel group that operates a few different riads in Marrakech. They have a whole page on their website detailing how they can provide gluten free breakfasts to guests. Their properties include Riad Spice, Riad Papillon, Riad Cinnamon, and Riad Star.
If you discover any other great accommodation in Marrakech that caters to celiacs, please leave a comment below and share your findings!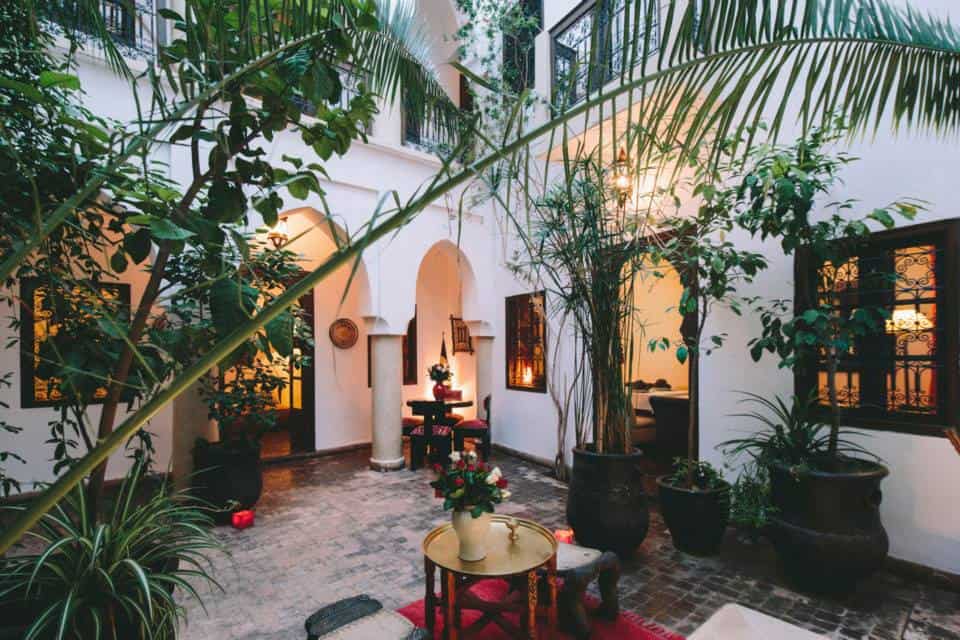 Gluten free Essaouira
There are so many beautiful places to visit in Morocco! We spent most of our time in Marrakech, although we also did an overnight trip through the Sahara. I'm not an expert on specific gluten free restaurants in other Moroccan cities, so I will defer you to the experts for recommendations.
Essaouira is a coastal fishing town that is frequented by tourists. For a full guide to gluten free Essaouira restaurants (including crepes!), I recommend this post by Amanda of MarocMama. Amanda has a child with celiac disease and lives in Morocco, so she's really knowledgeable.
Gluten free Casablanca
You might also find yourself in Casablanca while touring Morocco. I didn't visit Casablanca myself so I will refer you to this blog post which (if you scroll down) has a few recommendations for gluten free Casablanca restaurants and shops.
Gluten free Morocco map
There are so many other cities in Morocco worth visiting: Fez, Chefchaouen (the blue city), Tangier, and more. For even more advice, this Celiac in Morocco facebook page might be useful. My friend Jodi of Legal Nomads also has a wonderful guide to gluten free foods in Morocco here as well.
Below I've embedded a map with all of my gluten free Marrakech restaurant recommendations, as well as some spots in other cities. You can download it to your phone and use it without wifi or data!
Happy traveling! Remember to bring your gluten free translation card, get prepared to eat a lot of tagine, and I can guarantee you'll have a wonderful time. Have you been to Morocco on a gluten free diet before? Any other advice? Let me know in the comments!
If you're spending time in Marrakech, be sure to check out my 9 little known tips for Marrakech – it covers everything from where to exchange money, to the best place for a hammam, to how to find those famous smoothies! When in Marrakech you should also check out the beautiful Jardin Majorelle (it's nearby Amal Women's Training Center). We also took this day trip to Ouzoud waterfall.
If you're considering doing an overnight trip to the Sahara Desert, read my full guide on our experience. I discuss two different tour companies and how to choose a more ethical option.
Sarah xx
Browse all my gluten free travel guides here. Including:
And many more!
Pin it for later…