10 Free Things to Do in Girona, Spain
Everyone loves a freebie, so I'm kicking off my posts on my recent travels with the top 10 free things to do in Girona, Spain!
I recently spent about a week in Girona, enjoying a mini reunion of my international student friends from last year. Two of these lovely ladies go to university in Girona. Alexia also happens to have lived in Girona her whole life so I'm not short of expert opinion when it comes to this list of free things to do in Girona. To even further boost the reliability of this post, I'll also mention that my friends both study Tourism… making them the ideal hosts and ultimate sources of information on 1) tourist-worthy and 2) free things to do in Girona ;P
And if you've never heard of/thought of visiting Girona before – Girona is a city in Catalonia, about an hour north of Barcelona. I hope my photos and tips can be a little tour guide for you, just as Alexia and Angela were for me!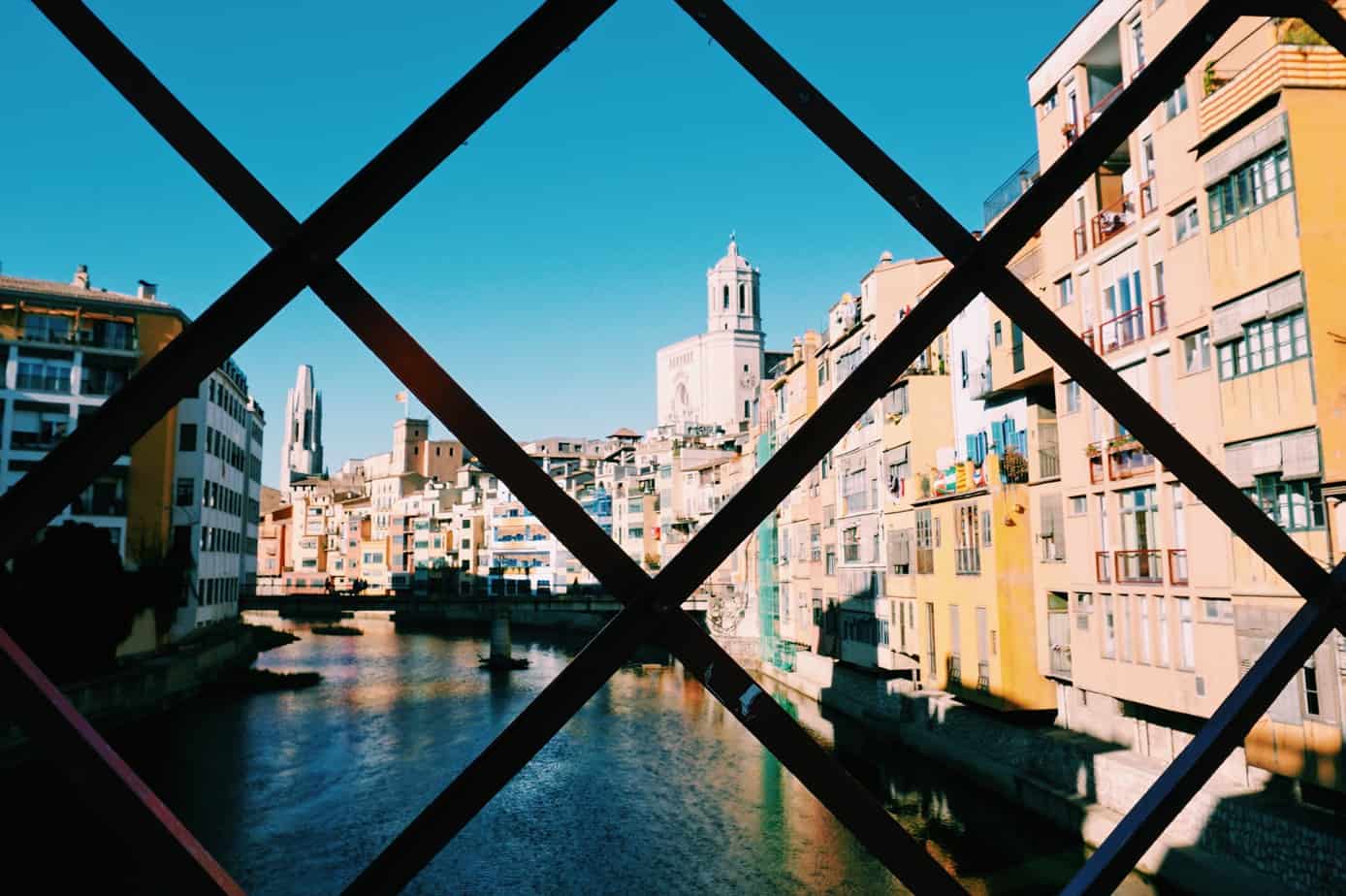 1. Walk across the Eiffel Bridge
Girona's jewel is the Eiffel bridge, which although it was designed by the same Gustave Eiffel as Paris' Eiffel Tower, with a similar aesthetic, is understated just like the rest of the city. TripAdvisor seems to bash it for its humble appearance, but I loved the Eiffel Bridge's simplicity. As you walk across, make sure you get a quintessential photo looking at the colorful houses along the river Onyar through the bridge's steel work!
Address: Pont de les Peixateries Velles, Riu Onyar, Girona, Spain
2. Explore Girona Cathedral (and Find the Witch!)
Girona has a sprawling cathedral which was built across seven centuries, so just looking at the varying styles of architecture from outside is interesting (without paying the 7 € entry fee). Make sure to spot the witch! Legend has it that one of the many gargoyles which spout rain water from the Cathedral's top ledge is a witch who used to throw stones at the Cathedral. She was turned into a Gargoyle as punishment so no more curses would come from her mouth. She's really there – see if you can find her!
Address: Plaça de la Catedral, s/n, 17004 Girona, Spain
3. Find the Game of Thrones Filming Sites
If you're a Game of Thrones fan, the whole city of Girona may seem eerily familiar – that's because season 6 had many scenes filmed here (7 episodes in fact)! Its main use was as the town of Braavos, and maybe the most memorable spot is the stairs where Arya begged!!! This is a more exhaustive guide.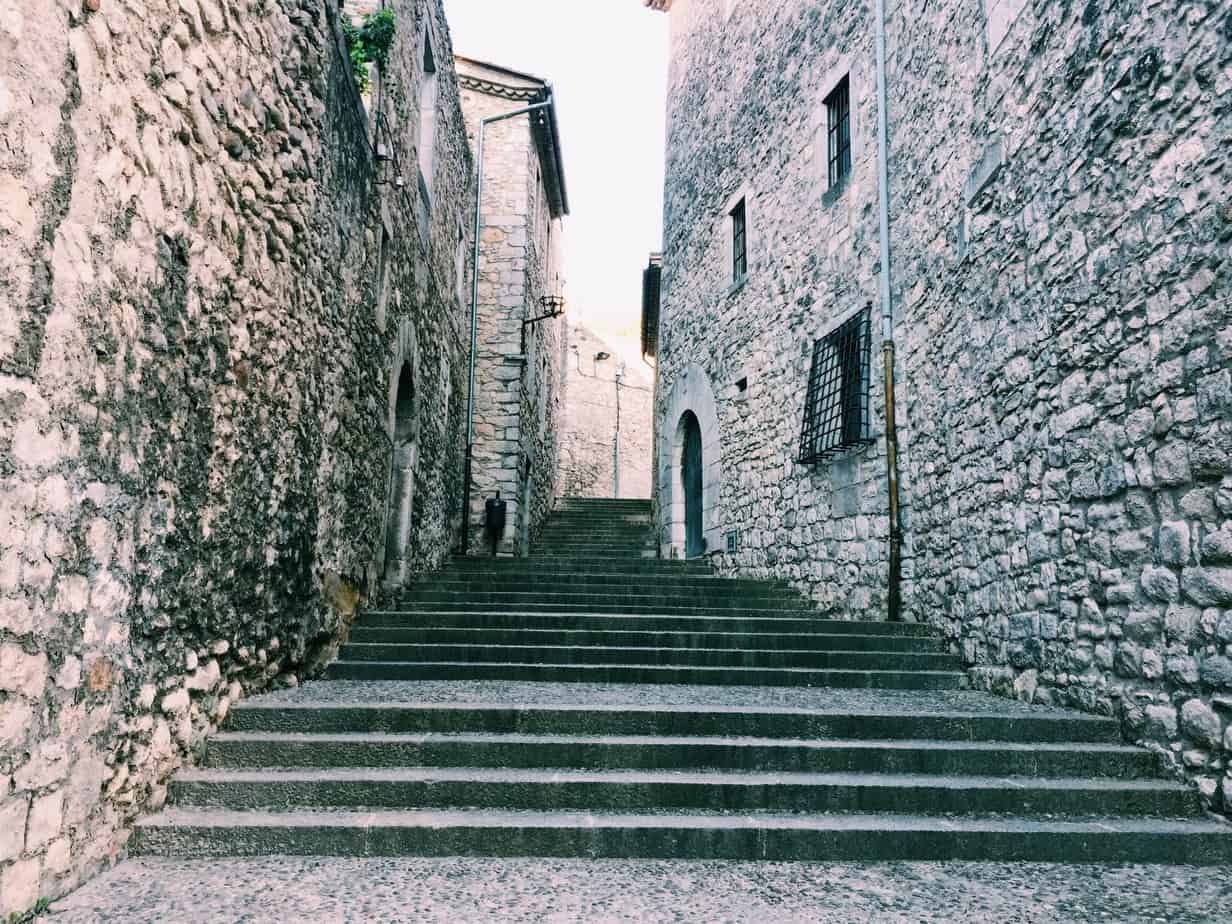 Address for the steps: Plaça de la Catedral, s/n, 17004 Girona, Spain (around the back of the Cathedral)
4. Walk the Medieval Walls / Passeig de la Muralla  (and Find the Toilet!)
Girona was once a walled city, and now you can walk along the top of the remains of the medieval walls! The walls also host the very best view of the city, including the mountains beyond. We strolled along at sunset which was gorgeous. If you're a weirdo like us – try to find the "toilet" along the far wall. It looks like a corner bench, but has a circular hole in it that you can see all the way down (hundreds of feet…) to the ground. Apparently this served as a 9th century toilet for the wall's guards?!
Address: Carrer dels Alemanys, 20, 17004 Girona, Spain
5. Explore the German Gardens / Jardins dels Alemanys
Near the medieval walls, you can find the beautiful German Gardens, which in the spring is probably the most beautiful of the free things to do in Girona! We spent some time perusing the flowers, as it was late March and they were just starting to bloom!
Address: Carrer de la Muralla, 2, 17004 Girona, Spain
6. Explore the University of Girona
Whilst exploring the old town of Girona, definitely check out Universitat de Girona. This is where both my friends go to university, and of course (from an outsider's perspective) I couldn't believe how lucky they are to study in such a picturesque place!!! (I think they feel differently as you don't appreciate the architecture as much when your head's in a book in the library). There's a gorgeous courtyard here that's worth a wander through.
Address: Plaça de Sant Domènec, 3, 17004 Girona, Spain
7. Visit Independence Square
Back in the city center of Girona, Independence Square is a gathering place, surrounded by popular restaurants with sprawling al fresco dining areas. It's a busy square, which commemorates the Spanish independence from the French. This takes on a new meaning now, though, as Catalonia vies for its independence from the Spanish…many of the buildings encompassing the Independence Square have Catalan Independence flags flying proudly.
Address: Plaça de la Independència
8. Eat the best Gelato in Spain from Rocambolesc
Okay, I've cheated a little with this one as it's technically not free. Once you look in the window at the glorious gelato, the cute aesthetic, the gelato panini press (!!) and the rows of colorful toppings and sauces, you will HAVE to drop a few euros on a gelato. And if you're gluten free like me, don't worry. There are plenty of gluten free options at Rocambolesc (and the rest of Girona – read my full gluten free Girona guide here). But they say time is money, and I'm saving you time you could've spent looking for the best gelato in Spain because I'm telling you, this is where it's at.
Address: Rocambolesc, Carrer de Santa Clara, 50, 17001 Girona, Spain
9. Kiss the Lion's Butt
The hilarious and … highly hygienic (note sarcasm) legend is that if you kiss the lion statue's butt, it will ensure that you come back to Girona. I, for one, had fallen in love with the city by this point so I made sure to pucker up and give the lion's butt a big kiss. Luckily, of all the free things to do in Girona, this only costs your dignity!
Address: Carrer de Jaume Pons i Marti, s/n, 17004 Girona, Spain
10. Rub the Foot for Good Luck
One of the famous legends of Girona (they seem to have a lot of legends, don't they?) is that Saint Narcis saved the city from a French army invasion. The French army opened Saint Narcis' tomb to discourage the citizens, but out came millions of flies. The flies killed six French soldier per fly (powerful flies!) and saved Girona. Ever since then the fly has been a symbol of Girona. At carrer de les mosques (Fly Street) there is a statue of Saint Narcis' foot, and apparently if you rub it you get good luck…
Address: Carrer de les Mosques, Girona, Spain
Thank you for following along – I hope this helps anyone going to Girona (especially on a budget!). As most loyal readers know, I'm not generally one for "top 10" lists but a list of free things to do in Girona seemed a lovely way to organize my initial thoughts on this city! There also doesn't seem to be a ton of tourist information out there on Girona compared to other cities, and if I hadn't had the wisdom of Alexia and Angela I definitely would have missed out!
Have you ever been to Girona? Any more tips for me?
This post is now available as an app! Download it on GPS My City so you can take it as a walking tour with you. 
Sarah xx
Pin it for later…