In the city where beer is cheaper than water, what is a celiac to do? Long story short, I ate well in Prague, but it wasn't without effort. Gluten free Prague is possible and I'm going to tell you how to find it!
Unlike other places I've visited (such as Nepal or Morocco), you can't just pop into any restaurant and rely on the menu's naturally gluten free options. They don't exist!  Traditional Czech dishes revolve around beer, dumplings, and meat that's either fried or swimming in an ale-infused, flour-thickened sauce. To be completely honest, you'll be hard pressed finding a salad in Prague.
So if you're gluten free and going to Prague, you'll need a plan and I'm here to help! In this article I'll tell you the best gluten free Prague options, including:
Gluten free translation card
100% gluten free restaurants and cafes
Gluten free traditional Czech restaurants
Non-dedicated gluten free restaurants
Gluten free cafes
Where to find gluten free beer and cider
Gluten free hotels in Prague
Closed restaurants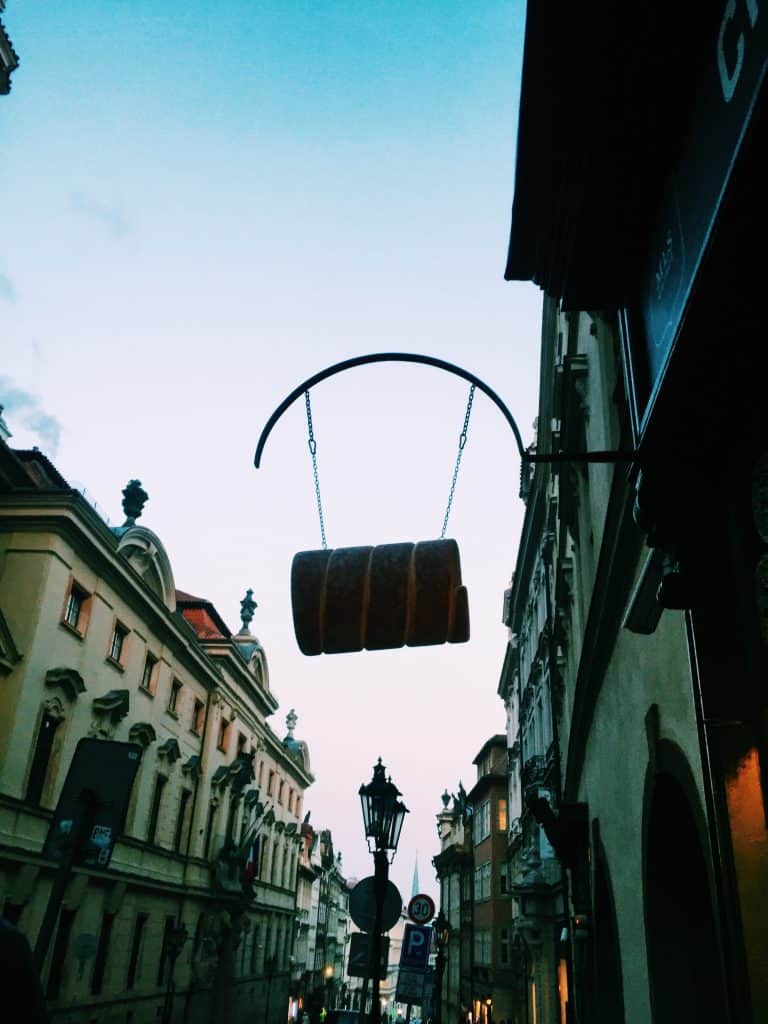 Gluten free Prague translation card
If you're staying within downtown Prague you'll find that most people speak passable English – emphasis on passable. Based on my experience, you definitely want to use a gluten free translation card in Prague. You shouldn't expect staff at most restaurants to have an in depth understanding of gluten, much less not in their native language!
There are a few gluten free translation cards on the market, but not all include Czech language. Luckily, Select Wisely does have a thorough Czech card detailing that we can't eat wheat, barley, rye, cereals, soy sauce, malt, flour, gravy, and more. I highly recommend the investment as it will not only help your peace of mind, but keep you safe so you don't get glutened and ruin your vacation! Select Wisely is particularly useful if you have additional allergies or intolerance as you can opt to combine gluten free with dairy, shellfish, tree nuts, etc.
Dedicated gluten free Prague restaurants and shops
Of course, the safest place to eat is always a 100% gluten free establishment. As of 2020, there are three dedicated gluten free establishments in Prague. This includes one restaurant and two bakeries/cafes. There was a third bakery/cafe but it is now closed.
Alriso Risotteria Italiana
Alriso is the longest standing 100% gluten free Prague restaurant. It serves Italian food, not traditional Czech food, but it's very good at what it does! Alriso is located near Charles Bridge, so the prices are a bit higher than you'd find elsewhere, and it was our most expensive meal by far (still only £16 for a beer, a main, and a dessert!).
I really enjoyed the risotto and the Celia* beer, and loved that they stamped the dessert menu on the tablecloth (also that they had a dessert menu, period!). Although it's not exactly an "authentic" Czech experience, I'd recommend Alriso because 1) it's good food with lots of options that are guaranteed to be safe, and 2) it's great if you get sick of the meat and beer diet that the Czechs love!
*Note: Below I'm pictured drinking Celia beer, which is a gluten removed beer. There are differing opinions and standards on whether gluten removed beer is safe for celiacs, between the USA and Europe. This beer tests as <5ppm and is technically safe for celiacs, but I believe this is up to your own discretion – I do not drink most gluten removed beer. I will touch on this more in the gluten free Prague beers section.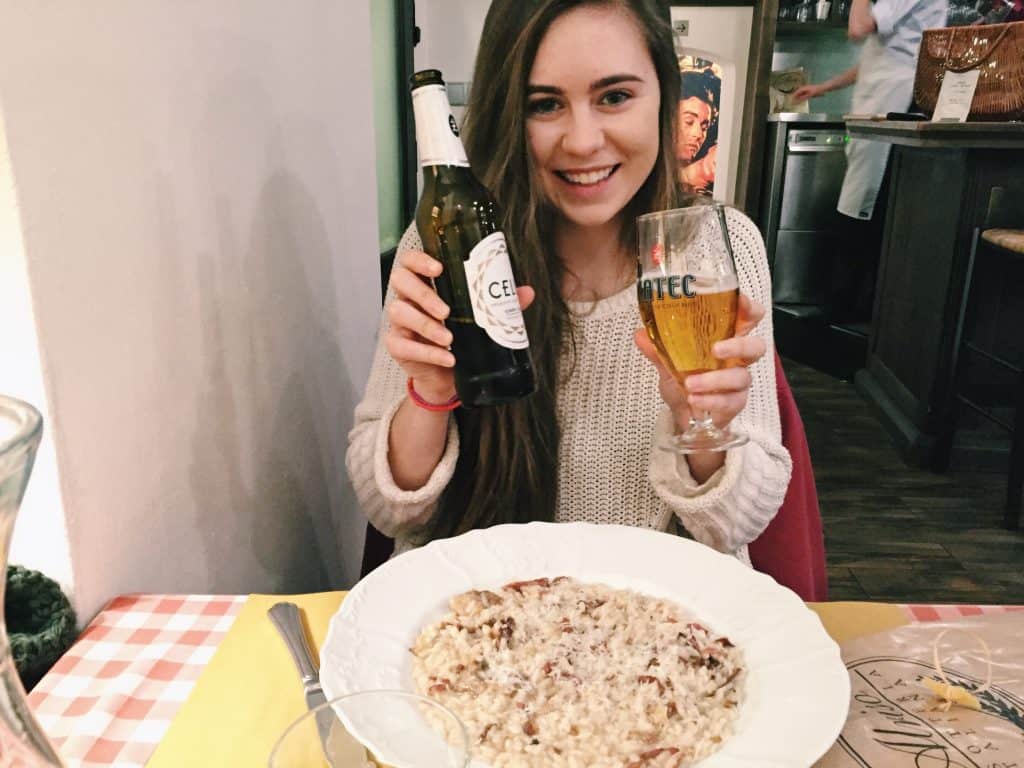 Babiccina Spiz
Babiccina Spiz is a 100% gluten free Prague bakery! In addition, it is also completely lactose free. You can find a huge variety of pastries and baked goods, including even gluten free baguettes. Like most dedicated gluten free bakeries seem to be, it's a bit of a trek to get here and even then hard to find – but well worth the journey for some of Prague's best (and only) gluten free baked goods!
Sweet Secret of Raw
Secret of Raw is the only 100% gluten free bakery in all of Prague! In addition to being completely (and naturally) gluten free, Secret of Raw also has a completely vegan and primarily raw menu. There is a huge focus on whole ingredients, which means you could end up eating a slice of chocolate torte and actually feel healthy for it!
Please be aware that there is a previous location called 'Secret of Raw' that is now closed. The correct address is Sweet Secret of Raw, Rumunska 256/25, Prague 120 00.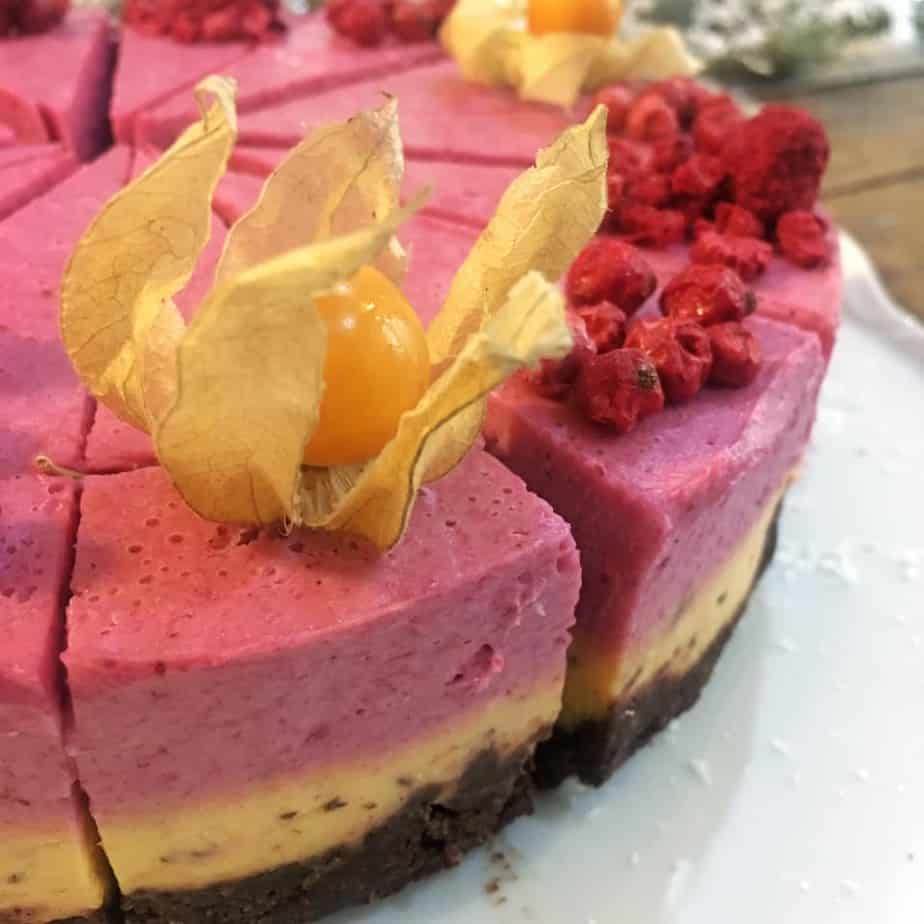 White & Crispy – CLOSED
White & Crispy was a dedicated gluten free bakery and cafe that served incredible pizza, pasta, and pastries. Unfortunately they closed in 2017. Please do not go out of your way to come here, but stay tuned on their Facebook page in case the business reopens.
Gluten free traditional Czech food in Prague
If you're like me, you always want to try the local delicacies when you travel. This can be impossible if you have to eat gluten free – especially in places like Prague where the local flavors are pretty much gluten, gluten, and more gluten. However, we did hit the jackpot with two places where you can find celiac-safe gluten free Czech food!
Svejk U Karla
Svejk U Karla is the #1 gluten free Prague restaurant that anyone on a gluten free diet NEEDS to go to! It's a traditional establishment that offers a gluten-containing menu as well as a gluten free menu, and pretty much everything on the normal menu is available gluten free! Even though it is a non-dedicated establishment, they do take precautions in the kitchen to prevent cross contamination. All gluten free food should come out with a little sign in it!
At Svejk U Karla, you can get gluten free dumplings, two types of beer, all of the meat sauces, schnitzel, apple strudel, pancakes, and more. We ate here twice and I would 100% recommend it to anyone! It's also non-smoking, and the bartender was really interesting to talk to, both positives in my book!
*Note: Make sure you go to the Svejk U Karla location and not the other Svejk restaurant (as it doesn't have a GF menu!)… we made this mistake!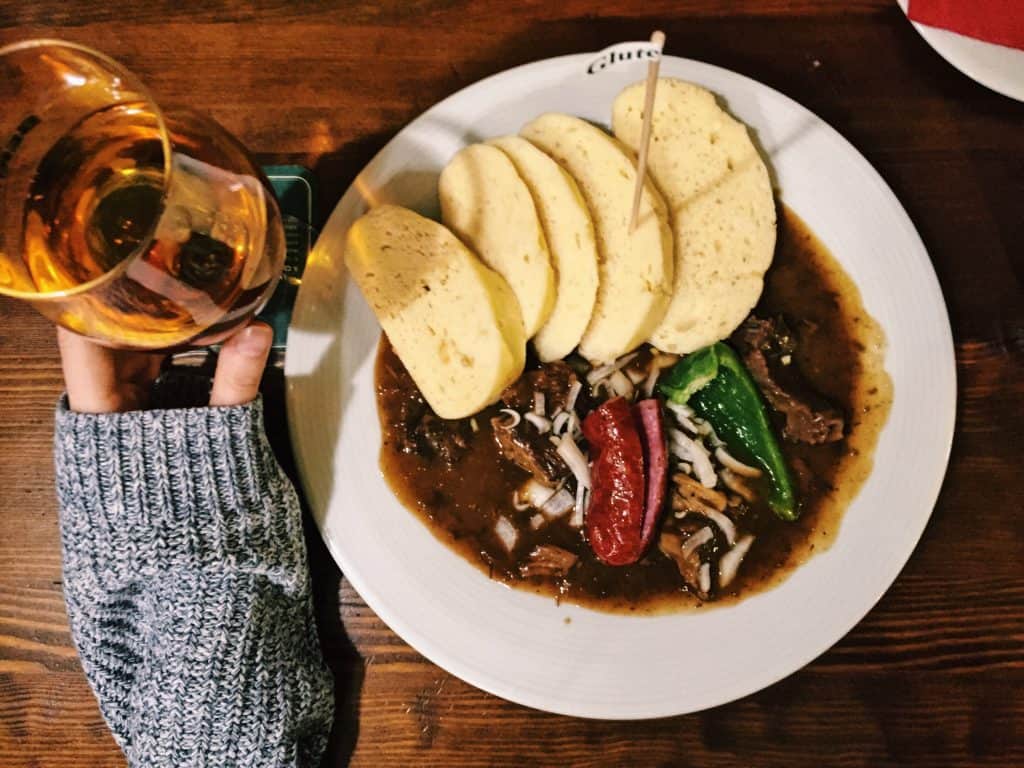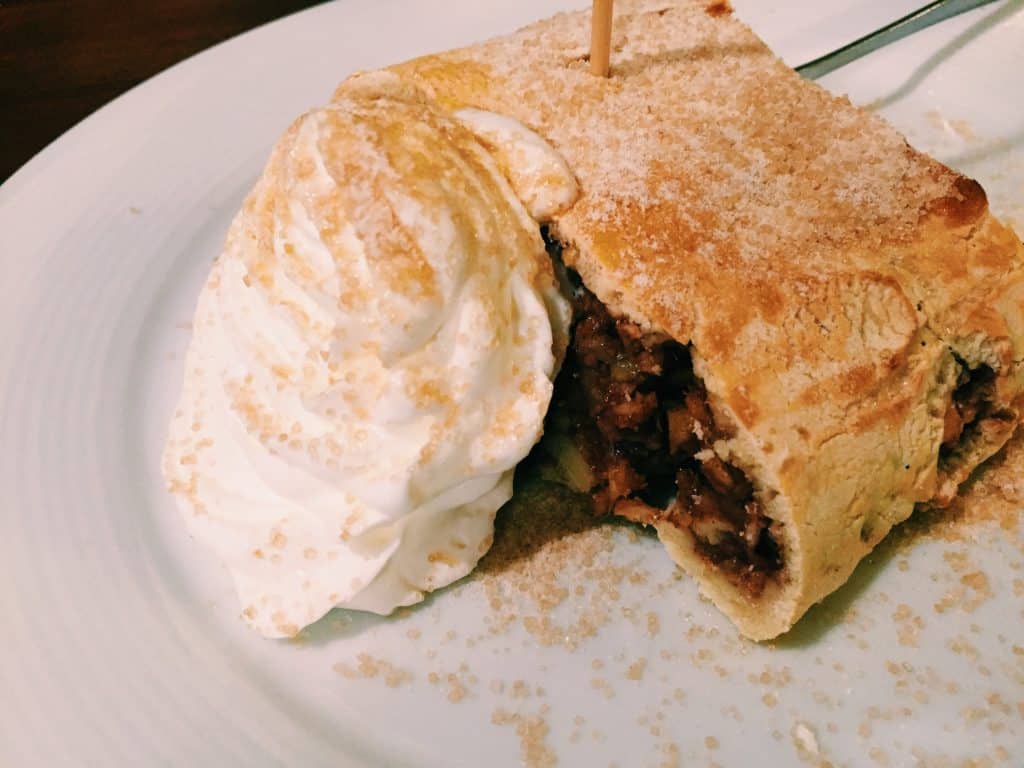 U Magistra Kelly
Although U Magistra Kelly's gluten free menu pales in comparison to Svejk U Karla, it makes up for it with its low prices, and secluded, authentic atmosphere. On the other side of the bridge (Mala Strana), U Magisra Kelly is away from the hustle and bustle. We went to it with no expectations (we wanted to check it out as Dan's friends liked it and Kelly is his nickname)… so I was SO surprised to see gluten free items marked on the menu!
The gluten free options at U Magistra Kelly include two starters and two mains, as well as gluten free rice bread. The second time we ate here, their special was also gluten free. I found the wait staff really knowledgeable, which is always a plus in my book. They don't have gluten free beer, but they do carry cider for a low price, which is unusual in Prague! It's a great place to go, especially if you are traveling with non-celiac companions who want to try out really authentic Czech food.
*Note: Indoor smoking is permitted at U Magistra Kelly.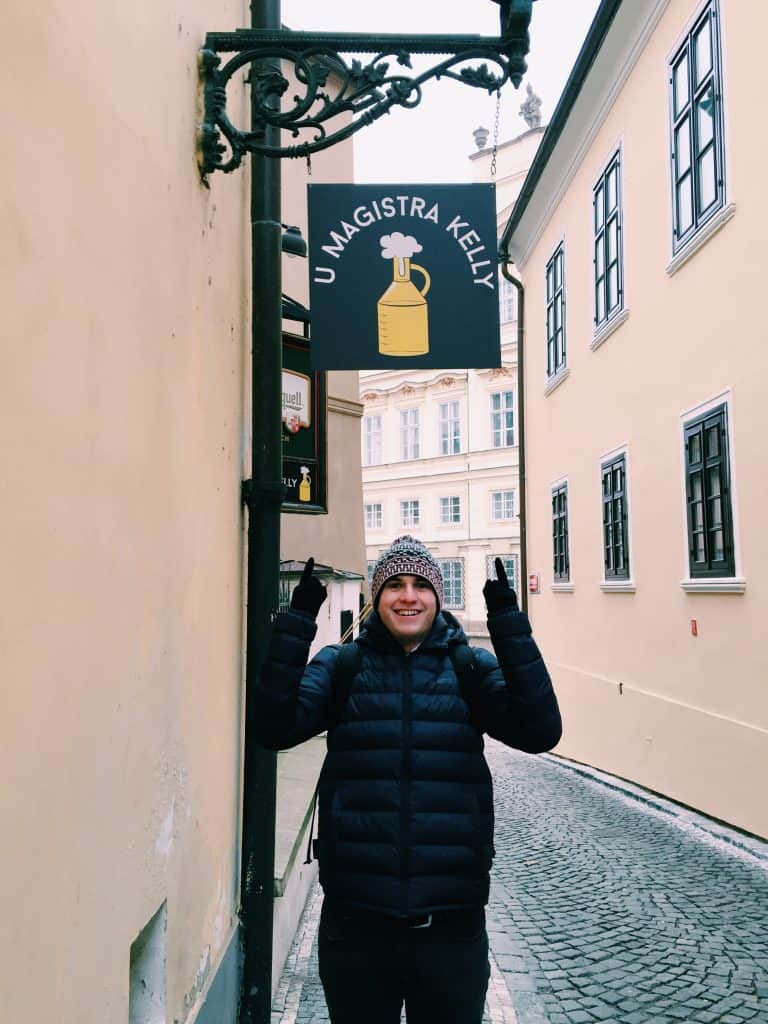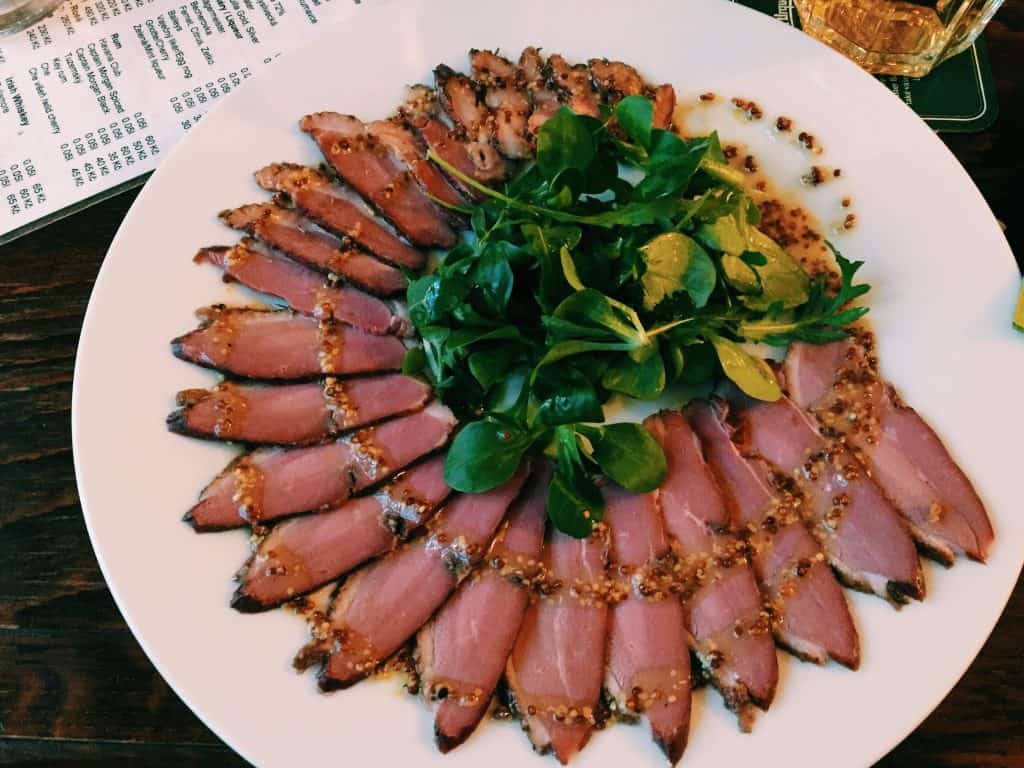 Non-dedicated gluten free restaurants in Prague
There are plenty of other places to eat in Prague that, although not 100% gluten free, offer gluten free options and take steps to prevent cross contact.
Lavande
Lavande is a French and Italian cafe that offers a huge variety of gluten free options. This includes fresh gluten free bread, gluten free gnocchi, gluten free pasta, gluten free desserts, and more. It's in the Shmichov district, which means it's not on the usual tourist trail, but definitely worth a visit in my opinion!
Lavande also serves a wonderful gluten free breakfast, which I want to note as, unless you eat at your gluten free-safe hotel (see below for my recommendation!), it can be challenging to find gluten free breakfast options in Prague. Also note that although Lavande takes steps to prevent cross contact, this is possible as it is a shared prep space.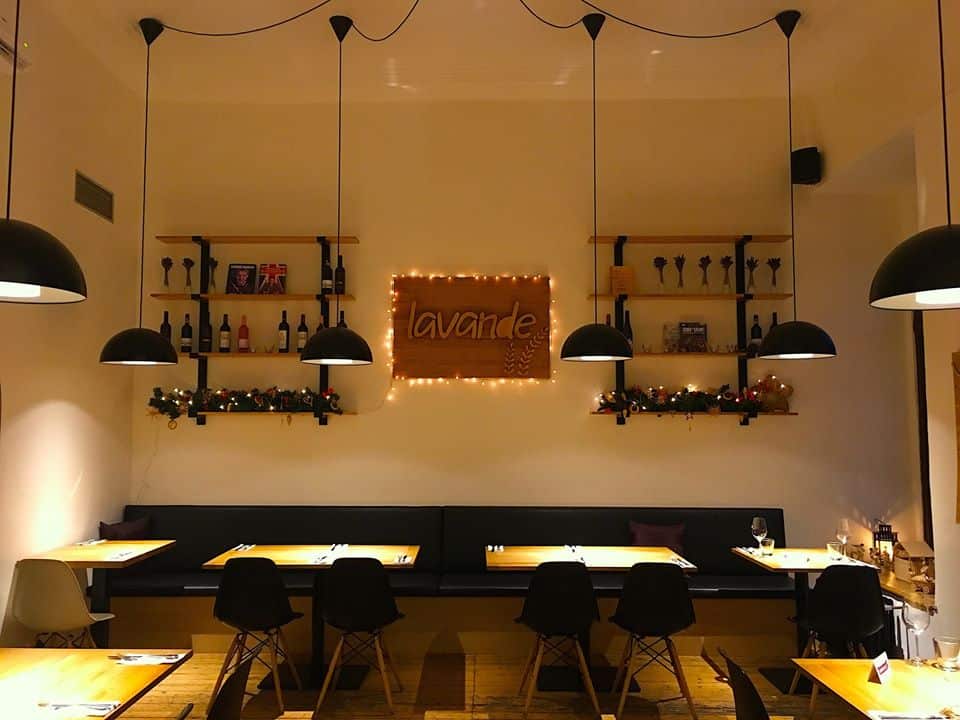 Grandium Hotel
Grandium Hotel (previously called Hotel Yasmin) is not actually a restaurant, but serves an incredible gluten free breakfast option! This is where we stayed in Prague, and I recommend it to everyone, especially gluten free travelers. Grandium Hotel is a four star hotel in Prague 1 that's quite cheap (yay Prague prices!) and breakfast is included in the cost. It turns out that there was not only a 100% gluten free omelette station, but also a basket of gluten free bread and pastries, and special gluten free granola!
Book your stay at Grandium Hotel on Hotels Combined to find the best price.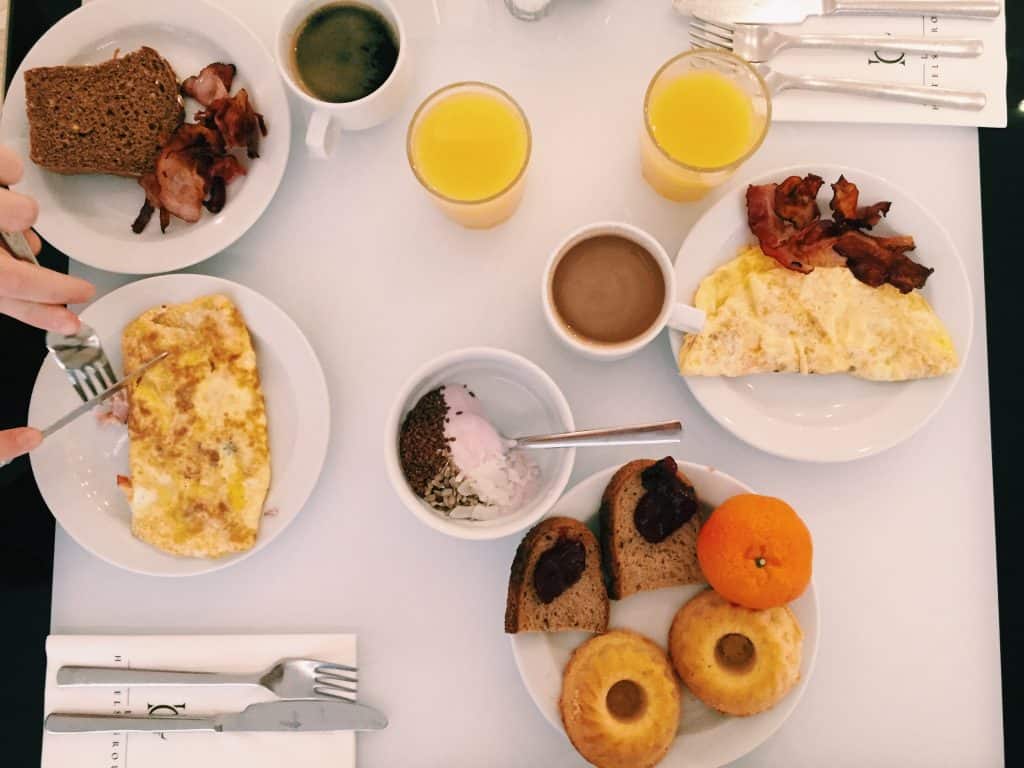 Cafe Savoy
Cafe Savoy is one of Prague's most well known restaurants, located along the river on the Mala Strana side, and is on many travelers' Prague 'bucket list'. It is a truly grand restaurant with an ambience straight out of 1893 – when it was founded! As such, be prepared to either make a reservation, or have a very long wait for a table.
In terms of gluten free options, Cafe Savoy offers gluten free bread, although it is unclear to me whether this is prepared in a dedicated toaster (please check!). So this could be a good breakfast option, if you are desperate to experience this iconic Prague institution. However, you will definitely have limited options and will not be able to partake in the mountains of pastries.
We attempted eating at Cafe Savoy but didn't make a reservation, and weren't prepared to wait. However, I ran into a celiac couple on our last night in Prague, who said that they loved Cafe Savoy and they had the gluten free bread. Since then, I have seen some mixed reviews online regarding gluten free options – my advice is to go in with low expectations, and come here for the ambience and not the food.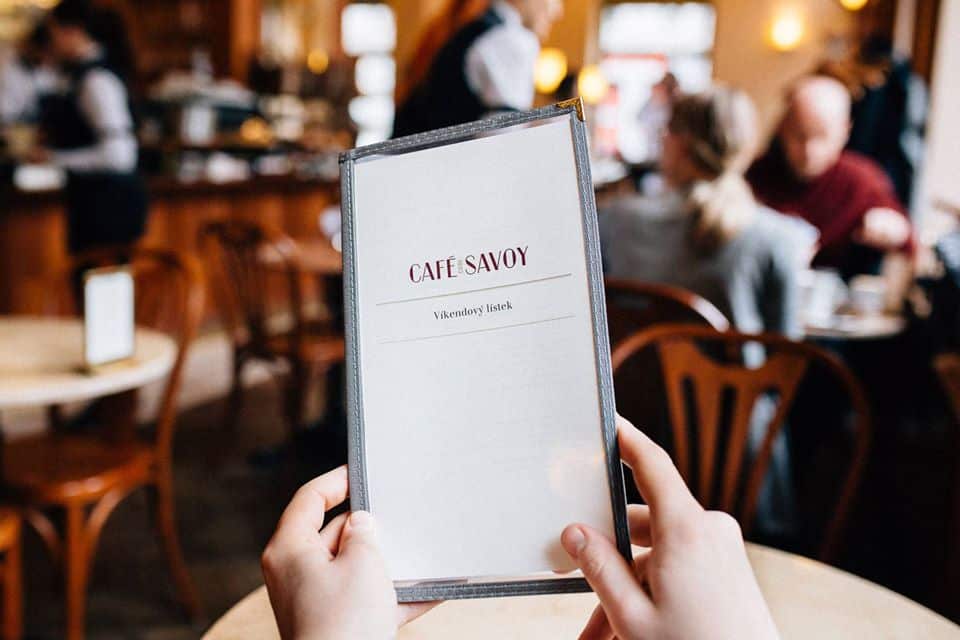 Arepas de Lyna
Arepas de Lyna is a tiny Venezuelan restaurant that's tucked away in Prague 1. Due to the nature of Venezuelan food, the menu is almost completely gluten free! The restaurant's namesake, Arepas, are a traditional Venezuelan dish that's essentially a flat pancake made out of corn flour. In addition, Arepas de Lyna serves gluten free beer! This is a dinner-only establishment, but definitely stop by for a low key and gluten free meal!
Vegan's Restaurant Prague
Vegan's Restaurant Prague is located in Mala Strana, and well situated if you are on your way up to (or back from) Prague Castle. It advertises gluten free and vegan burgers, gluten free traditional potato goulash, and offers gluten free crackers. We did not eat here as we were on our way to U Magistra Kelly (see above!), but I have seen very positive reviews online.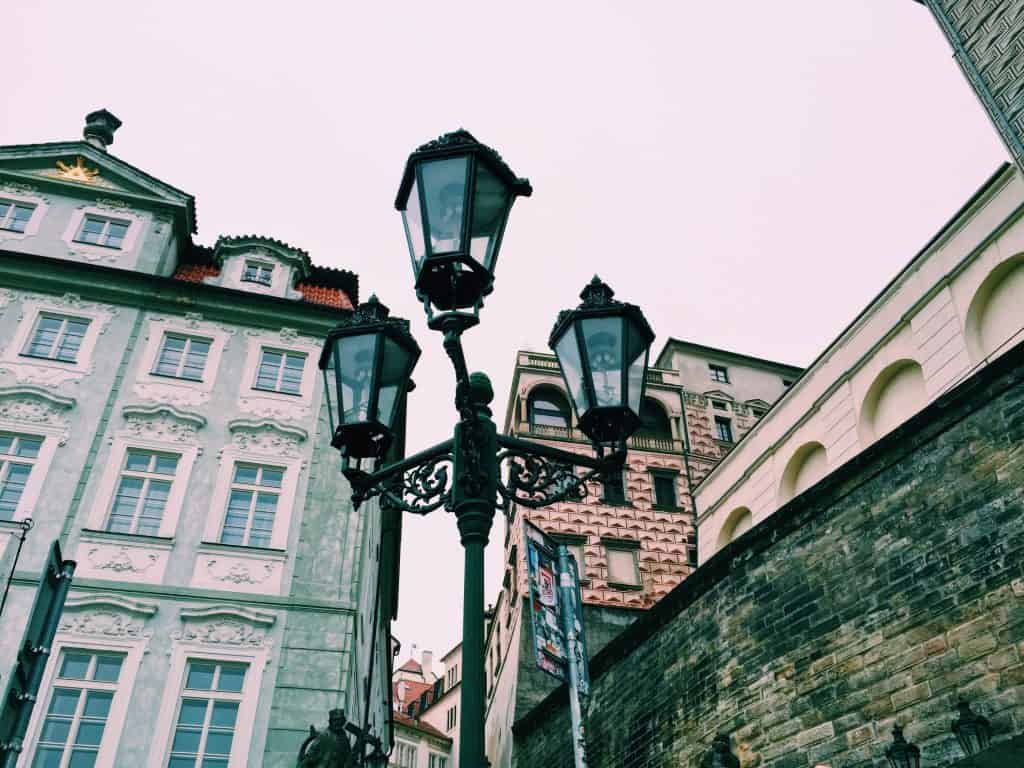 Podolka
Like the other restaurants in this section, Podolka is not a dedicated gluten free restaurant. However, they do have plenty of gluten free options, and mark these clearly on the menu. The staff and chef also have an understanding of celiac disease, so they are able to prepare your meal in the safest way. There are two locations – one in Karlin and one in Poldoli. Personally, I love the Karlin district and even wrote a whole guide on what to do in Karlin!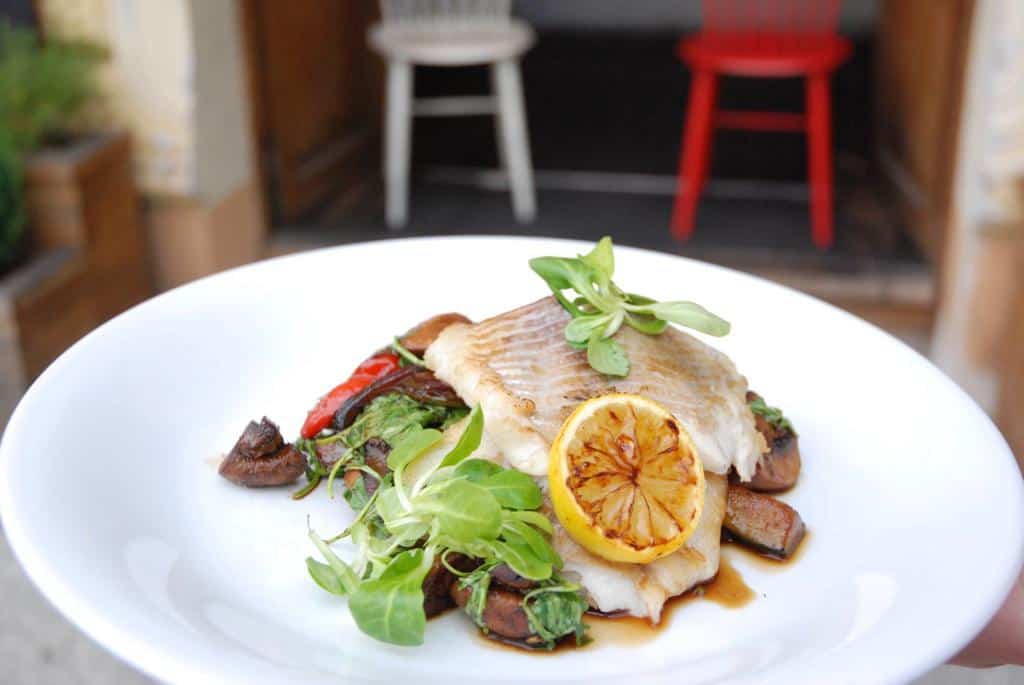 Pizza Nuova
Pizza Nuova is a really popular restaurant in Prague that you will see on a lot of 'gluten free Prague' lists. It's little deceptive, though, and I want to warn you: you cannot get gluten free pizza here! Sadly, due to the use of a shared oven, Pizza Nuova does not offer gluten free pizza. I know, I was disappointed at first, too. However you can definitely put a positive spin on this: the staff at Pizza Nuova clearly understand celiac disease and the importance of preventing cross contact! They do offer gluten free pasta, so you certainly won't go hungry here.
MAITREA
Located in Prague Old Town, MAITREA is another vegetarian restaurant in Prague that also has gluten free options! Perfect if your traveling group has multiple needs. If you're in the market for a combo gluten free and vegetarian friendly restaurant, then MAITREA seems like the best place – even better than Vegan's Restaurant, in my opinion. This is because not only does the menu mark gluten free items, but there is also gluten free bread available, and even Celia gluten free beer!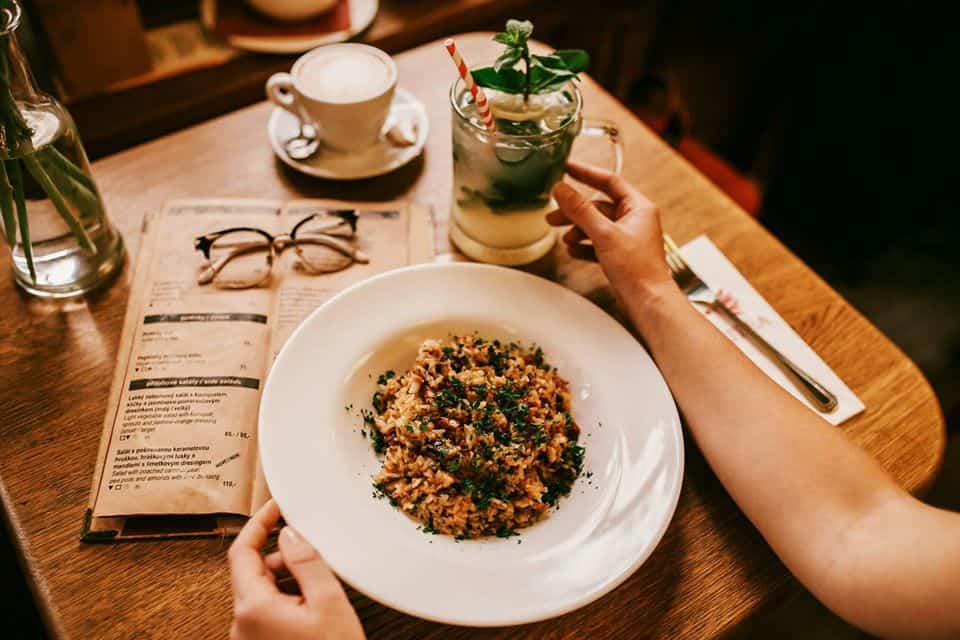 Gluten free cafes in Prague
In addition to the two dedicated gluten free bakeries/cafes in Prague (Babiccino Spiz and Sweet Secret of Raw) that I mentioned earlier, there are a few other cafes well worth mentioning!
Muj Salek Kavy
Muj Salek Kavy is lauded as the best cafe in Prague by a lot of different sources, including this gluten free writer! It's also the establishment which is credited for the comeback of the Karlin neighborhood, a once rough area of Prague that is now seeing an economic/cultural rebirth. We could definitely see why, as this was a very hip cafe, super crowded, and we waited about 15 minutes to be seated on a Sunday morning. Their menu is full of specialty coffees, juices, and they carry lots of gluten free cakes and brunch options.
I also want to note that since my visit, Muj Salek Kavy has taken their gluten free options to the next level! They now prepare their own gluten free bread in house. This bread has rave reviews and I honestly would love to return to Prague just to try it out.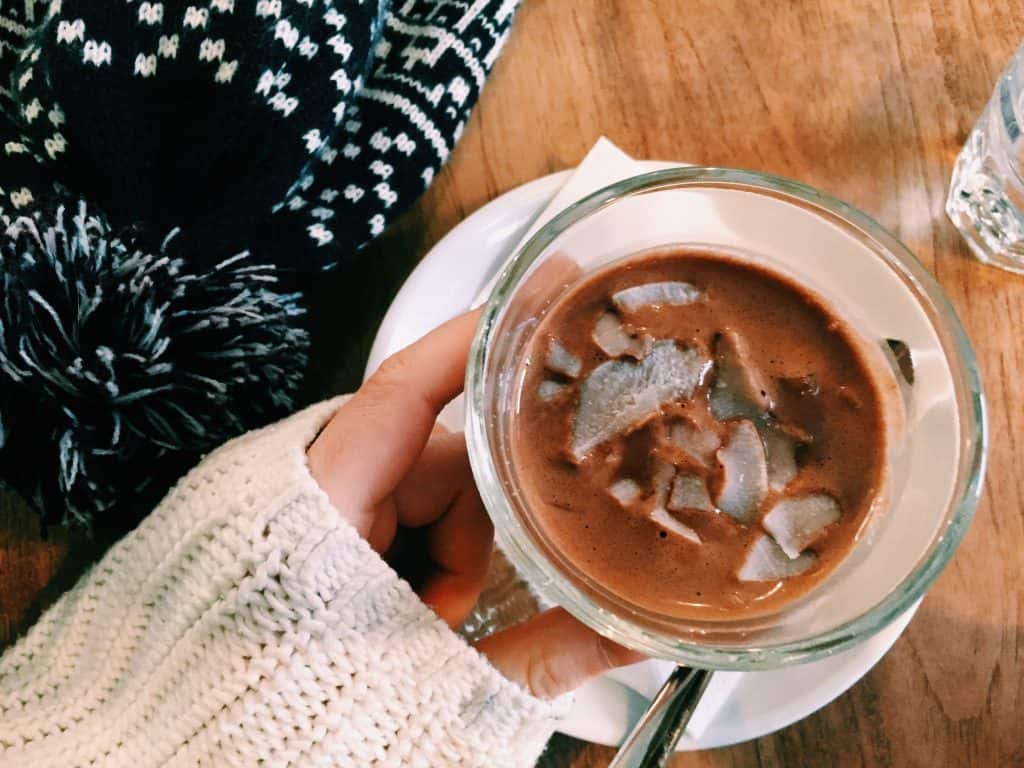 Kavarna Kocici – Gluten free Prague cat cafe!
Kavarna Kocici is Prague's one and only CAT CAFE!! Who knew?! Certainly not us, as we actually found this place by accident while exploring Karlin. It's a bit further out from Prague's center, but such a fun and unique experience. Dan and I both just ordered coffees and played with the cats, but their menu does list allergens, so I know I could've ordered a salad (which is actually a feat in this city). There are also gluten free cakes available, but I don't know about the preparation or risk of cross contact so be sure to ask! There is a 20kc cover charge to come in, which contributes to the cats' care.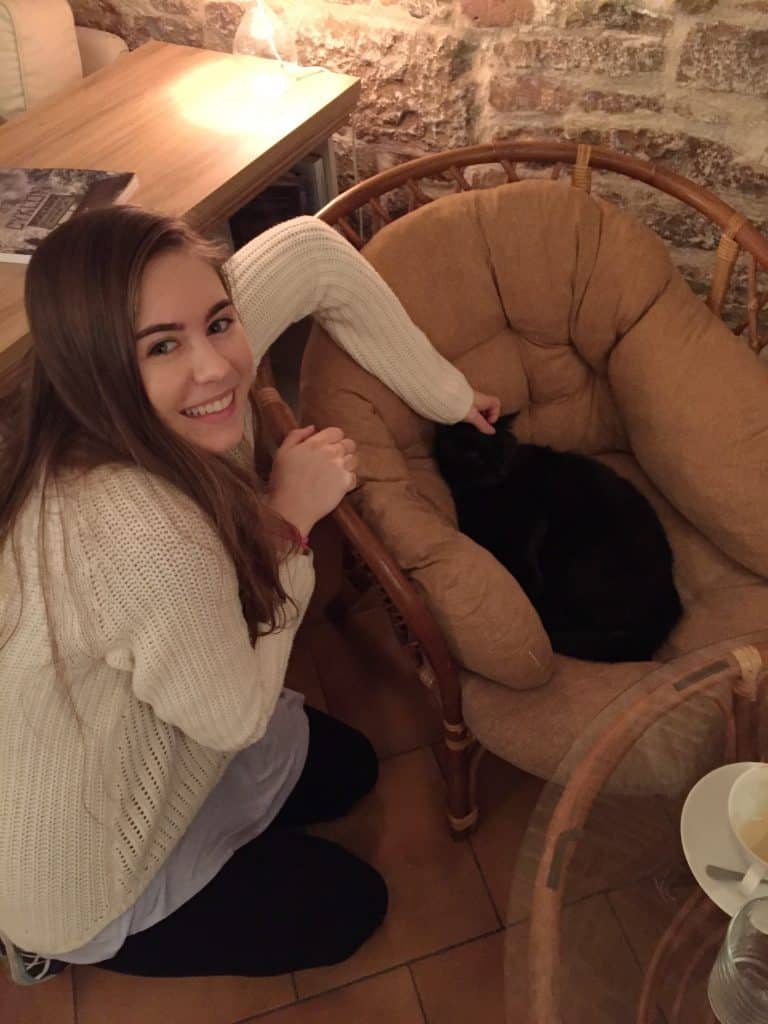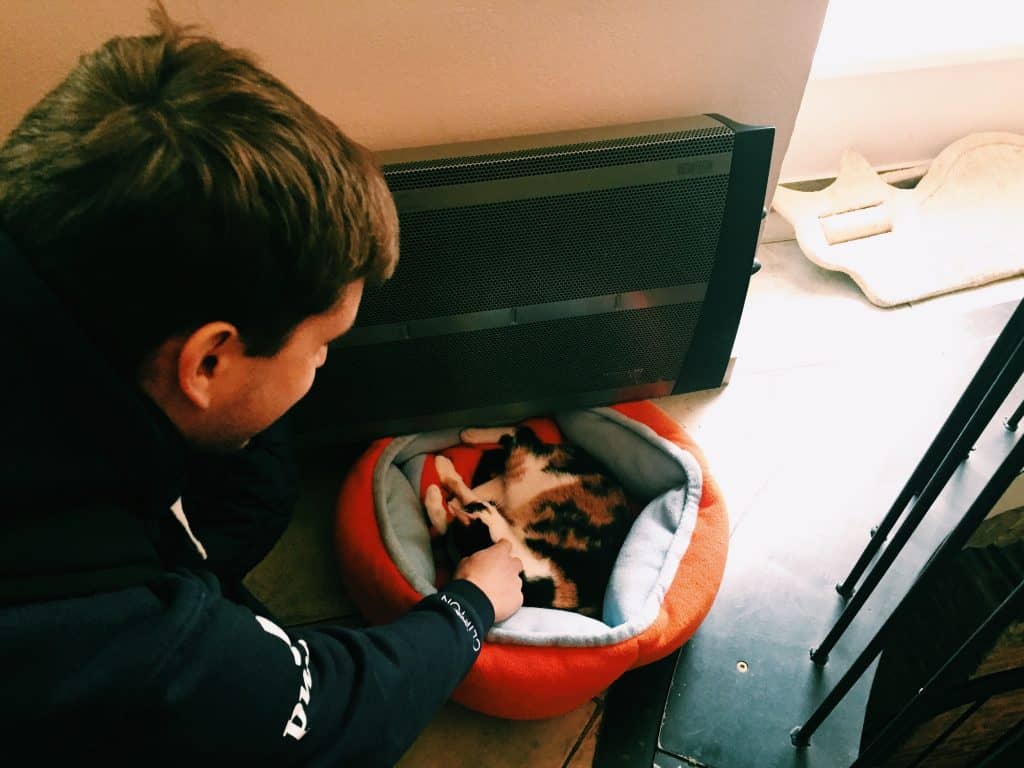 Tricafe
Tricafe is a super cute cafe close to Charles Bridge. Although this is not a dedicated gluten free cafe, they do offer plenty of gluten free cakes and sweets each day. The atmosphere is very hipster and chilled, so this would be a great place to stop for an afternoon break, or even get some work done if you need to!
To be completely transparent, I did not get to eat here because… when I went to pay for my gluten free nut cake I realized I had lost my wallet!! So, I didn't actually get to eat anything here, but I can attest to the kindness of the staff, who let me use their personal phone to call the Monastery I left my wallet at, and then translated Czech for me…without me paying them anything (due to the whole lost wallet situation).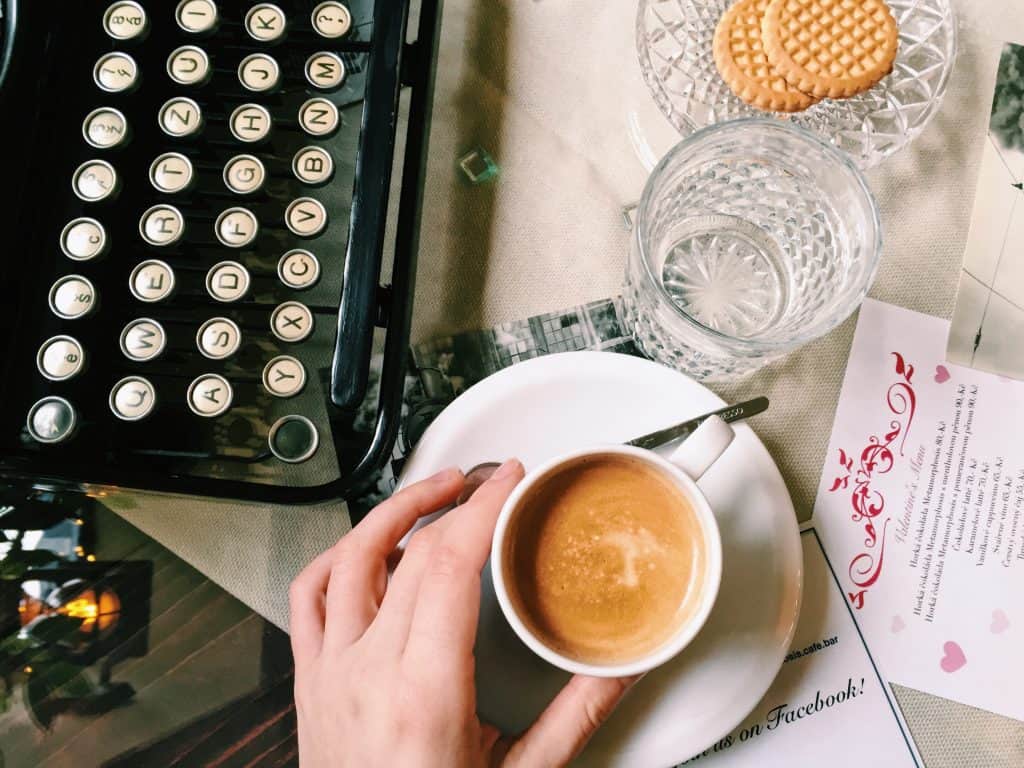 Gluten free Prague drinking: Beer and cider
As we know, Prague is the city where beer is cheaper than water (seriously, I think they're so proud of this phrase, but it's true). But can those with celiac disease or gluten intolerance join in?
Beer
As far as gluten free beer goes, I was able to try Celia (at Svejk U Karla and Alriso) and Bernard's (we only saw this sold at Svejk U Karla). Personally, I preferred the Celia which was crisp and light and supposedly like an IPA… the Bernard's was much more like an ale according to Dan.
Both Celia and Bernard's are gluten removed beers. This means that they were brewed with barley malt, which is then removed post production. Both beers test at <20ppm which is the cut off for something to be considered gluten free (Celia at <5ppm and Bernard's at <20ppm). There is a lot of contention around this topic, with notable differences between Europe and the USA. For instance, in the USA the FDA rules that gluten-removed beer cannot be labeled 'gluten free' (although, in practice, this is not always the case). In Europe, gluten removed beer seems to be much more accepted, despite research pointing it may still not be safe for celiacs.
Ultimately, this is a personal decision you must make for yourself. If I was to go back in time, I would not drink the Bernard's again – although I did not have an averse reaction (however, #silentsymptoms as you know!). I would still drink Celia as it is more regulated and has a much lower ppm… but like I say, this is a personal decision.
Cider
Luckily, there is not the same contention with cider, which is naturally gluten free! Phew.
If you're into cider, you won't find it many places in Prague, and when you do it will be much more pricy than beer. I got a quite good price for Kingswood Apple Cider at U Magistra Kelly, though, for only 40kc!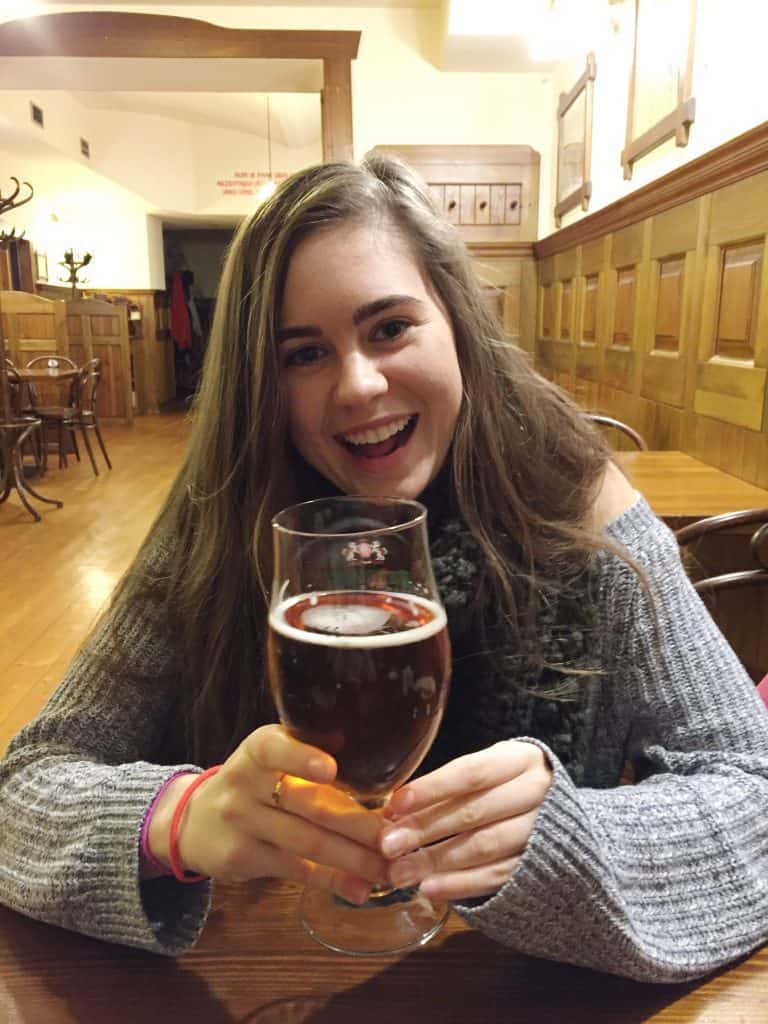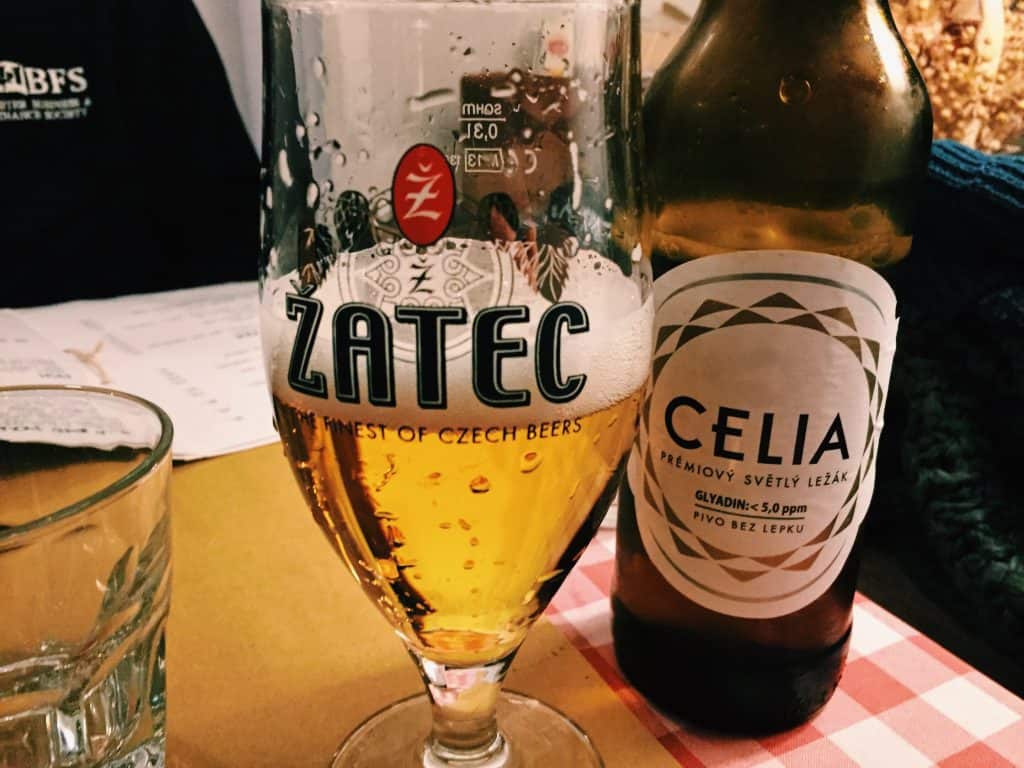 Closed restaurants in Prague
I try to keep this post as updated as possible with closed restaurants, or new gluten free restaurants on the scene (It's updated for 2020). Before my own trip to Prague, I read some really great gluten free guides, but unfortunately most of these posts are quite old! Which means that actually a lot of the gluten free restaurants they mention NO LONGER EXIST. So, don't make the same mistake as us and spend 30 minutes walking in circles trying to find a restaurant that it turns out has been closed for years.
Some notable gluten free Prague restaurants that are now closed:
Little Whale Restaurant/U Male Velybry
Na zlaté křižovatce
White & Crispy
A common mistake you might make:
Whatever you do, do not go to U Karla IV! This restaurant has 5-6 TripAdvisor reviews stating how amazing its gluten free menu is. You can read the saga of my own visit here, but in short: those TripAdvisor reviews were probably from people trying to review Svejk U Karla (a restaurant I mention earlier in this post), and as the name is similar they got confused.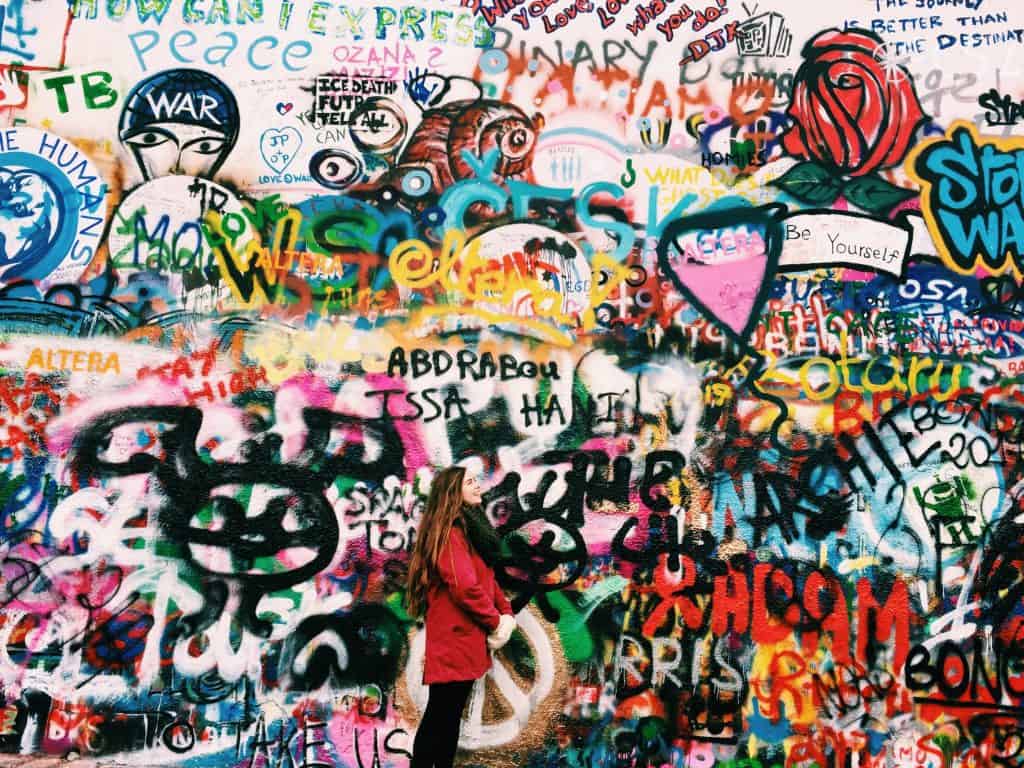 Where to stay in Prague if you're gluten free
As I mentioned earlier in this article, gluten free breakfast is somewhat hard to come by in Prague. I highly recommend staying in a hotel that caters to gluten free guests with a safe breakfast.
Grandium Hotel
This is where we stayed in Prague. It is a four star hotel at an incredibly reasonable price, in a great location in Prague 1. For breakfast, I could have omelettes, gluten free pastries, gluten free bread, and more. I would definitely stay here again and highly recommend it to others.
Book your stay at Grandium Hotel on Hotels Combined for the best price. 
Other gluten free hotels in Prague:
There you have it! Prague was an incredible place to visit, and I was so happy that I got to experience it despite having to eat gluten free. In fact, we definitely saw more of Prague than we would've if I wasn't gluten free, as we looked for restaurants. And that made the trip even more memorable!
As usual, please comment below or email me if you use this guide on your trip to Prague. I try to keep it as updated as possible, so let me know if any restaurant closes or changes its options. Happy traveling, and happy eating!
Sarah xx
Browse all my gluten free travel guides here. Including:
And many more!
Pin it for later…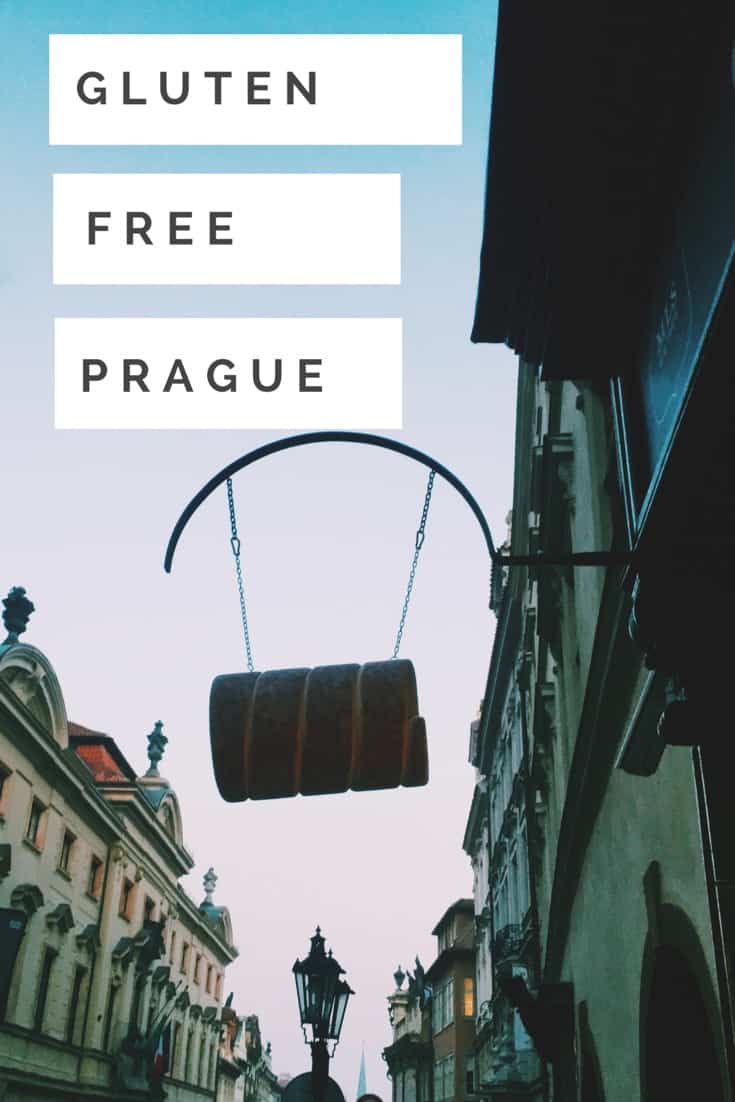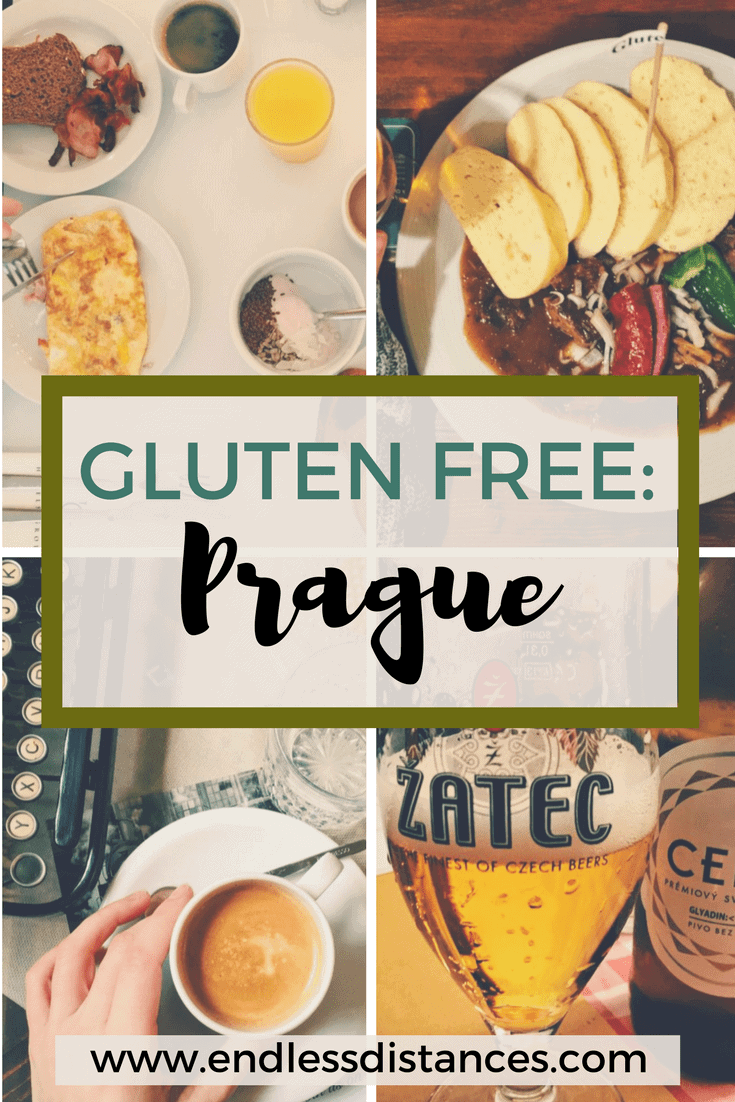 *This post is now available as an app! Download it through GPS My City here for free, with the option to upgrade it with GPS.
*This post contains affiliate links. If you click a link and make a purchase, I may make a small commission at no extra cost to you.