Volunteering in a Refugee Camp Diary | 4
This post is the final installment (although I will continue to write about this topic in many forms – your feedback is welcome in the survey at the bottom of this post!) in my diary posts on volunteering in a refugee camp in Northern France with the Roland Levinsky Memorial scholarship. You can read the first three posts here: 1, 2, 3.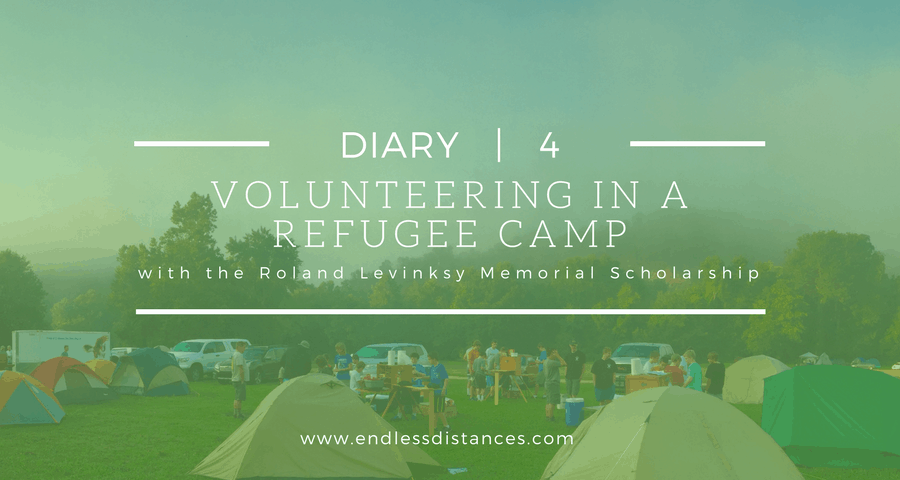 A Final Reflection
I found working in the refugee camp very difficult. That is not a secret. A few days in I called my boyfriend and said "I want to leave," and he said "why don't you, then?"
But. I didn't leave.
There was a point about a week and a half in where I turned a corner. Each day no longer seemed interminably long, confusing, terrifying, overwhelming. No… that's not quite right. It still felt like all those things (that never changes) but I changed. I added to that list: rewarding, efficient, important, loving. I figured out how the system worked and I developed relationships with the people, and suddenly I felt that I not only had a purpose but I knew how to make a difference. One of the most frustrating things in the world is when you see that you are needed, but you don't know how to make a difference.
Well, right at the point when I began to feel like I knew how to make a difference, I left.
And… something horrible happened.
Something really, really horrific, which kept me constantly updating my phone's news on the Eurostar back to London, messaging new friends to make sure they were okay, were safe. Prickling with tears of anger and frustration as I passed through security in St Pancras and met my parents waiting for me on the other side. On the day I left France, there was a massive police eviction. The riot police and the normal police and dozens of vans came into the forest, and every single last refugee was put on a van, many against their will or purely confused as there was no explanation calmly given in their language. Their tents, wellies, sleeping bags, tarps were abandoned or cut or destroyed… these same tents that were donated and carefully distributed by myself and the other women working for the charity, now decimated in heaps in the mud.
How terrifying, to one day be forced onto a van, yelled at in a language you cannot understand (many refugees speak English but not French), and driven hours (I heard of up to 17 hours), to a city you don't know, with no way to get back to your only few belongings and people you know. Many families were separated…imagine this if you have no phone or access to the internet, after all the trauma you escaped in your home country, to now be thrown around and transported like cargo.
If you treat people like dirt for long enough, they will begin to think that way about themselves. This is a well known sociological theory, which I saw in action every day.
After a few days, we knew the refugees would come trickling back into the forest, a few at a time, as they somehow made their way across France and back to the jungle. But this was the terrifying part – we had nothing left to give them. Our supplies had been destroyed or depleted, and we had nowhere near enough left to replace the destroyed materials.
At this point, I lay in my Airbnb bed in London, the softest bed I had ever slept in, staring at the ceiling. Thinking how unfair.
I don't have much else to offer because I think the connections are all pretty obvious. Very soon, I will be heading back to France. This wasn't something I initially planned. I thought I would volunteer, and then go on my way… but this tragedy, right in the middle of the comfortable middle class neighborhoods in Northern France, is calling me back.
If I don't help, who will?
On the Blog
I want to know if you all would like to continue reading about volunteering in the refugee camps. It would mean the world to me if you could answer this short survey.
A Call to Action
If you would like to donate to the Refugee Women's Center, you can do so here: Dunkirk RWC donation website
You can keep up to date on the Dunkirk Refugee Women's Center actions here: Dunkirk RWC facebook 
Are you a woman who wants to volunteer with Dunkirk Refugee Women's Center? You can email [email protected]
Other worthy organizations in the area include Refugee Youth Service, Refugee Community Kitchen, Care4Calais, Drop Solidarite, and Help Refugees. All organizations accept donations and volunteers (and you don't have to be a woman).
& of course, a final heartfelt thank you to the Roland Levinsky Memorial Fund for enabling me financially to volunteer with the Dunkirk Refugee Women's Center, and to continue my volunteering past my initial plans.
Sarah xx