Bura Surfhouse: Come to Lagos Portugal for this Hostel!
It was three years ago on a particularly drizzly English day when Bura Surfhouse popped up on my Facebook ads. With a bit of curiosity and a yearning for (even internet-sourced) sunshine, I clicked over to the Bura Surfhouse website. A hostel on the algarve coast of Portugal, featuring yoga classes, a pool and bar, barbecues, pancakes every morning, a short walk from five stunning beaches, daily surf/hiking/paddle board/kayak outings, and (the kicker) weekly trips to walk the local humane society puppies?! Well, it's not really a surprise that I spent the following three years with Bura Surfhouse at the back of my mind every time I planned a trip!
This year, I finally got to visit Bura Surfhouse in Lagos, Portugal. But did it live up to my expectations?
Check rates and availability for Bura Surfhouse here.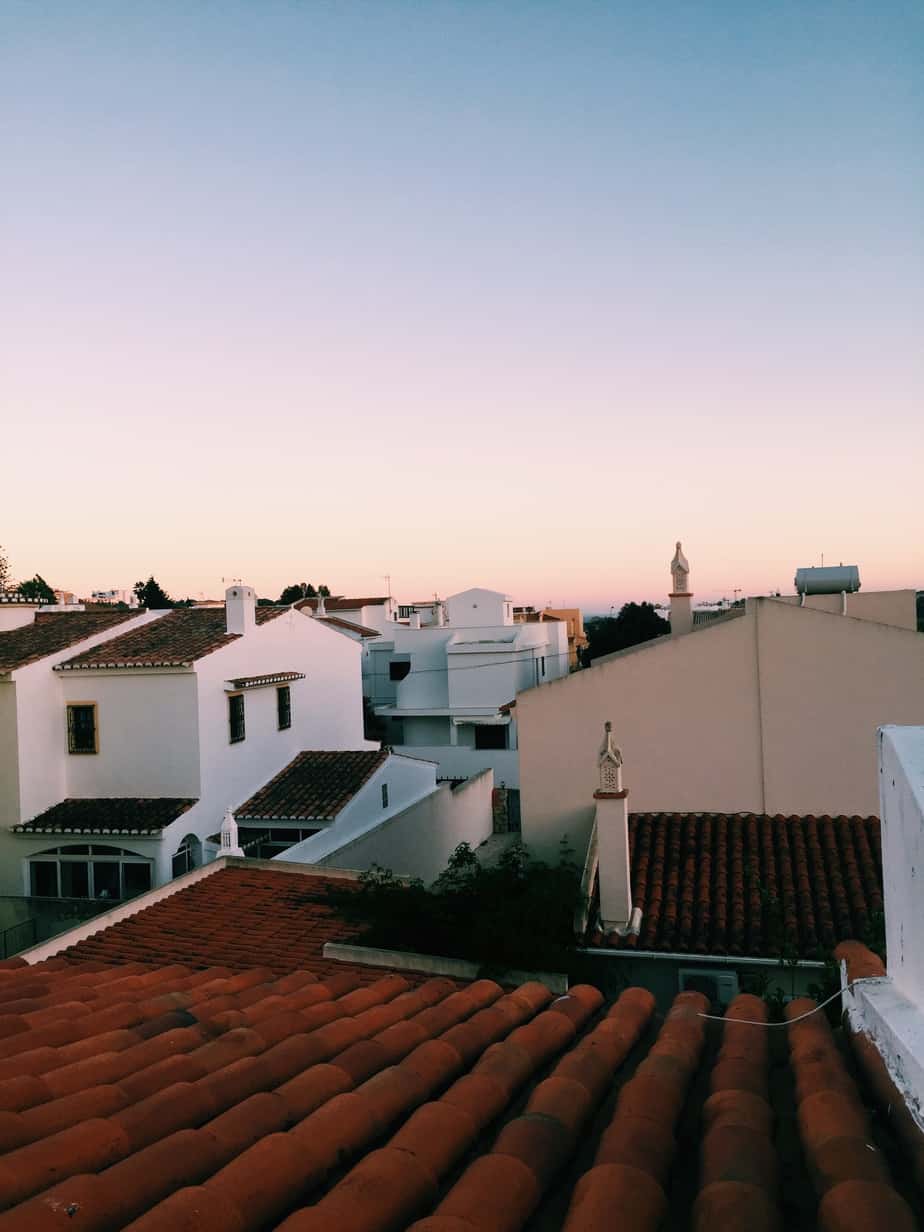 Bura Surfhouse: Why visit Lagos, Portugal?
Bura Surfhouse in located in Lagos, Portugal, which is right on the famously beautiful Algarve coast. Think world-class beaches, stunning views, adventure sports, and lazy days in the sun.
There is no airport in Lagos, but there is an airport in Faro, which is only an hour away. Bura Surfhouse offers shared pick-up from the airport (or you can take a train). Faro is a small airport, but it is pretty popular for European budget airlines like Ryanair. If you are anywhere in Europe (particularly the UK), a trip to Bura Surfhouse is an amazing budget option for a beach getaway.
And that's what it came down to… we literally planned our entire trip to Portugal around Bura Surfhouse. But was it worth it?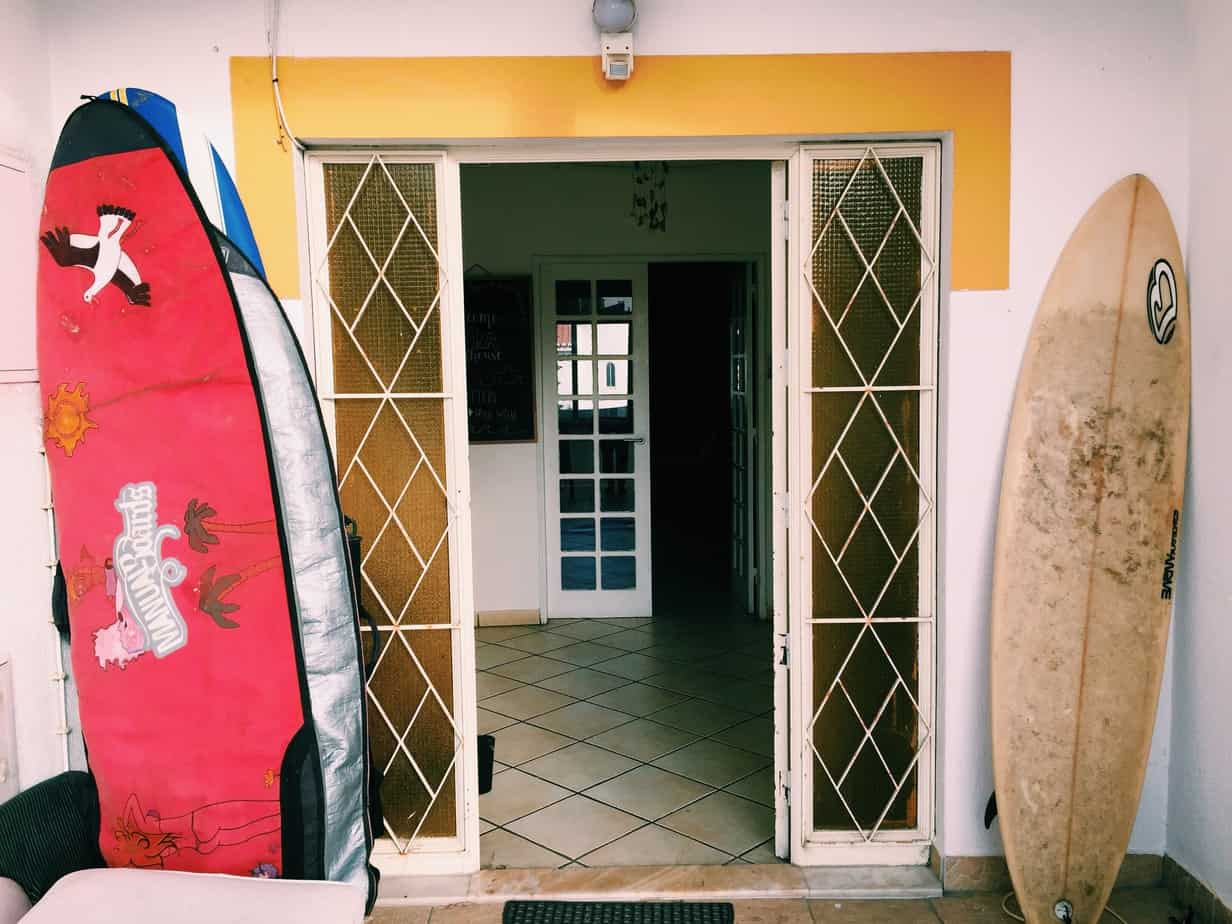 Bura Surfhouse: Our impressions
So we planned our week-long getaway to Portugal completely around Bura Surfhouse, and you know what… no regrets! I would do it again in a heart beat, and I'm even more convinced that I love this slower style of travel… staying in the same place for a week, chilling and exploring with no pressure to travel on to the next destination.
But it wasn't just this relaxed style of travel that made our trip to Portugal so great. It was Bura Surfhouse! I was a little nervous before we arrived that I had way too high expectations for a little Portugese hostel. I love staying in hostels, but there is such a wide range out there.
I've stayed in anything from 'luxury' hostels at exorbitant prices, to a (thinking of a particular) hostel with a cardboard door and dirty underwear hanging everywhere. Yup. (I would say it's all about the adventure, but nobody wants that). But which camp did Bura Surfhouse fall into?
Firmly in the 'I would live here' category!
Dan and I arrived to Bura Surfhouse and were immediately greeted at the door by the waggling tails of two hostel pups. We checked in to probably the best hostel room I have ever stayed in. At Bura Surfhouse, you can stay in a dorm room, or you can opt for a private room. We decided to book the 'apartment,' which turned out to be its own separate studio-apartment building, complete with private bathroom, living area, and kitchen.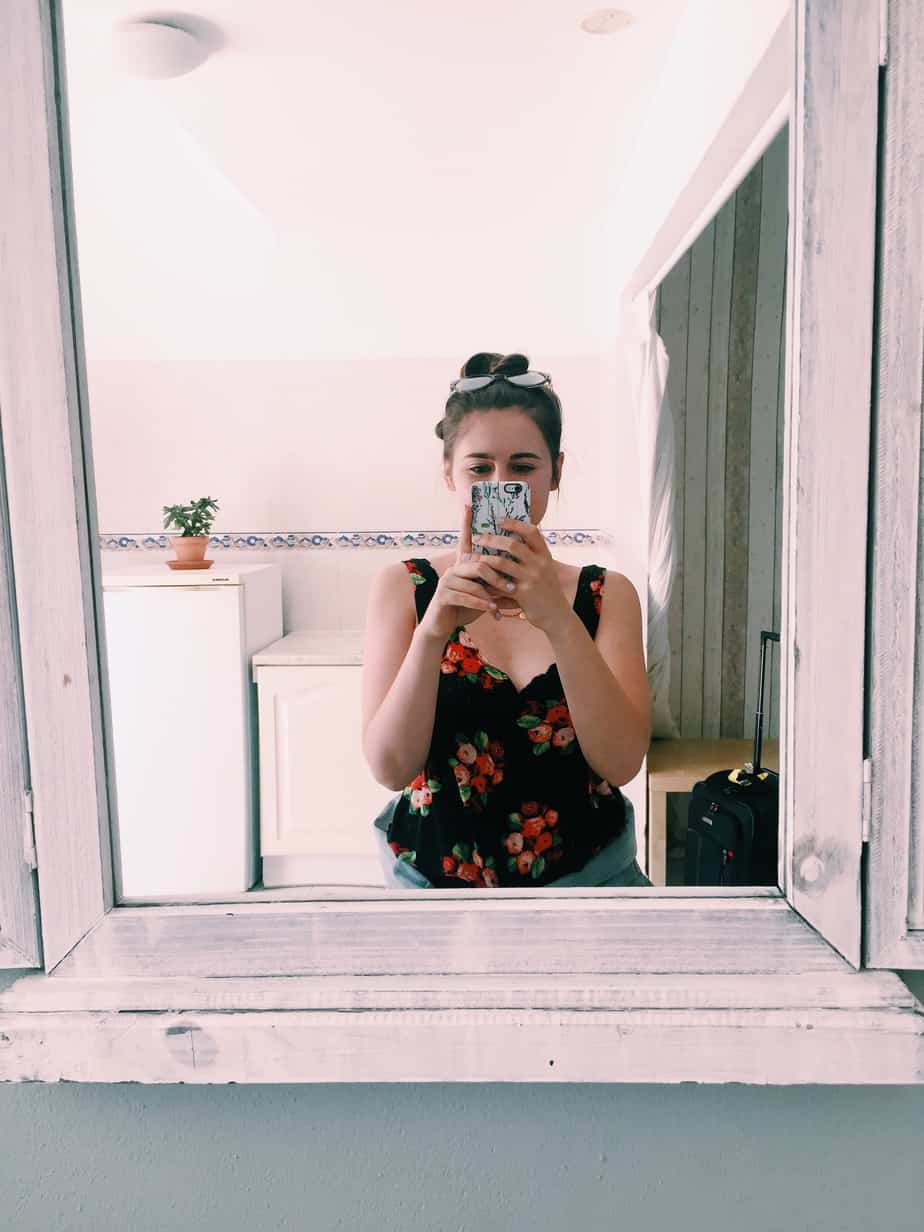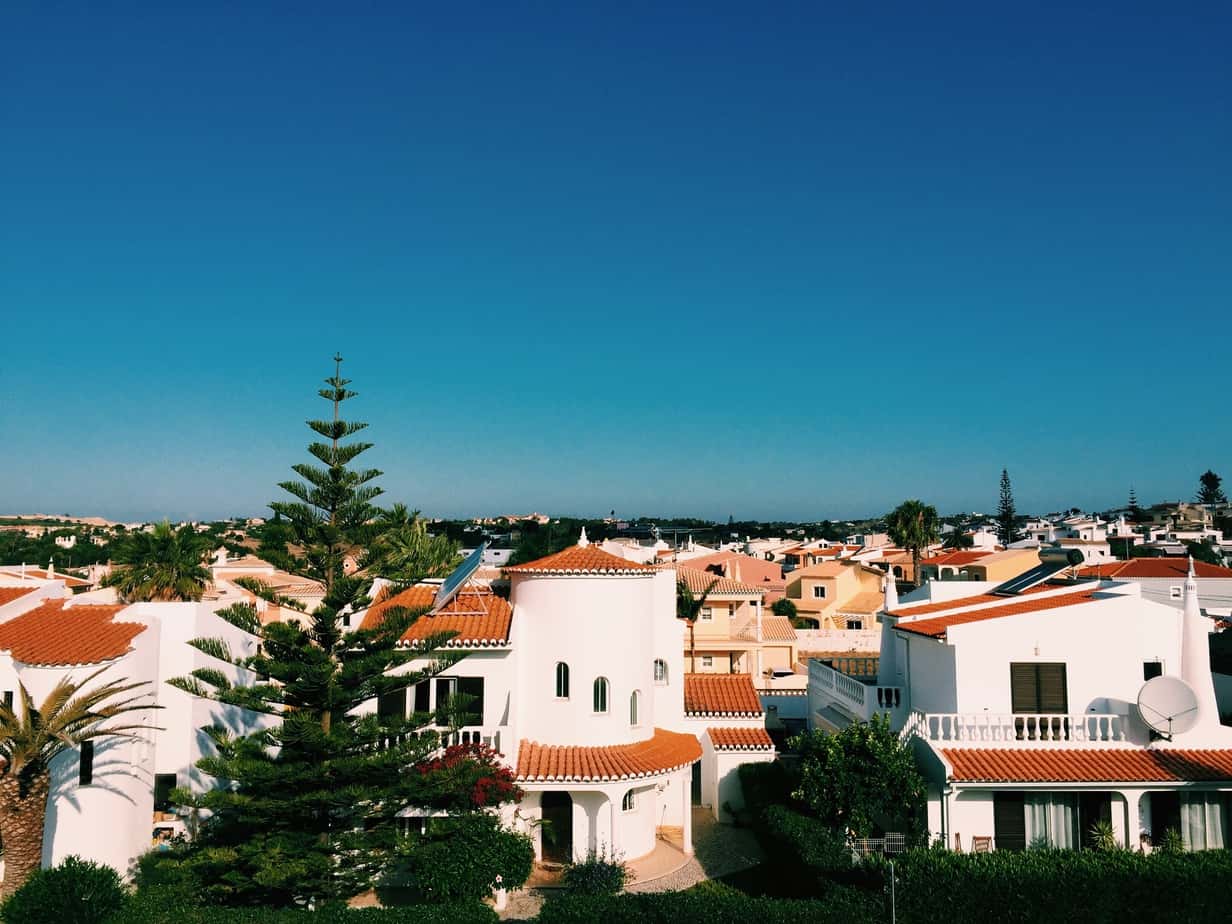 Then commenced a week of poolside chilling, cocktail (me) and beer (Dan) drinking, barbecues, card games, paddle boarding, surfing, world cup watching, and meeting travelers from all over the world. We also had plenty of time to explore the best gluten free restaurants in Lagos – so much so that I wrote a whole separate post on that topic!
Related: Gluten Free Portugal Guide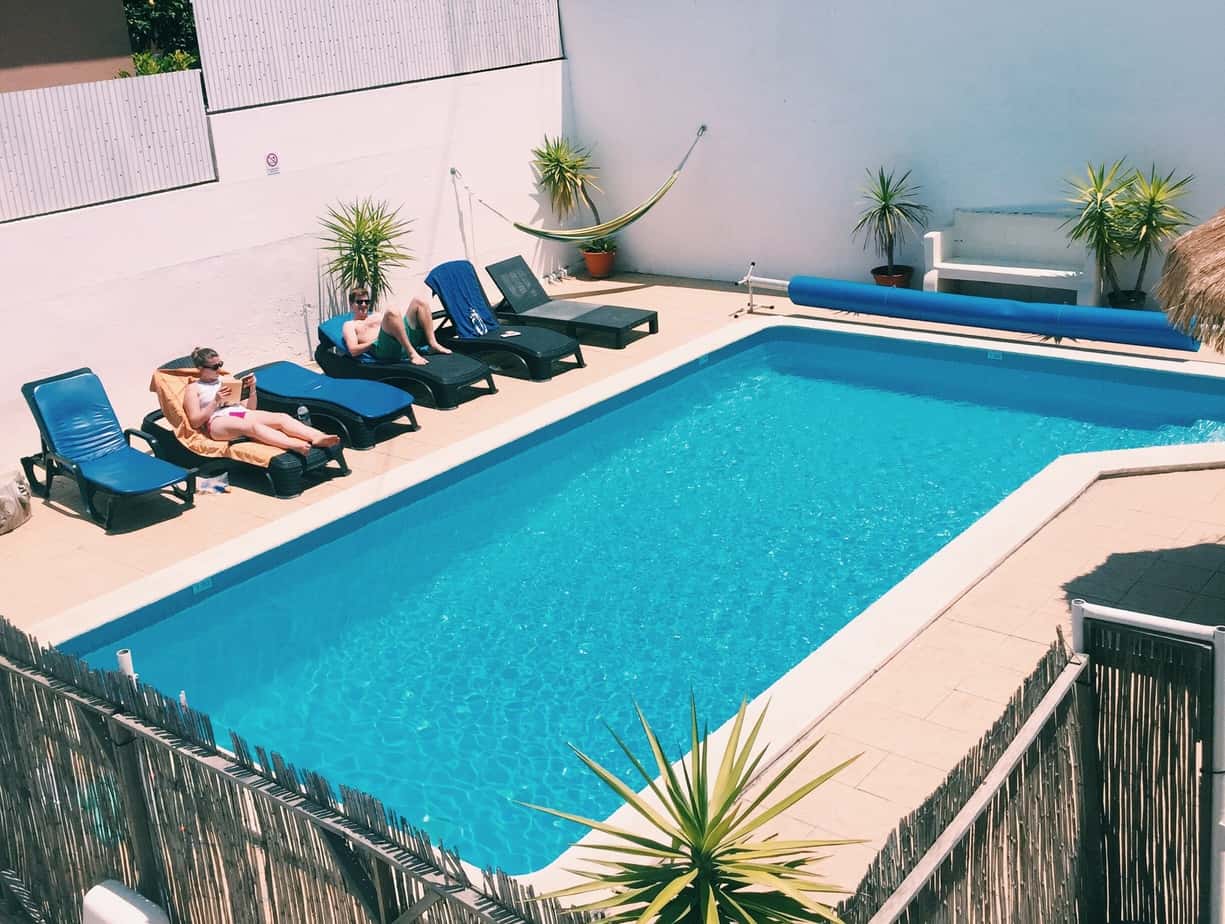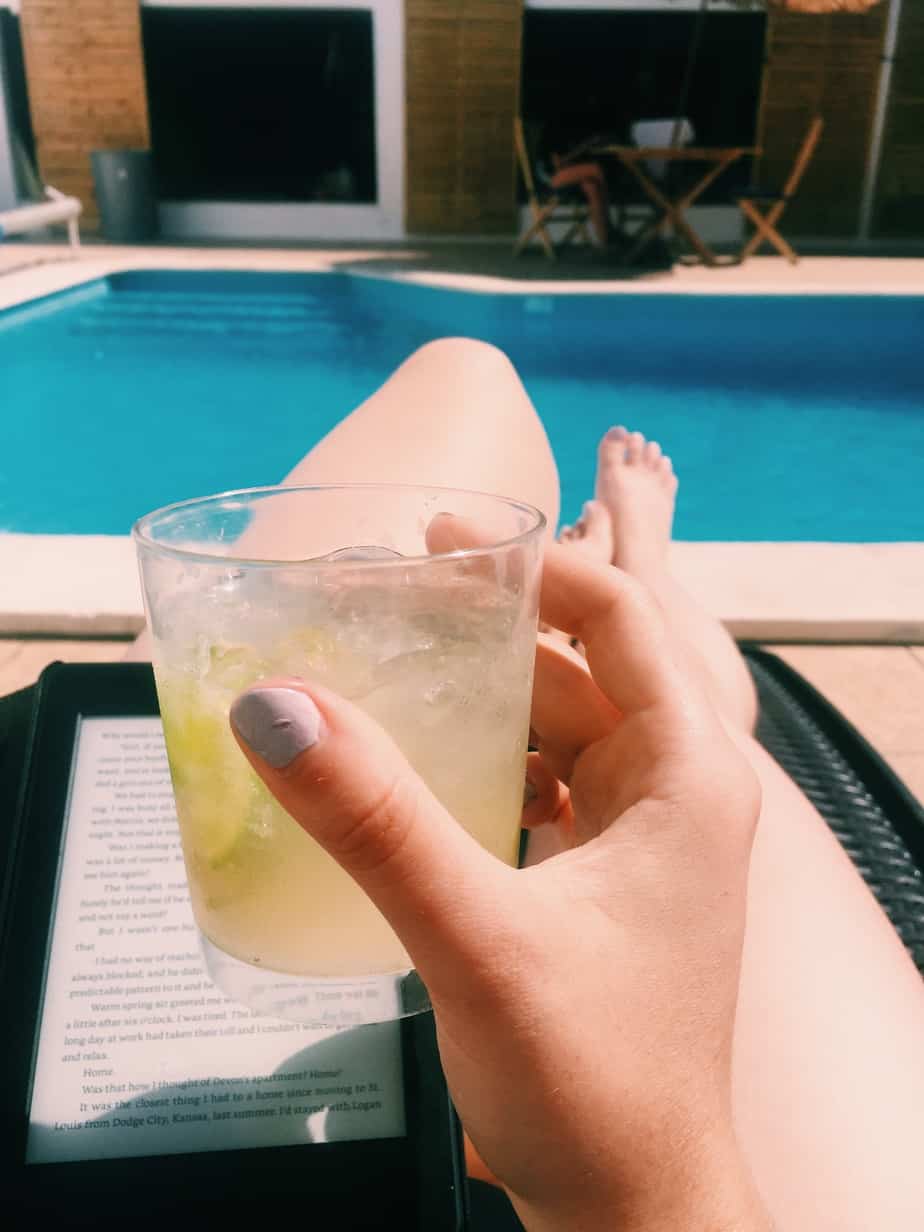 Is Bura Surfhouse right for you?
Obviously we loved Bura Surfhouse. It just had a special vibe to it that not a lot of hostels get quite right. Everyone at the hostel was so friendly. There was an atmosphere of community that, despite many hostels' slogans or mission statements, is very rare.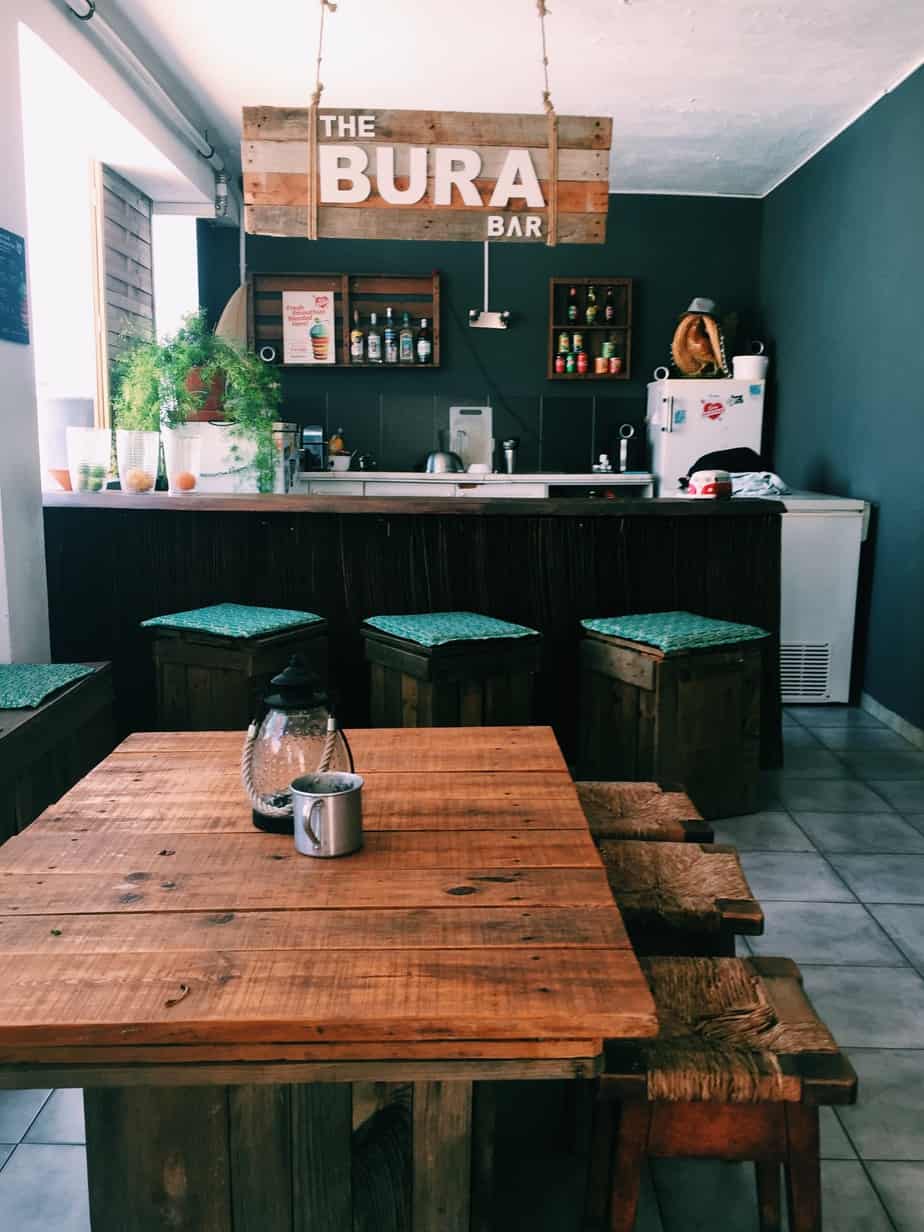 Of course, not every accommodation is right for everyone, so consider your own travel style. For example, I would not describe Bura Surfhouse as a party hostel. We visited at the busiest time of year (July). While there was definitely a lot going on with the football world cup and the hostel packed with Australian lads on tour, everyone was so friendly and there wasn't a peep after 10pm when the hostel bar closed (and our apartment was right next to the bar, so we would've heard!). I was told by Bura's management that in other months of the year, it is even more chill.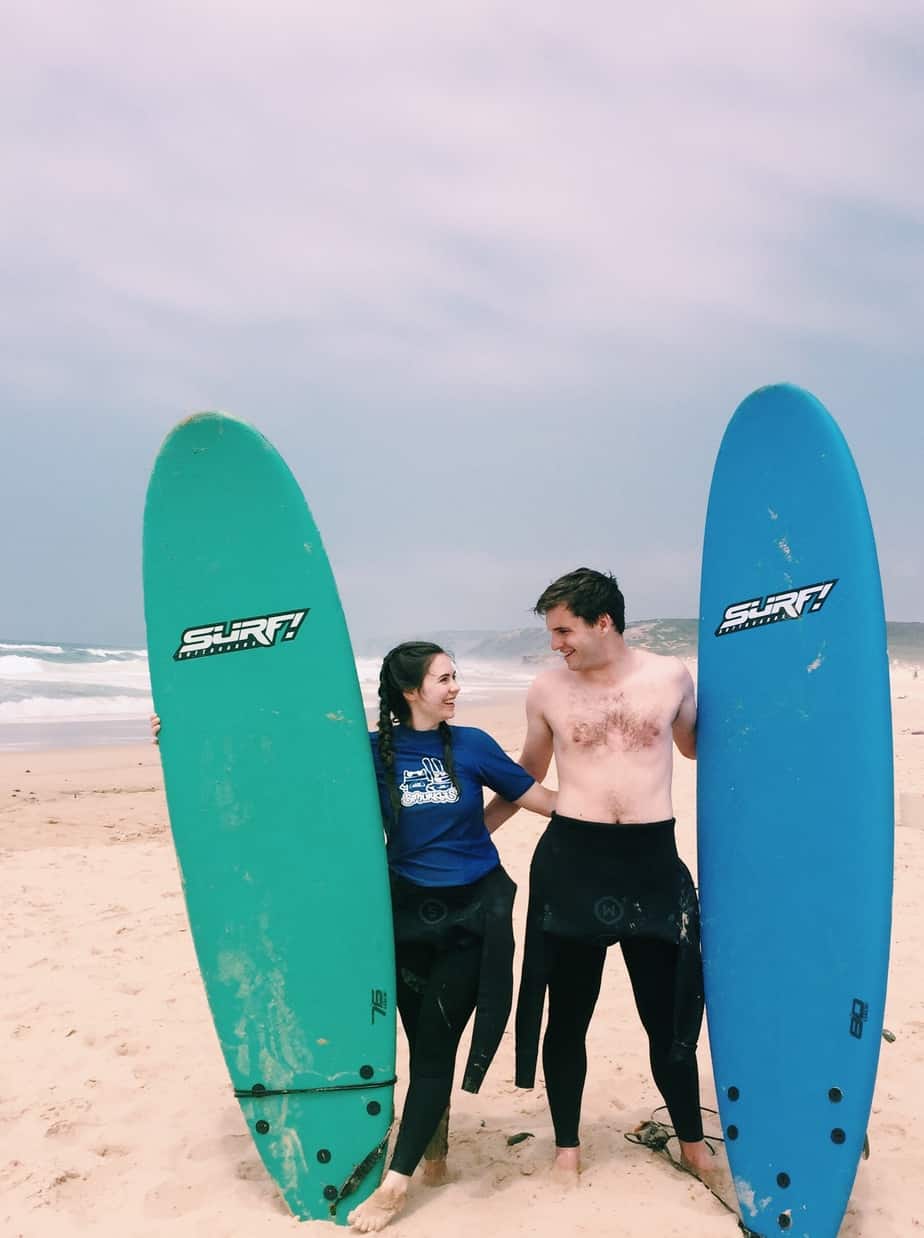 In terms of age groups, there was a huge variety at Bura Surfhouse. We met a pair of 18 year old German girls (the minimum age is 18), and a pair of Quebecoise ladies in their 30s. I would say most of the hostelers were in their late twenties. However, with the retreats that Bura Surfhouse hosts in other months, it becomes even more friendly to more mature travelers. Which brings me to…
What to do at Bura Surfhouse
Honestly, it was the wide array of activities at Bura Surfhouse that originally drew me in.
Some of the activities and daily events include:
Surf lessons
Paddle boarding
Kayak trips
Coasteering
Yoga
Barbecues and hostel 'family' dinners 3-5x/week
Daily breakfast with pancakes
Hiking trips to various regions in the Algarve
Wakeboarding
Boat grotto tours
Wine tasting
Walk the local humane society puppies
Massage
Mountain biking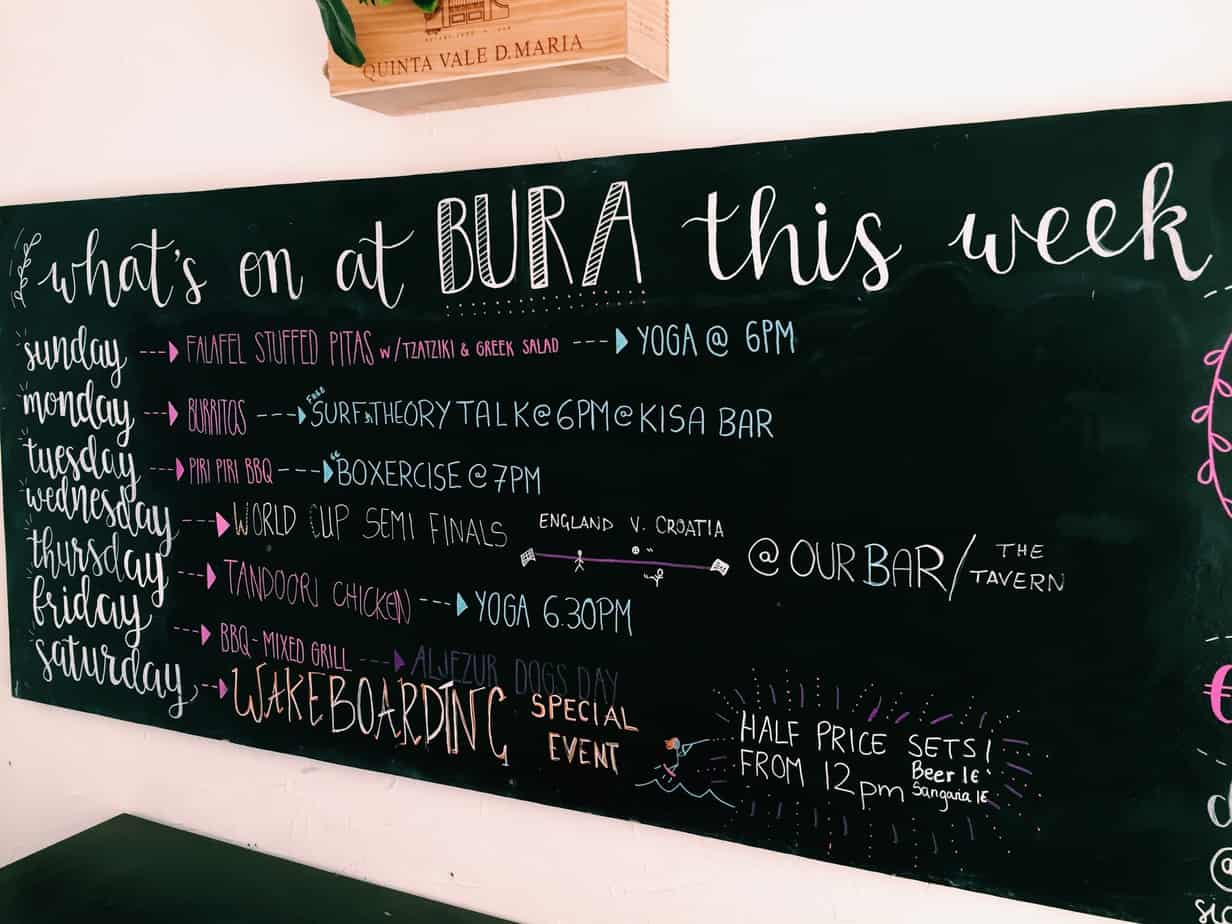 Besides that huge range of activities, you could also easily spend an entire day just at Bura Surfhouse. There is a cozy common area, as well as a pool (with super #basic inflatables), and a bar that serves killer Caiprihinas, Mojitos, and smoothie bowls.
You can also visit Bura Surfhouse specifically for one of their specialist weeks. These are similar to retreats, and include:
Surf Yoga Wine
Boot Camp
Bad Yogis
One of my absolute dreams would be to return to Bura Surfhouse for the Bad Yogis week of wine tasting and yoga on the rooftop deck.
The Details
What? Bura Surfhouse
Where? Lagos, Portugal. Closest airport is Faro and can be reached by private transfer or by bus/train. Hostel is only a 15 minute walk to the beach and town center, and located 2 minutes walk from a grocery store.
Price? Rooms are €16-45 depending on season/room. SO reasonably priced. Check out current prices here.
When? We visited in July. September and October are supposed to be some of the best months, though. So many amazing seasons in the Algarve!
Book your stay at Bura Surfhouse here.
Have you ever visited the Algarve? Would you stay in a hostel like Bura Surfhouse? I can't wait 'til I visit again (someday!).
Sarah xx
Pin it for later…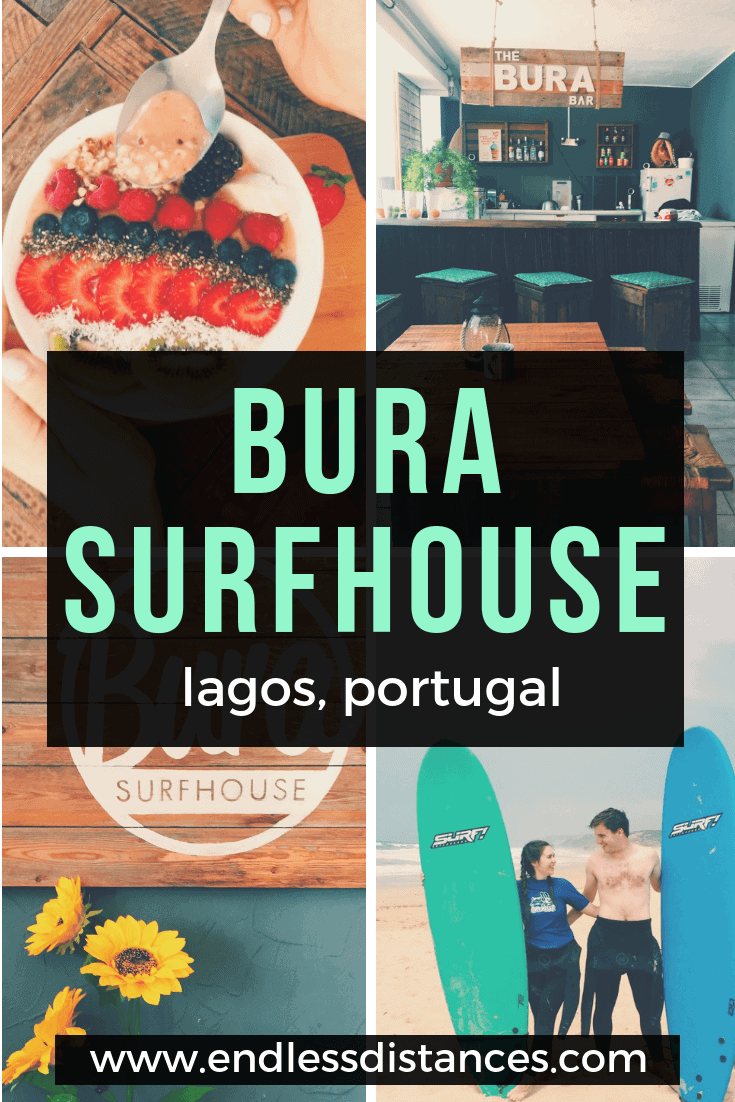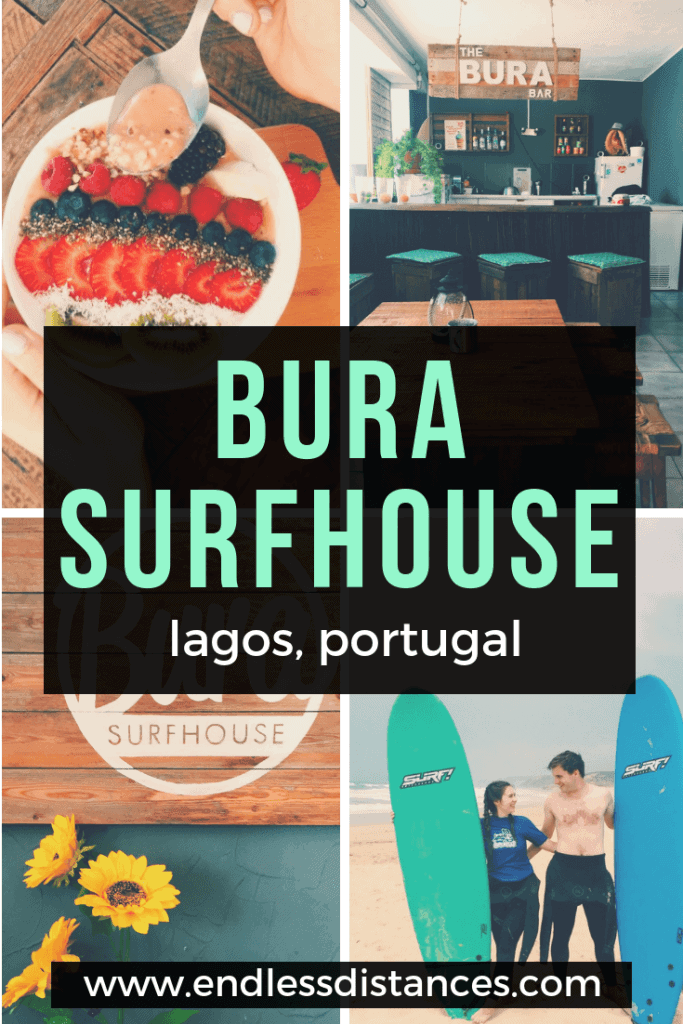 *Our stay at Bura Surfhouse was NOT sponsored! I truly loved this little place and these are all my un-sponsored opinions.