1 Week in Sri Lanka Itinerary
This 1 week in Sri Lanka itinerary will take you along the same route that Dan and I took in Sri Lanka. There are, of course, many ways to spend 1 week in Sri Lanka, but after much research, and of course experiencing the itinerary ourselves, this is the route I recommend.
You'll love this week-long Sri Lanka itinerary if you also enjoy nature, hiking, tea plantations, stunning views, cooking classes, beaches, culture, and epic train journeys.
As someone who prefers "slow travel," I also think this itinerary does a good job of showing you Sri Lanka in 7 days, without being too stressful or hectic. You will spend more time enjoying places in Sri Lanka, and less time traveling between them.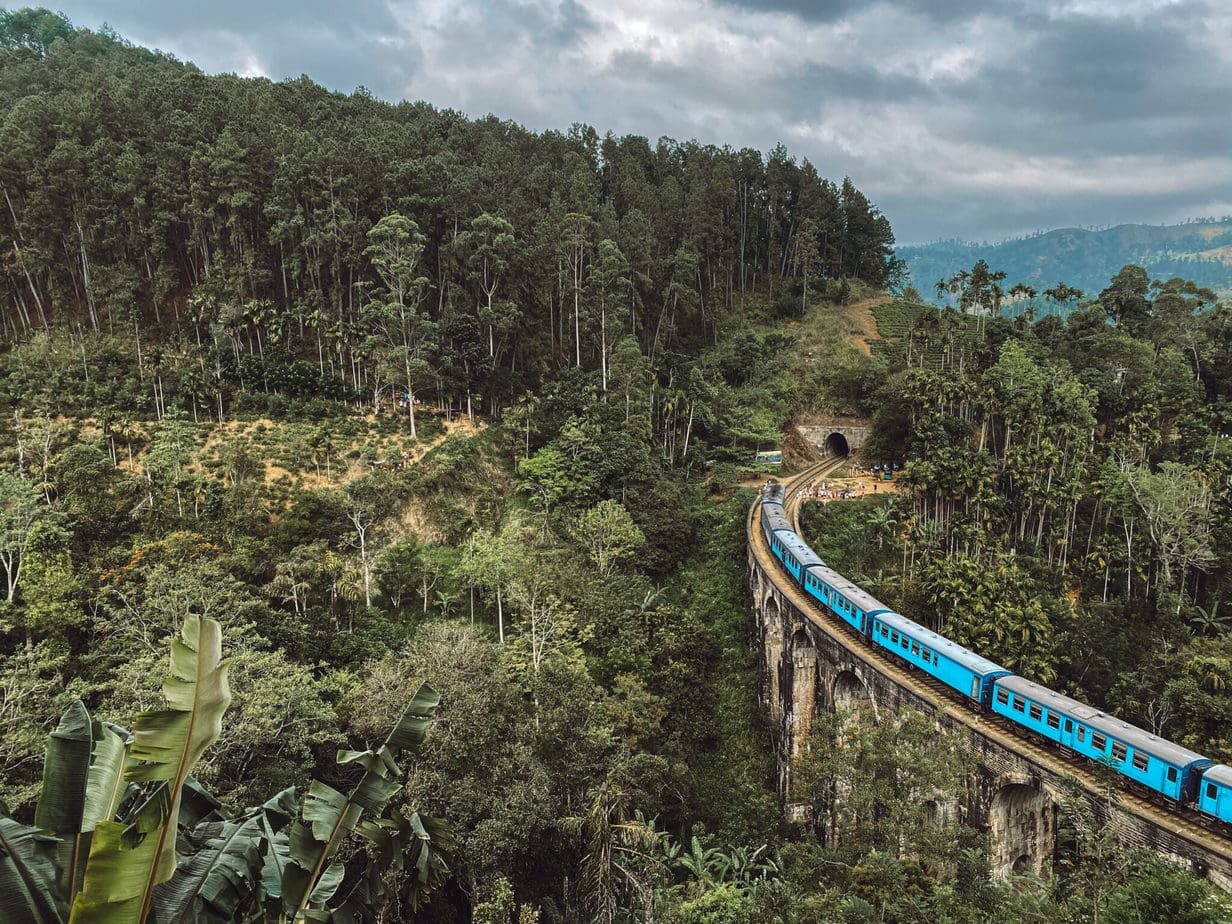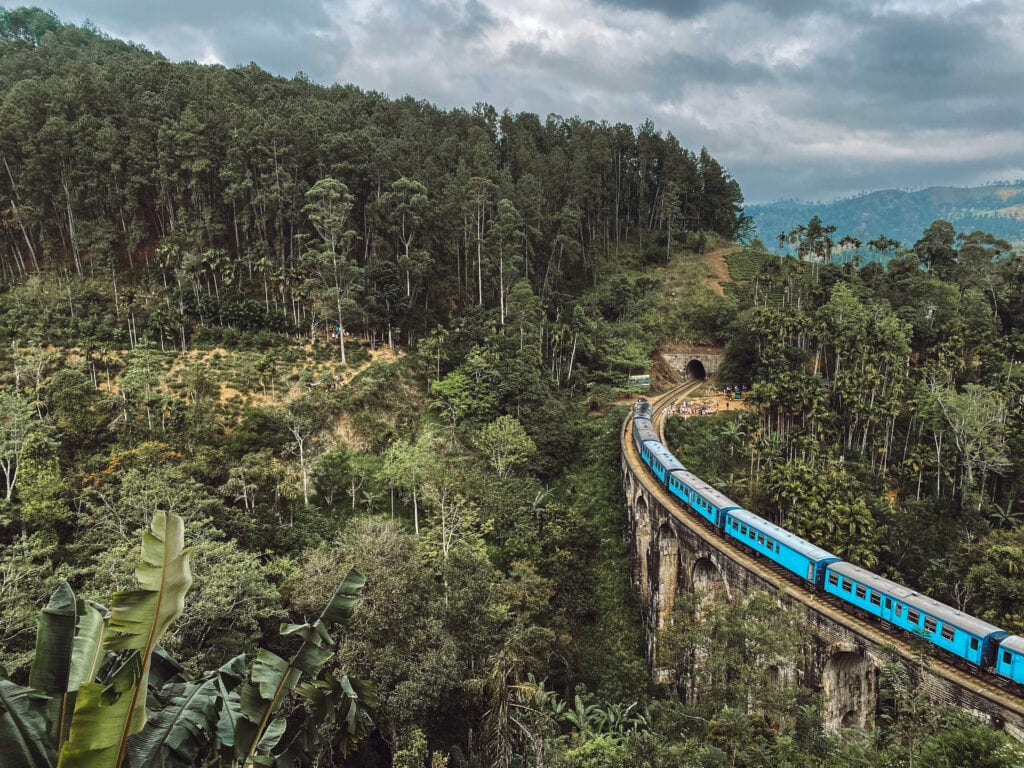 Is 1 week in Sri Lanka enough time?
But first, is 7 days in Sri Lanka even worth it? Most people recommend spending a month or more in Sri Lanka to truly explore the country. And I would agree. Although Sri Lanka is small, it is incredibly diverse. It also takes an unexpectedly long time to get from place to place, due to poor roads in some parts of the country.
But most people don't have an entire month to devote to visiting Sri Lanka. A week is much more achievable.
Personally, Dan and I had only two weeks off for our vacation. The first week, we spent at my good friend Vaish's wedding in south India. I'd always wanted to visit Sri Lanka, so I asked Vaish if she thought it was worth it to visit Sri Lanka during our second week, or just continue on in India.
She said, without a doubt, go to Sri Lanka! I trusted her opinion, as someone who had lived close to and visited Sri Lanka often. I'm so glad I did!
One week in Sri Lanka might only give a taster of what the country has to offer, but it's certainly better than not visiting at all.
When Should You Visit If You Only Have 1 Week in Sri Lanka?
If you only have one week in Sri Lanka, and plan to follow this itinerary, then December to March is the ideal time. We visited in February and had perfect weather the entire time.
Sri Lanka has two monsoon seasons. For that reason, if your trip is at another time of year, or you plan to visit regions outside the stops I outline below, then you will need to be aware of what areas are affected.
Yala monsoon season: April to September, affects the west and southern areas.
Maha monsoon season (less severe): November to March, affects the east coast.
Inter monsoon season: October and November, unpredictable weather all across Sri Lanka
RELATED | 27 Photos to Inspire You to Visit Sri Lanka
Travel Tips for 1 Week in Sri Lanka
Before we begin with the detailed itinerary Dan and I took during our week in Sri Lanka, here are some quick travel tips you should be aware of.
Currency: Sri Lankan rupee (LKR). Check the most up-to-date exchange rate on TransferWise. When we visited, roughly $1USD = 200LKR.
Language: Sinhalese and Tamil.
Safety: The Sri Lankan civil war ended in 2009, but it is important to be aware of that history. However nowadays, Sri Lanka is a very safe country for tourists. It's still important to have travel insurance, though, in case you get into an accident (tuktuks, surfing, general health…). We used a World Nomads travel insurance plan in Sri Lanka. In 2021 and beyond, World Nomads covers COVID-19 related claims, as well.
Food: Sri Lankan food, other than being incredible, is very vegetable-forward. Lots of coconut, rice, and lentils, and tons of fruit. Check out my gluten free Sri Lanka guide, which in addition to guiding celiacs through Sri Lanka, also has a general overview of the cuisine.
What to wear in Sri Lanka: Read my complete Sri Lanka packing guide for all the details on what to wear in Sri Lanka. Err on the conservative side (definitely don't walk around town in your bikini or swim trunks).
How to get around Sri Lanka: It's not uncommon for people hire a guide for their entire time in Sri Lanka, to drive everywhere. Dan and I did not, and you can complete this entire itinerary on public transport. Personally, we used a combination of public transport (trains), and privately booked taxis (more comfortable, and much faster, than public buses when you have limited time).
Visas: Most people need a visa to enter Sri Lanka (unless you are from Maldives, Seychelles, or Singapore). Buy it ahead of time from the official website. This website also has the most updated 2021 travel guidance.
1 Week in Sri Lanka Itinerary
Colombo → Colombo to Ella train journey → Ella → Hiriketiya → Galle → Colombo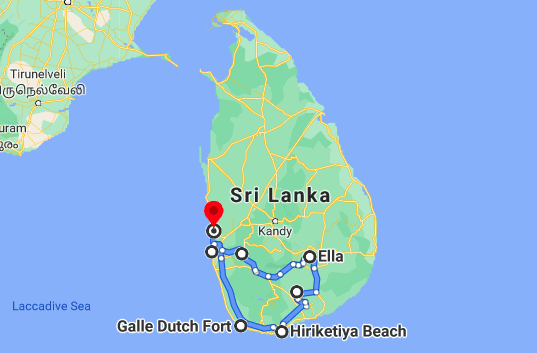 Day 0: Arrive in Colombo
Your trip through Sri Lanka will begin in Colombo, because Bandaranaike International Airport is the main international airport in Sri Lanka.
The airport is actually in Negombo, which is about 30-40 minutes north of central Colombo. Once you have your visa and are through customs, hail a taxi to Colombo. This should cost about 3,300 LKR ($16USD).
I recommend staying in the Colombo Fort area your first night, so you are close to the train station for your early journey tomorrow. We stayed at City Beds The Regent, which was clean, safe, very affordable, and just five minutes' walk to the railway station.
This "day 0" of your 1 week Sri Lanka itinerary is dedicated to checking into your hotel and recovering from your flight. With only one week in the country, we aren't going to spend much time here. Relax, and grab a nice dinner for your first night in Sri Lanka. Ministry of Crab is extremely popular. We ate our first meal at the Hilton Hotel's Curry Leaf – an open air buffet dining experience. It is touristy but gives a great orientation to Sri Lankan cuisine!
Things to do in Colombo (if you have time):
National Museum of Colombo
Beira Lake
The Dutch Hospital Shopping Precinct
The Jami Ul Alfar Mosque
TOUR | Try this 4-hour tuk tuk tour of Colombo with a local if you have limited time!
Where to stay in Colombo
City Beds The Regent ($): This is where we stayed. It is perfect if you are on a budget but want a clean, private place to stay. The location is perfect for catching the train the next morning.
Hilton Hotel ($$): Definitely more upscale, but a great location in Colombo Fort near the train station. I recommend the Curry Leaf restaurant here.
Cinnamon Lakeside ($$): Another more upscale hotel with an ideal location near the train station, with great reviews.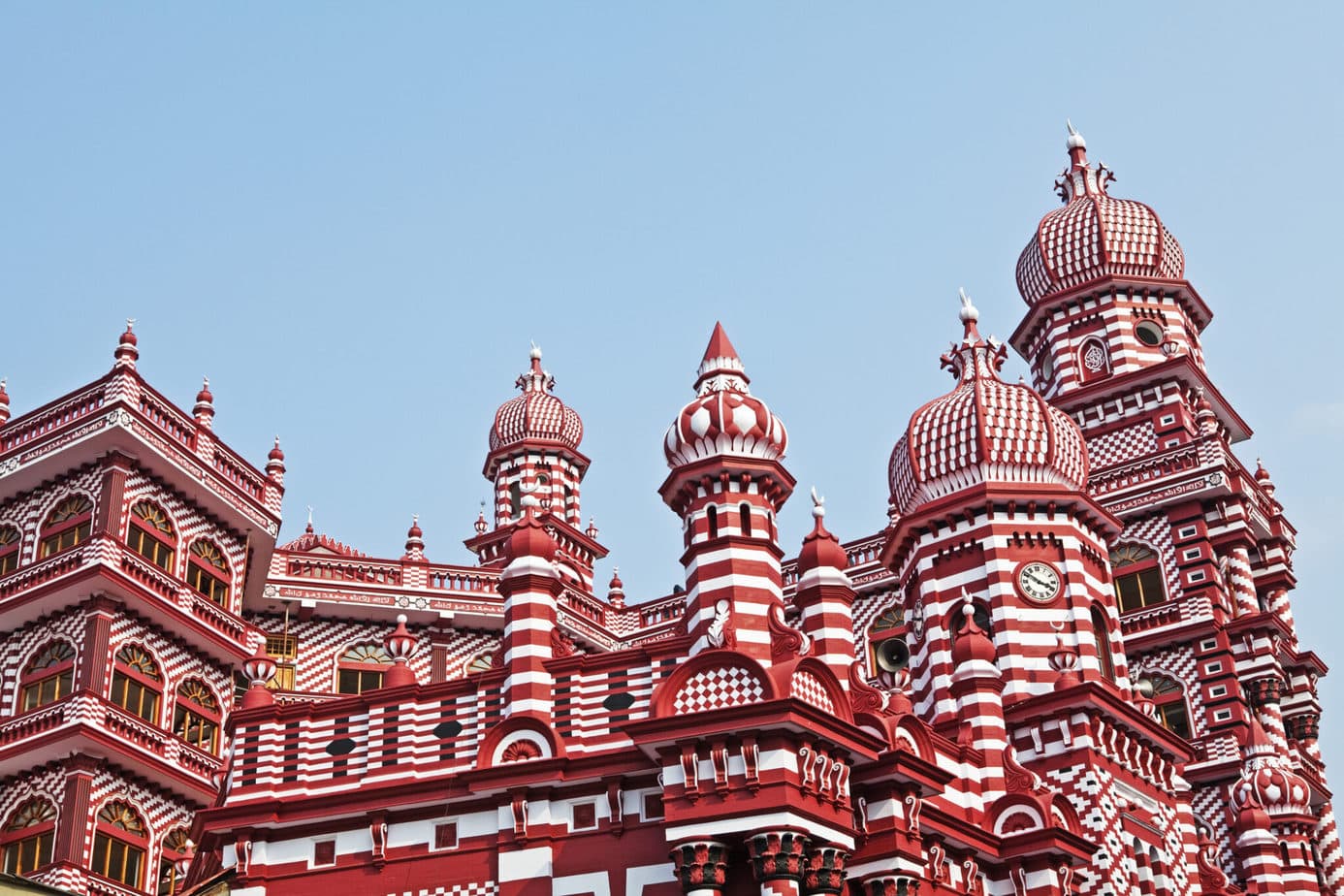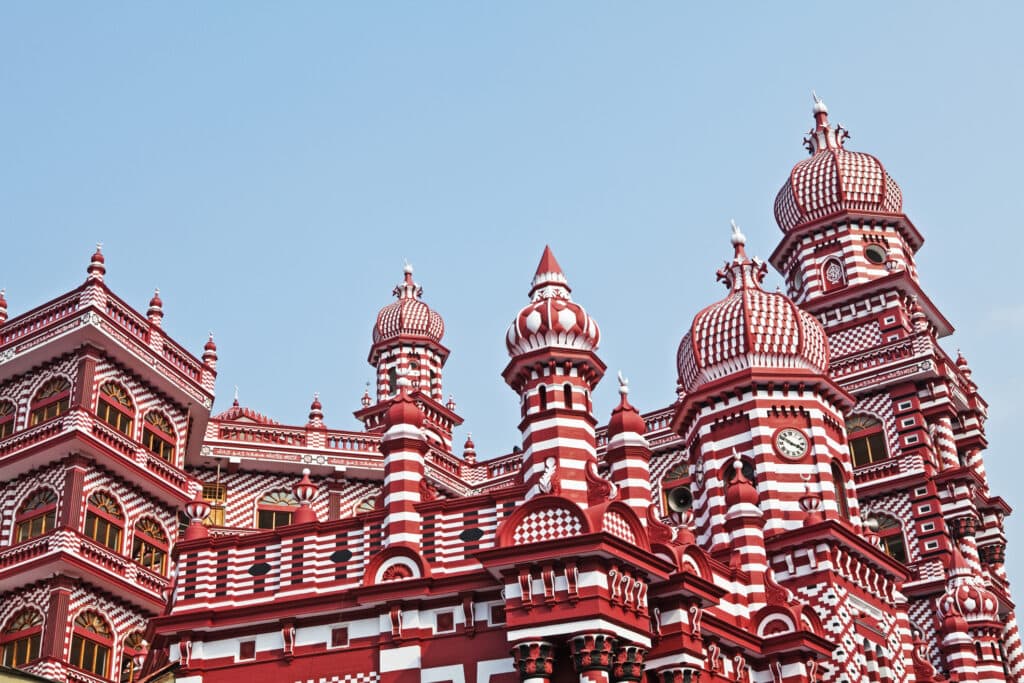 Day 1: Colombo to Ella Train
Your first full day in Sri Lanka is dedicated to the most epic train journey. But I'll warn you, it's going to be a long day.
The most famously beautiful train journey in Sri Lanka is the 7-hour Kandy – Ella route. This is a good option if you have more time in Sri Lanka (say, 10 days or more) and can add on a couple days in Kandy. However, with only 1 week in Sri Lanka, you are on a time crunch.
The best way to still experience this beautiful train journey, while making the most of your time in Sri Lanka, is to take the longer Colombo – Ella route (which still includes the Kandy – Ella portion). This total journey is about 9-10 hours and will connect you easily from Colombo to our next destination: Ella.
I have written a comprehensive guide to the Colombo to Ella train journey and I recommend you check that out for all the details on timetables, what to pack, what side to sit for the best photos, etc.
BOOK | Book your train tickets online here. Second class reserved tickets cost about $16USD and should be booked a month in advance.
Dan and I caught the 8:30am departure from Colombo Fort railway station, which was a very easy walk from our hotel in Colombo, City Beds The Regent.
The train journey itself was just jaw droppingly gorgeous, and consisted of a LOT of photo taking, playing cards, hanging out of the train in the fresh air, and making some new friends.
We arrived in Ella around 5:30pm. That gave us enough time to walk to our homestay in Ella, Ella River Front, and unpack our bags (you can also easily catch a tuk tuk from the Ella train station).
Plan to spend your evening checking into your accommodation in Ella, and grab a meal along the main drag to orient yourself to town. I would recommend 360 Ella (this is where we ate our first night), Cafe Chill, or Ella Chop House.
Where to stay in Ella
Ella River Front ($-$$): We stayed at this gorgeous homestay just outside Ella town, overlooking Ella Gap. There are individual cabins with panoramic balconies, floor-to-ceiling windows, and wonderful breakfasts. It was a super easy 10 minute walk to get into the main town, and I enjoyed that it was a bit quieter here.
Ella Country Homes ($-$$): Another homestay option overlooking Ella Gap. They can also arrange taxi transfers and tours (ask for Hari!).
98 Acres Resort and Spa ($$$): Ella's premier luxury accommodation, located on the way to Little Adam's Peak.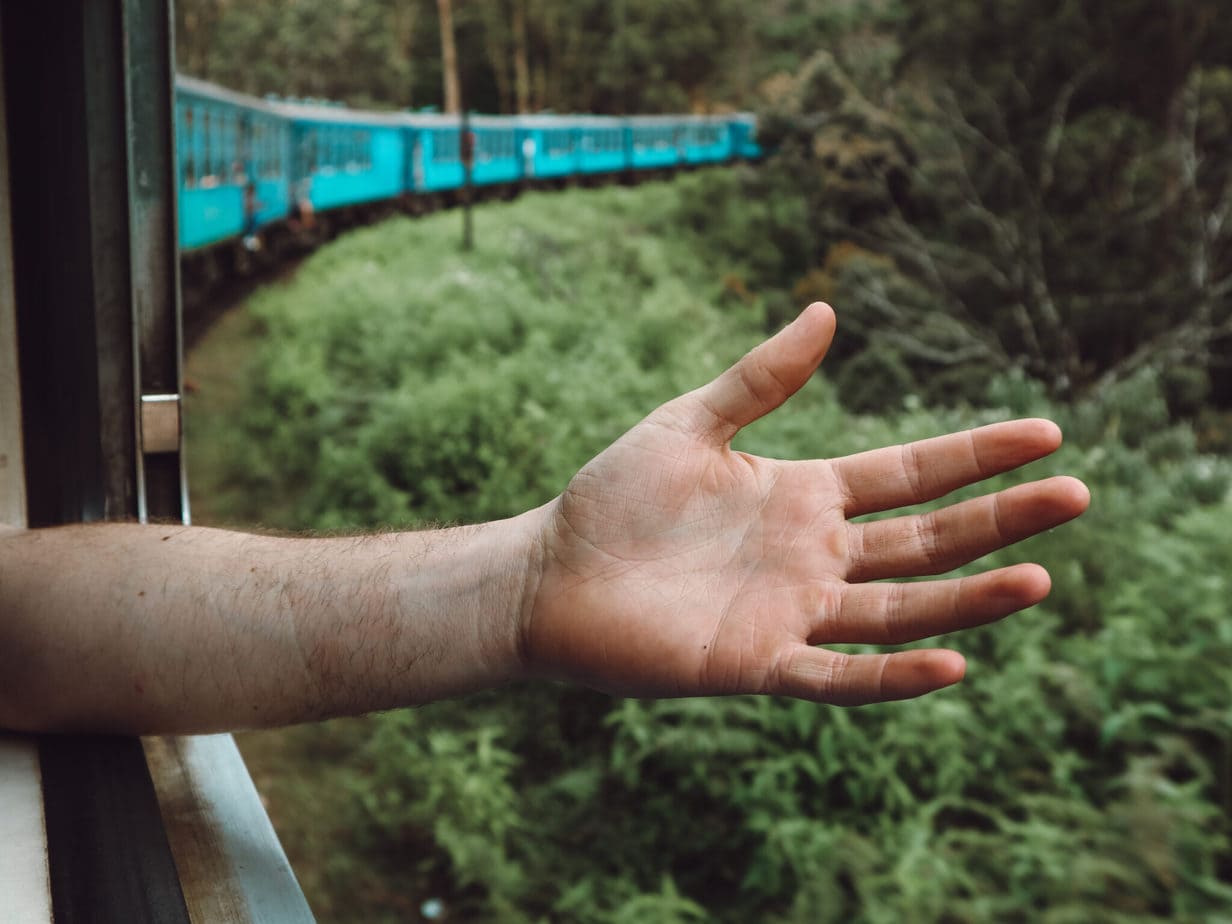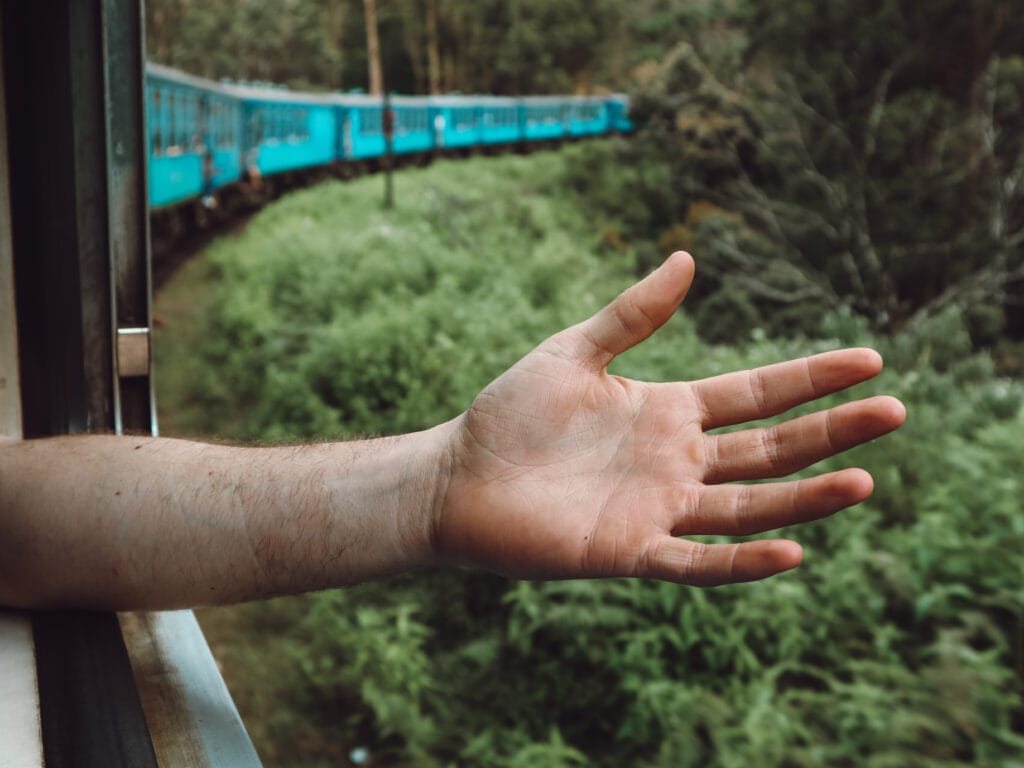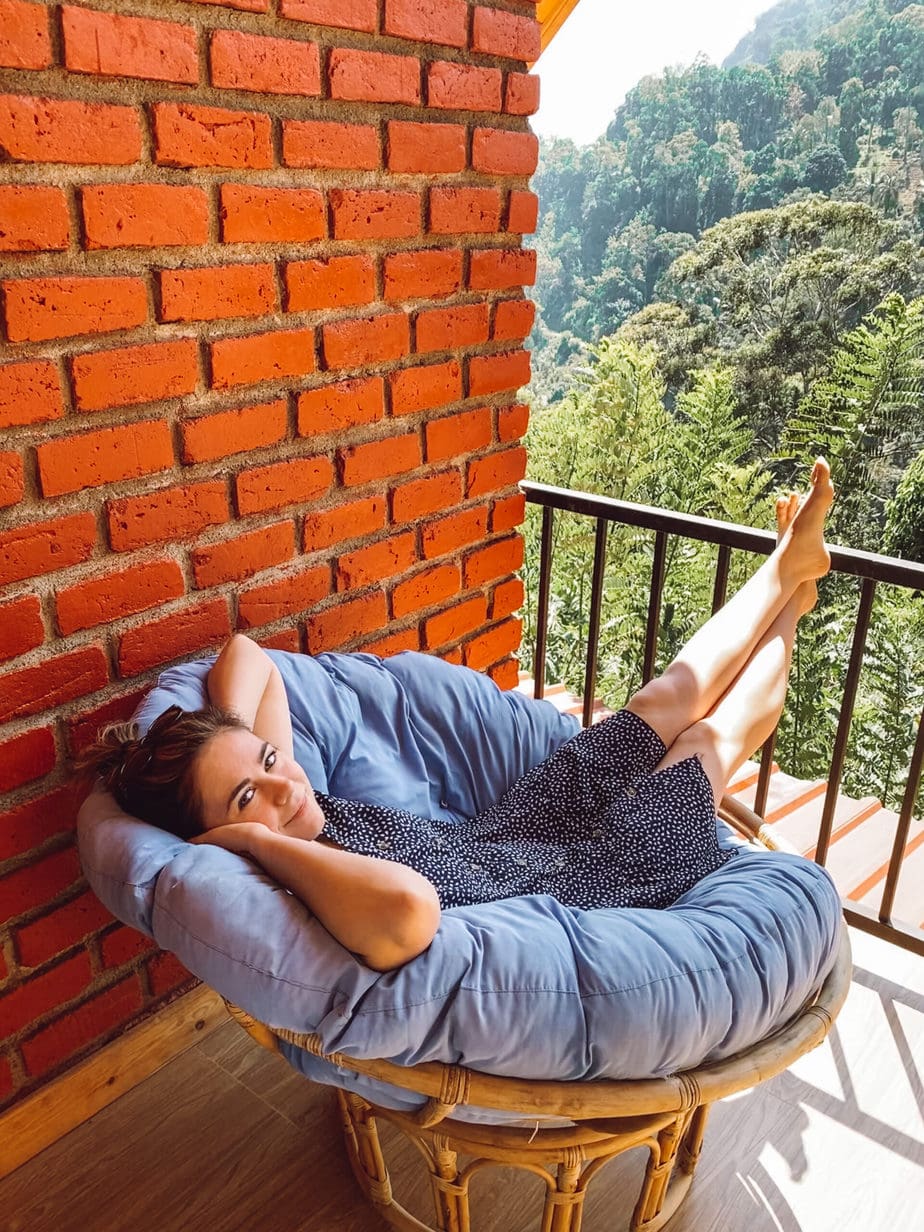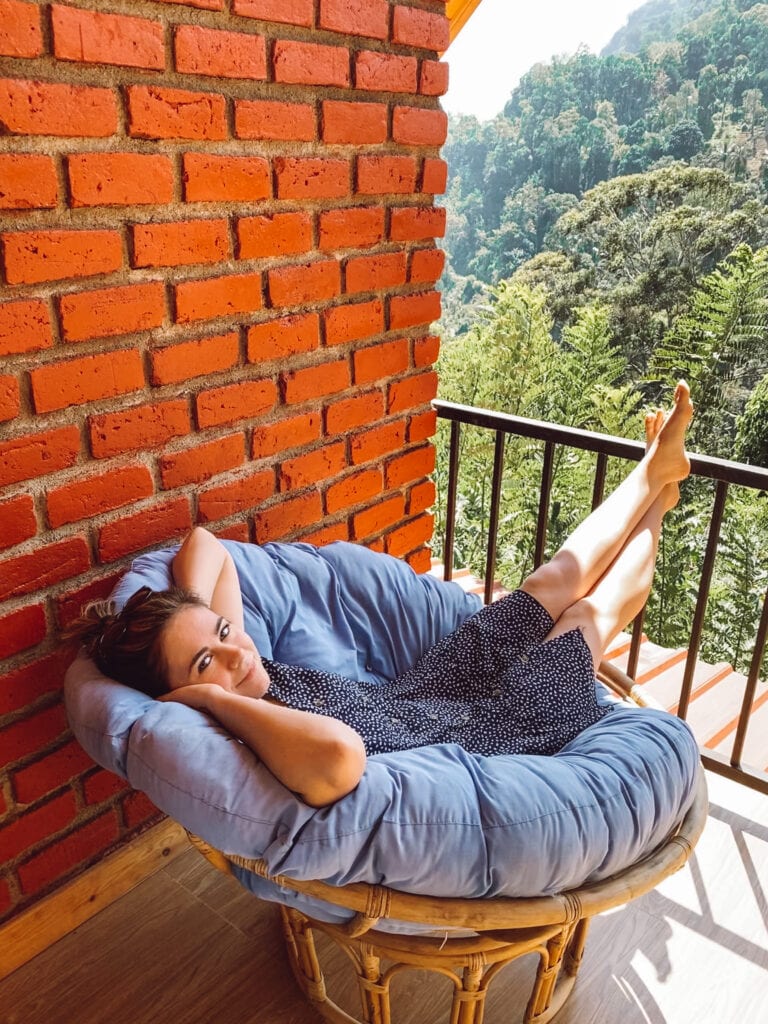 Days 2 + 3: Hiking, Cooking, and Exploring Ella
Ella was my favorite place we visited in Sri Lanka, which is why even though you only have 7 days in Sri Lanka, I would encourage you to spend two full days in Ella.
This is what we did, and while you do sacrifice seeing more places in Sri Lanka (like Sigiriya Rock or Pidurangala Rock Temple), you also get a deeper experience in the places you do visit. Three nights and two days is definitely the minimum you want to spend in Ella, as there is so much to do!
I wrote a complete guide to Ella, so please read that for all the practical details. For an overview, though, here are some of the amazing things to do in Ella.
What to do in Ella
TOUR | Book this guided tour to Lipton Seat for a low-hassle option.
RELATED | 16 Things You Need to Do in Ella, Sri Lanka
Two full days in Ella should be enough to do many of those activities, while still maintaining a somewhat leisurely pace.
For reference, on our first full day in Ella, Dan and I toured the Uva Halpewatte Tea Plantation, walked around Nine Arches Bridge, and hiked Little Adam's Peak at sunset.
On our second day in Ella, we hiked Ella Rock in the morning, had a long late lunch at Cafe Chill, and took a cooking class that evening at Arana Eco Lodge.
Day 4: Ella to Hiriketiya (Optional: Udawalawe National Park Safari)
Your fourth full day in Sri Lanka wraps up your time in Ella, and takes you down south to Hiriketiya Beach.
On our last morning in Ella, Dan and I got up early and returned to Nine Arches Bridge. This time we timed it so we could drink coffee at Asanka Cafe and watch the blue train cross the bridge. It was so worth it!
RELATED | Why You Need to Visit Hiriketiya Beach in Sri Lanka
How to get From Ella to Hiriketiya Beach
This drive is about three hours with traffic. It is possible to do by public transport (bus), but with only one week in Sri Lanka I highly recommend booking a private taxi for speed and convenience. You can do this from any of the taxi vendors in Ella town (they are impossible to miss), or book through Dhanushka at Country Homes like we did. Our driver Hari was great and the journey was fairly priced (about 5,700LKR or $30USD).
We left for Hiriketiya around noon, and arrived around 4pm (we opted for an hour-long lunch break at a really small Sri Lankan restaurant along the way).
Once in Hiriketiya, we checked into our amazing boutique hotel: Jasper House. Honestly, this is one of my favorite places I have ever stayed. I wrote a full review of Jasper House so read that for all the details.
RELATED | Jasper House Review: An Open Air Boutique Hotel on Hiriketiya Beach
That evening, plan to just walk around Hiriketiya Beach and get your bearings. That is what we did, plus a nice dinner at Salt House. Watching the sun set below the jungle and ocean was a pretty stunning welcome to southern Sri Lanka!
Where to stay in Hiriketiya
Jasper House ($$): This is where we stayed. It is an open-air boutique hotel literally steps from the ocean. There is a yoga shala, pool, breakfast included, and it is all over just so dreamy. Highly recommend!
Salt House ($$): A very cute hostel/hotel/restaurant/co-working space that is a couple blocks back from the beach.
Dots Bay House ($$): Another hotel-restaurant combo very close to the beach. It is a popular spot for small concerts and open-mics.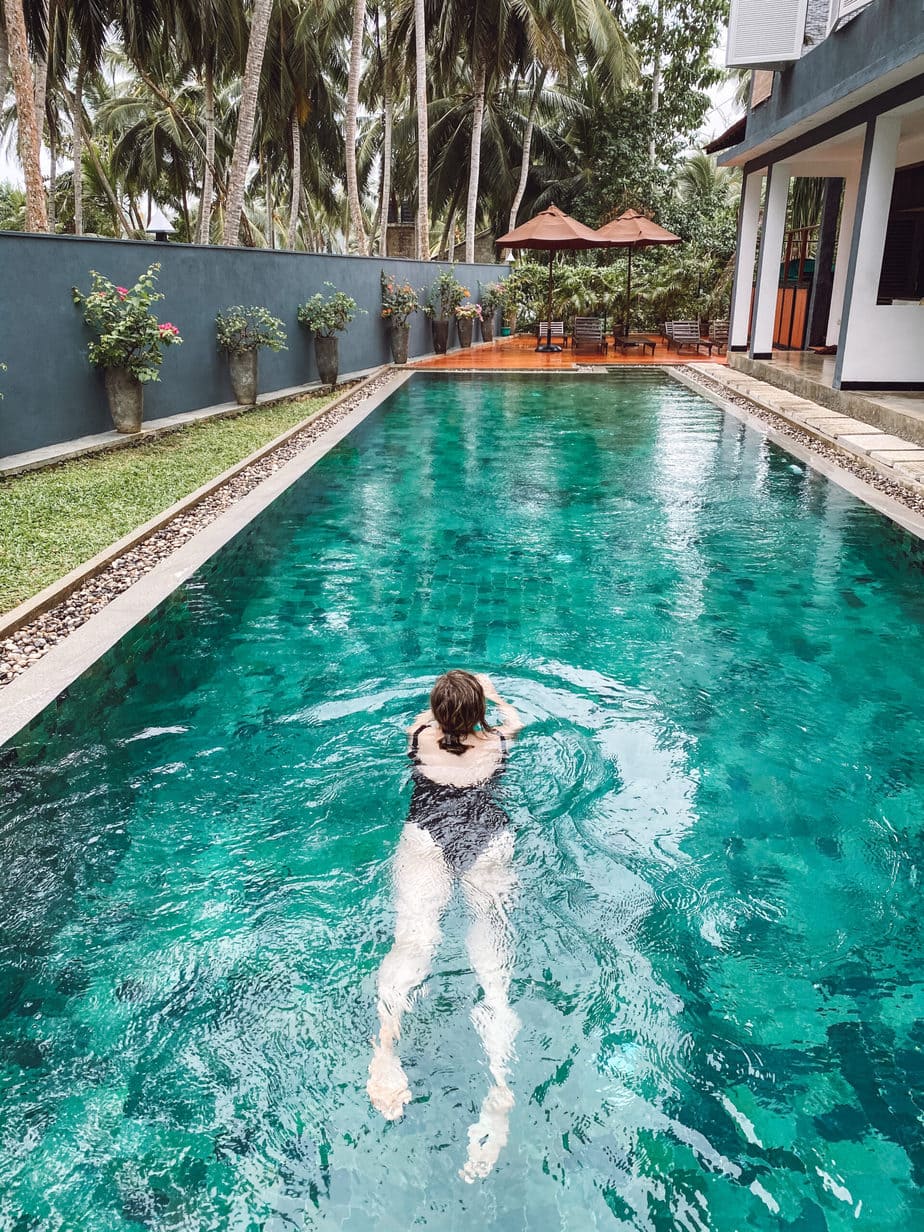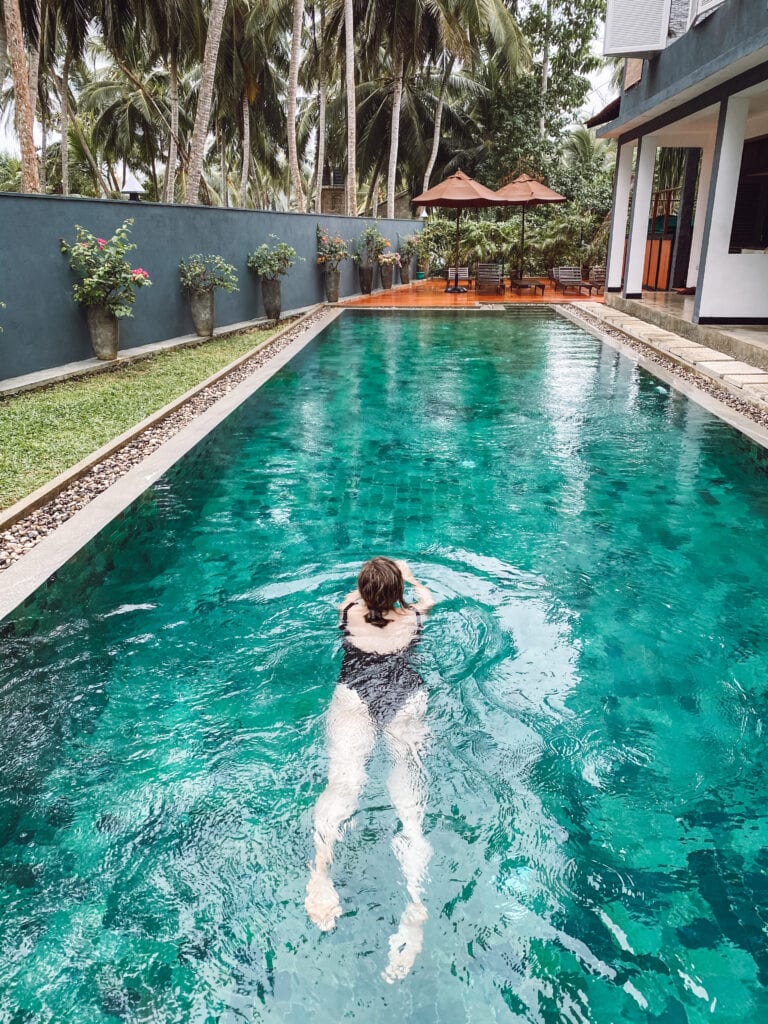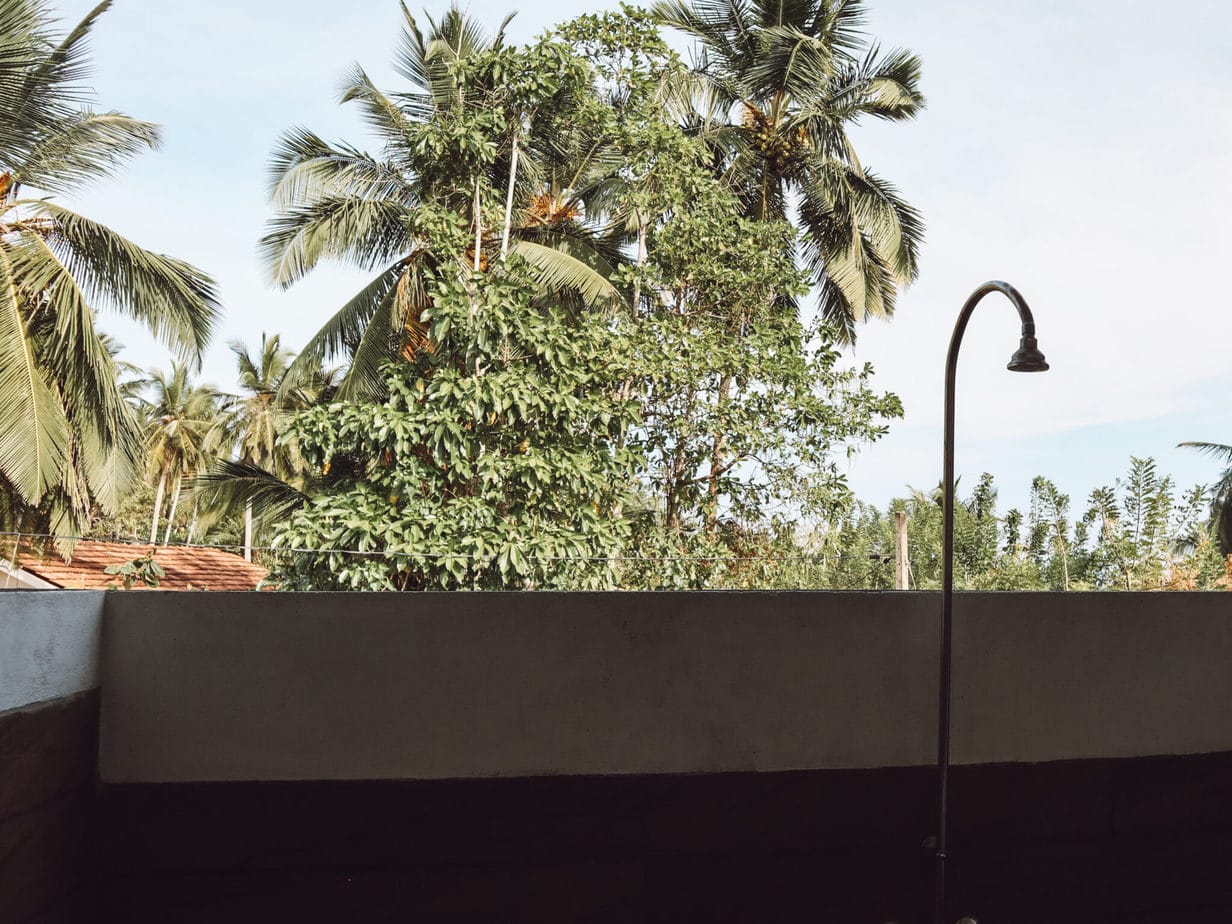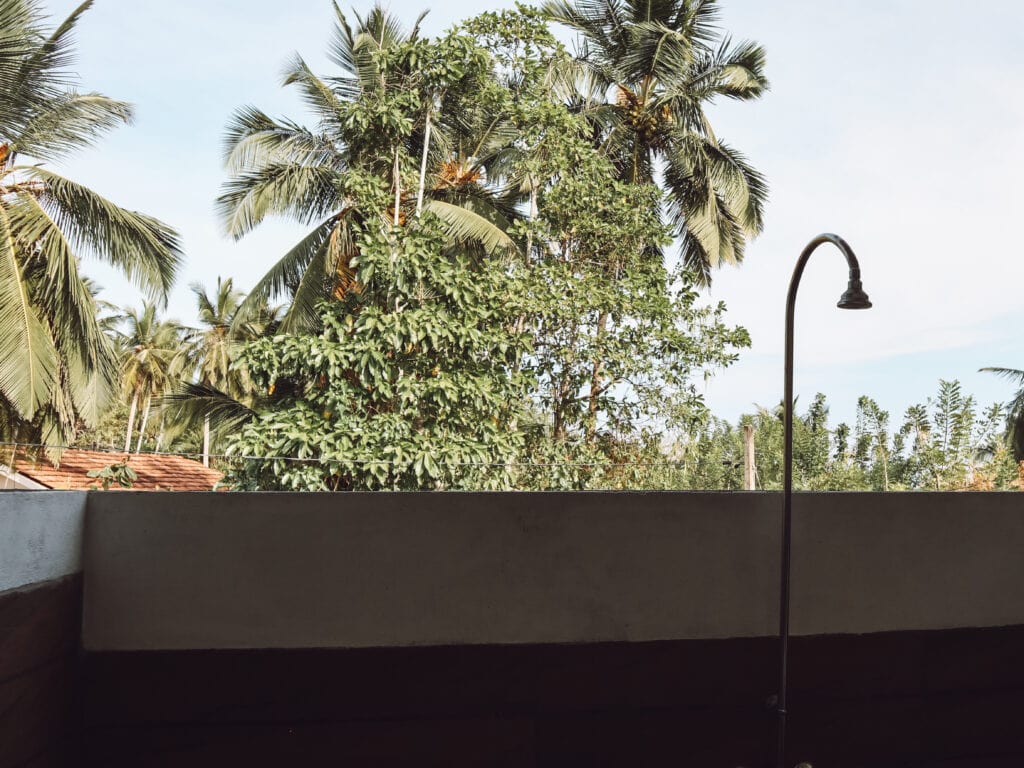 + Optional: Safari and Udawalawe National Park
If you're up for an early wake-up call and a longer day, on day 4 you also have the option to add in a safari experience at Udawalawe National Park, which is conveniently located along the drive from Ella to Hiriketiya.
The trick is to book with a company that will pick you up in Ella, and drop you off in Hiriketiya (or nearby). That means, you should look for private tours, as most group tours are round-trip from Ella.
After some research, and these are the Udawalawe National Park tours I recommend for this itinerary:
Udawalawe National Park Safari Tour: This is a private jeep tour from Ella. There is pick-up and drop-off to your hotel.
Shuttle to Mirissa/Galle with Udawalawe Safari: I love this tour option, which includes a 5am pick up in Ella (painful, but this means you are more likely to see animals!). The tour is designed to drop you off in Mirissa, which is a more touristy/larger town on the south coast. From Mirissa, it is a 50 minute taxi or tuktuk to Hiriketiya, or you could ask to be dropped off in Hiri instead (which is on the way to Mirissa, so I imagine this would work out well).
Please message prior to booking to confirm that they can drop you off in Hiriketiya.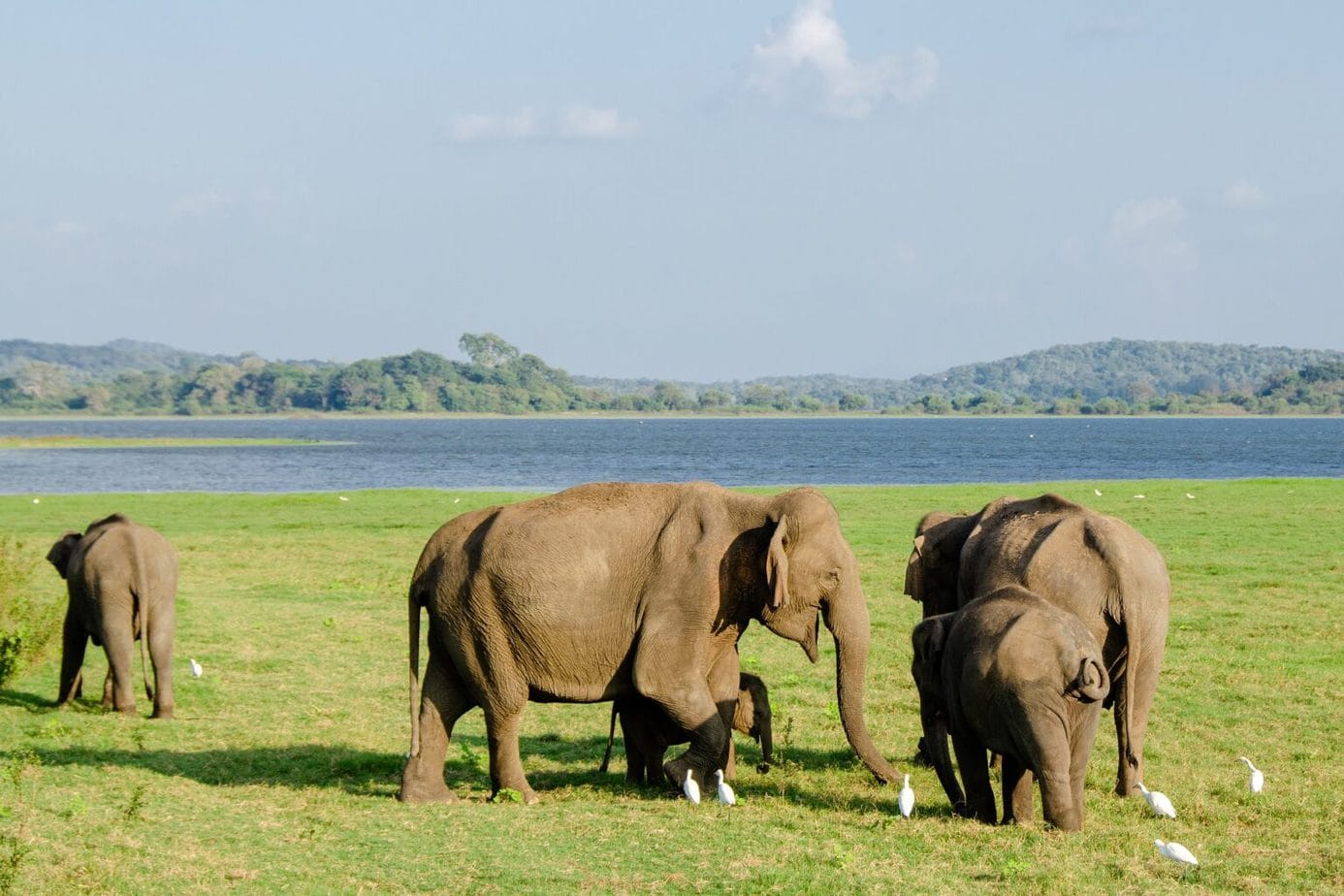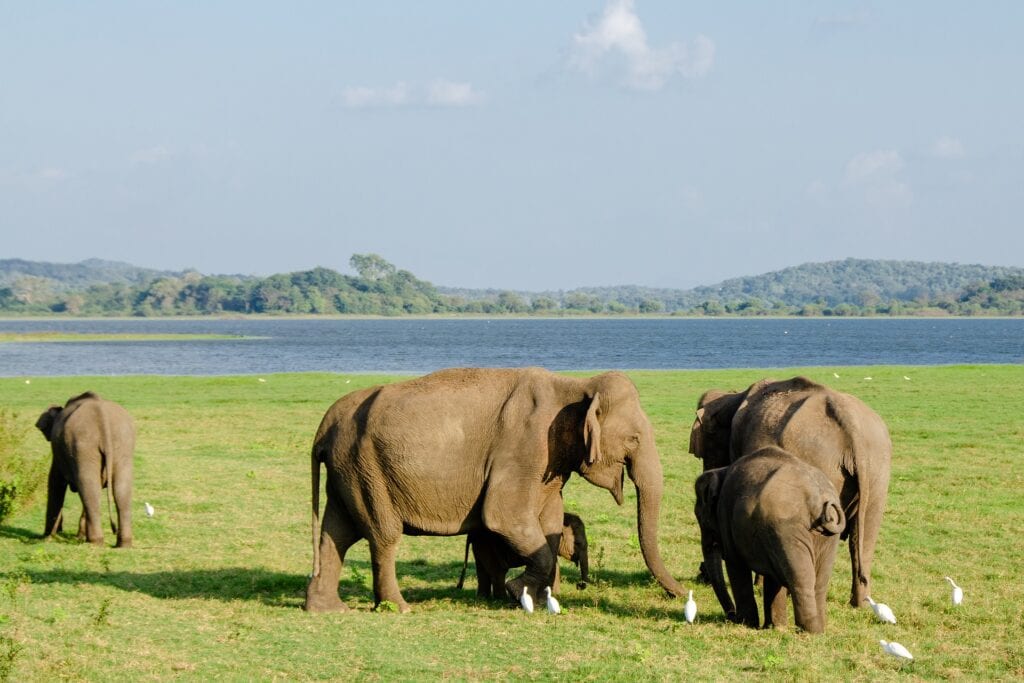 Day 5: Chill Out in Hiriketiya
With just seven days in Sri Lanka, you will have time for one full day in Hiriketiya. If you have a little bit longer to spend in Sri Lanka, though, I definitely think it's worth spending a few more days in this hidden beach town!
WHY HIRIKETIYA? | Hiriketiya has been described as "Bali 30 years ago." That is what originally drew me to it, and why I recommend Hiriketiya instead of Mirissa or Unawatuna (other, more popular, south coast beach towns). There is definitely still a very noticeable element of tourism in Hiri, that grows each year, but it retains a slower, more authentic, pace than some other south coast cities.
There are so many fun things to do in Hiriketiya, and I recommend you check out my full guide to Hiriketiya here. Here is a quick list of things to do during your day in Hiri:
What to do in Hiriketiya Beach
Go surfing
Hang out at Hiriketiya Beach
Get a massage (if you stay at Jasper House, they will take you to their other property, Talalla Retreat, for an Ayurvedic massage)
Go snorkeling or SUP at Dikwella Beach
Take a yoga class (these are offered twice daily at Jasper House, as well as at Salt House and a few other places)
Go on the tire swing at Machan Place
Eat at one of the many trendy cafes (Dots Bay, The Grove, and Salt House are my top recommendations)
Watch the sunset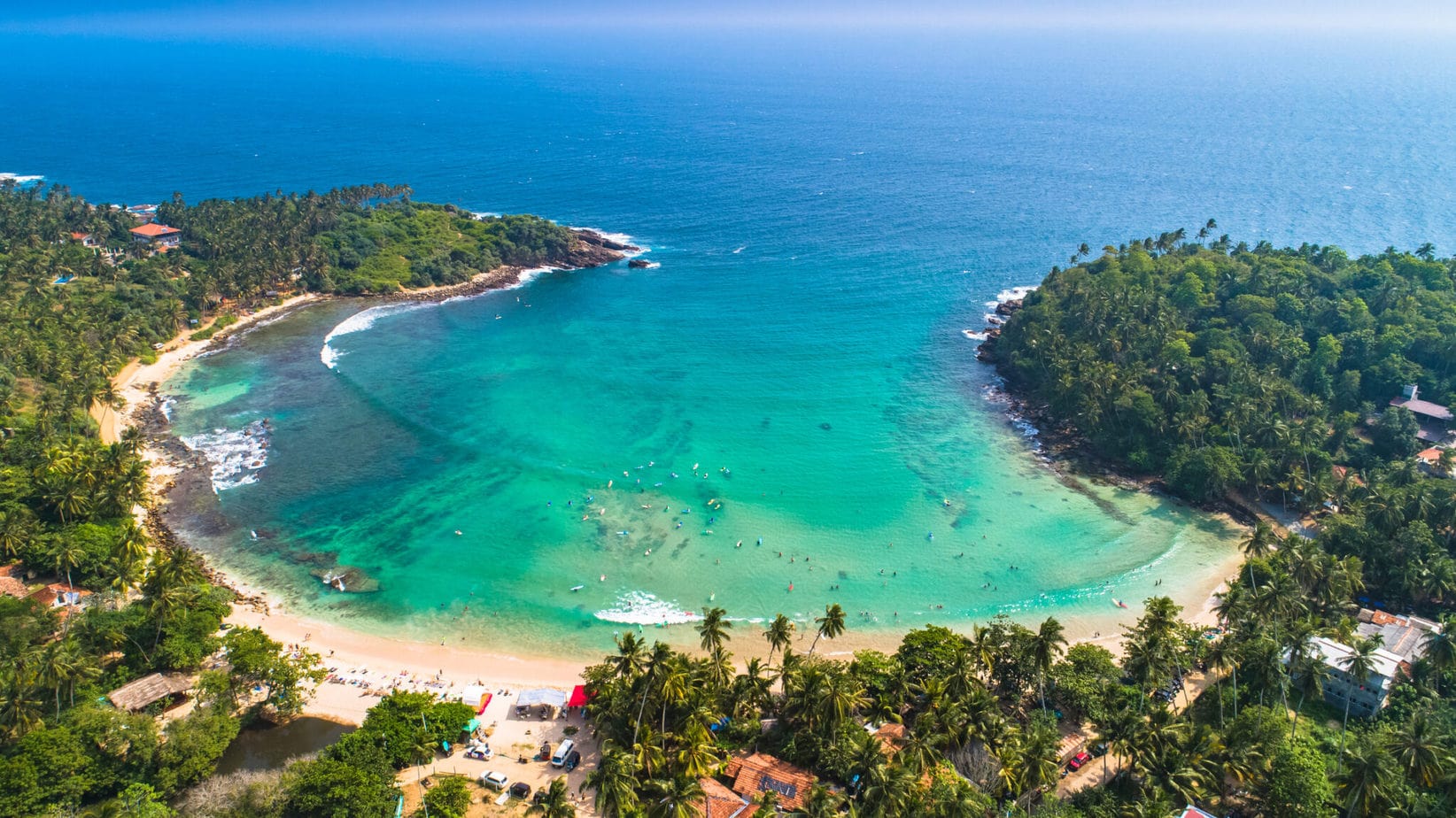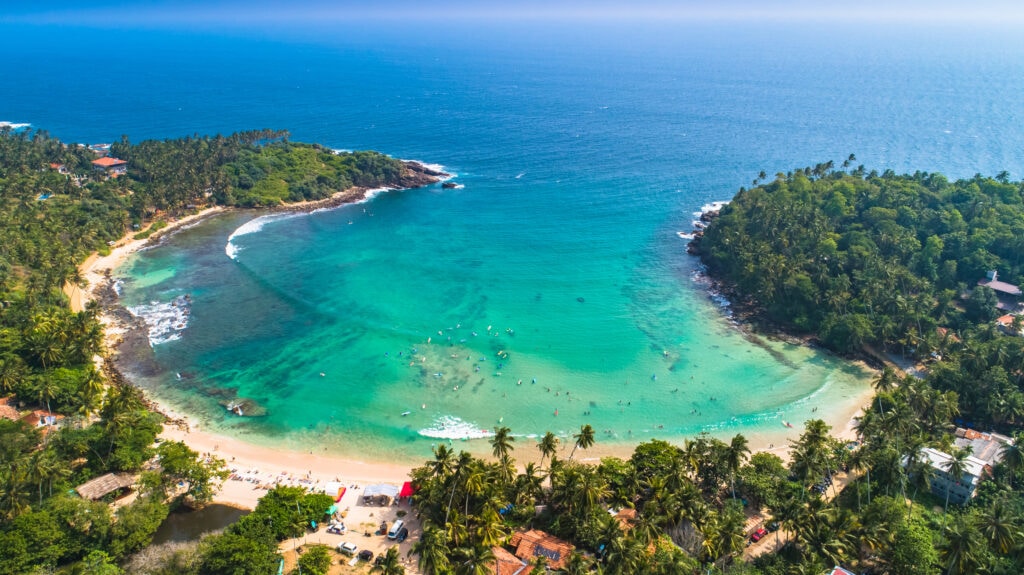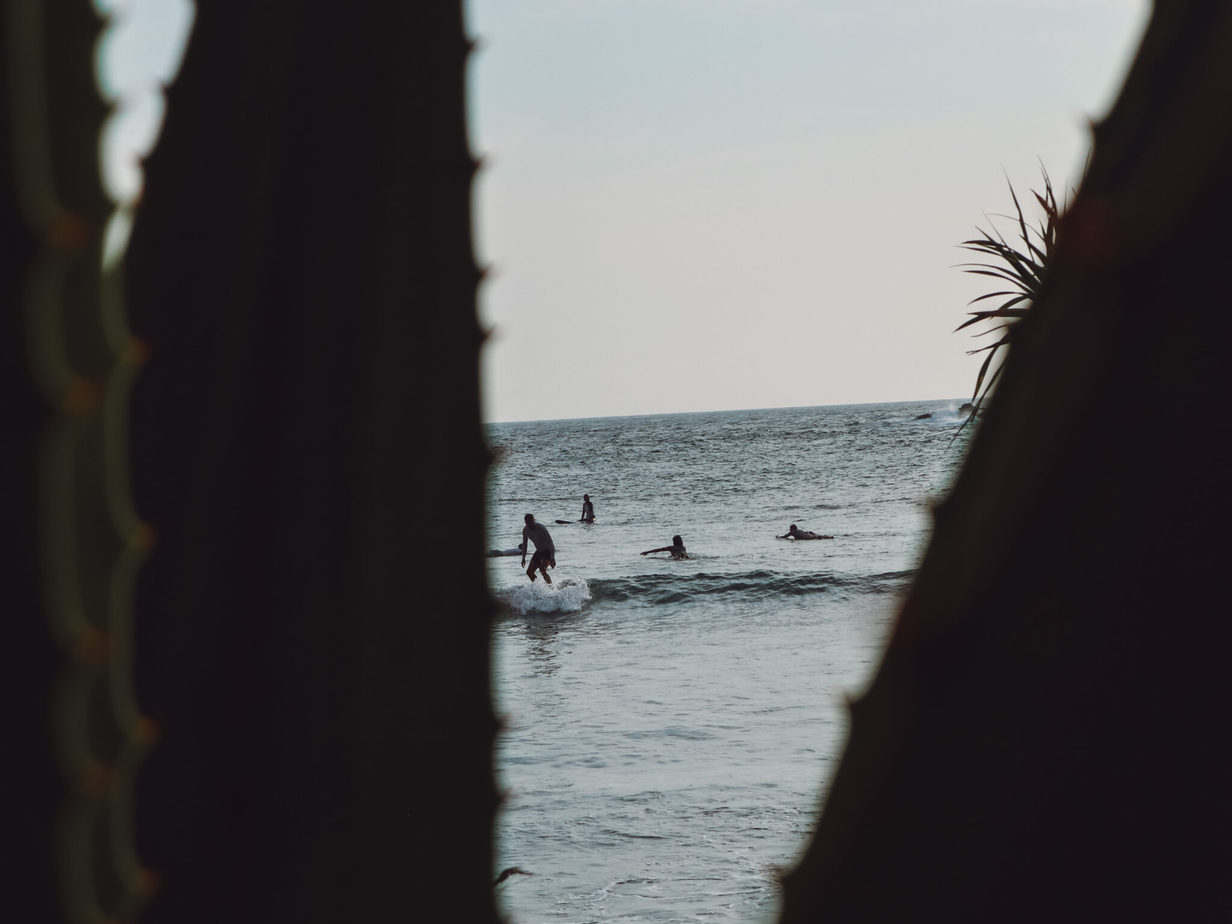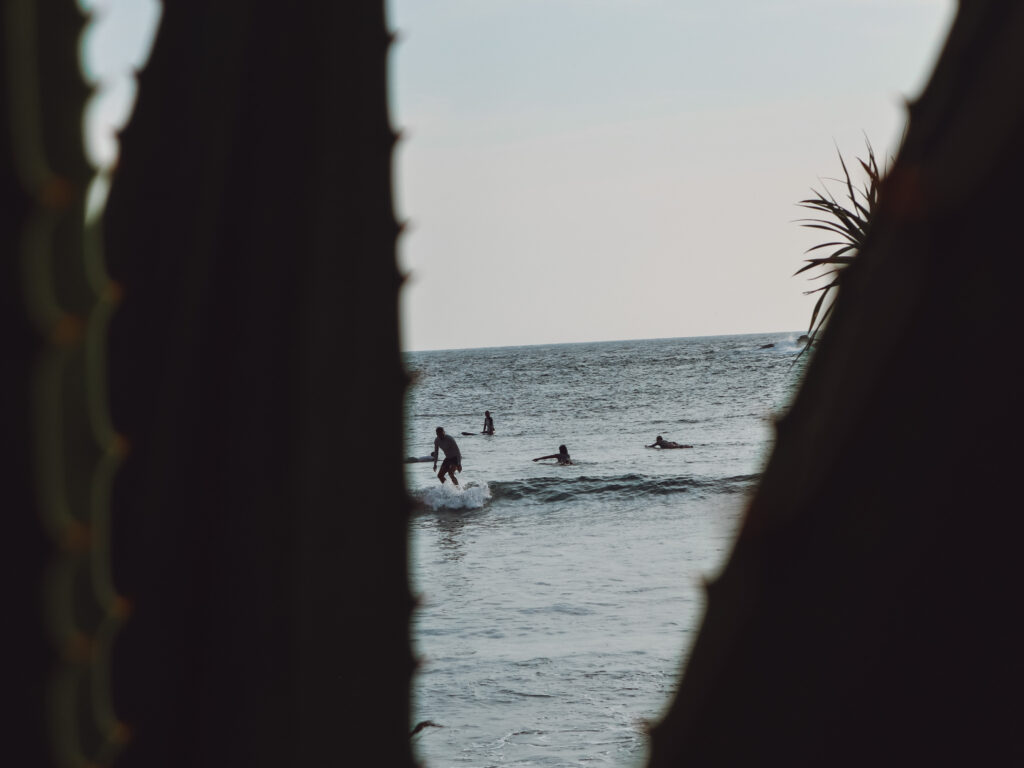 Day 6: Explore Galle Fort
It's your last full day in Sri Lanka! Wake up early at your accommodation in Hiriketiya. Breakfast is usually included so linger over that with some coffee as your final full day is actually a little busy.
Today you will travel from Hiriketiya to Galle Fort, a cultural city that is also along the south coast. This is your only day to explore Galle Fort, which is okay because it is not a big place and you can see most of what you want on a leisurely day trip.
How to get From Hiriketiya Beach to Galle Fort
I recommend booking your transport from Hiriketiya to Galle Fort early in the day, so you can maximize your time in Galle Fort.
Dan and I booked a taxi through our hotel, Jasper House. This journey is very straightforward and only took 1 hour 15 minutes and cost around 3,800lkr ($20 USD).
You could also travel from Hiriketiya Beach to Galle Fort by train, which leaves from Belliata (about 20 minutes taxi or tuktuk from Hiriketiya). However this will take you much longer so if you are able, I recommend the private taxi so you can have more time in Galle.
What to do with a Half-Day in Galle Fort
The first thing we did in Galle was check into our hotel, Secret Garden Galle Fort. It is a simple but clean hotel with an amazingly convenient location on Pedlar Street (location is definitely important as you will only have a half-day to spend here). It was also very cheap ($18 USD for the both of us) and we booked it just the day beforehand.
As you plan the rest of your day, check out my article on 13 things to do in Galle Fort. It has all the practical details, but here is the sparknotes version:
Walk the Fort walls (and view sunset from them – read my Galle guide for directions to the best sunset viewing spot)
Visit the Galle Lighthouse
Buy posters or postcards from Stick No Bills
Shop all the unique boutiques
Get icecream from Dairy King or gelato from Il Gelato
Take a rice paddy bike tour (this is more appropriate if you have a bit longer in Galle)
Visit the cricket grounds or catch a game
Explore the Old Dutch Hospital
Visit one of the many museums or cultural sites (such as Galle Dutch Church, National Maritime Museum, National Museum of Galle, Meera Mosque, or All Saints Anglican Church)
With only one night in Galle, I highly recommend getting dinner at the Old Dutch Hospital, which is a gorgeous repurposed hospital that is now a shopping and restaurant center overlooking the ocean. A Minute by TukTuk has really good reviews and a semi-cult following. However, there are no options for celiacs there. Dan and I ate at Dimo Fort instead and had a wonderful experience.
Where to stay in Galle Fort
Secret Garden Galle Fort ($): Where we stayed. Very low price, air conditioning, clean, and perfect location on Pedlar Street.
Shoba Traveller's Tree ($): A homestay, also along Pedlar Street, with great reviews and very low prices.
Heritage Hotel ($$$): Luxurious hotel in a 300 year old Dutch building, complete with one of Galle's best restaurants. Also located on Pedlar Street.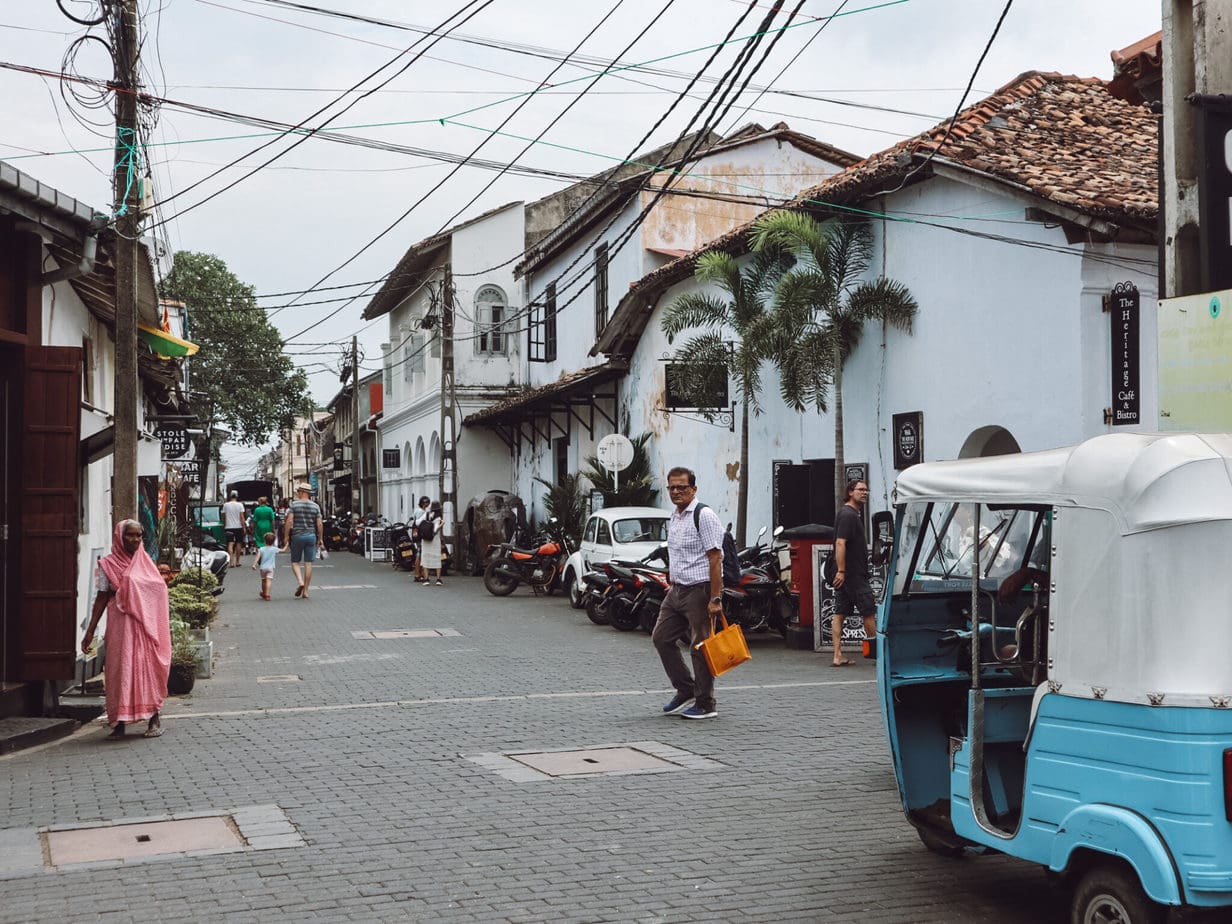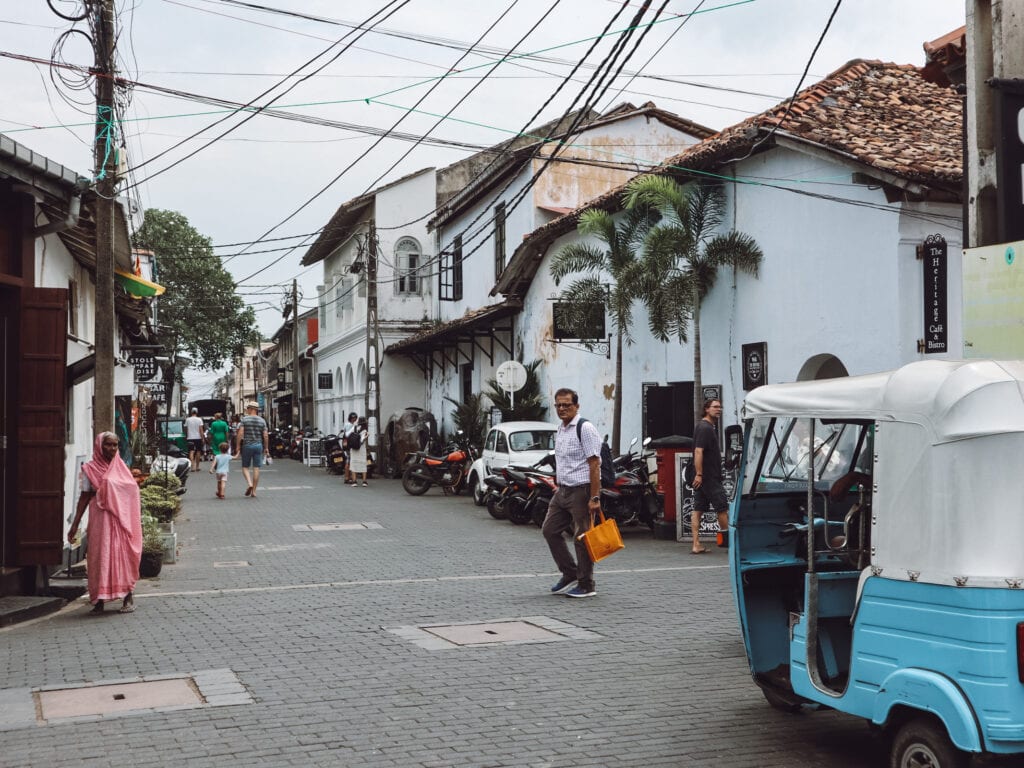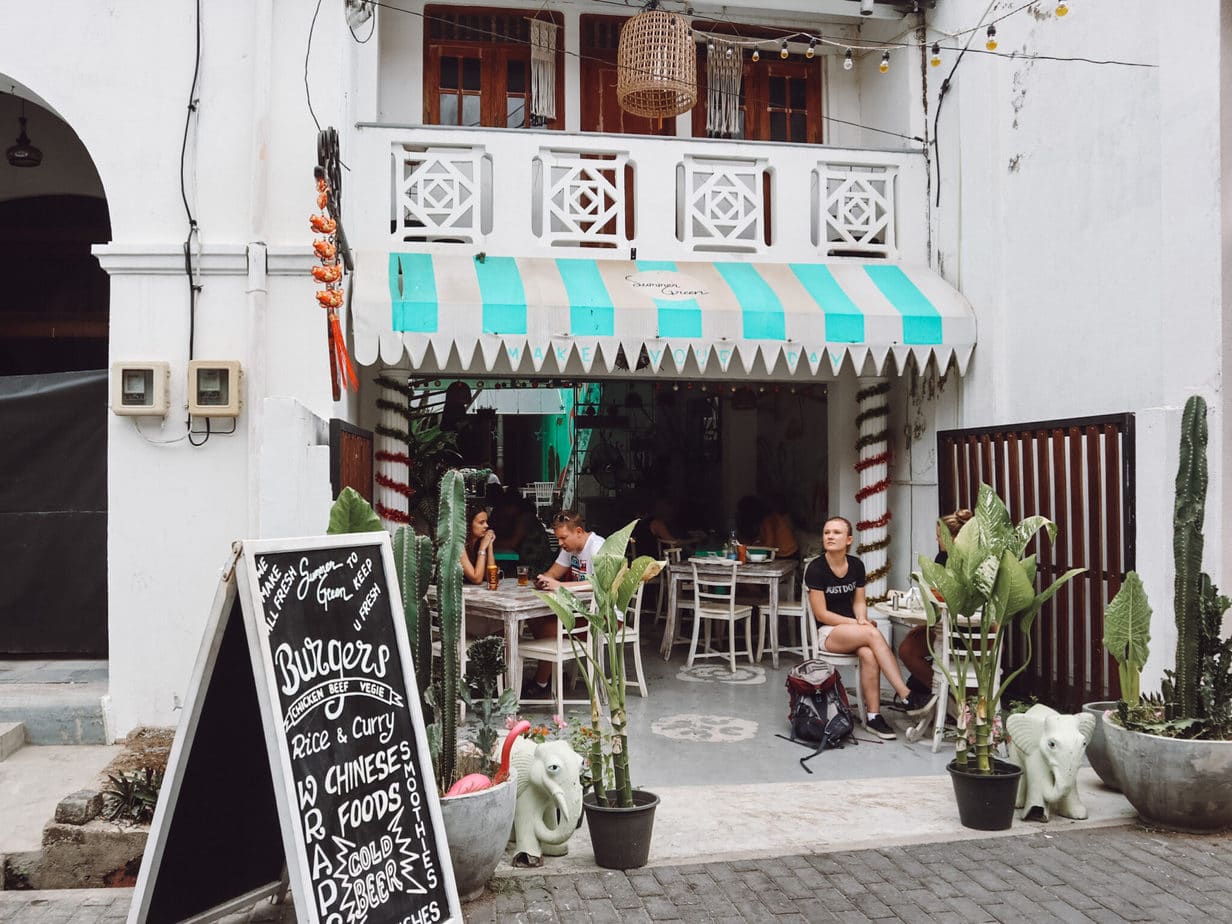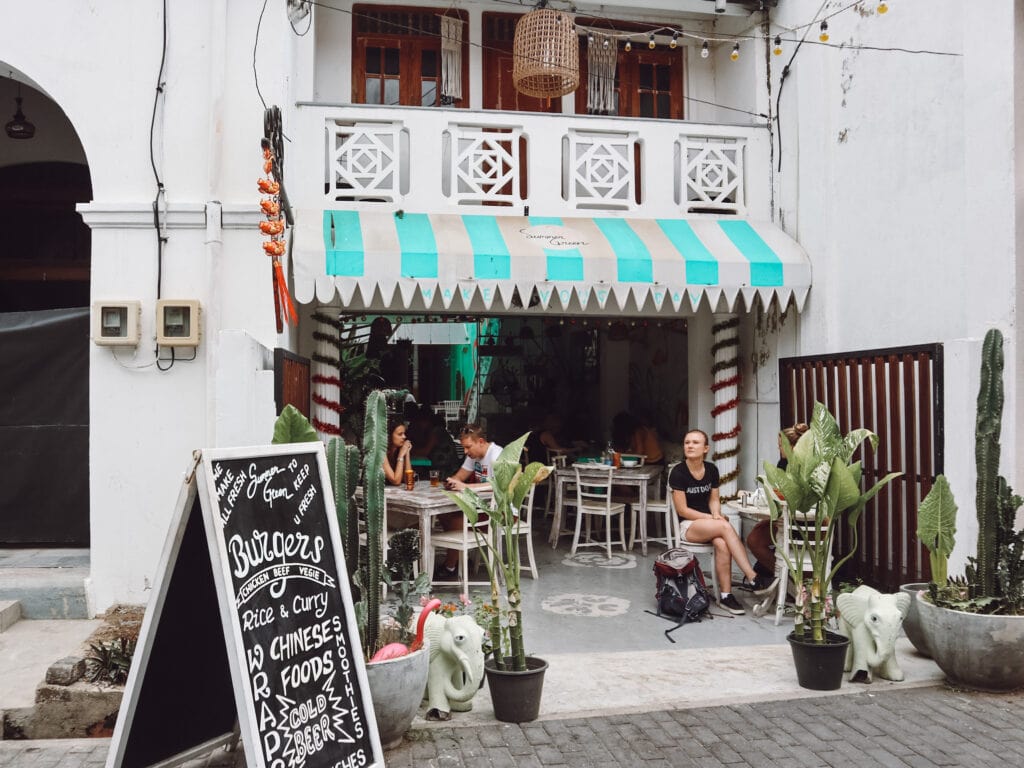 Day 7: Time to Head Home
What you do on your final day in Sri Lanka will depend on what time your flight is. Your flight home (or to your next destination…) will leave from Bandaranaike International Airport in Colombo.
There is a reason I chose Galle Fort as the last stop on this itinerary: it a straight shot from Galle up to Colombo! If you travel by the E01 toll road, this drive is about 2 hours. You do have to pay a bit extra (for the tolls), but the other option is a 3-4 hour drive along the coastal A2. If you are like us, and have some mild pre-flight anxiety (I am a little paranoid about missing flights), then definitely opt for the E01 toll road.
We booked our taxi from our hotel the night before, and you can do the same. There are also many taxi operators along Pedlar Street and elsewhere in Galle Fort, but from our experience you will get a better price from your hotel, as they often have exclusive relationships with taxi operators.
Expect to spend about 10,000lkr ($50USD), plus an extra 400lkr ($2USD) for the tolls. Split between the two of us, that was about $26 per person. A lot of hotels also offer shuttles, and by grouping in with other travelers heading to the airport you can get a better price.
If You Have Less Than One Week in Sri Lanka…
Do you have less than seven days in Sri Lanka? That is definitely cutting it short, and it will be hard to squish this 1 week itinerary any shorter.
Instead, I recommend that you choose which region from this itinerary that you prefer:
Central hill/tea country: Colombo-Ella train journey and a few days in Ella before taking a taxi back to Colombo
South coast: Taxi to Galle Fort and a few days in Hiriketiya or another beach town, before taking a taxi back to Colombo
Decide which region sounds more inviting to you. Do you prefer mountains, hikes, and tea? Or do you prefer cultural sites and beach days? I know it is a hard choice.
You can still use this itinerary to help you, but focus on the days that are in the region you prefer. With less than a week in Sri Lanka, you also will likely need to take 100% private taxis to maximize your time.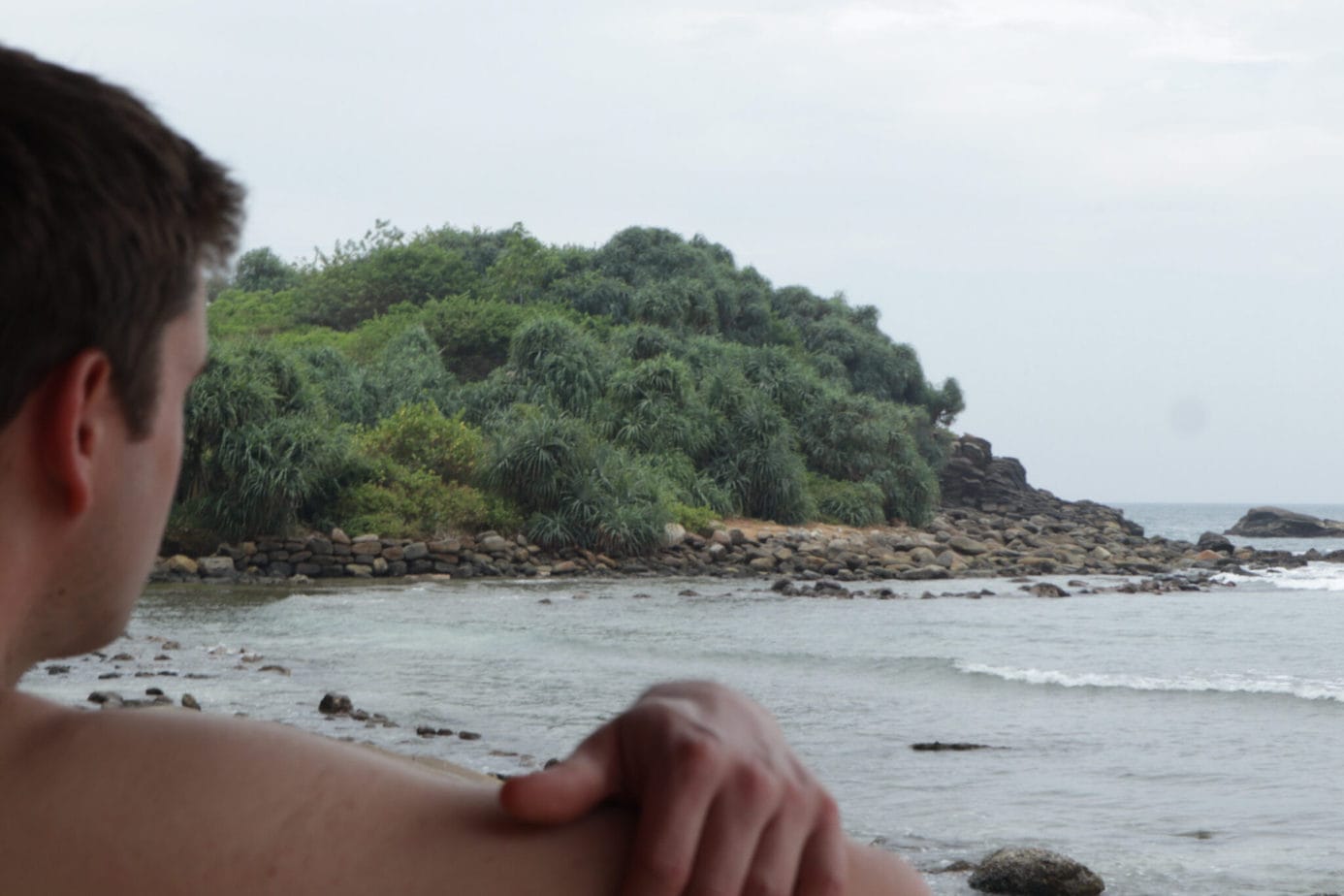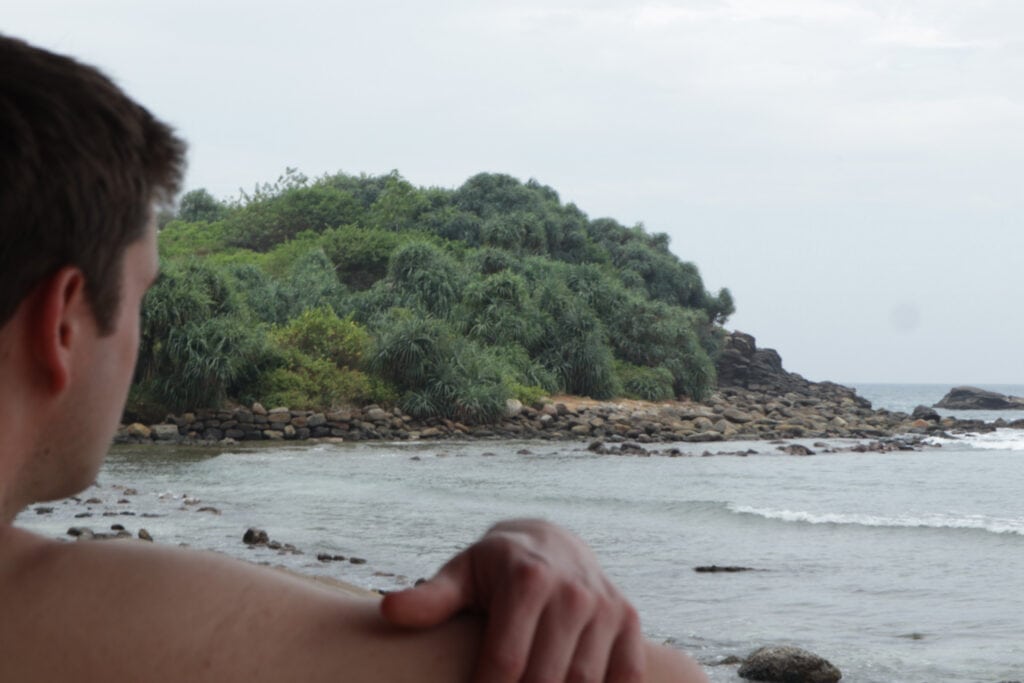 If You Have More Than One Week in Sri Lanka…
Well, lucky you who has more than a week in Sri Lanka! If you have 10 days in Sri Lanka, you could easily still follow this itinerary, but add a few extra days in Hiriketiya, Ella, Colombo, or Galle Fort for a more relaxing pace and more depth.
However, maybe you prefer to keep up the pace and see more "must-see" sights while in Sri Lanka. Or maybe you have longer than 10 days in Sri Lanka… say two weeks to a month!
Here are some of the other places to add to your Sri Lanka itinerary that didn't fit in my one week itinerary:
Sigiriya: Also called "lion rock," this ancient rock fortress is considered one of the must-see places in Sri Lanka.
Pidurangala Rock: A hike to the top gives the best views of Sigiriya, particularly at sunrise. Your visit to both these places will be paired together.
Kandy: A city in Sri Lanka's hill country known for its Buddhist sites, tea, culture, and lake. Also the starting point for the popular Kandy-Ella train.
Nuwara Eliya: A hill country town called "Little England," known for both its tea and coffee production.
Horton Plains National Park: A national park in the central highlands. It is known for its birding and is reachable from Nuwara Eliya.
Yala National Park: The most popular national park, known for its safaris. Compared to Udawalawe it is more jungled/tree-filled and better for viewing leopards and crocodiles.
Udawalawe National Park: This national park is also known for its safaris, and is included as an option on day 4 of my 1 week Sri Lanka itinerary. Compared to Yala it is better for viewing Sri Lankan elephants and birds.
Weligama: A popular surf town on the south coast.
Unawatuna: A south coast beach town with a coral reef. It is really popular with tourists and will probably feel over-touristed, but the beaches and palm trees are gorgeous. There is a famous turtle hatchery here, but I would recommend avoiding it as apparently it is an unethical scam for tourists.
Mirissa: A beach city on the south coast that is known for its whale watching. However many of these tours are not ethical, as the tour boats group together and antagonize and chase the whales. I would not recommend going whale watching in Sri Lanka.
Hikkaduwa: A coastal resort town in western Sri Lanka, not too far north from Galle.
Jaffna: A city in the north of Sri Lanka, known for its Hindu culture and Jaffna Fort.
Anuradhapura: An ancient capital of Sri Lanka, located in the North-Central province. It is a World Heritage Site and a pilgrimage destination for Buddhists.
PLAN | Visit my full Sri Lanka page for more travel planning tips!
There you have it! In one very extensive post I have shared our 1 week Sri Lanka itinerary. If you have other questions about planning your Sri Lanka trip, check out my full Sri Lanka page or leave a comment below.
Check out my other Sri Lanka blog posts:
Before you go, be sure to buy your travel insurance (that is what we used) and pack some Sri Lanka essentials (like bug spray, rain coat, and a filter bottle… check out the post for more!). You are going to have an incredible time in Sri Lanka, whether you follow this itinerary to a T, or mix and match with your own preferences.