The Ultimate Gluten Free Sri Lanka Guide (2023)
Sri Lanka is a country I dreamt of visiting for a long time, but didn't know much about the cuisine before our visit. Sometimes my stomach leads my travel choices, but in the case of Sri Lanka it was definitely my eyes – I wanted to see the blue trains, dense jungles, tea plantations, and endless beaches.​​​​​​​​​​​​​​ ​​​​​​After traveling here I'll definitely return for the food too! Read on for the best places to eat in this gluten free Sri Lanka guide.
As much as I tried to research what being gluten free in Sri Lanka ​​​​​​​​​​​​​​​​​​​​​would be like, there just isn't much information on the internet! I asked about the gluten free Sri Lanka scene in a few facebook groups, and was able to get a little insight, but that was it.
So traveling as a celiac in Sri Lanka was truly an adventure, although a bit nerve wracking at times because I was learning along the way. I ate SO well in Sri Lanka and discovered a new cuisine I'd never tried before and is now one of my very favorites. If you are planning your own gluten free getaway to Sri Lanka, I hope this guide makes your trip that much easier.
This gluten free Sri Lanka guide is updated for 2023.
Looking for more Sri Lanka posts?
Sri Lanka Packing List: The Best Packing List For Any Season
A Perfect 1-Week Sri Lanka Itinerary
Complete Guide to the Epic Colombo to Ella Train Journey
16 Things to Do in Ella, Sri Lanka
13 Things to do in Galle, Sri Lanka
15 Things to Do in Hiriketiya Beach, Sri Lanka
Jasper House Review: A Boutique Hotel in Hiriketiya Beach
PLAN | Visit my full Sri Lanka page for more travel planning tips!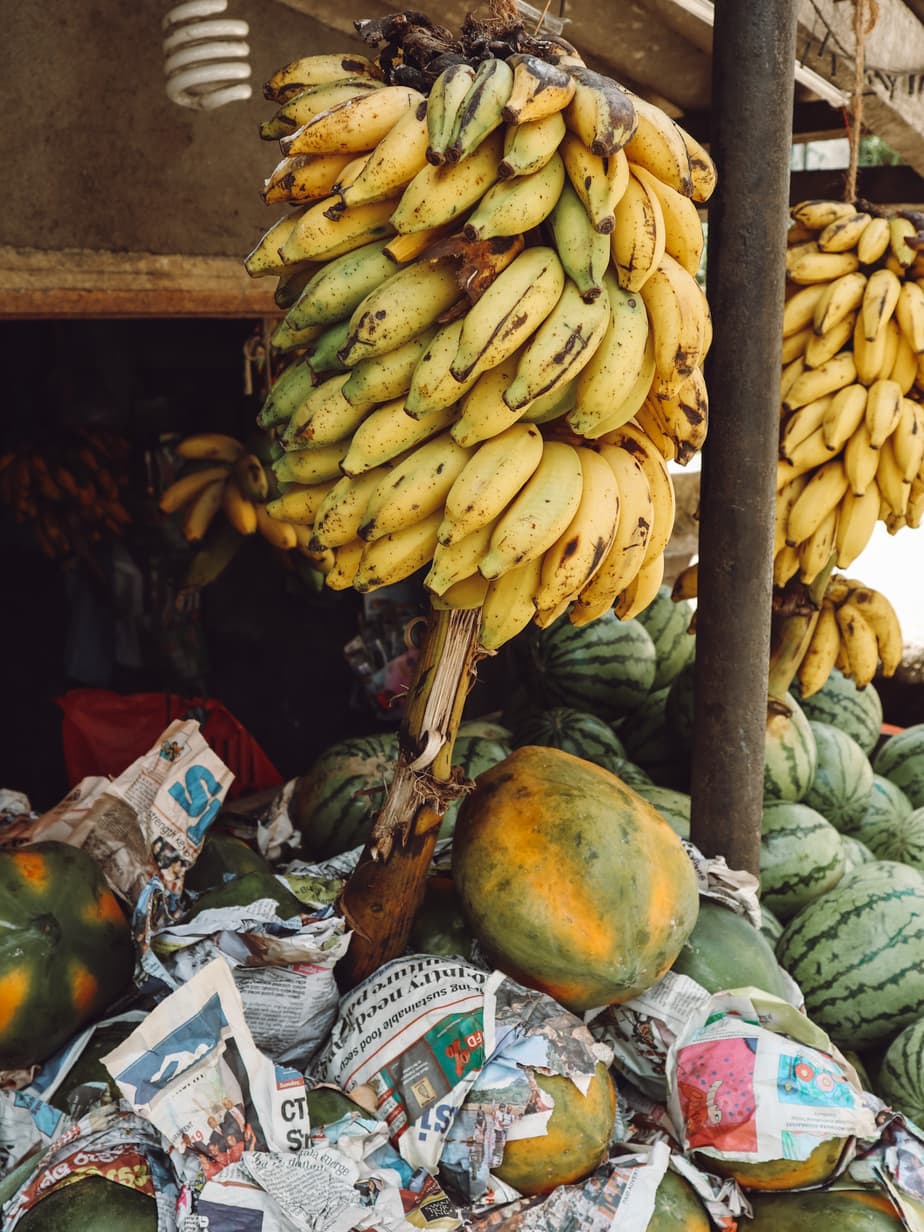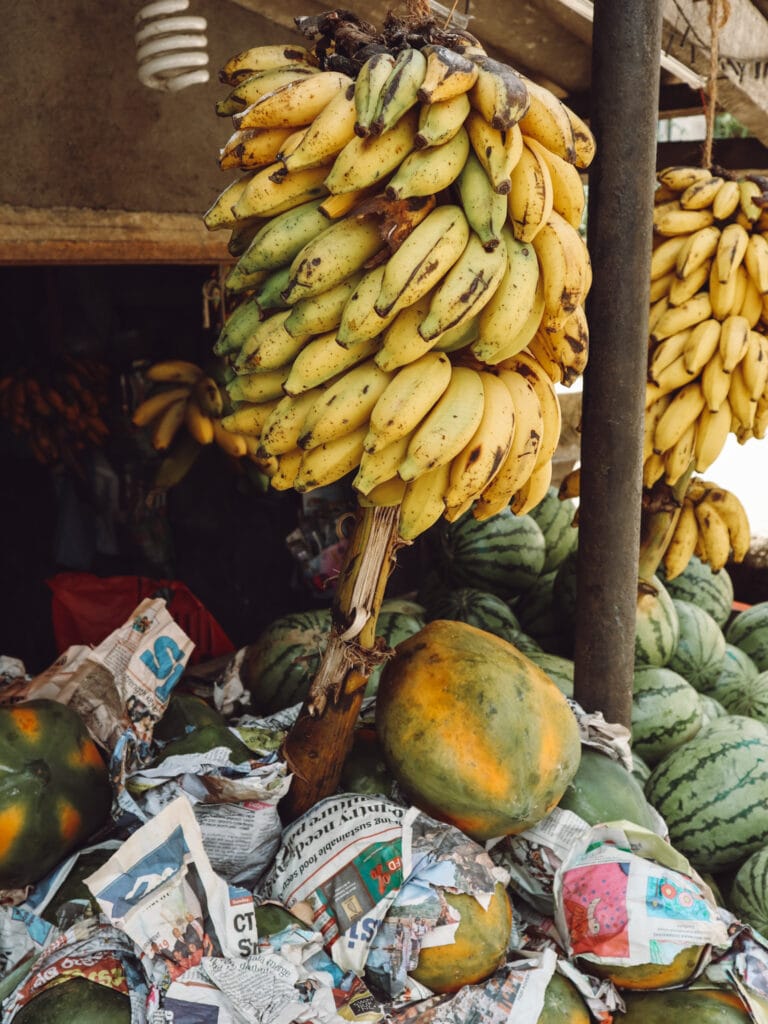 Gluten Free Awareness in Sri Lanka
​​​​​​​Most people in Sri Lanka are not familiar with gluten or celiac disease. There is currently no celiac association in Sri Lanka, although there is some evidence that celiac disease is common in the country yet extremely under-diagnosed.
It's therefore very important to have an understanding of the cuisine (and dishes where cross contact risk is high) before visiting. It's also essential to have the appropriate gluten free translation card. So… you're in the right place with this article!
RELATED | Gluten Free Translation Card Guide for 80+ Languages
Sri Lanka Gluten Free Translation Card
A gluten free translation card is extremely necessary in Sri Lanka.​​​​​​​​​​​​​​​​​​​​​​​​​​​​​​​​​​​​​​​​​​ I really could not have gotten by without one.​​​​​​​
You might be able to get by without a translation card if you solely stay at larger, high-end hotels where more staff speak English. However, these hotels often add wheat to their curries and hoppers!
The smaller, local places are your best bet for gluten free food (and an authentic experience), but also less likely to be fluent in English. This is why I'd highly recommend a gluten free translation card in Sri Lanka.
STAY SAFELY | Accommodations where I had a particularly good gluten free experience in Sri Lanka include Ella River Front, Country Homes, and Jasper House.
Languages spoken in Sri Lanka
People in Sri Lanka speak Sinhalese and Tamil. (Yup, that means two translation cards).
Generally, Tamil is spoken in the north and Sinhalese in the south. In reality, it's not as cut and dry as that. We traveled mostly in central and south Sri Lanka, and I still used my Tamil translation card quite a few times.
You should always speak to the chef, and ask if they speak Sinhalese or Tamil before making an assumption and showing your card.
I found that Sri Lankan people are so polite, if they couldn't read my translation card they'd still nod and act like they understood.
This was an issue at Ella River Front Homestay, until I realized that our chef Satish actually spoke Tamil instead of Sinhalese… I downloaded and showed him the Tamil card instead and it was an "aha" moment! From then on, I always made sure to ask, and not make an assumption.
RELATED | 27 Photos to Inspire You to Visit Sri Lanka
Gluten Free Sri Lanka Translation Cards I Recommend:
I recommend purchasing the Select Wisely translation cards, instead of using the free translations online (I've been burned glutened by those before).
I find that Select Wisely is more thorough. "Gluten" is not part of the local languages so "gluten free" doesn't mean anything to people. Instead, Select Wisely uses commonly known ingredients (wheat, rye, barley, oats, soy cause, malt, flour, gravies, breads, etc.) in their cards.​​​​​​​​​​​​​​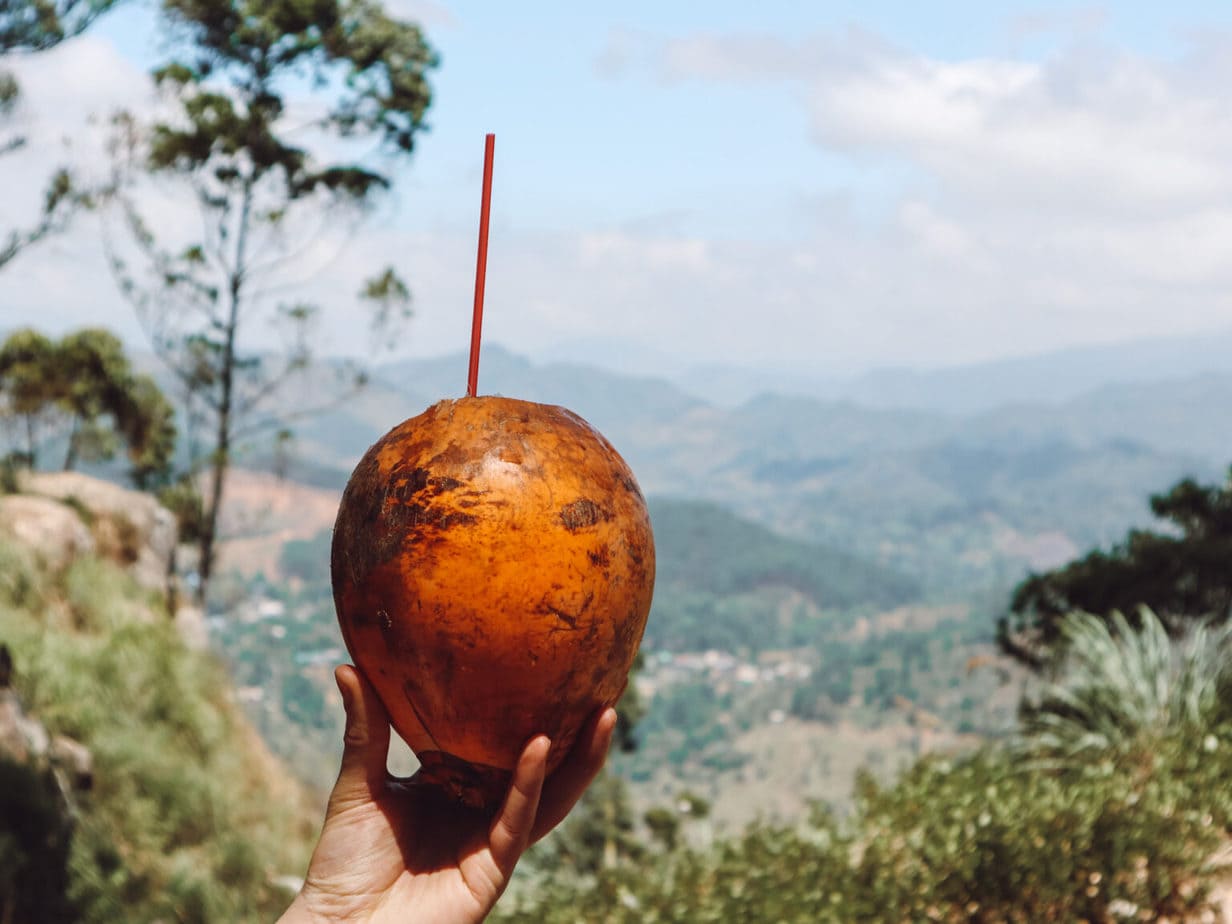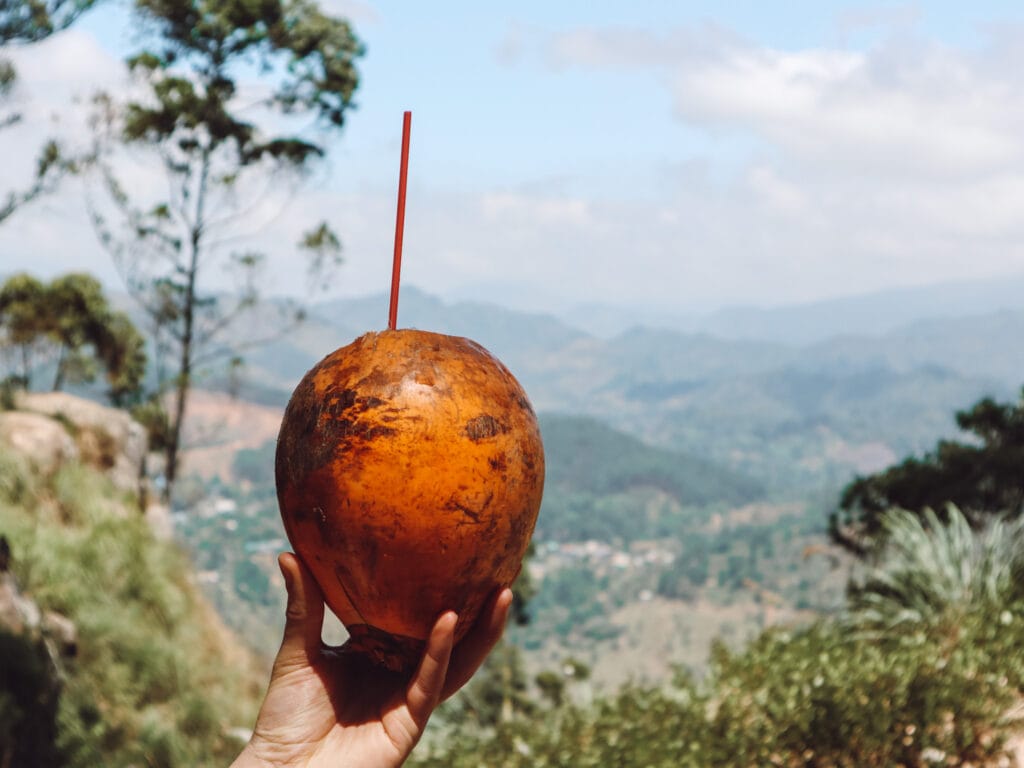 Common Phrases for Gluten Free Travelers in Sri Lanka
To be honest, I relied more on my gluten free translation card than on trying to verbally communicate in Sinhalese or Tamil.
Because "gluten" is not a recognized word in Sri Lanka, you should focus on asking about gluten-containing ingredients, rather than saying "gluten free."
One word to mention is semolina, which is a type of wheat flour. If the person I was speaking to spoke English, I would ask about both wheat flour and semolina.​​​​​​​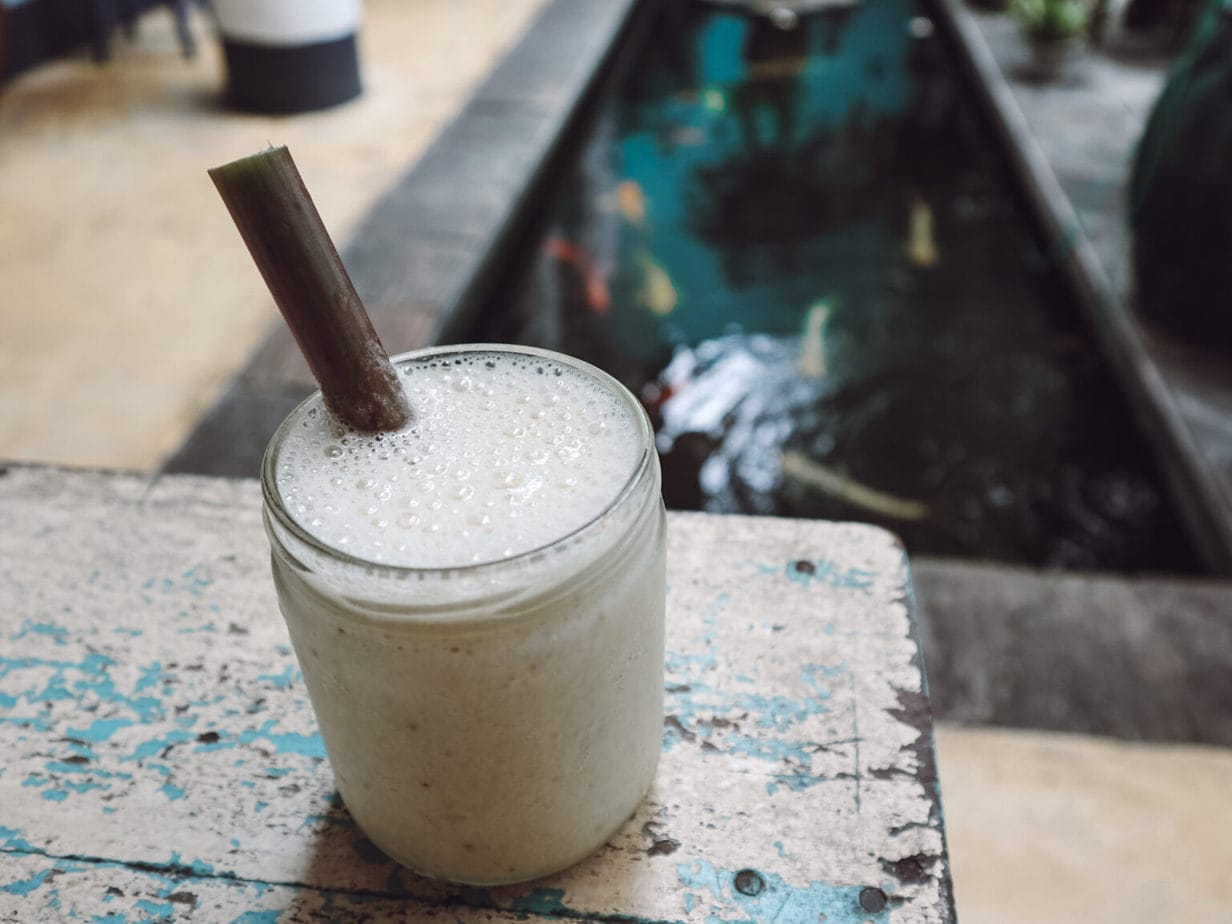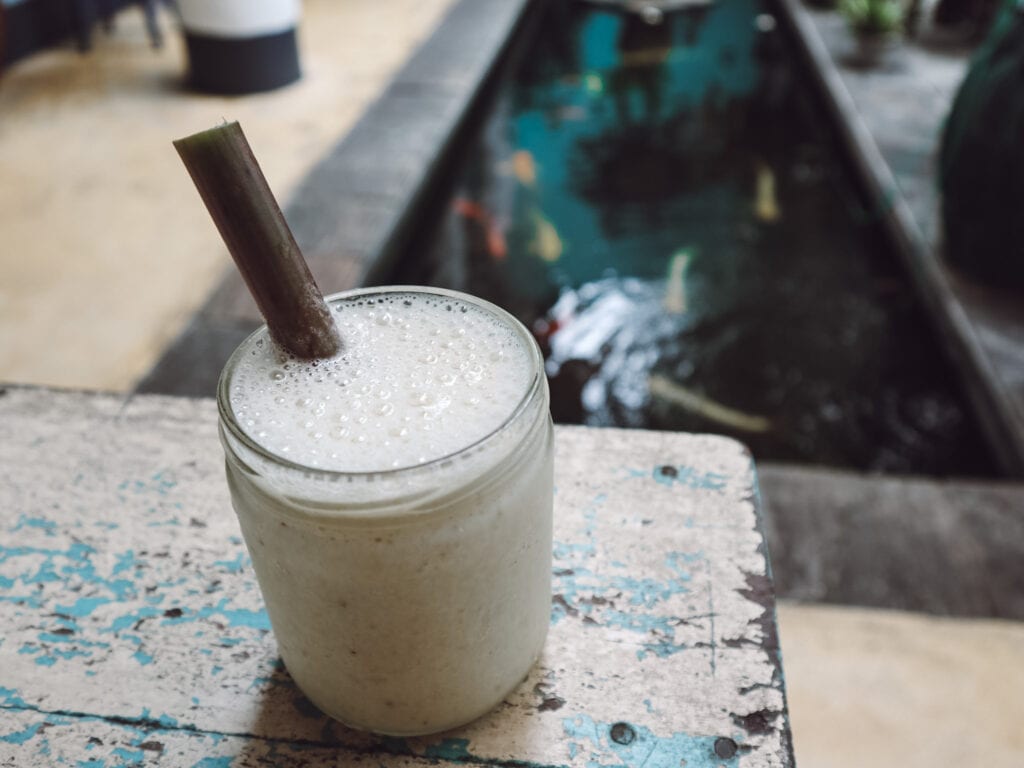 Gluten Free Sri Lanka: What You Can (Probably) Eat
The good news is that much of Sri Lankan cuisine is naturally gluten free (and delicious). Many dishes are based in coconut milk, vegetables, and gluten free grains like rice, millet, lentil, or ground coconut flour.
The bad news is that it's not always that straightforward. Many larger hotel chains and restaurants have started adding wheat flour to otherwise naturally gluten free hoppers and curry sauces. It's also nearly impossible to find gluten free bread, pasta, or alternatives in stores (although I do mention one store in Ella further down this post).
For this reason, Dan and I chose to stay at homestays and boutique accommodations in Sri Lanka, and also dine at locally-run restaurants. Below are some of the gluten free Sri Lankan dishes I relied on.
Hoppers (also called Appam)
Hoppers are a truly delicious Sri Lankan staple, usually served for breakfast. They are kind of like a bowl-shaped crepe, thanks to the hopper pan they are cooked in.
Traditionally made, hoppers are 100% gluten free, as they are made with rice flour and coconut milk.
Increasingly, however, large hotels are preparing hoppers with wheat flour instead. It's important to ask the chef before you eat these!
I was able to eat gluten free hoppers at Country Homes Ella, Ella River Front, and Jasper House. These were all smaller accommodations, and I let the chefs know about my gluten free restrictions at least the night before.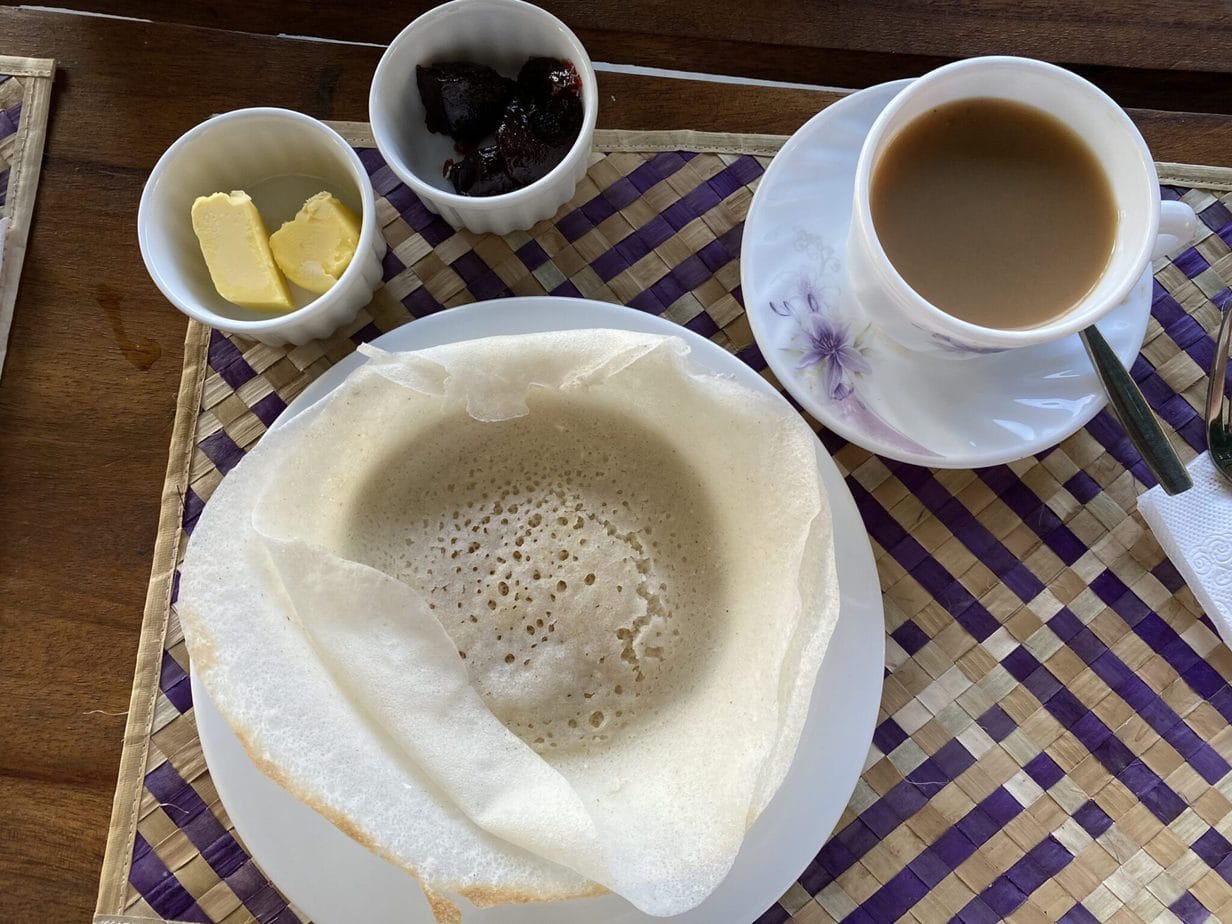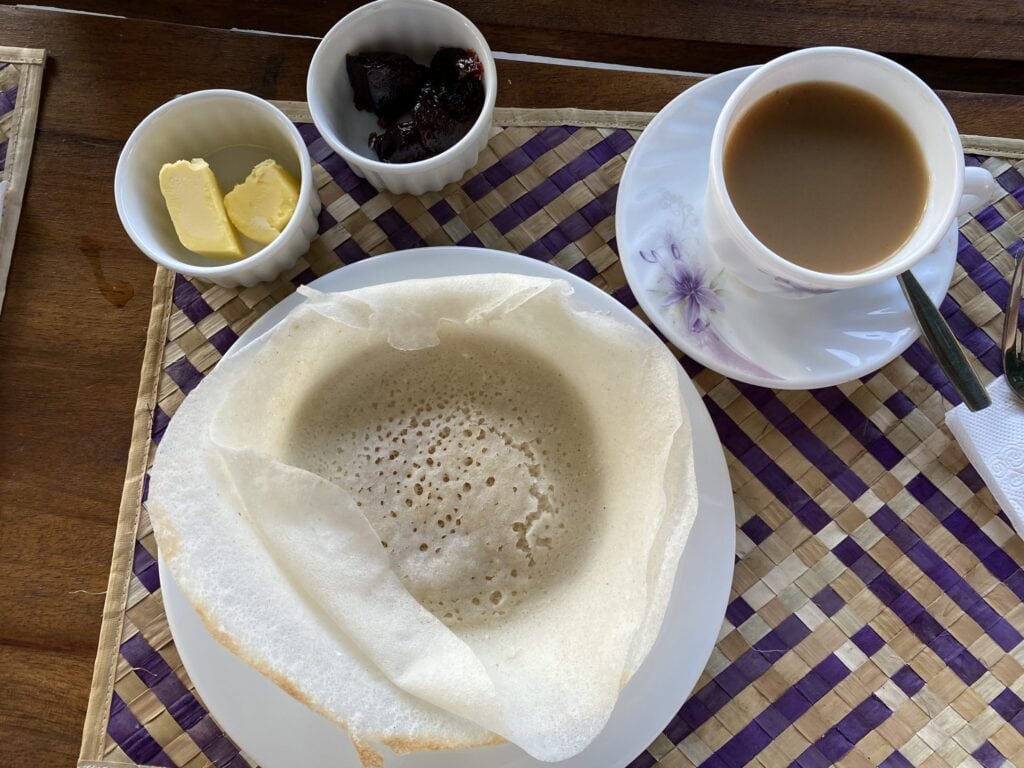 Egg Hoppers
An egg hopper is exactly what it sounds like: a hopper, with an egg cooked in the center!
These are also served for breakfast, and carry the same warning about potential contamination with wheat flour.​​​​​​​
If your accommodation serves gluten free egg hoppers, they are so tasty and will definitely give you energy for a day of exploring Sri Lanka.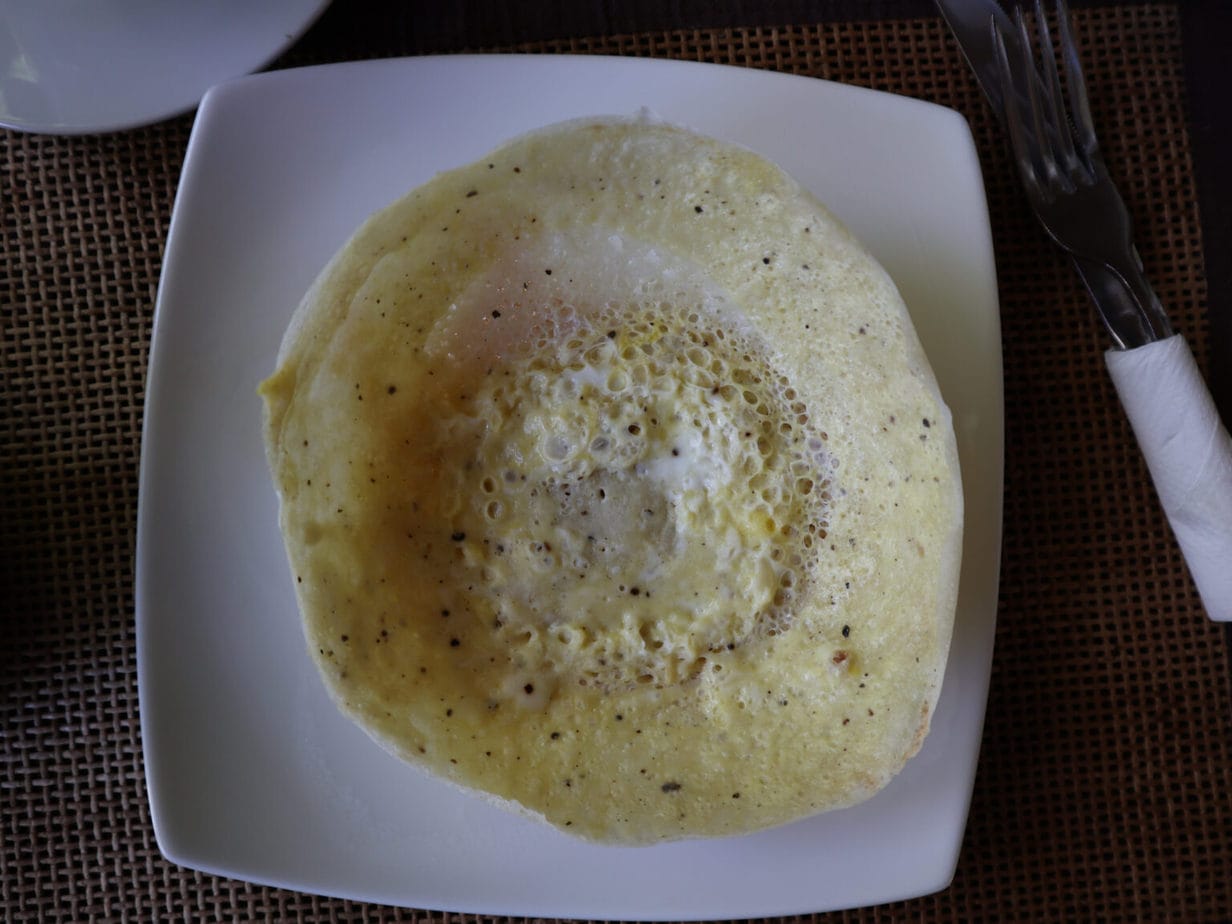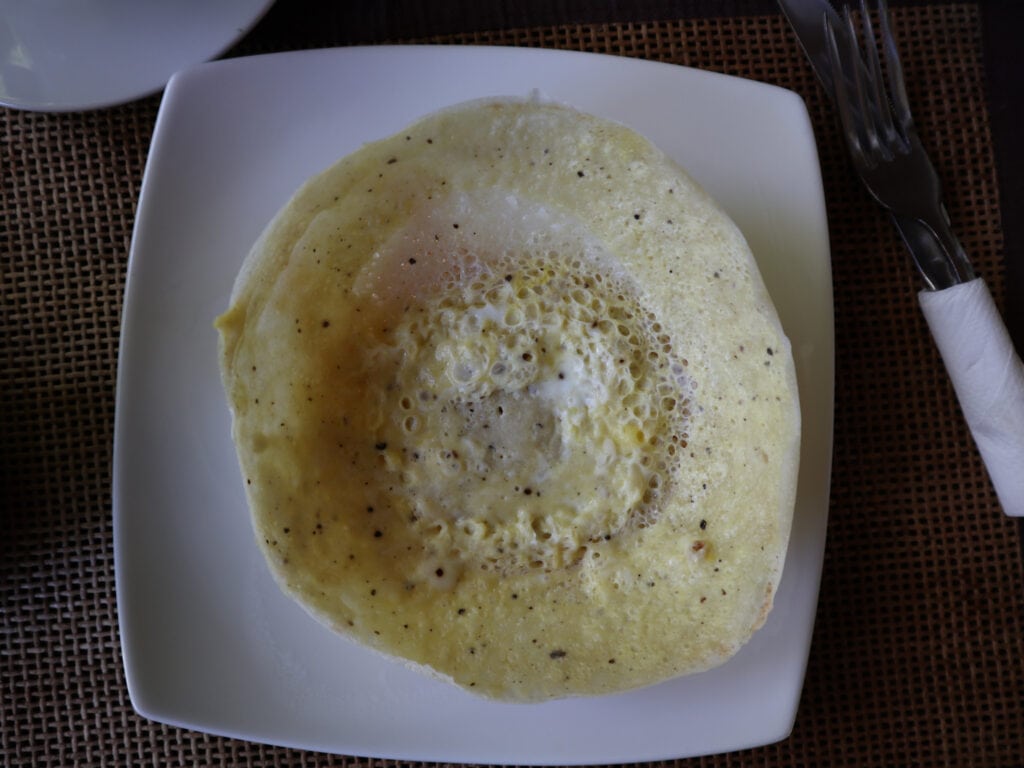 String Hoppers
I don't think string hoppers resemble the previous hoppers/appam at all, but they share a name!
String hoppers are a small bundle of rice-based noodles and are served with breakfast, or alongside lunch or dinner. Traditionally they are 100% gluten free, but again some larger hotel chains and restaurants now add wheat into the rice flour mix, so you need to check.
I was able to eat gluten free string hoppers at the Hilton Hotel Curryleaf in Colombo (which I discuss more in depth below!).
RELATED | A Guide to the Colombo to Ella Train Journey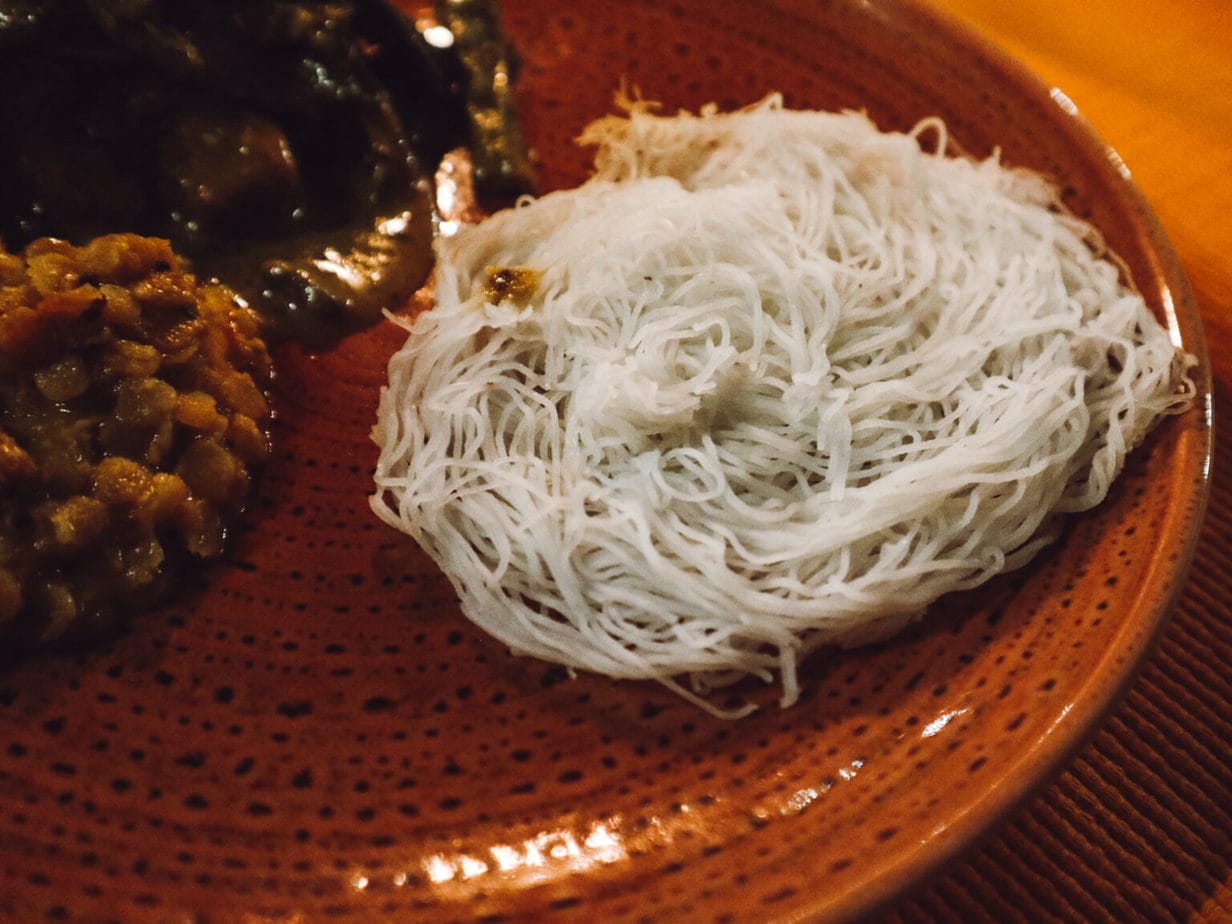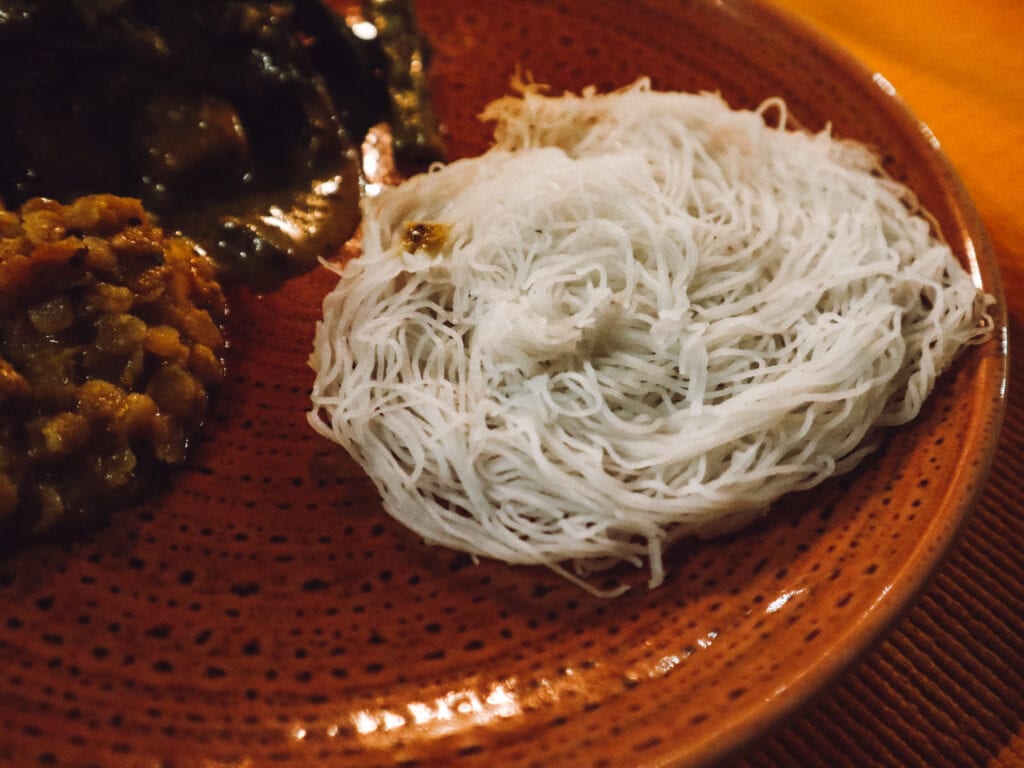 Puttu
Puttu is a steamed "log" of rice flour and coconut flour. It is the closest thing you will find to gluten free bread in Sri Lanka!
It is often served with breakfast, and sometimes alongside lunch or dinner. Puttu is pretty dry, but when you mix it with curries or sauces it is delicious.
I ate puttu at Jasper House in Hiriketiya, and also at the Hilton Hotel's on-site restaurant called Curry Leaf in Colombo. It is naturally gluten free, but again you should check that wheat flour isn't added (although this is less common with puttu than it is with hoppers).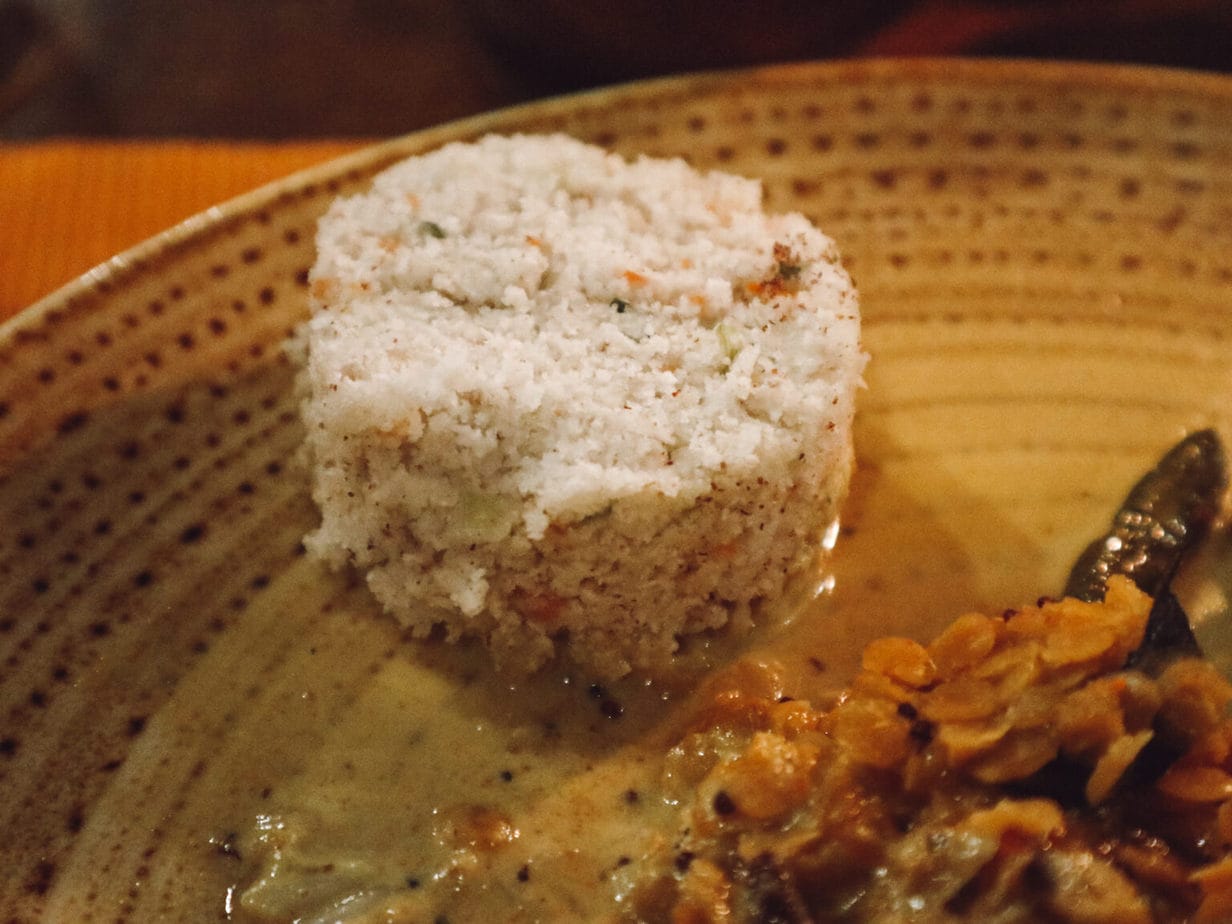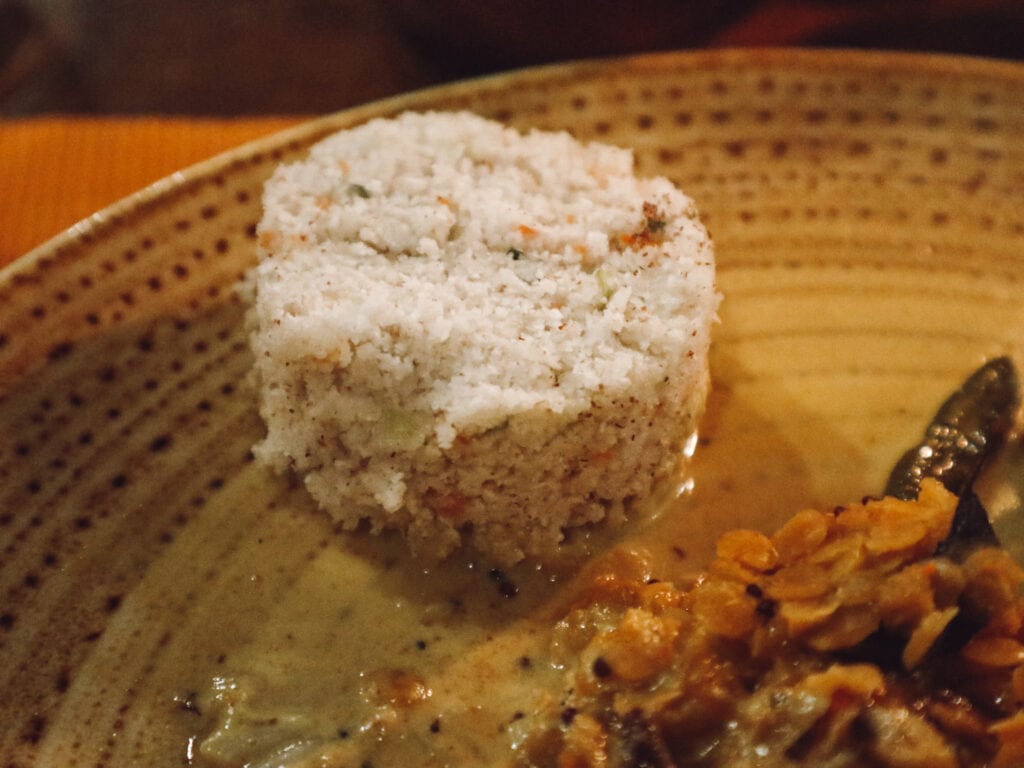 Panipol (coconut pancake)
Panipol are a coconut-based pancake that is sometimes served for breakfast. This dish is sort of like a crepe, stuffed with coconut shavings and sugar. It is sweet and tasty.
I am putting a big warning on panipol because although the pancake is traditionally made with coconut or rice flour, increasingly it is being made with wheat flour instead. I get it, wheat flour is often cheaper and easier, but it makes it hard for a traveling celiac!
Please double check with the chef that their panipol is gluten free before you eat it. I was able to eat gluten free panipol at Ella River Front but that's the only place.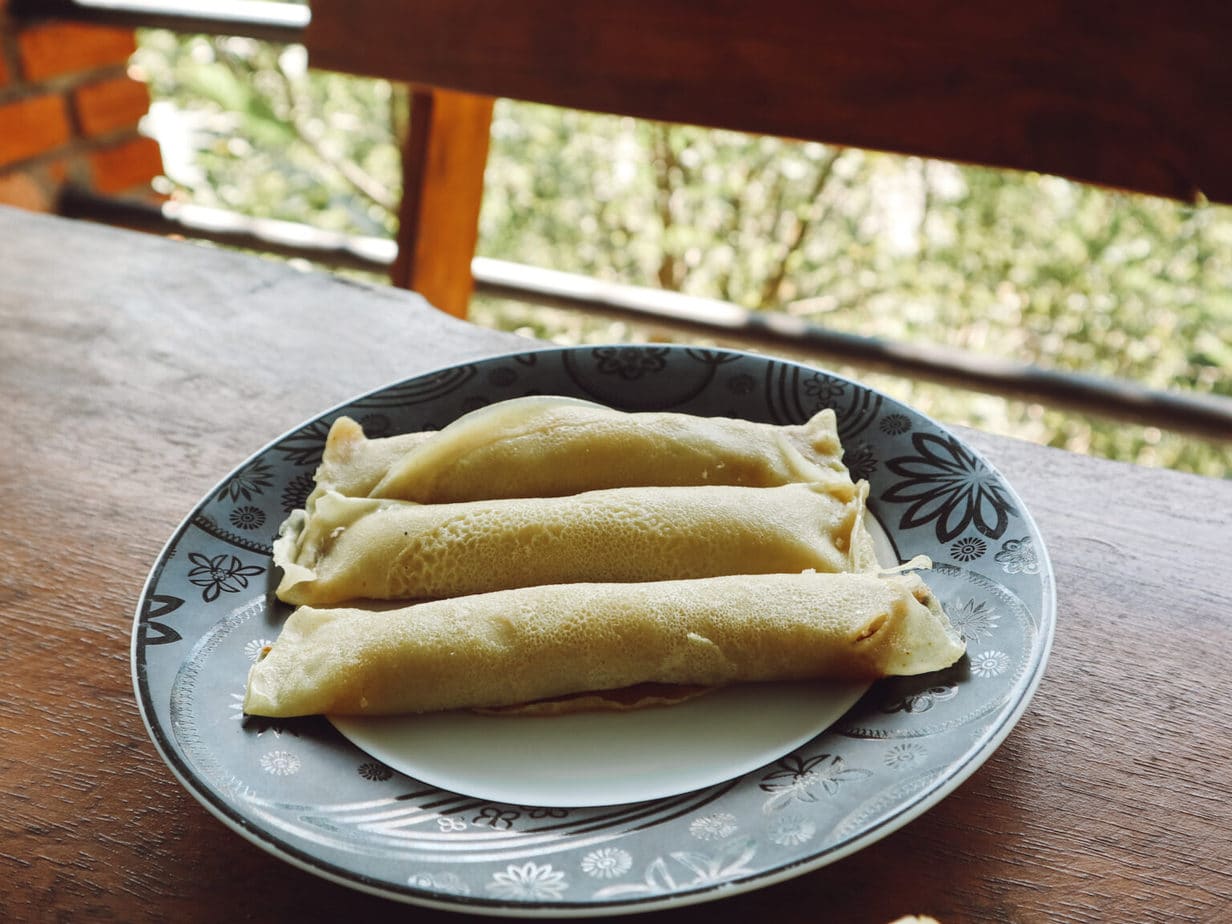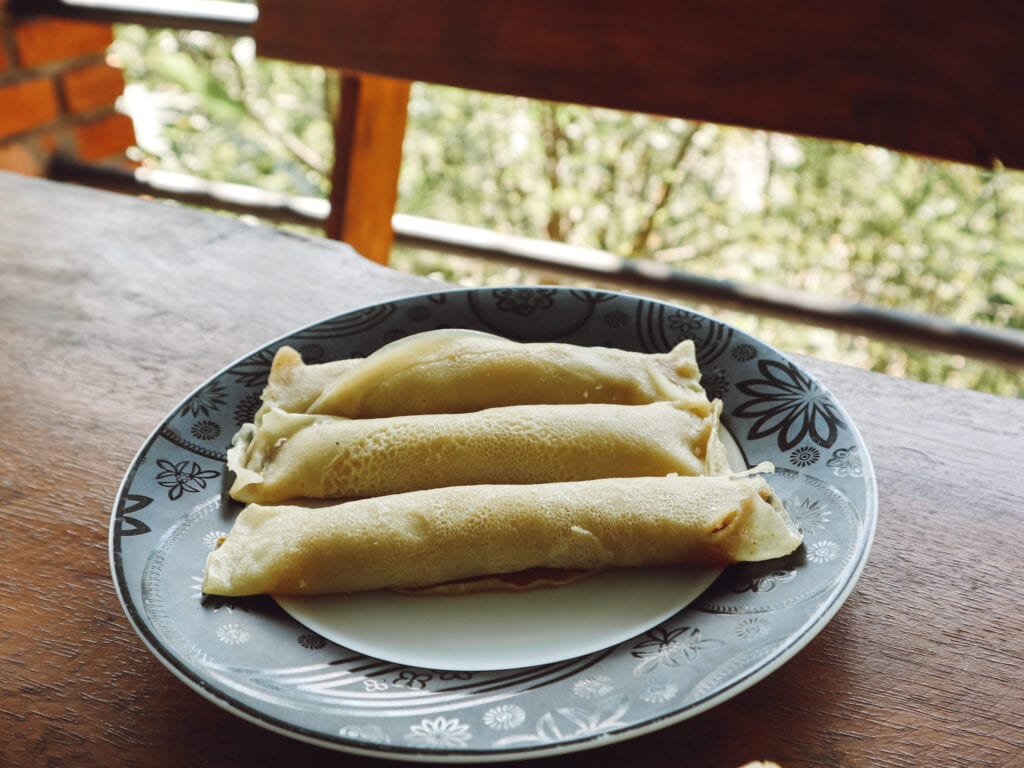 Curries
Curries will be the staple of your diet in Sri Lanka – and there are sooo many curries to choose from! Sri Lankans typically make huge batches of curries, and eat combination plates of four or more types of curries at once.
Be aware that sometimes chefs will add wheat flour to a curry sauce to thicken it. Soy sauce is less common, but is sometimes used in meat-based curries. Confirm with your chef before eating.
Usually, menus will list a "Sri Lankan Curry Plate." This platter could include curries made of green beans, beetroot, jackfruit, lentil, eggplant, ash banana, pumpkin, and more.
You won't necessarily be able to choose the type of curry you eat (unless you're at a buffet) but here are some common Sri Lankan curries:
Wambatu Moju: A pickled eggplant dish, which was my favorite thing I ate in Sri Lanka. In fact, I wrote a whole ode to it here.
Parippu (dhal curry): A lentil-based curry, which is the most common Sri Lankan curry and will almost always be included in a curry platter.
Polos (jackfruit curry): A curry of young jackfruit and coconut milk. The flavors are surprising – I thought I was eating meat the first time I tried it.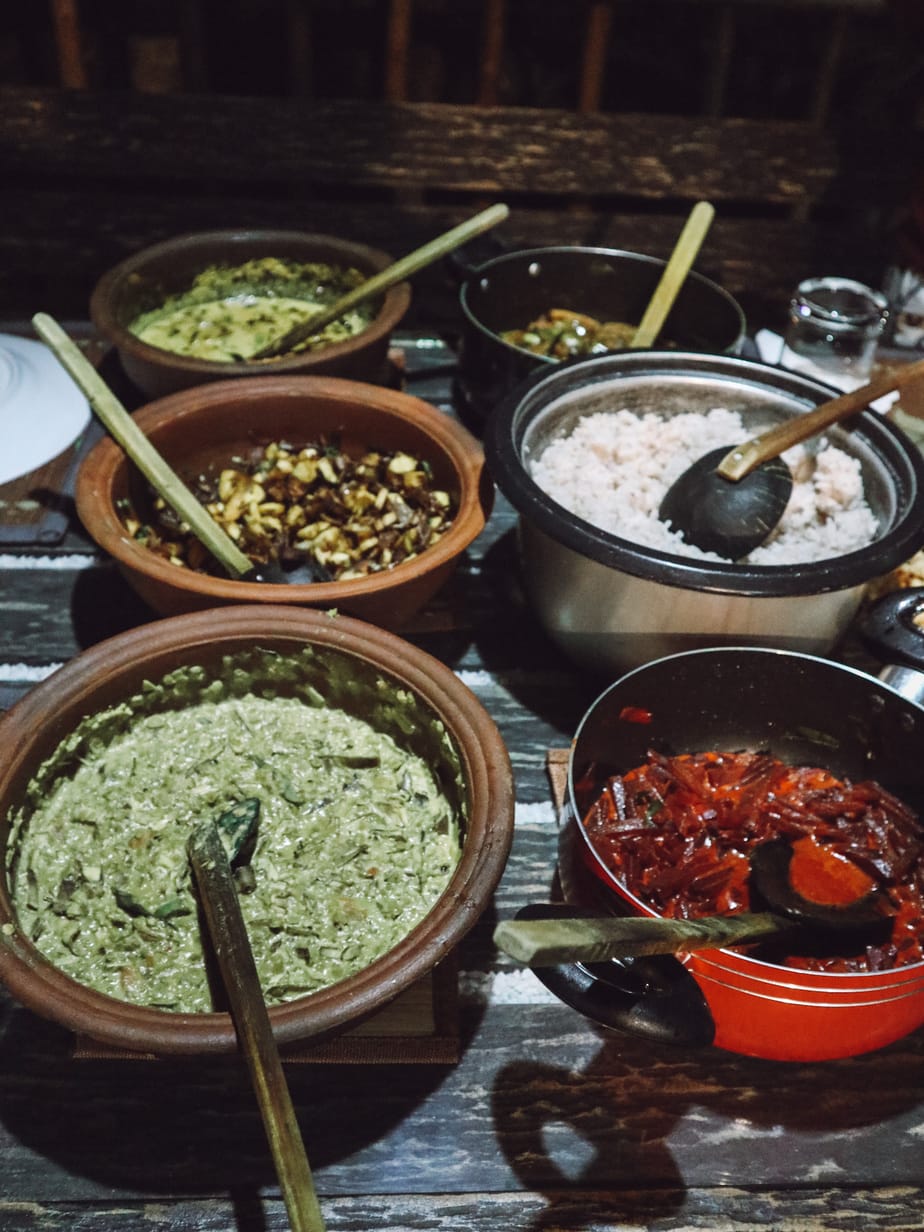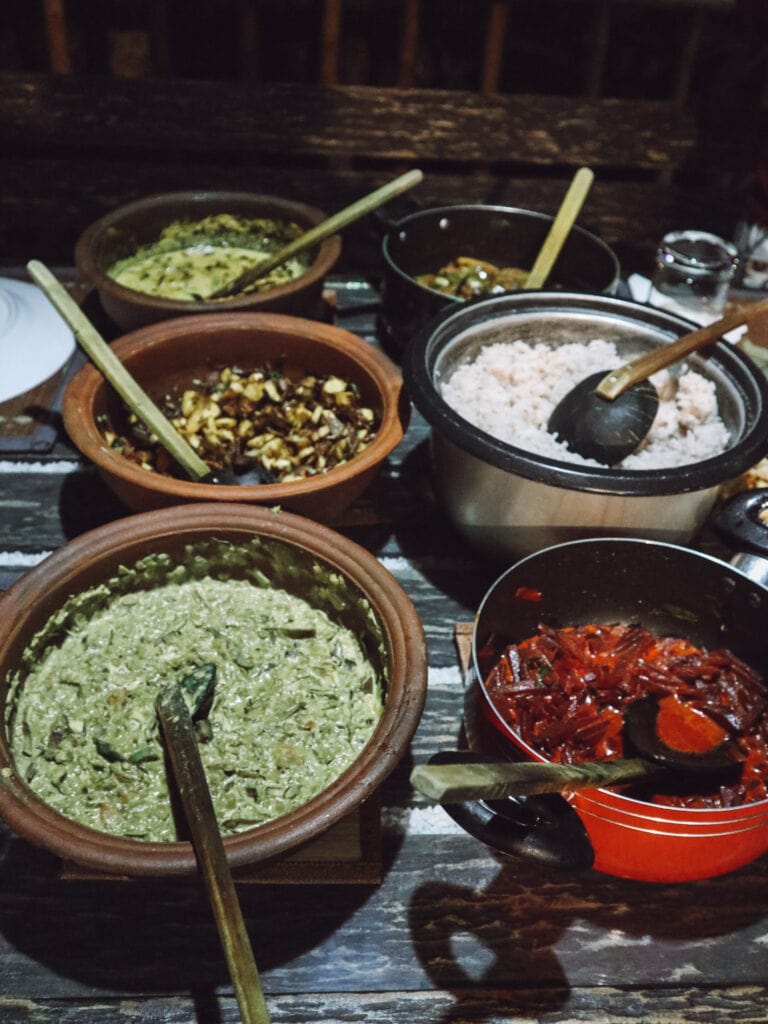 Gluten Free Sri Lanka: What You Cannot Eat
Of course, there are many things we cannot eat in Sri Lanka and most of these are wheat-based. Here are some dishes to avoid in Sri Lanka if you're gluten free:
Roti
This wheat-based flat bread is seemingly everywhere in Sri Lanka, and must be avoided.
Kottu Roti
Kottu roti is one of the most popular dishes in Sri Lanka, in street stalls and also in restaurants.
It's made of chopped up roti, stir fried with a mix of vegetables, chicken, and sometimes eggs.
Due to the inclusion of roti (and soy sauce) kottu roti is NOT an option for gluten free travelers in Sri Lanka. This was always a bit disappointing to me because it looked delicious.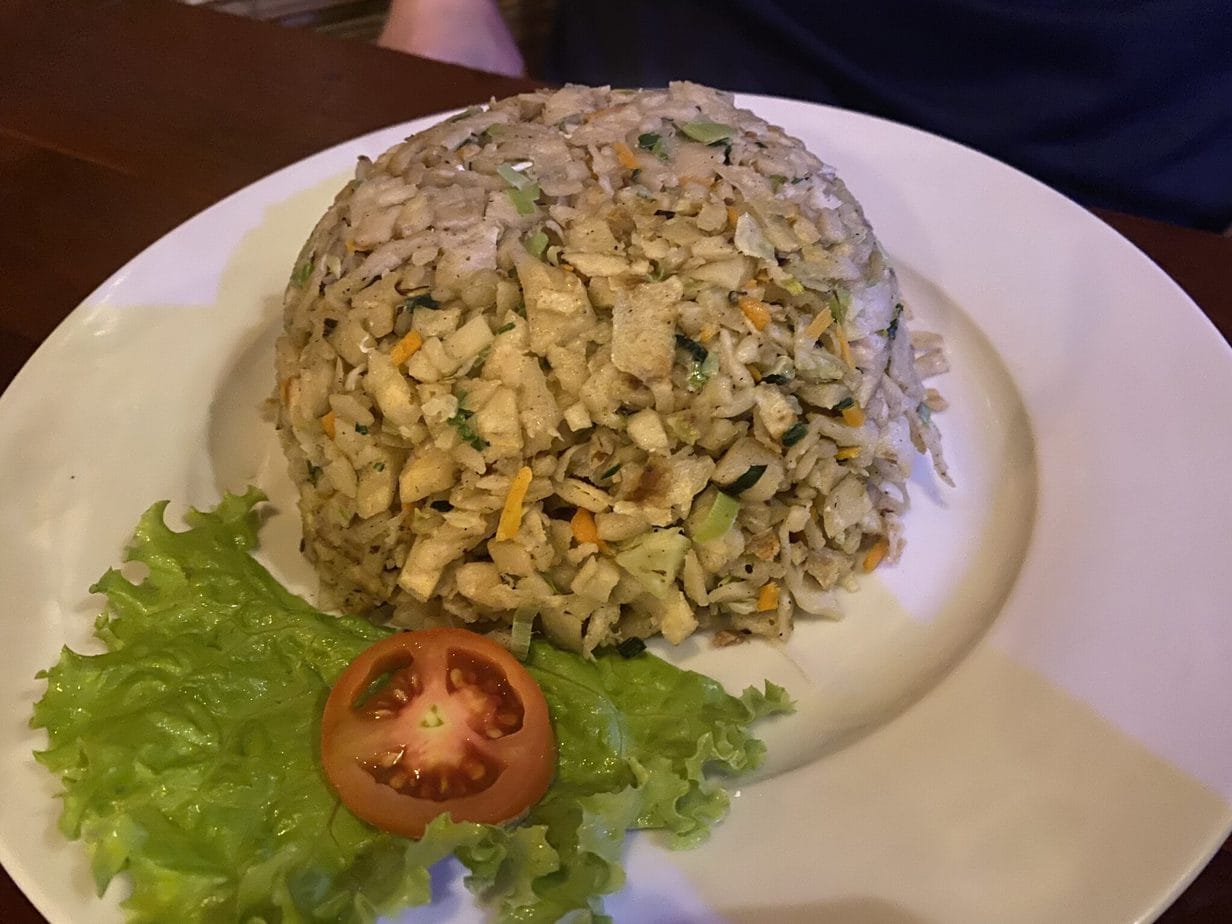 Paratha
Paratha is another type of wheat-based flat bread. It is similar to roti, but apparently heartier and more often served as a standalone dish rather than an accompaniment.
Obviously because it is wheat-based, celiacs steer clear!
Poppadoms
I am putting poppadoms under the "not gluten free" category because I was surprised how often I couldn't eat poppadoms in Sri Lanka!
Poppadoms are a lentil or chickpea-based crisp that are often served alongside curries. In the west, they are usually gluten free. However I found that in Sri Lanka, poppadoms sometimes were made of wheat, and often were cooked in wheat-contaminated oil.
At a certain point, I stopped asking the chefs about poppadoms and just asked to have my curries without them to avoid potential cross contact.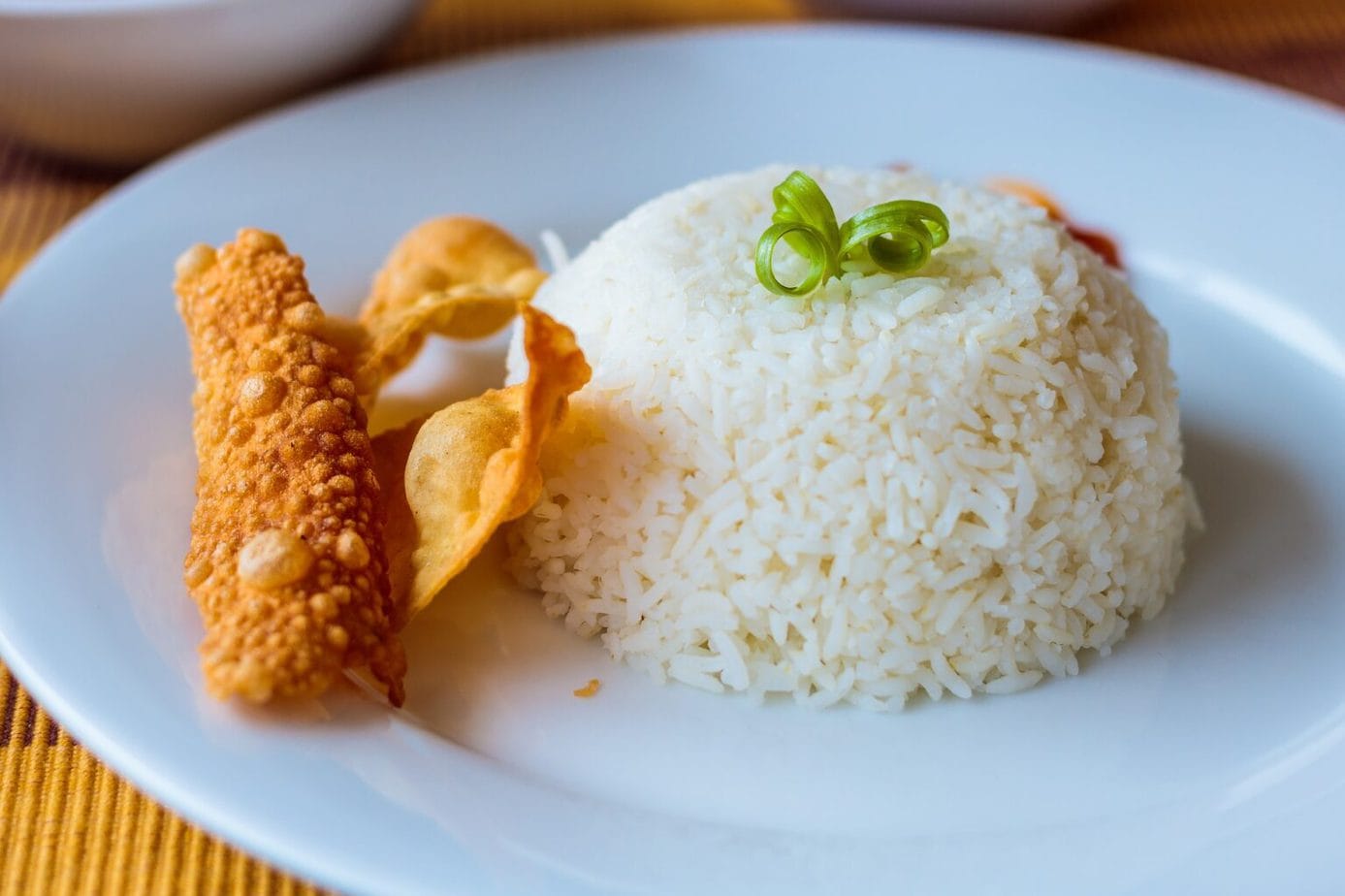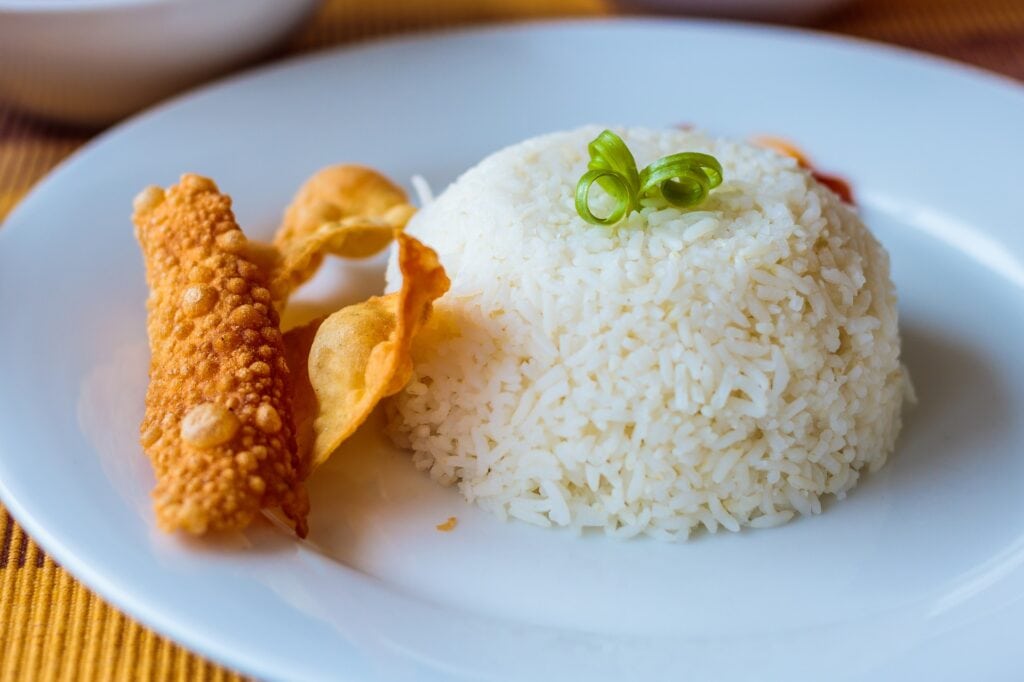 Eating Out Gluten Free in Sri Lanka
We ate almost all our meals out in Sri Lanka (I had one breakfast in Colombo from a microwaveable gluten free porridge I brought from home, and that's it).
Most days, this is what our meals looked like:​​​​​​​
Big breakfast at our accommodation
Midday stop for banana or mango lassis
Huge Sri Lankan curry platter for dinner (usually for 500lkr which is ~$2.75)
Below are some of the restaurants I ate safely at and would recommend in Colombo, Ella, Hiriketiya, and Galle. If you have recommendations in other Sri Lankan cities, leave me a comment below!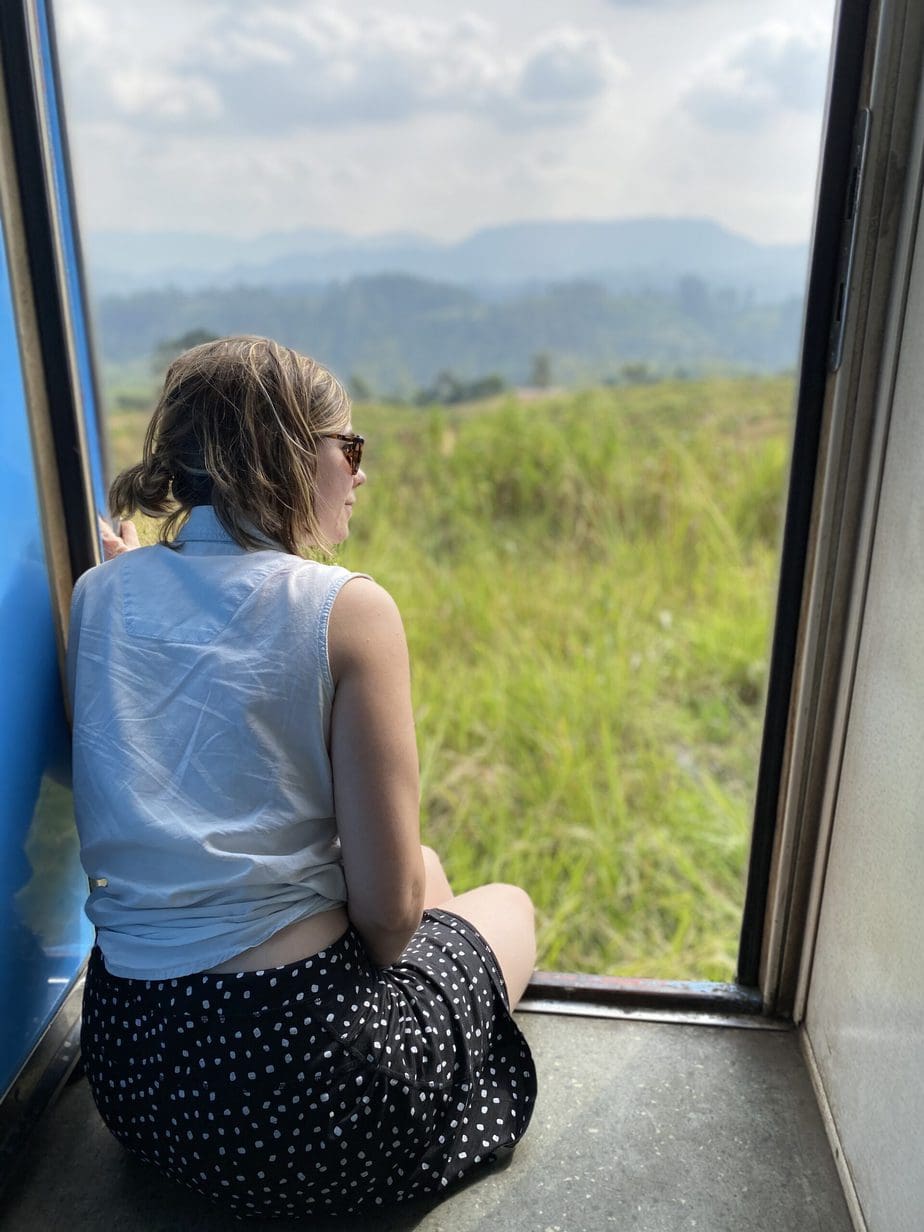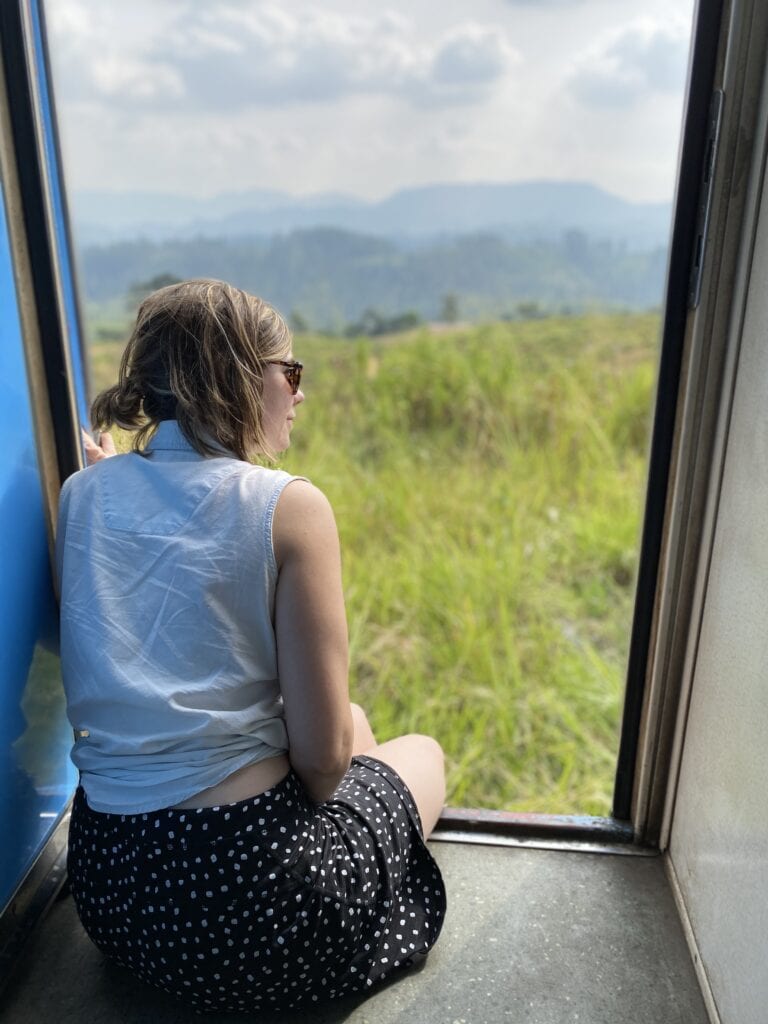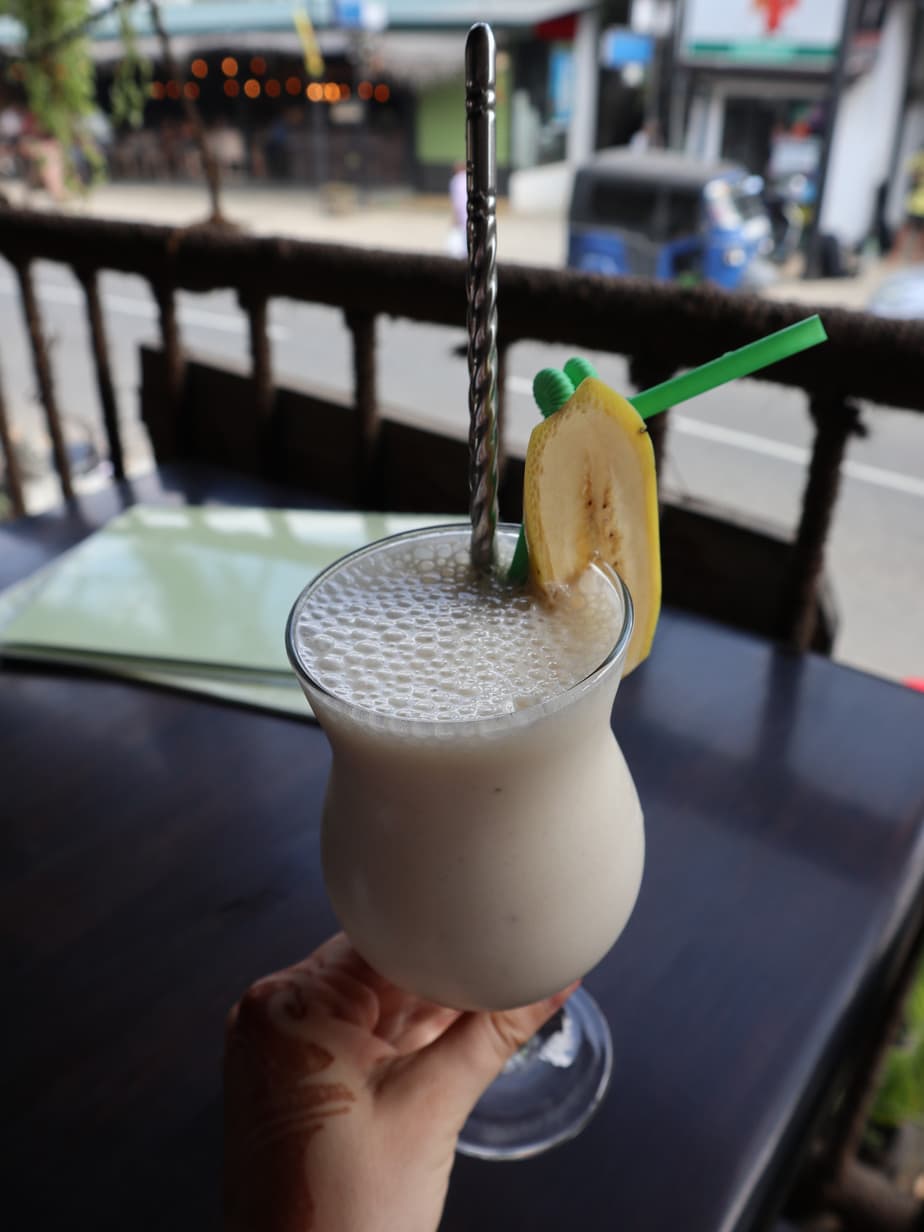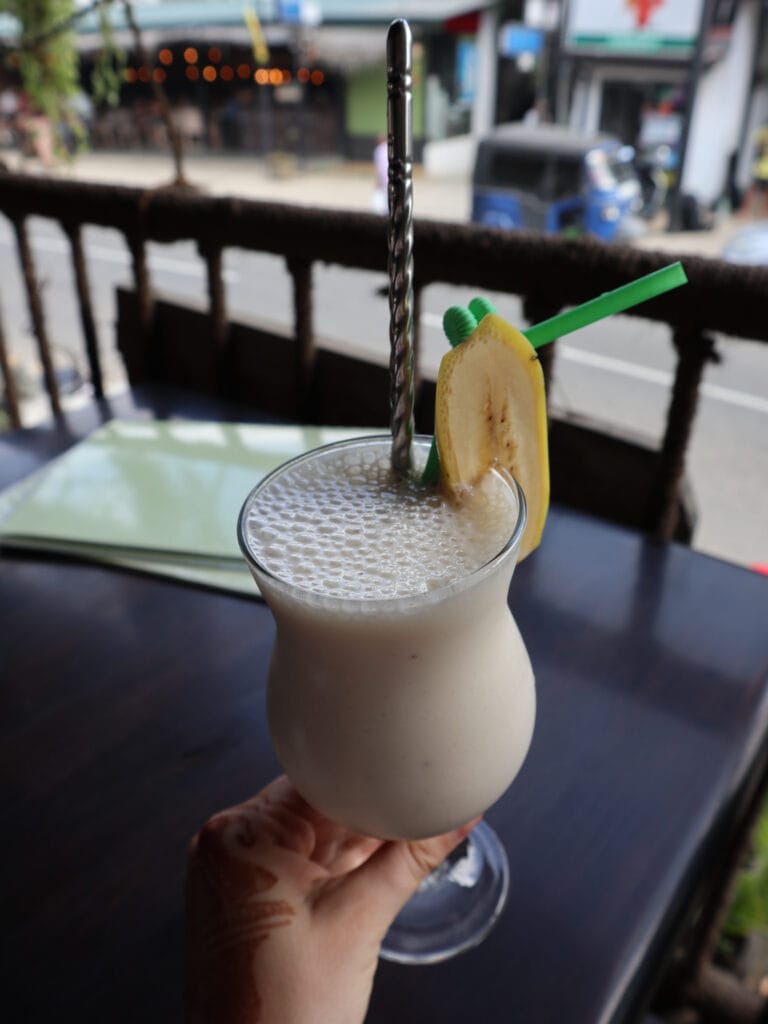 Gluten Free Colombo
We just spent one night in Colombo. I'd been warned to stay away from street food, and avoid huge chain hotels and restaurants that add wheat to everything. Saying that, the one place we ate was a huge hotel and it was amazing!
​​​​​​​Hilton Hotel Curry Leaf​​​​​​​​​​​​​​
The Hilton Hotel's Curry Leaf restaurant was the first meal we ate in Sri Lanka and I couldn't recommend it more as YOUR first meal in the country.
The restaurant is open-air, and set up as a HUGE buffet of dozens of traditional Sri Lankan dishes. Keep in mind this is a majorly touristy restaurant (you won't be rubbing shoulders with locals, apart from the staff), but there's a reason I recommend it.
I showed the chef my gluten free translation card, and he had clearly come across this before. He took me to each individual dish and explained it, and told me which ones I could and couldn't eat.
It was basically a full tutorial on Sri Lankan food, and the best introduction to what I would be able to eat during our time in Sri Lanka!
Even better is that, unlike other major hotel chains, the hoppers, string hoppers, puttu, and many curries here are 100% gluten free.
STAY | We stayed at the City Beds the Regent Hotel in Colombo, which was just a couple minutes' walk away (and also close to the train station for the epic Colombo to Ella train journey), so this restaurant was very convenient.​​​​​​​​​​​​​​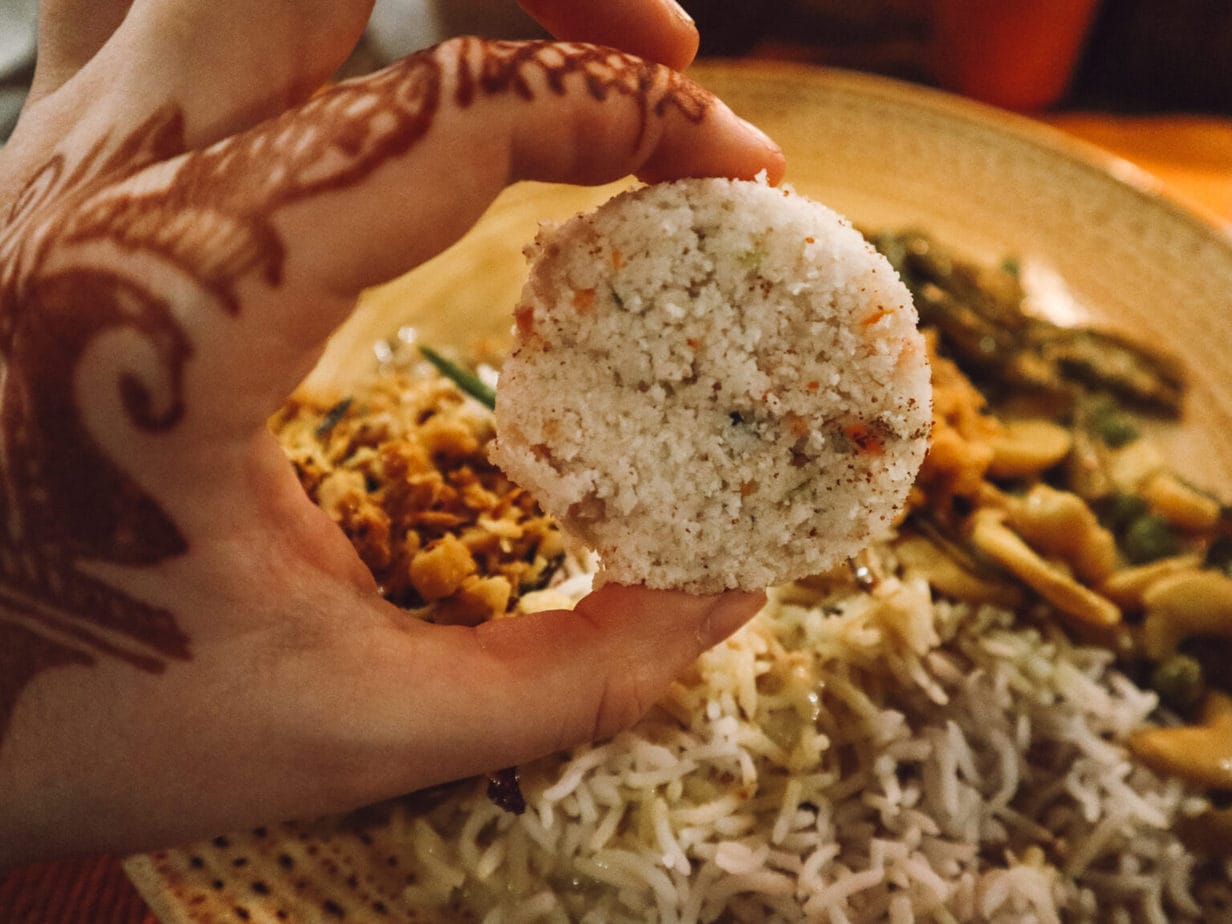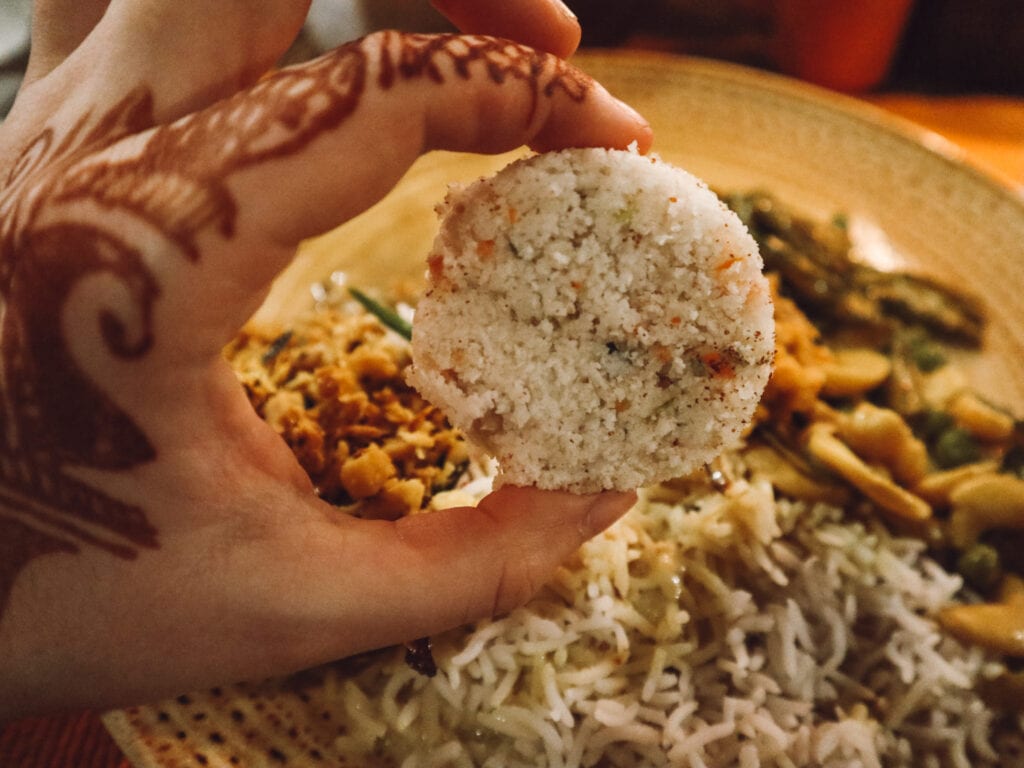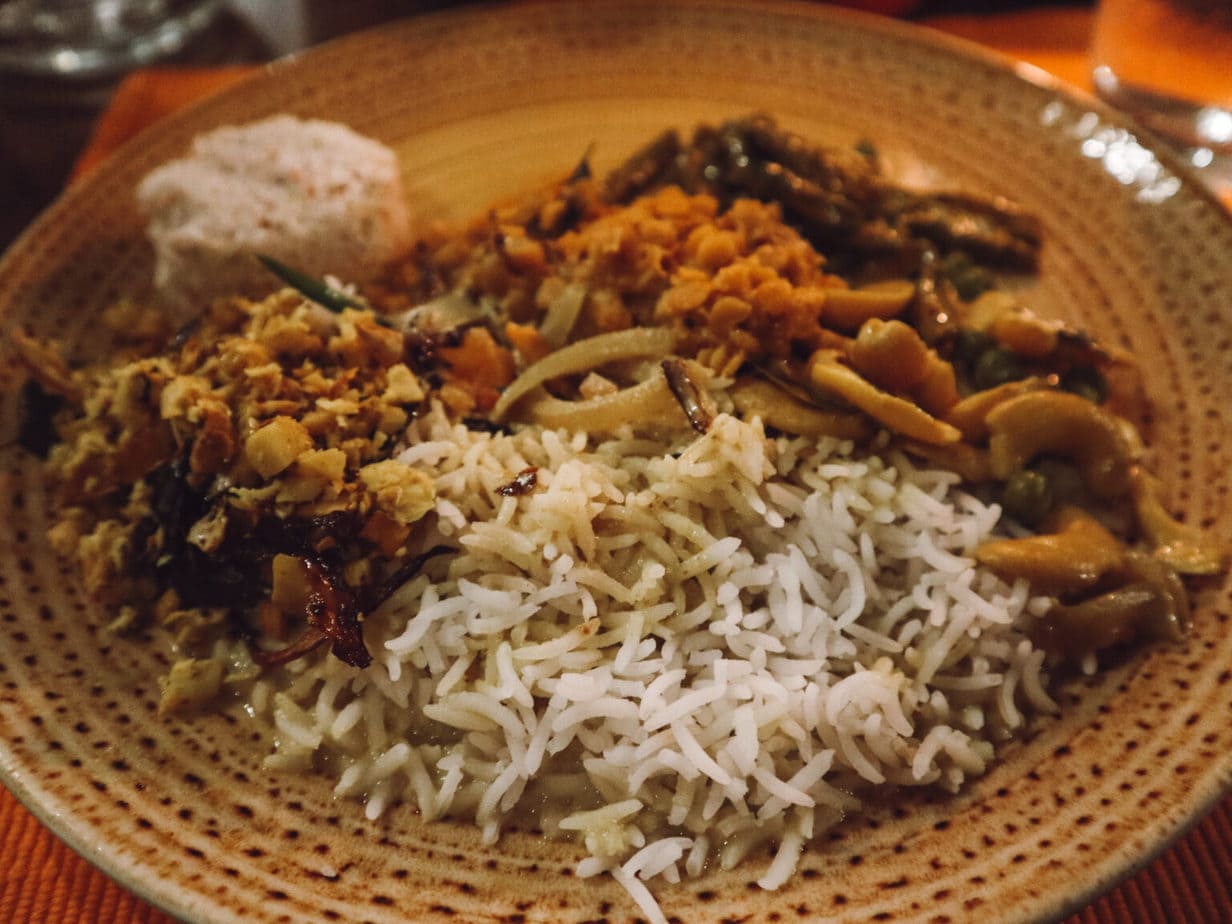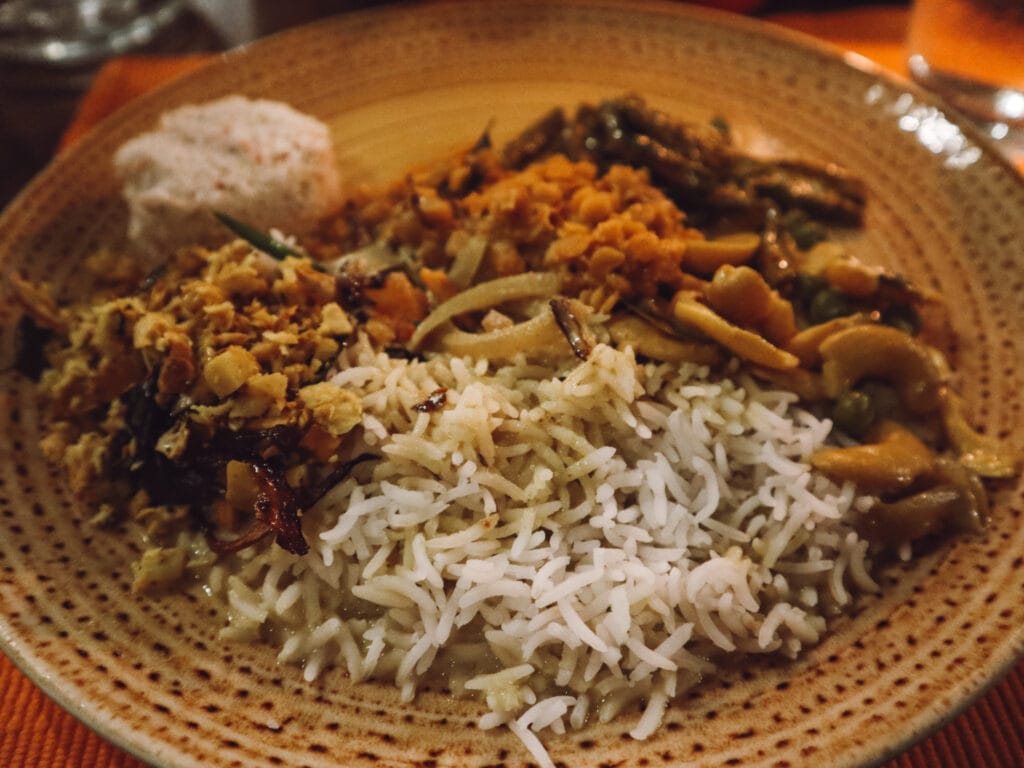 Gluten Free Ella
After the stunning 10-hour train journey from Colombo (​​​​​​​​​​​​​​definitely bring gluten free snacks because there are none on the train), ​​​​​​​Ella was our next stop in Sri Lanka.
There are so many things to do in Ella, especially if you love hiking. I also ate really well in Ella!
RELATED | 16 Things to do in Ella, Sri Lanka
360 Ella
We ate at 360 Ella our first night in town. It is an upper level open-air restaurant along the main street. It is a pretty touristy locale (and we actually ran into Dan's mate from England while we were here… honestly such a small world).​​​​​​​
I showed my gluten free translation card to the chef here and he was familiar with it (probably thanks to it being so touristy!). He recommended the Sri Lankan curry platter (NO poppadoms as those are not gluten free here). It was not the best curry platter I had in Sri Lanka but I was confident it was gluten free based on my chat with the chef, so definitely worth it!
For those traveling with non-gluten free companions, Dan had the kottu roti here (NOT gluten free), and it was the best he had in all of Sri Lanka. He literally still talks about it…regularly.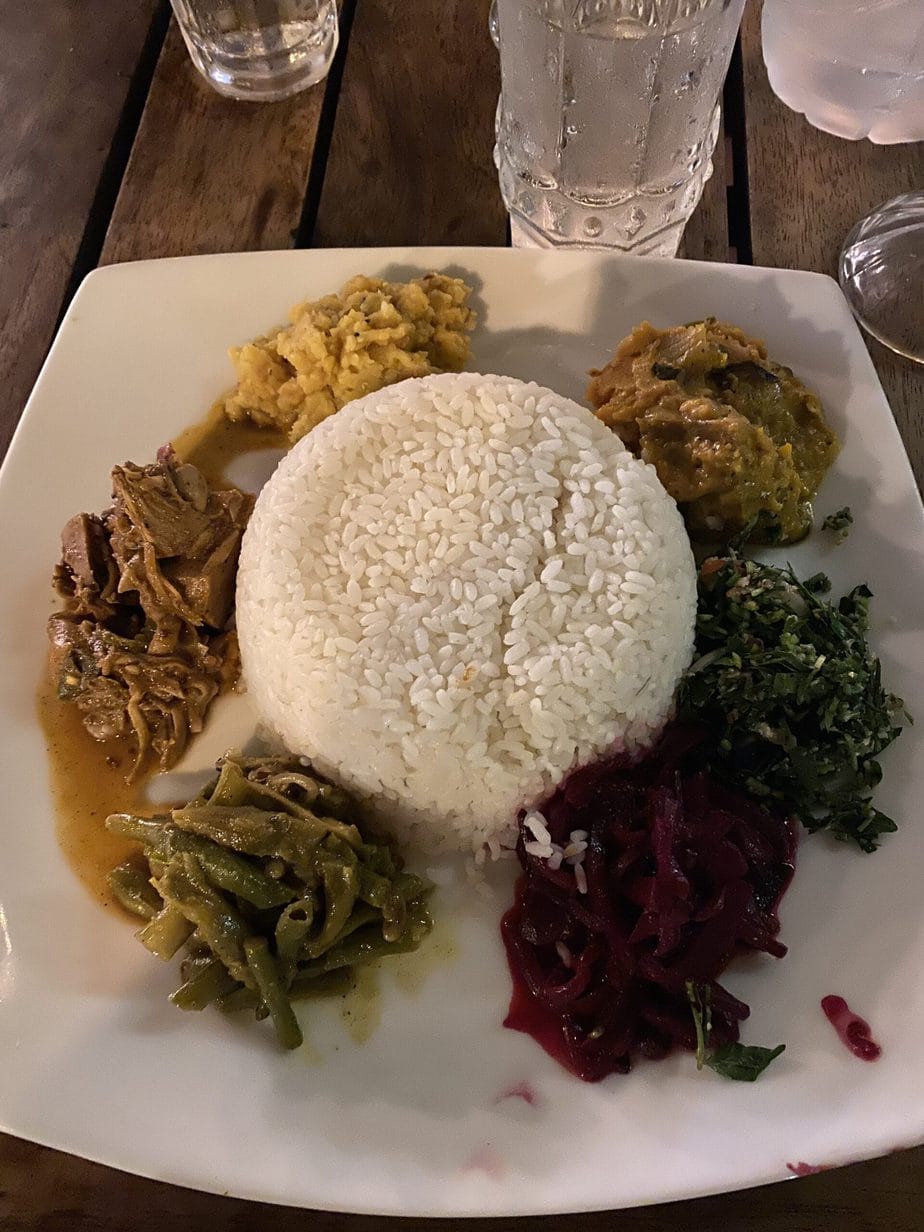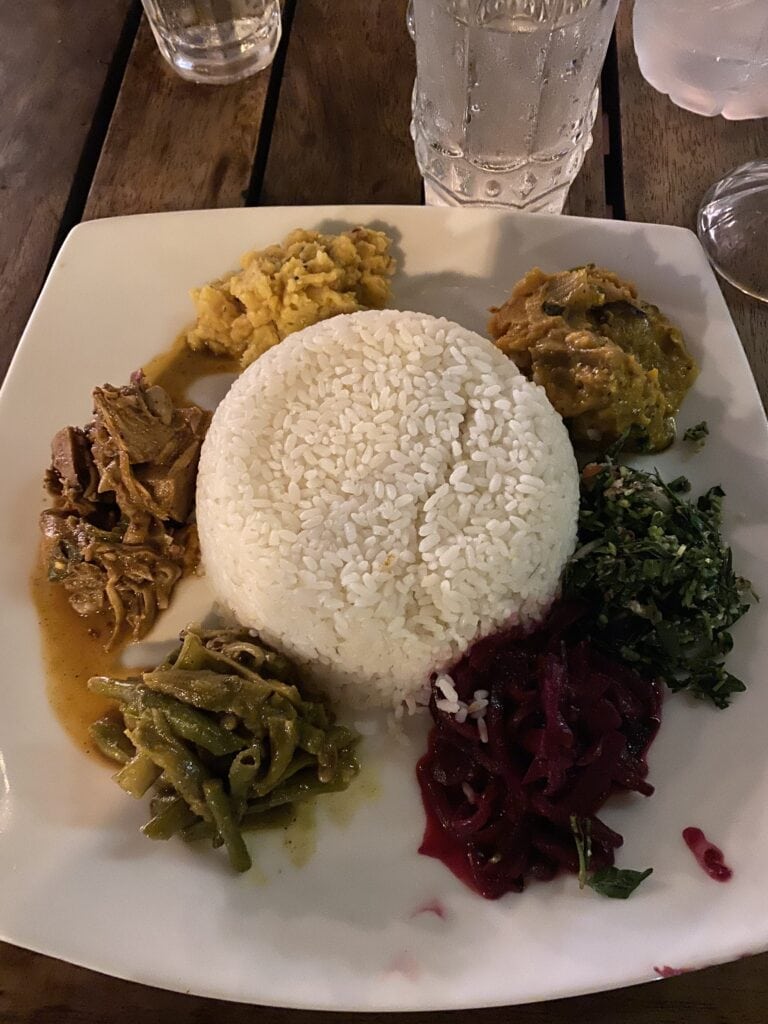 Cafe Chill Ella
You can't visit Ella and not notice Cafe Chill. This huge cafe (with a palm frond roof) is bustling with people every hour of the day. We'd had a recommendation from Dan's friend and wanted to check it out, but it was too busy at meal times to eat here.
Instead, we went for a long, sweaty hike to Ella Rock one morning, and when we returned to Ella town we were able to snag a table.
I expected to just have my usual banana lassi, but was SO happy to discover that the staff at Cafe Chill really understands what gluten is! I was able to have these potato wedges, prepared in the oven, that were completely gluten free.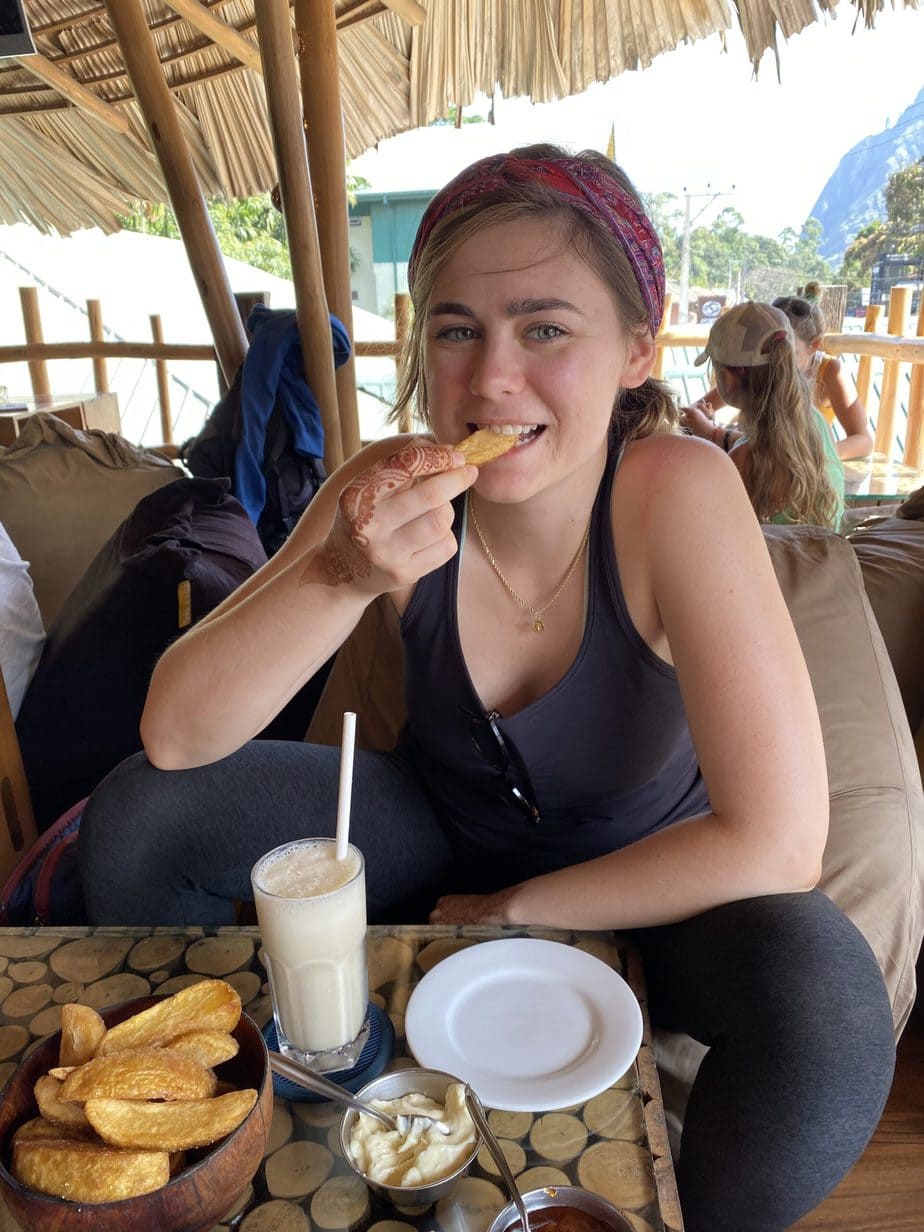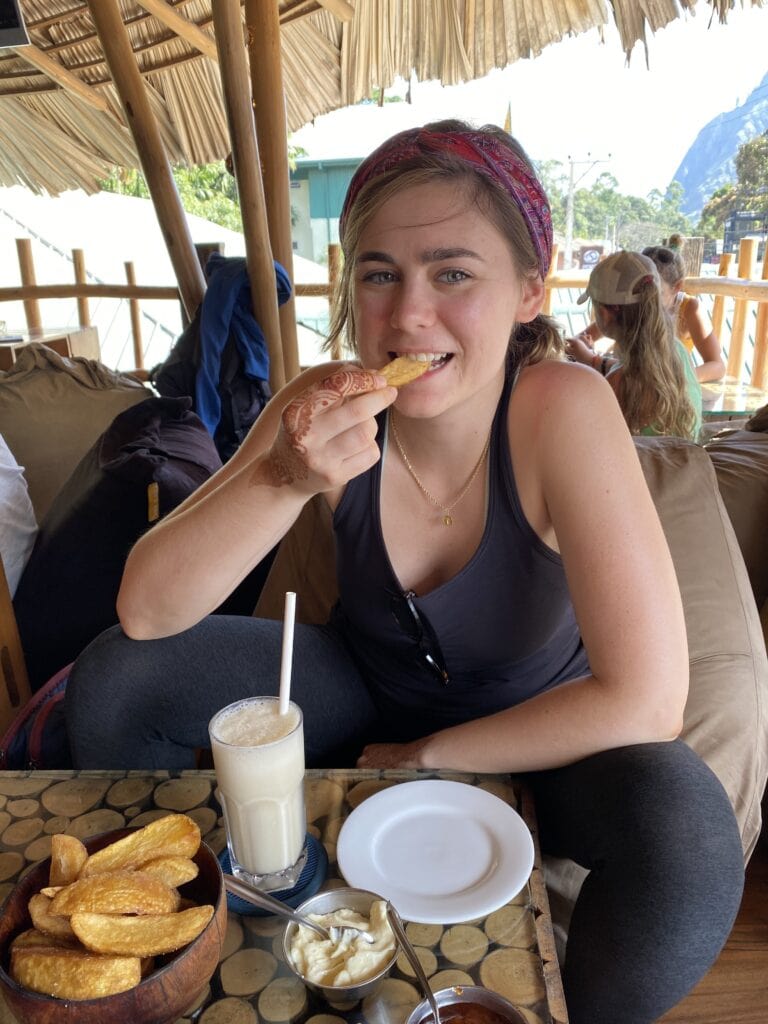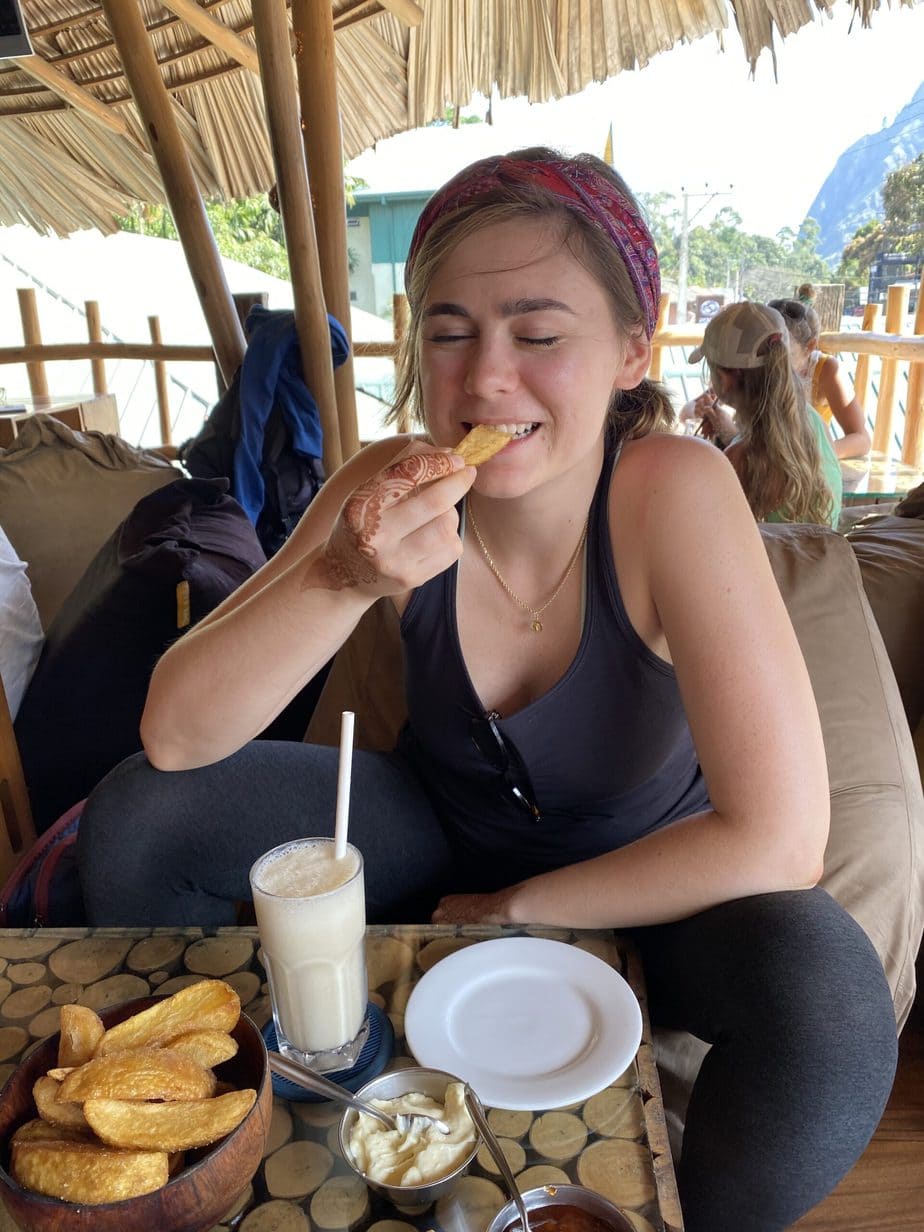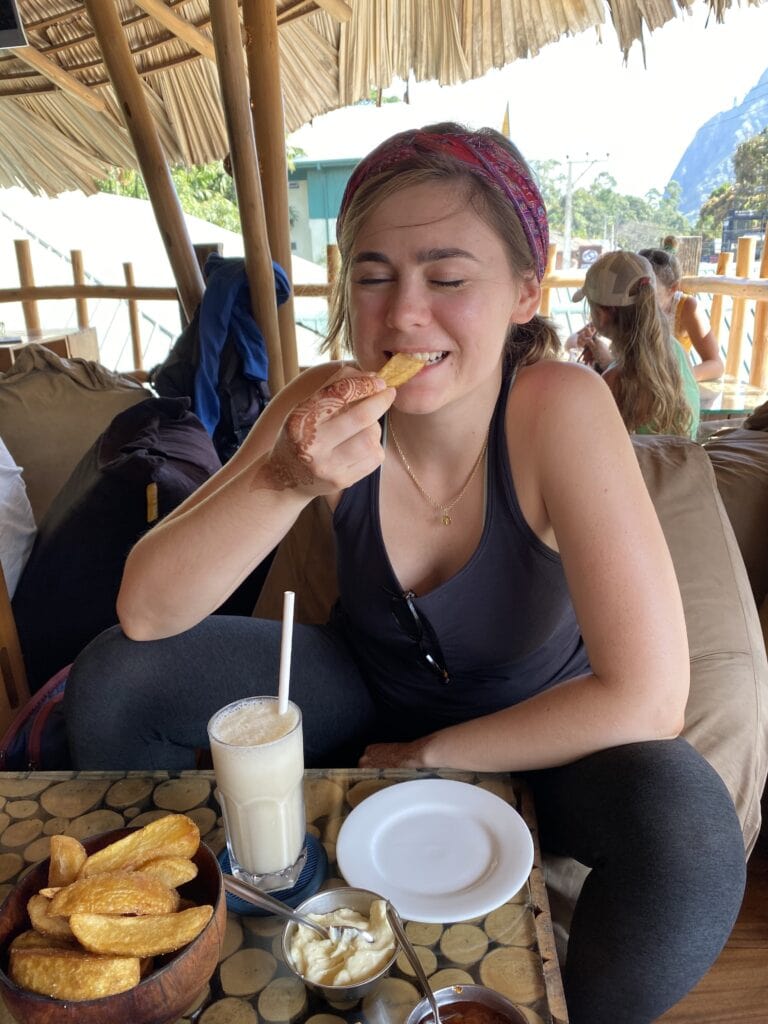 ​​​​​​​Ella Chop House
Ella Chop House is almost directly across from 360 Ella, and we ate here another night in Ella. The chef came out to serve us when I mentioned I was gluten free.
Again, the best gluten free option here is the Sri Lankan curry… but it was soooo good. This is the first place I had wambatu moju (pickled eggplant curry) and it's delicious. Dan was really jealous of my meal here.​​​​​​​
I've checked the online reviews for Ella Chop House and sadly it has some VERY negative reviews. However these are mostly from tourists ordering western food, expecting western service. Yes, the service here took a long time – so plan to chill out with a mango lassi or drink while you wait.
I ordered Sri Lankan food here because it's naturally gluten free, but it also seems like that's what's done best here!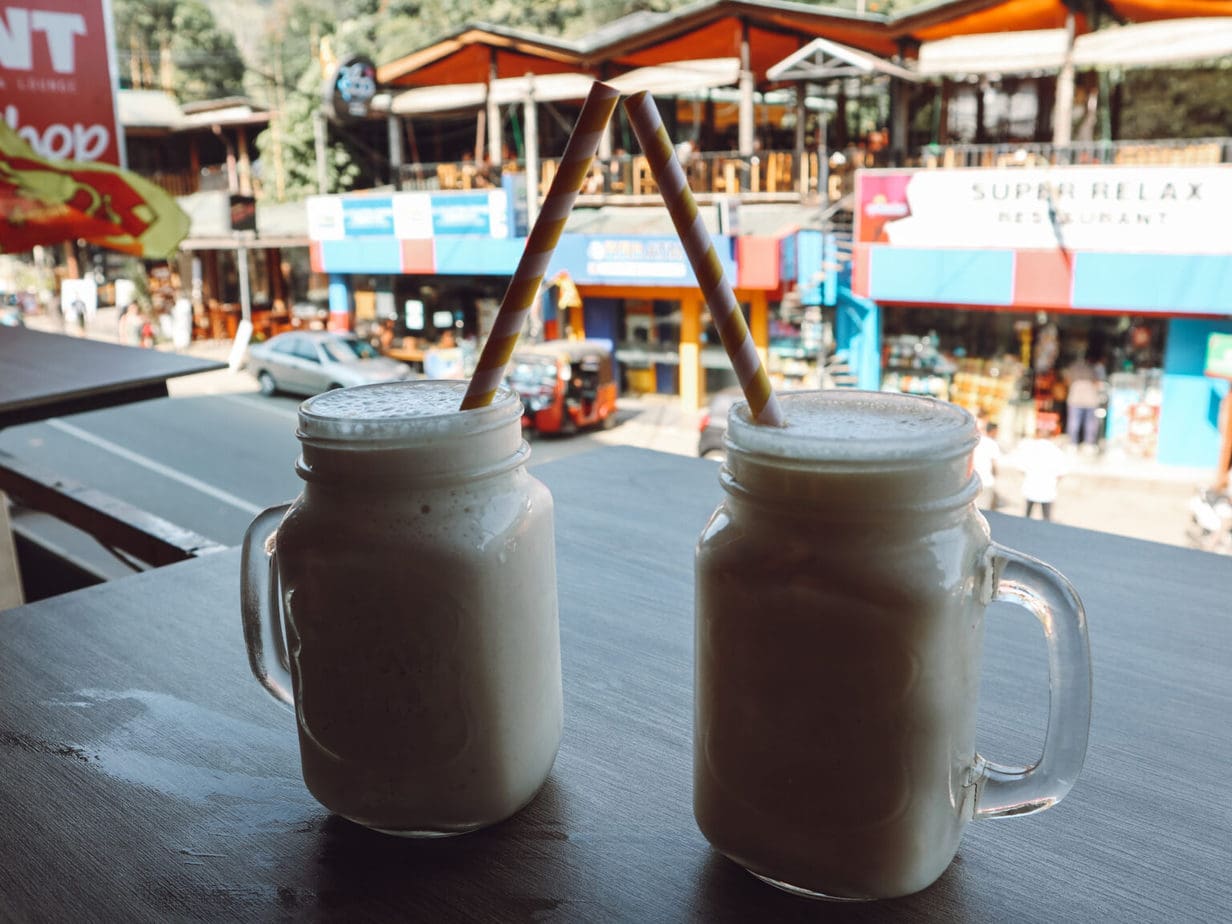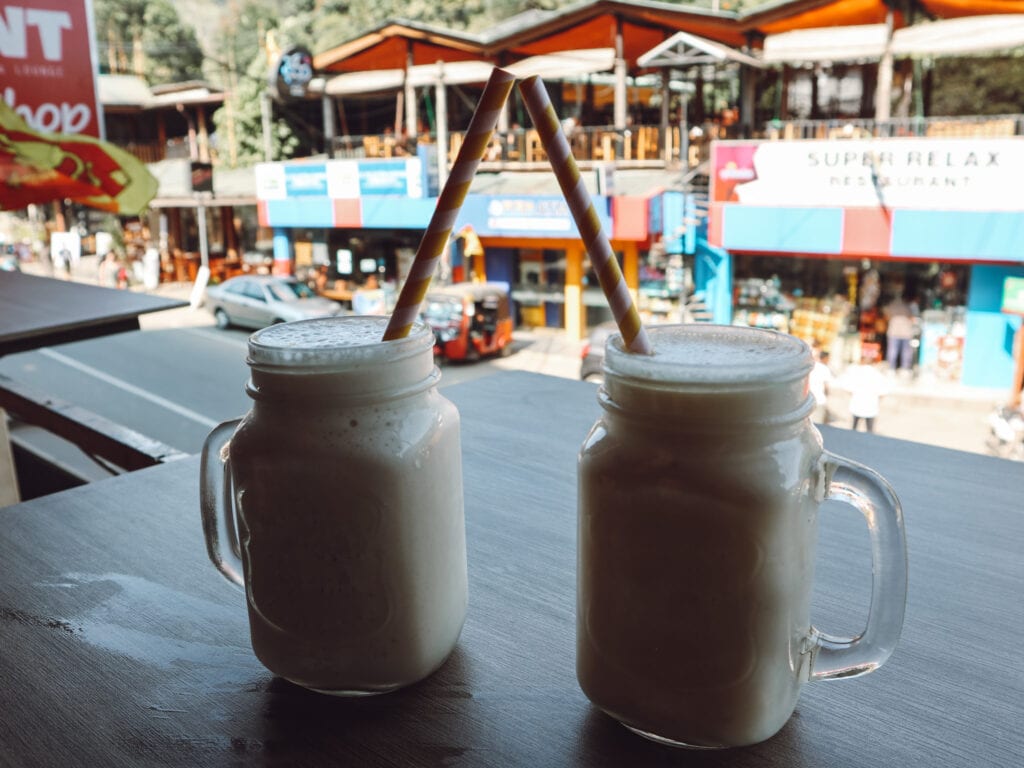 Arana Eco Lodge Cooking Class
I LOVE taking cooking classes when I travel – not only because you get insight to the local cuisine, but by making the food yourself you can be really confident there is NO cross contamination.​​​​​​​
In Ella we did a cooking class at Arana Eco Lodge, which is an accommodation walking distance from Ella town but truly surrounded by jungle on all sides.
STAY | From gorgeous Ella Riverfront homestay, it was just a two minute walk to get to Arana Eco Lodge.
The entire cooking class was 100% gluten free – they didn't even have to make accommodations for me! The class was also really small.
In addition to our teacher, Suchar, it was just Dan and I, and one other couple. We made about six curries in total and then ate them all together in the jungle.
Arana Eco Lodge charges $13.75 (2,500 LKR) for a ~3 hours cooking class. For gluten free travelers, I would highly recommend it instead of the more crowded cooking classes in Ella town.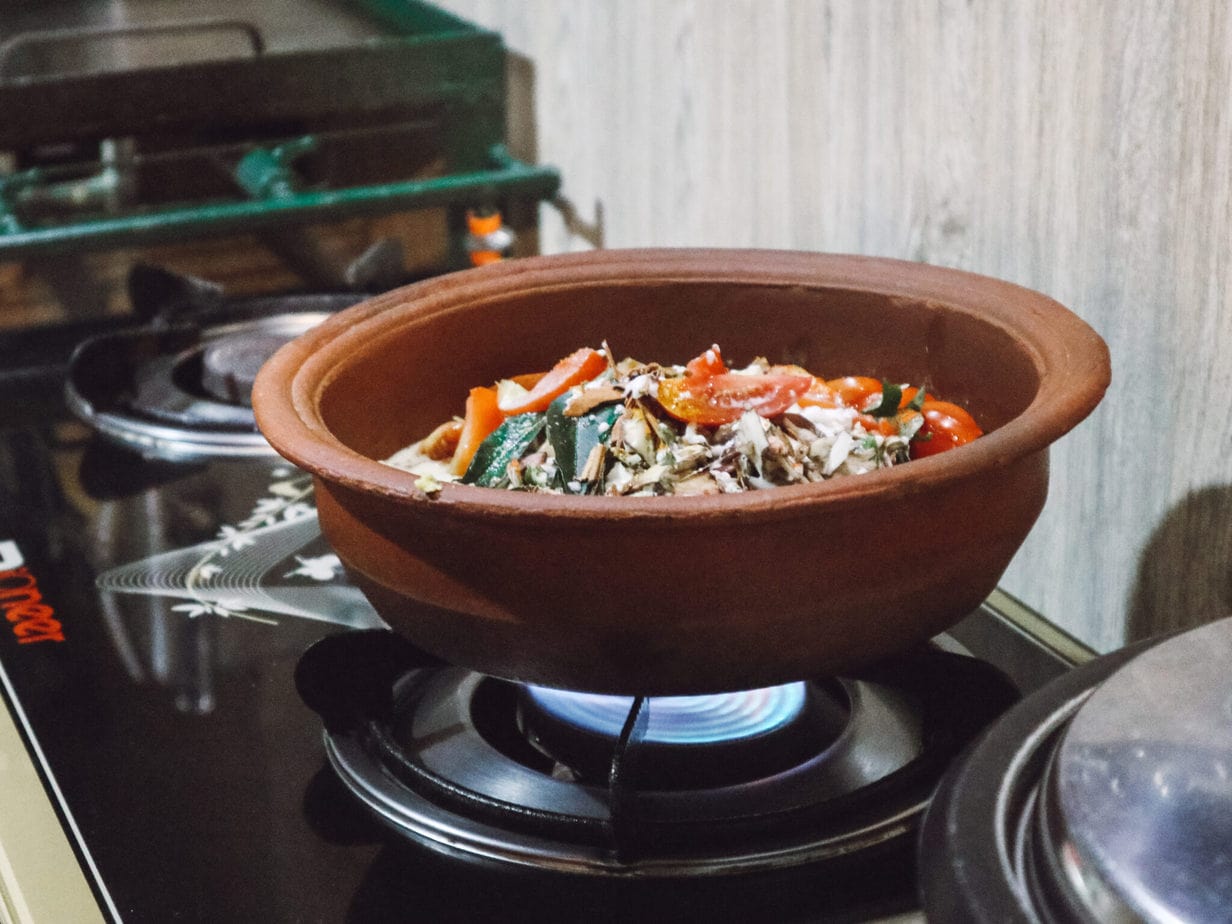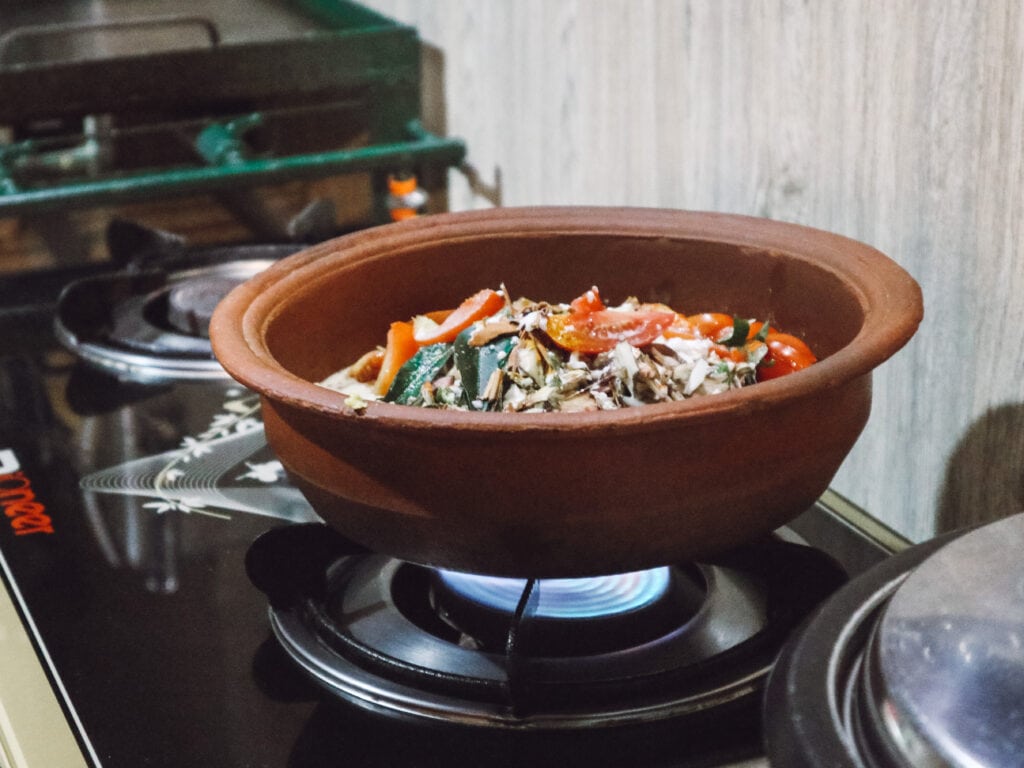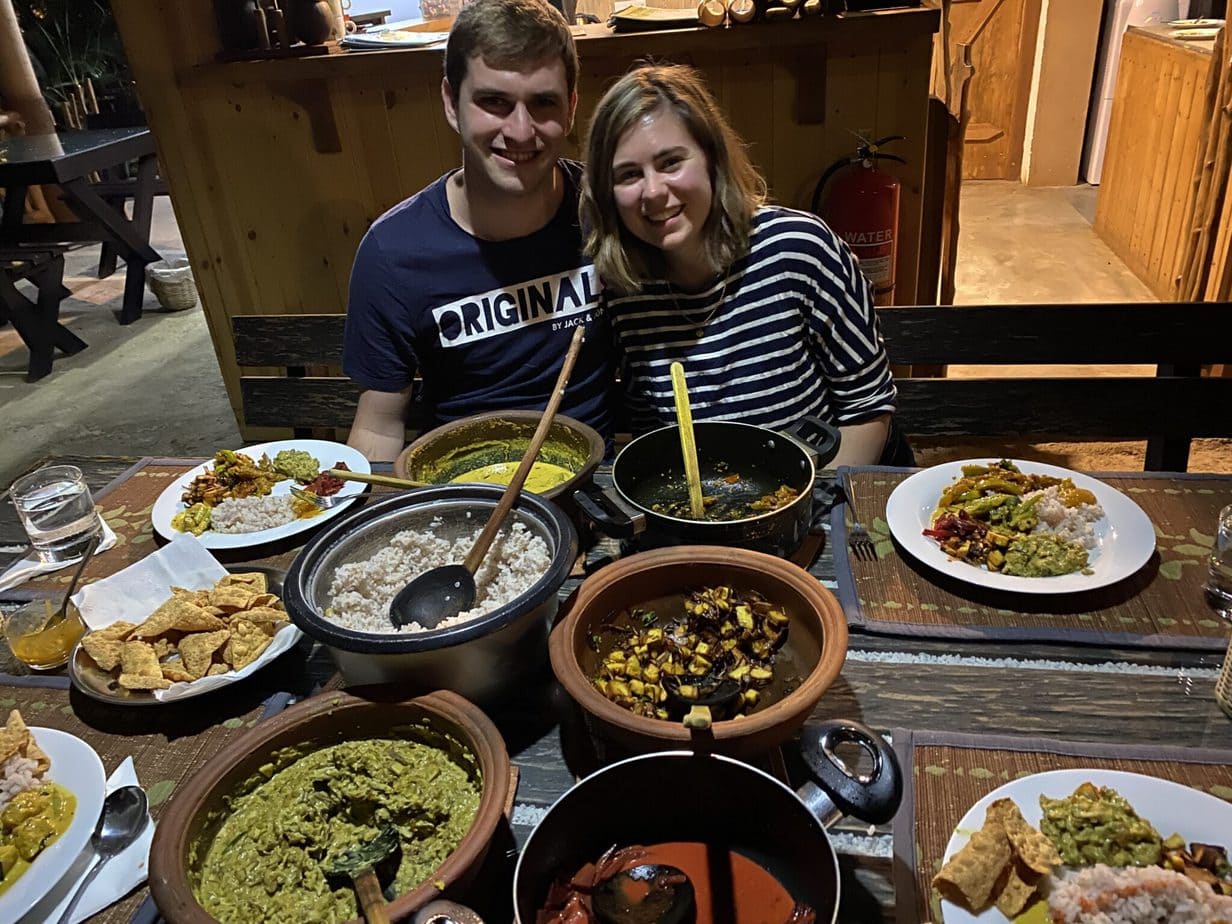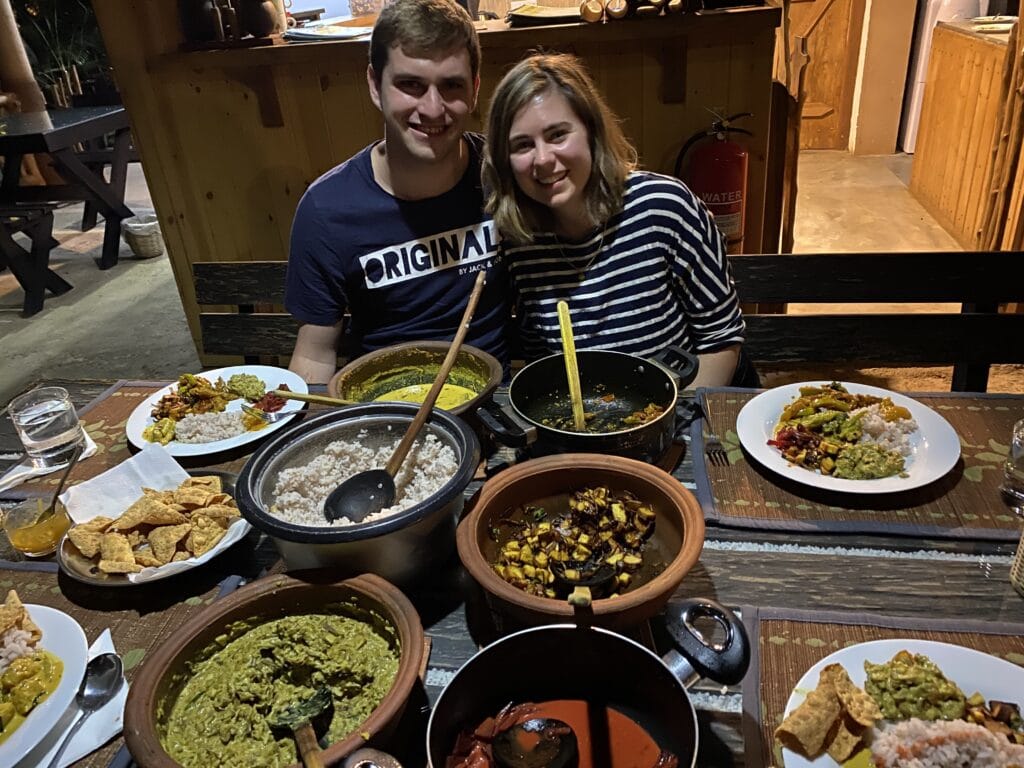 Ella Riverfront – Homestay and breakfast!
We stayed at Ella Riverfront for part of our time in Ella. This is called a "homestay" but it feels more luxurious than that.
Dan and I arrived to our suite (actually its own separate building) late at night in the dark, and when we woke up there was a floor-to-ceiling window and balcony view out over the stunning Ella Gap.​​​​​​​
Even better is that a big breakfast is included with your stay here, and this is how I got in my gluten free breakfasts in Ella. Satish, who doesn't live here but helps out with lots of tasks including being resident chef, was very helpful.
I had (naturally gluten free) omlelettes, fruit, and coffee here most mornings. One morning Satish did make me gluten free panipol, which is like a crepe but made with coconut flour. It was really good, and I didn't find it gluten free anywhere else in Sri Lanka.
BOOK | Check rates and availability for Ella Riverfront.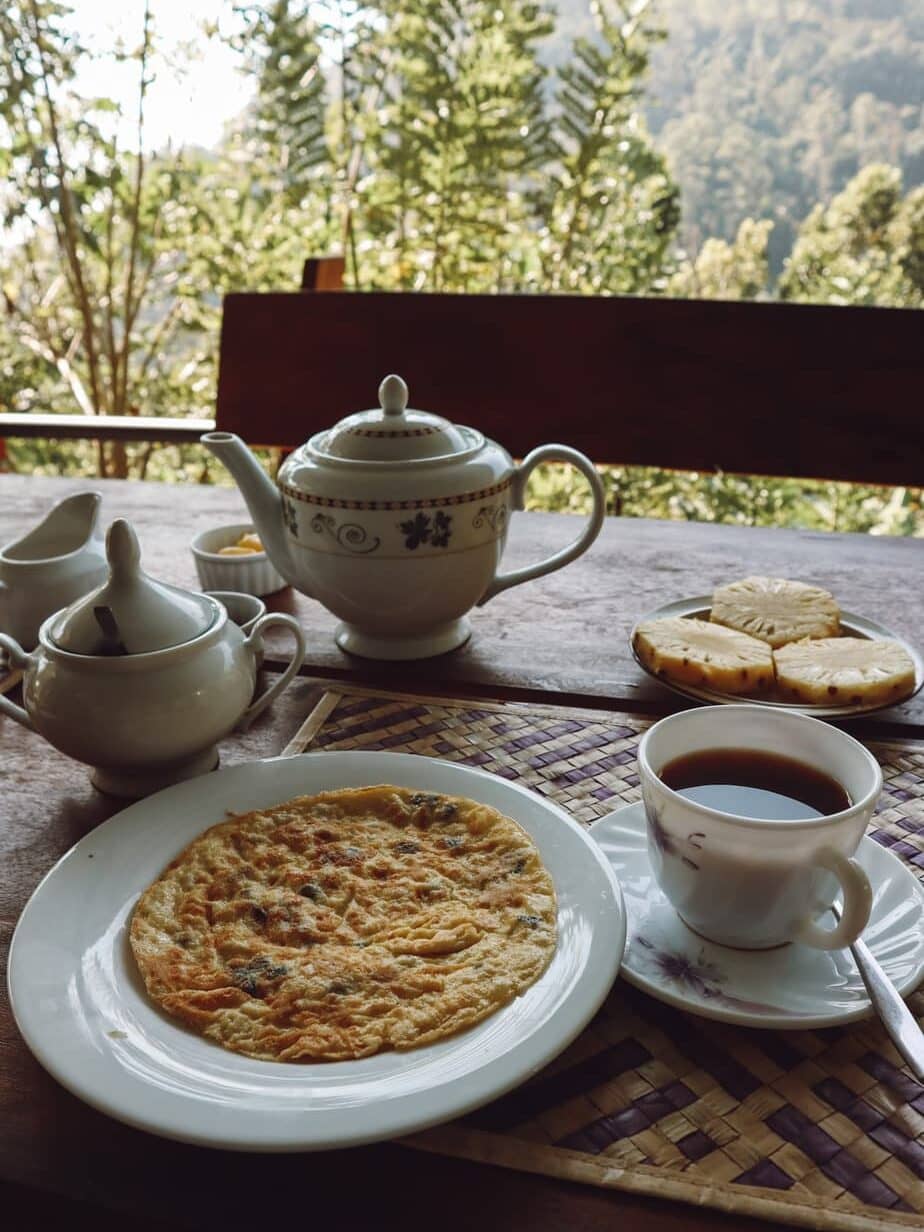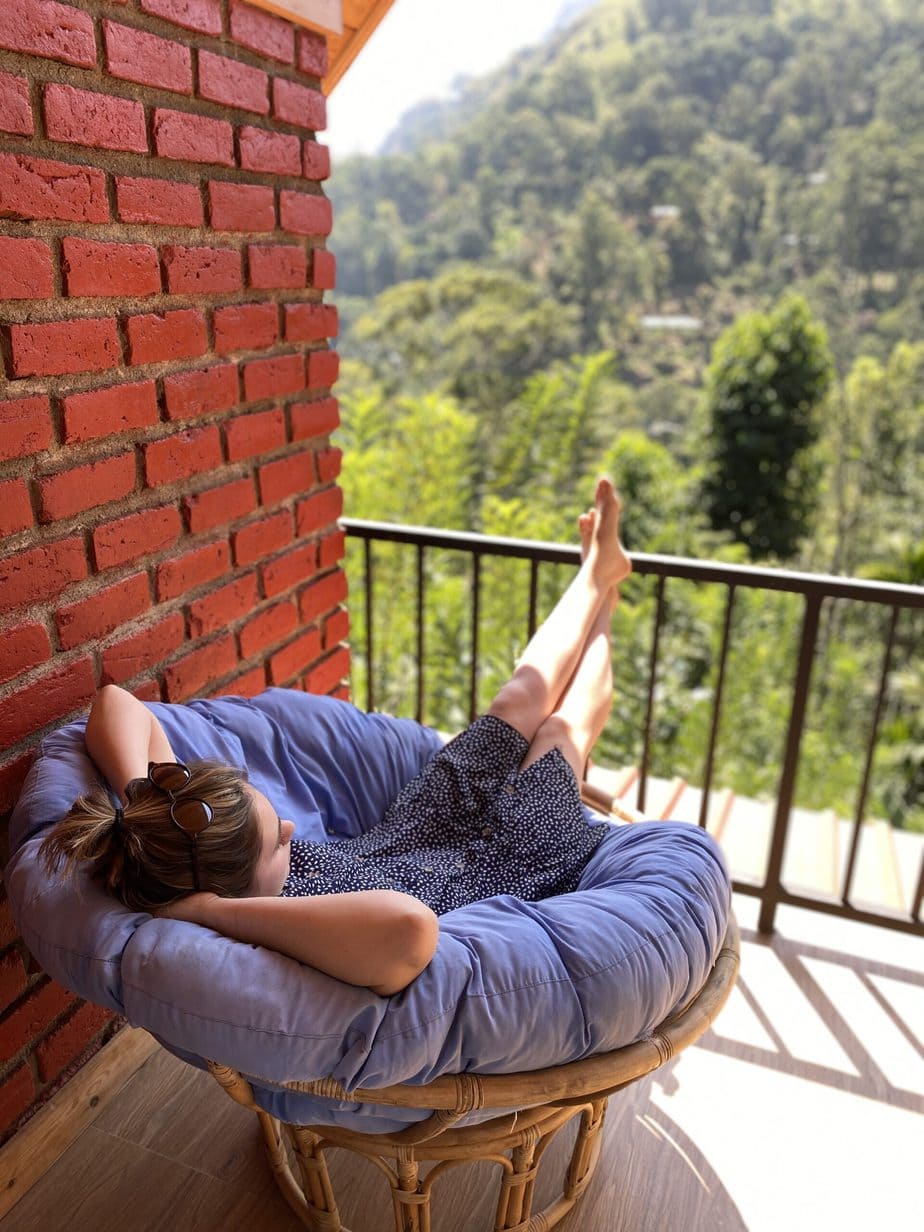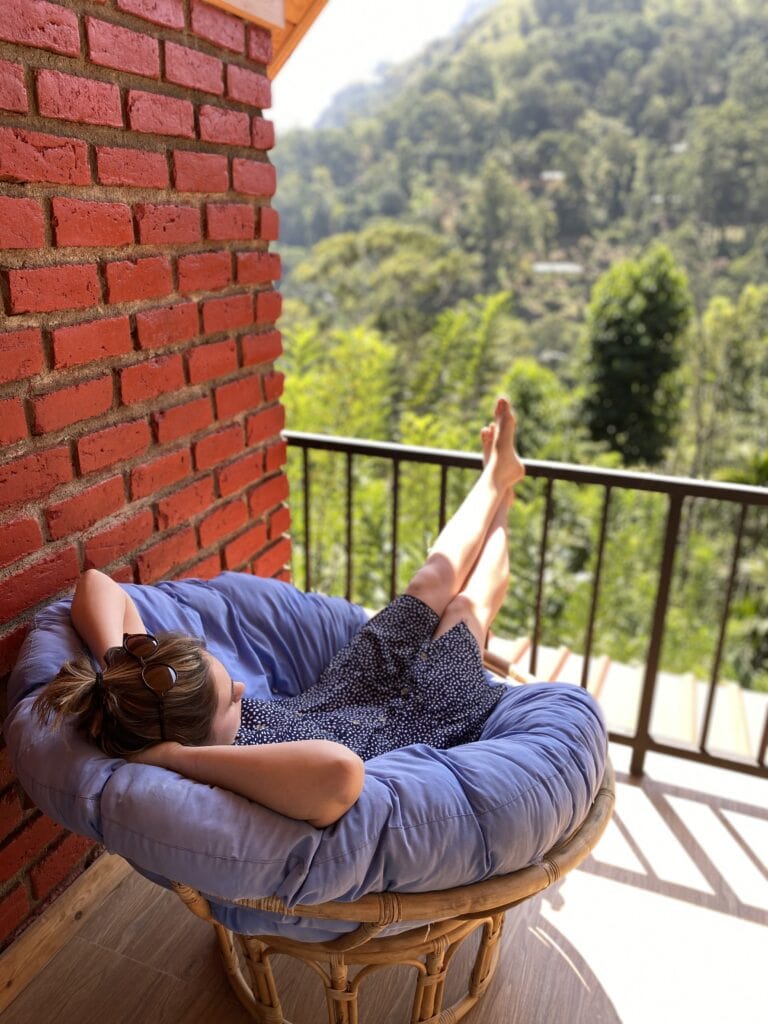 Country Homes Ella
Country Homes Ella is another place we stayed in Ella. It is just a three minute walk south of Ella town (but I do recommend a headlamp in Sri Lanka because these walks at night a very dark). You can read my full review of Country Homes Ella here.​​​​​​​
This is another luxurious homestay that offers a great gluten free breakfast! Dhanushka, the owner of Country Homes Ella, was familiar with gluten.
They serve traditional gluten free hoppers here, and I had an egg hopper for a very hearty breakfast, along with coffee, fruit juice, and tons of fresh papaya and watermelon.
BOOK | Check rates and availability for Country Homes Ella.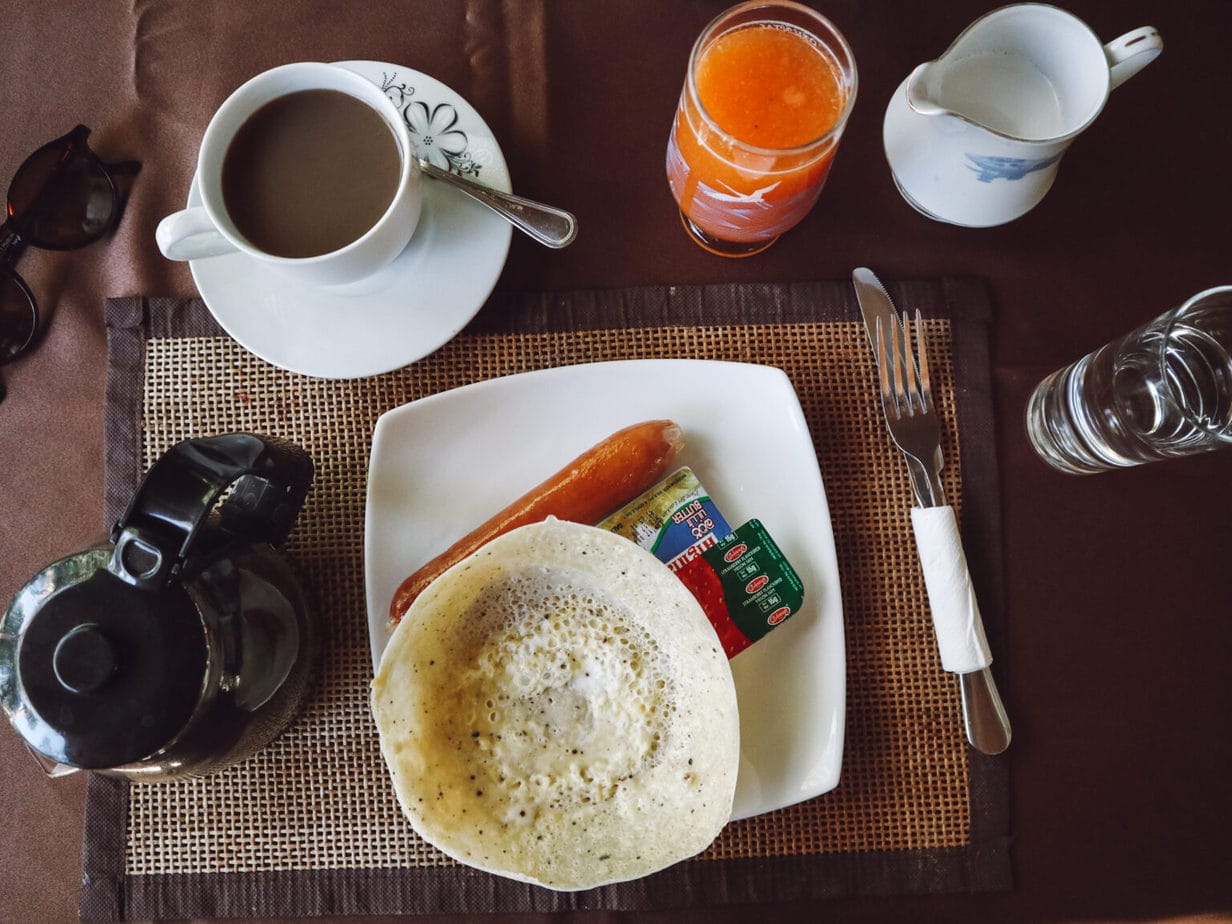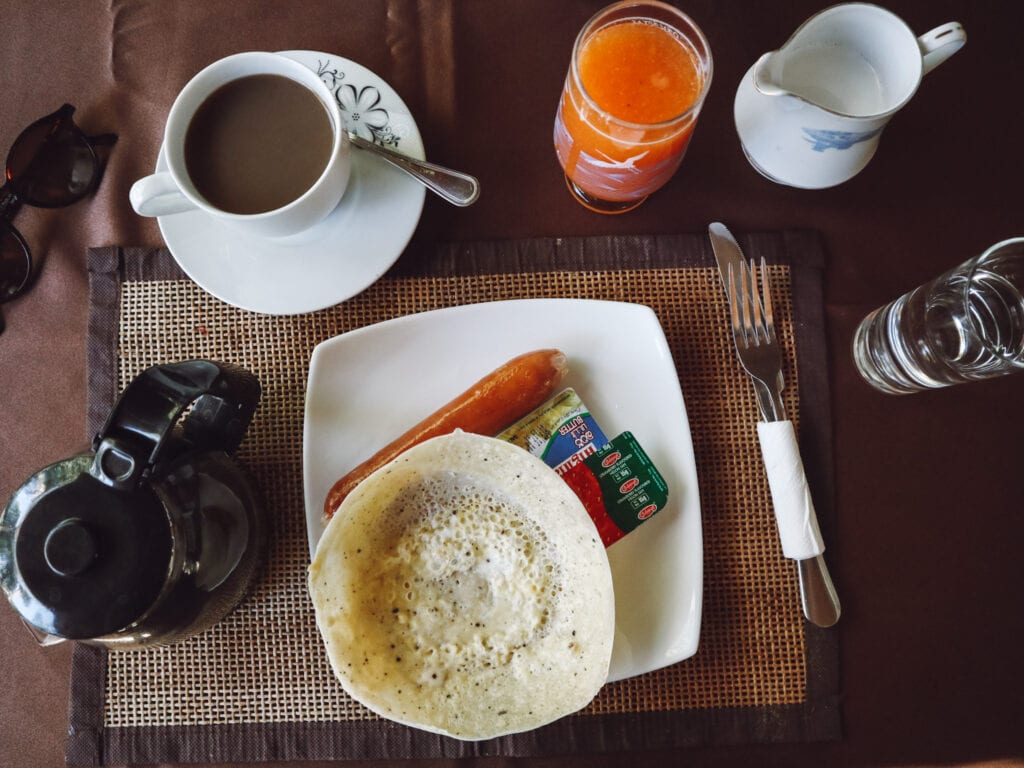 Somasiri Supermarket
This is a small supermarket along the central drag in Ella town. I found packets of gluten free pasta here!!
We did not have a kitchen where we stayed in Ella, but if you do (and you're craving pasta) then definitely stop in here.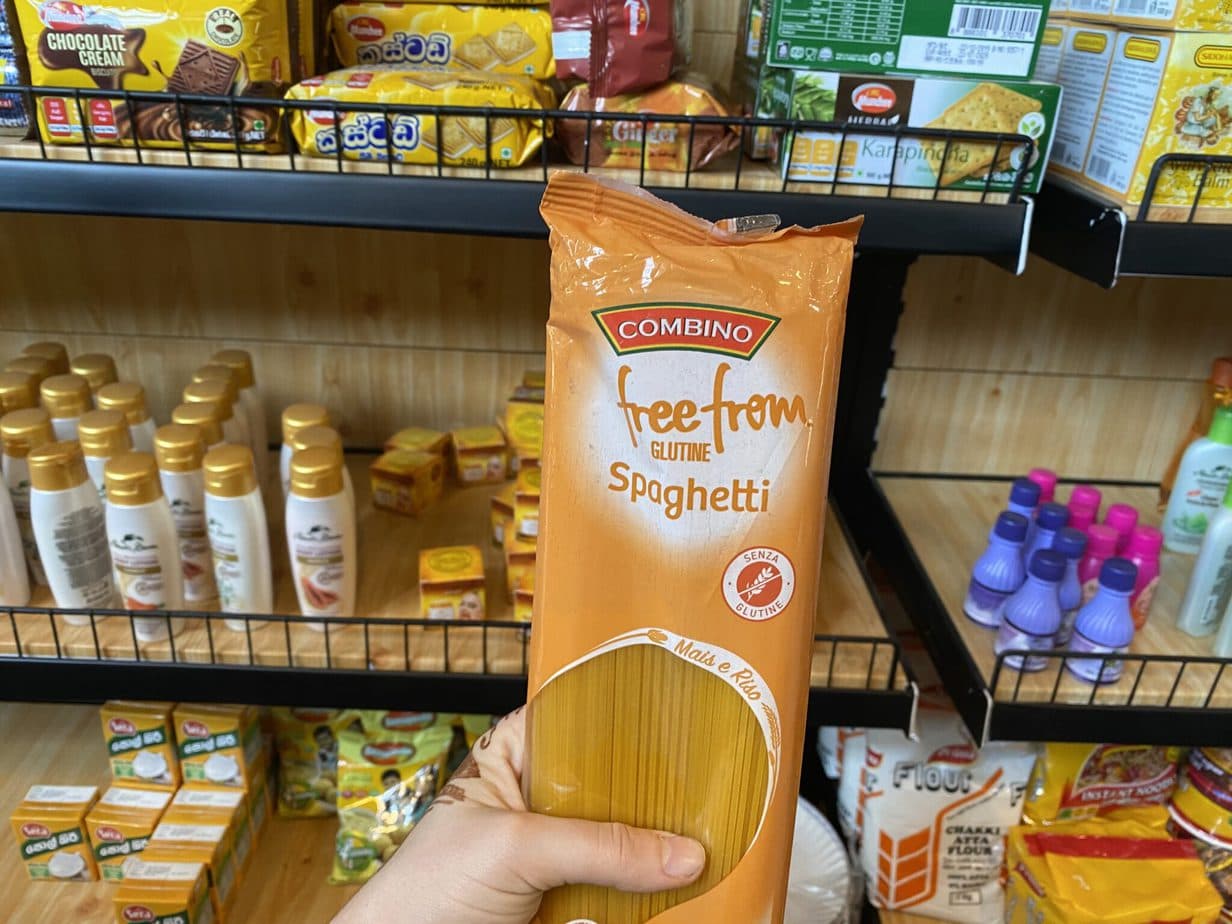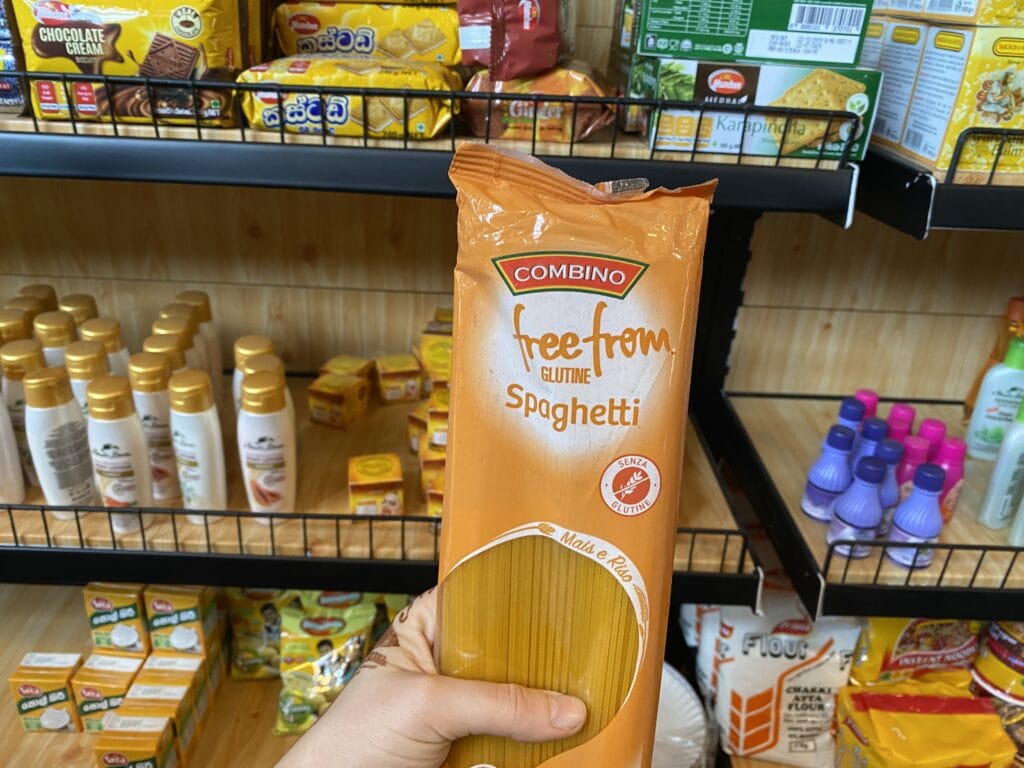 Gluten Free Hiriketiya
Hiriketiya is a little beach town along Sri Lanka's southern coast. It's been described by some as "Bali 30 years ago."
We decided to base ourselves here as opposed to more popular towns like Unawatuna or Mirissa because we wanted to avoid the touristy crowds. Well, Hiri is definitely ​​​​​​​still a tourist draw, although much more laid back, but the benefit was lots of Aussie-style cafes and restaurants.​​​​
Read all about things to do in Hiriketiya here, and check out my favorite gluten free meals in Hiri below.
RELATED | 15 Things to do in Hiriketiya Beach, Sri Lanka
Jasper House
In Hiriketiya we stayed at Jasper House, which is an open-air boutique hotel just a few steps from the beach (and with an incredible pool and yoga shala). Read my full review of Jasper House here.​​​​​​​
Breakfast is included in your stay here so this is where we ate breakfast every day in Hiriketiya – and it was incredible! There is a huge buffet on the top level, so you can eat in the fresh air with ocean views, and see monkeys jumping tree to tree.
The gluten free options here are mostly Sri Lankan – think breakfast curries, fresh fruit, dhal, and puttu! The chefs also make omelettes on request.
Jasper House is also open for lunch and dinner to the public. There is a really extensive menu including gluten free spaghetti! I didn't have a chance to eat this myself so I'd just be sure to confirm they cook the noodles in a fresh pot of water.
BOOK | Check availability and rates for Jasper House.
RELATED | Review of Jasper House Boutique Hotel in Hiriketiya, Sri Lanka​​​​​​​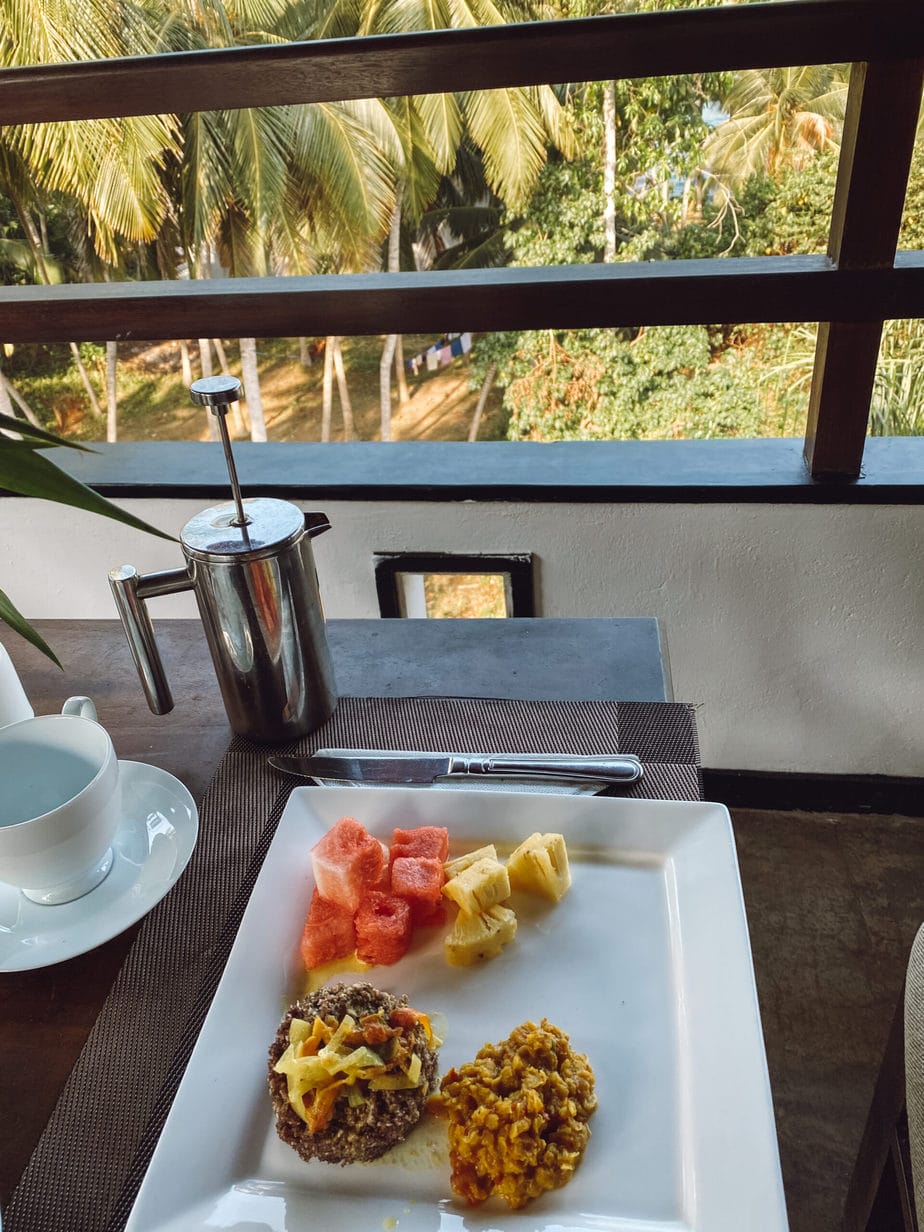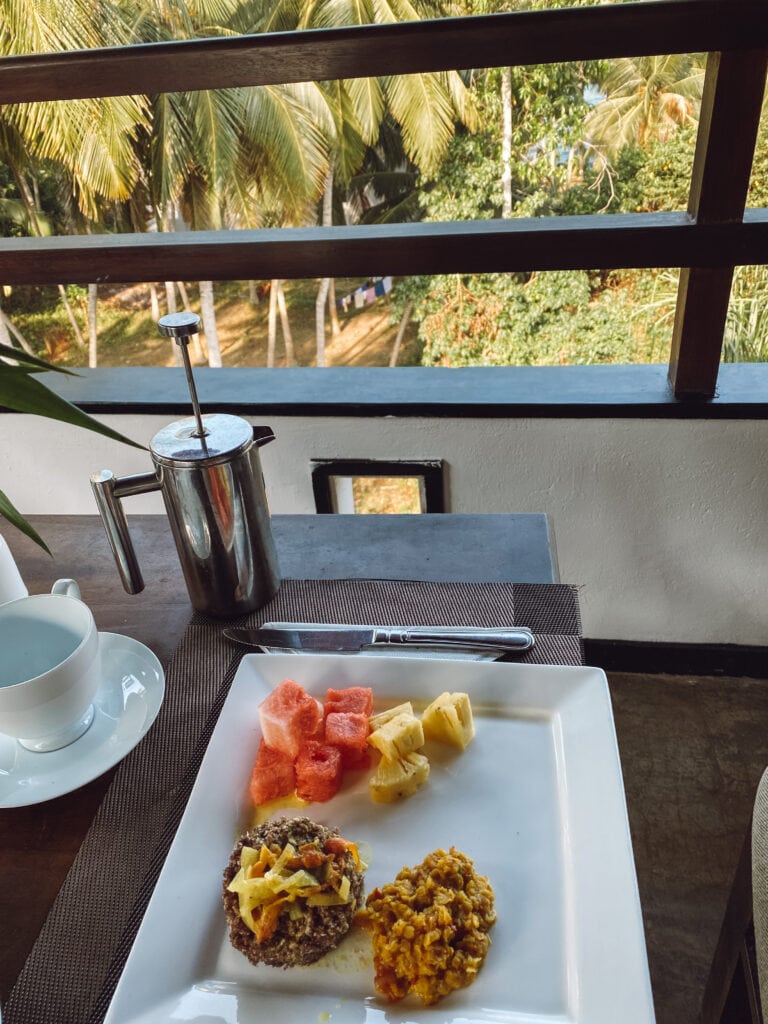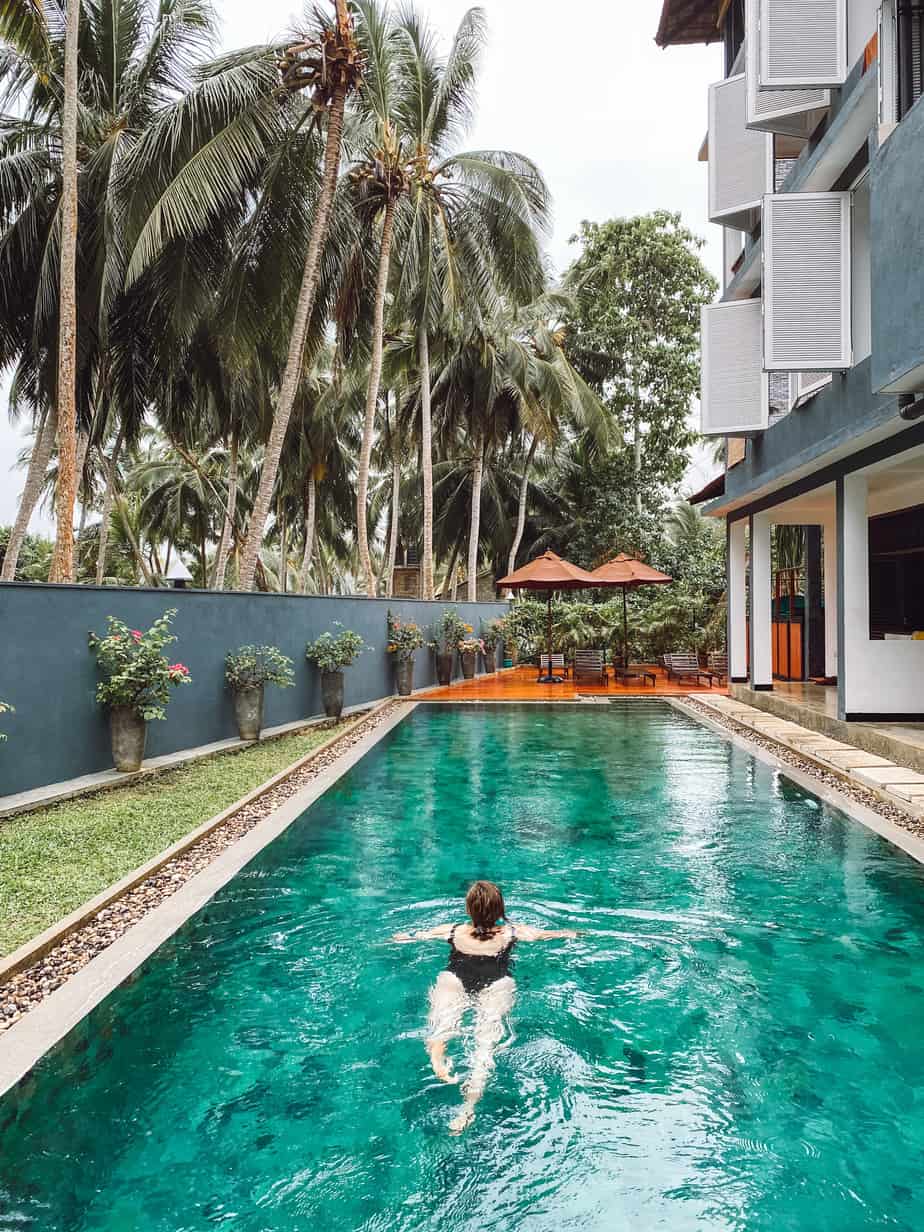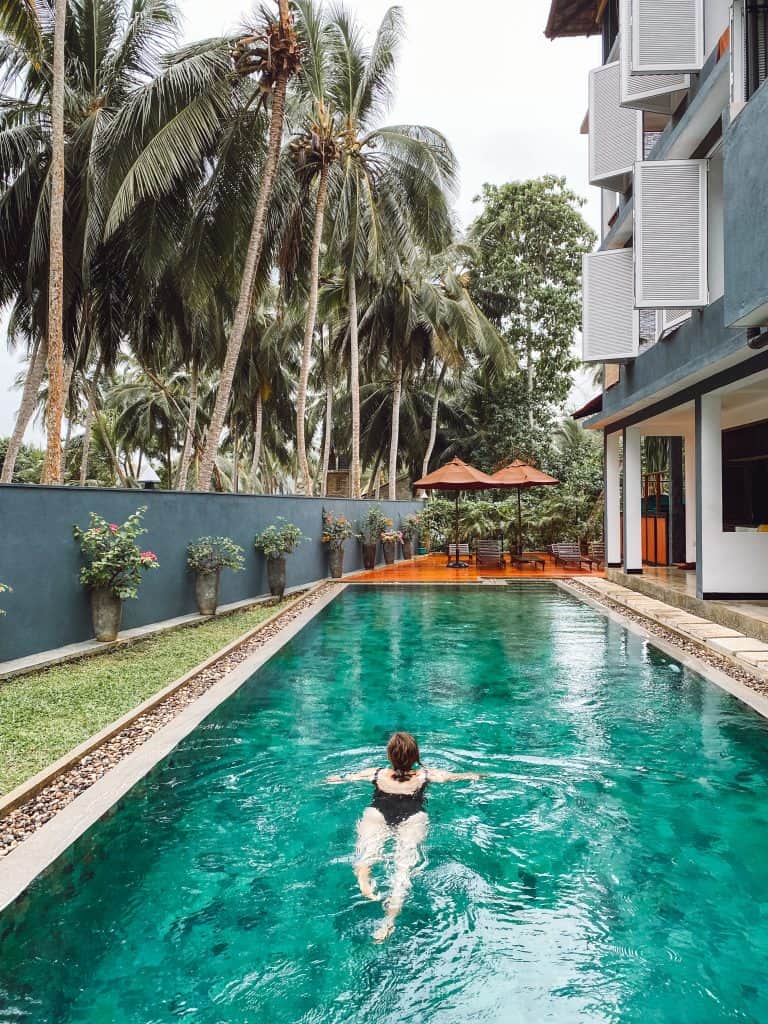 Peppermint Lounge
For traditional Sri Lankan food in Hiriketiya, we enjoyed Peppermint Lounge, which is a family-run restaurant about five minutes walk from the beach, set on a quiet dirt road.​​​​​​​
I showed my gluten free translation card here, and was able to enjoy a Sri Lankan curry platter of four bowls of curry for the typical 500lkr ($2.75 USD).
2023 update: Peppermint Lounge officially reopened on January 28, after being closed for the past two years!!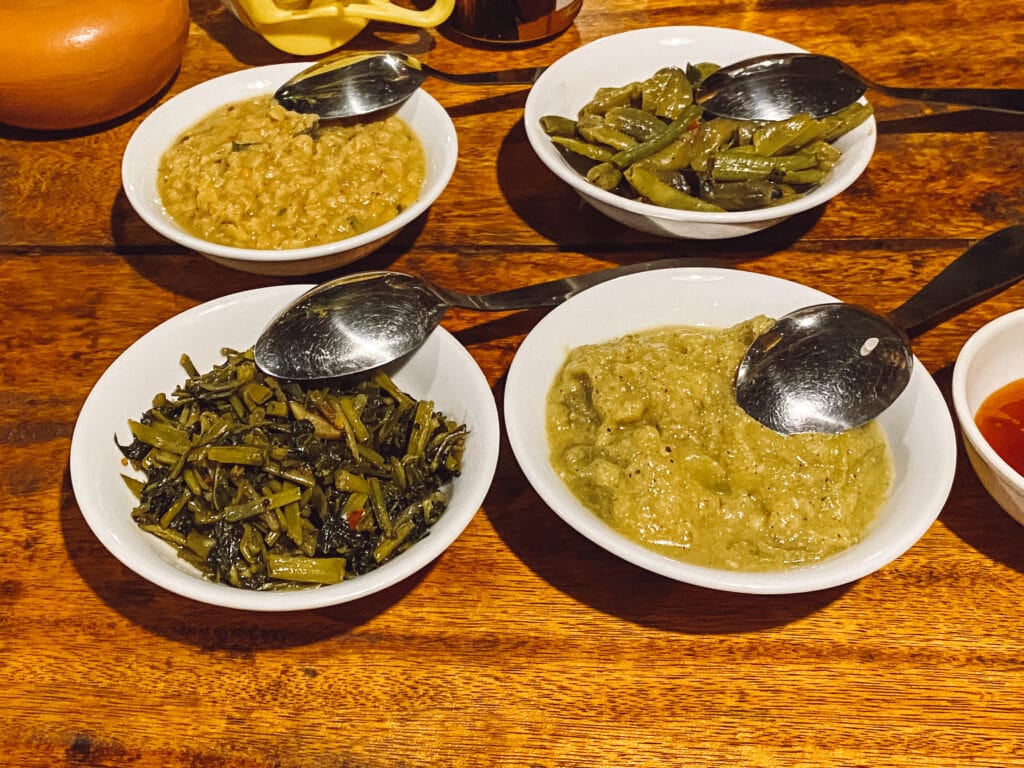 Salt House
Salt House is another boutique hotel in Hiriketiya that doubles as a restaurant for the public. We only ate dinner here, but you could book a room (and enjoy their yoga classes and pool!).​​​​​​​
I showed the staff here my gluten free translation card and I was able to eat the freshly caught Mahi Mahi, with an avocado and mango salad. It was SO good.
We also ordered pina coladas, for reference each drink was 500lkr ($2.75USD) which is the same price as an entire Sri Lankan curry platter at other places. You definitely pay a relative premium for the more western-style restaurants but it was a treat to have fresh fish, salad, and cocktails.
BOOK | Check rates and availability for Salt House.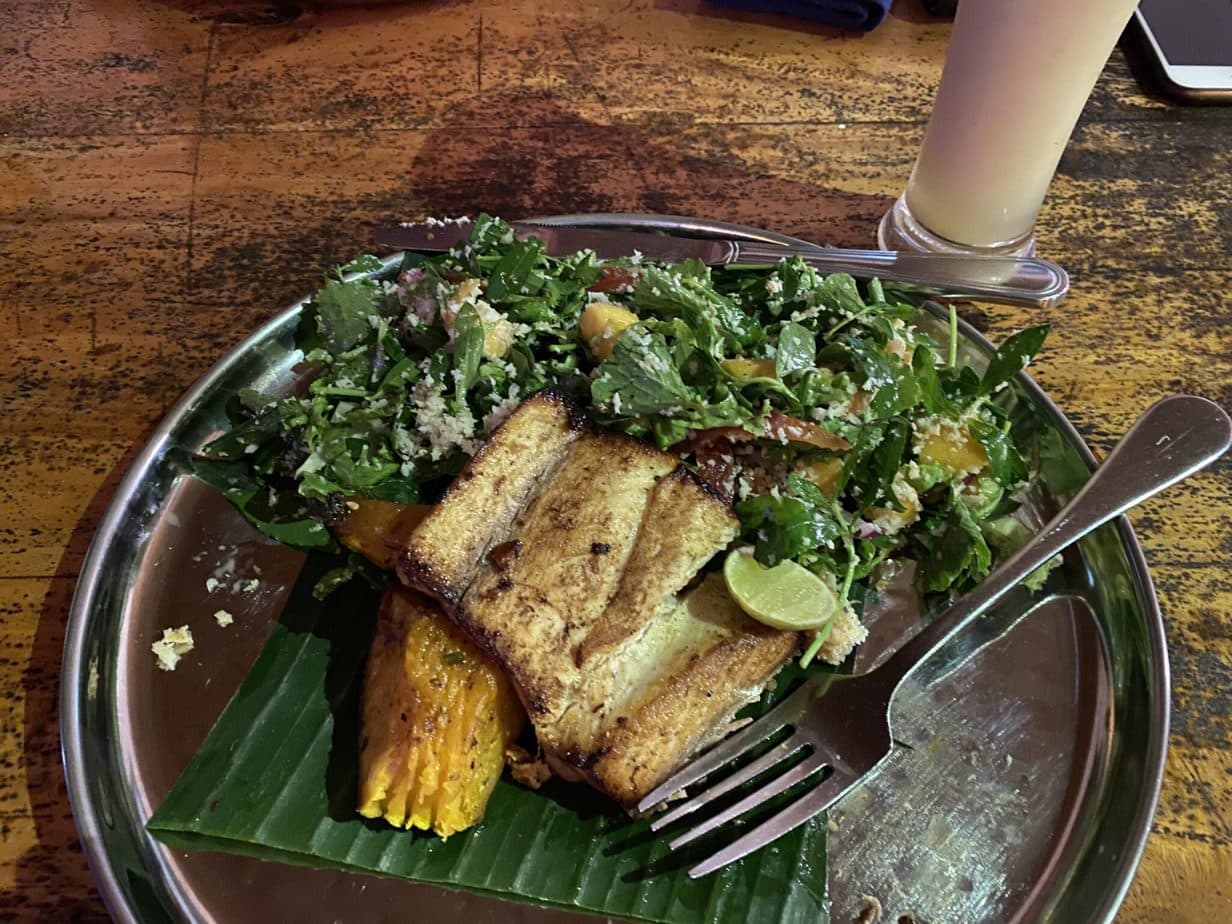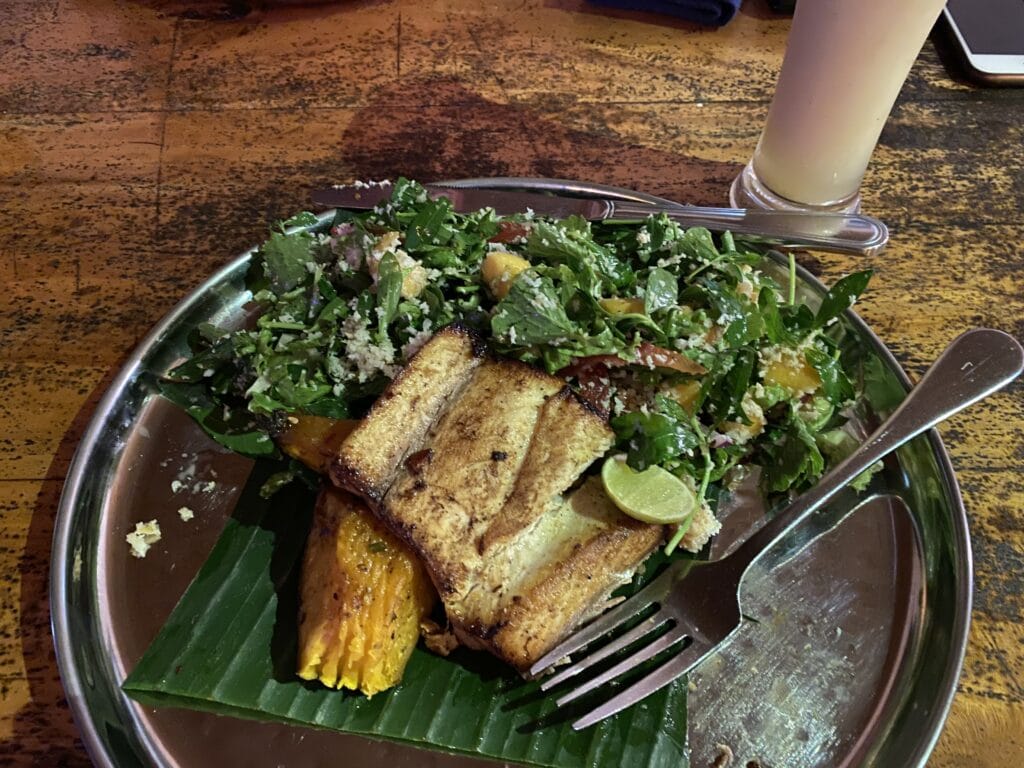 360 Seacoast​​​​​​​
We ate dinner at 360 Seacoast our last night in Hiriketiya. This is a sister restaurant to 360 Ella, which we enjoyed in Ella.
I showed the chef here my gluten free translation card, and once again had my classic platter of gluten free Sri Lankan curries. Surprisingly this does not get old because the curry is a different type everywhere you go! We also ordered cocktails here, and sat in a little private cabana and listened to live music.
I will say this is one place I was happy to have the deet-free bug spray I packed for Sri Lanka because it gets very buggy at night along the south coast!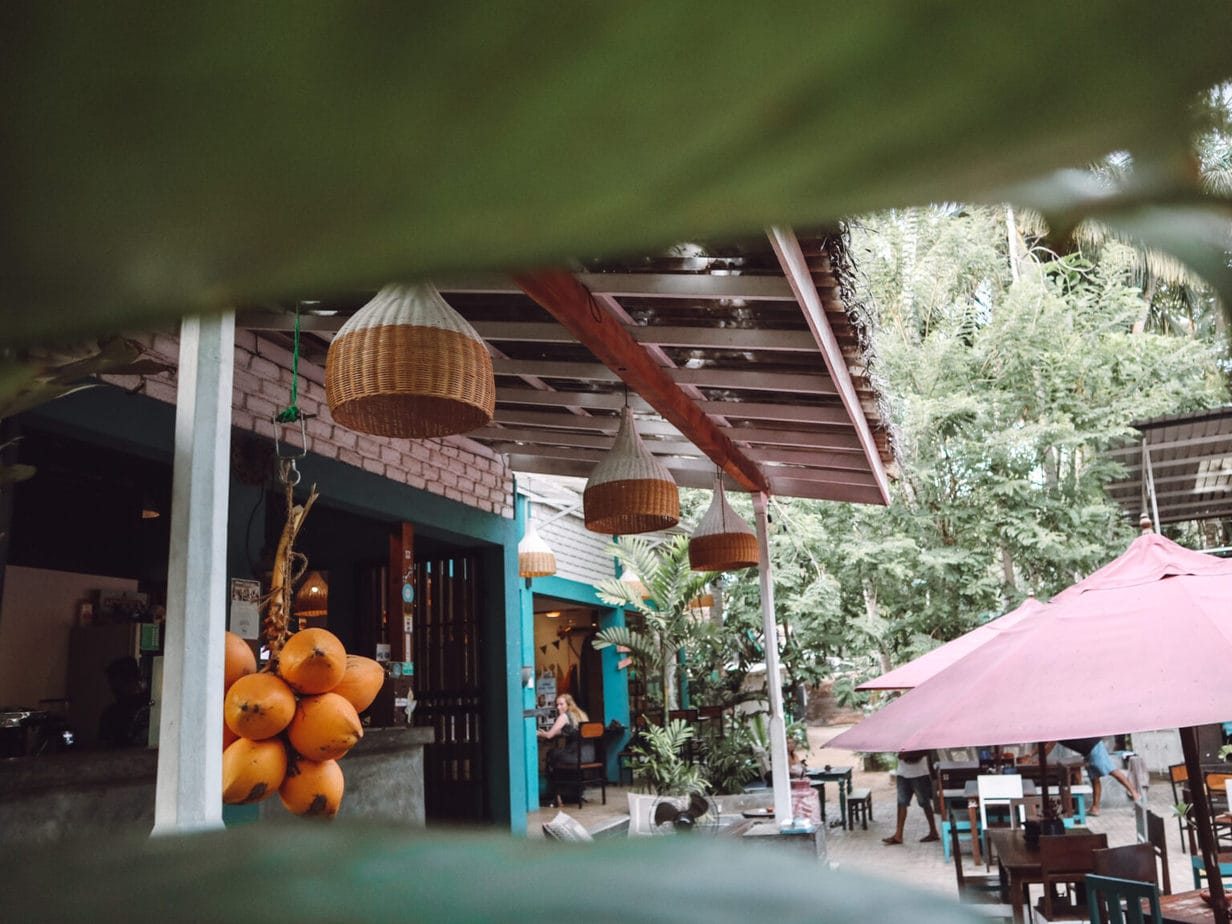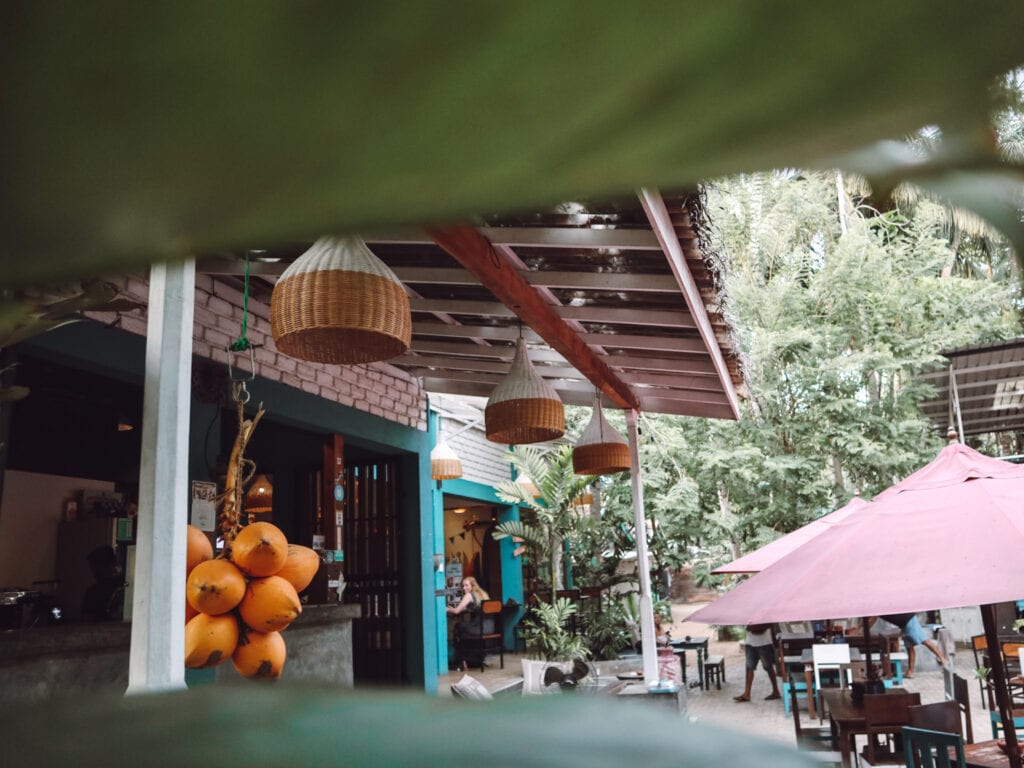 Gluten Free Galle
Galle is a walled fort town and cultural hub on Sri Lanka's south coast. It is a straight shot down the highway from Colombo, so usually the first or last stop on a Sri Lanka itinerary.
We spent one full day and night in Galle, but fit in quite a few yummy gluten free meals during that short time (some of the best of our trip!).​​​​​​​​​​​​​​
Check out my full guide on things to do in Galle here, and the gluten free meals that kept me going below.
RELATED | 13 Things to do in Galle, Sri Lanka
Dimo Fort Seafood in the Old Dutch Hospital
The Old Dutch Hospital is an adaptive reuse project in Galle that is now full of restaurants, spas, etc. We wanted to eat here but struggled to find a restaurant with gluten free options (the highly recommended A Minute by TukTuk has zero gluten free meals on the menu, FYI).​​​​​​​
In my search, I came across Dimo Fort Seafood (right next to A Minute by TukTuk), which is understated and focuses on Sri Lankan seafood cuisine. Not to mention the amazing ocean views!
I spoke to the chef and they wanted to know ALL about gluten, and then came up with some options for me.
We made a reservation and a plan to return for dinner that evening, and when we did the chef was there and the WHOLE staff knew who I was, and that I was the "gluten" girl, haha. (It's always a little embarrassing but I also kind of love when restaurants do this, because it shows me they are taking my celiac needs seriously and communicating).
I had really been craving crab, and I was able to get a gluten free crab curry here. It came with an entire crab, plus a plate of rice, and four small bowls of Sri Lankan curries.
This was 1,450 lkr ($7.50USD) – on the pricier end for Sri Lanka but with ocean views and a HUGE meal, it was a great gluten free treat.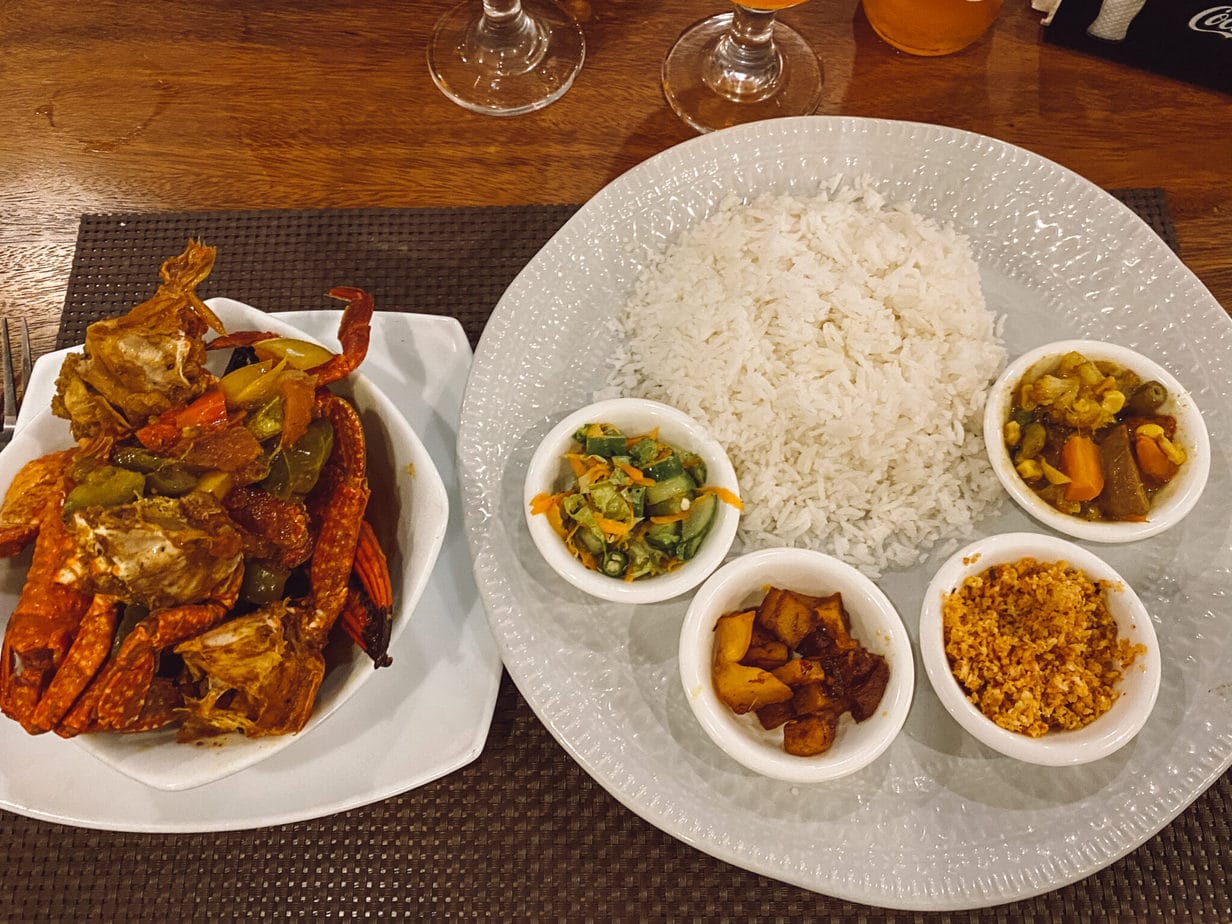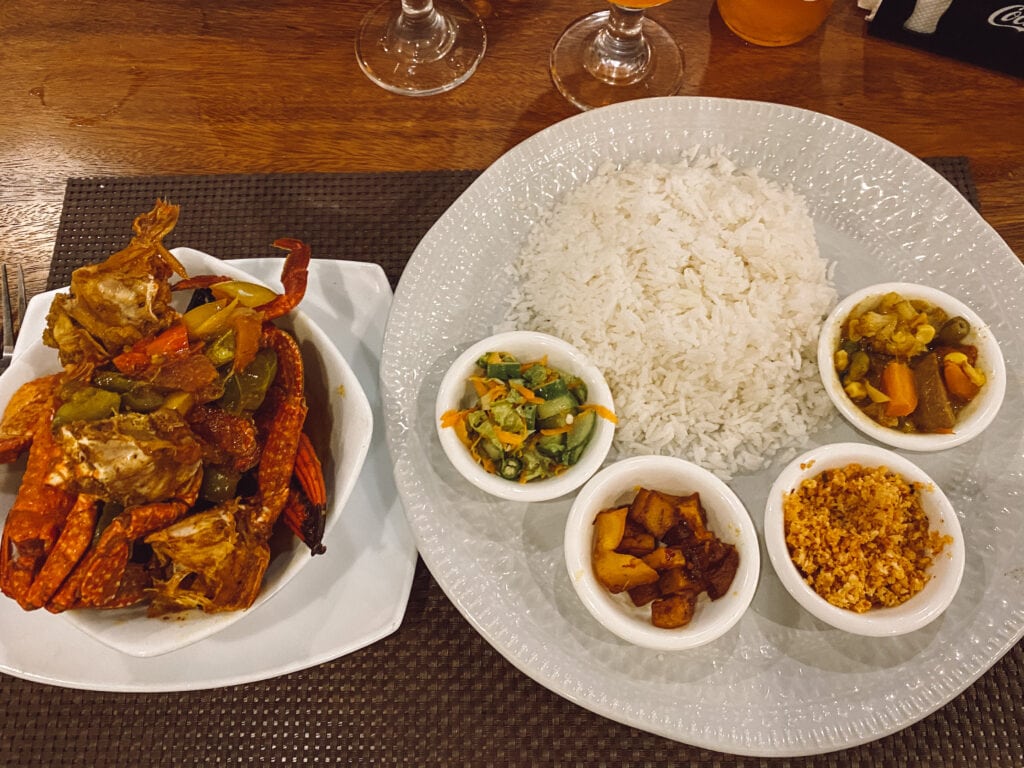 Il Gelato
It's pretty hot and muggy along Sri Lanka's south coast which means you will probably crave gelato and ice cream! I am so wary of eating this, though, because the chances for cross contamination are rampant. I have been glutened via ice cream more often than ANY other food.​​​​​​​
In Galle, I would recommend Il Gelato if you are craving gelato and want a low cross contamination risk. We got gelato here twice, because I was so impressed they use a separate scoop for each flavor!
The staff were also pretty knowledgeable about gluten. After I showed my translation card, they looked at the ingredients and showed me the label for each flavor.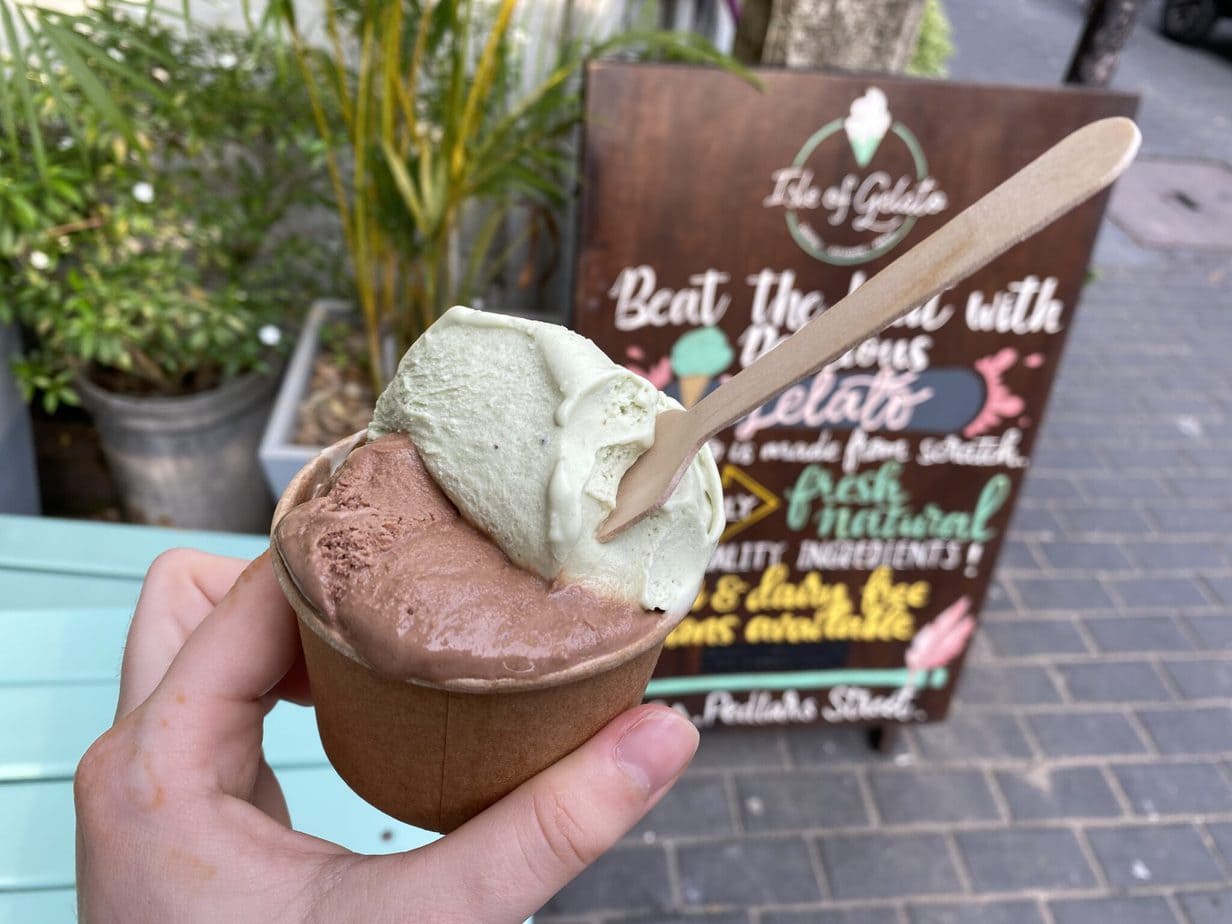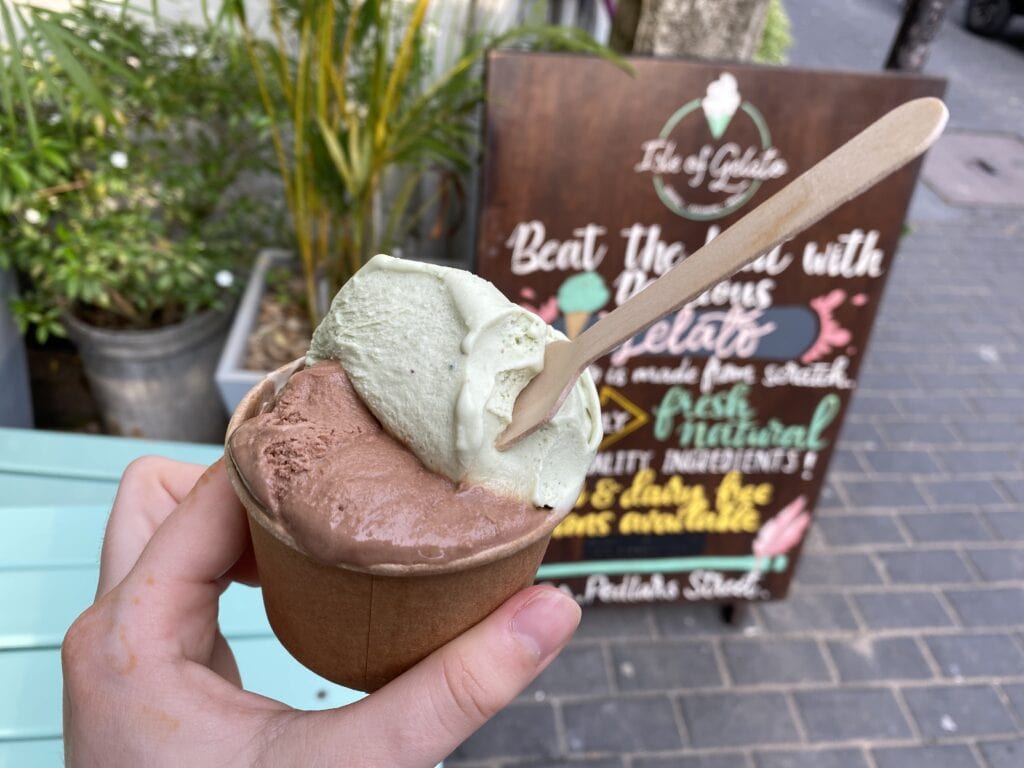 Poonie's Kitchen​​​​​​​ – PERMANENTLY CLOSED
Poonie's Kitchen was a must-visit lunch spot where I had an amazing experience, but sadly they are permanently closed. A sad loss for everyone who visits Galle – celiac travelers especially!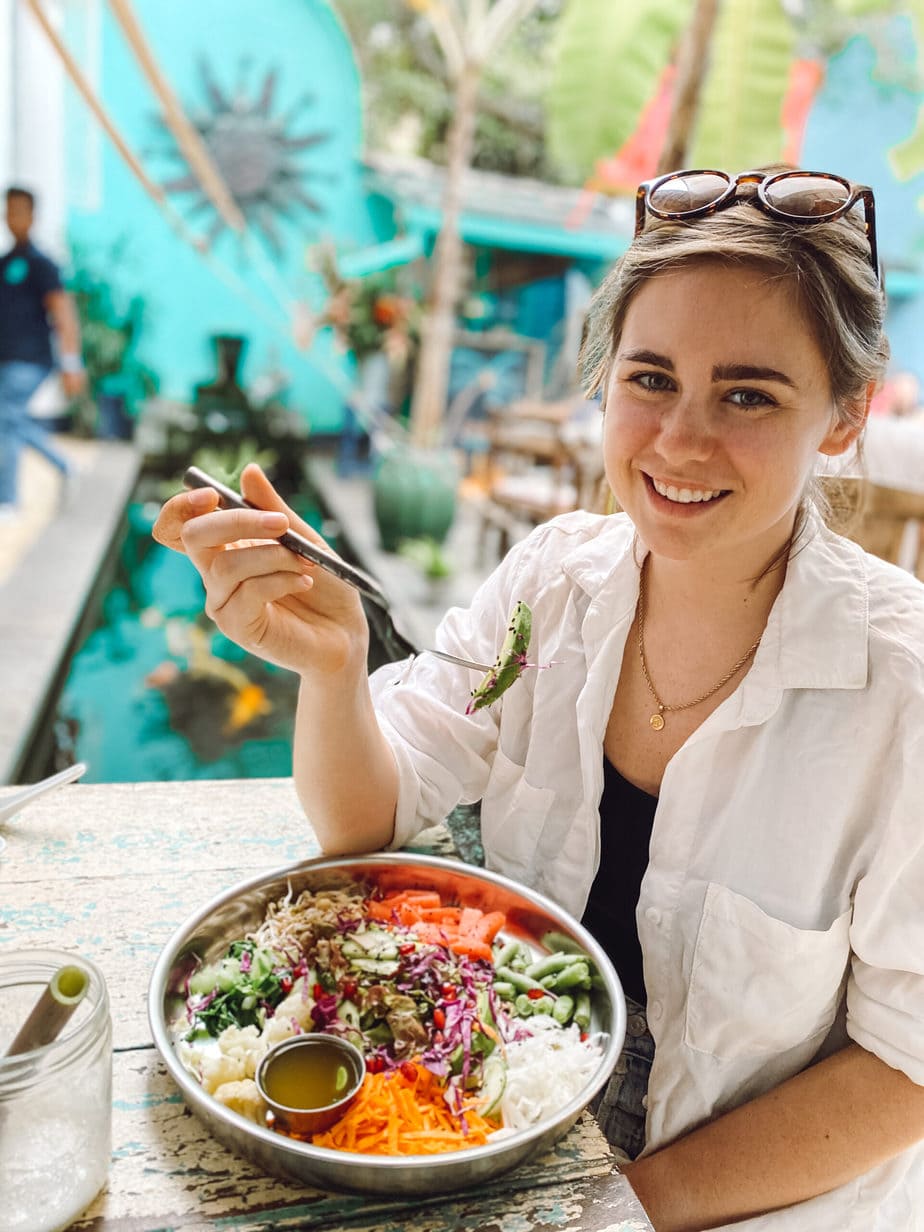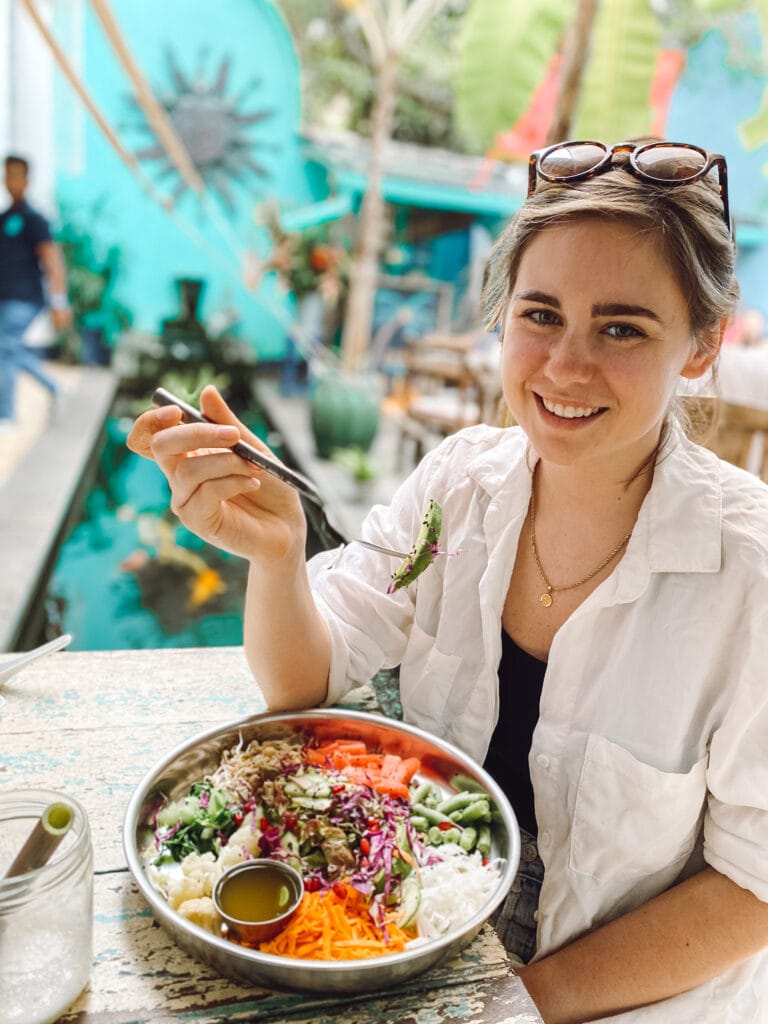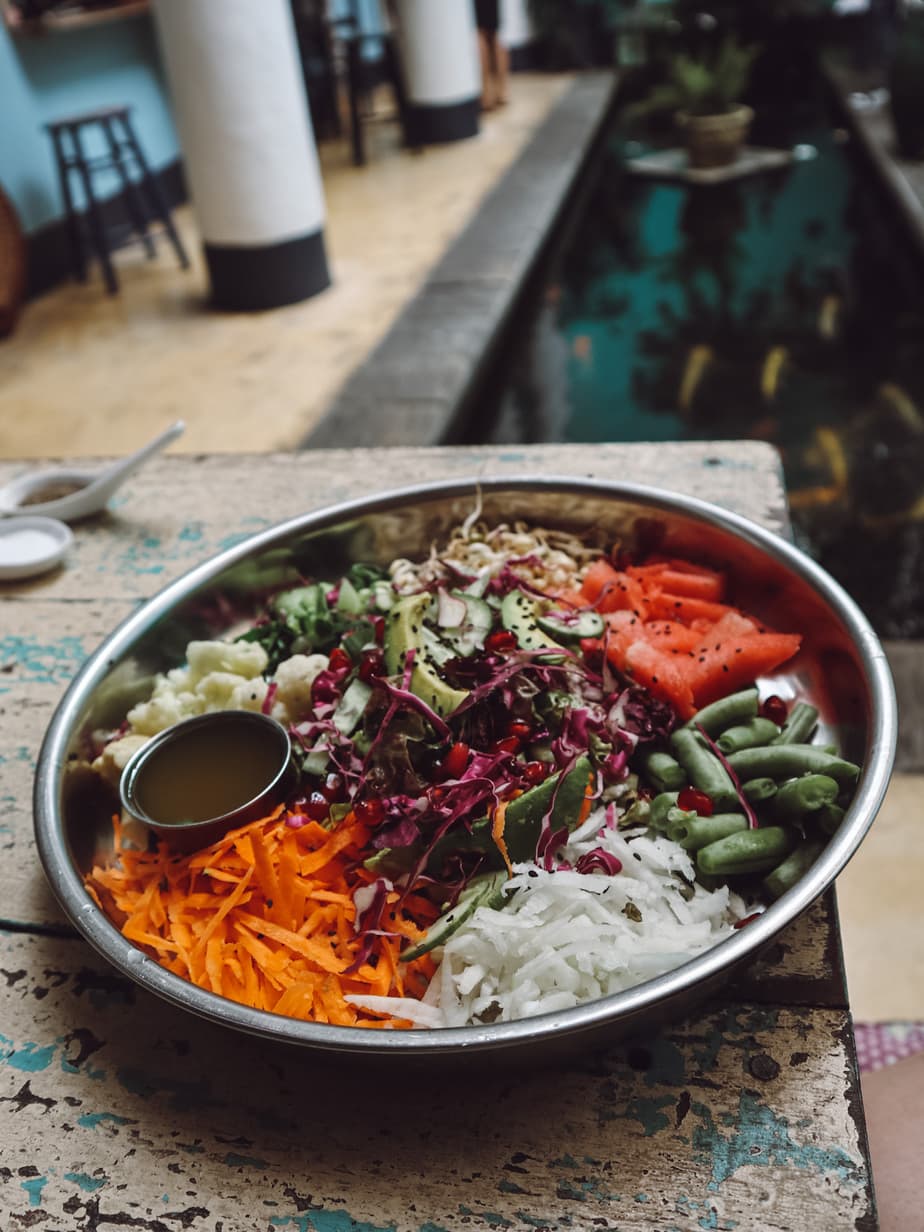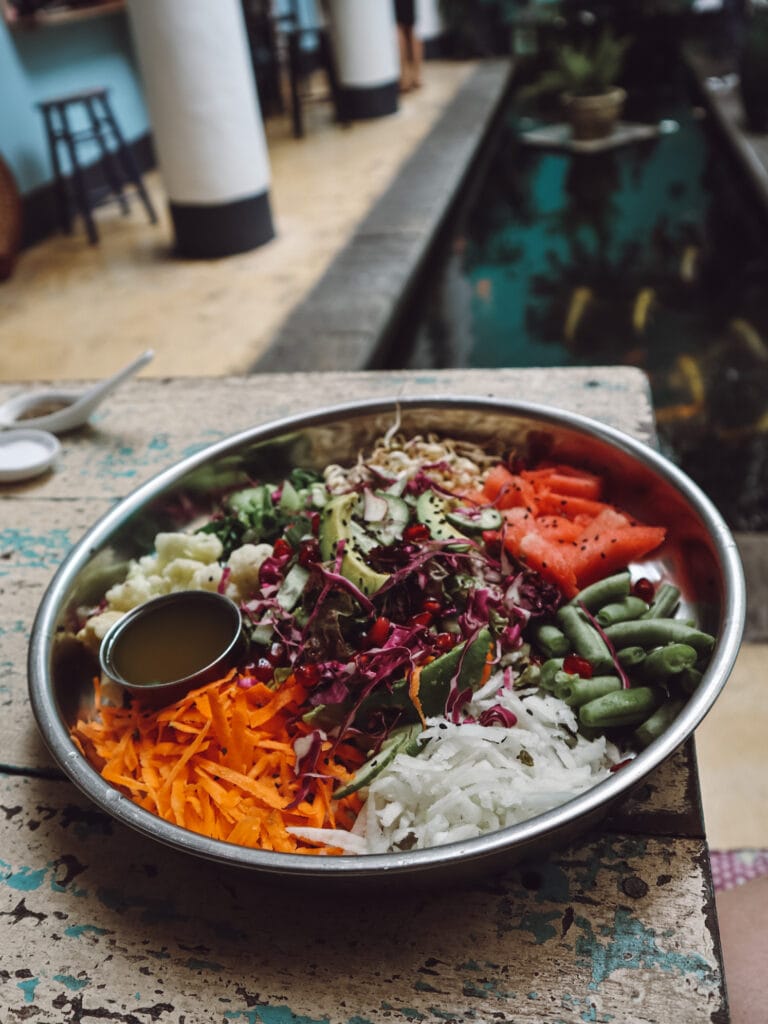 What to Pack for a Gluten Free Trip to Sri Lanka
There are always a few gluten free travel necessities that I make sure to pack for international trips.
Some must-haves for Sri Lanka include:​​​​​​​
GRAYL filter water bottle | Tap water in Sri Lanka is not safe to drink, a filter bottle is convenient and helps avoid plastic waste! Both Dan and I use the GRAYL bottle and LOVE it.
TEP travel wifi | Helps research gluten free restaurants and directions on the go, wifi access can be spotty in Sri Lanka.
Snacks | I'm glad I brought gluten free microwave porridge, snack bars, and gluten free jerky from home. This was a major help along the 10-hour Colombo to Ella train journey.
You can read my complete packing list for Sri Lanka here.
Final Tips For Traveling Gluten Free in Sri Lanka
We absolutely adored Sri Lanka and I cannot wait to return some day (and hopefully see more of the north, next time).
Being able to eat so much of the local cuisine made my travels in Sri Lanka so much easier – although it certainly wasn't stress free as I always had to use my translation card and be on high alert for added wheat.​​​​​​​
Saying that, I really did have a wonderful gluten free travel experience in Sri Lanka and would recommend it to travelers with celiac, as long as you take precautions.
I hope this gluten free Sri Lanka guide can help you plan your trip – and be sure to comment below if you have your own recommendations!