A gluten free translation card can be the deciding factor between a dream vacation or… an utter disaster. It is hard enough to eat out gluten free at home. But during travel, so many other stressors and challenges are introduced that can all too easily lead to getting sick. Often, a language barrier is the biggest challenge.
Still, I'm a firm believer that your celiac diagnosis or gluten free diet shouldn't prevent you from seeing the world. You just need some extra help – and choosing the right gluten free translation card is your first step.
Not all gluten free translation cards are created equal. Read on to see my top recommendations – and why!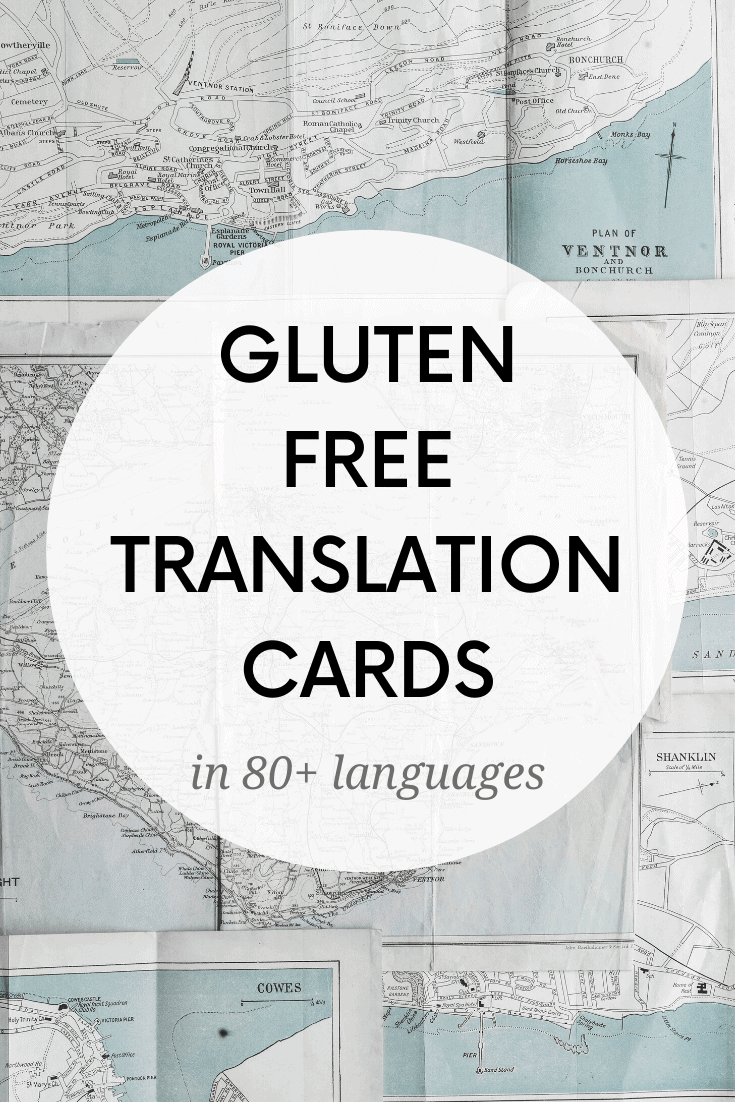 What is a gluten free translation card?
A gluten free translation card communicates our dietary requirements to waitstaff in a foreign language. They are either printed cards or available as a screenshot or photo on your phone.
Basically, a gluten free translation card fills the gap where your own ability to communicate your needs, and ask questions about cross contact or ingredients, falls short.
The BEST gluten free translation cards: Legal Nomads
Without a doubt, your go to translation cards should be the Legal Nomad cards. Why? These cards are the safest out there. They are:
Designed by a celiac who has traveled the world
Translated by two local speakers, usually one of which has celiac disease
Discuss local dishes and ingredients
Ask about cross contact
Let me emphasize the importance of this for a moment. The Legal Nomads gluten free translation cards are the ONLY cards on the market that discuss cross contact. I mean, a dish isn't actually gluten free if it's covered in crumbs, so it is beyond me why MORE cards don't do this.
I use these translation cards myself so I can vouch for them first hand. Additionally, I can vouch for the rigor and care that goes into their creation. Currently, I'm working with Jodi (the mastermind behind Legal Nomads) to create a Nepal gluten free translation card so I can assure you first hand all the thought that goes into each card! 
Legal Nomads currently offers cards in 16 languages.
You can click the quick links below, or skip down to read more about each card.
The next best gluten free travel cards: Select Wisely
What if you are going somewhere that doesn't speak one of the 16 languages covered by Legal Nomads? 
Luckily, there is another gluten free translation card company that I trust. Meet Select Wisely. Select Wisely offers travel translation cards for people with a variety of allergies. This makes them an especially great option if you have other dietary requirements besides gluten, such as dairy, shellfish, nuts, or even vegetarian.
Currently, Select Wisely offers gluten free travel cards in 69 languages. That is WAY more than any other company on the market.
Each card is professionally translated, so you don't have to worry about mistranslations.  They are delivered by mail, which is less convenient, but does mean you won't be handing off your phone to strangers!
In my opinion, that's pretty good. I like that they mention soy sauce and "allergy." The downside is they don't discuss cross contact in depth, and they aren't put in the context of local dishes. That's why this is always my second choice.
Find your gluten free translation card: 80+ languages
Below I've listed all the gluten free translation cards that I recommend! You can purchase them easily just by clicking on the photo or the button.
Scroll through the options to find your gluten free translation card! I'm working on building a search function, but for the time being, you can use crtl/command+f and type in the language you need.
Catalan GF Card
Dutch GF Card
French (France) GF Card
French (General) GF Card
German GF Card
Greek GF Card
Italian GF Card
Japanese GF Card
Malay (Malaysia)
Moroccan Arabic GF Card
Polish GF Card
Portuguese GF Card
Spanish (Spain) GF Card
Spanish (Latin America) GF Card
Thai GF Card
Vietnamese GF Card
GF Cards in 69 Other Languages
Gluten free travel just got easier!
I hope this resource list of the best gluten free translations helps you on your travels. Don't see the language you need? Select Wisely offers a bespoke translation card service if you send in a request. Legal Nomads also has quite a few cards in the works.
You can always contact me, too, and I will do my best to connect you with the best gluten free travel card for your trip!
Be sure to check out my other resources on easier, safer gluten free travel.
Endless Distances is FULL of gluten free travel tips, and tons of destination-based gluten free travel guides from around the world.
Pin it for later…