Colombo to Ella Train Journey: A Complete Guide to Timetables, Tickets, and Important Tips
Of all the things to do in Sri Lanka that I spent years dreaming of, no image held my imagination more so than a blue train, snaking through misty tea country. Sri Lanka's trains are special – they are not just a mode of transportation, but a carefree experience where you can sit in the open air, dangling out the windows or doors alongside laughing locals. We took the Colombo to Ella train journey – a slightly longer route than the oft-recommended Kandy to Ella train – and are so glad we did.
If you'd like to get from Colombo to Ella, and have this quintessential Sri Lankan experience at the same time, here is your complete guide. I discuss everything you need to know, including timetables, ticket prices, how to buy tickets, class options, and what to pack on board.
Check out my other Sri Lanka blog posts: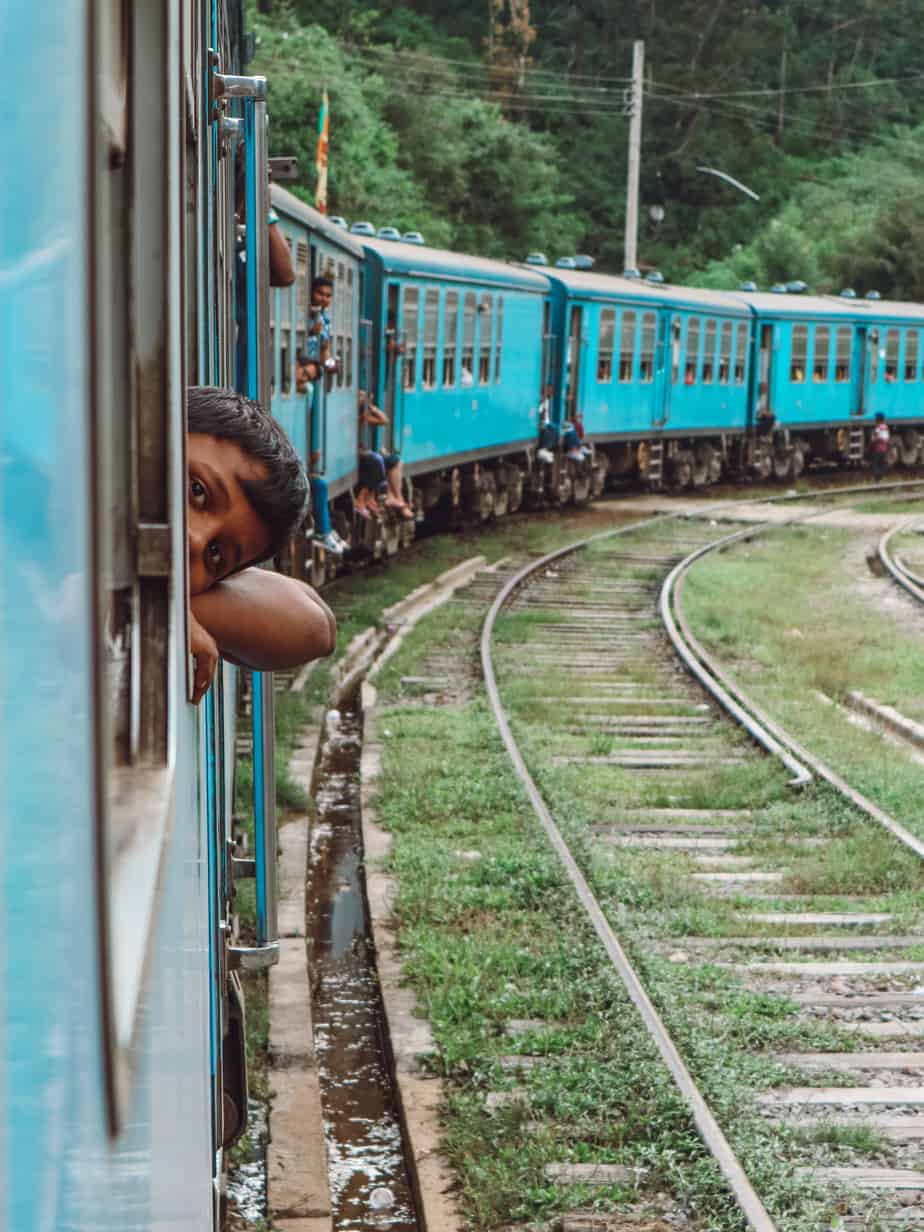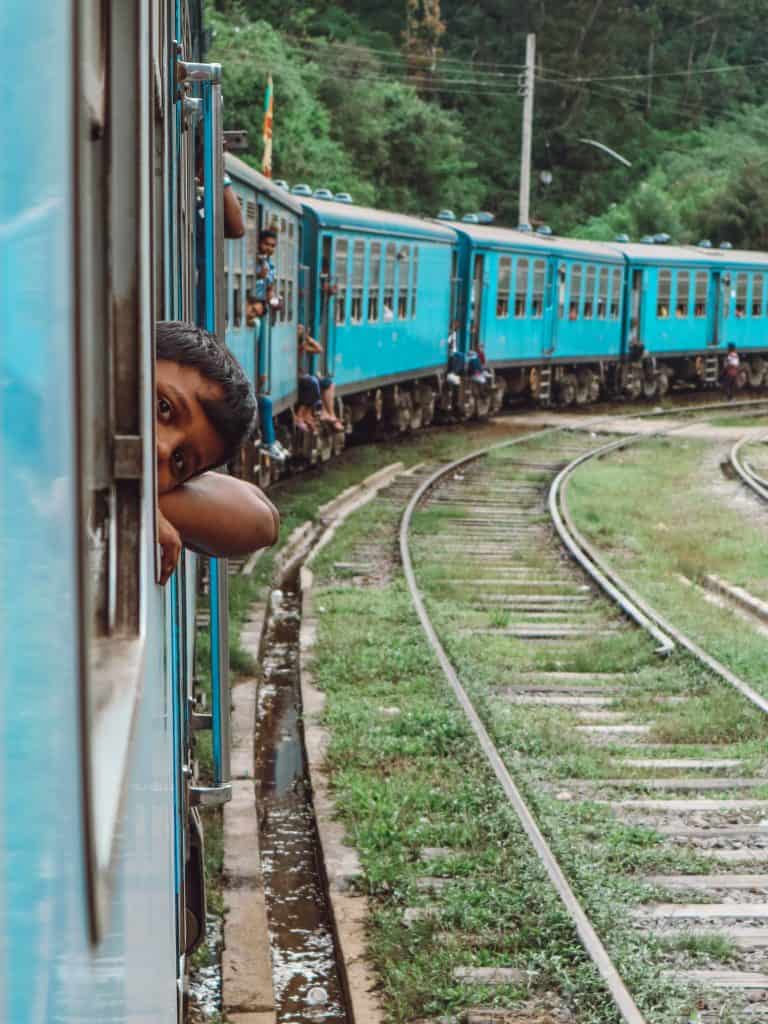 *This post contains affiliate links. If you click a link and make a purchase, I may make a small commission, at no extra cost to you. Thank you for supporting Endless Distances!
Colombo to Ella train journey background information
Traveling by train in Sri Lanka is undoubtedly the best public transport option. Unlike buses which teeter along winding cliffside roads, battling competitive tuktuk drivers and inexperienced tourists on motorbikes, train travel is more reliable, comfortable, and dare I say, safe. It's also extremely affordable.
Sri Lanka has a network of train routes, all branching off from the country's western capital of Colombo. Historically the trains were used to transport cargo (primarily tea) but in the last few decades transitioned to use by locals and travelers alike. The Colombo to Ella train journey is part of the longer route that starts in Colombo and ends in Badulla. The popular Kandy to Ella route that you've likely heard of is part of this same line. The line is said to be one of the most beautiful train journeys in the world (and I would agree).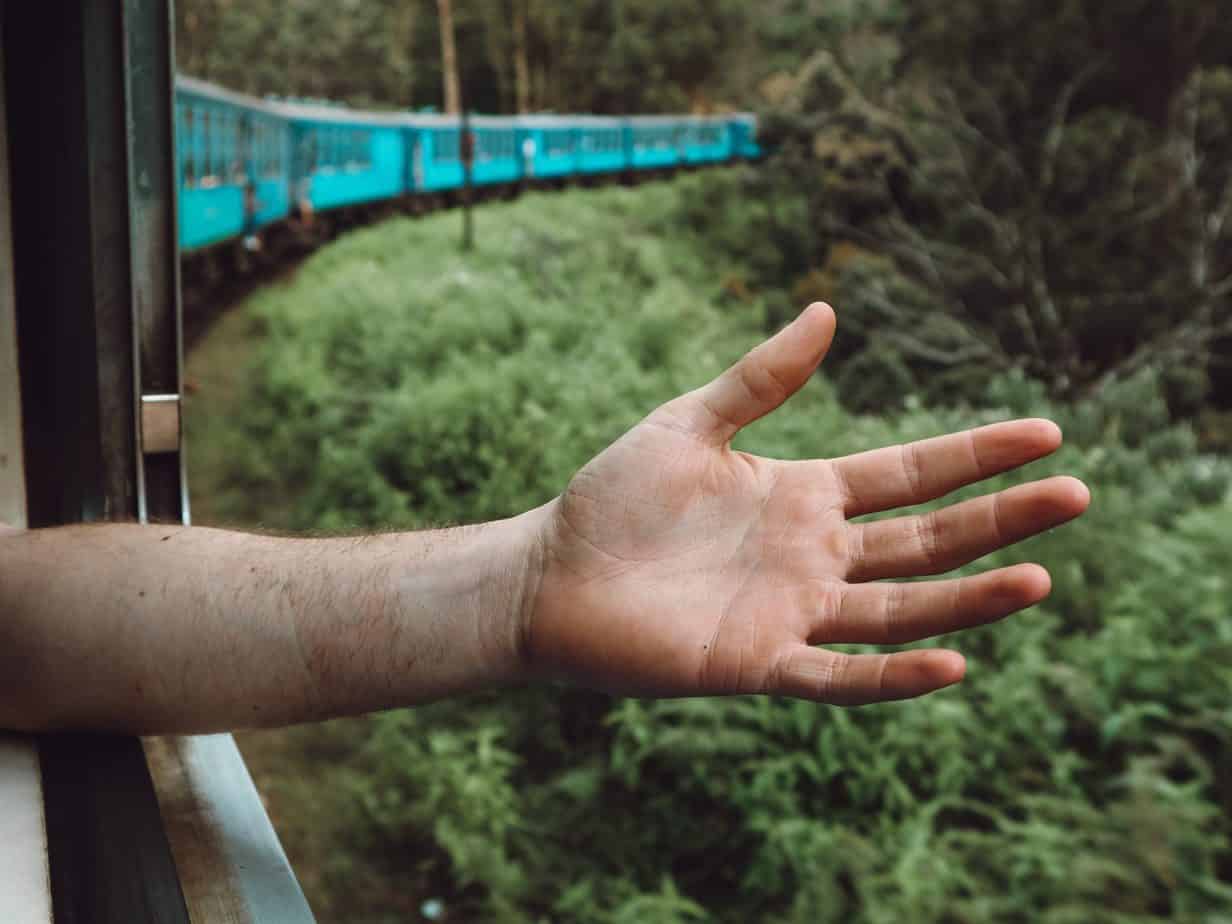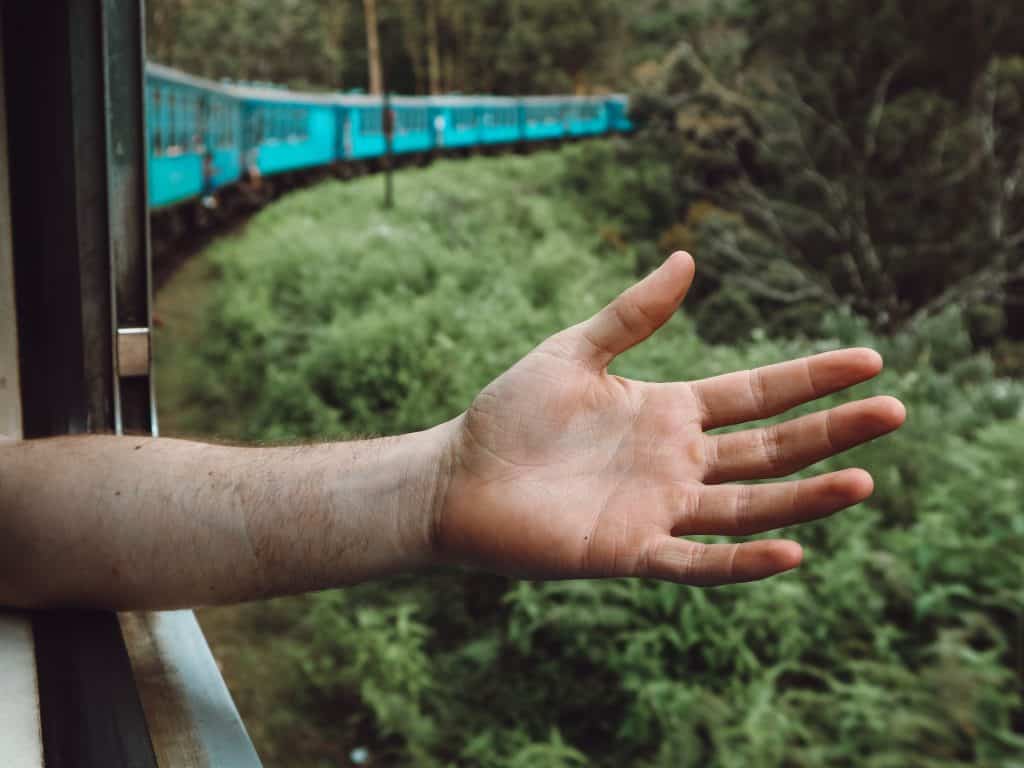 Why you should ride the Colombo to Ella train
Of course, the train is useful if you simply need to get from Colombo to Ella. But it also offers a tour of Sri Lanka's unparalleled beauty, and a cultural experience. You'll travel alongside local Sri Lankans and maybe even make a few friends along the way, as we did.
Another big reason to travel the Colombo to Ella train is for the experience of sitting in an open doorway, feeling the exhilaration as fresh tea-country air whooshes past you. Unlike trains I've been on in Europe and the USA where windows and doors are tightly sealed, Sri Lankan trains offer open windows and doorways. Along with this experience comes, of course, the popular photos of hanging out the train (please be careful and only do this when the train is moving very slowly).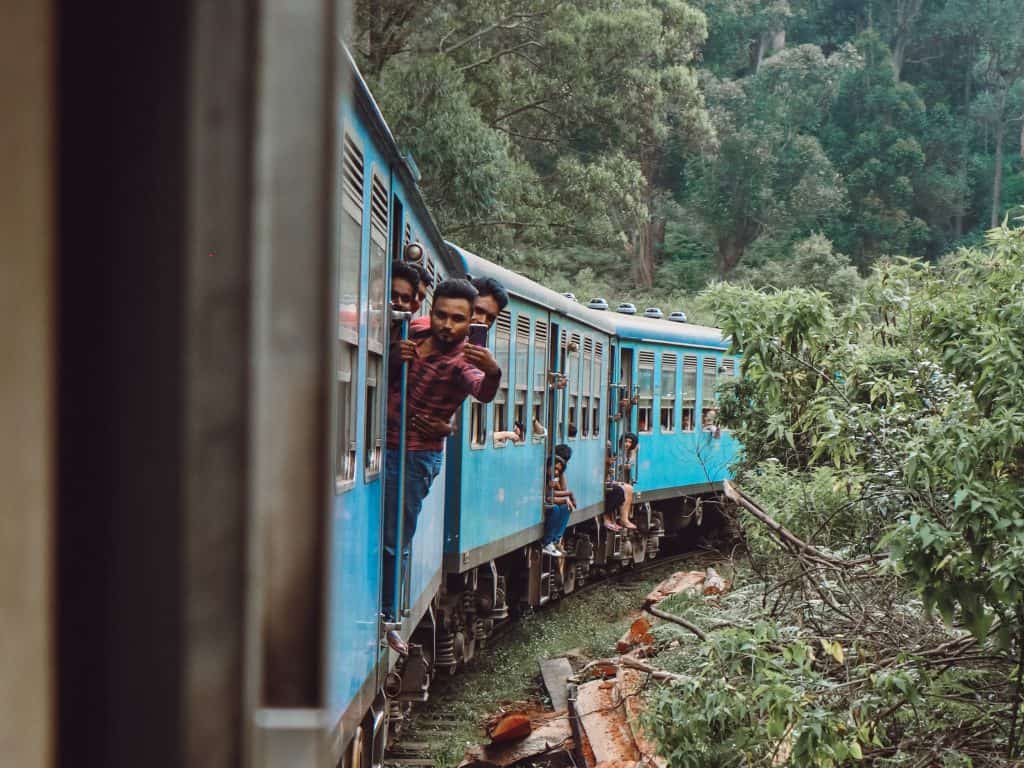 Colombo to Ella vs Kandy to Ella train – Which one should you choose?
Most people recommend the Kandy to Ella portion of this train journey, but I say go for the entire Colombo to Ella route, particularly if you're short on time. For instance, if you only have a week to ten days in Sri Lanka, the Colombo to Ella train is an efficient (and stunning) way to get you started on your itinerary after flying into the capital. (If you have longer, by all means make an overnight stop in Kandy and other towns along the way, though!).
You should also ride the Colombo to Ella train if you're looking for a more authentic experience than you'll find on just the Kandy to Ella portion. With this train journey's rise to popularity among travelers has come the side effect of feeling a bit over-touristed. An onrush of western tourists loaded with cameras and loud voices board the train at Kandy, and if that's where you board, too, that will be your whole experience. Not that I can judge – as I was similarly a western tourist with a camera around my neck!
However, we found that by boarding in Colombo we had a couple hours of peacefulness, a quiet train car, and the opportunity to make friends with a local Sri Lankan family heading to a wedding in Kandy. Even though the views aren't quite as stunning on the Colombo to Kandy leg (although still beautiful!) this ended up being our favorite part of the journey.
The Kandy to Ella train route is 7 hours, and Colombo to Ella is 9-10 hours. I'm of the opinion that if you can manage 7 hours on a train then 9-10 hours won't make much difference. And with all the benefits of those first hours of peacefulness I would recommend it.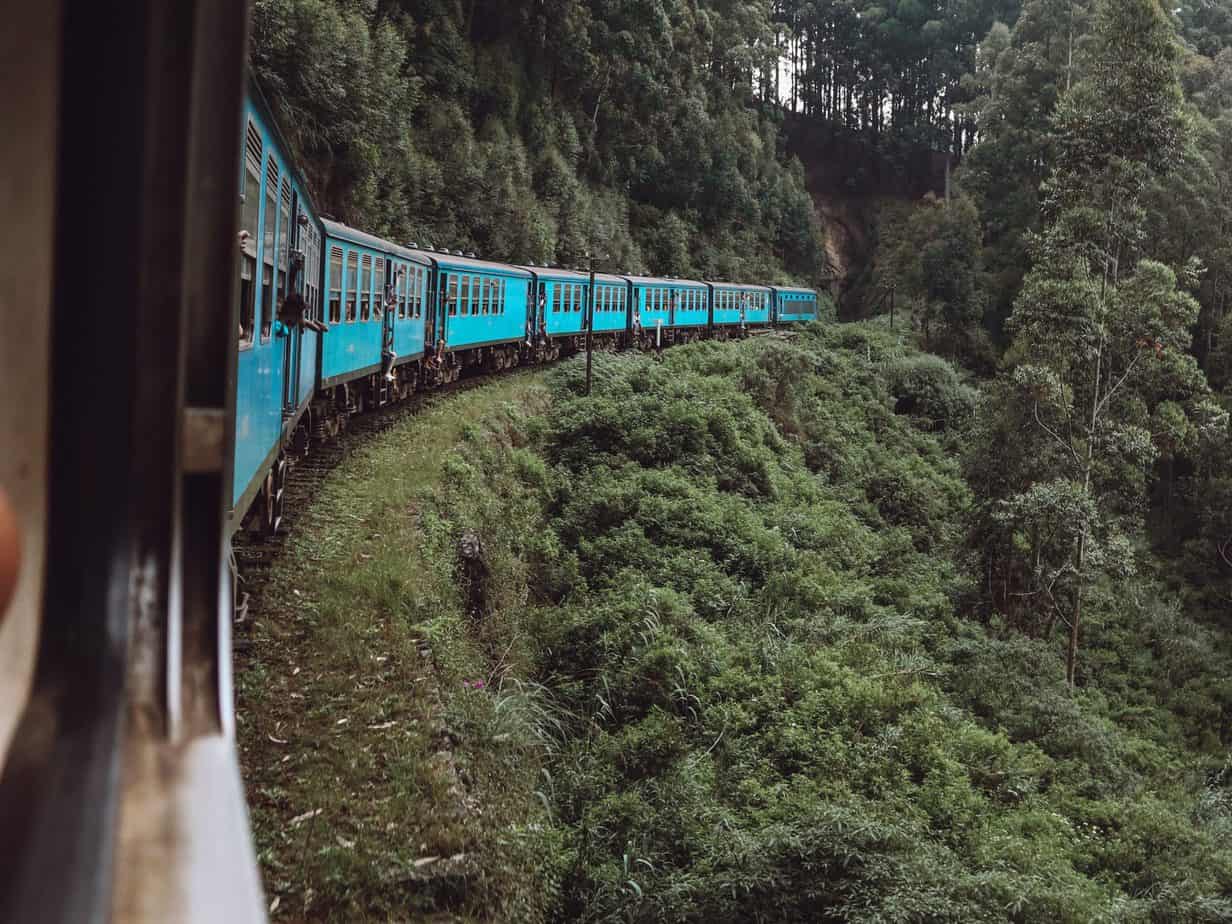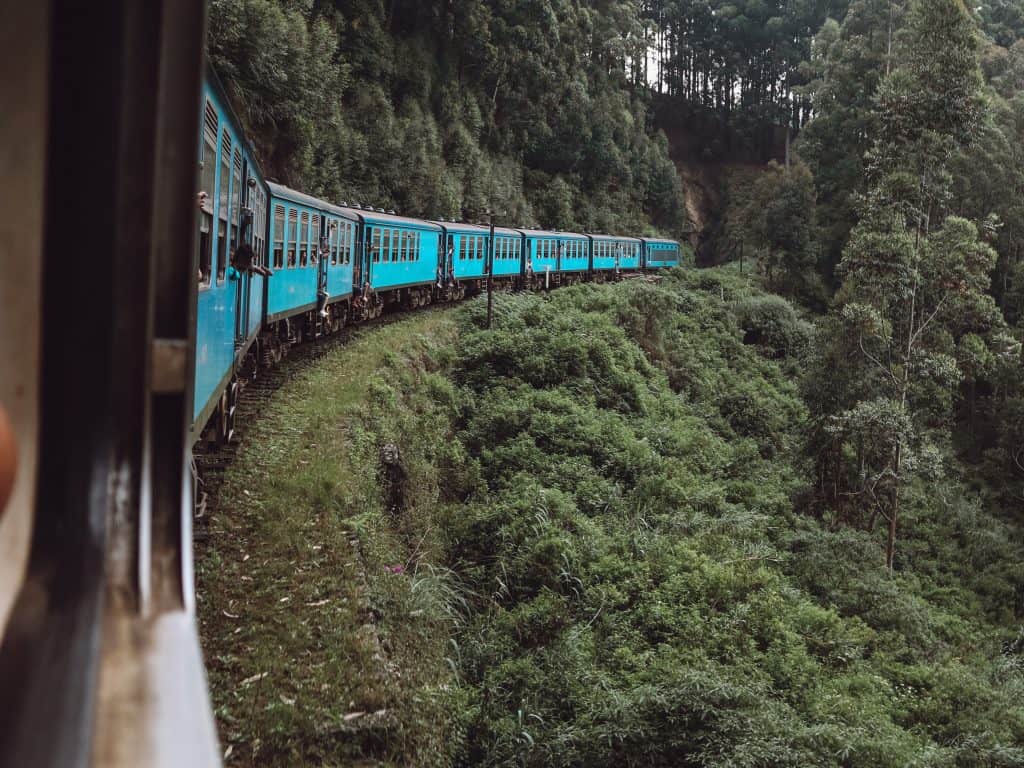 Colombo to Ella timetable
Trains depart from Colombo Fort station. If you have pre-purchased your ticket (which I recommend for this route – read more about tickets below), walk straight into the station. Once you are inside turn around and look up to see the train timetable and platforms. The Colombo to Ella train typically departs from platform 1 which is to the left of the station entrance (as you enter). If you need help, ask the station staff or those in military uniforms. Touts may try to help you and then ask for a hefty tip – this happened to us.
We took the 8:30am blue train from Colombo Fort and arrived in Ella shortly after 6pm – please keep in mind that trains in Sri Lanka do tend to run a bit late!
5:55am (Colombo Fort) – 3:15pm (Ella)
6:45am (Colombo Fort) – 2:42pm (Ella)
8:30am (Colombo Fort) – 5:28pm (Ella)
9:45am (Colombo Fort) – 6:23pm (Ella)
8pm (Colombo Fort) – 6:06am (Ella)
Sleeper/overnight red train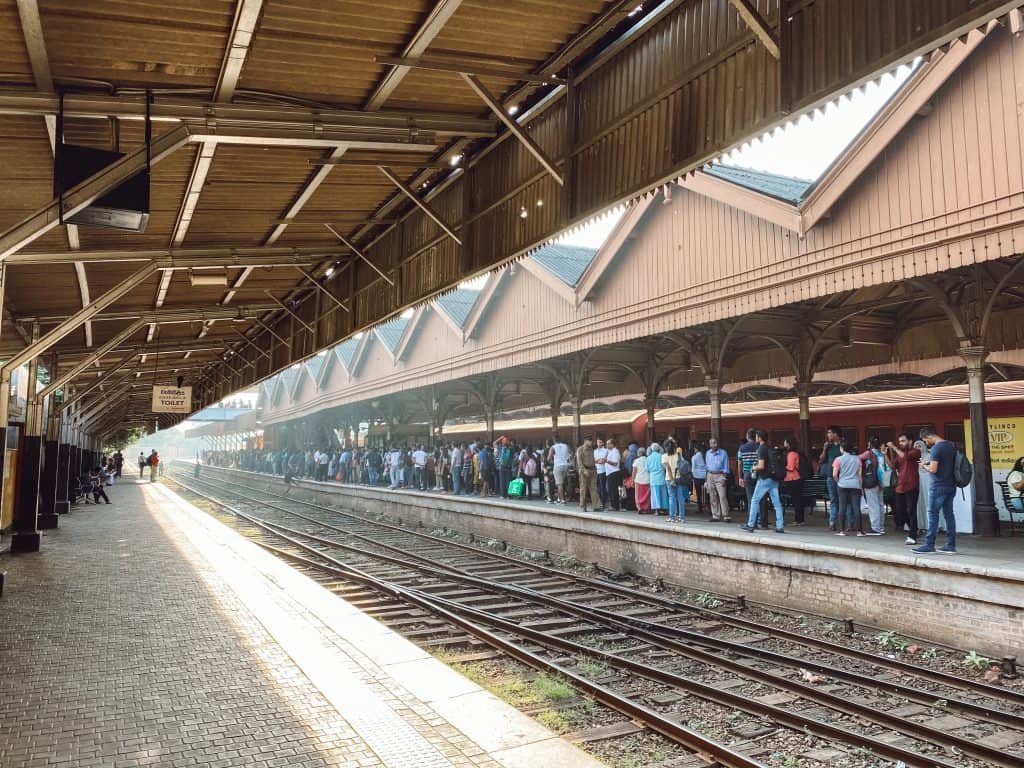 Ella to Colombo timetable
Alternatively, reverse the route we took through Sri Lanka and head from Ella to Colombo. You'll get the same stunning views, so no worries there!
6:40am (Ella) – 3:27pm (Colombo Fort)
8:04am (Ella) – 4:03pm (Colombo Fort)
9:24am (Ella) – 6:57pm (Colombo Fort)
11:57 (Ella) – 9:10pm (Colombo Fort)
6:55pm (Ella) – 5:17am (Colombo Fort)
Sleeper/overnight red train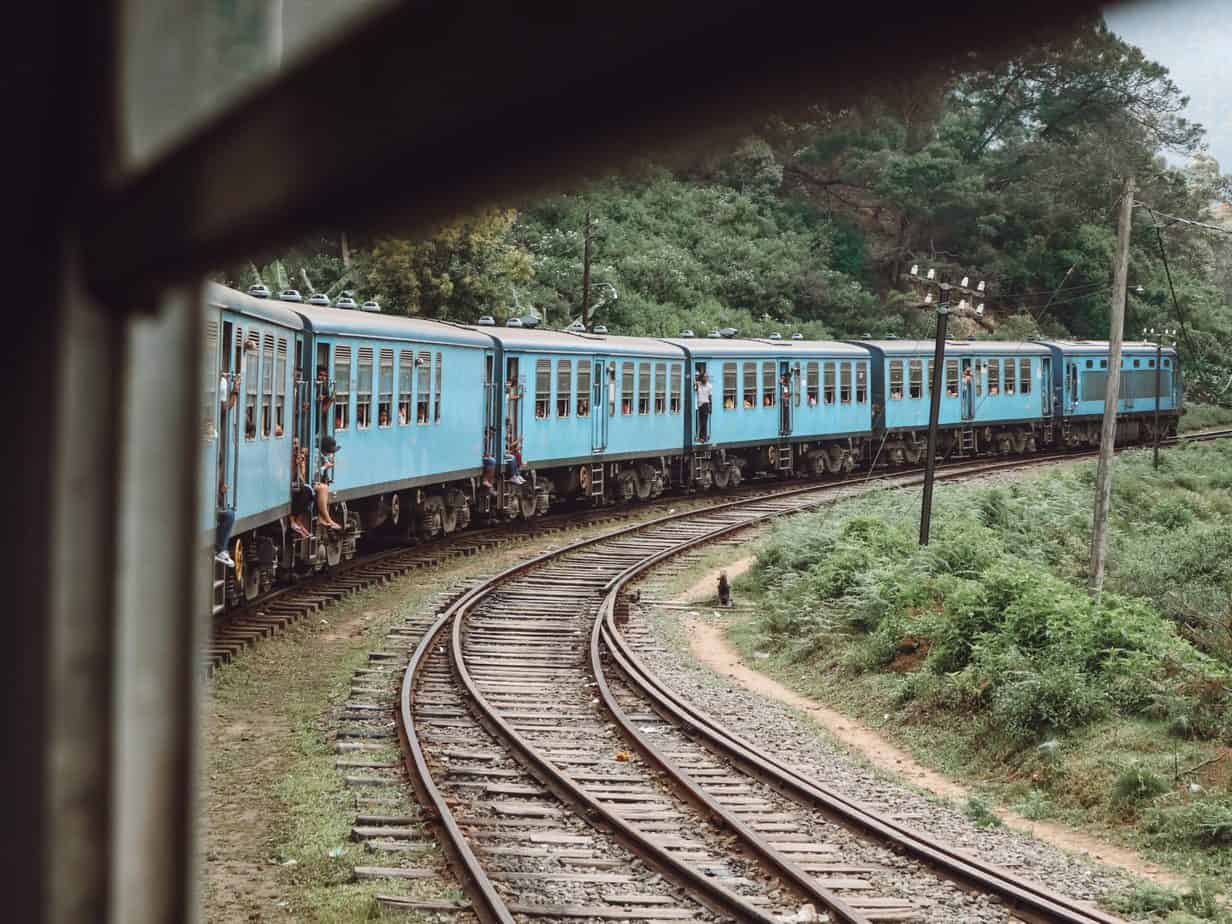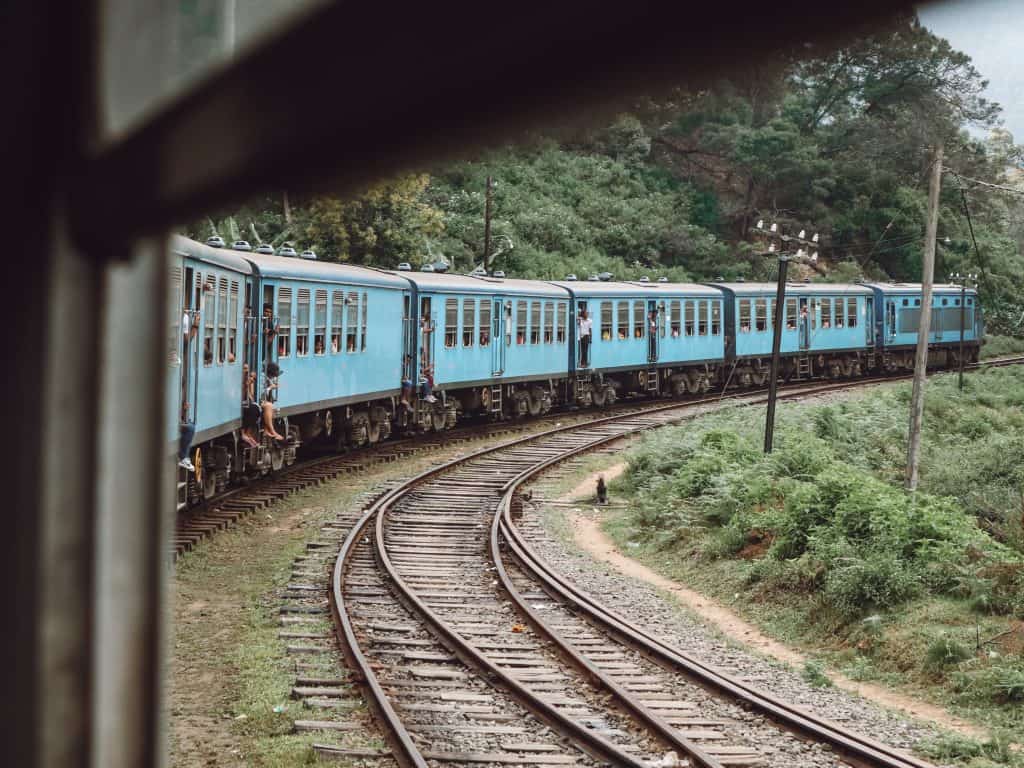 How to buy tickets and ticket prices for the Colombo to Ella train
Ticket prices will depend on the class you choose, whether the seat is reserved or unreserved, as well as how you purchase it.
1st class reserved: $22USD
2nd class reserved: $16USD
2nd class unreserved: 490LKR ($2.70USD)
Bought same day at station
3rd class: 310LKR ($1.70USD)
Bought same day at station
To buy tickets, you can either do so online or at the station. First and second class reserved seats can only be bought online, and I would highly recommend a reserved seat for this long journey, particularly if you have luggage. 
Powered by 12Go Asia system
To buy a reserved seat (recommended)
Book your tickets online, more than 32 days ahead of travel, with 12Go Asia. This is when booking opens and seats sell out fast, hence the importance of 32 days ahead. Tickets must then be collected from their office (Address: Stef Lanka Pvt Ltd, 17, Welikada Plaza, Parliment Road, Sri Lanka), or delivered to your hotel in Colombo for an extra fee of $10USD.
To buy an unreserved seat (not recommended for this long journey)
You must do so at the station ticket office on the same day as your journey. You can't book prior to the day of departure.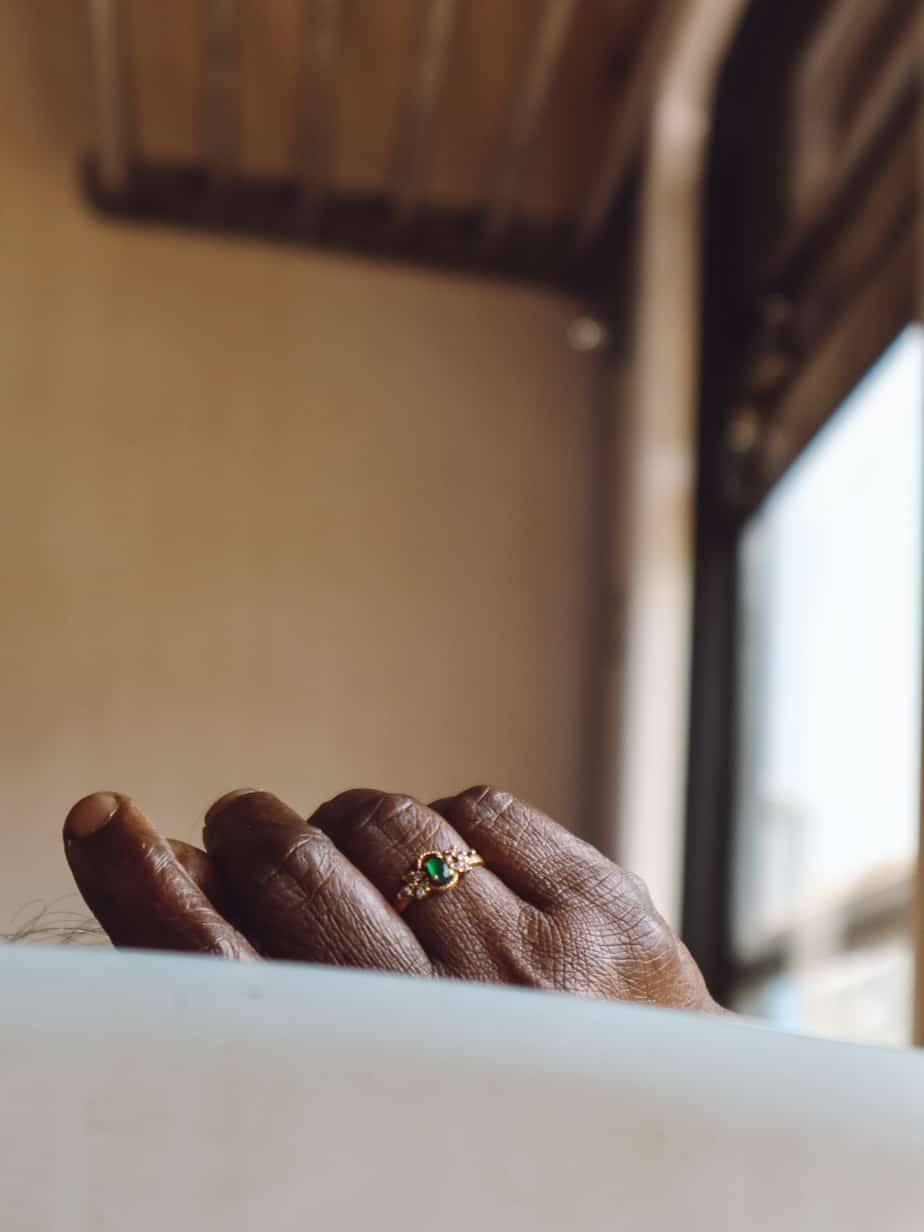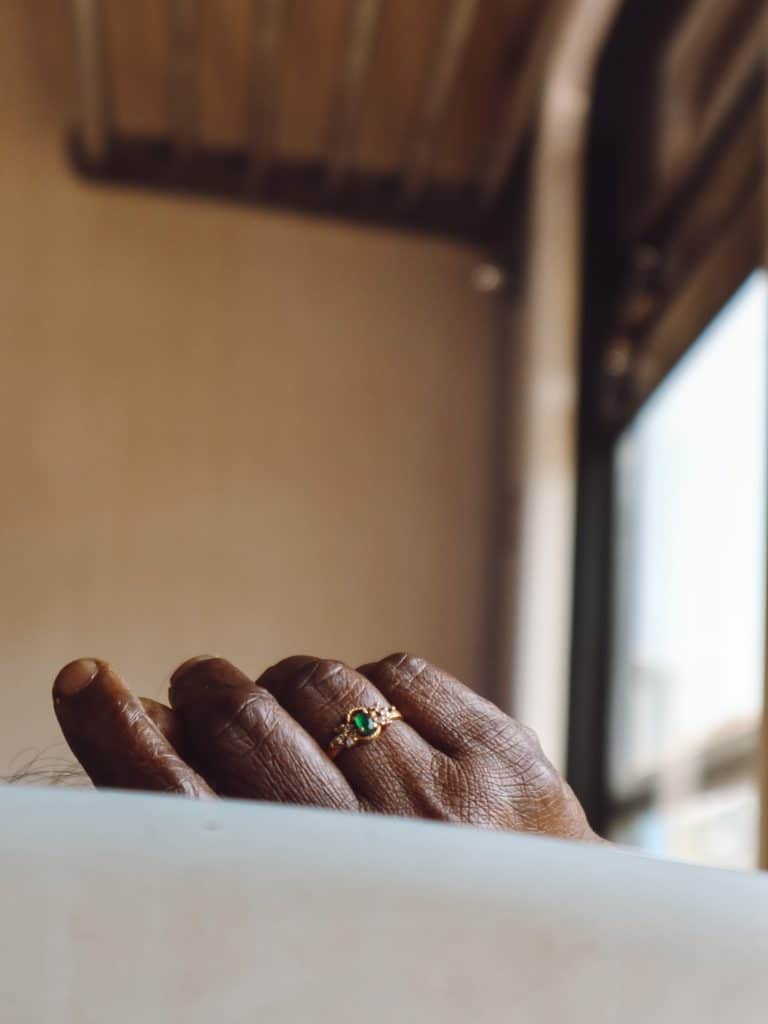 Sri Lankan train classes: Which class to choose
There are multiple class options on Sri Lankan trains, and some seats are reserved while others are unreserved. I know. It's confusing. Let me help!
Which class you choose will have a significant impact on your overall experience so choose wisely. Below, I'll discuss each class individually, and note my recommendation for which class to choose on the Colombo to Ella train route in particular.
First class (reserved)
All first class seats must be booked ahead and you'll be given allocated seats. There is air conditioning, which is a plus, but the downside is none of the windows (or doors) open. So if you were hoping for the experience of leaning out into the open air (to get that photo), that's not an option. You'll also likely be sitting alongside only other foreigners.
Second class (reserved)
Similar to first class in that tickets must be booked ahead and you'll received allocated seating (the guard is a real stickler for this so no worries about losing your seat to anyone). There is no air conditioning but there are fans. Also, the windows and doors open so you can sit in the open doorways in this carriage. Passengers are a mix of local Sri Lankans and foreigners, although much heavier on the camera-toting foreigners once you pass Kandy.
Second class (unreserved)
Tickets are booked same-day at the station and there is no allocated seating, so good luck, especially if you have luggage. It goes without saying you'll spend some of the journey standing, packed like sardines, although there may be hours where you find a seat, too. Many local Sri Lankans use this carriage and there's a great feeling of camaraderie and fun.
Third class (unreserved)
The lowest class, and also the cheapest. Once again tickets are booked same-day at the station and there is no allocated seating, just benches to cram into, if you're lucky that is. Probably the most authentic experience of all the classes but definitely the least comfortable.
*Note: Sometimes third class reserved tickets are offered. Check for these online when you book ahead.
So… which class should you book?
Dan and I did quite a bit of research, and then some humming and hawing, before we decided on second class reserved tickets. In retrospect, there are pros and cons to each class, but for the Colombo to Ella train journey I would highly recommend booking this class. For a nearly 10 hour journey it is a non-negotiable, for me at least, to have a guaranteed place to put my heavy backpack. Of course the experience wasn't quite as authentic-feeling after Kandy, but this was a worthy trade off.
If I was to do a shorter leg of this journey, and didn't have luggage with me, I would definitely opt for second or third class unreserved. I don't think I'd ever choose first class unless my absolute only goal was just to get from one place to another (and if that's the case for you – book a taxi not the train!).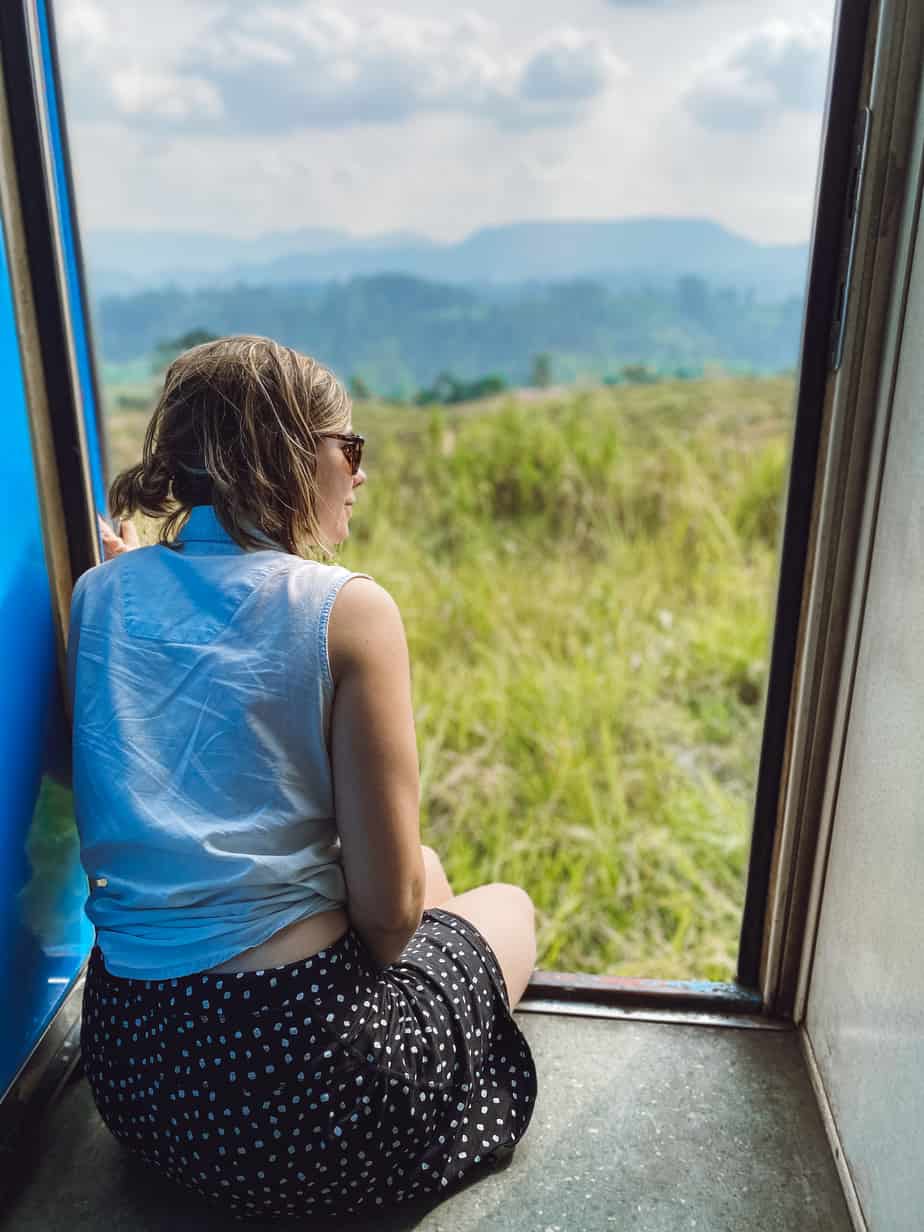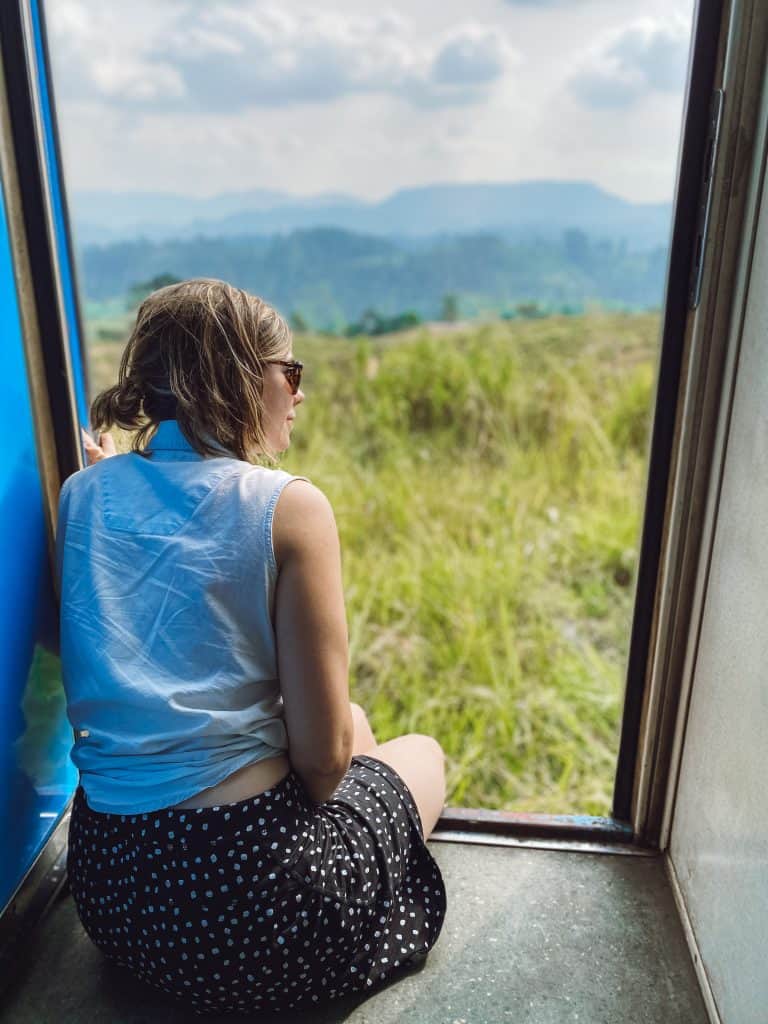 Important tips to know for the Colombo to Ella train
After 10 hours clattering through the Sri Lankan countryside on one of the most stunning journeys of my life, I've come away with a few pointers. Here are a few things I think you should know to make your journey more comfortable.
Blue trains | Tips to know
In 2012 China gave Sri Lanka a collection of bright blue trains. They are nicely appointed inside, and more importantly (for those like me at least, ha!), more photogenic if you want to snap a shot of the train curving through the lush green countryside. The train color may or may not matter to you, but if it does, I've noted above in the timetable section which departure times have blue trains and which are red.
Bring water and food | Tips to know
There is no designated 'café carriage' so definitely plan ahead and bring all your water and food for the 10 hour journey on board with you. I recommend at least 4.5 liters (3 big bottles) of water per person, which can be bought outside Colombo Fort station for 80LKR/bottle. I know this sounds like a lot but this is how much we brought, and we drank all our water before we arrived to Ella! With the humidity, dust, and open windows you'll get thirsty. Also bring plenty of snacks so you don't get hangry.
Drink the tea with caution | Tips to know
Although there's no café car, people do come down the aisles selling snacks and tea, on occasion. Don't rely on this as it's completely unpredictable and may not even happen (they're not rail employees, just savvy entrepreneurs). Buy the food and drink at your own discretion, but I personally did not buy the tea because Dan knew a few friends to get sick from tea on trains in Sri Lanka and India – there's no saying how long the milk's been out or the water quality used to make the tea. Although neither of us drank the tea, Dan did buy a veg samosa and loved it – to no ill effect!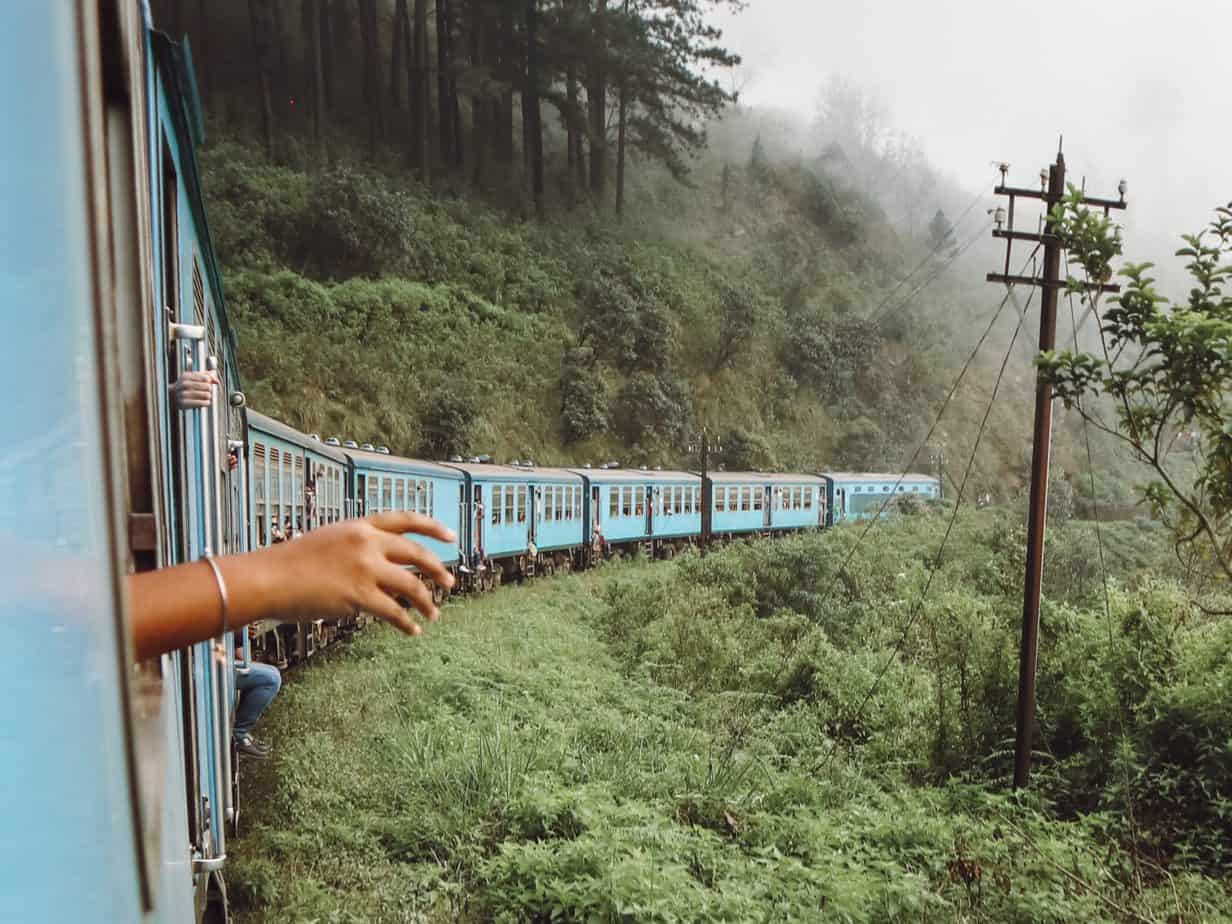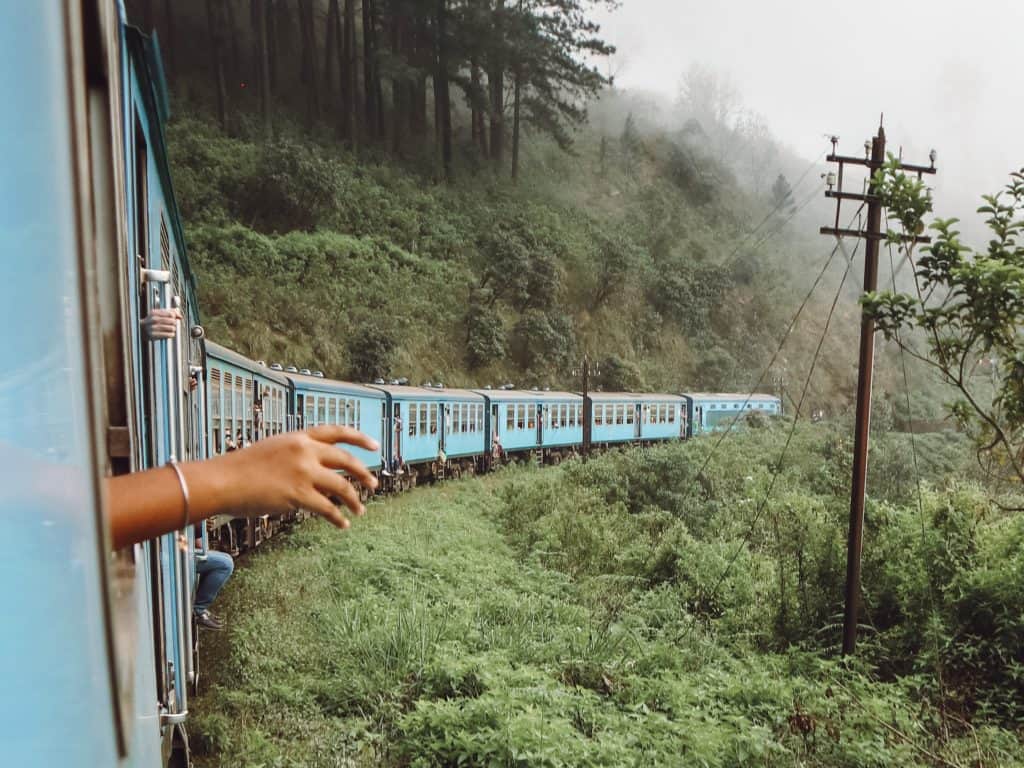 Chat to locals, especially Colombo to Kandy | Tips to know
Instagram photos and adrenaline rushes are cool, but our favorite part of the Colombo to Ella train was actually getting to know a local Sri Lankan family sitting in front of us. They had two young kids and what started out as making silly faces at baby Juulish turned into an absolutely lovely chat with the family, who was headed to Kandy for a wedding (we'd just come from a Hindu wedding so bonded over that!). The Colombo to Kandy portion of this journey may not have views that are quite as epic, but they do offer a less-touristy experience where you'll actually get to chill out and maybe meet some new friends.
Toilets | Tips to know
I know you were biting your nails about it to this point… YES there are toilets on board the Colombo to Ella train! First and second class reserved have two toilets: One squat toilet and one 'western' toilet. Neither provide toilet paper so bring your own on board for sure. Second and third class unreserved only have squat toilets. Keep in mind all toilets are not particularly 'high tech' and go… straight through to the track. It's an unspoken etiquette but try to avoid going when the train is parked at a station, as this will stink up that station's track.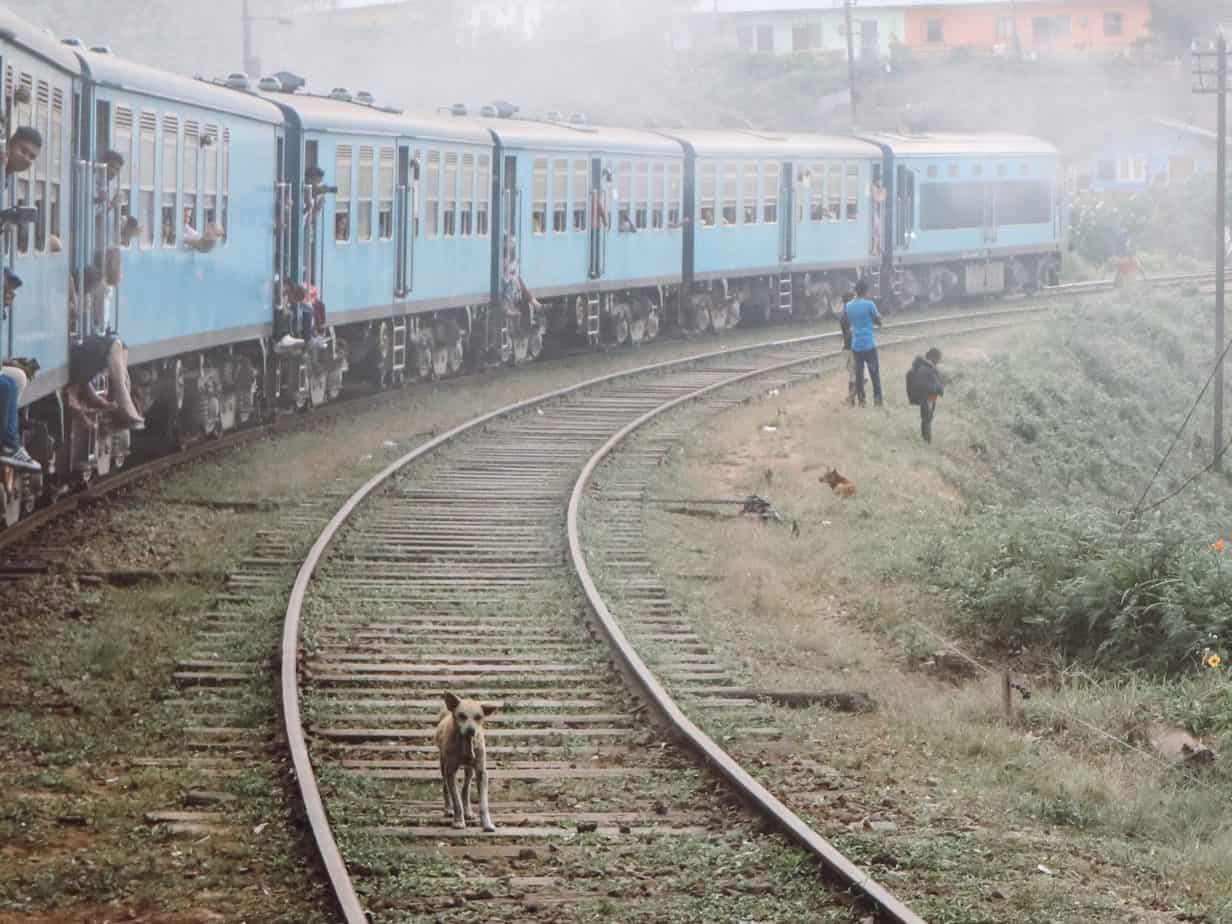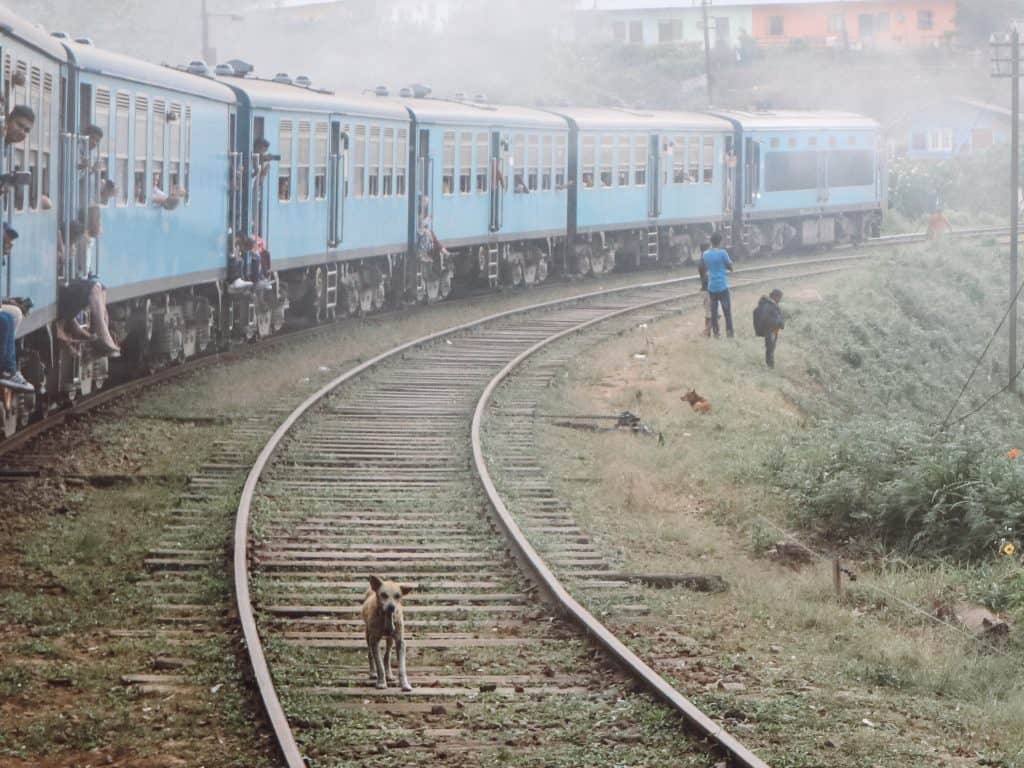 What side to sit for the best view | Tips to know
For the best and most epic views, make sure you are sitting on the left hand side of the train leaving Colombo Fort. Keep in mind if you have reserved seats, you might not have an option, and this doesn't mean you'll have bad views, by any means. PLEASE NOTE: I read reviews saying that the best view was found sitting on the right hand side leaving Kandy… but when the train arrives into Kandy, it actually turns directly around and heads back the way it came (to start with)! So the right hand side leaving Kandy is the SAME as the left hand side leaving Colombo. Make sense?
Don't hog the doorways | Tips to know
Yes, everyone wants that must-have Sri Lankan experience of sitting in the open doorways, feeling the air rush by you and the unique sense of exhilaration. Oh, and the photo to go with it too, of course! Please be respectful and keep in mind that others (locals and tourists alike) will want to sit or stand in the doorway, so please, please, please do NOT camp out here for the entire journey and hog the space. One group of British travelers (to Dan's patriotic dismay) did this on our train car to the grief of everyone else in the carriage. Don't be that person.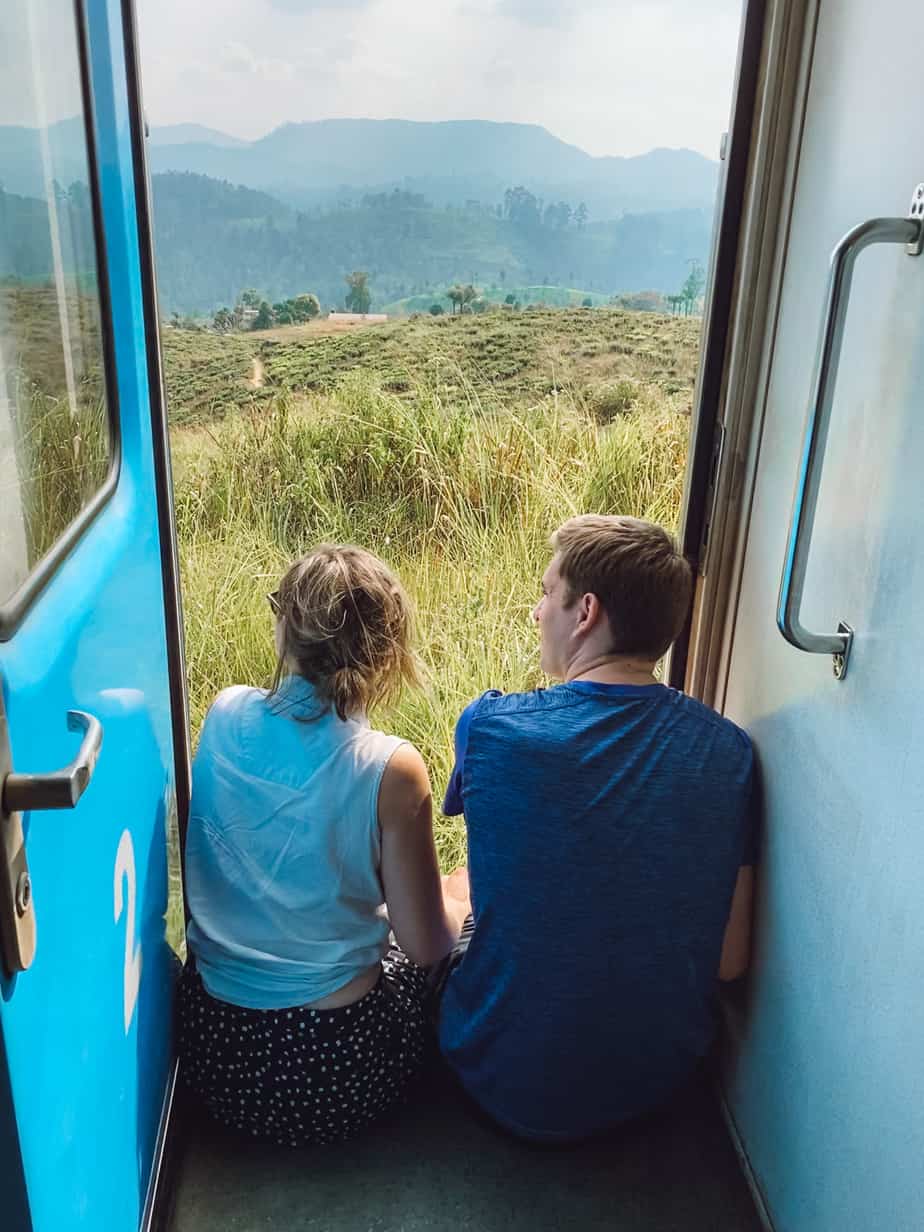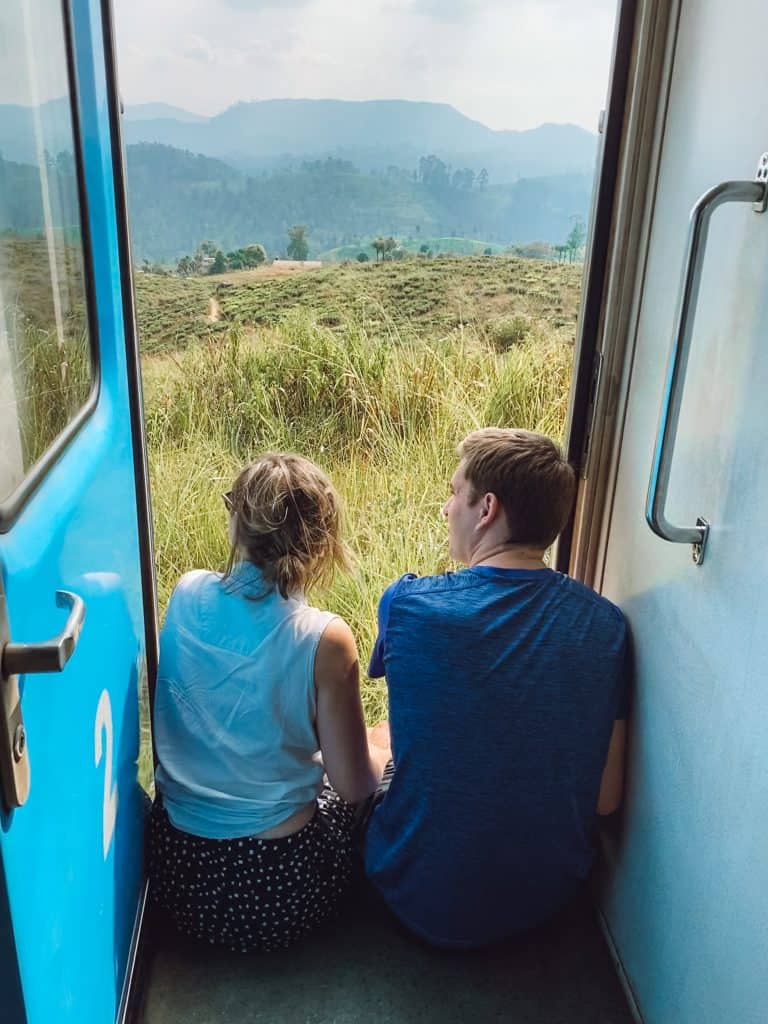 A mini packing list for the Colombo to Ella train
I'm working on a full packing list for Sri Lanka. However there are some specific things you should keep in your 'carry on' bag in your seat for this train journey. These include:
Travel wifi | We used Tep Travel Wifi in Sri Lanka and couldn't have survived without it. Read my full review here.
Water |As mentioned plan to pack 4.5liters (3 big bottles) of water per person.
Snacks | Bring more than you think as nobody wants to be hangry for this journey.
Hand sanitizer| A necessity in Sri Lanka ESPECIALLY on the trains. Bring a big bottle, plus smaller clip on ones.
Toilet paper| You NEED this on the train. I recommend packing it in a small bag to keep it from getting gross in your carry on bag.
Camera| I use the Canon EOS M6 which is mirrorless, lightweight and perfect for travel. I've found my iPhone 11 also takes great photos and is even more portable.
Playing cards| It's a long journey and playing cards help pass the time.
Powerbank| I use this one which is portable and holds lots of charge. Dan uses this one which is the ultimate powerbank out there. You don't want to arrive in Ella with dead electronics.
Rupees| You'll need to pay in Sri Lankan rupee if you want to buy any food or drink on board.
Sweater or scarf | It gets surprisingly chilly as the train gains altitude.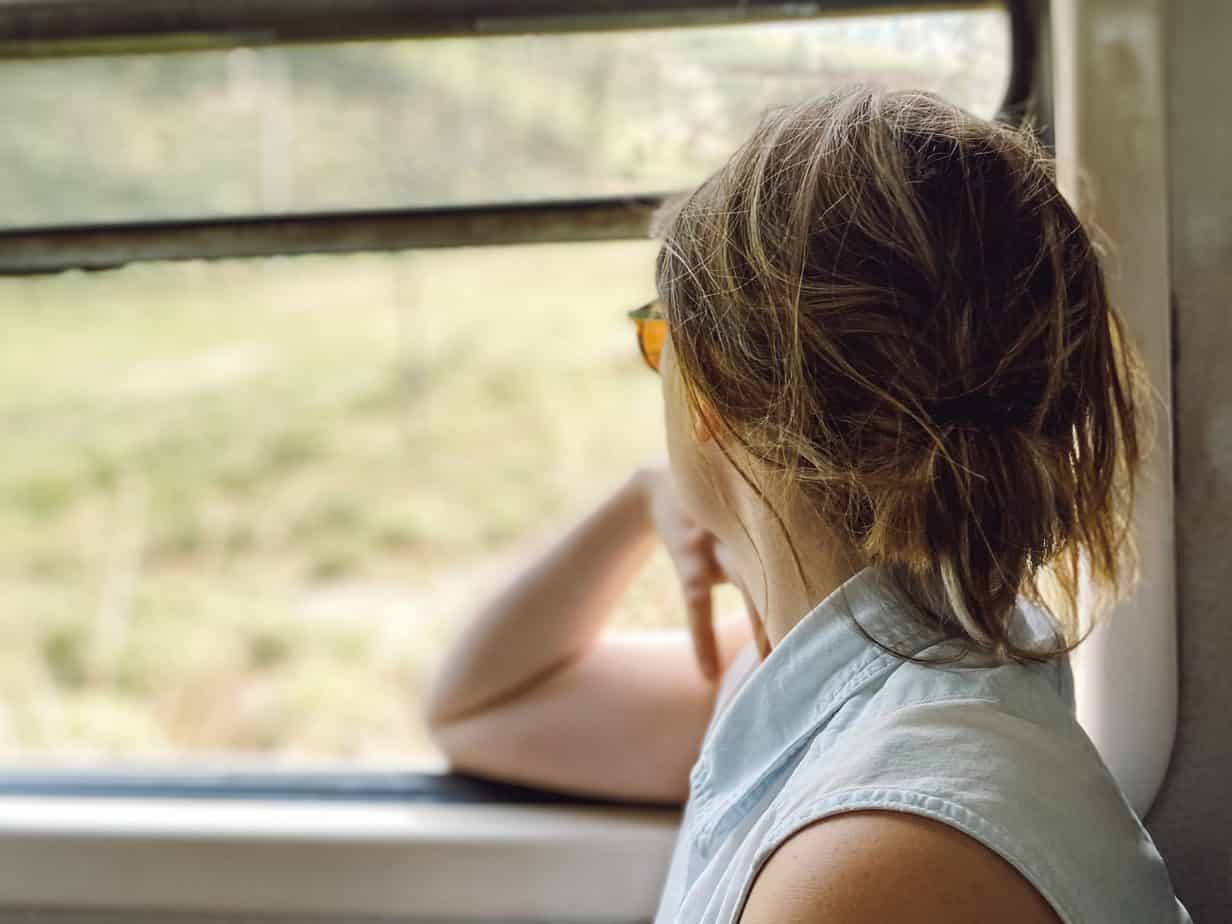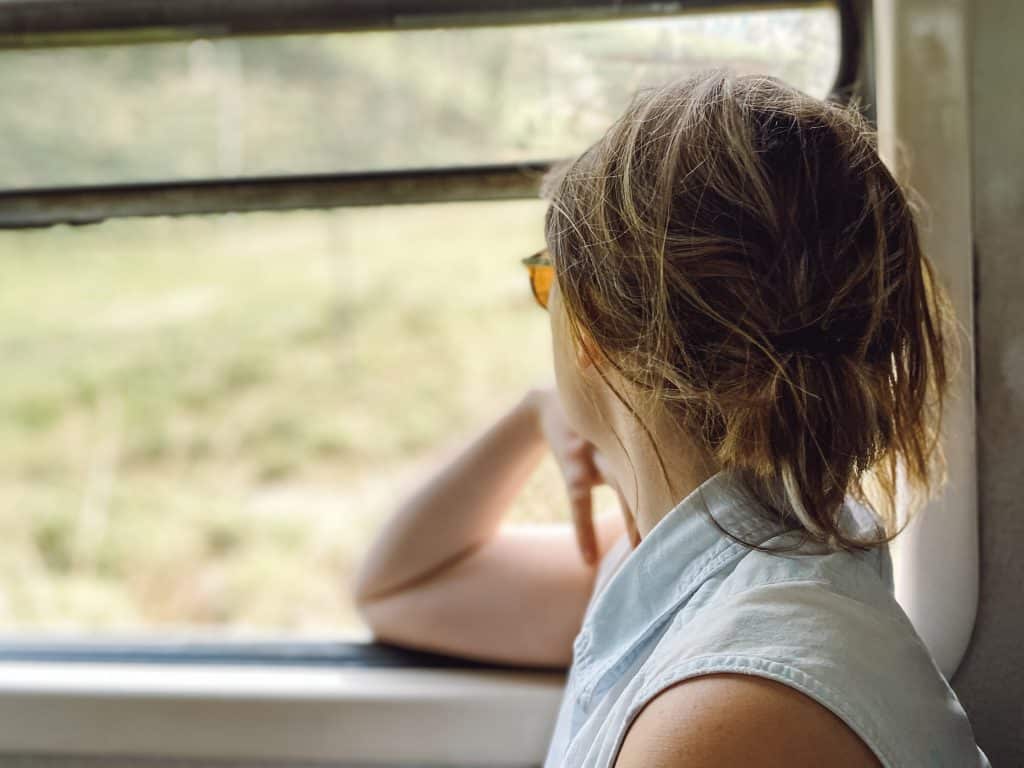 Where to stay in Colombo near Fort Station
I highly recommend booking a hotel walking distance from Colombo Fort Station. You don't want to rely on tuktuks or Colombo traffic when you have an early departure time (which you will, if you're heading all the way to Ella).
City Beds the Regent ($) – This is where we stayed a 10 minute walk to the station. It looks a bit rogue from the outside but the room was soooo nice with great air conditioning, extremely friendly staff, and a kitchen set up. Plus it's ultra cheap.
The Hilton ($$$) – If you're looking for luxury close to Colombo Fort. We ate dinner here at the Curry Leaf and highly recommend it for the ultimate Sri Lankan buffet, whether or not you choose to stay here. And if you have the budget to stay here, I say go for it.
Where to stay in Ella
Ella is obviously much, much smaller than Colombo and easily walkable. Check out my guide to 16 things to do in Ella, from world class hikes to the best food we ate in Sri Lanka.
If you're looking for a place to stay in Ella, read my full review of Country Homes, a homestay overlooking Ella Gap owned by the kindest family.
Here are a few other options for where to stay in Ella:
Hangover Hostel ($) – Literally right next to Ella train station so just walk on over to one of Ella's best rated hostels!
Ella River Front ($$) – Another homestay just outside Ella town, but only 15 minutes walk from Ella rail station. Stay in your own cabin with a panoramic view of Ella Gap and enjoy amazing breakfasts overlooking the valley. We stayed here and loved it!
New Cabin Ella ($$$) – Catch a tuktuk from the Ella rail station to this brand new cabin built by the owners of Asanka Café, right over Nine Arches Bridge.
98 Acres Resort and Spa ($$$) – You'll need to catch a tuktuk from the station to Ella's premier luxury accommodation.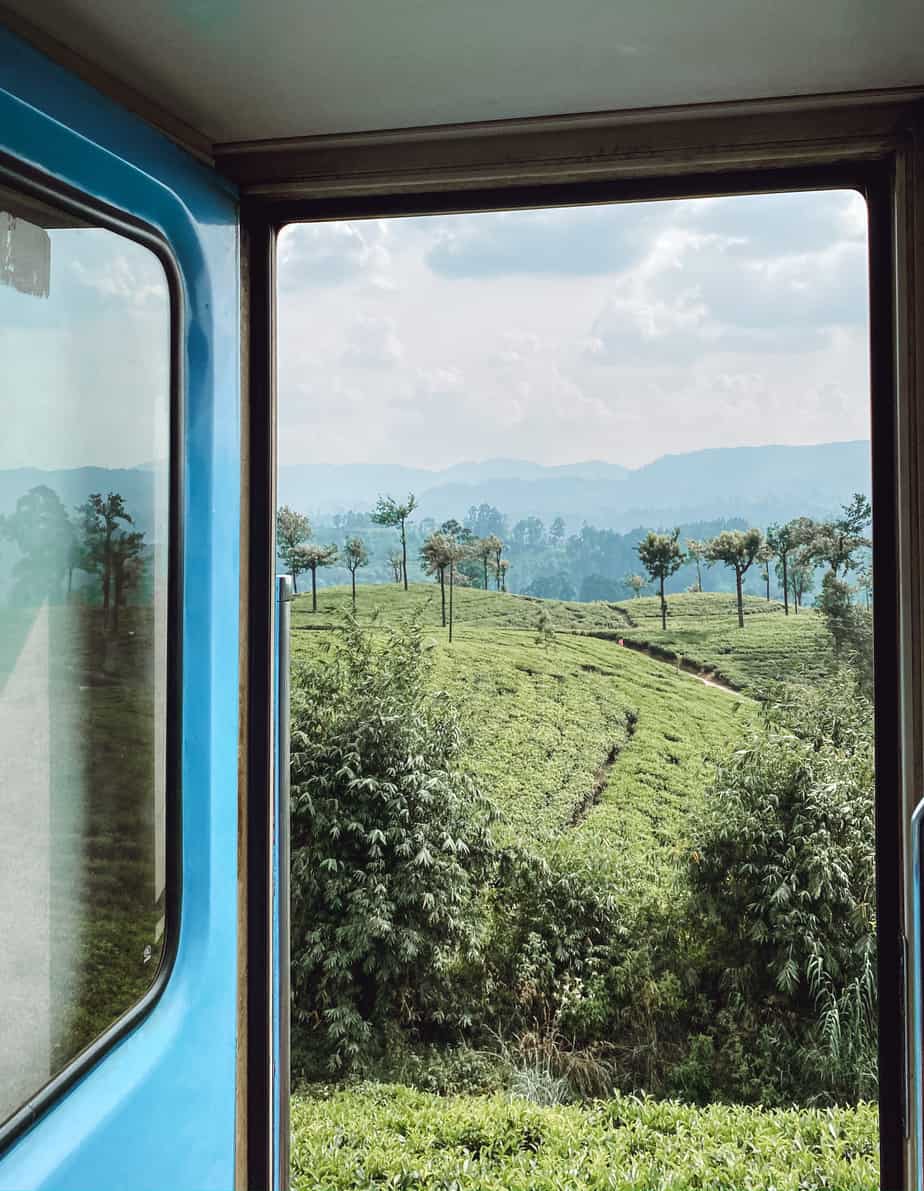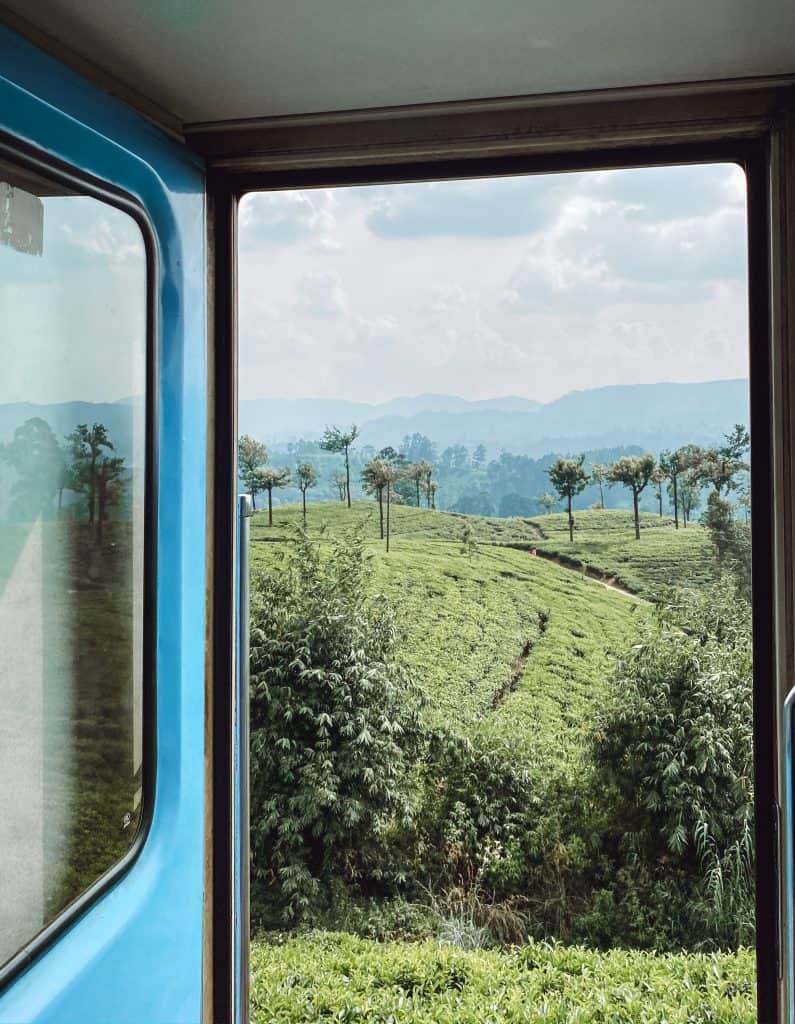 I really hope you get the chance to ride the trains in Sri Lanka – whether it's the iconic Colombo or Kandy to Ella route, or elsewhere in the country. If you're heading to Sri Lanka, you can read all my other Sri Lanka travel guides here.
And remember if you plan to travel by train – which, obviously, you should! – you need to book your tickets online here 32 days ahead of travel for reserved seats. 
Sarah xx
Pin it for later…
*This post contains affiliate links. If you click a link and make a purchase, I may make a small commission, at no extra cost to you. Thank you for supporting Endless Distances!