16 Things to do in Ella Sri Lanka
There are so many exciting things to do in Ella Sri Lanka, and today I'm sharing 16 of my favorites with you.
I fell in love with Ella, Sri Lanka before I ever arrived. I spent years dreaming of all the things to do in Ella: from trekking its hillsides ringed in lush green tea plantations, to eating crispy egg hoppers on a balcony hugged in jungle, to witnessing the iconic grey arches of the Nine Arches Bridge. But did Sri Lanka's hillside backpacking haven live up to my expectations?
Oh, yes.
I fell in love with Ella ten times over.
Dan and I were glad to disembark in hazy Ella after a dusty, clattering 10-hour train journey from Colombo. We'd spent the last week in humid city smog, so the fresh mountain air felt like magic. Over the next days, we explored all the things to do in Ella that I'd spent years dreaming of, and along the way we discovered a few surprises. From sweaty hikes to misty vistas, to sweet and lazy afternoons spent sipping banana lassis, Ella easily took our hearts.
Here are 16 of the best things to do in Ella, Sri Lanka. Use this as your guide, although I would advise you to also leave time for exploration.
PLAN | Visit my full Sri Lanka page for more travel planning tips!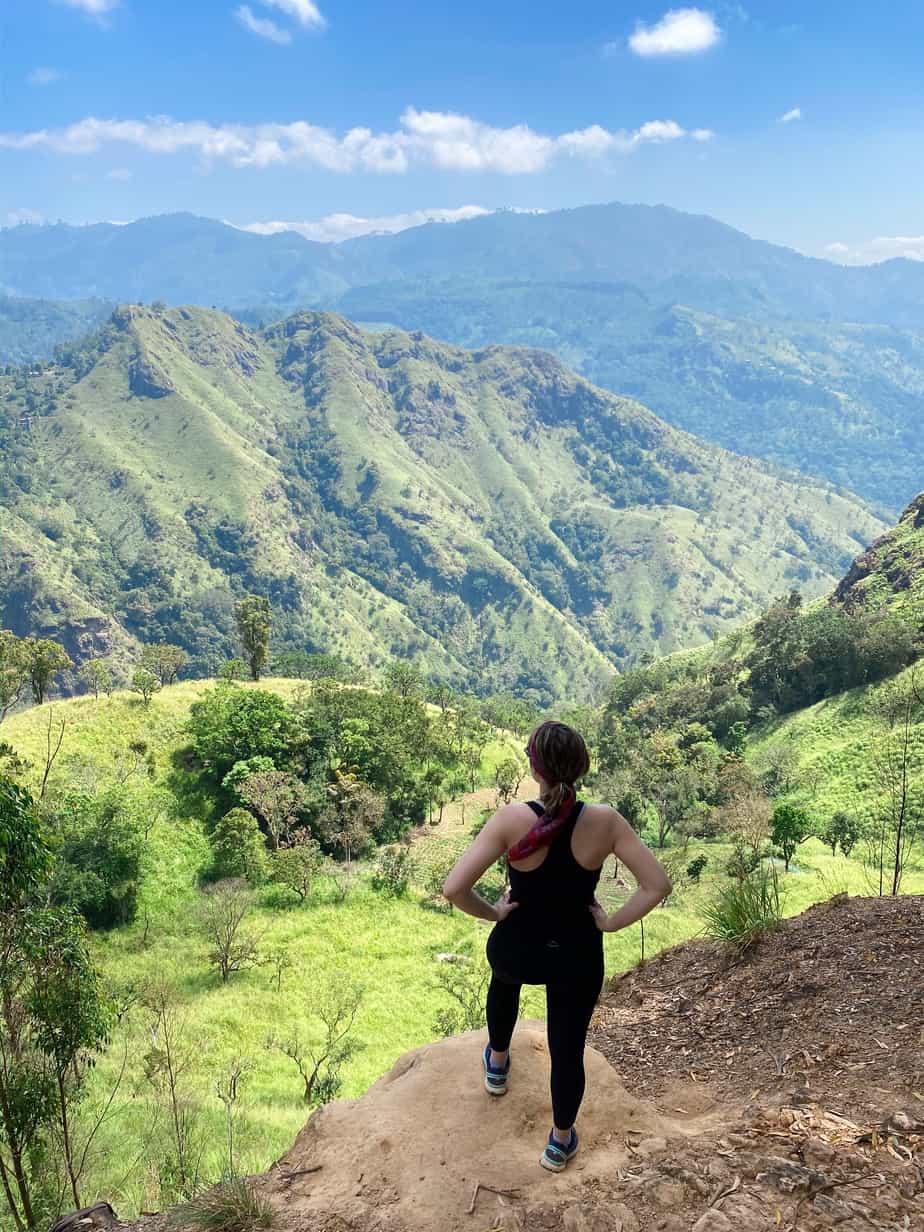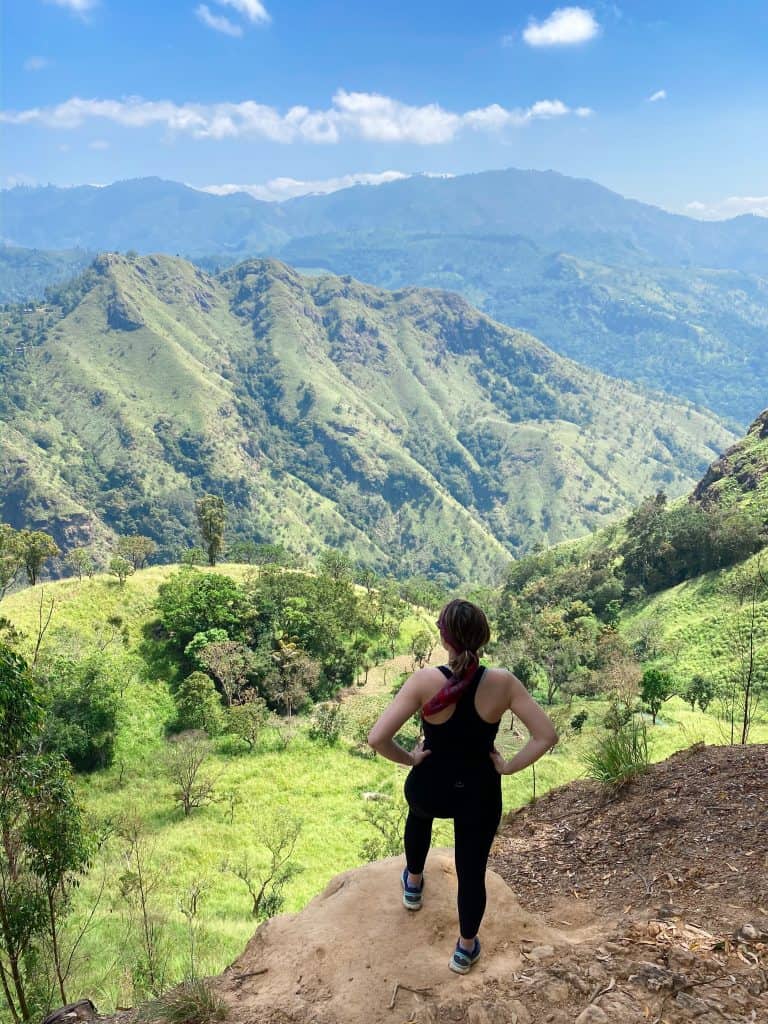 16 things to do in Ella Sri Lanka
1. Hike Little Adam's Peak
Little Adam's Peak (also referred to as Mini Adam's Peak) is the one of the best and easiest hikes in Ella. The trail is extremely well marked, and takes about 30-40 minutes on the way up, and 15-20 minutes on the way down. In total I would budget a couple hours for the experience, though, as you'll want to take plenty of photos at the top.
Dan and I hiked Little Adam's Peak at sunset, and it was the perfect decision. The peak's view faces west toward Ella Gap. This makes it an ideal sunset experience as you watch the sun dip slowly behind Ella Rock in waves of purple and pink.
Insider tip: there are two more peaks just after Little Adam's Peak, which offer a slightly less busy place to perch and watch the sunset.
How to get there: The route is very well sign posted. To reach the trailhead, walk down the Ella-Passara road from central Ella (heading East). Continue following the road past Art Café Umbrella (a great spot for coffee!), until you get to Flower Garden Resort. From here, follow the signs for Little Adam's Peak.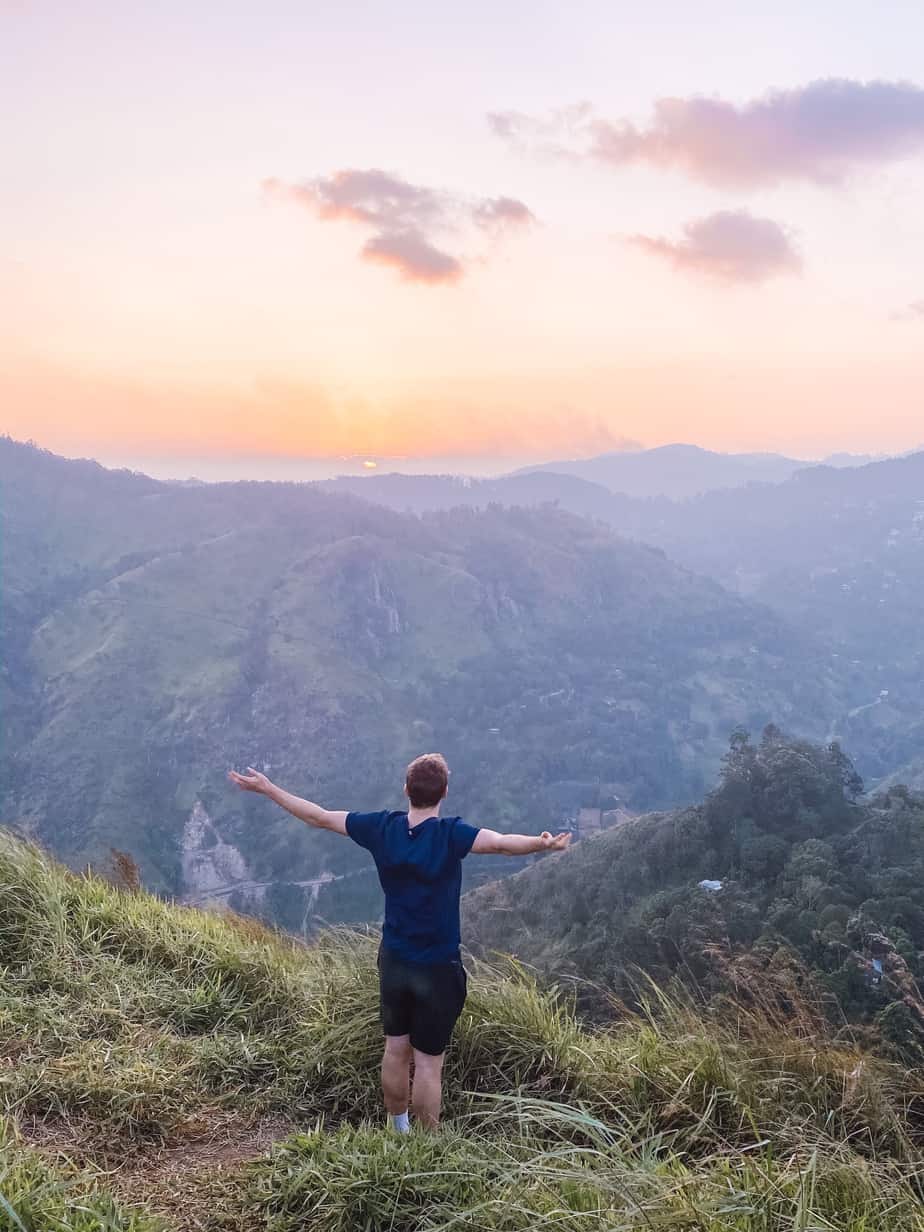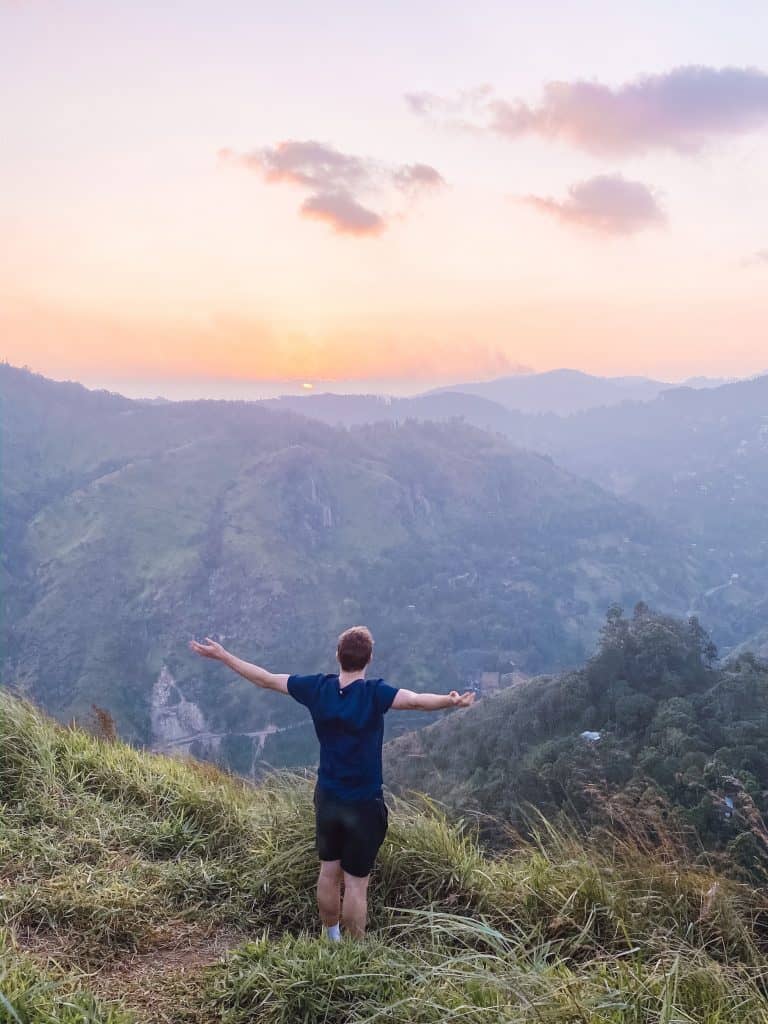 Dan and the epic sunset view from Little Adam's Peak.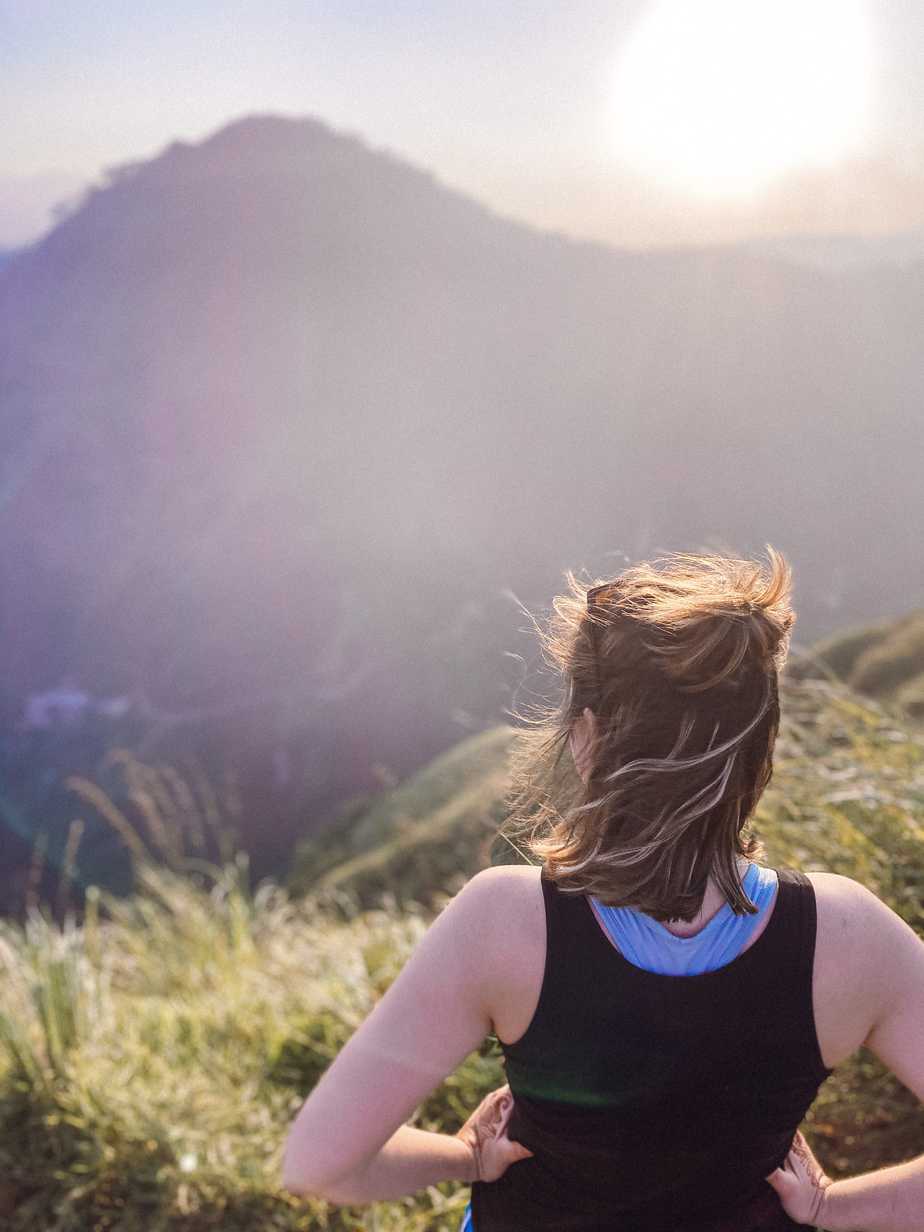 I would highly recommend hiking Little Adam's Peak at sunset!
2. Zip Line Across Ella Gap
If I could, I would zip line my way around the world. I fell in love with zip lining in Slovenia, and the adrenaline and freedom of flying through the air is unparalleled! For fellow zip line lovers, you'll be happy to know Flying Ravana now offers zip lining in Ella. Flying Ravana is located on the way to Little Adam's Peak. It is Sri Lanka's first zip lining experience, and is super safe as it is accredited by the European Rope Course Association's stringent safety standards.
The zip line zooms across Ella Gap for nearly a kilometer, and reaches speeds of 80 km/h. Adult tickets are $18USD (with a 10% online discount) and should be booked at least one day in advance. Flying Ravana is open until 5pm but the last zip lining group departs at 4pm, so you should plan accordingly. For the adventure lovers, Flying Ravana also offers archery, mountain biking, ATVing, air rifling, and abseiling.
FLYING RAVANA | 98 Adventures (Pvt) Ltd, Little Adams Peak Uva Greenland Estate, Ella – Passara Rd, Ella 90090, Sri Lanka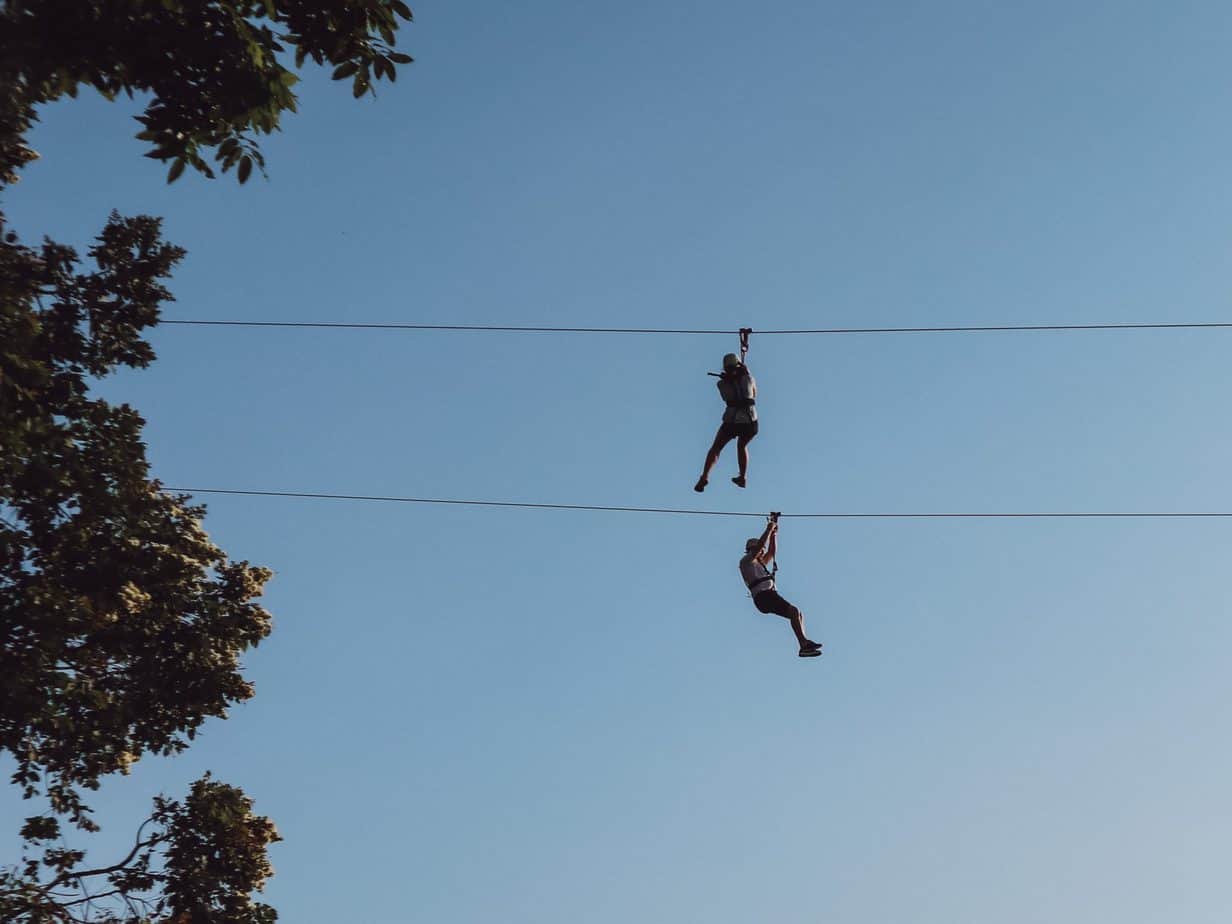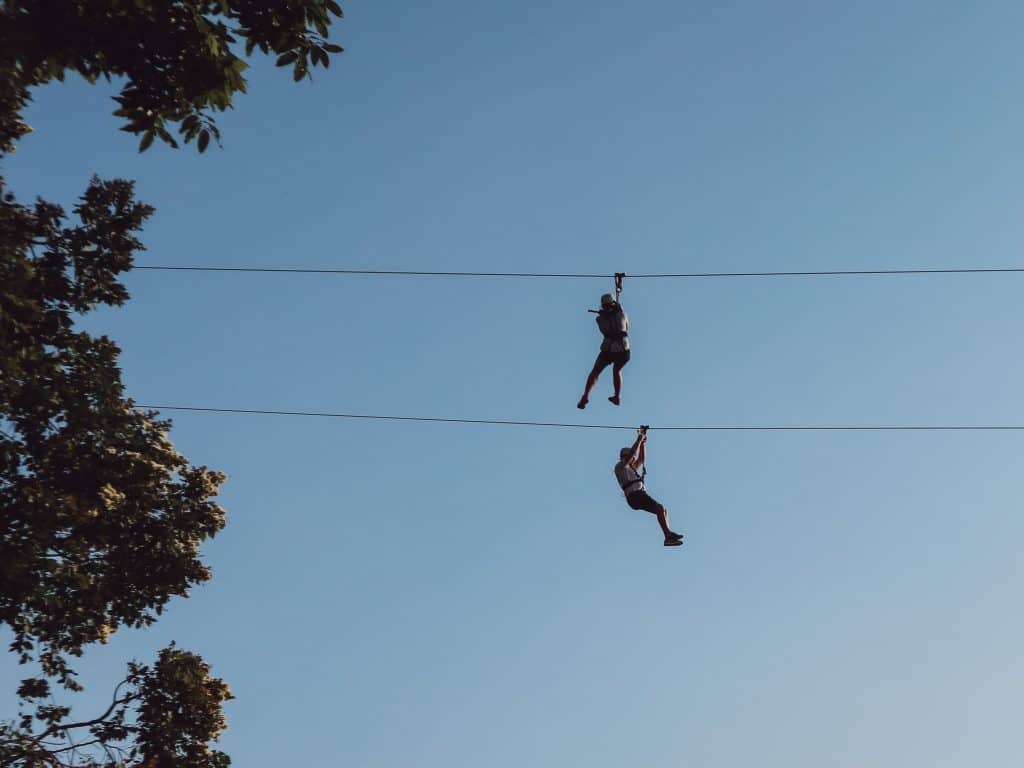 Zipliners flying over Ella Gap from Flying Ravana!
3. Stay in a Homestay
I highly recommend staying in a homestay in Ella, even more so than other towns in Sri Lanka. Why? This town is undeniably taken over by travelers – not unbearably so, as long as you adjust your expectations. Luckily, the true magic of Ella can easily be found a 10-15 minute walk from the center, and even more so if you wrap yourself in the more authentic atmosphere of a Sri Lankan homestay.
If you're looking for a homestay in Ella, I personally recommend:
These homestays are built on the steep hillside below Ella town, floating above the jungle and looking out to Ella Gap. You'll fall asleep to the sound of singing frogs, and wake up to a pink sunrise over the Gap. Our favorite lazy moments were leaning on the balcony, watching monkeys fling themselves from palm tree to palm tree.
Both of these homestays feature expansive windows and balconies, as well as daily homemade breakfasts (in your room at Country Homes, and on the balcony at Ella River Front). Plus the most friendly, welcoming people!
RELATED | Country Homes Ella Homestay Review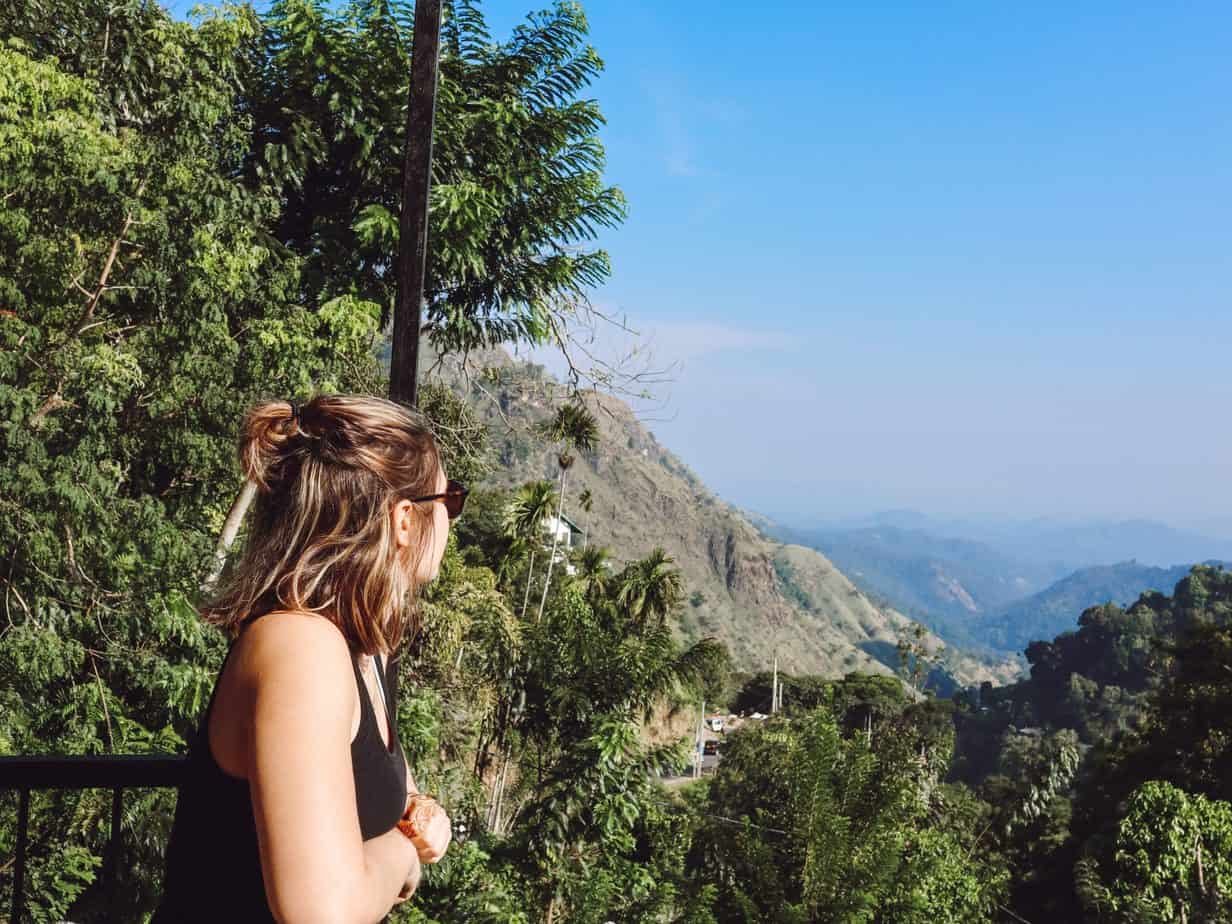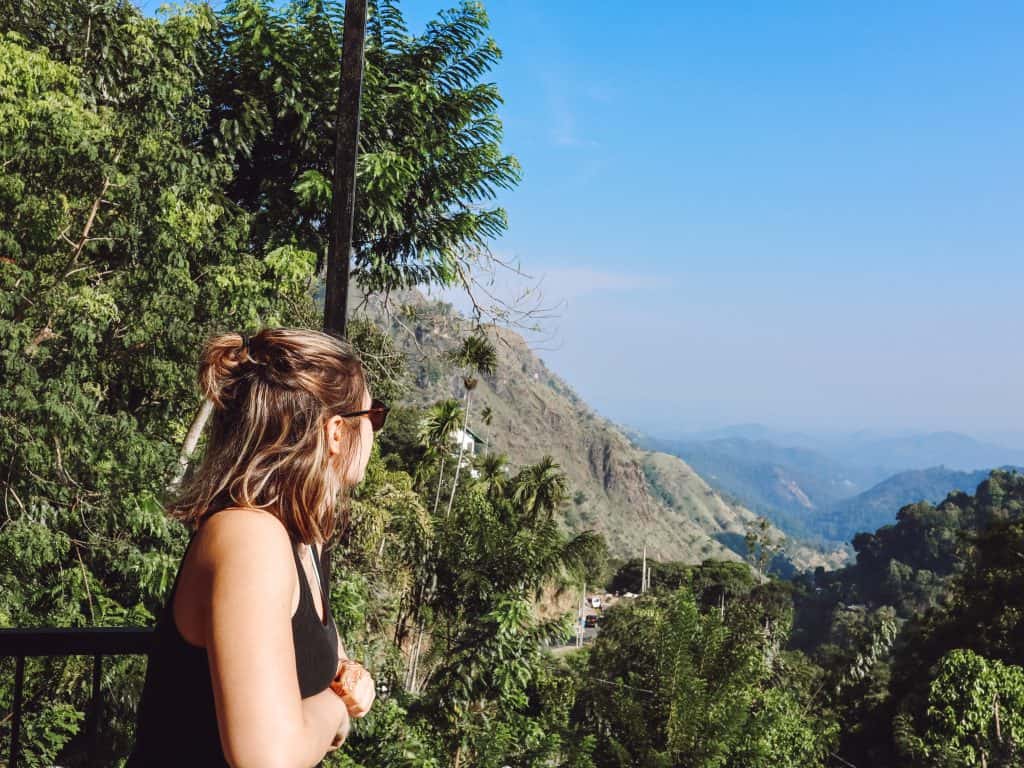 4. Explore Nine Arches Bridge
Just outside of Ella Town stands the Nine Arches Bridge. This functioning railroad bridge takes rickety blue and red Sri Lankan trains across a valley of tea plantations multiple times daily. It's more than a bridge, though – Nine Arches Bridge has become an Instagram sensation in recent years, drawing tourists and 'grammers in droves.
I worried that Nine Arches Bridge would feel like a 'canned' experience – that I would be battling fellow travelers in flowy dresses and end up whapped in the face with a few selfie sticks. And while the bridge is definitely crawling with tourists after about 9:30am, it wasn't nearly as bad as I expected. So even if you're wary of Instagram crowds or over touristed sites, this iconic bridge is well worth the trip.
To avoid the crowds, trek to the bridge for sunrise. Alternatively, sleep in a bit (like we did), but try to arrive by 7:45-8am. One of the first trains crosses the bridge at 9:20am so plan to stay 'til then –and then book it out of there as it only gets busier.
Trains cross the bridge at 6:35am, 9:20am, 11:55am, 12:45pm, 1:20pm, 2:40pm, 3:10pm, 5:20pm, 6:50pm.
Keep in mind that the trains in Sri Lanka are notoriously unreliable and delayed. I would budget a few hours to explore the area, in hopes that you overlap with one of those trains. You can also ask the wonderfully bubbly staff at Asanka Café who usually have the inside scoop on train times.
How to get there: A 200-300LKR tuktuk from central Ella, or walk along the Ella-Passara road, turn left on Nine Arch Bridge Road, and follow the signs. Google Maps also works! The walk takes about 30 minutes.
STAY | Want to wake up to a view of Nine Arches Bridge? New Cabin Ella is a new accommodation opened by Asanka Cafe directly over the bridge.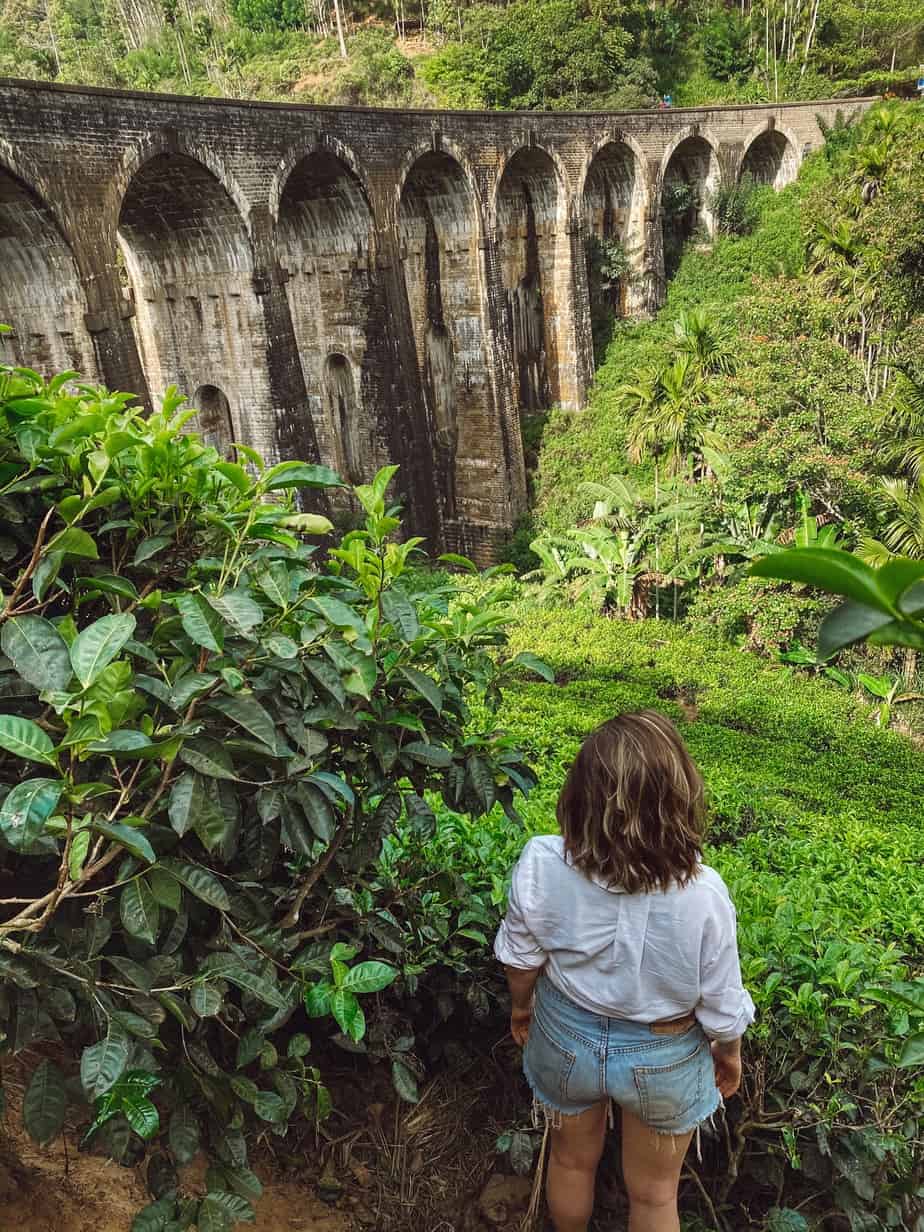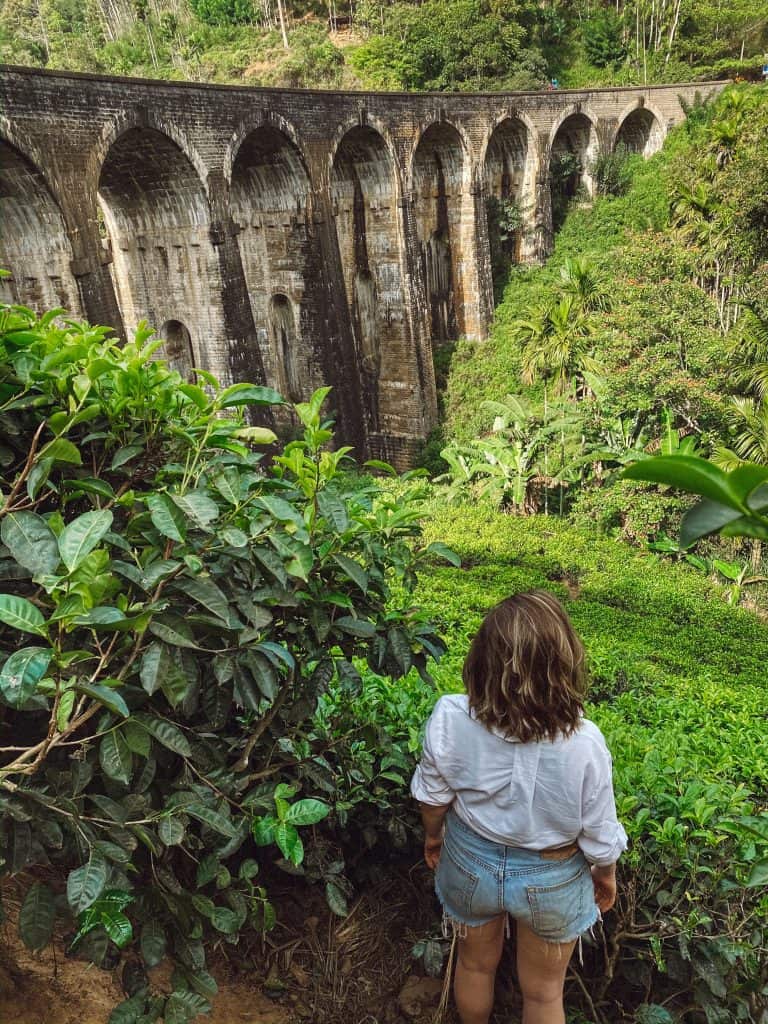 Nine Arch Bridge is surrounded by a valley of tea plantations. I'd never seen anything like it and this was definitely my favorite view!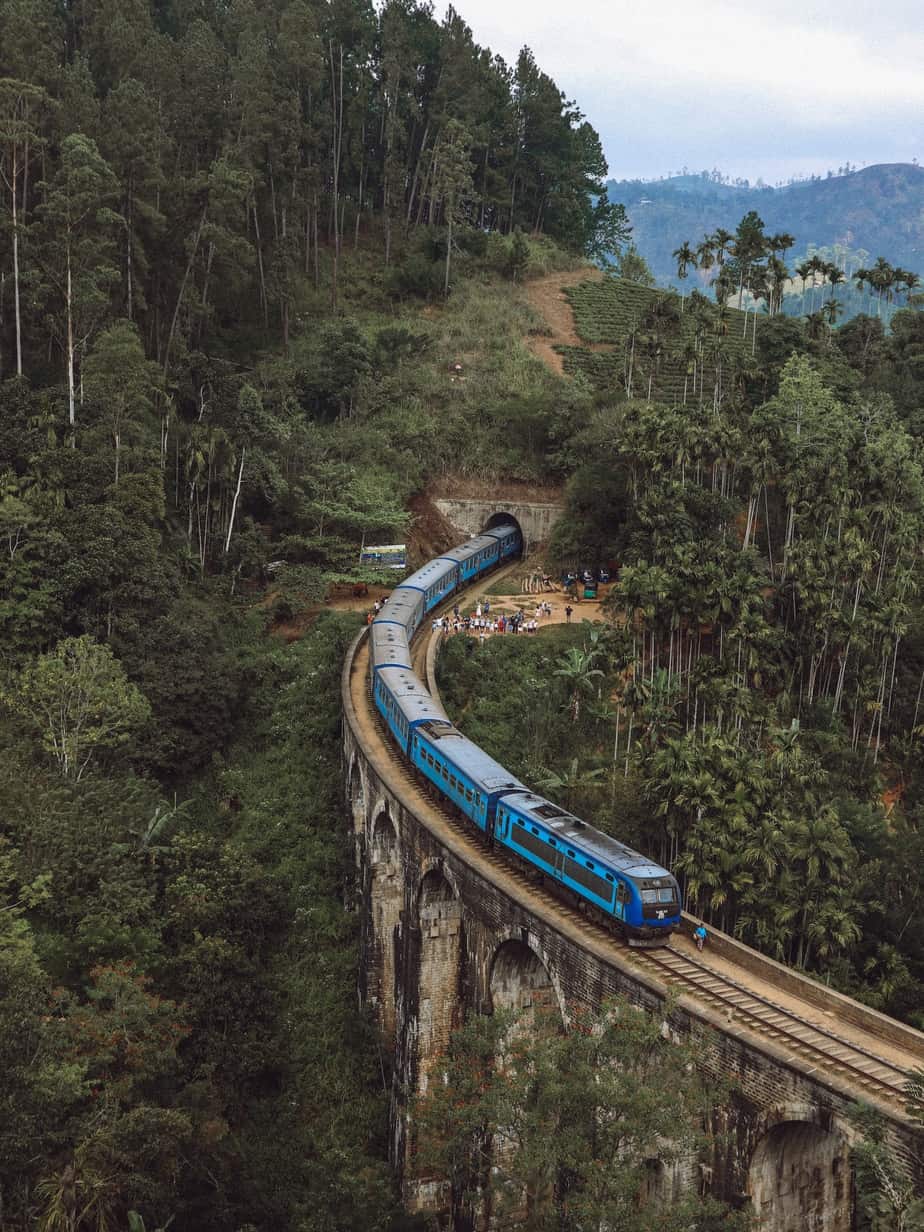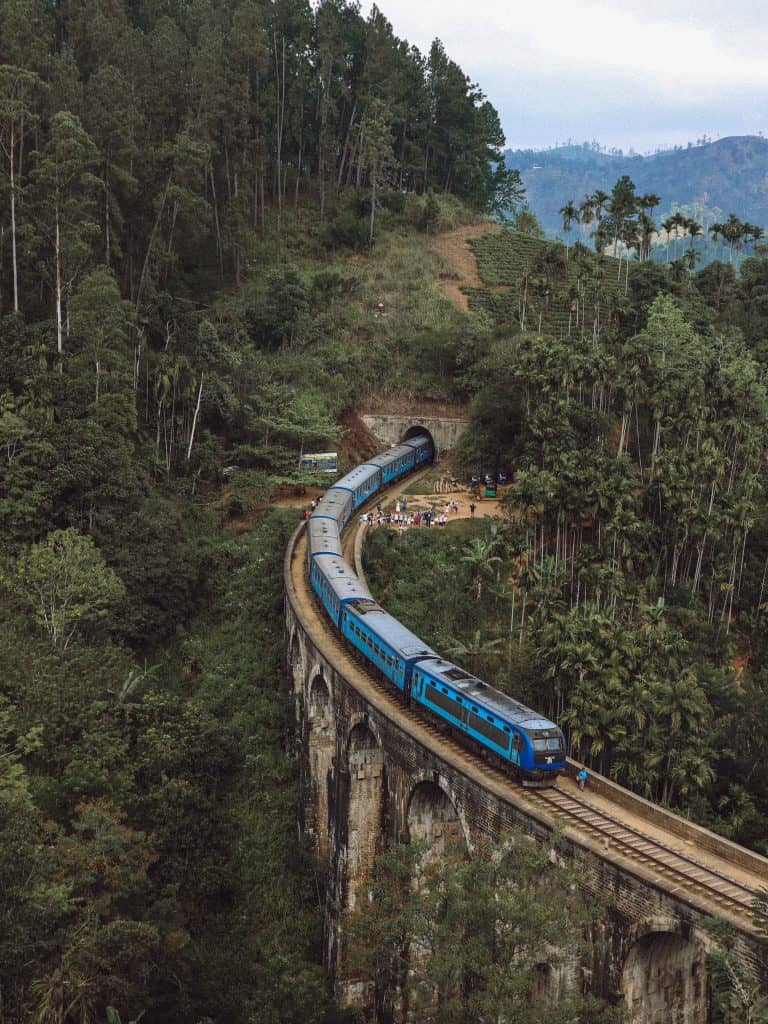 The blue train crossing over Nine Arch Bridge is an incredible sight. This is the view from Asanka Cafe.
5. Climb Ella Rock
Ella Rock was our favorite hike in Ella, offering more challenge than Little Adam's Peak but not so much that it should be off-putting to casual hikers.
The route takes about 4 hours roundtrip, more or less depending on how photo-happy you are. You'll start by walking along the railroad from Ella Station for about 40 minutes – admiring the long grasses and village views. Then the real upward journey begins, through a tea plantation and then into the rocky forest.
One very important thing to note if you attempt the Ella Rock trek is that there are mischievous touts along the way. They will do their best to lead you off the (not very well marked) path, usually on a round-about journey, either to their personal shop, or to ask for a hefty tip. So the general rule of thumb is if someone tells you what way to go, they are likely lying.
Instead, stick to the route and you'll be fine. More than fine, really – the panoramic views from Ella Rock are astounding.
How to get there: We used this blog post as a guide, but I'm currently working on my own hiking directions as that one is a wee bit outdated.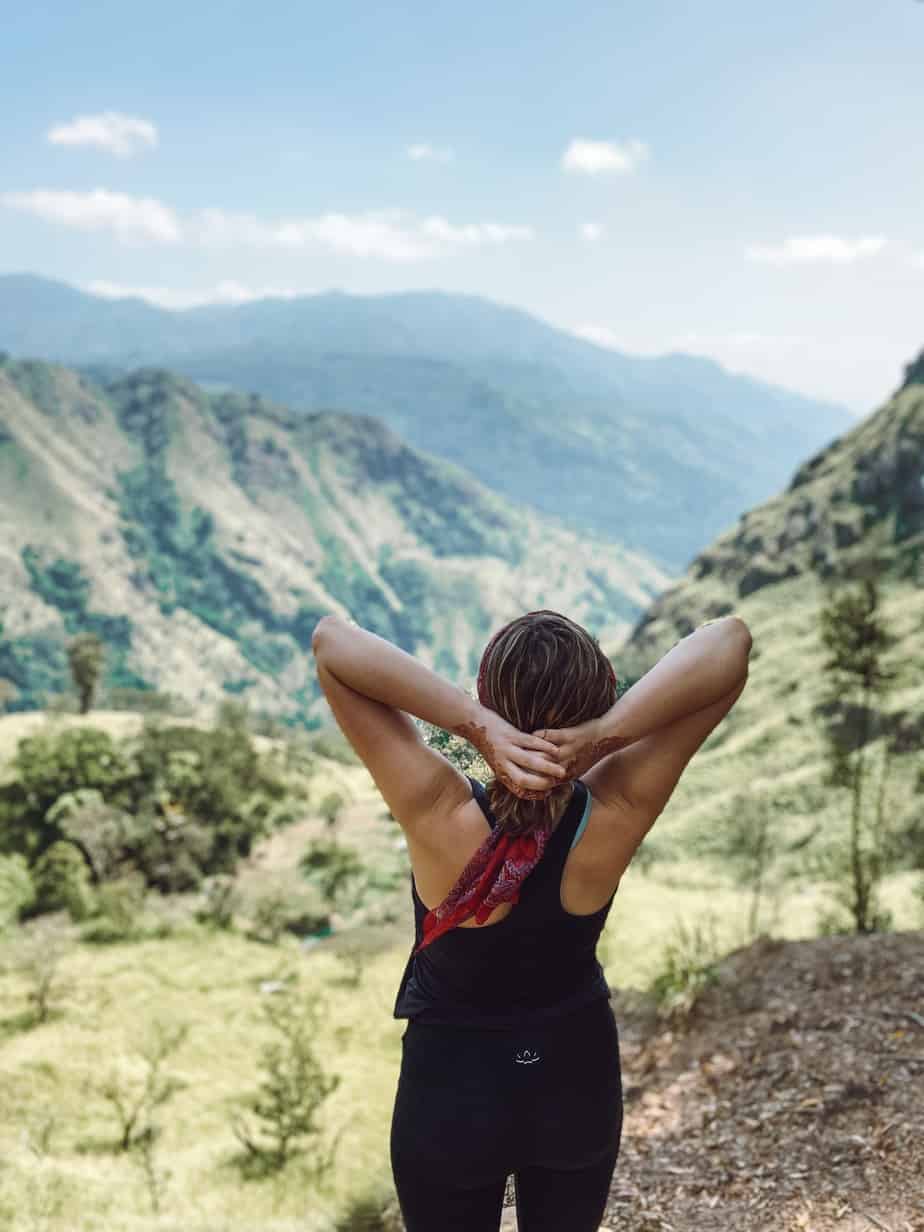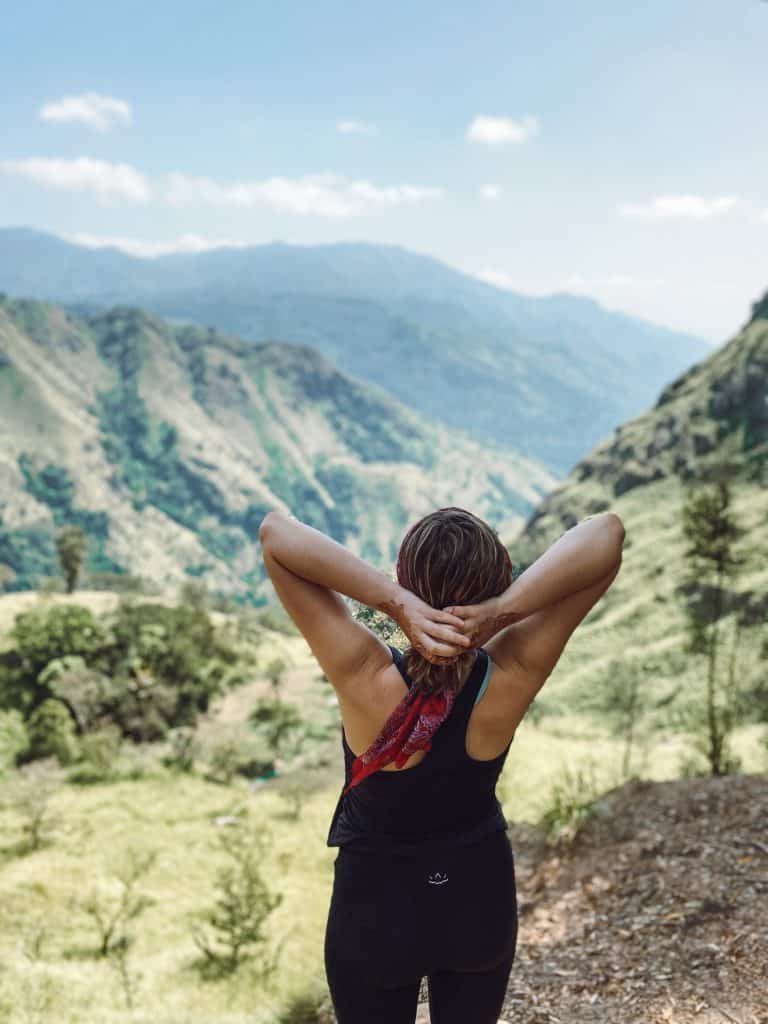 This is the view along the way to Ella Rock – how epic! This was my favorite hike and one of my favorite things we did in Ella.
6. Walk along the Railway
Whether you make the full Ella Rock trek or not, I do recommend doing some walking along the railway while in Ella. I know, I know, this sounds a bit dangerous. To be honest, it is something I thought was irresponsible when I used to look at photos of things to do in Ella, and see people strolling seemingly carefree down the middle of the railroad tracks.
However, walking along the railway is much more common and safe than I expected it to be. Many local Sri Lankans use the railway line (and the paths alongside it) to do errands and travel to and from home. The trains sound their horns from far away and are impossible to miss. I don't mean to downplay the fact that you need to stay aware and safe – you do! – but I would encourage you to walk along the railway at least once to get a glimpse to this side of life in Ella.
How to get there: Head to Ella Railway Station and walk left to the end of the platform, then walk along the railway. Ignore the signs – all the locals do and nobody will stop you.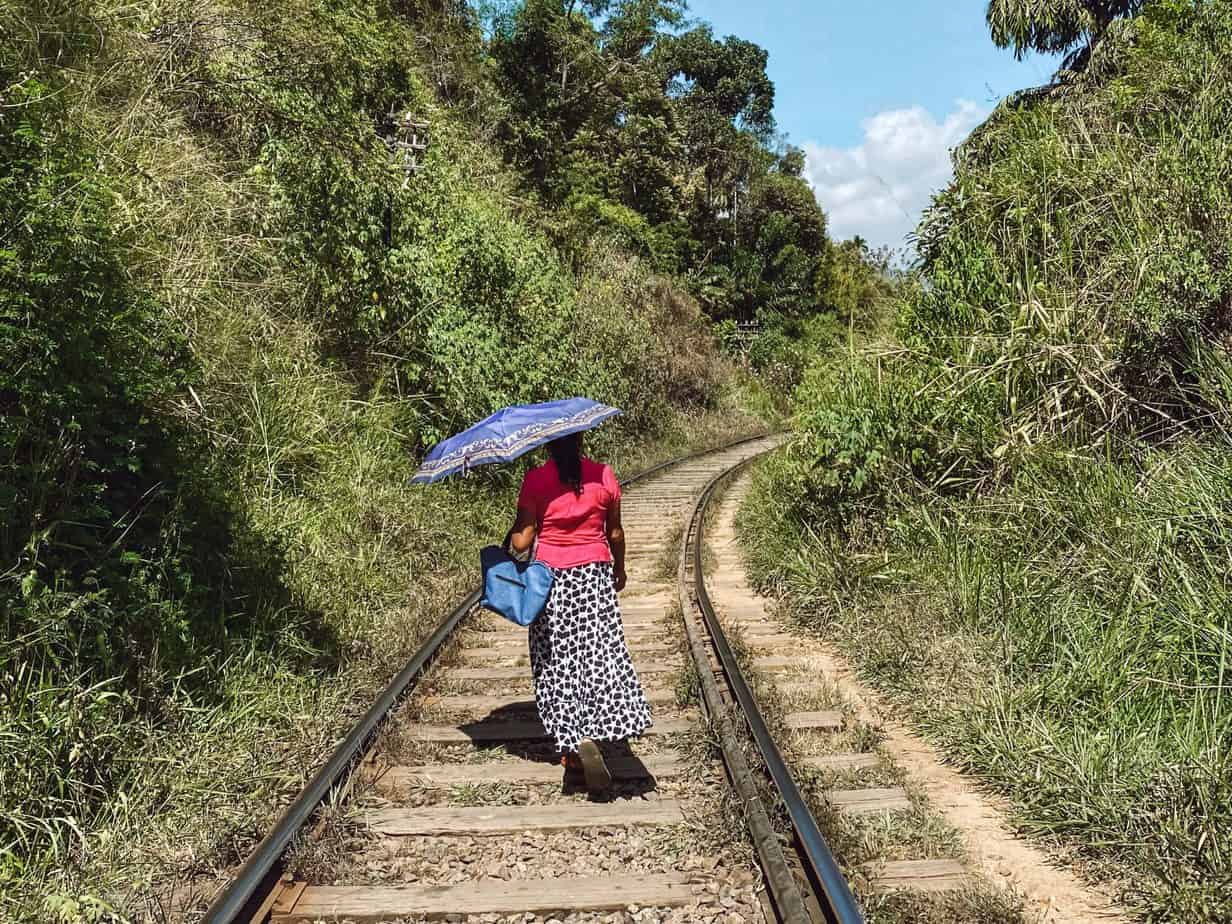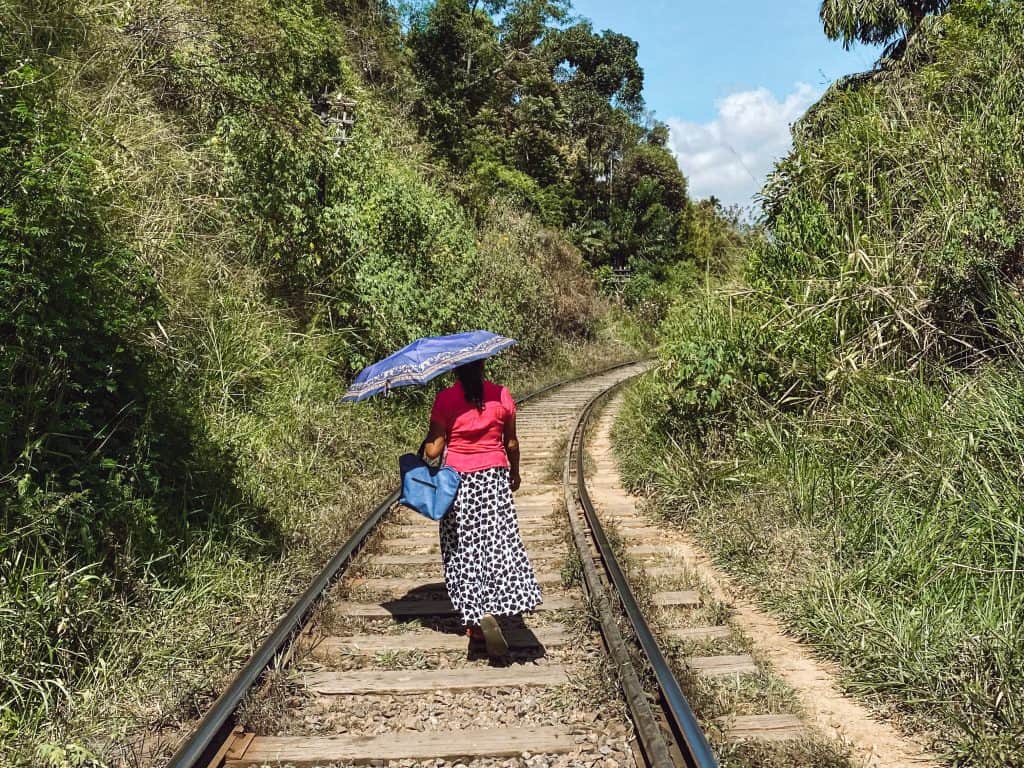 A local woman walking along the train tracks. A lot of women carried umbrellas to protect from the sun. I wish I'd had one!
7. Eat Local Sri Lankan Food
Oh, Sri Lankan food, how I miss thee. There are plenty of western restaurants in Ella, geared toward a tourist's unadventurous taste buds. Do yourself a favor, though, and test out some traditional Sri Lankan dishes.
A classic vegetarian Sri Lankan curry buffet includes red rice, dal (with banana flowers! Swoon!), and pumpkin curry, plus a few other curries such as eggplant/aubergine curry, beet curry, green bean curry, and many others (like Ash Banana – my fave!).
All of this typically costs 500LKR ($2.75USD) or less at a locally owned Sri Lankan restaurant. Even better (for me, at least) it's all gluten free.
Other classic Sri Lankan dishes are egg hoppers and string hoppers, both made of rice. For the non-celiacs, Dan was obsessed with Kottu, which is like a stir fried combo of veg and roti (a Sri Lankan bread).
In Ella, I recommend Matey Hut or Roti Hut although there are plenty of other great picks, too! And it's more upscale but Dan had his best kottu of the trip at 360 Ella.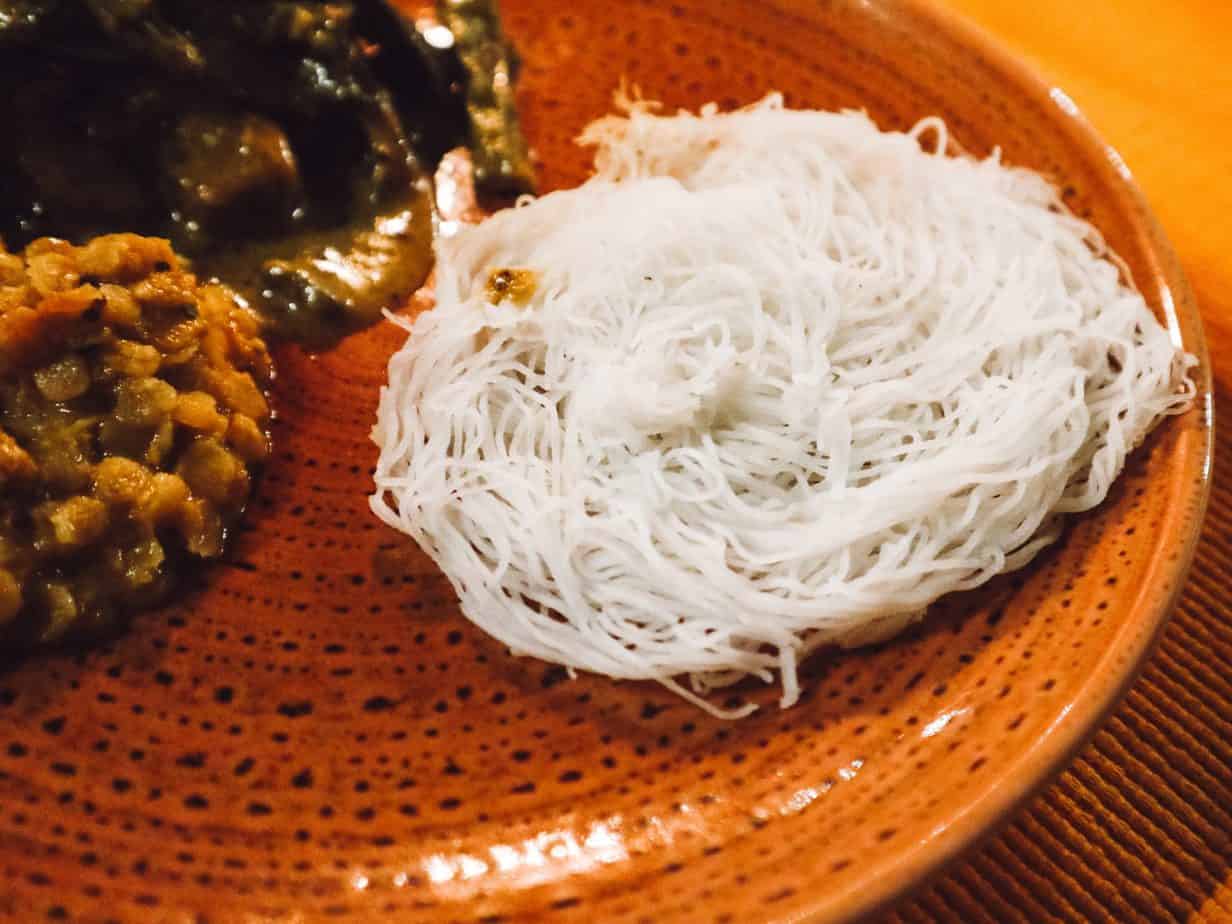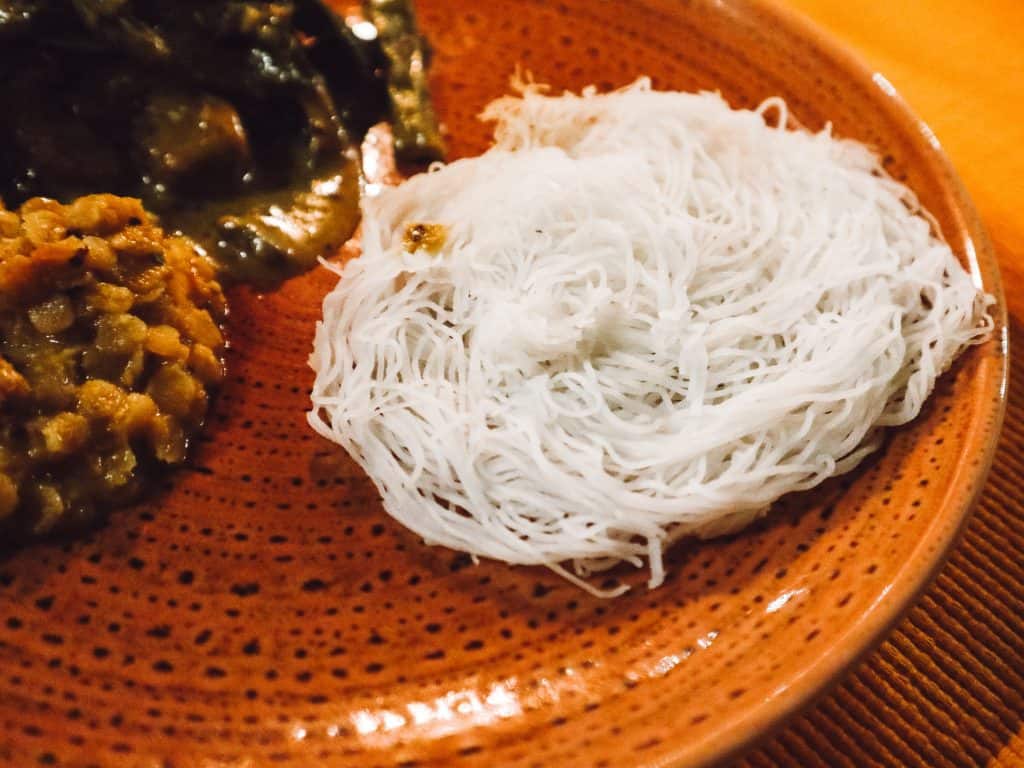 This is a traditional Sri Lankan string hopper – made from rice flour and perfect to mix in with curries!
8. Take a Cooking Class
The only thing better than a Sri Lankan curry buffet is making one yourself! Ella is one of the best places in Sri Lanka to take a cooking class, and the 'downtown' area is full of restaurants with cooking schools. Just walk the main drag and you'll see the signs. The best place to take a cooking class in Ella, though, is Arana Eco Lodge – a 15 minute walk (or 5 minute tuktuk) outside of Ella Town.
We loved our cooking class at Arana Eco Lodge because it was small and intimate – only us and one other couple. We weren't vying for space or attention, and had soooo much food to share at the end. The open air kitchen is well equipped and ultra clean, and surrounded by dense jungle. You truly feel immersed in the wild of Sri Lanka.
At the beginning of our class, Suchar (our chef), laid out a basket of vegetables and asked us to pick our favorite ones. We picked 5-6, and from there he came up with recipes from the top of his head. The result was magnificent.
A cooking class at Arana Eco Lodge costs 2,500LKR ($13.75USD) per person. It lasts about 3 hours and includes instruction, all materials, a vast dinner of your making, plus recipes emailed to you.
ARANA ECO LODGE | 244, Wellawaya Road, Gonille, Kithal, Ella 90090, Sri Lanka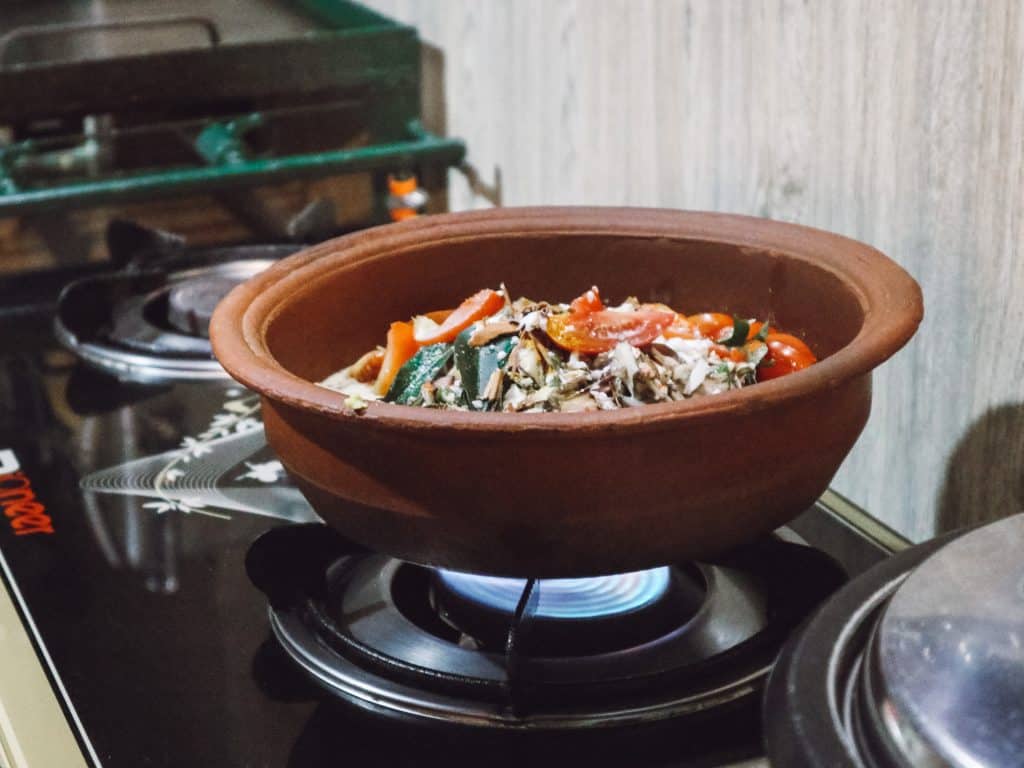 One of our curries on the stove during our cooking class at Arana Eco Lodge.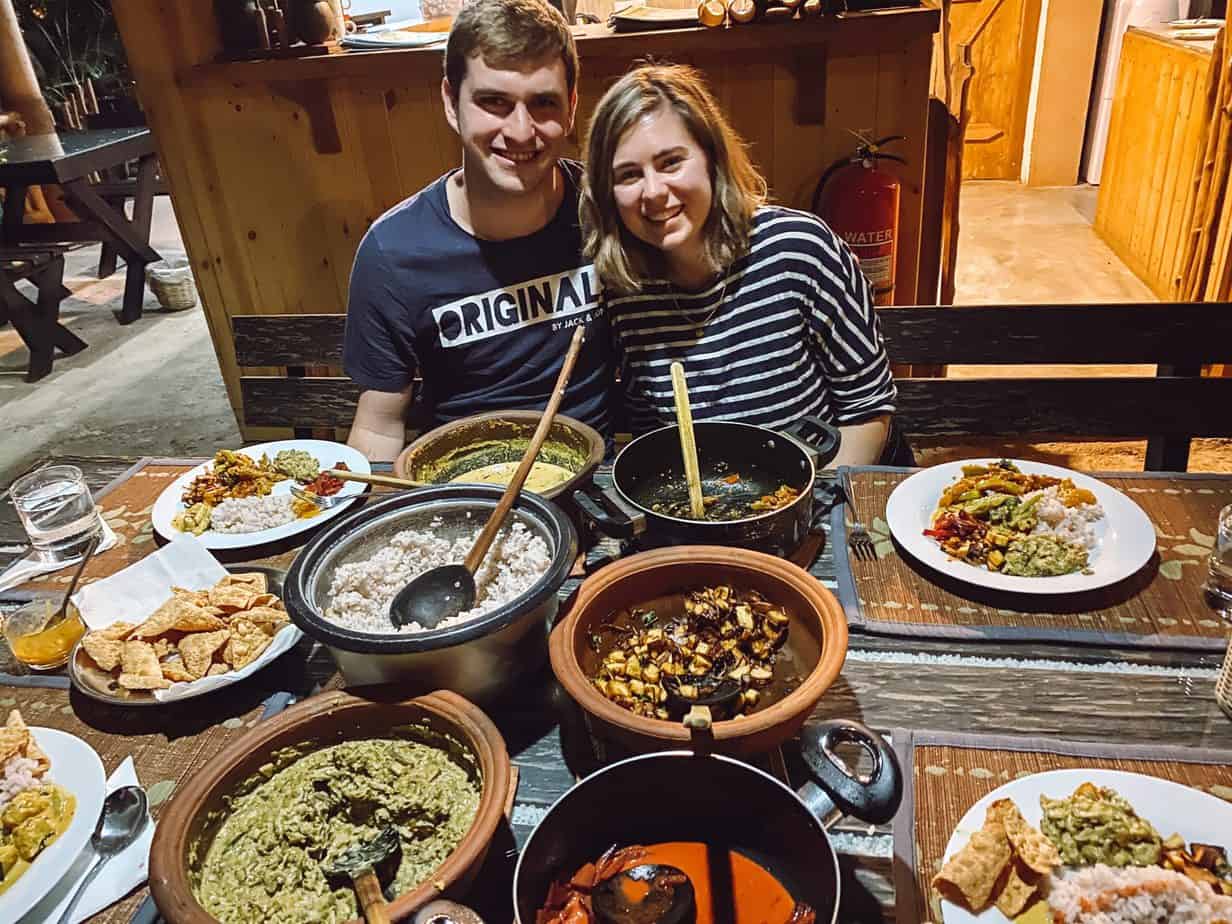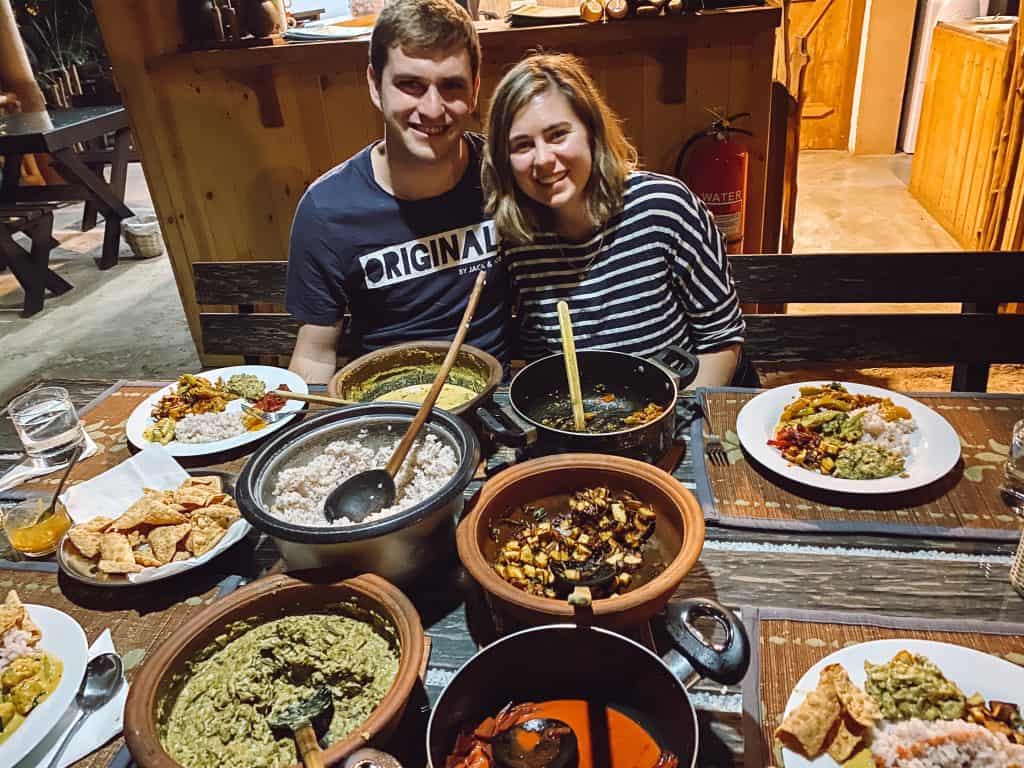 Ready to dig in to all the curries we made!! Don't worry, we shared…
9. Tour a Working Tea Factory
When in tea country, right? One of the most popular things to do in Ella is to tour a tea plantation. Most travelers head to Uva Halpewatte Tea Factory (Halpe for short), just outside Ella.
Uva Halewatte Tea Factory offers tours every 30 minutes throughout the day, at $3USD per person. The tour lasts about 45 minutes and takes you through everything from the plucking of the top two leaves and bud, to the processing, and finally ends with a tea tasting.
We learned a lot during this tour – my main takeaway being that the female tea pluckers are woefully overworked and underpaid. These women must pluck a minimum of 15kg (33lbs)… that's a lot of tiny tea leaves, mind you… to earn their measly $6.50USD daily wage. Put that in perspective of costing less than our tuktuk ride to the factory! I'll make an effort to buy fair trade tea in the future. Despite that, it was an incredibly informative tour and I would still recommend it, just to enlighten yourselves.
How to get there: To reach this sprawling plantation, the walk is about an hour. However, I would recommend a tuktuk which, although a bit treacherous as it groans up the winding hillside, will only put you out about 1200-1400LKR ($7USD) roundtrip (the tuktuk waits for you while you tour the factory).
UVA HALPEWATTE TEA FACTORY | Badulla Road, Hela Halpe, Ella, Sri Lanka 90090, Sri Lanka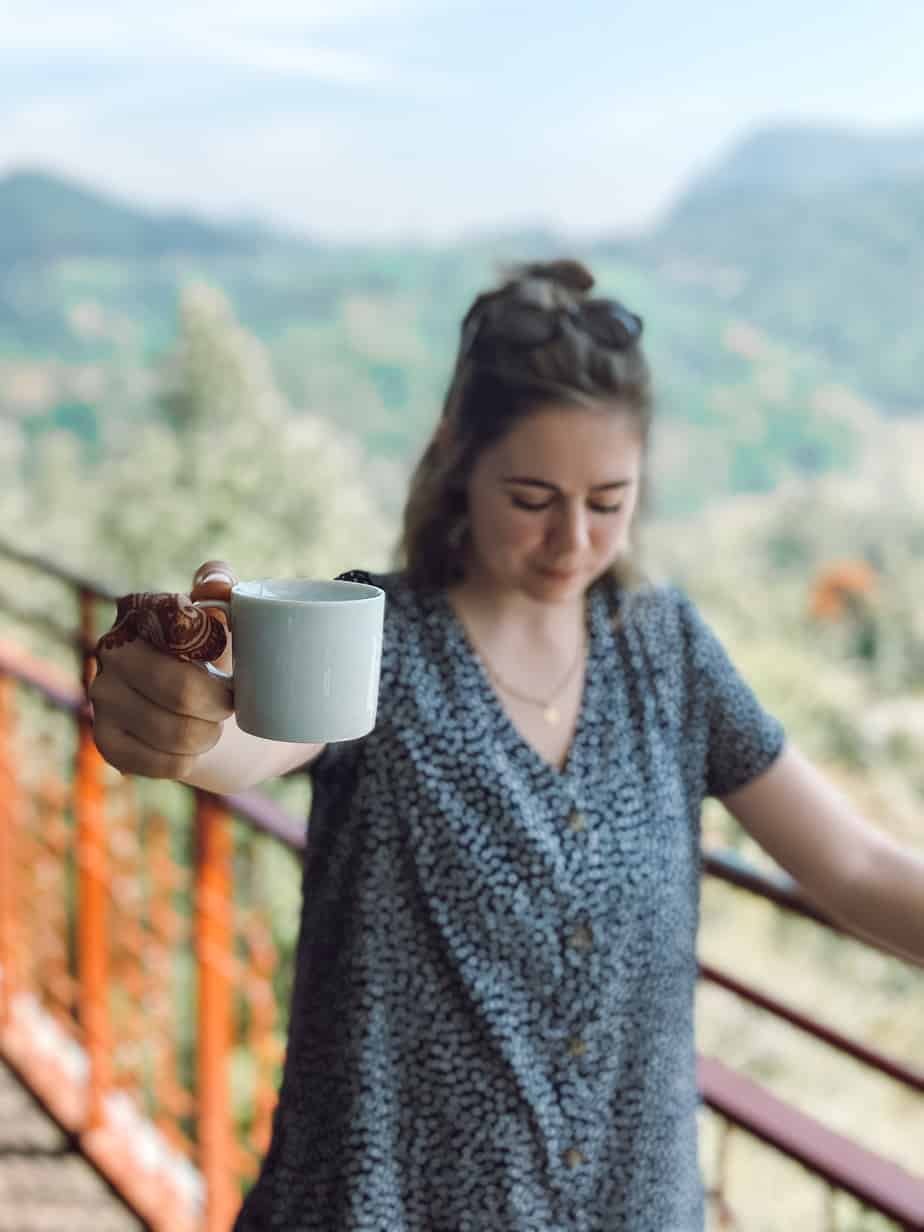 Tea tasting after our tour on the balcony of Uva Halpewatte Tea Factory.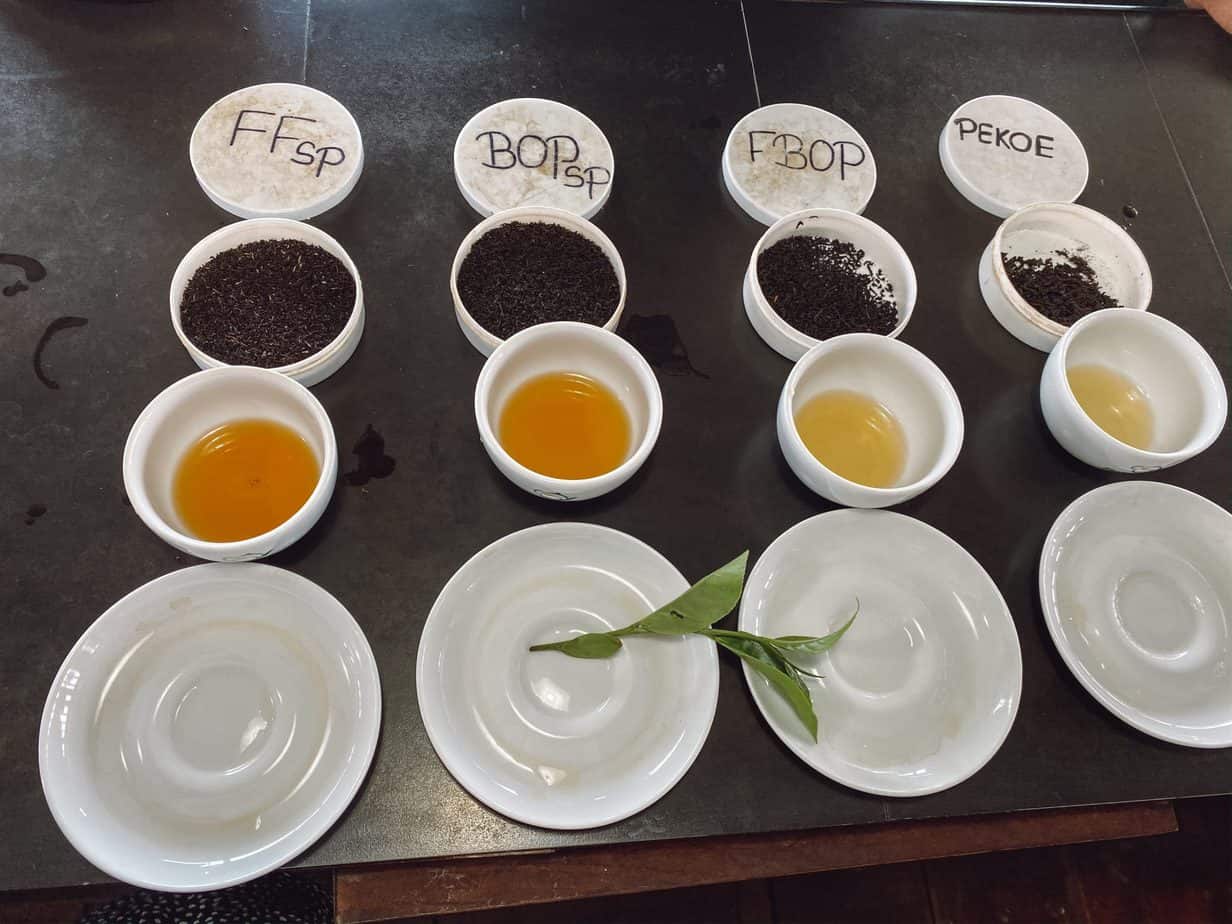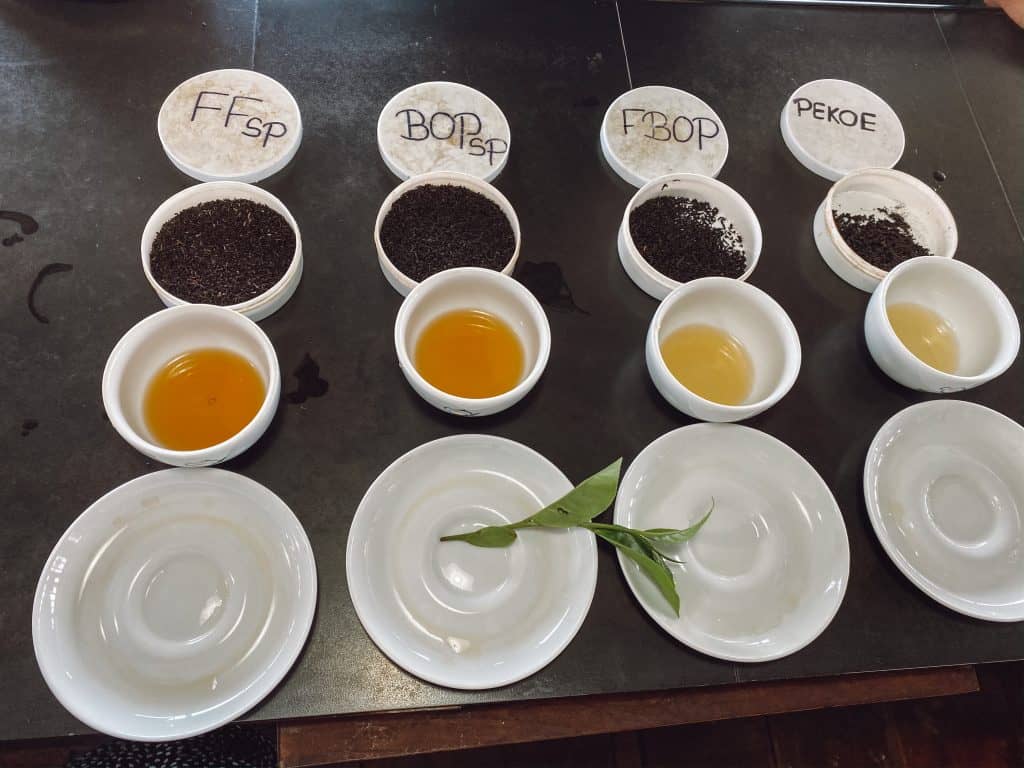 We learned all about the different flavors of tea produced through various processing methods, then got to taste them and choose our favorite.
10. Visit Ravana Falls
Ravana Falls, located just outside Ella, is a stunning tier of water gushing down from the rocky jungle. It's a popular tourist attraction and well worth seeing – although I wouldn't recommend swimming in its pools the way you see on social media. There are plenty of signs around warning of the danger.
Instead, marvel at Ravana Falls from its base. There are plenty of monkeys around this area, too, which also make for fun sightseeing! Alternatively, book a homestay like Ella River Front that has a view of Ravana Falls' full height from its balcony.
How to get there: Get a tuktuk from central Ella for about 300LKR. I wouldn't recommend the walk as it's along a very busy road with lots of construction and crazy cars!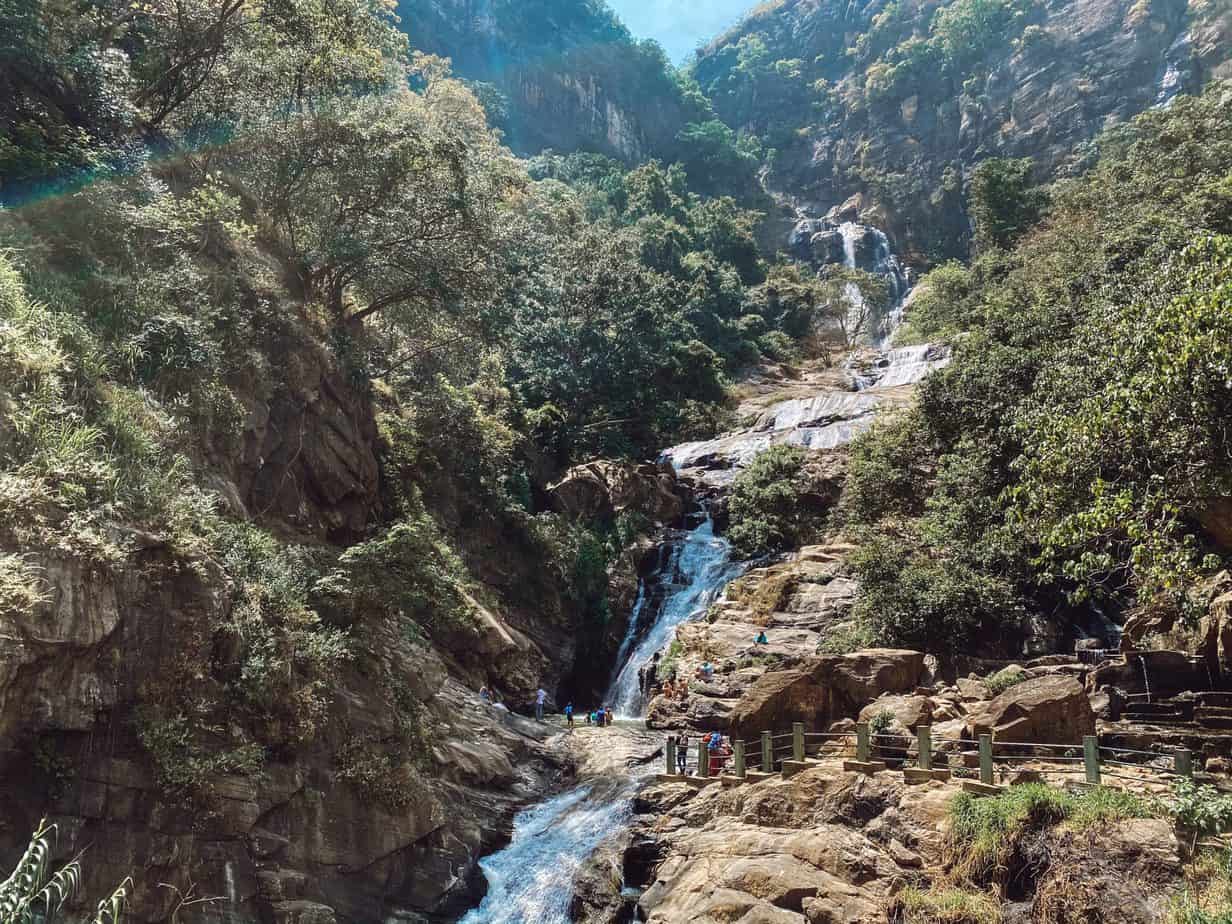 Stunning Ravana Falls.
11. Day Trip to Lipton's Seat
If you have a half day free in Ella, then take the journey to Lipton's Seat in nearby Haputale. Unfortunately Dan and I didn't have time for this on our last trip to Ella, but I've already done the research for next time…
From the Lipton Seat hillside viewpoint, there are views over layered tiers of green tea plantations – the same view that Sir Thomas Lipton himself used to enjoy. This is definitely one for the tea lovers, who can also enjoy a cup of freshly brewed tea for 50LKR while surveying the views. And 'fresh' is not an understatement here – from the green bud at your feet to the cup in you hands, this is probably the freshest tea you'll ever taste.
How to get there: Take the train from Ella to Haputale, then hire a tuktuk. I've seen roundtrip prices ranging 800-3000LKR. There is an extra 50LKR charge per person to enter Lipton's Seat (you'll pay for your tuktuk driver).
TOUR | Book this guided day trip to Lipton's Seat if you prefer a local guide over do-it-yourself.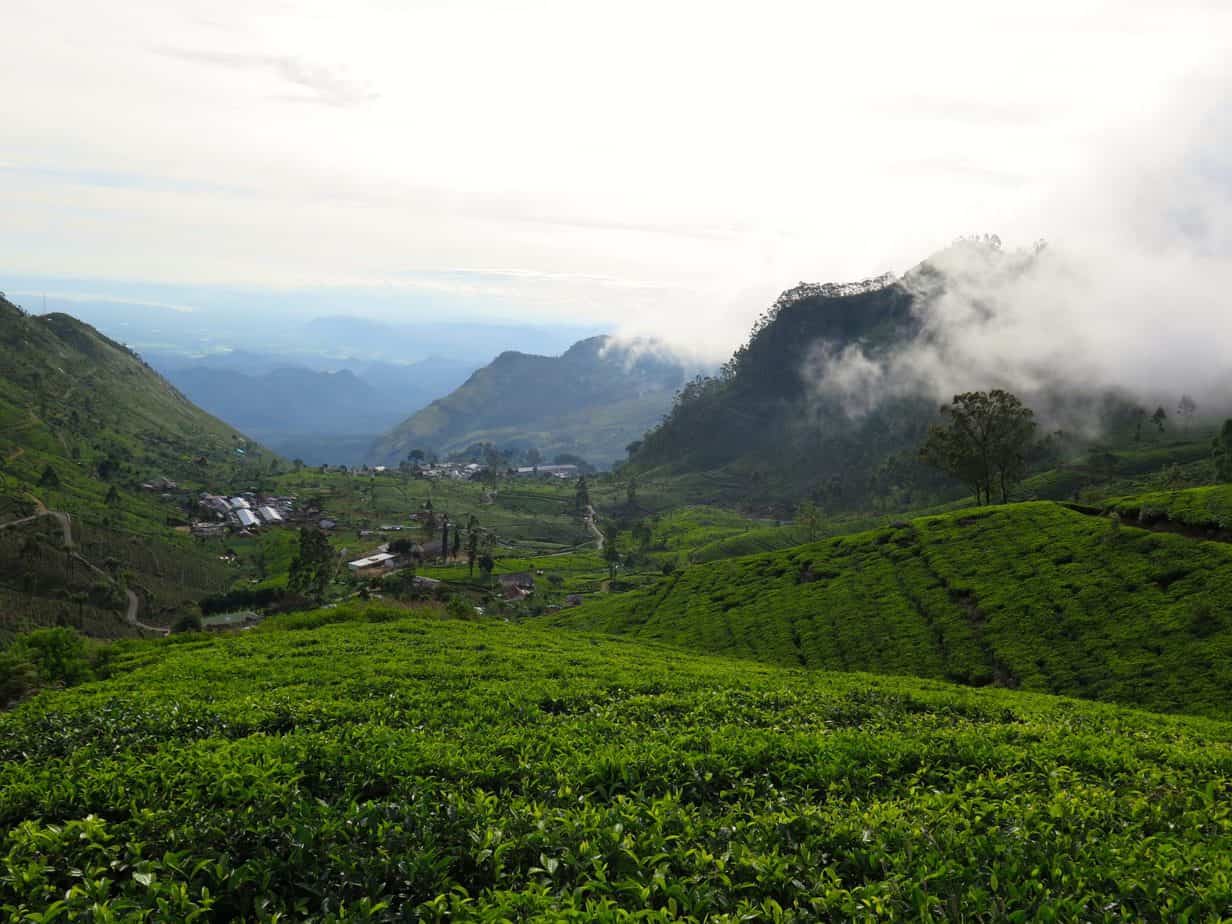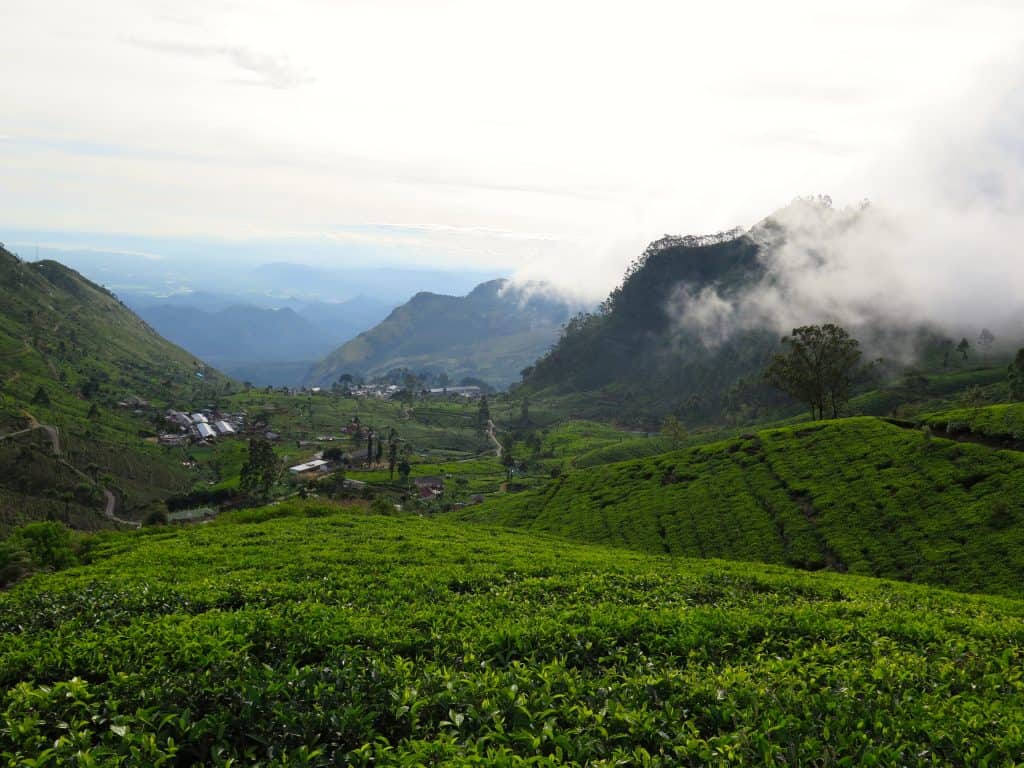 View on the way toward Liptons Seat. Photo by Chris Nener.
12. Have a Spa Day
98 Acres Resort and Spa is Ella's best luxury accommodation. Here, glass-fronted cabins are set into the cliffside, with panoramic views of the surrounding tea plantations and rolling hills.
Even if you don't stay at 98 Acres Resort you can still drop by to experience the luxury through a massage. I kick myself that Dan and I didn't do this ourselves, but we did meet a couple on our last night (at our cooking class) who were in utter bliss from their 98 Acres massages earlier that day. They absolutely raved about it and convinced me that a massage here should be on any list of things to do in Ella.
Massages at 98 Acres Resort take place in a private cabin with floor to ceiling windows overlooking the valley, and start from 3,900LKR ($21USD). Choose from a huge range of treatments (some massages up to three hours in length!) featuring reflexology, herbal baths, and so much more.
Inquire about massages by contacting 98 Acres Resort.
BOOK | Book your stay at 98 Acres Resort or explore their spa options.
13. Drink Sri Lankan Coffee
One of my greatest joys in traveling is finding the best coffee… or maybe I should call it my greatest necessity, ha! I did some searching in Ella before landing on a firm favorite: Buds & Beans.
This little open air café is located at the southern end of central Ella, and looks pretty unassuming from the outside. However this is where you can find some of the best barista-made specialty coffee in all of Sri Lanka – which is, honestly, a difficult task when you consider that Sri Lanka is definitely a tea drinker's country.
Buds & Beans serves up organic coffee grown in Sri Lanka, and locally roasted in Kandy. It's medium roasted, super fresh, and the baristas are very skilled. I would recommend a classic cappuccino – or an espresso if you think you can handle it, it's pretty strong (Dan barely managed)!
BUDS & BEANS | # 01 Ella Junction, Ella 90090, Sri Lanka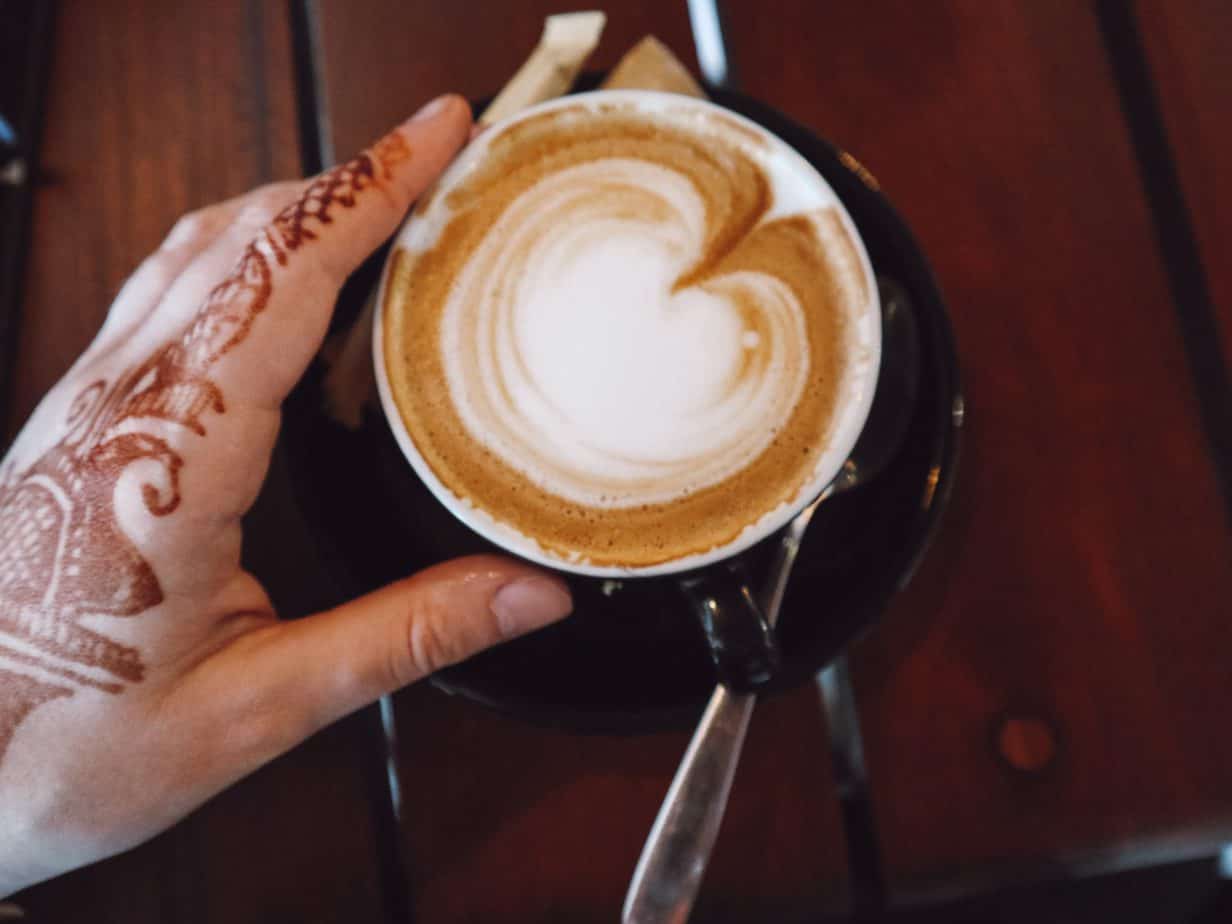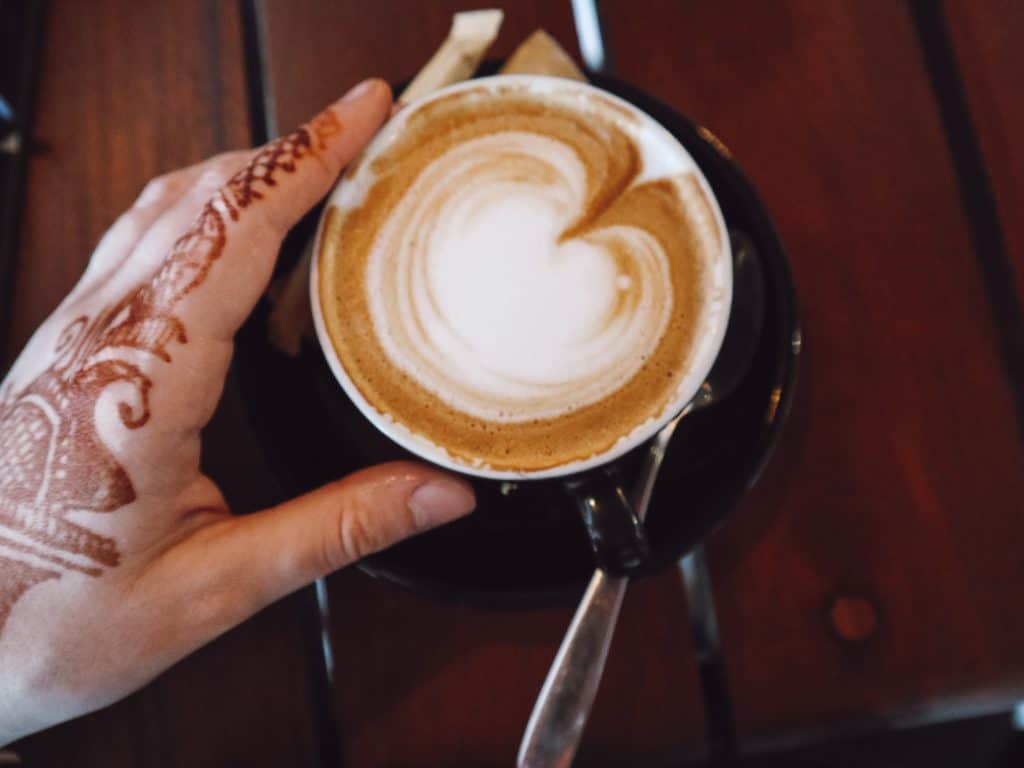 Definitely the best coffee I had in Sri Lanka – at Buds & Beans in Ella!
14. Enjoy the Cafes
Ella has plenty of super trendy cafes that are perfect for escaping the heat and refueling on some (western or Sri Lankan) snacks and drinks.
One of our favorites was Café Chill – the ultimate Ella hangout among backpackers and highly recommended by some of Dan's friends. The top floor is filled with slouchy beanbags, which we spent a happy couple hours lazing on and sipping banana lassis. Oh, and munching on the potato wedges and aioli… life changing. I recommend coming here midday as it gets crazy crowded at dinnertime and loses some of its charm.
Our other pick is Café One Love – the towering Bob Marley themed café, filled with hammocks, swings, and beanbags. It's open 24 hours a day and you can also find shisha here at night if that's your thing. 
CAFE CHILL | A23, Ella 90090, Sri Lanka
CAFE ONE LOVE | Ella Station Rd, Ella, Sri Lanka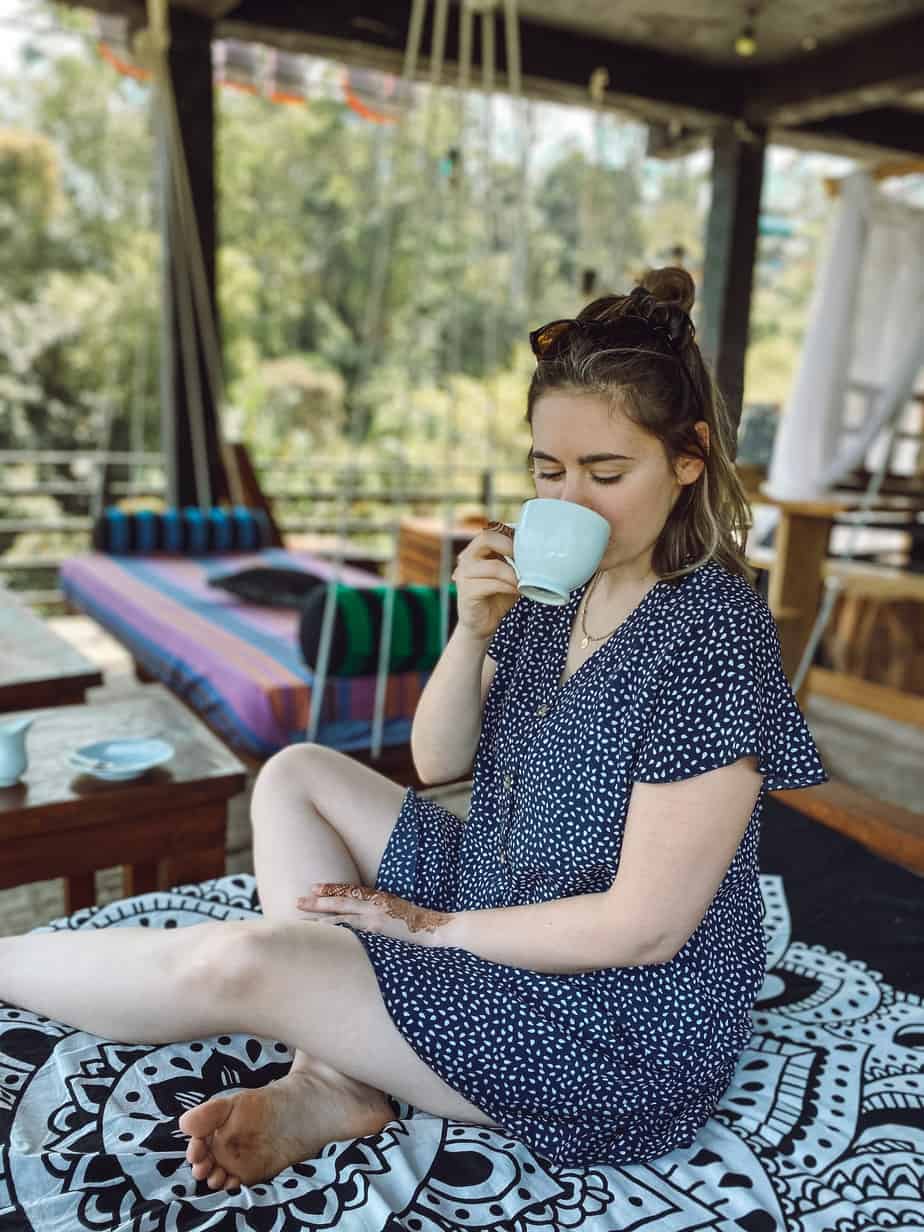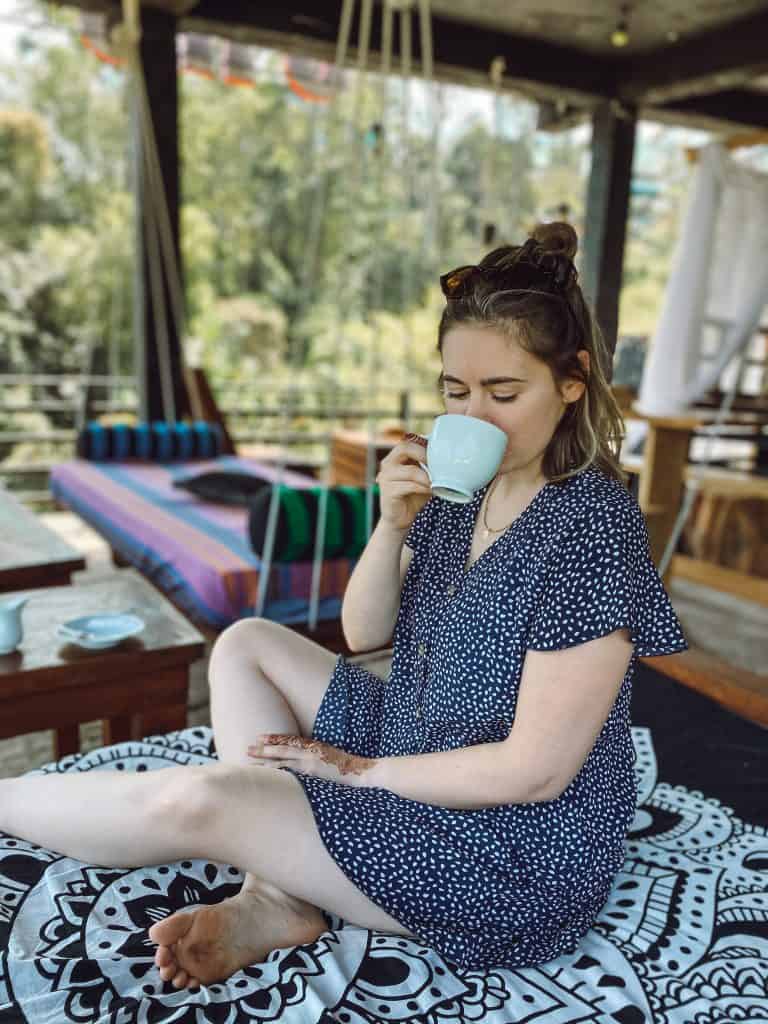 Sipping coffee on a lazy afternoon at Cafe One Love. This is the third floor, filled with comfy swing seats, as you can see!
15. Swim at Diyaluma Falls
Diyaluma Falls is a maaaassive waterfall – nearly 750 feet tall. To reach it, you'll have to hop in a tuktuk for the nearly hour and a half long journey but it's well worth it to witness Sri Lanka's second highest waterfall.
It is possible to swim in the shallow pools of Diyaluma's upper falls – an otherworldly experience as you paddle and gaze out at the Sri Lankan wilderness. Just be careful and definitely don't take a dip during the monsoon months.
DIYALUMA FALLS | Colombo – Batticaloa Hwy, Koslanda, Sri Lanka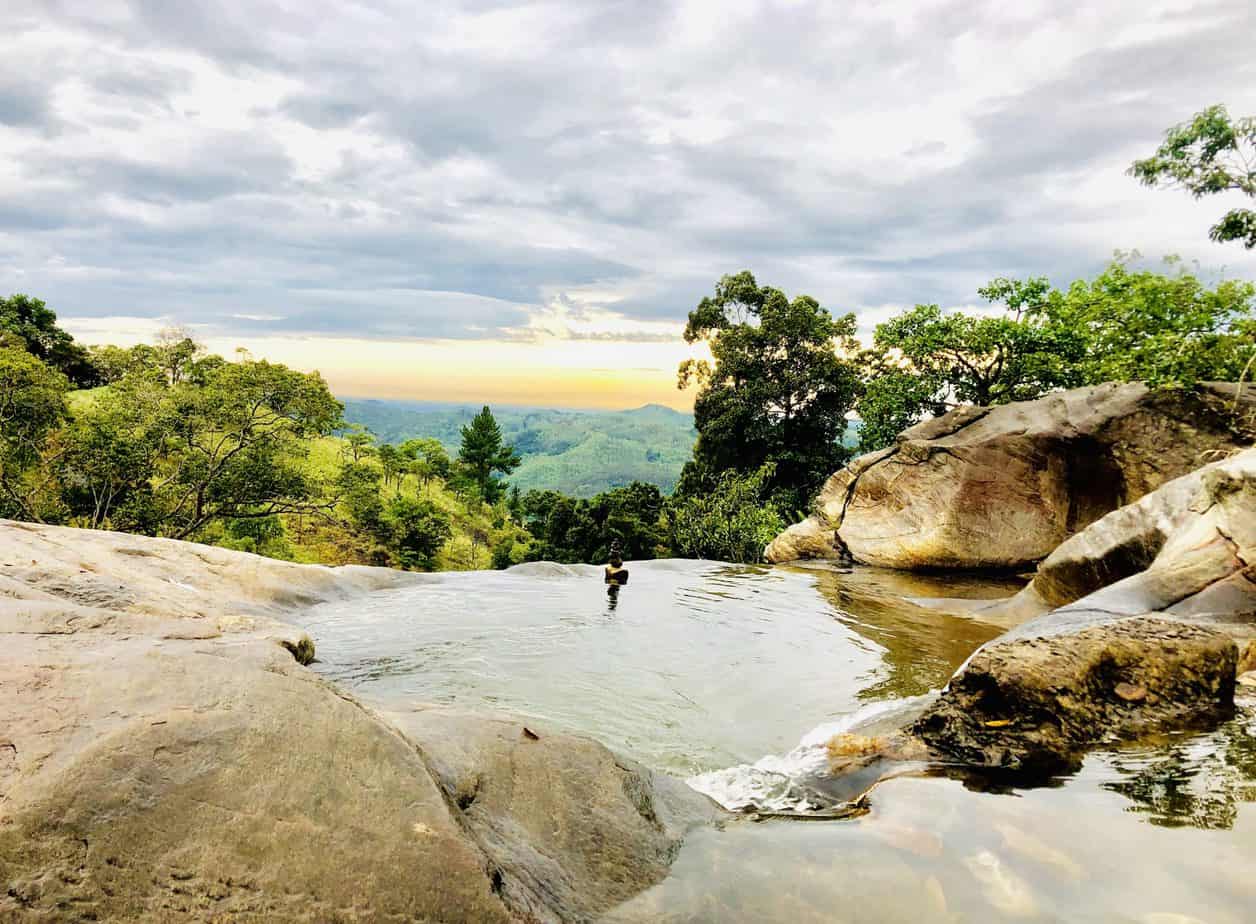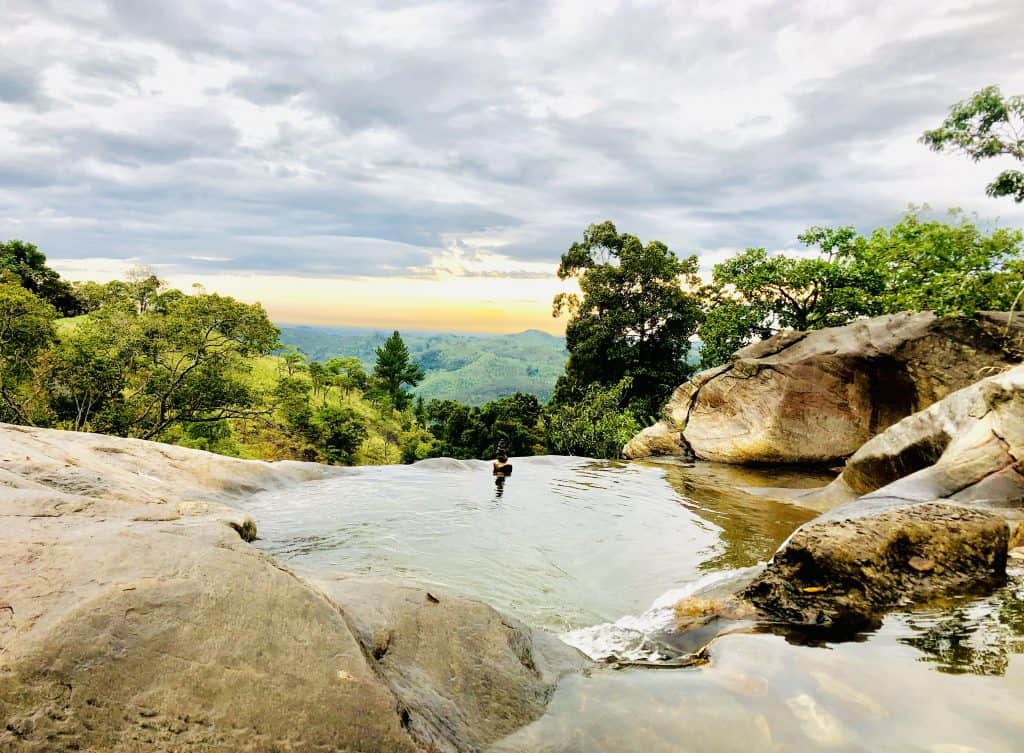 Upper Diyaluma Falls. Photo sourced from Wikimedia Commons.
16. Ride the Train to Ella
Best for last! The Kandy-Ella train journey is regarded as one of the most beautiful train journeys in the world. Dan and I actually took a longer route: Colombo-Ella. At 10 hours, it was a slog, but well worth it. You can read my entire guide to the Kandy to Ella or Colombo to Ella train journey here.
I basically spent 10 hours slack jawed, staring at the passing scenery, snapping photos, chatting to our Sri Lankan seat neighbors, and sitting in the doorway to feel the fresh air whip by me. Poor Dan had a bad cold so didn't enjoy it quite as much as I did, which means we'll just have to do it again someday, right? 😉
So whether you take the train on your way to Ella, or leaving it, I say you can't leave Sri Lanka without trying it. Just be sure to bring water (we took about 4.5 liters/3 big bottles each) and plenty of snacks, as you can't always purchase these on board.
RELATED | Colombo to Ella Train Journey: A Complete Guide
BOOK | Book your train tickets and check timetables here.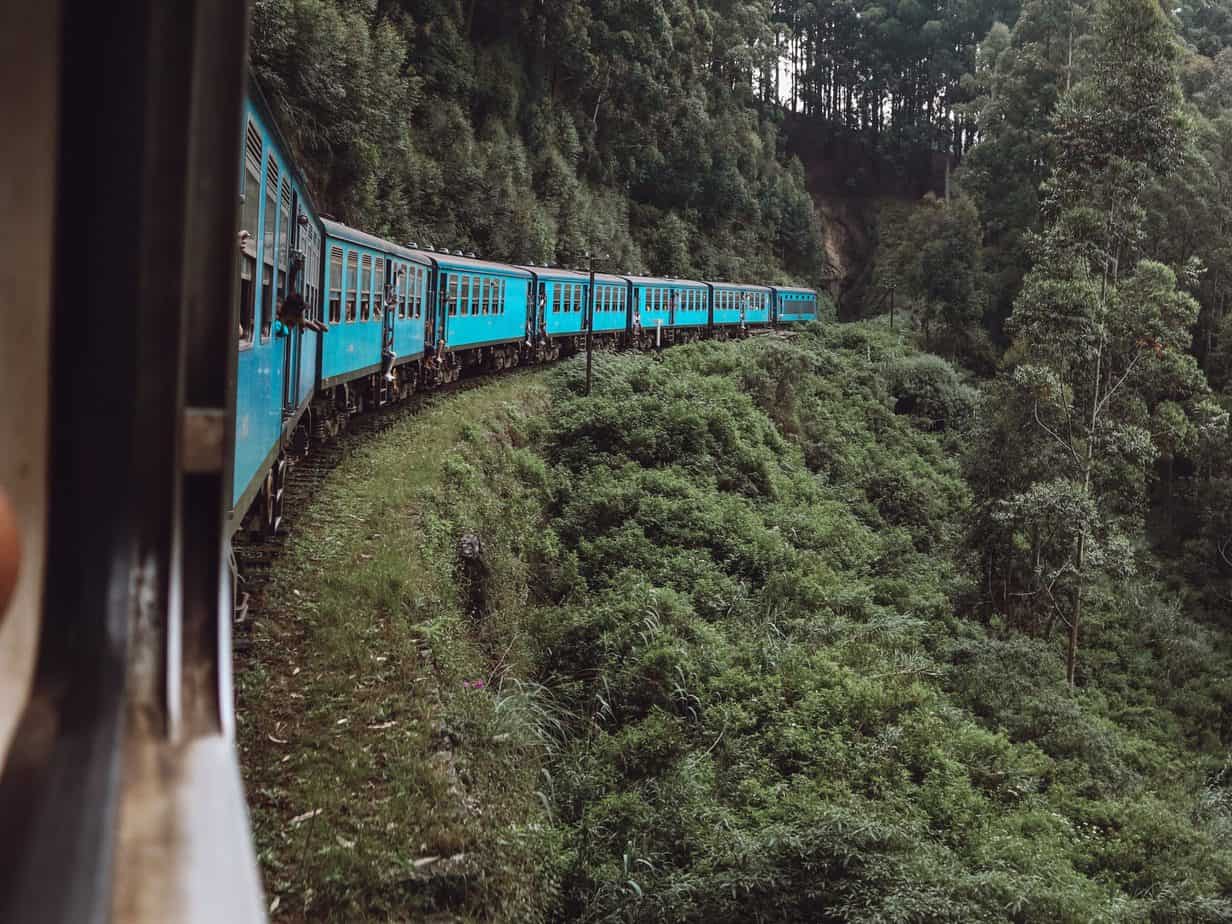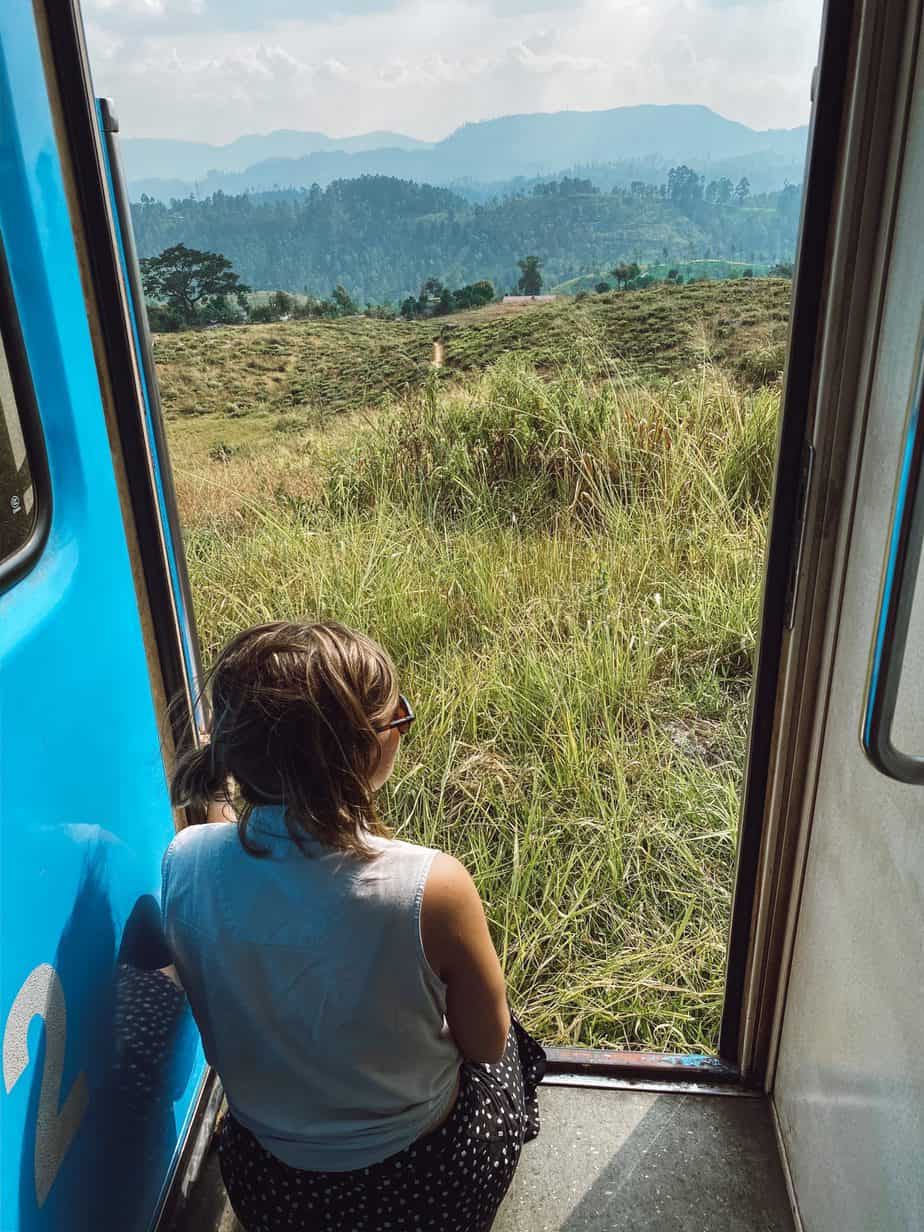 How long should you stay in Ella?
I'm an advocate for slow travel and would always choose to stay longer, if given the option. Saying that, Ella is still well worth a visit even if you have limited time.
My minimum recommendation would be three nights. This gives you two full days to experience the main things to do in Ella like Ella Rock, Little Adam's Peak, Nine Arches Bridge, Uva Halpewatte Tea Factory, and a cooking class.
With a longer stay of five to six days you can tick off many more items on this list like Diyaluma and Ravana Falls, and Lipton Seat.
And with a stay of a week or longer, I wouldn't worry about getting bored. You'll just have more time to relax and explore off the beaten path experiences that aren't even on this list of what to do in Ella! For instance, you could use Ella as your base to do a safari to Yala or Udawalawe National Parks.
RELATED | Hiriketiya is Sri Lanka's Hidden Paradise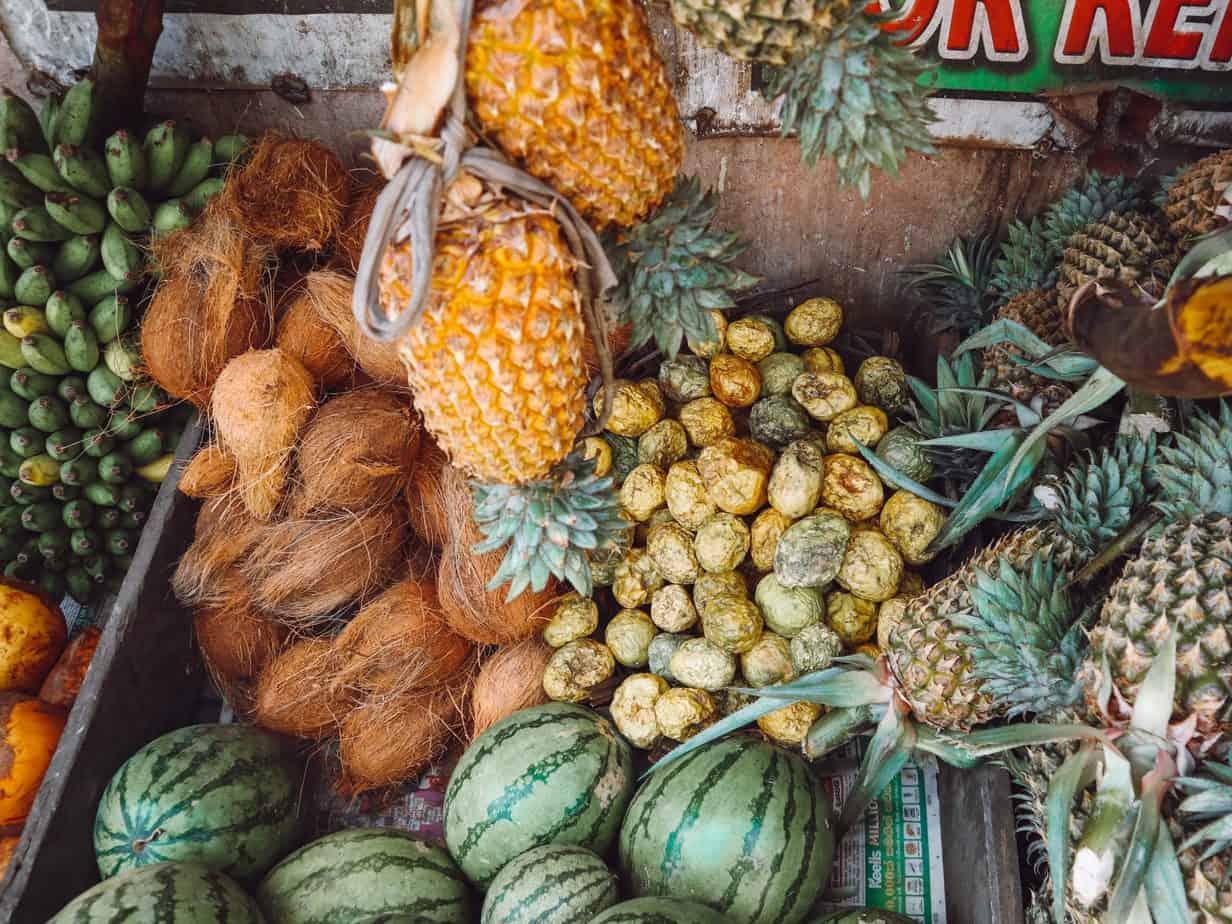 Alllll the fresh fruit for sale in Ella Town.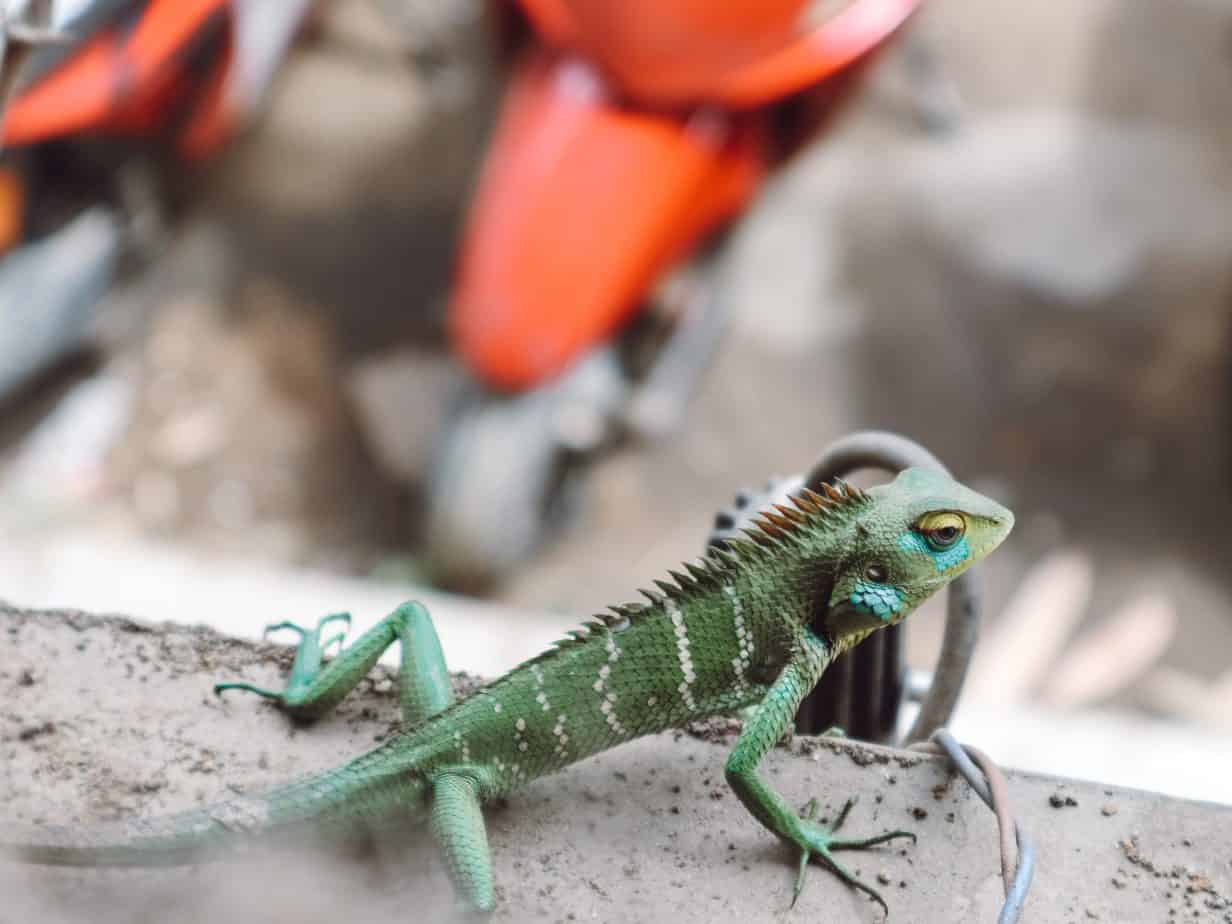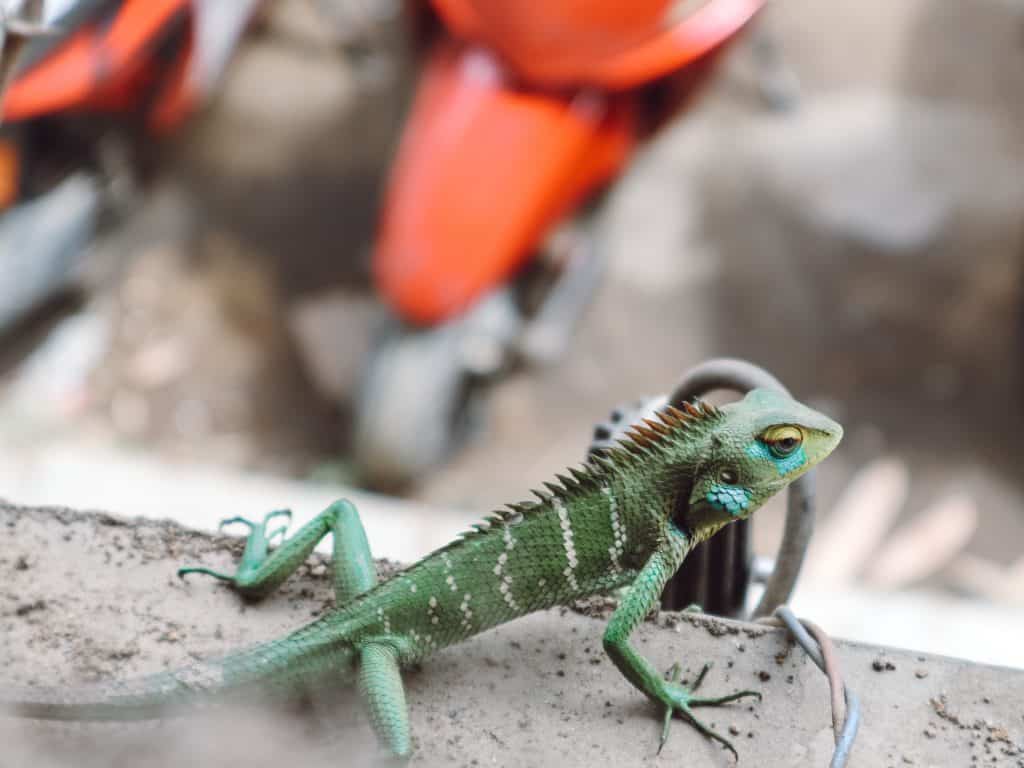 A little lizard friend I met in Ella Town!
How to get to Ella
Ella is located in central Sri Lanka's tea country. Although tucked into rolling hills (and a few steep cliffs) it is still pretty well connected.
By train | My personal choice and recommendation – read my full guide here! Take the train from Colombo (10 hours), Kandy (7 hours), or anywhere in between on the route to Badulla for one of the world's most scenic train journeys. Book train tickets (from $3USD) here.
By bus | From Colombo: Take the bus from Colombo Bastian Mawatha bus terminal to Kandy for $1USD. Tickets can be bought at the station. From Kandy transfer to the train. From the South: Take bus #31 from Matara station on the route toward Bandarawela, which stops at Ella on the way. Costs about $1USD! Book bus tickets here.
By taxi | More expensive than the bus or train, but affordable compared to Western countries for long journeys, and ideal if you have a limited time in Sri Lanka. Approximately 8-10,000LKR ($45-55USD) from the south coast to Ella, and 15,000LKR ($82USD) from Colombo to Ella. Expect to do some bartering.
RELATED | A Complete Guide to the Colombo to Ella Train Journey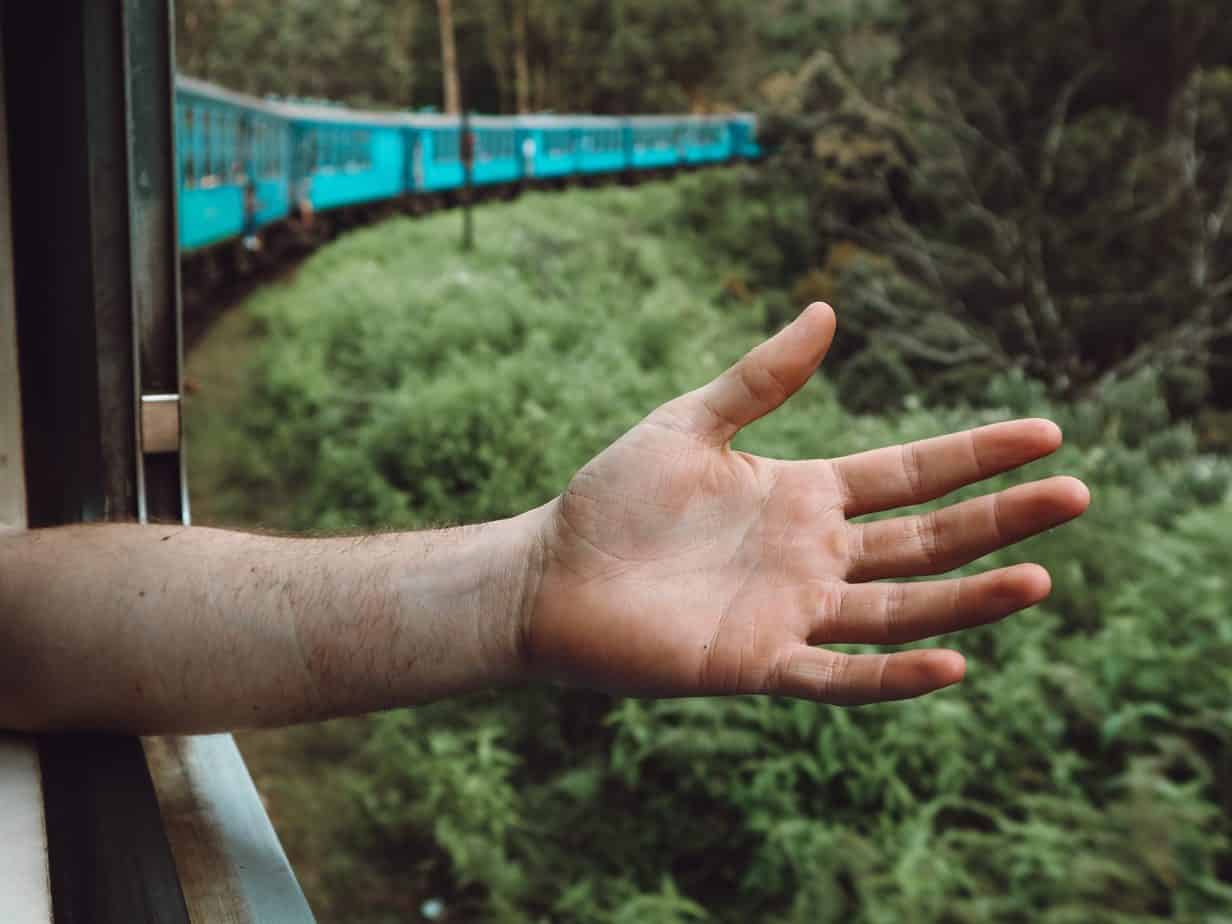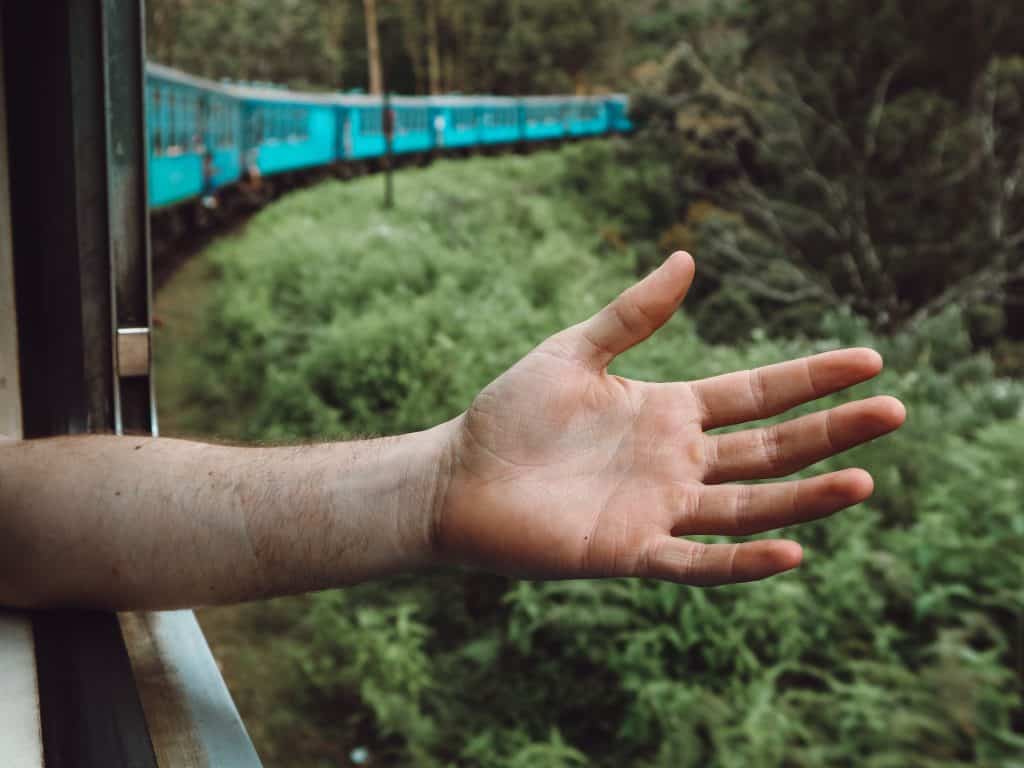 But I mean, really, you've got to travel to Ella on the train. Otherwise we can't be friends. (JK. Kinda.)
Where to stay in Ella
Like I mentioned, I highly recommend choosing a homestay in Ella. However we all have different travel styles and budgets, so here are some of my top picks for where to stay in Ella!
Country Homes ($$) – A wonderful homestay overlooking Ella Gap with the kindest staff and super luxurious rooms for the price tag. They can also arrange taxi transfers and tours (ask for Hari!). Read my full Country Homes review here.
Ella River Front ($$) – Another homestay just outside Ella town, overlooking Ella Gap. Stay in your own cabin with a panoramic balcony and enjoy amazing breakfasts overlooking the valley. We loved it here!
New Cabin Ella ($$-$$$) – A small cabin rental overlooking the epic view of Nine Arch Bridge. This view cannot be beat.
98 Acres Resort and Spa ($$$) – Ella's premier luxury accommodation, located on the way to Little Adam's Peak. Stay in hillside glass-fronted cabins and enjoy luxurious amenities.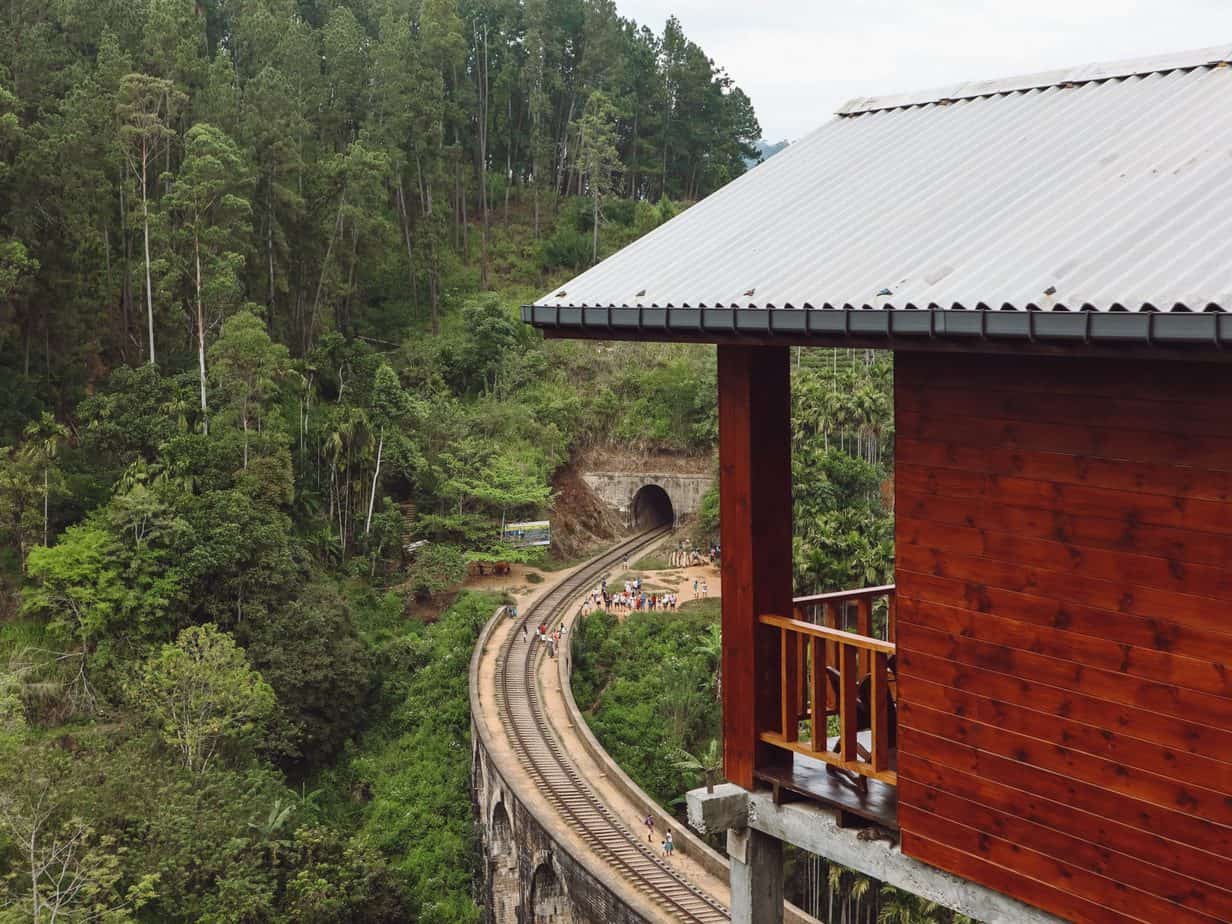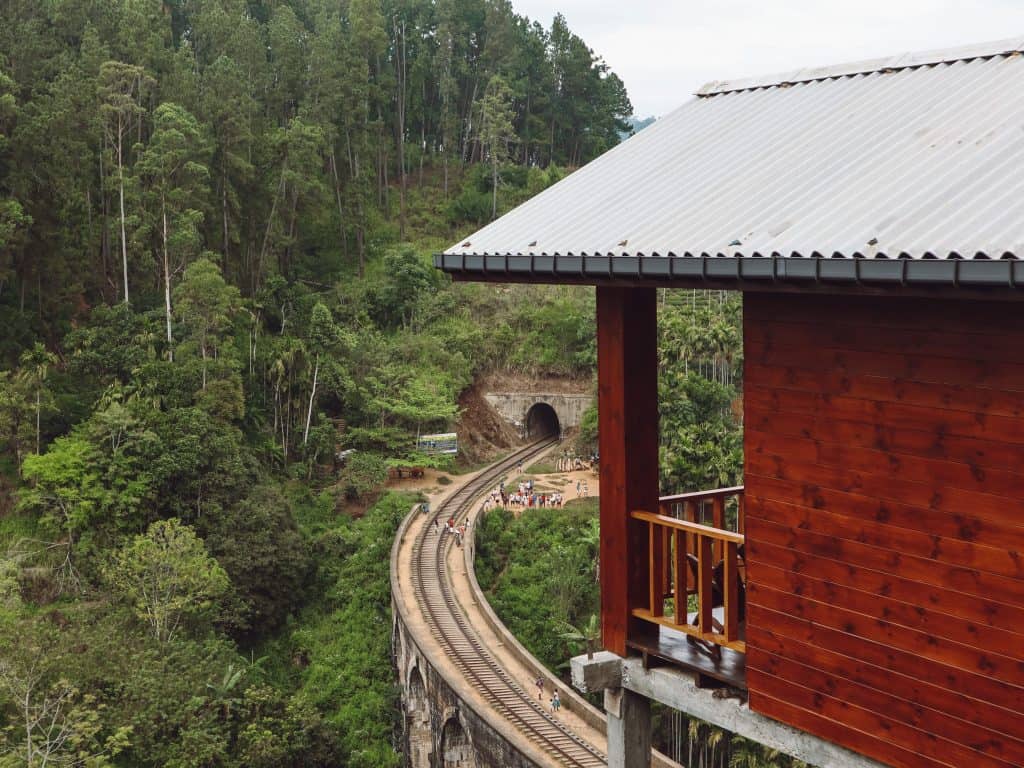 This is New Cabin Ella, a luxury cabin with Ella's best view of the Nine Arch Bridge. A true bucket list stay!
What to pack for your trip to Ella
I've published a full Sri Lanka packing list, so I recommend reading that as you plan your trip to Sri Lanka!
Here are a few things you might miss, that are hard to purchase in Ella:
RELATED | Sri Lanka Packing List
From Ella, we said goodbye to the mountain air and misty valley, and hopped in a taxi from Country Homes. We made the winding journey south (with a few iguanas, peacocks, monkeys, water buffalo, and even some 'evidence' of elephants along the way).
Our next stop was Hiriketiya – a jungled gem on Sri Lanka's south coast. You can read my full guide to Hiriketiya here.