Nepal Gluten Free Guide: Trekking, Restaurant Recommendations, & More
Heading to Nepal but worried what you can safely eat that is gluten free? I'm here to help! From navigating the language barrier, to avoiding cross contact, to the best gluten free trekking advice and Nepal gluten free restaurants, I've got you covered.
I wish I could go back and erase all my fears about navigating Nepal gluten free. But, I can't do that. Instead, I'll do my best to assuage your own fears, and prepare you the best I can. Traveling in Nepal while gluten free is not necessarily easy, but it is definitely possible, and so worth the challenge. With a bit of preparation you can experience this incredible country, without being glutened!
In this Nepal gluten free travel guide, you'll find:
A Nepali translation card
Nepali dishes you CAN eat
Nepali dishes you CAN'T eat
Tips for trekking gluten free in Nepal
Gluten free Kathmandu
Gluten free Pokhara
And more!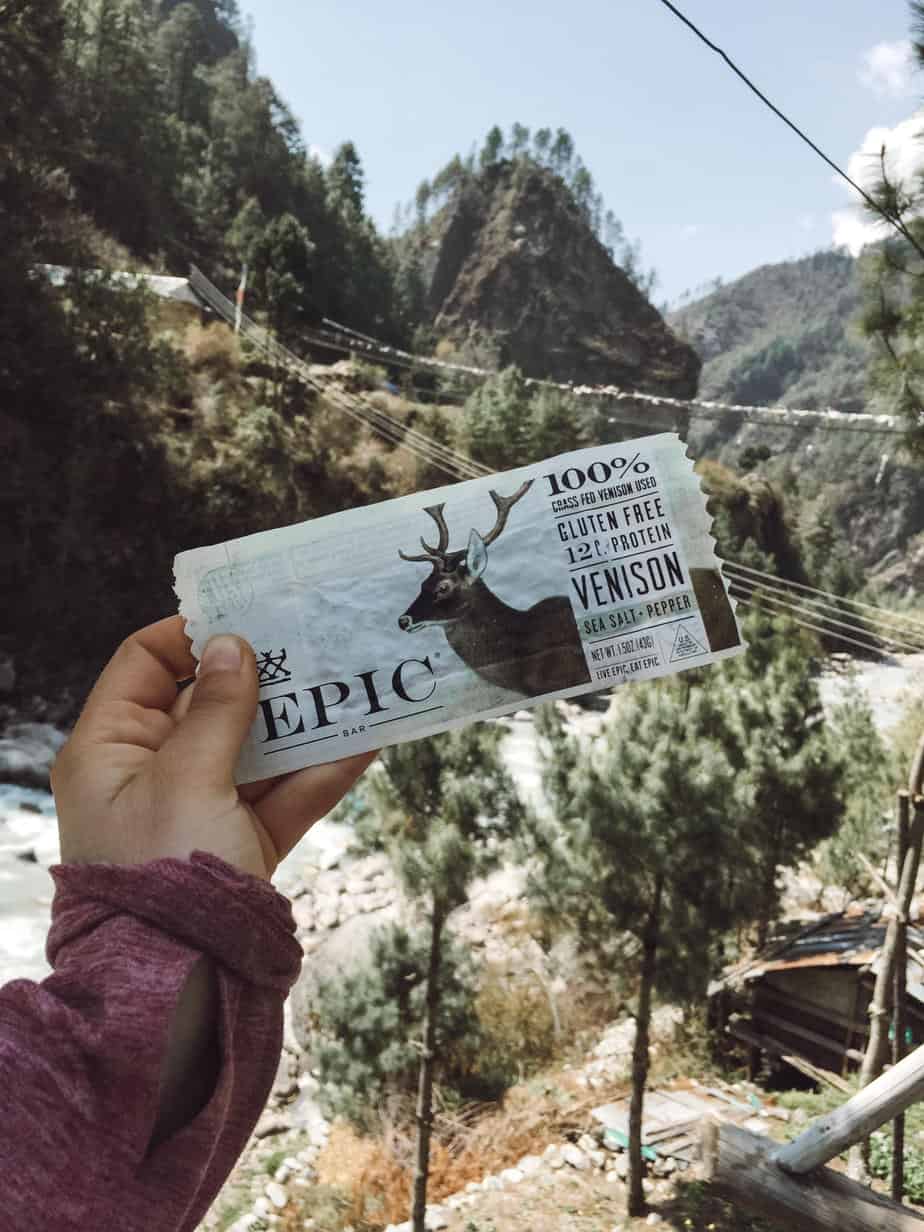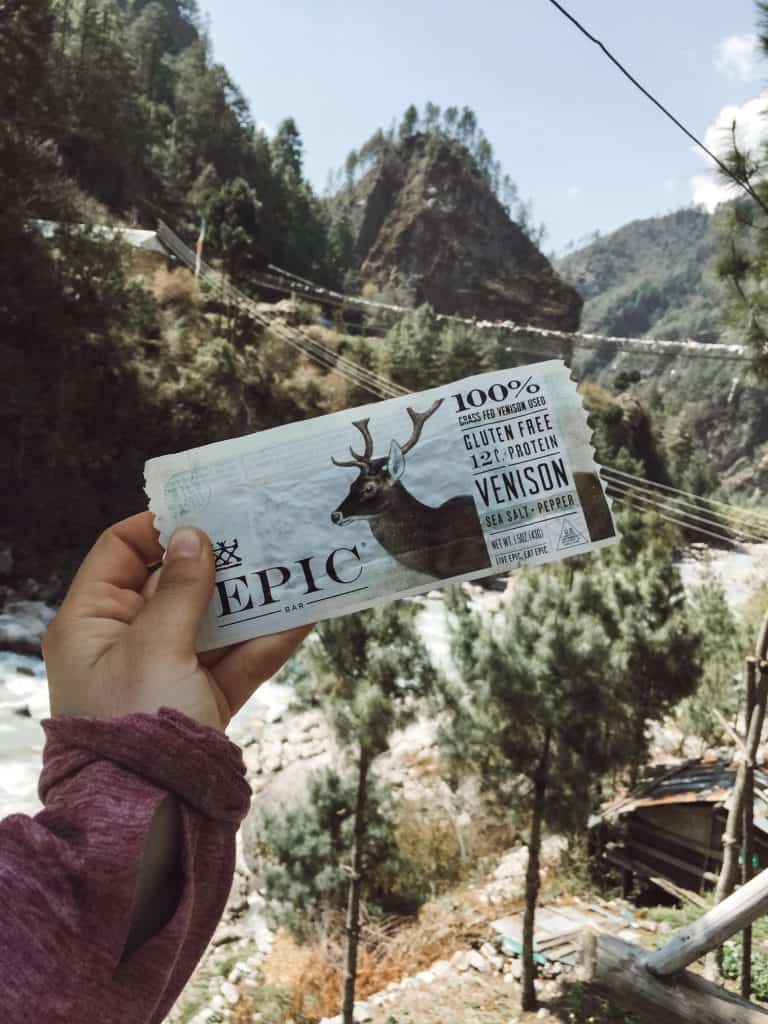 Nepal gluten free translation card
Obviously in Nepal the language barrier is a big added complication when traveling gluten free! There are over 123 languages spoken in Nepal. The official language, however, is Nepali. I highly recommend downloading a gluten free translation card in Nepali before your trip. If you haven't used a translation card before, the premise is simple. You download a card on your phone that states, in Nepali, your gluten free needs. 
For communicating in Nepal, I highly recommend this translation card by Select Wisely. You can buy it online and download it straight to your phone. 
In addition to wheat, barley, and rye, this card also states you cannot eat soy sauce, malt, flour, bread, gravies, cereals, etc. I think this is particularly useful in countries like Nepal where gluten isn't recognized, but things like soy sauce and gravies are. Select Wisely is especially useful if you have other allergies or dietary requirements like dairy, shellfish, nuts, vegan, etc.
 Click the image below to read more about the translation card.
*Note: I recommend Select Wisely's Nepali translation card and NOT the free one available online because that one has a mistranslation – it says we cannot eat spinach! Weird, right?
Nepal gluten free dishes: Understand the cuisine
In Nepal it is essential to be familiar with the local dishes because you won't find many specialty gluten free cafes or restaurants (although there are a few – scroll down for those!). It is very helpful to go in with some base knowledge of which dishes are safe to eat and which dishes are not safe to eat. No trickery from thickening flour or sneaky noodles on my watch!
Nepal gluten free dishes: What you CAN eat
Because celiac is not a well recognized disease in Nepal, you will have to heavily rely on naturally gluten free dishes. Enter, my good friend Dal Bhat.
Dal Bhat
In Nepal, there is a saying "Dal Bhat power, 24 hour." I'm pretty sure they were talking about celiacs when they made this phrase! Let me introduce you to Dal Bhat, the dish you will become very well acquainted with in Nepal. Dal Bhat is a naturally gluten free dish that is served as a platter of rice, lentil soup, curry (meat or veg), poppadom, and sometimes steamed greens. Poppadoms are naturally gluten free and made of rice and lentil flour – just confirm it's not cooked in contaminated oil. The best thing about Dal Bhat (besides its lack of gluten) is that you get unlimited refills! Yes, you heard me. I usually only took seconds of the curry, but you could get seconds, thirds, even fourths of every part of the meal! 
Dal Bhat is undoubtedly the most available and safe gluten free dish in Nepal. You generally don't have to worry about cross contamination because it is made in large, Dal Bhat-dedicated pots (although I always, always, always show my translation card). The nice thing is that Dal Bhat tastes slightly different everywhere you go depending on the region and locally available produce. Personally, I ate Dal Bhat nearly twice a day for two weeks. It became the running joke in my trekking group – but I never got sick!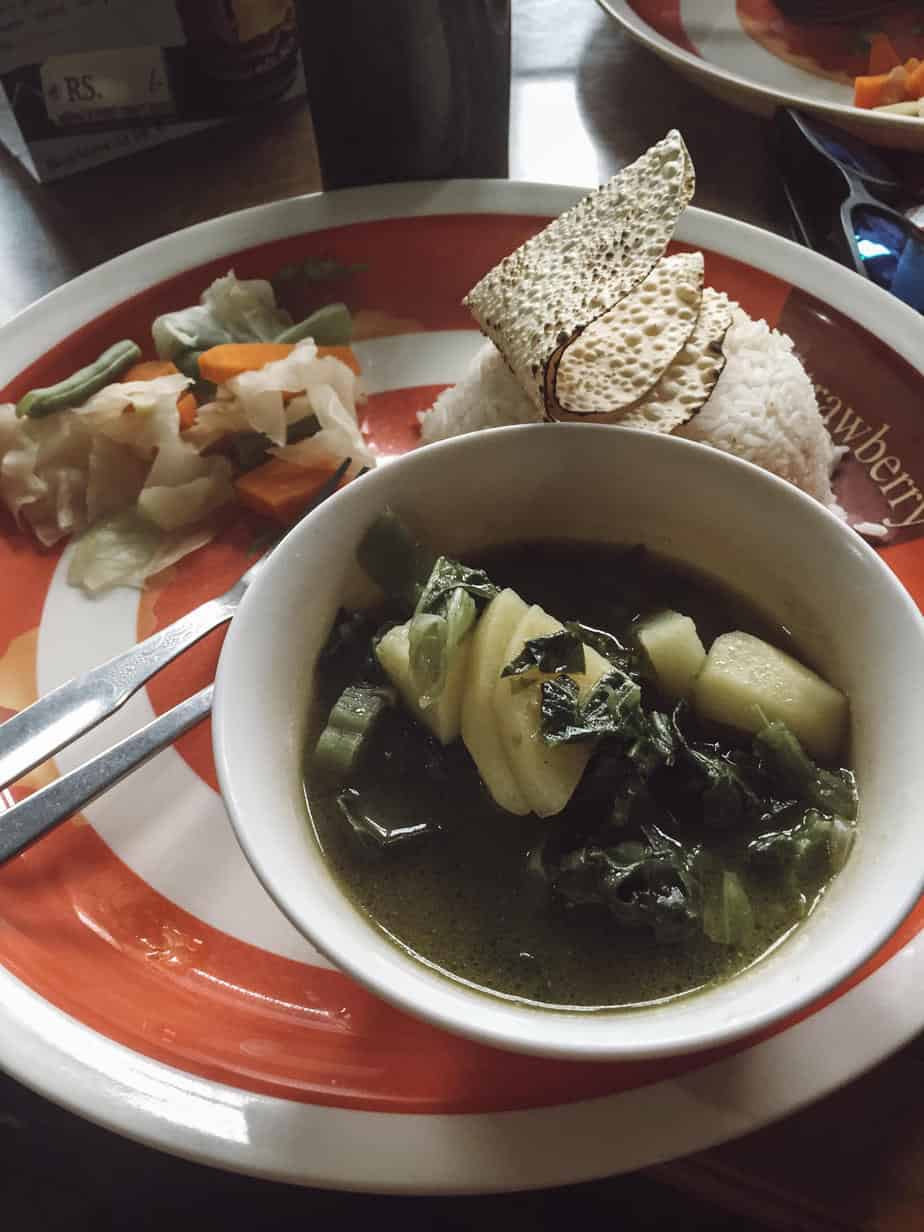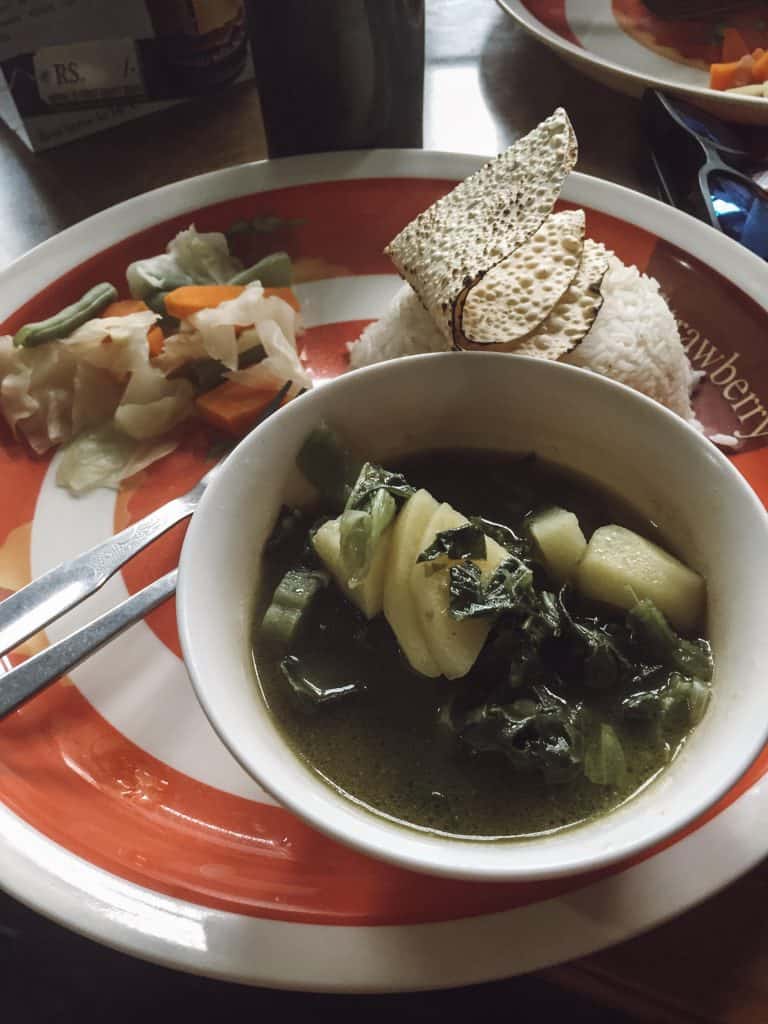 Curries
You'll find a lot of curries in Nepal – think Chicken Tikka Masala – and most of them will be gluten free. Just use your translation card to confirm, and be sure to ask about soy sauce. If you are trekking, stick to vegetable curries. The meat has to be carried up the mountains by porters, meaning it spends days on end without being refrigerated!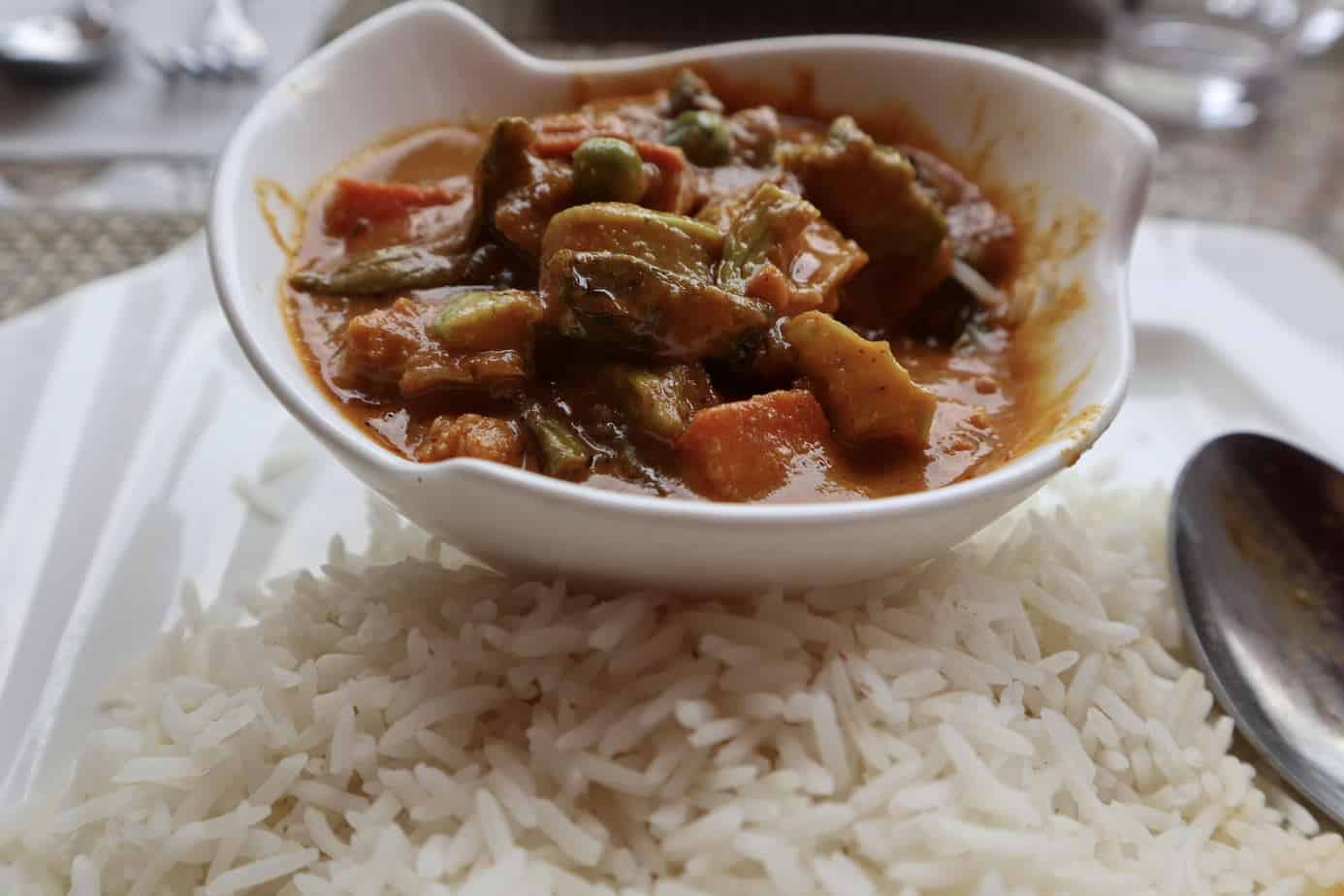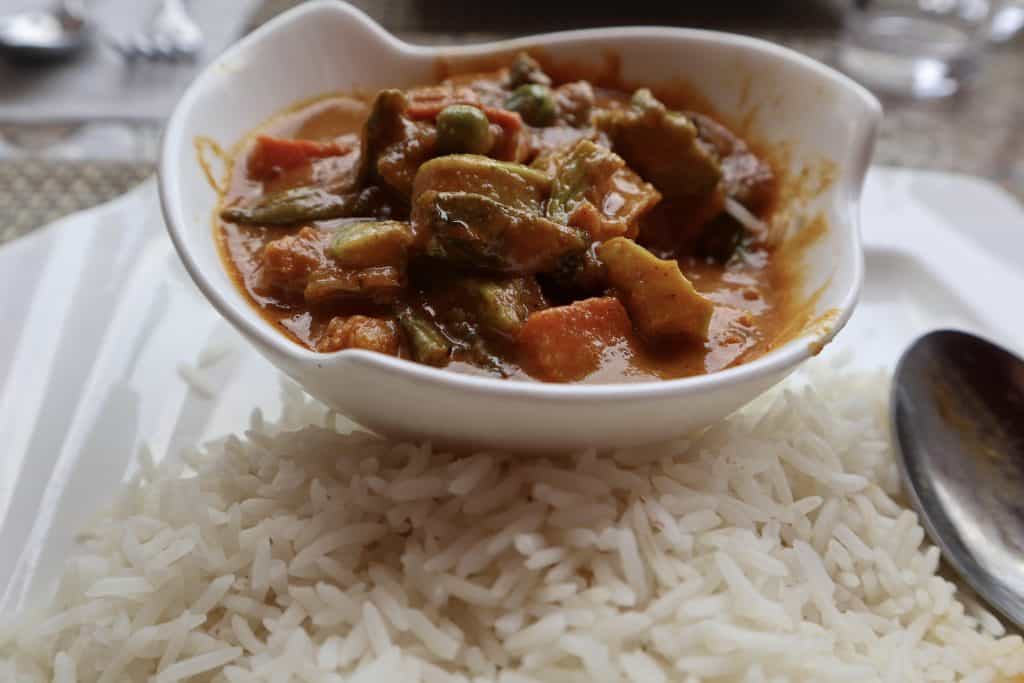 Eggs
Eggs and omelettes are going to be a main breakfast item for you, especially during trekking. I still recommend showing your translation card and confirming the eggs are cooked on a clean pan, and don't come out on a plate with bread!
Potatoes
Potatoes are another Nepal gluten free staple. You can get them fried, roasted, as hash browns, or as rosti (a kind of potato patty that is normally gluten free – although confirm with your translation card). For breakfast I often ordered hash browns (which are massive and about two inches tall!) with an egg.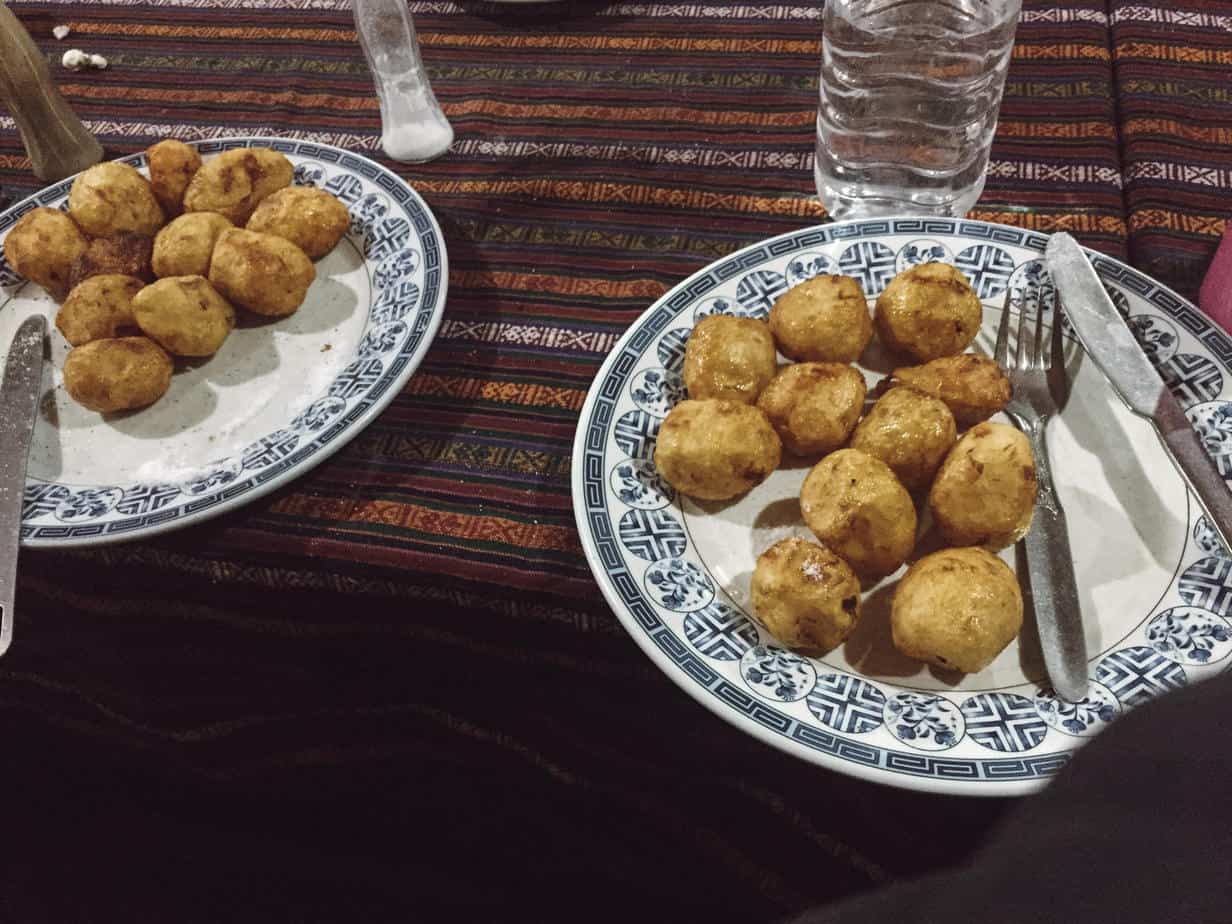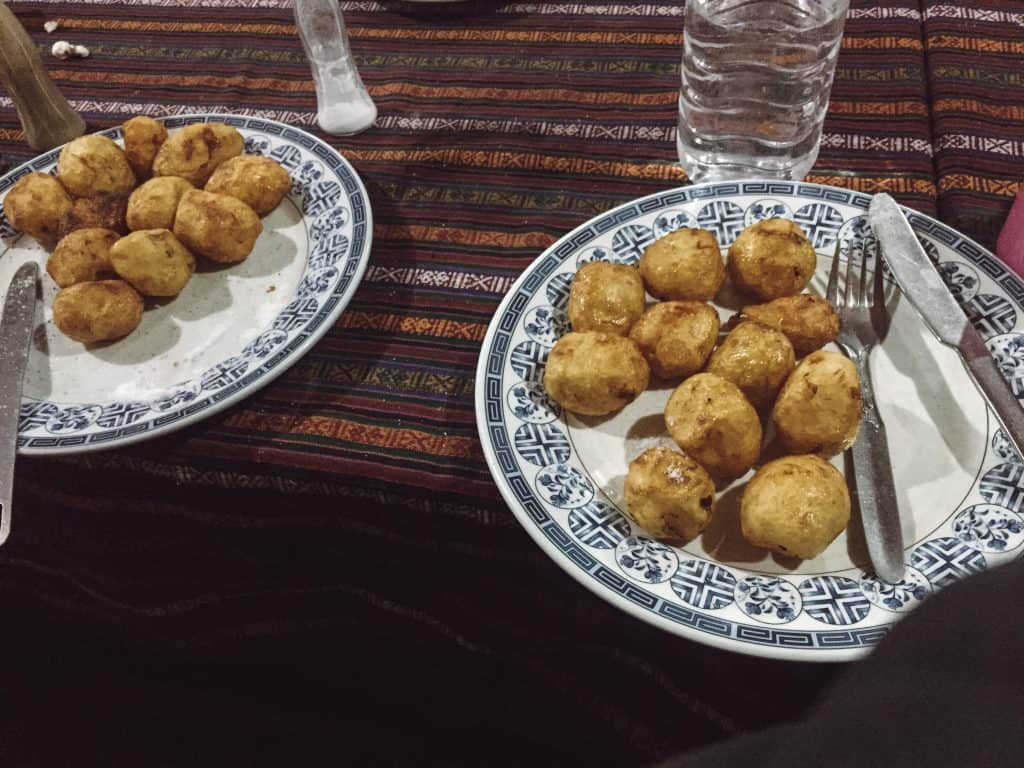 Rice Pudding
Another option for breakfast is rice pudding. This is a really simple bowl of rice mixed with milk and cinnamon, and a nice gluten free alternative to porridge! I tried this a couple times but I would not personally recommend it if you are trekking at high altitudes, as you have the same issue as meat with the Yak milk going rancid! 
(Some!) Fried Rice
Fried rice is another common dish in Nepal but obviously it uses soy sauce. You can however (using your translation card) ask for fried rice that is cooked on a fresh, clean pan and without soy sauce. I was nervous about cross-contamination so I did not attempt this. However, another girl on my trek who had celiac disease ate gluten free adjusted fried rice a few times without symptoms. 
(Some!) Soups
If you want a lighter meal then you can definitely eat soup in Nepal, although you have to be careful. Many soups either include noodles or are thickened with flour. Always use your translation card to confirm, and chances are they can actually cook you your own soup without flour. I ate gluten free garlic soup and tomato soup in Nepal and loved both!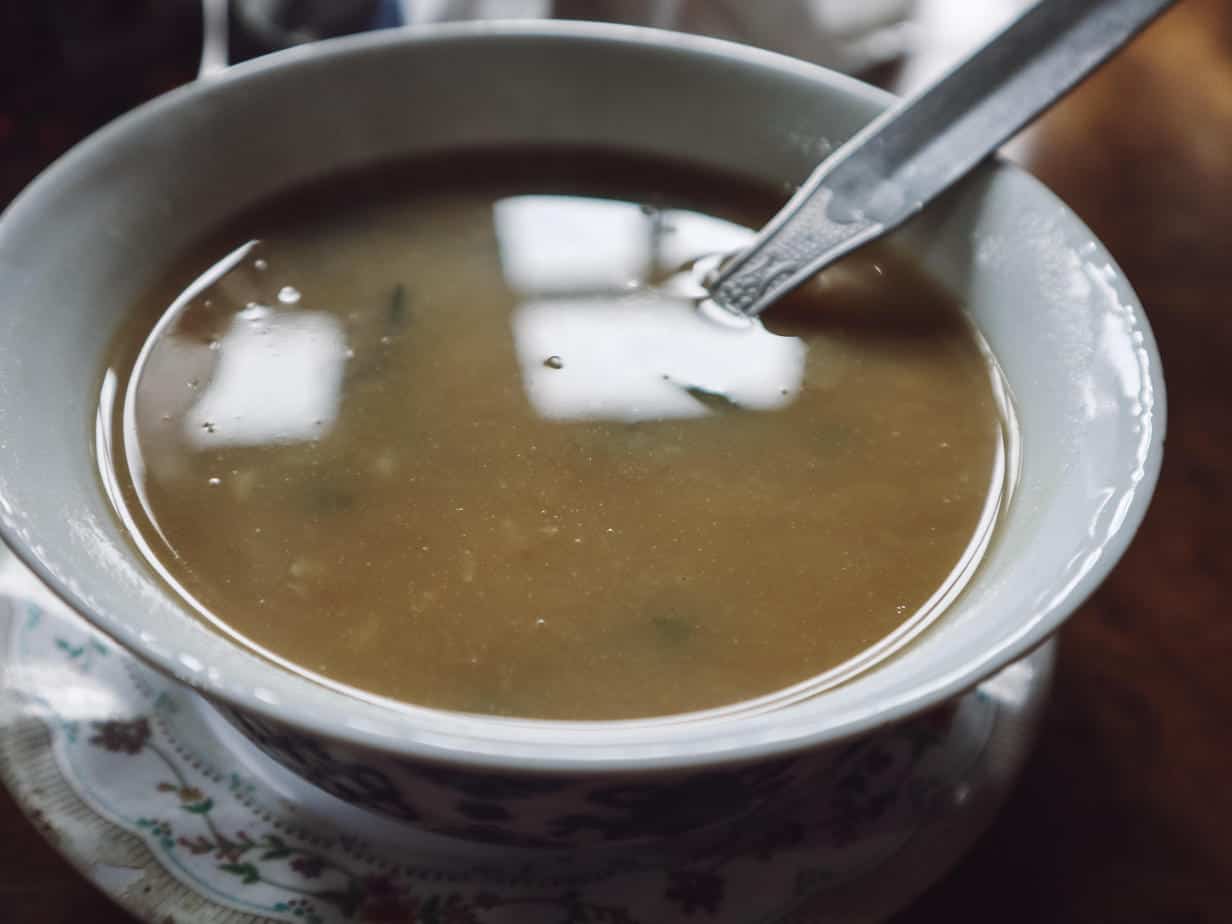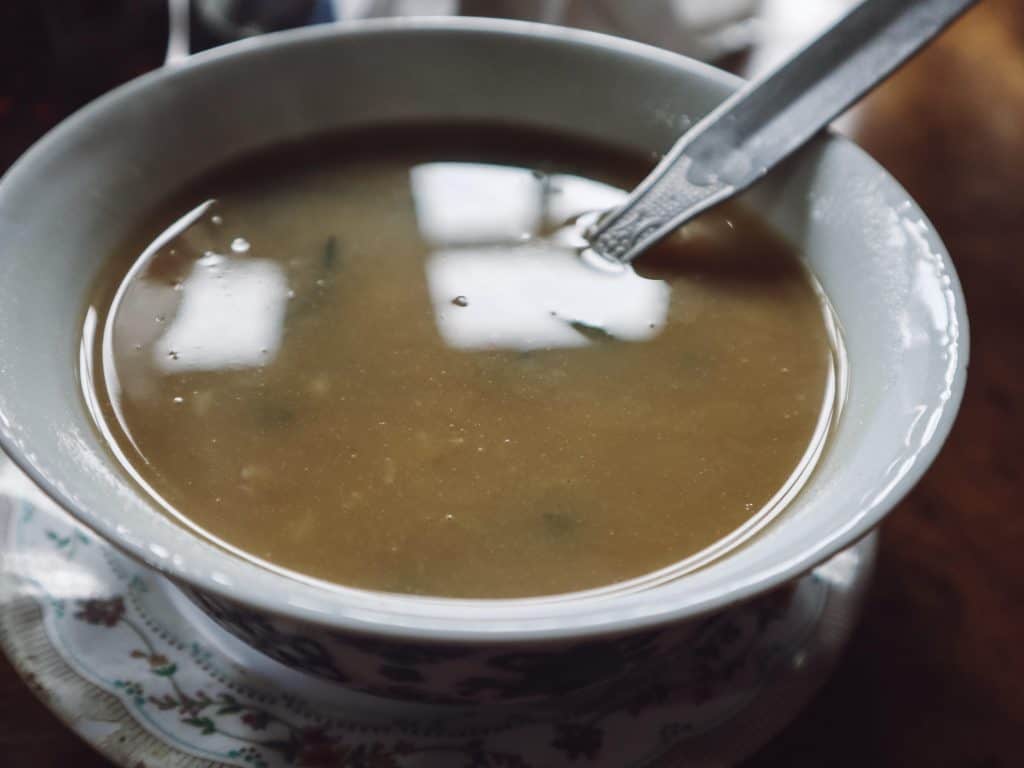 Nepali dishes you CAN'T eat
There are a lot of dishes you should avoid in Nepal, and luckily most of them are quite clear. Nepal has a complex cuisine that is influenced by its proximity to both China and India. Thanks to the Chinese influence, you'll find many dishes that contain soy sauce and noodles. You can also find Western dishes like pizza and pasta even during trekking, and obviously you should avoid these too. 
Rara Noodles
Doesn't this name sound fun? Spoiler: not if you're celiac! You'll see Rara Noodles on most menus but should definitely avoid it due to both the noodles and the soy sauce.
Momo
Momo are essentially dumplings with various kinds of stuffing. They are really popular in Nepal, but most definitely not gluten free. Be careful because sometimes the dough is mixed with spinach or rice, and you might be told they're gluten free because it's "spinach dough." However the dough undoubtedly still has wheat in it.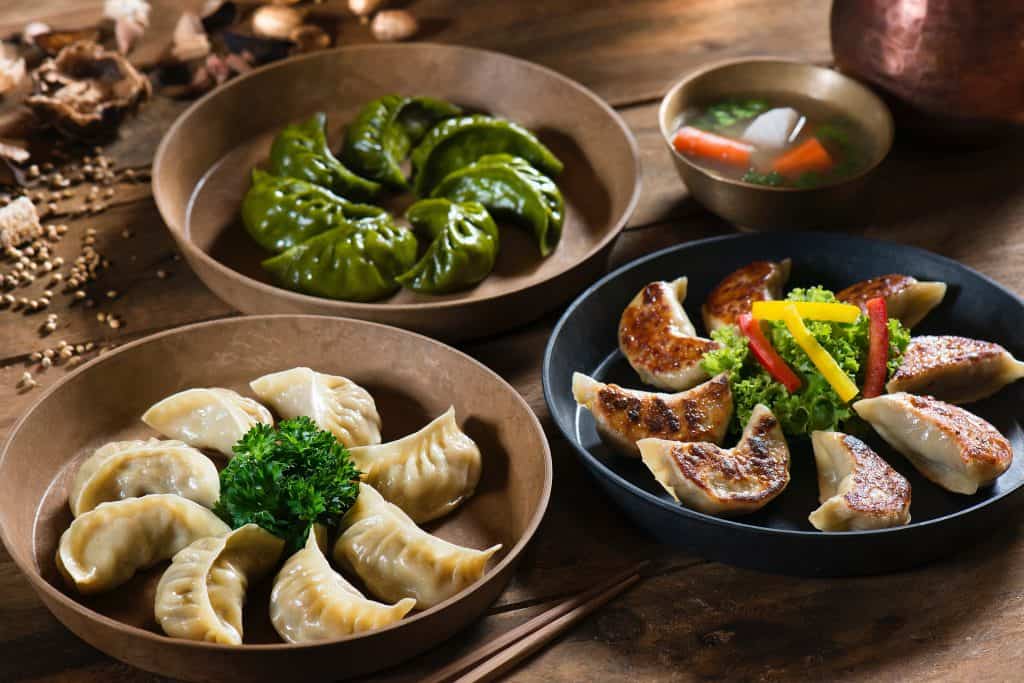 Tips for trekking gluten free in Nepal
If you are traveling to Nepal, chances are you want to trek – after all, trekking is the country's biggest tourist draw.  Trekking is already an intense physical experience, and now add to that the possibility of being glutened at altitude with only squat toilets… now that is what nightmares are made of. 
But I'm not here to scare you. I'm here to say that I did not get glutened a single time on my trek! True, I was extremely diligent and prepared, and did not eat the most adventurous diet. But I was safe and I made it to Everest Base Camp (and back!) in great health. Here are some of my top tips for Nepal gluten free trekking.
Communicate with your guides
During trekking, your guides are your lifeline and this is especially true of being gluten free! Instead of wait staff, your guide will take your order and bring it back to the kitchen. Make sure your guide understands your gluten free requirements 100%, right from the beginning. Show them the translation card and discuss with them. Ideally, this will actually make your life a lot easier because instead of explaining yourself every time you sit down for a meal, your guide will have your back! 
Show your translation card at every meal
Even if you think a dish looks obviously gluten free, I still highly recommend showing your translation card at every meal. This will just keep it in the forefront of your guide's mind, and also save you if there's something sneaky in the dish!
Breakfast ideas
For breakfast, gluten free options will include eggs/omelettes, potatoes, and rice pudding. Like I mentioned earlier, I would not personally recommend eating meat or dairy (so this nixes the rice pudding) at high altitude, because they go rancid as the porters have to carry them up the mountain. As such, breakfast options are limited so I would bring your own breakfast bars (I like Probar meal bars which are amazing for trekking and camping). At teahouses, there is always boiled water available for about 50 rupees (50 cents), which you can create porridge with if you bring some gluten free oats.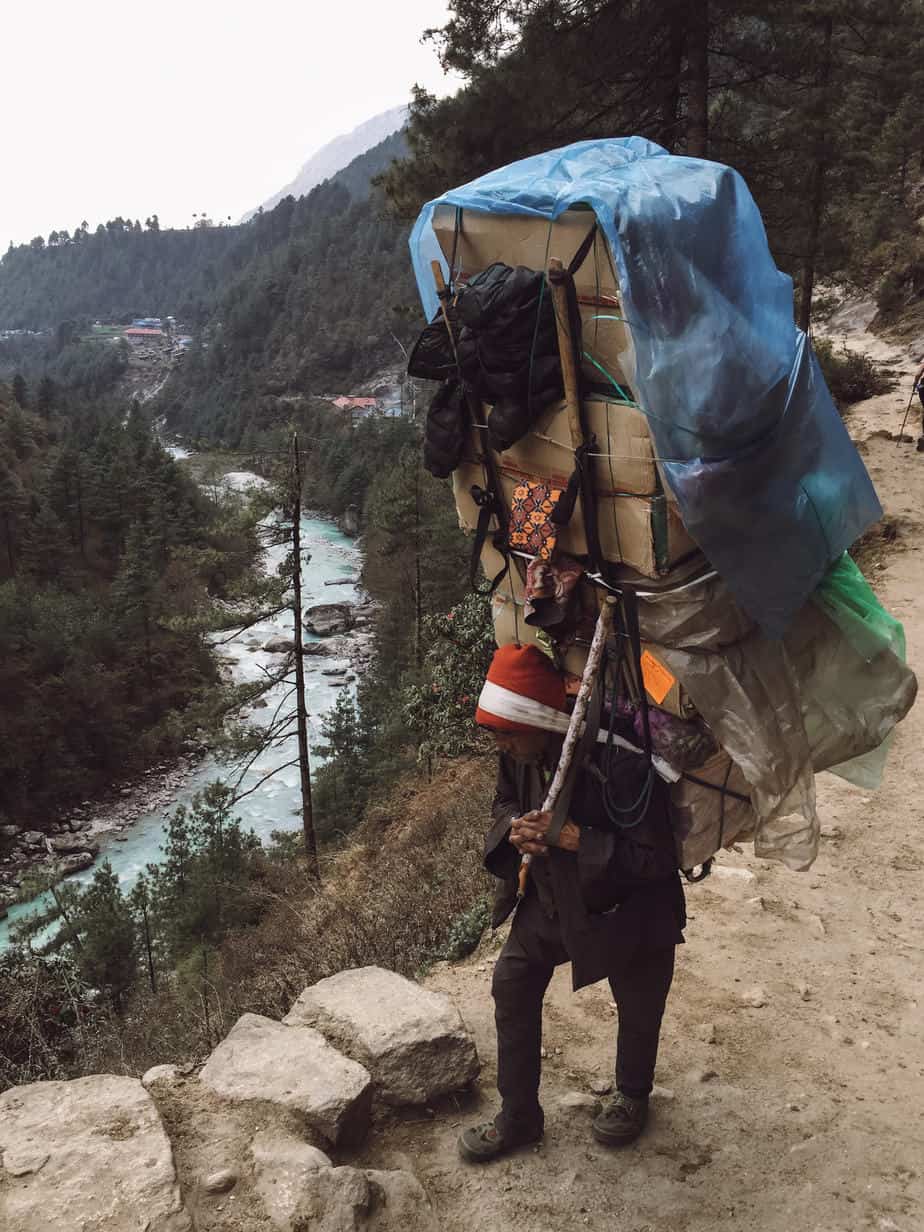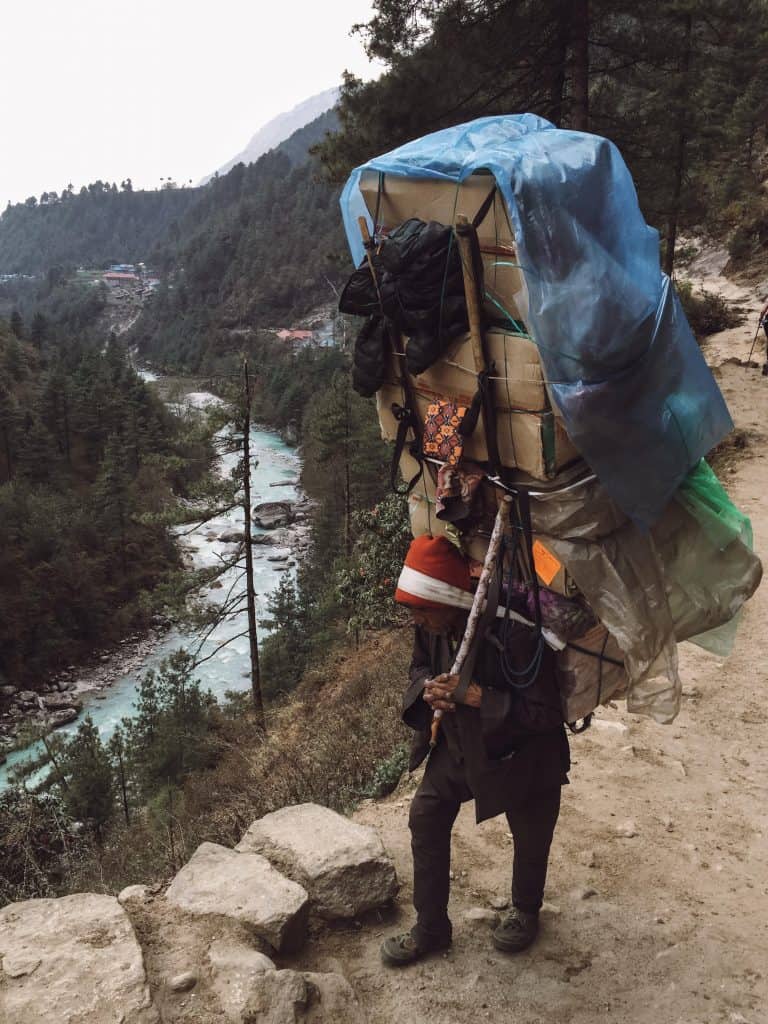 Lunch and dinner ideas
Dal Bhat power. Need I say more? Yes, this will get repetitive, but it also has a great balance of protein and carbs that will power you up the hills. If you are totally sick of Dal Bhat, then try variations on roasted potatoes, soups, or modified fried rice.
Trekking snacks to bring
As a gluten free traveler in Nepal, your snack game needs to be ON POINT!  I recommend packing way more snacks than you think you'll need because while you can buy snacks in Kathmandu and Namche Bazaar, you'll be hard pressed to find gluten free options, particularly healthier options. You should allocate a minimum of three snacks per day. I actually had an entire packing cube dedicated to snacks (I also highly recommend using packing cubes in your duffel as you have to unpack and repack every day at the teahouses during the trek!). Choose snacks that have a balance of carbohydrates, healthy fats, protein, and energy. Here are my top picks, including links to my favorite brands that I personally brought on my trek:
I literally had ALL of these snacks with me during the trek. I recommend checking both Amazon and Thrive for best prices (I ordered from a combination of each, plus my local grocery stores). If you are not a Thrive member, there is a 30 day free trial that is worth trying (more info on this at the end of the post).
If I had to pick a top three snacks for yumminess and keeping my energy up on the trail, it would be the Epic jerky bars, Justins nut butters, and Bolt energy chews. All of those can be bought in bulk.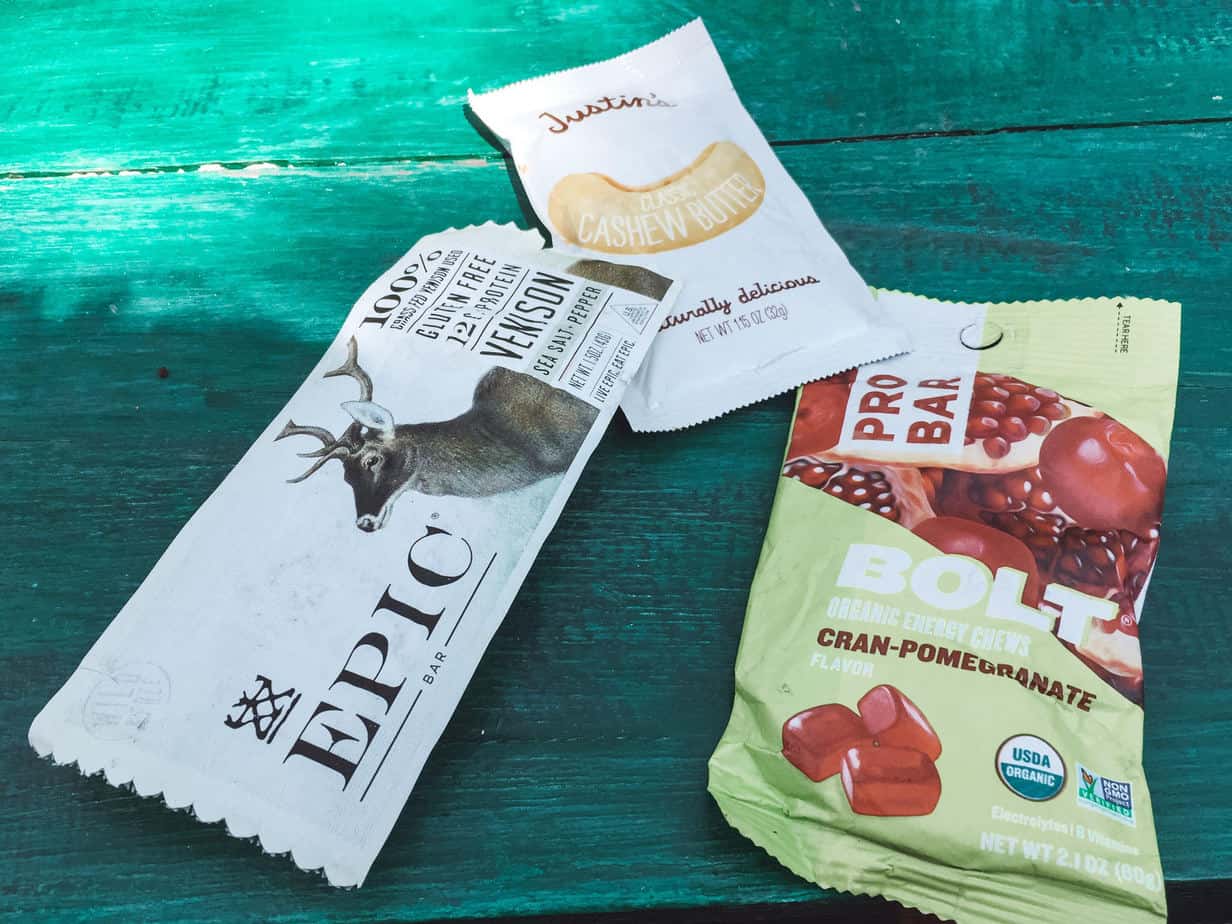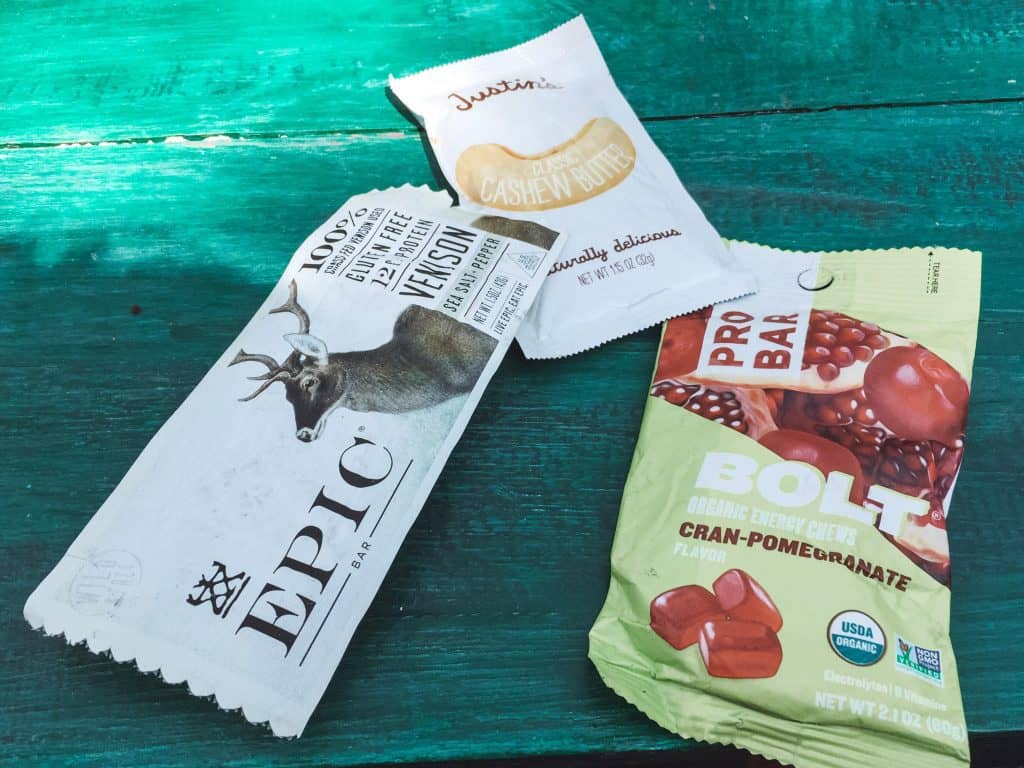 Medicine, Vitamins, and Supplements
Thanks to your (mandatory) reliance on Dal Bhat, chances are you will actually eat a pretty balanced diet while trekking. However, I still recommend bringing along some vitamins and supplements, as well as first aid medicine to keep your body in top shape. During trekking you're at risk of altitude sickness, pneumonia, and lots of stomach bugs and viral infections, on top of the gluten risk. So do your best to prepare for worst case scenarios, so you can recover ASAP.
Multivitamin: A high-quality gluten free multivitamin, that has adequate sources of B vitamins, is essential for celiacs, especially during travel! I swear by Rainbowlight Vitamins (Amazon | Thrive)
Magnesium citrate: I use Natural Vitality nearly every night during travel to reduce stress and promote regular bowel movements. Amazon | Thrive
Vitamin C powder: Because you need to keep your immunity up, or succumb to the "Khumbu Cough." Amazon | Thrive
Diamox: Get a prescription from your doctor for Diamox, the only drug that is proven to reduce chances of getting altitude sickness.
Imodium: Helps in case of food poisoning or even glutening. Amazon
Muscle relaxants: Get a prescription from your doctor if you are predisposed to back spasms or muscle problems.
Ibuprofen: I recommend getting a prescription of 800mg from your doctor in addition to a normal dosage. Amazon
Antibiotics: Ask your doctor for a prescription of a general antibiotic such as Cipro. This will be VERY useful if you or anyone on your trek gets a stomach bug or a chesty cold.
Nepal gluten free restaurants
It is very difficult to find restaurants in Nepal that offer specialty gluten free items like bread. I did not find any but fellow celiac blogger Jen from The Nomadic Fitzpatricks has a few recommendations. I can't wait to return to Nepal and test these out, plus find some more! 
Gluten free Kathmandu
Blueberry Kitchen
Blueberry Kitchen is a cafe in Kathmandu, open 7am-10pm, with gluten free offerings. Moreover staff here know what gluten is!
Blueberry Kitchen // Paknajol Marg | 

In Side Kathmndu Madhubhan Guest House

, 

Kathmandu 44600, 

Nepal
Rosemary Kitchen
Rosemary Kitchen is another cafe in Kathmandu with gluten free offerings. These include bread and buckwheat pancakes. Also open 7am-10pm.
Rosemary Kitchen // Thamel Marga, 

Kathmandu 44600, 

Nepal
Gluten free Pokhara
French Creperie and Bar
At French Creperie you can eat lovely gluten free pancakes/crepes, made of buckwheat flour. Very good reviews of this place!
French Creperie and Bar // Khahare Chowk, 

Pokhara 33700, 

Nepal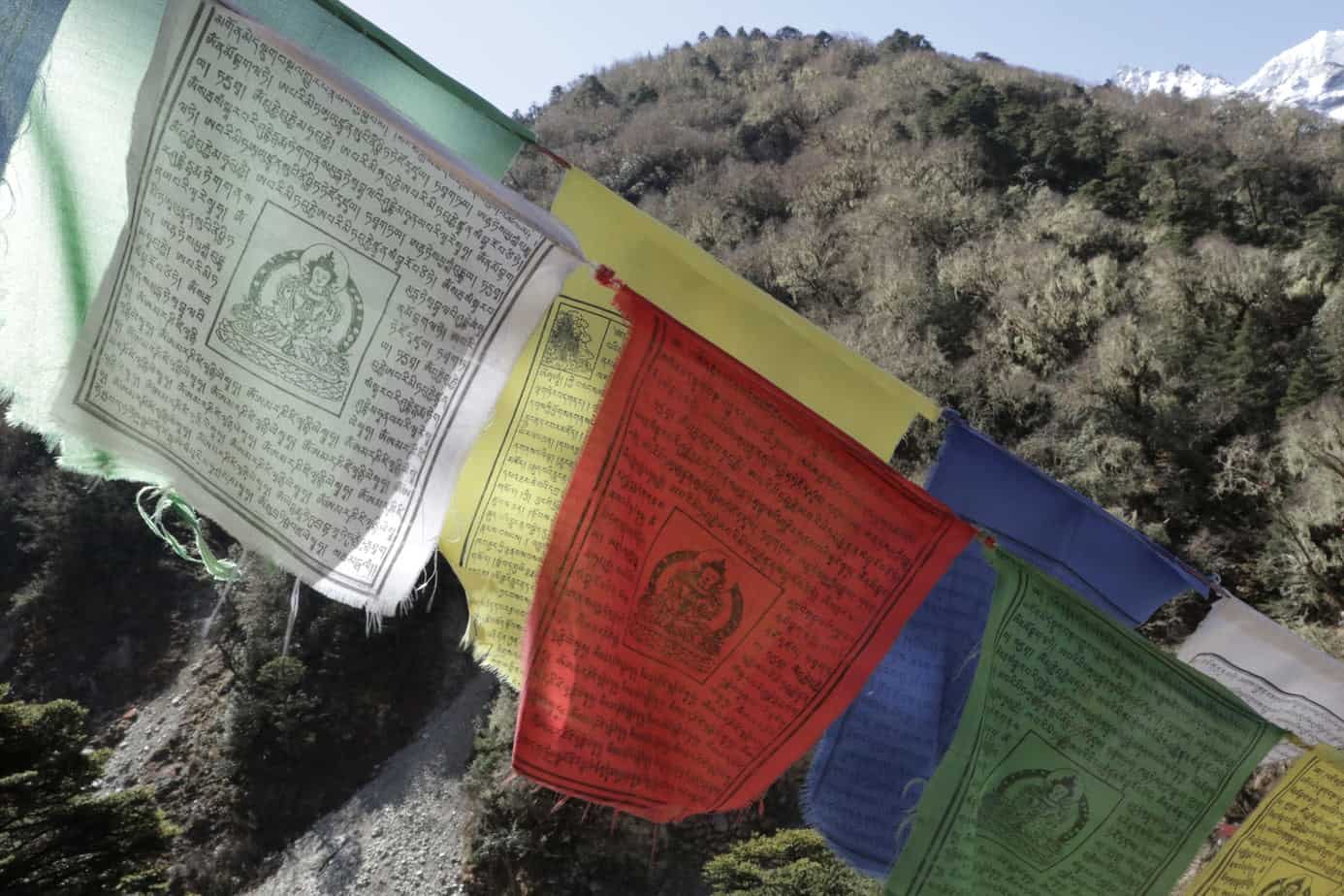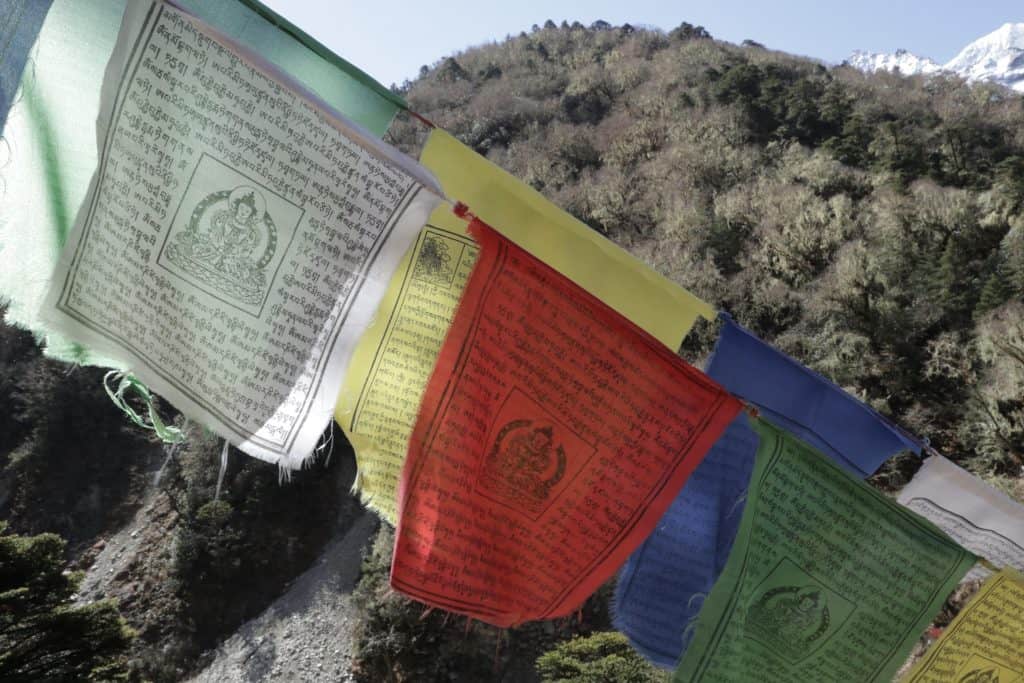 Some final thoughts on Nepal gluten free travel
Often, traveling while gluten free can feel like a burden. I totally get it. But I want to give you some words of encouragement. In Nepal, most tourists taste Dal Bhat once or twice and then return to their home comforts: pizza, pasta, etc. I definitely had pizza envy in the mountains. And eating Dal Bhat twice a day for two weeks, by the last days I wanted to burn each individual lentil into the fiery depths of hell. (The encouraging part is coming, promise).
But guess what else happened? The last few days of our trek, we realized that only three people in our group of nine were still going strong and feeling healthy. And guess who these three were? The two celiacs and the vegan! Now, I can't say this is completely coincidence. I truly believe that by eating Dal Bhat and other naturally gluten free whole foods, I was giving my body its best opportunity to stay healthy and strong. Food is fuel, and let me tell you Dal Bhat power is real! Now, if I'd had the freedom to eat what I wanted, hell no would I have lived purely on Dal Bhat for two weeks. But I had to!
So I know that gluten free travel has its challenges and its limitations, but on the flip side, sometimes it keeps you healthy enough to have incredible life experiences, like climbing to freakin' Everest Base Camp, and feel good for them. 
Also vegan? Check out Ashley's guide to being vegan in Nepal!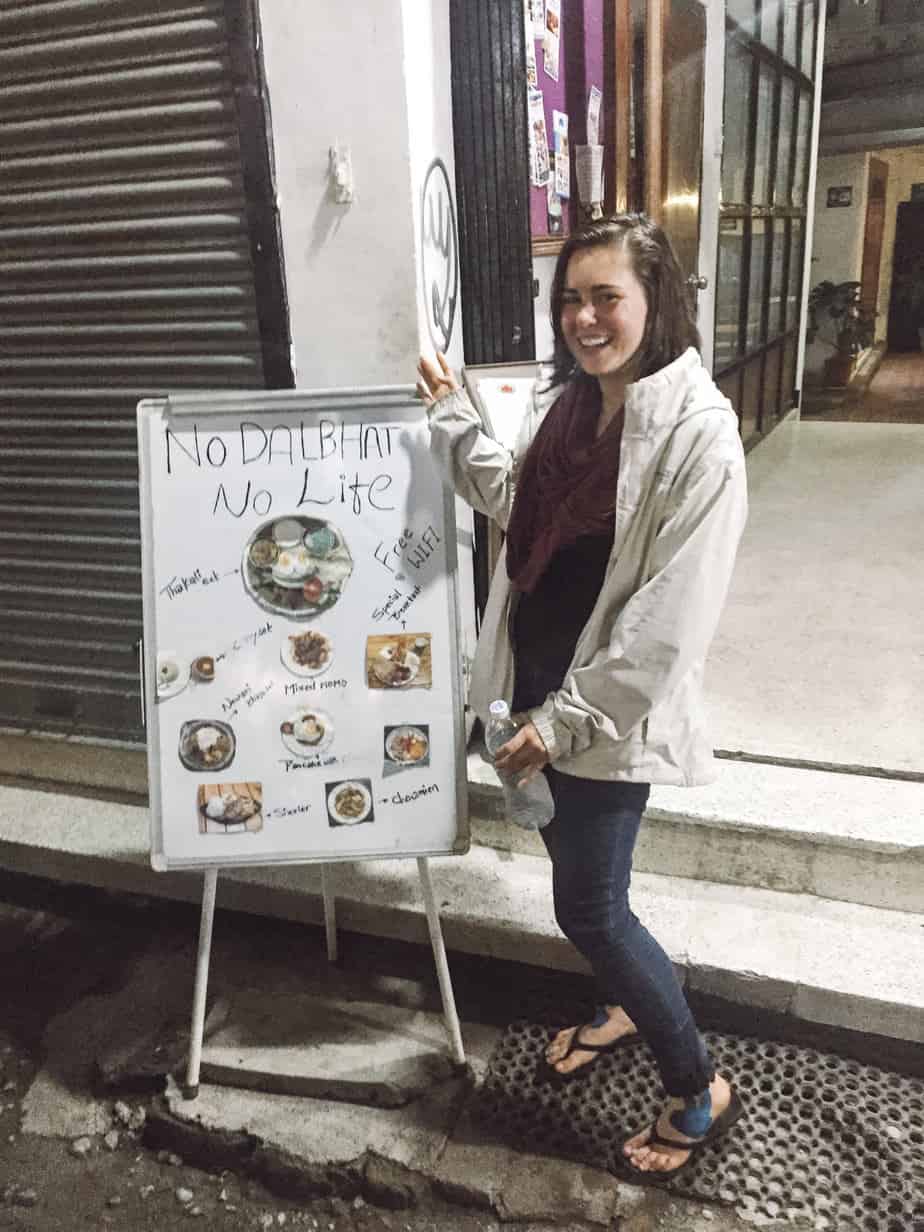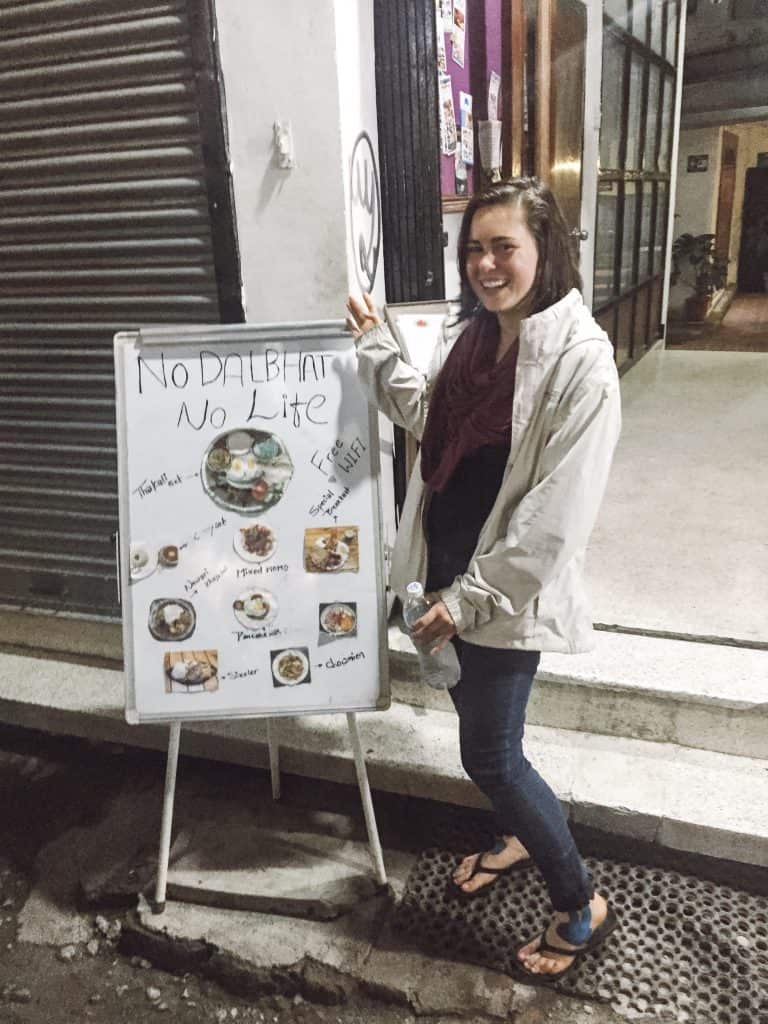 Shop this post…
You'll be hard pressed to find a loaf of gluten free bread anywhere in Nepal, so I recommend doing the majority of your shopping before you depart. Like I mentioned, plan on bringing at minimum a packing cube full of snacks (linked is the brand I personally use)! I did my shopping in three batches:
Thrive Market is an online shop that sells gluten free and organic foods at their wholesale prices (read: WAY cheaper than the store!). Membership is free for the first 30 days (Personally I am a subscription member – it's one of the rare things worth subscribing to in my opinion!). If you're heading to Everest Base Camp, you'll save money using the free trial to do the bulk of your shopping.
Happy traveling, friends. And to anyone heading to Nepal – enjoy that Dal Bhat power!
Sarah xx
Browse all my gluten free travel guides here. Including:
And many more!
Pin it for later…
*This post contains affiliate links. If you click on one of my links I may make a small commission, at no extra cost to you. I have recommended brands that I personally use and enjoy! Thank you for supporting Endless Distances.