Checking In | Jasper House Sri Lanka: An Open Air Boutique Hotel on Hiriketiya Beach
After exploring misty tea country in Ella, Dan and I wound our way down to Sri Lanka's southern shores, and to arguably the hotel we were most excited about: Jasper House Sri Lanka. Don't get me wrong, we loved the lavish Indian wedding we attended in Chennai, followed by the clattering 10 hour train from Colombo that wound its way through Sri Lanka's hills. And we adored everything about Ella, especially each sweaty hike to epic viewpoints. But were we exhausted? YES. A few days of utter relaxation at Jasper House in Hiriketiya is exactly what we needed.
Checking in to Jasper House, the friendly staff swooped in to trade our heavy backpacks for champagne flutes of fresh papaya juice. We were then shown to our second floor room. As soon as the antique wooden door swung open, I knew I'd be in heaven.
Check out my other Sri Lanka blog posts:
*Our stay was hosted by Jasper House for the purpose of review. All opinions are my own. As you know I only express my honest opinion on Endless Distances so you can make your best informed decisions for your travels!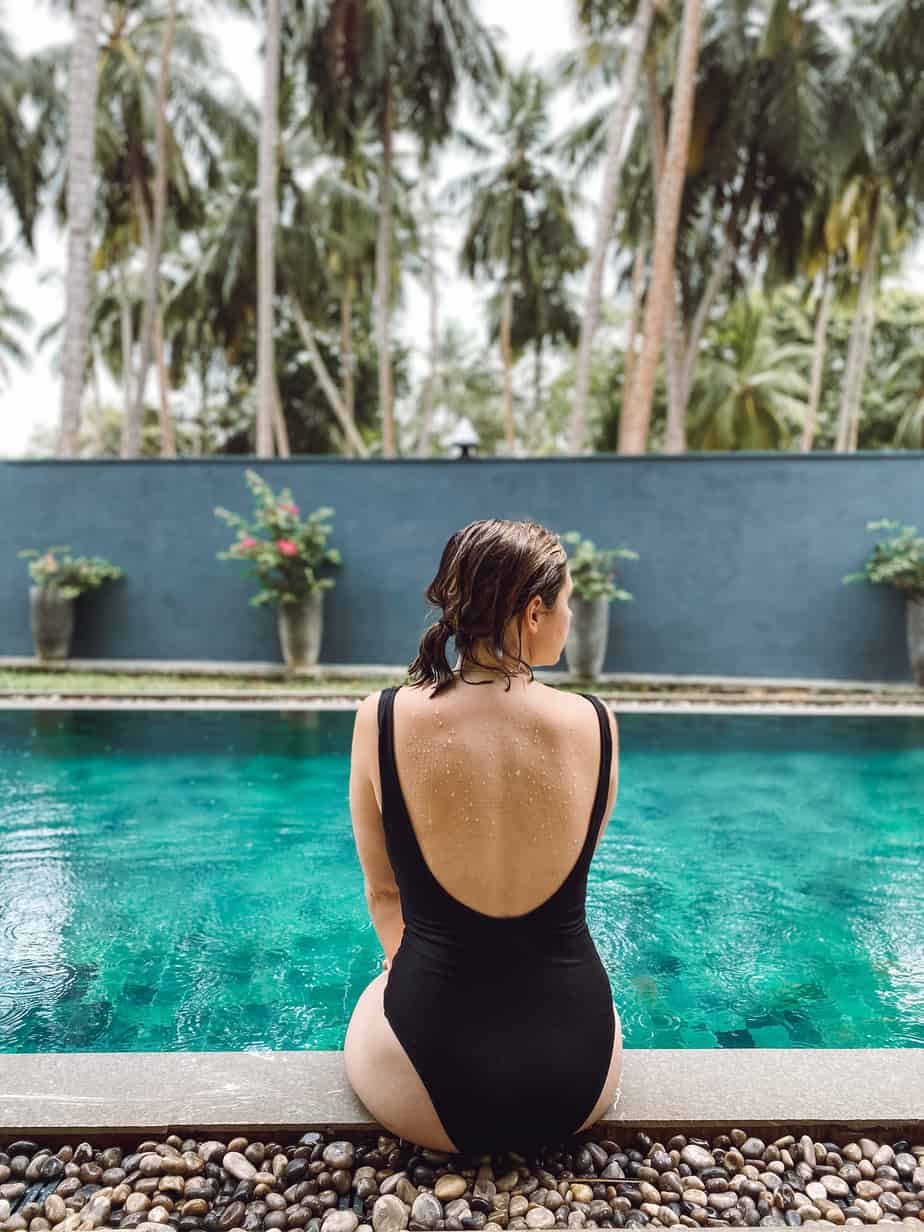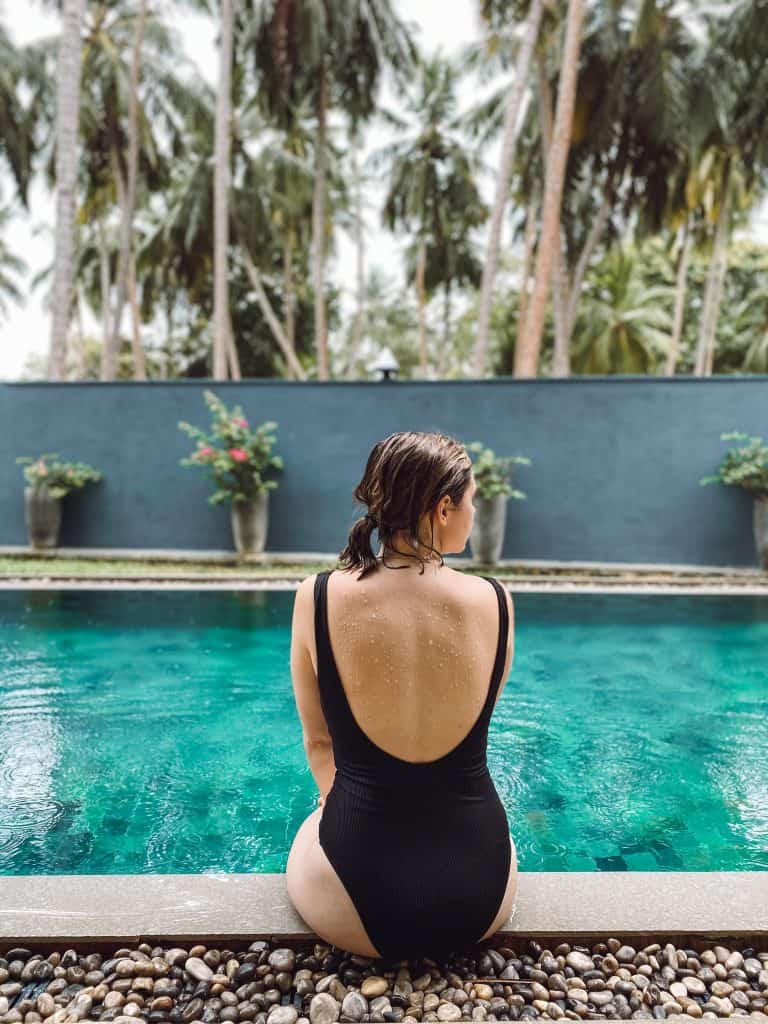 Jasper House Sri Lanka Review
Jasper House is a very special hotel in Hiriketiya, Sri Lanka. It, in my opinion, defies labeling. It's not a simple luxury hotel – it's an unusual open air accommodation that is the perfect match for nature lovers who want to feel at one with their surroundings in a beachy coconut grove in Sri Lanka.  This is all without sacrificing the luxurious touches. Is it for everyone? No. But it was definitely for me. Read on to see what we thought of our stay!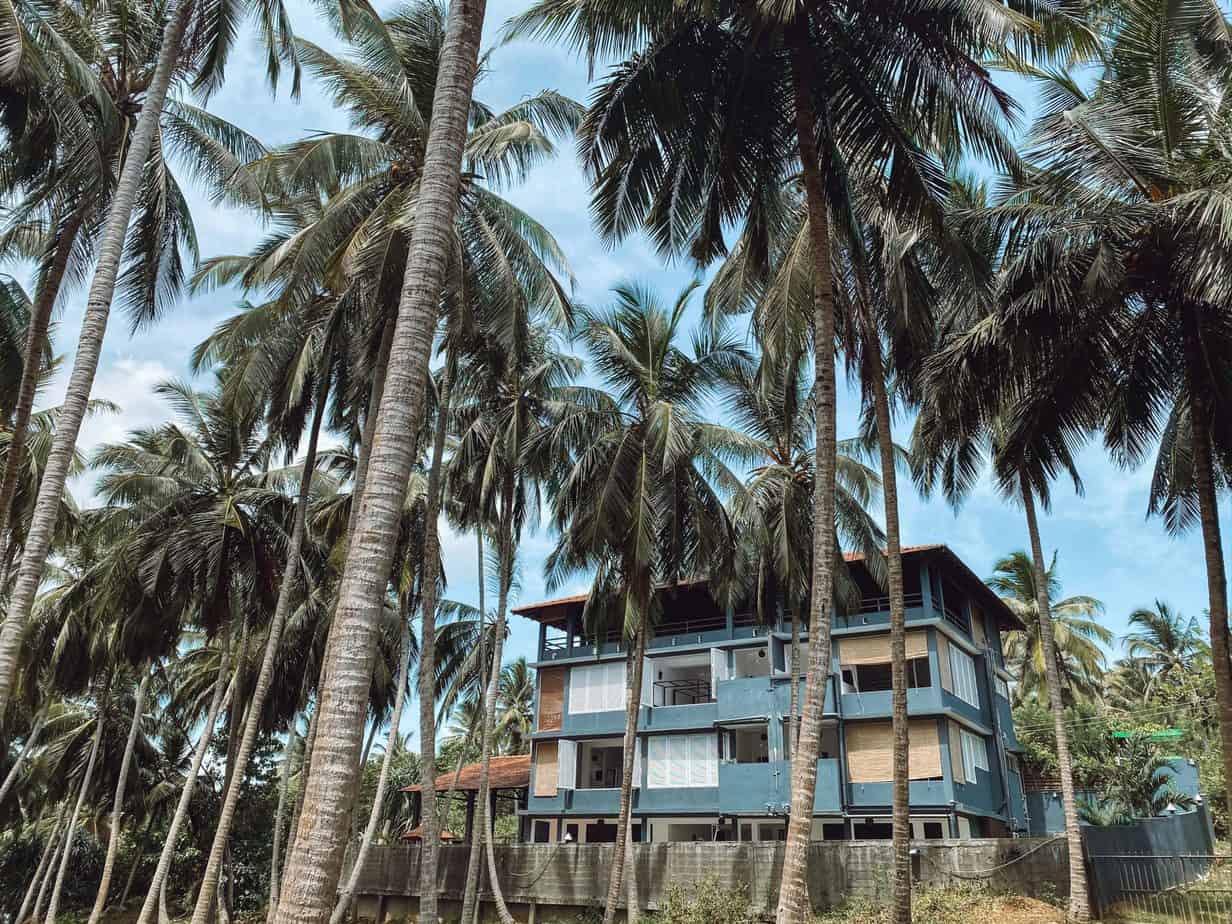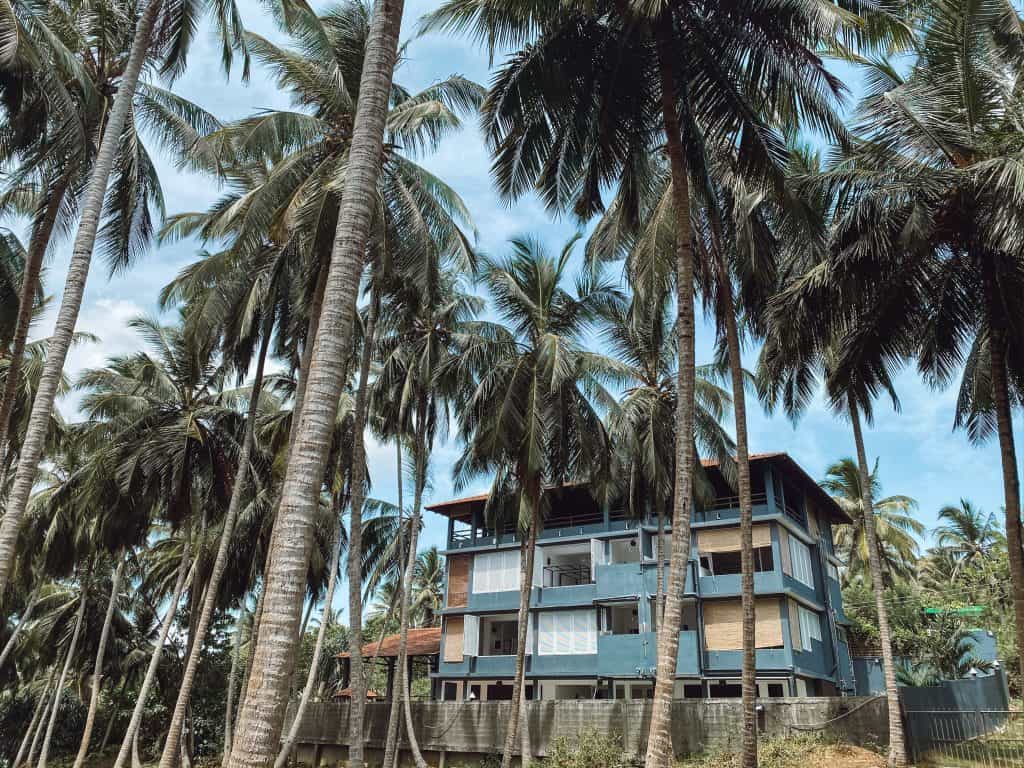 Where is Jasper House Sri Lanka?
Jasper House is located in Hiriketiya, a horseshoe-shaped bay on Sri Lanka's south coast. We were drawn to Hiriketiya, as opposed to its more crowded south coast counterparts like Mirissa, Tangalle, and Unawatuna, because we heard it was still relatively under-the-radar. In fact, someone described Hiri to me as 'Bali 30 years ago,' and I just needed to see what that was like (while I still could). You can read more about Hiriketiya in my article about all the things to do in Hiri.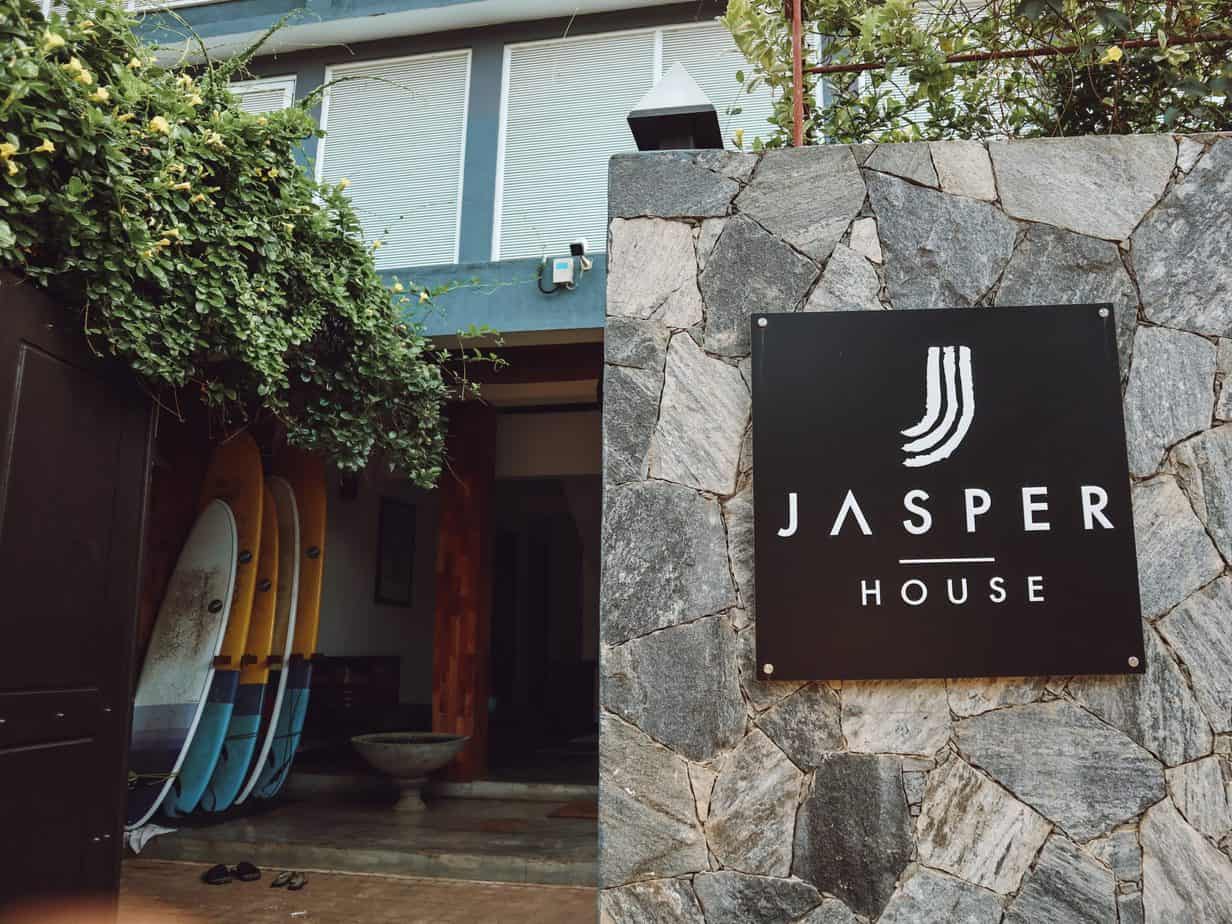 Within Hiriketiya, Jasper House has one of the best locations you could ask for. It's located on the small eastern point of the bay – which is much less populated (your neighbors here are more likely to be monkeys than rowdy tourists). Jasper House is surrounded on three sides by ocean, with a secluded palm tree grove on the surrounding headland. Still, it's only a two minute walk to get to the action of Hiriketiya Beach.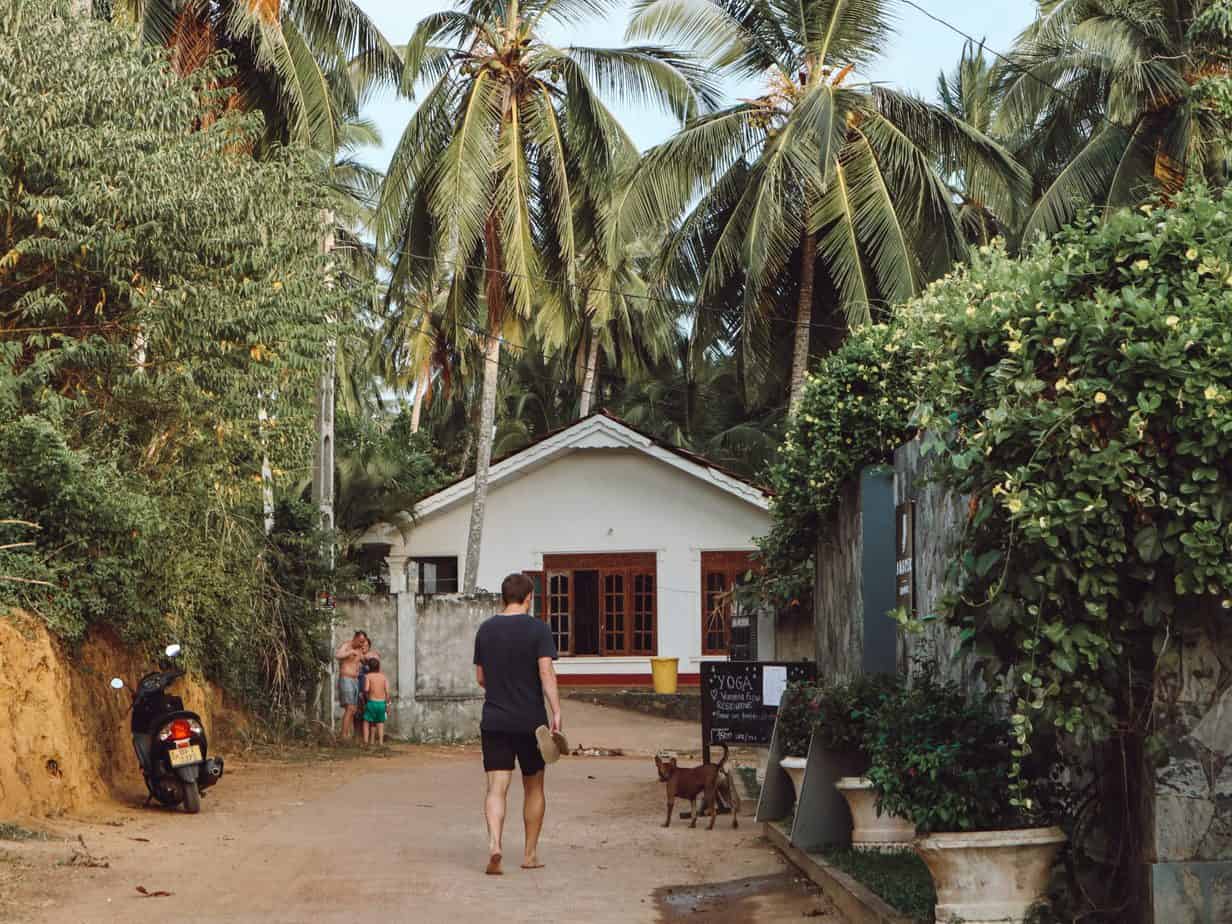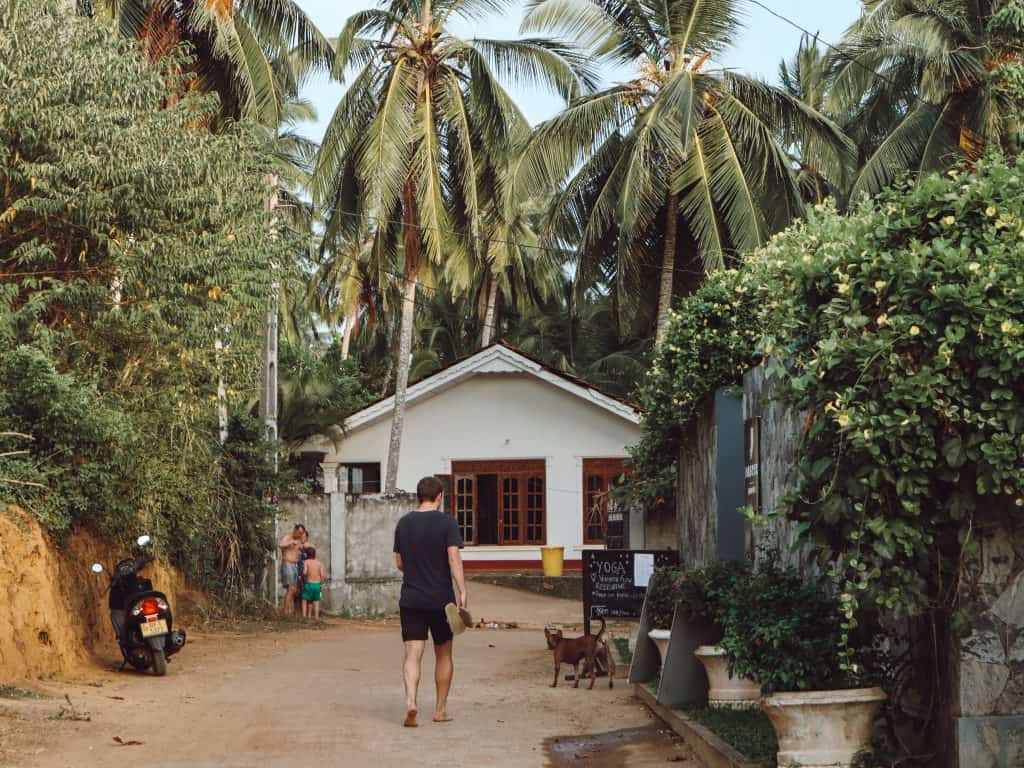 Jasper House rooms
Jasper House has twelve rooms. Each is unique, and appointed with locally made and antique furniture. We stayed in room six on the second floor, which was a 'Deluxe Palm View' room.
The first thing I noticed was how much bigger the room was than I expected. In addition to the four poster King bed draped in a mosquito net canopy, we also had a sitting area with chairs and table, a dressing area and antique wardrobe, and a large private bathroom.
The room was open air on two sides, with views dominated by swaying palm trees. We had the option to close the windows with shutters that still allowed for some air flow.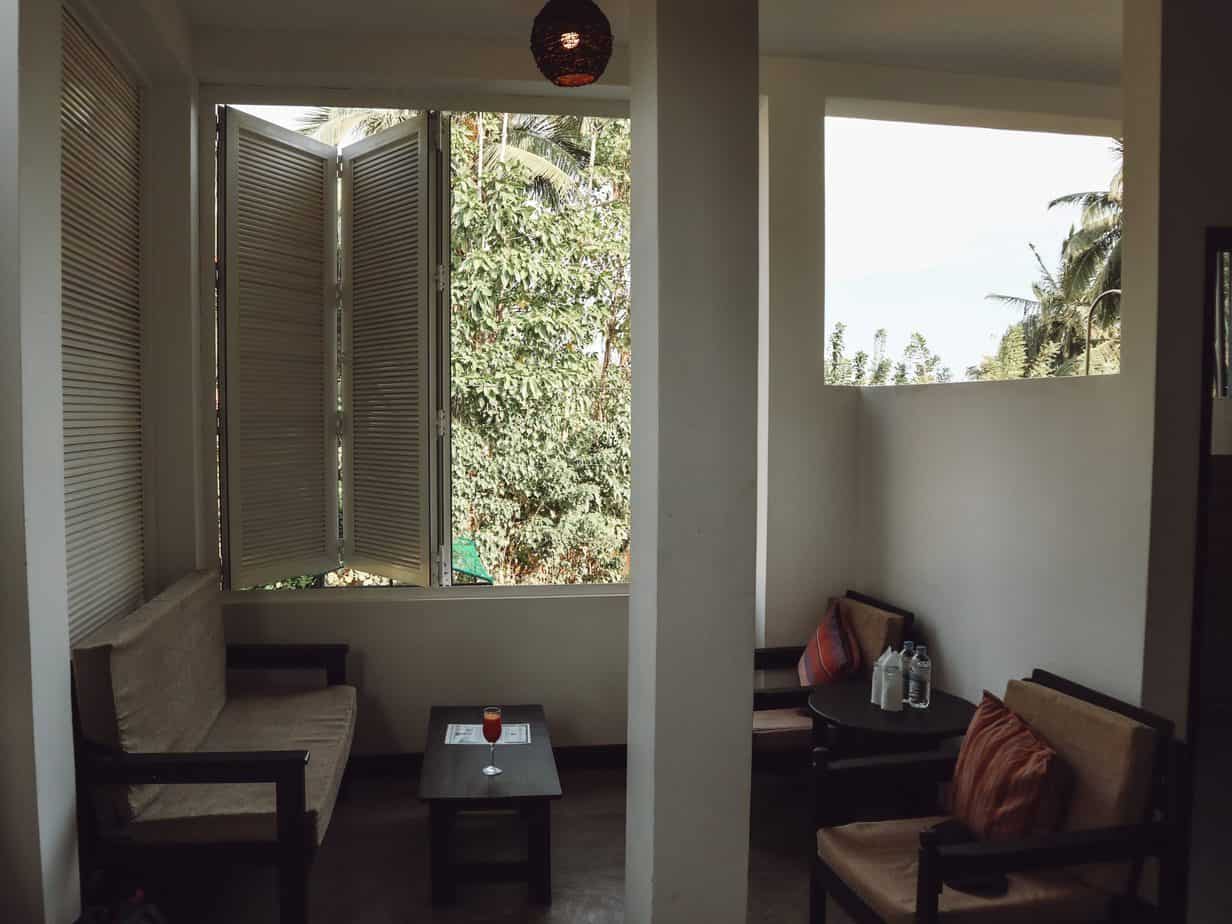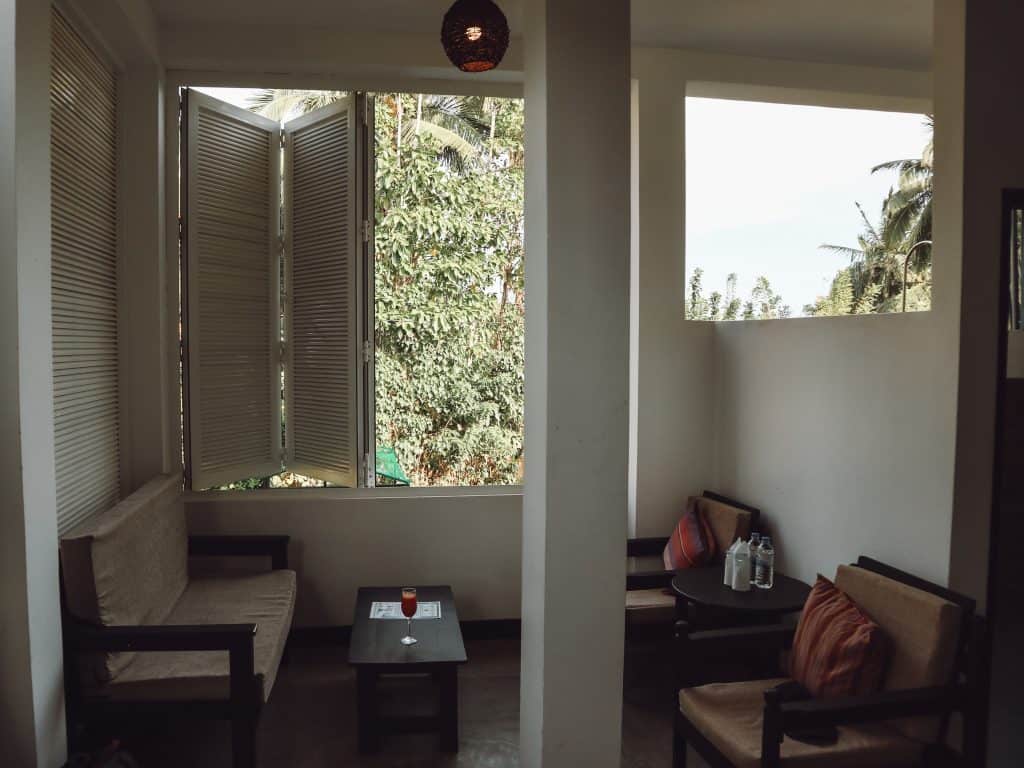 The result of this open air style was something I had never experienced before. Even though we slept firmly indoors in our cushy King bed, I felt like I was outdoors, enmeshed in the wild of Sri Lanka. I drifted off to the sound of chirping frogs and ocean waves lapping on the three surrounding shores. And I woke to the swish of palm trees, the twitter of birds, and the chatter of monkeys.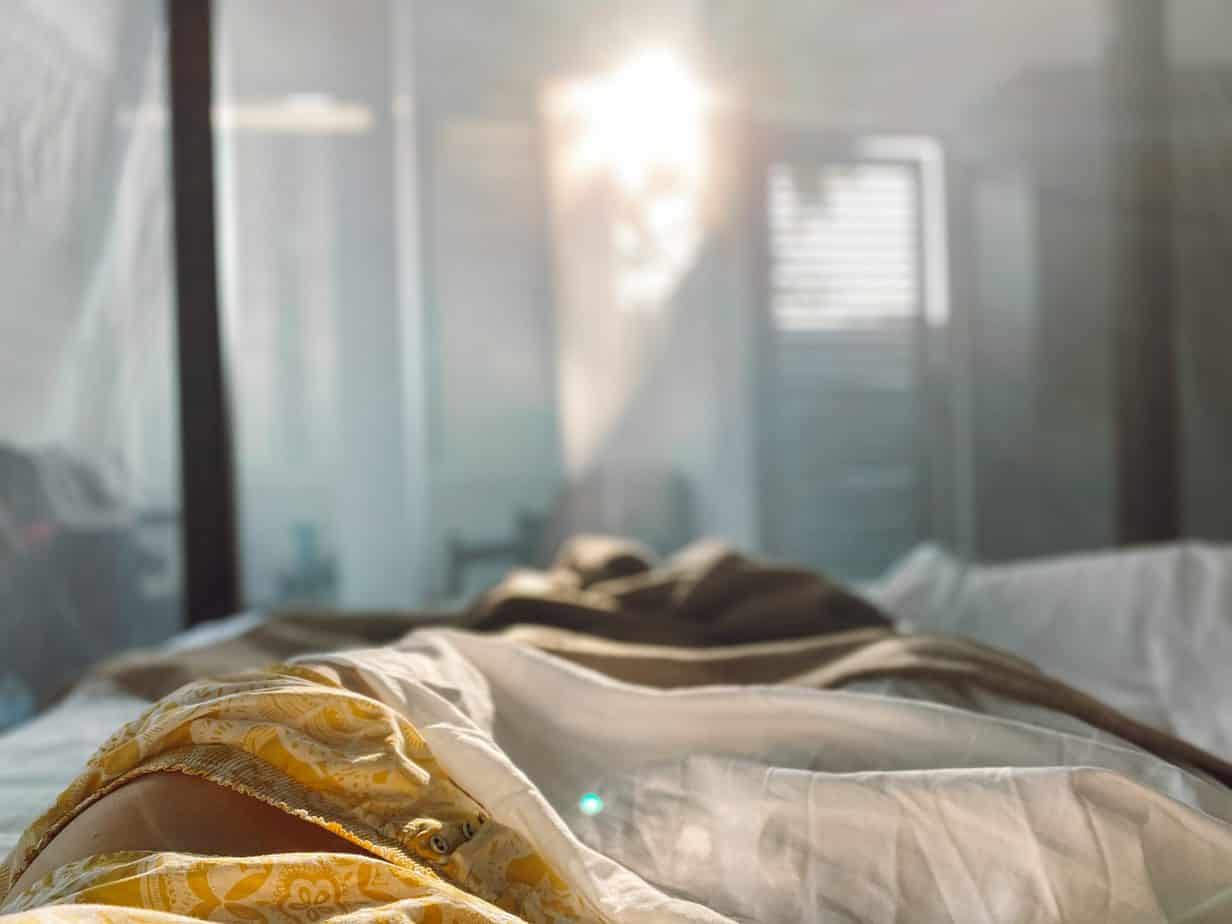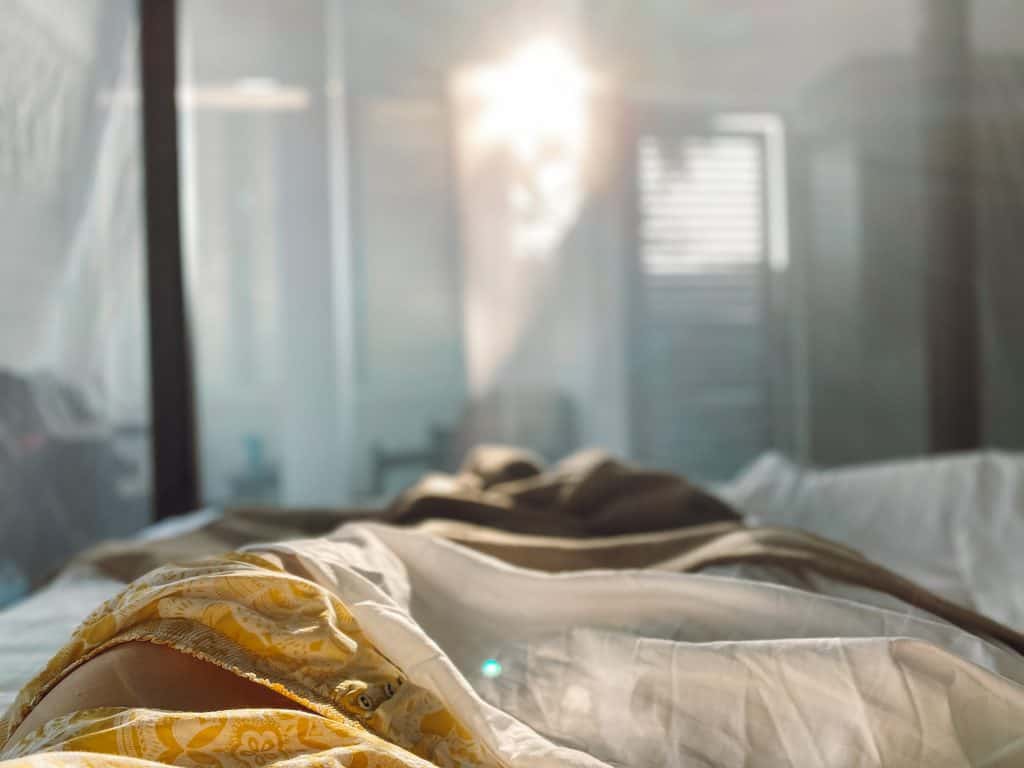 The realities of an open air hotel
I think it is important to mention some of the realities of an open air hotel here so you are not surprised. Obviously with the open air style, AC was not an option. Luckily there was a massive fan directly above the bed, which we kept on, and therefore that wasn't a big issue for us. If you are a stickler for AC, Jasper House does have some ground floor rooms with AC, so book those instead.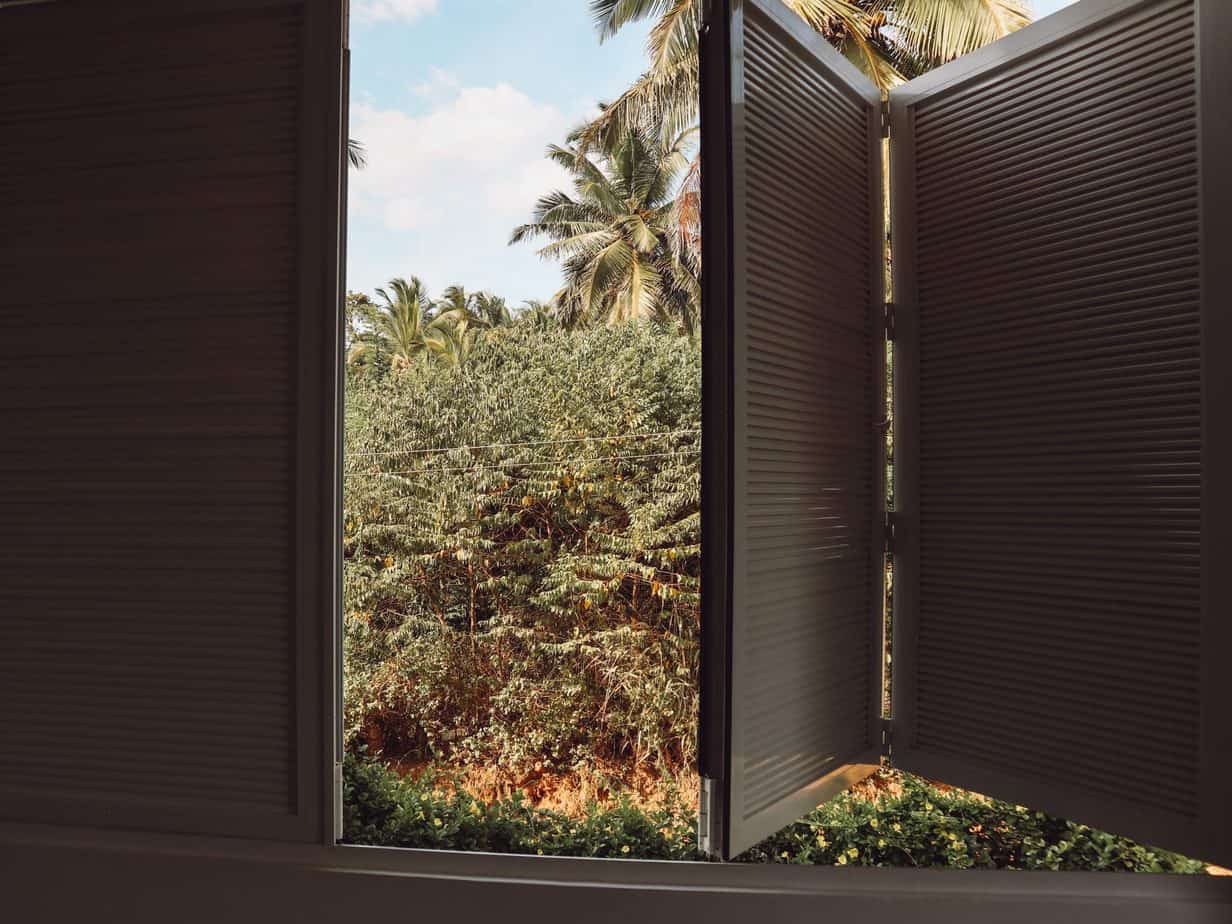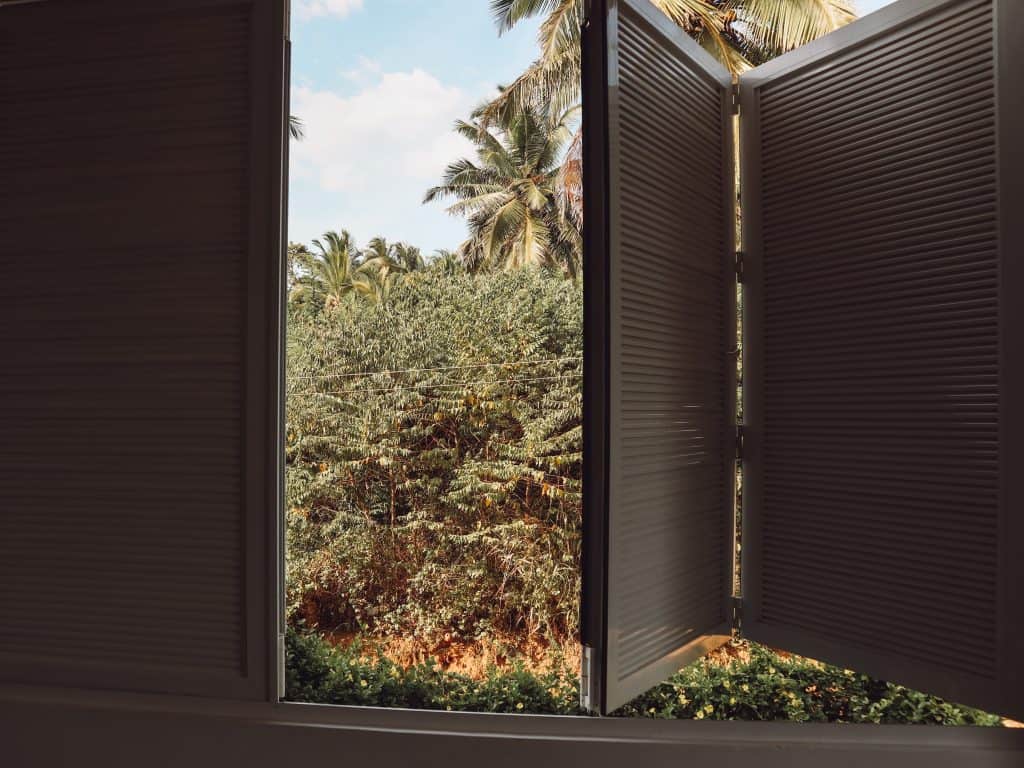 The other thing to note is that, being open air, you might get some visitors. We found a little frog on the bathroom mirror one morning, and a lizard on the windowsill one evening. I actually loved this and it's exactly this that makes me say Jasper House defies the cookie cutter 'luxury hotel' box, and is instead a much more unique boutique accommodation. However, I mention this because I don't want you to be surprised!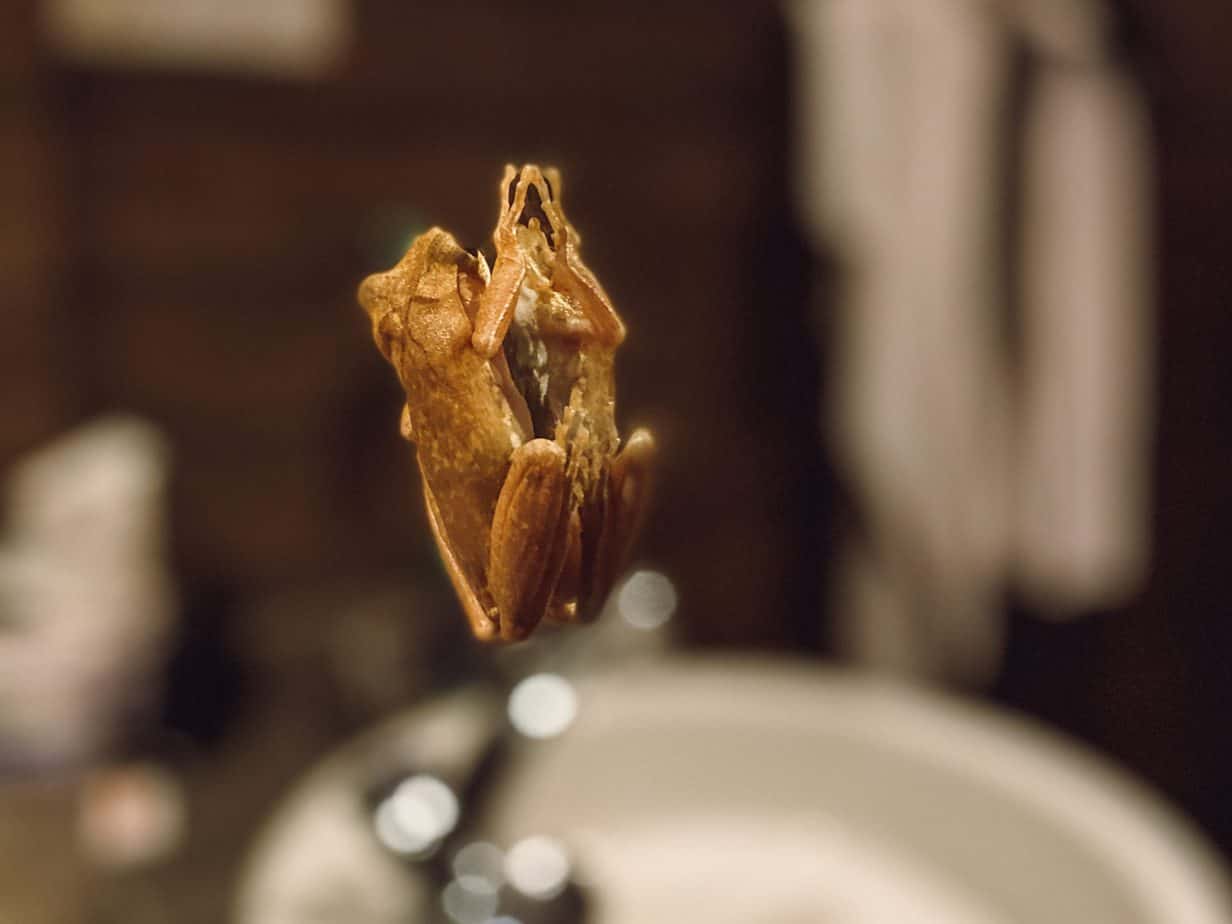 The absolute best part of the room, however, was the private open air shower. Like the bedroom, the bathroom is open air, although it does not have shutters. The window starts from above shoulder height so you don't have to be worried about modesty. But the result is a rain shower that truly feels like you're outdoors.
Our stay at Jasper House
One reason to stay at Jasper House in Hiriketiya is for the amenities. Our favorite had to be the outdoor pool – built in the infinity style, tiled in ombre shades of blue, bordered by rocks, and shaded by swaying palm trees. It was perfection – particularly during a warm rain shower.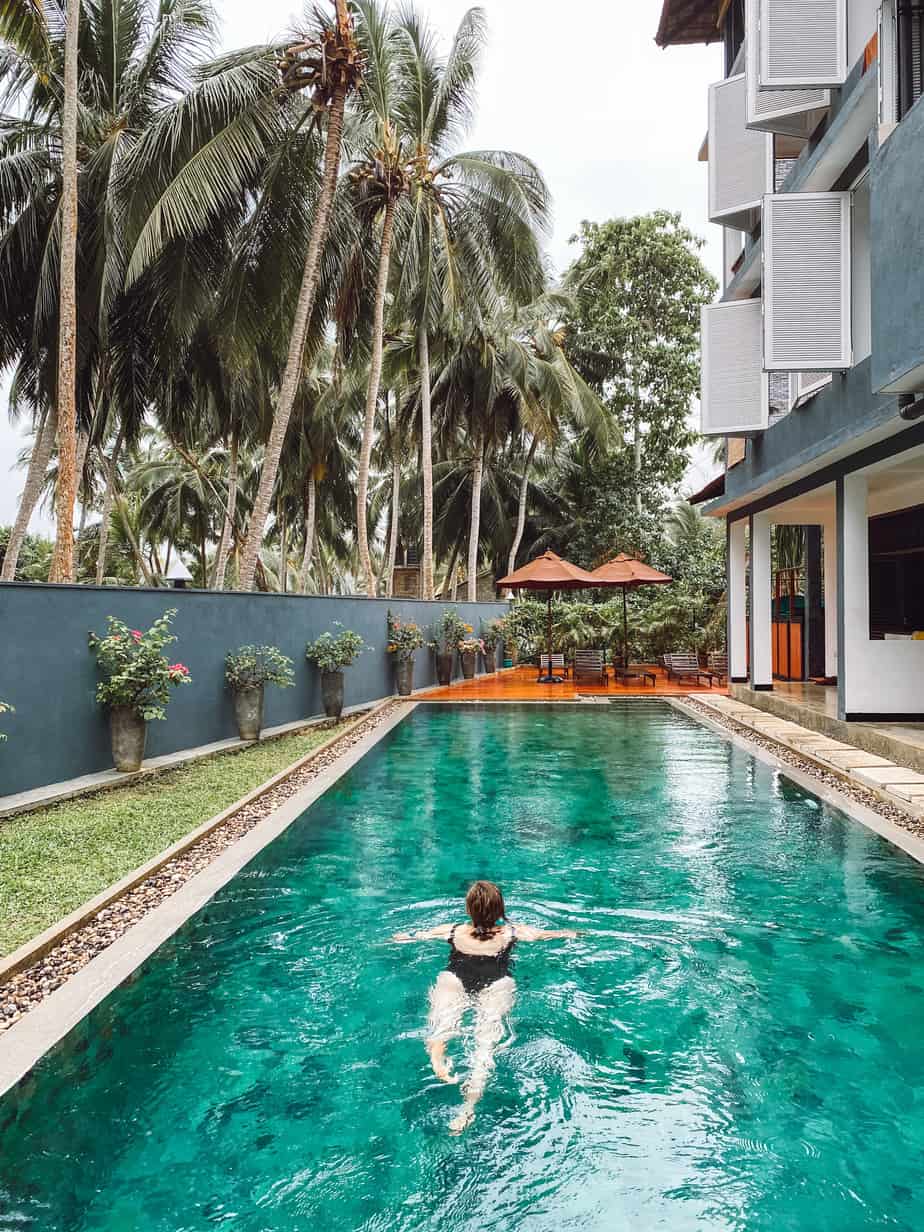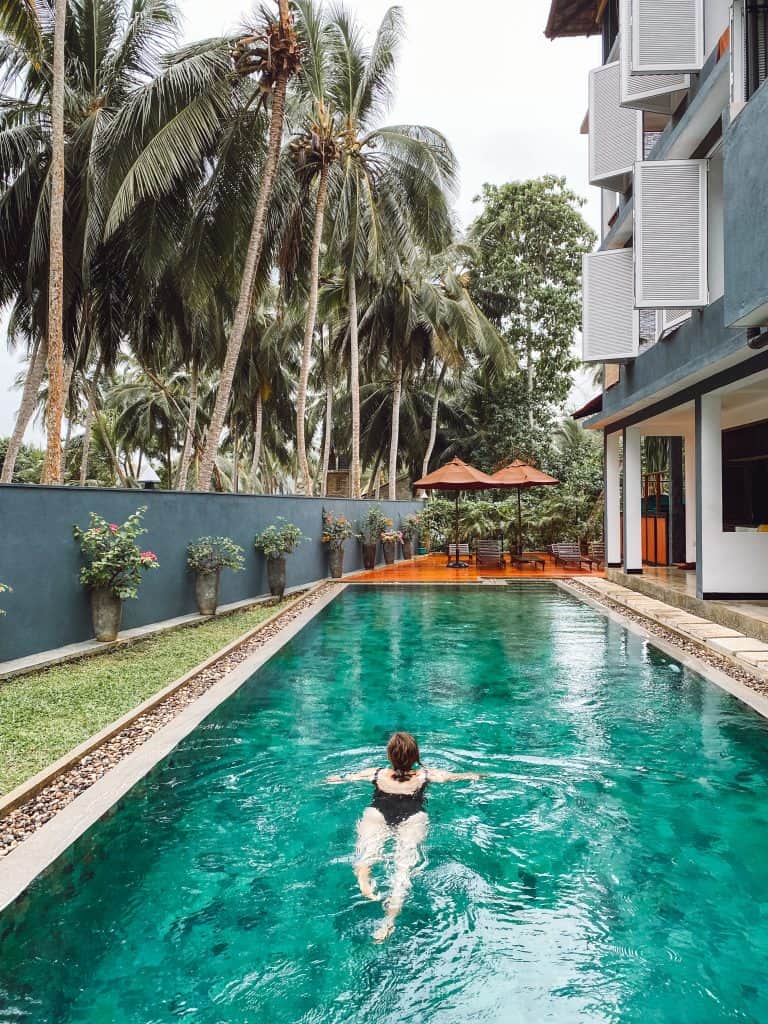 The pool is surrounded by a few beach lounge chairs and umbrella shades. Jasper House also provides towels specifically for the pool in each room. We spent some of our favorite moments in Hiriketiya playing around in the pool!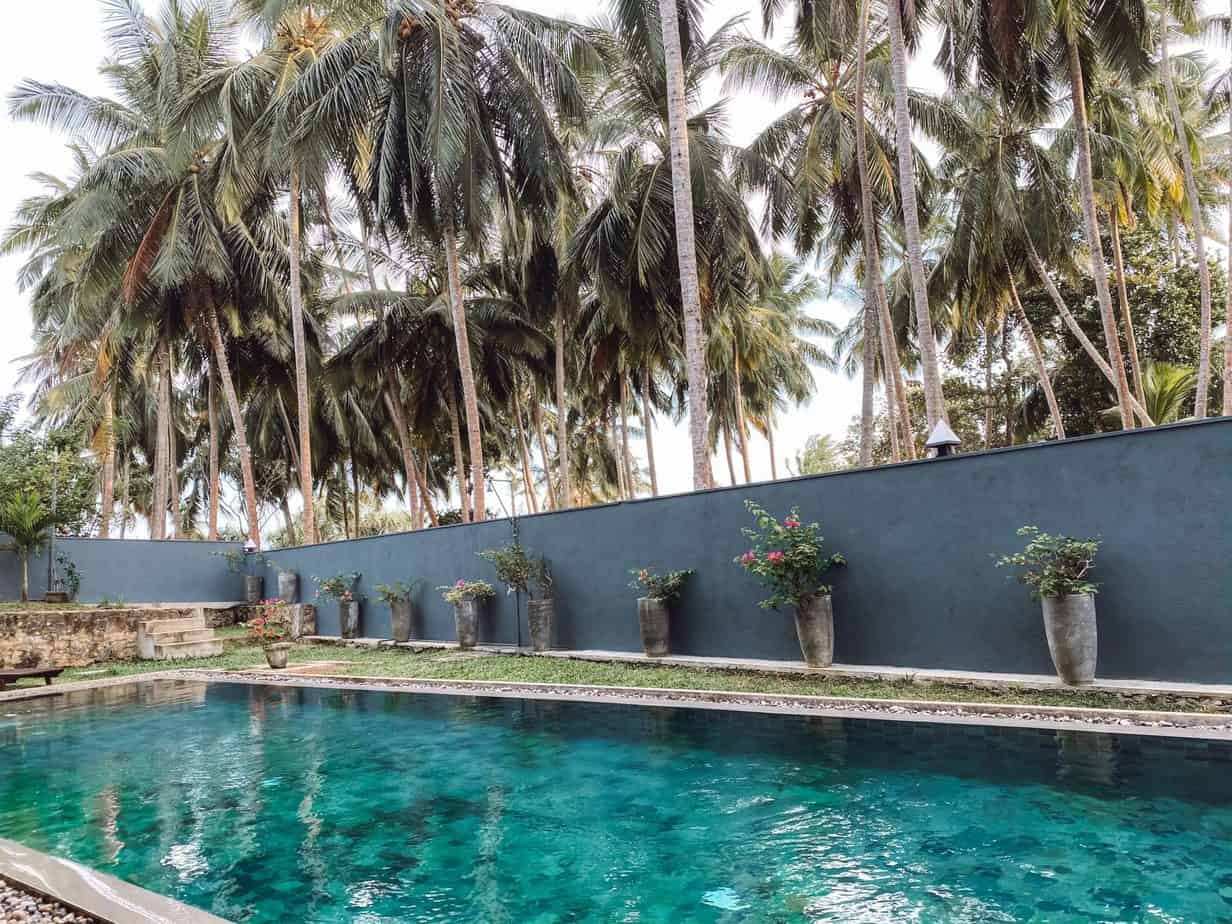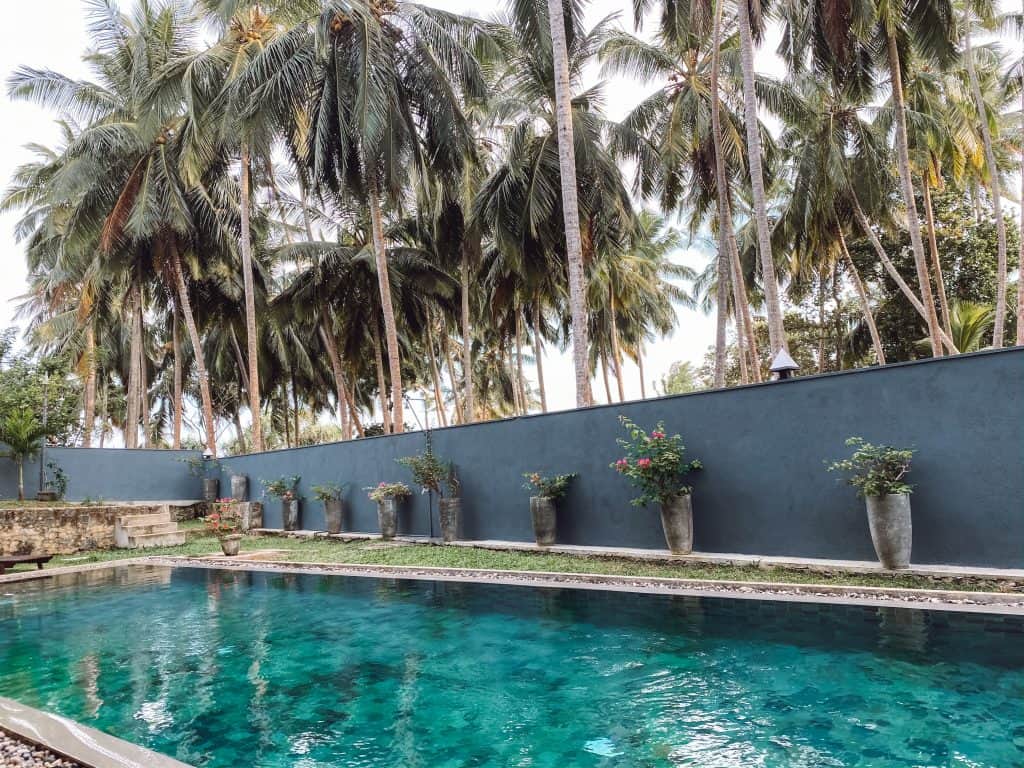 Jasper House also offers daily yoga classes in their big outdoor yoga shala. Classes are generally offered twice a day (8am and 5pm) in both vinyasa and restorative styles. They're open to the public and cost 1500LKR ($8.25USD) per person. I went one morning and it was the perfect way to start my day in Hiri.
Jasper House has surf boards for hire at $5 for a half day or $10 for a full day. A multi-hour private surf lesson is about $50. You can also rent snorkeling gear from reception. And finally you can arrange a free tuktuk to Talalla Retreat (about 20 minutes away) which is their sister property. Here, you can try a spa day with a huge range of specialty treatments and massages. We didn't get a chance to try this out, but next time? For sure.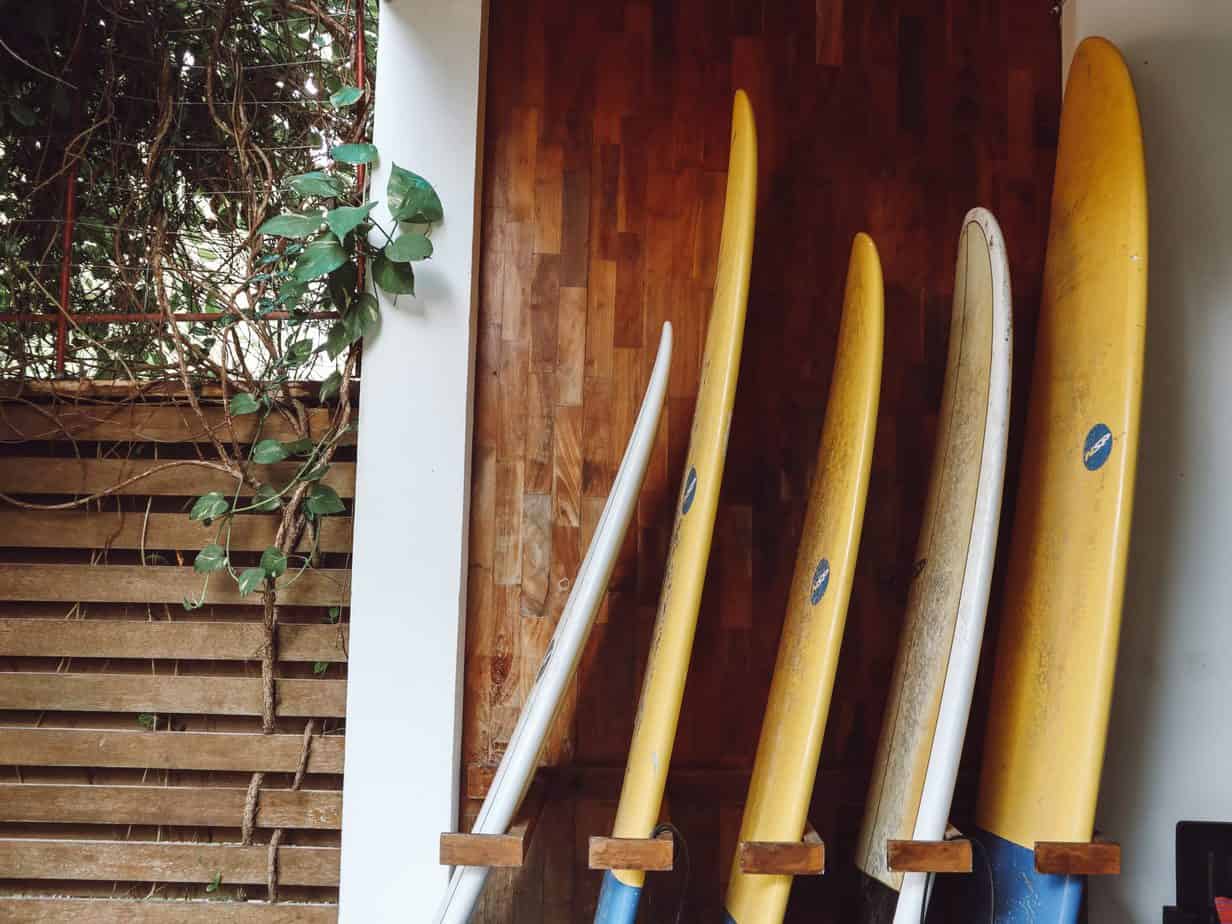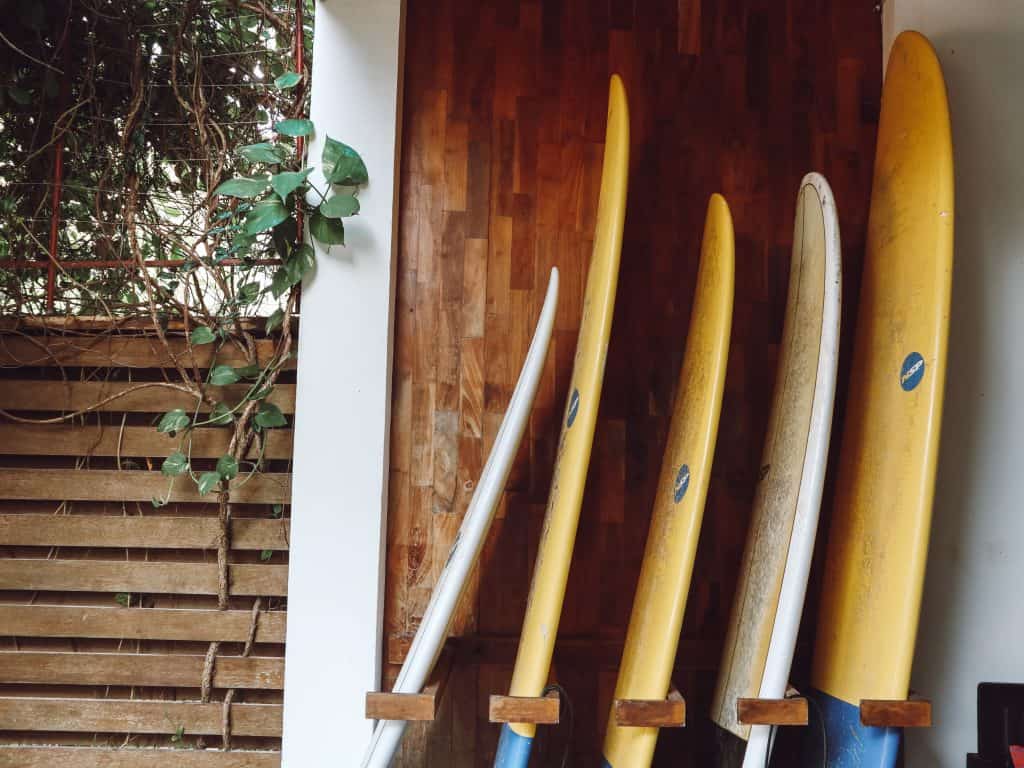 Breakfast at Jasper House
A stay at Jasper House includes a full breakfast buffet. This is offered each morning in the vast open air restaurant and lounge area that makes up the entire top floor. Each morning we would lazily make our way up to the top floor and choose a table overlooking the palm grove and ocean.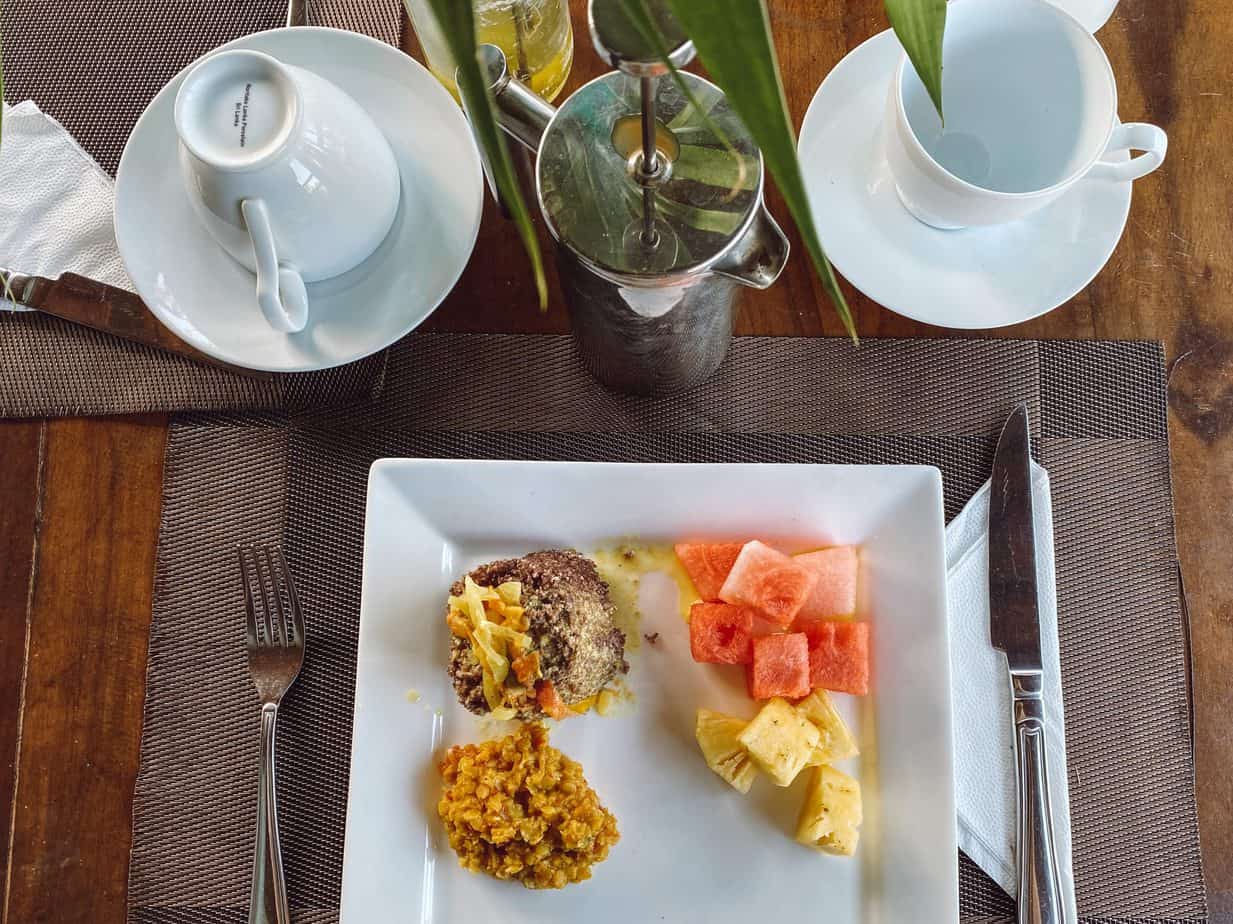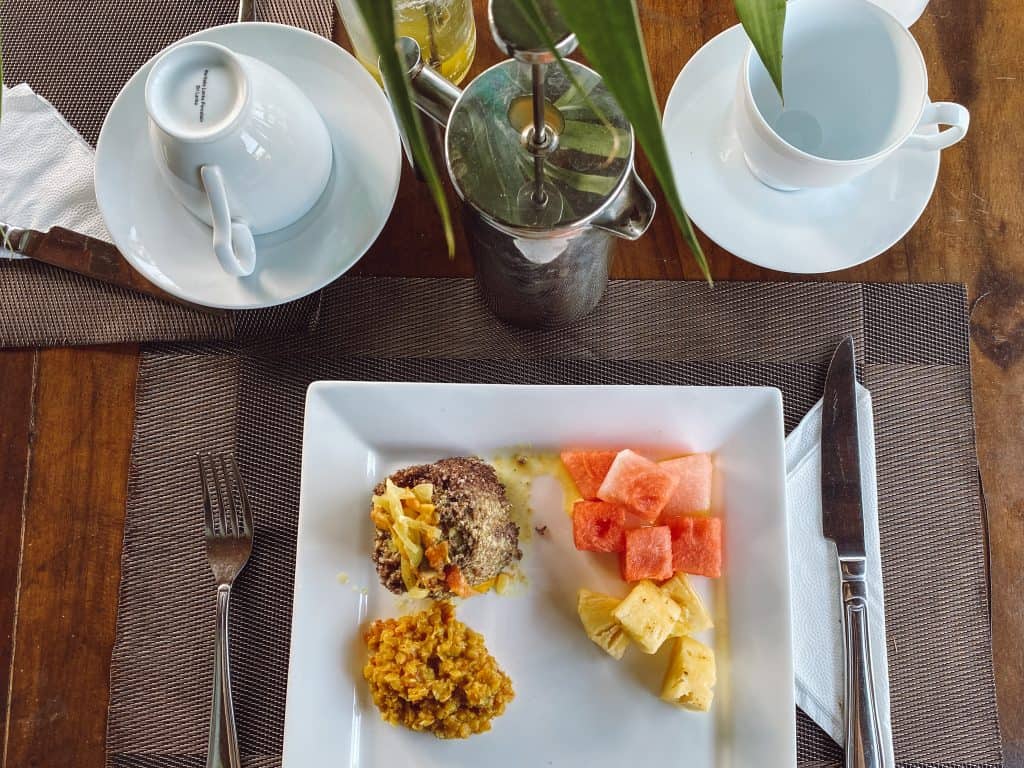 In addition to fresh Sri Lankan coffee, there was always a wide selection of Sri Lankan curries and pittu, and western options like pancakes. Fresh fruit such as watermelon and pineapple were in abundance, as well as on demand omelettes, which I happily partook in each morning!
There is a chef on duty at Jasper House throughout the day, so you can order from their extensive lunch or dinner menu as well (although this isn't included in the room rate). I even noticed they had gluten free spaghetti on the menu!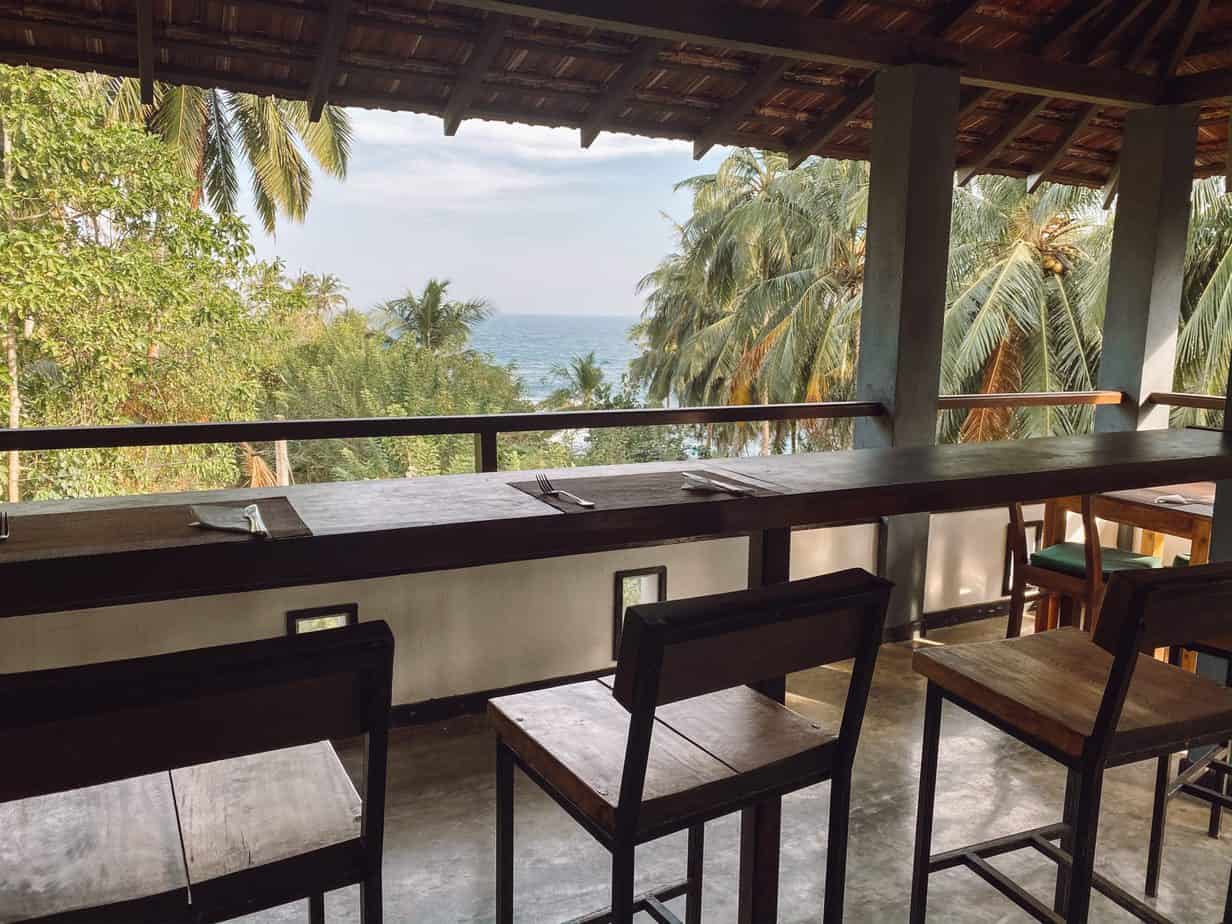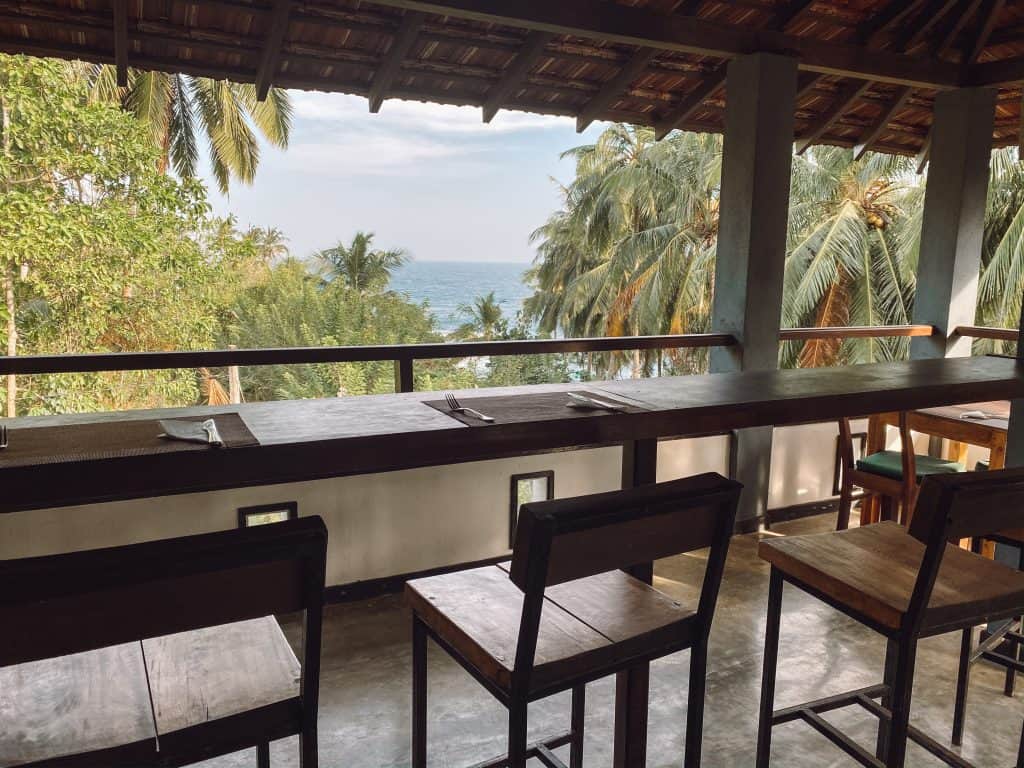 How to get to Jasper House Sri Lanka?
Once you're in Hiriketiya, it is an easy walk to Jasper House along the eastern point. To actually reach Hiriketiya, you have a few options.
By train | From Colombo, you can take the train to Matara. Once in Matara it is a 45 minute tuktuk ride, or 1.5 hour bus ride (#32-1) to reach Hiriketiya. Book train tickets here.
By bus | There are many bus options, depending on your starting point. Look for buses to Matara. From Matara take local bus #32-1 to reach Hiri. Book bus tickets here.
By taxi or tuktuk | This is how we reached Hiriketiya. It's the easiest and most direct option and I recommend it if you have limited time in Hiriketiya. A tuktuk is about 75% the cost of a taxi but I wouldn't recommend one for a journey over one hour.
You can use Rome2Rio to figure out the most direct route from your starting point to Hiriketiya.
What to do in Hiriketiya?
Most people land in Hiriketiya Beach looking to surf on the bay's unique waves. However there is so much more to Hiri than just surfing, as we discovered for ourselves! Read my article on things to do in Hiriketiya for some inspiration. Although I don't blame you if you decide to laze about Jasper House for your whole stay!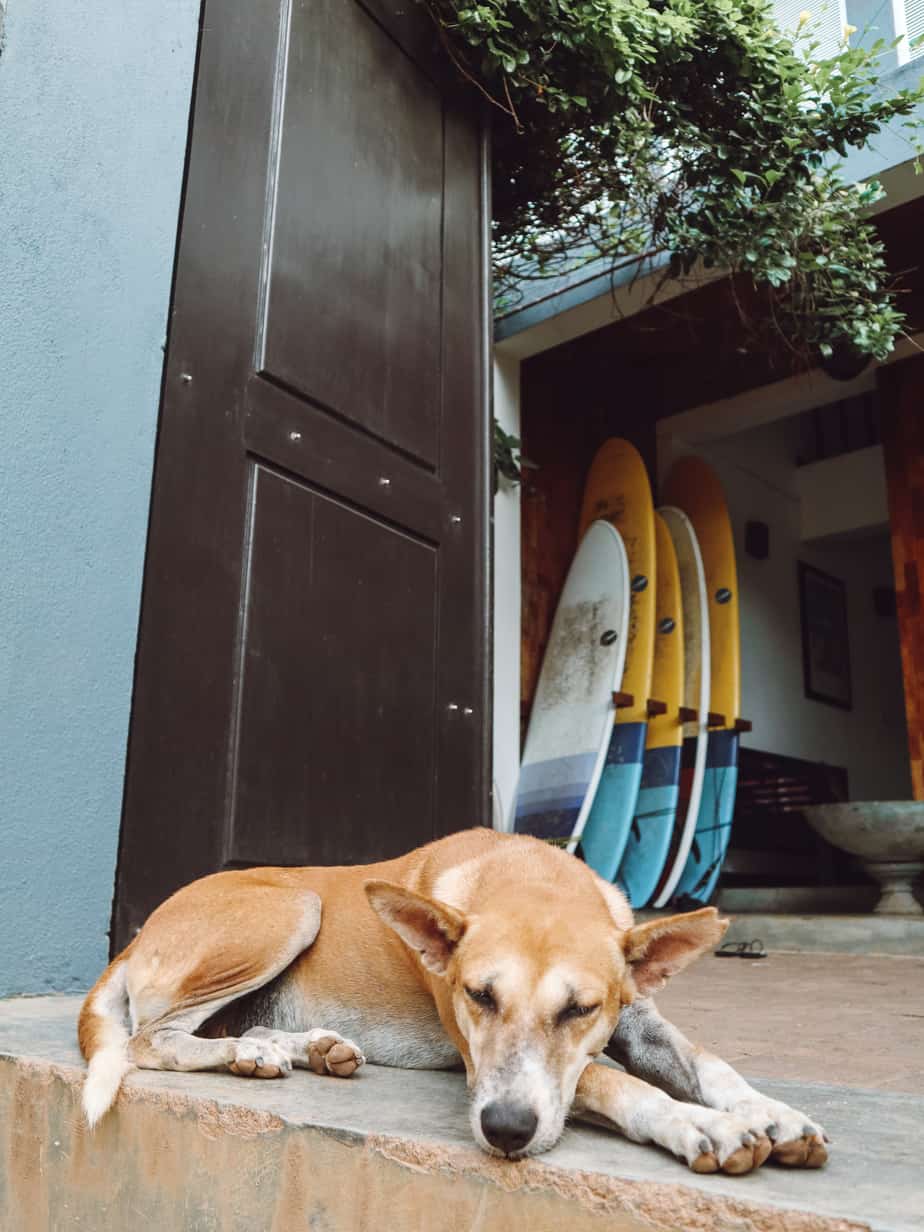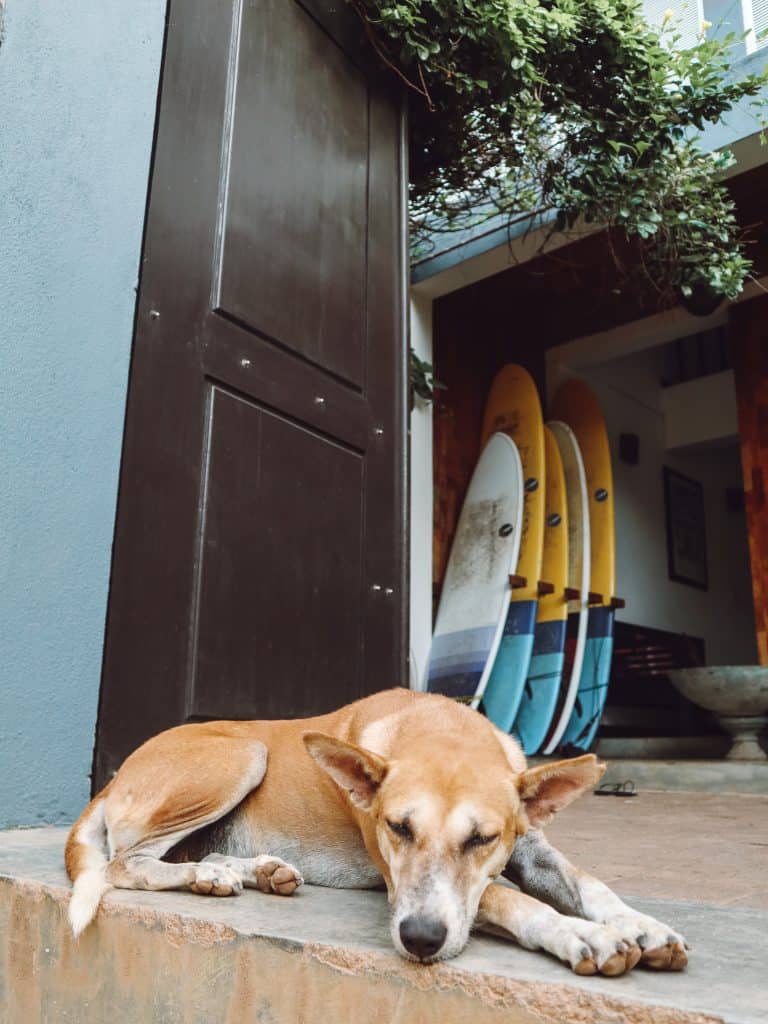 The details…
What? Jasper House boutique open air hotel
Where? Hiriketiya on the south coast of Sri Lanka
How to book? Check best prices and availability for Jasper House here.
Sarah xx
Pin it for later…
*Our stay was hosted by Jasper House for the purpose of review. All opinions are my own. As you know I only express my honest opinion on Endless Distances so you can make your best informed decisions for your travels!