Checking In | Country Homes Ella, A Luxurious Homestay in Ella, Sri Lanka
It didn't take long for us to fall in love with Ella, Sri Lanka. From the endless rings of tea plantations, to the cheeky monkeys and sunset views over Ella Rock… well, we were goners. But while Sri Lanka's natural beauty is really something, the essence of what makes this country worth visiting are its people. By staying in a homestay, like Country Homes Ella, you get the best of both worlds.
Check out my other Sri Lanka blog posts: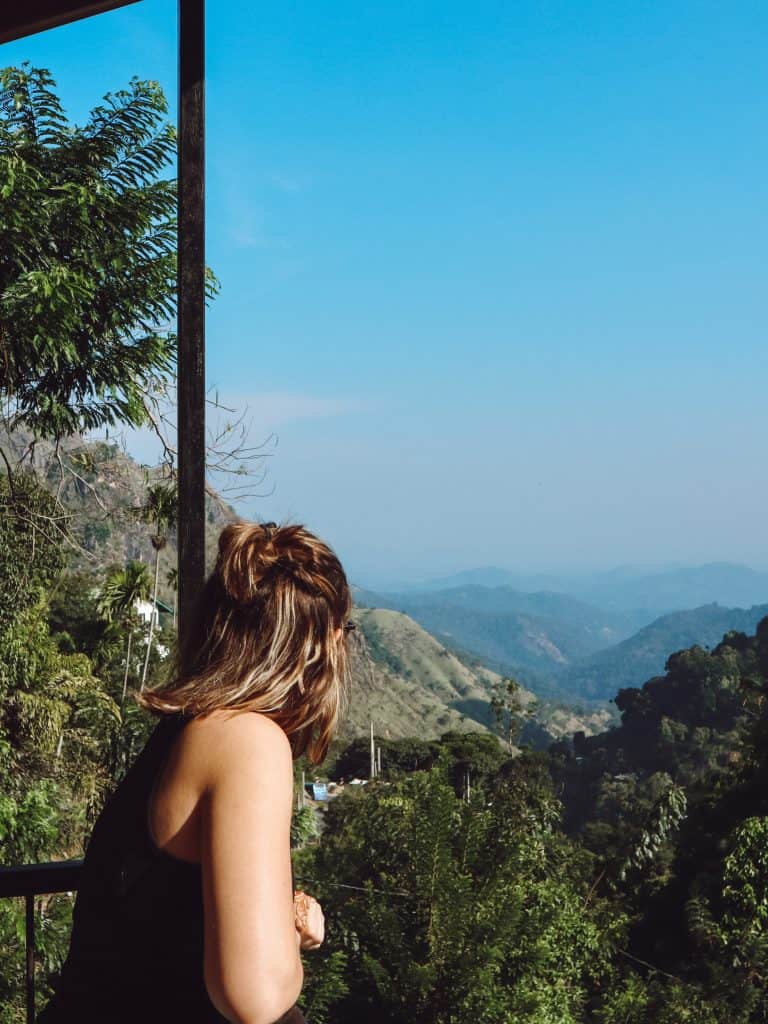 *This post contains affiliate links. If you make a purchase through one of these links I may make a small commission, at no extra cost to you. Thank you for supporting Endless Distances!
*This article is sponsored by Country Homes. All opinions are my own as always!
Why stay in a homestay in Ella Sri Lanka?
I've said it before, but Ella, set in misty tea-country, is the perfect place to stay in a homestay. Why? Well over recent years the town's central drag has become over-touristed, much more reminiscent of the European or Australian backpacker haven that it is, than any authentic Sri Lankan village. But Ella is still well-worth a visit. You just need to head a short walk out of town to experience its more natural side. And for that, I would recommend Country Homes Ella, with its friendly hosts and panoramic views over Ella Gap.
Check Country Homes rates and availability here.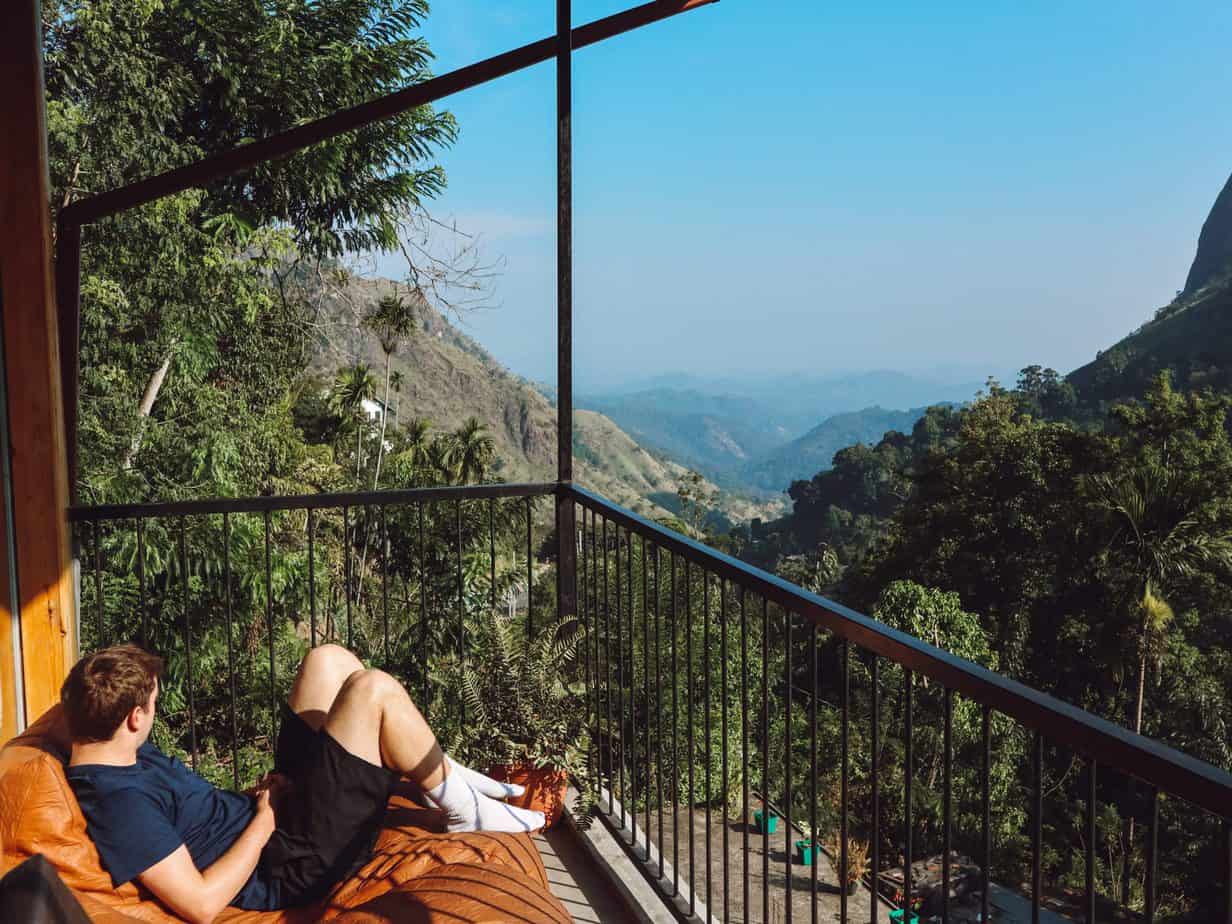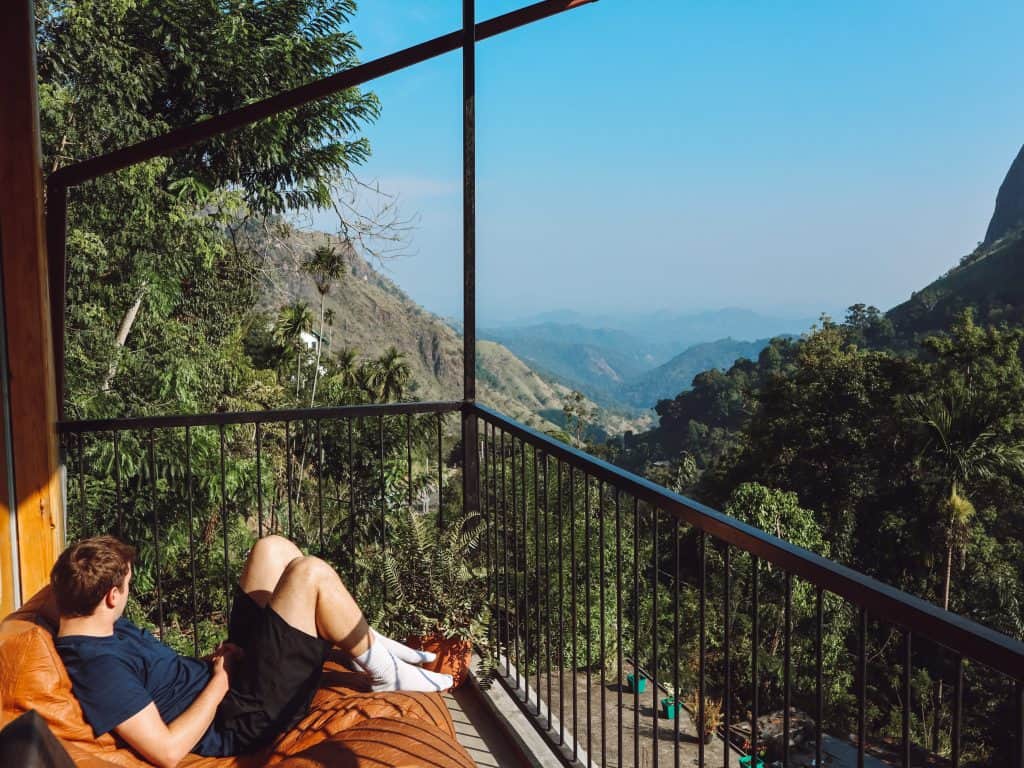 Country Homes Ella review
Country Homes is a family-owned homestay located just off the Wellawaya-Ella-Kumbalwela highway, on Ella town's southern end. I'd describe the price tag as mid-range, although the individual cabins and stunning views feel more luxury-level and less like the "B&B" experience I expected. Let's dive into a detailed review of Country Homes Ella so you can see why I recommend it!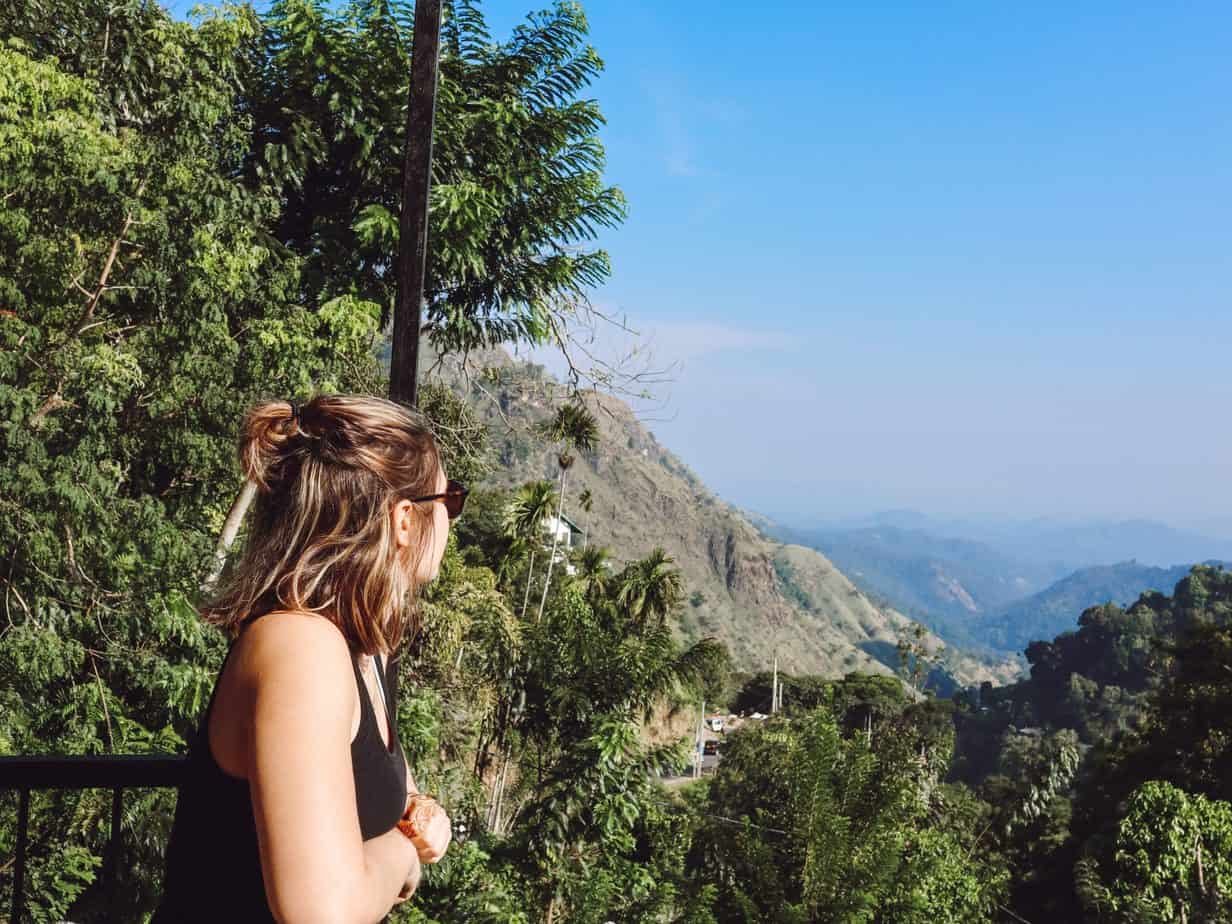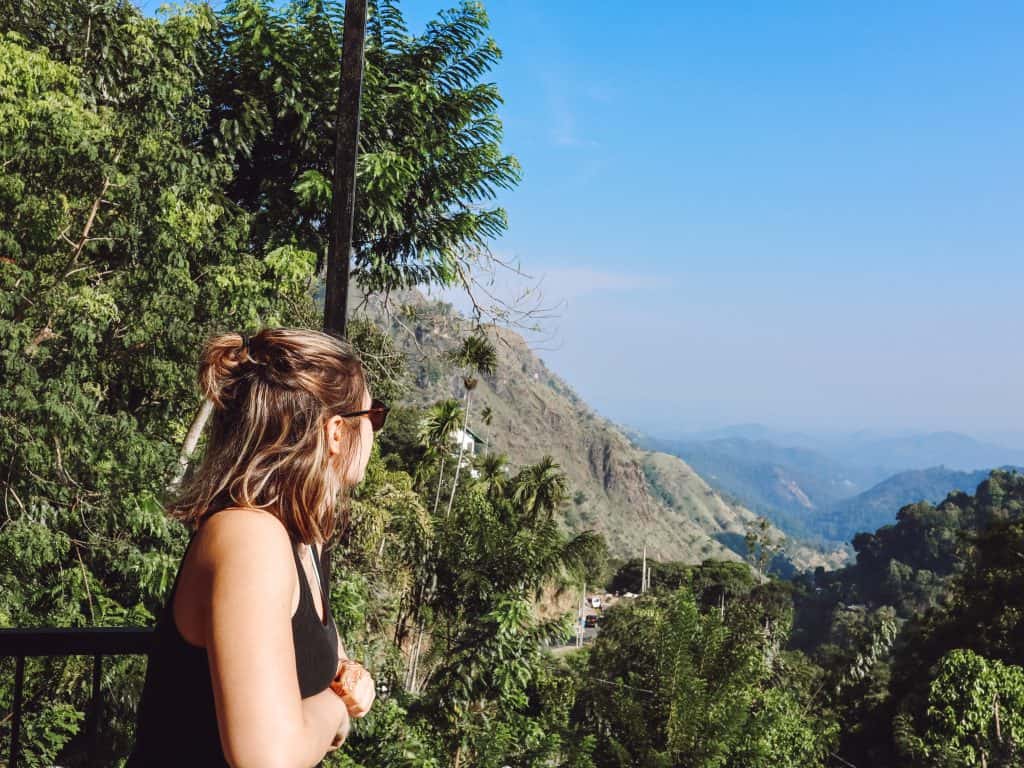 The family behind Country Homes Ella Homestay
The first thing I have to mention is the wonderful family behind Country Homes Ella. When you book a homestay in Sri Lanka, you get so much more than accommodation – you get the guidance and hospitality of the local family who own it. If this doesn't interest you, you might as well stay in any old hotel, but you'll be missing out on the human connection that makes travel so powerful.
When we arrived at Country Homes we immediately met Dhanushka, followed by his wife and baby, who both live at and operate Country Homes Ella. We were exhausted from our 10 hour train journey Colombo to Ella, and the walk from the station with our heavy backpacks. Dhanushka immediately brought us fresh papaya and pineapple juice and took our backpacks from us.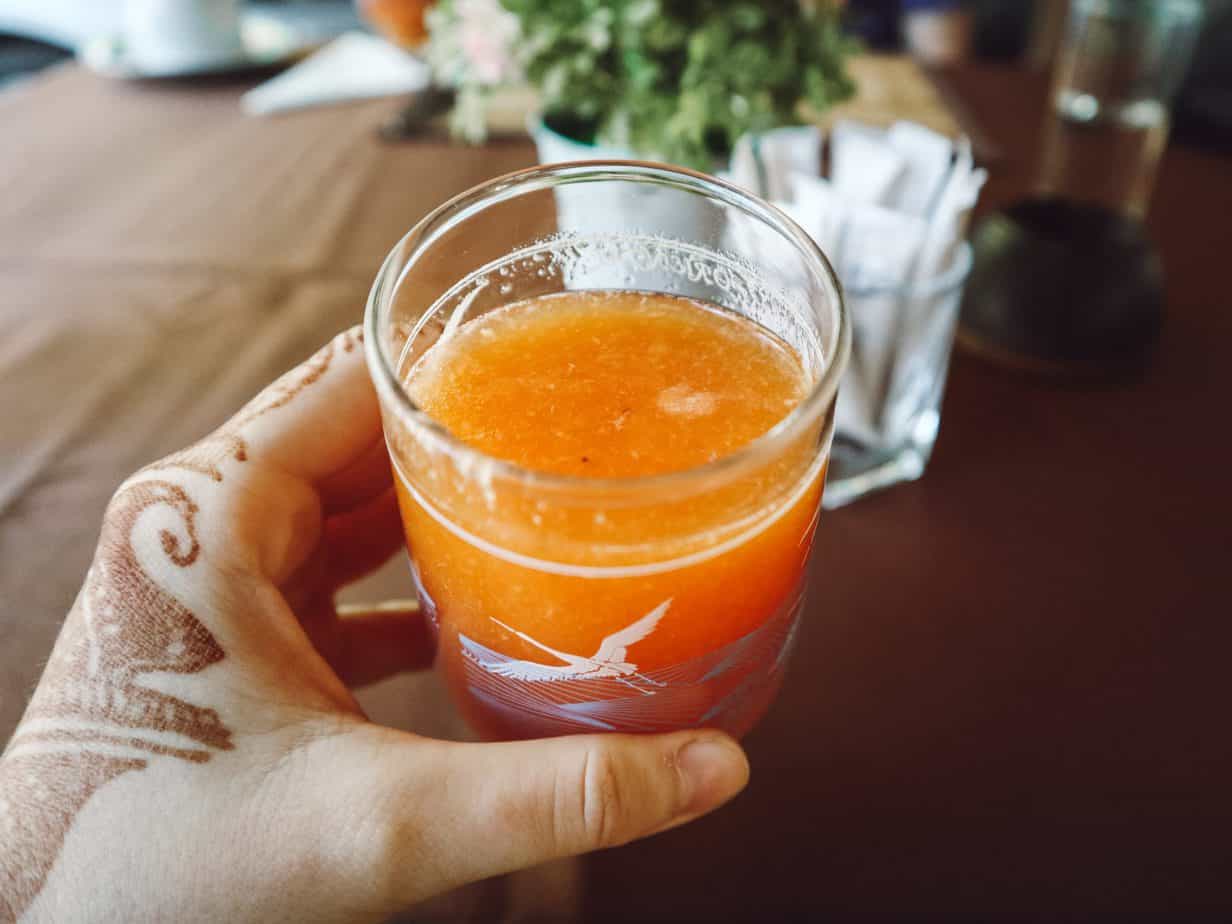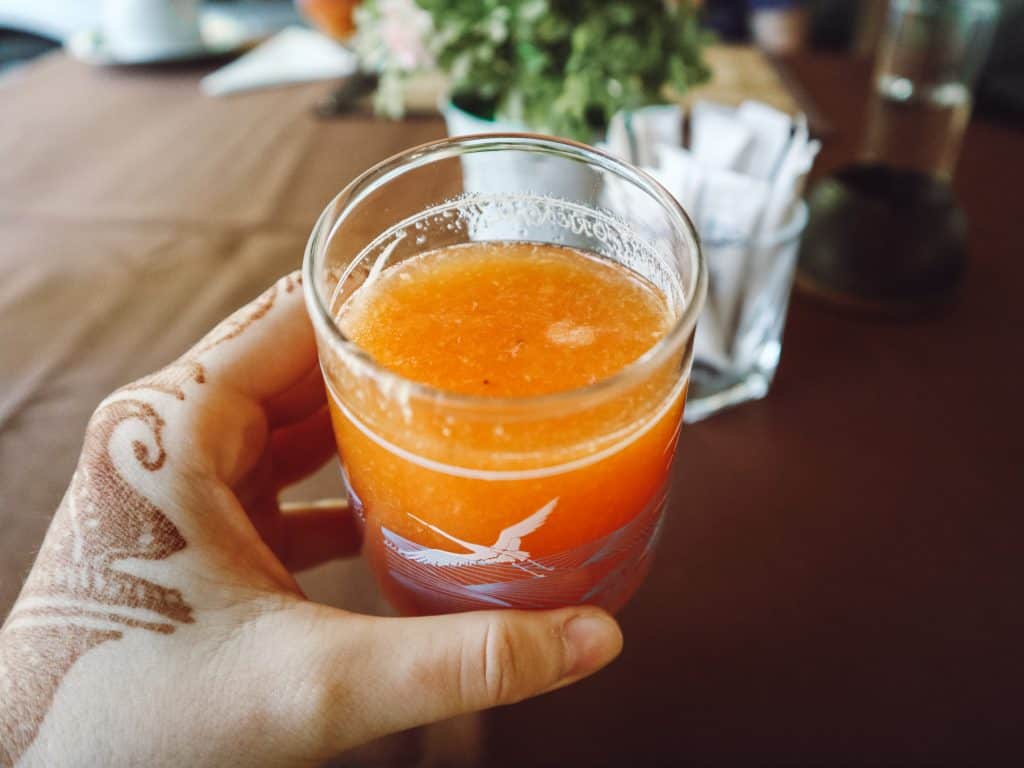 During our time in Ella, we also met and chatted to Dhanushka's mother, Dilani. She told us that she and her husband had bought this land in 1992 and built the house at the base of the property – where she still lives today with her son and his family. In 2013, they finished construction on the seven cliffside cabins, built above the family home. This is when Country Homes Ella opened, and they began welcoming travelers into their patch of lush Sri Lankan countryside.
Check Country Homes rates and availability here.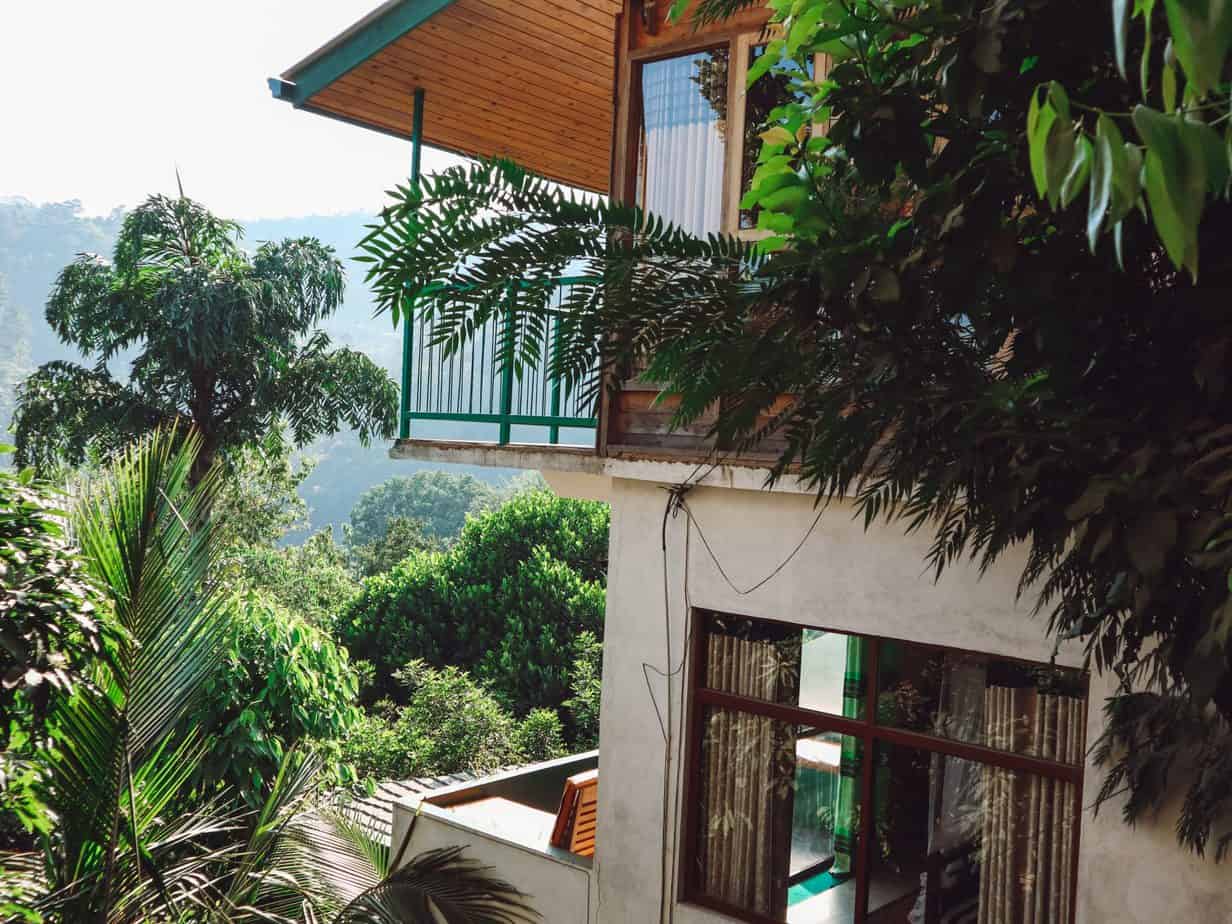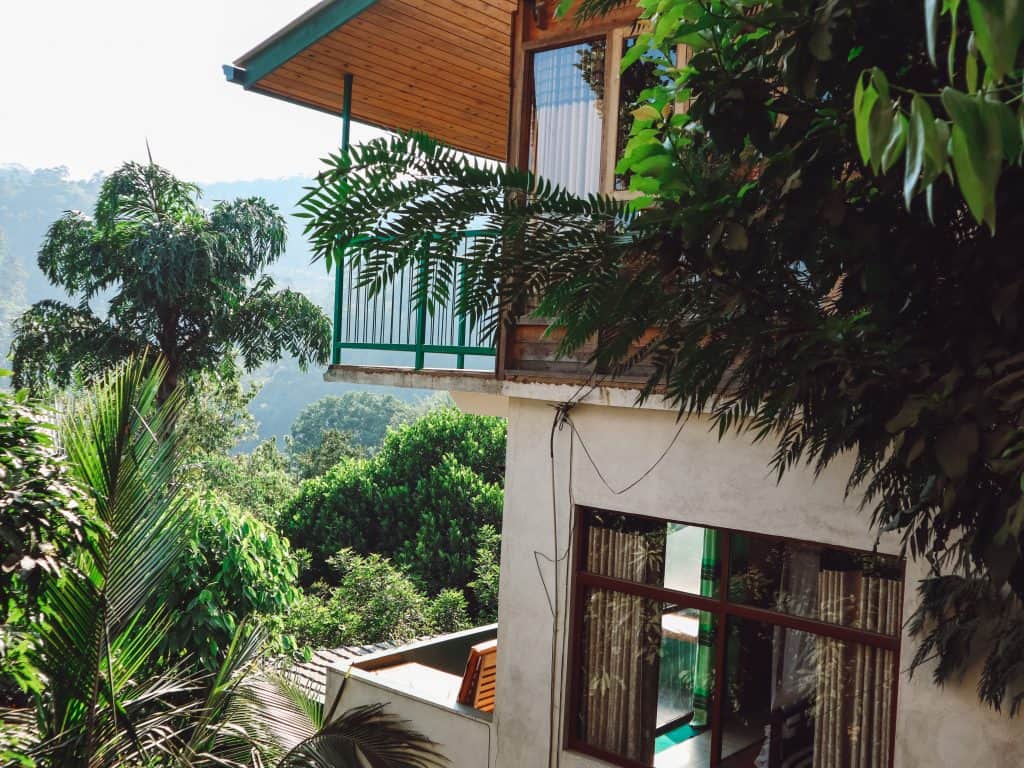 Country Homes rooms
Country Homes Ella has seven rooms. By "rooms" I really mean cabins – think of this as your individual "country home" while in Ella! Each cabin is built against the hillside and features massive windows that face out to Ella Gap. The roadside is not at all visible from the cabins, making it feel like you're completely immersed in nature. Guests wake each morning to the sound of jungle and views of the famous Ella Rock.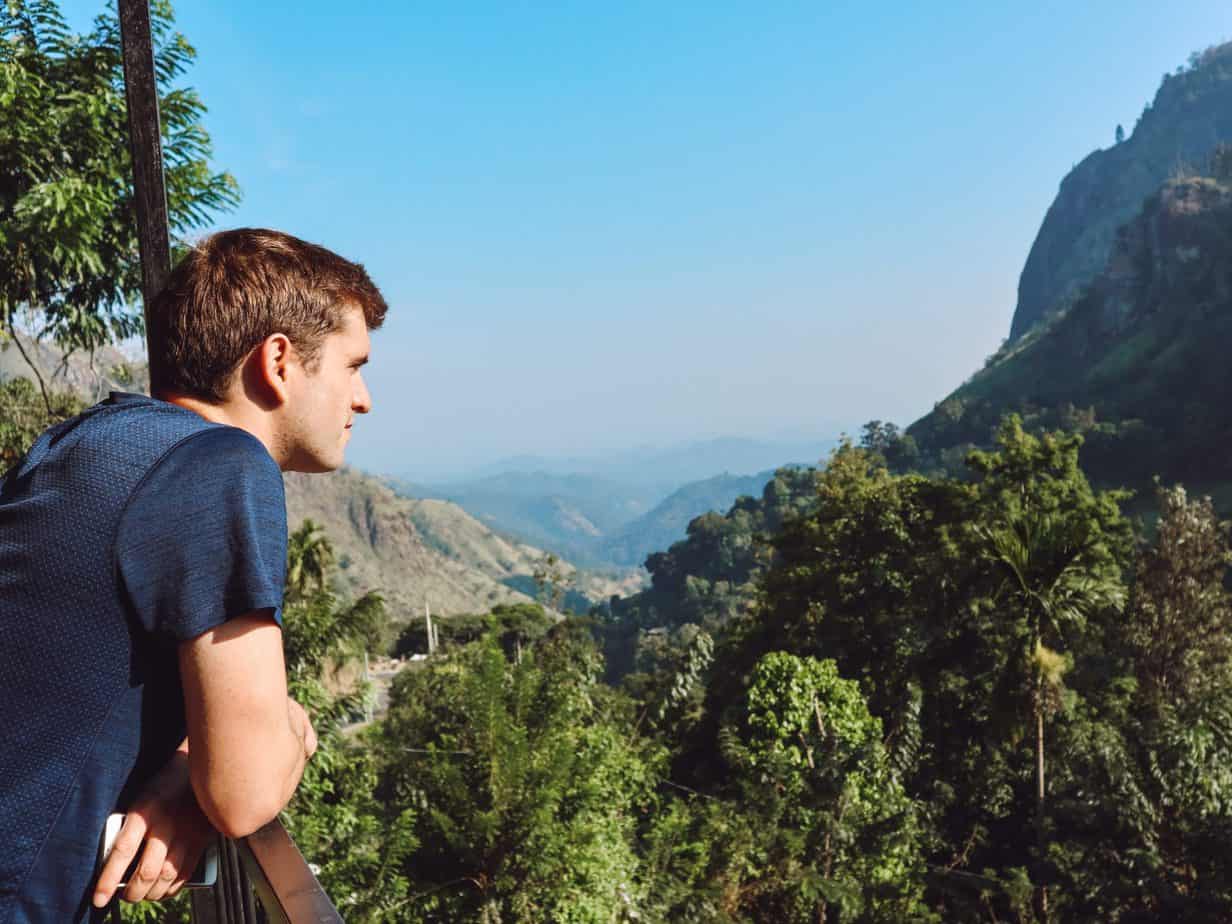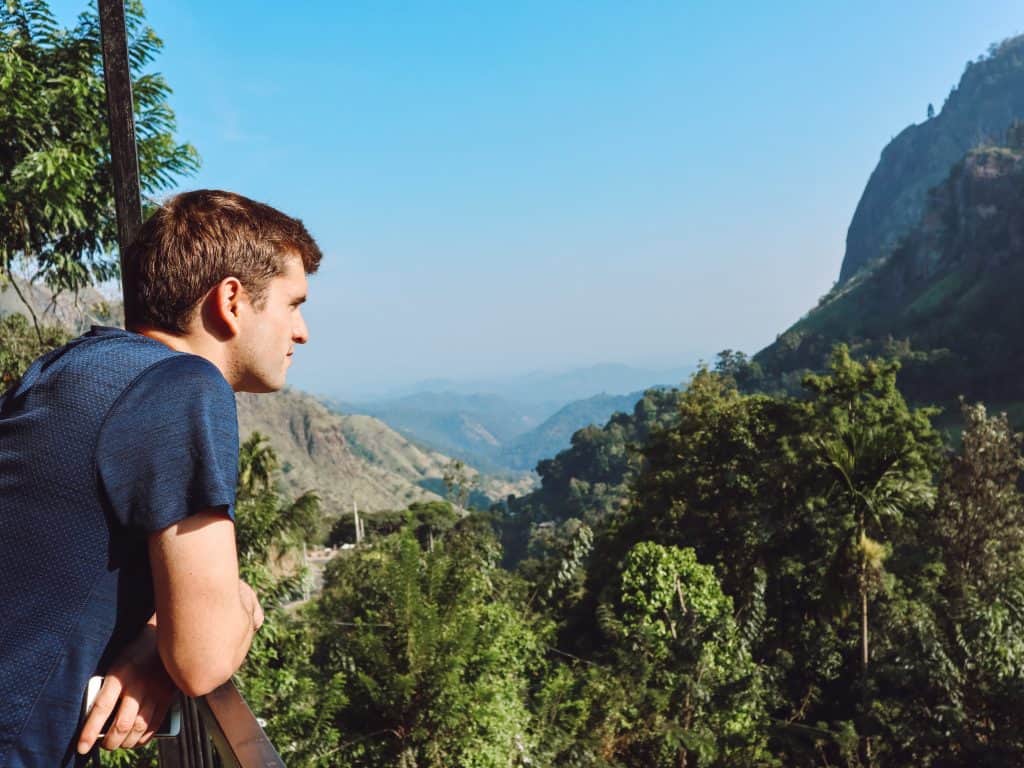 Of the seven rooms, four are deluxe and three are suites. The three suites have air conditioning, while the deluxe have powerful fans. Personally, I would spring for the air conditioning if you can afford it while in Ella. It will make your stay more comfortable by far.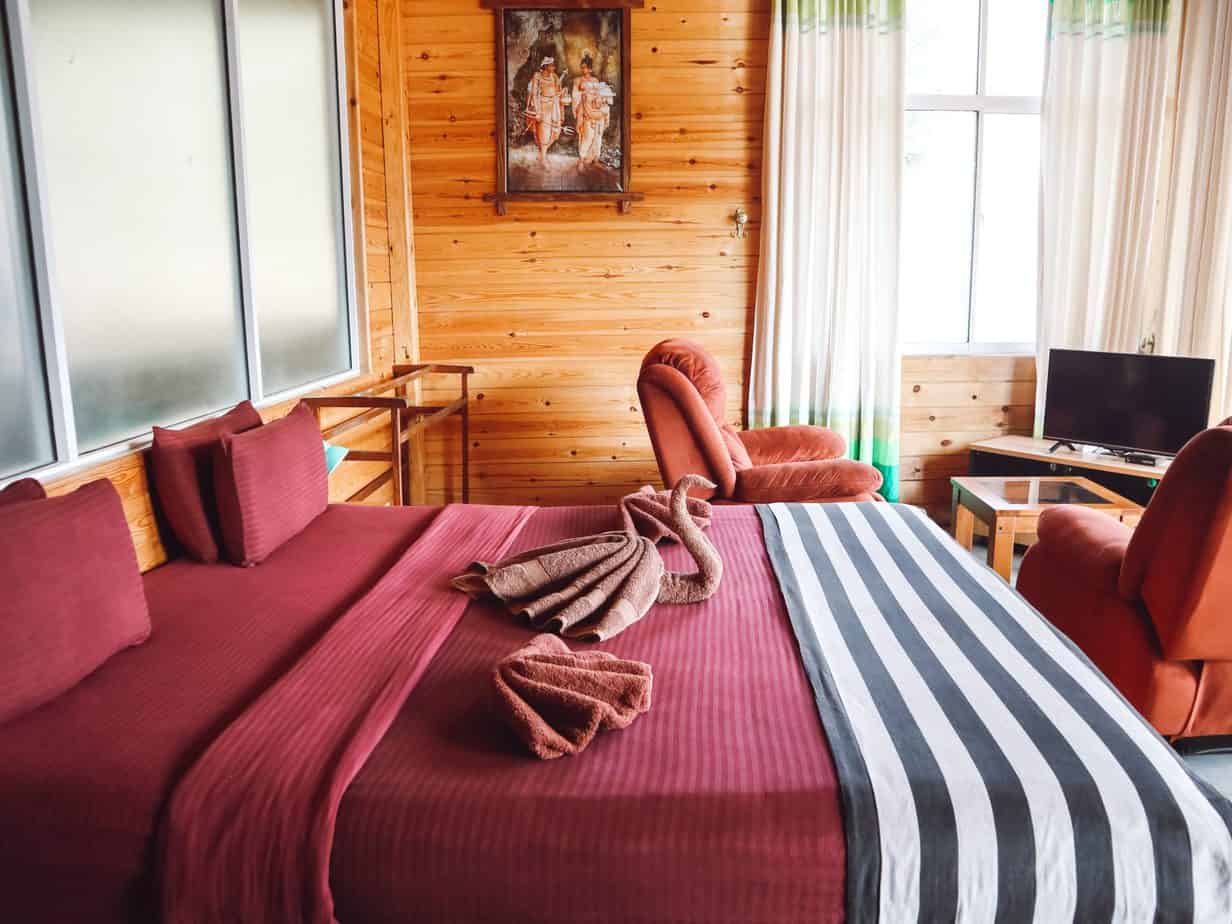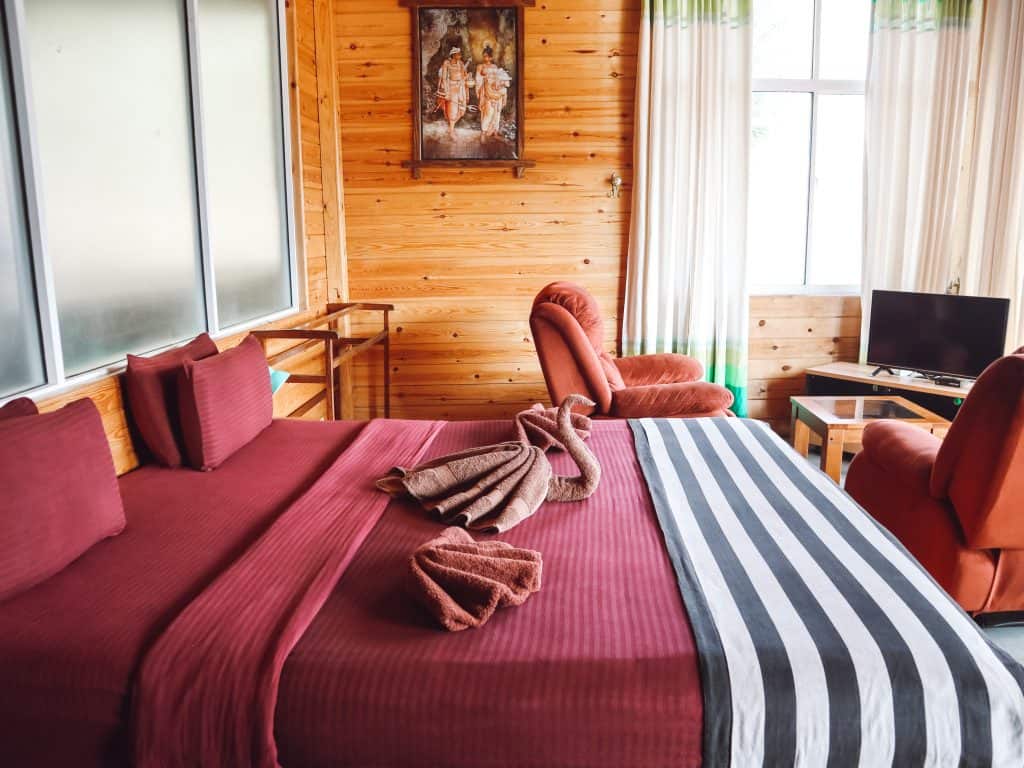 Each room is unique and has different features like a bathtub, rain shower, balcony, flat screen TV, mini fridge, and more. There is also wifi throughout the property.
You can browse the various rooms here to choose the one that best fits your preferences.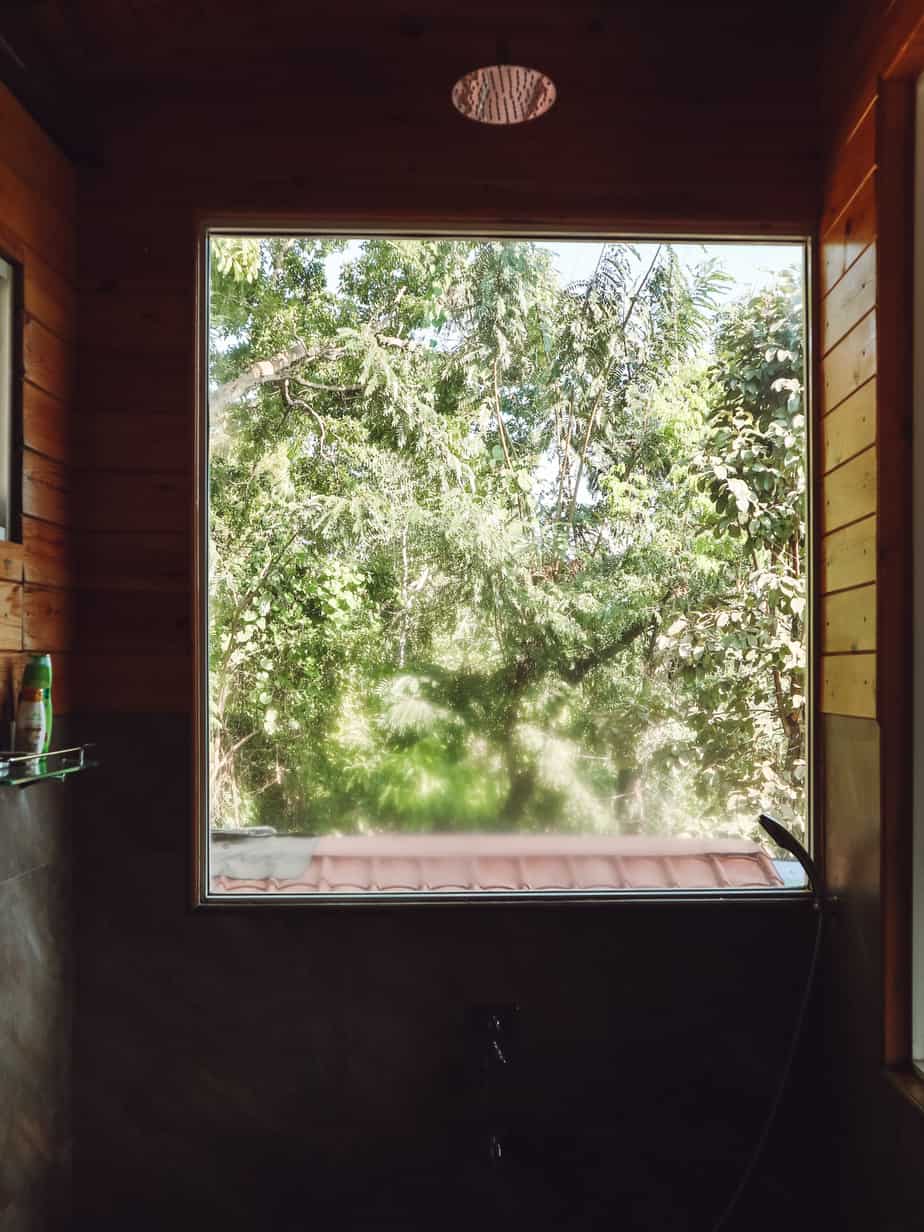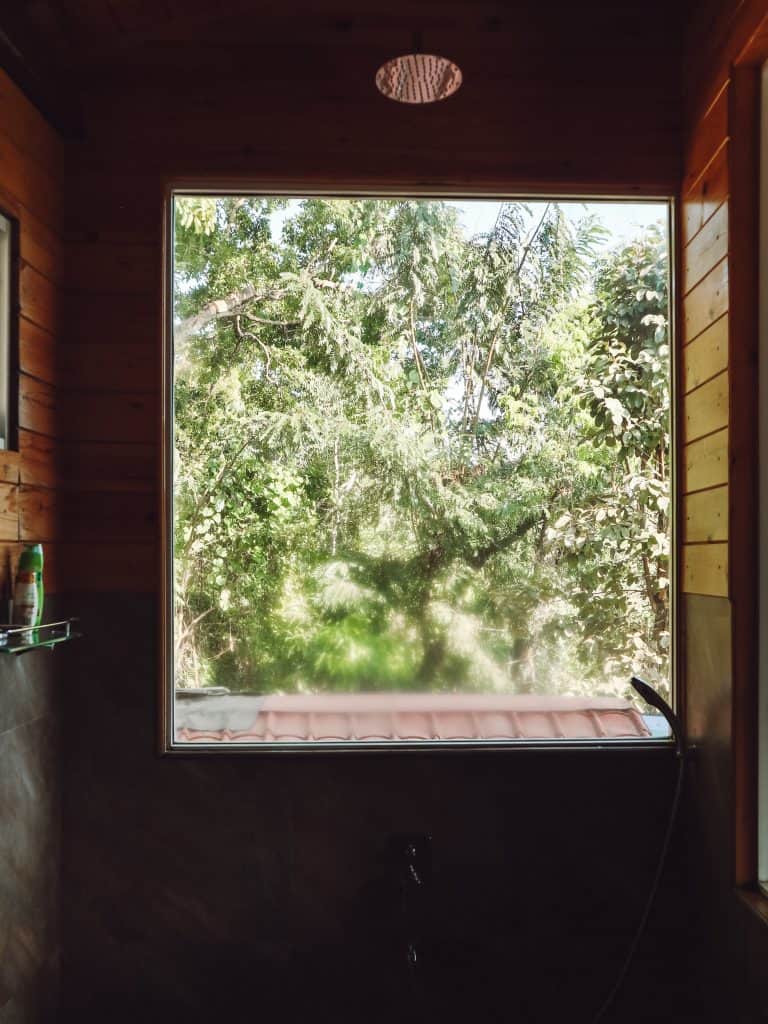 Breakfast at Country Homes
Okay, y'all know me and how much I love food. And undoubtedly one of the best reasons to stay in a homestay is for the food! At Country Homes Ella, a daily breakfast is included in the room rate. This breakfast is prepared in the family home below, and carried up to your individual rooms so you can enjoy it overlooking Ella Gap.
For our breakfast at Country Homes Ella we enjoyed traditional Sri Lankan egg hoppers (made of rice flour and naturally gluten free – yum!). There was also pancakes (for Dan), and loads of fresh fruit like watermelon, papaya, and pineapple. We were served local Sri Lankan coffee, as well as sausages (which we both avoided as we were being vegetarian in Sri Lanka).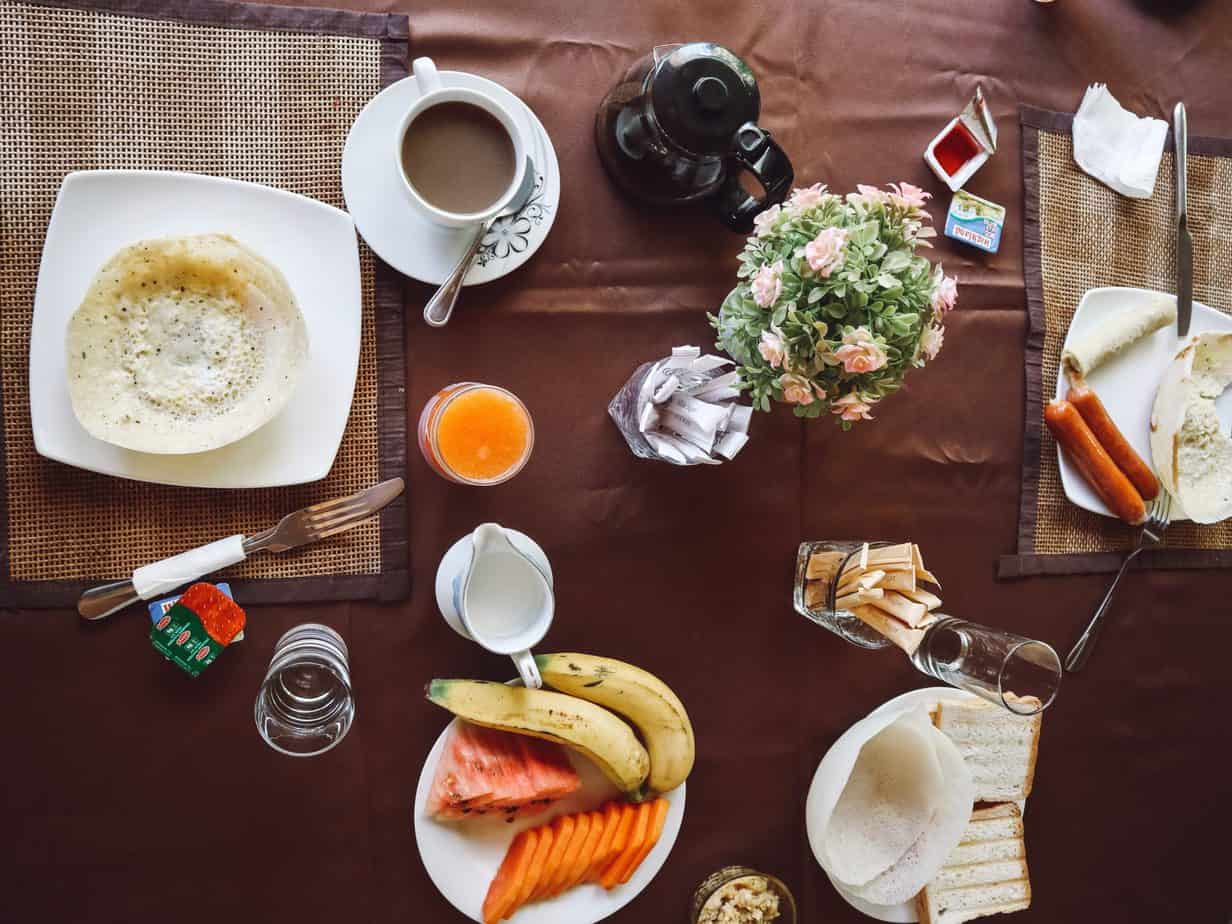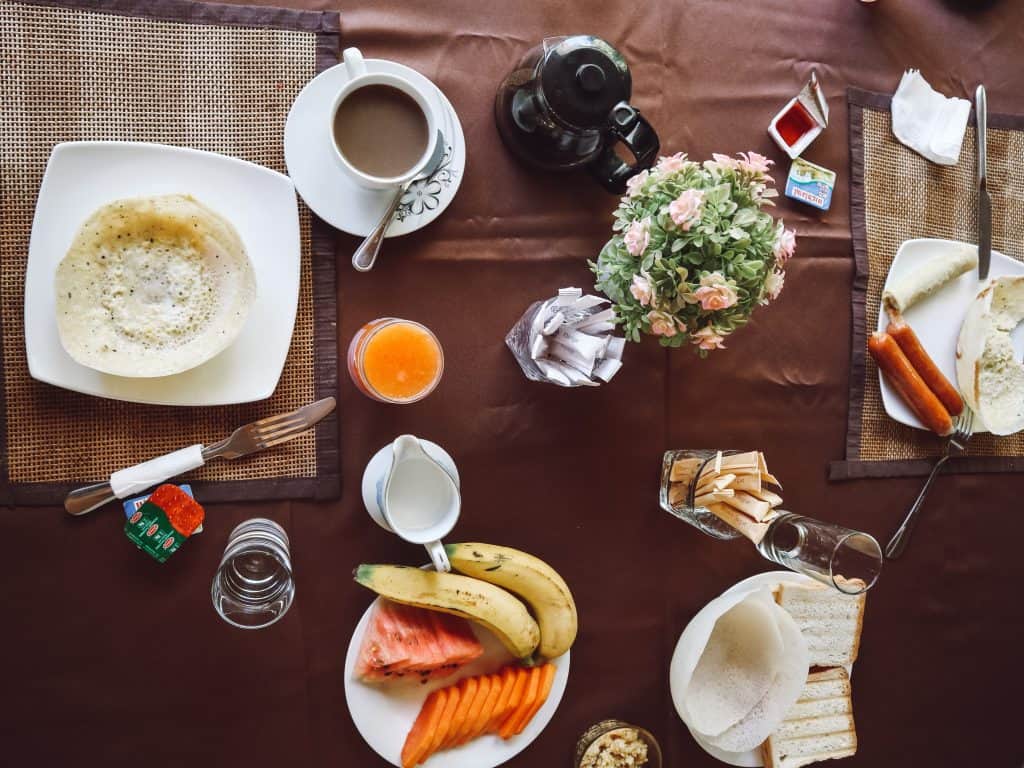 How to get to Country Homes
For your arrival into Ella, chances are you've arrived by train (at least I hope so – that gorgeous train ride is one of the best things to do in Ella).
How to get from the train station to Country Homes Ella:
By tuktuk | Plenty of tuktuks mingle about the train station waiting for tourists to arrive. Hail any tuktuk driver and pile in for the five minute journey, which should put you out about 200-300LKR ($1-2USD). You may have to do some bartering, but be sure to agree your price before you get in.
By walking | It is a 15 minute walk from the Ella railway station to Country Homes Ella, and this is what Dan and I did. It was definitely manageable, even with our hefty backpacks, and nice to get our first feel of Ella town.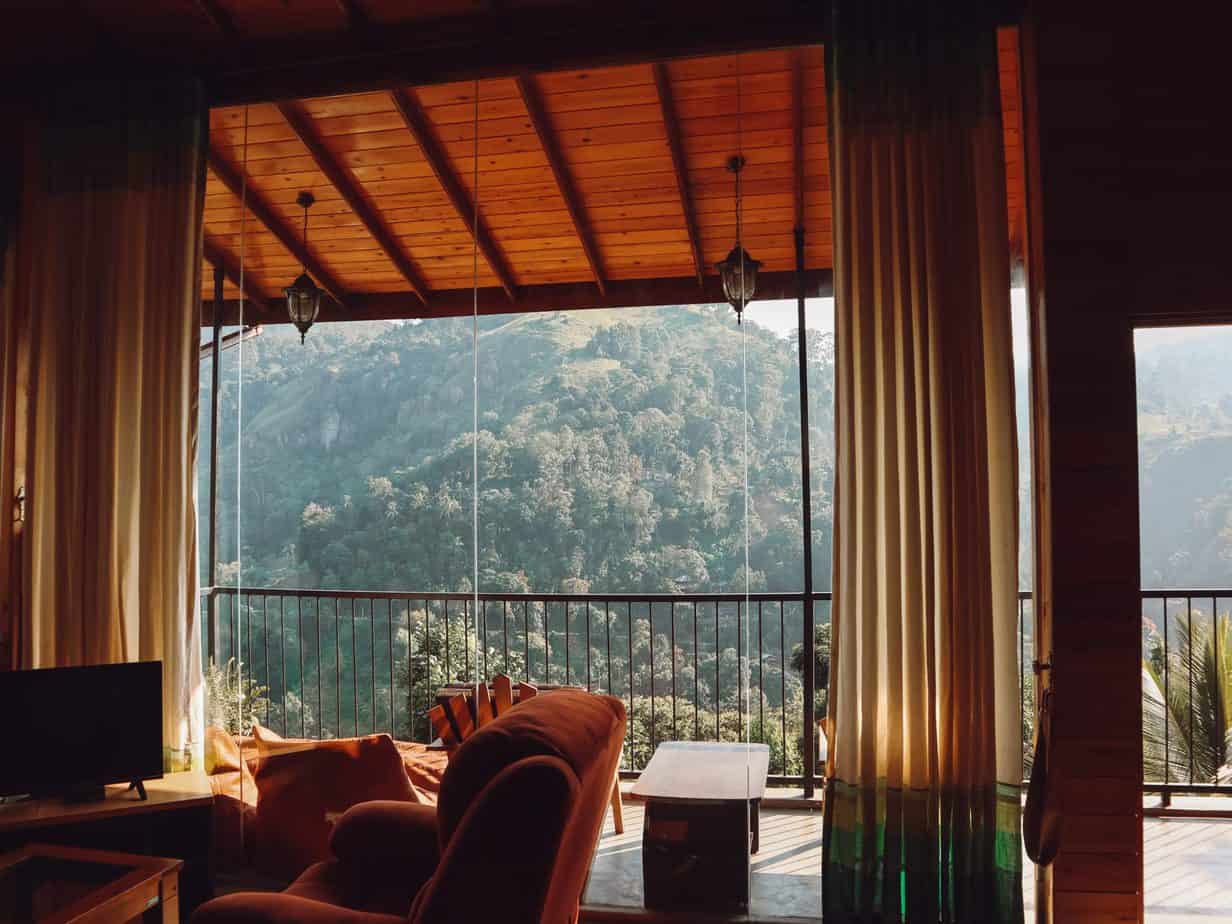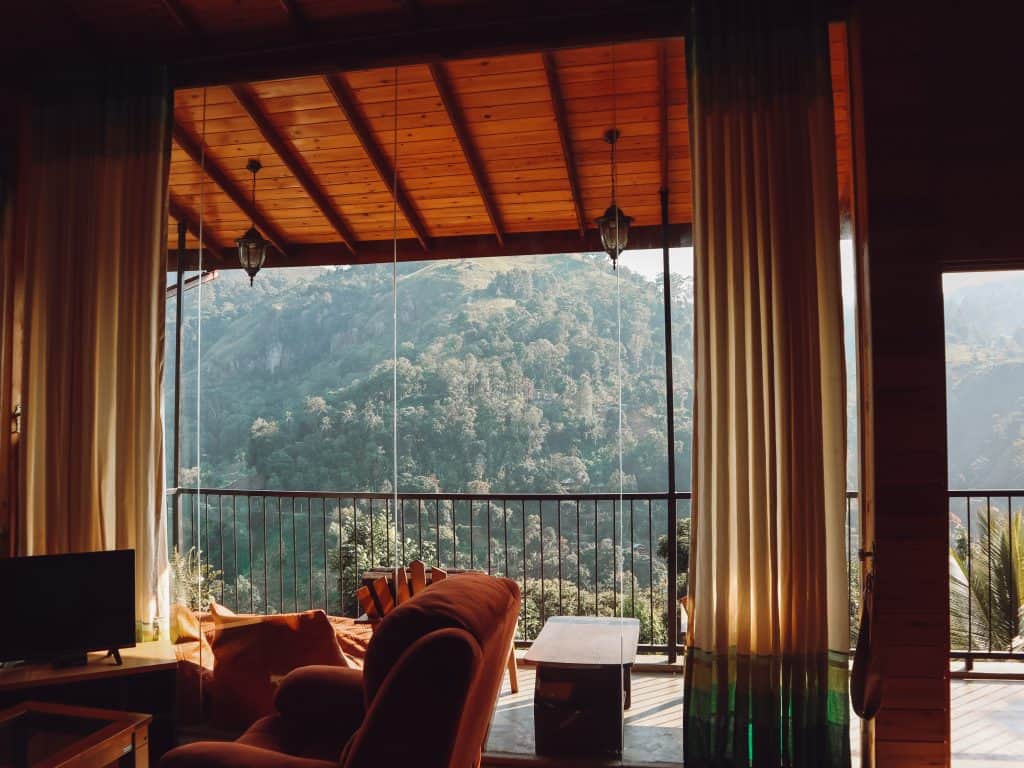 Finding Country Homes' entrance:
When walking to Country Homes Ella, the only trouble is … actually finding it. When you search on Google Maps, you'll be taken down a steep hill with a hairpin turn, that's often clogged with cars, buses, and construction. You can actually avoid this by entering Country Homes Ella from the upper Wellawaya-Ella-Kumbalwela highway. Look out for the sign that says "Country Homes Taxis." Right before that sign there is a set of stairs and a gate, which will lead you directly into the Country Homes Ella property.
A final note about getting to, and getting around Country Homes. The homestay is set into the cliffside, and to reach the cabins you'll have to navigate quite a few stairways. Don't worry, as the staff will happily transport your luggage to your room if you need help with that. However, don't expect elevators or anything similar. If you have significant mobility issues, you'll have trouble here.
Check Country Homes rates and availability here.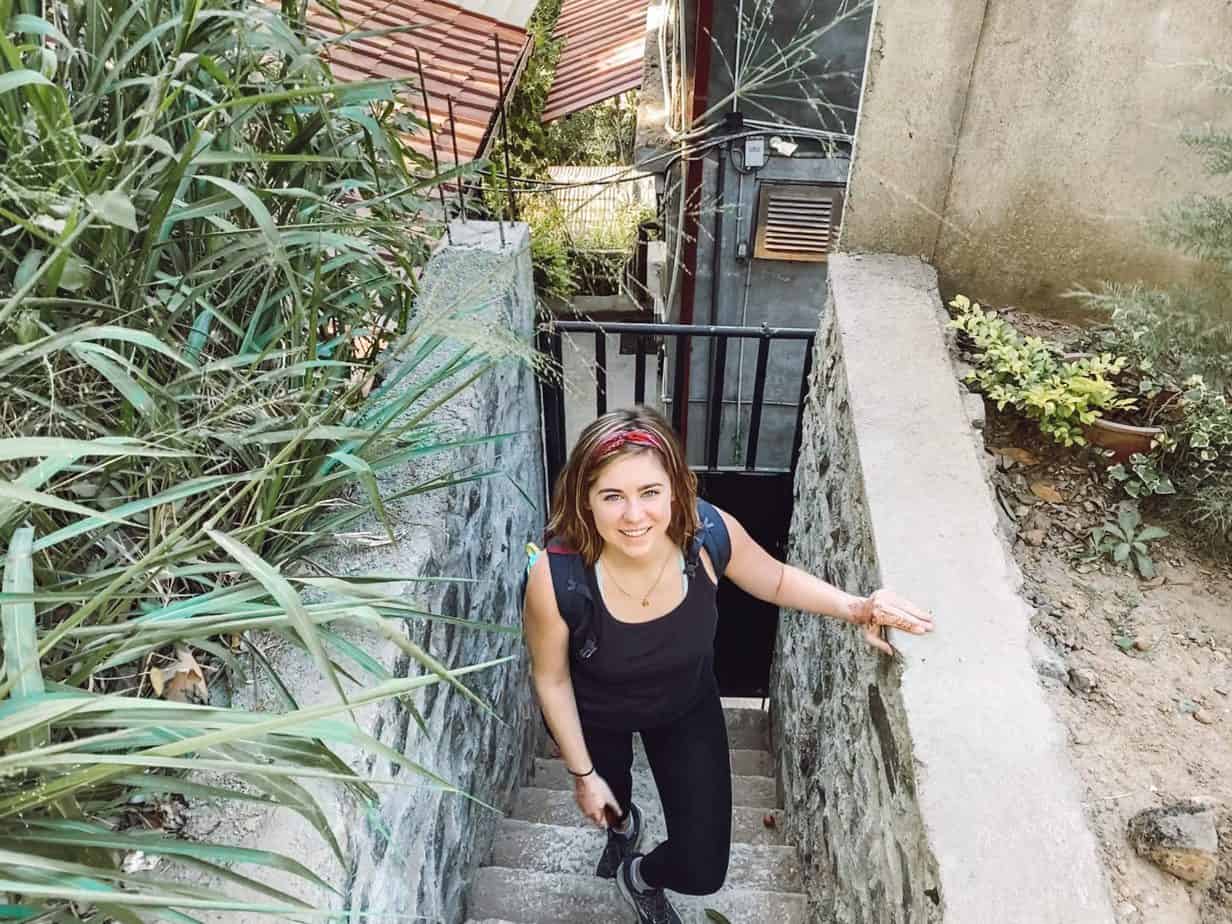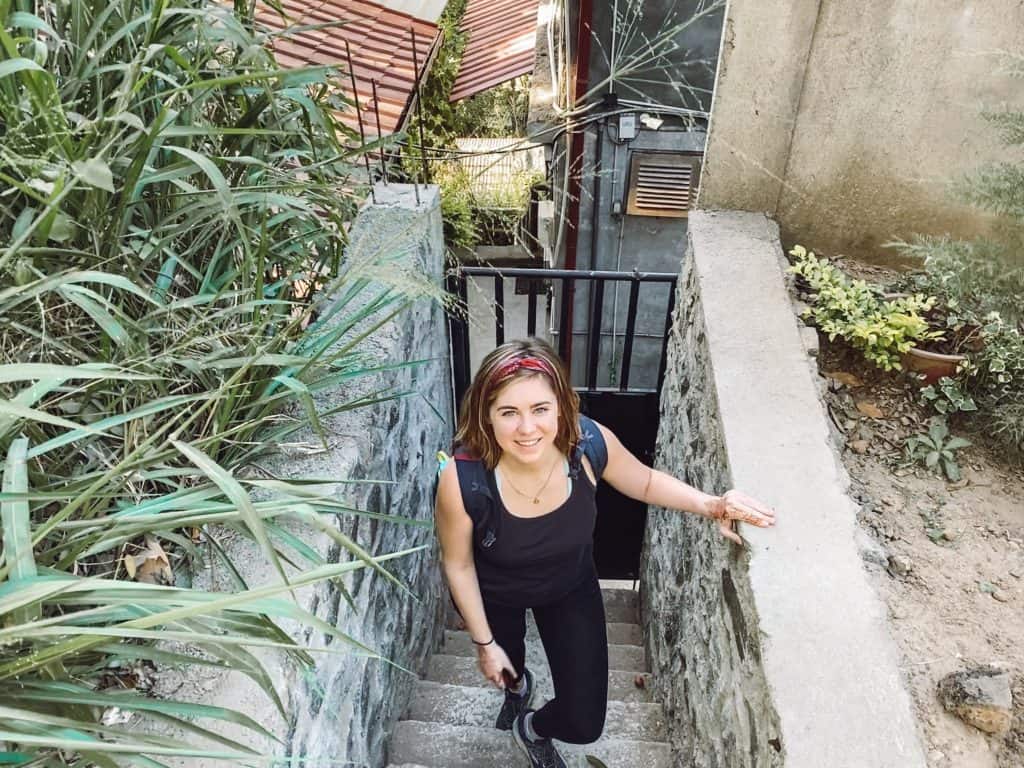 Things to do in Ella, Sri Lanka
With its crisp mountain air, rolling misty hillsides, lush green tea plantations, and chilled-out backpacker culture, it's no surprise that Ella topped our list for must-visit Sri Lankan destinations.
There are so many things to do in Ella, and you can read my post about the 16 best things to do in Ella for the full details.
For outdoorsy hike-lovers, like myself, you can't miss the hikes to Little Adam's Peak (try it at sunset!), and the more challenging and rewarding Ella Rock. There's also Nine Arches Bridge – the Instagram sensation set over a valley of tea plantations – that you must see in person (and, of course, get a photo of). I'd also recommend a Sri Lankan cooking class. We did one at Arana Eco Lodge which is just a short walk from Country Homes Ella, and set snugly in the jungle. I share even more things to do in Ella in my full blog post.
If you want to use Ella as your home base for day trips, Dhanushka and Country Homes Ella can also help you out with that. You can book private tours with Dhanushka to places like Yala or Udawalawe National Parks (for a safari!), Horton Plains, or even the south coast. They can also help organize activities like water rafting, cultural dancing, and biking.
And finally, Country Homes Ella also operates a taxi service. We booked our taxi to our next stop, Hiriketiya on Sri Lanka's south coast, with them. Our driver Hari was super friendly and fun, basically acting as a tour guide and not just a taxi driver on our drive south. We stopped at Ravana Falls for photos, his favorite local lunch place on the route for a curry buffet, and he pointed out all the animals on the way (even stopping a few times so I could photograph the monkeys!).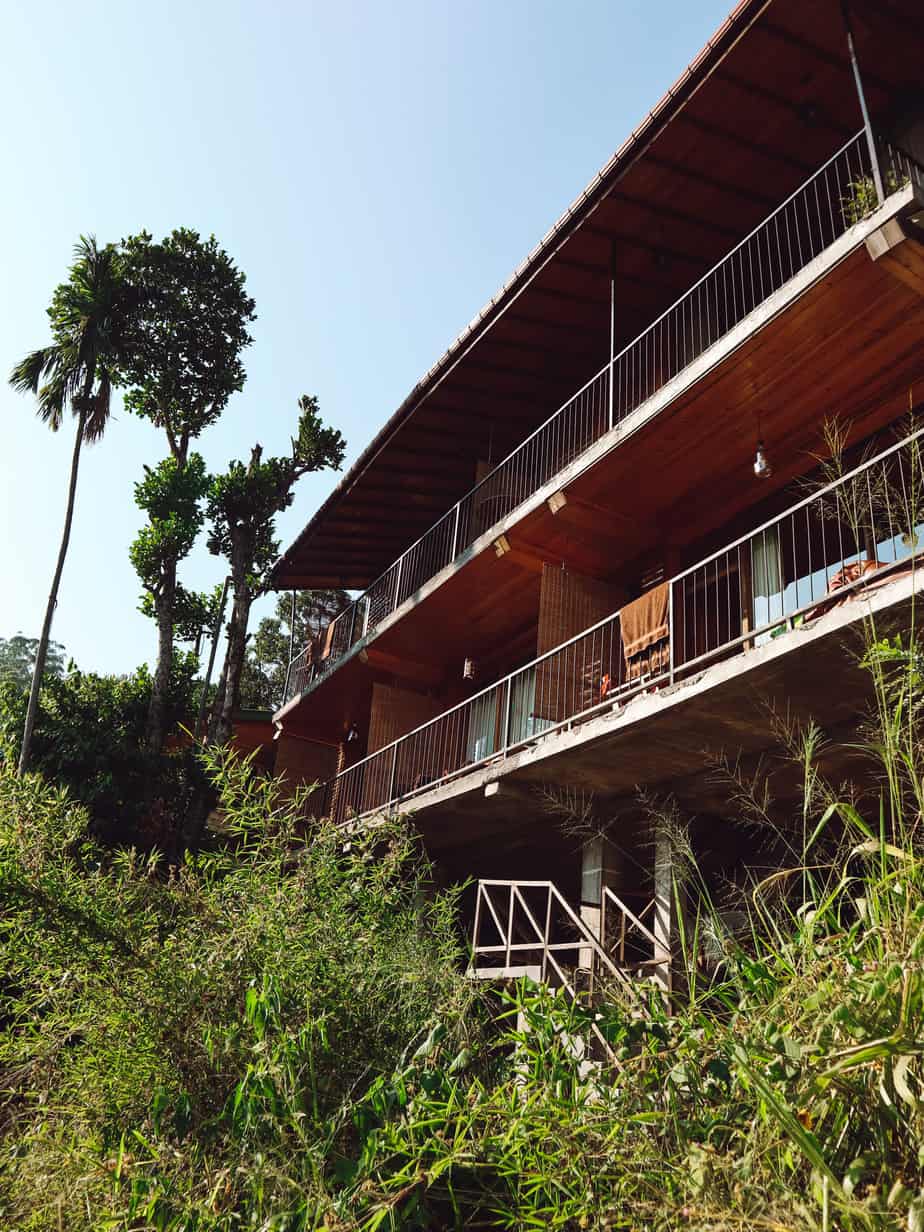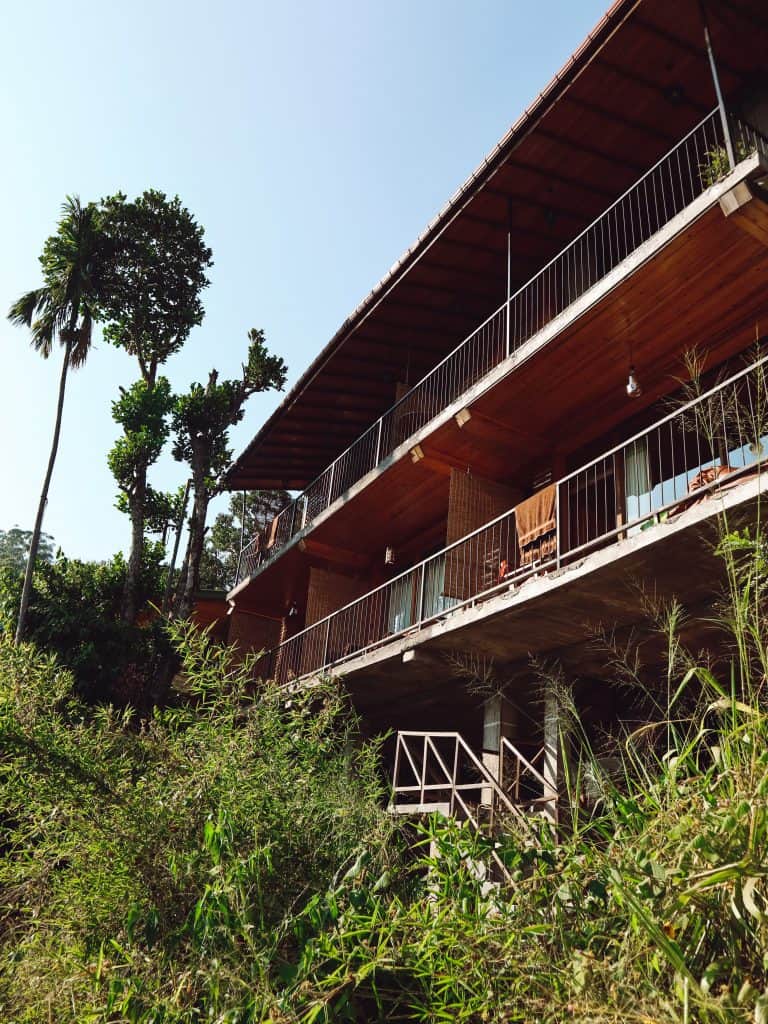 The details…
What? Country Homes Ella, a Sri Lankan homestay
Where? Ella, Sri Lanka
How to book? Check best prices and availability here.
From Ella we took off to Hiriketiya, the south coast bay which was described to me as 'Bali 30 years ago.' See if it lived up to our expectations here.
Sarah xx
Pin it for later…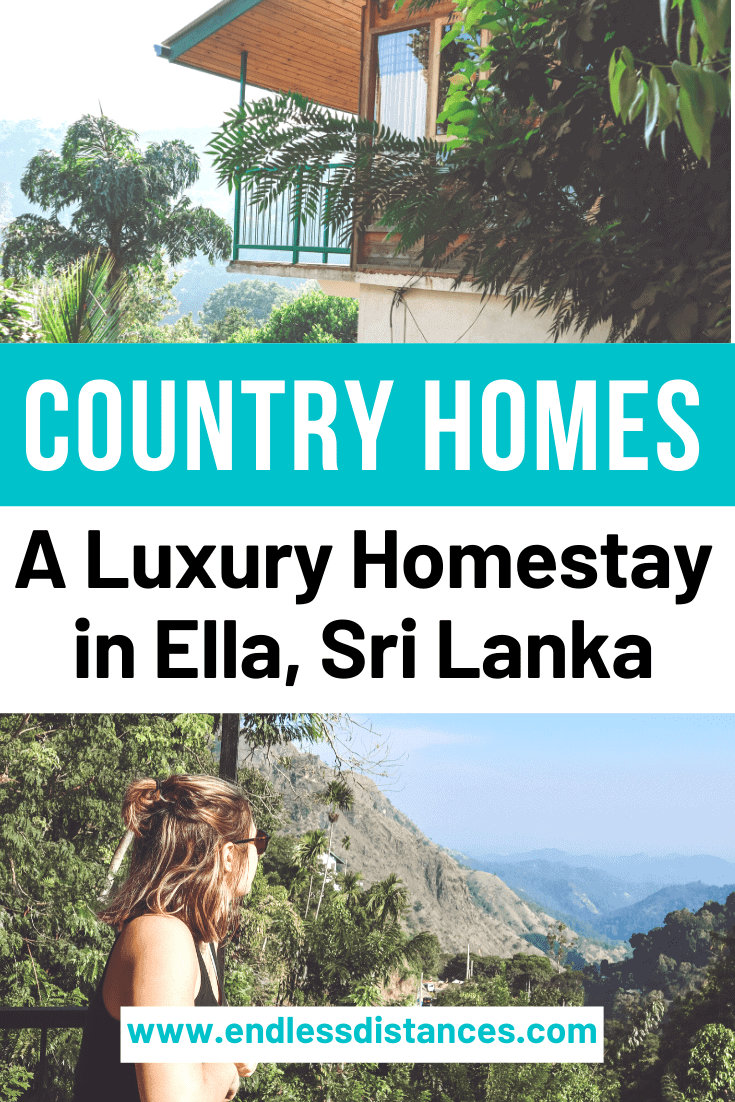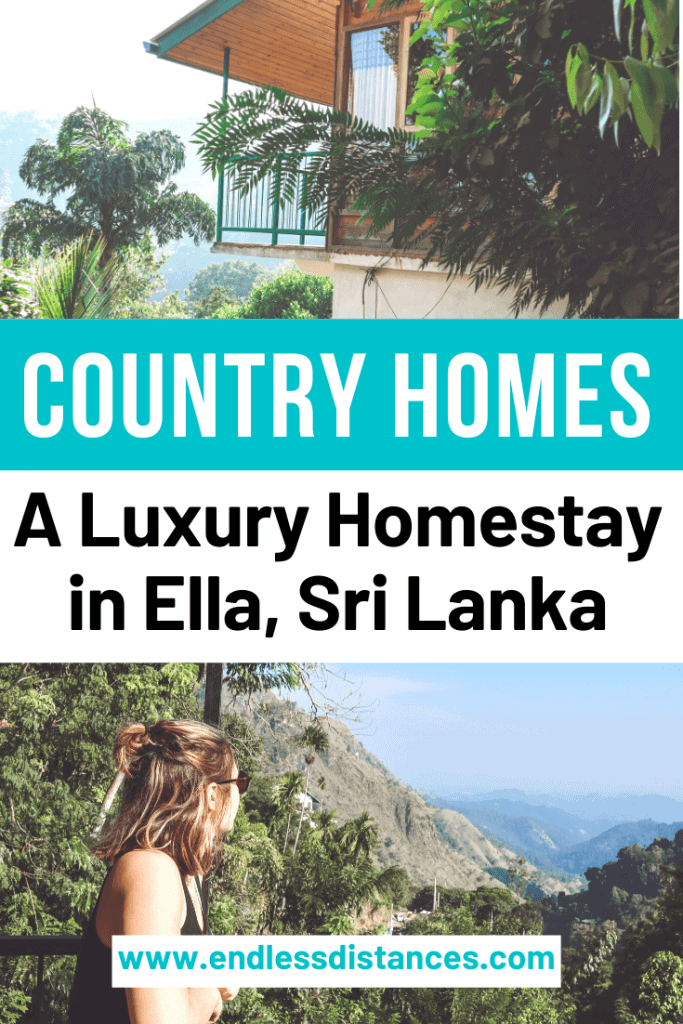 *This post contains affiliate links. If you make a purchase through one of these links I may make a small commission, at no extra cost to you. Thank you for supporting Endless Distances!
*This article is sponsored by Country Homes. All opinions are my own as always!