Gluten Free Borough Market, London: The Complete Guide (2023)
I'll let you in on a little secret… my absolute favorite thing to do in London is explore Borough Market! Not least because there are gluten free Borough Market stalls galore.
I have been to Borough Market dozens and dozens of times over the past decade. Although I no longer live in the UK, I always book myself at least one day in London during return visits (usually, the day before my flight home).
It has become my little tradition to spend that day wandering the stalls of Borough Market which, after all this time, feel a bit like home. Oh no, I'm getting sentimental. That means it's time to move on to the good stuff: Borough Market's incredible gluten free offerings!
I have some firm favorites when it comes to gluten free Borough Market options, but I decided to do a bit of reconnaissance during my last visit. In this article, you will find all the notable gluten free stalls at Borough Market.
Feast yourself on gooey gluten free cookies, hearty Indian food, fresh corn tortillas, sweet and rich honey, and oh so much more!
Last updated: February 2023
100% Gluten Free Borough Market stalls
Free From Bakehouse
I need to list Free From Bakehouse first because it is the mecca of gluten free options at Borough Market!
This bakery is dedicated gluten free and goes above and beyond sourcing gluten free ingredients from certified manufacturers, and even tests their facility for gluten independently every six months. The Free From Bakehouse also makes about two thirds of its baked goods dairy free, sugar free, and vegan.
Your eyes will seriously pop out when you come across the Free From Bakehouse stall – I always spend an inordinate amount of time drooling staring at their products because I want them all. The salted caramel chocolate cake is award winning, but I am also partial to the Victoria Sponge, any of the dessert breads, scones, and cupcakes.
Important note (updated 2023): Free From Bakehouse is NOT at Borough Market on Mondays OR Tuesdays. You can find them every other day the market is open.
Richard Haward's Oysters
The freshest, best tasting, and best priced oysters in London… right here at Richard Haward in Borough Market! I'm pretty sure they didn't set out to be 100% gluten free but with oysters as the sole menu item, they are.
There are a variety of oyster stalls in Borough Market but this one is by far my favorite. It has none of the pretentiousness and overpriced menus of other stalls. Instead, choose your style of oyster and have it shucked in front of you by an oyster-man in a rubber smock (they're called oyster-men, right?).
Prices range from £.70 to £2 for a fresh oyster! You can choose tabasco sauce (which is gluten free) or lemon wedge to top.
Khanom Krok
Head to Khanom Krok's stall for a 100% gluten and dairy free Thai food experience! They serve pad thai as well as they very unique coconut pancakes that are traditional for Thai street food.
Tibs Canteen – CLOSED
This 100% gluten free Ethiopian stall used to be one of my favorites at Borough Market. Unfortunately they closed back in September 2019 and did not reopen elsewhere.
Non-dedicated Gluten Free Borough Market Stalls
Horn OK Please
Horn OK Please serves up Indian style street food. Sadly for us celiacs, Horn OK Please is no longer 100% gluten free at their Borough Market stall.
They now serve other menu items containing wheat. I emailed with Horn OK Please and they state that they are aware of cross contact and take steps and precautions to avoid this.
I suggest you take a cautious approach and decide for yourself on the day based on what the kitchen looks like and response from staff working. Be sure to mention to staff of your dietary restrictions before ordering so they can be sure to take all necessary precautions, changing gloves, etc.
Gujarati Rasoi
I will unashamedly say that Gujarati Rasoi is my absolute favorite stall at Borough Market for a gluten free lunch! I have been grabbing lunch here for nearly a decade and it only gets better.
Gujarati Rasoi serves Indian and Nepali style thalis or dal bhats. Both are actually a combination of other dishes (lentils, cauliflower, aloo gobi, rice, etc.) – and all are naturally gluten free and vegan!
They also serve gluten free onion bhajis (made from chickpea flour)! The only gluten containing item at Gujarati Rasoi are the samosas which are kept in a separate glass container at the far end of the stall.
Fish!
Fish! is famous for its classic British fish and chips… and I mean really famous, as they've won the award for best fish and chips in the entire UK.
They have a sit down restaurant and a takeaway both within Borough Market. You'll be happy to hear there are gluten free options at Fish! – although less pleased to hear these options aren't reliably available.
Fish! can prepare gluten free fish and chips, however on the day I most recently visited their fryer had been contaminated for the day. It seems that some days the fryer is kept gluten free, and some days not. Maybe call ahead if you are desperate for fish and chips.
Alternatively, the sit down restaurant has an extensive GF menu, and the takeaway staff is also trained to clean the grill to prepare gluten free grilled fish as an alternative (although of course this is less exciting).
Change Please
My first stop at Borough Market is always to Change Please, a tiny coffee stall with a big impact. Change Please is a London non-profit that trains people who are homeless to be baristas (yup, the very ones serving you in Borough Market!).
It also offers a living wage, housing support, mental wellbeing support, and more. I love doing my first "rounds" of Borough Market with a Change Please cappuccino in hand.
From a gluten free perspective, please be aware Change Please uses non-GF oat milk. However they have allergy protocol in place and when I last visited, they had a separate container to heat and mix oat milk.
Of course, confirm cross contact when you visit!
The Turkish Deli
Turkish delight is not my cup of tea but it would be biased of me to not include a classic sweet treat that many people like. The Turkish Deli state on their Borough Market bio that their traditional Turkish delight is gluten free, but as always please confirm and ask the necessary questions before purchasing!
Produce & Goods Stalls for Gluten Free Borough Market
From Field & Flower
I love visiting From Field & Flower at Borough Market. This is a honey stall… but not just any honey. They have over a dozen different types of honey from a variety of flowers, ranging from mild to strong flavor.
All honeys are completely gluten free and taste testing is encouraged!
The Cider House
Stop by The Cider House for one of the UK's naturally gluten free specialties – cider (or "hard cider" to us Americans). The Cider House sells bottled cider from orchards and cideries in New Forest.
Definitely pop by in November and December to pick up a cup of hot mulled cider!
RELATED | Let Me Be Your London Tour Guide: Apps, Discounts, and Things to do in London
Spice Mountain
Spice Mountain sells – you guessed it – spices! As in – you guessed it again – mountains of spices.
From Indian black salt to pink himalayan salt to turmeric root to sachets of mulling spices for the holidays… you name it and you can find it at Spice Mountain. Be aware that whilst Spice Mountain sells freshly ground spices from pure ingredients, they are not certified gluten free.
Ted's Veg
One of the most colorful produce stalls in all of Borough Market! Definitely stop by Ted's Veg if you are shopping for fresh, organic fruit and vegetables. They also often sell juices – mulled in the winter months!
Richard Bramble Collection
I know it's a stretch for a 'gluten free Borough Market' article, but I just have to put Richard Bramble on your radar! Richard Bramble's stall sells mugs, plates, cards, and kitchen supplies all printed with his colorful and iconic illustrations. So, nothing edible, but surely something beautiful to stock your gluten free kitchen with!
Butter Nut of London
Butter Nut of London have a variety of unique gluten free nut butters which are also free from palm oil, refined sugars. additives and preservatives. These look so unique and flavourful, I can't wait to pick one up on my next visit! Which one would you choose? I'm leaning towards rose & pistachio, too out there for you?
Note: Butter Nut of London only sells at Borough Market on Friday, Saturday, and Sunday!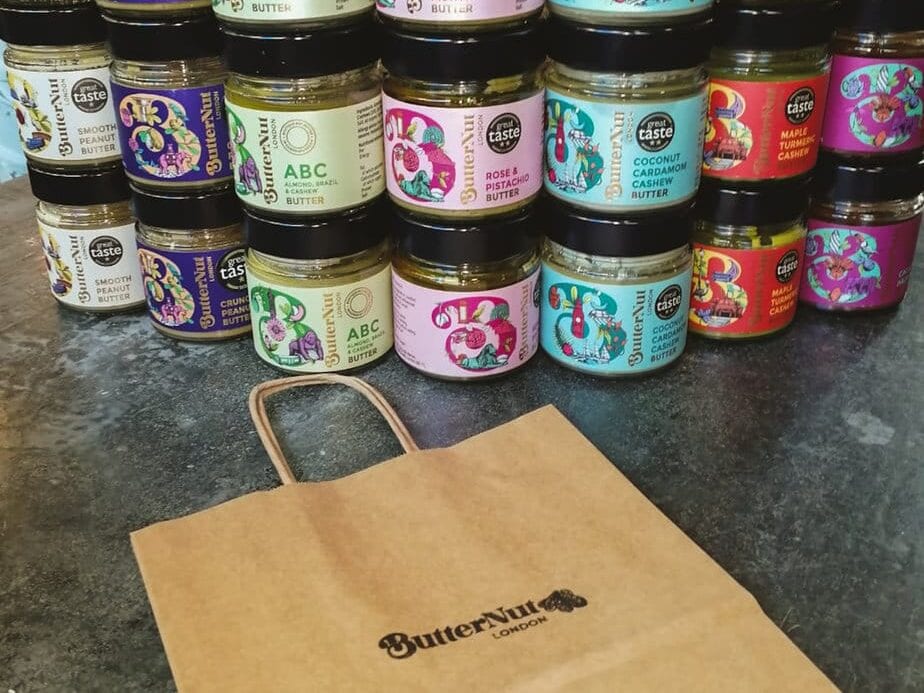 La Tua Pasta
La Tua Pasta sells handmade pasta, and their menu includes gluten free pastas that they state on their website is safe for celiacs. I haven't eaten from them myself so I can't offer any personal experience (yet!).
As always, ask the necessary questions on cross contact protocols.
Cool Chile Co. – CLOSED
Cool Chile Co. sold Mexican products and cooking supplies and the best corn tortillas in the UK. I used to always stock up at Borough Market but sadly Cool Chile Co. stopped trading here. You can still order directly from them, though!
Gluten Free Borough Market: Restaurants Nearby
Where The Pancakes Are
Where The Pancakes Are is a pancake restaurant very close to Borough Market, in case you want to eat something a bit heartier before the market opens. Their menu lists "wheat free" options, but please keep in mind they do also prepare normal wheat-containing pancakes.
I haven't tried to eat here myself yet so please be sure to check their cross contact procedures beforehand and notify the staff at the time of order. And leave a comment below with your findings!
El Pastor
A Mexican taqueria with 100% corn tortillas? YES PLEASE. El Pastor is a restaurant very close to Borough Market and another great option to eat. You could make this your first stop before Borough Market to reduce those food cravings or alternatively if you're staying nearby (see my hotel recommendations below) this is a great place to eat after the market closes.
I haven't been here myself yet so you'll need to check on cross contact and tell the staff of your dietary restrictions so precautions can be taken.
Things To Do Near Borough Market
I typically spend a couple hours exploring Borough Market… you could definitely do it in less, but what can I say, I'm obsessed! There is a certain pleasure in wandering the market with time as no obstacle.
I also love the Southwark and Southbank areas of London, and there are plenty of other activities nearby.
Things to do near Borough Market:
Where to Stay for Gluten Free Borough Market
Southwark and Southbank, including Borough Market, make up an amazing area to stay in London. There is so much to do here, including major tube stops and train stations, that it's worth booking accommodation in the area.
Here are my recommendations for where to stay near Borough Market:
St Christopher's Village ($): A very clean and well-kept hostel in the southwark area. I've stayed here before and was very impressed. It's definitely a step up from your average hostel!
Ibis Styles London Southwark ($$): ibis is a UK hotel chain that is known for its moderate prices and well designed rooms. This location is great for exploring southwark and southbank.
Citizen M Southbank ($$-$$$): I adore the Citizen M brand for its kooky design and massive beds! I've stayed at this southbank location before and it's maybe my favorite hotel in London. They market themselves as a 'budget' brand but the price tag is definitely higher than your average budget traveler. In my opinion, though, totally worth the splurge.
RELATED | Staying in an Eco Hotel in London: Qbic Hotel Review
Gluten Free Borough Market Details
What? Borough Market, a famous food market in London
Where? Right next to Southwark Cathedral, south of the Thames. 8 Southwark St, London SE1 1TL, United Kingdom.
When? The market is open Monday-Thursday 10am-5pm, Friday 10am-6pm, and Saturday 8am-5pm, with extended Sunday hours during December.
Have you been to Borough Market before? Let me know if you visit, and please get some Indian food, fresh oysters, and gluten free cupcakes for me!