Looking for ideas for some dairy free gluten free snacks? I'm an absolute snack monster, and I think most people with dietary restrictions could probably agree! When you're on the go you don't always know if you'll find a restaurant that can cater to your needs – and the last thing you want is to become hangry at the people around you. So keeping snacks handy is super important.
It's easy to get stuck in a routine of eating the same thing, though, which is why I compiled this list of 20+ dairy free gluten free snacks. As someone who travels a lot, I also wanted to make sure these snacks had minimal prep, weren't too messy, and were generally appropriate for an on the go lifestyle.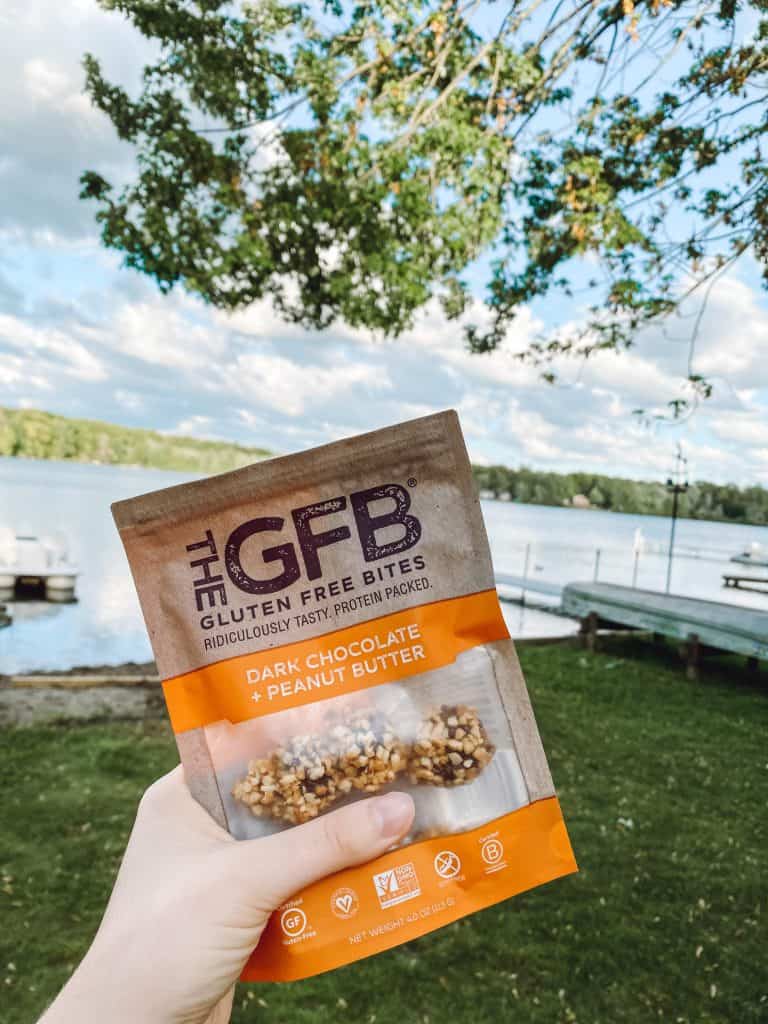 20+ Dairy Free Gluten Free Snacks on the Go
Why are these snacks both dairy and gluten free? Well, a lot of people with celiac disease tend to also have lactose intolerance, or sensitivity to dairy. And if you have food intolerances in general, these are two of the most common ones.
Personally, in addition to having to eat gluten free for nearly a decade, I've also eaten a pretty low-dairy diet the last five years. Like many people, I've found dairy aggravates my endometriosis symptoms. The last thing I want is to have a pain flare or get glutened when I'm on the go, which is why I keep my snacks pretty strictly both dairy and gluten free.
1. Hummus and carrots or gluten free crackers
Hummus is one of my favorite dairy free gluten free snacks (although you should check the container to make sure there aren't any allergens due to shared equipment). You can buy small cups of Veggicopia hummus online, which is certified gluten free.
I love to cut up carrots, bell peppers, or even cucumber sticks to dip in hummus.
An even lower prep idea is to bring a reusable baggie (like Stasher bags) of gluten free crackers to dip.
2. Jerky
Jerky is the perfect gluten free snack on the go because it is cured, and therefore doesn't go bad quickly! It is also super easy to eat and non-messy.
My absolute favorite brand of jerky is Epic Bar. The taste is really good, and the bars are 100% grass fed meat, fruit, and nuts.
I always pack Epic venison bars when I travel (I basically lived off them in Nepal). They give me an energy and protein boost that is sometimes hard to get when you eat gluten free and dairy free.
3. Dairy free dark chocolate
Honestly dark chocolate is probably the MOST important snack to have on hand if you want to avoid being hangry!
It can actually be difficult finding chocolate bars that are both gluten and dairy free. With gluten, you have to be careful no shared equipment was used (or additional ingredients included in the bars). And dairy… well, a ton of even dark chocolate bars contain dairy!
Some of my fave gluten free and dairy free chocolate bar brands are Hu Kitchen chocolate and EnjoyLife (free of the top 14 allergens).
4. Rice cakes with nut butter
Nut butter is a great on the go snack because it has healthy protein and fat to keep your energy up. I always, always, always have a box of Justin's nut butters in my pantry (and a few sachets in my backpack!). These little guys are so convenient to pack on the go, and come in sooo many flavors.
I'm not gonna lie, I've straight up eaten nut butter right out of the packet many a time (especially when I'm out hiking). You'll probably prefer to spread them over rice crackers, gluten free bread, or gluten free crackers.
5. Dried fruit
Dried fruit is another easy and mess free snack, that is both dairy free and gluten free. You can buy big bags of dried fruit in bulk on Amazon. My go to's are usually dried mango, dried apricot, or dried apple. 
6. Probar meal bars
I got turned onto Probar's meal bars when my friend Meghan introduced them to me on our trek to Everest Base Camp. Meghan also has celiac disease, and she spends a lot of time outdoors, and she swore by these meal bars.
The Probar meal bars are certified gluten free and have a ton of protein in each bar – they can easily be a meal replacement when you're out traveling or just busy around town. All the meal bars are also vegan (so obviously, free of dairy!). 
7. Probar Bolt energy chews
Probably my favorite product by Probar is actually their Bolt energy chews. These things are sooo tasty, you will want to gobble up a whole bag at once.
These gummies will give you a much-needed burst of energy, whether you're in the midst of a long run or hike, or are just tired from a long day. They are certified gluten free and dairy free, and full of electrolytes and B vitamins.
My fave flavor is raspberry but they come in lots of other flavors, too!
8. This Bar Saves Lives granola bars
I'm mentioning another bar here (and the following two snacks!) because personally, I find it really hard to find dairy free gluten free bars that actually taste good. This Bar Saves Lives is one of the few that fits into my category of really, really, really tasty bars.
On the surface, This Bar Saves Lives is a pretty typical granola bar (although they've got unusual flavors like pistachio and blueberry – my favorite!). But for each bar you buy, they donate food packets to malnourished children, which is a pretty great cause to support!
9. The GFB bars
The one other brand that I have to mention when it comes to dairy free gluten free snack bars is The GFB! First of all, their bars are super filling and taste amaaazing (and not at all like cardboard-flavored bars I've tried from other brands).
All the bars are certified gluten free and certified vegan (so, obviously, dairy free). The GFB is also a B-corporation meaning they have sustainable practices.
My personal favorite flavor is chocolate and peanut butter, but you'll find they have many others!
10. The GFB gluten free bites
In addition to their bars, I'm obsessed with The GFB's gluten free bites – which are basically little granola balls!
You can buy a bag, which comes with 10 balls. Each one is really filling so I usually eat just two at a time. My favorite flavor by far is the PB&J flavor!
11. Popcorn
Popcorn is the ultimate healthy gluten free snack! An important caveat is that not all popcorn is dairy free, or even healthy, depending on what flavorings are added.
Personally, I actually pop my own popcorn straight from the kernel. This is easy to do – you just need a quarter cup of popcorn kernels (which you can buy online), a brown paper bag to pop them in, and then microwave for about five minutes. I'll sometimes melt vegan butter and add salt, too.
For an easier popcorn fix, I recommend BOOMCHICKAPOP or Skinny Pop, which come in small prepackaged bags.
12. Clementines
Clementines are one of my favorite dairy free gluten free snacks because they are just so easy (not to mention being a really healthy whole food!).
I love taking clementines on the go because they come ready with a skin to keep them protected, and are so easy to peel (unlike full oranges). They also last a really long time on the counter or in the fridge, so you don't have to eat them all in a rush.
13. Any of these travel well fruits
While clementines are my favorite fruit to snack on, there are a few others that are really perfect for when you're on the go. These includes apples and bananas. If you have a tupperware or glass food storage container, blueberries and grapes are also pretty hardy and won't make a mess!
14. Gluten free pretzels
Pretzels are a classic snack for anyone, and luckily there are now some great companies making both gluten free and dairy free pretzels.
My personal favorite are the Glutino pretzels which are perfectly crunchy and taste the way I remember pretzels! Their pretzels are both gluten and dairy free.
15. Sweet potato chips
I got on a sweet potato chips kick a couple years ago and I swear I turned slightly orange from it! Maybe don't go overboard with the sweet potato chips like I did, but this just goes to show what a yummy snack this can be.
Terra makes amazingly tasty and crispy sweet potato chips. I highly recommend bagging up a handful of these for your next snacking needs.
16. Canned tuna with gluten free crackers
Another fab dairy free gluten free snack, as long as you're not also vegan, is canned tuna with gluten free crackers. This is salty, crunchy, and will really hit the spot. (Just don't eat it in a confined space or people may not like you very much!).
I would advise you to only buy safe catch tuna, which is better for both the environment and yourself. You can buy safecatch tuna tins that have easy open tabs, so no can opener needed. And for gluten free crackers, I really like Simple Mills!
17. Applesauce on the go
Applesauce totally brings me back to my childhood lunchroom days, but for good reason! This is a really easy snack to pack, which will hold up well in a bag all day if you're super busy (or traveling).
I like the small Motts unsweetened applesauce cups, but you need to remember to pack a reusable spoon if you take these. You can also take a squeezable pouch of applesauce, like GoGoSqueez, which takes the spoon out of the equation and is much less messy!
18. Kale chips
Kale chips taste way better than they sound, I promise. They are crispy, salty, and totally nutritious. I buy the Trader Joes kale chips but you can also buy them online.
19. Dairy free gluten free muffins
Muffins are a really good choice for an on the go snack because they don't require utensils. They're also relatively mess free, and the only waste you'll have is the muffin wrapper.
I prefer to make my own muffins (store bought gluten free and dairy free muffins are both hard to find, and taste very processed and stale). You can even use ultra healthy flavors or mix-ins like spinach or zucchini.
To make it easier on yourself, if you don't want to bake from scratch, I recommend either Krusteaz or King Arthur Flour's gluten free muffin mix. If you use a non-dairy milk like almond milk and vegan butter then these are also dairy free!
20. Fruit leather
Who remembers fruit roll ups from their childhoods? Fruit leather is basically a healthier version of that, and sooo easy to pack with you on the go.
Annie's makes fruit leather roll ups that are both gluten free and vegan.
21. Nuts
Nuts seem like the ideal dairy free gluten free snack … on the surface. However I've learned you have to be careful, as often store bought nuts may be flavored with seasonings that include wheat flour (and dairy if it is a cheese flavor). The same is true for airplanes – the little peanut pouches they serve are actually rarely gluten free. 
Instead, I buy plain (salted or unsalted) nuts. My favorites are unshelled pistachios (the shells can make a mess if you're traveling or on the go), peanuts, almonds, walnuts, and cashews.
Then, just bring a baggy of these nuts when you leave the house!
22. Gluten free granola
If you have celiac disease, you'll know that we have to be careful with oats. Some people don't tolerate oats at all, and those who do have to stick to purity protocol oats.
If you do tolerate oats, then try making your own gluten free dairy free granola. Otherwise, Purely Elizabeth sells granola made with certified gluten free oats (and they do regular testing for gluten).
23. Kettle chips
Another personal fave: kettle chips! I particularly love kettle cooked chips because they are so crunchy. The Kettle brand is certified gluten free, but not all flavors are dairy free. You should check the labels for up to date information. 
24. MadeGood granola bars and cookies
MadeGood is one of my favorite brands for gluten free granola bars. I looove the chocolate banana and the chocolate chip flavors the most (can you tell… I love chocolate). There are tons of other flavors, too.
I recently discovered that MadeGood also makes cookies – these are bitesize and come in a small packet which is perfect for taking with you when you're traveling or running errands.
25. GOODTOGO bars
And finally, GOODTOGO is a brand I recently discovered that does gluten free granola bars. Their bars are baked, so they're quite soft, which gives it almost a fig newton type texture. It's really good!
These are not only certified gluten free, but also certified vegan, peanut free, and keto. 
Some things that will help you snack on the go!
I've tried to focus on simple and mess free snacks in the list above. If you're traveling or on the go, you don't want to deal with a big mess or too many things to throw out.
However there are still a few things that are useful to have on hand that will make your dairy free gluten free snacking easier. 
Happy snacking! If you'd like to check out more of my gluten free travel tips, head over to my article on how I find gluten free restaurants, and my top tips for eating out gluten free (safely). I've traveled to over 30 countries completely gluten free, so if you're planning any upcoming travels, I also recommend browsing my gluten free travel guides by destination.
Let me know in the comments if you have any of your own tips or tricks, and if you're a snack fiend like me!
Sarah xx
Pin it for later…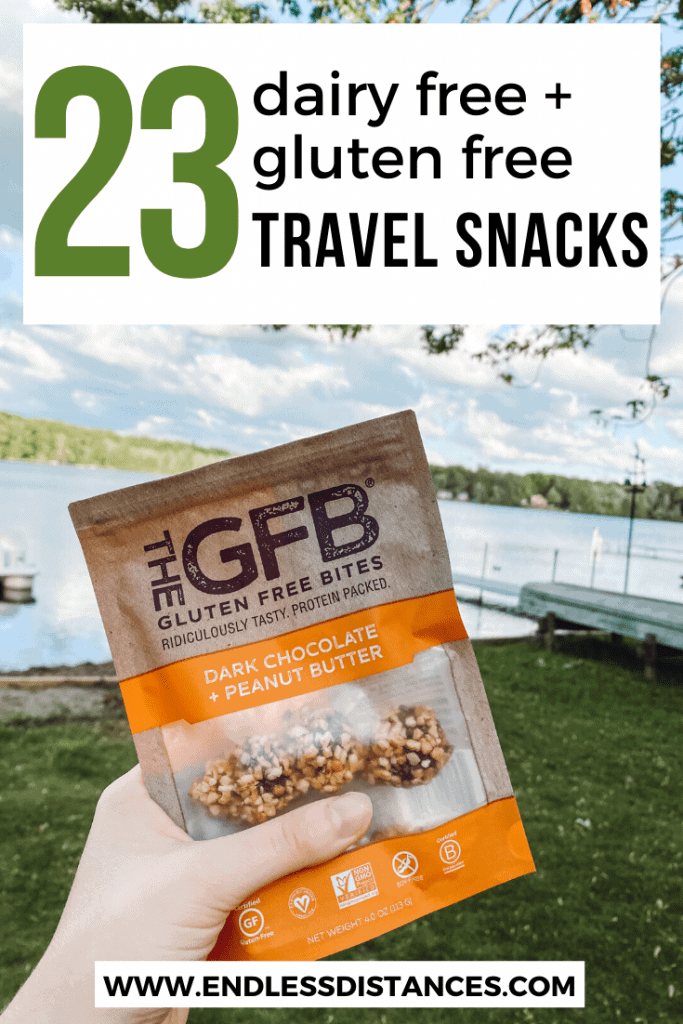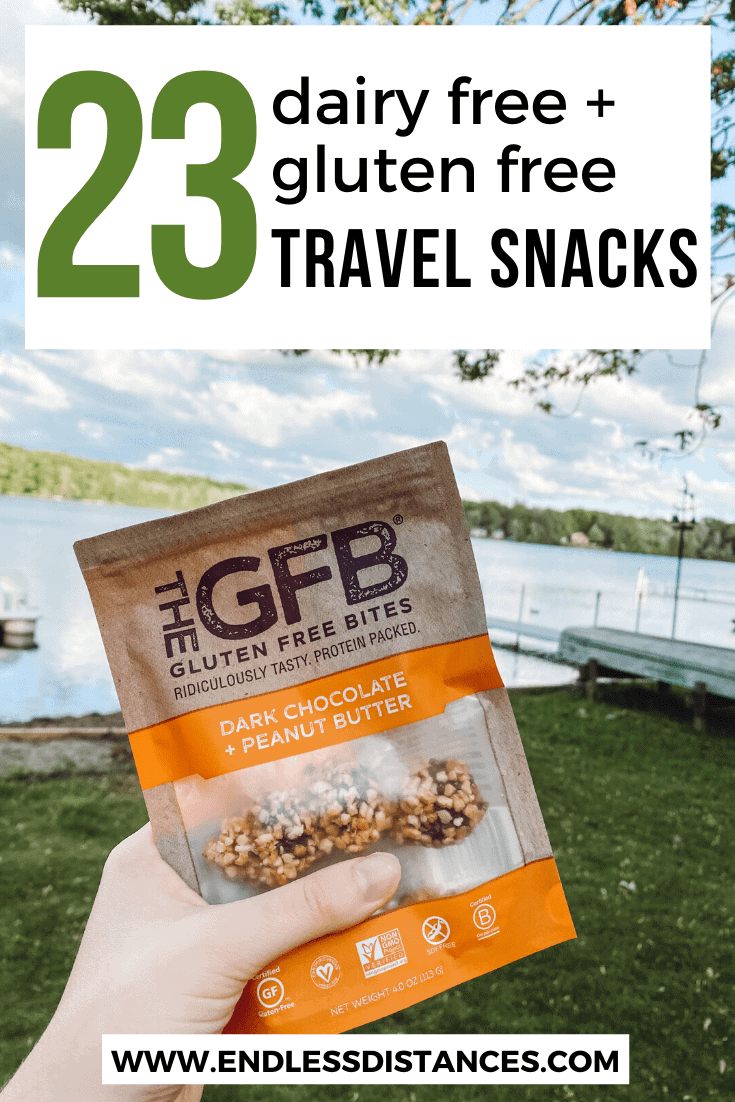 *This post contains affiliate links. If you click on a link and make a purchase, I may make a small commission, at no extra cost to you. Thank you for supporting Endless Distances!