Gluten Free Quebec City: A Complete Guide
This was my fourth visit to Quebec City, a place that has long had a special spot in my heart. How can I describe Quebec City to you? At the top of a steep hill, you find yourself in a pocket of fairytale French architecture, surrounded by cobbled streets and castles. But are there gluten free Quebec City options, or is this a fairytale you'll go hungry in?
Unlike many other cities nowadays, the gluten free options in Quebec City are not that obvious. It takes a little digging, but I promise there are safe gluten free meals to be had in Quebec City. Don't worry, though… I've done the investigating for you.
On my most recent trip to Quebec City, I made it my mission to uncover the city's best and safest gluten free restaurants. In this guide, you'll find everything from how to communicate your needs in French, to where to stay for the best gluten free (silent) breakfast, to the most mouthwatering poutine! Let's get started.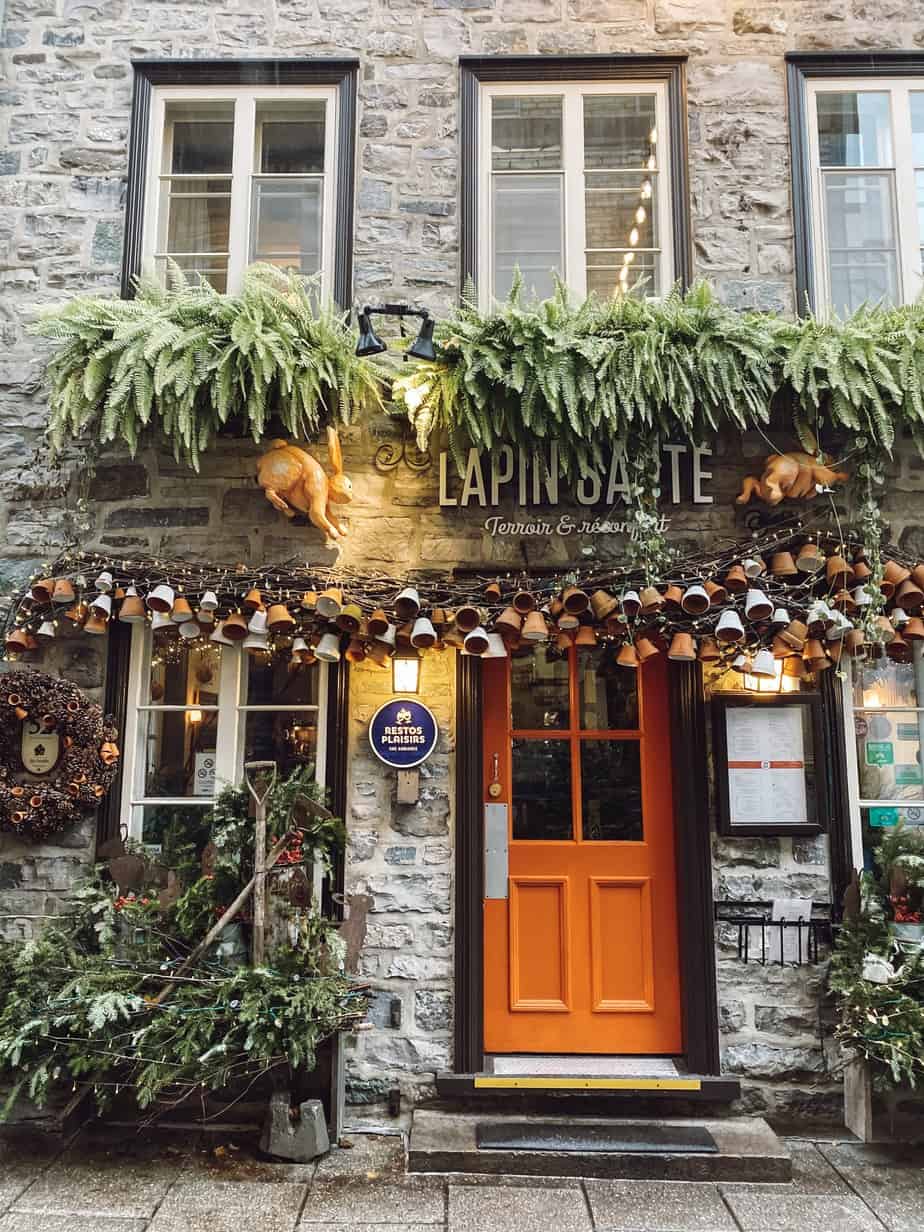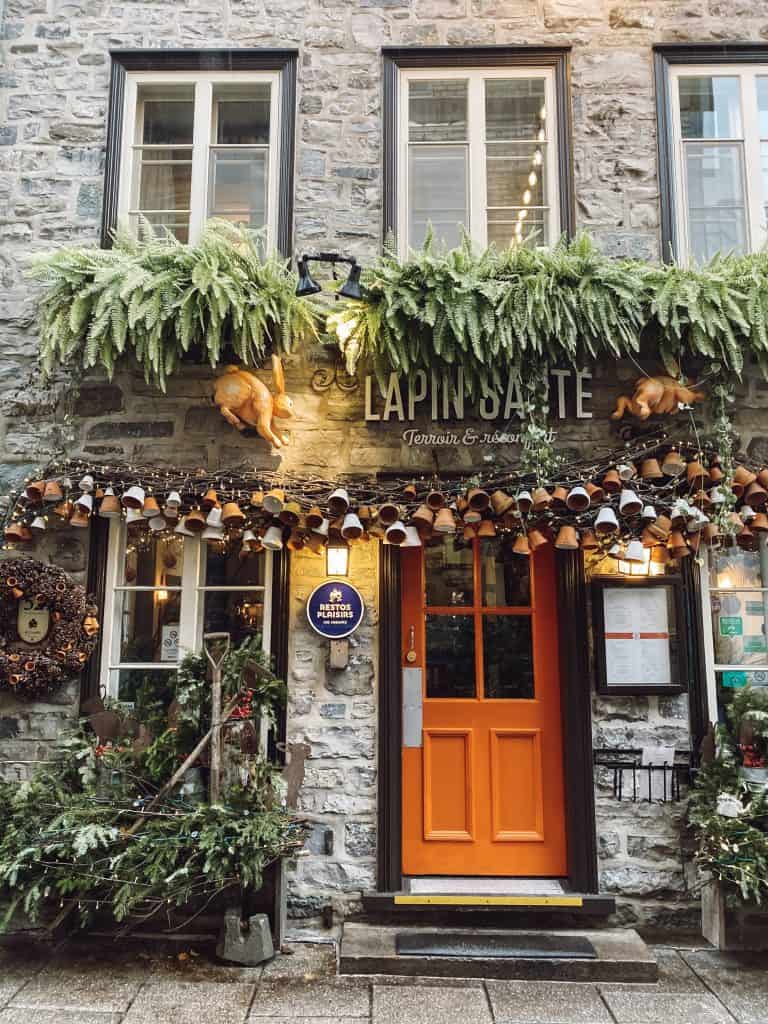 A gluten free translation card for Quebec City
If you didn't know, people in Quebec speak a dialect of French called Quebecois! It is considered polite to always start interactions in French, i.e. 'Bonjour.' Although many people in Quebec City speak English, the language barrier might cause some issues when it comes to ordering food. This is especially true when you have questions about cross contact.
For communicating in French in Quebec City, I highly recommend this translation card by Jodi of Legal Nomads. You can buy it online and have it downloaded straight to your phone.
I love Jodi's translation cards because she is a celiac herself. Her cards go in depth unlike any other translation cards. What's more is that Jodi is actually from Quebec herself! Click the image below to read more about the translation card.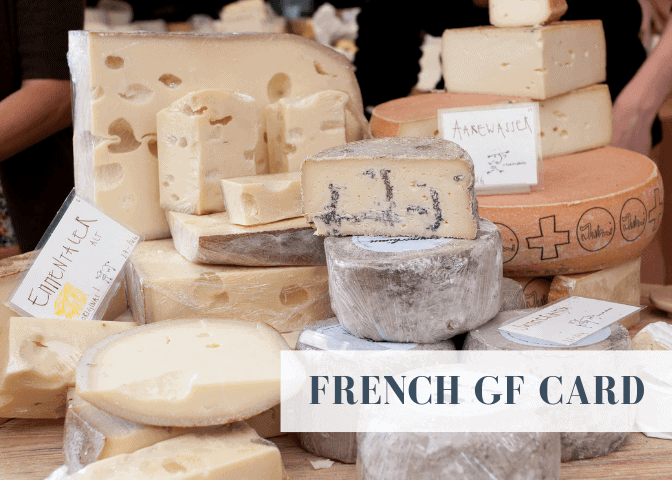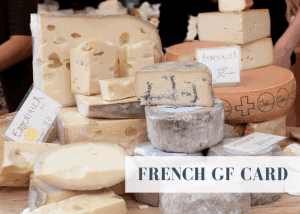 Where to stay in Quebec City if you're gluten free
If you've read my other gluten free travel guides, you know that I believe where you stay can have a big impact for gluten free travelers. I look for hotels that have on site breakfast or restaurants that cater to gluten free needs.
On this visit, we stayed at Le Monastere Des Augustines – truly a bucket list destination for me, that I couldn't recommend more highly to gluten free travelers.
Le Monastere is a modern wellness hotel… but it is also the site of the first hospital north of Mexico, founded by the Sisters of the Augustines in 1639. We slept in the authentic rooms once slept in by the sisters, enjoyed a tai chi class, explored the museum, and I had the best massage of my life. More information coming in a separate blog post!
From a gluten free perspective, the food at Le Monastere is phenomenal, and honestly you could cozy yourself up in the hotel and eat every meal here! Breakfast is served in silence, in honor of the sisters' tradition. There are many naturally gluten free options. There is also gluten free bread (plain and cinnamon raisin), which is prepared either on a clean grill or with their toaster packets. I was so impressed at the steps they went to reduce cross contact.
The boutique also offers pre-packed gluten free meals. You can eat lunch and dinner here, as well, which I discuss further below! Le Monastere is in a prime location to explore Old Quebec City.
Dedicated gluten free Quebec City restaurants
I'm sorry to say that as of 2020 there are no 100% gluten free restaurants or bakeries in Quebec City. This is certainly a market that needs to be moved on – fast – and I'll book my return trip ASAP when one opens!
However, don't despair. There are plenty of restaurants that not only have gluten free options, but go a long way to secure a safe preparation space. Bistro Le Veravin stands out as almost 100% gluten free… read more about it below.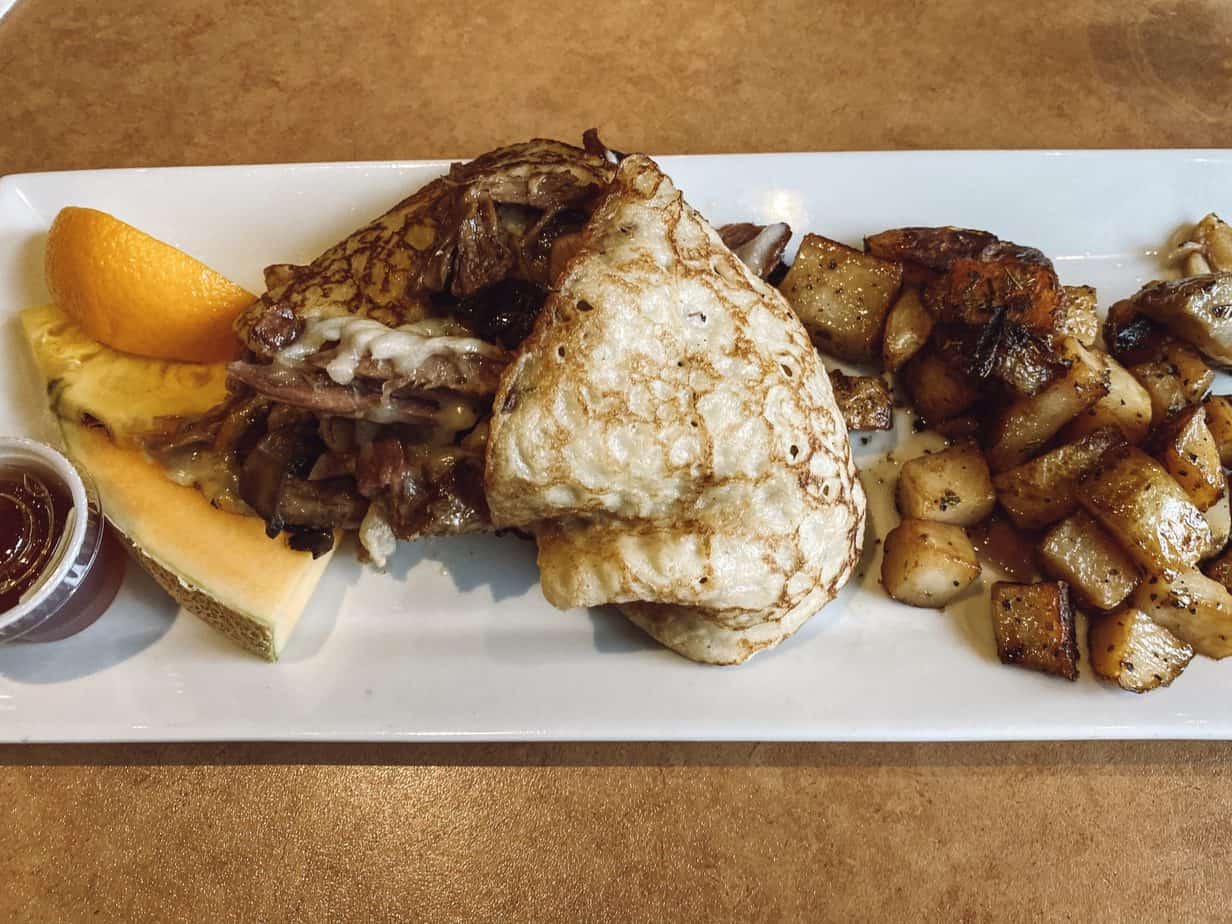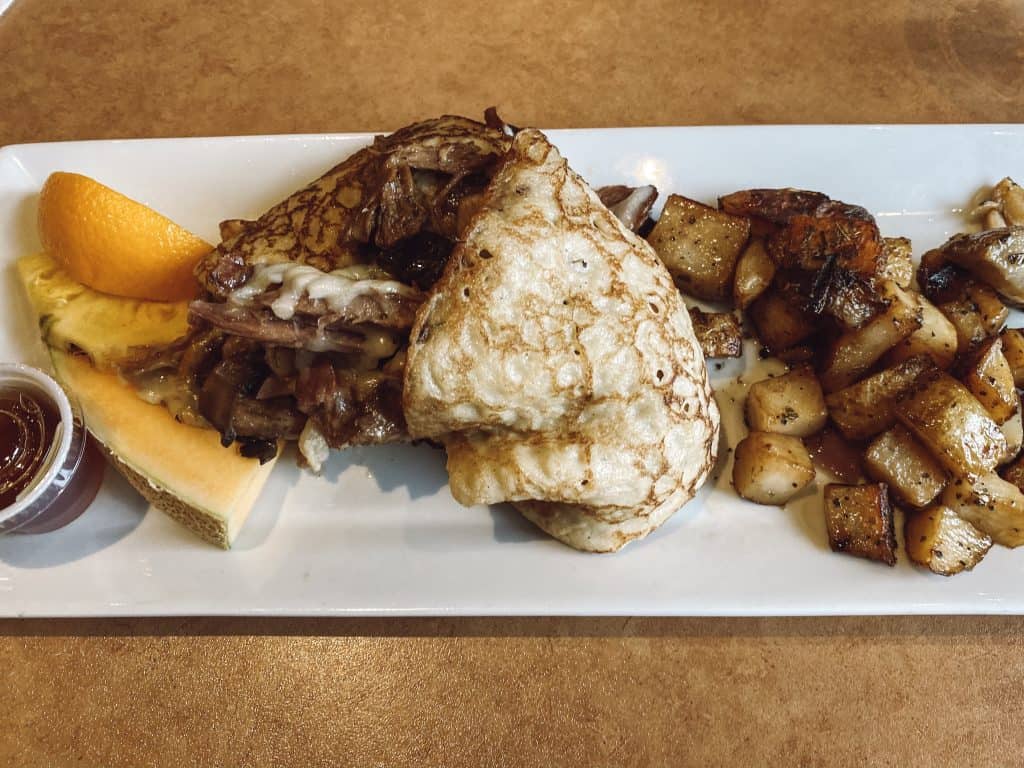 Non-dedicated gluten free restaurants in Quebec City
Bistro Le Veravin
Although it can't hold the title of dedicated gluten free, Bistro Le Veravin is about 97% gluten free. Let me explain. Walking up to the bistro, you are immediately met by a "sans gluten" logo, and an extensive menu boasting items ranging from gluten free crepes to poutine to pasta and more! Upon quizzing about cross contact, I met the owner, who has celiac disease himself. Precautions from separate cooking areas to toasters are taken.
With so many gluten free dishes, why is Bistro Le Veravin not dedicated gluten free? At dinner, there are three dishes that contain gluten. At breakfast, croissants and bagels are offered which contain gluten. I think this is meant to strike a nice balance for guests who do not have to eat gluten free, which makes Le Veravin a good destination for everyone. It is actually connected to the Hotel Le Saint-Paul, and the breakfast crowd was largely made up of hotel guests, rather than those like myself who had braved the snow for a gluten free crepe.
And oh, the crepes! I went all out with the gluten free duck, mushroom, and swiss cheese crepe, served with roasted potatoes, Canadian maple syrup, and fruit. It had that soft, doughy feel that I faintly remember from gluteny crepes of yore. Since many celiacs have oat sensitivity, I will mention that usually the crepes are made with certified gluten free oat flour. On the day I visited, however, they were actually using gluten free flour mix instead. If you are sensitive to oats and have your heart set on a crepe, maybe call ahead.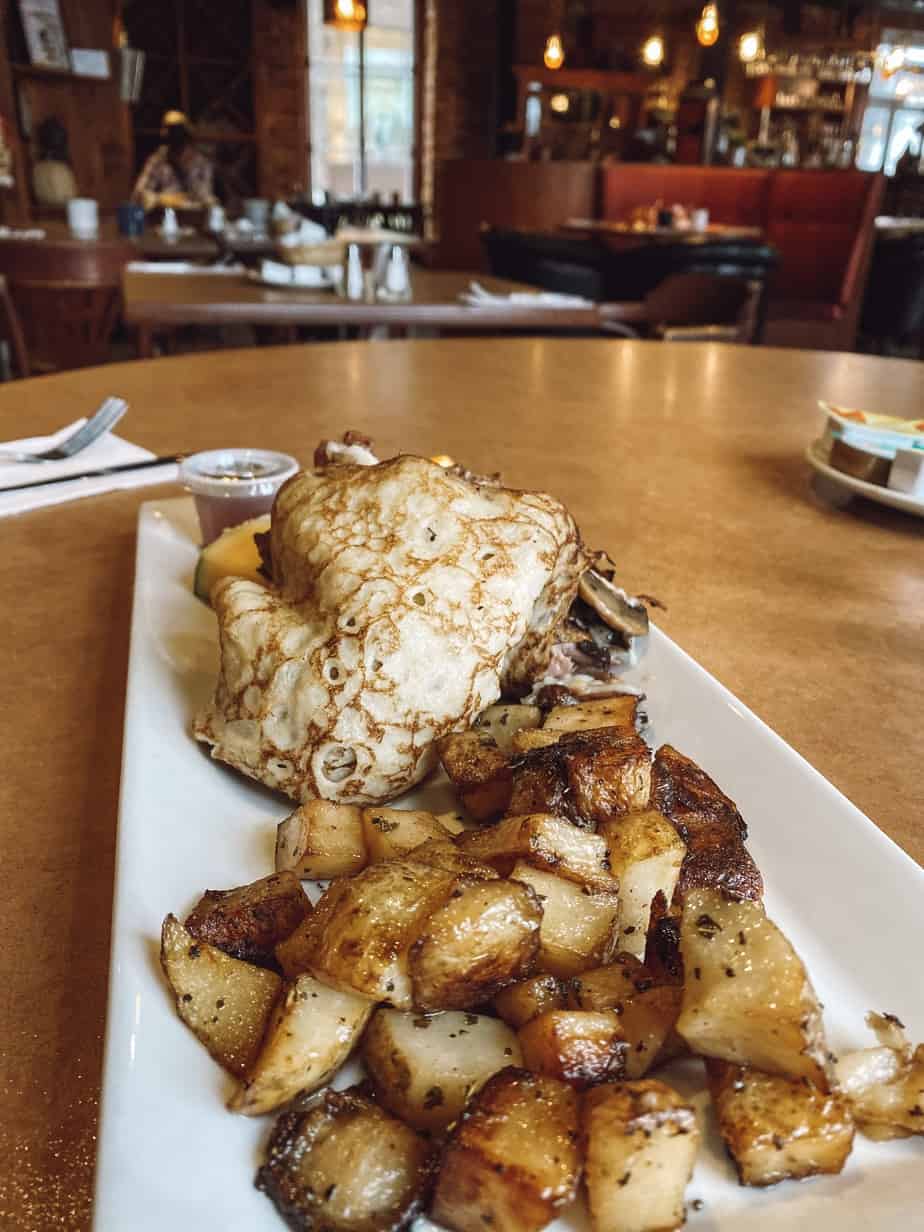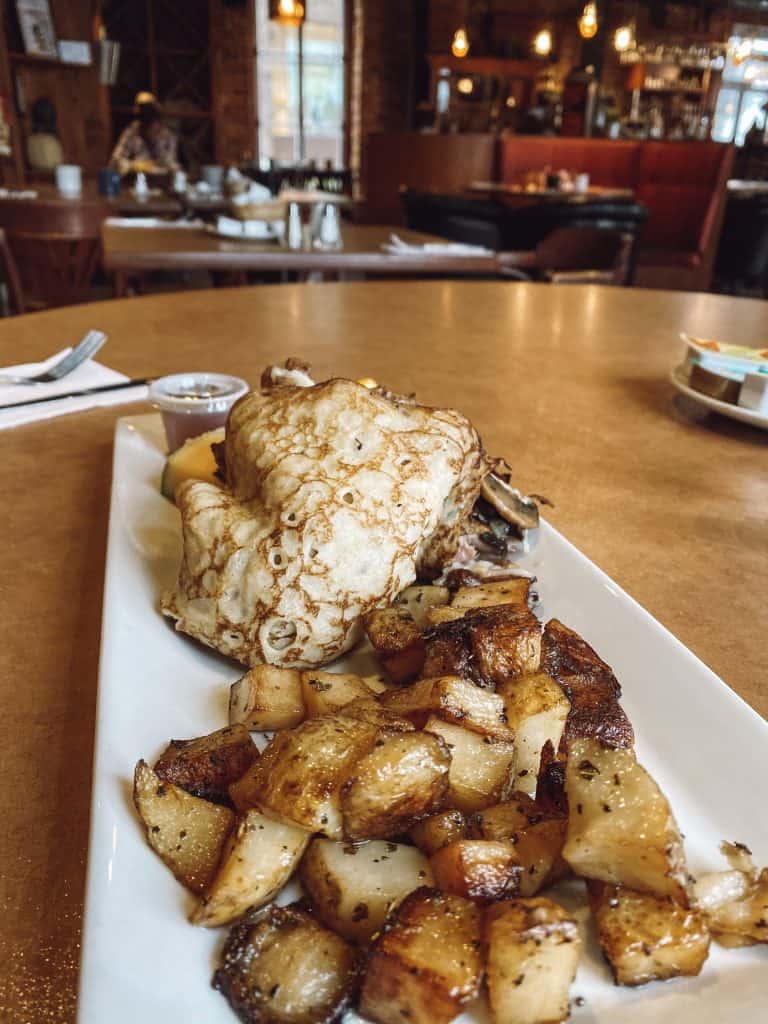 Le Lapin Saute 
For lunch on our first full day in Quebec City, we ducked into cozy Le Lapin Saute to escape the drizzle. We'd actually eaten at Lapin Saute on our previous trip to Quebec City last year, so I was looking forward to this one! Set in the quaint Quartier Petit Champlain, this is an ideal stop after a morning or afternoon of shopping – although we arrived fresh and wind-whipped off the ferry.
Le Lapin Saute has a menu focused on lapin, or rabbit for us English speakers! Duck, lamb, and salmon also feature on the menu. Speaking of menus – Le Lapin Saute has a separate gluten free menu, which I appreciate. Most dishes can be made gluten free with slight adjustment, including the addition of gluten free bread.
On this visit, we decided to split the 'Quebec Discoveries' plate – a charcuterie board featuring cranberry jam and rabbit rillette, pickles, olives, oozy baked garlic, duck, celeriac slaw, salami, blueberry jam and pecorino cheese. With a mug of hot mulled cider in our hands, we settled in.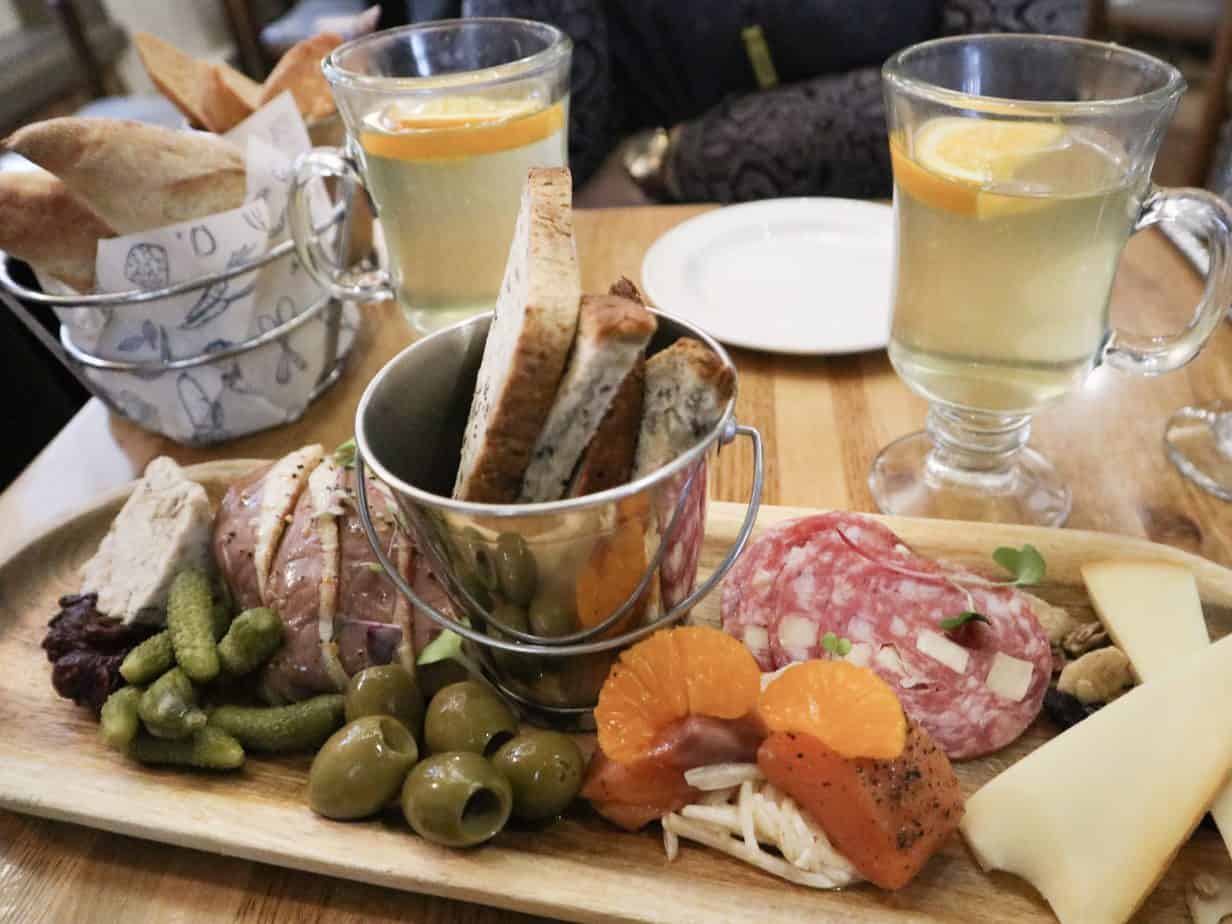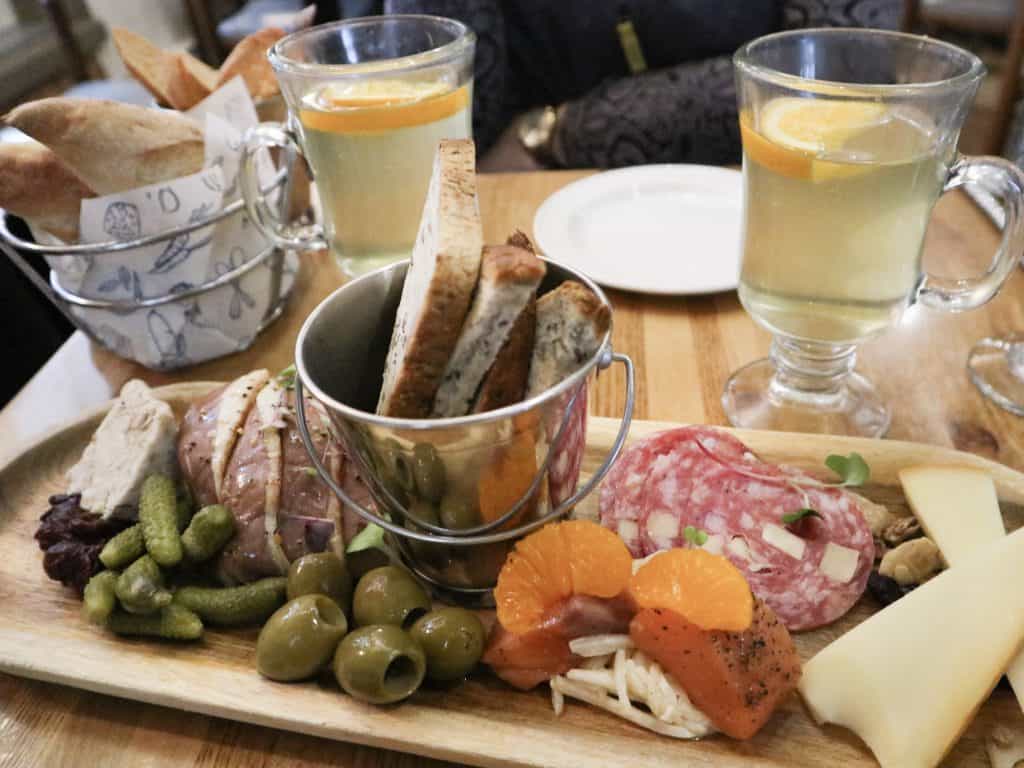 Le Chic Shack
I was very much looking forward to trying Le Chic Shack – a restaurant known for its eclectic and mouthwatering burgers. However, I was a bit nervous as although Le Chic Shack has gluten free buns, they heavily advertise the fact that cross contact is a risk. I know that cross contact is a risk every time I eat out, so I decided to take one for the team and test out Le Chic Shack.
And how did they do? Amazing! I told the waitress that I'd seen their disclaimer, but I hoped she could ask the chef to take 'allergy precautions' such as cleaning off the grill and changing gloves. The chef was happy to comply. I can't say this will always happen, but I was impressed.
The 'Chic Shack' burger I ordered was delicious and juicy (although I did eye my mom's fries with a bit of envy – they do not have a dedicated fryer). When we ordered milkshakes with dessert, our waitress remembered my needs, and immediately double checked all the ingredients on the cocoa powder, etc. She also had them clean down the blenders thoroughly – before I even had to ask!
If you're looking for an extremely well priced burger ($7-14 CAD), and willing to take your chances with that disclaimer, then I can recommend Le Chic Shack.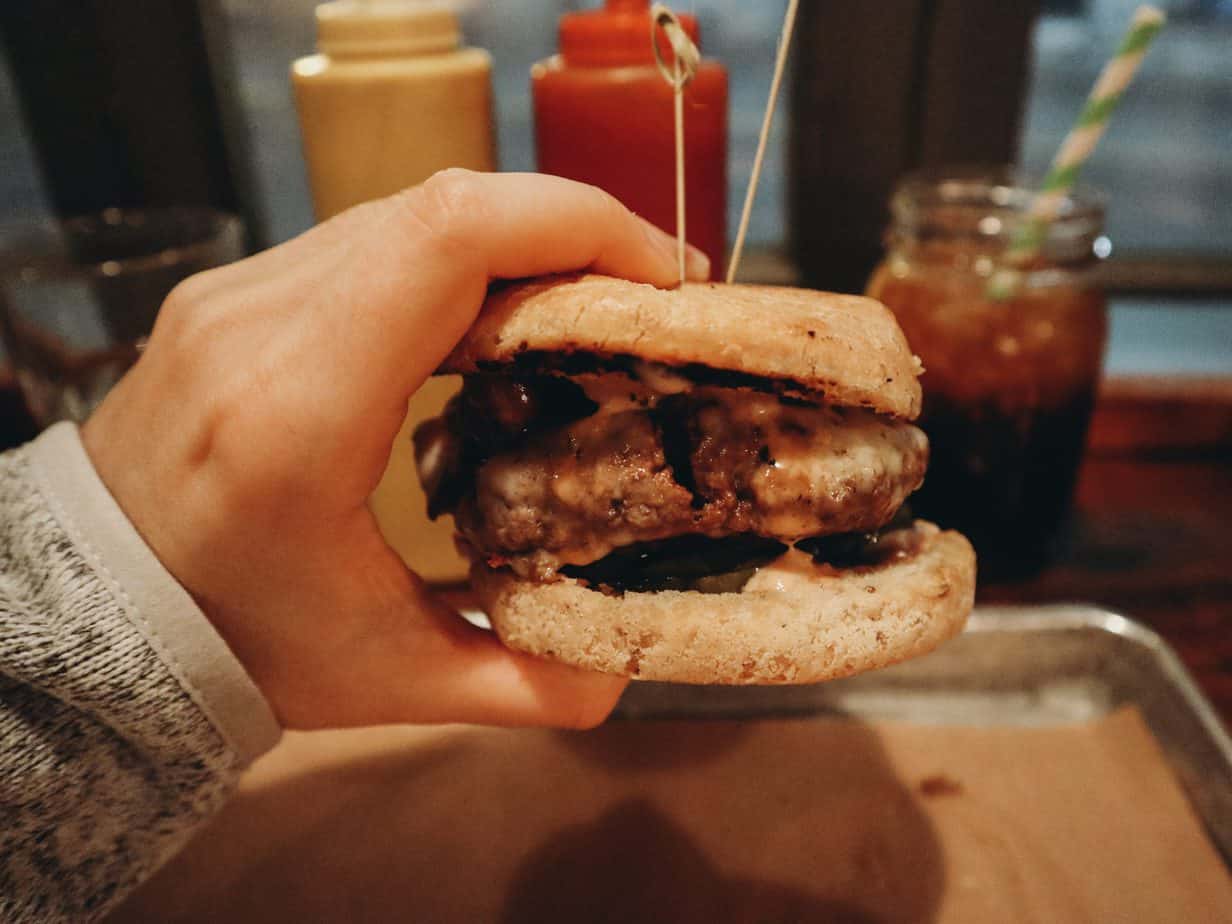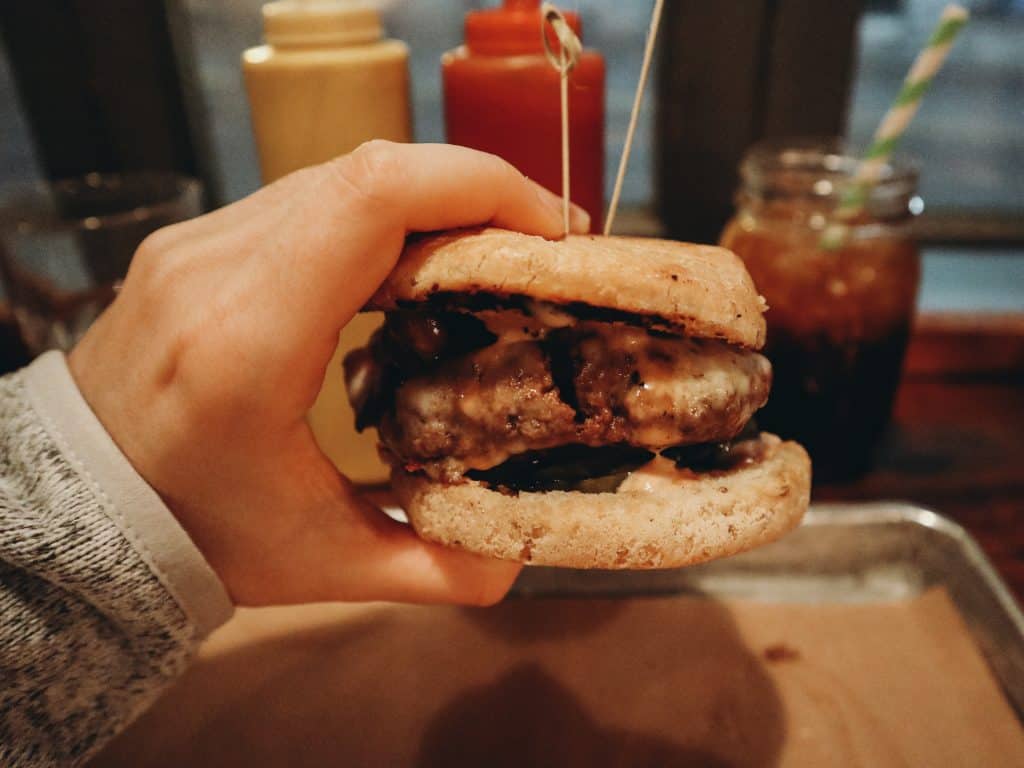 Nord Restaurant at Strom Spa
One of our favorite lunches in Old Quebec City was actually during our spa day. We spent an incredible morning at Strom Spa – a Nordic style hydrotherapy spa right on the banks of the Saint Lawrence River. Wrapped up snugly in our white robes, we padded down the hall to the gorgeous Nord Restaurant for lunch.
Although part of the spa, Nord Restaurant is definitely worthy as a stand alone restaurant.  97% of ingredients are locally-sourced during summer, and 90% during winter. There is even an on site herb and vegetable garden for the chef during summer. You can still eat here even if you're not a guest of the spa, although it is recommended to make a reservation. However… you'll be missing out if you don't also experience the spa.
All gluten free options are marked on the menu, and our waitress was very knowledgeable. Due to the focus on fresh, whole food ingredients, much of the menu was available gluten free. We ordered a piping hot beetroot soup to start, as we warmed up by the tall glass windows. Salmon gravlax was another must, in a colorful presentation with creme fraiche, cucumber, radish, cabbage, and crispy seaweed. I ordered the Bouddha Bowl for myself, with thinly sliced beef, micro greens, pickled radishes, kimchi, rainbow carrot slices, and wild rice. It was a perfectly filling and fresh accent for our day at the spa.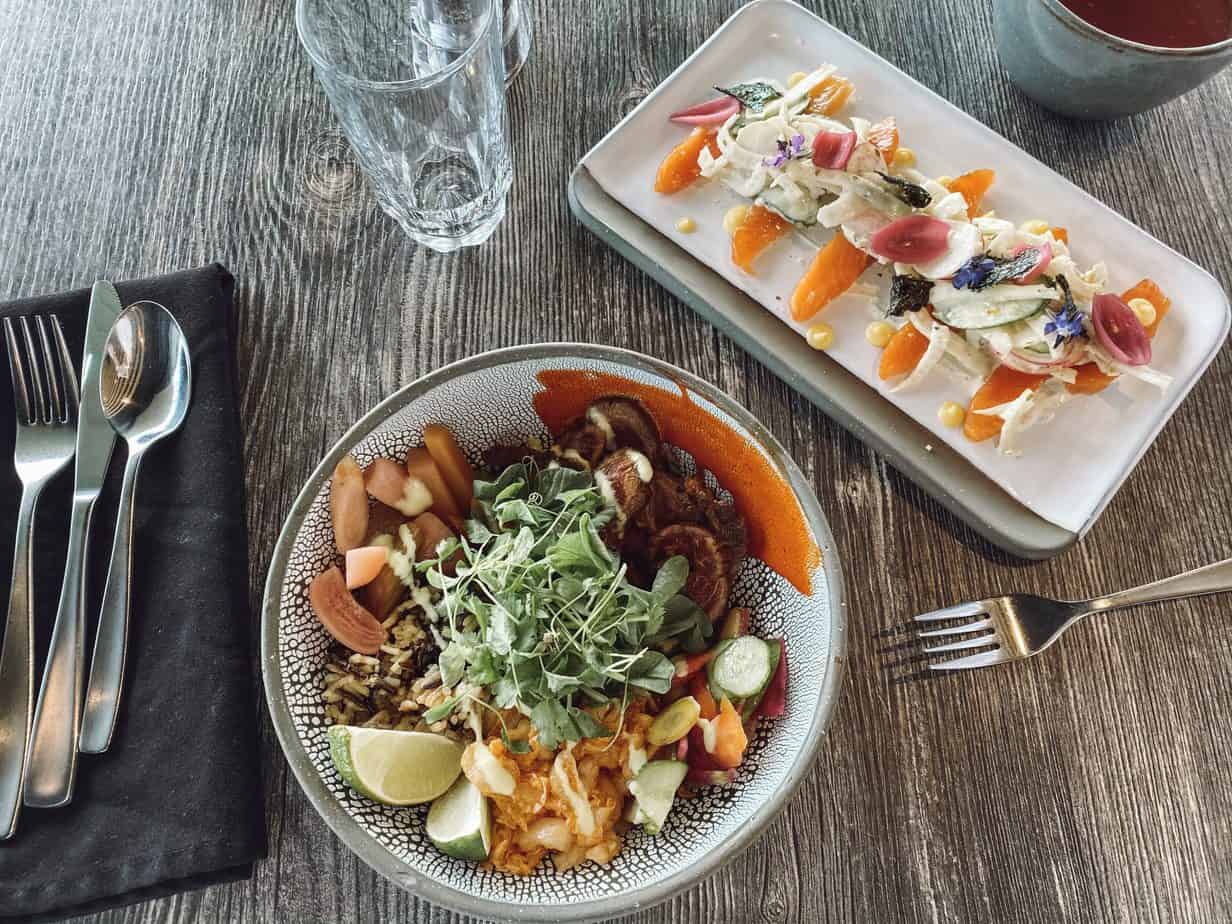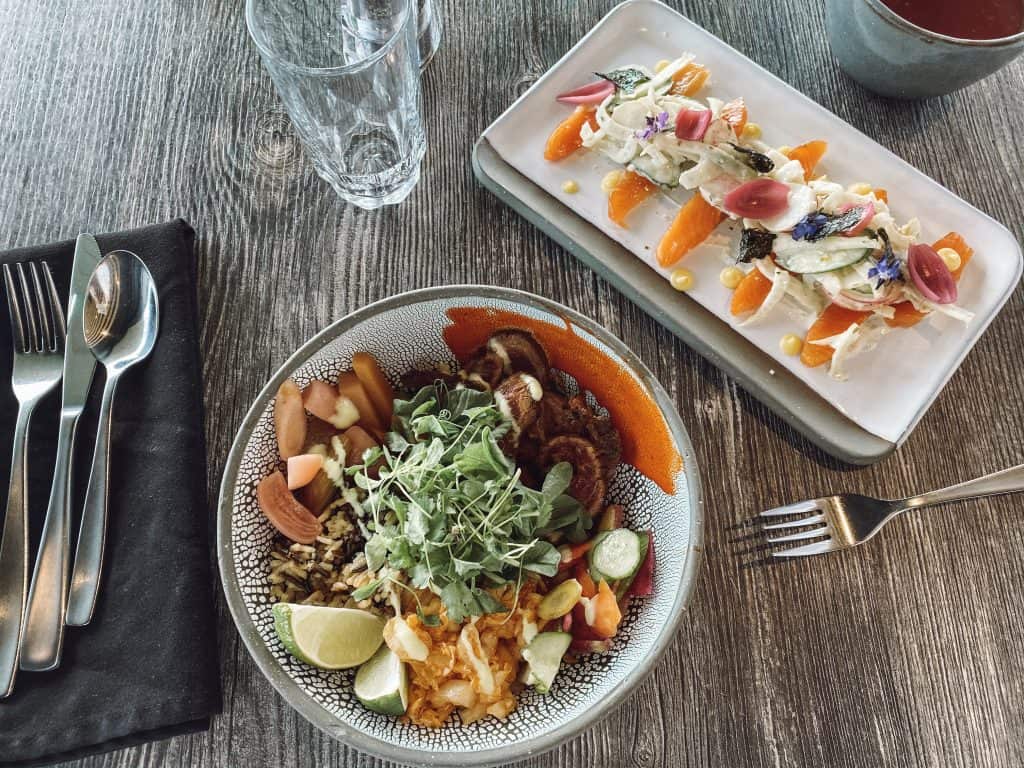 Le Monastere Des Augustines
Yes, I have already professed my love of Le Monastere Des Augustines as a place to stay for gluten free travelers, and you can read my review of our stay here. But I also have to mention their restaurant! You can eat both lunch and dinner at Le Monastere. Dinner reservations are advised before 5:30pm – and let them know you're gluten free at this time so the set menu can be adjusted. As I mentioned, the staff here is highly educated on cross contact.
Le Monastere is all about healing – and this extends to their restaurant menu, which is filled with rotating local, organic foods. Chef Christophe Perny aimed to create a menu that was 'non-dogmatic' – meaning it incorporates all styles of dishes, and although it has many plant-based options it also has meat and fish. Much of the produce is sourced locally through Le Pres, the co-op Perny started.
It was a chilly night and we were very pleased to not have to leave Le Monastere for dinner. We ordered Canadian-produced wines to start our dinner… and what a dinner it was! A set menu with six courses, each of which was adjusted for me to be gluten free. On the night we dined, only one dish actually had to be changed (I was served mushroom pate within green pepper, rather than on an activated charcoal nest).
Dining at Le Monastere is truly an experience for the senses that can't be missed in Quebec City, whether or not you're staying at the hotel.
Bistro L'Orygine
Bistro L'Orygine focuses on organic cuisine, with the vast majority of ingredients locally sourced within Quebec. Gourmet, small-mid sized dishes make up the menu. Each person is recommended to order two dishes.
I found our waiter to be extremely knowledgable. He went through all of the dishes with me, including the ones that could be made gluten free, and any substitutions. I was impressed when he brought a basked of warm, gluten free bread rolls to our table.
We both ordered a dish each from the 'hot' and 'cold' columns. I treated myself to oysters (sourced from Prince Edward Island), which were served in a smooth wooden basket layered in actual beach stones. The presentation was at once rustic and deluxe. We also both couldn't resist the scallops for our 'hot' dish – which were seared perfectly and set in a bed of celeriac vermicelli and basil alfredo sauce.
Bistro L'Orygine somehow manages not to be pretentious, despite a menu boasting bottles of wine surpassing $900. Maybe it's the moss-covered wall, or the incredibly down to earth and friendly waiters that do it. Either way, I highly recommend a meal here if you're celebrating a special occasion.
Portofino
Portofino is a favorite of my family's. This was actually the first trip to Quebec City that I did not eat at Portofino. However, I did enjoy their gluten free options last year. Portofino is a cozy Italian restaurant right in the heart of Old Quebec. They offer gluten free pasta (penne style). Most sauces are gluten free.There is a very happy energy here, often with live music and very knowledgable waiters and sommeliers.
Other gluten free restaurants in Quebec City
Unfortunately, time (and the size of my stomach) continue to be an obstacle, and I did not get a chance to sample every restaurant on my list. Thanks to quite a bit of research before our trip, I will share my findings below. I found these restaurants through the Canadian Celiac Association and the Gluten Free Travel Facebook group. I advise checking about cross contact before ordering!
Chez Victor: A highly recommended burger joint with gluten free buns and a dedicated fryer! Multiple locations around Quebec City. This will be the first place I stop on a return trip.
Chez Boulay: An upscale restaurant that comes very highly recommended, with gluten free bread.
The Billig: A cafe that offers buckwheat gluten free crepes, although check about cross contact. Rumor is there is also gluten free french onion soup.
Sapristi: An Italian restaurant that offers gluten free pizza and pasta.
Le Cafe du Monde: Has a gluten free menu for dinner.
Restaurant La Buche: A breakfast and lunch place with gluten free bread, marks gluten free options on the menu.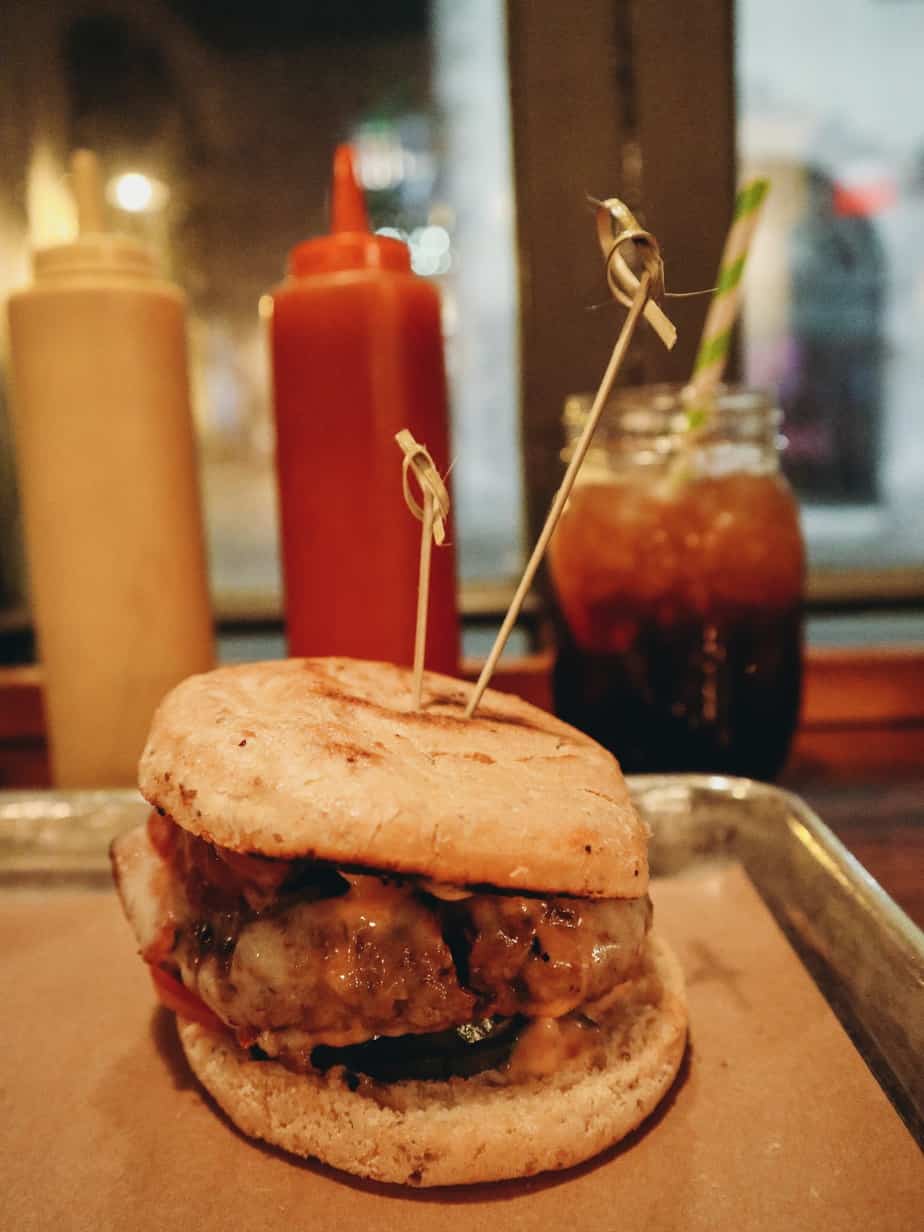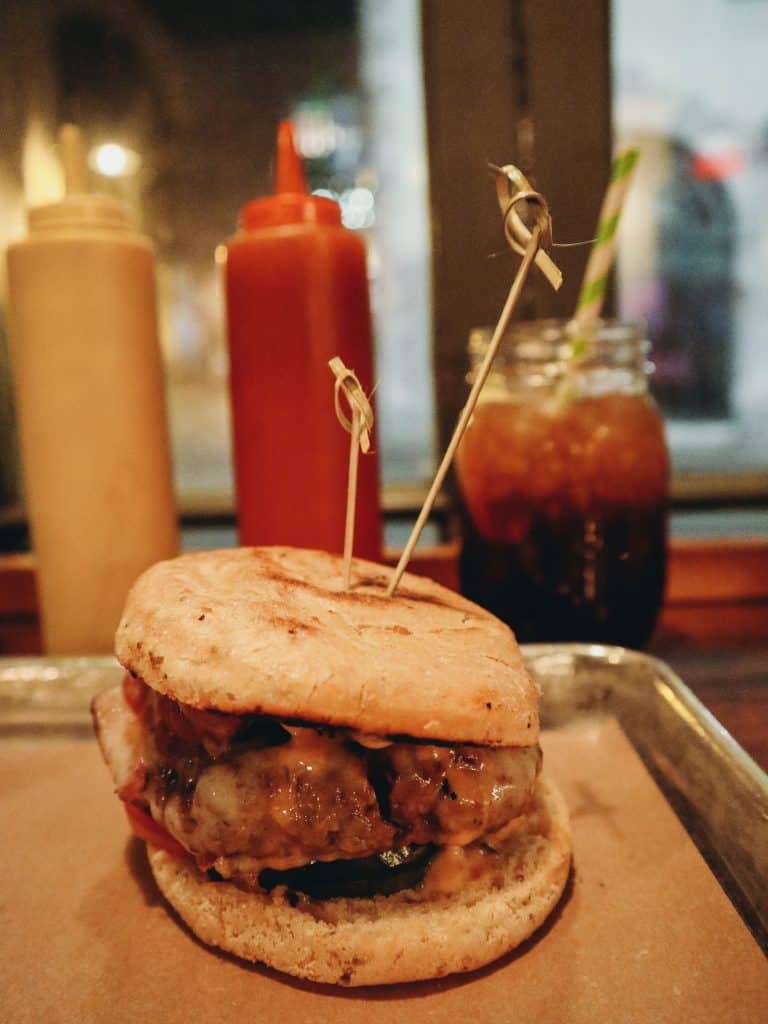 Gluten free poutine Quebec City
A special mention must go to poutine – this greasy Canadian staple that you should not be left out from, even if you're gluten free! What is poutine? Basically, gravy and cheese curds smothering fries. Unfortunately it often contains gluten – either in the gravy or the fries themselves.
Here are two places where you can find gluten free poutine in Quebec City:
Bistro Le Veravin
As I mentioned, Bistro Le Veravin is pretty much the gluten free mecca of Quebec City. Stop by during dinner hours, and order one of five different types of gluten free poutine. Types include traditional poutine, BBQ poutine, duck poutine, pulled pork poutine, and more.
Poutineville
Poutineville is a chain restaurant in Canada. I have read reviews stating the Old Quebec City location has gluten free poutine. The fries are cooked in a separate fryer and many toppings are gluten free. However… I did not eat here myself, and such a traditionally gluten-filled dish makes me a bit nervy. I would personally feel more comfortable eating poutine at Bistro Le Veravin, where I know the owner has celiac disease and is serious about preventing cross contact.
A map to Quebec City gluten free restaurants…
Has Quebec City impressed you with its gluten free options? I had so much fun eating researching my way through Old Quebec City, with the help of my gluten free Qubecois translation card.
We returned to old favorites, and discovered some new ones. It was a magical few days thanks to this city's European charm, and the calm of Le Monastere Des Augustines.
Let me know if you go to Quebec City. I'd love to hear your own favorite gluten free finds! Although this city's gluten free options may not always be obvious, I promise there are plenty if you look in the right places.
Read more of my gluten free travel guides here.
Sarah xx
Pin it for later…
*Quebec City Tourism Board hosted most recent trip to Quebec City. However all opinions remain my own. I worked with the tourism board to create an itinerary of restaurants with gluten free options. Our stay and breakfasts at Le Monastere Des Augustines were complimentary. Our meals at Le Chic Shack, Bistro L'Orygine, and Nord Restaurant at Strom Spa were complimentary. We paid for all other meals ourselves, and as I mentioned in the article, much of the information here is drawn from my other self-funded trips to Quebec City over the years. Thank you for supporting Endless Distances!