I realized this week that it has been one year since I graduated from my Master's program in the UK. That also means it's been one full year since I left formal education (for the first time since I first entered it 20 years ago). One year since I was set free on the world.
And what have I done in that year? Everything, and nothing, it seems.
Looking back, I've traveled (a lot), dabbled in a few different jobs, tried to save money, lived nomadically, and lived at home. Which sounds…. kind of like an average 18 year old's gap year. But what if you're actually 24? Is it still cool to call it a gap year, or are we in quarter-life crisis territory…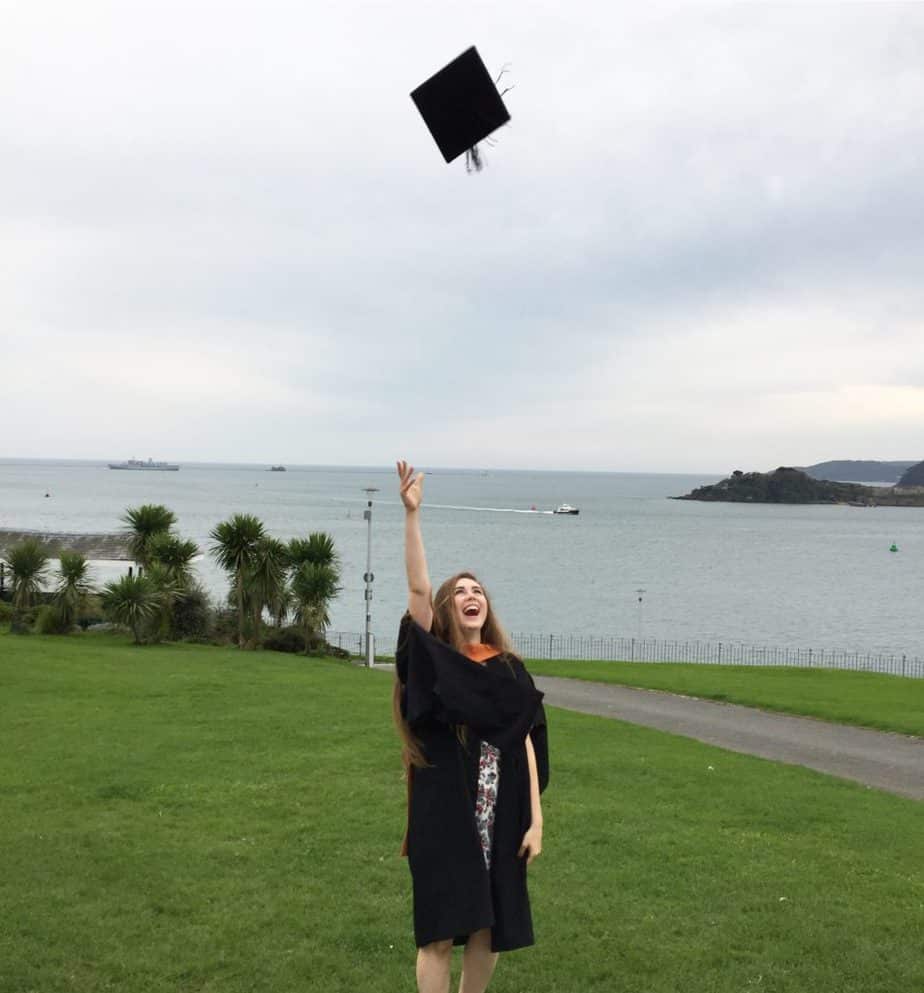 The accidental gap year: Bad, bad, & good
Bad: I'm not going to lie… it has been a difficult year in a lot of ways. My visa expired and I had to leave my adopted home country of England. I once again entered into an international long distance relationship. I moved back to my home state and back in with my parents (it's actually been lovely, but talk about symbolic loss of independence). I moved away from all my adult friends. I have dealt with a lot of health issues, am still seeing multiple doctors (per week!) and going through invasive procedures, all while feeling like crap. More than the physical strain this has had an emotional impact on me. But maybe the kicker is… I am not an occupational therapist. I moved to England to get my MSc in Occupational Therapy, yet I cannot work as an O.T. in the USA because the UK qualification is not accepted here. There is a long process of applications and exams to go through, and honestly, I have been procrastinating. With everything else going on in my life it seems like the process to transfer my qualification always falls to the bottom of the pile.
When I type everything out in one lump of a paragraph, it just feels nasty. But it's the truth.
One the other hand, though…
Good: This past year has been more formative than maybe any other year of my life. I've had more adventures, traveled to more countries, worked harder, reconnected with more people, and made steps toward a dream career in travel writing. I have a clearer picture of what I want my future to look like, and how to get there.
So that's a shorter paragraph, but it's sweet and happy. And also the truth.
Unfortunately, my recent health struggles have seemed to come to a head in the past month. I've had quite a few procedures and I'm actually scheduled for a surprise operation this coming Monday. It's not a great time, but I'm trying to focus on the positives in my life. Hence…
10 positives from my accidental gap year
When I look back on this 'accidental gap year' of mine, I can view it as either the positive or negative truths. I have the power to choose, and I'm trying to choose positive. With that in mind, I'd like to share with you all 10 positive things that happened since I graduated from my MSc last year, and embarked on a year that would turn out to be…. a gap year (but, as I'm learning, maybe a gap year is just a life year).
 1. I worked in a refugee camp
Obviously the refugee camp itself is not a positive, but the fact I got to work in one is. I traveled to France by myself and worked with a women's charity (you can read all about my volunteering experience here). I think about this camp nearly every day and I hope that by sharing some of my experience there through writing, I can raise awareness of what is currently going on with refugees in Europe.
2. I became a published travel writer
Last year a few magazines reached out to me to write them articles. So I've been published in two print magazines this year, plus a lot of online content creation, too. I realized… I can actually pitch magazines, write articles about travel I would've written anyway, and get paid for it. It's pretty sweet! When I was in third grade I decided my dream was to be a writer. And I'm making it happen.
3. My family got two puppies
Marshall and Maggie, the rescue pups I found one day whilst working in a coffee shop and then convinced my mom to adopt, have been a blessing. I love these little bubs, as annoying as they may be at times!! And, because I live with my family, I get 100% of the puppy cuddles with 50% of the responsibility.
4. I started working in a dementia care unit
I have had LOTS of part time jobs in the past, but this was my first job that has felt more like a career move than a side-hustle-to-support-education-and-not-starve-to-death move. It's also my first job that is really relevant to occupational therapy. I run programs at a dementia care home on the weekends. In a lot of ways, this has been challenging. I'm on my feet for 8 hours, it's emotionally and physically taxing, and I've watched people I grew to care about suffer every day and eventually die. But at the same time I am laughing every day and interacting with people and learning and thinking and changing people's lives, hopefully for the better. I've learned some baller communication skills and soooo much about this disease that sadly is growing more prevalent every year. So it's not a perfect job, by a long stretch, but I'm feeling very lucky to work in this position and be using some of my OT skills nevertheless.
5. I ran a half marathon
I ran in an all-women half marathon and raised money for the refugee women's charity (a lot of that money thanks to lovely-amazing-generous blog readers!!!). I trained in the dead of Michigan winter, all by myself, and let me tell you surviving that was an achievement.
6. I got to spend an extra 6 months with one of my best friends before she moved to Australia
My childhood friend Sydney broke her foot so she had to delay her move to Australia. Which meant she got stranded in our hometown at the same time I moved back. So, that sucked for Sydney, but it meant I got to spend an extra six months going on puppy walks, going to the gym, talking about books, and just spending time with her. (Her foot is better, and she is in Australia now, so all is well for her, too).
7. I went on my first press trips
My blog took me on sponsored trips to Lansing, Michigan and Stratford, Ontario. And there are more coming up this year!  I'm so excited to share them with you. This is a milestone I am so proud of.
8. I've started doing yoga again
I used to be a yoga teacher but took a hiatus when a chronic wrist injury (ganglion cyst) got the better of me. I am now, finally, strong enough to get back to doing yoga again. My body feels different and I still have pain, but I am so happy to be reunited (and relearning) something I love most in the world, and that feels the most *me*.
9. I went trampolining in a Welsh coal mine with my boyfriend
Random, I know. But this one is mostly to say, I did a lot of cool stuff with my Brit and we've got even more lined up for his visit in November. Even when we do nothing, though, it's still perfect. In fact, one of my favorite things is doing nothing with him.
10. I've advocated for myself to doctors like it's a full time job
I've talked a lot in this post about how much my chronic illness sucks. I'm feeling particularly overwhelmed with it at the moment, and having a surprise operation in less than a week doesn't help. But, it's not all bad. I've learned to advocate for myself (although I will always find this hard). I've had the blessing of working a part time weekend job and living with my family, so I have a flexible schedule, emotional support, and the chance to save money. This lets me treat my doctors visits like a full time job. So, as much as it's terrible-horrible-no-good… there is a bit of light in the darkness.
And many more…
I went surfing for the first time, got a free ticket to a travel blogging conference, got my first affiliate payment and my first Google Ads payment for this blog, went to Chicago for St Patty's Day, randomly saw Roger Federer on the street. reconnected with childhood friends, saw one of my favorite bands play in New York City, ate gluten free afternoon tea in London, hiked a Welsh mountain, lay out in the snow with two strangers at 2am in Iceland, saw my Grandparents in Florida, found out I DON'T have Crohn's Disease, found an amazing peanut butter cookie recipe, got some massages, went to the Anne Frank house in Amsterdam, went to the Tivoli Christmas market in Copenhagen, spent Thanksgiving at a German Castle with my best friend, saved some money, got a car, took my mom on two vacations because of my blog, read over 50 books…
After the accidental gap year…
There are a lot of things that made me happy this year. Maybe I don't have a mortgage or a full-time job in the career I chose. Yet. But the older I get the more I think these ideals are not one-size fits all. It's difficult, but I'm trying to extricate myself from the aspirations of others, built for an archetypal 20-something. I'm trying not to compare the parts of my life that feel 'lacking' to people the same age as me. Because maybe (maybe?) they are doing the same thing against me.
If you feel like you are in a funk, if you feel like you haven't reached your potential or are stuck… you are not alone. But it is possible to put a positive spin on things. Your perspective has a huge effect on your wellbeing. It's hard, but give it a shift…even a little nudge. I've found, writing a blog post about it tends to help 😉
Let me know one thing you feel stuck on, in the comments, and one positive thing you've done this year!
Sarah xx