Gluten Free San Francisco: The Complete Guide (2023)
Looking for gluten free San Francisco restaurants, bakeries, and more? I've got you covered! San Francisco is, in my opinion, in the top five gluten free cities in the USA (behind Portland, NYC, Seattle, and Chicago). Plus, it's just generally one of my favorite cities to visit. I was born here, so I'm a little biased.
Traveling gluten free has its struggles, but in San Francisco it's possible to eat everything from gluten free croissants to gluten free beer and more. That is, if you know where to look. That's where this gluten free guide comes in!
Personally, I've been back to San Francisco many times both before and after being diagnosed with celiac disease. During my most recent four month stint living in northern California, I made it my personal mission to discover the best gluten free San Francisco eats, so I could share them with all of you!
This gluten free guide is updated for 2023.
Portland Oregon Gluten Free Guide
Cannon Beach Oregon Gluten Free Guide
New York City Gluten Free Guide
Vancouver Canada Gluten Free Guide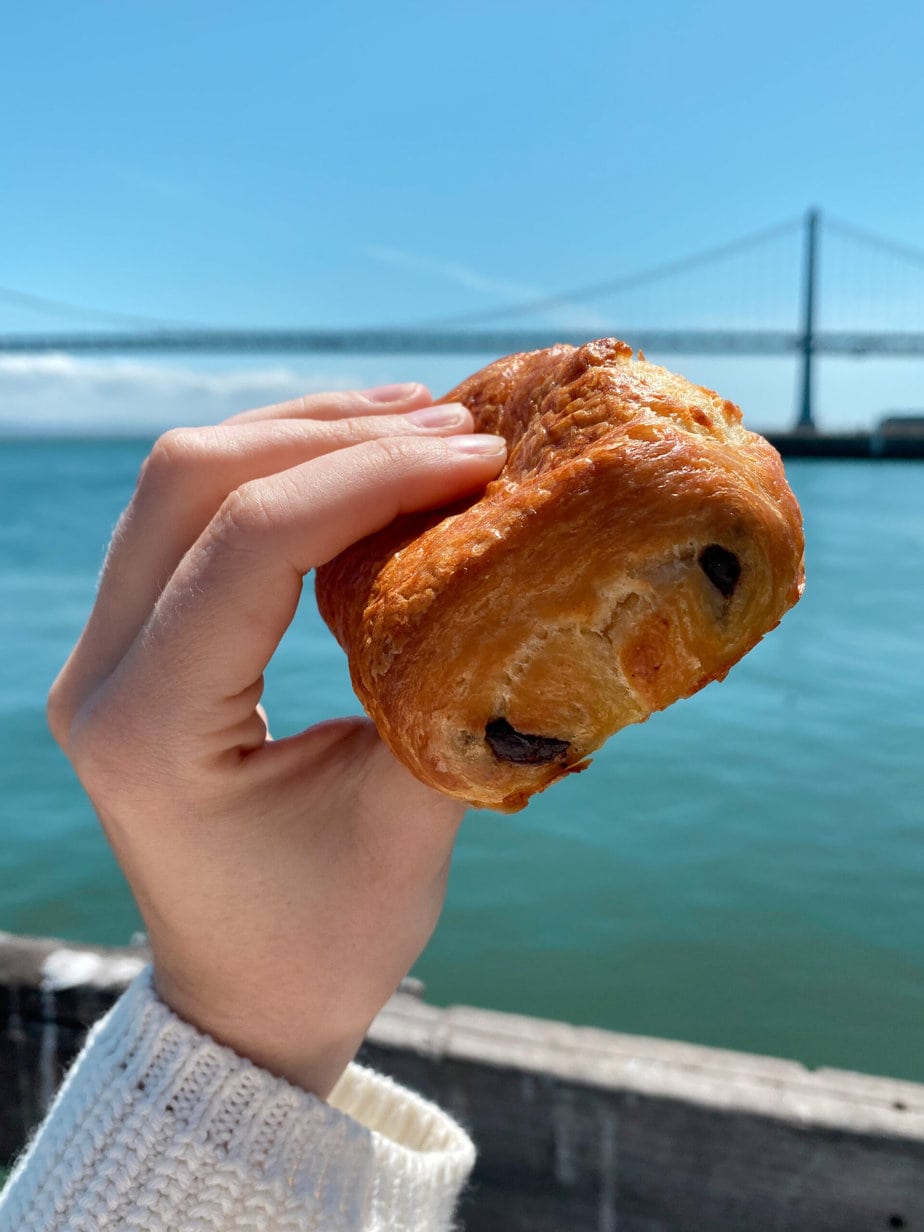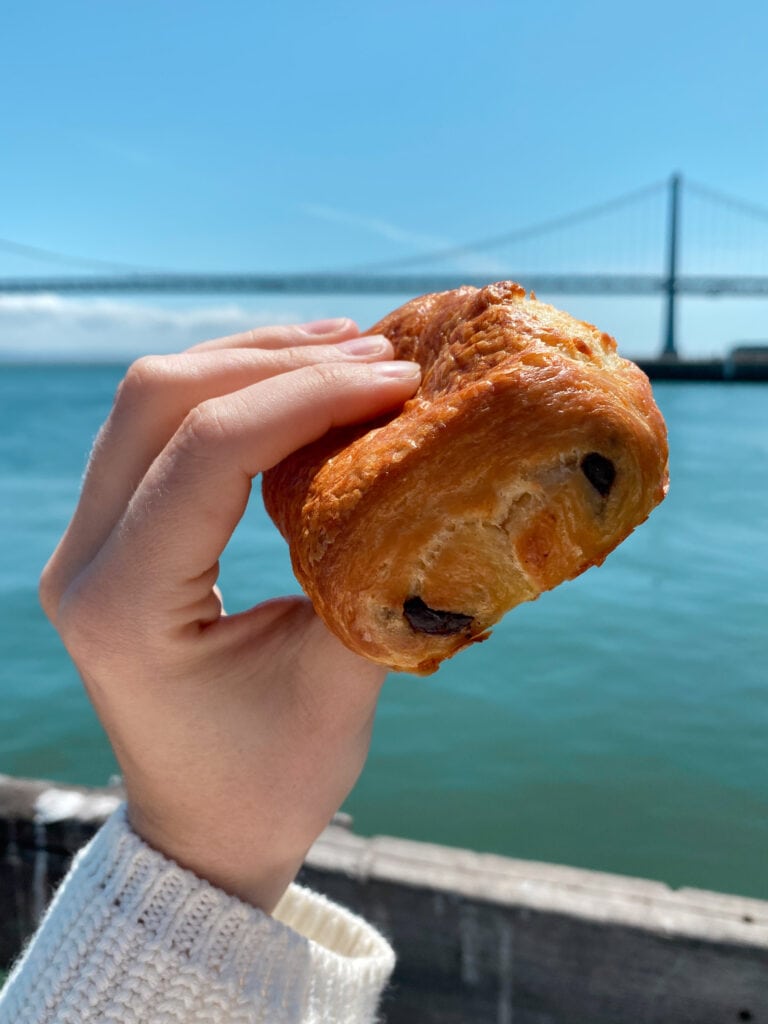 Gluten Free San Francisco
I am so excited for you to experience the San Francisco gluten free scene. Let me give you some quick background on this gluten free guide before we get started, though.
First of all, I am a careful celiac and I only eat at places that understand cross contact. If you're in the same boat, you'll love my gluten free guides!
In San Francisco, there are a LOT of 100% gluten free places to support, but I also feel comfortable eating at certain shared restaurants (gluten free afternoon tea, dim sum, and In-N-Out were a must for me!).
Second, this is not a completely exhaustive guide to gluten free San Francisco. That would be impossible! There are so many restaurants that cater to celiacs in this city, and there are always new ones popping up. However, over the years (and especially this year) I've eaten at way more restaurants than you could visit in an average trip to San Francisco. In this gluten free guide, you'll have plenty of restaurants and bakeries to choose from without being overwhelmed.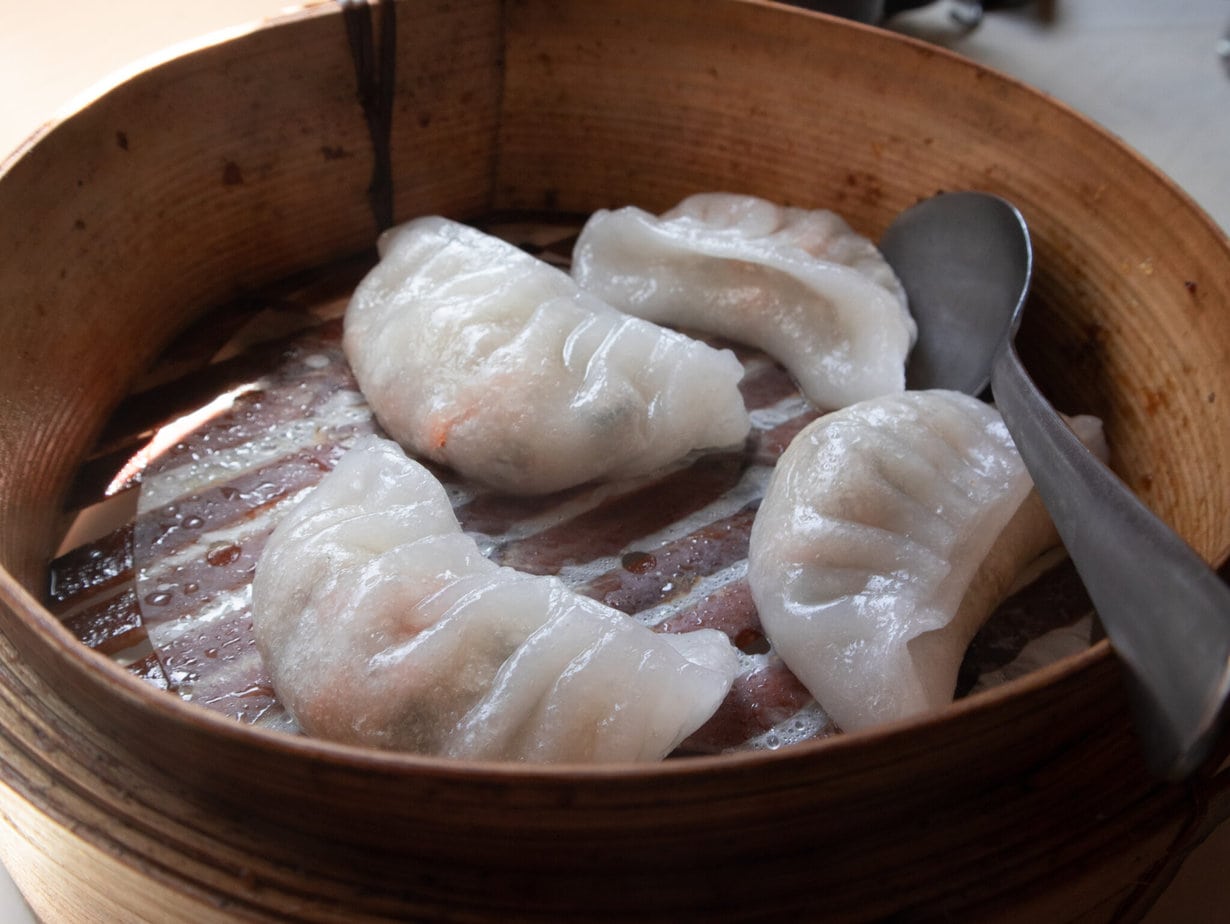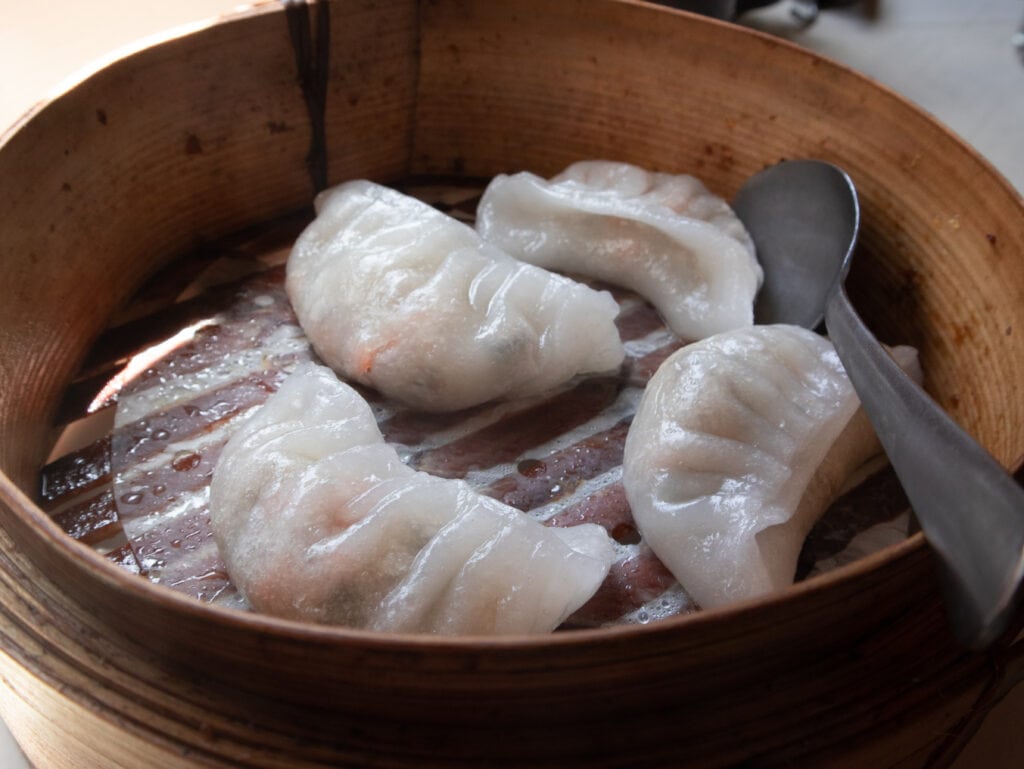 Gluten Free San Francisco Map
To help you navigate your way around San Francisco, I created this map of the city. You can download it to your phone and use it yourself!
The dark blue points are dedicated gluten free, the light blue points are non-dedicated but celiac friendly, and the house icon is where I stayed in San Francisco on my last visit!
Dedicated Gluten Free San Francisco Bakeries
Mariposa Baking Company
My number one, must stop in San Francisco for celiacs? Mariposa Baking Company! This place is not only `100% gluten free, but truly makes some of the best gluten free bread I've had anywhere in the world.
There are two locations. Their small cafe in the Ferry Building in downtown San Francisco will be perfect for most tourists. I like to come here coinciding with the Saturday morning Ferry Plaza Farmers Market (an experience in itself!).
They also have a location in Oakland which I've been to a few times – there is a small parking area, and a bigger selection of breads and baked goods here. It's a great place to stop on your way in or out of SF.
Wondering what to get at Mariposa Baking Company? Well, you can't really go wrong. But I'll say I regularly dream of their fig jam, goats cheese, and arugula baguette toast (drooling right now, no lie). Dan, who is not gluten free, had this too and was shocked. He said it tasted better than "normal" baguette.
Their croissants, "rye" bread, soft pretzels, breakfast sandwiches, and ohhh, the pain au chocolat also deserve a spot in your shopping cart.
Address: Mariposa Baking Company, One Ferry Building, Suite 32, San Francisco, CA 94111 // Mariposa Baking Company, 5427 Telegraph Ave, Unit D3, Oakland, CA 94609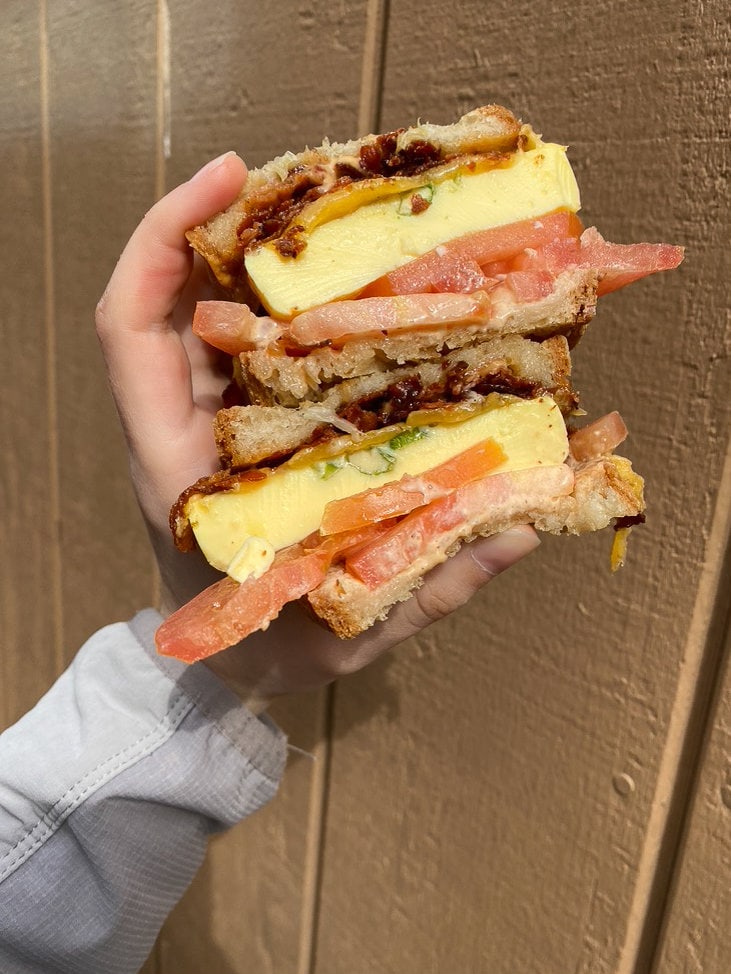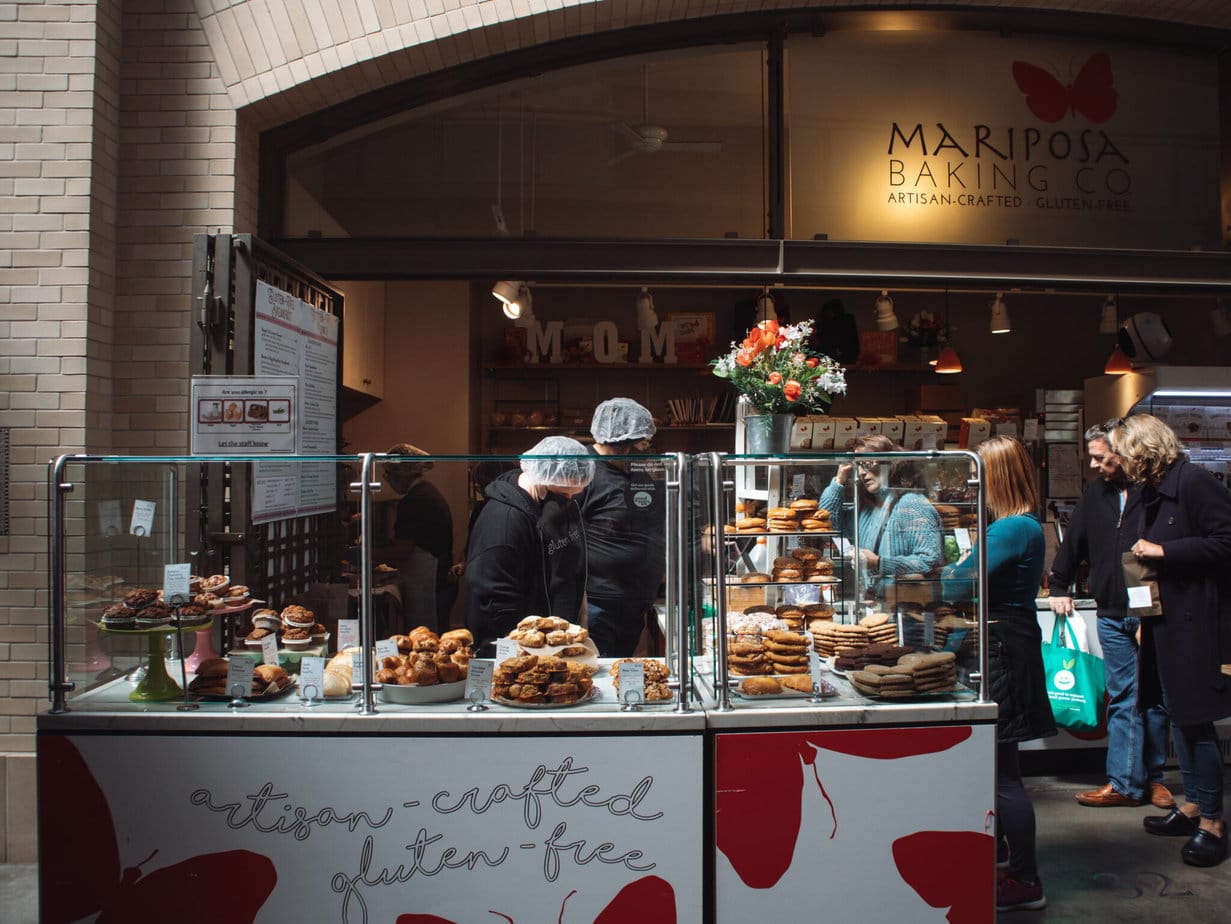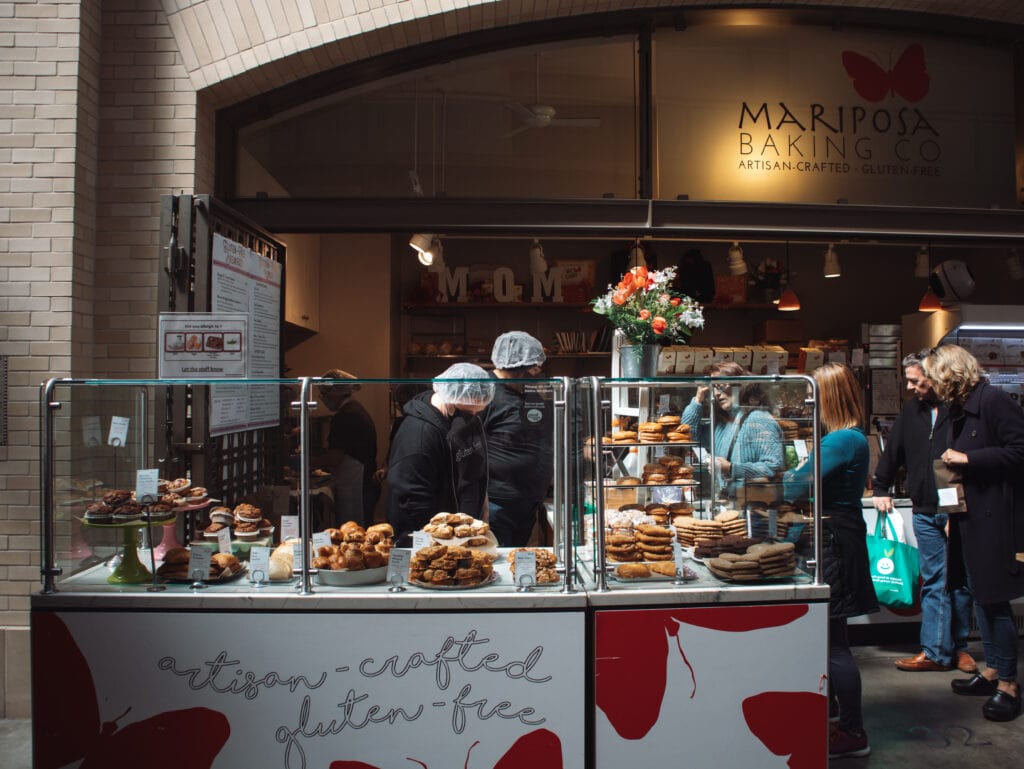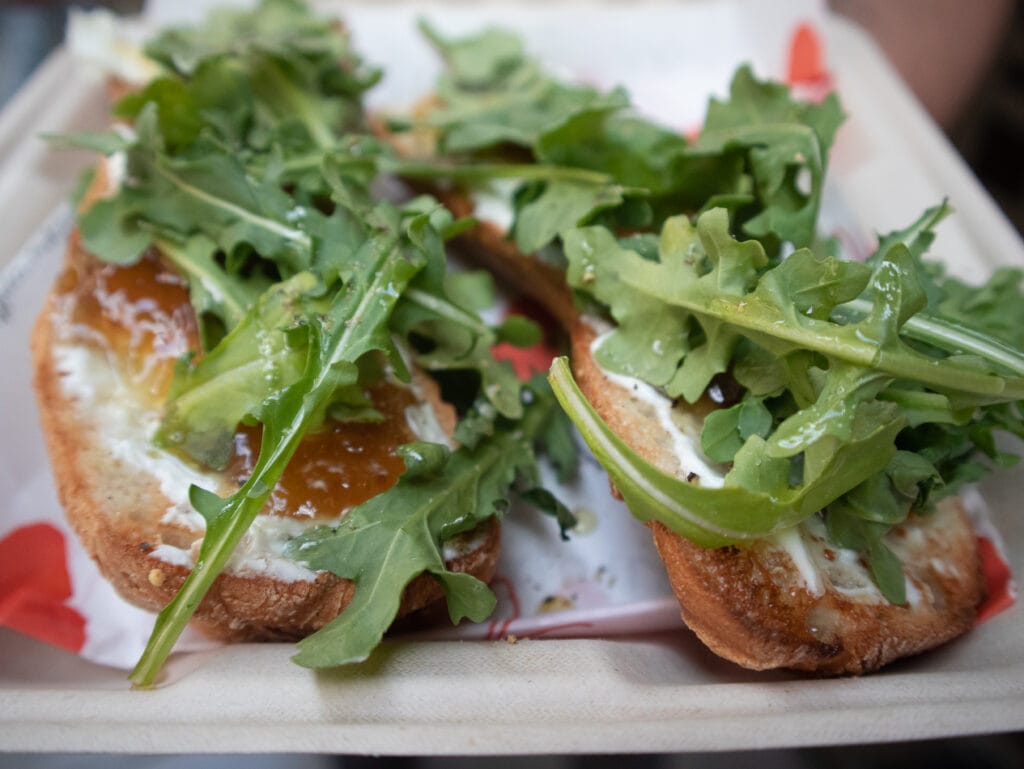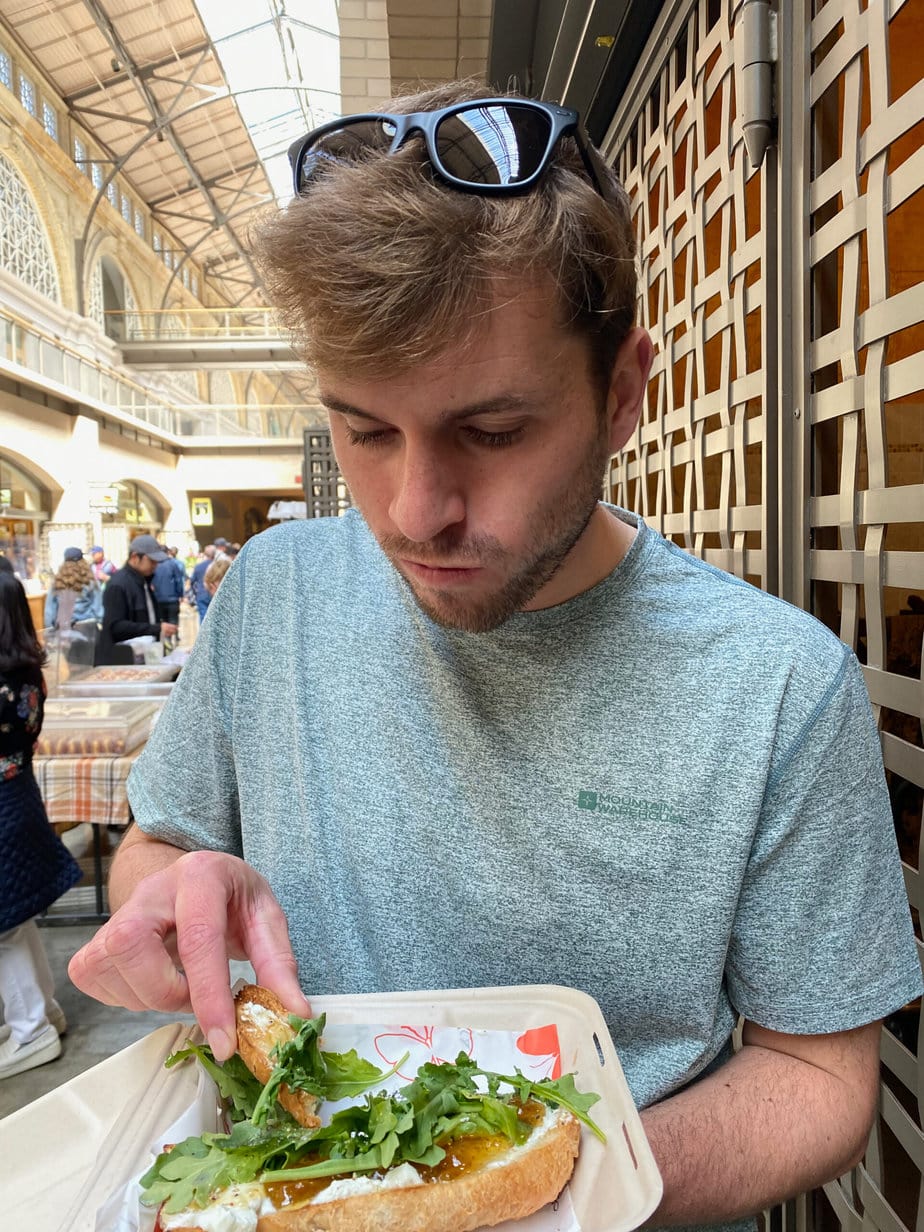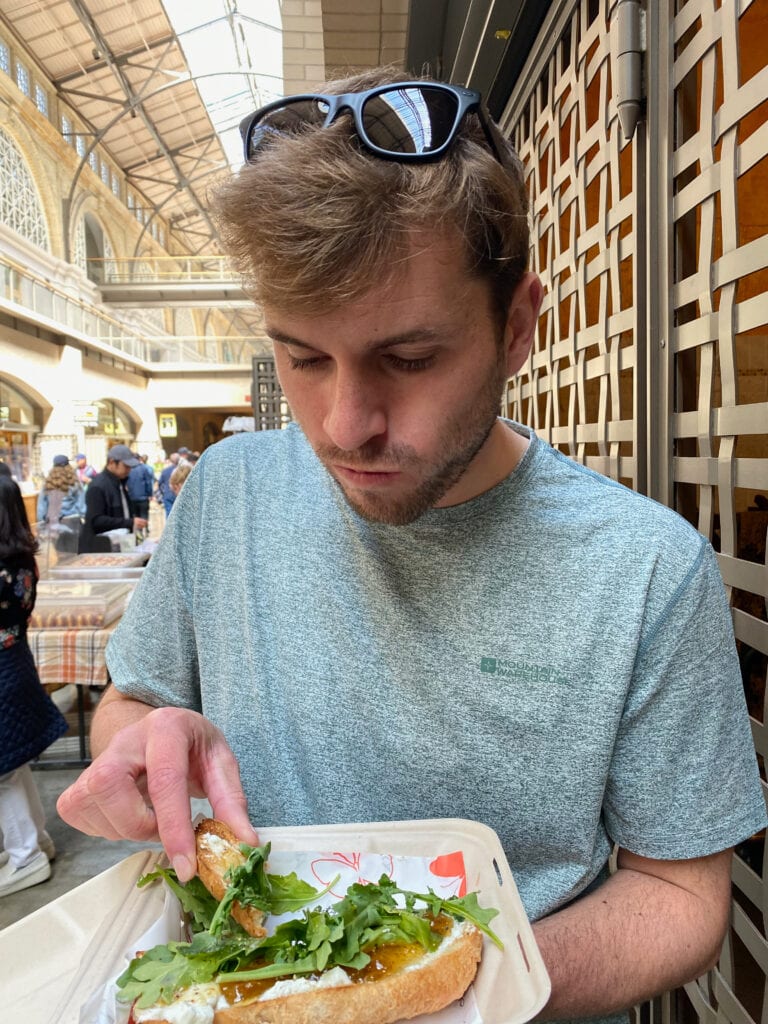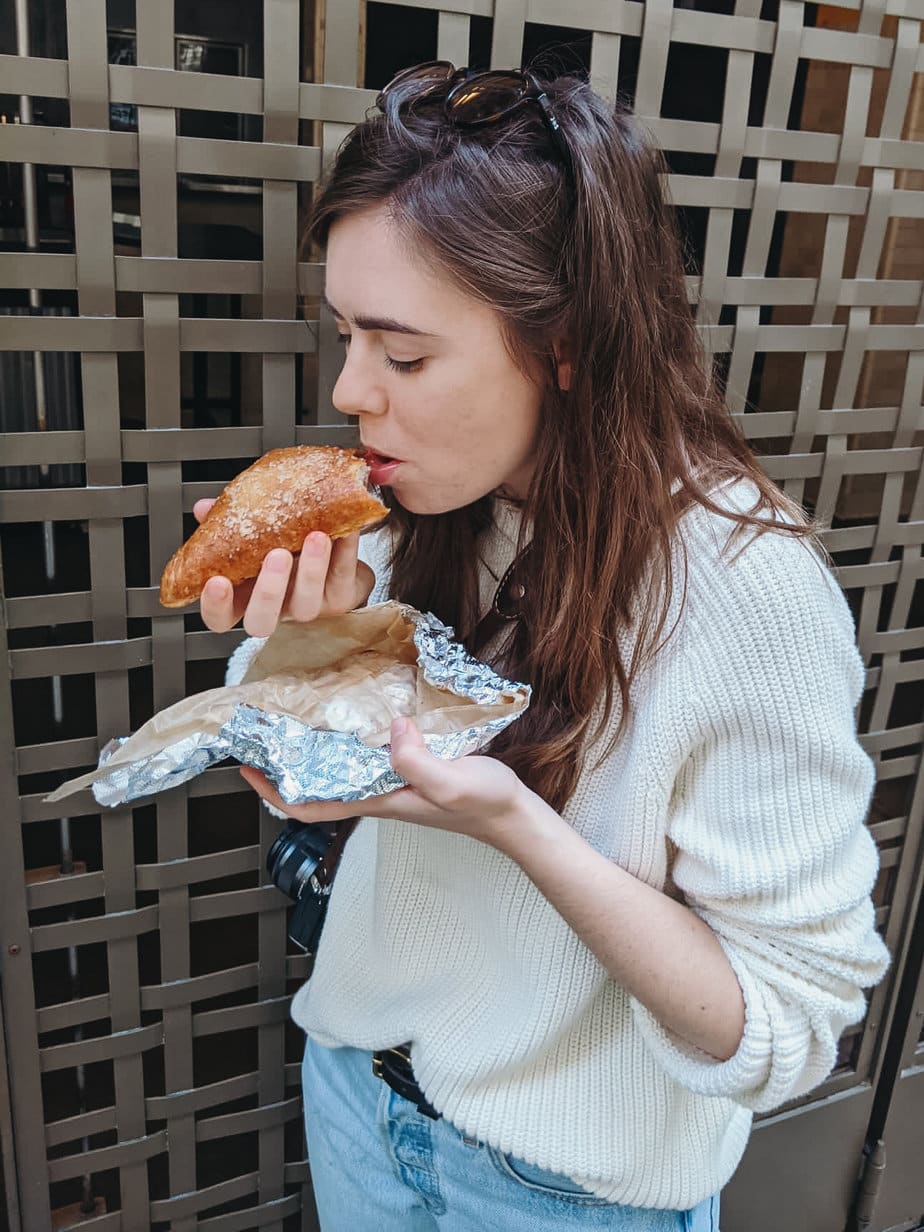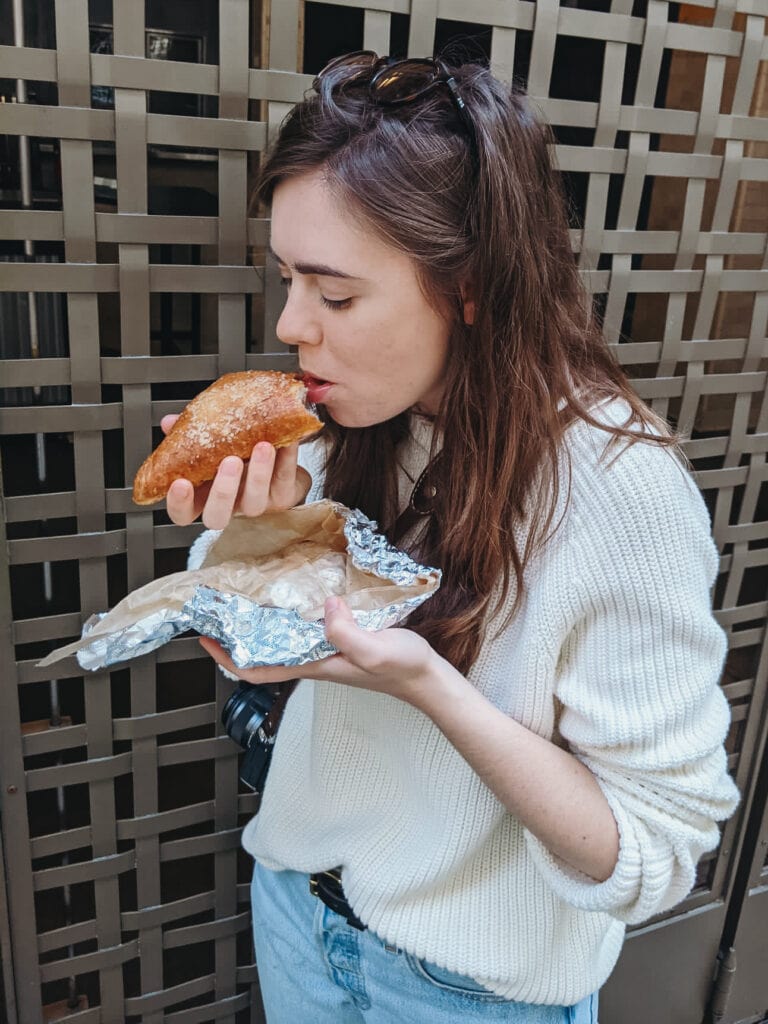 Flour Craft Bakery (Mill Valley and San Anselmo)
Flour Craft Bakery is another 100% gluten free bakery. However, it is not located in downtown San Francisco. I know, I'm sorry – but hear me out. There are two locations: one in Mill Valley (~30 minutes driving from downtown SF), and one in San Anselmo, both in the Bay Area north of SF across the Golden Gate Bridge.
Please forgive me for including a place outside downtown SF so early in this gluten free guide, but I had to. This place is so good. SO GOOD! Dan (again, who is not celiac) actually said this was the best food he had on our entire cross country USA road trip, which started in San Francisco. When I tell you it's that good, I mean it.
The gluten free focaccia bread is soft yet crispy. The waffles scrumptious. The sourdough chocolate chip cookies with sea salt are so gooey they will change your life! Am I making you hungry yet?
I realize Flour Craft Bakery won't fit into the typical San Francisco city getaway, but if you are heading north on coastal route 1, or taking a day trip beyond downtown, I high recommend it!
Address: Flour Craft San Anselmo, 702 San Anselmo Ave
San Anselmo CA, 94960 // Flour Craft Mill Valley, 129 Miller Ave #300, in the Mill Valley Lumber Yard, Mill Valley, CA 94941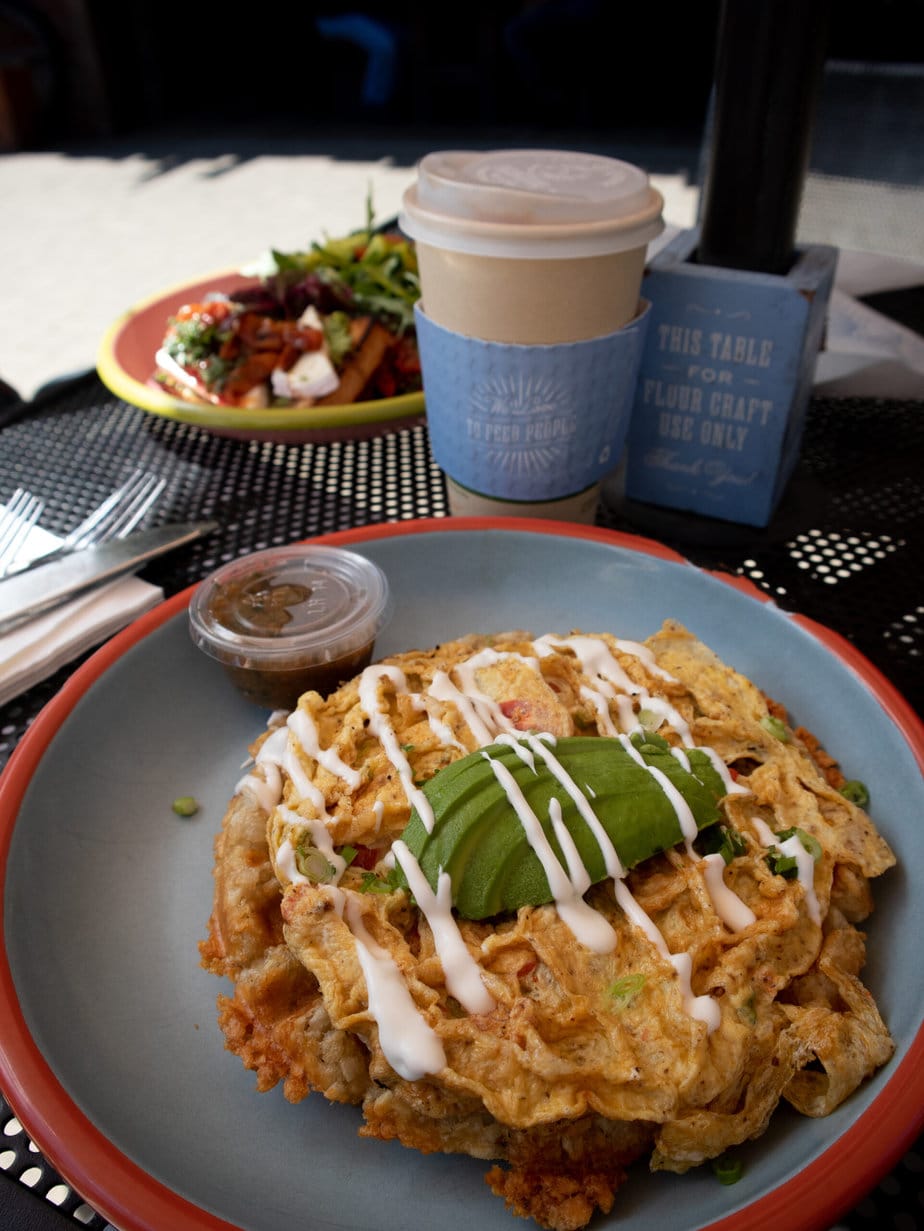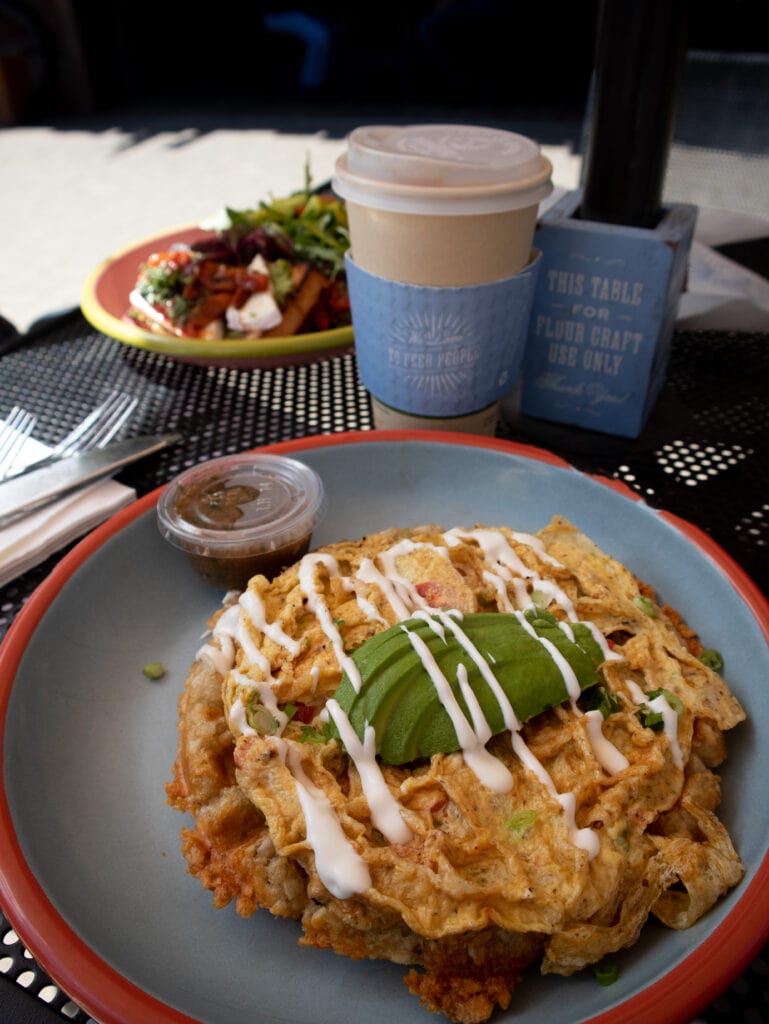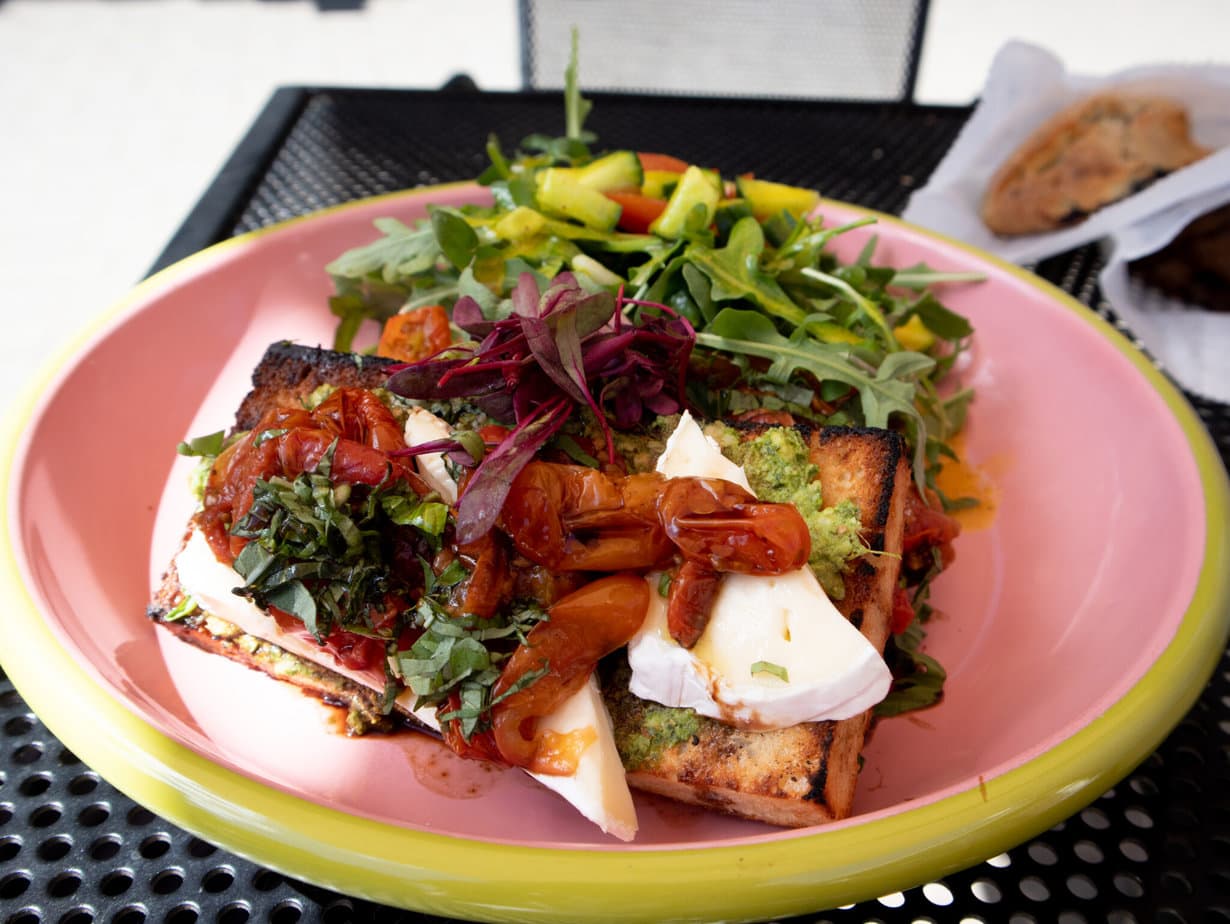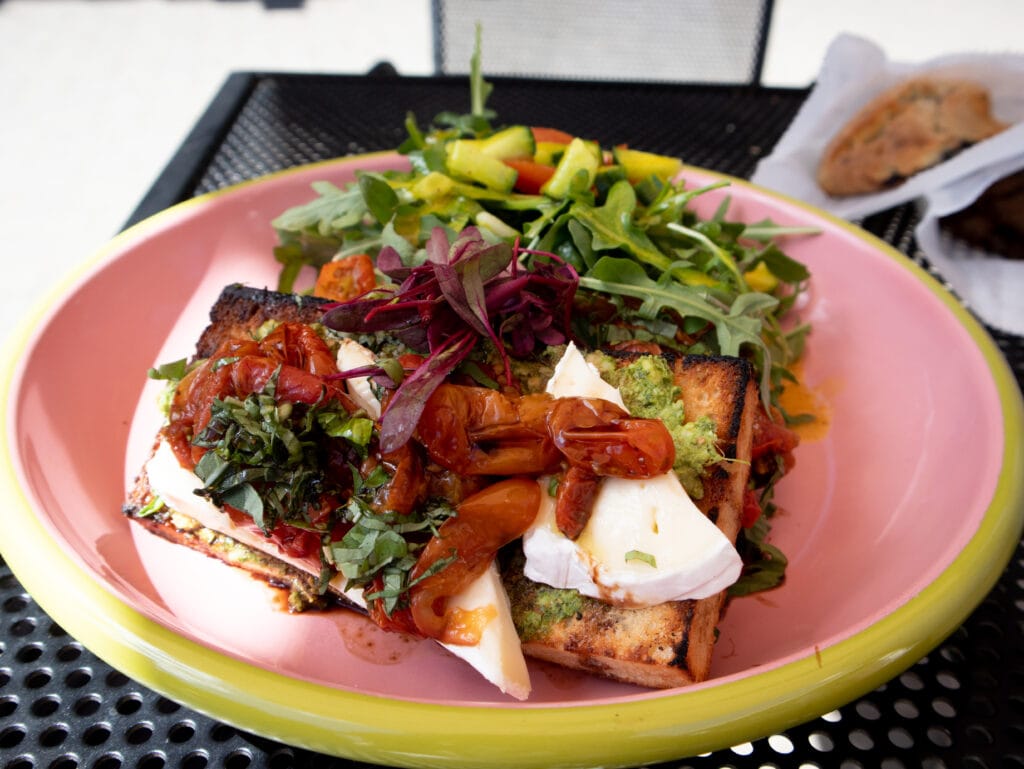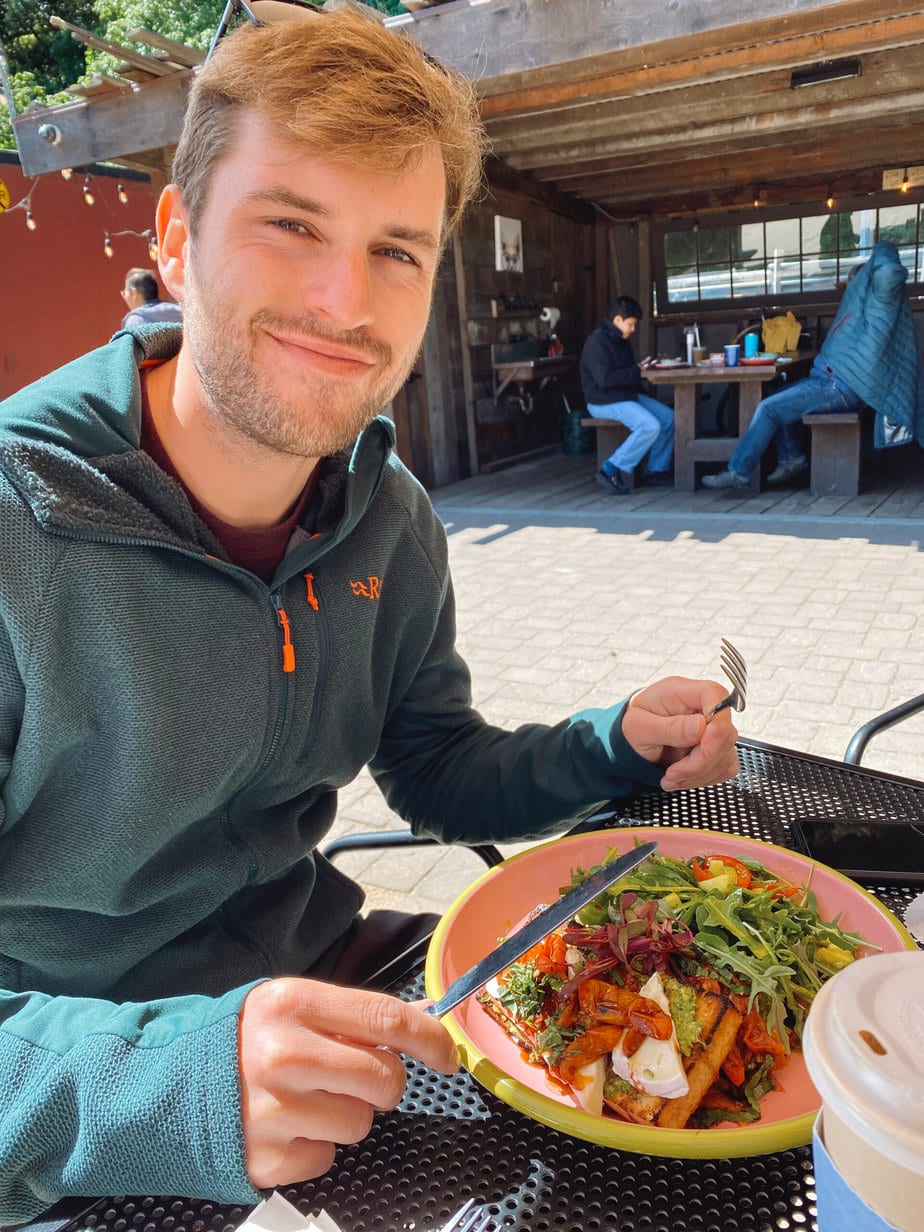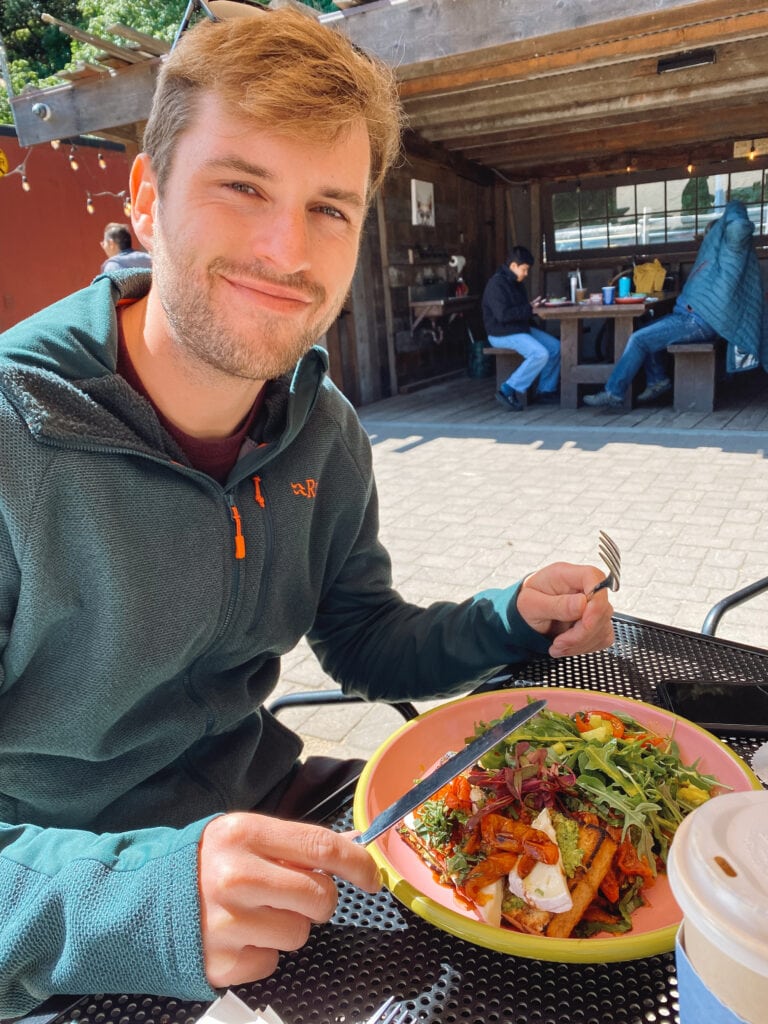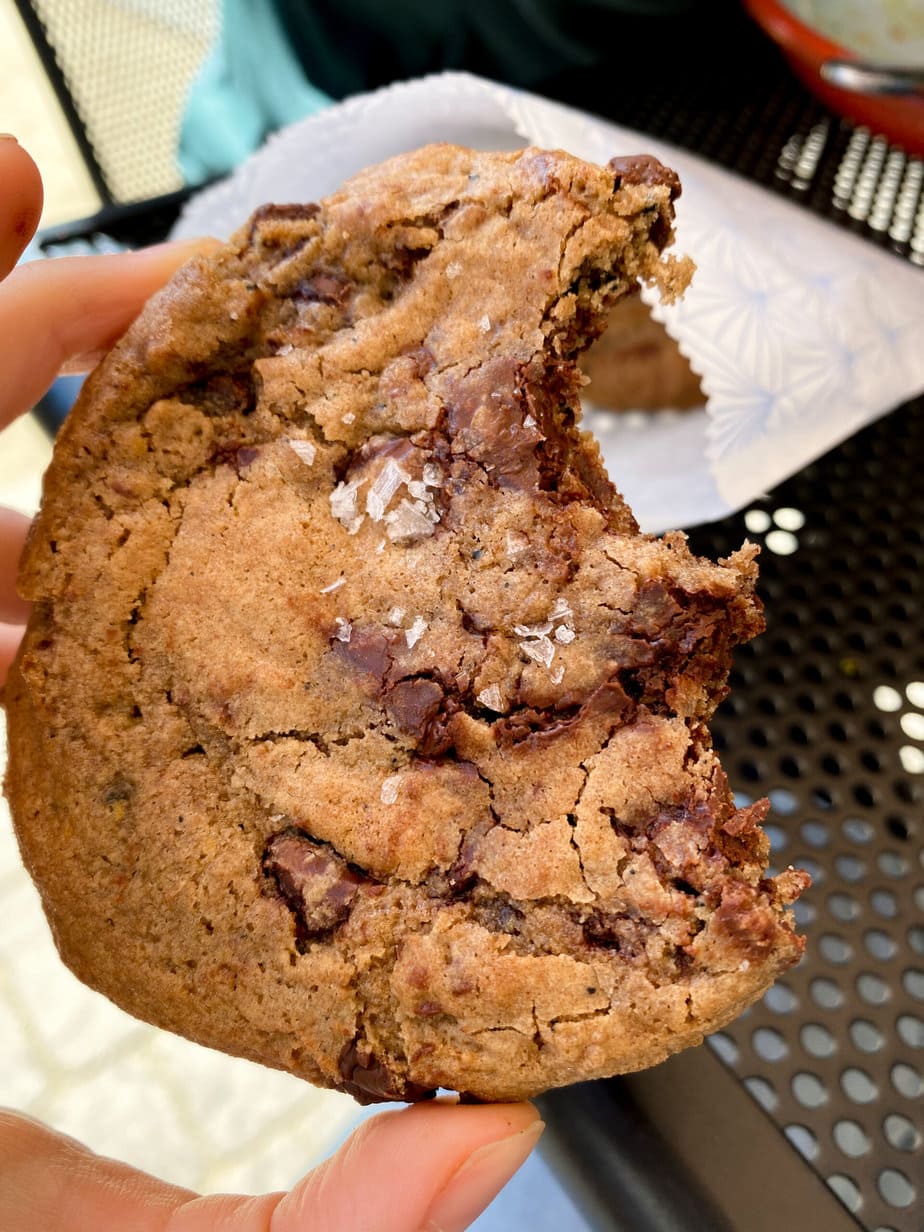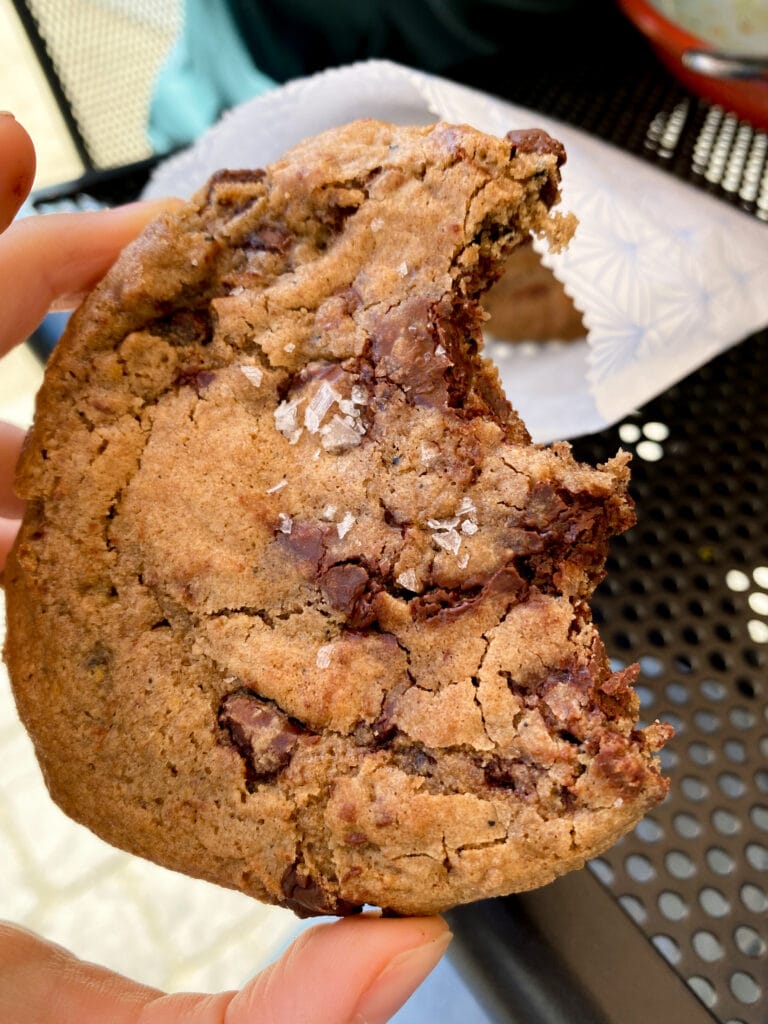 Wholesome Bakery
Wholesome Bakery is yet another 100% gluten free bakery in San Francisco. Keep in mind, they do use oats in some products so ask about those and avoid them as needed. It is on Divisadero and convenient to walk to after visiting the Painted Ladies and/or walking along the famous Haight Street (we did both!).
In addition to being gluten free, this bakery is also vegan, soy free, and refined sugar free. Honestly, you can taste it. I'm sorry to say, the flavors don't really compare to Mariposa or Flour Craft, but it is an option if you have other dietary requirements beyond being gluten free.
Address: Wholesome Bakery, 299 Divisadero St, San Francisco, CA 94117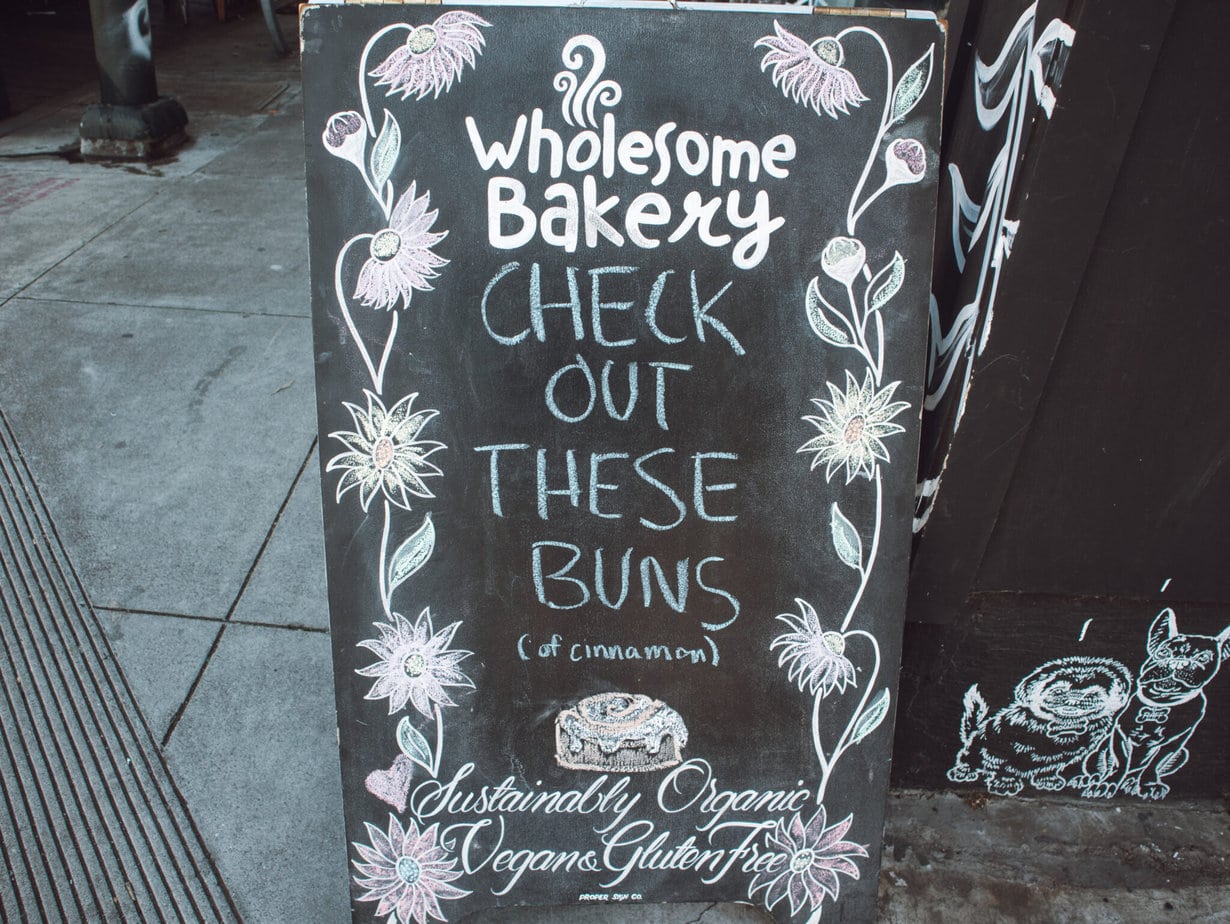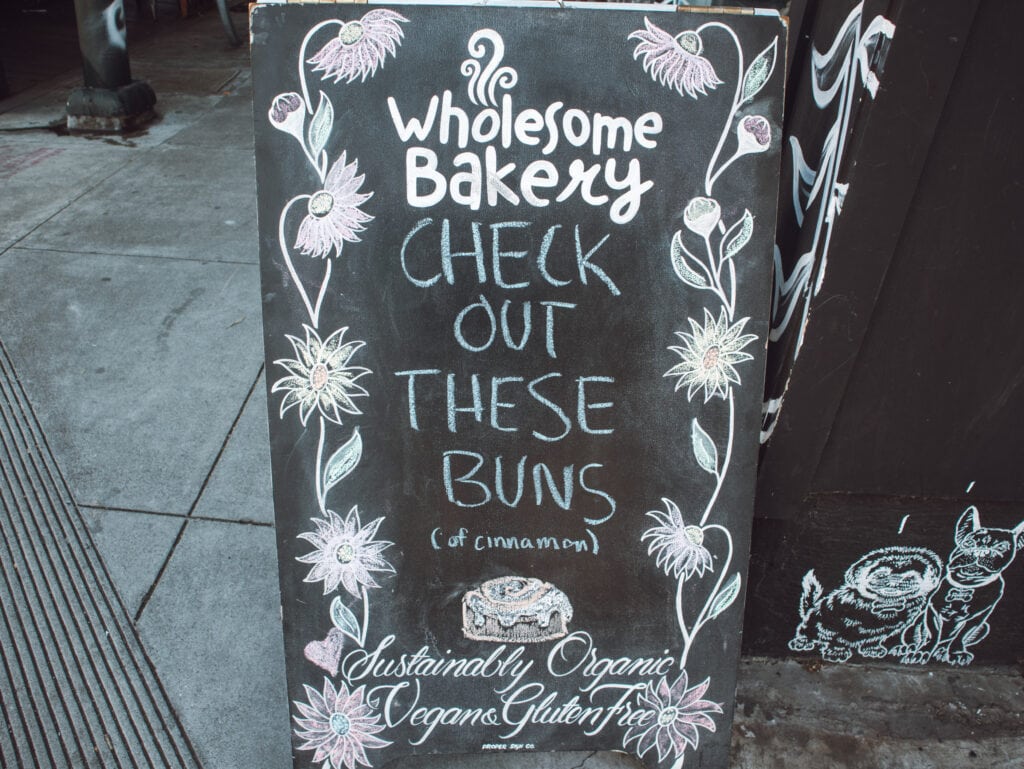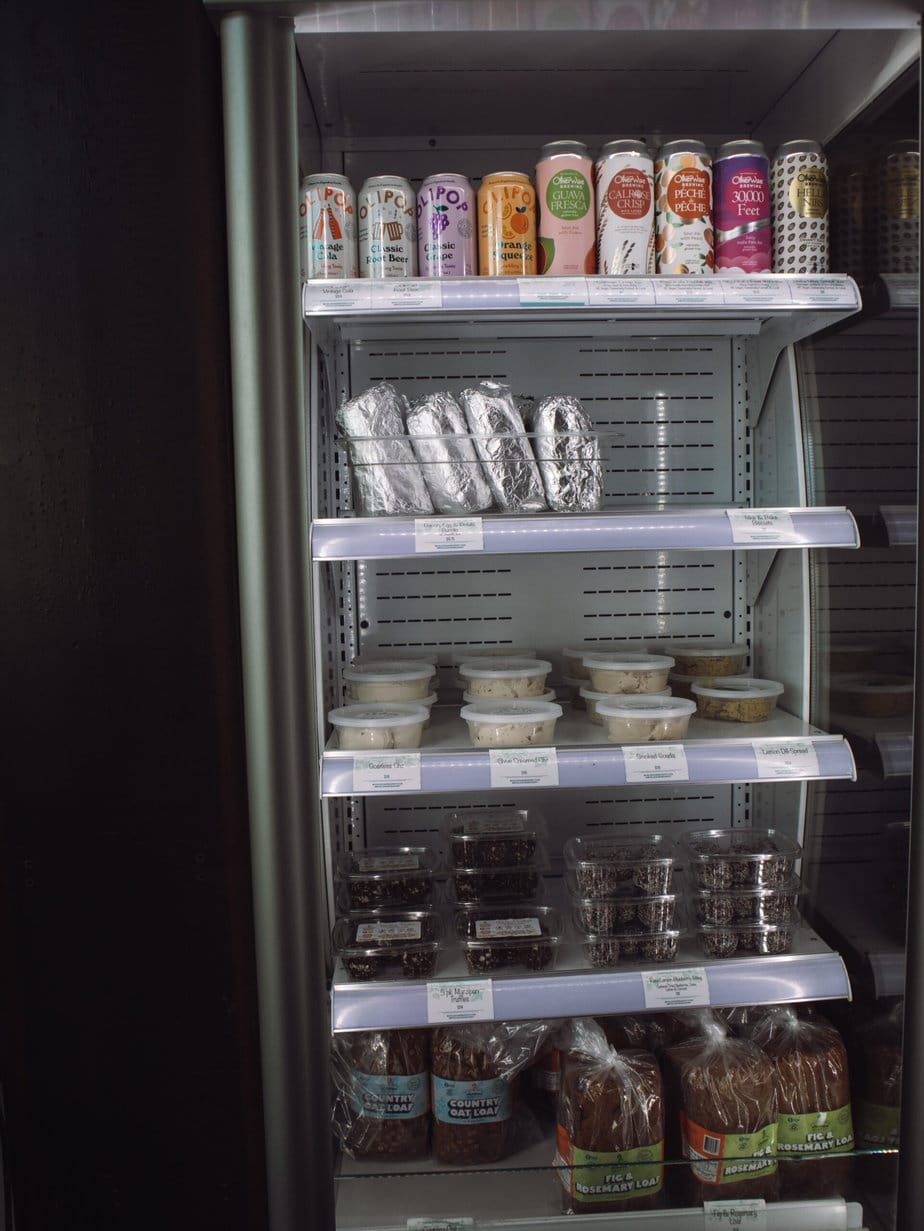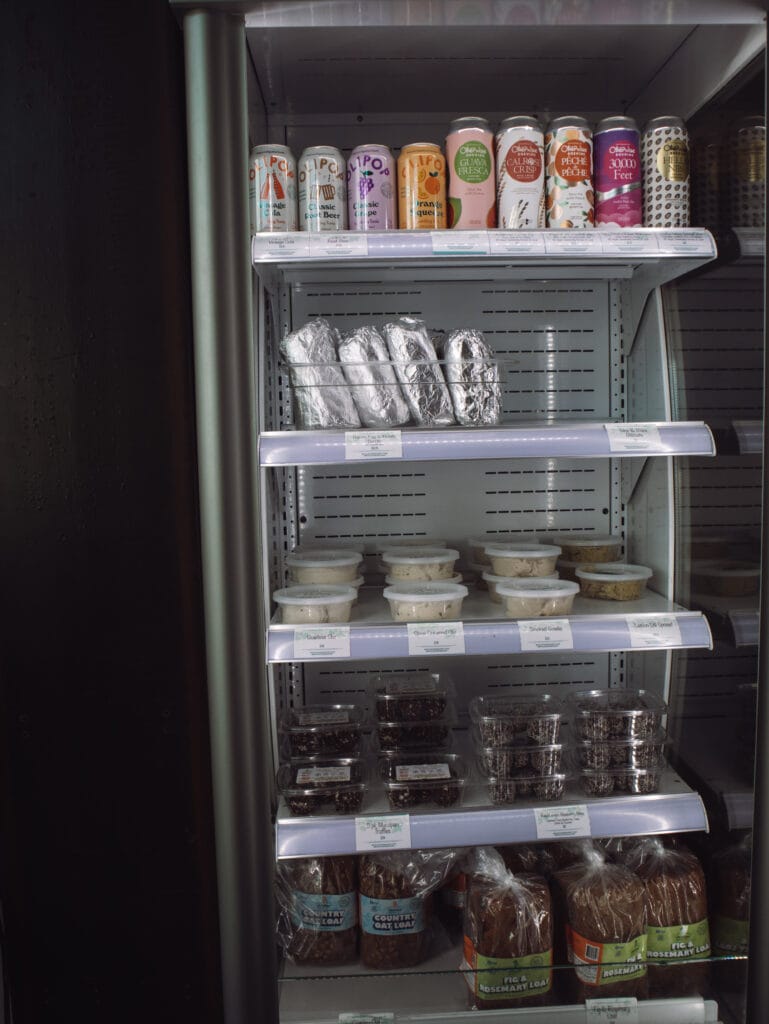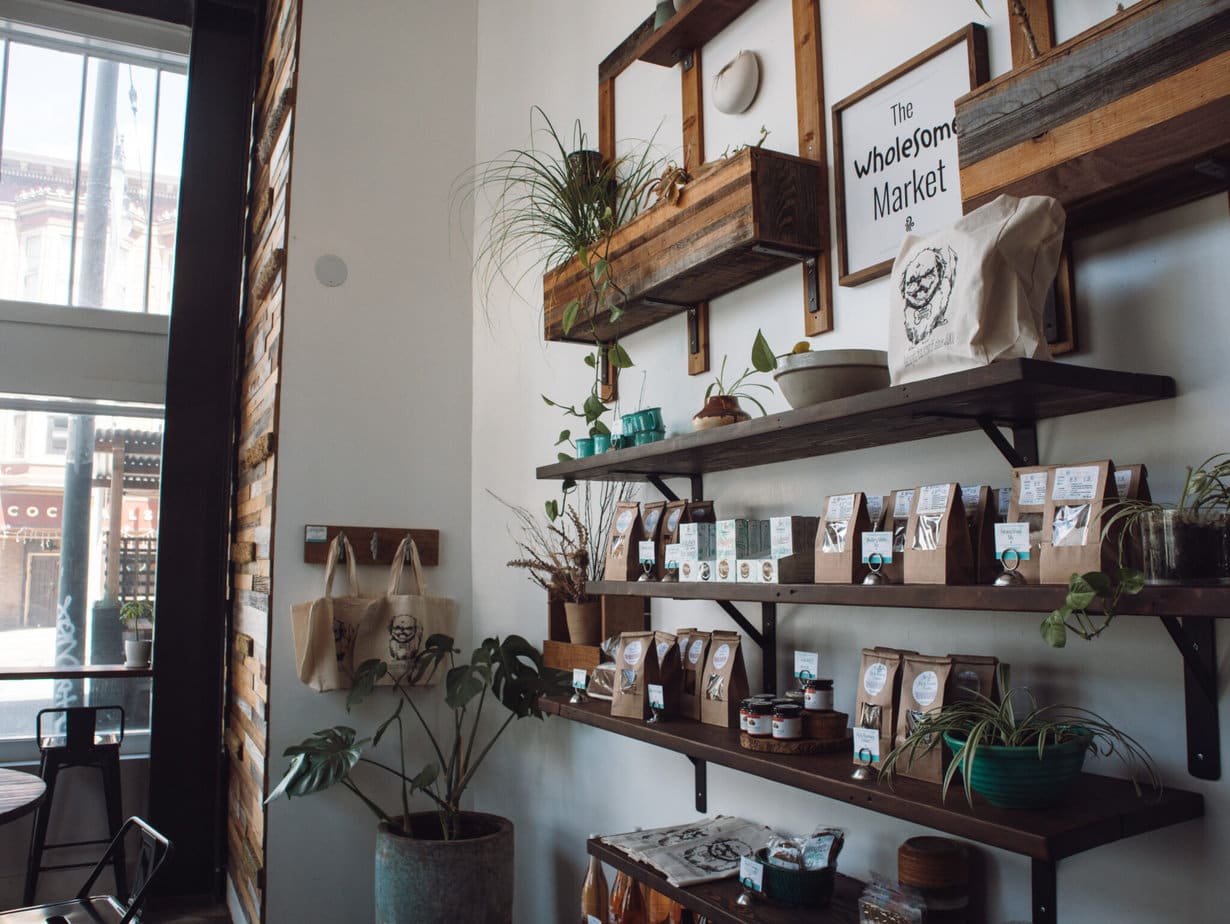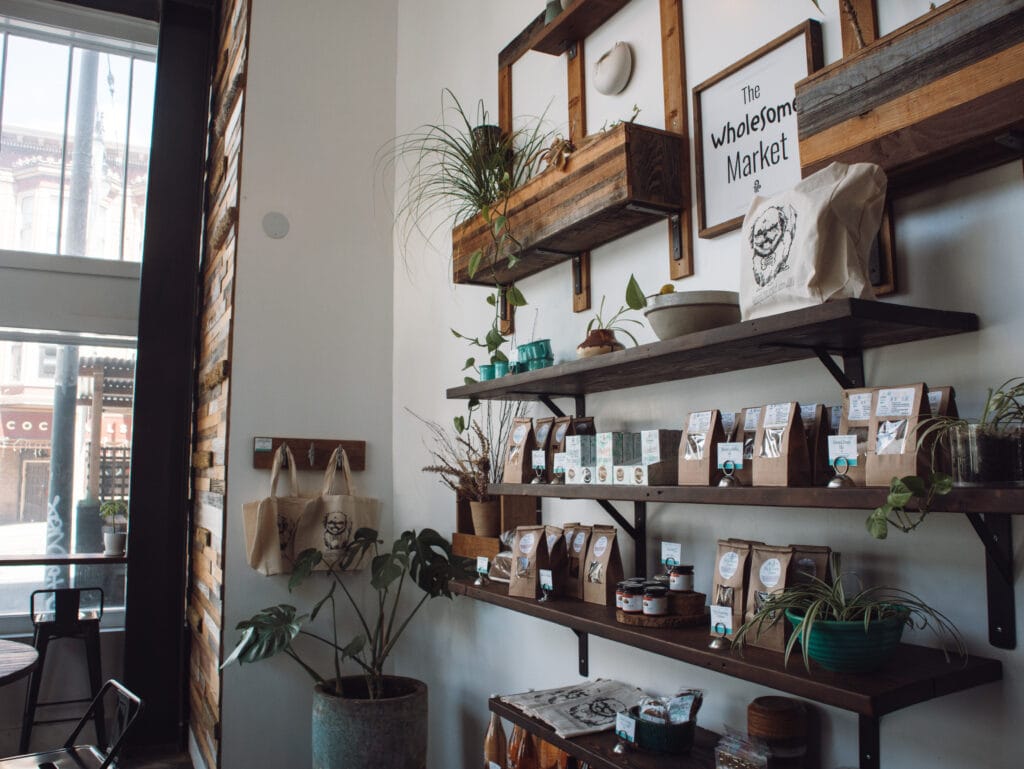 Sweet Diplomacy Gluten Free Patisserie (Los Altos)
Sweet Diplomacy Patisserie is another 100% gluten free bakery! It is located south of San Francisco, in Los Altos, so only a good stop if you are driving south anyway (to San Jose, Santa Cruz, or as a detour from route 1).
Unfortunately, I haven't had a chance to eat here yet but the pastries look delicious! This bakery only came to my attention recently because Sara (a fellow blogger) actually attended a French pastry course in Paris with the owner! If you visit, comment below and let me know how you like it.
Address: Sweet Diplomacy, 209 1st St, Los Altos, CA 94022
RELATED | Gluten Free New York City Guide
Dedicated Gluten Free San Francisco Restaurants
Asian Box
Asian Box is a fast-casual restaurant that's 100% gluten free! They serve Vietnamese inspired dishes including curries, spring rolls, salads, and more. The food is super fresh and actually tastes healthy while also full of flavor.
I got takeout from their downtown location in May; it was a super quick walk from my accommodation at HI Fisherman's Wharf in Fort Mason, and is also close to Marina Green and Presidio. Asian Box also expanded a lot over 2020-2022 and has seven other locations south of San Francisco and in the SFO airport (terminal G)!
Address: Asian Box, 2031 Chestnut, San Francisco, CA 94123 (+ seven other locations)
RELATED | Review of HI Fisherman's Wharf: Affordable Waterfront Accommodation in San Francisco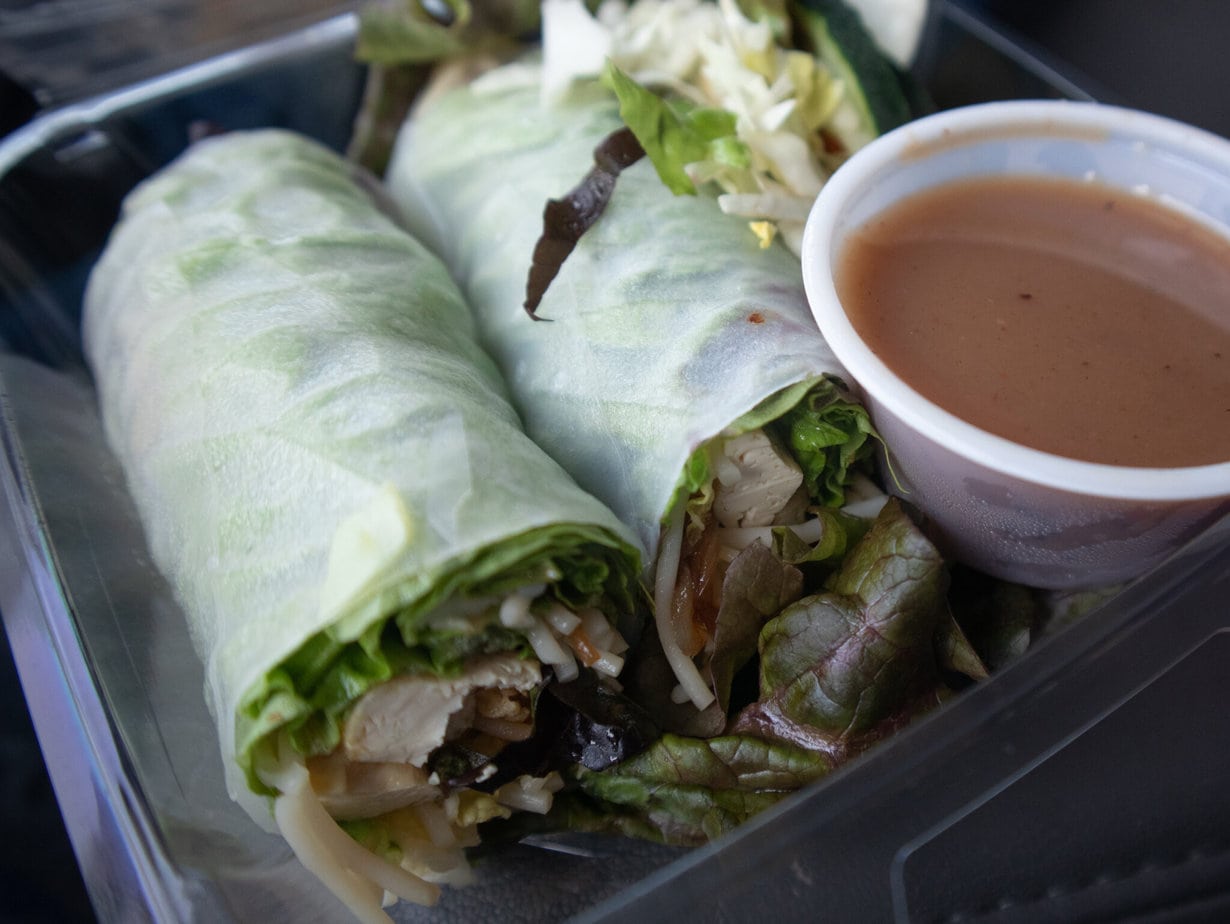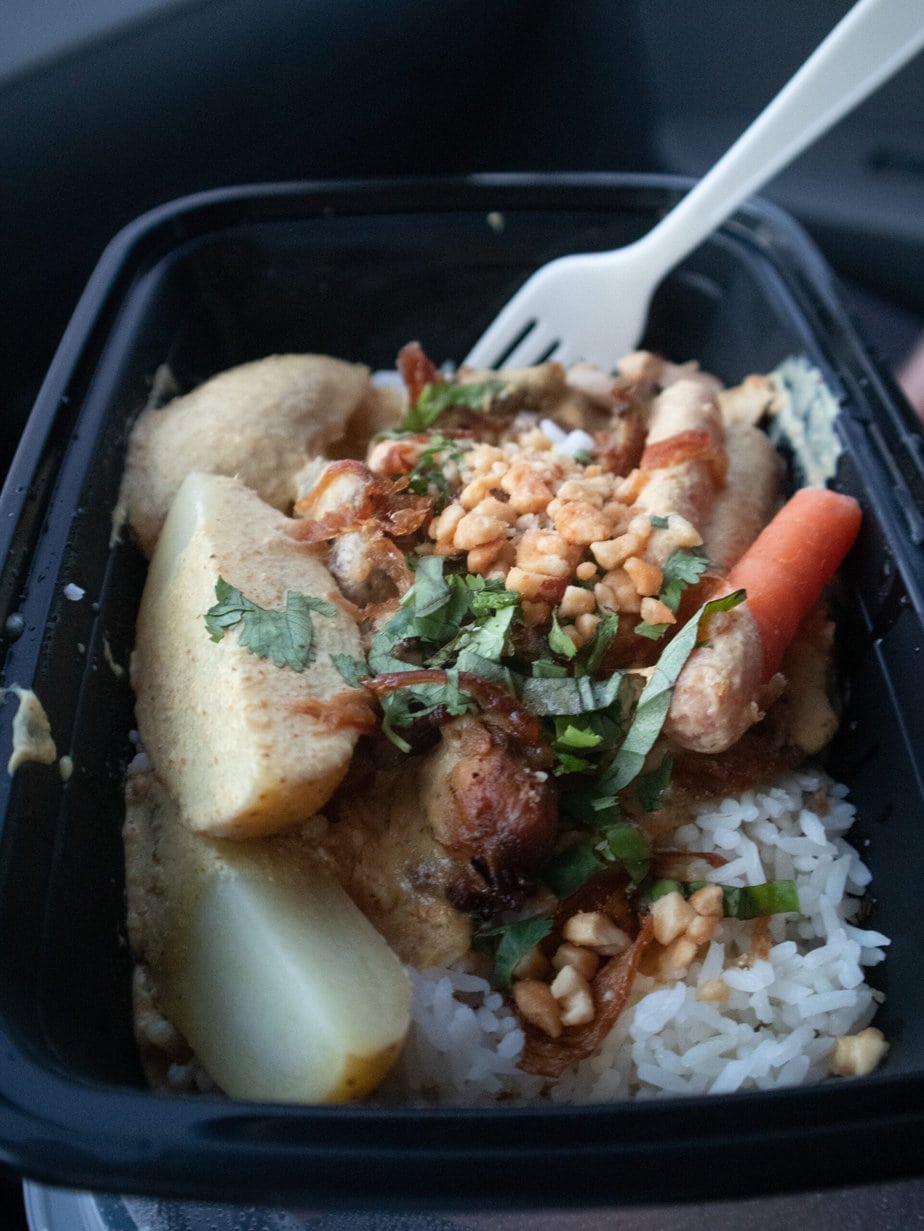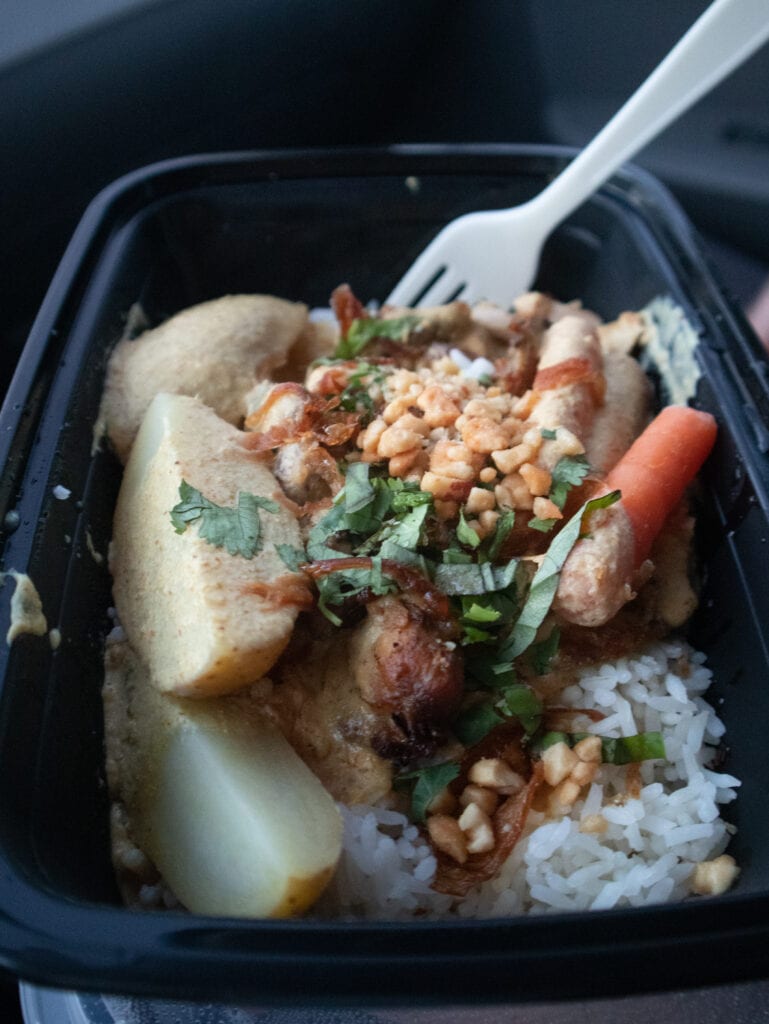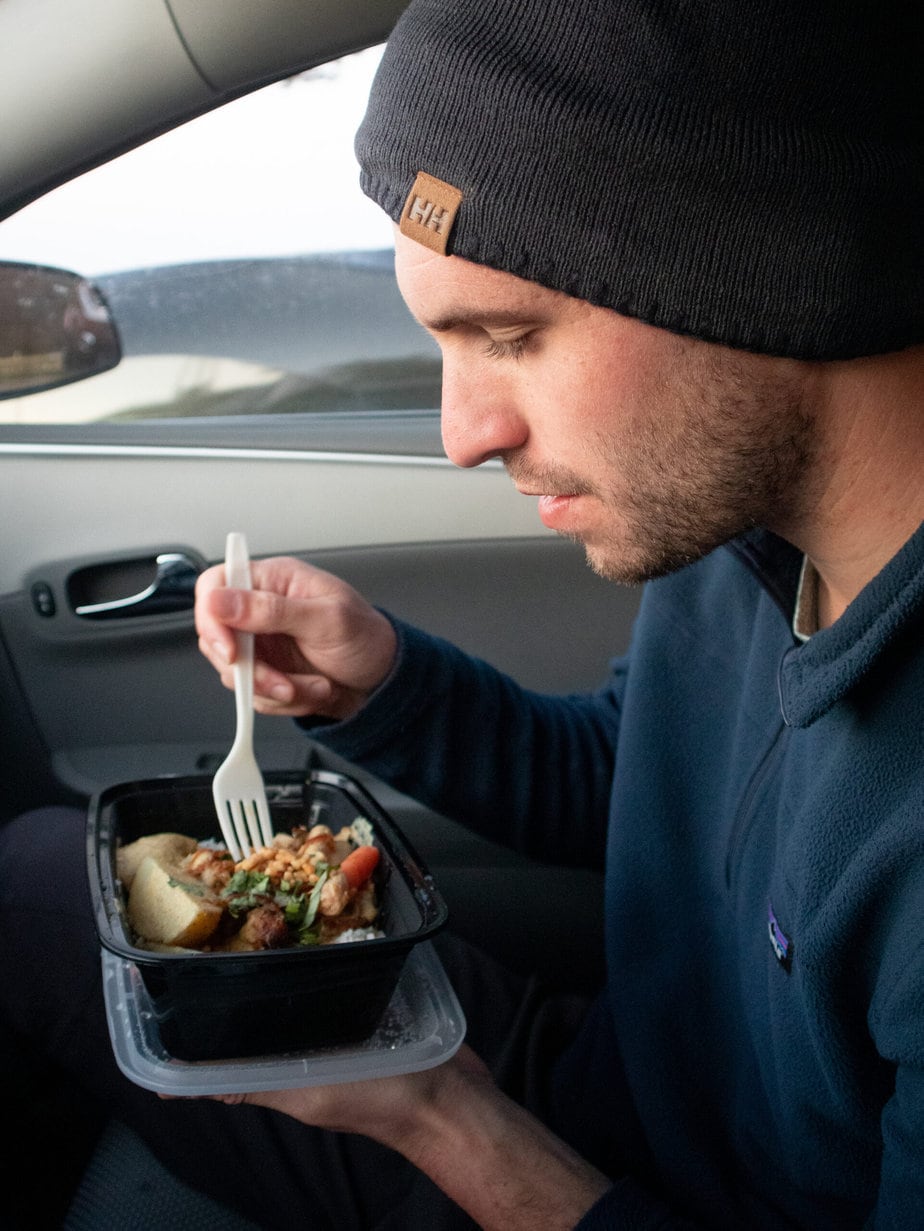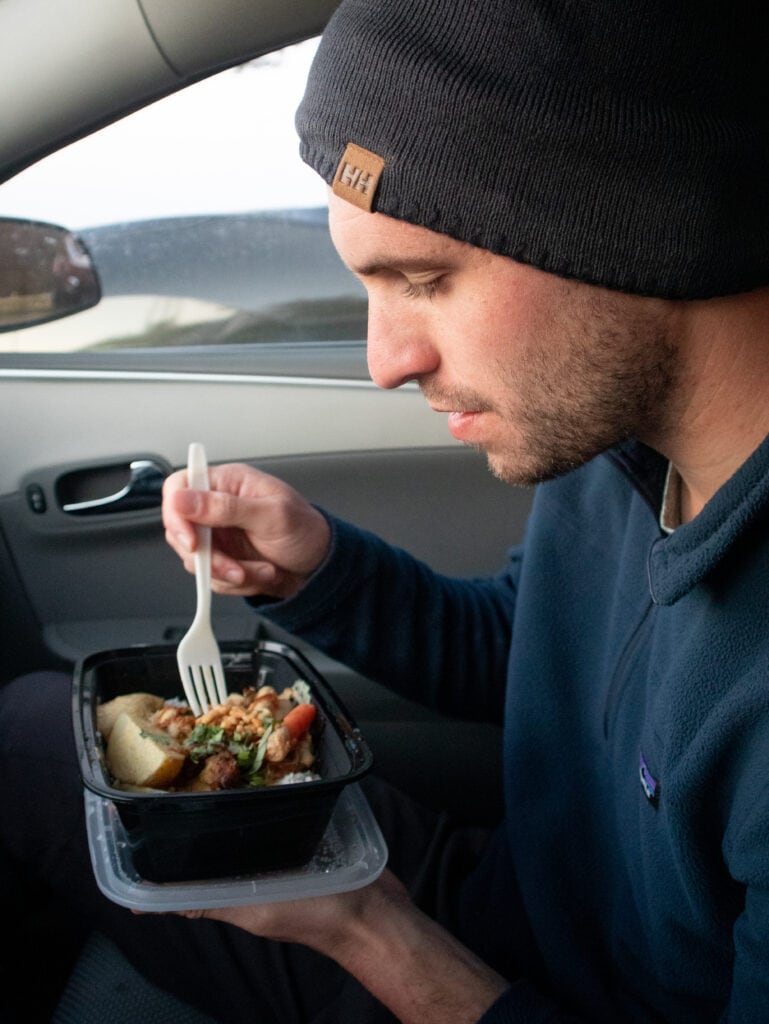 The Game Parlour (99% Gluten Free)
The Game Parlour is a board game cafe next to Golden Gate Park. It also happens to have a Japanese-influenced menu dedicated entirely to waffles! I put the caveat as 99% gluten free because when I visited, I was informed they do use gluten cookies to top their Othello coffee drink (everything else, most importantly all the waffles, are gluten free).
I am always hard pressed to choose between sweet and savory so I ordered the "Battleship" (black sesame sweet mochi waffle with strawberries, cream, and condensed milk) and the "Chicken Coup" (waffle sandwich with mochiko fried chicken, furikake seasoning, and coleslaw). Both were delicious so I'd have to recommend you do the same 😉
Address: The Game Parlour, 1342 Irving St., San Francisco, CA 94122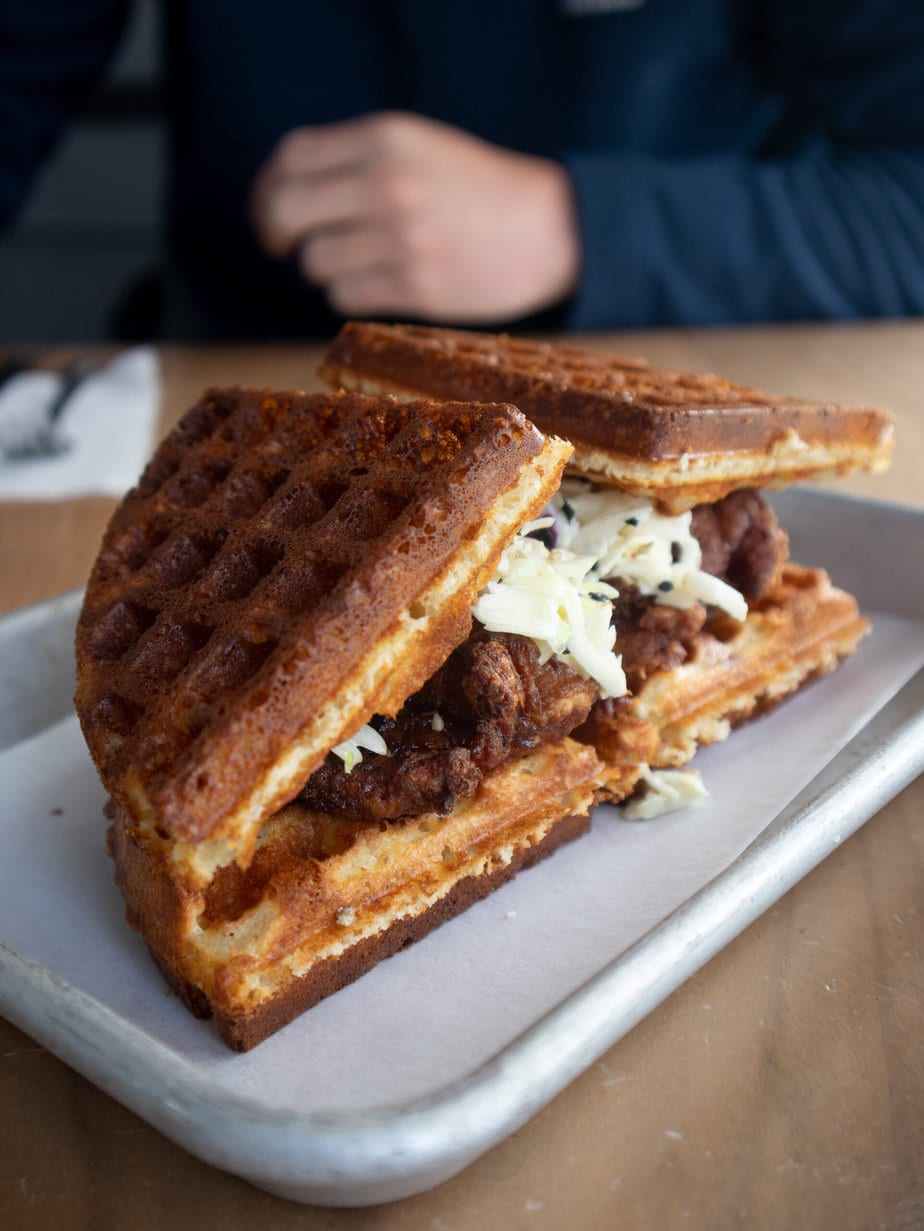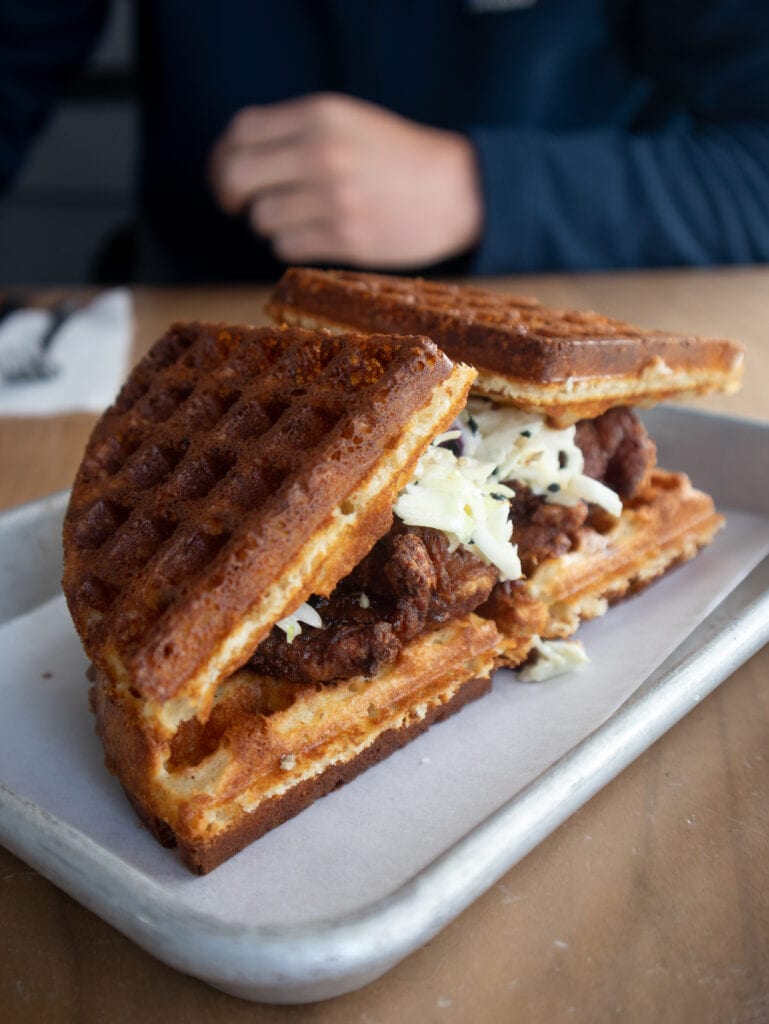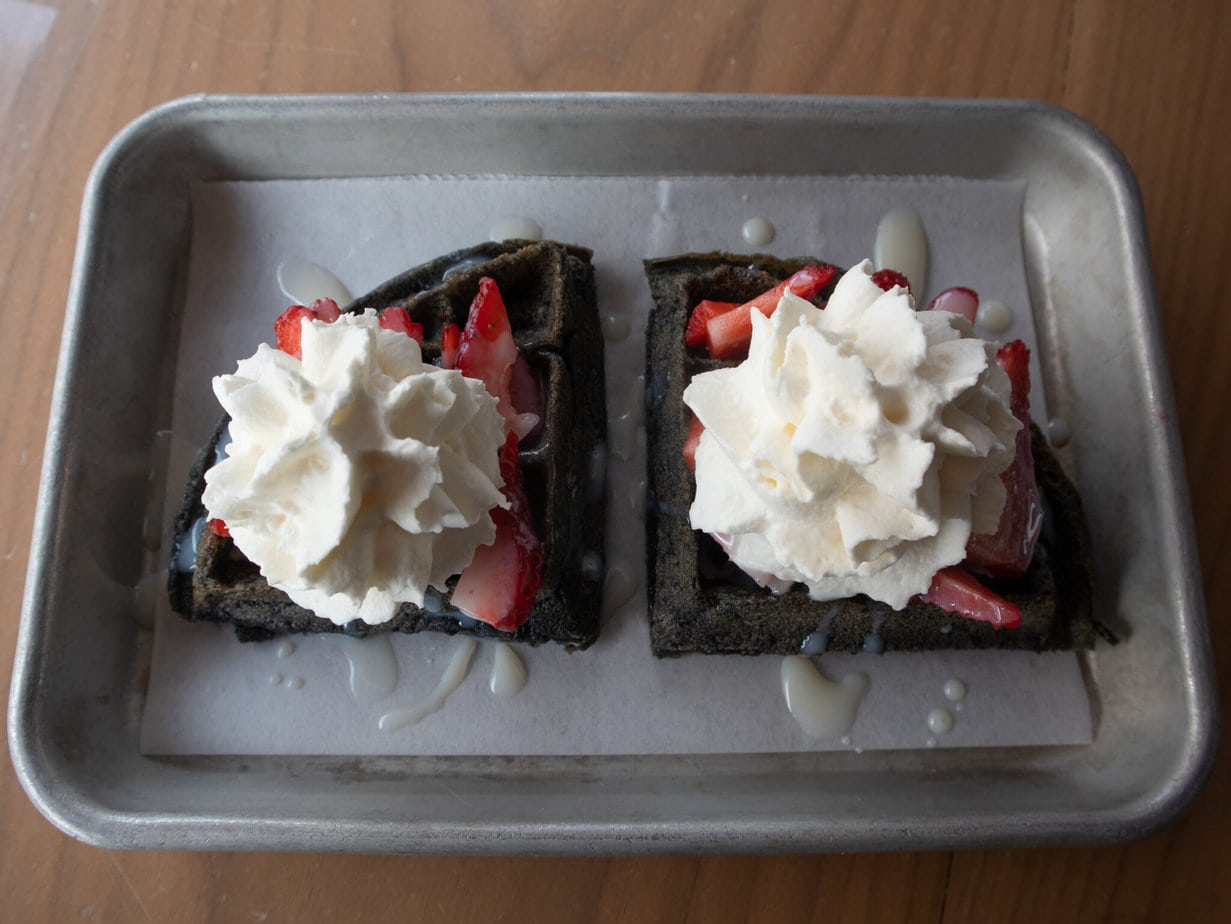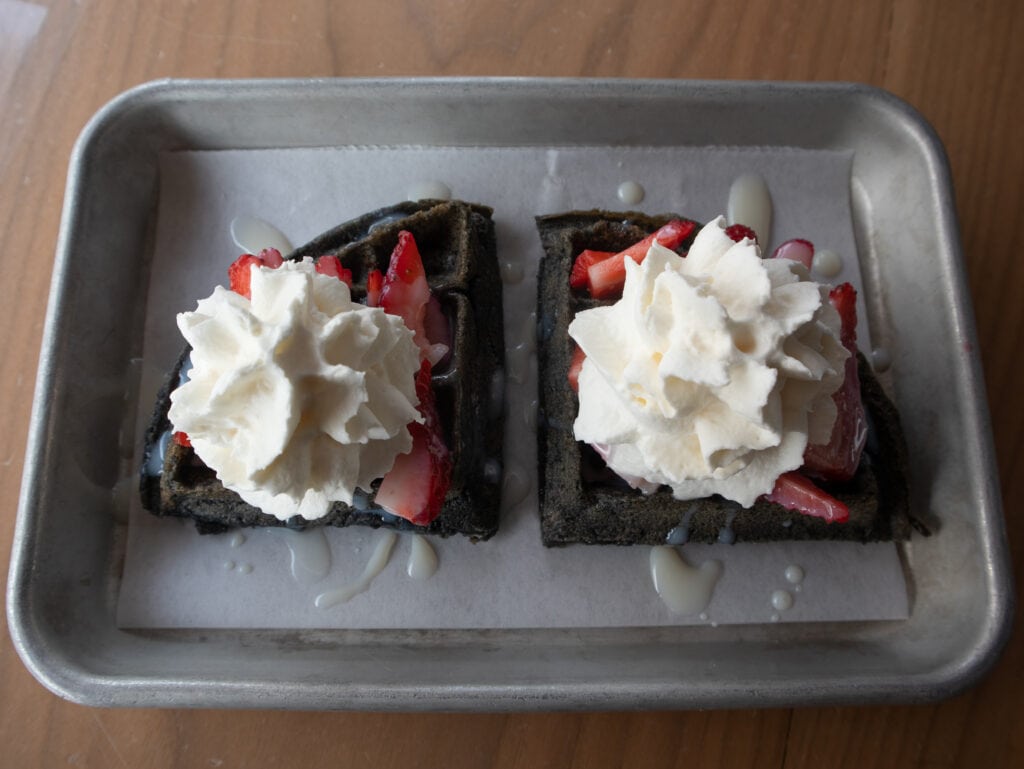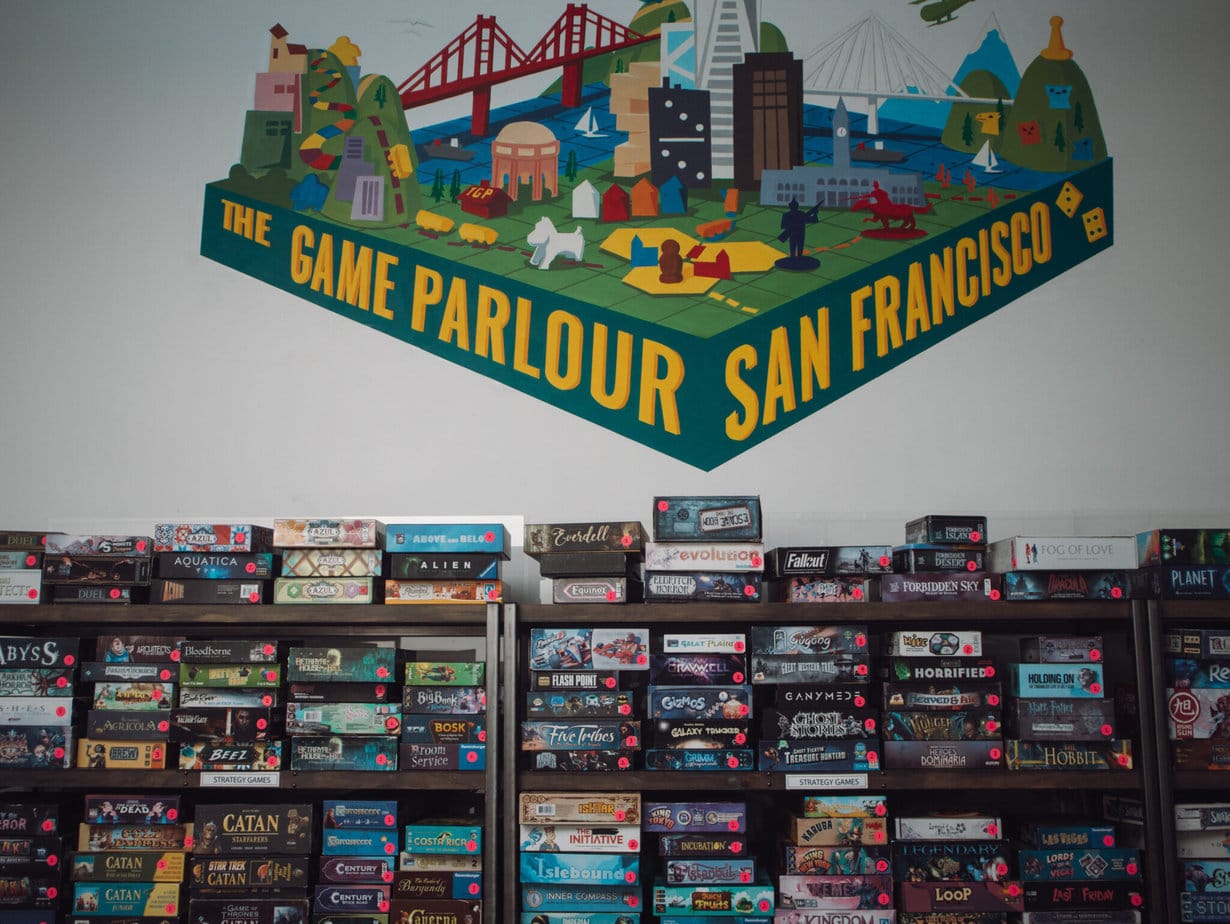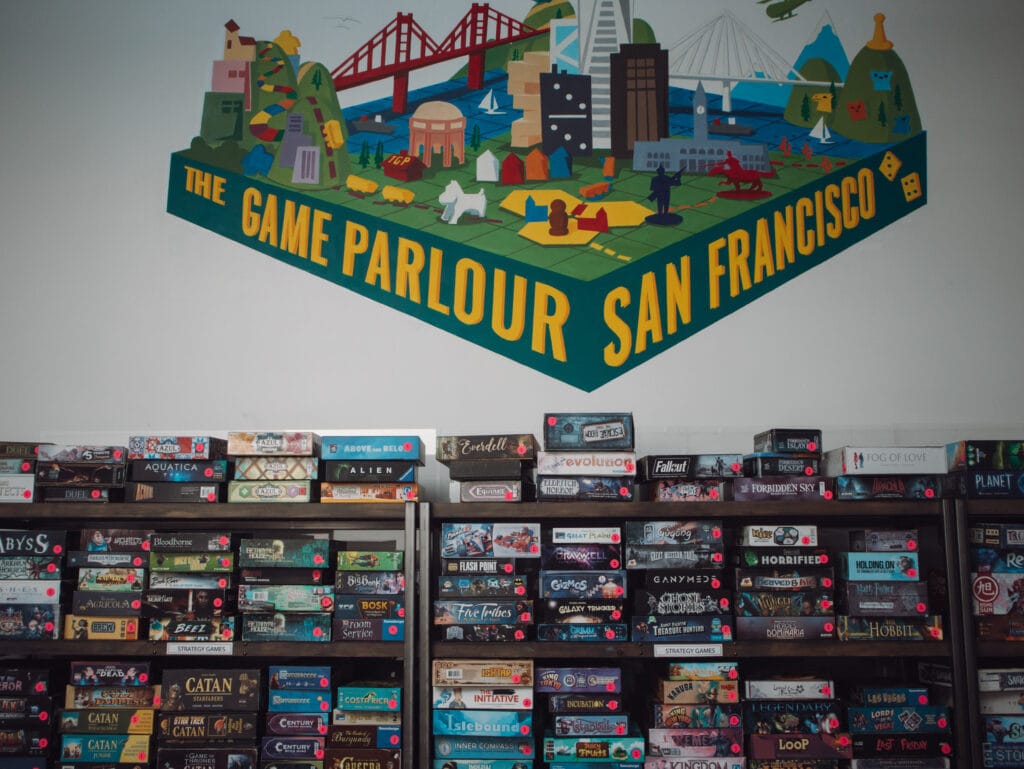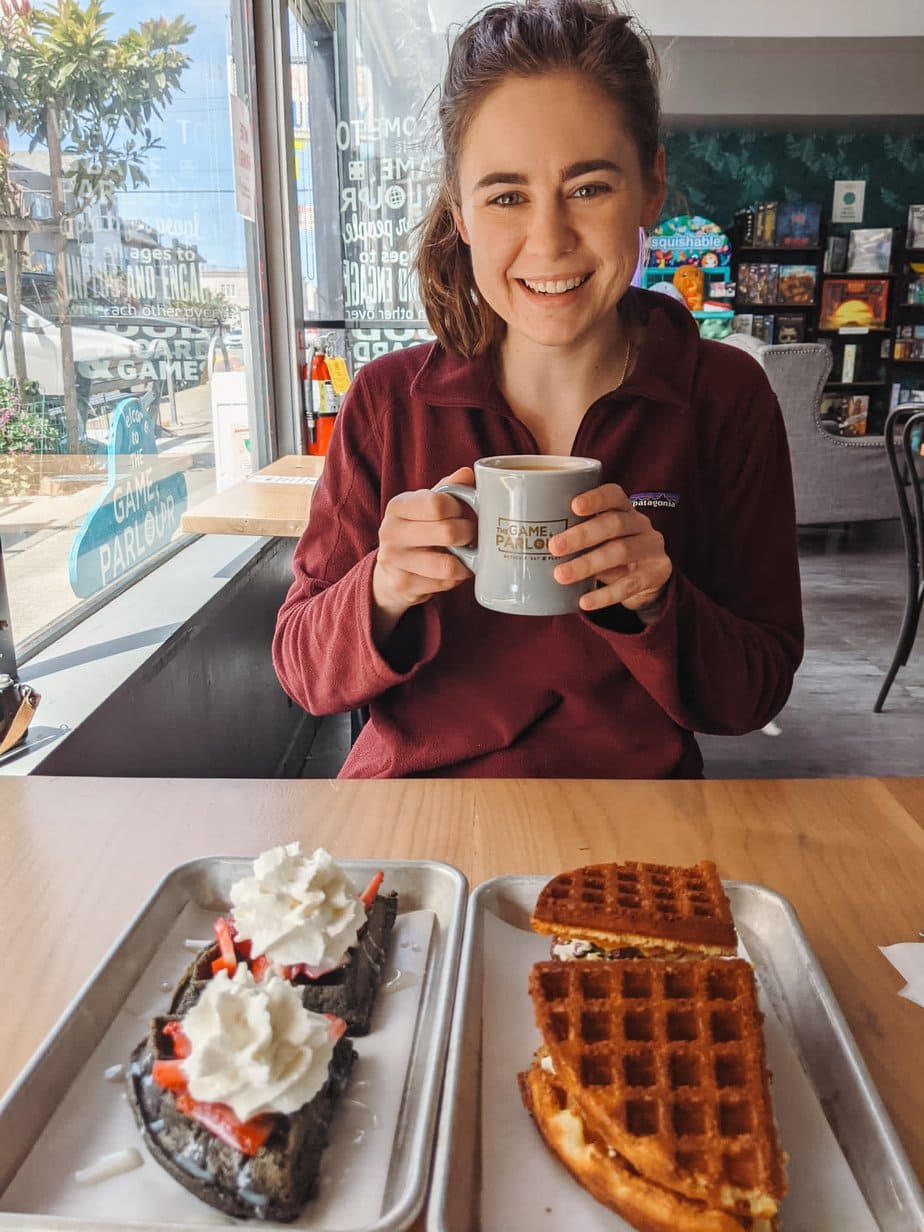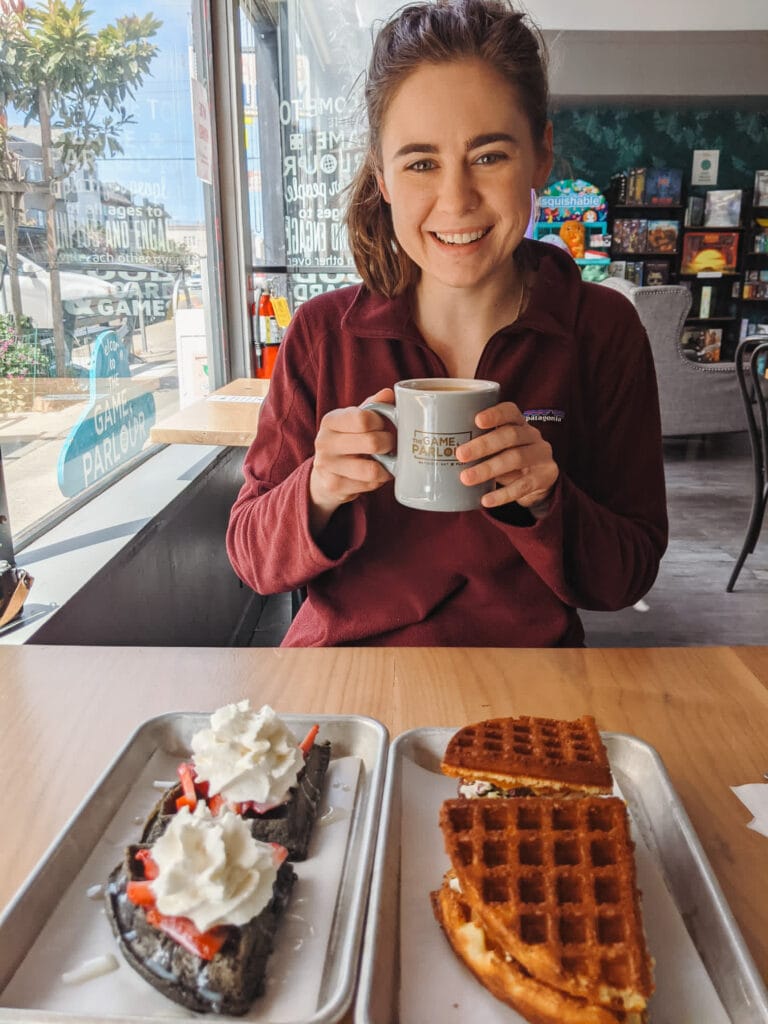 Pica Pica Arepa Kitchen
Pica Pica Arepa Kitchen is a 100% gluten free Venezuelan restaurant in the Mission neighborhood. They also go above and beyond by regularly testing their food at Bia Diagnostica Labs. The great thing about Venezuelan food is so much of it is naturally gluten free. If you've never had arepas, get yourself to Pica Pica! (This is top of my own list for my next visit to San Francisco – I sadly haven't managed it yet).
Address: Pica Pica Arepa Kitchen, 401 Valencia St, San Francisco, CA 94103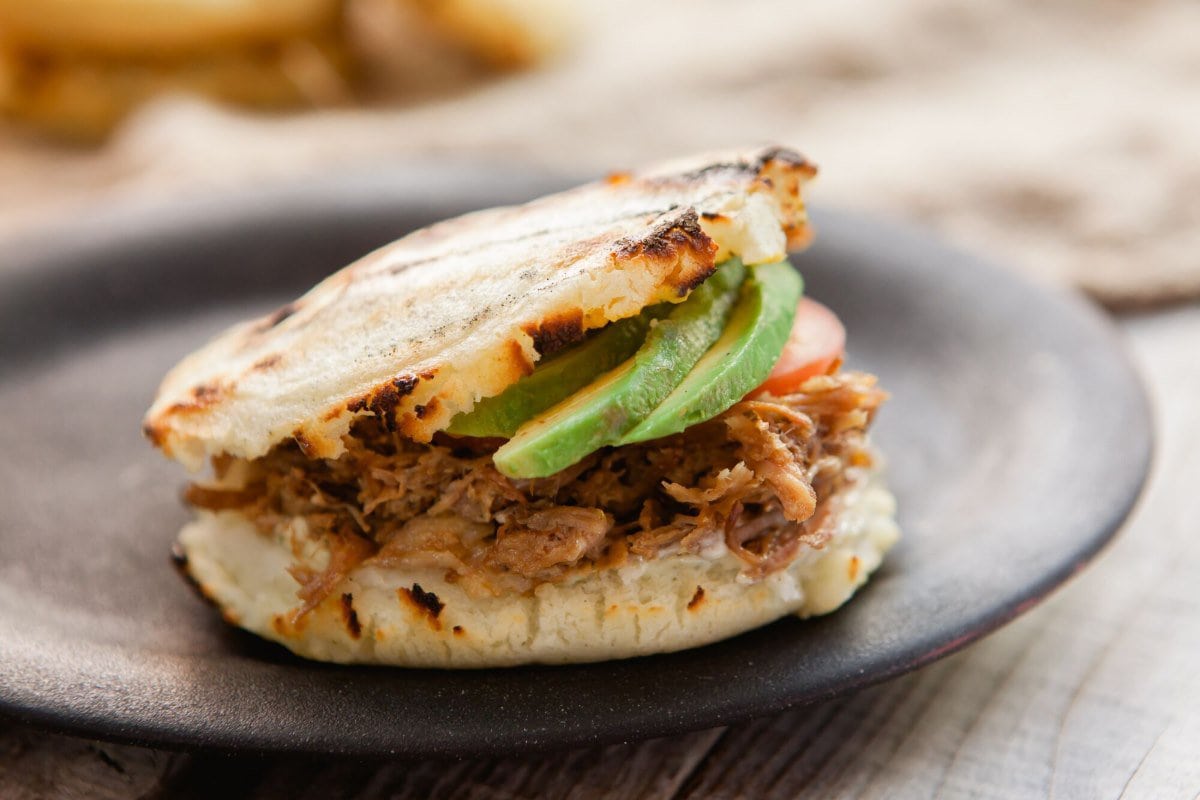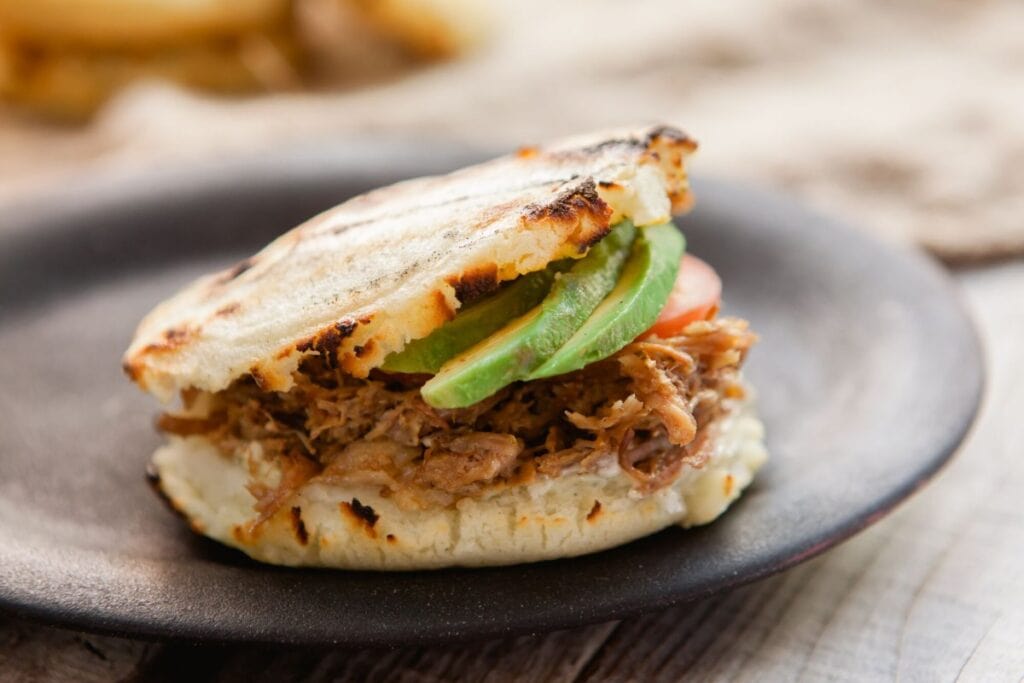 Kitava
Kitava is another 100% gluten free restaurant located in the Mission. They serve tasty paleo food with tons of vegetarian options and a selection of thoughtfully sourced meats. There are some small plates (including chicken nuggets and fried plantains!) but the majority of the menu is various bowls. You can also build your own bowl.
Kitava also caters the food for Buck Wild Brewing (a dedicated gluten free brewery in Oakland) – more on that below.
Address: Kitava, 2011 Mission St, San Francisco, CA 94110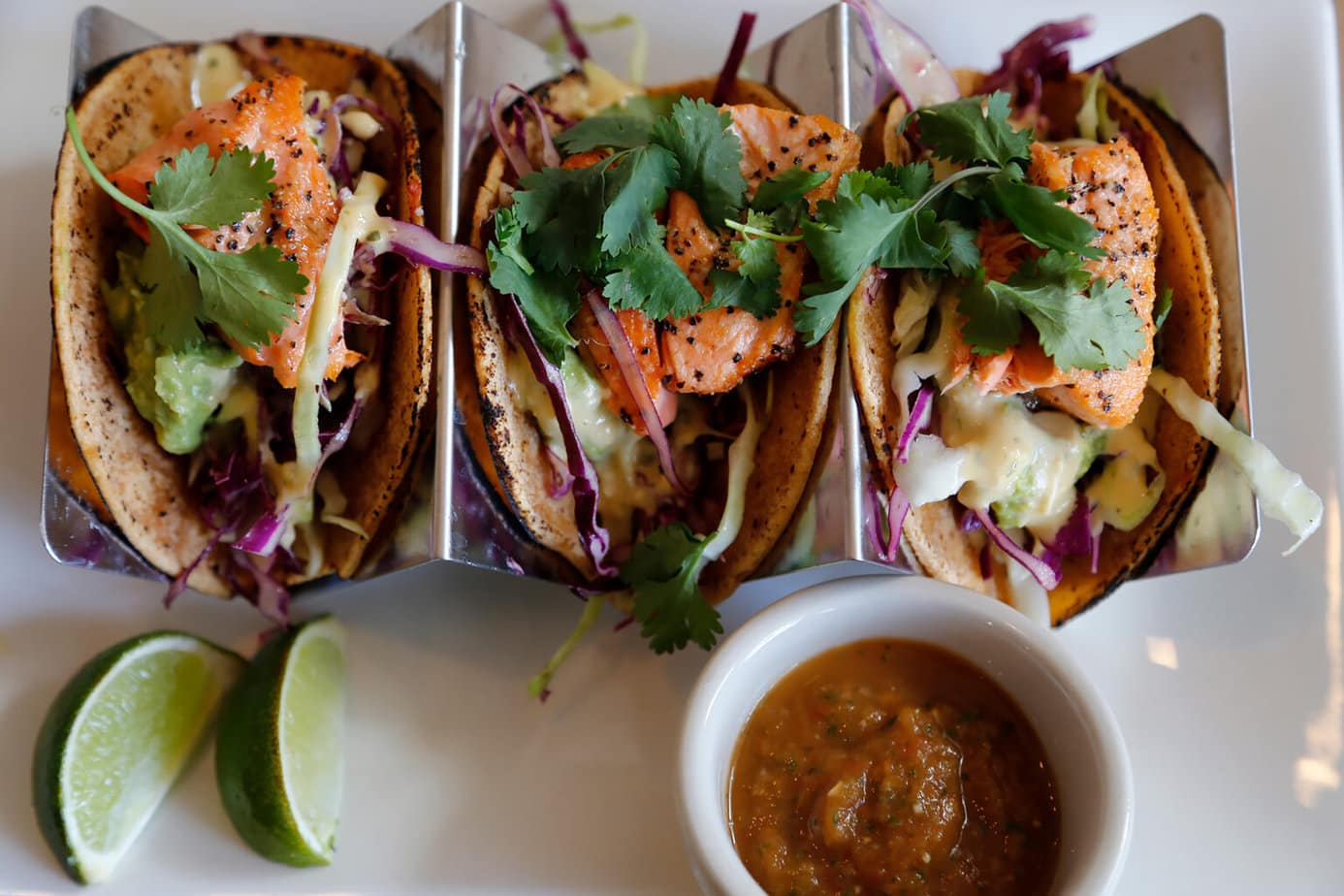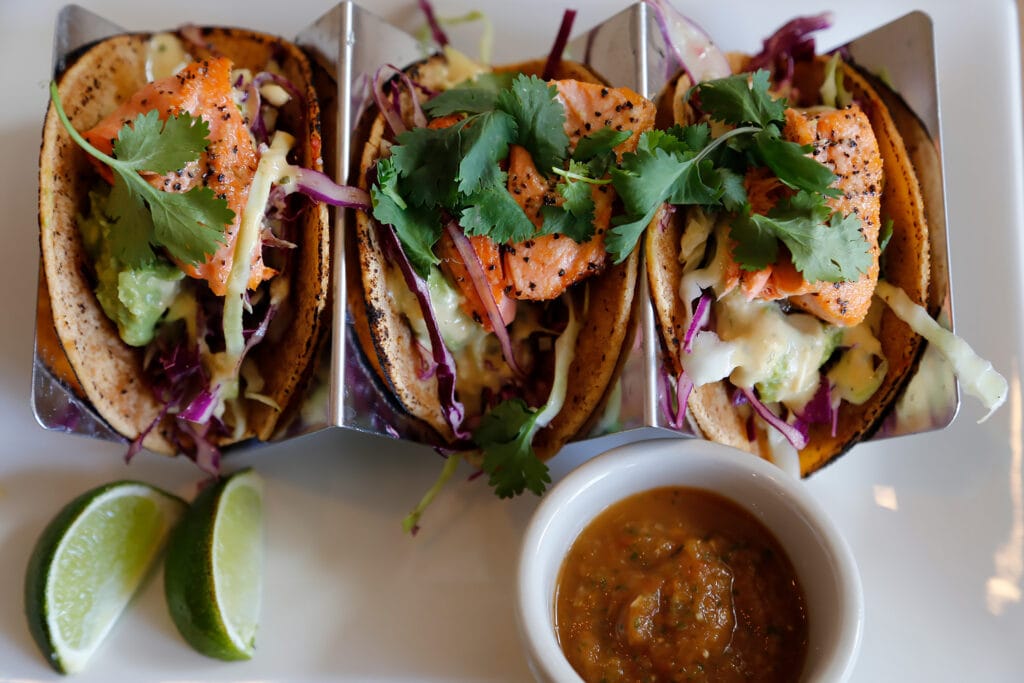 The Hearth Table
If you are going to a Giant's game at Oracle Park (formerly AT&T Park), then get thyself to The Hearth Table.
I love when restaurants help celiacs have a quintessential "normal person" food experience while traveling. That's exactly what The Hearth Table does! At this 100% gluten free restaurant inside Oracle Park you can get baseball game fare of flatbreads, sandwiches, and yes, actual hot dogs.
To locate it, go to the very first level beneath the scoreboard (section 133). Following signs for "The Garden" will help.
Address: The Hearth Table in Oracle Park, 24 Willie Mays Plaza, San Francisco, CA 94107
Moon Bowls
Moon Bowls is a 100% gluten free San Francisco restaurant, but you should know they only do takeout or delivery, no dine in. I have not eaten here yet but it is another top of my list for next time, because I love almost all Asian food!
Moon Bowls serves a Korean-influenced menu with meals like sweet Korean BBQ cauliflower, avocado bulgogi, Korean hot chicken, and my own personal kryptonite – potstickers. If you eat here in San Francisco, please comment below and let me know how it is so I can be jealous!
Address: Moon Bowls, 60 Morris St, San Francisco, CA 94107
As Quoted (99% Gluten Free)
As Quoted is another gluten free San Francisco restaurant – I say 99% gluten free because they serve gluten removed beer and I'm not sure on the status of the oats. It's a place to stop for breakfast, brunch, or lunch as they close at 3pm. There is a pretty organic-forward menu with "avocado toast millennial" vibes if you get my meaning.
Address: As Quoted, 3613 Sacramento St, San Francisco, CA 94118, United States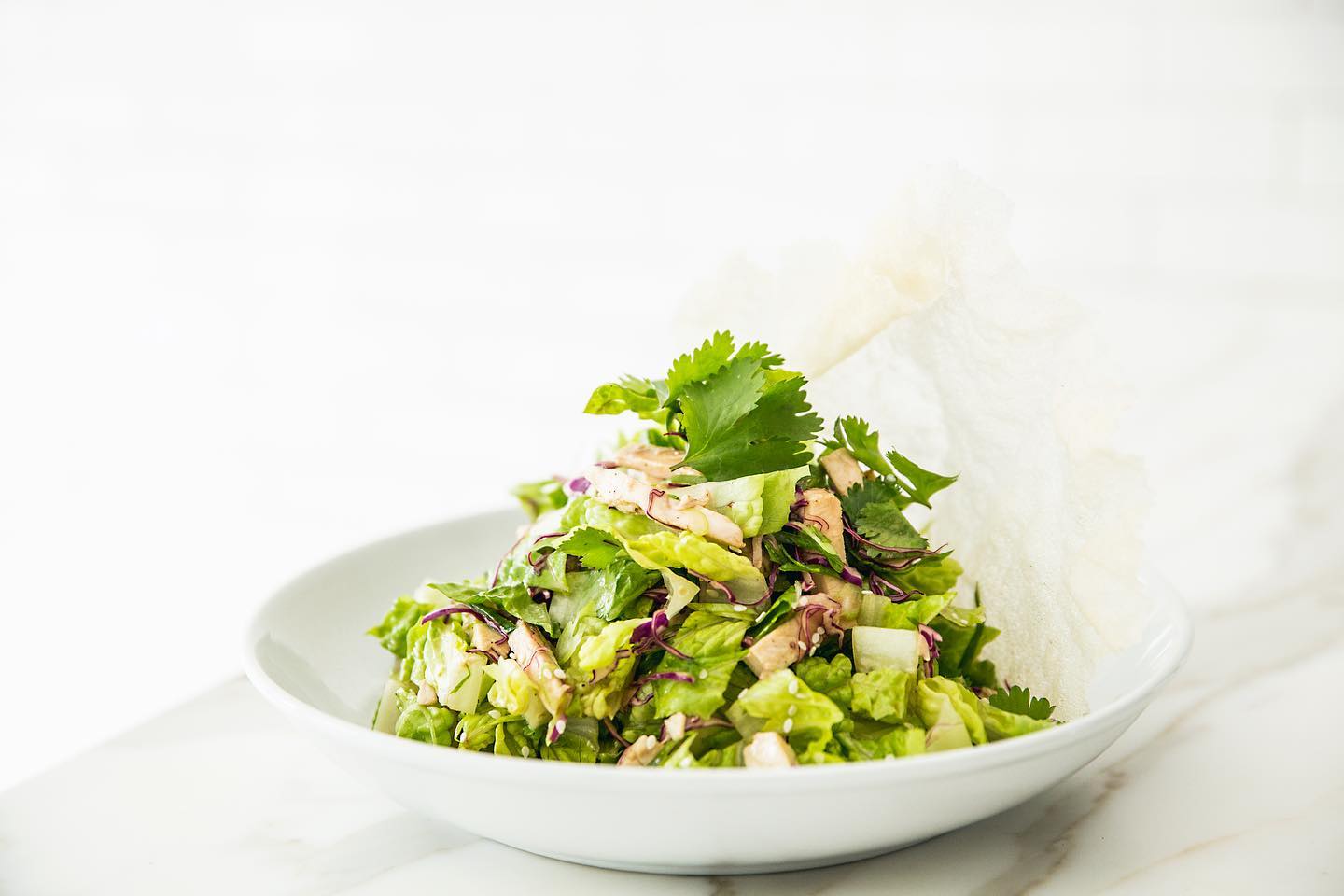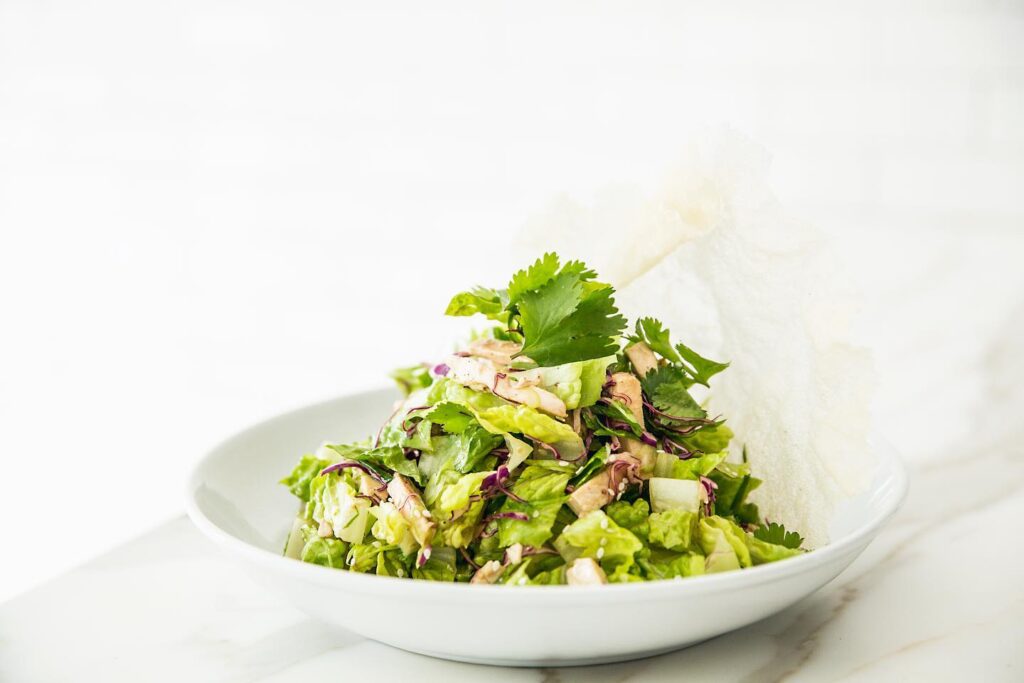 Copita Tequileria y Comida (Sausalito)
Ahhh, Copita Tequileria y Comida. This 100% gluten free Mexican restaurant was one of my very favorite meals I had during my most recent time in San Francisco. It's actually located in Sausalito, a quaint and affluent town north across the Bay with great views of the SF skyline. We walked across the Golden Gate Bridge and took a sunset ferry back to downtown SF after dinner – a totally perfect day.
Now, let me wax poetic about the food for a moment. Mexican food is often naturally gluten free, but you have to worry about sooo much potential cross contact (shared fryers, shared grills, wheat flour to thicken sauces, etc). Here, you don't have to worry about a thing because it's all gluten free.
We started with blood orange margaritas and this is me, right now, peer pressuring you to order the same. YUM. We also got guacamole and chips to start which were delicious. For my main, I ordered mole enchiladas because… when can celiacs eat mole? It was just like I remembered.
Dan ordered the battered Baja cod tacos and honestly, this is the one thing we didn't love. They were quite small for the price. I wouldn't recommend the tacos – get a big plate instead.
Please note this restaurant is, how shall we say, elevated Mexican. That means the price is elevated, too. It was the most expensive meal I've had in San Francisco, but (other than the tacos) no regrets and would most certainly eat here again!
Address: Copita Tequileria y Comida, 739 Bridgeway, Sausalito, CA 94965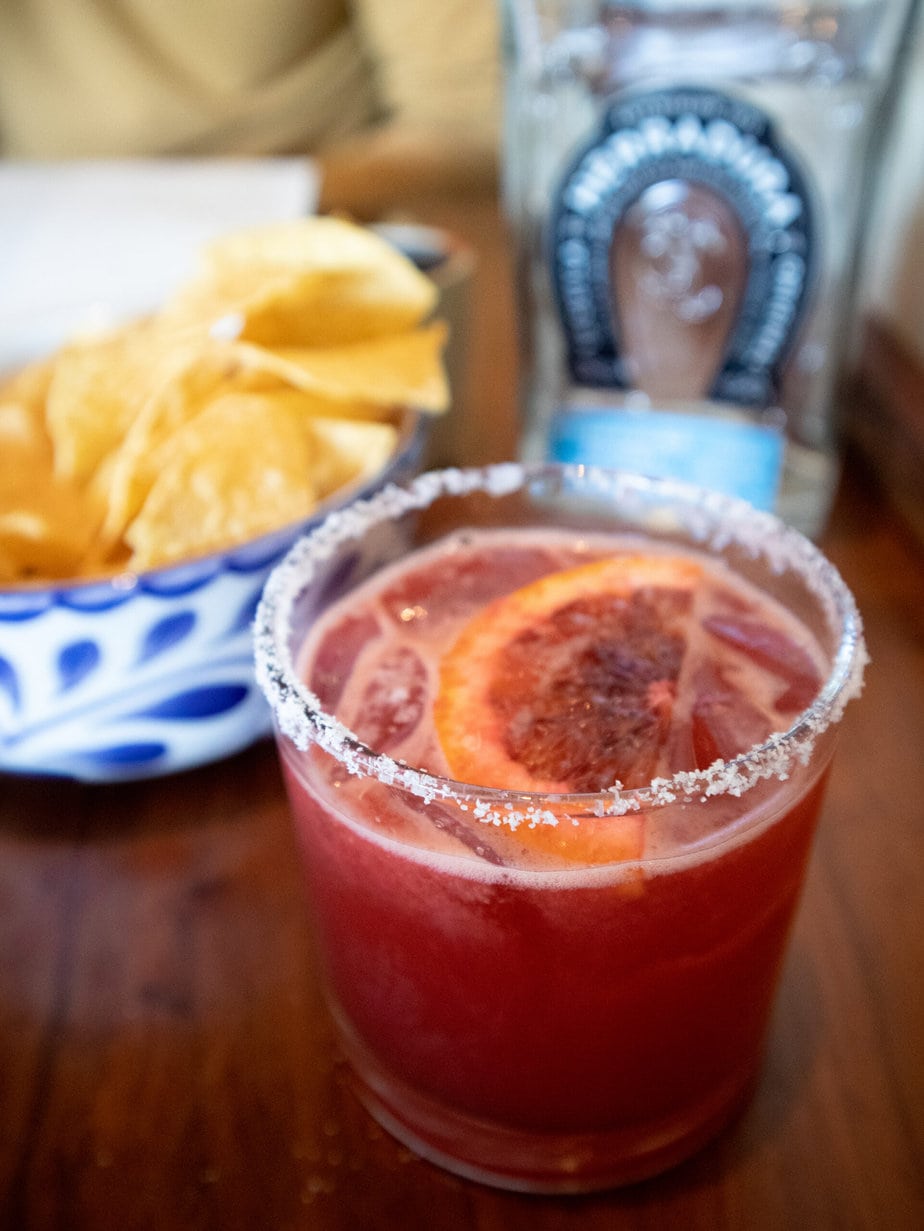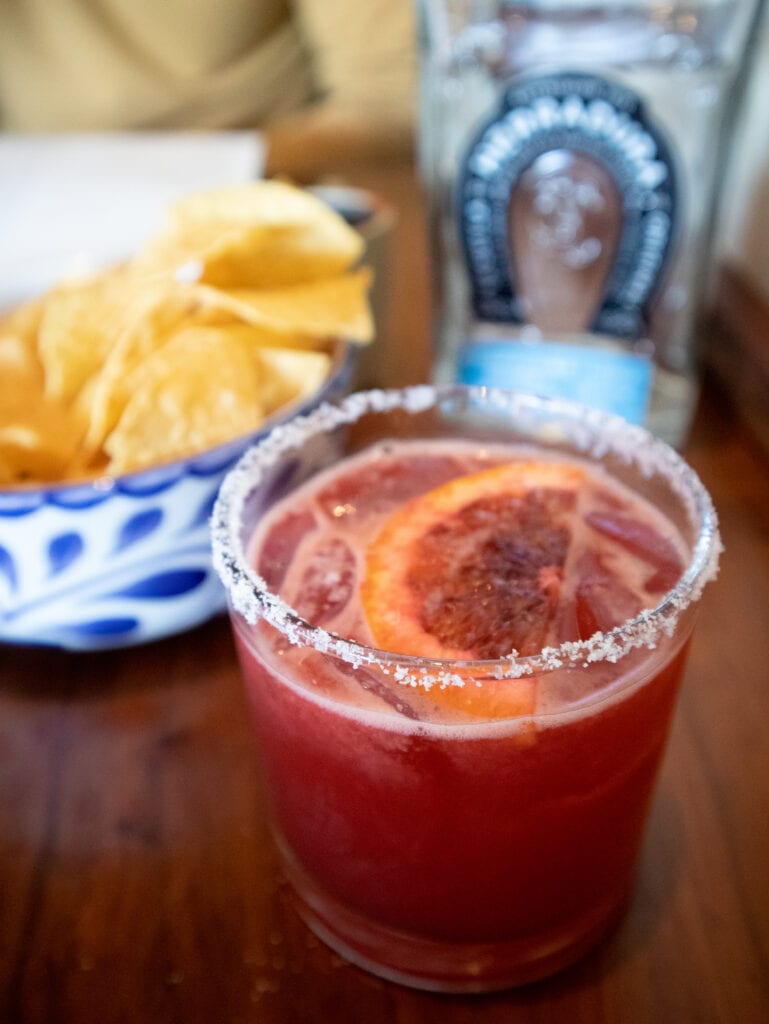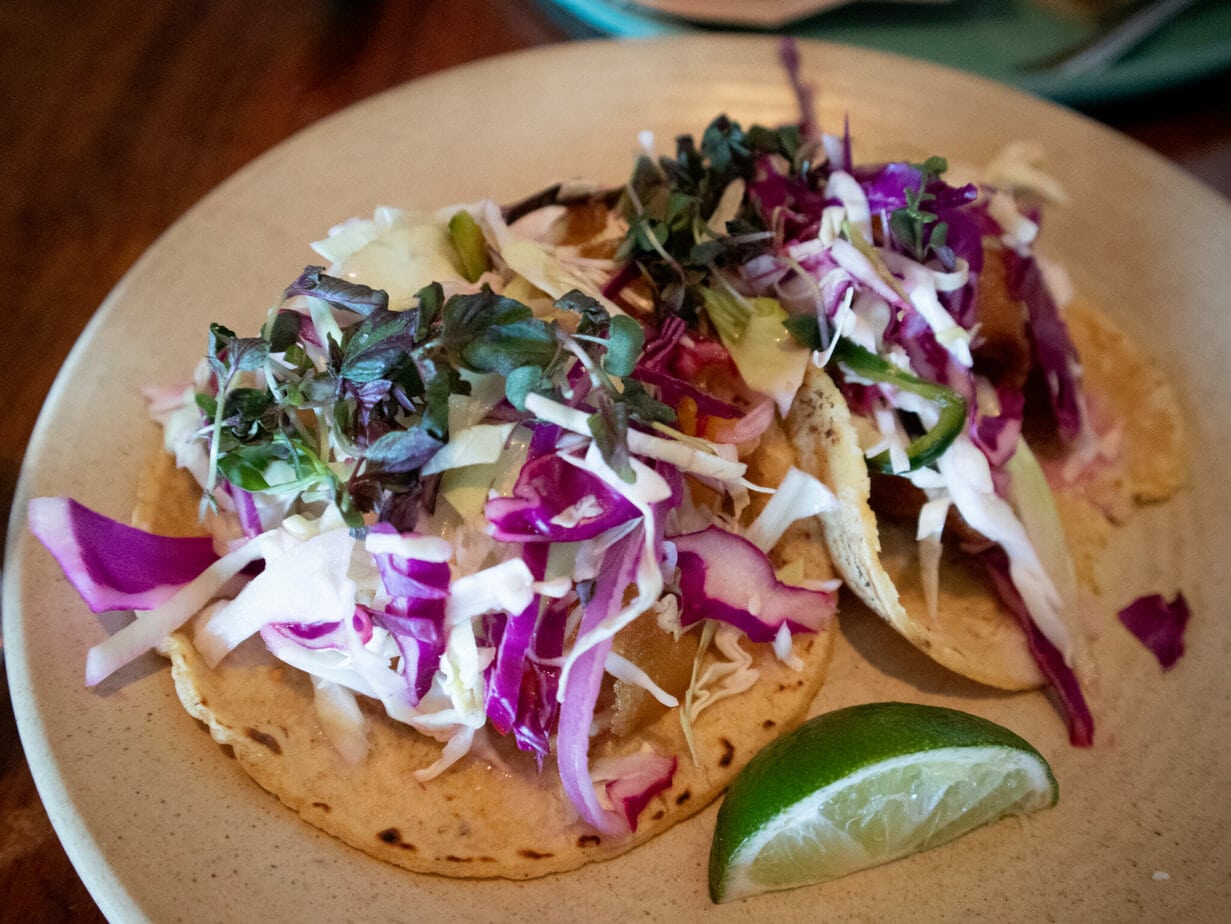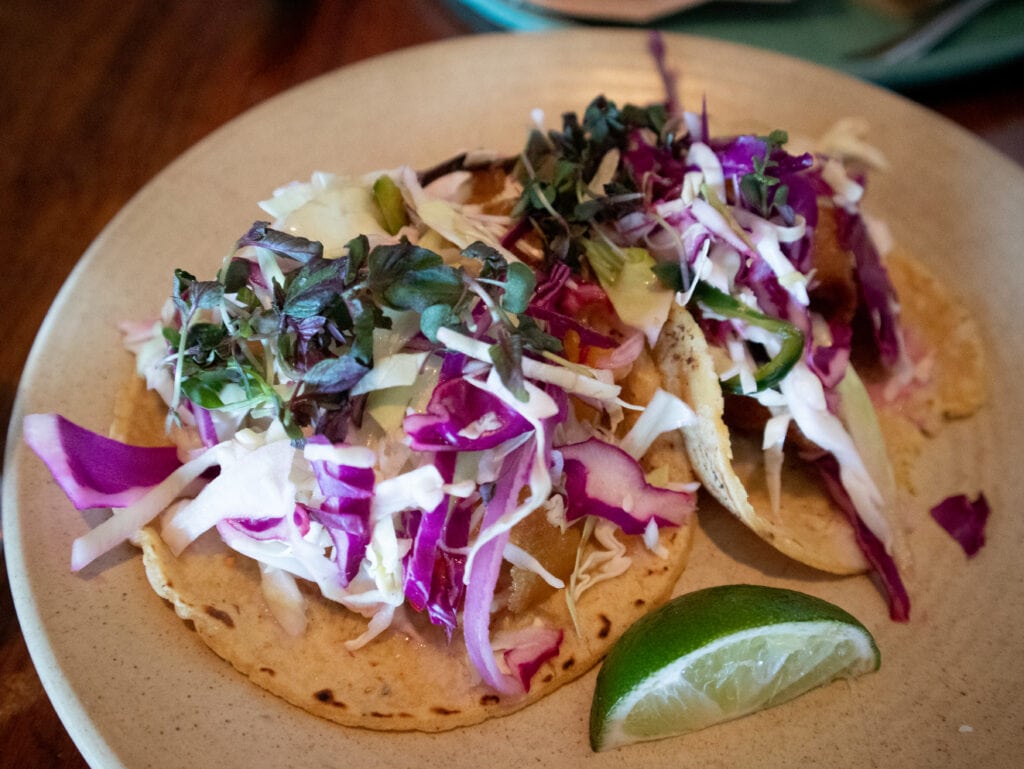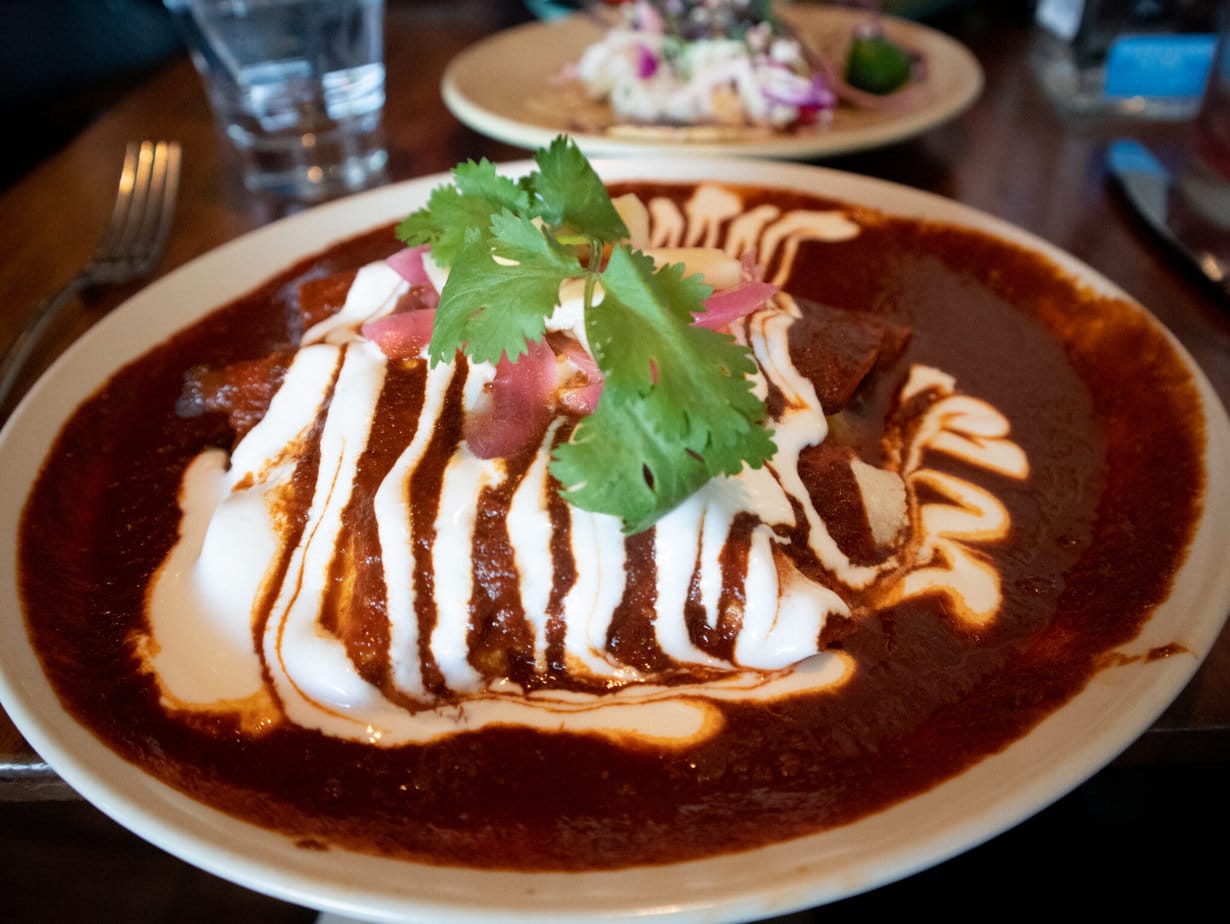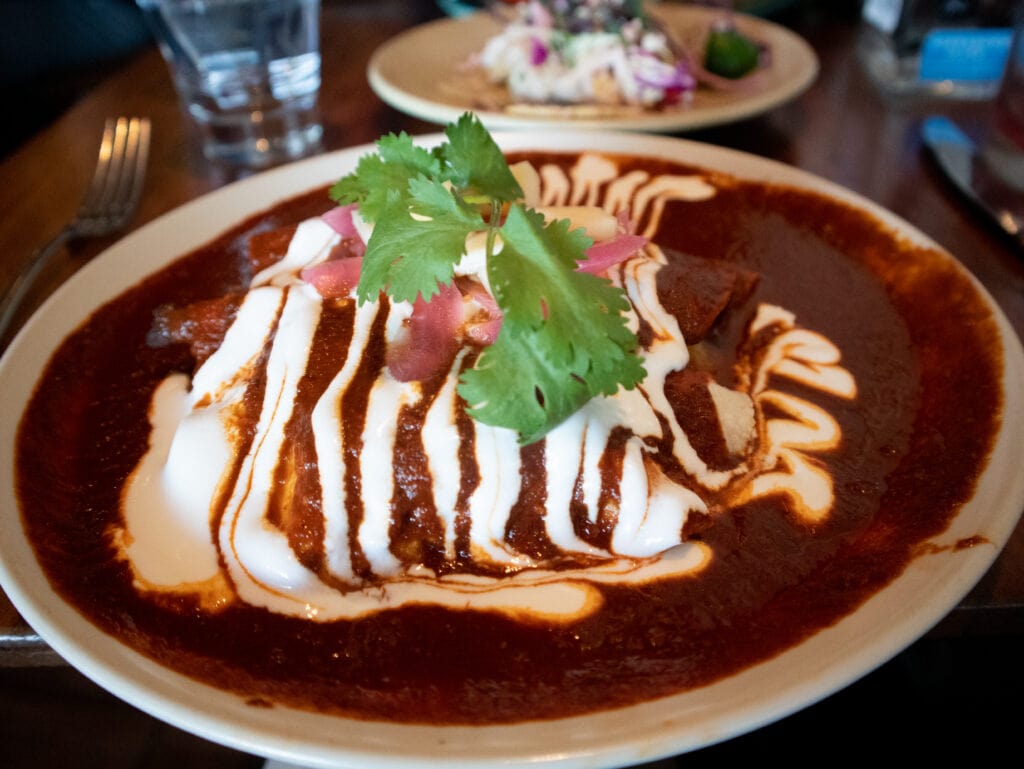 Buck Wild Brewing (Oakland)
Gluten free beer anyone?! Buck Wild Brewing is a 100% gluten free brewery (yes, naturally gluten free, not gluten removed). It's located in Oakland, not downtown SF, so you'll have to drive/uber to get there. The good news is then you can eat the food catered by Kitava, and can combine it with a visit to Mariposa's Oakland location!
If you can't make it out to their taproom in Oakland, don't worry. You can still buy Buck Wild's beer at Kitava's location in the Mission and these other places in downtown SF.
Address: Buck Wild Brewing, 401 Jackson St, Oakland, CA 94607
Little Gem – CLOSED
Little Gem was formerly a popular 100% gluten free San Francisco restaurant, but sadly they are permanently closed.
Non-Dedicated Gluten Free Restaurants in San Francisco
Crown & Crumpet Tea Salon
Crown & Crumpet Tea Salon is my favorite underrated place for celiacs to eat in San Francisco. They serve the most fantastic three-tiered afternoon tea in a very cute, quirky environment.
Quick story time about Crown & Crumpet. Have you ever had a meal that was just so perfect, you keep thinking about it years later?
I first ate at Crown & Crumpet in 2011 (the year before I was diagnosed) and absolutely fell in love. So in love that I went on to move to England and date a Brit for 10 years. The obsession all started with this afternoon tea… (I kid, kind of).
In any case, having celiac one of my greatest disappointments was never being able to eat Crown & Crumpet again. Then, on my most recent trip to San Francisco I reached out to them and discovered they offer an entirely gluten free afternoon tea (for an extra $6)!
They've had to downsize their location (it's not as perfectly quirky as before), but it's been a very hard couple years for the hospitality industry so I understand. Dan and I had a great meal here and I highly recommend it. They deserve all our support!
Address: Crown & Crumpet, 1746 Post St, San Francisco, CA 94115
In-N-Out
I mean, this one goes without saying. You must eat at In-N-Out while in California, and there is only one location in SF (in Fisherman's Wharf). I ate at In-N-Out a minimum of once a week during my four months in northern California and honestly, I feel no shame.
If you haven't heard, In-N-Out is an iconic California fast food chain that has a super simple menu: burgers, shakes, and fries. That makes it ideal for gluten free folks!
The fryers are dedicated gluten free, and they can serve burgers on a lettuce wrap (like, a really good lettuce wrap. I actually took burgers home a few times to eat on Trader Joe's GF buns, and I genuinely prefer the lettuce wrap).
After *ahem* many meals at In-N-Out, including the San Francisco Fisherman's Wharf location, I've learned some things.
Here's what you need to know to order In-N-Out safely:
Tell the server you have a "gluten allergy." They will put this on your ticket (make sure they do) and it sets their allergy protocol in motion.
Be sure to also say "gluten allergy" even if you only order fries, so they change gloves and don't put it on the same tray as another order's buns.
Ask for your burger on a lettuce wrap, or "protein style."
Double check that your burger will be grilled on a clean surface. The only gluten in In-N-Out is the burger buns.
Ask for your burger with NO special sauce, or special sauce in packets on the side. There is a cross contact risk because they use the same knife to dip into the sauce and slather the buns.
Milkshakes are safe because there is no gluten in the blender, so go wild my friends.
What's my In-N-Out order, you ask? Double double, protein style, no special sauce, large fries, and a strawberry milkshake, please 🙂
Address: In-N-Out, 333 Jefferson St, San Francisco, CA 94133
Cafe de Casa
Cafe de Casa is a Brazilian cafe with three locations across San Francisco. I've eaten at their Fisherman's Wharf location (very convenient to HI Fisherman's Wharf, the trolley, and Ghiradelli Square). They are not dedicated gluten free, but they do have Brazilian tapioca crepes that are naturally gluten free and cooked on a dedicated grill (nothing else is safe).
The staff here was very knowledgeable about celiac and I felt understood. I ordered the guava jelly and cheese crepe and it was tasty. A little too much cheese, too early in the morning for me to be honest, so I'd go for the nutella and strawberry next time!
Address: Cafe de Casa, 2701 Leavenworth St, San Francisco, CA 94133 // 3985 17th St, San Francisco, CA 94114 // 1165 Airport Blvd, South San Francisco, CA 94080
Firefly Restaurant
Firefly Restaurant is a chef-driven Noe Valley restaurant that has been around for 28 years. It's not a 100% gluten free restaurant but nearly the entire menu can be made gluten free (including fried chicken and cornbread).
In fact, it's one of my greatest San Francisco regrets that I haven't gotten a chance to eat at Firefly yet. Please comment your thoughts below if you've been!
Address: Firefly, 4288 24th St, San Francisco, CA 94114
Nopalito
Nopalito is a Mexican restaurant that uses mostly organic and sustainable ingredients. You'll frequently find it on lists of the best Mexican restaurants in San Francisco, and the entire United States.
Nopalito was high on my list for my most recent trip to San Francisco because even though it is not dedicated gluten free, the staff is very knowledgeable about celiac disease and there were formerly plenty of gluten free options. However, I opted not to go because according to some recent reviews, the gluten free options have reduced. There is still a dedicated GF fryer for chips, but they do cook a flour tortilla on the grill – ask to prepare your meal in a separate pan – and anything with carnitas is unsafe as it's cooked in beer.
Overall, it just seems to have gotten a bit more complicated to order gluten free safely at Nopalito. While I'd still try it in most other cities, the truth is there are SO many other celiac safe options in San Francisco that I've prioritized those instead.
Address: Nopalito, 306 Broderick St, San Francisco, CA 94117 // Nopalito To-Go, 3690 18th Street, San Francisco, CA 94110
Greens Restaurant
Greens Restaurant is the oldest vegetarian restaurant in San Francisco, and it's got a beloved reputation because of that. It also has a gorgeous location overlooking the Bay in Fort Mason (just steps from where I recently stayed in San Francisco).
The menu is marked with gluten free and gluten free possible items, and the chef is very accommodating based on reviews.
Address: Greens Restaurant, Building A, 2 Marina Blvd, San Francisco, CA 94123
Peña Pachamama
Peña Pachamama is a vegan restaurant with lots of gluten free options. In fact, I have seen it reported as dedicated gluten free before, but that is not the case. There are two menu items (the empanadas and aji de fideo) that contain gluten. They serve a variety of Bolivian/South American style dishes including plantains, yuca fries, tacos, and more.
You can also see live dancing and music here after 8:30pm – great for those who are missing a bit of South America!
Address: Peña Pachamama, 1630 Powell St, San Francisco, CA 94133
Kuma Sushi + Sake
Kuma Sushi + Sake is a place to get gluten free sushi in San Francisco. They have gluten free tamari and other sauces, and the servers and chef are knowledgeable about taking you through the menu options.
Unfortunately, the tempura is not gluten free (sadly all sushi can't all be like Iki in Vancouver or Bamboo Sushi in Portland).
Address: Kuma Sushi + Sake, 1040 Polk St, San Francisco, CA 94109
Oriental Pearl Restaurant – CLOSED
I am so bummed to update this post and announce that Oriental Pearl Restaurant is now permanently closed (as of June 2023).
This is a huge loss for the gluten free community in San Francisco, as this was the only place to get safe gluten free dim sum. I will keep my eyes out for any news about reopening, or new gluten free dim sum restaurants in San Fancisco.
Where to Stay in San Francisco if You're Gluten Free
There are so many great neighborhoods to stay in San Francisco (refer to the gluten free SF map above for help).
My personal preference, especially for first time tourists, is the Fisherman's Wharf and Fort Mason area. Why? Here you have 1) close access to many gluten free restaurants, 2) close access to tourist activities, 3) gorgeous views of the water and close to nature.
HI Fisherman's Wharf – $40-120/night
I stayed at HI Fisherman's Wharf on my most recent trip to San Francisco and wow, it was perfect for a gluten free traveler. Keep in mind it is a hostel, but we had a private room (with views of Alcatraz!) and it is a calm, quiet place on National Park land.
There is a massive kitchen on site which is ideal for celiacs. It was also easy walking distance to gluten free restaurants including Asian Box, Greens, Cafe de Casa, In-N-Out, and the ferry to/from Sausalito. Also the slightly longer 45 minute walk to Mariposa Bakery along the water is stunning.
Oh, and for anyone else with a car – there is FREE parking. That's unheard of in San Francisco.
Other San Francisco Accommodation Options
Is hosteling not for you? I get it. (Although, give it a chance if you haven't. I am a big fan of hosteling – even as a couple, and even as I get older!). The next best option for celiacs in SF is a rental where you'll also have access to your own kitchen. I use VRBO a lot these days and recommend it to other travelers.
My favorite VRBOs in this area of San Francisco are: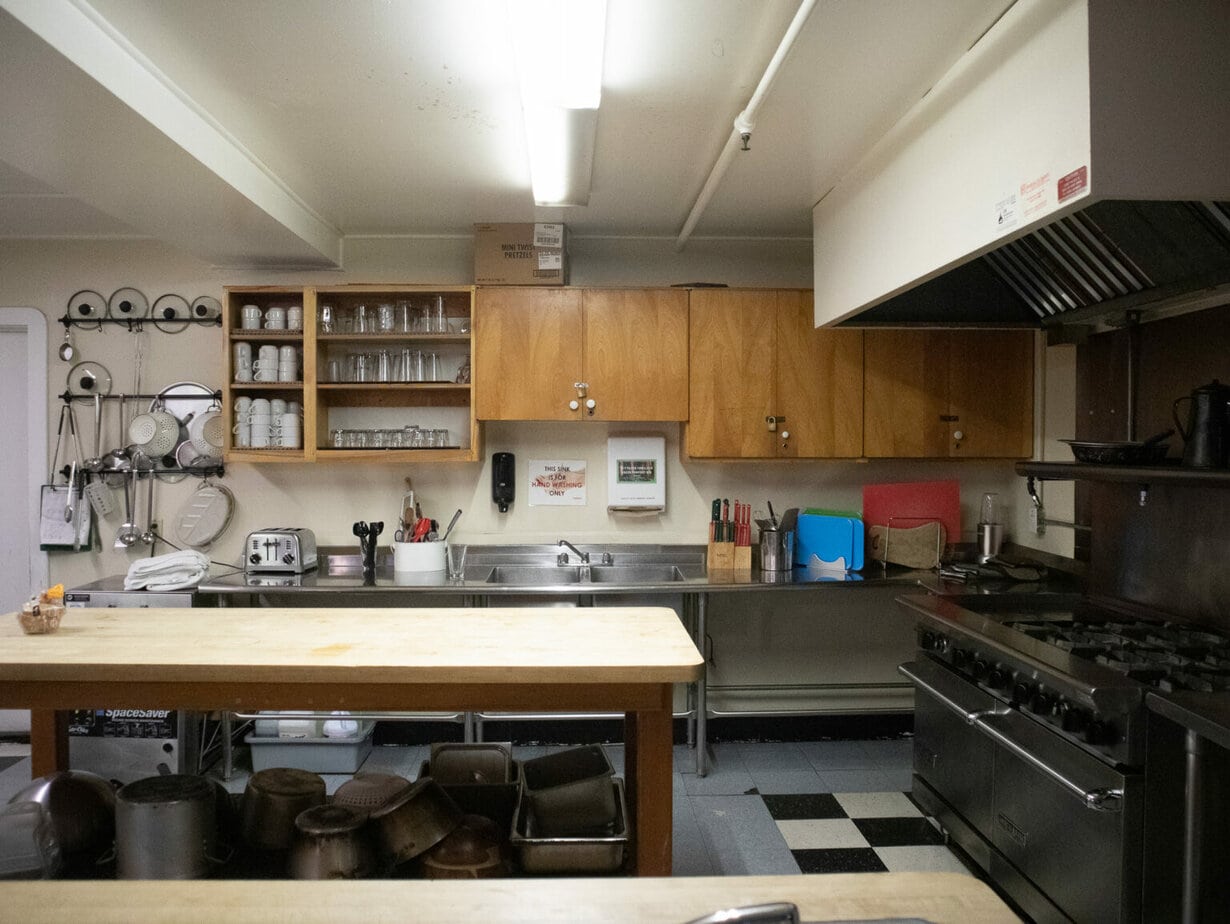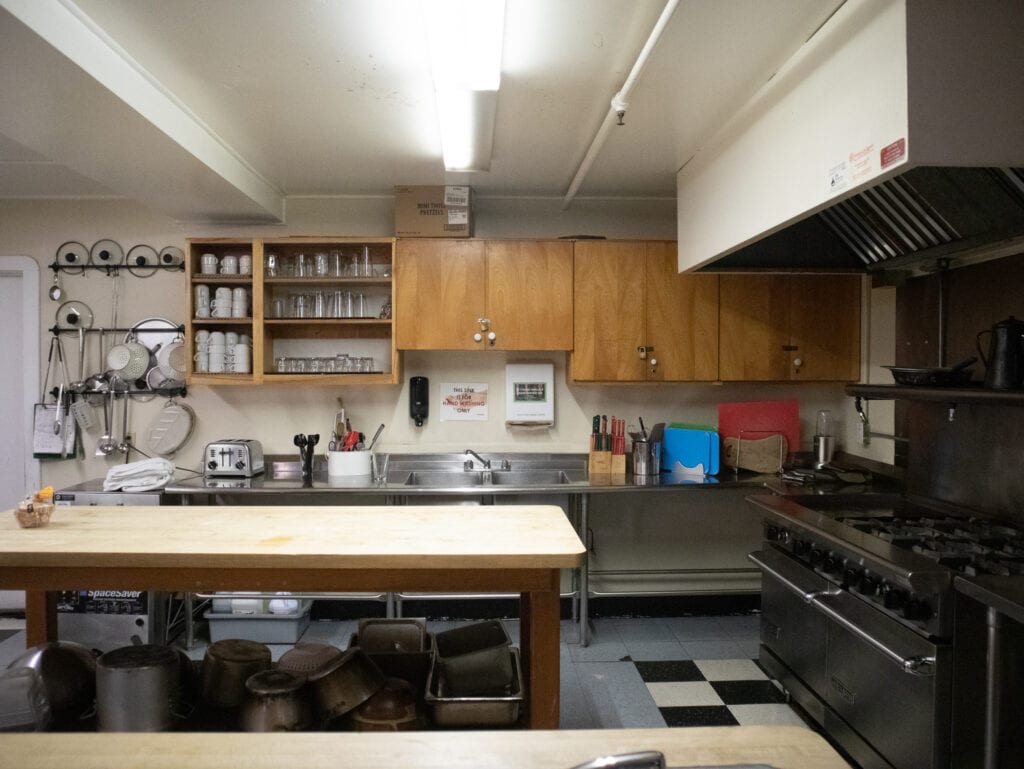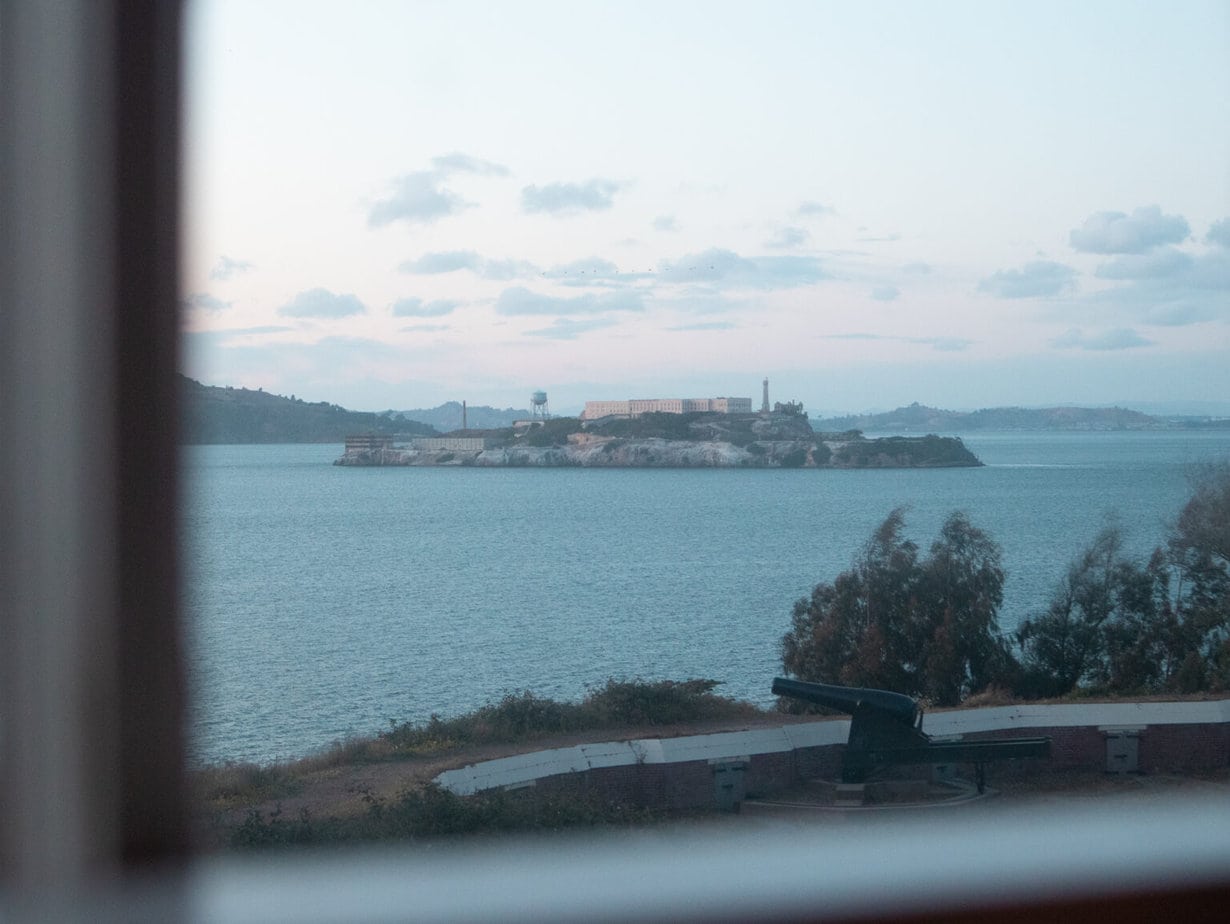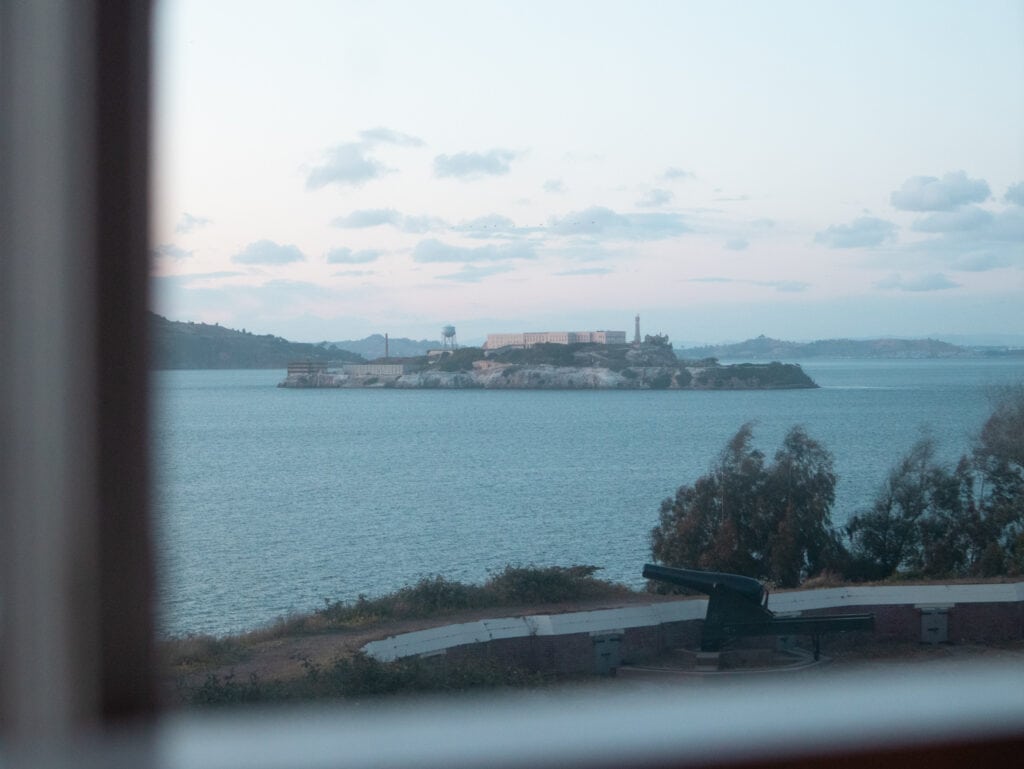 FAQ
Where to Get Gluten Free Dim Sum in San Francisco?
Sadly, Oriental Pearl Restaurant in China Town closed in June 2023. Formerly, this was the only place to get gluten free dim sum in San Francisco. Henry's Hunan and China Live also have gluten free menus, but no gluten free dumplings. I have not been to those two myself so cannot give a personal recommendation.
Where to Get Gluten Free Beer in San Francisco?
The best place to get gluten free beer near San Francisco is Buck Wild Brewing, a 100% gluten free brewery in nearby Oakland. If you can't make it out to Oakland, pick up Buck Wild Beer at Kitava in downtown SF. Also notable is Otherwise Brewing, San Francisco proper's first gluten free brewery (opened 2021). They do not have their own taproom yet but you can buy their beer at Firefly and these other places. Pica Pica also carries Groundbreaker Brewing gluten free beer.
Where to Eat Gluten Free in the San Francisco Airport (SFO)?
The best place to eat gluten free in the San Francisco Airport is Asian Box, a 100% gluten free restaurant located in terminal G. Ladle & Leaf, in terminal 3 (United Airlines), has gluten free clam chowder and salads. Amy's Drive Thru, in terminal 1B, has gluten free mac and cheese and burgers.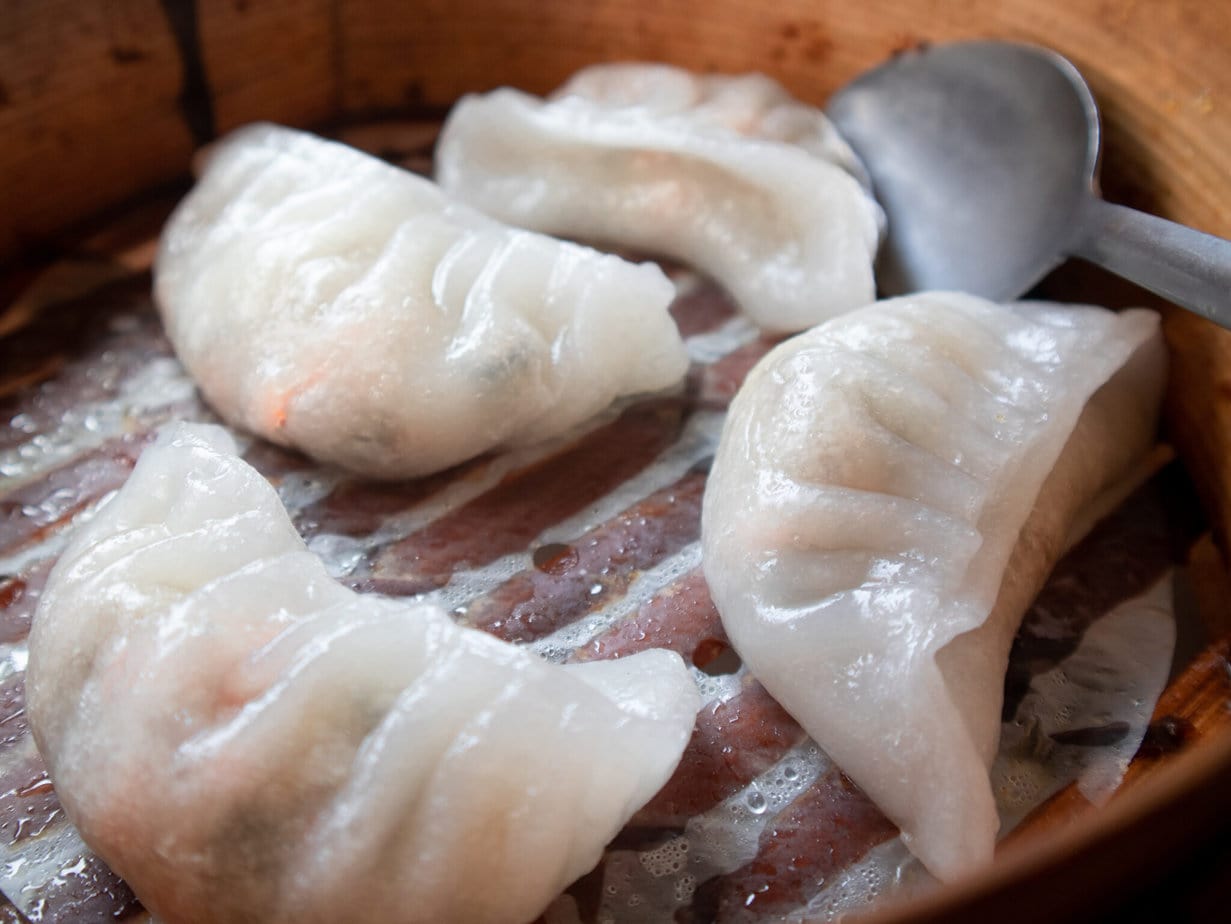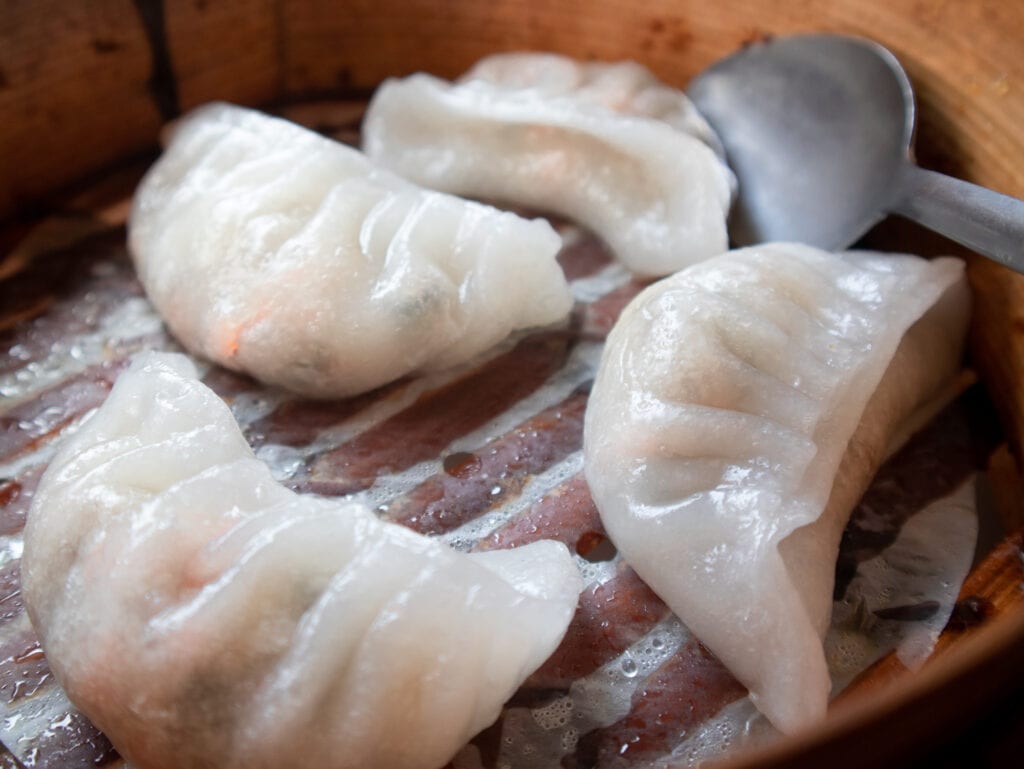 Gluten Free San Francisco Itinerary Example
I know it's really overwhelming to research gluten free options in a new city, whilst simultaneously trying to plan a fun visit. Below is a very brief itinerary for gluten free travelers in San Francisco.
This is based on my own personal preferences (walking, nature, good views) so take from it what you will!
4-5 Day Gluten Free SF Itinerary
Day 1
Check into your San Francisco accommodation. For dinner, dine in at Firefly. Alternatively, get takeout from Asian Box or Moon Bowls and watch an epic sunset at Twin Peaks.
Day 2
Walk along the waterfront to the Ferry Plaza Farmer's Market (Saturdays only). While there, get breakfast at Mariposa Baking. Then, explore China Town. In the evening, explore Ghiradelli Square and Fisherman's Wharf (see the sea lions and play a few games at Musee Mecanique) and get dinner at In-N-Out.
Day 3
Urban hiking/Golden Gate Bridge views day! Take a bus to Game Parlour for brunch (they open at 11). Then, walk through Golden Gate Park, to Sutro Baths, Land's End Trail, Baker Beach, and Presidio. Walk across the Golden Gate Bridge. Here, take a bus to Sausalito for well-deserved dinner at Copita. Sunset ferry back to Fisherman's Wharf.
Day 4
Breakfast crepes at Cafe de Casa. Board the historic trolley at Powell/Mason and ride the whole way. Explore Union Square, Nob Hill, and Japan Town. Lunch at either Kuma Sushi + Sake or Crown & Crumpet Tea Salon. Go see the Painted Ladies (maybe a snack at Wholesome Bakery) and walk along Haight Street. Dinner at Pica Pica.
Day 5
Bonus day! You could spend today 1) at a Giant's Game (eating a hotdog and flatbread at The Hearth in Oracle Park), 2) drive north of SF to Mill Valley for brunch at Flour Craft and nearby hiking, or 3) explore Oakland with brunch at Mariposa and lunch/dinner at Buck Wild Brewing.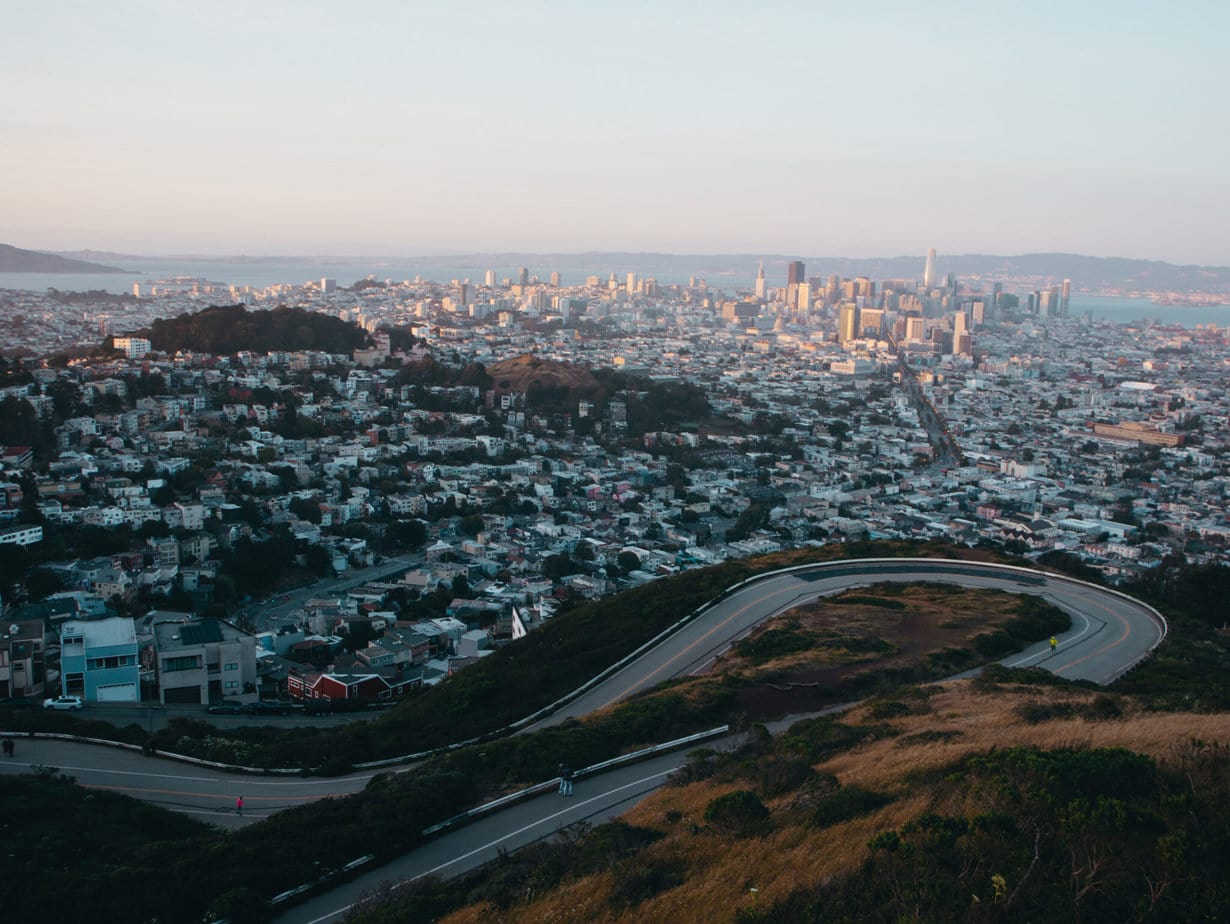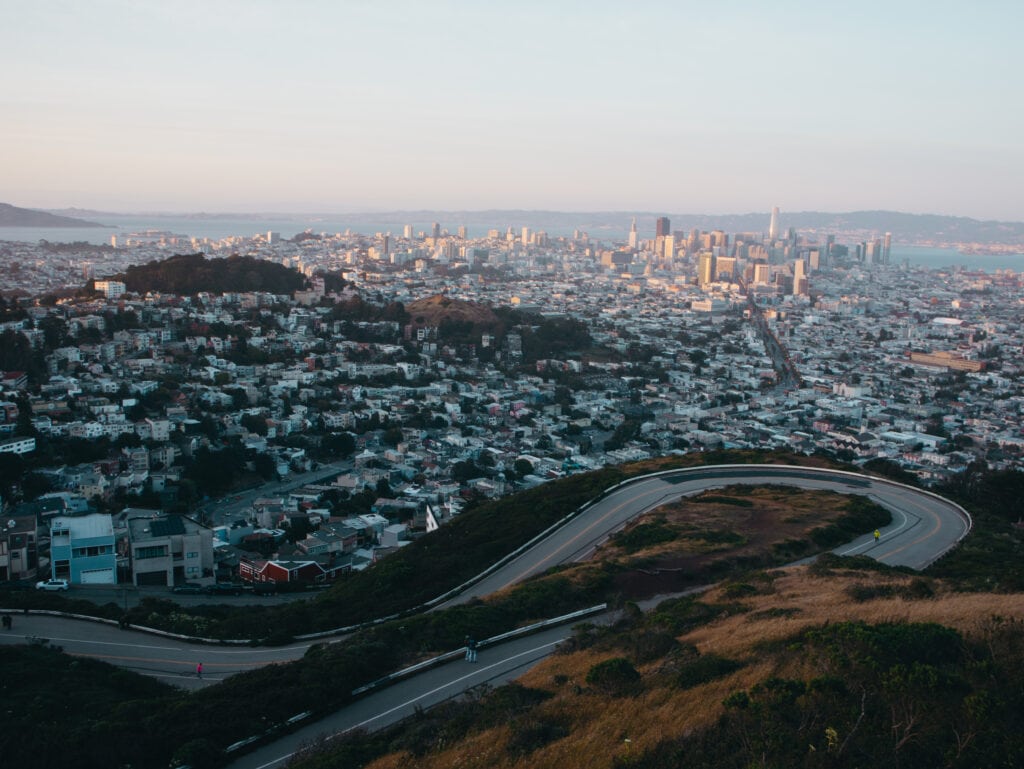 Phew! That gluten free San Francisco guide was packed with information and tips. I hope you find it useful. Please let me know in the comments below if you have any other advice of your own, or any questions for me. I am always happy to help!
Most of all, I hope you love San Francisco. I mentioned before that I was born here, and although I didn't live here very long as a child, it is forever a place I have and will return to over the years. It is a city that's had its struggles like any other city, and is still absolutely worth a visit. Once you've seen San Francisco, you'll never forget it!
Portland Oregon Gluten Free Guide
Cannon Beach Gluten Free Guide