Hi friends! I know I'm a bit late, but here's my recap of December 2022 – a month full of tropical Nicaraguan travels and my first ever Christmas with my fiance, Dan!
As usual, just scroll on down if you're curious about how the blog income + travel budget stacked up in December.
Where was I in December?
Countries: Costa Rica and Nicaragua
Cities: La Fortuna, Costa Rica; San Juan del Sur, Popoyo, Ometepe Island, Granada, Laguna Apoyo, Big Corn Island, Little Corn Island, Bluefields, Pearl Lagoon, Nicaragua
Flights: 2
Days on the road: All of them, as per usual 🙂
December on the blog…
I managed to push out some exciting blog posts in December, including the big reveal that Dan and I have been engaged since May! You can check out our proposal story below, as well as my other December blog posts.
Here's what's new on the blog:
December adventured like…
Dan's birthday was on December 1. We celebrated with a crazy zipline course, whitewater tubing, and rappelling down a cliff in Costa Rica.
We began the month with lots of beach days on the Nicaraguan coast. After a long border crossing day from Costa Rica, Dan and I chilled on the Nicaraguan beaches for a week or so. We spent a few days in party-centric San Juan del Sur, before moving on to slow, sleepy, surf-centric Popoyo (more our scene, for sure).
From there, we made a quick trip to the volcanic Isla de Ometepe. After Popoyo, we traveled to the backpacker-famous Isla de Ometepe – a figure-of-eight volcanic island in Lake Nicaragua. We ended up cutting our stay there short because you basically can't see the island without a pair of wheels. Not feeling safe on mopeds with the bumpy roads, we opted for an ATV. At $55/day it was ~not in the budget~ so we had a whirlwind day touring the island before we yeeted.
Then we spent a perfect week in Granada. The gritty and colorful colonial city of Granada was like a breath of proverbial fresh air (I'd describe the literal air as more sweltering than fresh). We made friends with our Airbnb host, spent a couple days in her coworking space, took a cooking class, saw the magma of an active volcano at sunset, ate lots of street food, watched the entire season 1 of Wednesday, and in general had a chilled out and wonderful time.
After Granada we had a rather strange four days in Laguna de Apoyo. Ahh, things couldn't remain that great forever, could they? After Granada we had four days in the beautiful Laguna de Apoyo, but spent most of it extremely uncomfortable in a tiny, overpriced, and underventilated Airbnb room that we happened to share with three Scorpion roommates. The only plus was that the resident dogs were super cute and one of them enjoyed playing catch in the lake with us.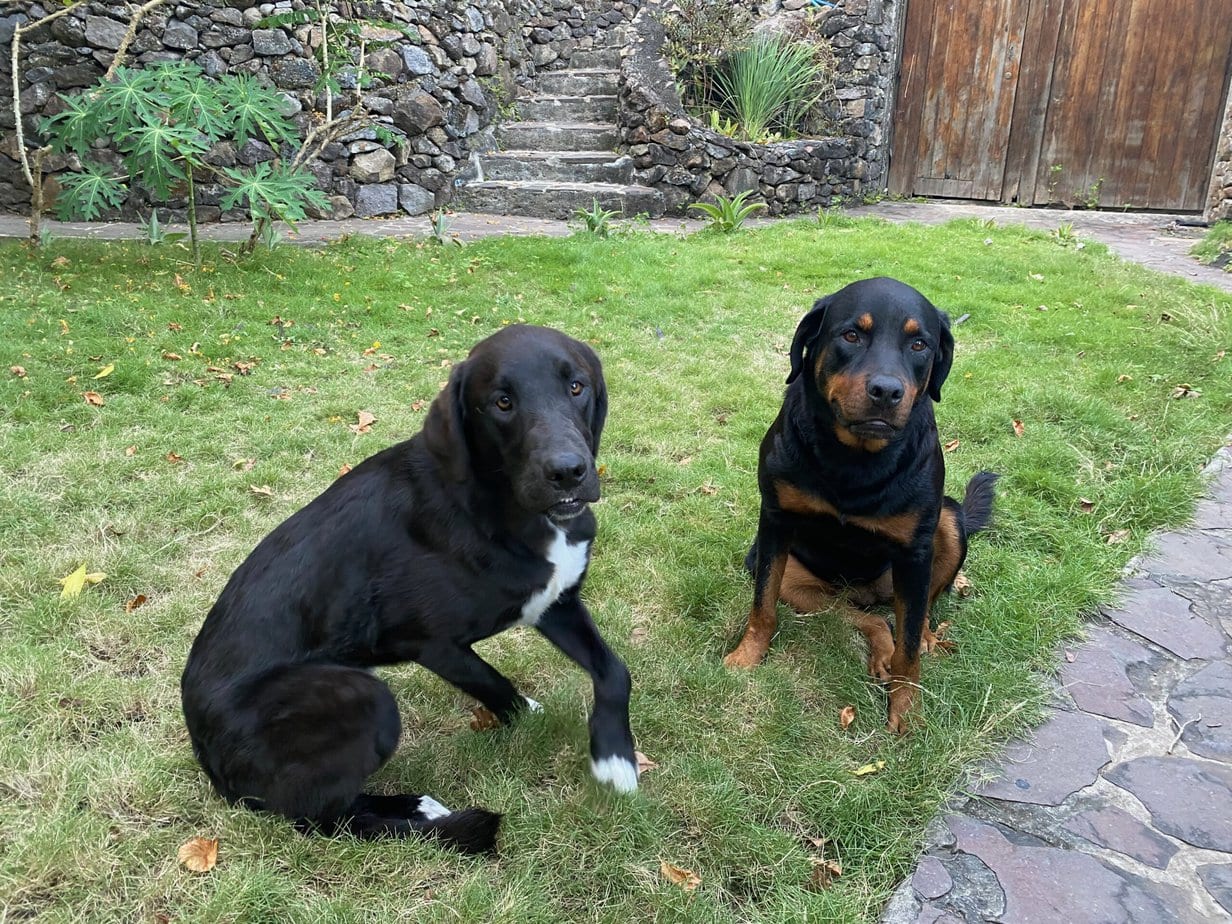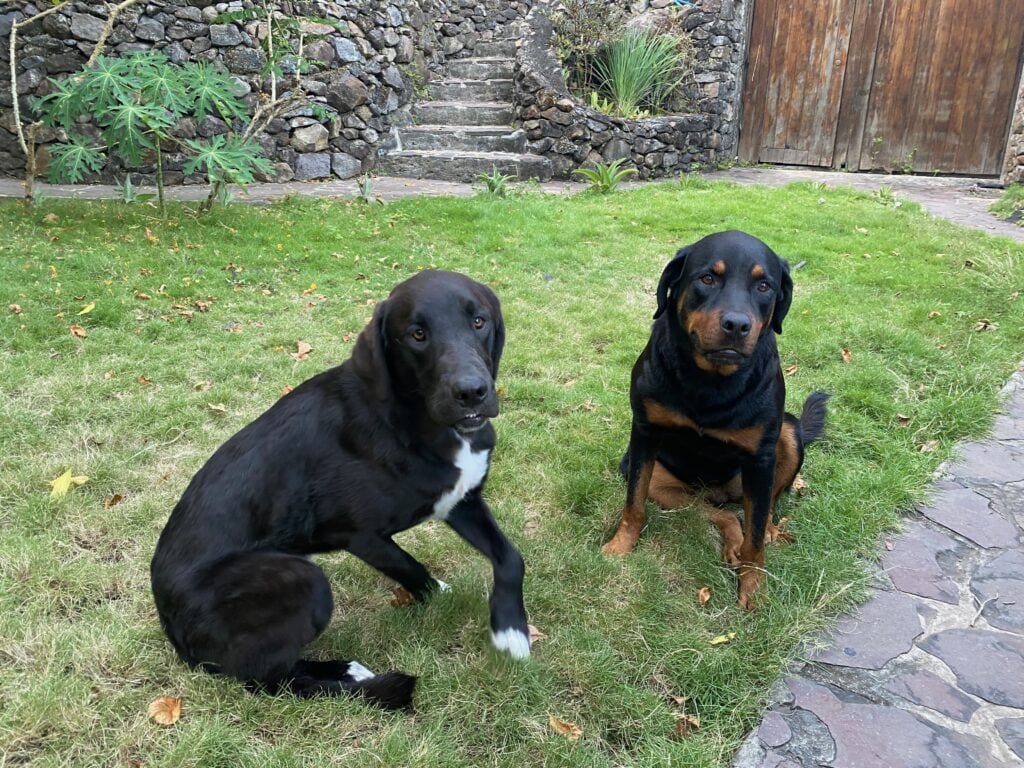 We ended the month with Christmas spent on Big and Little Corn Islands. After that, we took a miniscule 12-person plane to the Corn Islands – a splurge of the trip that we saved up as our Christmas present for each other. I have mixed feelings on the Corn Islands. In part, I think having super high expectations almost set us up for failure. We'd seen stunning photos of the islands only to be met with a community that was hit by the hurricane this fall that had dredged the beaches of their sand, replaced them with plastic pollution and broken plant matter, and muddied the waters so snorkeling was impossible. Still, it was a very cool, remote, tropical experience, and you can't complain much about that!
Dan and I celebrated our first Christmas together… with lobster! Our days on Little Corn Island coincided with Christmas and it was a very funny first Christmas to spend together in our 10 years of dating. We had a massive home-cooked breakfast at our Airbnb cottage, then had a Christmas lunch of pina coladas and lobster at a nearby bar, alongside the Canadian couple who met at our Airbnb property!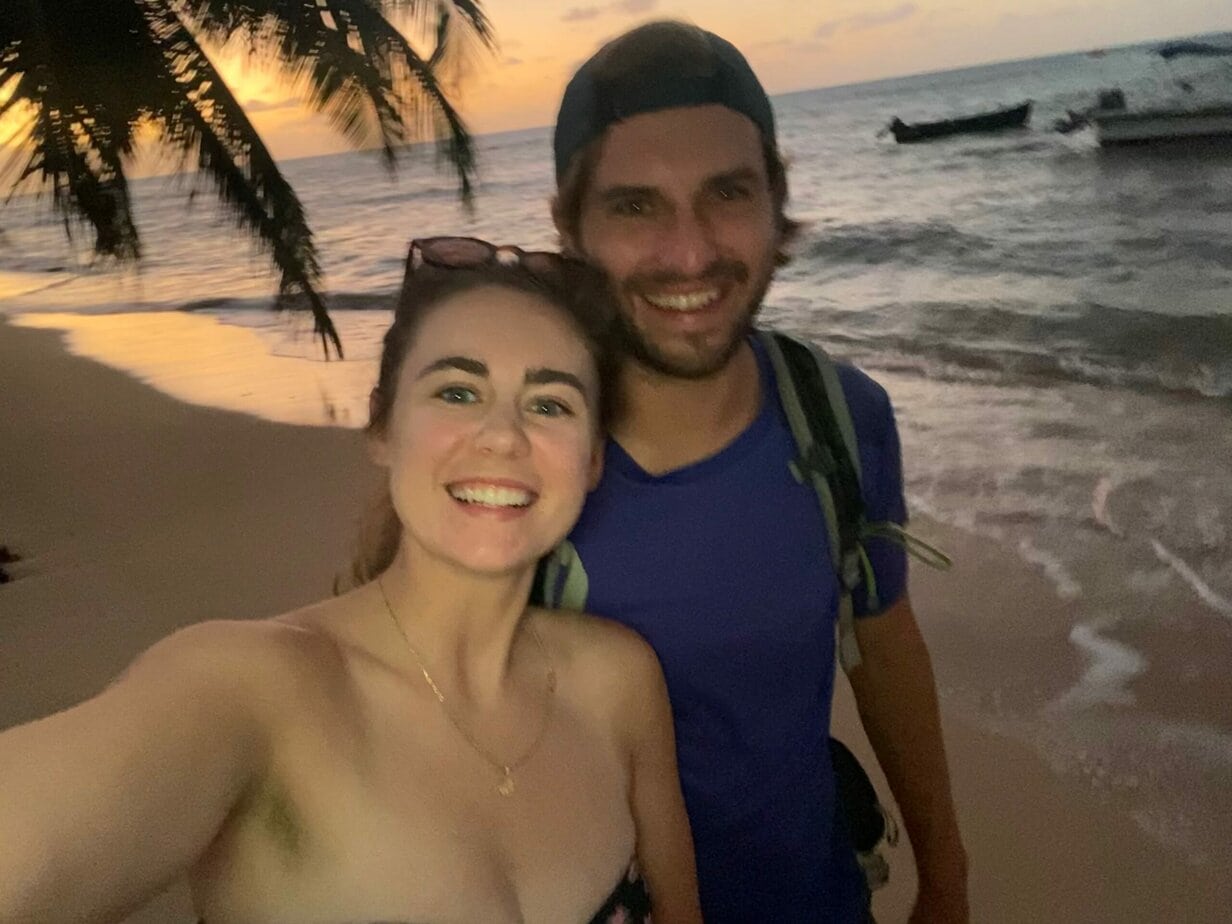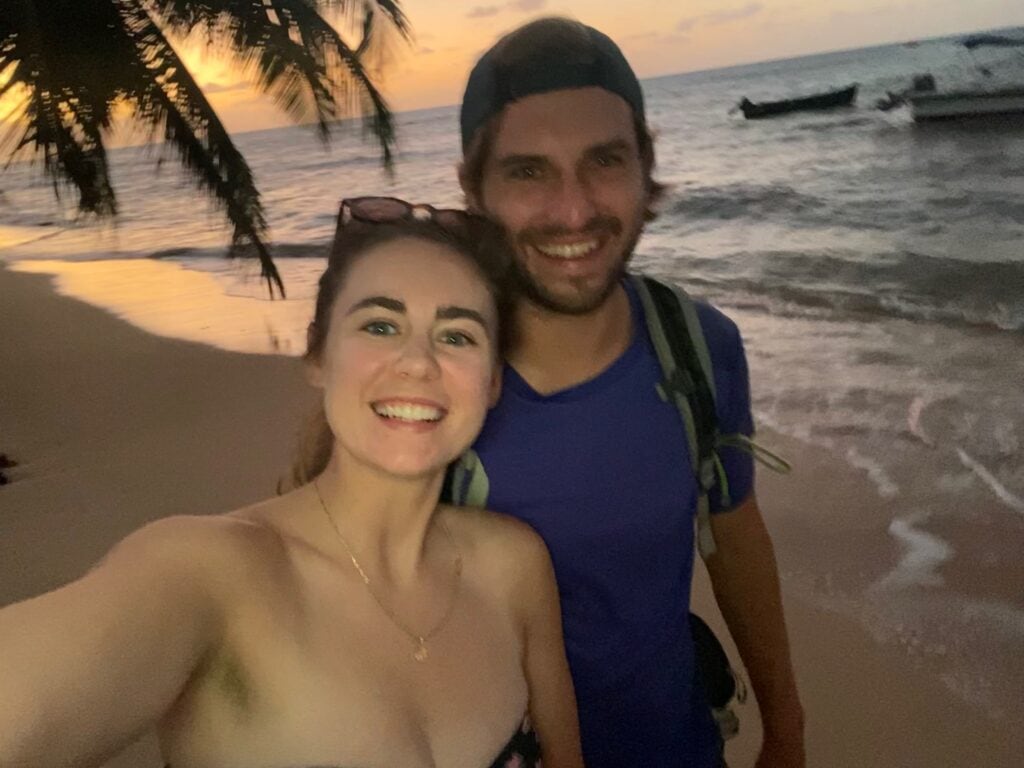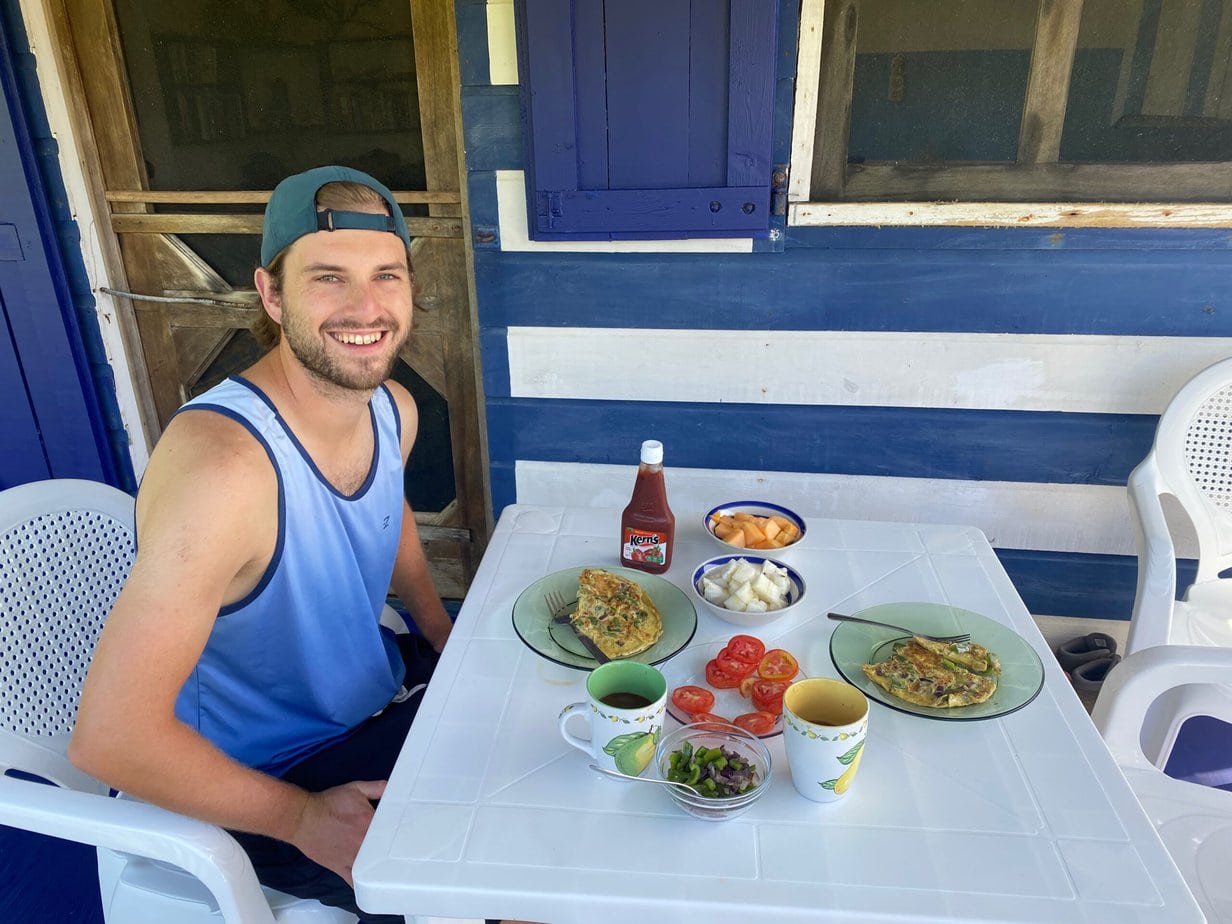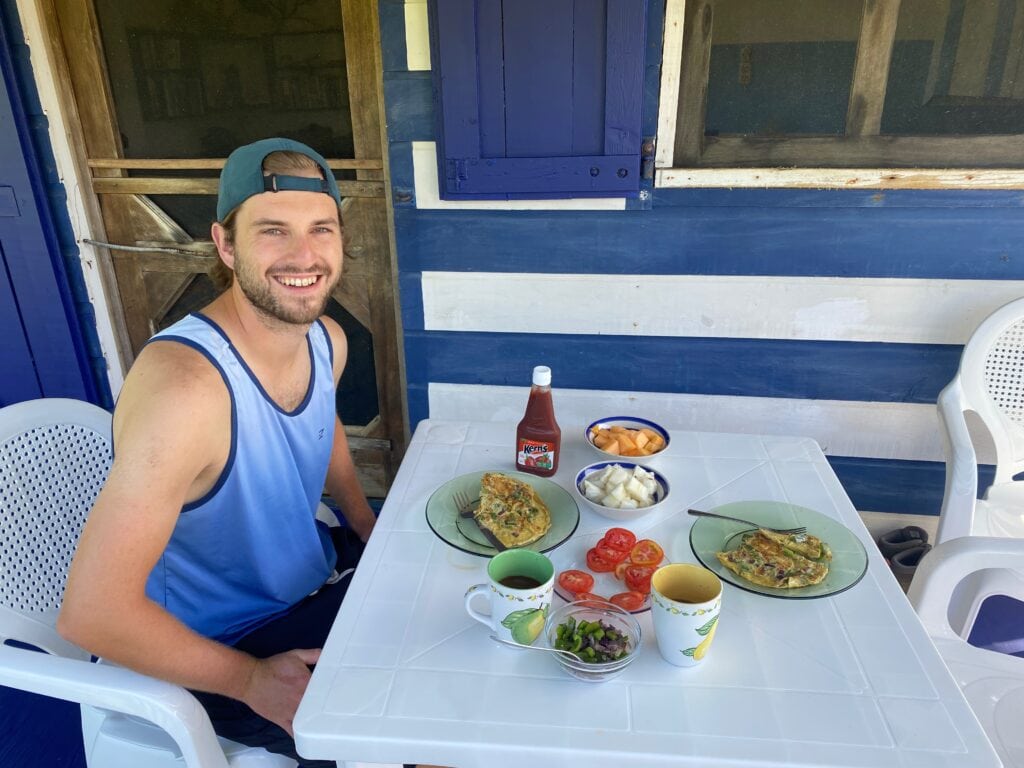 We shared our engagement news! In December, I hit publish on a blog post all about how Dan proposed to me at Cannon Beach in Oregon this May. Thanks for all your sweet comments there and on my Instagram post. I talk a bit in the blog post about why we waited to share the news online. It's been a super peaceful, private engagement so far… but I'm also Very Basic and looking forward to blogging all about the wedding planning process 😉 Our venue is already booked!!
Making plans for the new year. I'm pretty notorious for not knowing where exactly I'll end up within the next 365 days (despite definitely being Type A… Idk why I'm like this either y'all, it's stressful LMAO). I think our friends and family were getting quietly concerned about what the heck our plans were for the next year, so Dan and I spent some time around Christmas sorting out ideas. You can read more about our rough plan in my 2023 travel plans blog post!
December travel budget breakdown…
As a reminder, our travel budget is $1,500 per month per person, or roughly $50/day. I was under budget in July, August, and September, but over budget in October (+$279) and November (+$388).
Welllllll, my live-in accountant Daniel has officially crunched the numbers and… I was over budget again in December!
Honestly, I'm going to blame this one on Dan (LOL). I splashed out a bit on the zipline/tubing/rappelling adventure on his birthday, and if we take that out of the equation then I'm significantly closer to being on-budget.
Additionally, we booked a last-minute flight in December back from the Corn Islands, mostly because we chickened out about taking a 6-hour ferry on rough seas. The difference was about $60.
Basically what I'm saying is that if I wasn't so damn boujie then I'd be in the budget. But uhhh… I am boujie, and that's kinda the problem haha.
Here's a breakdown of my December travel expenses:
Accommodation: $528.44
Travel: $399.22
Activities: $256.57
Food: $479.66
Miscellaneous: $74.07
Total: $1,737.95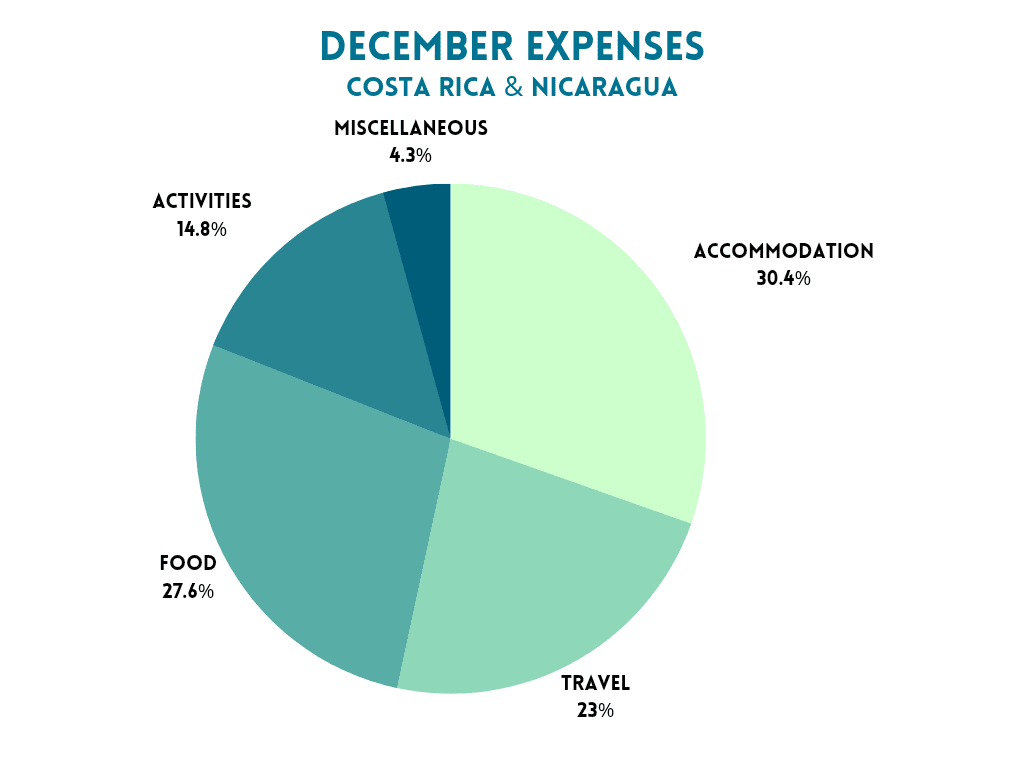 December blogging income report and update…
Blog views were ever-so-slightly up in December compared to November, however still generally low because it's the "off-season" for travel.
Sessions: 64,696
Pageviews: 75,399
December 2022 blogging income
In December, my blogging income remained down for a few reasons, all of which are a bummer.
First, my main freelance client slashed their budget so I've only been writing two articles a month instead of four. I'm honestly okay with that as it's given me more time to focus on the blog.
Second (and this is a bit of technical-talk, if you're into that), advertising RPM's for blogging are waaaaaaay, way, way down. Q4 (October-December) is supposed to be the highest earning time of year, and bloggers were all hoping that would make up for the rest of a dismal 2022.
However, Q4 RPM's remained the lowest they've been in a long time – supposedly due to inflation, worldwide crises, looming recessions, impending advertising law changes, you get the idea.
The result is that what was supposed to be the highest earning time of year remained pretty stagnant with previous months. For me, it's fine. I saved up money to travel the world so right now my blogging income is just helping me break even + save for our wedding and general life, which is more than I could've hoped for. For other creators, however, it's devastating.
It does make me consider whether blogging full-time is a viable career after we're done traveling longterm or not. Personally, I still think it is, but it does make motivation challenging when you're not seeing the rewards (yet)!
Here's how my income broke down in December:
Advertising: $1,666.86
Freelance Writing: $725
Affiliates: $107.24
Total: $2,499.10
Note: This is my gross income, before expenses and taxes.
Upcoming in January 2023…
Well, I'm writing this from (already!) halfway through January, so I can give you some spoilers. After beginning the month along the Nicaraguan Caribbean coast, I'm now in El Salvador having the most incredible time.
In fact, I made an off-the-cuff Instagram reel about El Salvador earlier today and it seems to be really popular! You can get a sneak peek there into what we've been up to.
Also, being a new year and all, I'm trying out some low-key resolutions like drinking more water, waking up earlier, reminding myself to have better posture, backing up and editing my photos more promptly, blogging more consistently, and overall taking more advantage of the freedom and time I have right now while we're traveling longterm and not working traditional jobs!
So… how did you all spend December, and what are you looking forward to in January?!