I legitimately LOVE Octobers. The feeling of fall, impending Halloween (and my birthday!), and general spookiness. I can't say I felt "autumnal" at all this year as I spent it traveling in tropical Colombia! Still, October still managed to be my FAVORITE month of travel yet!
I recently posted this Instagram reel sharing one second a day from October. Let's just say, Colombia is freakin' stunning. What a backdrop for this October!
Below, I'm sharing my full monthly recap full of everywhere I traveled this month, my travel expenses, and my blogging income report. Let's get to it!
Where was I in October?
Countries: Colombia
Cities: Salento, Jardin, Medellin, Guatape, Santa Marta, Minca, Cartagena, and Providencia, Colombia.
Flights: 5
Days on the road: All of them 🙂
October on the blog…
Well, I mentioned last month that I set myself a lofty goal to write 8 blog posts in October. I didn't quite meet that. I was sabotaged by poor to non-existent wifi during the last 10 days of October!
Otherwise, I was on track and I hope to write more in November (although we'll also be wifi-less for six days in November… more on that in a bit!).
Here's what's new on the blog:
October adventured like…
We started the month in Salento, the heart of Colombia's coffee region. We both fell in love with Salento (I wrote about it in last month's recap, too) and extended a few days here for amazing hikes, coffee, and more.
Then we spent time in Jardin, a quieter and less-touristy town in the coffee region. Highlights of Jardin were a muddy hike to a waterfall INSIDE a cave, the cute older couple who owned our very cheap hostal in Jardin, and the discovery of the most delicious and wonderful trout restaurant overlooking a valley (we came back three times… for the super friendly staff who prepared me gluten free dishes, fed us copious limonada de cocos, and walked us home in the rain among other feats).
Next, we spent an expensive week in Medellin full of laptop work and tours. Unfortunately, our week in Medellin coincided with the school holidays so accommodation was pricy, but we managed to find this good Airbnb that I'd highly recommend (still above our goal budget, though). We smashed out some laptop work (although not as much as we'd hoped for), did a city tour, a fruit market tour, and a day trip to colorful Guatape. I liked Medellin but it did confirm for me that I'm not really a city person. Even in the nicest cities, I still feel a bit on-edge.
Our next stop was a hike into Parque Tayrona for two days of… crowds and chaos. The hike into the national park was INCREDIBLY muddy and crowded. The gorgeous beaches were swarming with people. The single restaurant refused to adjust any of their food (I couldn't even get a side of plain rice – everything else contained gluten). We were starving, the bathrooms were nasty AF, and our whimsical accommodation of open-air hammocks atop a rock over the ocean included a 5am wakeup call of literally 30+ LOUD instagrammers posing in front of the sunrise on said (small) rock. Can you tell Parque Tayrona was a bit of a letdown?! Lol. It was still undoubtedly stunning but not my fave travel experience. Definitely… memorable, though.
Then, we spent a relaxing few days (kinda trapped) at a farm near Minca. I found Finca La Frecuencia randomly on Google Maps, and it ended up being our favorite accommodation of the entire trip! This is a farm deep in the nature surrounding the small town of Minca. We had to pay a lot of money to reach it by 4×4 because the road was INSANE and nothing else can handle it. That was a surprise, and meant we were basically trapped at the farm for our entire four day stay. Luckily, they were able to prepare the most DELICIOUS fully gluten free meals, all made from food grown on their farm. There was no reason to leave! It was heaven, and at $34/night, I couldn't recommend it more highly. You MUST stay here if you visit Colombia! (Full blog post review coming…)
We headed to Cartagena for my birthday! Our five days in Cartagena was a colorful assault on the senses and definitely a step up in the tourist + expense category (there are direct flights to the USA and it's a cruise port, so it's a bit more spenny). I celebrated my birthday on October 25 and although it was a bit bittersweet not to be with my family (and not to have a cake, LOL), it was also so nice to celebrate it with Dan for the first time in many years! We got cappuccinos, then spent the day chilling at a beach club, and then topped it off with a sushi dinner (gifted by Dan's family, thank you!!) and a call to my parents! Dan also hid little notes to me everywhere and it took me days to find them all!
Saving the best for last, we took two flights to literal paradise: Providencia! If you've seen my Instagram stories lately, then you've seen how unbelievably beautiful the remote Caribbean (yet still technically Colombian) island of Providencia is. I truly didn't imagine places like this still exist: nearly untouched by tourism, crystal clear waters, empty white-sand beaches, vibrant sunsets, locals that welcome you with open arms, I could go on. We spent the most truly magical few days here – a highlight being a run-in with a fisherman named Farle on a secluded beach which turned into two days of touring (with a lovely Italian/Spanish couple we met on the same beach), snorkeling out in the sea, boat trips to private beaches, a fish dinner at Farle's friend's house, a day artisanal fishing in his boat, and a lobster and red snapper BBQ on a beach just for us. I can't quite believe it was real!
I've been dealing with anxiety and overcoming (or not overcoming) fears. Of course, I also want to keep it real in these monthly recaps beyond just a recap of where we went and what we did. The truth is this longterm travel may seem "brave" or "risk taking" from the outside, but lately I've also been grappling with my anxiety. I've had some level of social and generalized anxiety my whole life, which may not be very apparent from the outside as it's been well managed for quite a few years, but recently I keep coming face to face with it. Everything seems to scare me lately: mopeds, car rides on cliffs, walking down crowded streets, walking around at night, stray dogs, snorkeling in deep water, small boats, and more. Things that don't seem to bother anyone else around me, yet I spend the entire time white knuckling. There are some activities on our travels that I regret not doing due to my anxiety; there are other activities that I did despite my anxiety and spent terrified the entire time and therefore regret doing them, too! I don't really have an answer but I wanted to share this for anyone else who might be experiencing something similar, or anyone who wants a glimpse beyond the travel highlight reel.
October travel budget breakdown…
As a reminder, I'm trying to spend $1,500 per month or roughly $50/day on this round the world trip. The last three months I've been under budget! This month was a little different.
Both Dan and I went over budget for the first time, which is a little surprising because Colombia's definitely the cheapest country we've been to yet overall.
However, we've really been living it up. We took five flights and splurged on some taxis instead of long bus journeys, and stayed in some (relatively) expensive accommodation in Medellin and Providencia (due to school holidays here in Colombia and… islands just being more expensive).
Also, it was my birthday so you'll see the miscellaneous category is a wee bit higher than usual. I bought myself some pretty sun dresses haha. Dan spent about the same as me for the same reasons (minus the pretty dresses – although he did buy us a night at a 100% GF hotel in Costa Rica for my belated birthday present!).
Here's a breakdown of my October travel expenses:
Accommodation: $567.63
Travel: $361.52
Activities: $195.92
Food: $440.25
Miscellaneous: $214.59
Total: $1,779.91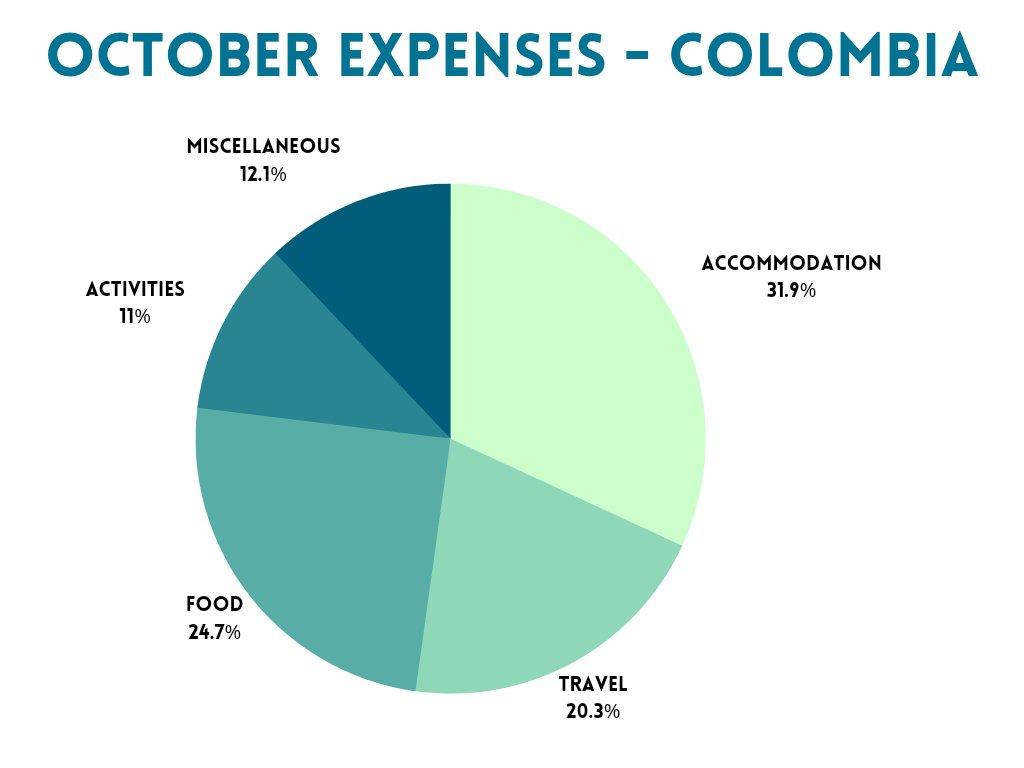 October blogging income report and update…
Well, the October slump sure arrived. Traffic was down roughly 20% on the blog, mostly because the summer travel season is over. I believe it was exaggerated this year because of inflation and everything going on with global currency! Based on chatter in blogger Facebook groups, I'm not the only one experiencing this.
Still – I'm pretty happy just chugging away on the blog behind the scenes. I'm just hoping it pays off in a year or so when, ideally, the economy recovers (maybe??? Any economists want to chime in?). Luckily our cost of living is quite low while traveling so none of this is affecting me too much – yet!
Sessions: 61,225
Pageviews: 72,537
October 2022 blogging income
Income dropped this month due to less freelance writing work. It was a conscious choice, though, as I'm trying to devote more time to writing on the blog – which I hope pays off in the future!
Here's how my income broke down in October:
Advertising: $1,488.81
Freelance Writing: $1,200
Affiliates: $198.47
Total: $2,887.28
Note: This is my gross income, before expenses and taxes.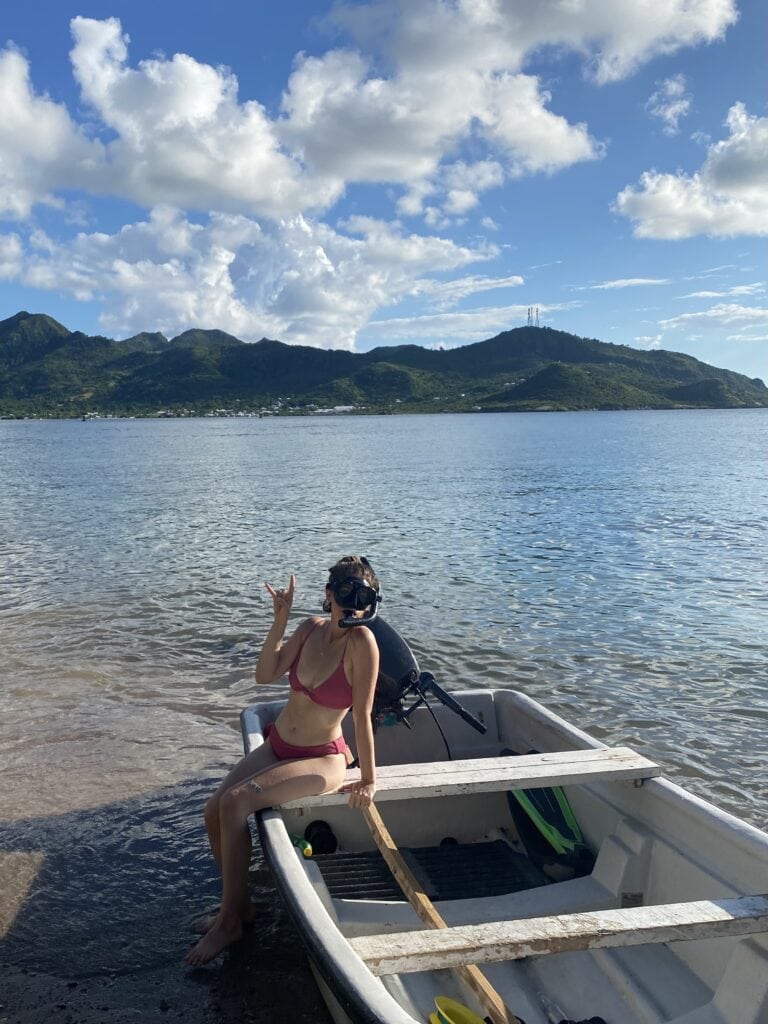 Upcoming in November…
I'm writing this from a cafe in Cartagena. The plan was to leave Colombia on November 1, but as we all know, not everything goes according to plan… The sailboat we were supposed to take to Panama broke down the night before our trip, and the trip was canceled!! (As Dan and my parents said, better it broke down before our trip than during…). We've rebooked to a different departure date, which means a few more days in Cartagena and a few less days in Panama than originally planned.
Other travel plans in November, beyond (hopefully) the 5-day sailing trip, include some time in Panama, then meeting my parents in Costa Rica for 10 days including Thanksgiving all together! I'm so excited to see them. By the end of November, we may even be in Nicaragua. All while trying to meet my freelance deadlines and blog at the same time, phew. It's going to be a packed month!
What are you all up to in November? Any fun plans for the upcoming holidays? Any blog posts you want me to write sooner rather than later? I want to hear it all in the comments!