Hey friends! I can't believe we are halfway through December and I'm just getting around to posting this recap of November. That always seems to happen this time of year!
Last month was one of our most jam-packed yet on our longterm travel adventures through Latin America. Here's a quick recap of the month that was.
IMPORTANT QUESTION FOR YOU READERS | I've been writing monthly recaps nearly every month since I started blogging in 2015. Mostly I do them for myself but they are also quite a bit of work to write up. I'm considering moving them to my email newsletter instead of publishing here. Another option is publishing them quarterly instead of monthly. If you've been reading for a while and have any opinion on the future of these recaps, I'd greatly appreciate a comment below with your preference!
Where was I in November?
Countries: Panama, Costa Rica
Cities: San Blas Islands, Panama City, Boquete, Panama; Dominical, Manuel Antonio, Monteverde, La Fortuna, Costa Rica
Flights: 0
Days on the road: All of them! 🙂
November on the blog…
Blogging definitely got away from me in November and I only published a few posts (and updated an old one).
Here's what's new on the blog: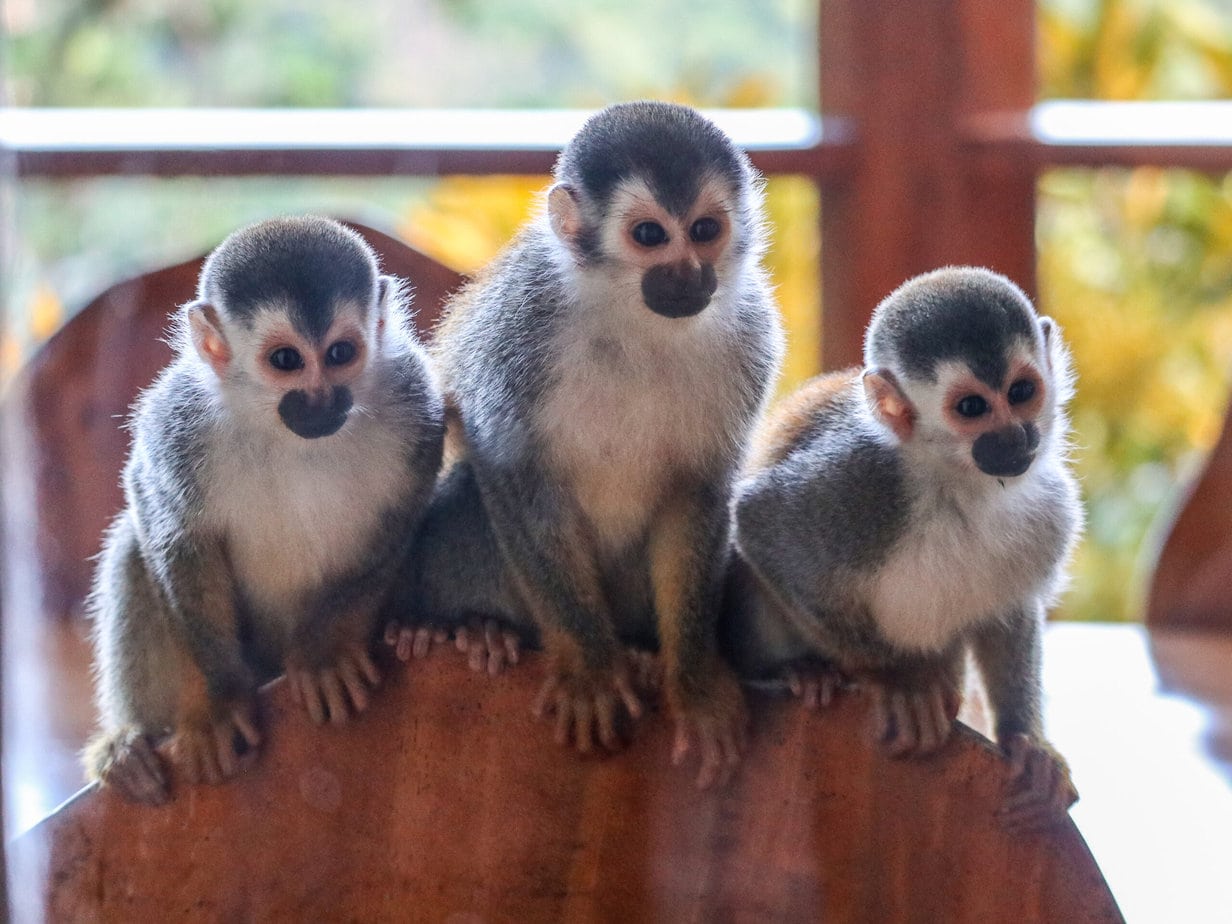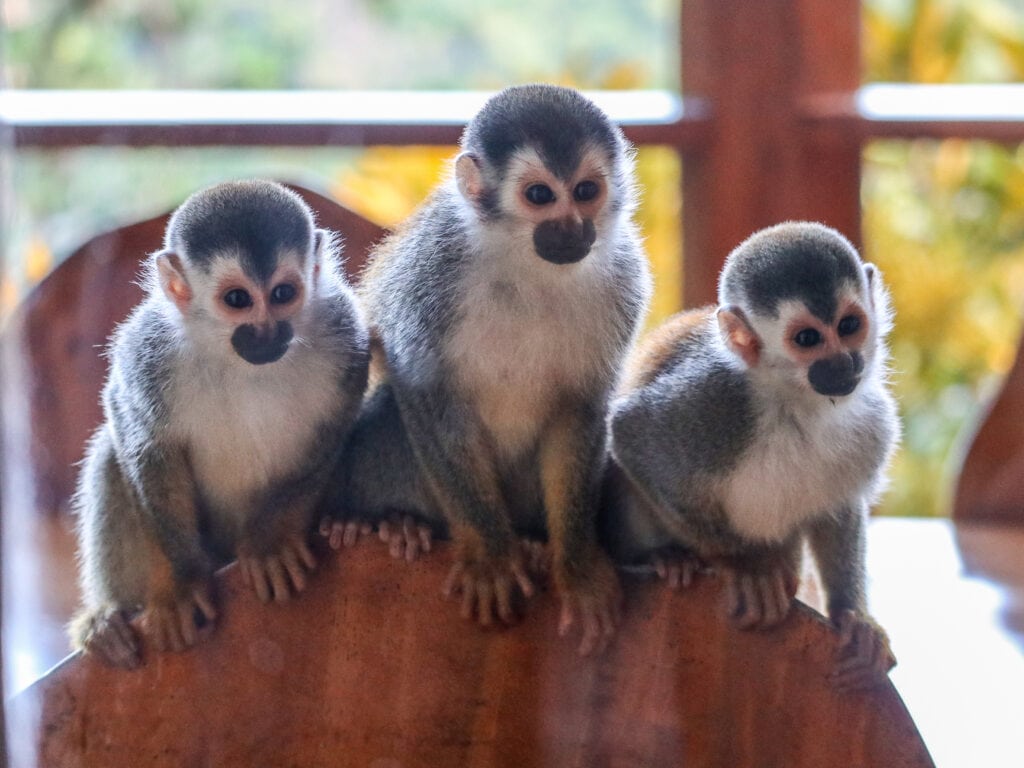 November adventured like…
We sailed from Colombia to Panama via an epic 5 day sailing trip through the San Blas Islands. Living on a sailboat with a bunch of strangers was certainly an adventure of a lifetime (and definitely not in the travel budget) but I'm so glad we did it. We made some great friends, played a lot of cards, survived a 40 hour ocean crossing without barfing (thanks dramamine), snorkeled, ate lobster, and had a blast. The actual islands were kind of a disappointment as we had HORRIBLE weather, but the boat trip itself was awesome.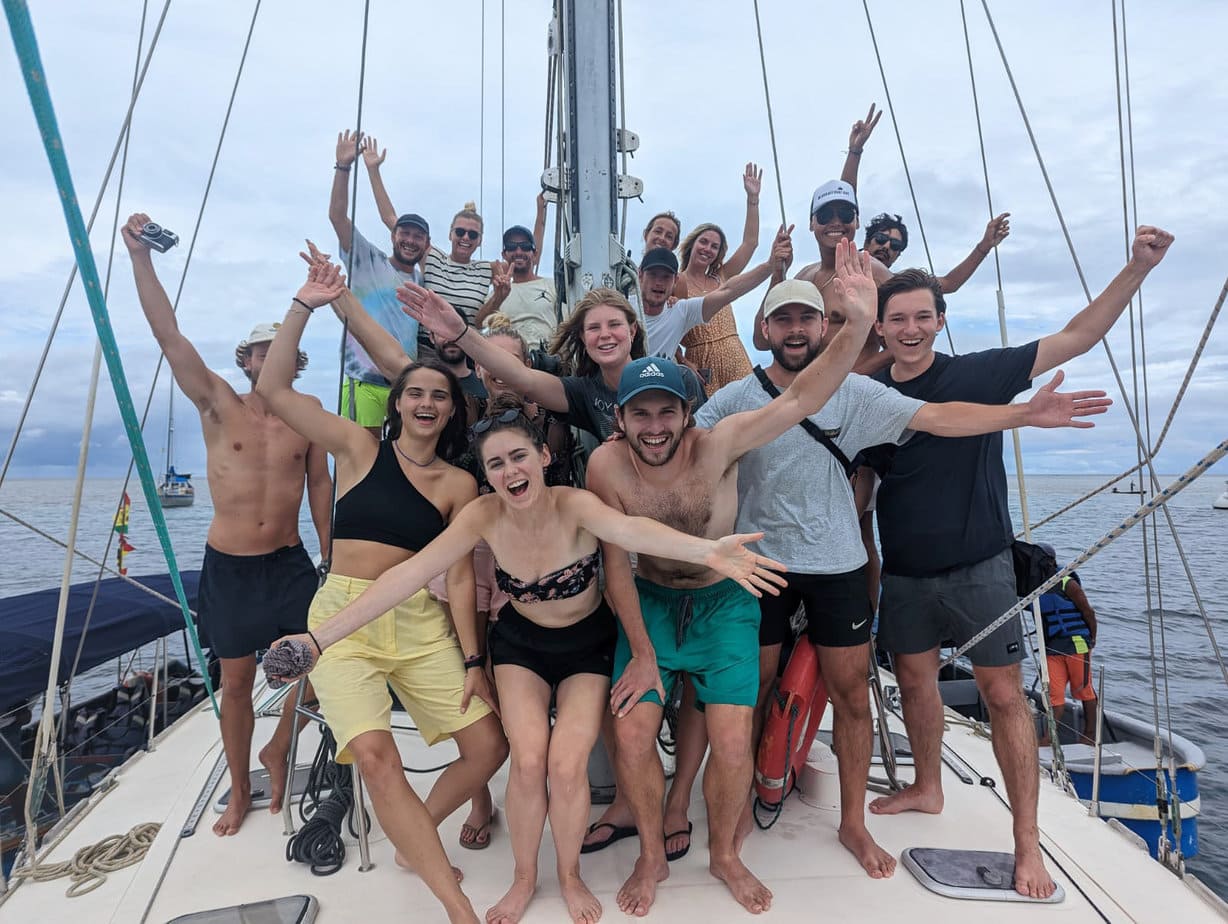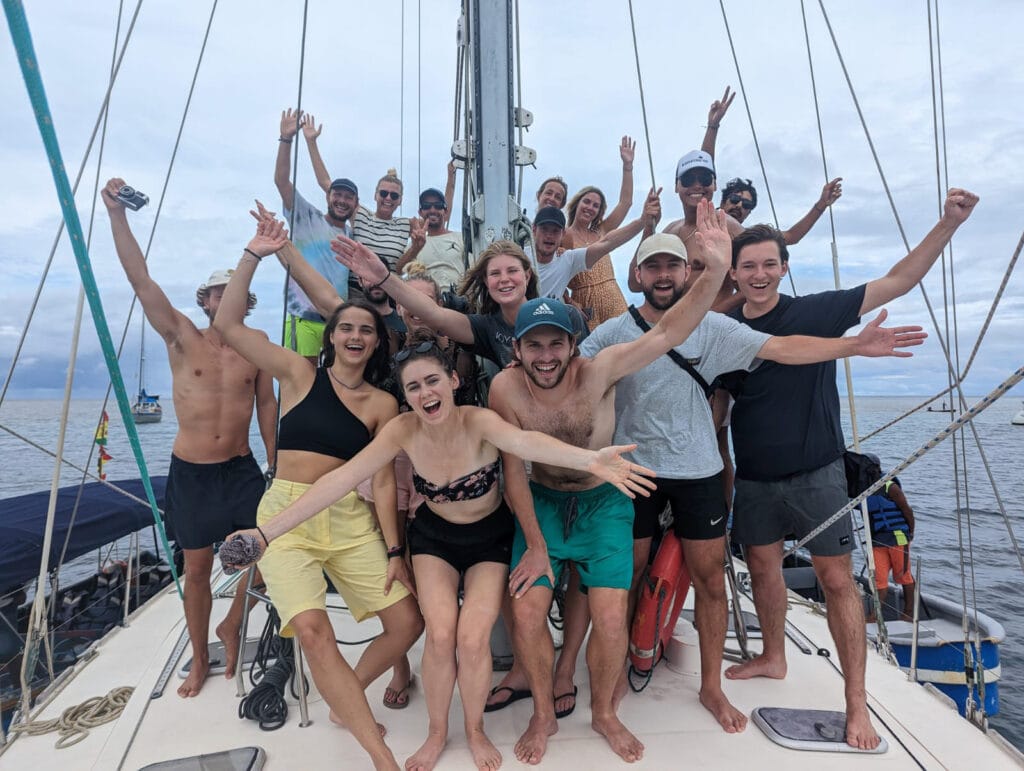 We spent time exploring Panama City. Honestly Panama City (and Panama as a whole) surprised me. I really loved it and want to return in the future to see more of it. In Panama City I had some of my best gluten free meals to date – including at a 100% gluten free sushi restaurant! We spent some time exploring the city with new Dutch friends from our sailing trip, and I also serendipitously met up with my friend Rachel from Rachel Off Duty who happened to be in Panama at the same time!
Then we holed up in an Airbnb in Boquete, Panama. In Boquete we had a great deal on an Airbnb and just watched The Circle on Netflix and cooked for ourselves – honestly we were exhausted at that point and recovering from the sailing trip + activities in Panama City. We had great plans for hiking a volcano for sunrise but it turned out to be illegal to hike overnight, pouring rain every day, and overall our energy reserves were at zero…
We stayed in a 100% gluten free hotel in Costa Rica. We crossed the Panama – Costa Rica border (full guide at that link!) where we promptly checked into Cuna Del Angel, which was my first ever 100% gluten free hotel experience. This was my belated birthday present from Dan and it was just incredible. I ate gluten free calamari, bruschetta, pancakes, and even a BREAKFAST BUFFET (fellow celiacs can relate to the excitement there lol). I'll be writing a full guide reviewing it, so stay tuned!
Then we spent 10 days exploring Costa Rica with my parents! My parents flew to Costa Rica to meet us and we had the most epic whirlwind 10 days with them. We visited Manuel Antonio, Monteverde, and La Fortuna, seeing sooo much wildlife along the way (sloths, monkeys, toucans, and more!). Dan, my Dad, and I played a lot of cards, drank a lot of margaritas, and we all cooked together and made some delicious food. For Thanksgiving, Dan and I cooked empanadas! It was just so nice to see my parents and make these forever memories all together.
I got some new camera gear. I finally bit the bullet and ordered myself a higher quality camera lens and an underwater iphone case, which my parents brought to us in Costa Rica. OMG. I wish I'd done this years ago! I got sooo many wildlife phots in Costa Rica and this is definitely my new obsession!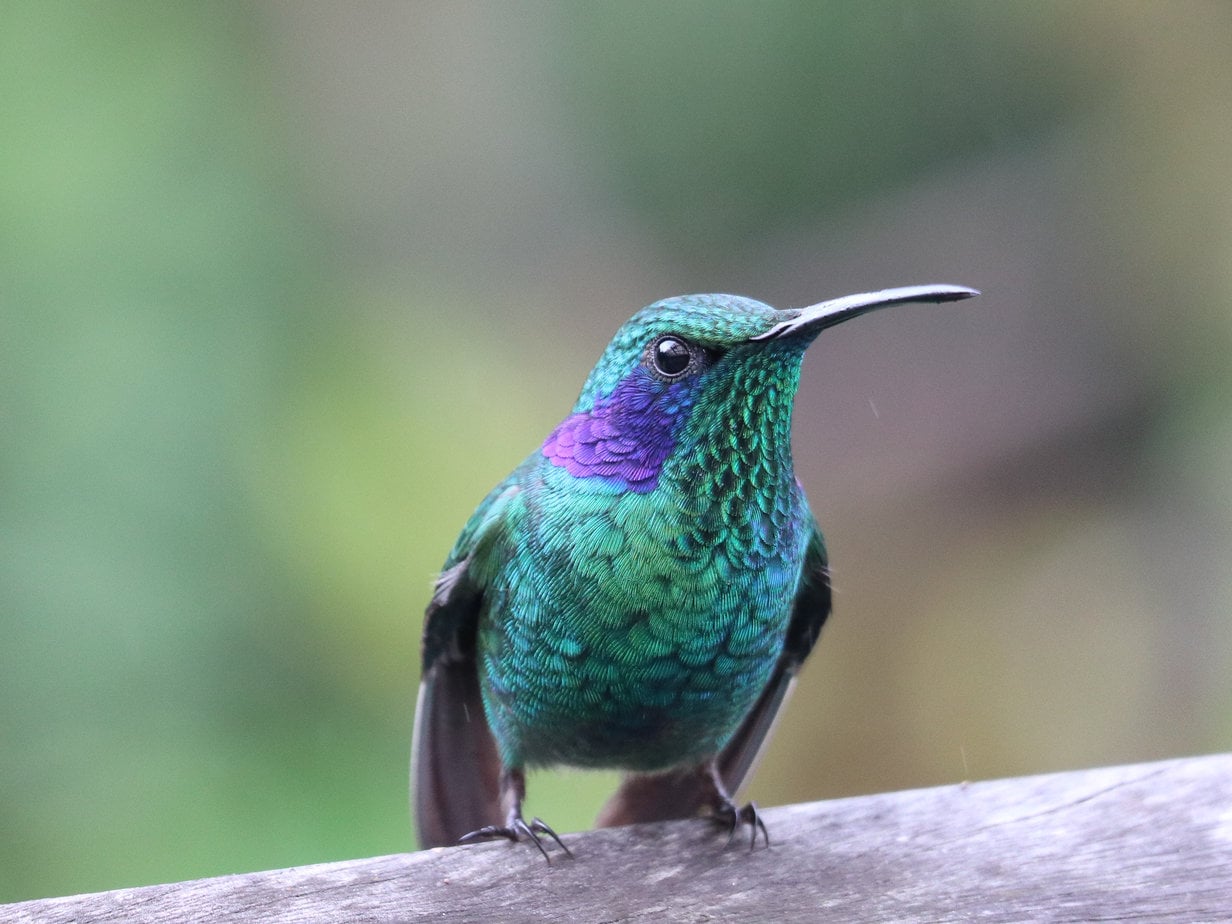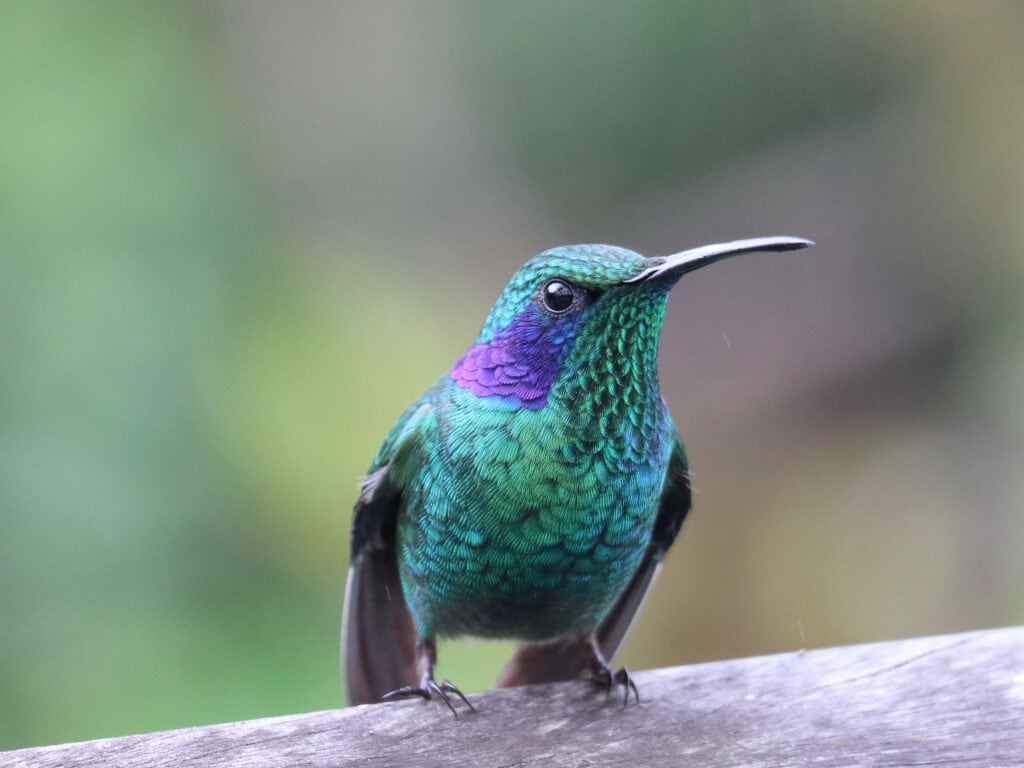 Gluten free travel is looking up. If you've been reading along, you'll remember I REALLY struggled to eat gluten free in Peru and got glutened like four times and lost about 10 pounds in the two months we were there. It was awful. Since we got into Central America, things are really looking up. I found it soooo easy to eat gluten free in Costa Rica, and I'm hopeful that the rest of our travels will be like this or even easier!
November travel budget breakdown…
As a reminder, my travel budget is $1,500 per month, or roughly $50/day. I was actually under budget in July, August, and September, but then went over budget (by $279) in October as we splashed out on our epic trip to Providencia Island in Colombia.
Going into November we knew things could be baaad (budget-wise). Our San Blas Islands sailing trip was about triple our daily budget. Saying that, it was going to be not that much less to fly from Colombia to Panama, so in a way it was a good deal as we not only did the border crossing but got an epic experience out of it, too.
We did recover from that budget-buster in Costa Rica because my parents paid for all our accommodation during their 10 day visit (as our joint birthday and Christmas presents). It was suuuuch a treat and I can't wait to share links to our house rentals in my Costa Rica blog posts because they were so beautiful.
Here's a breakdown of my November travel expenses:
Accommodation: $264
Travel: $133
Activities: $729
Food: $685
Miscellaneous: $77
Total: $1,888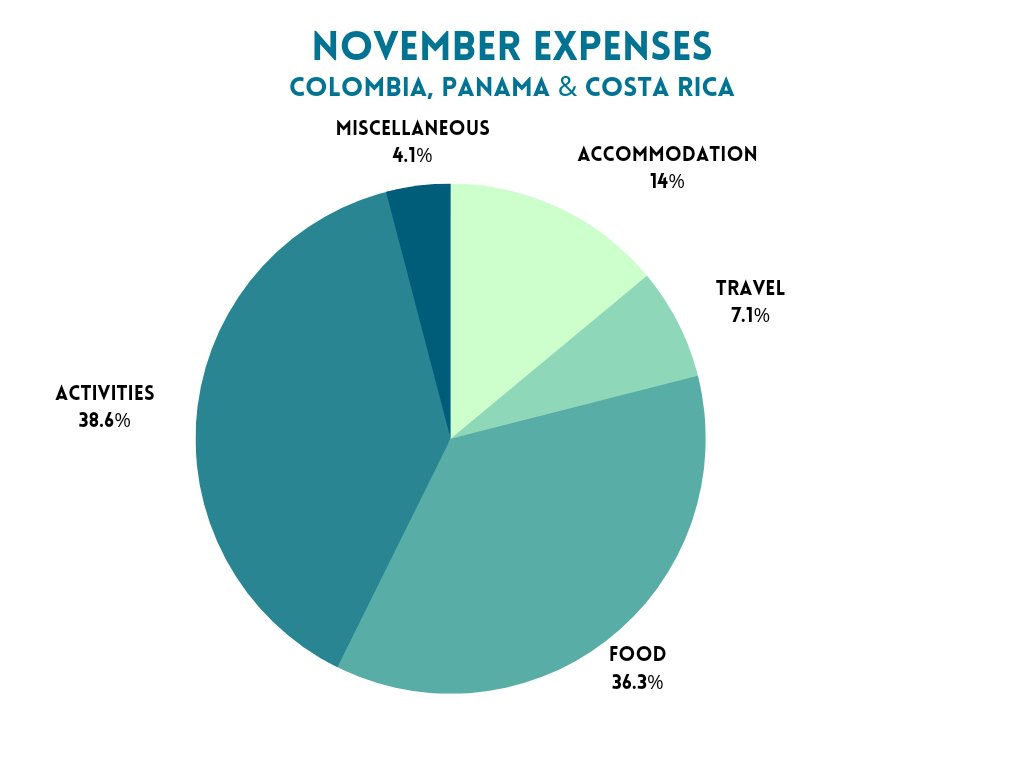 November blogging income report and update…
Traffic remained down on the blog which is frustrating but a result of travel winding down and entering the festive season!
Sessions: 60,553
Pageviews: 71,074
November 2022 blogging income
My blogging and writing income remained pretty steady this month. What you don't see below is that I also had a lot of business expenses in November – including renewing my website hosting and buying camera gear!
Here's how my income broke down in October:
Advertising: $1,482.83
Freelance Writing: $1,050
Affiliates: $407.90
Total: $2,940.73
Note: This is my gross income, before expenses and taxes.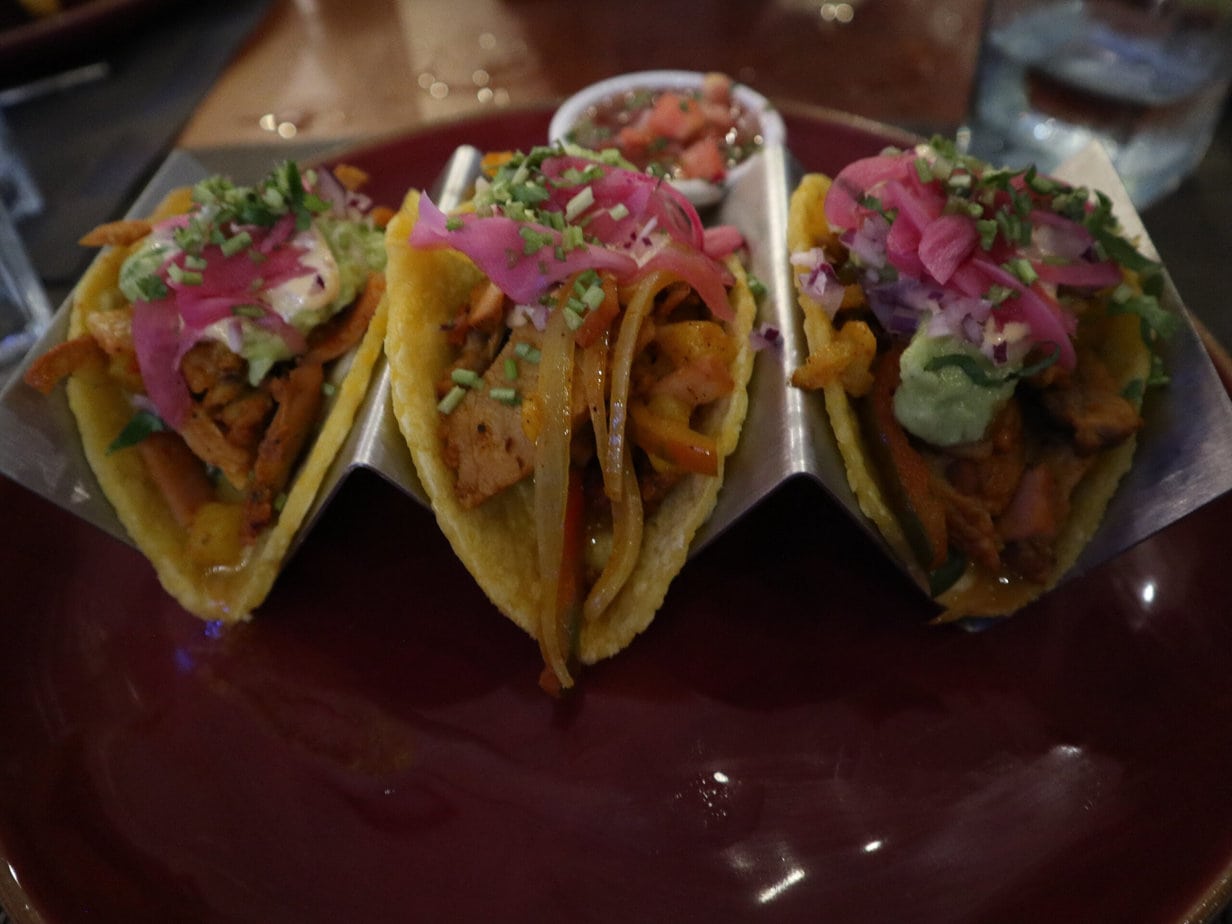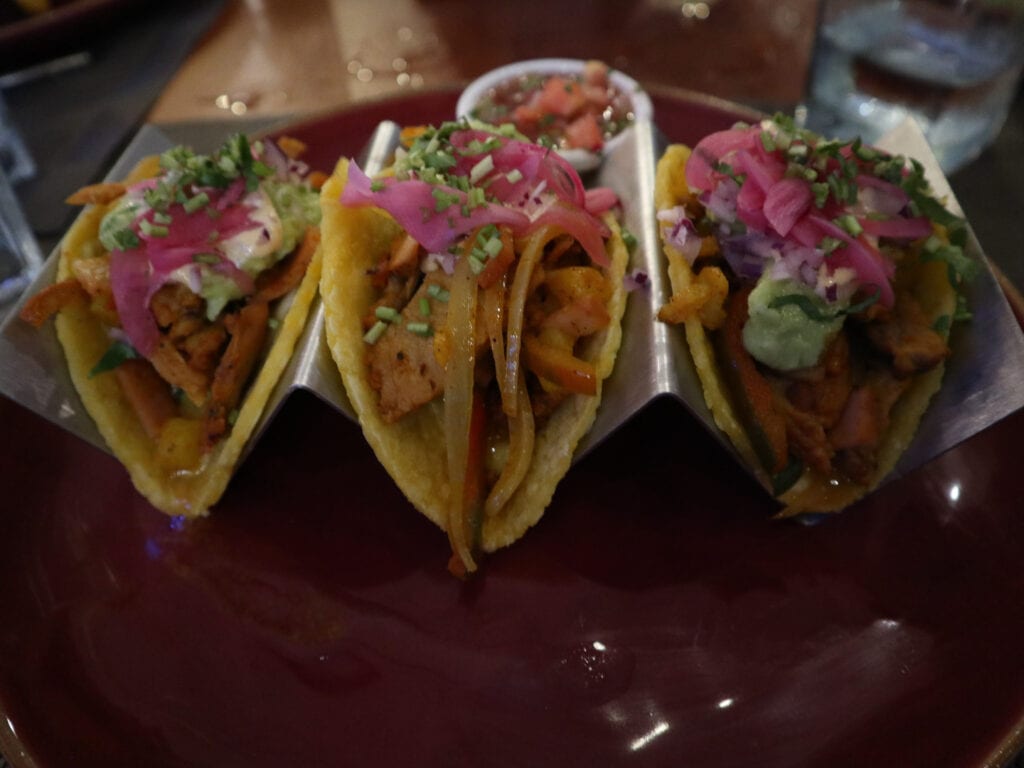 Upcoming in December…
Well, we're already halfway through December as I write this, LOL. December finds me in Nicaragua and loooving it. I know I raved about Colombia, but I think Nicaragua might be my new favorite, guys!!
If you're on my email newsletter list, you'll also see I've ordered my Christmas presents (still have some postcards to write). This year I bought some beautiful stained glass hangings from GlassArtStories, an Etsy shop based in Ukraine. It feels good to support Ukrainian artists and not to mention their work is stunning. Highly recommend!
Other than that, I'm just plodding along trying to finish up my final freelance articles for the year, catch up on my business accounting, and plan our upcoming travels. I have about a million blog posts to write which is stressing me out, but I'm hoping I can approach that with new determination in the New Year.
What are you all up to the rest of December? Any exciting travel plans for 2023?
IMPORTANT QUESTION FOR YOU READERS | If you've been reading for a while and have any opinion on the future of these recaps, I'd greatly appreciate a comment below with your preference!