Peru to Ecuador Border Crossing: The Complete Guide (2023)
The Peru to Ecuador border crossing, particularly at Aguas Verdes, is one of the simplest you'll find in South and Central America. It's also really affordable. Our whole border crossing experience only cost about $35 USD each.
However, there are definitely some things to be aware of to keep yourself safe, and also to have a smooth experience like we did (your experience could be vastly different based on the bus company or day of the week you go – I share all the details below!).
In this guide to the Peru Ecuador border, I'm sharing the top three most common border crossing locations, how to choose the best border crossing for your travel plans, and of course a play-by-play of my own personal experience at the Aguas Verdes border crossing.
Note: I completed this border crossing in September 2022, and have updated this article for 2023. If you find this guide helpful, please comment below with any changes or updates! Together, we can help future travelers navigate the Peru Ecuador border safely.
Peru to Ecuador Border Crossing Locations
This guide will focus on the Aguas Verdes border crossing, but I also want to give you information on your other options for the Peru to Ecuador border crossing.
There are three main border crossings (as well as some smaller ones in between). Below is a brief summary of each one, and why you might choose one over another.
The main Peru to Ecuador border crossing locations are:
Aguas Verdes: Western-most coastal border crossing (this is what we did).
La Tina: Mountain border crossing to the west.
La Balsa: Jungle border crossing that is more central.
1. Aguas Verdes Border Crossing (Tumbes, Peru – Huaquillas, Ecuador)
The Aguas Verdes border crossing is what we did, and I have a complete guide to it below! It's generally considered the fastest border crossing.
This is the coastal route, and the closest border towns on each side are Tumbes, Peru and Huaquillas, Ecuador. However, most people doing this route travel from cities further away that are more tourist-friendly.
There are multiple international bus lines that will take you across the border all the way to Guayaquil, Ecuador.
Departure and Arrival Destinations
This border crossing is for you if you're coming from Lima, Trujillo, Chiclayo, Mancora, or Tumbes, Peru, and heading toward Guayaquil. I tell you all about our exact route from Mancora – a northern surf town – below!
From Guayaquil, you can reach most places in Ecuador. We stayed overnight in this artsy hostel before traveling onward to Olon (a sleepy beach town perfect for learning to surf) the next day. You can also easily reach Montanita, Banos de Agua Santa, Quito, or even fly to the Galapagos.
Safety
These days, this border crossing is quite safe, although it is recommended you go in daylight hours if possible. I have more safety tips below, including what bus line to go with in order to avoid any of the horror stories you occasionally hear.
2. La Tina Border Crossing (Sullana, Peru – Macará, Ecuador)
The La Tina border crossing is the mountain route. It takes longer than the Aguas Verdes border crossing, and I for one had enough of treacherous Peruvian mountain roads in Huaraz, which is one reason we did not choose this border crossing.
Like the Aguas Verdes border crossing, there are international bus lines that carry you across the border, although some have suspended their services since the pandemic. Your best bet is to call the bus lines to confirm.
I did not complete the La Tina border crossing myself, but this is a useful guide if you choose this route (like many, it is for Ecuador-Peru not Peru-Ecuador, so you will have to reverse their directions).
Departure and Arrival Destinations
This border crossing is for you if you are traveling from Lima, Chiclayo, Piura, or Sullana, Peru to Guayaquil, Ecuador.
Safety
I have read mixed opinions on the safety of the La Tina border crossing. One source claims it is not recommended due to drug smugglers on the Peruvian side. Like all Peru to Ecuador border crossing locations, there are also ongoing issues with gangs and human trafficking of Venezuelan refugees.
However, many travelers have completed this border crossing in the past with no complaints. I would recommend going in daylight, and check in South America travel Facebook groups for recent experiences.
3. La Balsa Border Crossing (San Ignacio, Peru – Zumba, Ecuador)
La Balsa is the third and final Peru to Ecuador border crossing and this is considered the jungle route. It is the longest and most convoluted option of the three, and takes at least two days.
Unlike the other two border crossings, there is no international bus to take you directly across the border. Rather, you must use a combination of transport options.
This is a good (and hilarious) guide if you choose the La Balsa border crossing. Again, it's written for Ecuador-Peru, not Peru-Ecuador, so you'll have to reverse their directions.
Departure and Arrival Destinations
This border crossing is for you if you are traveling from Chachapoyas, San Ignacio, or Chiclayo, Peru to Zumba or Vilcabamba, Ecuador.
For example, if you venture to the remote and stunning Gocta Waterfall in Peru, then this is the easiest border crossing for you (I say "easy" but… it's really not that easy).
Safety
I don't have personal experience with this border crossing, but I can imagine it feels a bit more sketchy than the other two options due to the lack of direct bus line and the complicated mix of different transports.
Peru Ecuador Border Crossing Locations Map
If you're a visual person like me, you'll find the below map useful. I know that all the city names and border locations above can sound like gibberish if you're not familiar with where these places are in Peru!
The three blue dots are the main border crossings I mentioned above. The yellow dots are the main cities in Peru that you'd be departing from.
Peru to Ecuador Border Crossing: Aguas Verdes Complete Guide
Dan and I completed the Aguas Verdes border crossing for our over land journey from Peru to Ecuador in September 2022. This was the first land border crossing of our South and Central America travels and… also the easiest!
Yes, luckily our Peru to Ecuador border crossing experience went incredibly smoothly – thanks to a couple important factors that I discuss below.
I highly recommend this border crossing if you're looking for a safe, simple, smooth, and affordable way to get from Peru to Ecuador.
How the Aguas Verdes Border Crossing Works
The great thing about this border crossing is that an international bus will take you directly from your starting point in Peru to the final destination of Guayaquil, Ecuador.
No roaming through no-man's-land and hoping to find a taxi on the other side here!
Of course, you do get off the bus at the border to pass through immigration, but then you get back on the same exact bus. For us, it felt safe and secure. But, that came down to which bus company we chose…
Which Bus Company to Book: Cifa or Cruz del Sur?
There are two international bus lines that do this border crossing route: Cifa and Cruz del Sur. Your experience will GREATLY depend on which bus line you choose.
I highly recommend taking Cruz del Sur and NOT Cifa. We took Cruz del Sur over a dozen times in Peru and it was always clean, safe, comfortable, and on time.
Cifa, on the other hand, is an Ecuadorian bus company with very bad reviews. Additionally, they have these weird black stripes over their windows which is not the one if you get motion sickness like me. There's also this TripAdvisor thread which is very old but let's just say, not complimentary of Cifa and this route.
However, a big issue is that Cifa runs this route daily (at night – not recommended), while Cruz del Sur only goes twice a week (during daytime hours).
Currently, Cruz del Sur runs the route on Tuesdays and Saturdays, so try to plan your border crossing for those days. Please call to confirm these days are still accurate, as this seems to change. Below I'll tell you about Jessy, the awesome Peruvian lady who owned our hostel in Mancora and helped us out with this.
If you have to take Cifa, it's not the end of the world. We met a fellow traveler in Trujillo who'd just completed the reverse border crossing from Ecuador to Peru with Cifa. He didn't enjoy it, and he got scammed by a mototaxi driver in Tumbes, but he made it safe and sound.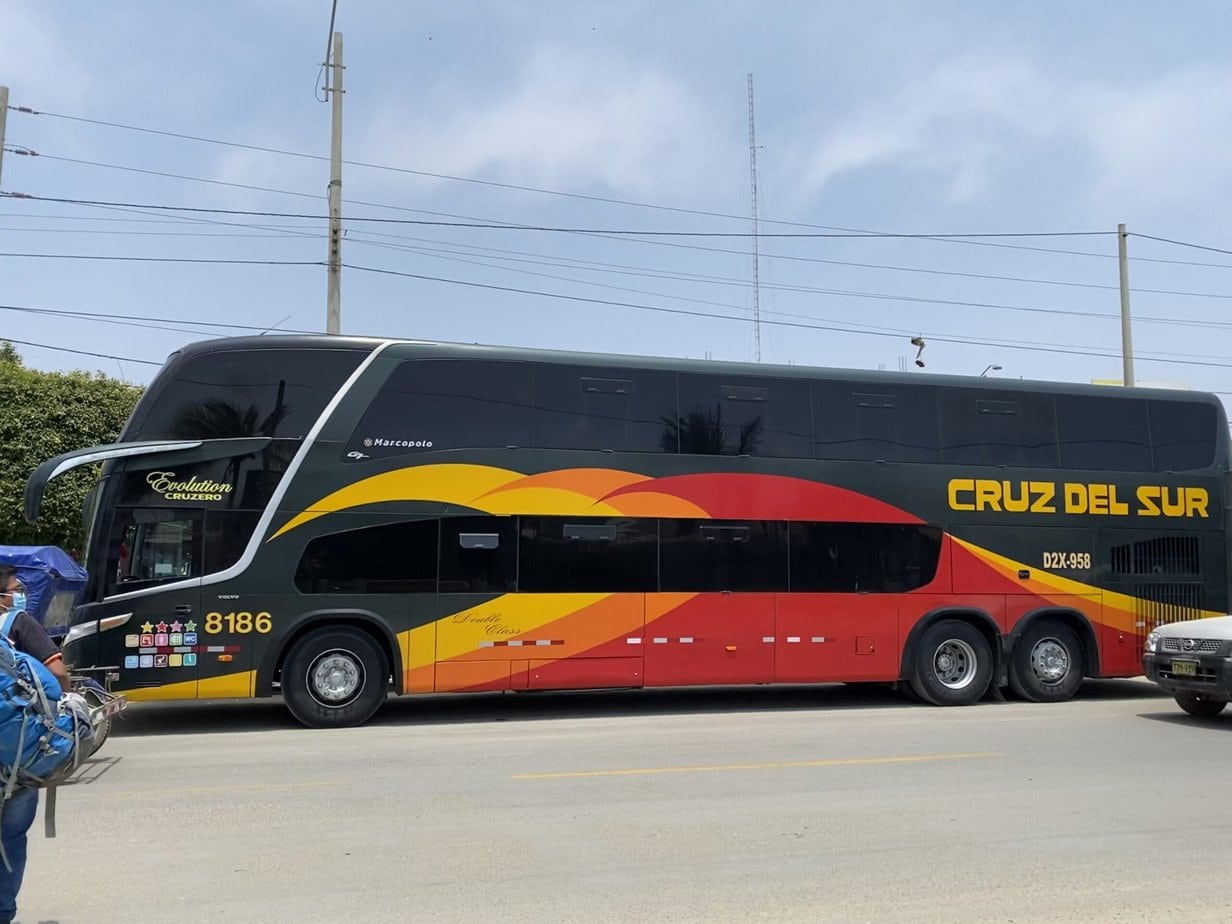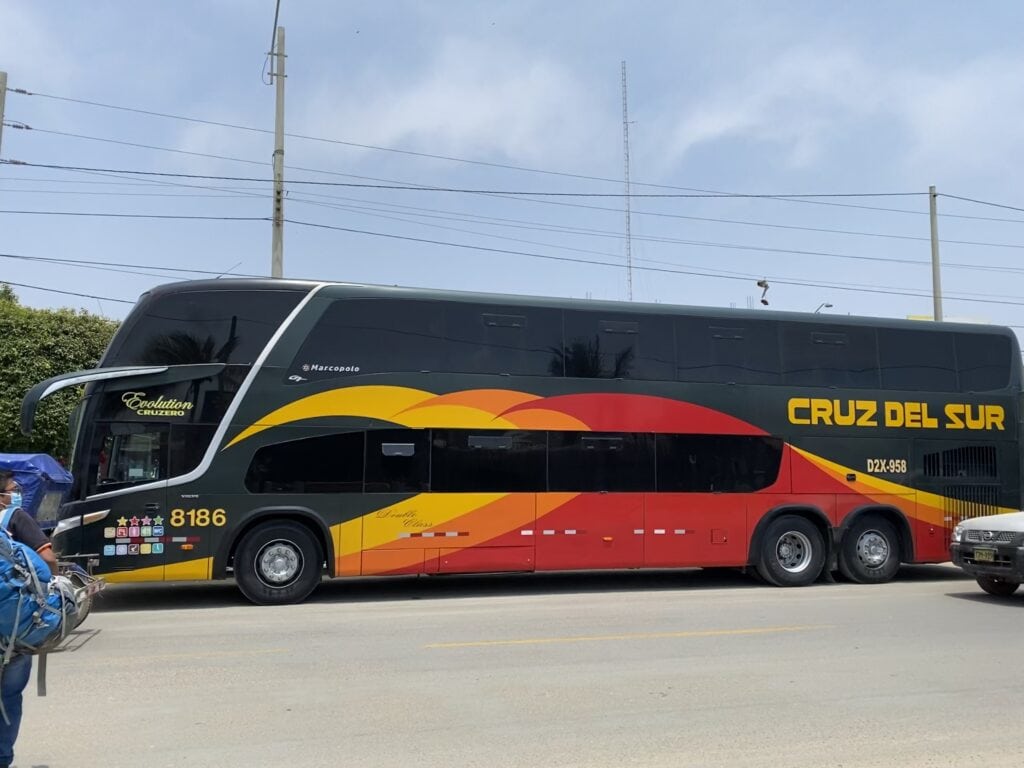 How to Book Your Bus
For international routes from Peru to Ecuador, bus tickets are not sold online. You will have to buy them in person at the bus station, or over the phone.
We bought our tickets in person at the Mancora Cruz del Sur station, with a little help from a Peruvian woman named Jessy (more on her below!).
I recommend buying your ticket at least one day ahead, as it can sometimes sell out.
Where to Begin Your Journey
For the Aguas Verdes border crossing, Dan and I traveled from Mancora (a backpacker surf town on the northern Peruvian coast).
Prior to our arrival in Mancora, we'd taken an overnight bus from Trujillo, an interesting northern Peruvian city full of ancient ruins. We'd made our way to Trujillo after spending two weeks in Huaraz – the undisputed hiking capital of Peru.
However, you can streamline your border crossing more than we did by boarding in Trujillo, or even at the bus' starting point in Lima. This is all part of the same route, we just hopped on an already half-full bus in Mancora.
Keep in mind that the journey from Lima to Guayaquil is LONG. I mean, 30 hours kind of long. From Mancora, it is "only" about 8-9 hours. Plus, this way we got to see more of northern Peru, which many travelers don't.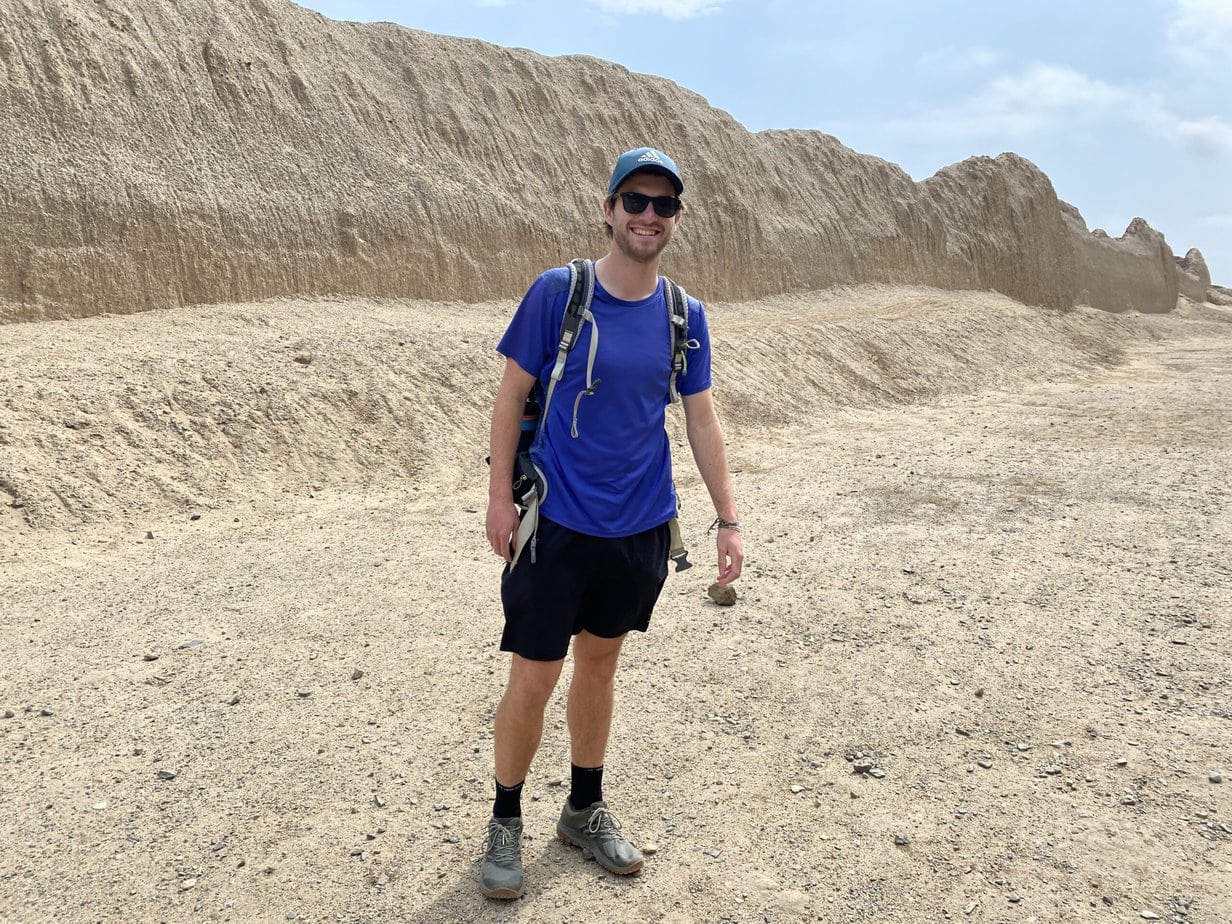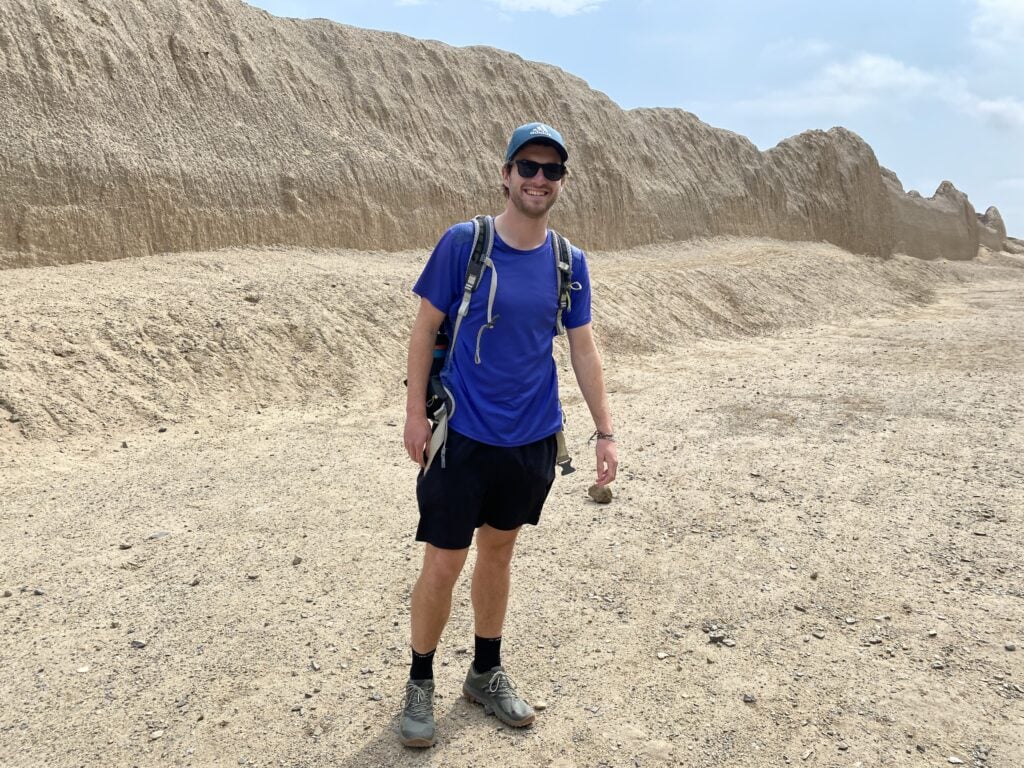 Exactly How Our Peru to Ecuador Border Crossing via Aguas Verdes Went
Now that you know all your options for crossing the Peru to Ecuador border, and the details about how the Aguas Verdes border crossing works, I want to share with you exactly how our experience went down!
This way, you'll know what to expect and hopefully won't have too many worries as you complete your own border crossing journey.
Arrival in Mancora, Peru
From Trujillo, we took an overnight bus (with Cruz del Sur…duh) to Mancora, Peru. We knew that Mancora was the closest backpacker-friendly town to the border, and it seemed like a good way to break up the journey.
However, I was really concerned because as I mentioned we couldn't find a way to book the bus to cross the border online. I could see on Rome 2 Rio (one of my favorite travel tools that shows every possible way to get from one location to another) that both Cifa and Cruz del Sur did this route.
But tickets were not possible to book online, and I began to worry that this route was discontinued – as many things have been since the pandemic.
Enter Jessy – The Most Helpful Peruvian in Mancora!
In a panic, I'd found La Casa de Jessy, a guest house in Mancora. I thought: "Jessy's House… seems friendly!". So, I decided to message Jessy on her Facebook page and ask her personally about whether you could still cross the border by bus from Mancora.
Not only did Jessy promptly reply, calming my worries that buses left every day to cross the border, but she went above and beyond. She even called Cruz del Sur personally to inquire which two days of the week they did the border crossing. This was all before we even booked a night at her place!
Obviously, Dan and I booked a night at La Casa de Jessy in Mancora after how helpful she was, and I'd recommend you do the same. It's a clean, quiet, safe accommodation in Mancora but beyond that, Jessy herself is a gem of a human who will help you with your Peru to Ecuador border crossing questions.
Booking the Bus
We were super relieved and happy to discover that the day we wanted to cross the border from Peru to Ecuador was a day that Cruz del Sur operated. We really lucked out with that!
Dan and I talked it out and we would have waited maybe one or two days to cross the border with Cruz del Sur (after all, there are plenty of things to do in Mancora). If it was a longer wait than that, we would've just sucked it up and traveled with Cifa.
In retrospect, our journey with Cruz del Sur went so smoothly (and we heard lots of bad stories from other travelers in Ecuador who went with Cifa), that I definitely think it's worth waiting for a Cruz del Sur day (again, Tuesdays and Saturdays currently) if you have time to spare.
To book our tickets, we walked to the Cruz del Sur bus station. The address is Av. Martin Waiss 741, Mancora, which is on the "ocean" side of the road (the location on the opposite side of the road is just for loading onto the bus).
Tickets cost s./ 135.20 per person (~$35 USD) for the 11am departure the next day. The attendant told us to arrive 30 minutes early to check our luggage.
Arrival at Bus Station
On the day of our Peru to Ecuador border crossing, we had an early breakfast at the super yummy Green Eggs and Ham in Mancora, and checked out of La Casa de Jessy. Then, we hailed a mototaxi to the Cruz del Sur station. You could easily walk from La Casa de Jessy, but we didn't want to with our heavy backpacks.
We arrived around 10am only to be told the bus was running 1.5 hours late. This is the first time a Cruz del Sur bus was late for us during our two months in Peru. However, it was a little understandable because the route started the previous day in Lima.
So, we bought some waters and chilled out in the bus station, which was decently comfortable. In case you're wondering, there's a toilet with toilet paper, and it was pretty nice by Peruvian standards.
Loading the Bus
Finally around 12:45pm the bus arrived! We'd already checked our big backpacks, so we just walked across the street to where the bus was and boarded.
Ironically, this was the first time that Cruz del Sur staff didn't check our passports before boarding. I don't know why they checked our passports for every single domestic journey but not for the single international one… LOL.
We also got a brown paper bag of snacks and water bottles as we boarded, which was nice.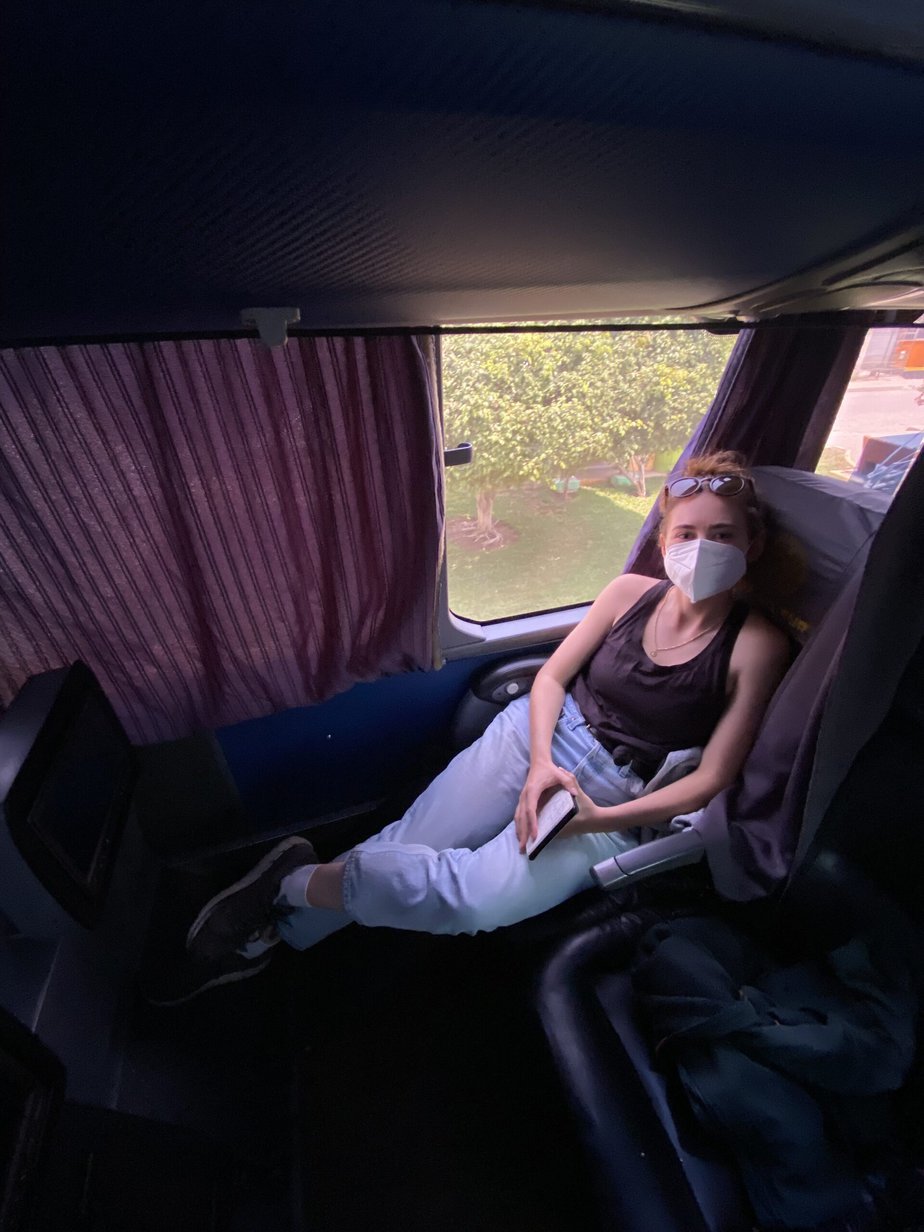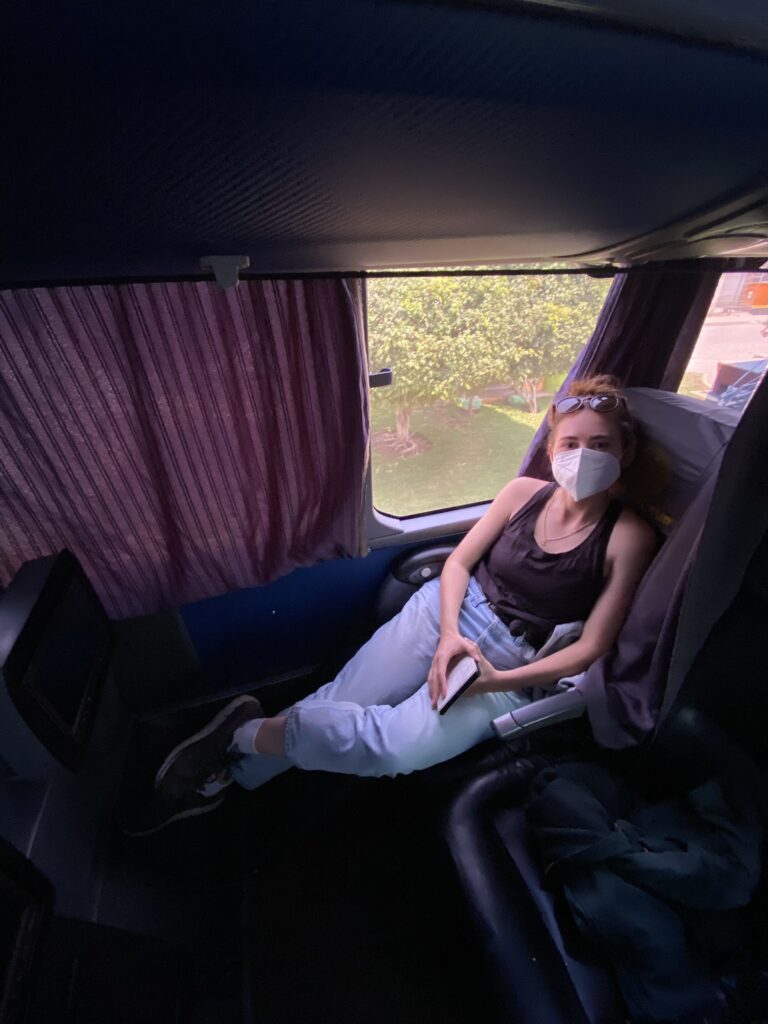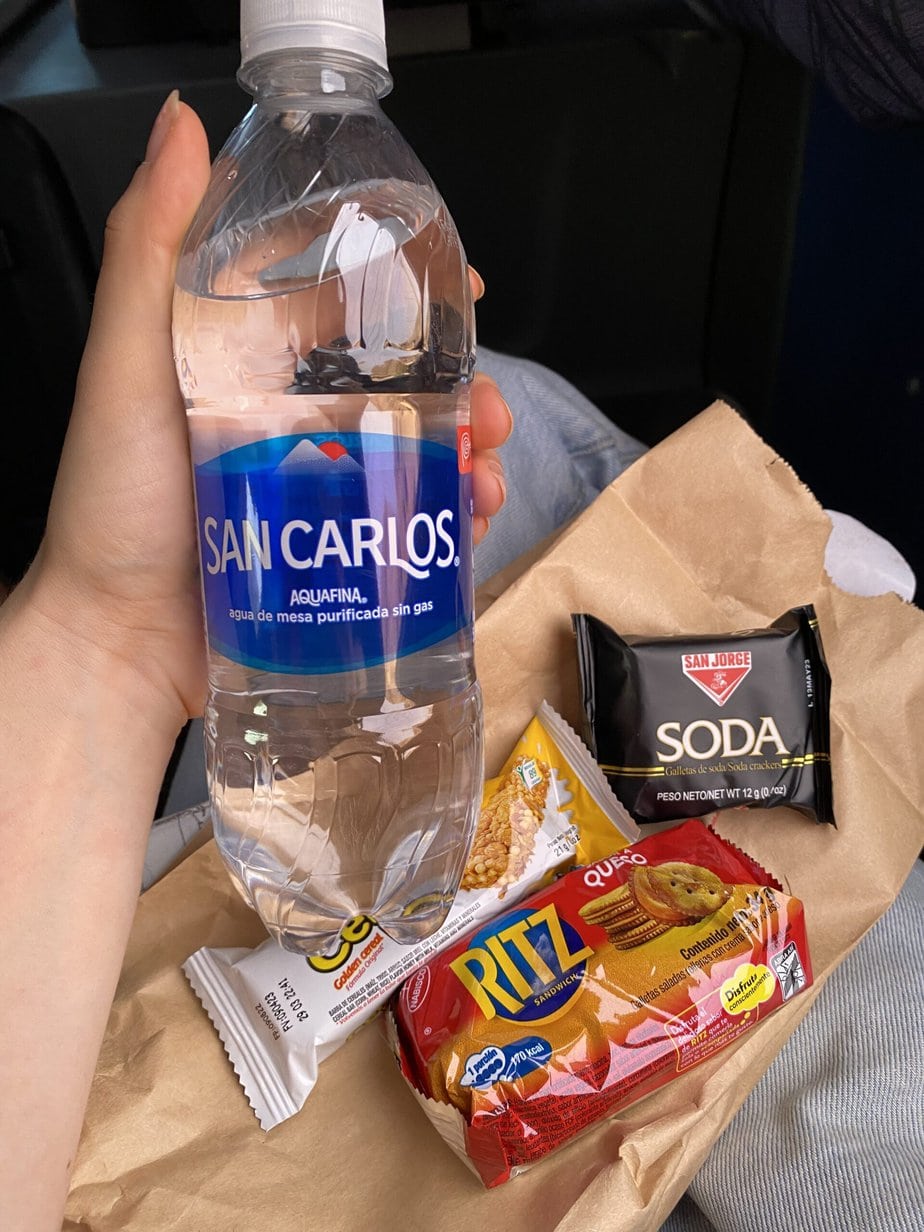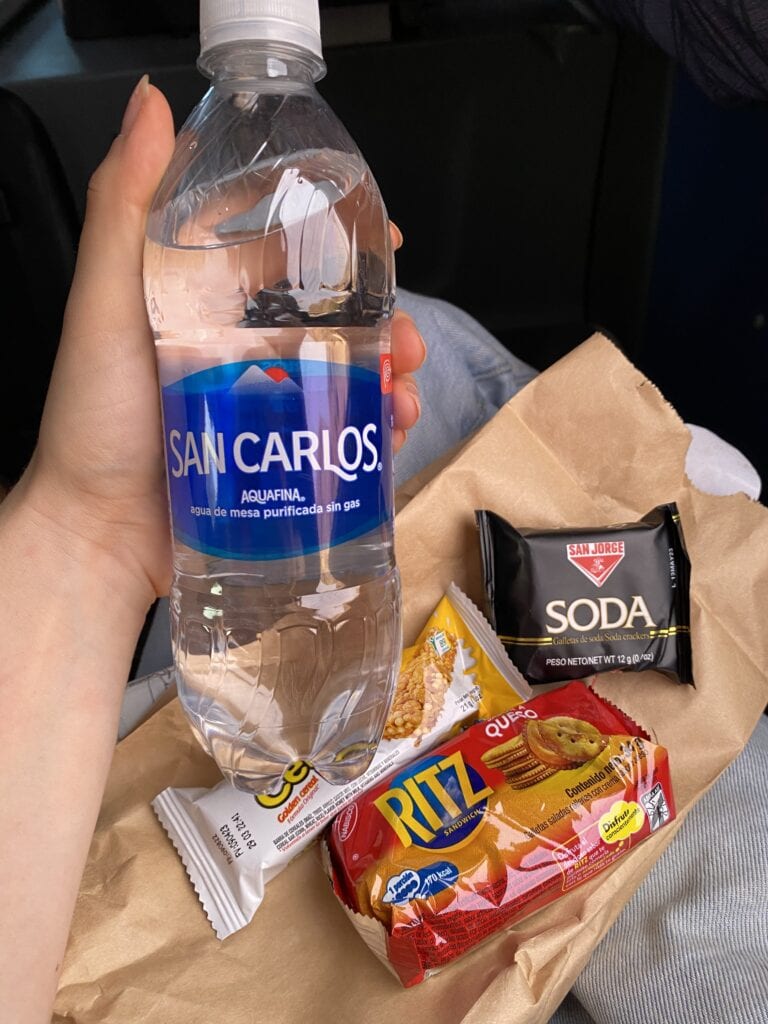 Rest Stop in Tumbes, Peru
After just over two hours, around 3pm, the bus arrived in Tumbes, Peru. Tumbes is a somewhat gritty Peruvian city very close to the Ecuador border. It's not really a tourist destination at all, but we do know one friend from our two-week Lima Spanish course who was working here!
Tumbes is usually where you hear the beginnings of any negative stories about the Aguas Verdes border crossing. Luckily, with Cruz del Sur they just parked the bus inside their own gated bus station (with spikes on top of the walls so… pretty secure I'd say).
We had literally five minutes in which we were allowed to run into the station, then out of the station, and onto the street, and go about two stores down to get snacks or water. Dan did this (in record time) while I stayed on the bus to guard our backpacks… and make sure the bus didn't leave without him.
Arrival at Peru Ecuador Border Crossing
Just twenty minutes after we departed Tumbes, around 3:35pm, we arrived at the Peru Ecuador border. The border here is a clean, well-developed collection of buildings although it feels like the middle of nowhere. There are also a few people selling ice creams here, which I found funny.
At this point, everyone got off the bus. Dan and I took our daypacks that we keep our electronics and important documents in. Lots of people left their stuff on the bus but, it's an international land border and I'm paranoid so I would really not recommend you do that.
Our checked luggage remained in the bus hold, which was really nice to not have to lug our huge backpacks across a border for once!
Health Check
The first step of the border crossing was the health check. Everyone from our bus filed into a line for a small building. Here, two Peruvian employees were checking vaccination cards and temperatures.
When it was my turn, the worker looked at my vaccine card, took my temperature, and then wrote my temperature on a small piece of paper that they gave to me.
DON'T LOSE THIS PAPER! It comes in necessary later.
We also saw some people from our bus getting actually vaccinated at this check point. Vaccinated for what, I have no idea. Be sure to check updated guidance on Peru and Ecuador health requirements before your trip – this can change frequently as I'm sure you know.
Exiting Peru
After we received our little temperature papers, Dan and I walked to the building opposite with a big sign that says "migraciones." Here, there was a row of desks and two lines of people from our bus. Half these desks are for the Peruvian immigration workers and half are for the Ecuadorian immigration workers.
Our first step was to get in the "salida Peru" or exiting Peru line.
When it was my turn, the Peruvian immigration worker stamped my passport, took my little temperature card, didn't ask me a single question, and that was that.
Entering Ecuador
Next, I had to walk to the other line in this building: "ingreso Ecuador" or entering Ecuador. Side note: does anyone else find it a little funny that these Ecuadorian and Peruvian people travel every day to their countries' borders just to work at neighboring desks? Lol.
When it was my turn, the Ecuadorian immigration worker asked me a few questions (how many days was I spending in Ecuador, where was I going, etc.). Then, they stamped my passport and that was that.
Note: Be sure you have 6-months validity on your passport, and that you meet other Ecuador entry requirements. Check requirements for your own nationality. At the time we visited, USA and UK citizens didn't need a visa and could enter Ecuador for 90-days.
Loading Back Onto the Bus
After we got our exit and entry stamps, Dan and I waited around to be let back on the bus. We were allowed back on at 4:10pm, and the bus left immigration at 4:30pm. Overall, we spent less than an hour at the Peru Ecuador border!
Journey to Guayaquil
From the border to Guayaquil, it took just over four more hours. We arrived to Guayaquil terminal terrestre at 8:50pm.
People warned us about safety in Guayaquil. However the bus terminal itself felt quite safe and was full of security guards. Dan got a McDonald's at the food court here, and then we got one of the yellow metered taxis to our accommodation for the night.
I recommend that you also spend the night in Guayaquil after your border crossing. This is for safety's sake so you're not traveling in a new country at night (also, you're probably exhausted).
For our one night in Guayaquil, we stayed at Manso Boutique Guesthouse, which is an artsy upscale hostel in the safe Malecon 2000 neighborhood. It was only a $5 taxi ride here from the bus station, and breakfast is included in your stay.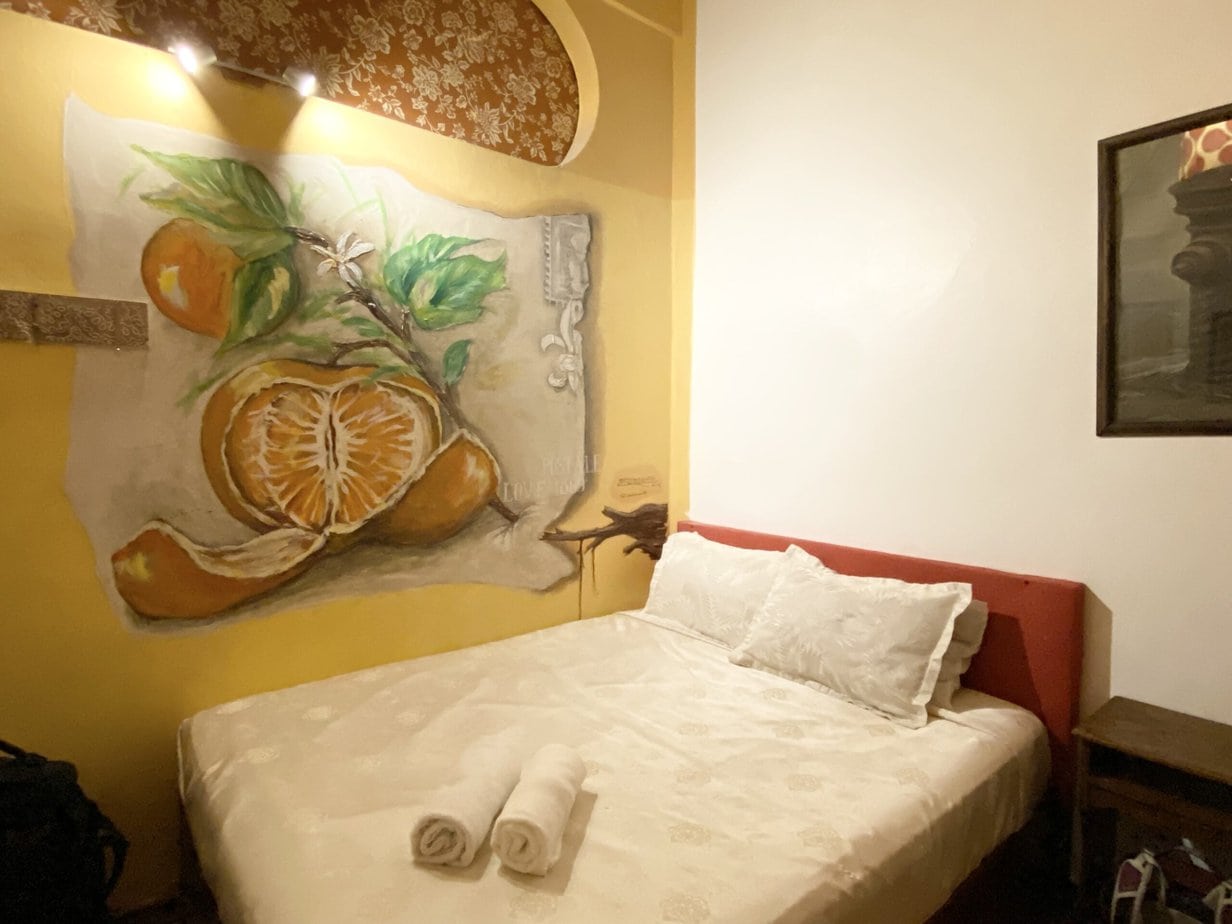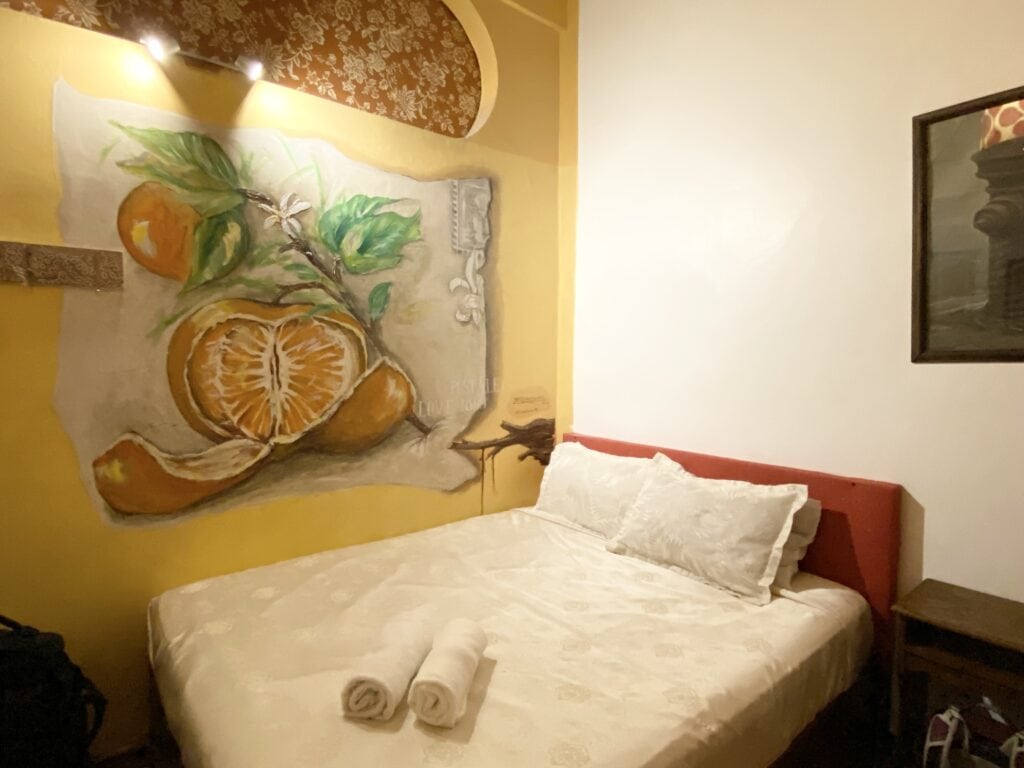 Onward from Guayaquil
At this point, everyone's travel plans will diverge. You've successfully completed the Peru to Ecuador border crossing and now Ecuador is your oyster!
Our first stop in Ecuador was the wonderfully peaceful beach town of Olon. This town is about 15 minutes north of the party-central backpacker town of Montanita, which you've probably heard of. I'm so glad we stayed in Olon, not Montanita! To reach either Olon or Montanita, it's a 4-hour bus from Guayaquil which you can find by buying tickets on the terminal's top floor ($6.65 USD/person).
Other options for onward travel from Guayaquil include:
Quito: 5 hour bus by Cooperativa de Transportes Aerotaxi, ~$10-20.
Banos de Agua Santa: 6 hour bus by BAÑOS Cooperativa De Transportes y Turismo, $12. After Olon, we came back to Guayaquil and went this route! Banos was my favorite place in Ecuador.
Cuenca: 4.5 hour bus by Turismo Oriental, ~$8-22.
Galapagos: 1 hour 45 minute flight to the Galapagos.
Fo more onward travel plans, Rome2Rio is my go-to free tool to figure out travel routes.
Final Thoughts on the Best Peru to Ecuador Border Crossing Route
I know I've shared a LOT of information in this post, but I hope it is helpful to you – whichever Peru to Ecuador border crossing you choose to tackle!
If you find this guide helpful for your own border crossing journey, I'd really appreciate it if you leave a comment below. Let me know how your trip went, and any updates or changes from what I've written here. I will keep this blog post updated so it remains useful for all of us!