Checking In | Eco-Luxury at Inkaterra Reserva Amazonica in Peru
Our stay at Inkaterra Reserva Amazonica was a top highlight of our two months in Peru. This eco-luxury lodge in the Peruvian Amazon is what travel dreams are made of (specifically my travel dreams, which include: nature, delicious food, sustainability, wellness, and authenticity).
PLANNING YOUR PERU ITINERARY | Visiting the Amazon in Peru should be high on your bucket list, even with only a couple weeks in the country. And if that's the case, Inkaterra Reserva Amazonica is the best addition to your itinerary because it is by far the most accessible Amazonian lodge in Peru – it's only a 1 hour flight from Cusco!
I am so excited to share this property with you. This is more than your average hotel review, because of the unique nature of Inkaterra Reserva Amazonica, tucked away in the jungle along the Madre de Dios river.
In this post I'm sharing everything from how to get to this remote location, what meals and excursions were like (and which excursions you should choose!), packing tips, and some things you should know about travel in the Peruvian Amazon.
Ready? Let's get into it!
How to Get to Inkaterra Reserva Amazonica
As I mentioned, Inkaterra Reserva Amazonica is one of the most accessible Amazon lodges in Peru. It is located along the Madre de Dios river in the Amazon jungle, just a 45 minute boat ride from the nearest city, Puerto Maldonado.
Inkaterra takes care of all your transport to and from the lodge. They will pick you up from the airport or bus station, drive you to the river, and take you by boat to the lodge. All you have to do is get to Puerto Maldonado!
Flights
Most people reach Puerto Maldonado by taking the convenient daily 1-hour flight from Cusco. You can also fly direct from Lima.
Check rates online with Skyscanner. Rates from Cusco can vary from $29 to $300+ one way. It is definitely cheaper to book further in advance.
Bus
There is also an overnight bus to Puerto Maldonado from Cusco. I recommend booking directly with Cruz del Sur, our favorite bus line in Peru.
Dan and I ended up taking the overnight bus from Cusco since we booked our trip very short notice and flights had become astronomical. By arriving so early, we actually got the river boat to Inkaterra all to ourselves which was pretty magical!
Checking in at Inkaterra Reserva Amazonica
When we arrived to Inkaterra, we were immediately greeted with warm hand towels and glasses of fresh maracuya (passion fruit) juice. Staff carried our bags to our bungalow while we rested in the main dining room and checked in.
Here, we had a short orientation with Gabriel, the receptionist, where we discussed excursions during our stay. Since I have celiac disease, I also went over the menu with Carmen, our waitress, and confirmed what my lunch and dinner orders would be for that day.
Then came the big reveal – our bungalow for the next few days in the Amazon!
Our Bungalow at Inkaterra Reserva Amazonica
Inkaterra Reserva Amazonica is not a normal hotel – it's an eco-luxury lodge in the Peruvian Amazon. As such, don't expect the typical hotel room accommodation here!
Guests are assigned individual bungalows, with thatch roofs and an open-air feel (but, thankfully, the bugs are kept out with screens!).
Our bungalow had the comfiest king bed, complete with mosquito curtain just in case those bugs snuck in. We also had two indoor hammocks to while away the muggy afternoons in – lazily reading or taking a cheeky nap.
The bathroom was beautiful, complete with complimentary natural bug repellant and toiletries. We were also given robes to use during our stay, and a complimentary steel water bottle to take home.
My very favorite part, though, was the rain shower. Ohhh, the rain shower.
Can you believe that during our two months in Peru, we had the best water pressure and temperature at a lodge hidden in the Amazon jungle? I don't know how Inkaterra does it, but they do it well.
We took showers 2-3 times a day, partly due to the humidity and active excursions, but also because damn… that shower.
Excursions at Inkaterra Reserva Amazonica
One of the main reasons to visit the Amazon in Peru is for the excursions into the jungle and river. With our stay at Inkaterra Reserva Amazonica, three excursions a day were included!
This is what our excursion itinerary looked like:
Day 1
Jungle walk: We went on a private jungle walk with our guide, Javier, discovering monkeys, tarantula nests, termites, and plenty of flora and fauna.
Nighttime boat ride looking for caymans: After dinner, we took a one hour boat ride with other guests along the dark Madre de Dios river, searching for caymans (reptile similar to alligators). We saw quite a few!
Day 2
Lake Sandoval: An early wake up call, 30-minute boat ride, and 45 minute jungle walk took us to wetland canoes. Our guides rowed us through to a beautiful oxbow lake where we saw colorful macaws, a poisonous snake, cayman, many monkeys (including a baby one playing!), and many birds.
Inkaterra canopy walkway: An incredible walk along seven hanging bridges suspended 100-feet above ground, overlooking the Amazon jungle.
Rainforest by night: Dan and I skipped this one to have a later dinner, but there was the option to take a guided walk through the jungle looking for tarantulas.
Day 3
We decided to have a leisurely breakfast instead of doing an excursion on the day of check out, but there was an option to do one!
Other Excursions
There are plenty of other excursions on offer at Inkaterra Reserva Amazonica. Personally I wish we'd stayed longer so I could've gone fishing for piranha!
Some of the other excursions include:
Rainforest garden
Twilight river boat ride
Wetlands walk
Gamitana creek
Anaconda walk
Hacienda Concepcion (a visit to Inkaterra's other property nearby)
Full day in Tambopata
Lake Valencia fishing
Bird watching
There are more excursions available, it seemed all you had to do was ask and they would do their best to make it happen!
Meals at Inkaterra Reserva Amazonica
I am a foodie at heart and the meals at Inkaterra Reserva Amazonica blew me away. I had the best food of our two months in Peru at this Amazon lodge.
FOOD ALLERGIES | Inkaterra does a great job managing food allergies and dietary restrictions if you let them know in advance. I eat a gluten free diet due to celiac disease and they took excellent care of me – from sourcing gluten free pasta, preparing me special desserts, bringing me extra yucca bread, modifying the pancakes to be gluten free, taking care with cross contact, and taking my meal orders earlier in the day so they could prepare them safely. I struggled eating gluten free in Peru but Inkaterra is the one place where it was easy to be celiac!
Breakfast
Breakfast at Inkaterra is offered in a buffet style, full of fresh fruits, yogurts, eggs, potatoes, granola, and more.
There is also an a-la-carte breakfast menu (which is included in your stay – doesn't cost any extra!). On our last day, I ordered the quinoa pancakes. They had to modify them a little to be gluten free. I'm so grateful they took the time and care to do this because it was SUCH a treat to have pancakes.
There is also plenty of fresh juice and strong coffee on offer!
Lunch
Lunch and dinner are both included in your stay at Inkaterra Reserva Amazonica, and they are both delicious. You will typically get the same server for all meals at Inkaterra. We had Carmen and she was amazing!! (If you see Carmen, tell her the "gluten free girl" says hi, haha).
Lunch begins at 12:30pm and includes three courses, plus bread and butter for the table.
Since I am gluten free, they brought me freshly cooked, naturally gluten free "yuca bread" which is made of cassava flour and cheese. I was OBSESSED. Dan even preferred this to the normal bread, and we ended up getting it with every meal (and were even given a complimentary package of them to go when we checked out).
The first course was an appetizer. Some of ours included a green salad with mangos, maize-breaded chicken strips, avocado salad, and more.
There were various options for the second course but my favorite was a quinoa risotto with cauliflower, chicken, mushrooms, and zucchini. Another day I had freshly caught fish with a potato puree.
Dessert was a choice of pastries and cakes (for me, they made gluten free fruit platters with cinnamon, honey, and other twists).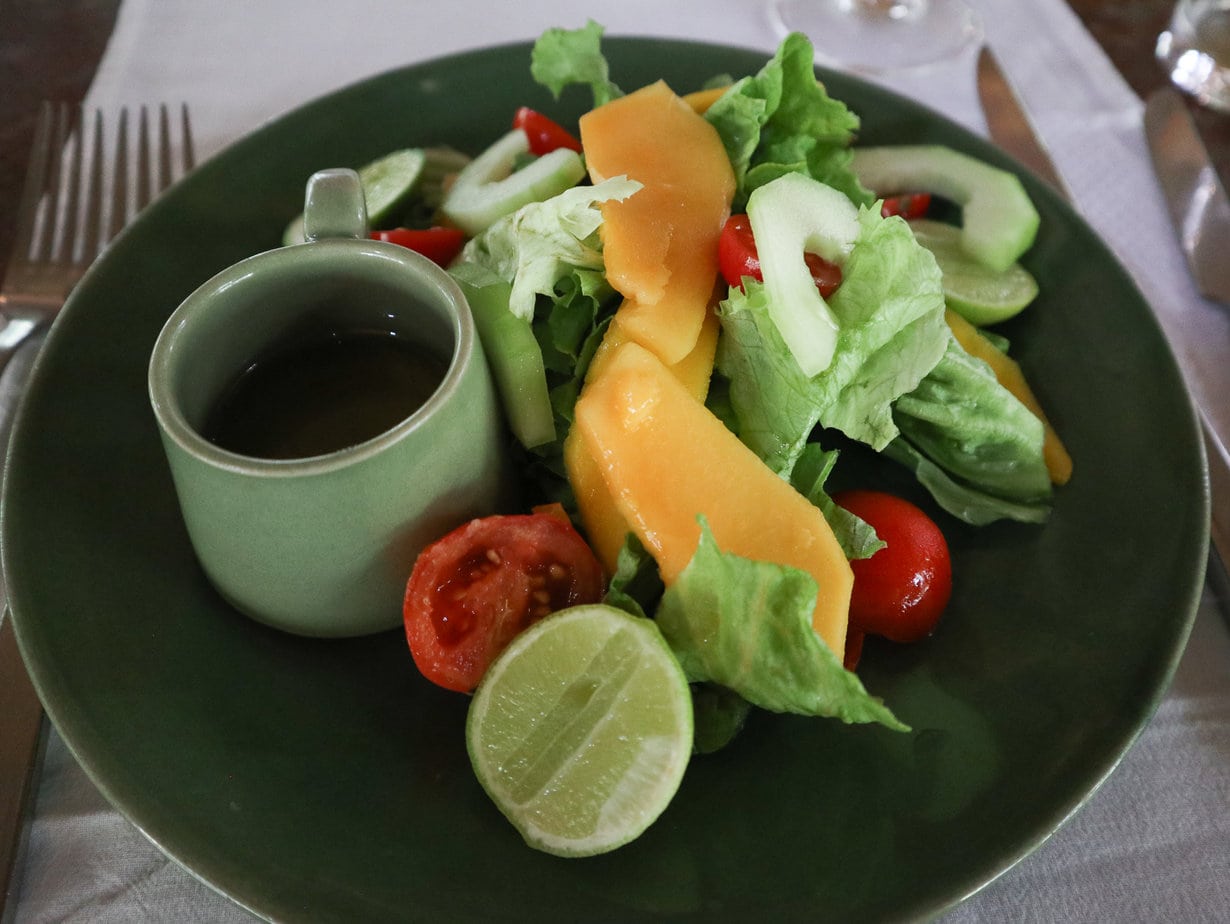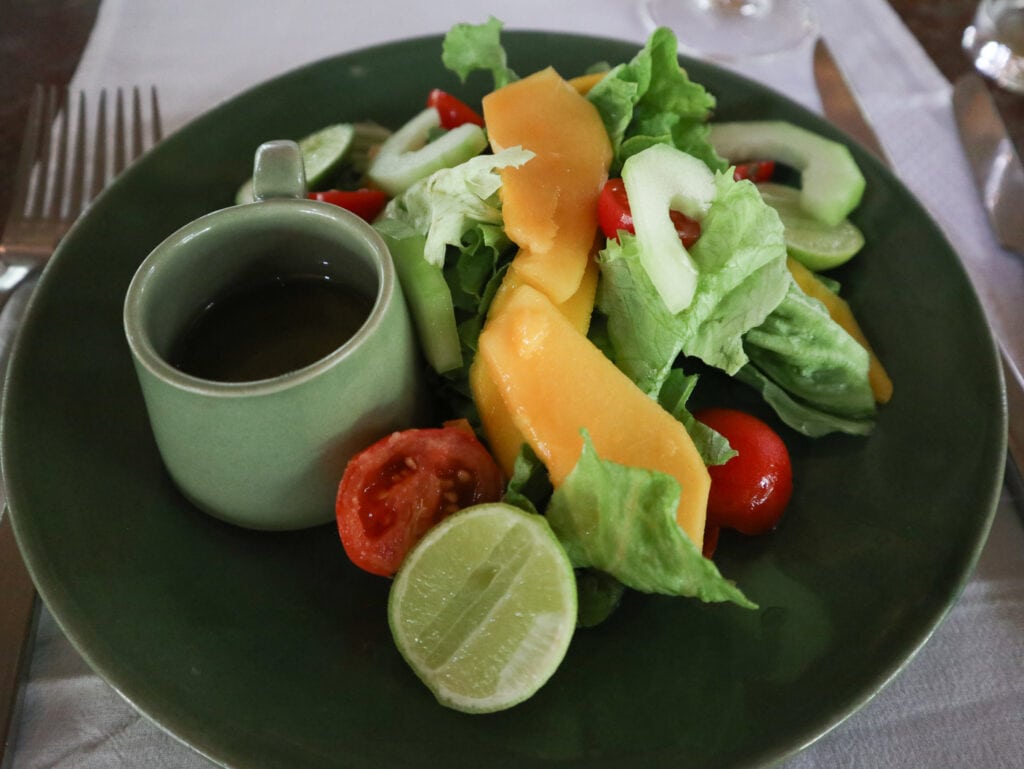 Tea Time and Happy Hour
Each afternoon, Inkaterra staff sets out cold iced tea (sweet and unsweetened) and plenty of cookies. The main dining hall also has jenga and chess sets, and we spent some time escaping the heat, sipping tea, and playing games.
Happy hour begins around 5:30pm, which is also when the lights and power come back on (scroll down to read more about that). Everyone gets a complimentary lemonade or pisco sour on their first night. This was the best pisco sour I had in Peru!
There are also snacks available to order, including plantain chips, olives, cheese, and more.
Dinner
Dinner was served between 6-9pm, and similarly to lunch was three courses. Yes, we were pretty stuffed but the food was so fresh and tasty that you better believe I was in the clean-plate club.
For the first course we chose from salads (I really enjoyed the palmito and fresh avocado salad).
Mains were even bigger than lunch. On our first night, they prepared me special gluten free penne with tomato sauce and parmesan – not a Peruvian specialty but so welcome!
Desserts again were an assortment of cakes. Dan's favorite was a chocolate tart. For me, they prepared for creative gluten free fruit dishes included hot strawberries with honey, a sweet cooked apple with cinnamon and grapes, and a lucuma pudding.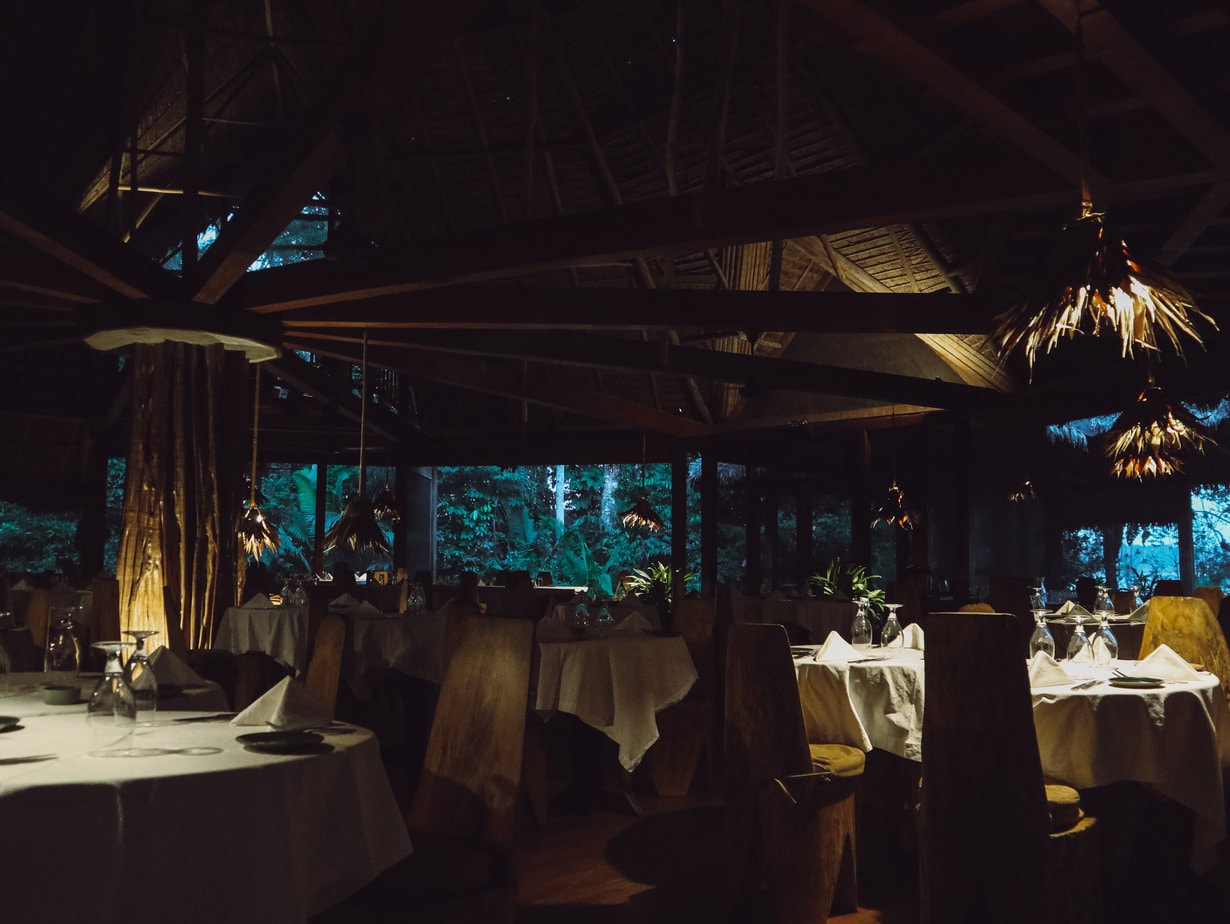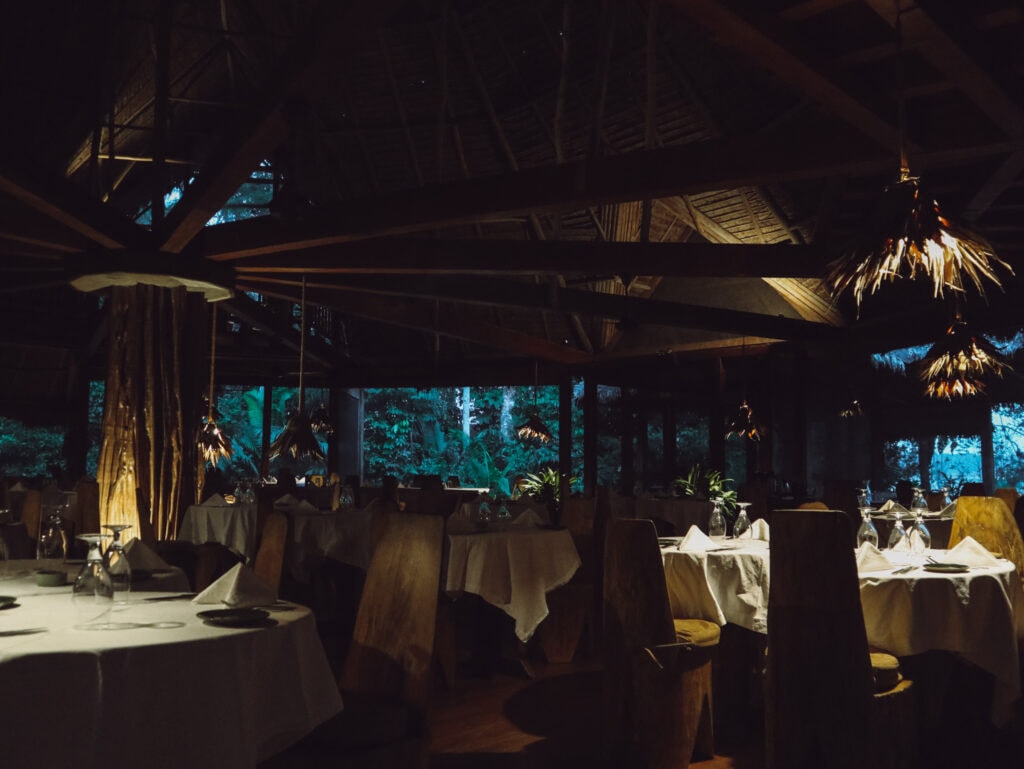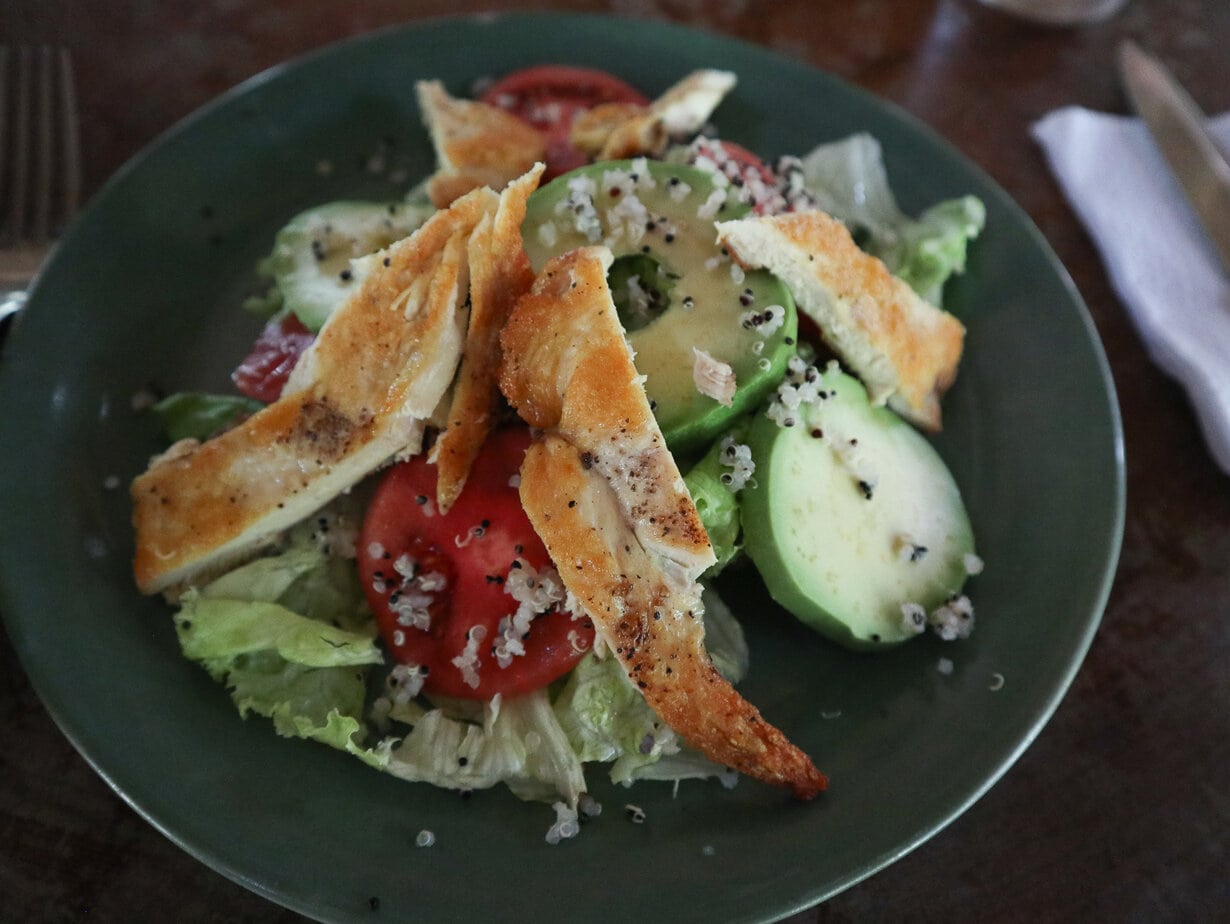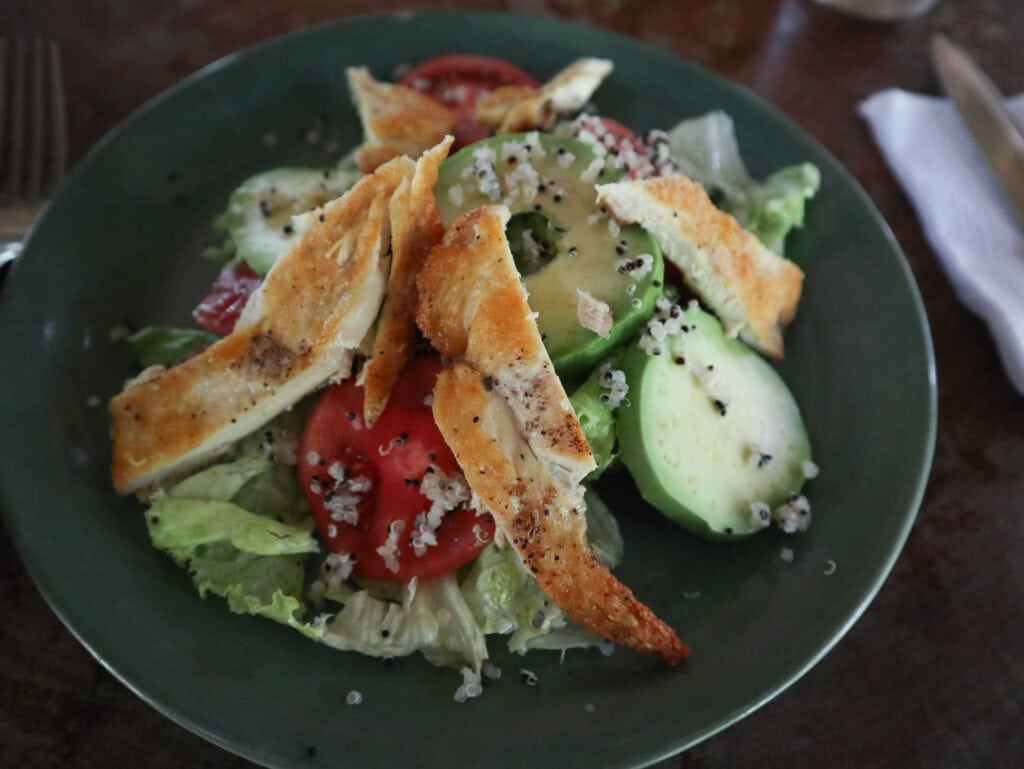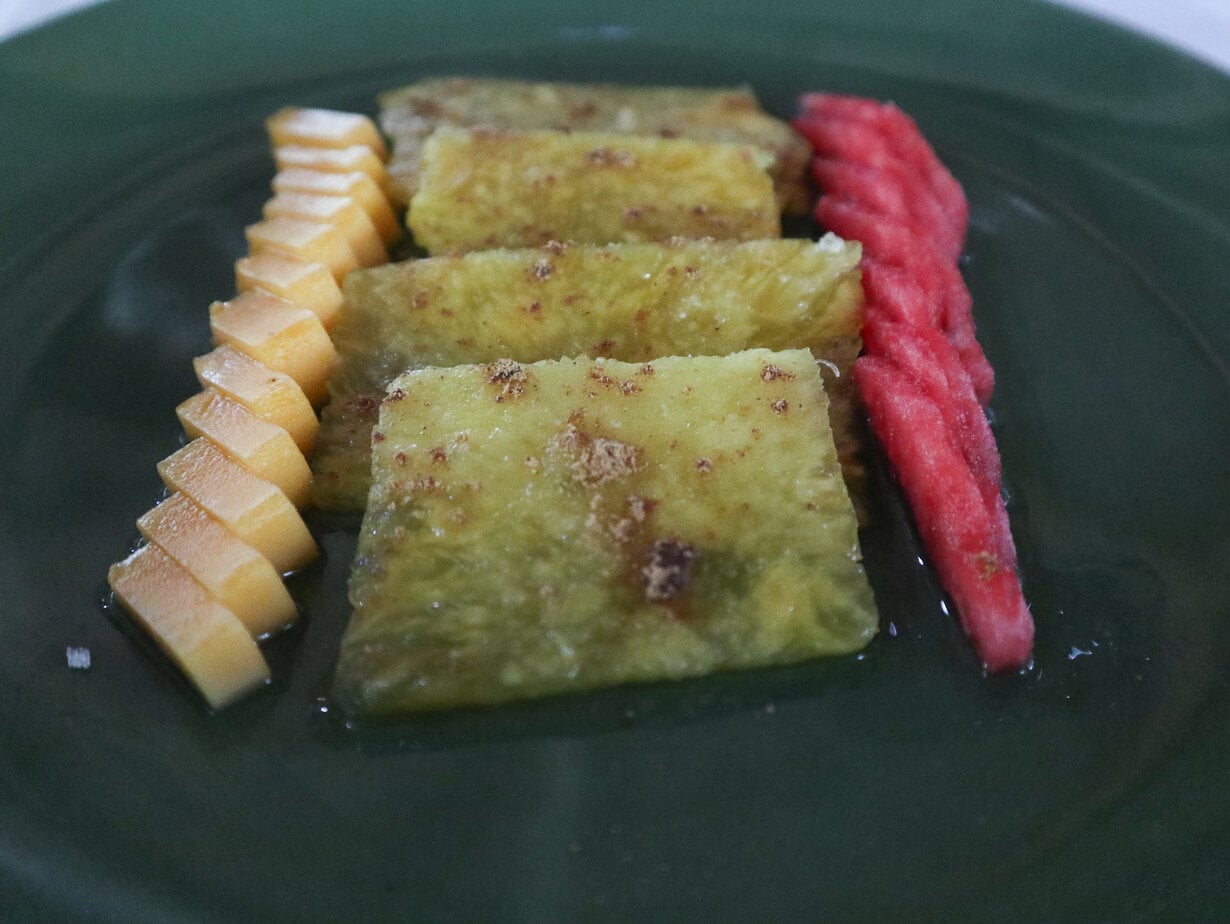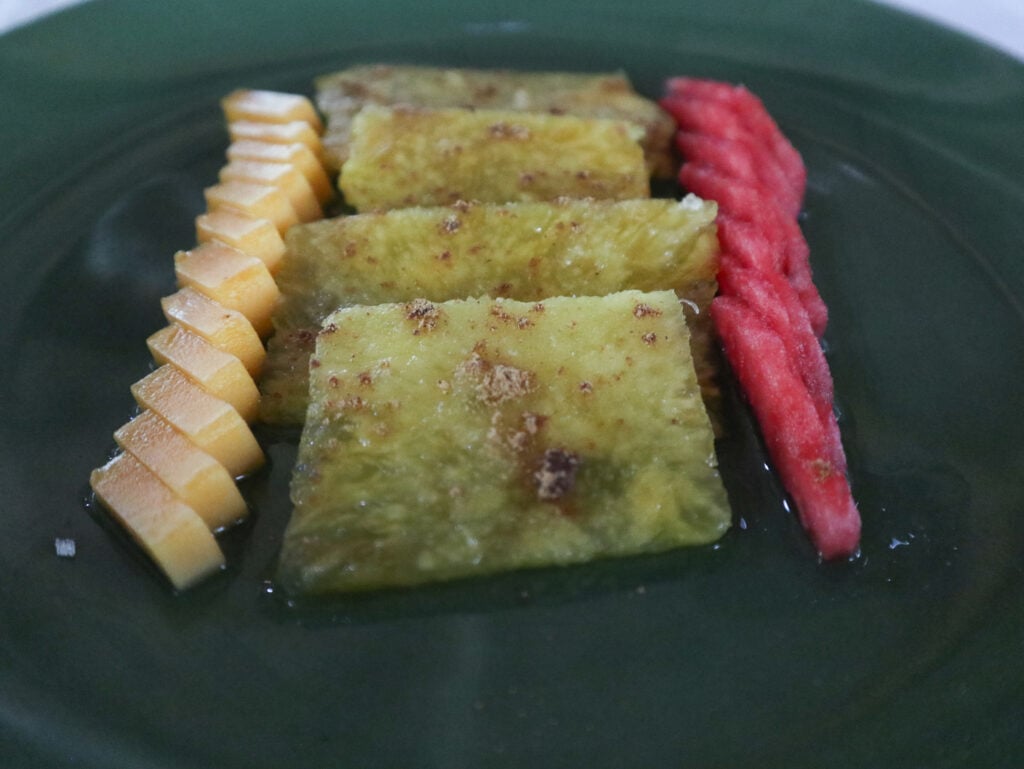 Sustainability and the Inkaterra Brand
One reason I wanted to stay at an Inkaterra hotel was due to their sustainability values. They are 100% carbon neutral and even named by the United Nations as the world's first "climate positive" hotel brand.
Since their founding in 1975, Inkaterra has been working on environmental conservation in Peru. They run research projects across Peru in addition to their eco-tourism initiatives. Additionally, they hire staff locally to support the local economy.
Important Things to Know Before Staying at Inkaterra Reserva Amazonica
This is a true Amazon lodge, not your typical luxury hotel. So, before you book your stay at Inkaterra Reserva Amazonica, there are some things that I think are important to understand.
Things to know about staying at Inkaterra Reserva Amazonica:
Air conditioning: There is no air conditioning at the lodge or in any of the bungalows. There are fans, though.
Power shut offs: In keeping with their sustainability values and remote location, they shut off the power generator for a few hours mid morning and mid afternoon. This means no lights and no fans. Typically, you'd be out on an excursion anyway at these times. If you're not, this is the time to take a cold shower, relax in your hammock, or take a nap.
Prepare to get sweaty: It can be incredibly humid and you will sweat through your clothes immediately if you're on an afternoon jungle excursion. Embrace it. (And embrace a cold rain shower and outfit change mid day). We visited in August which is supposed to be one of the least humid months, but it was still over 90% humidity one day. You can check the monthly humidity index here.
Wifi: There is no wifi or cell service anywhere on property. Again, embrace it! You're in the jungle. Bring a good book and some cards 🙂
Toilet paper: Like everywhere else in Peru, you must throw used toilet paper in a bin and not flush it. At Inkaterra, staff will empty the bin daily.
Mobility issues: I have to say, Inkaterra Reserva Amazonica is not a great place to stay if you have any mobility issues. There are a lot of stairs that must be navigated from the river dock to access the property. The log pathway through the property is also quite uneven and a definite fall hazard for anyone with physical or vision mobility issues.
I think that anyone who is displeased with their stay at Inkaterra must not have had the correct expectations. This is a luxury hotel but it is also in the Amazon rainforest in a remote part of Peru.
It is an eco-friendly enterprise that connects you with nature, and you must embrace nature to enjoy your stay here. I think if you have the correct expectations, then you can't help but love it here, like we did.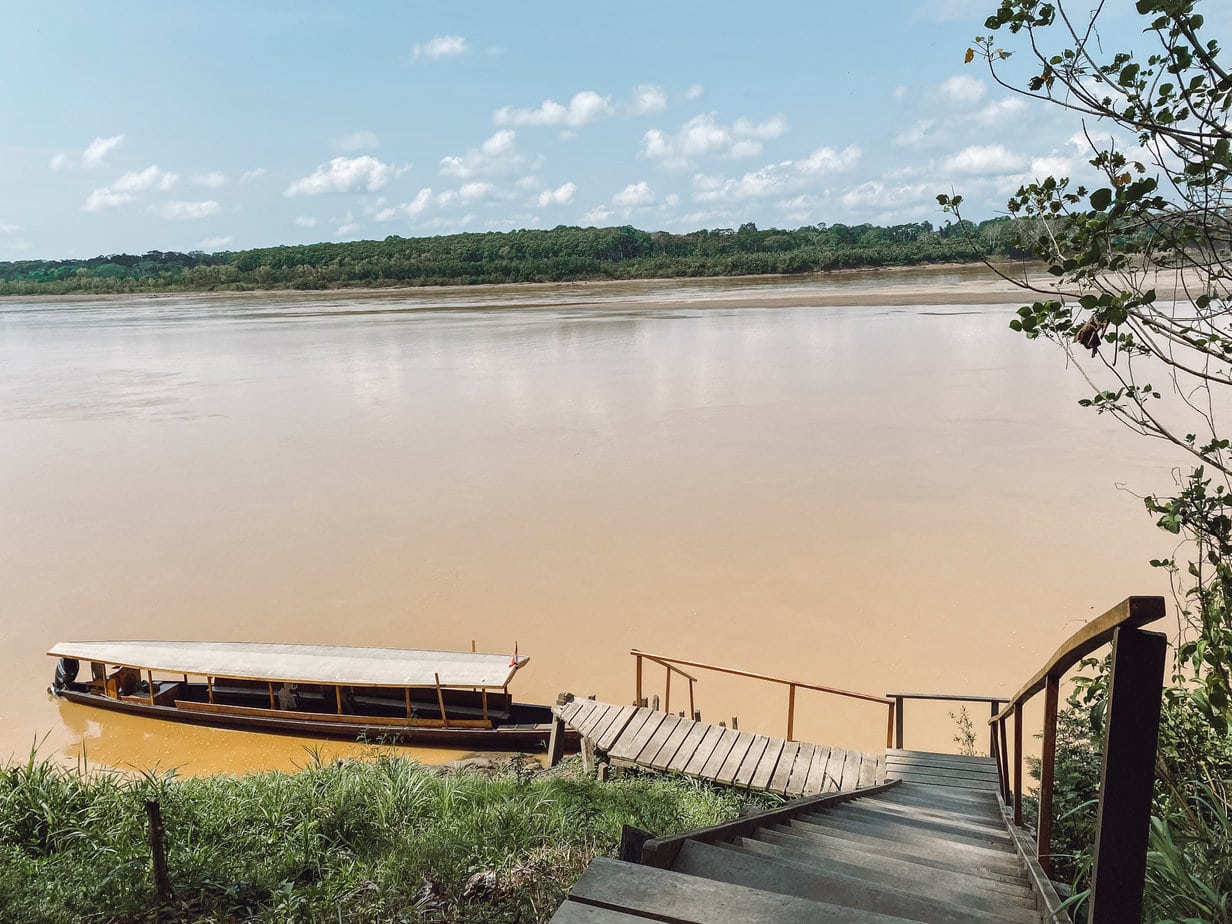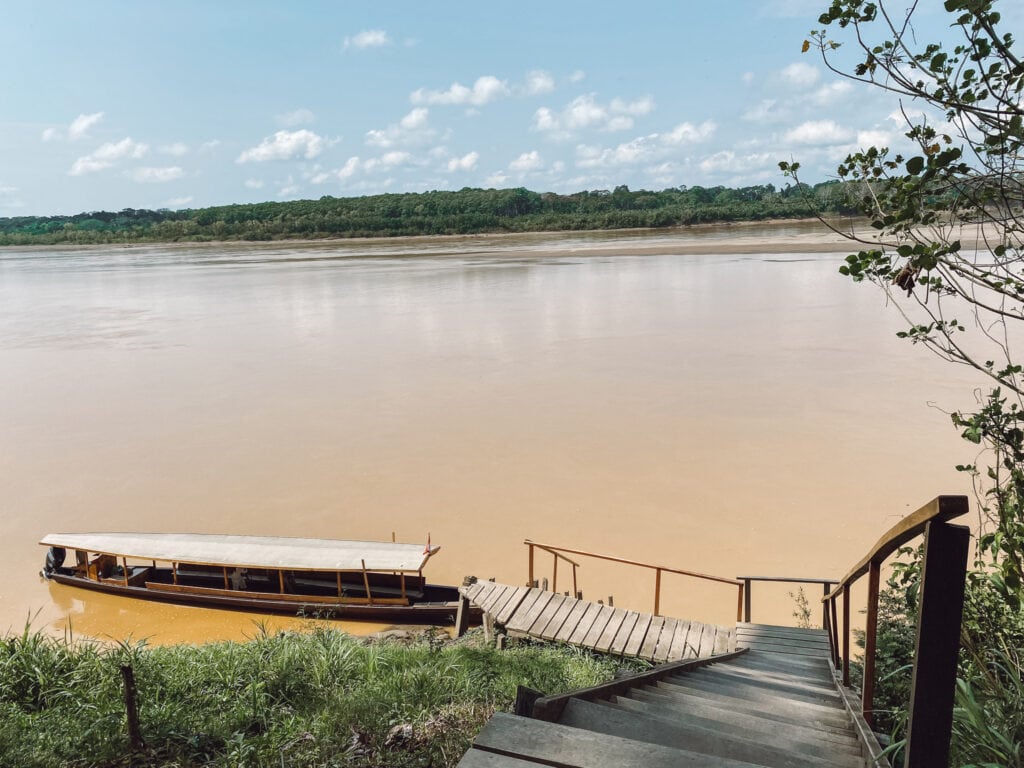 Packing List for Visiting the Amazon in Peru
You definitely need to pack a different assortment of clothes and gadgets for the Amazon than for travel in other areas of Peru.
In addition to your normal Peru packing list, here are some items that will be useful in the Amazon:
Waterproof hiking boots
Camera – I use the Canon EOS M6 mirrorless which is super lightweight and great for travel.
Lightweight, long-sleeve shirts
Lightweight long pants
White linen top – great for "jungle chic" photos haha.
Sunscreen
Headlamp – 100% necessary for walking back from dinner at night. I use this Black Diamond one. So much easier than a phone light!
Fanny pack – My Lululemon Everywhere Belt Bag came in very handy for excursions and boat rides to keep my phone and small valuables safe from the river and other elements.
Light sundress for dinners
Anker portable power bank – for when the power is shut off.
Cards, Kindle, or other forms of entertainment
Grayl filtration water bottle – not completely necessary as they provide water in the dining hall but we found it useful.
Visiting the Amazon in Peru was a dream come true. In my opinion, after two months in Peru, this is one of the best things to do in Peru and should be on even the shortest itineraries. With how accessible Inkaterra is, that's actually possible!
We truly loved our stay at Inkaterra Reserva Amazonica and I'm sure it's one of those unique travel memories we'll look back on for years to come. If you have any questions about Inkaterra or visiting the Amazon in Peru, just leave me a comment below!
The Details
What? Inkaterra Reserva Amazonica, an eco-luxury hotel in the Peruvian Amazon.
Where? On the Madre de Dios river in the Tambopata Reserve of Peru's Amazon jungle. The closest city is Puerto Maldonado.
Cost? Rates vary by season and room type, but are typically around $440+/night. That is expensive by Peruvian standards, yes, but it is also all-inclusive for two people. Check rates for your dates here.
Amenities? All-inclusive. This includes transport to/from the airport or bus station, transport along the river, three meals a day (with multiple courses), three excursions daily, welcome juice, and complimentary happy hour drink. Spa, laundry, and cocktails/specialty drinks are available for additional expense.
How to get there? A 1-hour flight from Cusco to Puerto Maldonado airport, or an overnight bus by Cruz del Sur from Cusco.
How to book? Book online here.