7 Best Coffee Shops in Arequipa Peru
Arequipa was a breath of fresh air during our travels in Peru. One big reason for that? All the sunny, welcoming, and delicious coffee shops in Arequipa.
I hadn't heard much about the coffee scene in Arequipa before our arrival but it immediately became clear that this is a city of people who love coffee. And Peruvians know coffee. Sure, they might prefer their beans more fruity and lighter roasted than I do, but it's still good coffee.
In addition to good coffee, though, Arequipa has coffee shops with atmosphere, which I can't say of everywhere we've traveled in Peru (looking at you, Paracas). If you're a remote worker or digital nomad, then you will particularly love the cafes in Arequipa. I know I did. When our (otherwise lovely) hostel's wifi fritzed out on me, I spent many hours escaping to coffee shops around the city. I sussed out the best beans and the best wifi, and this is what I found!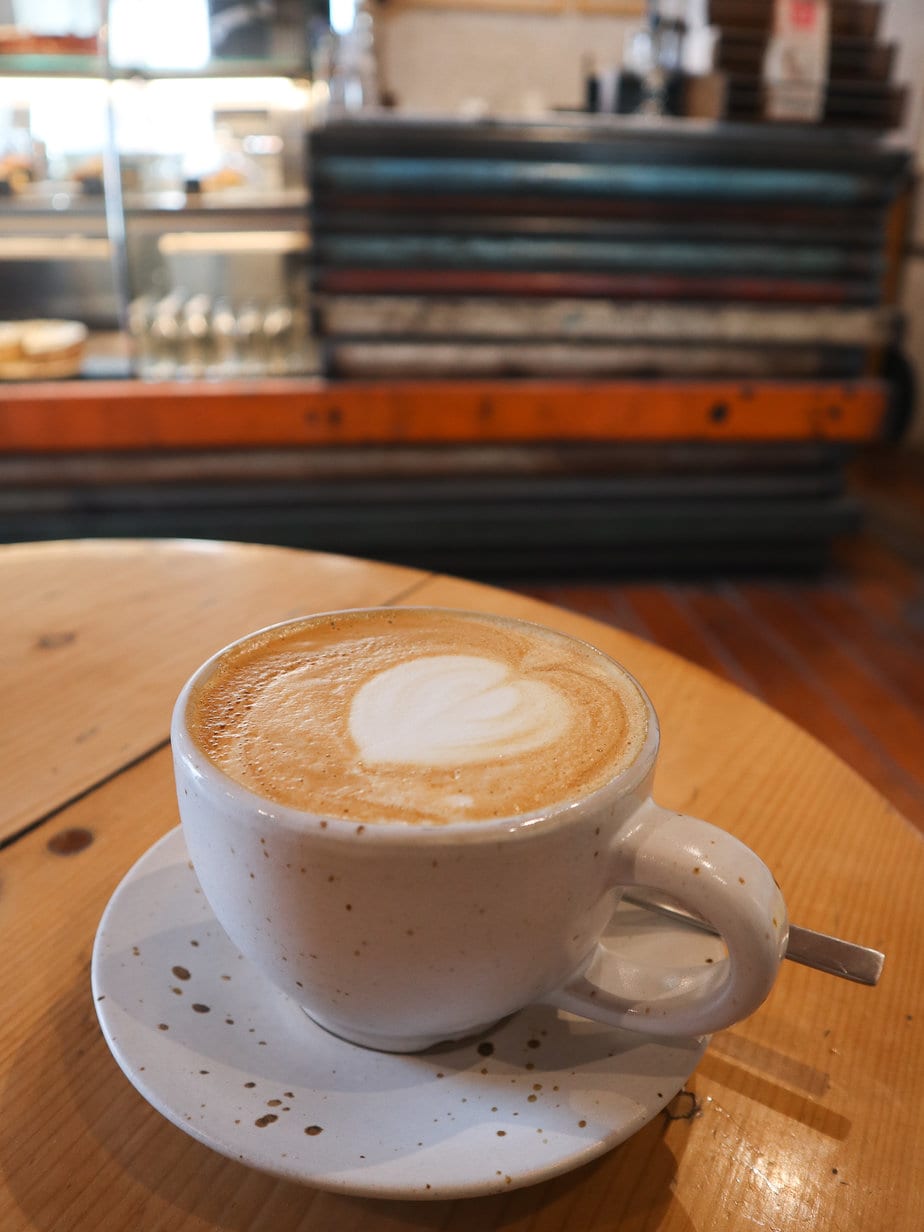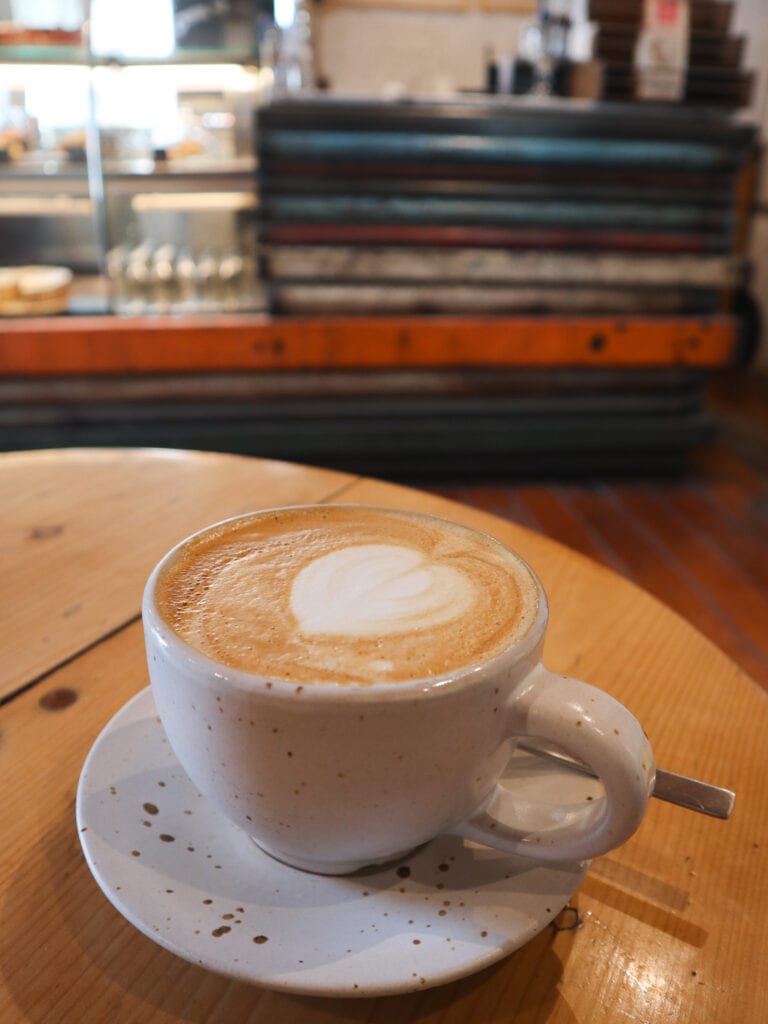 Best Coffee Shops in Arequipa
1. Kafi Wasi
Kafi Wasi is a wonderful coffee shop close to Arequipa's Plaza de Armas. The coffee here is quite good and what I love even more is that they let you select how it is prepared (chemex, french press, moka, etc.). I absolutely love my bialetti coffee maker at home and have really missed it on our travels, so this was quite exciting for me. They also offer specialty coffee drinks, iced coffees, and even coffee cocktails. The food menu includes breakfast, brunch, and sandwiches.
If you need a place to work or study, Kafi Wasi is also great for that. It is tied with Palacio (#2 below) for my personal top two coffee shops in Arequipa to work in. The wifi is strong, the tables are spacious with nearby outlets, and it was never too busy that I felt bad for taking up a table.
Kafi Wasi's coffee classes are also worth mentioning, and why I put them first on this list of coffee shops in Arequipa! They range from hour long cupping classes to multi-day learn to be a barista classes. Reach out to them on Whatsapp (+51 986862030) for more information on current offerings.
Address: Kafi Wasi, Calle, Calle Pte. Bolognesi 216, Arequipa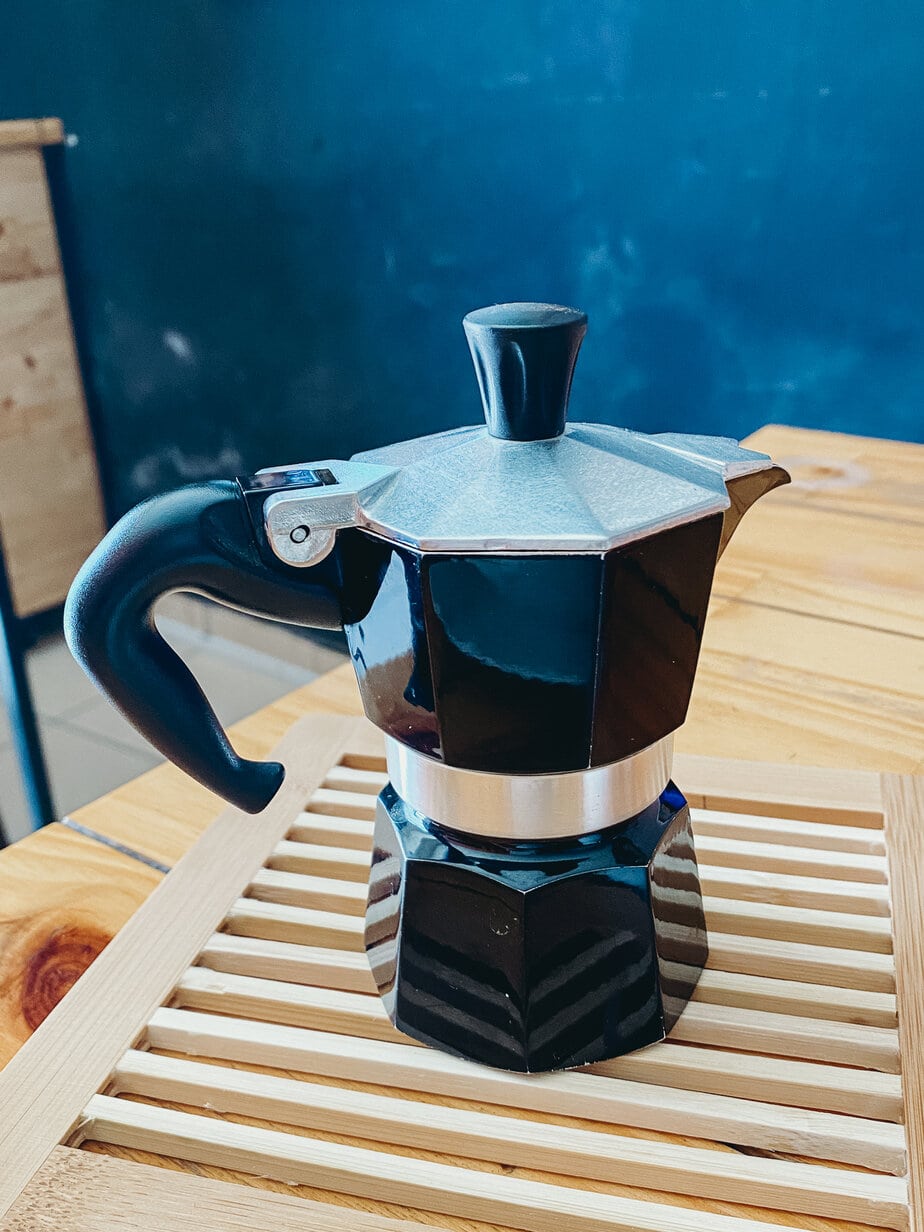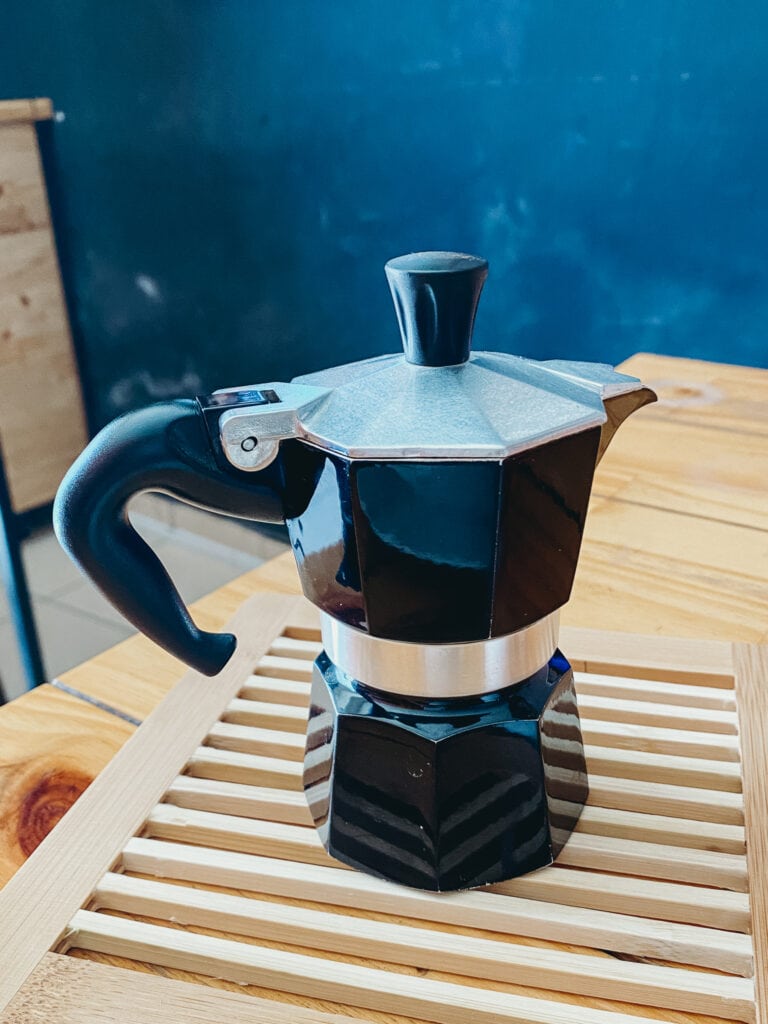 2. Palacios Coffee
Palacios Coffee is a lovely, locally owned coffee shop in Arequipa. This place was the friendliest, with the most welcoming vibes of any cafe I went to. It is a 10 minute walk from the Plaza de Armas, so quite well located but it still feels quiet and residential.
These guys roast their own Peruvian coffee beans on site, and even let you choose which type of bean you want your coffee made from! Without argument, this is the best quality coffee you'll find in Arequipa. They also let you choose your preparation method, which I love.
The upstairs at Palacios is also very good for getting some work done. It is full of comfortable tables with close outlets, fast wifi, and very quiet.
Additionally (yes, there's more!) they offer coffee classes just like Kafi Wasi. Some of their offerings include cupping, brew extraction methods, latte art, and barista courses. Check out their website for more information!
Address: Palacios Coffee, Lima 201, Urb, Arequipa 04001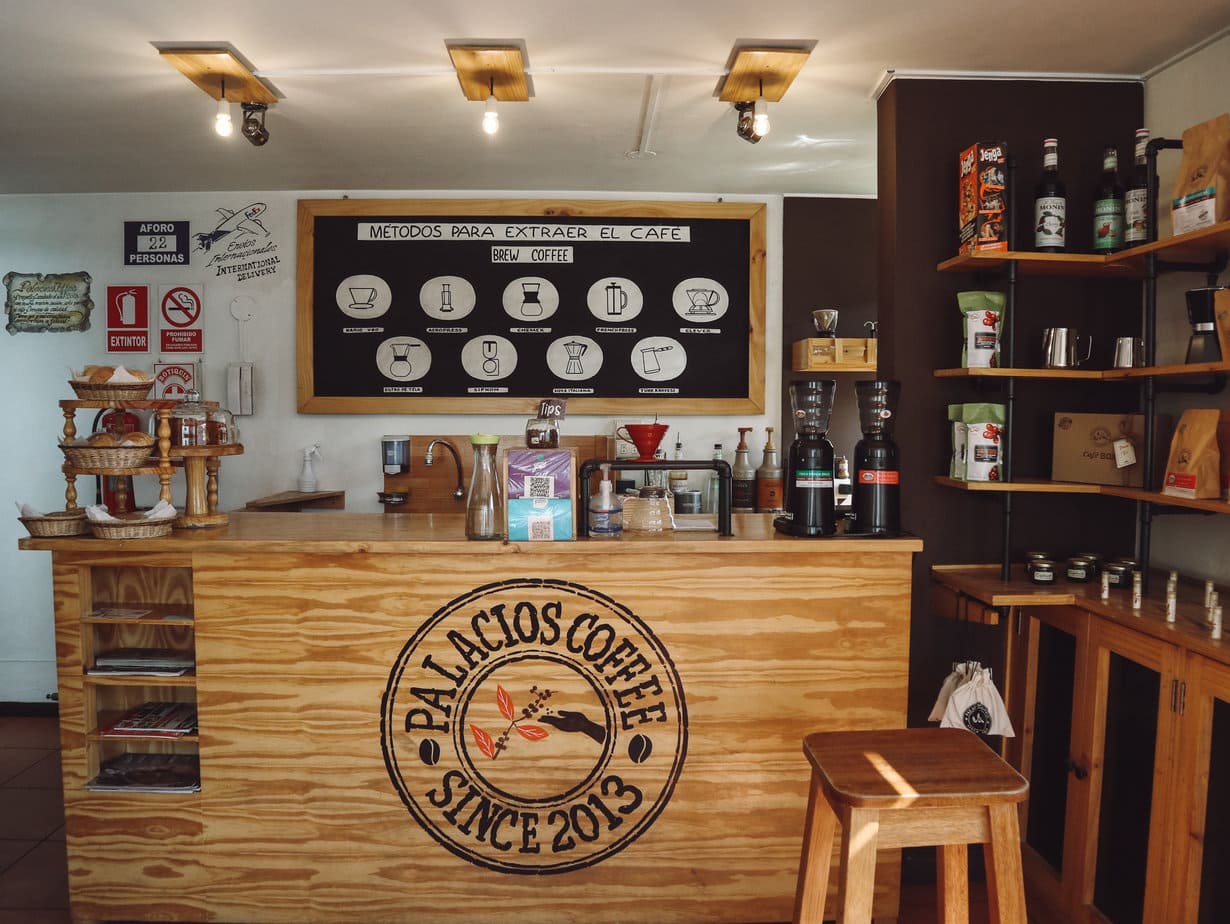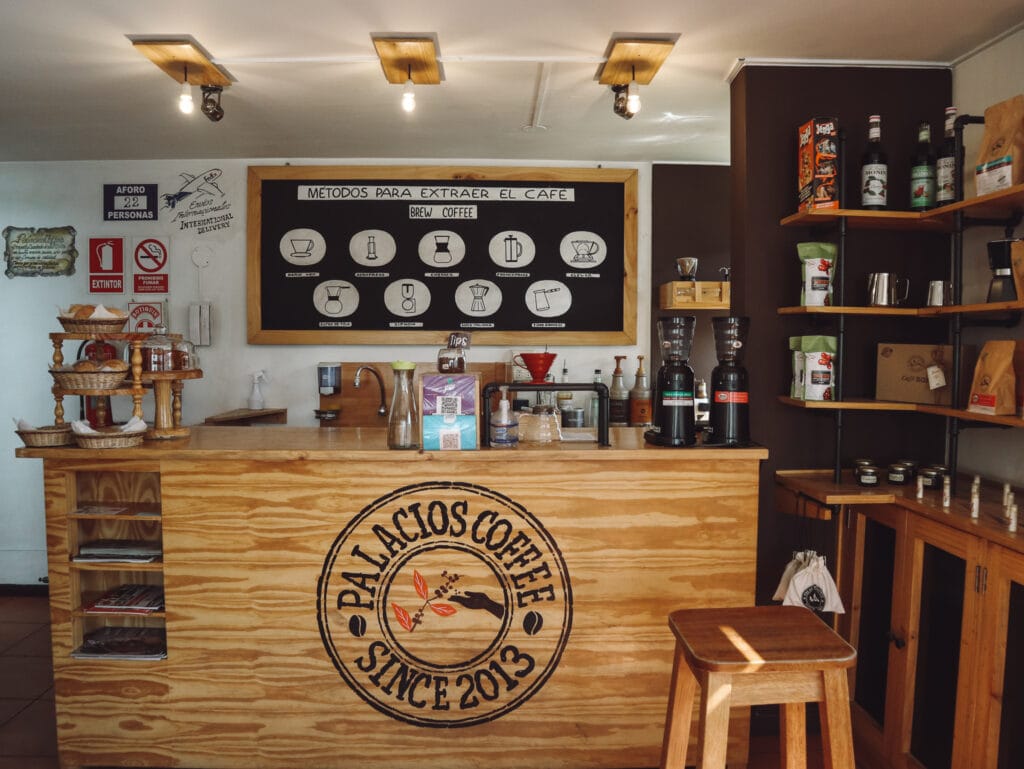 3. Puku Puku
Puku Puku is a cute coffee shop that serves 100% Peruvian coffee. It also turns into a low key bar at night (wine and beer only)! It is located close to the Plaza de Armas on the second floor of a beautiful old building. They only have two tables available inside, but plenty of seating outside on their rooftop terrace. I went here for coffee in the morning and cocktails at night (perfect viewing for Arequipa's anniversario parade, if you happen to be in town on that night) – so I can attest to both!
The cappuccino I had here was quite good, although in general the cappuccinos I've had in Peru are a little milkier than I prefer. It's not an ideal spot for working because their wifi is spotty, there aren't many outlets, and the outdoor seating is full of beanbags or high stools – AKA, comfy but not great for getting in the work zone. This is a better spot just for a chill cup of coffee as you take a break exploring Arequipa!
Address: Puku Puku, Santa Catalina 124, Arequipa 04001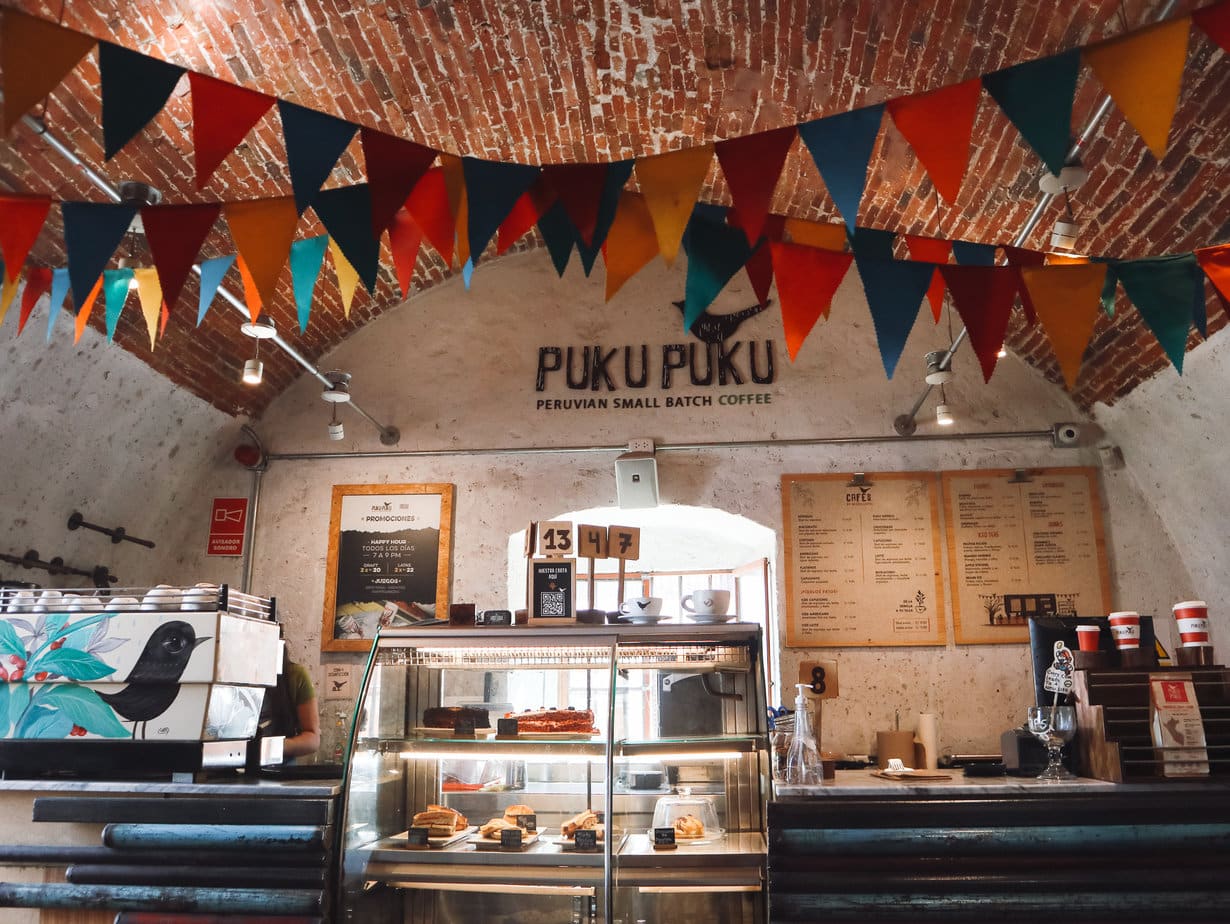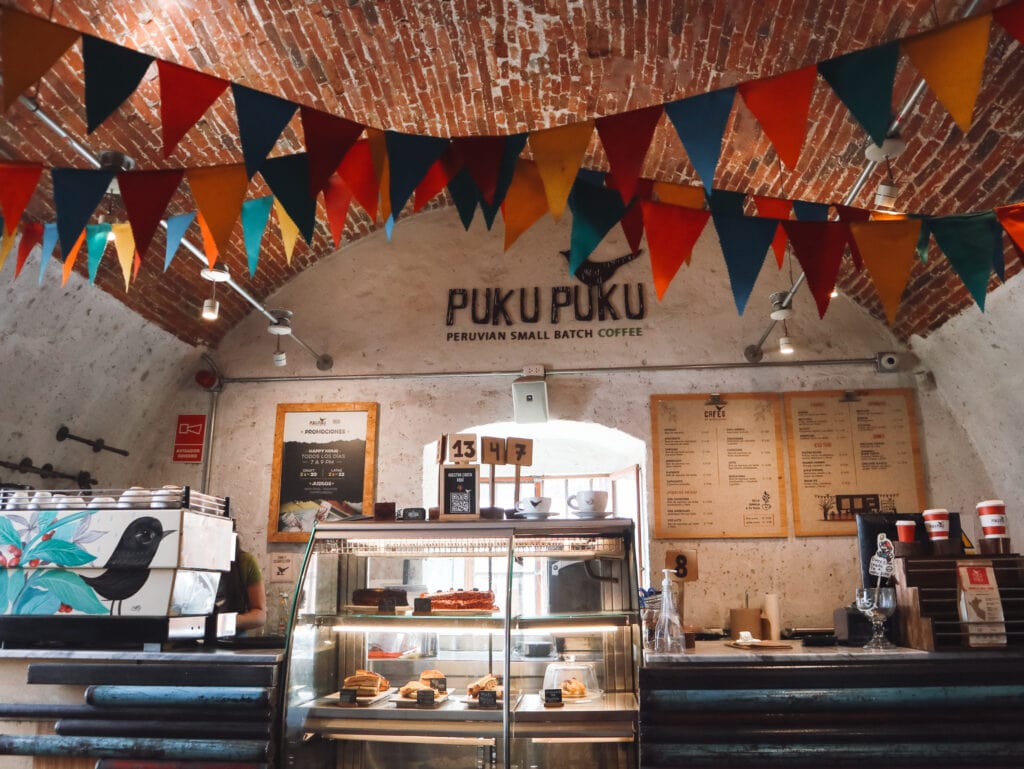 4. Ristretto
Ristretto was recommended to me by a barista at Palacios as one of the best coffee shops in Arequipa (he also personally recommended #3 and #5 on this list!). Unfortunately, even though we spent quite a lot of time in Arequipa, Ristretto was closed on the day I tried to visit (FYI, they are closed Sundays). So, I cannot attest personally, but unlike me you should not miss Ristretto while in Arequipa.
This is a specialty coffee shop that uses Peruvian beans. What else makes them stand out besides the highly recommended coffee? Their waffles! Yep, the menu here is full of delicious looking waffles. If you get a chance to visit, let me know in the comments what you think.
Address: Ristretto, Campo Redondo 100-B, Arequipa 04001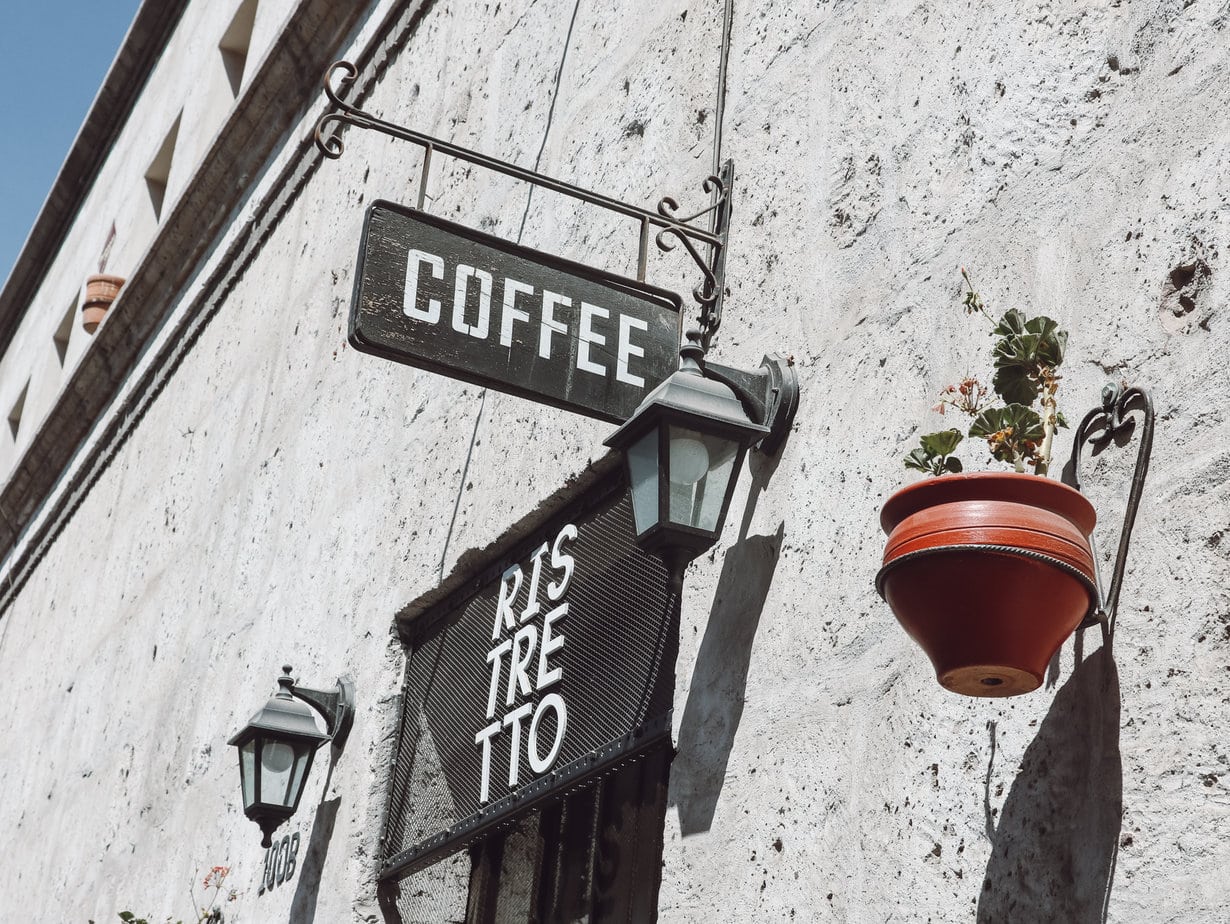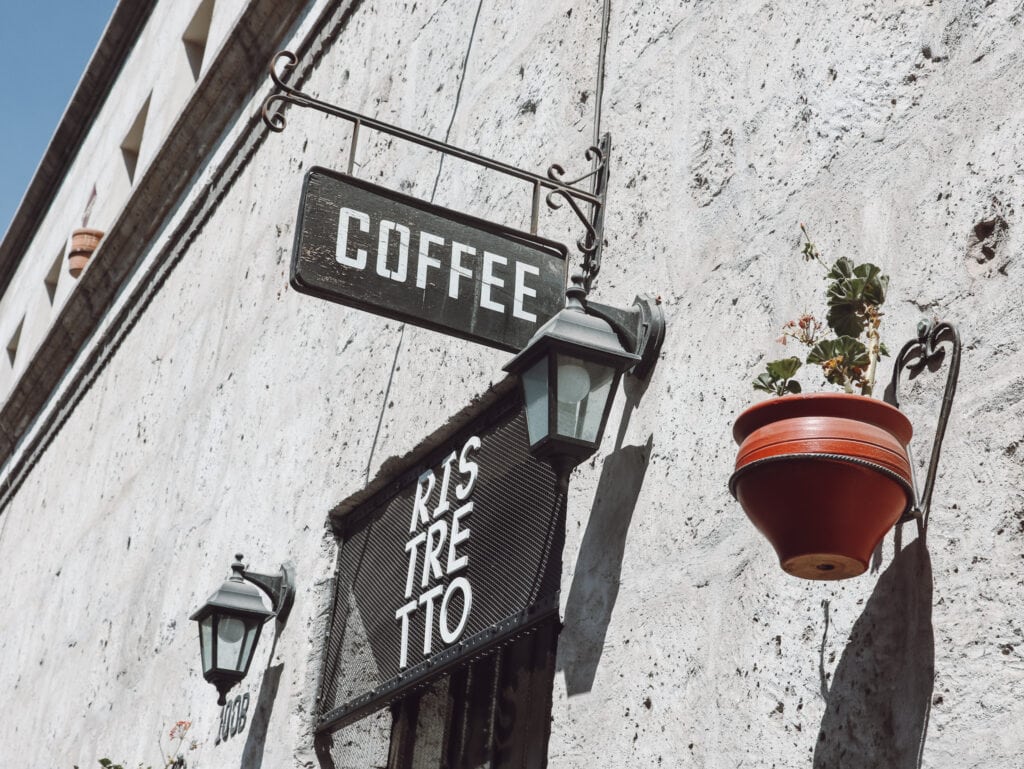 5. Kaffeehaus
Cafe Kaffeehaus wins the award for most atmospheric coffee shop in Arequipa. As you walk through the colonial building, you are met with the smell of espresso before emerging into a beautiful garden courtyard filled with lots of tables, a few comfy couches, and string lighting. Perfection!
The actual coffee here also bears mentioning, of course. They use 100% Peruvian arabica beans which they roast themselves. If you didn't catch it from the name, this is a German-Peruvian cafe, and you'll find the German influence on their menu of waffles, artisan breads, and craft beers.
Just to note, if you are hoping to get some work done, then I wouldn't recommend Cafe Kaffeehaus. It is lovely but the wifi is just no good. Instead, leave the work at home (if it requires internet) and perhaps spend this one drinking coffee with a good friend – or a good book.
Address: Cafe Kaffeehaus, Melgar 117, Arequipa 04001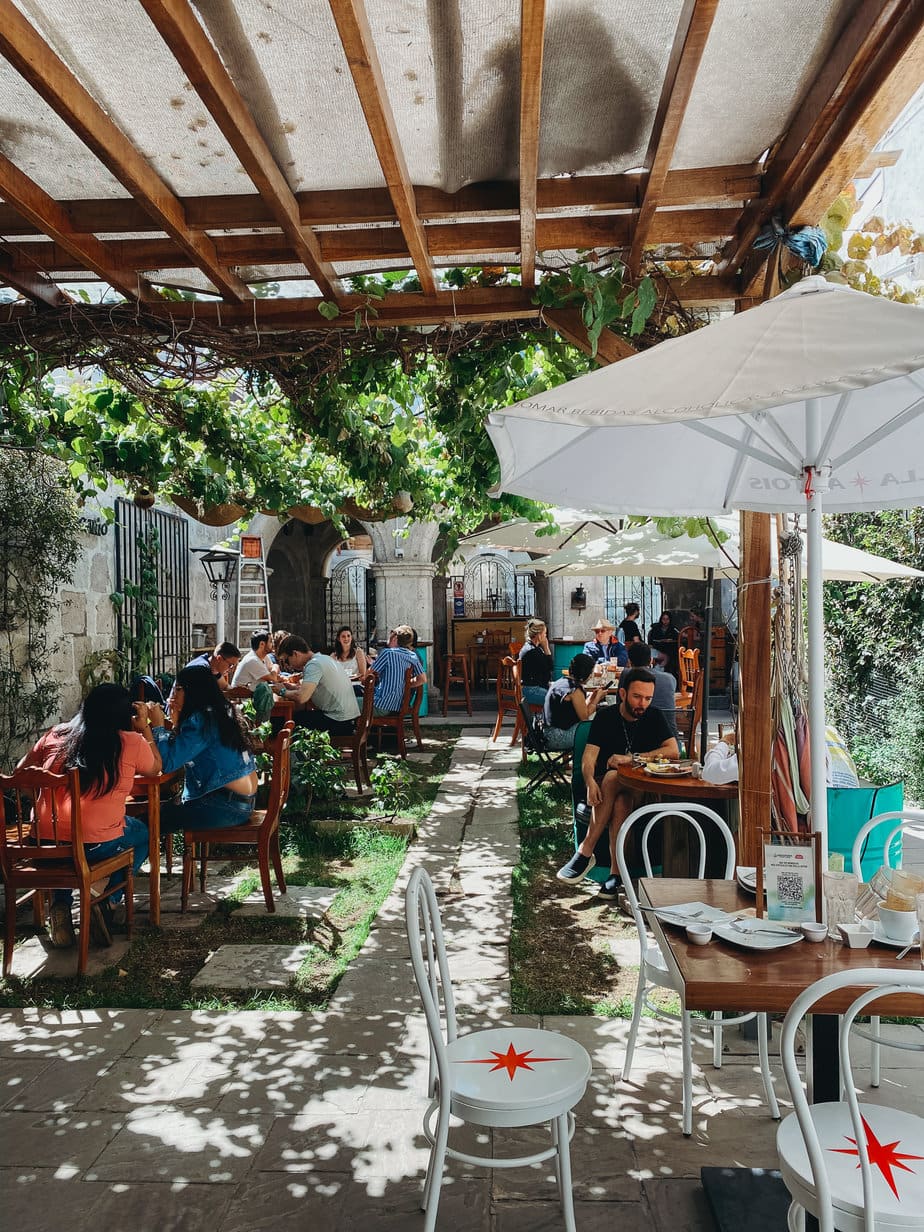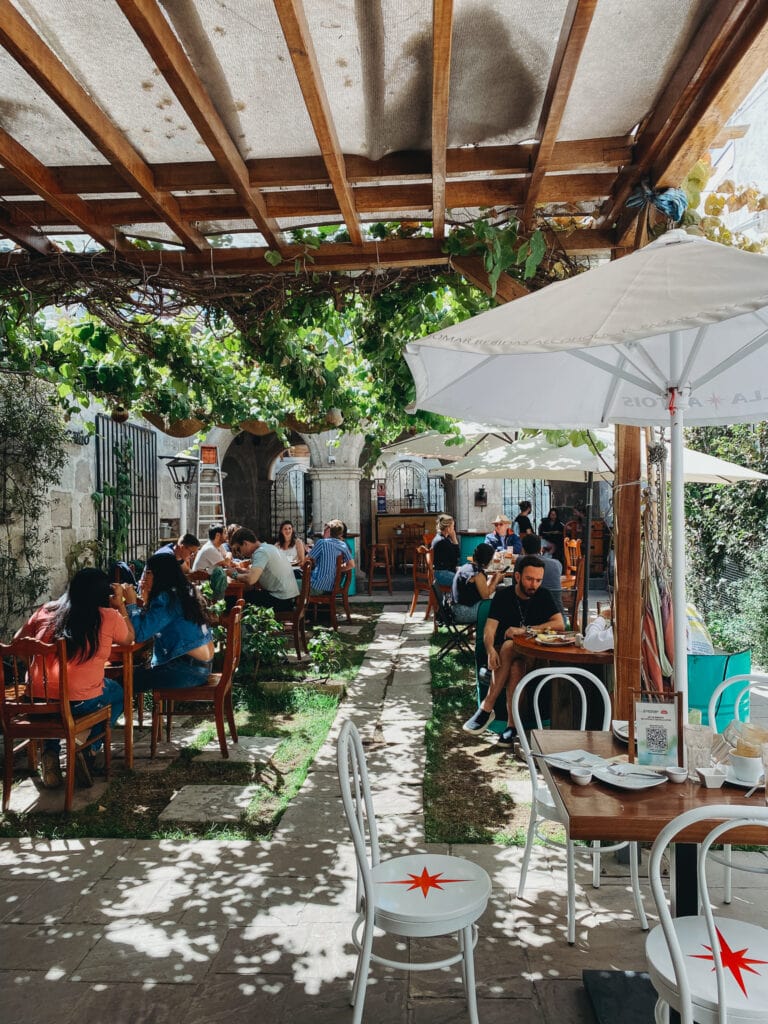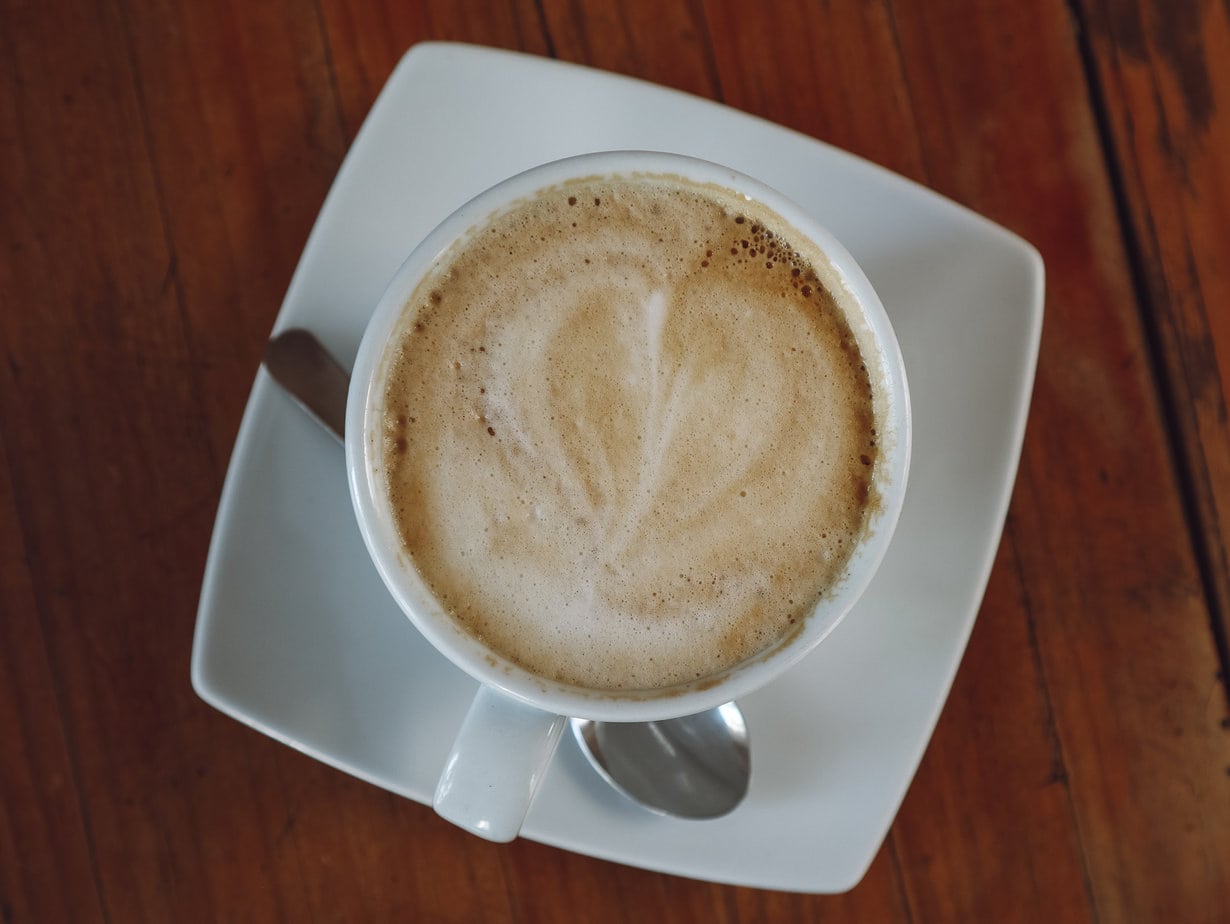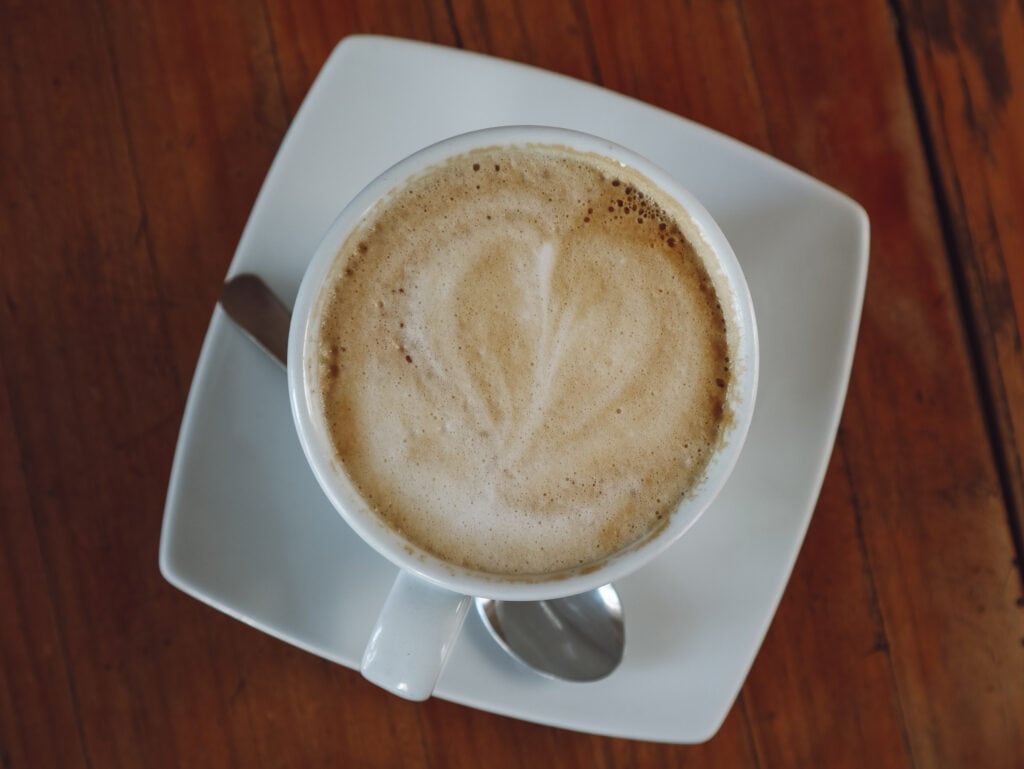 6. Coleccionista Coffee
Coleccionista Coffee is a Peruvian third-wave coffee brand, with a location in Arequipa as well as two in Lima (Barranco and Miraflores) and one in Piura. I did not personally make it to the Arequipa location, although I loved my time at the Barranco location. However our German traveling friend Helena did some reconnaissance for me and recommended this place!
According to Helena, Coleccionista in Arequipa is a decent size with indoor and outdoor seating. It's not too busy so potentially a good spot to work at. The coffee itself is quite good (which I can also attest to from their Barranco shop!).
Address: Coleccionista Coffee, Cl. San Francisco 127, Arequipa 04001
7. Satiba Therapy Food
Satiba Therapy Food is a coffee shop and 100% vegan cafe in Arequipa. It's actually located in Yanahuara District which is across the river from downtown Arequipa. This is a very pretty and calm neighborhood and home to the Yanahuara Viewpoint which was one of my favorite things to do in Arequipa.
I didn't make it to Satiba Therapy Food myself but Helena highly recommends it. She says it has a beautiful rooftop terrace with a view to the volcanoes. It's very calm and there's wifi downstairs (not upstairs) for working. They also have a small shop that has vegan foods and cosmetics.
Address: Satiba Therapy, Cerrito 109 B, Yanahuara 04210
I truly loved my time in Arequipa, and I believe all the mornings (often into afternoons…) spent in coffee shops had a great deal to do with that. If you visit Arequipa and enjoy coffee, then definitely check out these cafes – and let me know in the comments which one is your favorite!