Best Spanish School in Lima: Peruwayna Review
Many people come to Peru to study Spanish because Peruvians speak so clearly. And Lima, the seaside capital city, is usually the first stop in the country. If you are looking for the best Spanish school in Lima, then I hope that this honest review of Peruwayna, one of the top recommended Spanish schools in Lima, will be very useful.
We studied at Peruwayna for two weeks, 20 hours per week, from a completely novice level. This is what we thought about the Spanish school, and if we recommend it!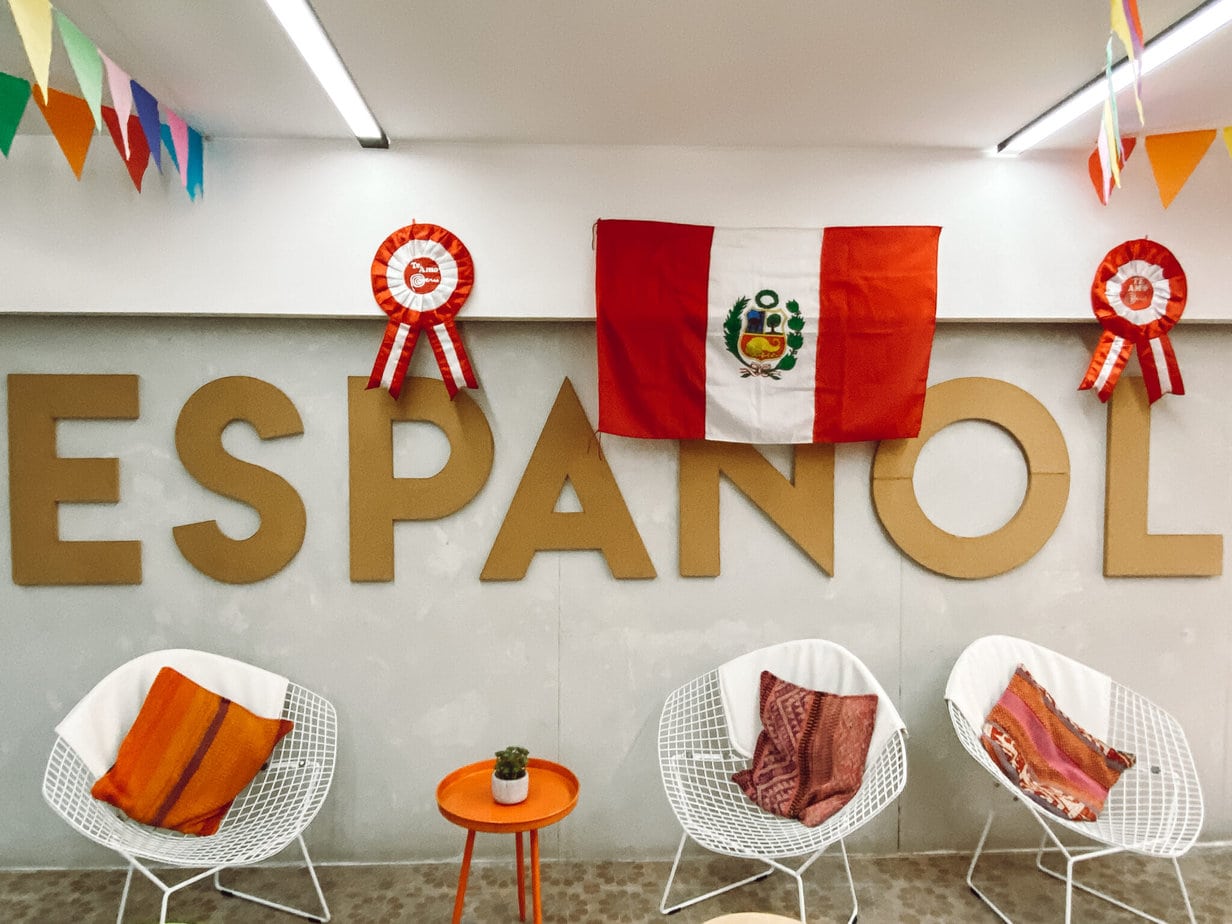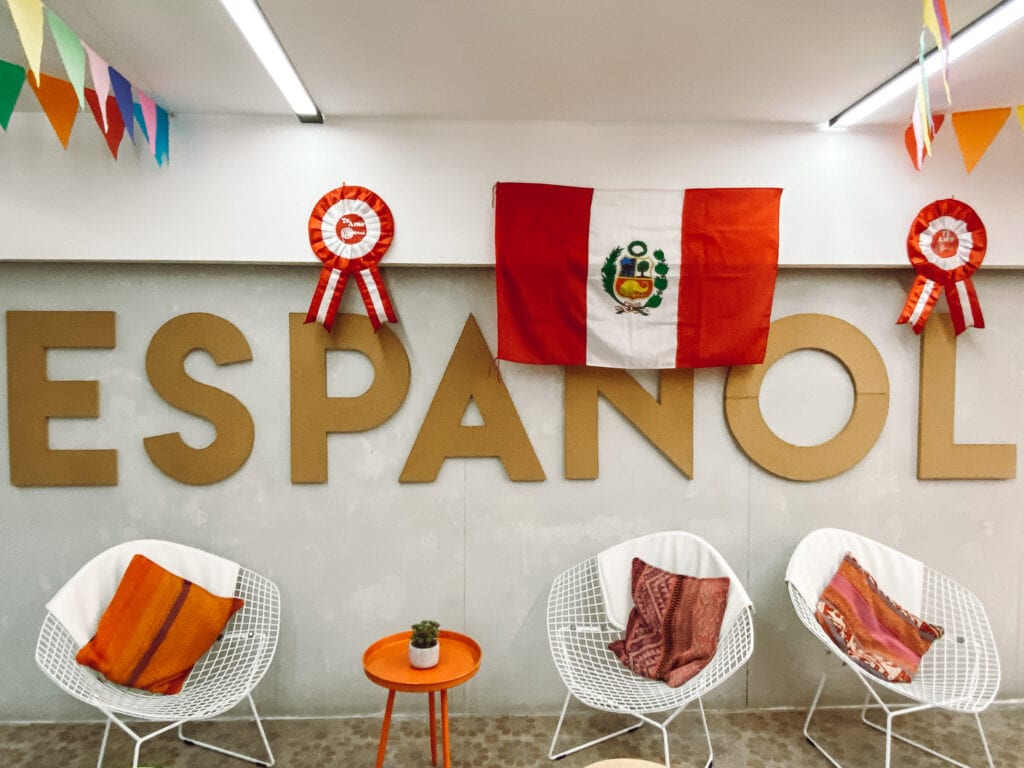 First, Why Study Spanish in Peru?
Peru is one of the best South American countries to study Spanish in because the Peruvian accent is very neutral and clear. Studying Spanish in Peru also gives you an immersive experience where you can learn much quicker than traditional classrooms at home (at least this was the case for Dan and I!). It's easy to carry over what you learn in class to the real world because the general population speaks so clearly.
Not to mention, it's also way more affordable to study Spanish in Peru than it is to get the same number of teaching hours at home.
Why Study at a Spanish School in Lima?
We chose to enroll in a Spanish school in Lima, specifically, for a few reasons. First, Lima was the first stop on our round the world trip and, having no prior Spanish knowledge, we desperately needed a crash course in order to survive our months of travel in South and Central America where many people don't speak English.
In retrospect, we are really glad we studied in Lima compared to Cusco or other cities in Peru. It's a mild temperature, and while certain neighborhoods are safe and cater to tourists, it doesn't feel over-the-top touristy like Cusco does. We felt like we were really living in Lima – with our routine of Spanish school, favorite restaurants, grocery stores, walking routes, etc.
Additionally, one of the best things to do in Lima is eat! This city is home to some of the best restaurants in the world. Most visitors only spend a couple days maximum in Lima and, well, you can only eat so much in two days! Having two weeks of dinners gave us time to leisurely enjoy Lima's foodie scene.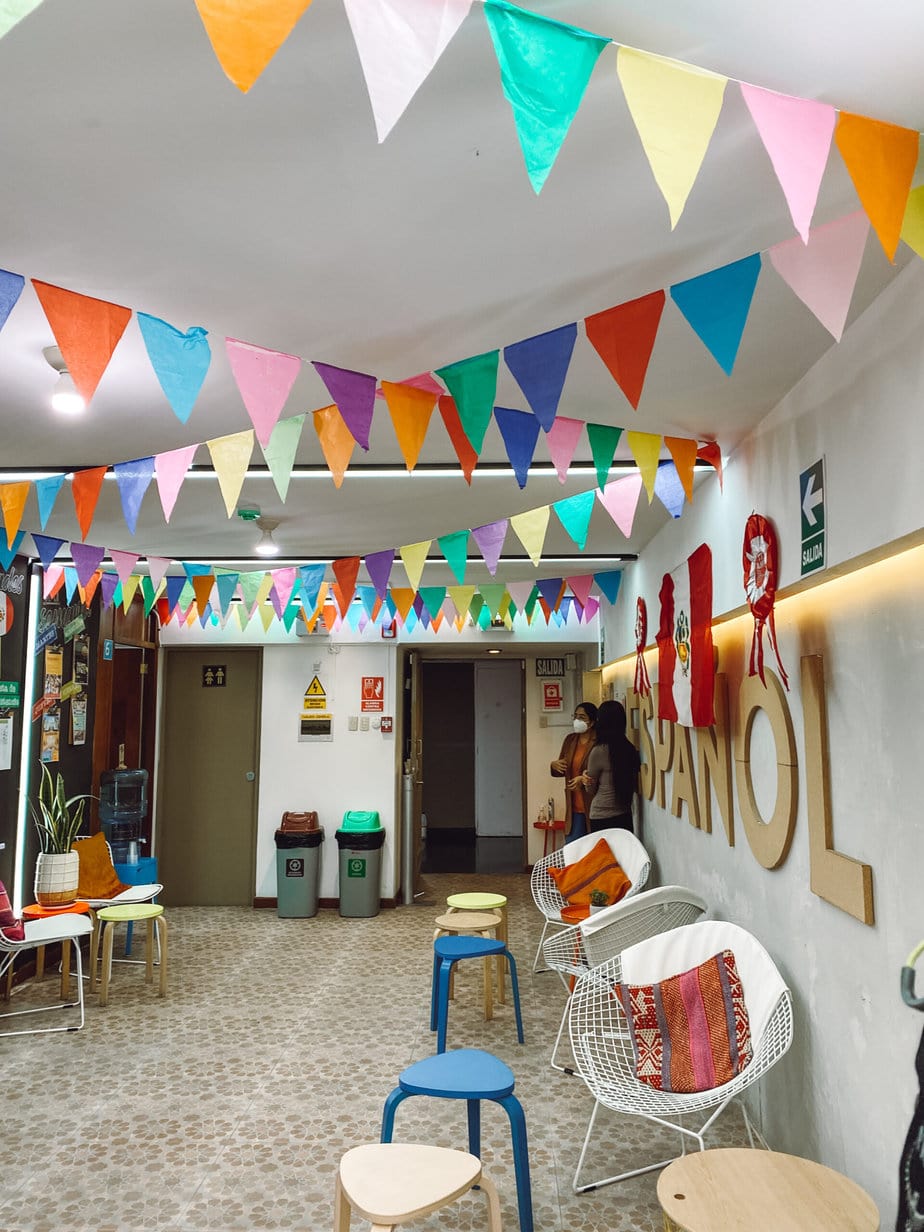 Why choose Peruwayna Spanish school?
We knew we wanted to study Spanish in Lima, but it took us a while to choose the right Spanish school.
We narrowed it down to a few of the Spanish schools in Lima with the best reviews:
Ultimately, we chose Peruwayna because of the location, price, activities, and good reviews.
This is what we honestly thought after two weeks studying at Peruwayna!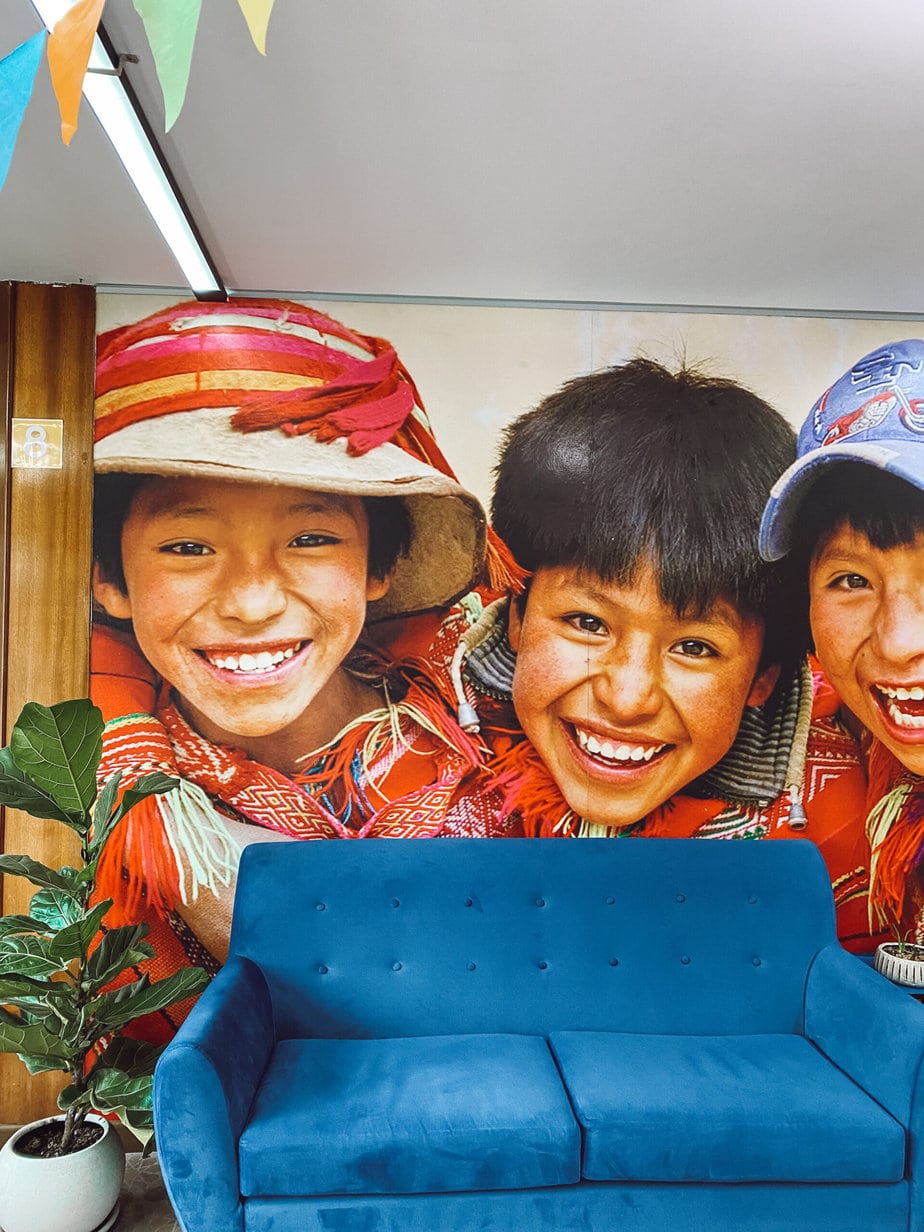 Location
A central location in Miraflores was very important to us. Miraflores is the main safe tourist neighborhood in Lima, but it is a huge neighborhood. We made a map of the restaurants and things we wanted to do in Lima, and Peruwayna was smack in the middle.
From our Airbnb, it was a 10-15 minute walk to Peruwayna. We could also walk to grocery stores, the seaside path, great restaurants, Kennedy Park, and even felt safe walking at night.
Pricing
Peruwayna is competitively priced and we were really happy with the value for money that we got. We paid 480 soles / $123 USD per person, per week for 20 hours of small group Spanish classes.
Private classes cost more, running at 440 soles / $113 USD for 10 hours per week, or 830 soles / $213 USD for 20 hours per week.
Dan compared the cost to other Spanish schools in Lima and found it was about the same, but had better reviews. You can check out up to date pricing here.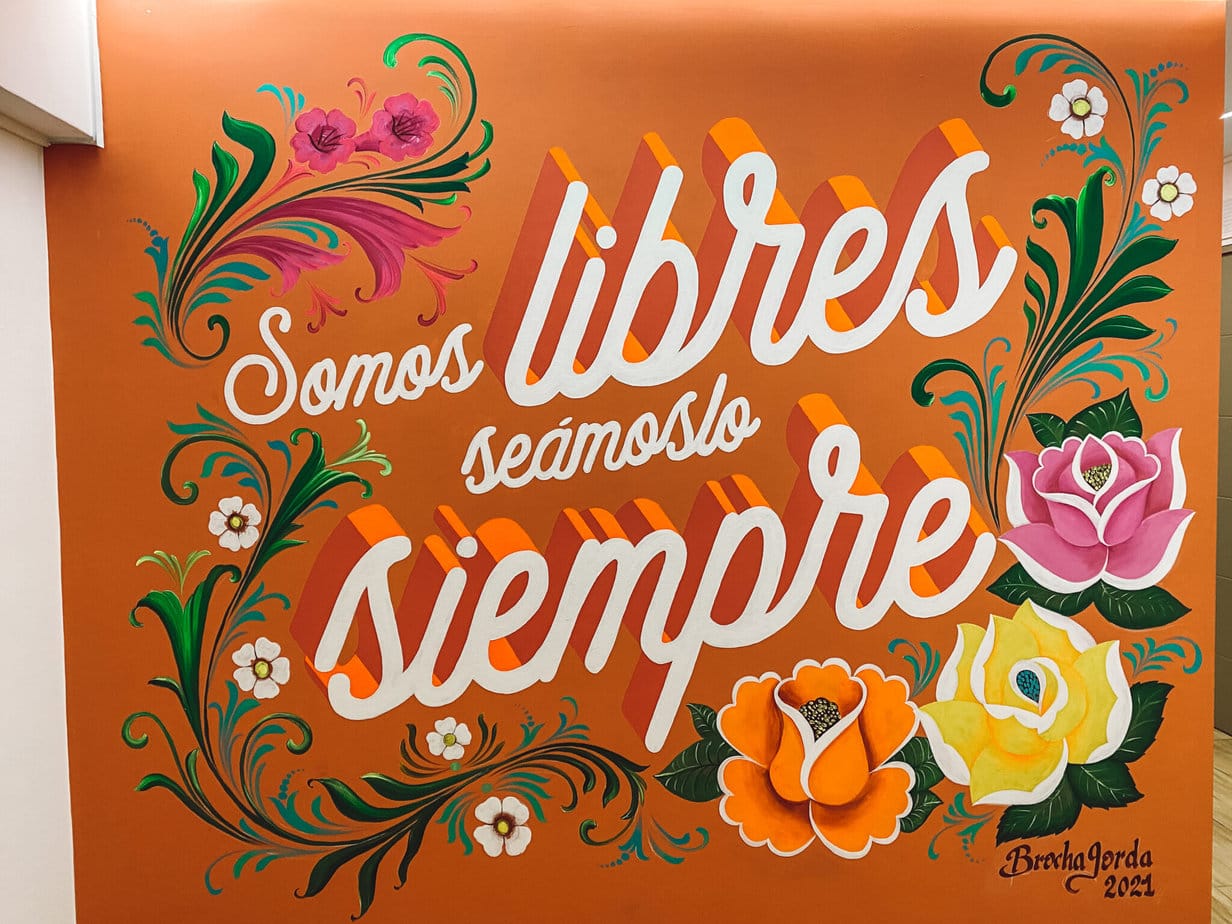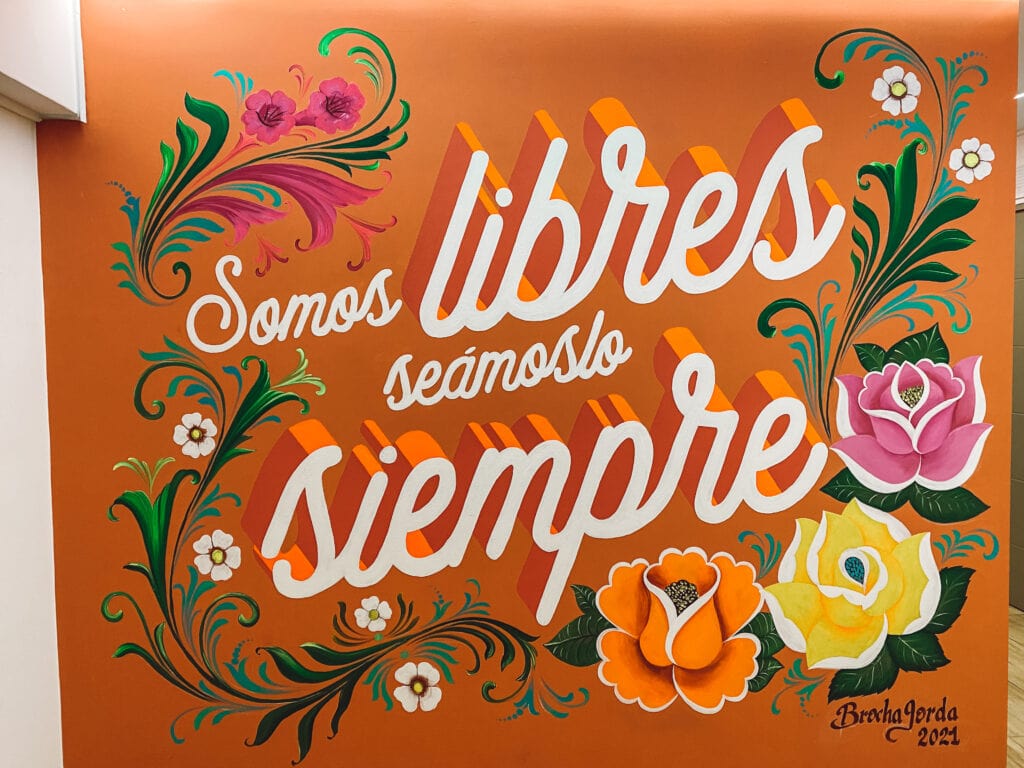 Different Types of Classes
As I mentioned, at Peruwayna you have the option of group or private classes.
Both weeks our small group was only three students plus our teacher! Most group classes were around three to five people, and class size is capped at five.
A lot of people also took private classes and then came to the same activities and social events as us.
Level of Spanish
Peruwayna offers classes for all levels of Spanish.
Since we had absolutely no Spanish experience, we started in their most basic level.
For everyone else, there was a small test before arrival to help place you into the correct class for your ability.
There were lots of students of varying intermediate levels, and even some who were fully fluent (and were Spanish teachers in their home countries!).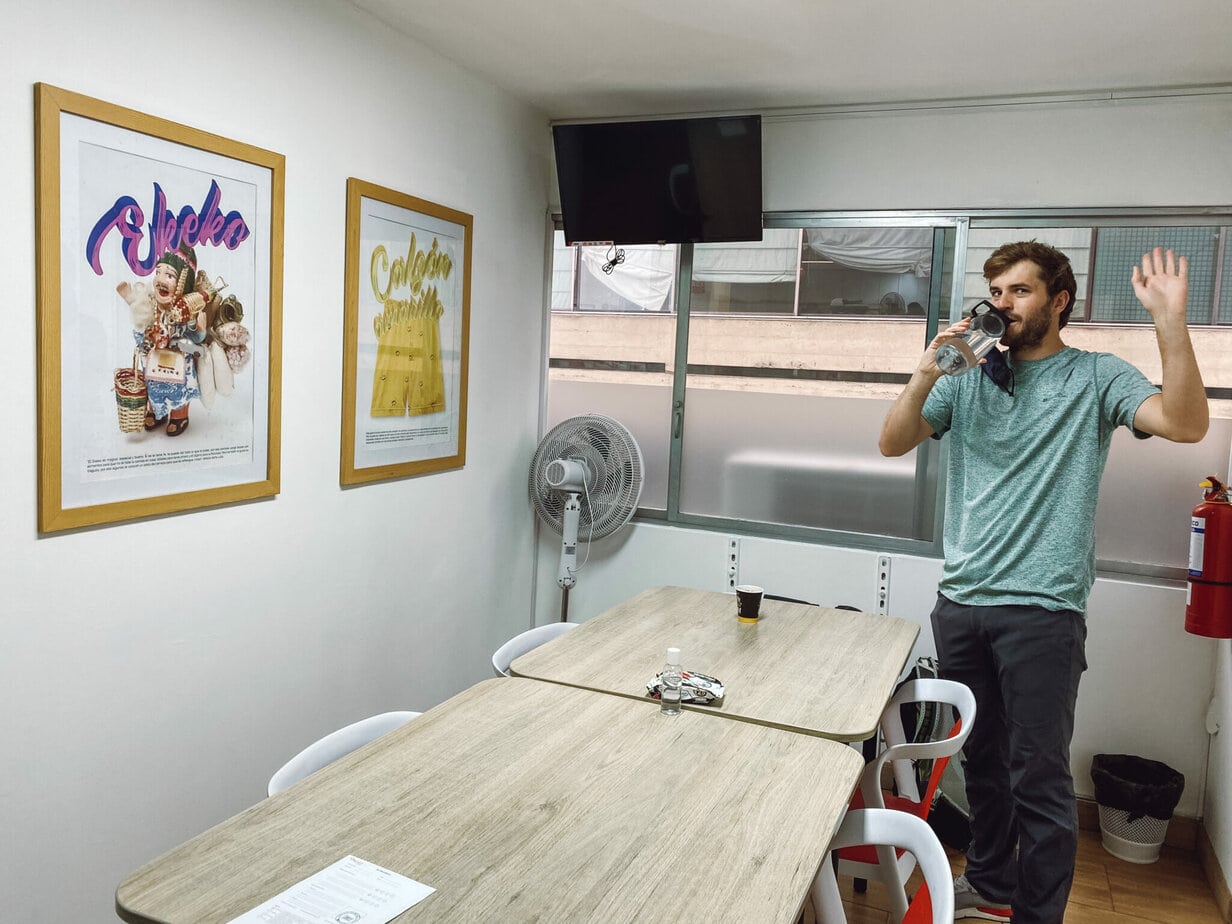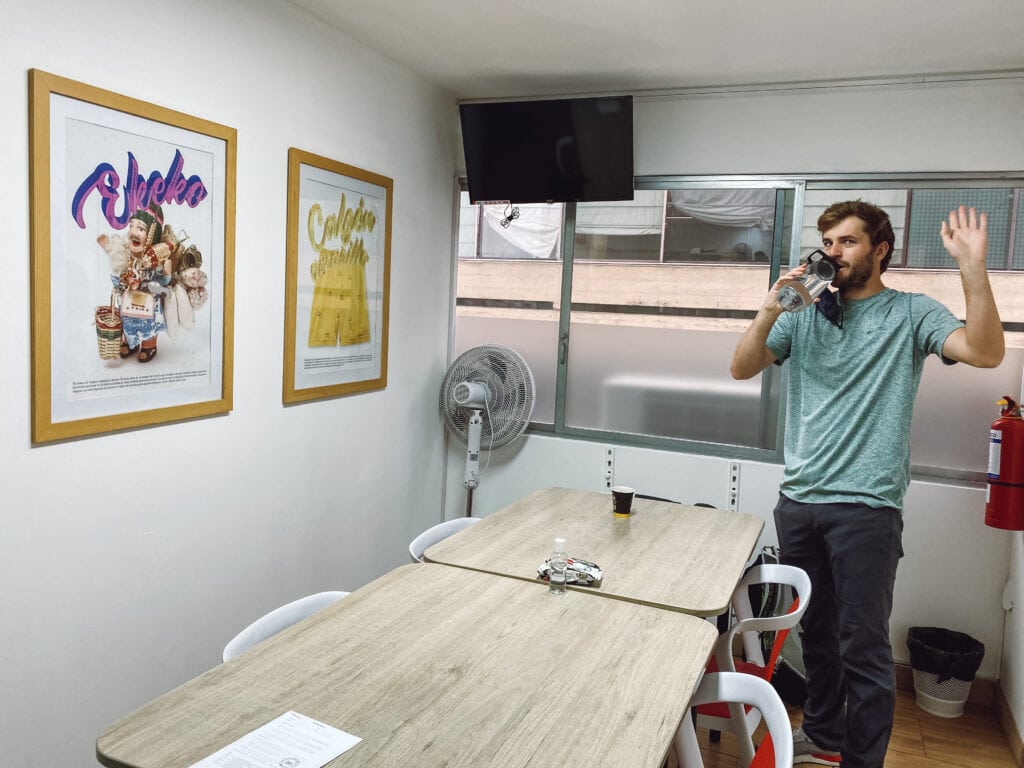 How Long to Study
Dan and I chose to do two weeks of Spanish classes in Lima and I think that was the perfect choice for us. In two weeks we covered basic 1, 1+, 2, and 2+, which is everything from vocabulary to regular and irregular conjugations, questions, tons of conversation practice, and a little of future tense.
Within two weeks we went from knowing literally zero Spanish, to being conversational enough to order food at restaurants, greet people and ask and answer basic questions, explain what we did or what we want, and even have a 40 minute conversation with an Uber driver!
Two weeks was also a good amount of time to explore Lima. Since we spent so much time in class and at activities (more on that next!) it took us about two weeks to get through the Lima sightseeing and restaurants we wanted to try.
With more than two weeks, I think we may have gotten a bit stir crazy and wanted to leave the city. Saying that, a lot of people we met were studying for a full month at Peruwayna.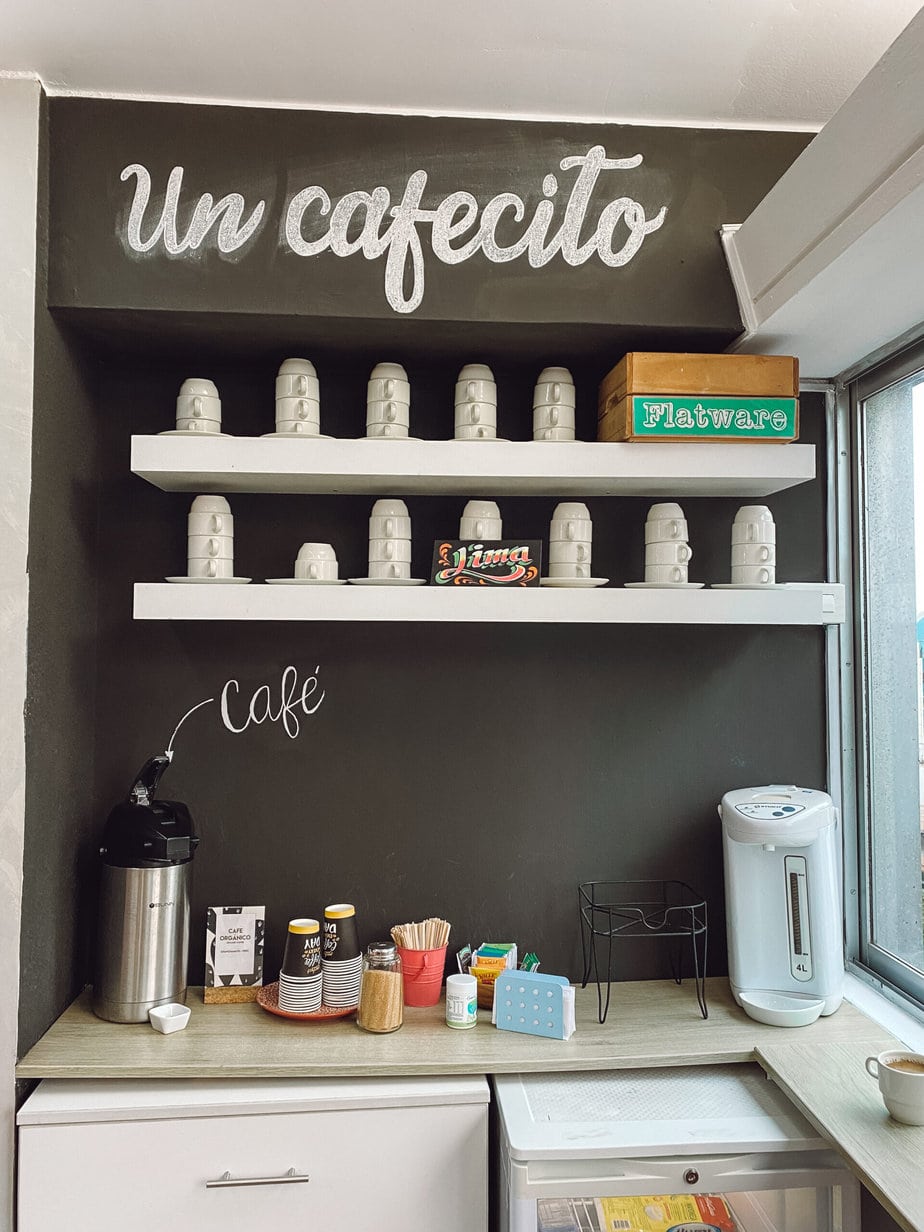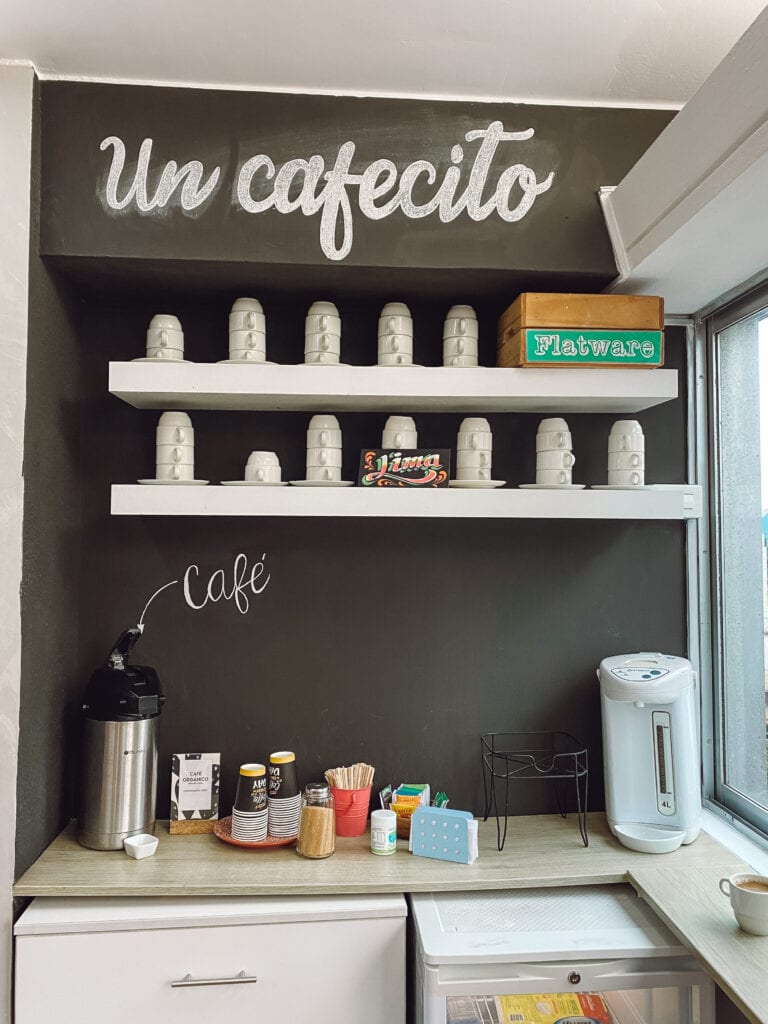 Social Aspect
Honestly, one of my favorite things about Peruwayna was how they cultivated this very wholesome, welcoming, social environment. Even as somewhat of an introvert myself, I found it really easy to talk to people and make friends.
→ Meeting People
While studying at Peruwayna, we met people from the USA, UK, Germany, Bahamas, Netherlands, Switzerland, South Korea, and of course the teachers from Peru.
Of course, we made fastest friends with the other student in our small group class, but it was also really easy to meet and chat to people during the breaks between classes and at the organized activities.
→ Daytime Activities
Every day at 11am there was a 20 minute break where we would congregate with all the other students (of varying levels) and often have an organized activity.
On Mondays, everyone introduced themselves, where they were from, and something they like. This was so nerve wracking the first week but by the second week not only was it easy, but I could actually understand what everyone else said!
On other days, we had activities like a a Peruvian fruit and food tasting, games of Kahoot (featuring Peruvian trivia) and more.
→ Evening Activities
Something that was mandatory for me in a Spanish school was after school activities! Peruwayna did a great job with this, with activities organized four days a week (and sometimes weekend trips, although not during our time there).
Some of the activities included:
Welcome dinner at a Peruvian restaurant (every Tuesday)
Salsa class
Museum tours
Magic Water Circuit tour
Torito (traditional clay bull) painting
Mural painting
Language exchange at a local bar 
Besides the salsa class (which was free!) activities cost anywhere from 5-80 soles extra. Most only cost 5-10 soles for taxi fare or entry tickets, but some were more expensive. However, our most expensive activity (the chocolate making class) actually came at a discount by going with the school compared to if we'd booked it ourselves (which we were going to do!).
Activities change every week, but every Monday was free and every Tuesday was a welcome dinner. This meant we had different activities each week of our stay.
RELATED | ChocoMuseo Lima Chocolate Making Class Review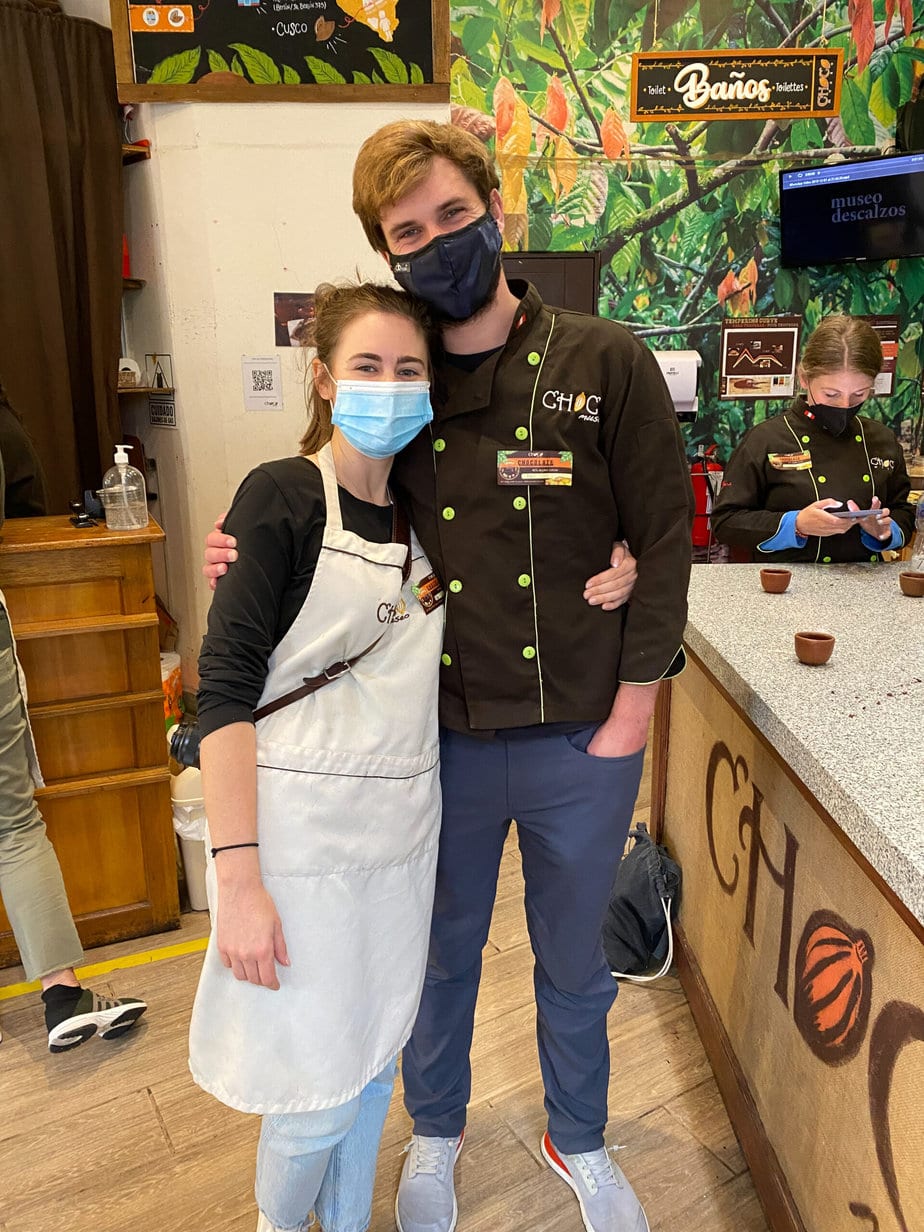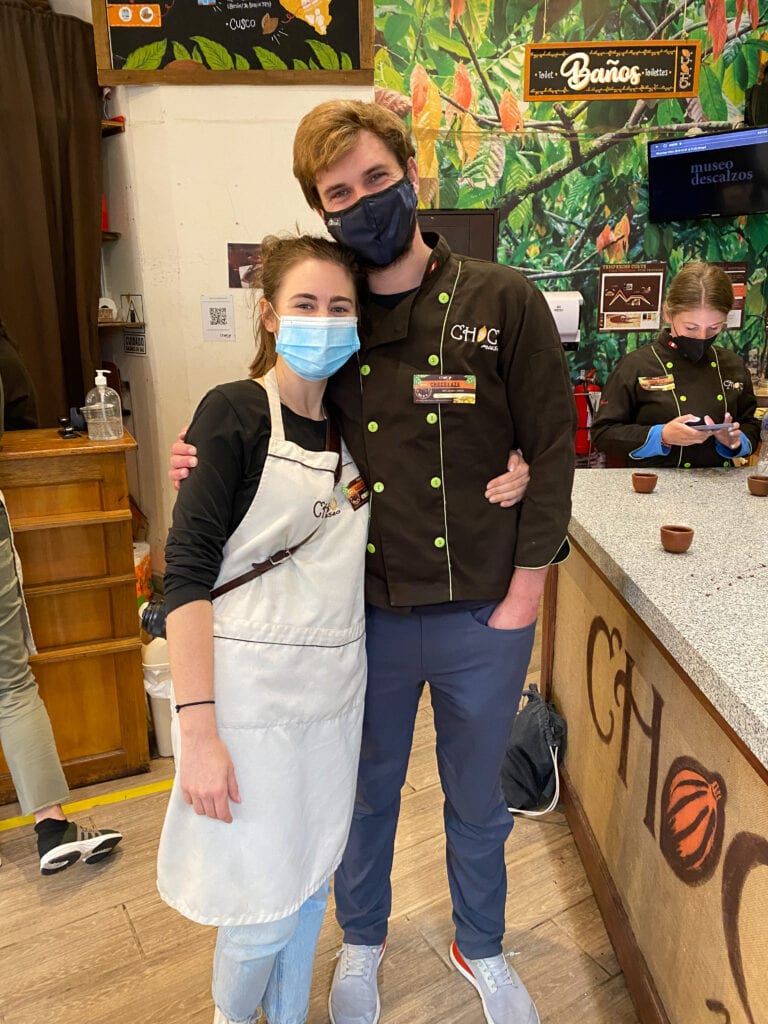 Teachers
The teachers at Peruwayna have quite a lot of experience. They've all graduated from a top Peruvian university and they all hold at least one graduate specialization degree in Teaching Spanish as a Foreign Language.
Our teacher for both weeks was Patty (Pattycita!) and she was so lovely, funny, and welcoming. She honestly made our time in Lima what it was!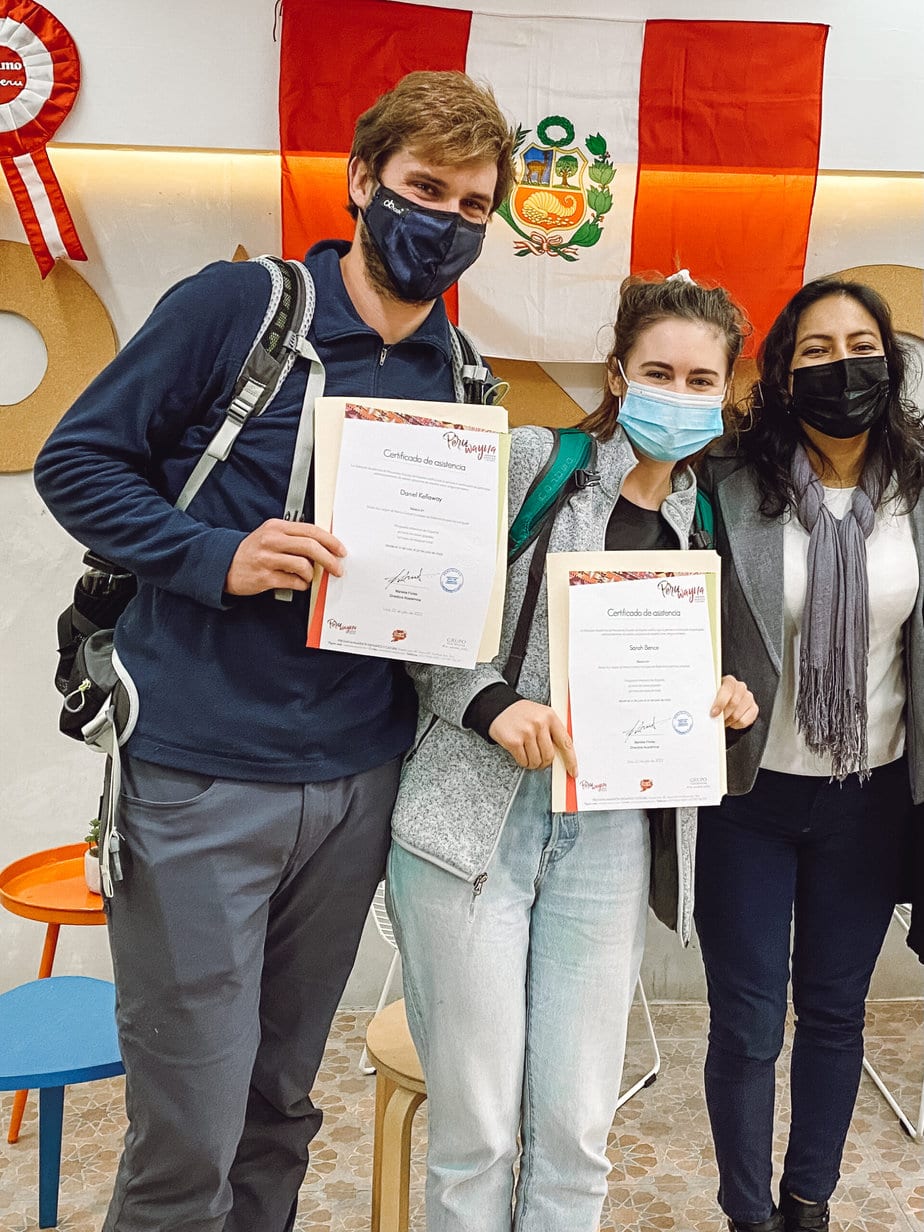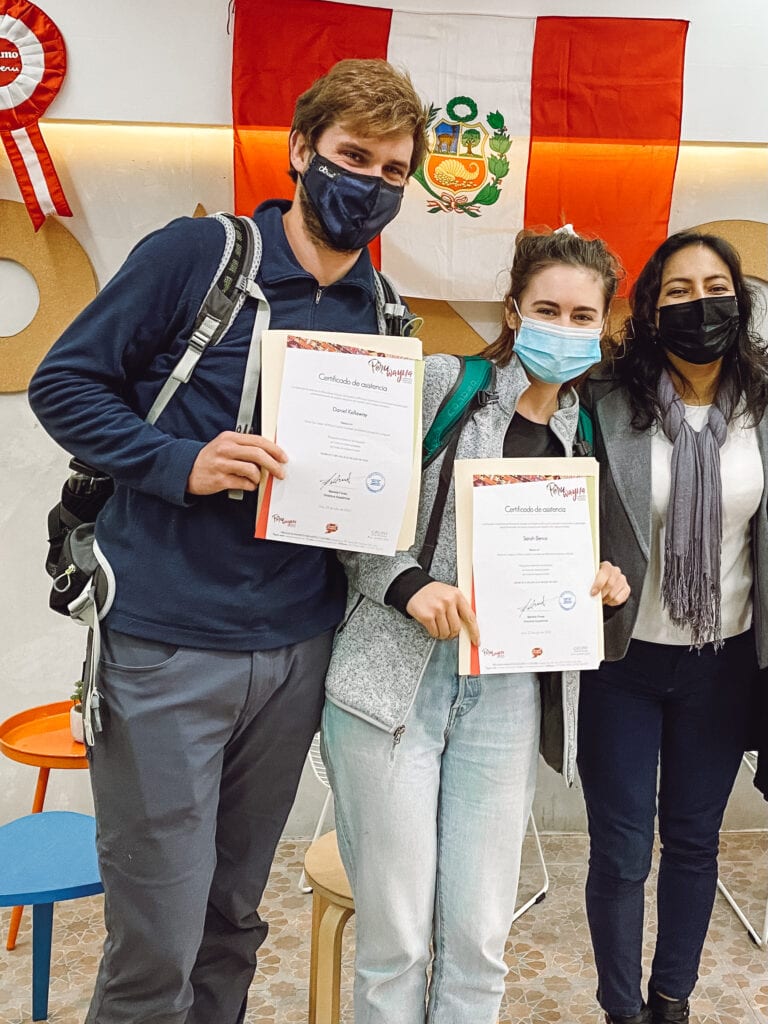 Accommodation and Home Stays
Peruwayna does help organize home stays, where you live with Peruvian families. We met a few people who were doing a home stay and really enjoying it.
Personally, we opted to stay at an Airbnb close to Peruwayna because I had some online work to do and also because of my celiac disease (I wanted to cook for myself).
Many other students we met were staying at hostels.
Some of the best accommodation close to Peruwayna is:
Black Llama Hostel ($): A highly rated hostel in Miraflores very close to Peruwayna, and to the Airbnb we stayed at. There were quite a few other students who stayed here.
Selina Miraflores ($-$$): A popular South and Central American boutique hostel and co-working chain. Less than 5 minutes walk from Peruwayna.
Hotel Estelar Miraflores ($$): Literally 1 minute walk from Peruwayna, this hotel is where our classmate Crystal stayed and really enjoyed it. It's a more expensive option but a great place to come back to and relax after class.
Other Perks
Yes, even more perks! I feel it's important to mention, as a caffeine fiend myself, that Peruwayna offers unlimited free coffee.
There was also unlimited free filtered water and free fast wifi.
Some other things that really impressed us:
Easy online credit card payment
Free bag and notebook
Access to online campus for 6-months post course
Free 1 hour online private class after course ends
Incredible organization and communication before, during, and after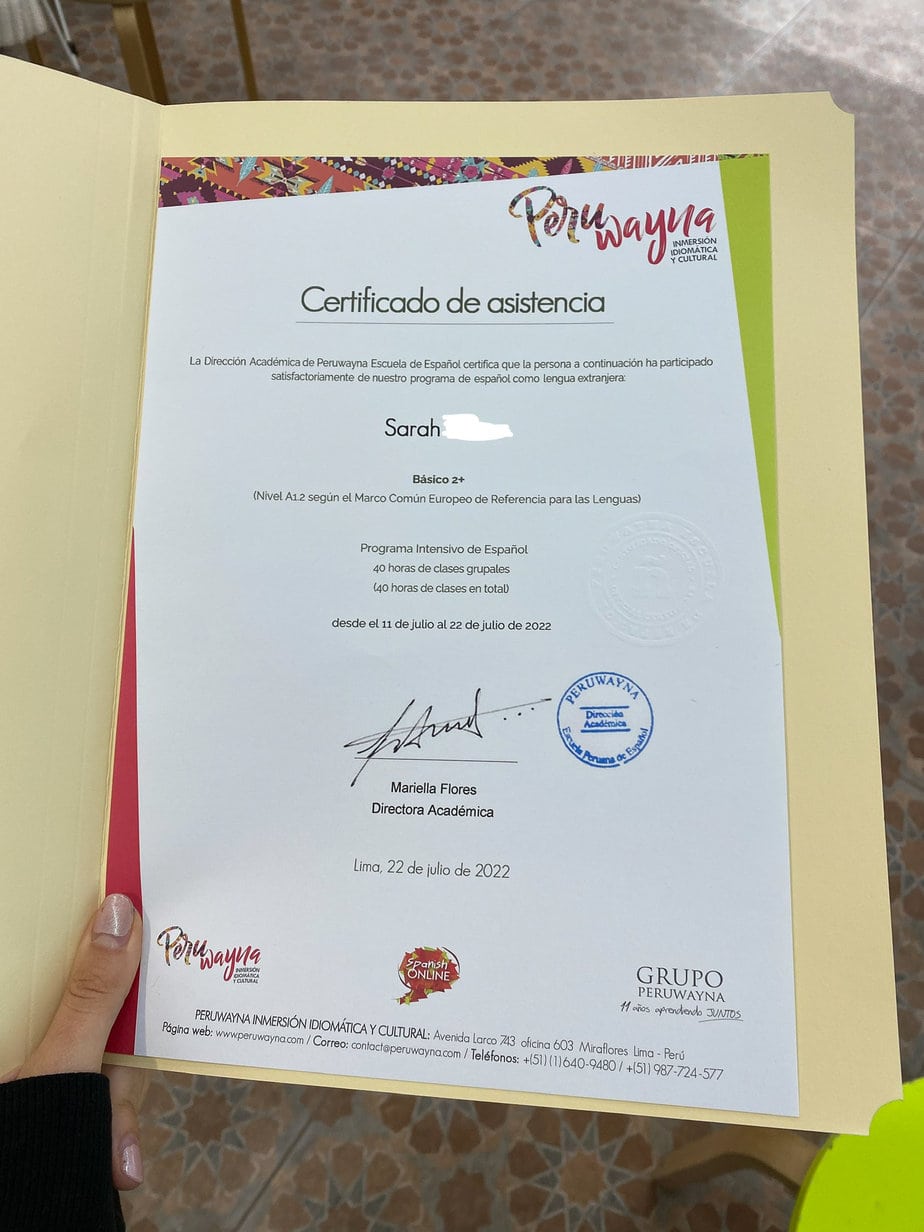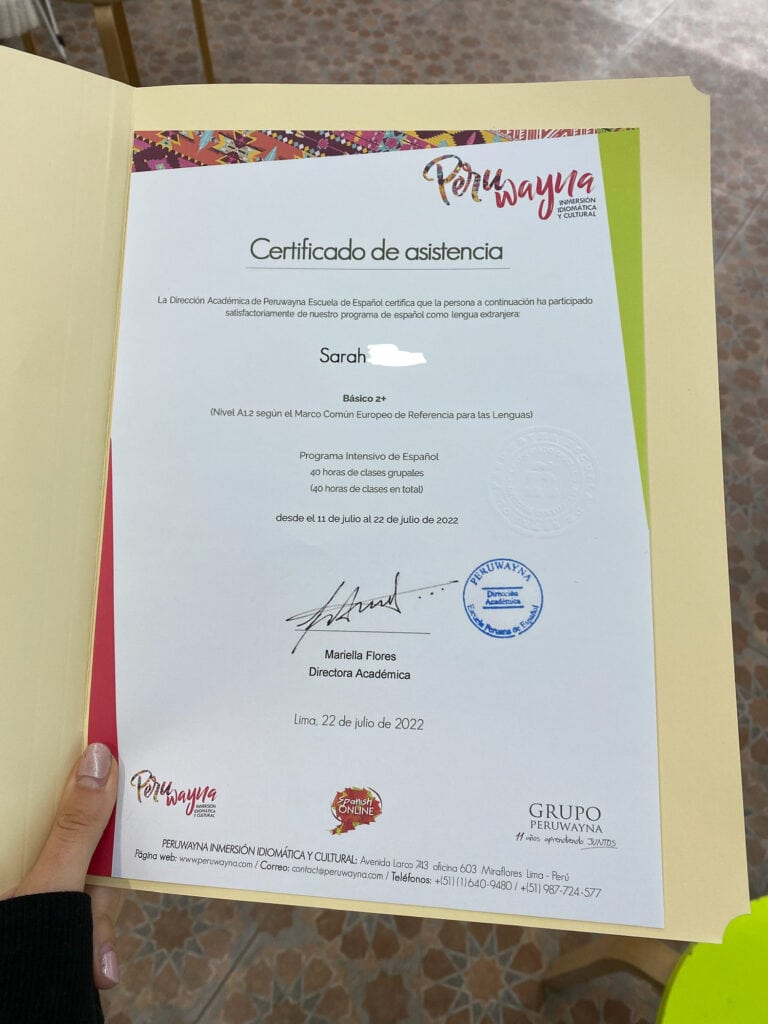 Final Thoughts on Our Spanish School in Lima
Honestly, if you can't already tell, I don't have enough nice things to say about Peruwayna. For us, it was the perfect way to start our round the world trip.
I also can't believe how much Spanish I learned in such a short time, and how much I actually enjoyed it. (When I studied French in school I neither learned much or enjoyed much!)
If you're looking for a Spanish school in Lima, then I can personally recommend Peruwayna – and I wish you the very best!