El Salvador to Guatemala Border Crossing: The Complete Guide
The El Salvador to Guatemala border crossing was the most chaotic of any of the border crossings we did during our time in Latin America. I take that back – the border crossing itself was quite simple, but onward travel in Guatemala was a nightmare.
A big reason for this was that at the time Dan and I completed the El Salvador to Guatemala border crossing, there were NO articles written about this route. We managed to find a few articles detailing travel in the opposite direction (Guatemala to El Salvador), but they were only marginally helpful for our situation.
Luckily, we connected with a fellow traveler in the Backpacking El Salvador Facebook group, who had completed the same border crossing a few days prior. In talking to her, we got a rough idea of what we were in for. Things still didn't go exactly to plan, particularly during the stressful transfer in Guatemala City (read on for how to either avoid that or survive it better than we did!).
That's exactly why I'm writing this blog post. I don't want anyone else to struggle like we did while traveling from El Salvador to Guatemala.
Read on for my full guide to the El Salvador to Guatemala border crossing!
NOTE | I completed this border crossing in January 2023, and will do my best to keep this article updated. If you find this guide helpful, please comment below with any changes or updates! Together, we can help future travelers navigate the El Salvador to Guatemala border safely.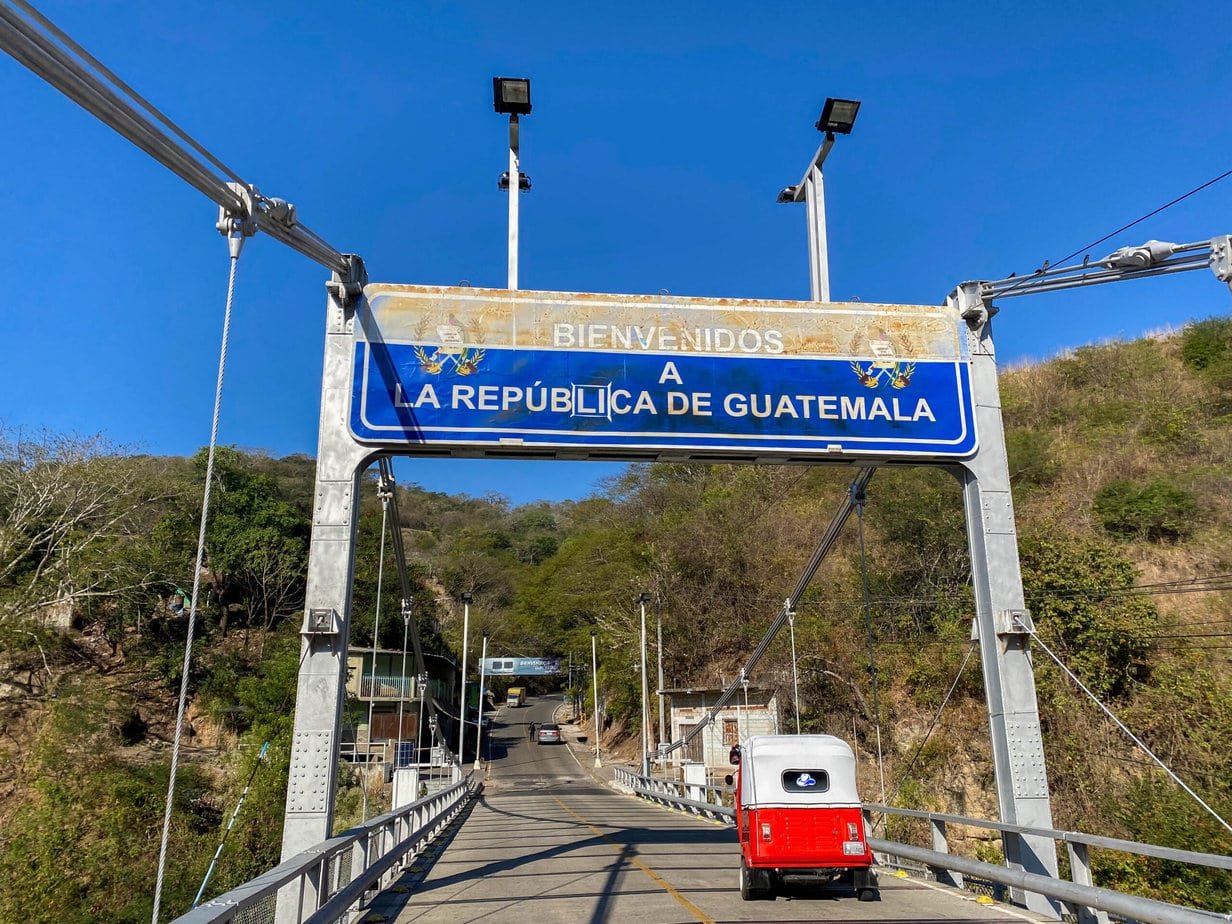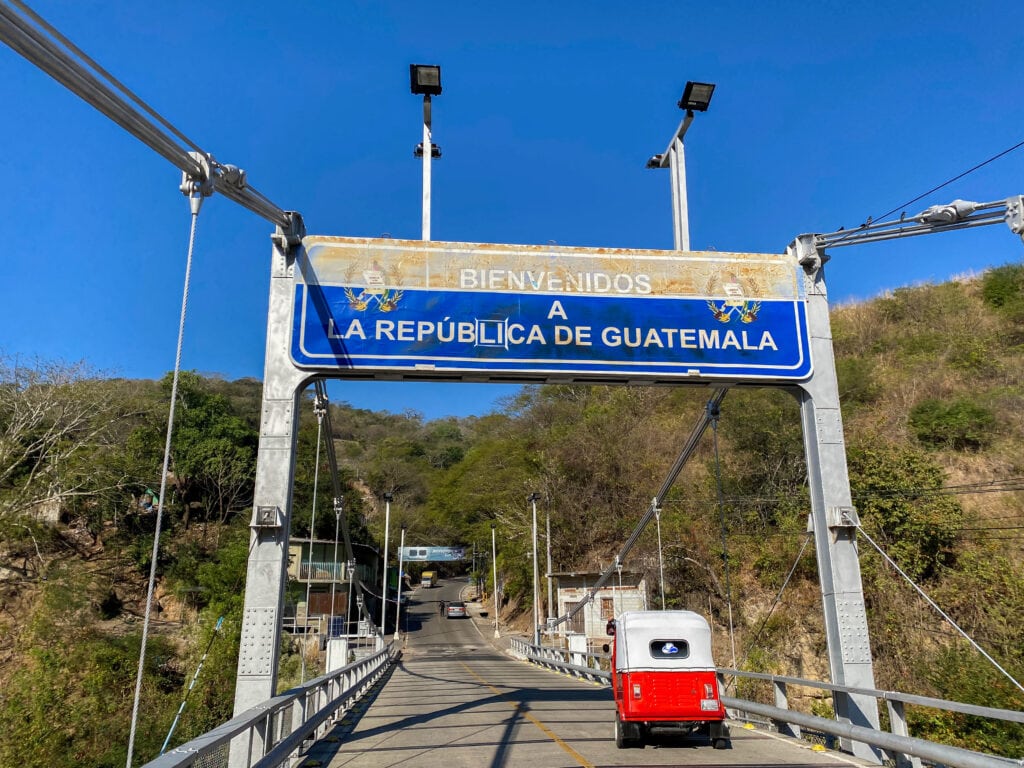 El Salvador to Guatemala Border Crossing Locations
If you are planning to travel from El Salvador to Guatemala then you have multiple options of where you can do this.
The main El Salvador to Guatemala border crossing locations are:
Hachadura: The western-most border crossing which is best for travelers coming from El Tunco or the coast. It is possible to reach Antigua without passing through Guatemala City along this route.
Las Chinimas / Valle Nuevo: The central border crossing in Ahuachapan department, that is best for travelers coming from the Ruta de las Flores. However, you must pass through Guatemala City to reach Antigua and other destinations. (This is what we did, and I have a detailed step-by-step guide below!).
San Cristobal: The eastern border crossing that may be used by travelers coming from Santa Ana (although it would be easier for those travelers to take Las Chinimas).
There are two more El Salvador to Guatemala border crossing locations, but these are not commonly used by tourists:
Coco / Jerez: A small, central border crossing.
Anguiatu / La Ermite: The eastern-most border crossing, not far from the Honduras border.
El Salvador to Guatemala Border Crossing: The Complete Guide
For most travelers, you will have to decide between the Hachadura or the Las Chinimas border crossings. Below, I discuss some considerations for each.
Hachadura Border Crossing
Hachadura is for you if you are coming from the coastal area (El Tunco, El Zonte, La Libertad, etc.).
By Shuttle
There are a lot of shuttles that run between the popular tourist destinations of El Tunco, El Salvador and Antigua, Guatemala. These shuttles use the Hachadura border crossing.
Some of the El Tunco-Antigua shuttle companies include:
Of course, it is a lot more expensive to go by shuttle than travel independently. Dan and I try to do independent travel when it's safe and (relatively) easy, and I think this is a border crossing you could easily do by yourself.
Independently
Instead of taking a shuttle, it is possible to cross the Hachadura border with public transport. I did not do this personally (we did Las Chinimas – read on). However, I've done some research for you on the best route.
To complete the Hachadura border crossing, you'll need to follow this route:
Bus to La Frontera
Exit El Salvador
Walk across no man's land
Enter Guatemala
Bus to La Esquintla (skips Guatemala City!)
Bus to Antigua
I will direct you to some other blog posts that have further information on this border crossing. This one by Centro Coasting is somewhat useful although it details travel in the opposite direction (Guatemala to El Salvador); read the comments for more details.
If you have any further details on this route, please comment below!
Las Chinimas Border Crossing
Las Chinimas is for you if you are coming from the Ruta de las Flores.
You probably want to spend your night preceding the crossing in Ataco, a beautiful little town which is conveniently located for the crossing. We stayed at Casa Pino and I highly recommend it.
By Shuttle
I was surprised to find there is exactly one shuttle company that operates the route from Ataco, El Salvador to Antigua, Guatemala.
Gekko Trails Explorer runs a daily shuttle that departs Ataco at 4:30am, and costs $45 per person.
If your priority is safety and convenience, and if you're a solo traveler, then honestly you may prefer to go by shuttle for this journey.
Independently
Alternatively, it is possible to travel this route using entirely public transport. This is what Dan and I did.
To complete the Las Chinimas border crossing, you'll need to follow this route:
Bus 249 from Ataco to Ahuachapan
Bus to La Frontera
Exit El Salvador
Walk across no man's land bridge
Enter Guatemala and vaccine card check
Change USD to GTQ
Chicken bus to Guatemala City
Transfer to Antigua bus stop at El Trebol (this is the confusing and potentially dangerous part)
Chicken bus to Antigua
Ultimately, we did end up in Antigua safely, and before nightfall, and we did save money compared to taking the shuttle.
But it was also our sketchiest experience so far and I wouldn't recommend it to a solo female traveler, someone inexperienced with chicken buses, or someone who speaks zero Spanish.
I discuss our entire journey doing Las Chinimas by public transport in tons of detail below, so scroll down for all my tips on what buses to take, where to get off, and how to manage that gnarly transfer in Guatemala City better than we did.
Required Documents to Travel From El Salvador to Guatemala
Actually crossing the border from El Salvador to Guatemala is the simplest part of this journey. You don't need to prepare a lot of extra paperwork for this border.
Travel requirements from El Salvador to Guatemala include:
Cash in USD: There are NO border fees (if you're asked for money, it's a scam), however it's still worth having some USD on hand to exchange into Guatemalan Quetzals (GTQ).
Six-months passport validity: It's recommended to have a minimum of six months of passport validity and at least two empty passport pages before you cross any international border. Some countries turn you away without this.
Check entry requirements: It's different for every nationality, so check on your government website. Note that both El Salvador and Guatemala are part of the CA-4 visa agreement, meaning you have 90 days to be in any of the member countries (also including Nicaragua and Honduras).
Check health requirements: Don't trust a travel blog for this one. Check your country's embassy page for the most up-to-date information regarding health requirements. When we crossed, we needed to show our vaccine cards to Guatemalan immigration but that's it.
Below, I'm sharing exactly how our border crossing experience went at Las Chinimas on public transport. I'm also sharing where we went wrong and what you should do instead, to have the safest and fastest experience transferring in Guatemala City.
El Salvador to Guatemala Border Crossing at Las Chinimas / Valle Nuevo: The Complete Guide
This is my step-by-step guide to traveling from El Salvador to Guatemala at Las Chinimas by public transport. I believe this is the very first article written on this subject!
Since there were no previous articles when Dan and I completed this crossing, we had a bit of a struggle during the transfer in Guatemala City. I've included advice below on how you can do this MUCH more smoothly than we did.
1. Bus 249 From Ataco to Ahuachapan
I'm going to assume that you took my advice to stay overnight in Ataco, El Salvador (I recommend staying at Casa Pino!). If you're staying in a different town along the Ruta de las Flores, then just start your journey about 30-45 minutes earlier than we did.
Our day started around 6:45am when we got a quick breakfast at Comida a la Vista y Pupuseria, which was a 30 second walk from Casa Pino and a few minutes from the bus stop. This was our go-to cheap local breakfast during our time in Ataco. It's only .40 cents per item at the buffet, and was the perfect place to fill up before a very long day.
After finishing packing our bags (we were lazy the night before), we then walked to the Ataco bus stop (located here) and boarded bus 249 in the direction of Ahuachapan around 7:45am. Yes, we were running late from our original goal to start the day at 7am! Start at 7am from Ataco if you can.
You are probably familiar with bus 249 because it is the main bus that runs along the Ruta de las Flores. Well, this time you are going to take it all the way to Ahuachapan.
Our bus was incredibly crowded and I got the arm workout of my life trying to hold onto the bars as the bus veered around each bend, with both my backpacks attached to me, while trying not to fall into the lap of some unassuming Salvadorean on their morning commute!
Cost: .38 cents per person
Time: Bus journey from Ataco to Ahuachapan took 23 minutes
2. Bus From Ahuachapan to La Frontera
At 8:08am we arrived to the main square in Ahuachapan and everyone got off the bus, including us. We'd been expecting an actual bus station but nope, it was just a bus stop in the middle of a busy road full of cars, tuktuks, motorcycles, people, and produce stalls.
Yup, we were already confused and that didn't bode well for the rest of the day, haha.
After asking a couple helpful Salvadoreans at a Tigo stand, we were directed to the bus stop for buses to La Frontera (the border). It is located around the northwest corner on the main square (exact location pin here).
Here, we found a white bus with a sign that said "Ahuachapan – La Frontera," and we jumped on. Luckily, this bus was much emptier and we could put our backpacks down.
The bus cost .25 cents per person and left the stop around 8:15am. The journey was super short. After 20 minutes we arrived at the border!
Cost: .25 cents per person
Time: 27 minutes
3. Change USD to GTQ
At 8:35am we officially arrived at the El Salvador – Guatemala border. From where the bus stop is to the immigration building it is about a 300 meter walk down a paved road. Along the way there are a few pupuserias as well as lots of men approaching to change money.
We decided to change some USD to GTQ here because the rate was good (7.3, whereas we heard on the Guatemalan side they try to do it for 7). We also figured it would be less hectic on the Salvadorean side.
So, we exchanged $36USD (including all our dollar coins that aren't useful elsewhere), and got 263 GTQ. I recommend exchanging about $15-20 USD per person in order to have enough money for onward travel in Guatemala.
Cost: –
Time: 5 minutes
4. Exit El Salvador
As you walk down the paved road, bear right for the El Salvador immigration office. There is a big sign outside that says "Las Chinimas."
Inside, the building was pretty much like we found most of El Salvador: clean, modern, organized, and friendly.
There were no lines and it took just a few minutes for Dan and I to get our passports stamped.
The El Salvador immigration officers also gave us each a receipt at this point. It is really important you keep this receipt!!! Do NOT throw it out! You need it to get into Guatemala.
After exiting El Salvador, we used the nice, free, clean bathrooms here. I recommend you do the same because you won't have access to a bathroom again for a while.
Cost: –
Time: 15 minutes
5. Cross No Man's Land
At 8:55am we walked across the bridge over the Rio Paz – AKA no man's land! This was definitely our prettiest no man's land from the past six border crossings we'd done.
On the bridge there are a few red tuktuks that charge $1 USD per person to drive you to Guatemala immigration. We opted not to take one and I'm glad we didn't because it was an easy enough walk and not too far.
On each side of the bridge there were police officers who checked our passports and the El Salvador exit receipt – so be sure you keep this handy.
After our police check on the Guatemalan side, we walked uphill about another 5 minutes before we reached the Guatemalan immigration buildings.
Time: 10 minutes
6. Enter Guatemala
Once at Guatemala immigration we had another couple of police officers check our passports and El Salvador exit receipt, before directing us toward a small tent outside the main immigration building.
At the tent an official checked our vaccine cards and stamped our El Salvador exit receipts.
Then, we went into the immigration building where there was no line. We had our passports stamped, and the El Salvador exit receipt was checked once again.
At 9:10am, we had officially entered Guatemala!
Cost: –
Time: 5 minutes
7. Chicken Bus to Guatemala City
Chances are, you're heading to Antigua, like we were. However, in order to reach Antigua from Las Chinimas / Valle Nuevo border, you have to pass through Guatemala City first.
Getting to Guatemala City is easy enough. Just past the Guatemala immigration office you'll find a stand of 2-3 bright green chicken buses. These are all heading to Guatemala City.
We boarded around 9:15am but the bus didn't depart until 9:40am because the driver was waiting for it to fill up. The bus cost 60 GTQ (~$7.65 USD) and was supposed to take around four hours, but for us took closer to five hours in total.
We did have one stop around 10:40am at a gas station, where we had 15 minutes to take turns running into the bathroom (this bathroom was super gross and top tip – have some toilet paper handy).
Cost: 60 GTQ / ~$7.65 per person
Time: 4 hours 45 minutes
8. Transfer in Guatemala City
Now, folks, comes the hard part. You need to transfer to the bus to Antigua, and this transfer happens in a not-great area of Guatemala City, near El Trebol, which is a MASSIVE cloverleaf intersection. AKA, it is outright dangerous to be here at night, and in the daytime, don't be caught lost and dawdling with all your worldly possessions on your back (oh wait).
Here's the issue. The chicken bus to Guatemala City does not directly pass the bus stop where the buses to Antigua leave. You will need to get off the first chicken bus early along the highway, then take a taxi to where the Antigua buses depart.
Where We Went Wrong
This is where Dan and I messed up. I'm going to tell you all about it, so you don't mess up like we did. However, you can also scroll a bit further down just to read my advice section on what YOU should do instead.
So, I told the chicken bus money collector that we were traveling to Antigua and needed to get off near El Trebol.
We knew the Antigua bus stop was somewhere along El Trebol but we didn't know the exact spot. We also knew that we had to get off somewhere along the highway, and according to the girl we'd spoken to who'd done this a few days prior, there would supposedly be a ton of taxis waiting.
Unfortunately, the money collector told us to get off the bus too late, once the bus had already turned off the main highway and was in a very eerie, grungy area of the city. Gone were the McDonald's and mini malls and here there were just crumbling buildings and empty streets.
We got off with a bunch of locals who all kept their heads down and BOOKED it as fast as they could down the street. There were zero taxis anywhere, and we were completely lost.
So… what did we do? We adopted an older Guatemalan man. We literally just followed him like lost puppies, because he looked like he knew what was up. At first, the guy didn't really want anything to do with us. However, once we arrived at a busier road with a bunch of buses parked along it, he started speaking to us (I think we'd been in a particularly dangerous area and everyone was just trying to get out as fast as they could).
Apparently, we still had a long walk to the Antigua bus stop and according to him, it wasn't safe. When a bunch of men approached us about getting in their taxis, the older Guatemalan man warned us to get on a bus that was parked nearby. He said under his breath to me that it was much safer than where we were now, and much safer than going with any of these other men.
My alarm bells were going off, so at the last minute Dan and I jumped onto the chicken bus – with absolutely no idea where it was going or even where we needed to go other than "the f** away from here" and "autobus a Antigua". Wouldn't recommend!!!
Luckily, the bus driver and money collector on this bus (to who-knows-where) were extremely helpful.
They ended up driving us past the Antigua bus stop at El Trebol, and to a spot further up on the highway because apparently we could skip traffic that way.
The bus driver yelled to us to get off. So we literally jumped off the bus in the middle of four lanes of traffic, and then climbed onto another chicken bus that said "Antigua" all in the span of a few minutes. Talk about chaos!!
What You Should Do Instead
Okay y'all. You probably didn't need to know all the above information, but I just wanted to paint a picture of a (relatively tame) version of how this transfer could go wrong.
I am going to tell you EXACTLY what you should do in order to avoid our situation.
1. Get off the first bus at this exact spot on the main highway. I had wrongly assumed that if you told the driver you were going to Antigua, there was a "known" spot to drop off passengers for them to take a taxi to El Trebol. This is not the case!!! Based on our experience, you NEED to disembark along the main highway, and you should absolutely avoid disembarking once the bus turns off the highway. After reviewing our route, we think the Gran Centro Los Proceres shopping mall is a safe place to get off. There is a McDonald's here and even a Tigo agency (in case you need a SIM card).
2. Take a taxi or uber to the Antigua bus stop. From here, you need to drive to the Antigua bus stop. It is about a 10 minute drive and should not cost more than 25 GTQ. If there aren't taxis around, then call an uber. Honestly, if you have access to wifi or phone data I'd call an uber over taking a taxi, anyway. Taxis in Guatemala City have a mixed reputation and the US State Department even advises against using the white-car taxis in Guatemala City.
3. The Antigua bus stop is located at this exact location. Tell your driver that you need to go to the Antigua bus stop in El Trebol. Knowing the exact location can help you track that you are going the correct way. There will be a bunch of chicken buses that say "Antigua – Guate" all lined up on the side of the road.
4. Alternatively, get on the Antigua bus at this exact location. That location pin is where Dan and I hopped on an Antigua chicken bus that was already in transit. You could ask your driver to take you there, instead. It is totally legit to do this; the money collector will literally be darting through traffic trying to drum up more passengers. Getting on the bus here helps cut out some traffic around El Trebol. And honestly… you might feel safer waiting on the side of the road here than getting dropped off in El Trebol.
Cost: 10 GTQ / ~$1.27 USD for the random bus that saved us; you should budget for a 25 GTQ taxi
Time: 45 minutes
UPDATE | Woo! Just a couple weeks after I published this post, I heard from a couple who used these directions for the border crossing successfully! They got off at the shopping mall I recommended, got a SIM card and some food, and then got a taxi to the Antigua bus stop. Note that they were quoted 60 QTZ for taxis due to a bad traffic jam.
9. Chicken Bus From Guatemala City to Antigua
Finally!! We officially boarded the chicken bus to Antigua at 2:45pm. That's after 45 minutes of pure chaos in Guatemala City.
Dan and I took off our backpacks, settled into our seats, and breathed a huge sigh of relief.
We paid our 20 GTQ per person fare, and then stared out the windows in sheer exhaustion for the remaining hour and a half drive. It flew by and at 4:15pm, while the sun was still shining, we were in Antigua!
One final thing that I'll mention is that once you get into Antigua city, have your bags ready and be prepared to disembark. It helps to know where your accommodation is so you can just jump off at the closest point. Otherwise, you may have to take a tuktuk (or walk a mile and a half like we did… yes the mistakes never ended this day haha).
Cost: 20 GTQ / ~$2.55 USD per person
Time: 1 hour 30 minutes
Onward Travel Within Guatemala
Congrats, you've made it to Guatemala!
I've detailed all you need to know about getting to Antigua above. Antigua is the main touristy city in Guatemala and it's freaking gorgeous.
We spent a week here and it is full of trendy restaurants, delicious coffee, beautiful ruins, and a great jumping off point for day trips like coffee farm tours, a peanut farm tour, Pacaya Volcano, and of course the truly epic overnight Acatenango Volcano hike.
Other destinations in Guatemala you should add to your itinerary include:
Lake Atilan
Guatemala City (yes, we did actually return here, and yes we are a little crazy, however this time we stayed in the much safer area of zona 4)
Rio Dulce
Semuc Champey
Flores
Tikal Ruins
You can take chicken buses or pretty cheap shuttles from Antigua to any of those destinations.
For more onward travel plans, Rome2Rio is my go-to free tool to figure out travel routes.
El Salvador to Guatemala Border Crossing Overview
Everyone's border crossing experience is going to be different. Ours is based on traveling from Ataco, El Salvador to Antigua, Guatemala via the Las Chinimas / Valle Nuevo border crossing.
Total time: 8.5 hours
Total cost: $12.10 USD per person
Why Not Just Take a Shuttle From El Salvador to Guatemala?
Honestly, you wouldn't be crazy to consider taking a shuttle for this border crossing. Dan and I saved about $32.90 USD per person by going on public transport. I've paid more than that for sushi in San Francisco, tbh.
Thankfully, nothing bad happened to us in Guatemala City, but we did get ourselves into a tight situation. If anything had happened, it definitely would have been worth the extra 30 bucks to have taken a shuttle, just saying.
However, we did the hard part by doing this border crossing without much information to support us. My hope is that this article can help you avoid what happened to us. If you use my advice above with the location pins for the transfers in Guatemala City, I think you should be safe to go.
Ultimately, it is up to your own personal preferences and comfort level.
Final Thoughts on the El Salvador to Guatemala Border Crossing
I truly hope that this guide was helpful to my fellow travelers attempting the El Salvador to Guatemala border crossing!
In my experience, the border itself is a breeze. The tricky part is the transfer in Guatemala City, but hopefully my tips help with that.
If you find this guide useful for your border crossing, I would REALLY appreciate if you commented below! Please let me know how your trip went, plus any updates or changes. I want to keep this border crossing guide as updated and useful as possible!
Check out my other Latin America border crossing guides…
How to Get From Guatemala to Copan in Honduras
Honduras to Guatemala Border Crossing Guide
Guatemala to Belize Border Crossing Guide
Belize to Mexico Border Crossing Guide
Nicaragua to El Salvador Border Crossing Guide
Costa Rica to Nicaragua Border Crossing Guide
Panama to Costa Rica Border Crossing Guide
Ecuador to Colombia Border Crossing Guide
Peru to Ecuador Border Crossing Guide
Sailing the San Blas Islands to Cross From Colombia to Panama (Coming Soon!)