Salento to Jardin: Exactly How to Get From Salento to Jardin by Bus (2023)
Salento and Jardin are two charming towns in Colombia's eje cafetero, or coffee axis. Coffee, colorful buildings, nature, and… more coffee? Count me in. The only problem that remained was how to get from Salento to Jardin.
While these two towns appear close on a map, it is a full day affair to travel between them. But oh, it's so worth it!
When we traveled this route in October 2022, most existing travel guides on this topic were either outdated, or detail travel in the opposite direction (from Jardin to Salento, which I include information on further below). So, in true backpacker style, we had to wing it a bit as we made our way from Salento to Jardin.
I'm hoping this blog post will fill that gap so others don't have to wing it quite as much as we did. In this blog post, I'm sharing exactly how to get from Salento to Jardin, so you know what to expect!
This guide is updated for 2023.
Why Travel From Salento to Jardin
As we planned our Colombia itinerary, I looked at Salento and Jardin on a map, and they didn't look too far apart. I figured it would be easy to pop over to less-touristy Jardin from Salento, on our way to Medellin. That was, until I started looking further into how to get from Salento to Jardin.
Despite the long travel day, it does make sense to group Salento and Jardin together in a Colombia itinerary. Just be prepared to add a whole travel day to your itinerary.
If you are traveling east across Colombia, like I was (we had recently crossed over the border from Ecuador), then you'll want to visit Salento first, then travel from Salento to Jardin, and then on to Medellin.
For travelers going in the opposite direction – toward Ecuador – then it's common to reverse that route.
It's also possible to travel from Bogota to Salento and vice versa, which is one option to make this a loop instead of traveling on to Ecuador.
Important Note Before You Travel From Salento to Jardin
When we traveled from Salento to Jardin, pretty much every article I found on the subject was outdated. So, my top tip is to use this guide (yes, even my own blog post!) with discretion.
As much as I try to keep my blog posts updated, things change on the ground quickly (as an illustration, the bus timetable at the Salento station is just written on paper! Not very permanent).
Please use this blog post as a guide but always double check for yourself. I recommend you confirm any bus times and details with a trusted person in Salento. The receptionist at our hostel in Salento – Hostal Tralala – helped us a great deal in directing us to the correct bus times and route.
As a side note, we loved Hostal Tralala and I highly recommend staying here in Salento. It's well priced, well located, incredibly comfy beds and hot showers, and one of the best hostel kitchens ever.
Additionally, if you use this travel guide to help plan your trip, please comment any updates below so we can keep it useful for other travelers!
How to Get From Salento to Jardin by Bus
There are currently two main ways to get from Salento to Jardín by public transport.
Salento – Medellin – Jardin (Not Recommended):
Some travelers take a bus all the way back to Medellin and then from Medellin to Salento. This involves the 8am Flota Occidental bus from Salento to Medellin (you could also take the 9:30am one but it will be more of a time crunch) and then the 6:45pm Rapida Ochoa bus from Medellin to Jardin.
Going all the way north to Medellin and then back down to Jardin is back tracking which I personally didn't want to do (we were heading to Medellin after Jardin anyway and then going north from there).
However having now completed the Salento to Jardin route the other way, I can see the appeal of the Medellin way. You will be on smoother roads the whole way. However, it will be much less of an adventure and you won't have a very good story afterwards! It's also a longer day – you probably won't arrive in Jardin until 11pm or later.
Salento – Riosucio – Jardin (Recommended):
This is the way we went, which was recommended by our hostel. It certainly is an adventurous day and you will really feel like a traveler after this one! Essentially, you take the 9:40am daily Flota Occidental bus from Salento to Riosucio and then a 3pm Cootransrio bus from Riosucio to Jardín.
This sounds simple on paper, but wait for the details below. Basically, the second bus may actually turn out to be a colorful open air chiva bouncing along the bumpiest roads you can imagine, like it was for us.
How to get From Salento to Jardin via Riosucio: Step by Step Guide
Step 1. Get to Salento bus station 20 minutes early.
Our hostel recommended we arrive at the Salento bus station at least 20 minutes before the bus departs at 9:40 to buy tickets.
Hostal Tralala was conveniently only about a 10 minute walk from the bus station. We left our hostel at 9am so arrived to the bus station a bit early at 9:10am. There, we bought our tickets for 38,000 COP ($8.20 USD) per person, and waited for the bus. We were told this bus should take about 3.5 hours.
This bus station is very small and pretty much just a building with some outdoor benches. It does have a relatively well-kept toilet which costs 1,000 COP ($ .22 USD).
Cost: 38,000 COP / $8.20 USD per person
Time: 50 minutes (walk + waiting)
Step 2. Take 9:40am bus Salento to Riosucio.
Our bus, operated by the Flota Occidental company, left at 9:50am – basically early by Colombian standards.
There were only about five other passengers to start with, and they were all other gringos also heading to Jardin with no idea what to do in Riosucio other than hope for the best! Of course, we all banded together for the day.
Around 10:40am the bus stopped in Pereira for 20 minutes. A few more Colombians boarded the bus at this point. I stayed on the bus and Dan ran into bathroom, which cost him 1,200 COP ($ .25 USD). If you also go to the bathroom here, definitely tell bus driver ahead of time so they don't leave you (it's not really a stop where people get off).
Next, around 12pm we had a really quick stop in Manizales station. More people got on here before we left at 12:05pm.
At 1:50pm we arrived at Riosucio bus terminal – four hours later. All in all this portion of the journey was super easy, comfortable, and on well paved roads the whole way.
Cost: –
Time: 4 hours
Step 3. Wait for the bus to Jardin.
The Riosucio bus station is open air but with lots of benches under a shelter. It's bigger than the Salento station but still relatively small. It felt quite safe and not sketchy at all (unlike a lot of other bus stations I experienced in South America).
There are a few bus company stands here. We asked our bus driver which one went to Jardin, and he directed us to the correct one – it is the second stand from left and called Cootransrio.
The attendant told us that the bus to Jardin leaves at 3pm and we'd need to buy a ticket at 2:30pm directly from bus driver and not from counter.
Happy with that information, and with an hour to stretch our legs, we waited at station. The bathroom was 1,000 COP ($.22 USD), very clean, and they give you toilet paper. There's a small snack stand too, but we had packed a lunch.
When 2:30pm came around, the same bus station attendant came by and asked us gringos "Jardin?" expectantly. We nodded, and to our shock he pointed to a colorfully painted open air old school bus – our very first chiva of South America!
Of course we asked "really??" and he nodded, laughing at us. Apparently, some days this portion from Riosucio to Jardin is operated by a normal bus and some days it's a chiva – there doesn't seem to be a pattern behind it. For us, it was a chiva day!
A little before 3pm, we loaded onto the chiva. There are long wooden benches to sit on; I recommend trying to sit toward the middle and not right by an edge because it will probably rain and you may get soaked. Keep your rain coat and a waterproof day pack cover and/or dry bag handy for this journey (links to the ones I personally use)!
We kept our day packs (with our electronics and valuables) with us, but our bigger backpacks got put all together on a bench near the back of the chiva.
Cost: 1,000 COP / $ .22 USD (bathroom)
Time: 1 hour 10 minutes
Step 4. Take 3pm chiva Riosucio to Jardin.
The chiva left the Riosucio station at 3pm. We expected the journey to be about 3 hours (adding a half hour to the bus station attendant's estimate, as everything takes longer in Colombia). That would mean arriving in Jardin at 6pm.
However, we actually arrived in Jardin at 7:45pm… a 2.5 hour journey turned out to be nearly 5 hours! Why, you ask?
At first the journey seemed normal, with the chiva driving along twisty but paved roads. Then, we somehow ended up on the rockiest unpaved dirt road with huge potholes. Basically just constant potholes.
At what point does a pothole become not a pothole, and it's really just that the road isn't a real road? Probably this point.
The wideness of the chiva, combined with the lack-of-road-situation, meant rocking side to side and bouncing up and down for hours. Most of the time, the road seemed to be in a deep jungle forest on what was more like a hiking trail than an actual road.
Occasionally the forest would clear and lo and behold, we were on a cliff face. I've driven on plenty of cliffs in South America and have become relatively hardened to them, but these cliffs combined with the rocking side to side was… a special combination for my anxiety. My advice is just try not to look.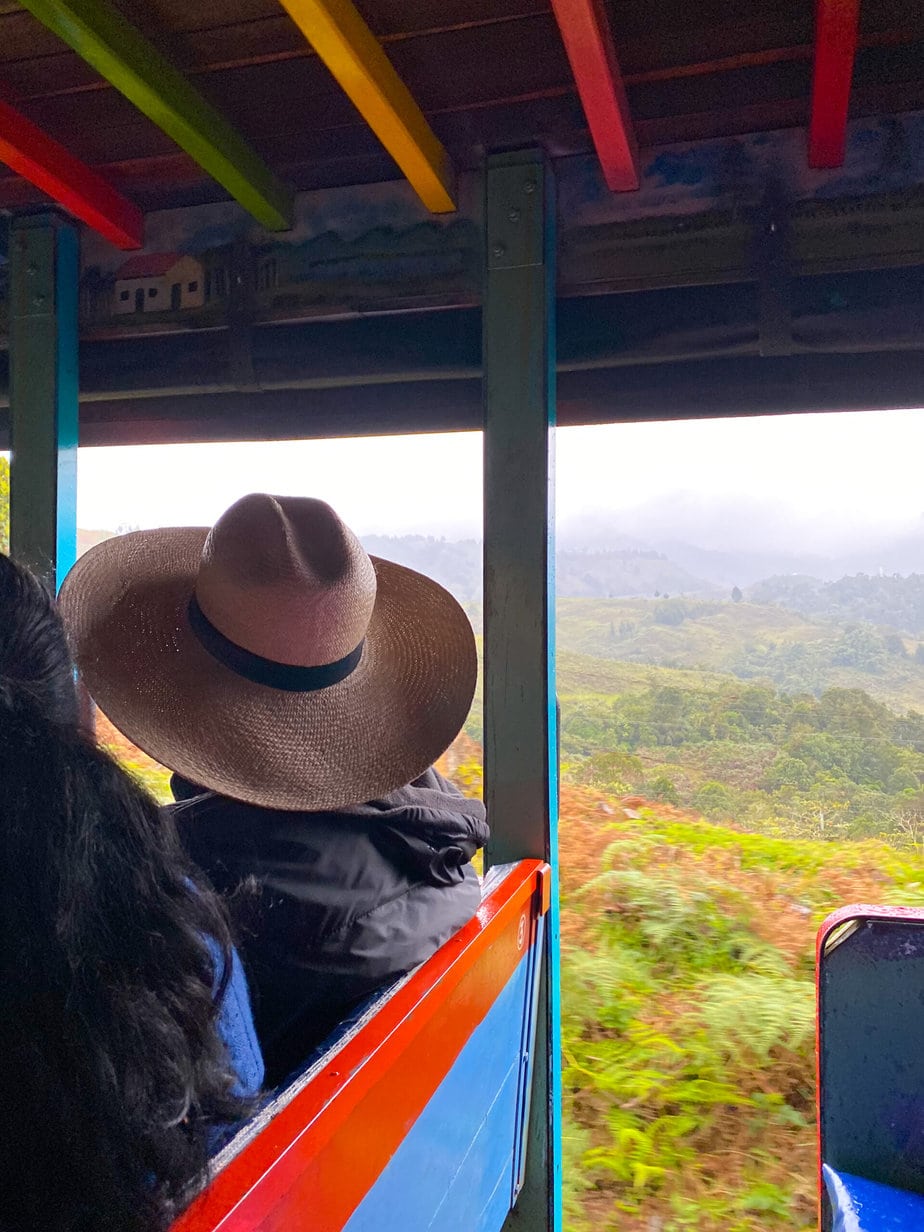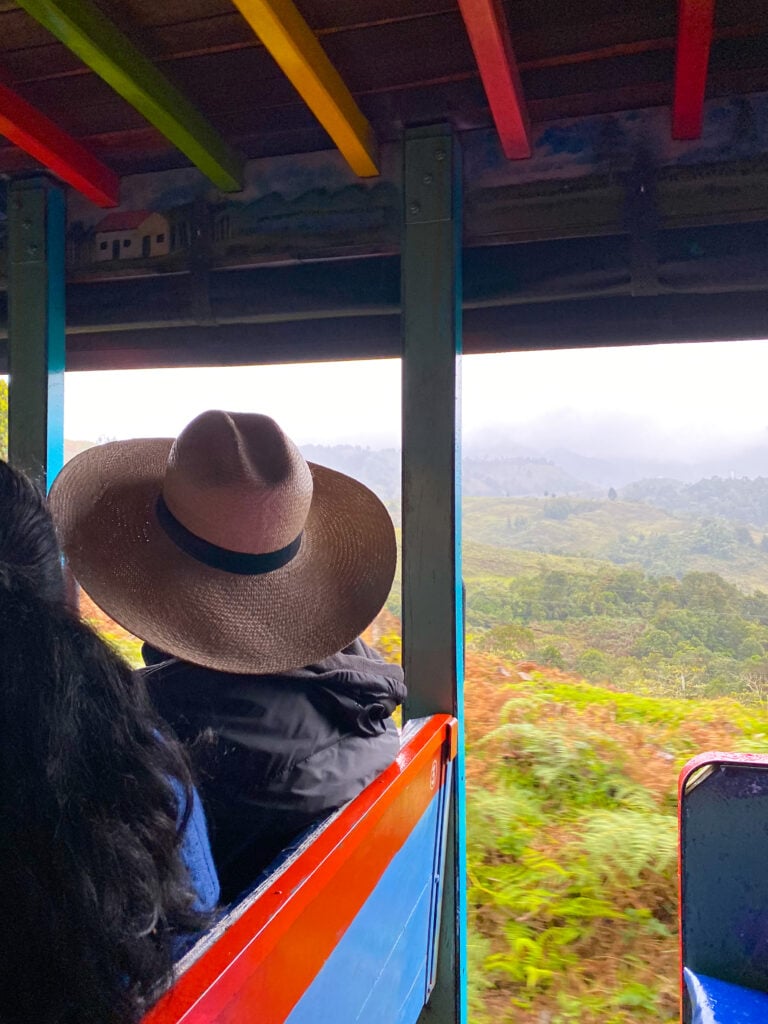 In his defense, our chiva driver was extremely good at his job. He was cautious and drove slowly (which is one reason it took so long), and I would rather that than bounce off a cliff any day.
About three hours in, the driver started blasting Latin music through the sound system. It was a bit disconcerting to be in the dark and rain, rocking around in an old reconverted school bus on a hiking trail pretending to be a road in the jungle of Colombia, to the sound track of South America's top 100 hits.
This also coincided with the worst of the potholes/rockiness so my theory is that maybe he did this to distract us?
Anyway, a little before we got to Jardin (once we survived the forest path and before we got back onto a paved road for the last 15 minutes or so) the driver stopped and came around collecting our payment – 25,000 COP ($5.40 USD) per person.
Cost: 25,000 COP / $5.40 USD per person
Time: 4 hours 45 minutes
Step 5. Arrive in Jardin.
Finally, at 7:45pm, the chiva arrived in Jardin! With sore butts, we all climbed off and collected our big backpacks.
From there, it was only a five minute walk to our hostal in Jardin. We stayed at Hostal La Comedia which is a family run place just a block from the main square. It's incredible value at just $17 USD for a private room with private bathroom, including a great breakfast and coffee.
Cost: –
Time: 15 minutes
Salento to Jardin Overview
Salento-Riosucio: Bus line is Flota Occidental, leaves 9:40am daily, takes 3.5-4 hours.
Riosucio-Jardin: Bus line is Cootransrio, leaves 3pm daily, takes 2.5-5 hours (depending whether you go by the bus attendant's estimate or my personal experience).
Total cost: 65,000 COP / $14 USD per person (with one bathroom break)
Total time: 11 hours
How to Get From Jardin to Salento: Reversing My Route
Depending on where you're coming from, you may have to travel the opposite of my route: from Jardin to Salento. However, it's not quite as simple as just reversing my route from above, as there are different bus times.
From my research, and speaking to Colombians in Jardin, here is the best way to get from Jardin to Salento.
Jardin – Riosucio – Salento:
Take the 8am Cootransrio bus (or sometimes chiva) from Jardin to Riosucio, and then the 12:15pm Flota Occidental bus from Riosucio to Jardin.
You can start your journey by buying tickets at the Cootransrio bus station in Jardin, found at Calle 8 #5-28 (just look up "Cootransrio bus ticket office" on Google maps).
Where to Stay in Salento Colombia
If you're looking to book a place to stay in Salento, here are my top picks:
Hostal Tralala ($)
Hostal Tralala is where we stayed and one of my favorite hostels in all of South America. It's super clean, affordable, and a block from the main square.
The standouts were a really comfortable bed, always hot showers, and the cleanest and best equipped hostel kitchens (yes – two of them!). At times, it almost felt more like we were staying in a nice, social Airbnb than a hostel.
KAWA Mountain Retreat ($$)
KAWA Mountain Retreat is an incredibly beautiful boutique property set in the countryside about 12 minutes walk or 5 minutes taxi or mototaxi ride from central Salento. This is definitely your spot for a bit more luxury or a couple's getaway. It's also not wildly expensive for what you're getting – I see rooms from $58/night.
We didn't stay here ourselves, but a Dutch couple we met on our Carbonera Valley tour did and we picked them up. As soon as I saw this hotel I was in love!
Where to Stay in Jardin Colombia
And if you need a place to stay in Jardin, these are the places I recommend:
Hostal La Comedia ($)
Hostal La Comedia is where we stayed in Jardin. It's definitely the best value for price that you'll find in Jardin! Our private room with private bathroom and included breakfast was only $17/night. The hostal is also operated by an older Colombian couple who are really kind and helpful – it kind of feels like staying with your grandparents.
I will say that the bed here wasn't the comfiest, and our room did open straight to the main courtyard/dining area, making it not feel quite as private or sound proof. But… with super kind Colombians and for that price, I really can't complain.
Check rates or book here for Hostal La Comedia.
Hotel Plantacion ($$)
Hotel Plantacion is the ultimate boutique, eco-friendly, sustainable hotel experience in Jardin. The design is just impeccable. I really wanted to stay here but they were full during our visit to Jardin. It does come at a higher price, but really not that high by western standards.
If they're fully booked, or if your backpacker budget does not allow, you can still visit Hotel Plantacion's vegetarian restaurant and cafe, Consulado Vegetal.
Check rates or book here for Hotel Plantacion.
Conclusion
With a little help from this guide, and my own experience, I hope your journey from Salento to Jardin is smoother than mine (well, as smooth as possible considering some of these roads…).
If you find this travel guide helpful, please comment below! I'd love to keep it as updated as possible for other travelers, and recent trip reports will help greatly with that.