Where to Find Gluten Free Lobster Rolls in Maine
As a gluten free traveler, my favorite thing is to find safe gluten free versions of the local cuisine. In Nepal I was all about the dal bhat, in Morocco it was tagine, in South India it was dosas. So what's the "local cuisine" in Maine? LOBSTER ROLLS.
It was my mission to discover all the gluten free lobster rolls in Maine that I could. I was not disappointed! In total, I found five restaurants that offer gluten free lobster rolls, in ten different cities across the state (some of the restaurants have multiple locations).
You shouldn't have to miss out on this Maine specialty just because you're gluten free. In this guide I'm sharing where to find gluten free lobster rolls in Maine so you don't have to do as much work hunting them down, like I did!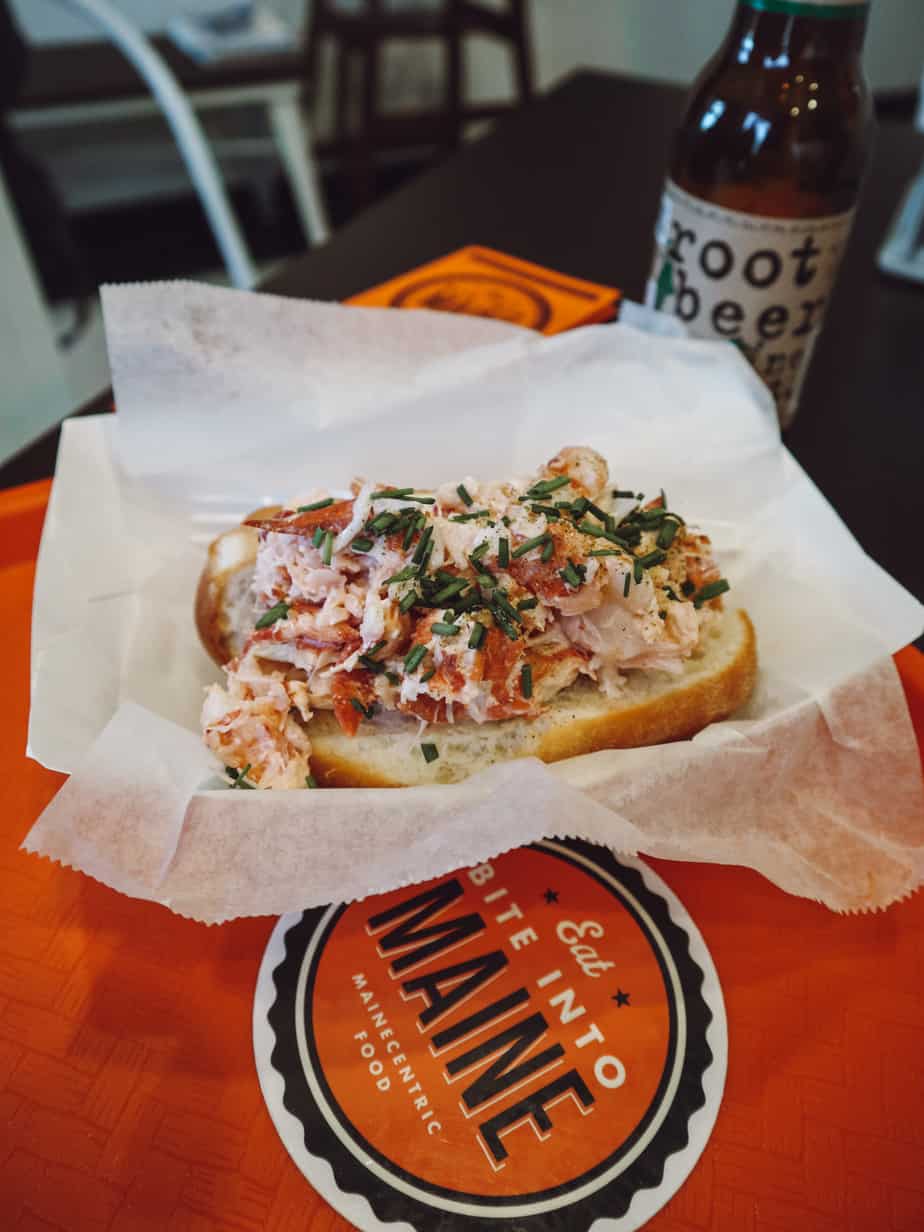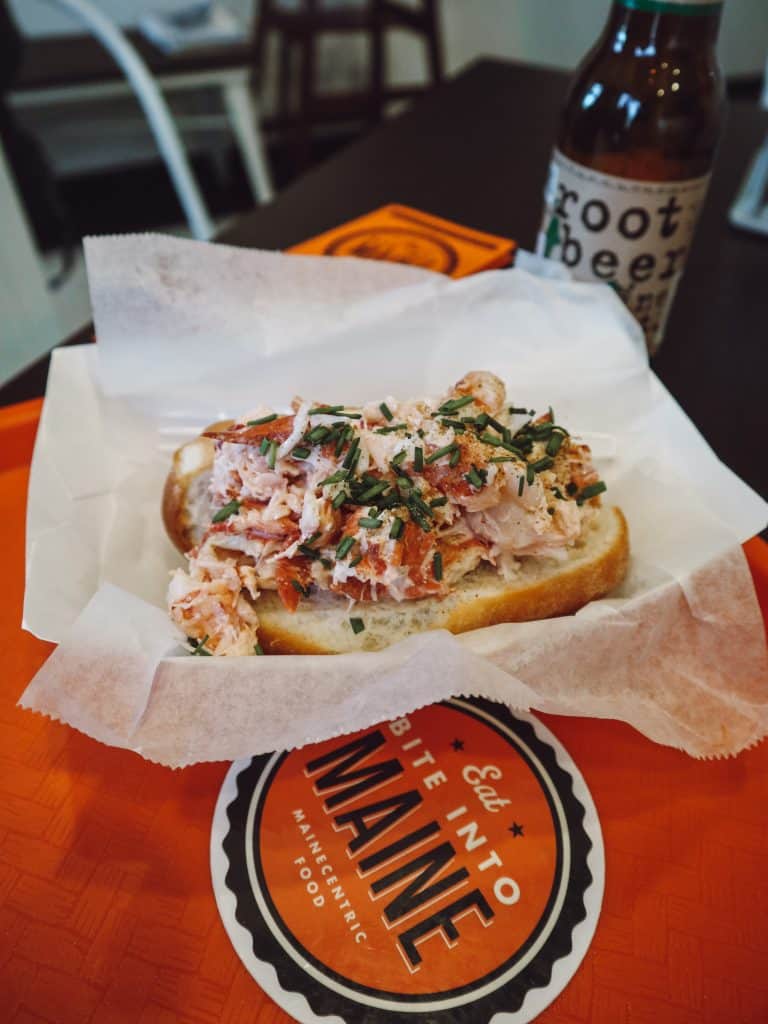 5 Restaurants That Offer Gluten Free Lobster Rolls in Maine
The following five restaurants offer celiac safe gluten free lobster rolls! None of these restaurants are dedicated gluten free, so I have made notes below on questions to ask about cross contact at each restaurant. I'm specifically not including some restaurants I came across that did not have safe practices. Some of these restaurants below have multiple locations, so in total this covers 10 cities in Maine!
Eventide Oyster Company
Location: Portland, Maine
Where to stay: The Inn on Carleton can offer a gluten free breakfast if you inform them ahead of time!
I found my favorite gluten free lobster rolls in Maine at Eventide Oyster Company! This is a really trendy fresh oyster bar in Portland, but they also serve other locally caught seafood.
It's not highly advertised (consider this one of Portland's best kept gluten free secrets), but Eventide Oyster Company offers gluten free lobster rolls! This isn't your average lobster roll, though. It's actually prepared on a steamed bun, that is quite sweet and spongy.
This bun is then stuffed to overflowing with fresh lobster and clarified butter. I've honestly never eaten anything with this combination of flavors before! I recommend ordering a platter of fresh oysters as well, and maybe a cider (or champagne?) and I guarantee this will be one of your favorite meals in Maine.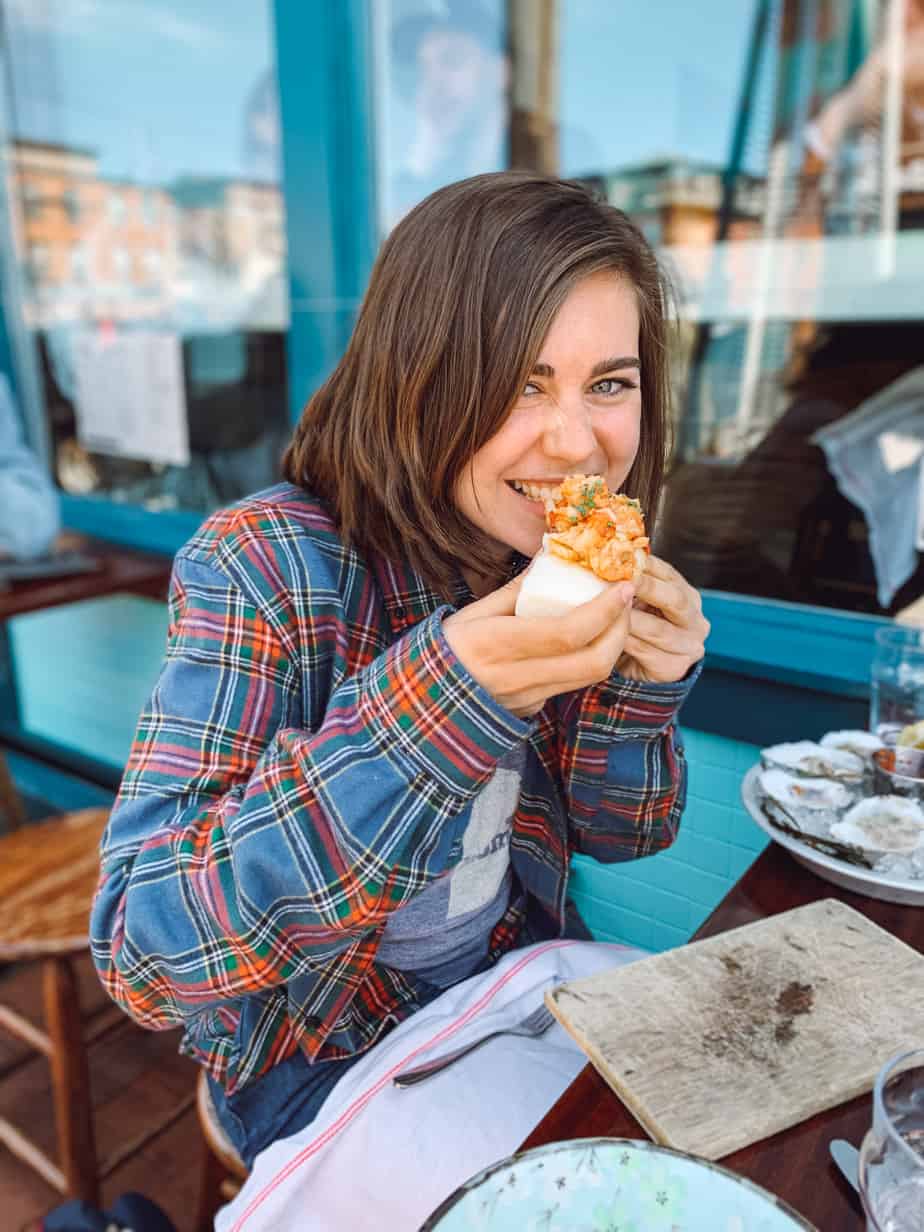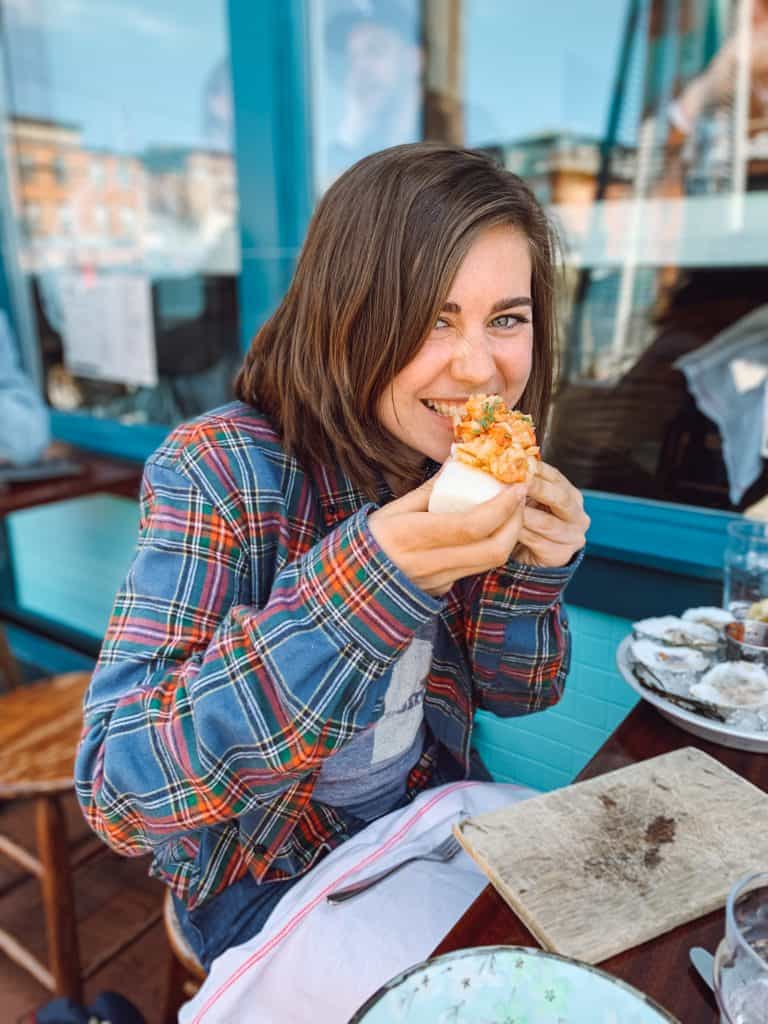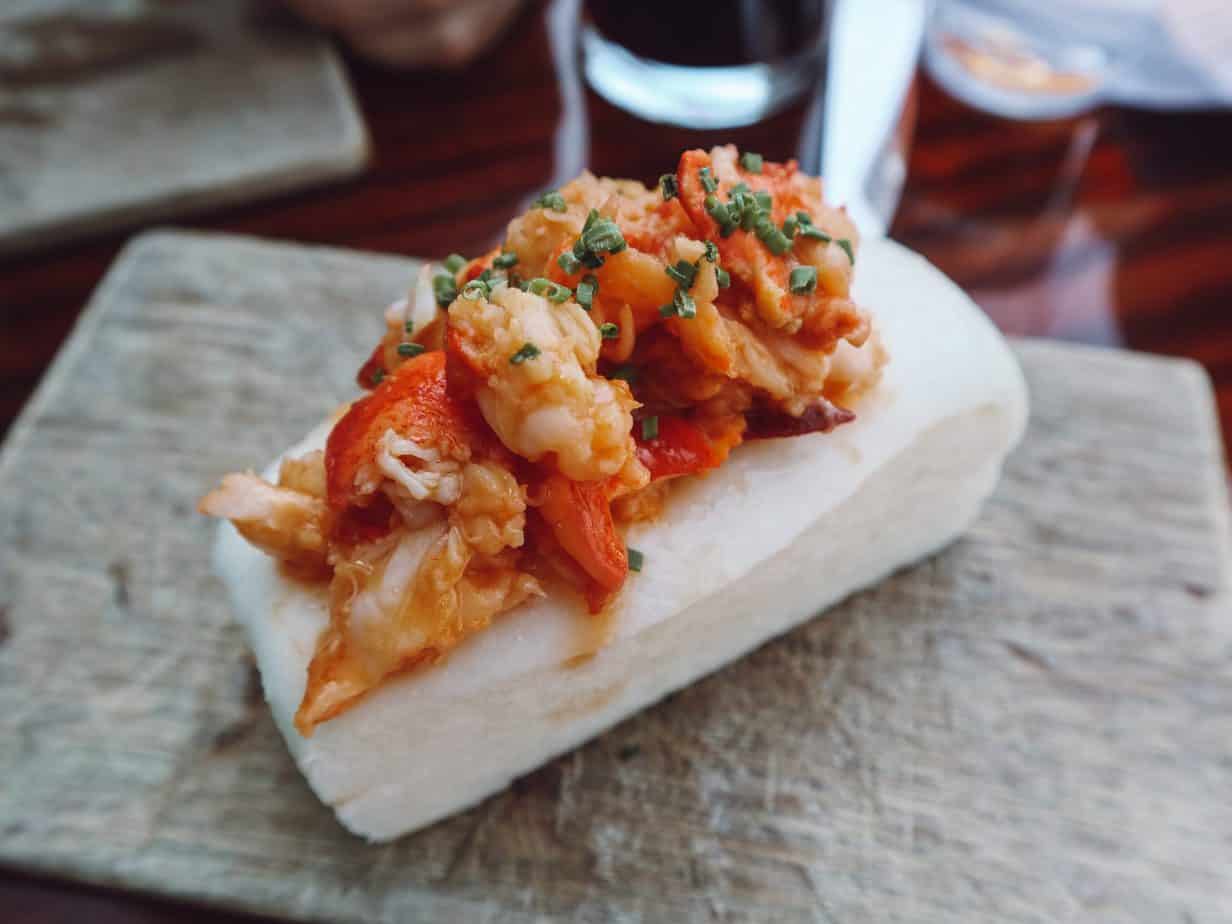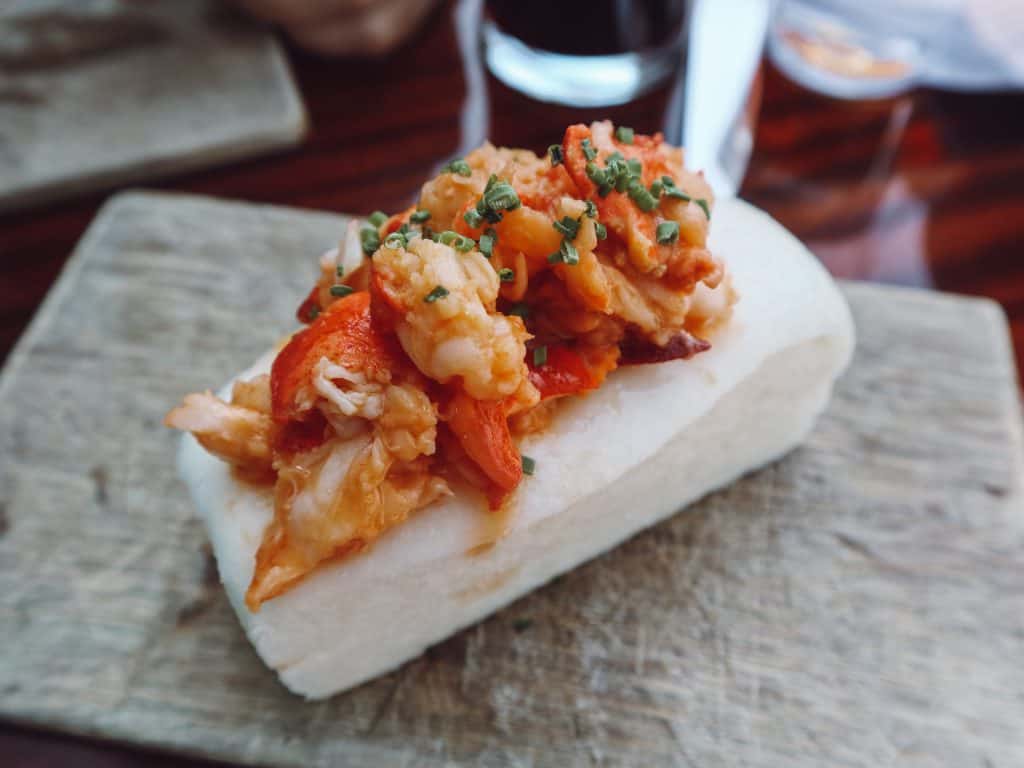 The Highroller Lobster Company
Location: Portland, Maine
Where to stay: The Inn on Carleton offers a gluten free breakfast if you inform them ahead of time!
The Highroller Lobster Company is one of Portland's go-to spots for lobster rolls. It has a reputation for being "hipster," ie each lobster roll has a super modern spin. There is no gluten free bread available here, but there is still one lobster roll that can be prepared gluten free!
This is the lobster cheese crisp taco, where the taco shell is actually made from pure cheese – therefore gluten free! The one thing you have to be aware of, though, is that you should confirm your cheese taco shell can be made on a separate, clean area of the grill. I asked this and they didn't have a problem complying – in fact the server was really aware of celiac disease, despite the fact the restaurant didn't have a ton of gluten free options other than this!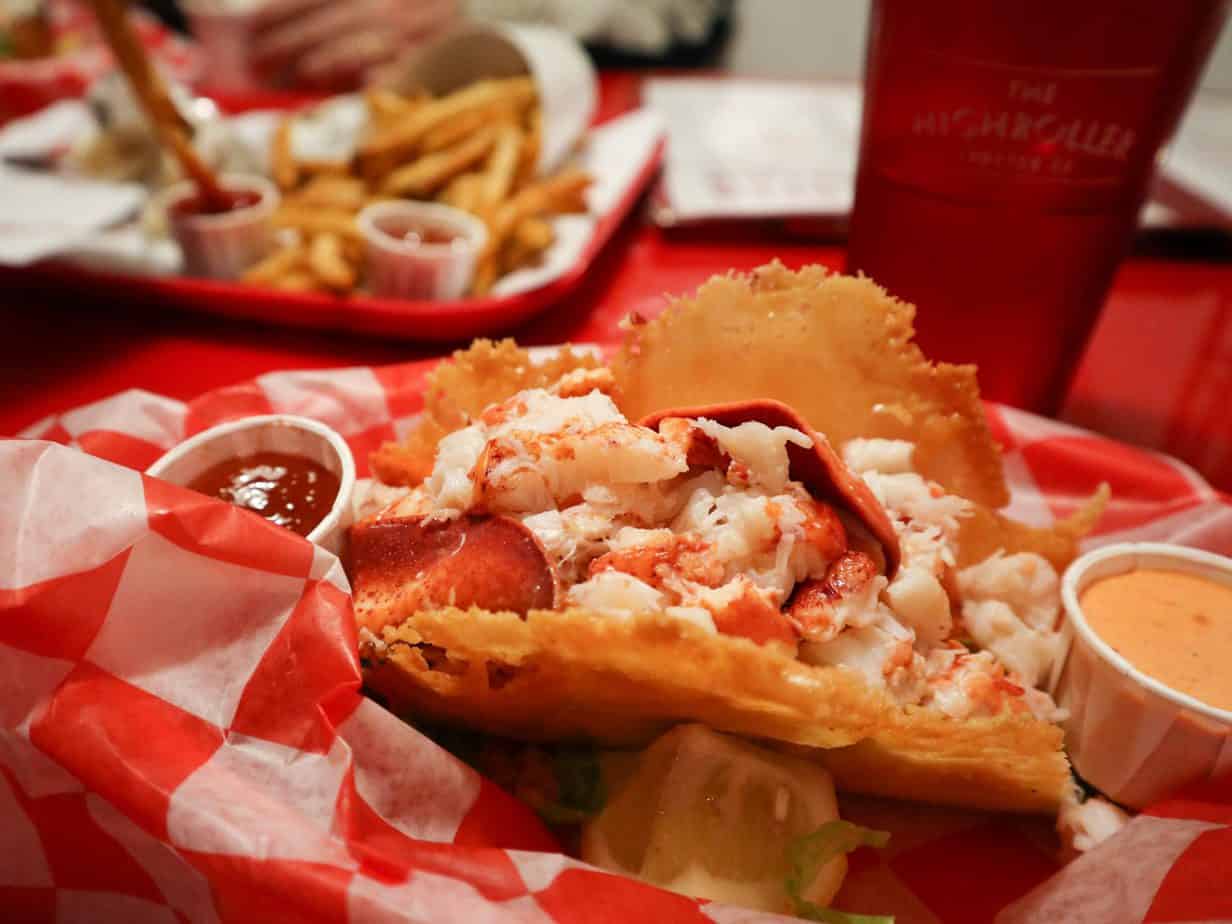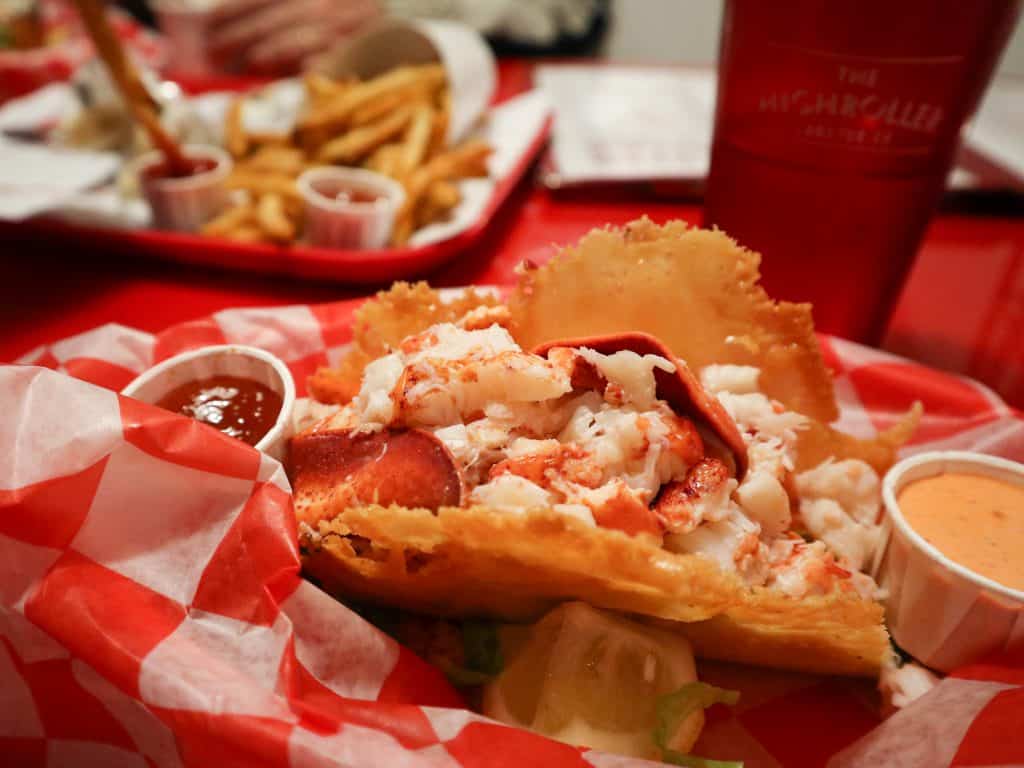 Sea Dog Brewing Company
Location: Broadway, Bangor, Camden, South Portland, and Topsham, Maine
Where to stay: If you're in Portland, try The Inn on Carleton. In Camden, The Windward House B&B offers a gluten free breakfast including pancakes.
Sea Dog Brewing Company is your average bar and grill, but the bonus is they carry Udi's gluten free buns. There is an entire gluten free menu here so ask for that before you sit down! 
The other benefit, of course, is that Sea Dog Brewing Company has locations in five cities in Maine. I found it was a great place to have up my sleeve as we were road tripping through Maine, because I knew I could go here for a meal.
At the location we ate at in Camden, I found the staff was very aware of cross contact. I asked my usual questions, and they were able to grill the bun in a separate, clean area of the grill. The lobster roll itself was PACKED with lobster claws, so you're definitely not skimped here!
One thing worth mentioning is that the fryer here is NOT gluten free, so fries are off the table. Hence the broccoli side dish you see in the photo below, haha!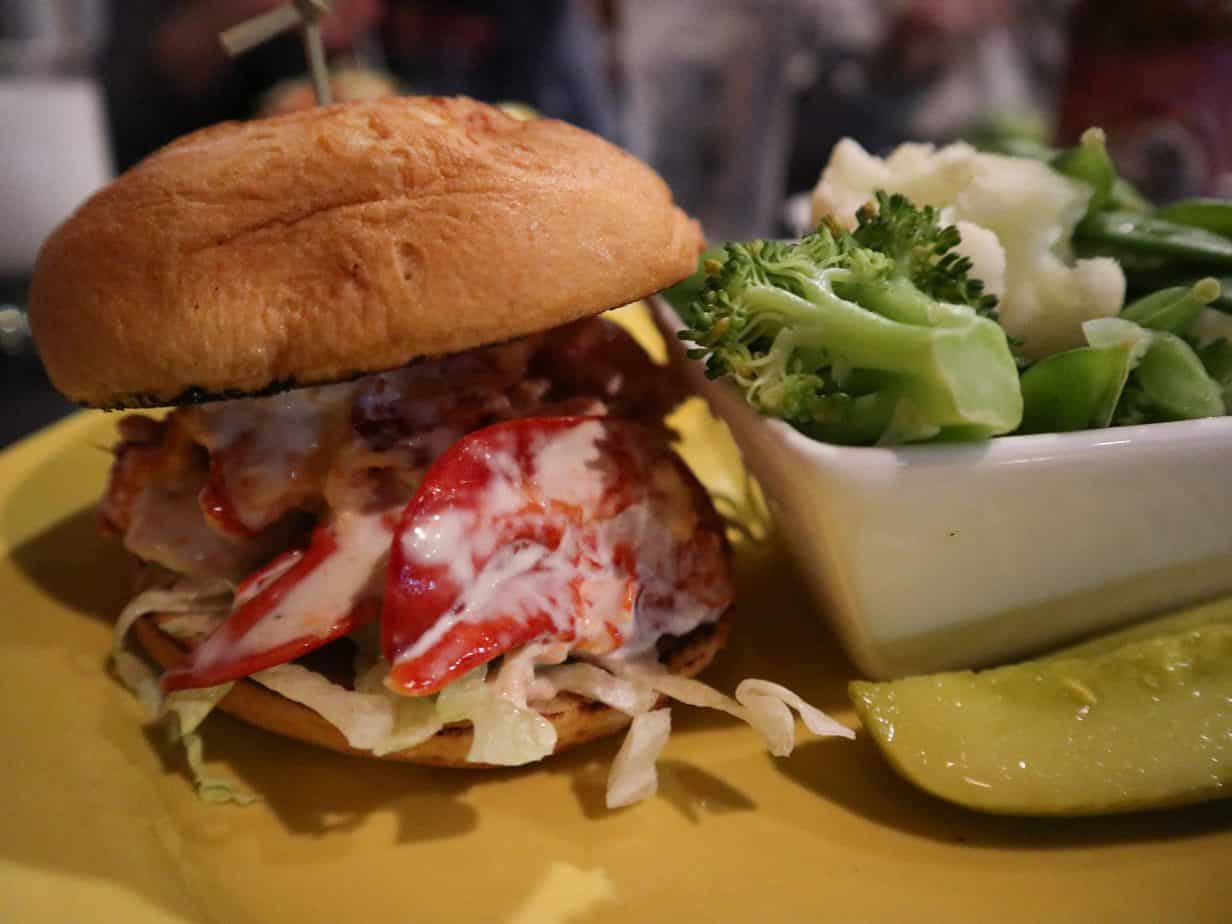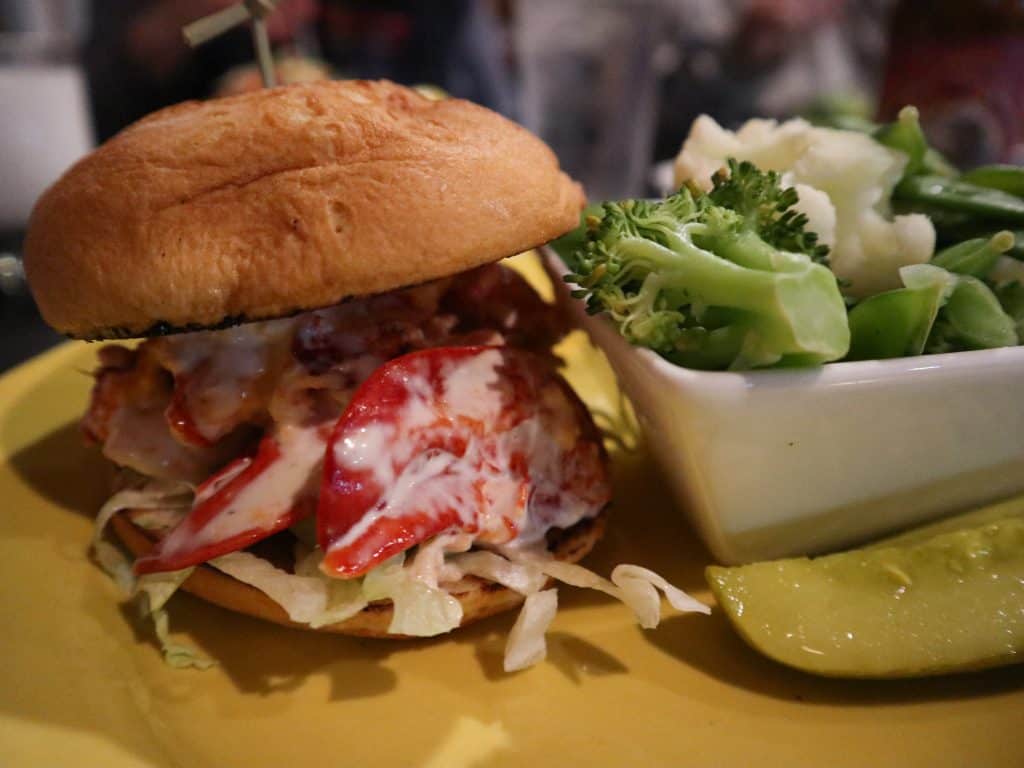 Morses Cribstone Grill
Location: Bailey Island, Maine
Where to stay: Check out HomeAway for rental houses 
Bailey Island (and the Harpswell Islands in general) are one of my favorite areas of Maine, but they are a bit remote. Of course, that's part of the charm, but anyone with celiac disease can probably agree with me that it's always more difficult finding safe gluten free options in small towns or remote areas.
Thankfully, on Bailey Island you'l find Morses Cribstone Grill, which serves – you guessed it – gluten free lobster rolls!! The gluten free buns are a bit crumbly, but you can rest assured that they are truly gluten free because they are made at Wildflours Gluten Free Bakery – a 100% GF bakery in nearby Brunswick. Tell your server that you have celiac disease and they will grill this bun on a dedicated area of the grill. This lobster roll actually had bacon added to it, which was a nice twist, and sooo tasty!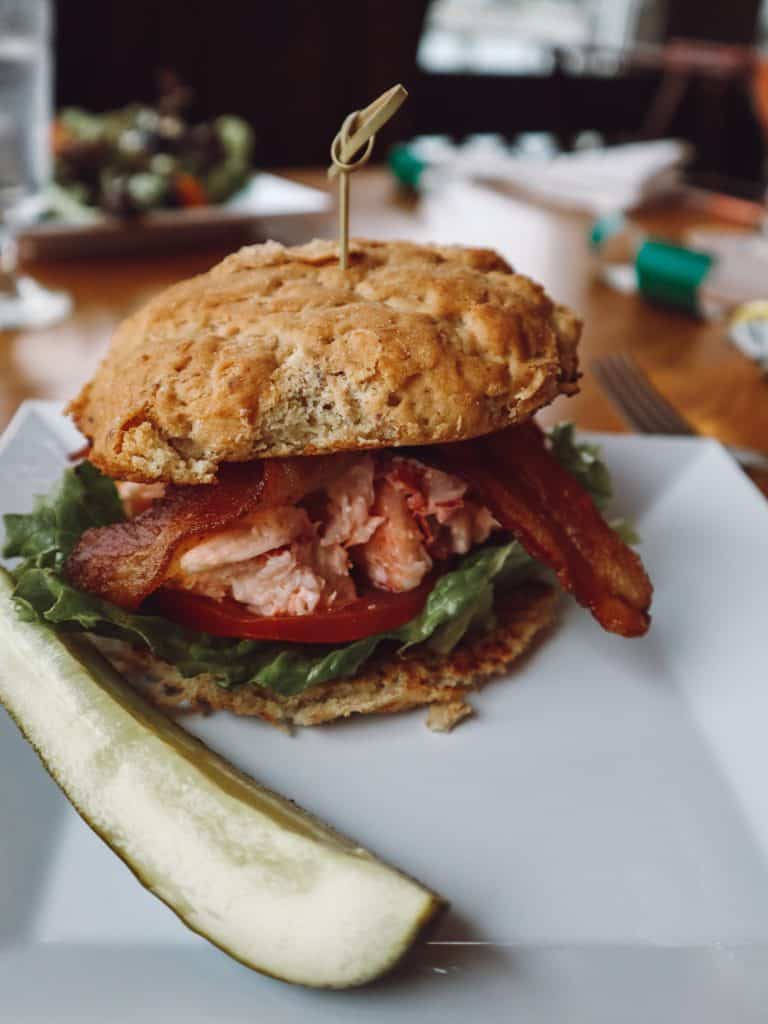 Bite into Maine
Location: Portland, Cape Elizabeth, Scarborough
Where to stay: In Portland, The Inn on Carleton offers gluten free breakfast if you inform ahead of time. In Cape Elizabeth or Scarborough I recommend HomeAway.
Bite into Maine originated as a food truck serving critically acclaimed lobster rolls around the Portland area. They've since developed and now have two food truck locations and a brick-and-mortar restaurant in Scarborough. I ate at the Scarborough location during our road trip through Maine.
Of all the gluten free lobster rolls I ate in Maine, Bite into Maine's version was the most "classic."
They use Udi's gluten free buns. When I ordered, the staff told me that due to the roll's grilling method and shared butter, there would be cross contact and it wouldn't be appropriate for celiacs. Not gonna lie, I looked SUPER disappointed and was about to leave, but then the server said she'd check in the kitchen. It turns out they were able to melt fresh butter for me, and use a separate clean pan for the grilling. Overall it was kind of an odd encounter (why wouldn't they just originally do that?), but I watched the whole thing from their open kitchen and as far as I could tell there was no cross contact. They were super careful, which I appreciated immensely.
If you choose to eat here (which I do recommend! This was the second best lobster roll I had after Eventide's), just be really clear about your cross contact needs. I'd also recommend coming at a low traffic time, and to the Scarborough location, so the staff has both the time and space to cater to your needs.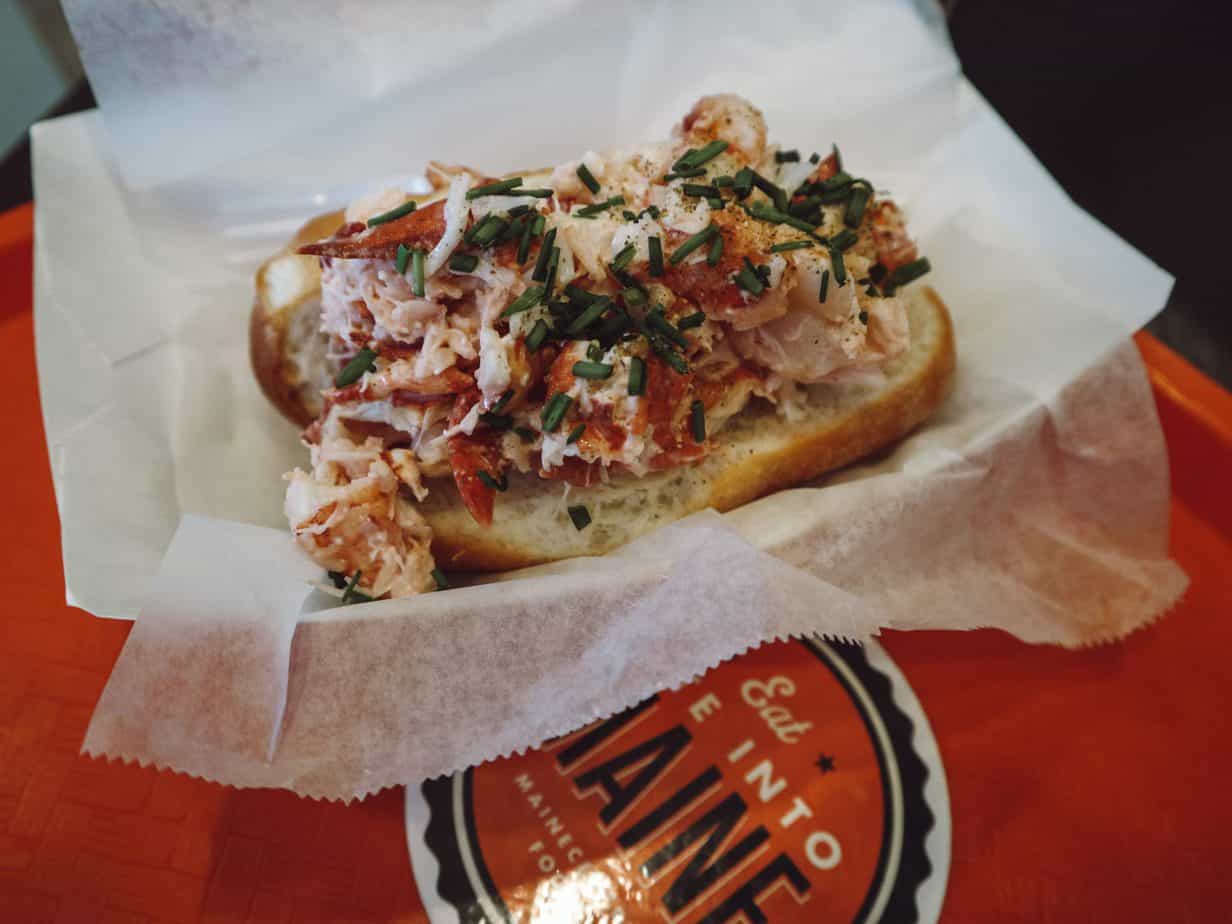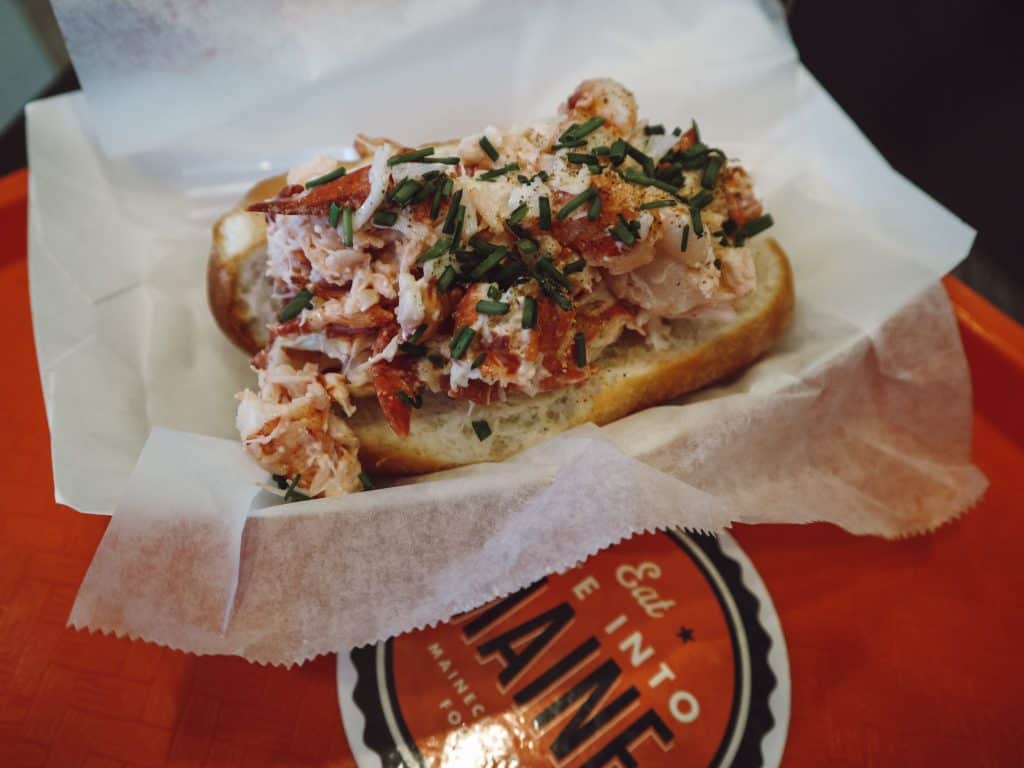 How I found these gluten free lobster rolls & other gluten free restaurants
If you're wondering how I found all these places that serve gluten free lobster rolls in Maine, it wasn't sheer determination and it wasn't even luck! After nearly a decade of being gluten free, all while living abroad twice, and traveling to 30+ countries, I've got a system down to finding gluten free restaurants.
I wrote all about how you can find gluten free restaurants (including my top seven resources and how to use them), so check that post out.
The challenge doesn't end there, though, because oftentimes restaurants that advertise gluten free options aren't actually gluten free, ie. safe for celiacs and free of cross contact. For instance, there are a few restaurants in Maine, like Linda Bean's, that advertise gluten free lobster rolls because they have gluten free bread, but don't prepare it in a safe way that could be considered gluten free.
If you want to know all the questions to ask and how to do so in a stress free way, check out my article on eating out gluten free safely. 
And if you want to make sure you don't get hangry on the road between destinations, bring along some of my favorite gluten free snacks that are perfect for when you're on the go (they're also all dairy free!).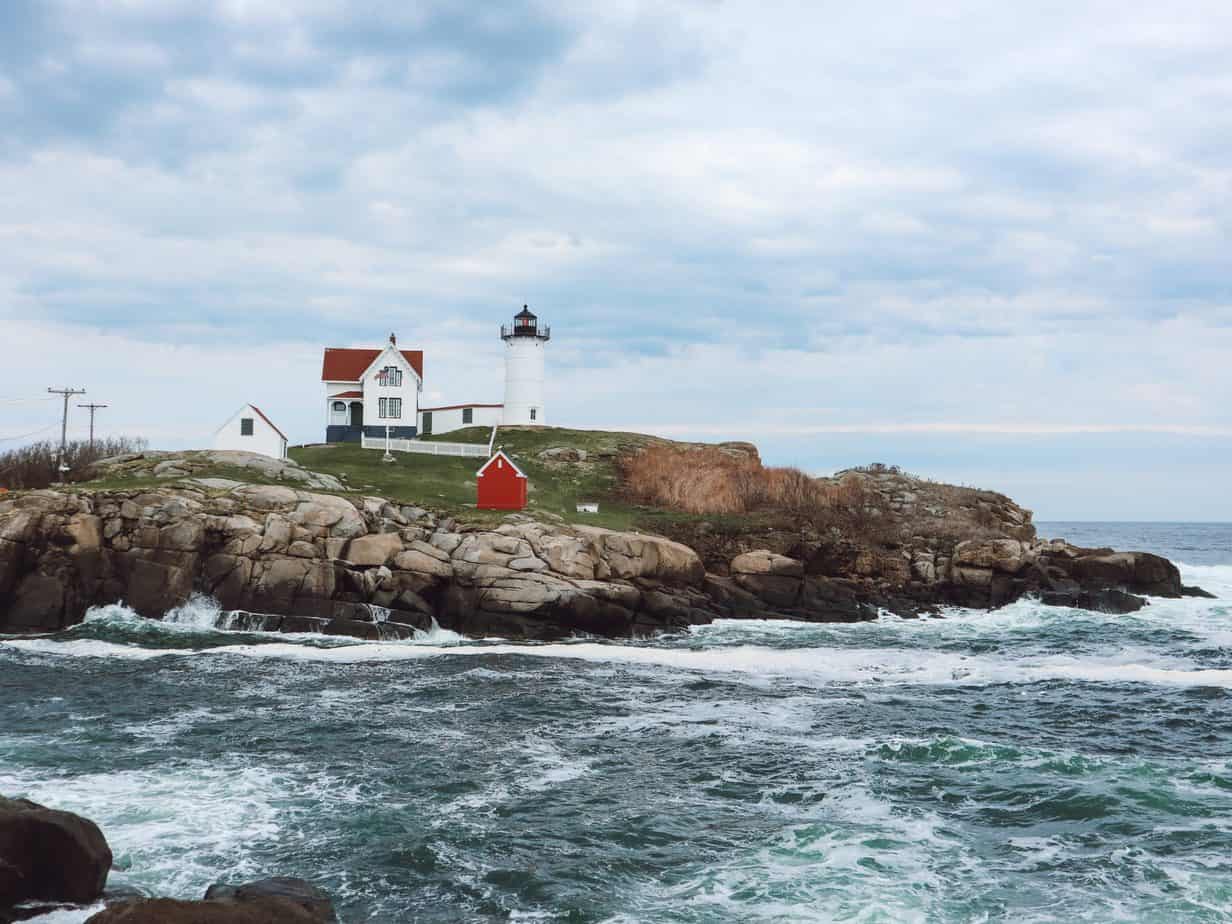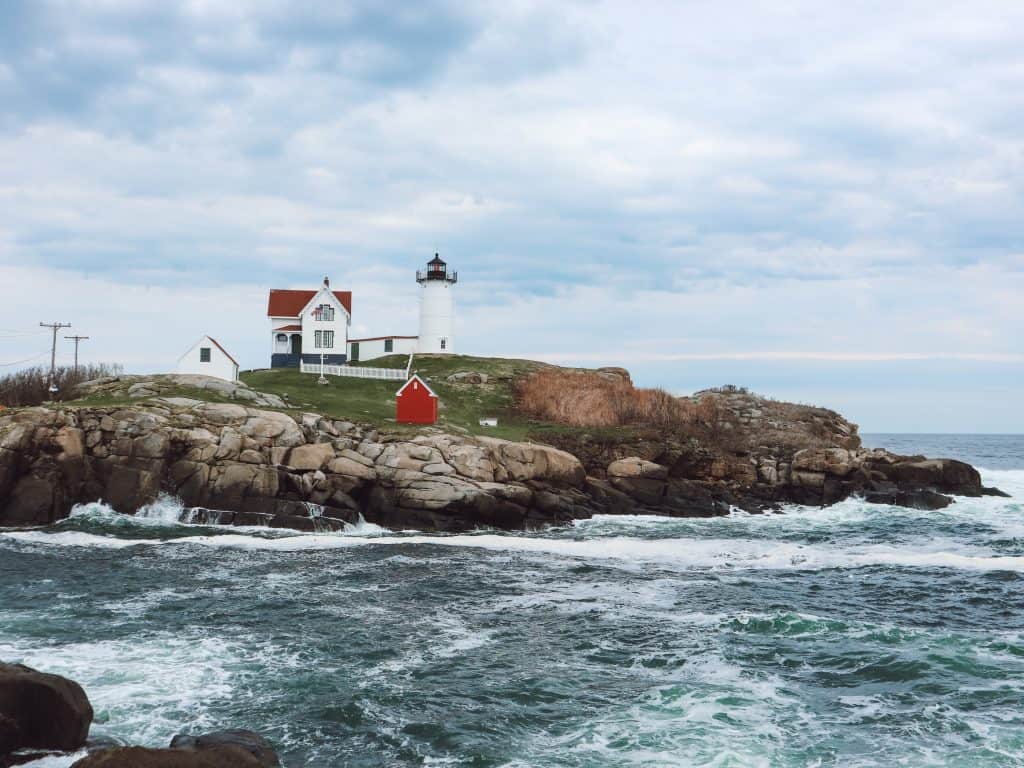 Gluten free Portland Maine & the rest of Maine
You're probably not planning on eating gluten free lobster rolls for your entire time in Maine. I've got you covered with my gluten free travel guide to Portland, Maine. That article also covers other gluten free restaurants I discovered in towns throughout Maine, including: South Portland, Rockport, Camden, York, Brunswick, and Bailey Island.
Good luck and happy gluten free traveling! I can't wait to return to Maine and find even more gluten free lobster rolls! If you discover any on your own travels that I haven't included here, be sure to let me know in the comments.
Sarah xx
Pin it for later…