The Lake District is a national park in Cumbria, England and it is one of my favorite places in the whole country. (Maybe my #1 favorite… but don't tell Cornwall). I have visited the Lake District quite a few times over the years so I felt it was finally time to share my gluten free Lake District guide!
There are actually a lot of restaurants with gluten free options in the Lake District. There are no 100% gluten free establishments, but the restaurants I'm sharing in this post have good cross contact protocols and many have dedicated fryers.
Because the Lake District is such a large region (and the winding roads and mountains mean it can take extra long to travel between places), I've divided this gluten free Lake District guide by town. I hope this post helps you plan your trip to the Lake District!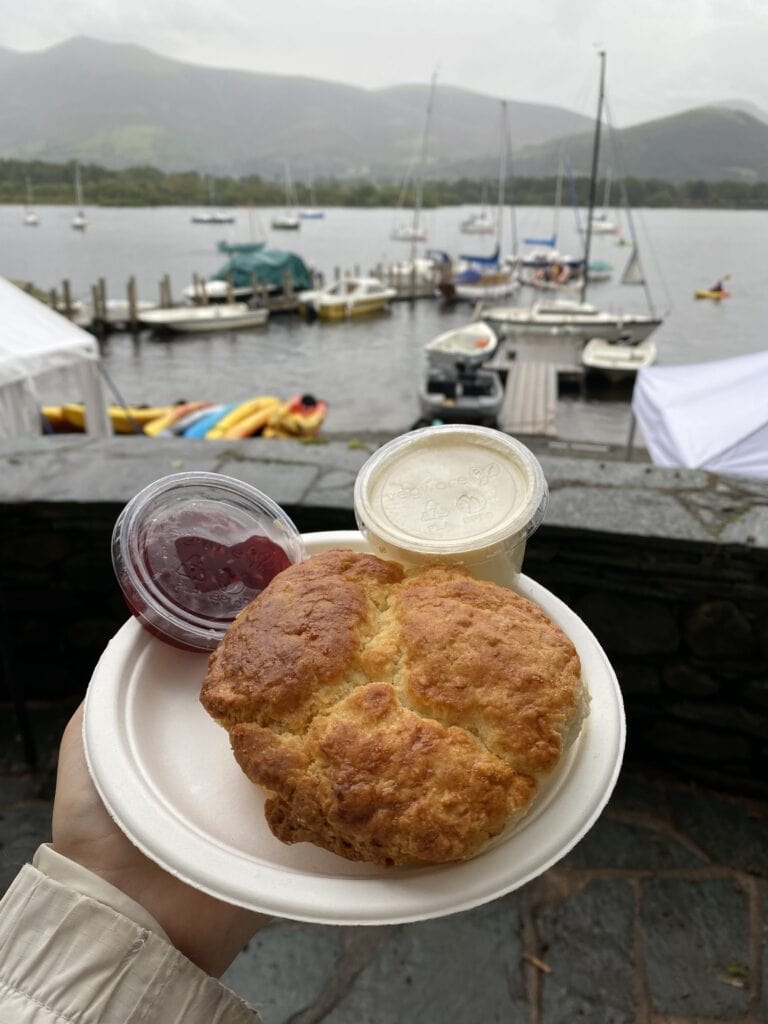 Where to Stay in the Lake District if You're Gluten Free
It's not possible to see all of the Lake District in one visit (unless it's a really, really, long visit). My recommendation is to base yourself in a town with plenty of gluten free restaurants and grocery stores, and do day trips from there. I've previously stayed in Windermere, Keswick, Ambleside, and Grasmere, and I'm sharing some specifically gluten free accommodations below.
My absolute favorite town in the Lake District is Keswick, not only for having the widest variety of gluten free restaurants in the Lake District (and gluten free B&B's!), but because it's less touristy and close to some of the Lake District's best hikes.
Windermere and Ambleside are good picks for your first visit to the Lake District, or if you're less into hiking and want to go boating or visit the Beatrix Potter House.
Leonard's Field House – Gluten Free B&B in Keswick
Leonard's Field House is a bed & breakfast that's centrally located in Keswick. Theresa, one of the owners, has celiac disease herself and they have a separate area of the kitchen for gluten free breakfast preparation with a dedicated chopping board, toaster, etc. They can also make up gluten free lunches for your days out, as well as gluten free Borrowdale Tea Bread. Leondard's Field House has even won a Free From Eating Out award!
Kirkwood Guest House – Gluten Free B&B in Windermere
Kirkwood Guest House in Windermere is owned by Paula Bailey, who is a lifelong celiac. She also keeps a separate area of the kitchen dedicated to gluten free breakfast prep. I had gluten free toast, full english breakfast, and gluten free sausages (from a local butcher!). Paula also offers gluten free waffles but I will warn you that these are not safe for celiacs as they are made on a shared waffle maker. To be honest I was a little disappointed by this… until I learned that I could get celiac-safe waffles at Choccobar just down the road (read about this further down)!! We really enjoyed our stay in this cute, cozy, and super clean B&B.
Gluten Free Lake District Guide
Below is my gluten free guide to the Lake District, divided by town. I've included restaurants that I have personally dined at myself, my experience, and the cross contact protocols at each. I also mention a couple restaurants that I haven't had a chance to eat at yet, but were recommended to me by local celiacs.
If you choose to go to one of these restaurants, I always recommend asking about cross contact yourself because things can change over time!
Gluten Free Windermere
Vinegar Jones | Bowness-on-Windermere
Vinegar Jones was my first stop on my most recent visit to the Lake District, when we stayed at Kirkwood Guest House (which is located in between Bowness-on-Windermere and Windermere – both towns are very close and located right on lake Windermere).
This is a small, no-frills takeaway shop that has a dedicated fryer for amazingly light and crispy gluten free fish and chips! There are a few spots to sit down and dine, but we took our fish and chips down the street to sit by the harbor.
The Watermill Inn | Ings
The Watermill Inn is actually located out in farmland in Ings, which is only a short drive from Windermere. We ate here for dinner one night while staying in Windermere! This old stone inn and brewery also has a huge outdoor patio.
The food here is mostly pub fare, and they do have gluten free buns for the hamburgers, gluten free mozarella bread, and a dedicated gluten free fryer! Before preparing my meal, the chef cleaned down the griddle and grilled my burger and bun separately. We ate at a pretty busy time so I was impressed by this!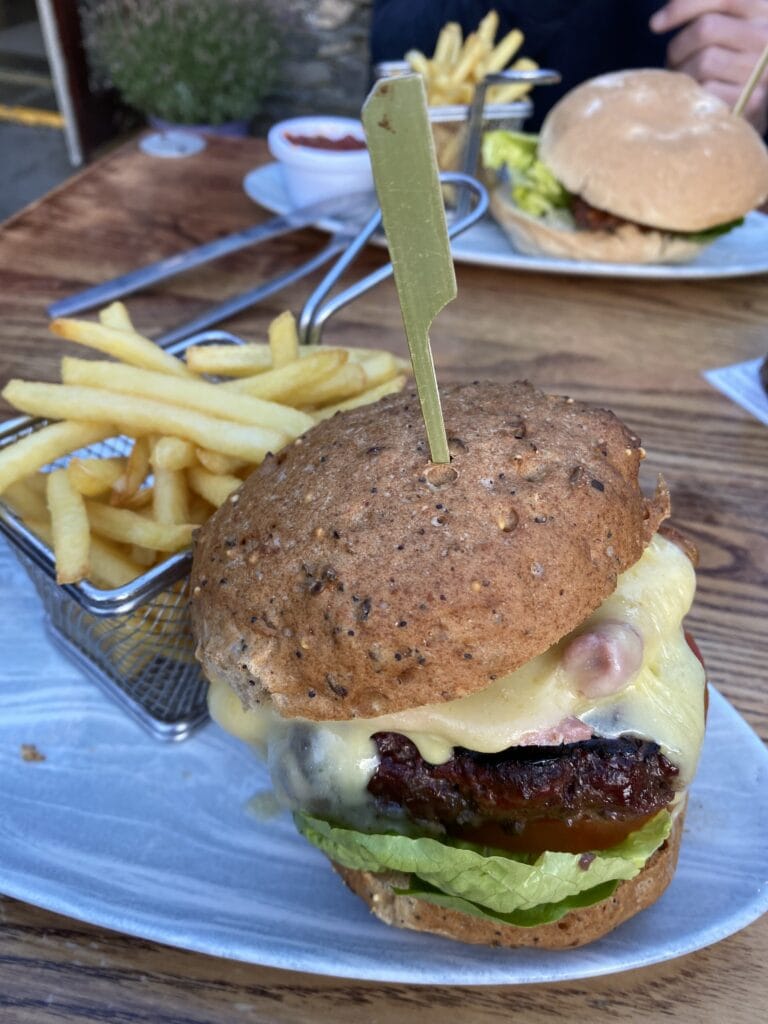 The Flying Pig | Bowness-on-Windermere
The Flying Pig in Bowness-on-Windermere is about as traditional British pub as you can get. We hid out here for lunch on a rainy day (case in point: my hair in the photo below). There are a lot of exciting gluten free options on the menu here thanks to their dedicated gluten free fryer!
I was excited to order the gluten free fish and chips, and Dan ordered the bacon chop and eggs which was also gluten free.
Choccobar | Bowness-on-Windermere
Choccobar is an amazing little cafe that specializes in gourmet hot chocolates and waffles. The waffle batter here is ALL gluten free, meaning they also have dedicated gluten free waffle-makers! A few of the toppings (oreos) contain gluten but nearly all of the waffles can be made gluten free.
I tried to eat here on my last visit to the Lake District, but reservations were required as they were so busy. Definitely make reservations (I will next time! And keep in mind Choccobar is closed Tuesday and Wednesday). A fellow gluten free travel blogger Rachel from The Sightseeing Coeliac has eaten here, though, and highly recommended it to me.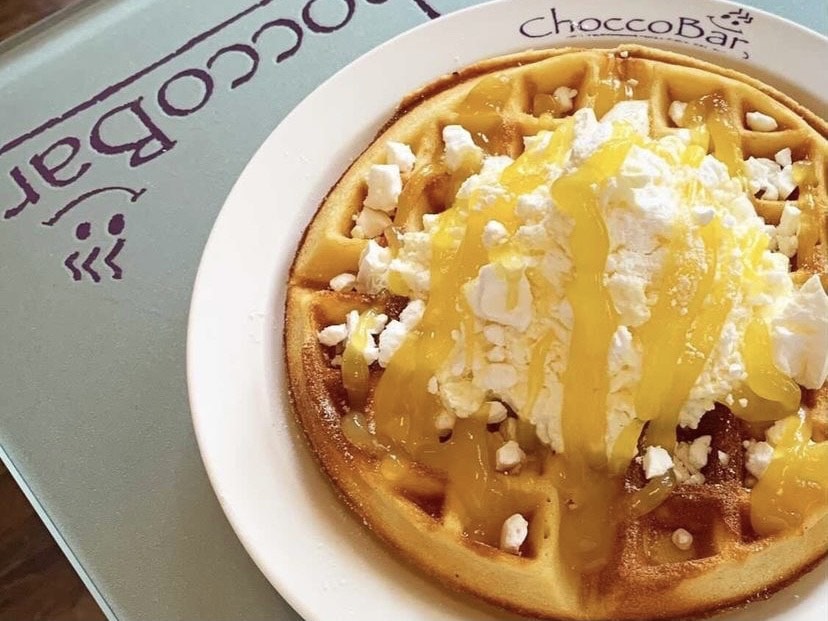 Gluten Free Grasmere
Baldry's | Grasmere
Baldry's is actually one of my very top recommendations for anyone who is gluten free in the Lake District. It is an adorable little tearoom in Grasmere town, and is worth the trip even if you're not staying in Grasmere. All the food here is homemade and there are a LOT of gluten free options (see the photo below!). It is a shared kitchen but they take care to avoid cross contact.
Dan and I did the hike to nearby Rydal Cave and then headed into Grasmere because I was on a mission to eat at Baldry's. I had the gluten free bread pudding and custard because… when does a celiac get to eat bread pudding?! It was delicious, as to be expected. I've only had the chance to eat at Baldry's once but I will most definitely return.
Gluten Free Keswick
Thyme Bistro | Keswick
Thyme Bistro is my #1 must-eat in Keswick…and maybe all of the Lake District. The owner's dad has celiac disease, so she has taken care to add many gluten free options to the menu, and prepare these dishes in a safe way.
I spoke to the owner myself during our meal here. She recommended the pizza, as the bases are imported from a 100% gluten free supplier they like in Italy. They use a separate pan and keep separate pots of ingredients for the gluten free pizzas to keep it safe (and of course use the top level of the oven).
I ordered the Quattro Staggioni pizza, which as you can see is divided into four flavors. Oh my gooooooodness I still think about this pizza as it was so incredible! And the kindness of the staff was just the cherry on top. (Also, Dan LOVED his non-gluten free duck here too).
The Cornish Pasty | Keswick
The Cornish Pasty is a takeaway shop in central Keswick that does what it says: Cornish pasties! Having lived on the border of Cornwall during grad school, I am pretty familiar with these. However I've only rarely seen gluten free pasties, and was surprised that I found some here!
The gluten free pasties are made off the premises, and kept in sealed bags which separates them from gluten in the shop. However keep in mind that they are frozen so you will need to defrost it (and take it back to your accommodation and microwave it).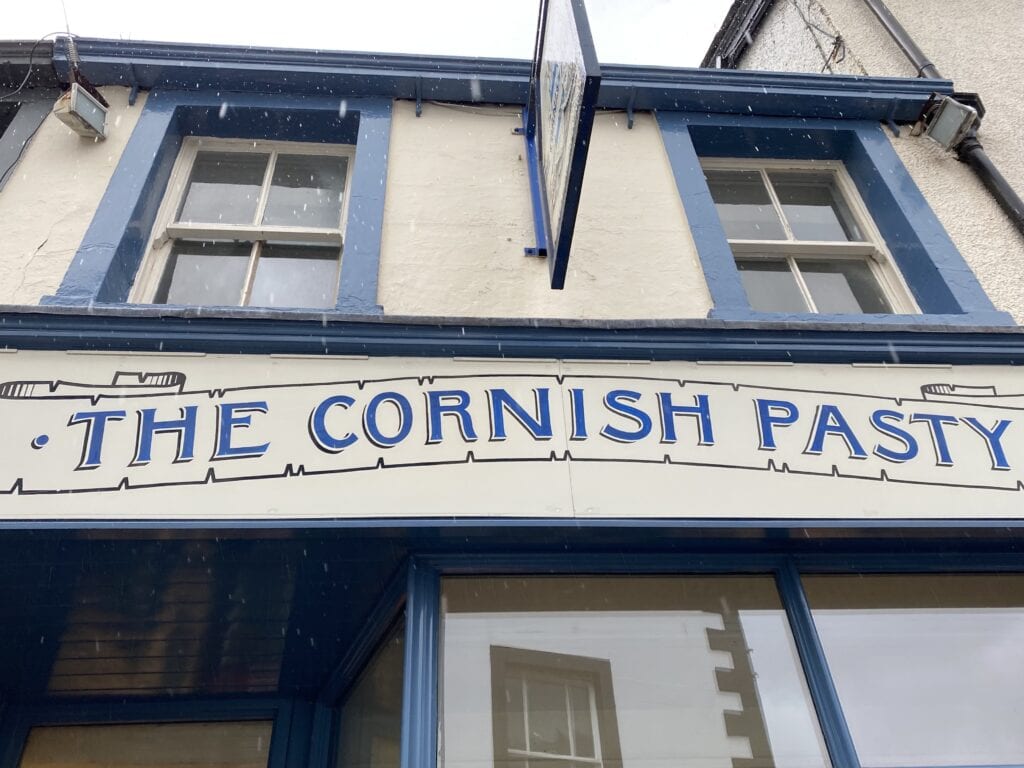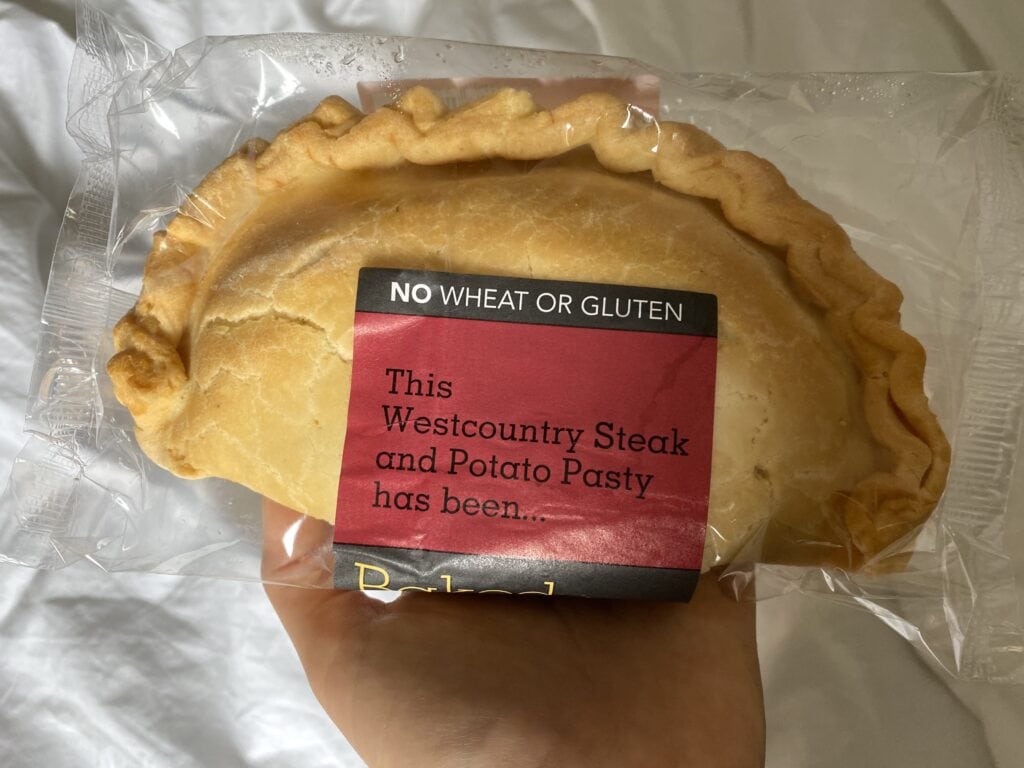 The Kingfisher | Keswick
The Kingfisher is a "chippie" takeaway shop that's really popular with the local community. Dan and I got takeaway from The Kingfisher on our very first visit to Keswick. They have a dedicated gluten free fryer here and do gluten free fish and chips. However the fish is fried in a rice flour, not battered, so go in with that expectation. It is still really good!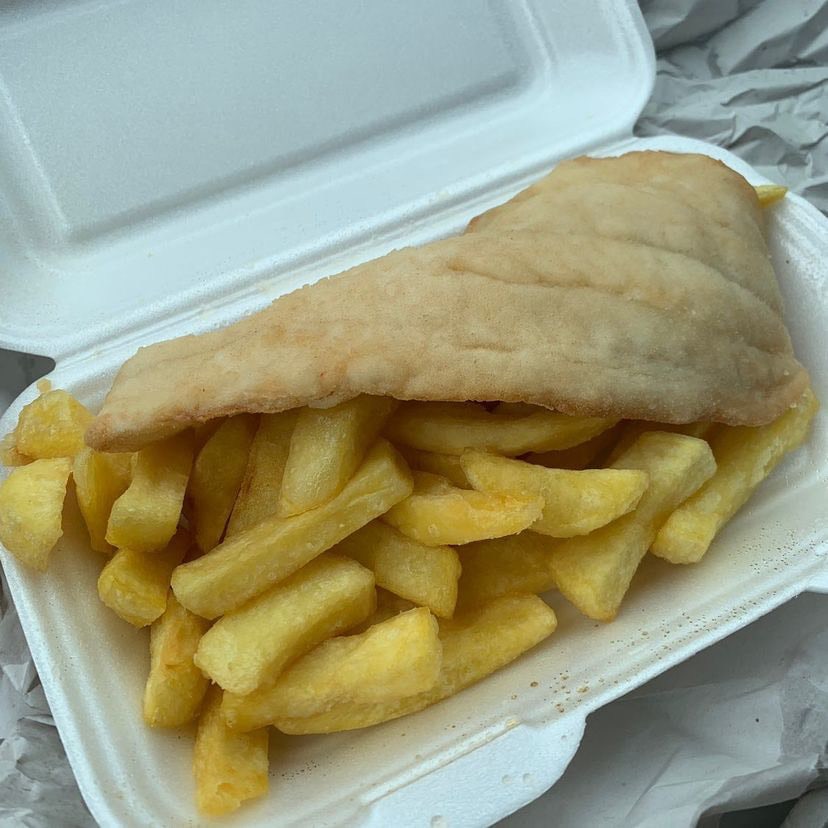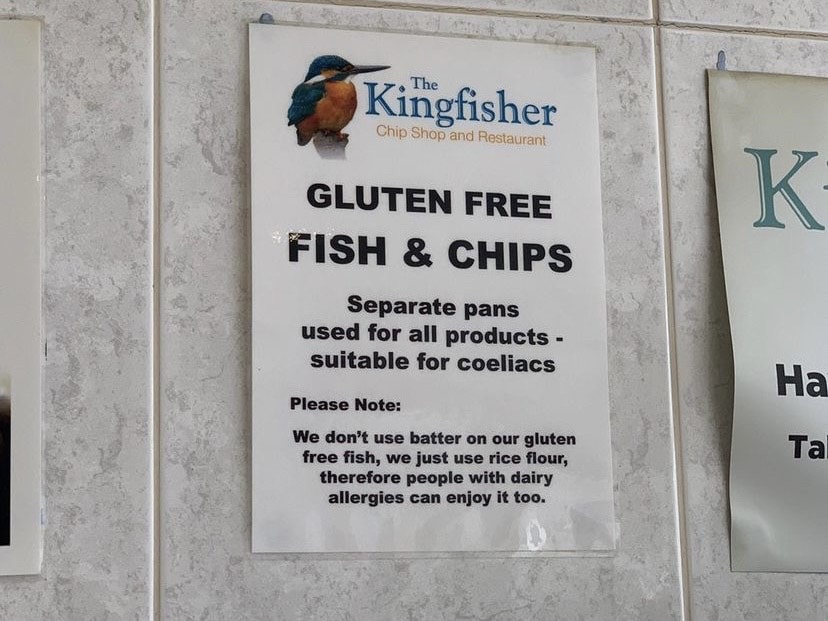 Fellpack | Keswick
Fellpack is the coziest restaurant in the Lake District. It has the exact vibes of a place you just want to hide away in after a long day out walking. I actually first wanted to eat here for the ~aesthetic~ so I was really pleased to see they also have good range of gluten free offerings!
The main dishes here are called "Fell Pots" and are basically curries or stews served in a pot. Below is the braised beef chili pot, which was super spicy but also the warmth I needed after a rainy day in the mountains. The REAL treat here are their gluten free sticky toffee puddings with butterscotch sauce. YUM.
Lingholm Estate | Portinscale / Keswick
The Lingholm Estate is an estate on the shores of Derwentwater, close to Keswick. Dan and I visited while doing the walk around Derwentwater, but you could also get the ferry here. Beatrix Potter stayed at Lingholm Estate for 10 summers, and she wrote Peter Rabbit inspired by the Kitchen Garden here. I highly recommend visiting Lingholm Estate (there are even llamas that you can walk through the estate with Alpacaly Ever After!).
During your visit, you can eat at the Lingholm Kitchen which has incredible views toward the mountains. Nearly everything on the menu (which changes seasonally) can be made gluten free with gluten free buns! They also have gluten free afternoon teas. I haven't had a chance to eat here myself yet as we just visited the estate (and ate at the next place on this list), but I want to put Lingholm Estate on your radar!
Nichol End Marine| Portinscale / Keswick
Nichol End Marine was recommended to me by my bed & breakfast host in Keswick, who is a local celiac. It's a small cafe with a boat launch and rental service right on the shores of Derwentwater, in Portinscale. Dan and I ate here near the end of our 10-mile walk around Derwentwater.
This is a very simple cafe but they have the actual biggest gluten free scones I have ever seen! The gluten free scones are made separately, before anything else is made in the kitchen to prevent cross contact. They are also stored in tupperware in the back (so they are not in the display case with the gluten scones… you will have to ask for them!). They have plain, cherry, sultana, and cheese scones, all gluten free!
The George Hotel | Keswick
The George Hotel in Keswick was also recommended by our celiac B&B host. It was built in 1665 and is one of the oldest hotels in the entire Lake District. The George Hotel offers a wide range of gluten free meals (including fish and chips, onion rings, chicken goujons, and more).
Unfortunately when I ate here they had a limited menu due to the pandemic, so I would call ahead to confirm the menu before you visit. Even with the limited menu, I did enjoy a beetroot and goats cheese salad (and the staff here is very knowledgeable about cross contact). Dan had one of his favorite meals ever here – a very NOT gluten free steak pie as big as me!
The George Hotel also offers a range of gluten free beers, but I want to mention that some of these are gluten removed and not technically gluten free… The UK and the USA do have different standards as to what distillation process is required for a beer to be considered gluten free. I personally do not drink gluten removed beer because after my own reactions and reading the research I believe it is not celiac safe… but I will leave this to your discretion. This is a good article with more information on the topic. Peroni and Brewdog are both gluten removed.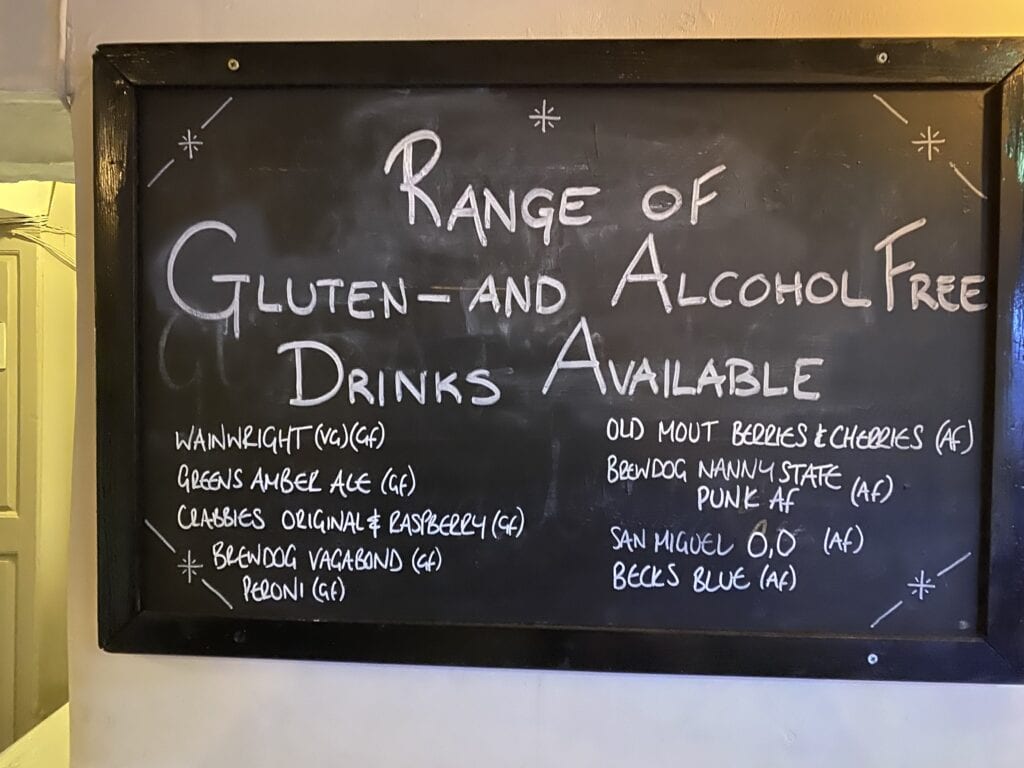 Gluten Free Ambleside
Note: I last stayed and ate in Ambleside during my very first visit to the Lake District in 2014. I've done research to ensure the restaurants below still offer gluten free options, but as always I encourage you to confirm gluten free options before dining.
Ambleside Fish and Chips | Ambleside
At Ambleside Fish and Chips, ALL the fish and chips are gluten free, cooked in dedicated fryers! This place is a bit under-the-radar and doesn't overly advertise their gluten free offerings, but it is really one of the best gluten free Lake District finds.
Jintana Thai | Ambleside
Jintana Thai is a Thai restaurant that actually has locations in Ambleside, Bowness-on-Windermere, and Kendal. I ate here in 2014 when I first visited the Lake District, and from my research they still offer gluten free options. The staff here can advise on gluten free options – there are quite a few – which are mostly naturally gluten free Thai dishes.
More Gluten Free Restaurants in Ambleside
I have not eaten at these restaurants so can't advise on cross contact, but I also found these three restaurants which are promising for gluten free in Ambleside:
Zeffirelli's: Award winning Italian restaurant with lots of gluten free pasta and pizza options. Please confirm about cross contact but does have good reviews from celiacs.
Lucy's on a Plate: A restaurant with lots of gluten free options including a long gluten free dessert list (including sticky toffee pudding!).
Matthew's Bistro: A restaurant with very good reviews of gluten free options.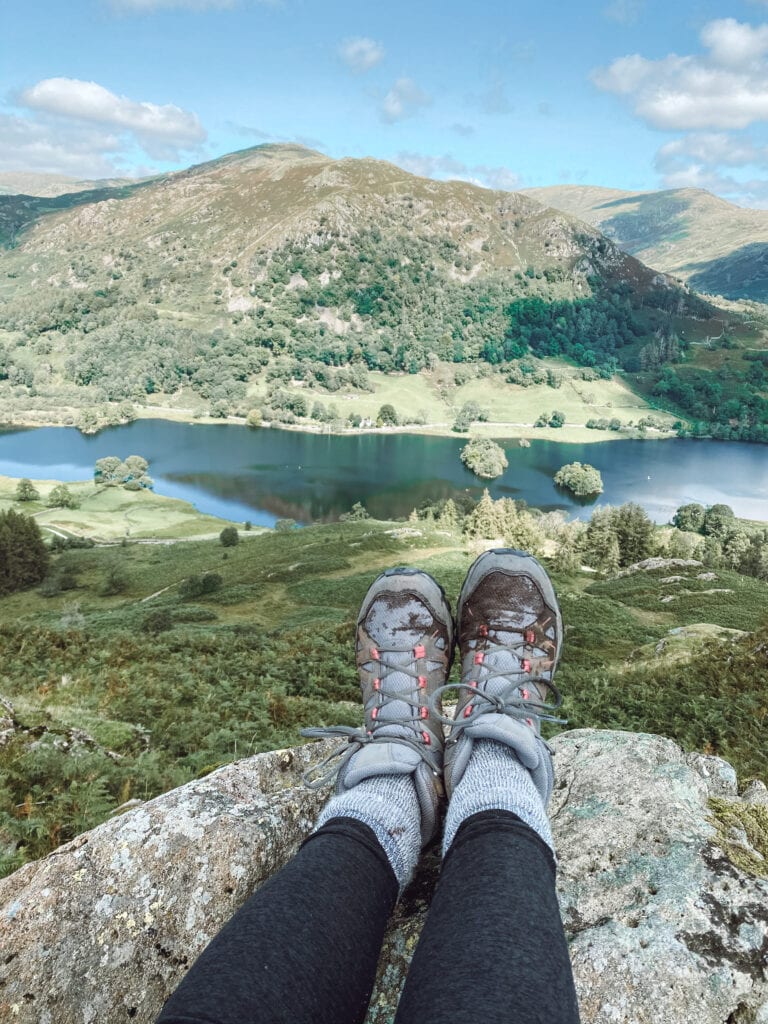 Gluten Free Kendal
I have not dined in Kendal before, but I did want to include it in this gluten free Lake District guide because it is a popular town to visit. Kendal is known as the "gateway" to the Lake District as many people drive through it on their way into the Lake District.
According to my research, the restaurants below do serve gluten free options, but I encourage you to confirm about cross contact before eating:
Jintana Thai Restaurant: As I mentioned above, I have eaten at Jintana Thai in Ambleside years ago and had a great experience. They also have a location in Kendal.
Pizza Express: This is a chain restaurant in the UK that I LOVE and have eaten at literally countless times. They are Coeliac UK accredited and have a very good, standardized approach to preventing cross contact. I have not eaten at the Kendal location but I assume it is similar. Many gluten free pizza, dough balls, pasta, and other dishes here.
Cottage Kitchen: Has extremely positive reviews of gluten free options, including a dedicated fryer with gluten free fish and chips, gluten free bread, gluten free cakes, and staff that's very knowledgeable of celiac.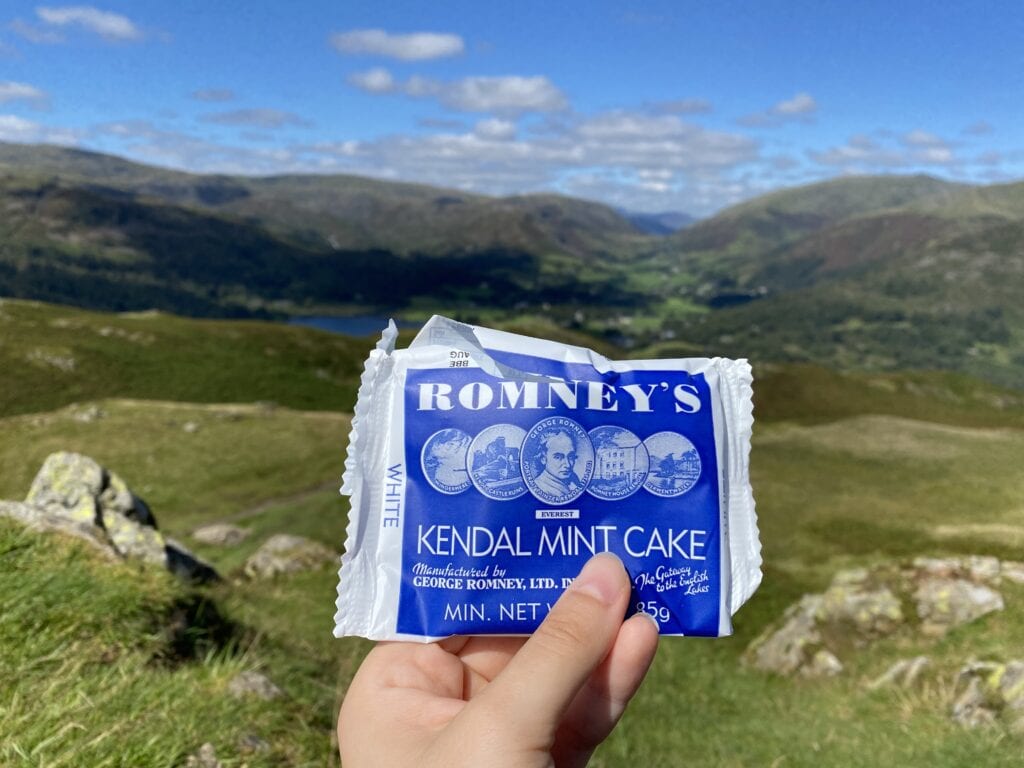 Gluten Free Penrith
Penrith is actually a town that is located north of the Lake District, but a lot of people stay here and then travel into the Lake District during the day. There tends to be more available accommodation in Penrith if you are booking last minute.
I have not personally eaten in Penrith before but my fellow celiac travel blogger Rachel from The Sightseeing Coeliac did have some recommendations for gluten free dining in Penrith:
The Pancake House: Located in Center Parcs Whinfell Forest which is a huge accommodation and activity center in Penrith. Rachel had celiac-safe pancakes and waffles here. Keep in mind you do need to be staying at Center Parcs, or visiting on a day pass to the spa, if you plan to eat here.
Sandgate Chippie: A takeaway with a dedicated gluten free fryer and tons of gluten free options, including gluten free fish and chips, battered sausages, gravy and other sauces, and savory pies.
Gluten Free Grocery Shopping in the Lake District
Booths
I am OBSESSED with Booths, which is an "upscale" grocery store in the northwest UK. There are multiple locations within the Lake District and I highly recommend checking it out to grab supplies for your trip – whether you are staying in self-catering accommodation or a B&B and just want to get some snacks and treats. Locations include:
Kendal
Keswick
Windermere
Penrith (just north of the Lake District)
Ulverston (just south of the Lake District)
Milnthorpe (just south of the Lake District)
You can view the full Booths locations map here. I've been to both the Keswick and Windermere locations, which we just walked to from our B&B to pick up lunches for our hikes. There are SO many gluten free options! If you are not staying in Keswick, Windermere, or Kendal, then I recommend stopping at a Booths on your way into the Lake District and picking up some supplies then.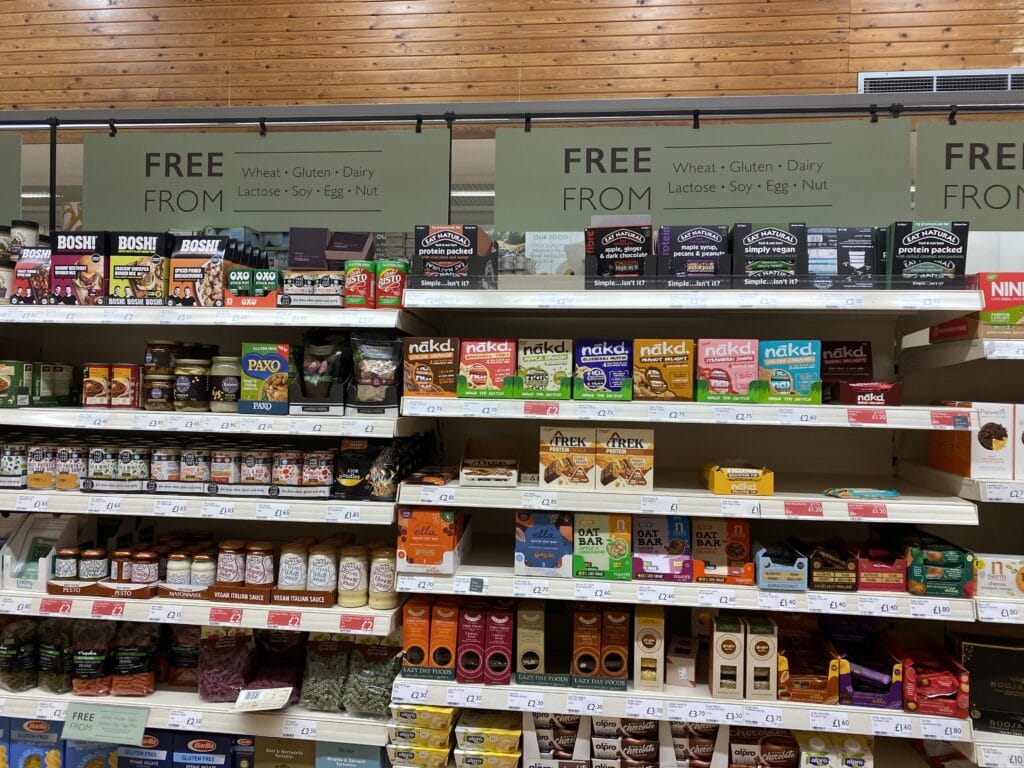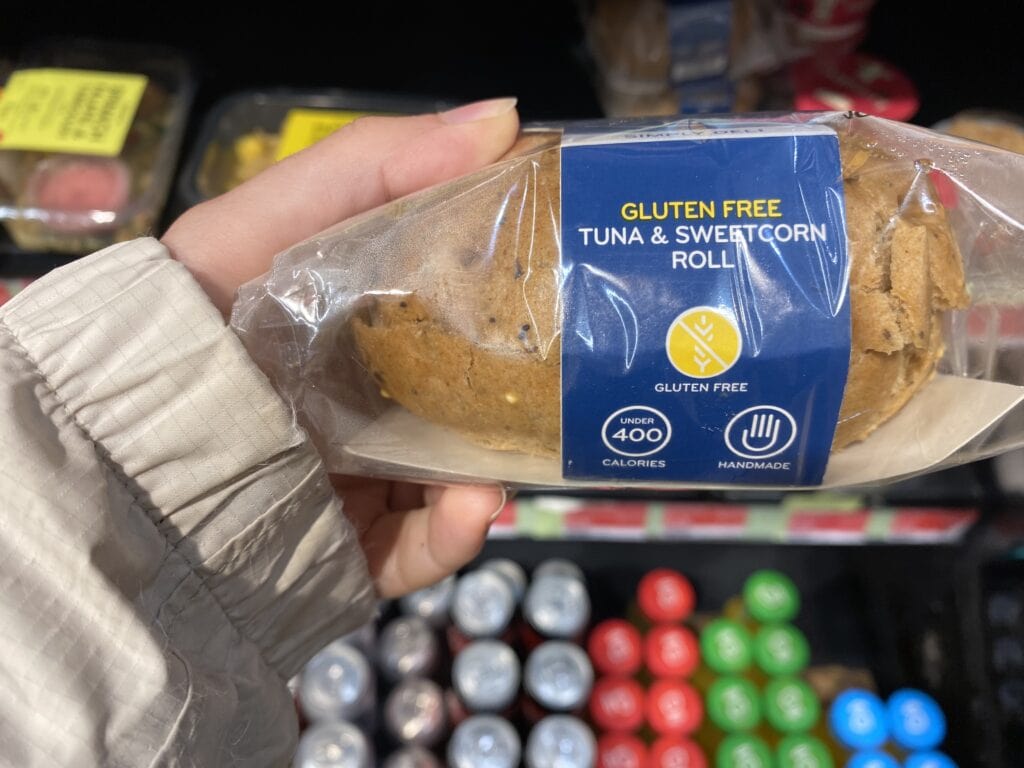 I really hope this guide to gluten free Lake District restaurants, grocery stores, and accommodation is helpful to you! It has taken me years to collect this information (AKA eat….a lot), and I'm sure that next time I return to the Lake District I will find even more gluten free options (and update this post accordingly).
If you have visited the Lake District and have any advice, or restaurants to add, please let me know in the comments below. Happy gluten free traveling!
You might also like these blog posts:
Gluten Free Guide to Borough Market, London
13 Walks in Keswick, Lake District
Staying at an Eco Hotel in London: QBIC Review