Planning a trip to Cornwall? Chances are, you will be visiting Penzance. If not… you should! It's worth spending a few nights in this seaside city for its convenient location, hip vibes, and iconic Cornish activities (like St. Michael's Mount!).
Of course, if you have celiac disease or gluten intolerance, you may be wondering if there's anything for you to eat in Penzance, or if you'll be cooking for yourself the whole time.
I first visited Penzance in 2013 when there weren't many gluten free options. I have since been back maybe seven or eight times (I've lost count!), including my most recent trip in October 2021. Each time I have learned more about the Penzance gluten free scene, and in this blog post I will finally be sharing my full gluten free Penzance guide!
Keep reading for my guide to gluten free Penzance restaurants, as well as some gluten free options in nearby Marazion and Mousehole.
If you're making your way to St Ives next, check out my gluten free St Ives guide!
Gluten Free Penzance Cornwall Restaurants
There are unfortunately no dedicated gluten free restaurants in Penzance. (Seriously, this is a market someone should move in on, stat!). However, there are some restaurants, including a Coeliac UK certified one, that cater well to the gluten free diet.
Note: I have personally eaten at all of the restaurants below, but as always I encourage you to ask about cross contact yourself, as practices can change. You can never be too safe!
Fraser's Fish and Chips
Fraser's Fish and Chips is always my first stop for a meal in Penzance, and my #1 recommended restaurant for celiacs! They are Coeliac UK Certified, and make it seriously easy to order your meal and be confident that it's safe.
Fraser's has a dedicated gluten free fryer, and can make fried gluten free cod and other fish, as well as safe chips ("fries" for any fellow Americans!).
Keep in mind that this is a takeaway, but there are benches, including sheltered ones, just across the street and directly on the seaside promenade!
I always go with the classic cod fish and chips, and a coke on the side. The fish and chips serving is absolutely massive. On this most recent visit, Dan even said that my gluten free fish and chips tasted better and crispier than his "normal" one!
Address: Fraser's Fish & Chips, Western Promenade Road, Penzance, Cornwall, TR18 4HH
Hours: Please check their website for updated hours. When we visited they were closed Mondays but recently seem to have opened 7 days a week again!
Artist Residence Clubhouse
Artist Residence is a relatively new boutique hotel in Penzance, and it's where we stayed on our most recent trip. It was a splurge for us but totally worth it (scroll down to read more about staying here).
The hotel also has its own on site restaurant, called Clubhouse, that has some good gluten free options. I recommend eating here while in Penzance, whether you are staying at Artist Residence or not!
We dined at Clubhouse for breakfast, and I had a really good avocado toast with bacon. They have gluten free bread, and do not have a toaster but can grill it on a separate tray if you ask.
There are also lunch and dinner options, but the menu changes regularly so I recommend contacting them ahead of time to check.
And if you're looking for a nightcap – this is also a go-to spot for cocktails in Penzance! I had the "Cornish Caipirinha" which featured Dead Man's rum, passionfruit, and lime. Yum!
Address: Artist Residence Clubhouse, 20 Chapel St, Penzance TR18 4AW, UK
Hours: Check their website for updated hours. But when we visited it was 7:30am-11pm/12am daily!
The Honey Pot
The Honey Pot is an adorable, and quite popular, cafe in Penzance. I have eaten here three times but I will recommend it with some caveats!
While The Honey Pot has gluten free bread, rolls, and tons of gluten free cakes, they have a very small kitchen and do not have a separate cooking space or tools for preparing gluten free meals.
As such, I personally did not feel safe trying any of their gluten free cakes and I would not recommend them to celiacs. All of the cakes are displayed together and I'm pretty sure they use the same tongs to serve.
You might be safe with their gluten free bread if you ask them to grill it, and explain cross contact. I did discuss cross contact with my server. But it was clear that they cater more to those eating gluten free out of choice, rather than celiacs or anyone who will actually get sick from eating gluten.
Saying that, there are also quite a few naturally gluten free dishes here (think salads and stews) that are delicious, so I still recommend trying it out.
On our most recent trip I had a great coffee and green smoothie for breakfast, and I got a takeaway superfood salad for lunch that was so tasty that I even attempted to recreate it at home!
Address: The Honeypot, 5 Parade Street, Penzance, Cornwall
Hours: Please check their website for updated hours. Only open for breakfast and lunch.
Little India
Little India is an Indian restaurant that Dan and I ate at on our most recent trip to Penzance. We actually happened upon it because the restaurant we planned to go to (below!) was full.
I figure Indian food is often a safe last minute choice for celiacs so we checked it out.
I was really impressed by Little India. The menu has every single allergen you could possibly think of printed right on it. The only gluten-containing items in the whole restaurant were the naan and other bread. I also found our server really knowledgeable. Cherry on top – our meal was delicious!
Address: Little India, 52 Market Jew St, Penzance TR18 2HZ
Hours: Check their website for updated hours.
Longboat Inn
Longboat Inn was one of my original favorite gluten free restaurants in Penzance. It's located close to the train station so it's a good option if you're coming to/from the train.
There are lots of gluten free dishes on the menu, as well as a dedicated fryer (please double check it is still dedicated when you visit, though). I've had fried chicken goujons, fish and chips, and even a sticky toffee pudding here before!
However, I did not eat here on my most recent trip to Penzance as they were full and we hadn't made a reservation. So, I would recommend you call or email ahead of time to confirm their gluten free offerings.
From what I can see online, they still offer plenty of gluten free dishes but it is always good to check.
Address: Longboat Inn, Market Jew Street, Penzance, Cornwall, TR18 2HZ
Hours: Check their website for updated hours. I highly recommend making a reservation ahead of time.
Gluten Free Marazion
Marazion is a small town on the eastern side of Penzance, most known as the entry point to St Michael's Mount! You can walk here in a little over an hour from Penzance, but I have taken a taxi or driven each time I've visited.
If you want to grab a meal before/after visiting St Michael's Mount, here are the places I recommend.
Philps Cornish Pasty Shop
Philps is a Cornish pasty shop, just a few steps away from the beach where you access St Michael's Mount.
The pasties come really highly recommended, so Dan wanted to check it out for himself. When we were there I noticed that they also sell gluten free pasties (see photo below)!
Gluten free pasties are offered in either steak or cheese flavors. You need to call two hours ahead (01736 710332) for gluten free pasties, so I did not try them myself. If you get the chance to try them, please comment below and let us know how they are!
If you are an overseas tourist and don't have a phone, you could visit Philps to order a pasty before going to St Michael's Mount, and pick up your pasty on the way back.
Address: Philps, 1 Market Place, Marazion, Cornwall
Hours: Please check their website for updated hours. Hours change seasonally.
The Godolphin
Ahhh, The Godolphin! This is my top pick in Marazion for a meal, before or after you walk to St Michael's Mount. The Godolphin has stunning views straight out to the beach, tidal path, and St Michael's Mount itself. Really. Best views ever! And…they also have gluten free bread!
I've had lunch here twice… once with my dad, and once with my mom. Both times I ordered the gluten free Newyln crab sandwich.
They also have gluten free scones so can offer a gluten free afternoon tea. It has been a couple years since I ate at The Godolphin, but after reading through their recent reviews (and checking out their menu on our most recent trip) it seems they still offer a top notch gluten free meal!
Address: The Godolphin, W End, Marazion TR17 0EN
Hours: Check their website for most up to date hours.
Cutty Sark Restaurant
I have not personally eaten at Cutty Sark but they do have good reviews from gluten free diners, which is why I'm putting it on your radar!
It is located just a block back from the beach and St Michael's Mount, so still really convenient. The views may not be as stunning as The Godolphin, but you can still get in a sliver of St Michael's Mount.
As for gluten free options, there are tons! A look through their lunch menu states that every single dish can be made gluten free (some with modifications). This includes cakes, scones and afternoon tea, burgers, chicken goujons, rarebit and more.
Address: Cutty Sark, On The Square, Marazion TR17 0AP, United Kingdom
Hours: Check their website for most up to date hours.
Gluten Free Mousehole
Mousehole is my personal favorite village in Cornwall… and all of the UK! I definitely recommend a visit while you're in Penzance.
It is a short drive, or a gorgeous coastal one hour walk, from Penzance to Mousehole. You can easily spend an afternoon wandering the cute shops, harbor, and streets.
Jessie's Dairy
I have been to Mousehole four times, and eaten at Jessie's Dairy every single time! To say I highly recommend it is perhaps an understatement.
However, Jessie's Dairy used to be a sit-down cafe, but in 2020 (actually before the pandemic, so great foresight there!) the owners switched it to a takeaway. They serve delicious gluten free scones that are extremely fairly priced at just £3 for two (plus clotted cream and jam).
As it's a takeaway, this is obviously a more casual option ideally suited to a sunny day. But on a gorgeous day like we had, it totally hit the spot to take my gluten free scones down to the harbor and eat them there. Just be wary of the hungry seagulls!
Address: Jessie's Dairy, 11 Fore St, Mousehole, Penzance TR19 6TQ
Hours: Check out their Facebook page for most up to date hours.
Rock Pool Cafe
Having only eaten at Jessie's Dairy in Mousehole, I haven't yet had a chance to try out Rock Pool Cafe. However during some research prior to our last trip I discovered Rock Pool Cafe and added it to my "gluten free bucket list."
It is worth it to dine here for the location alone, which is right on the water. Dan and I actually walked over to check out the view in person.
I have read that they have gluten free scones, bagels, bread, homity pie, and more options which they can make gluten free. The menu does change seasonally, and having not eaten there to ask about cross contact myself, I encourage you to reach out before you eat here.
If you do, please share your experience in the comments!
Address: Rock Pool Cafe, The Parade, Mousehole, Penzance TR19 6PT
Hours: Check their website for most up to date hours.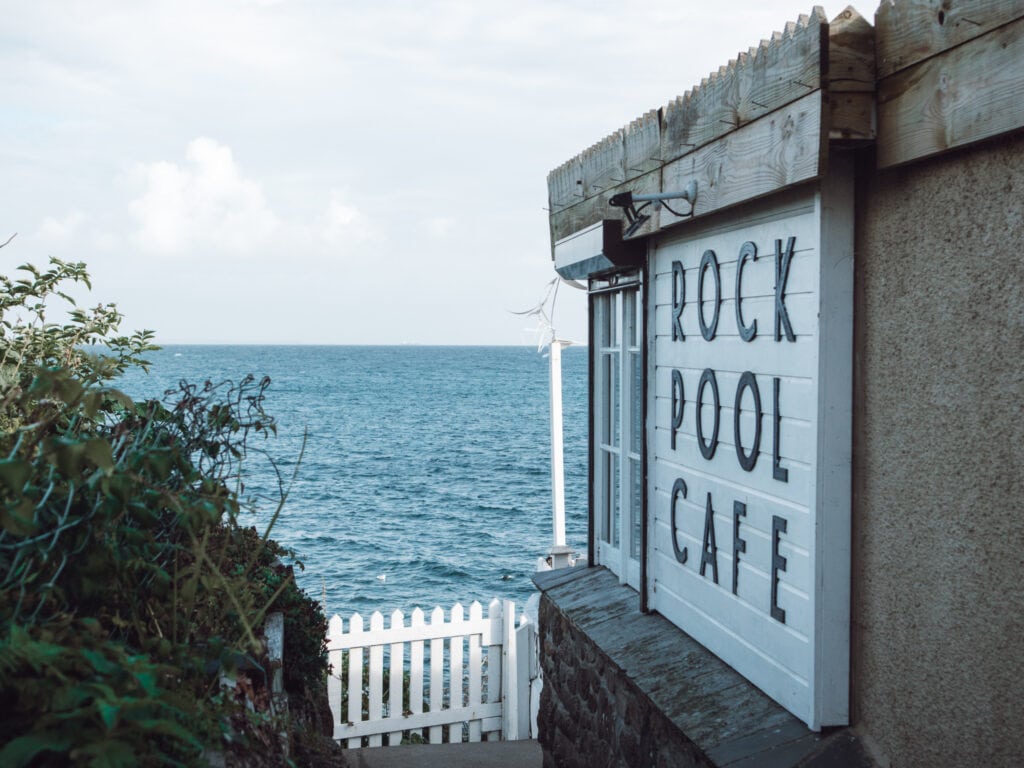 Hole Foods Deli
Hole Foods Deli is another restaurant I haven't personally tried but have heard has gluten free options.
If you dine here, please report back in the comments! There are an abundance of Tripadvisor reviews raving about the gluten free pasties and sandwich bread. A few reviews also state how good the staff is with understanding cross contact!
I always take Tripadvisor with a grain of salt, but it's definitely a good sign and worth checking this place out. I know that I will next time I'm in Mousehole (if I can tear myself away from Jessie's Dairy)!
Address: Hole Foods Deli, N Cliff, Mousehole, Penzance TR19 6PH
Hours: Check their facebook page for most up to date hours.
Where to Stay in Penzance if You're Gluten Free
Lastly, I have to give another shout out to Artist Residence! This is the boutique hotel, conveniently located on Chapel Street, that Dan and I stayed in on our most recent trip.
The interior design, and everything from the copper soaking bathtub, to the retro Roberts radio playing classical music as we walked into the room, to the view of the chapel through our window, was just perfect.
From a gluten free perspective, I really appreciated that the room had a mini fridge to keep my leftovers fresh! It was also nice having an in-hotel restaurant that catered to gluten free diners, so I could roll out of bed in the morning and head downstairs to an amazing avocado toast.
By the way, our stay at Artist Residence was self-funded/not sponsored at all… I'm complimenting it so much that I thought I had to clarify that lol!
Other places to stay in Penzance
If Artist Residence is all booked up, or not your scene, here are a few other places I recommend.
Penzance YHA ($): The popular British youth hostel brand, YHA is a great option for singles, couples, or families on a budget. I stayed here with my study abroad group in 2014! Keep in mind it is a 30 minute walk from central Penzance.
EasyPZ Backpackers ($): Another hostel option, located closer to central Penzance but still on the western side (it's a slog from the train station with your luggage but I walked it when I stayed here in 2017). I had a great stay here but it is more the backpacker scene than the family scene.
Chapel House ($$$): If you are looking for a boutique hotel, similar to Artist Residence, then check out Chapel House. They have a similar luxurious vibe (and even have clawfoot tubs!)
STAY | Check out more Penzance hotels here.
What else is there to do in Penzance besides eat?
SO MUCH! I'm working on quite a few Penzance and Cornwall guides at the moment… it is long overdue!
I will link those here as soon as they're published. If you have any questions in the meantime, or need help planning your Cornwall itinerary, feel free to comment below or reach out on Instagram!
You might also be interested in:
Lake District Gluten Free Guide
Borough Market Gluten Free Guide
Pin it for later…