Gluten Free Peak District England: The Complete Guide (2023)
The Peak District is a national park in central England that's known for its moorland, rock formations, and wonderful hikes. But for somewhere relatively remote, you may be wondering if there are many gluten free options here! This gluten free Peak District guide covers gluten free accommodations, and my favorite restaurants from our trip.
I will warn you that this guide is NOWHERE near as exhaustive as my gluten free Lake District guide, and that's largely because there are way less gluten free options in the Peak District.
During our trip, I found two restaurants that went above and beyond and are truly gluten free paradises. Unfortunately, in updating this guide for 2023, I discovered that one of those restaurants has now closed. The 100% gluten free bed and breakfast in the Peak District has also permanently closed.
So, this guide mostly focuses on the one remaining incredible gluten free restaurant (that's well worth eating at every night!), plus includes some other restaurants that do have gluten free options but were not on my personal itinerary.
If you are gluten free in the Peak District, I would advise doing your own food preparation, and save most of your meals out for the restaurant I share below.
This gluten free Peak District guide is updated for 2023.
Lake District Gluten Free Guide
Borough Market London Gluten Free Guide
Gluten Free Penzance Cornwall Guide
St Ives Cornwall Gluten Free Guide
15 Tips for Eating Out Gluten Free Safely
Where to Stay in the Peak District if you're Gluten Free
I always advise choosing where you stay strategically, to help minimize gluten free travel stress. That way you're not starting your day off struggling on where to find a gluten free breakfast!
Stonecroft Guest House – PERMANENTLY CLOSED
Stonecroft Guest House was a 100% gluten free bed and breakfast in Edale Valley in the heart of the Peak District. I'm super sad to update this post in 2023 and report they are now permanently closed. That's a huge loss to celiac travelers in England.
Dronfield or Holmesfield
During our trip to the Peak District, we stayed in a self-catering apartment in Dronfield, right on the edge of the Peak District.
I actually loved the location we stayed in as it was so close to my favorite gluten free Peak District restaurant, The Angel Pub, which is in Holmesfield. Plus, being outside the Peak District means the rates are a bit lower.
Accommodation in Dronfield and Holmesfield that I recommend:
Gluten Free Peak District Restaurants
The Angel Pub | Holmesfield
You MUST eat at The Angel Pub if you are a celiac in the Peak District! This restaurant is in Holmesfield, which is on the eastern border of the Peak District.
Almost everything at The Angel Pub is gluten free. However it is also really popular with gluten-eaters too, making this the perfect restaurant for a mixed group of celiacs and non-celiacs.
We ate here a few times (how could we not?!) as it was very close to our accommodation in Dronfield. I HAD to try their gluten free pies, which they are famous for. The steak and mushroom pie, with a crispy gluten free crust, mushy peas, and chunky chips (and a side of cider) did not disappoint.
I also had a very good hot sweet potato and leek soup with a side of crusty gluten free bread.
The menu here regularly changes, but you can usually order gluten free fish and chips, the pie of the day, and a whole range of gluten free desserts like sticky toffee pudding, chocolate and cherry roulade, pavlova, crumble, cheesecake, and more.
Address: The Angel Pub, Main Rd, Holmesfield, Dronfield S18 7WT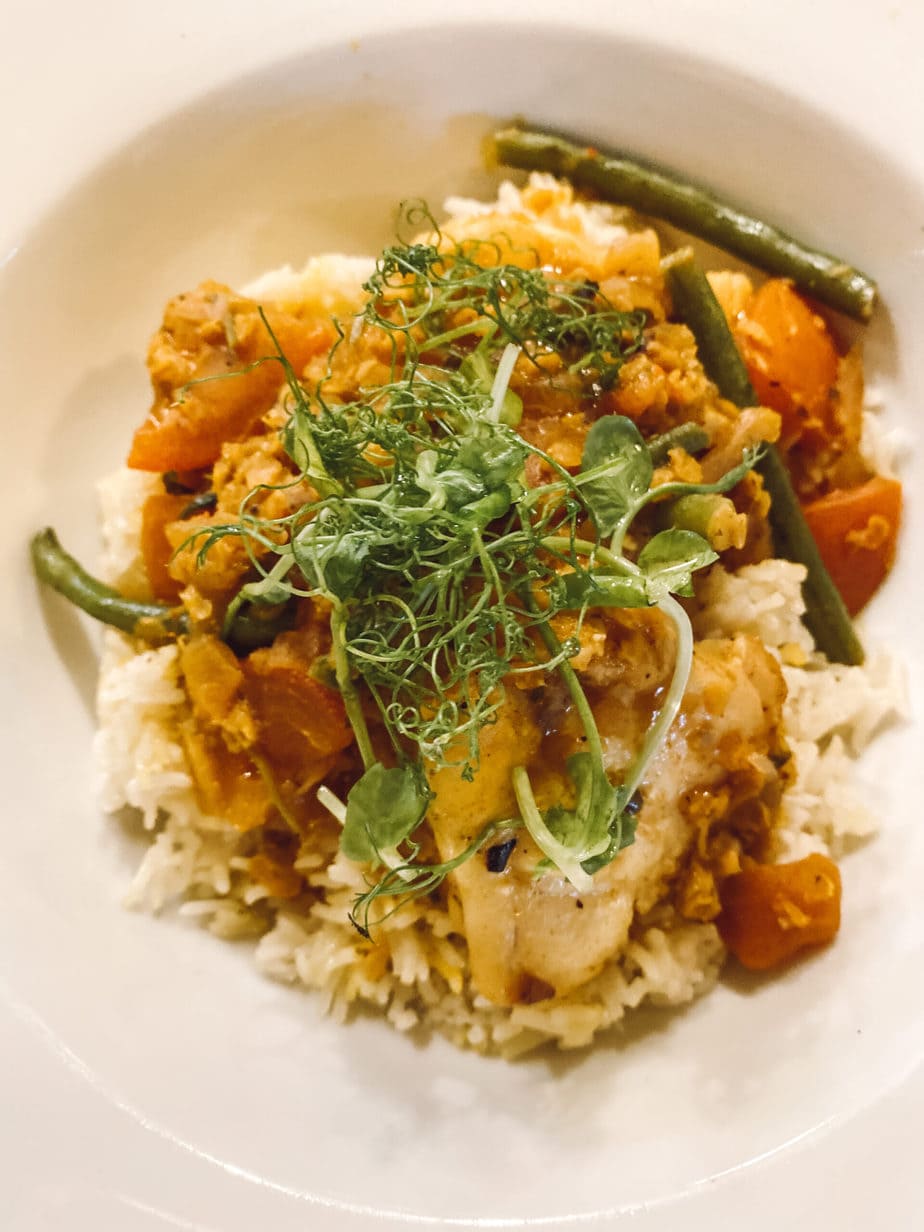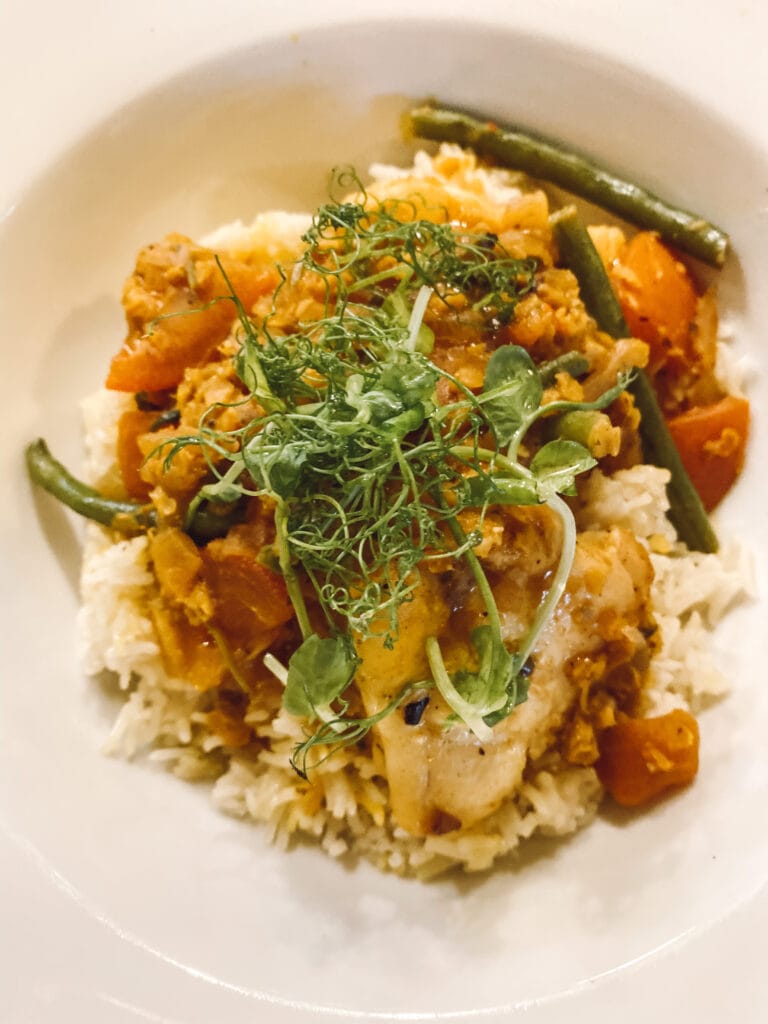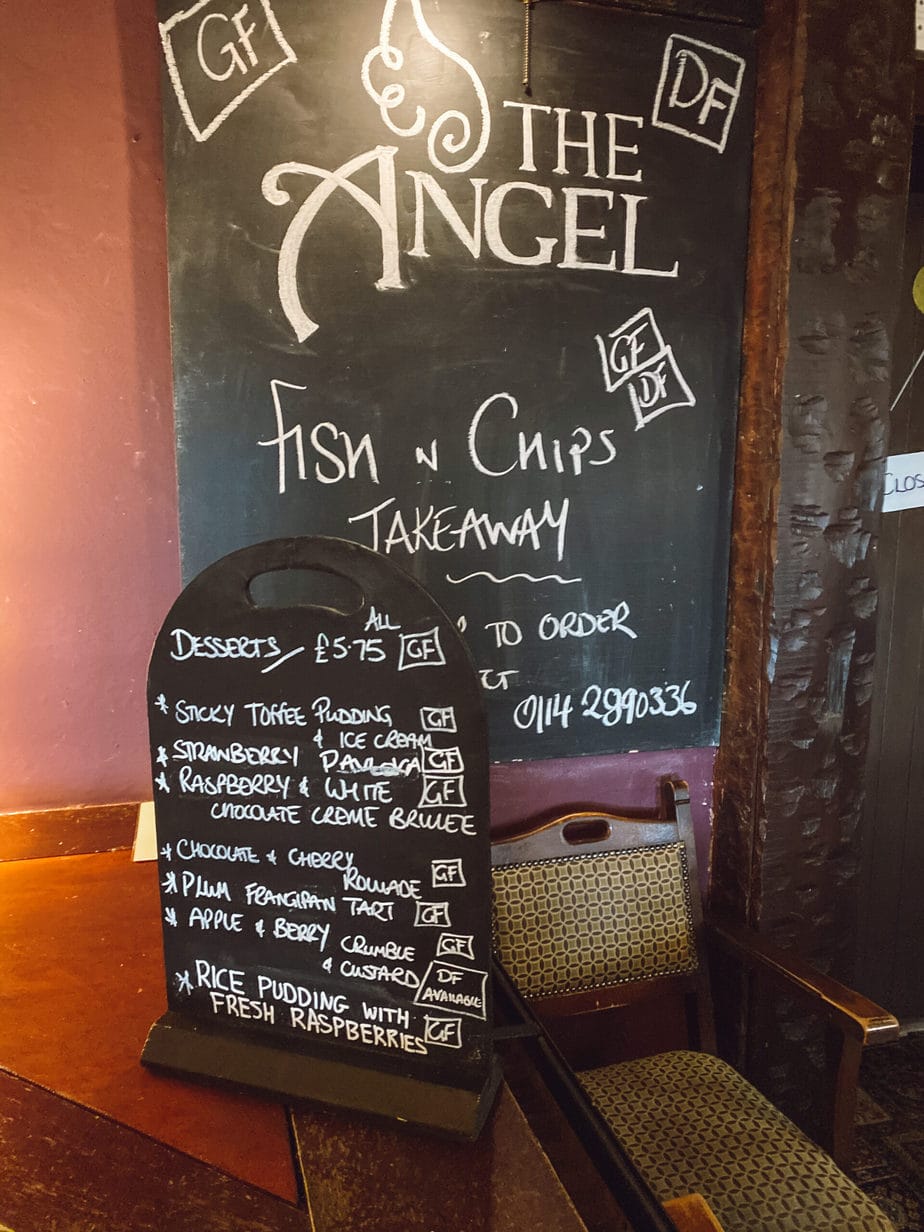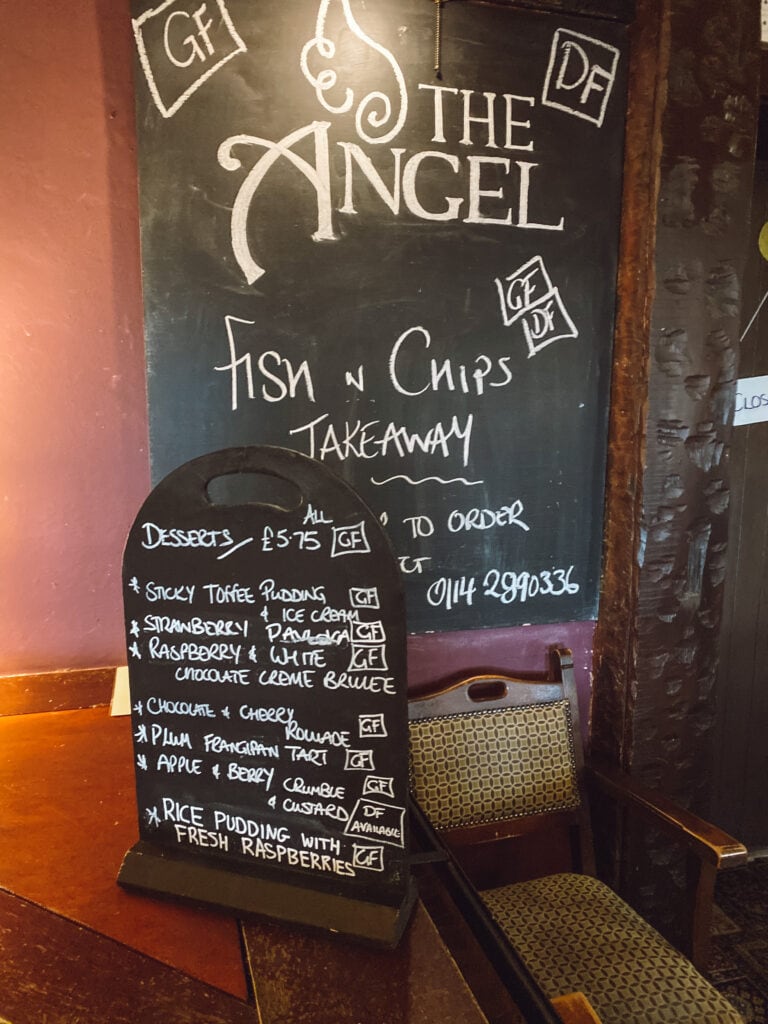 Bistro in the Barn – PERMANENTLY CLOSED
Bistro in the Barn was another absolute gluten free haven. Unfortunately they closed in summer 2022, due to the rising costs of living in the UK. I'll keep an eye on their Facebook page about any possibility of reopening, but it doesn't seem like they have plans to.
Ye Olde Cheshire Cheese Inn | Longnor/Buxton
The other restaurant that we ate at in the Peak District was Ye Olde Cheshire Cheese Inn.
There are multiple restaurants with this name in the Peak District (of no relation to each other… I guess this is just a very British name?). We ate at the one in Longnor/Buxton, NOT the one in Castleton.
Dan and I spent the morning and afternoon hiking Chrome Hill and Lud's Church, both in the southwest area of the Peak District. We randomly stopped at Ye Olde Cheshire Cheese Inn on our drive back to Dronfield and I was pleasantly surprised that they had gluten free options!
There is a dedicated gluten free fryer here so it was safe for me to eat the chips (slathered in cheese). I also ordered a cider and we sat down and played cards for an hour or so in the sun.
I spoke to the manager here and he informed me that the gammon, hunters chicken, and a few other dishes could be made gluten free. Nothing on the menu is marked gluten free, but I found the staff very knowledgeable about gluten.
In short, I would not go out of your way to eat here (like I definitely recommend you do for The Angel Pub), however if you are in the area this is a safe stop to eat for sure.
Address: Ye Old Cheshire Cheese Inn, High Street, Longnor, Buxton, SK17 0NS
More Gluten Free Options in the Peak District
Other than those restaurants (including repeated visits to The Angel Pub), I prepared my own gluten free meals at our apartment in Dronfield. There was a large Tesco with many gluten free options walking distance away so it was very convenient and stress-free.
This honestly worked very well for me, but I understand if you'd like more gluten free Peak District options. I did a lot of research before my trip to the Peak District.
Below I am sharing the restaurants I found with promising gluten free options. Please keep in mind that I have not personally dined at these restaurants, so I can't vouch for their cross contact protocols. As always please check before you eat!
More gluten free restaurants in the Peak District:
Roaches Tea Rooms & Restaurant: A restaurant and tearoom in the southwest Peak District, in a great area for walks. There is a separate gluten free menu with gluten free breakfasts, sandwiches, gluten free sausages, gluten free sticky toffee pudding, and more.
The Woodyard: A large pub/restaurant in Bakewell that we actually tried to eat at but it was very crowded (so we ended up going to The Angel Pub again… lol). There is a separate gluten free menu with quite a few options such as penne pasta, risotto, homity pie, pizza, burgers, and more.
Eyre Arms: A pub in Calver, which is in central-east Peak District. There is no gluten free menu online but I have seen reviews that they have gluten free bread and there is a separate gluten free menu at the pub.
Eyam Tea Rooms: Located in Eyam, this tearoom has gluten free cakes available.
Tilly's of Castleton: When we were walking through Castleton, I noticed this place had a gluten free sign in their window. I've since seen online that Tilly's has gluten free breakfasts (including toast and black pudding!), gluten free sandwiches, cakes, scones, and more.
Closed Gluten Free Peak District Restaurants
In updating this gluten free Peak District guide for 2023 I've discovered that some of the best restaurants with gluten free options are now closed. Many of them actually closed as recently as summer 2022… they just couldn't hold out any longer against rising costs of living in the UK.
I've created this section to list the closures of notable gluten free restaurants – many of which are still listed on Find Me Gluten Free and Tripadvisor so could be quite confusing as you're planning your trip!
Some notable gluten free Peak District restaurants that are now closed:
Stonecroft Guest House (100% gluten free B&B)
Bistro in the Barn
Byways Tea Room
BONUS: Gluten Free Restaurant for your Drive to the Peak District
As a bonus I thought I'd share a tip for where to eat on your way to (or home from) the Peak District.
LEON is a "natural" fast food restaurant. I've loved LEON for years, but they mostly have locations in London. However they have expanded and now also have some locations conveniently off the motorway.
The closest LEON to the Peak District is located off the A61 south of Chesterfield. There are quite a few others off the major motorways on the route south. A few are located north and northwest of the Peak District. Check all LEON locations here to find which one works best for your driving route.
When we visited the Peak District, LEON had recently introduced gluten free chicken nuggets (swoon) and gluten free waffle fries. They also have tons of other gluten free options.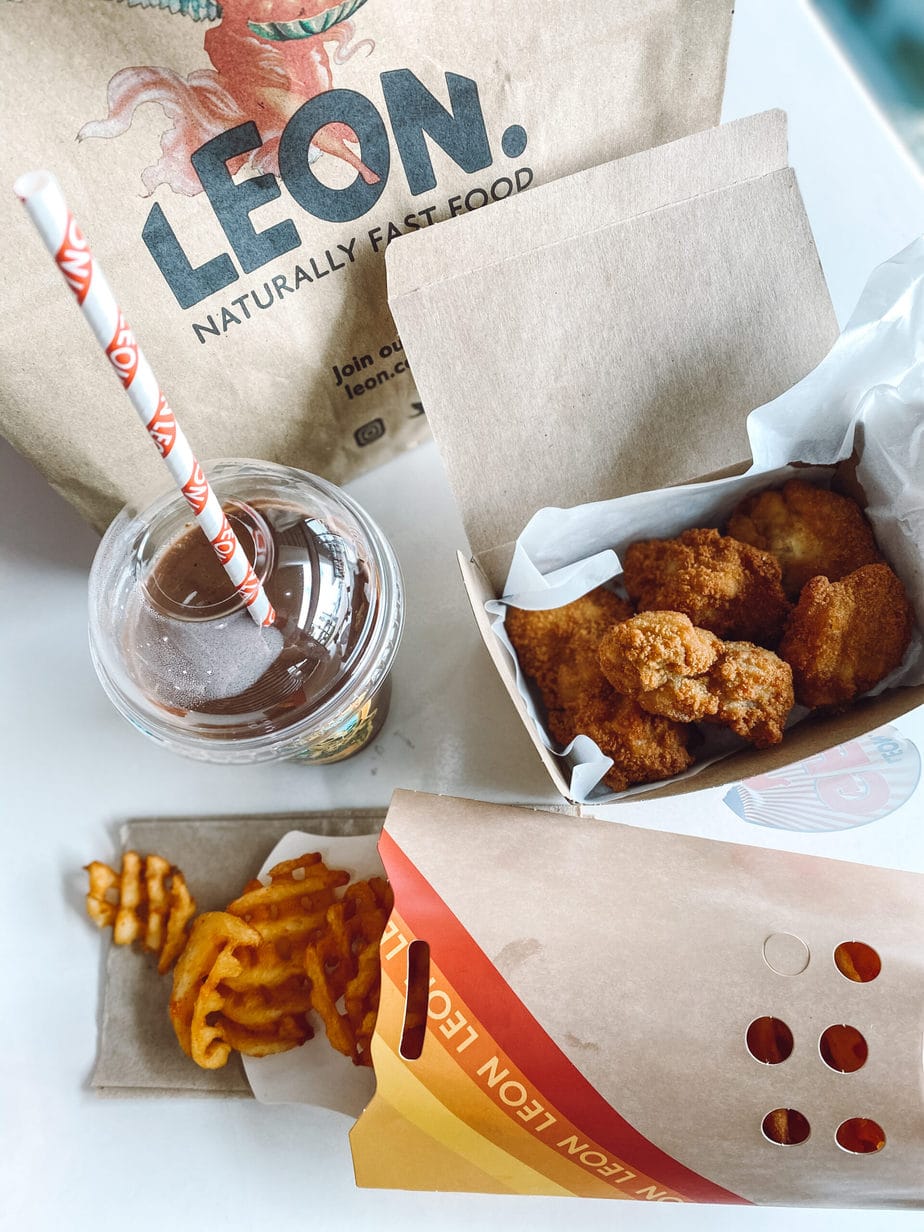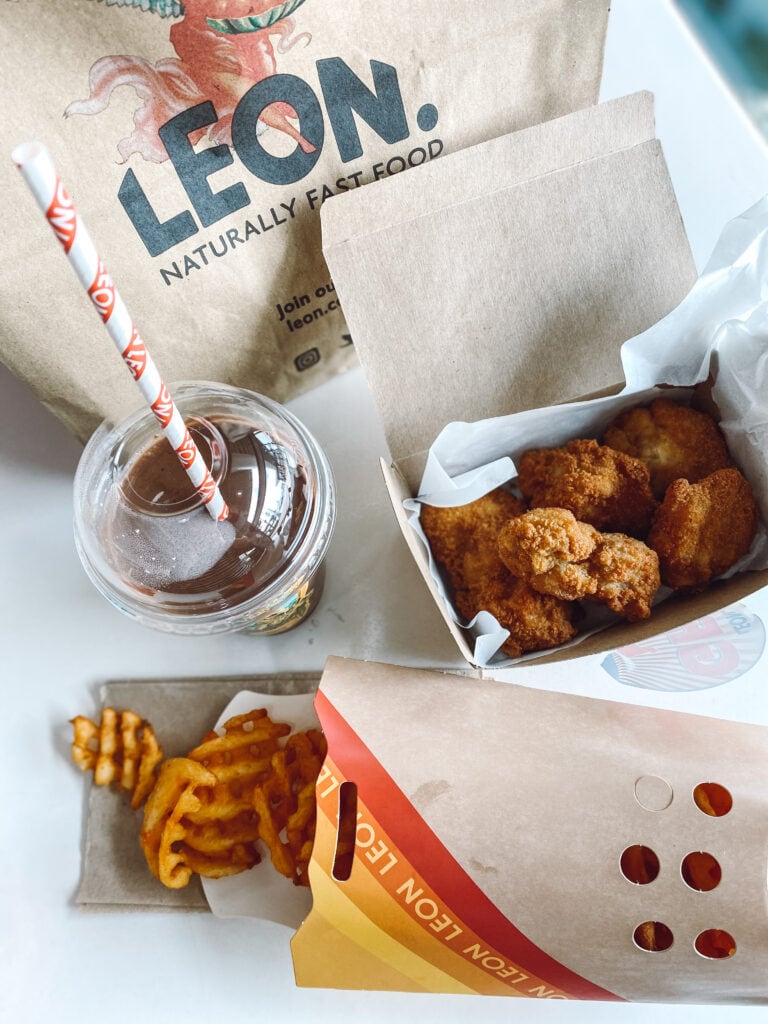 Happy gluten free traveling to the Peak District! I hope this post is helpful to you. Now you know the absolute best spots for gluten free food in the Peak District!
Please let me know in the comments if you go to any of these restaurants during your Peak District trip. I will also be sure to keep this post updated.
Lake District Gluten Free Guide
Borough Market London Gluten Free Guide
Gluten Free Penzance Cornwall Guide
St Ives Cornwall Gluten Free Guide
15 Tips for Eating Out Gluten Free Safely