13 Stunning Keswick Walks for all Levels (Plus Directions!)
Keswick is my absolute favorite town in the Lake District and that is thanks to all the incredible Keswick walks! This town is the perfect jumping off point for many of the best walks in the Lake District, from easy panoramas to longer hikes with scrambles.
If you are outdoorsy, love hiking, but still want a market town feel with lots of shops and restaurants, then I definitely recommend stationing yourself in Keswick when visiting the Lake District. I'm sharing the distance, difficulty level, and where to find detailed directions for each of the Keswick walks below!
You might also like..
15+ Things to do in Cheddar Gorge
What to do in Little Venice, London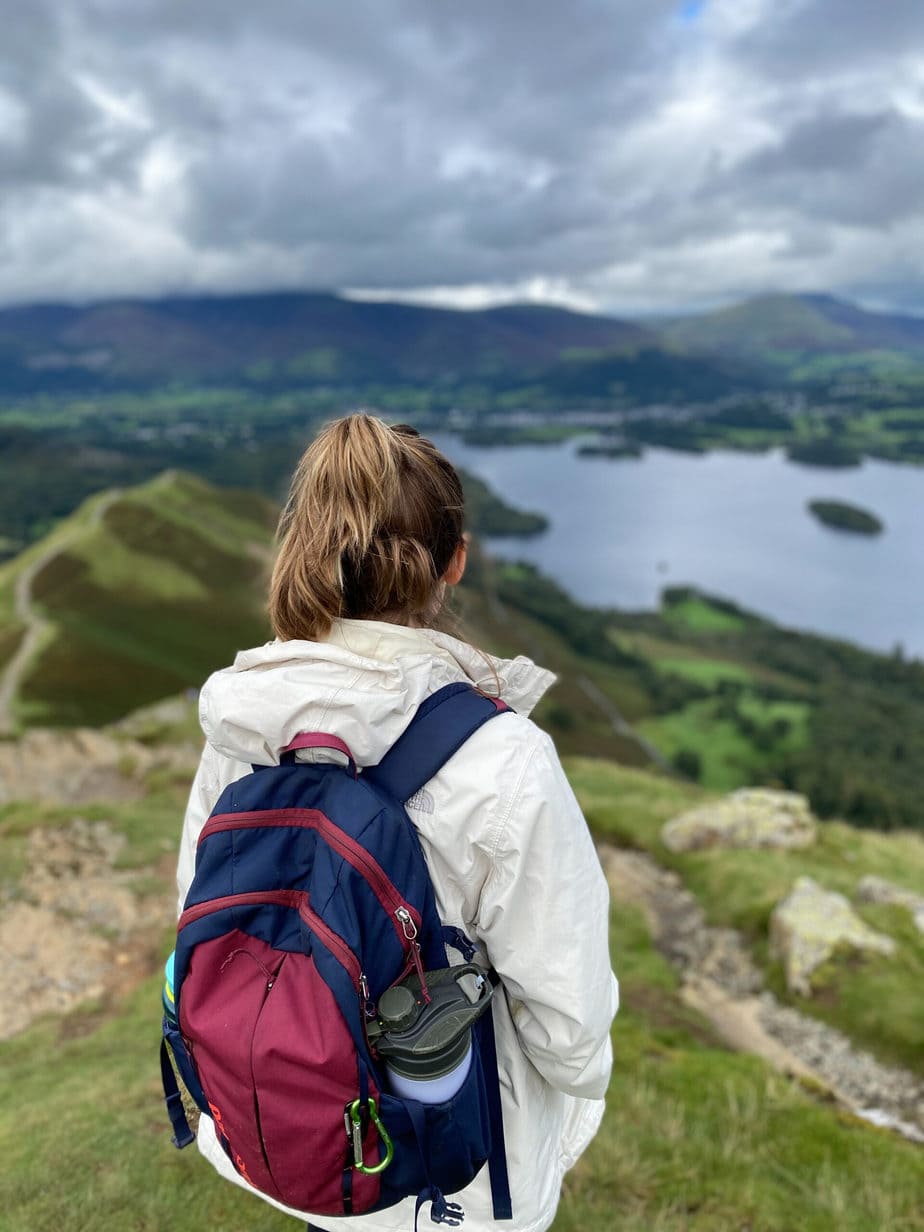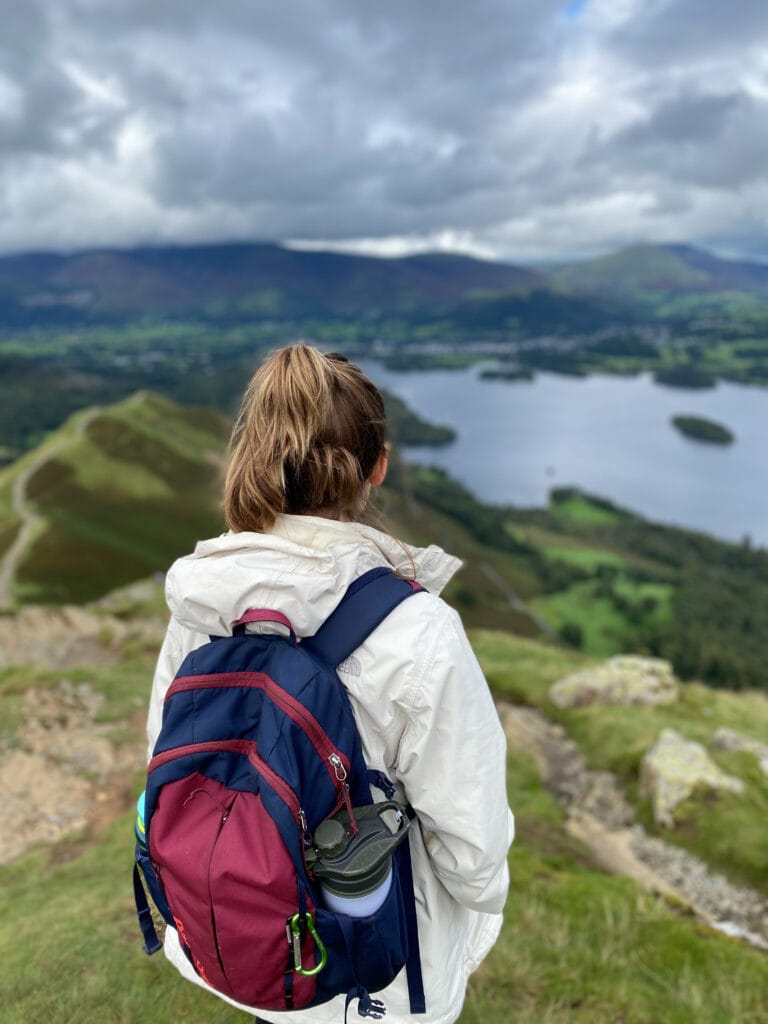 13 Keswick Walks for Your Next Lake District Trip
1. Catbells
Oh, Catbells. This is THE most classic Keswick walk, and for good reason. It's not too difficult, but still somewhat challenging with two scrambles. If you only have time for one walk in Keswick then make it Catbells. Dan and I do this walk every time we are in Keswick and it never gets old!
There are multiple routes for Catbells. The one that Dan and I do starts from a small free car park at the foot of Skelgill Bank. It is not on Google Maps but is decently signposted when you are driving in the area. Use the Sat Nav code CA12 5UE (alternatively route yourself to Cumbria Outdoors or Gutherscale Lodge). We've lucked out and found parking every time, but you might prefer a slightly longer route that starts at Hawes End Ferry (you can get the ferry over from Keswick).
Length: 3 miles, 2-3 hours with breaks
Difficulty: Moderate
Detailed directions: This blog post has four different Catbells route options with directions and maps, in the past we have done #1. Once you are parked, the route is very well sign posted.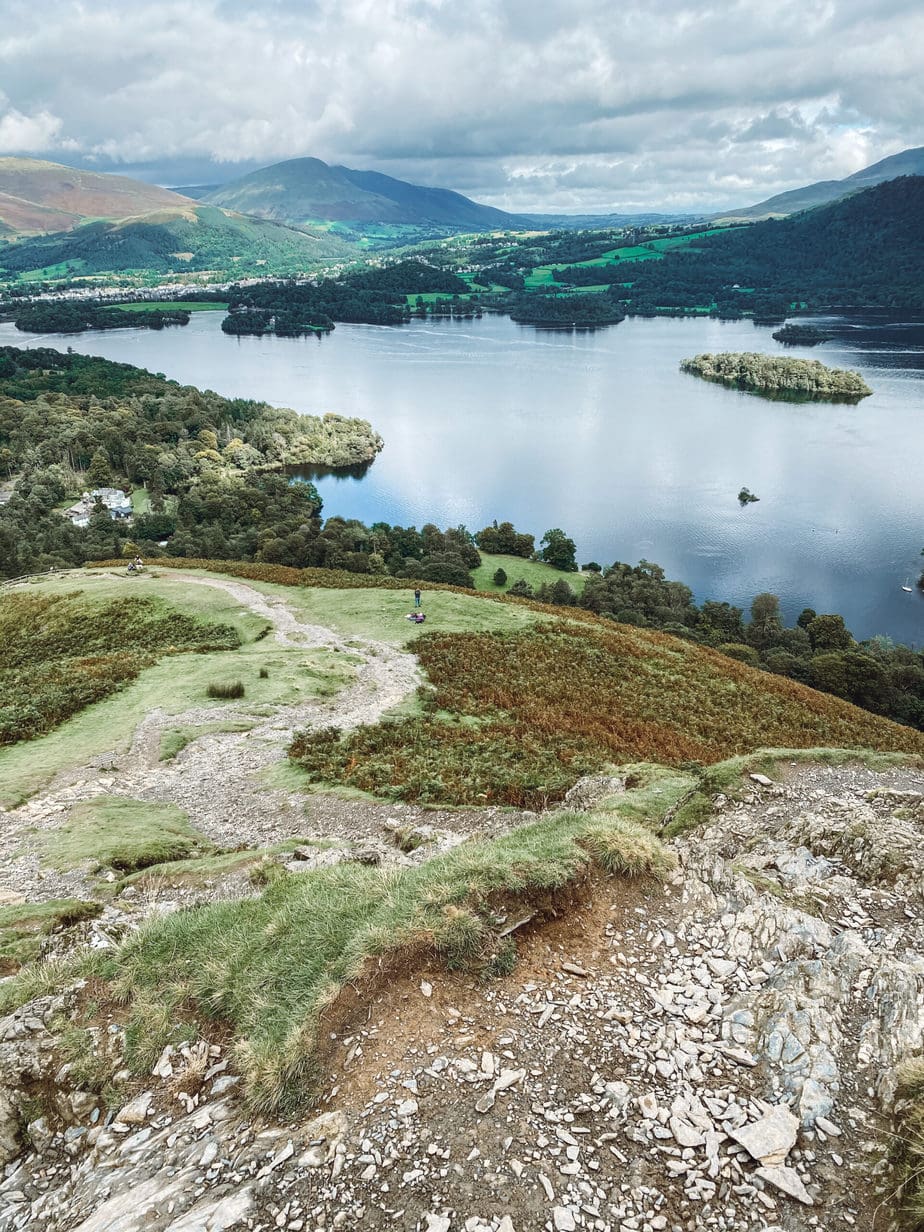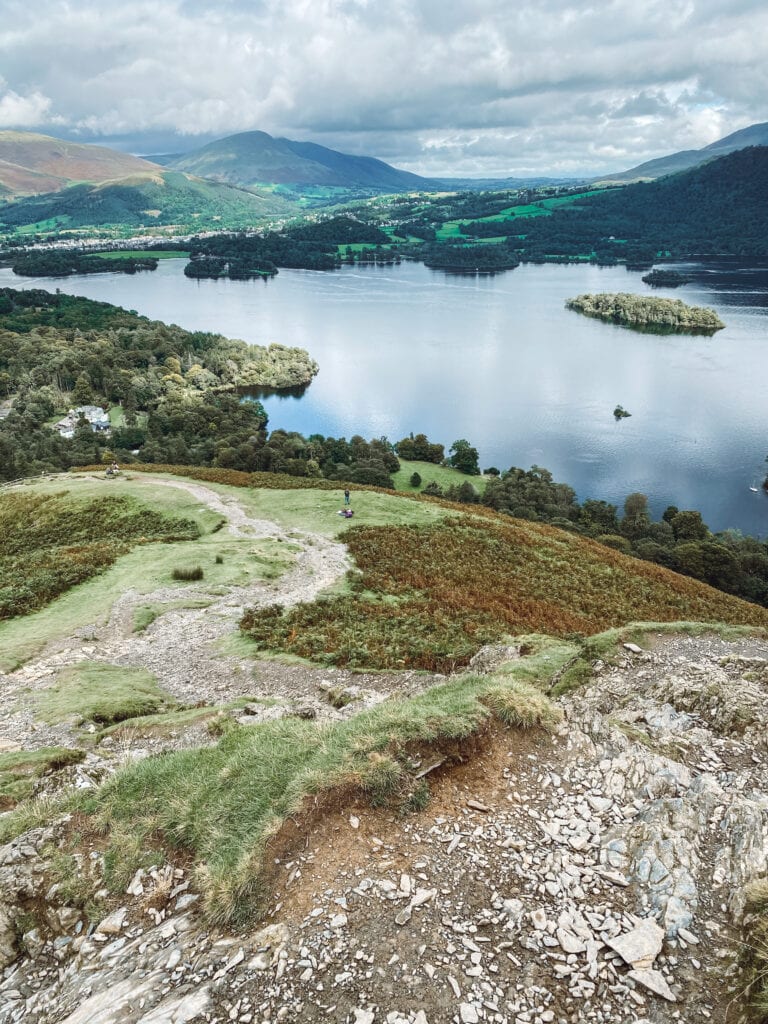 2. Latrigg
Latrigg is one of the shortest walks near Keswick! Although it is easy, it leads to a great viewpoint over Keswick and Derwentwater. There are two options for this walk. You can either walk all the way from Keswick, or drive most of the way to a free car park called Underskiddaw. To get to the car park, drive through Applethwaite and along Gale road (Sat Nav CA12 4PH). This is the same car park you can use for Skiddaw!
Length: 3 miles / 2.5 hours from Keswick; 1.2 miles / 30-45 minutes from car park
Difficulty: Easy
Detailed directions: For directions from Keswick to Latrigg, go here, and for directions from the car park to Latrigg, go here.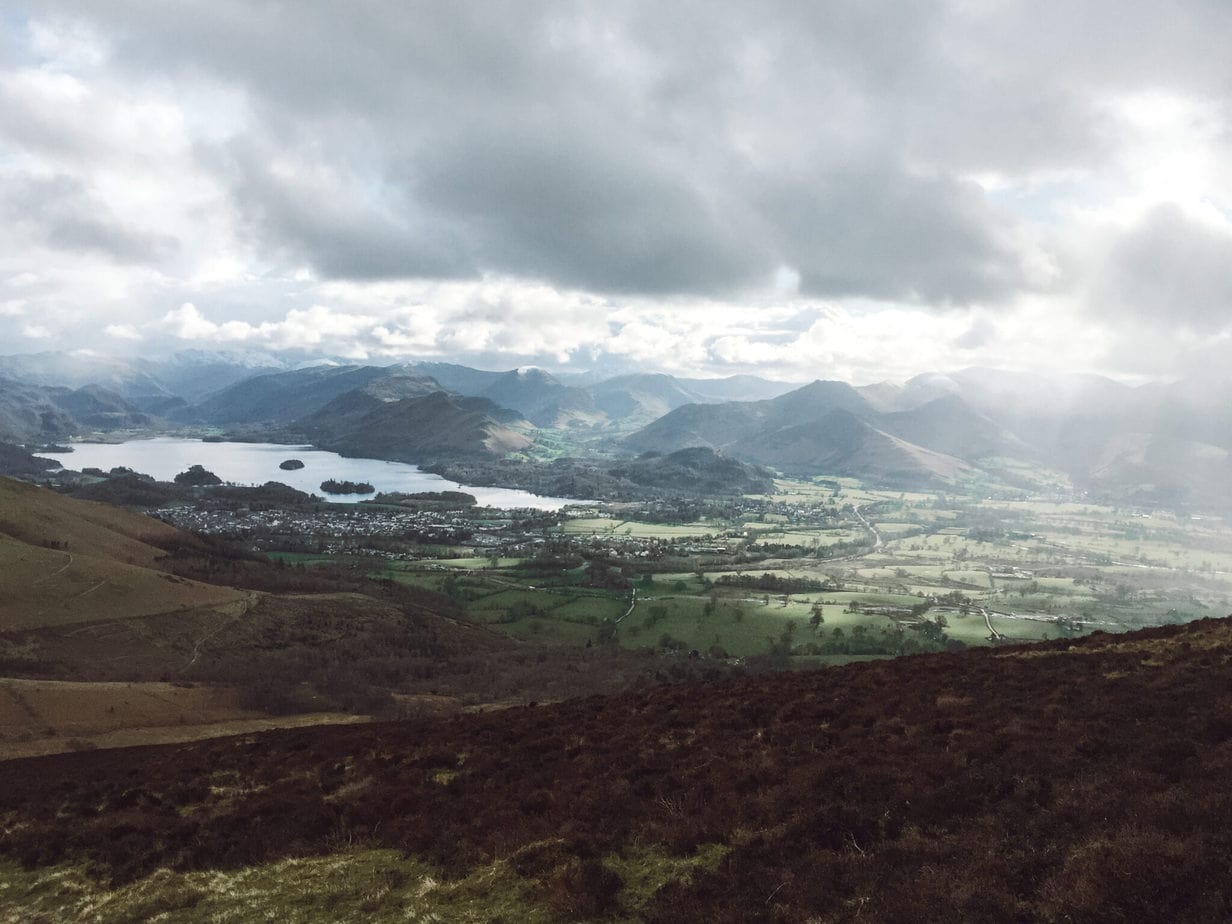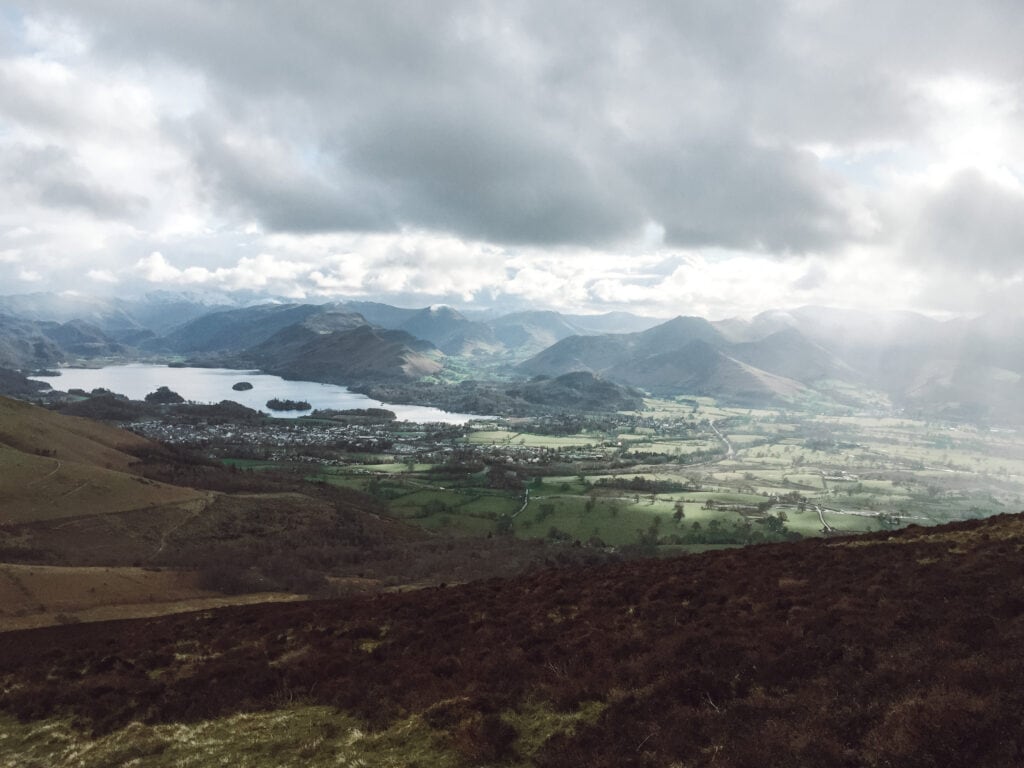 3. Skiddaw
This is another classic Keswick walk. Skiddaw is an iconic fell (and the fourth highest mountain in England) that is easily recognizable from Keswick town. This walk takes you to Skiddaw's summit in a there-and-back route. For me personally it is a love-it-or-hate-it walk…meaning I both loved it and hated it at different times throughout the walk! There is a long, steep portion at the beginning that I struggled to get through and worried I would just hate the whole walk, but once I made it past that the rest of the walk was lovely. Be warned – Skiddaw can be quite misty so go on a sunny day.
Again, you can start this walk from Keswick, or do what we did and start from the Underskiddaw car park (Sat Nav CA12 4PH). This cuts out some extra mileage, and makes it possible to do Latrigg and Skiddaw at the same time.
Length: 10 miles / 6 hours from Keswick; 6.5 miles / 3-4 hours from car park
Difficulty: Moderate
Detailed directions: For directions from Keswick to Skiddaw go here, and for directions from the car park to Skiddaw go here.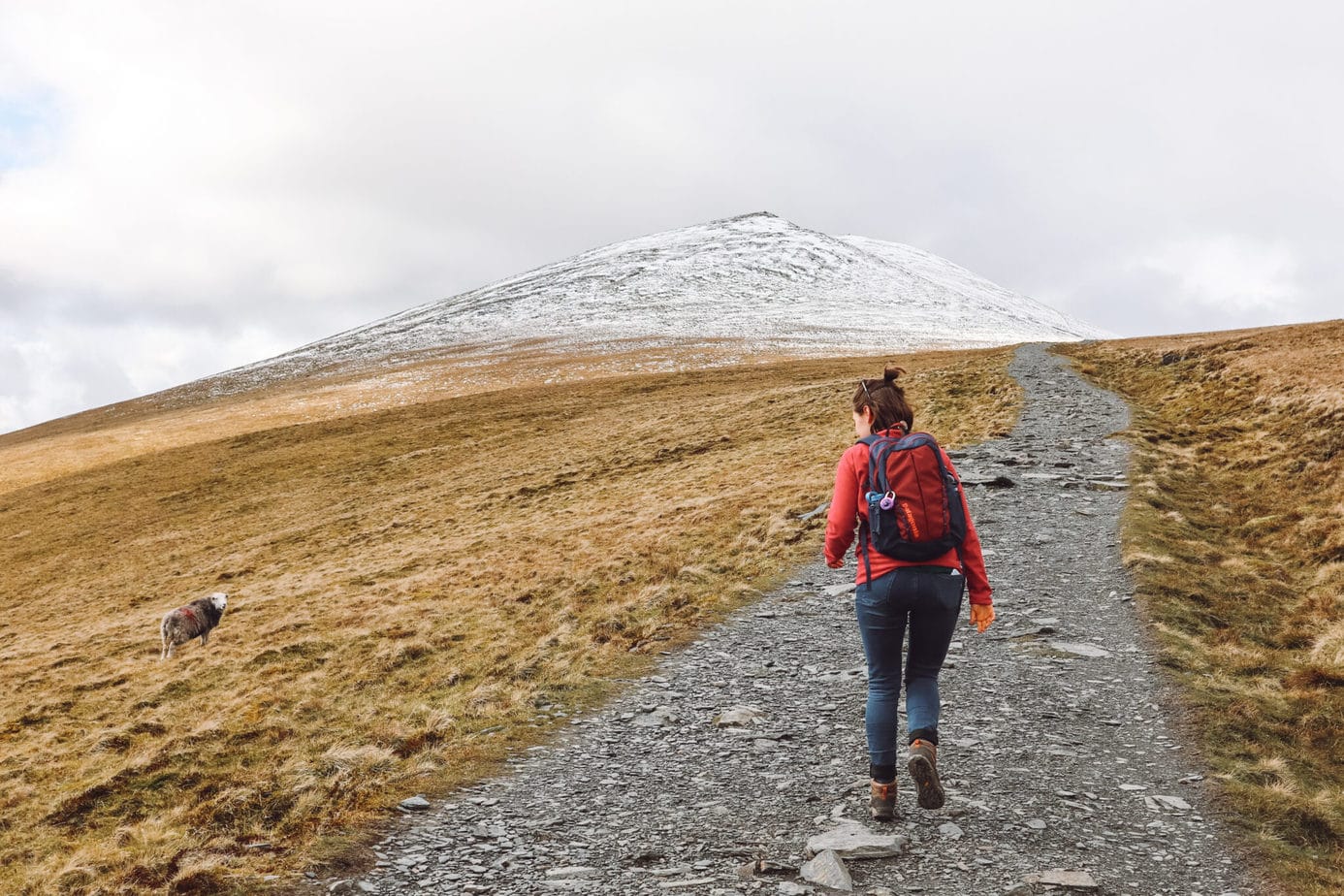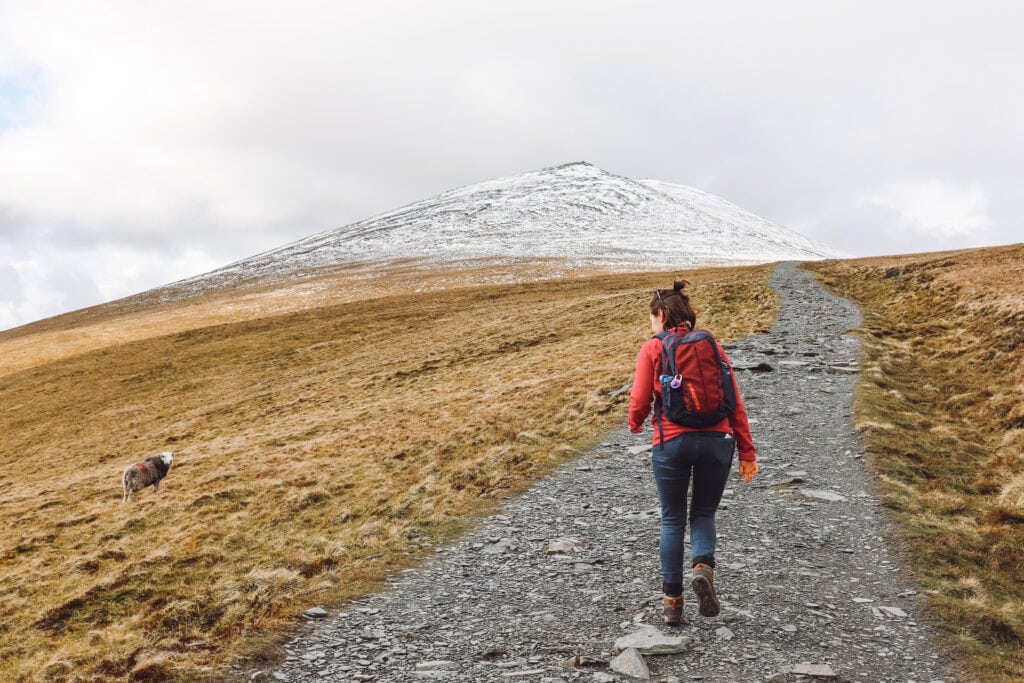 4. Castlerigg Stone Circle
Castlerigg Stone Circle is an epic sight that any visitor to Keswick needs to see. It is actually one of the oldest stone circles in the UK and dates 4-5,000 years ago! (Plus, it is surrounded by fields of sheep…and is incredibly picturesque…you've just gotta visit, okay?).
Most people park at Castlerigg car park (CA12 4RN), but it actually possible to walk to Castlerigg Stone Circle from Keswick with this relatively easy route!
Length: 4 miles, 2-3 hours
Difficulty: Easy
Detailed directions: Read these directions for a walking route starting from Keswick Market Square.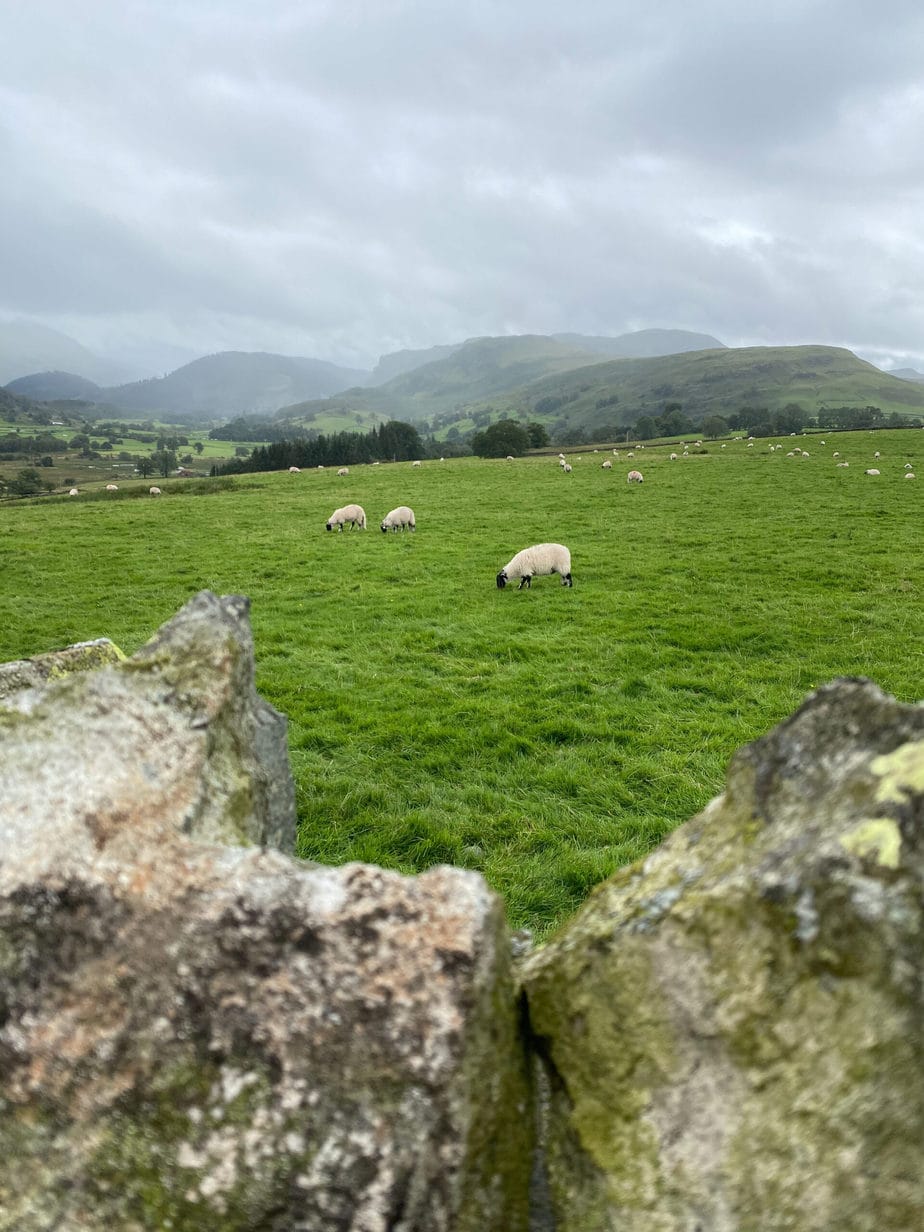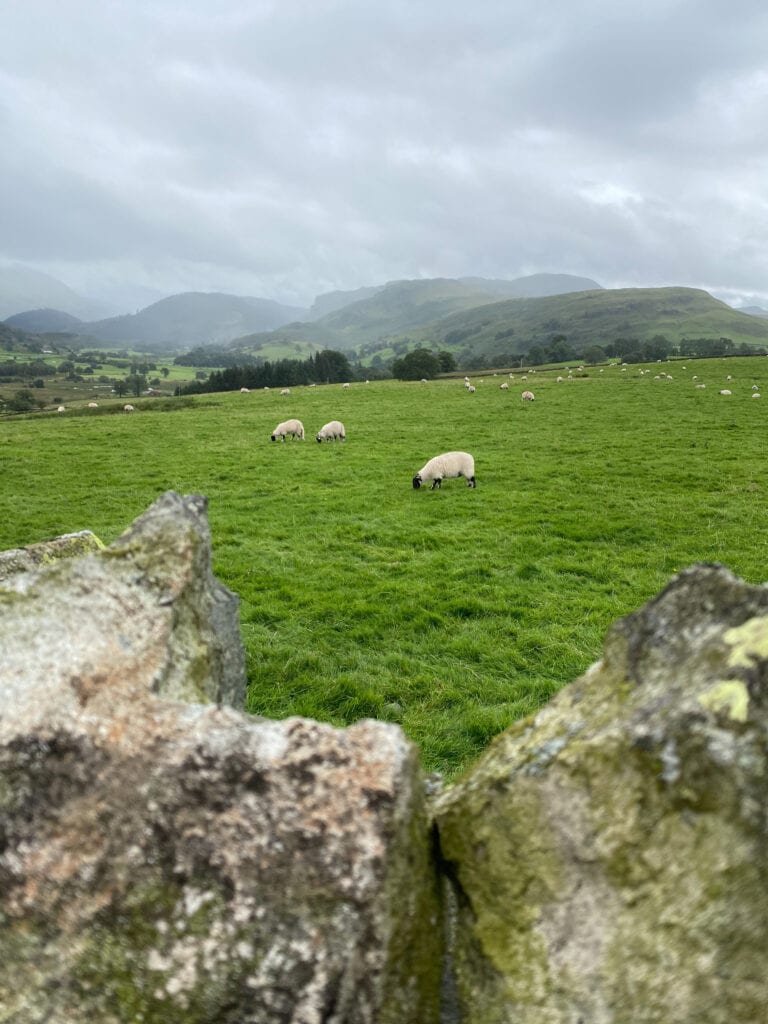 5. Derwentwater Circular Walk
Dan and I did this walk for the first time on our most recent visit to Keswick. Compared to other Keswick walks, this is definitely the flattest walk as it just takes you around the shores of Derwentwater from Keswick. However, follow the directions closely as you do cut onto the road in a couple places, and you may even have to take off your socks and hiking boots and wade in the water if you've been having soggy weather recently (this was actually quite funny… but maybe bring sandals so you don't go barefoot on the gravel like we did?).
One thing I love about the Derwentwater walk is that you can stop at some sights along the way. I recommend stopping in at the Lingholm Estate and Nichol End Marina Cafe for scones at the end of your walk!
Length: 10 miles, 5-6 hours
Difficulty: Easy (but long – bring snacks and plenty of water!)
Detailed directions: This downloadable map has detailed directions. You can walk the route in either direction but we walked from their recommended start point.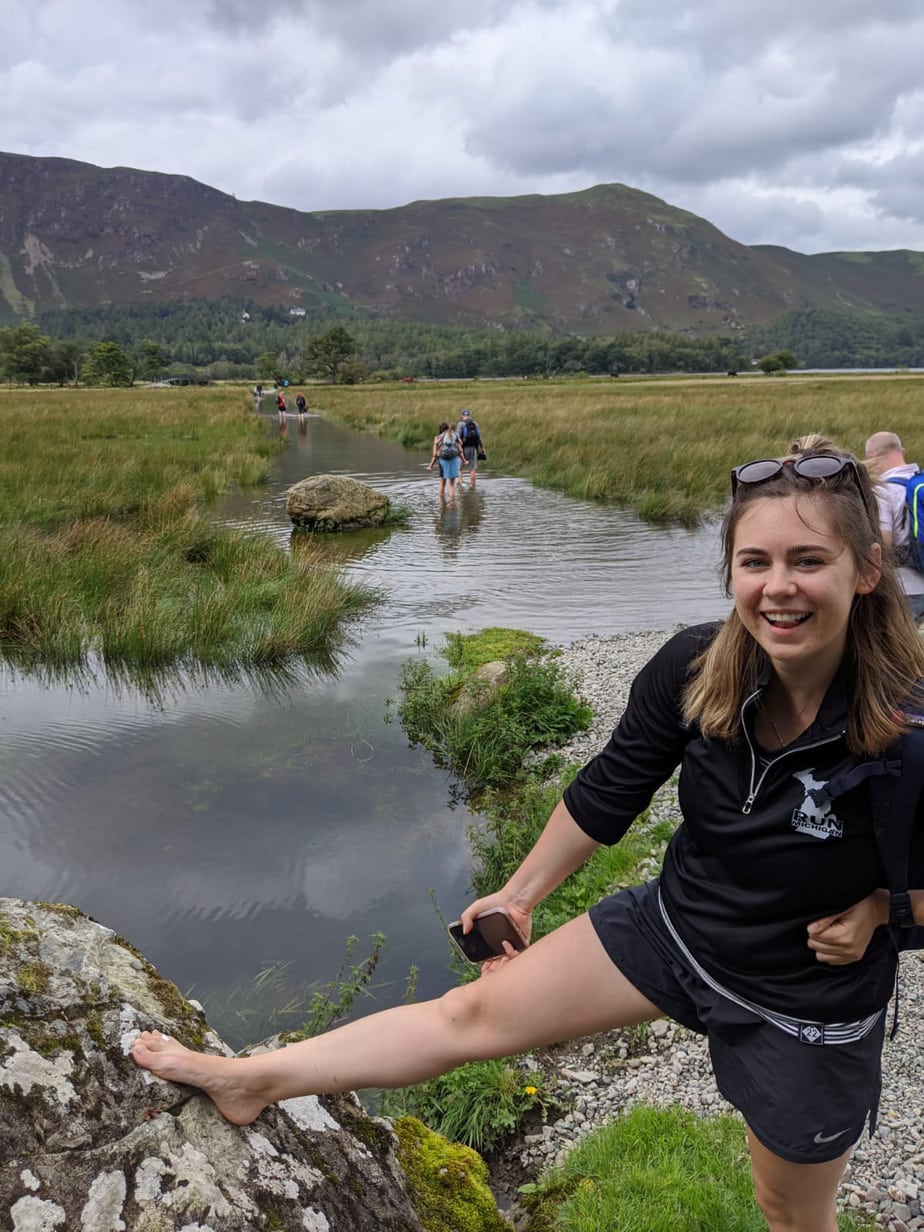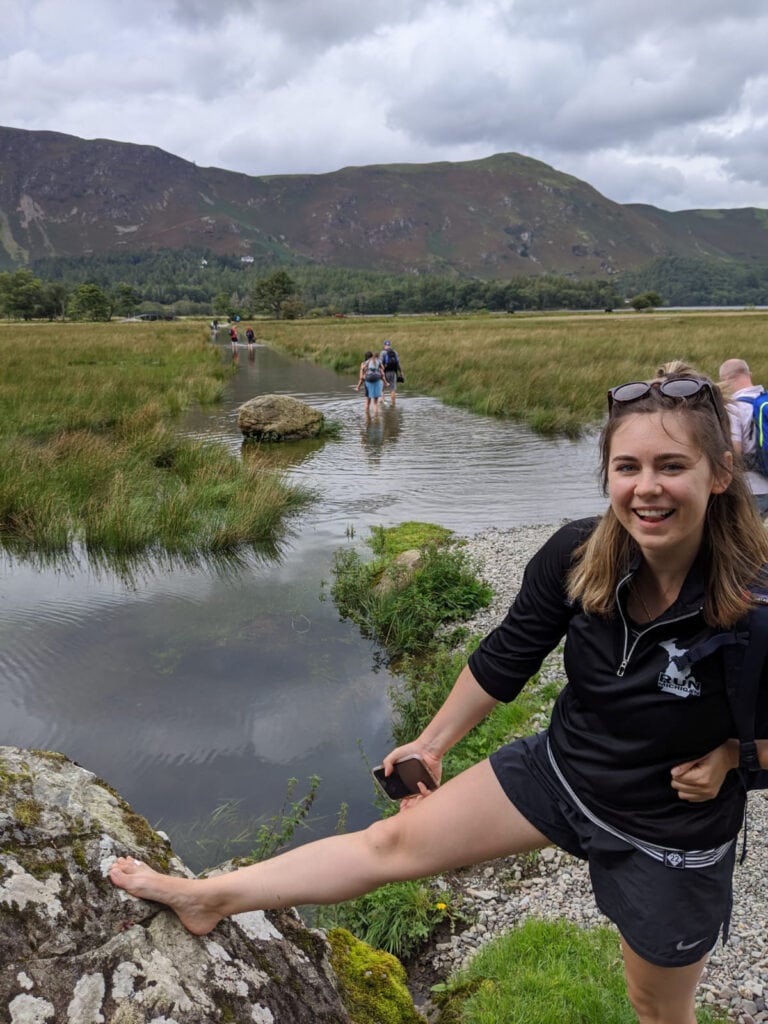 6. Walla Crag
Walla Crag is a nice walk that starts directly in Keswick without any driving required. It has great views over Keswick, Dertwentwater, and the Catbells humps and also crosses over Ashness Bridge, which is a picturesque bridge on many Lake District photographers' lists. I haven't had the chance to do this walk yet myself but it is high on my list for next time!
Length: 6 miles, 3-4 hours
Difficulty: Easy-Moderate
Detailed directions: This article has good directions with photos of landmarks you will see along the way.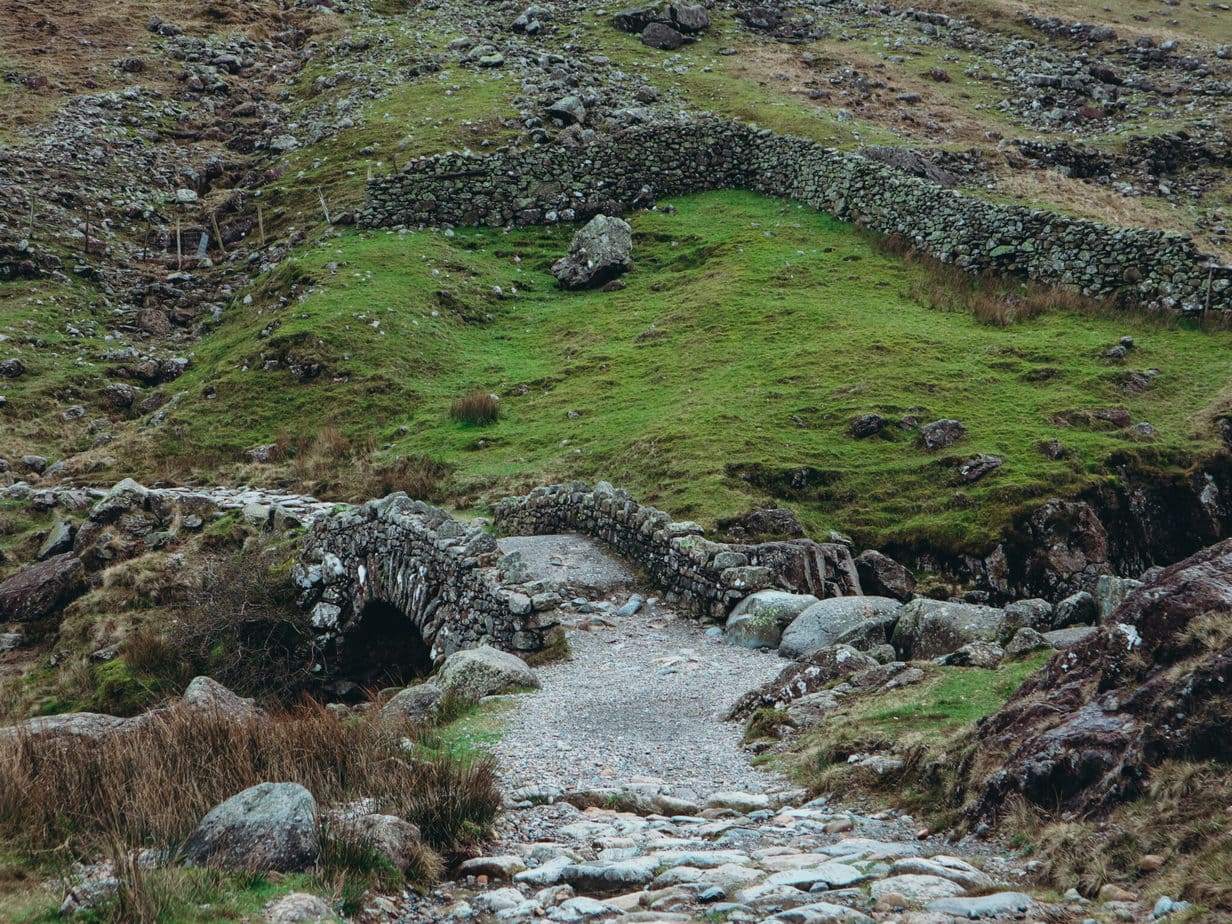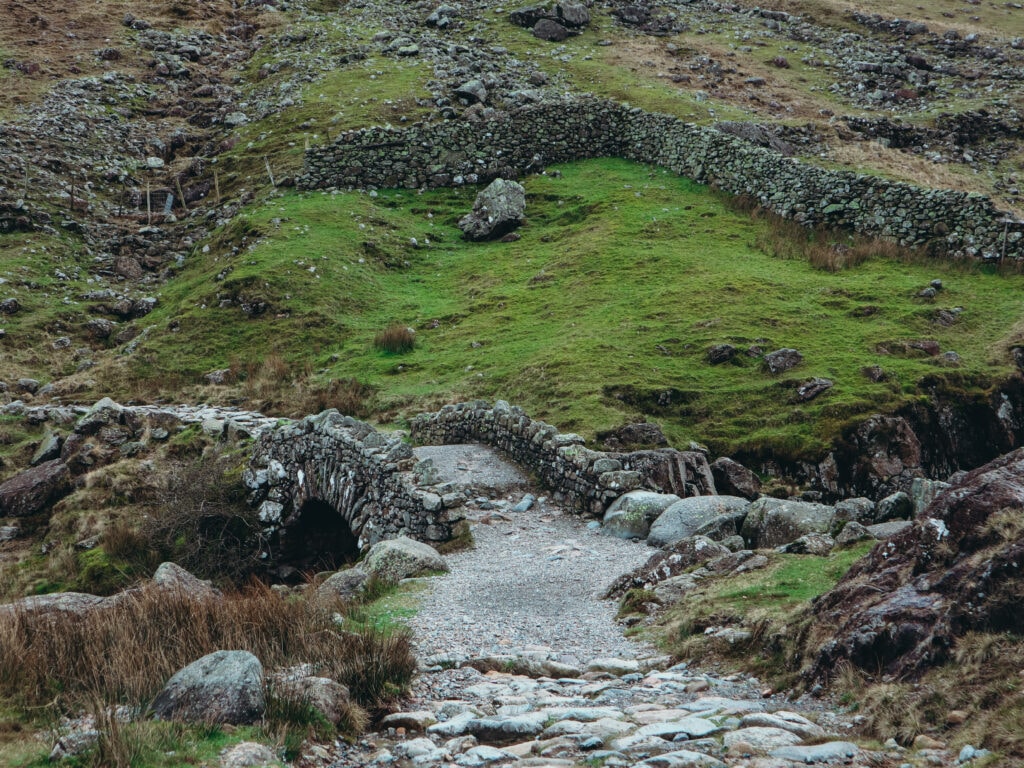 7. Scaffel Pike
Scaffel Pike is the highest mountain in England and it is a beast. There are many ways to hike to the Scaffel Pike summit, but the easiest route to access from Keswick is also the toughest to complete: the Corridor route, starting from Seathwaite. There are other easier routes, but these are much further from Keswick. The bonus is that the Corridor route is also the most scenic and interesting route.
Probably my best (and stupidest) travel story comes from our attempt to hike Scaffel Pike via the Corridor Route during a March snowstorm (spoiler: we made it about 100 yards from the summit but I was too scared to go further as the storm was literally blowing us off the mountain). Moral of the story is don't hike Scaffel Pike in a snowstorm! June, July, August, and September are much better months for this mountain.
Length: 9.5 miles, 5-6 hours (depending on conditions… it took us 8 hours in the snow)
Difficulty: Difficult
Detailed directions: This article has good directions with photos of landmarks and maps.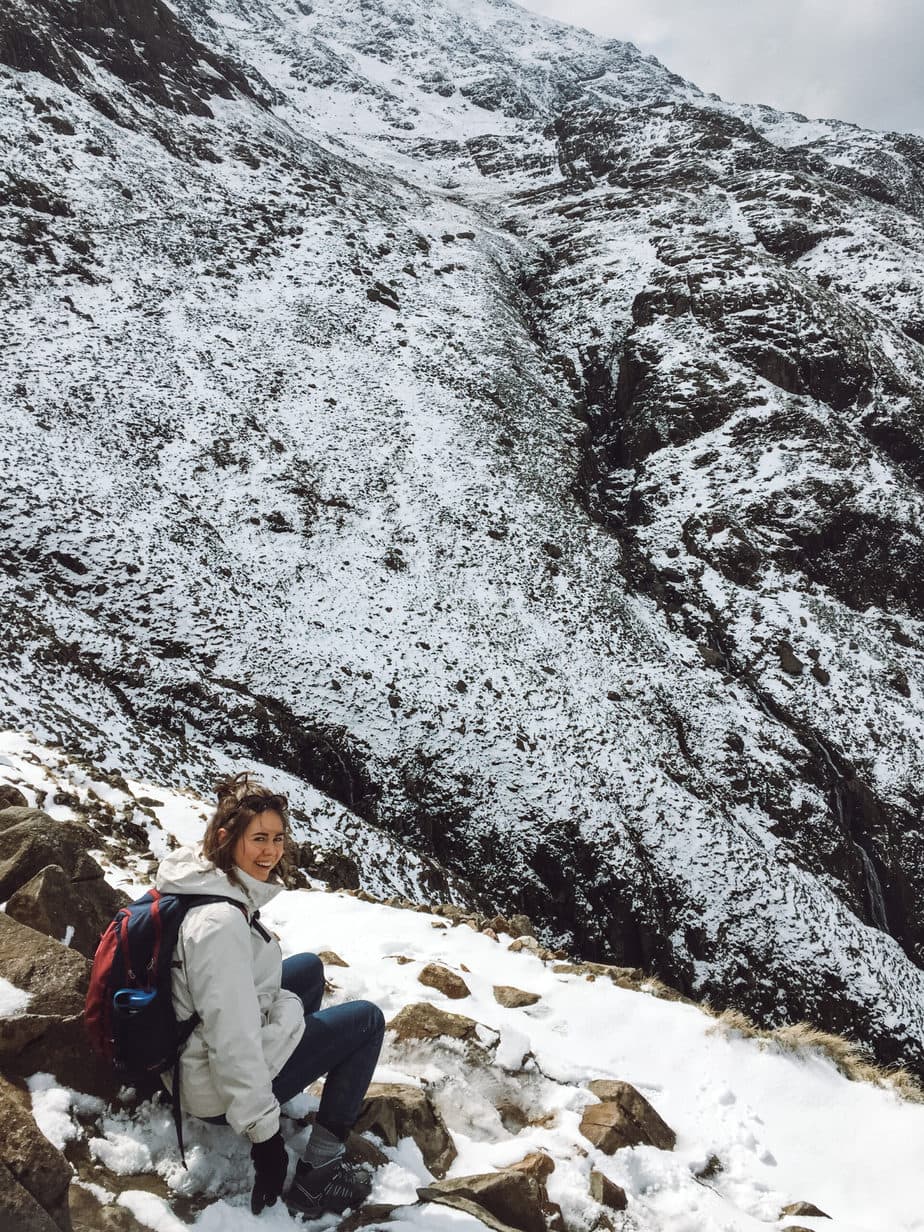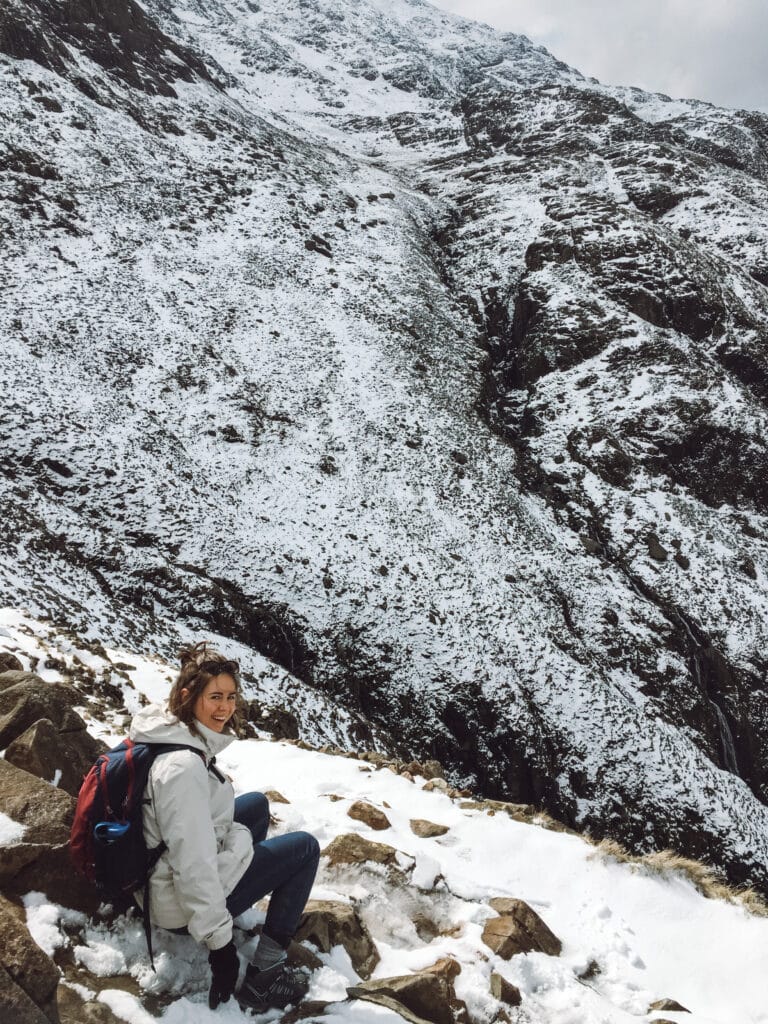 8. Barrow Fell
Barrow Fell is a nice short walk that begins at the Braithwaite village shop (CA12 5ST) which is about a five minute drive from Keswick. The view at the top of Barrow Fell is panoramic and pretty epic. You will be able to spot Derwentwater and Keswick, as well as Skiddaw, Hellvellyn, Bassenthwaite Lake, Whilatter Forest, and more.
Length: 3 miles, 2 hours
Difficulty: Easy
Detailed directions: This article has detailed directions for this relatively simple route.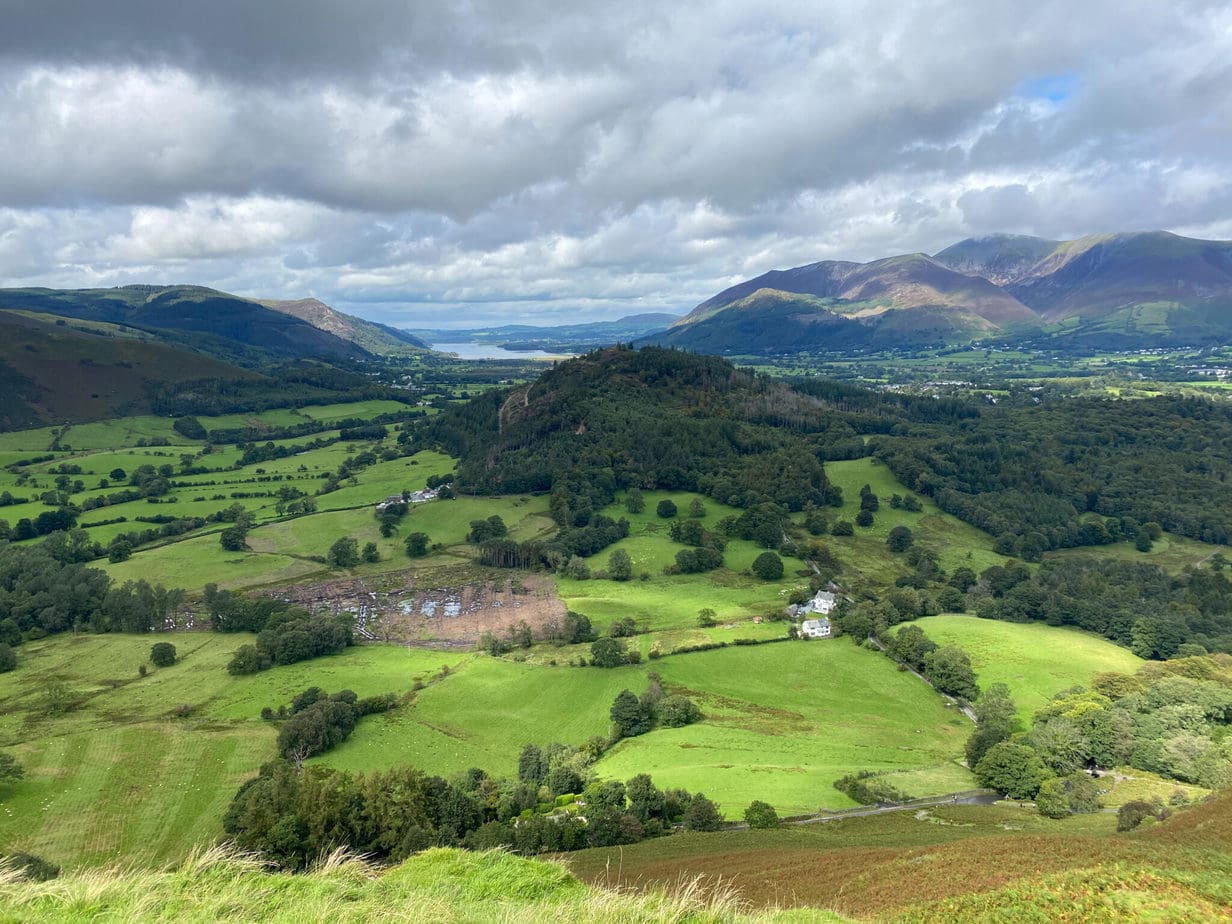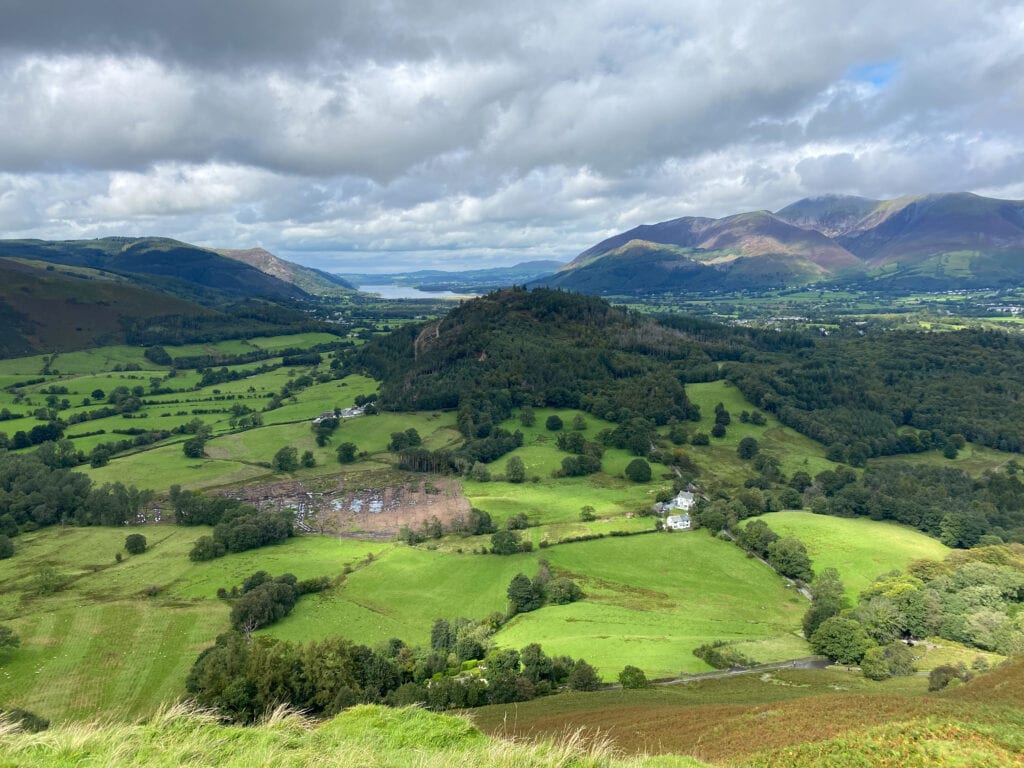 9. High Rigg
This circular walk takes you through both Low Rigg and High Rigg. Keep in mind that the name "High Rigg" is somewhat of a misnomer as this is not a particularly strenuous route (the summit is only 357m). This route is great in summer but should generally be avoided after rainy weather due to its tendency to be boggy in some areas.
Length: 5.5 miles, 2.5 hours
Difficulty: Moderate
Detailed directions: This article has directions with a map and detailed route description.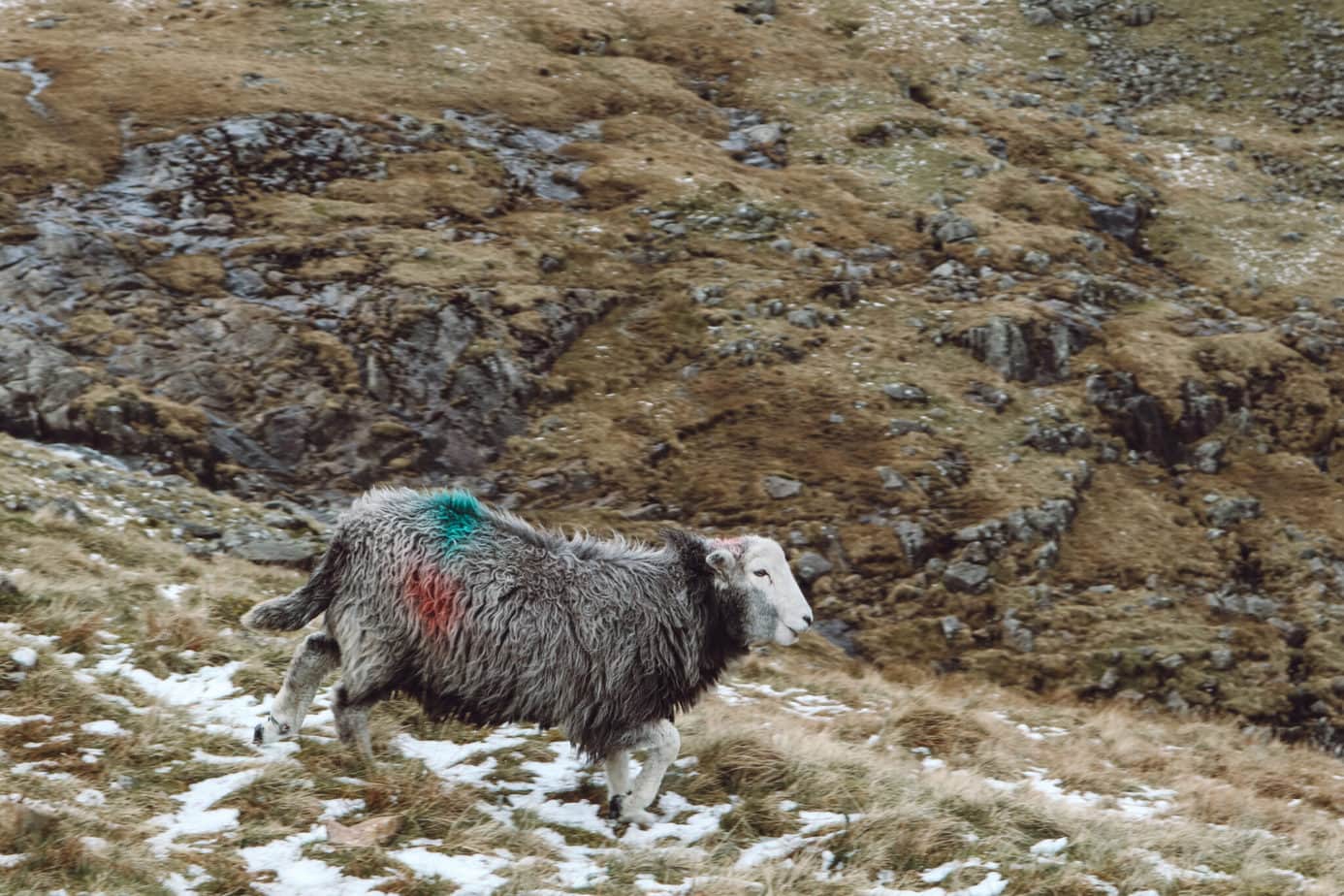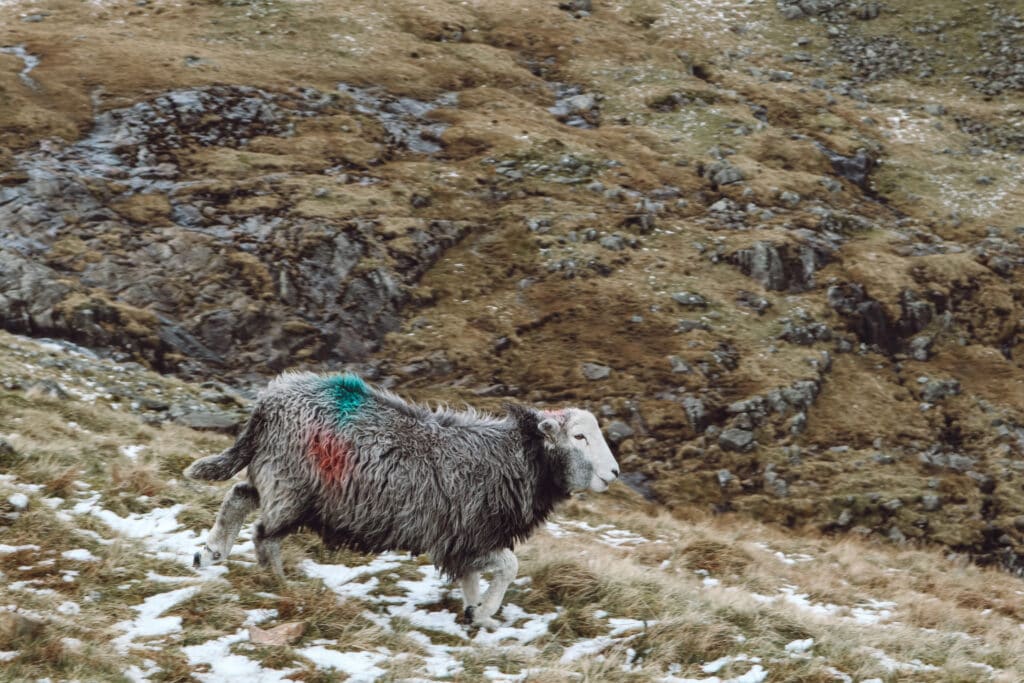 10. Helvellyn
Similar to Scaffel Pike, Helvellyn is an epic beast of a mountain with a few different route options. You might recognize the knife's edge of Striding Edge from photos. Swirral Edge is another popular option. The Helvellyn Gill path also offers an easier and shorter option, that avoids Striding and Swirral Edge.
Dan and I have attempted to do Helvellyn quite a few times now, but we've always been met with poor weather. So Hellvellyn is #1 on my personal bucket list! This is definitely a walk you want to save for a clear day, as it can be very unsafe to be scrambling along this route in mist or rain.
Length: Depends on the route. 4.5 miles / 4 hours on the Hellvellyn Gill Path. 9 miles / 6-7 hours via Striding and Swirral Edge.
Difficulty: Difficult
Detailed directions: For directions for the easiest and shortest option of Hellvellyn Gill Path from Thirlmere, go here. My preferred route starts from Glenridding and ascends via Striding Edge and descends via Swirral Edge. For those directions, go here.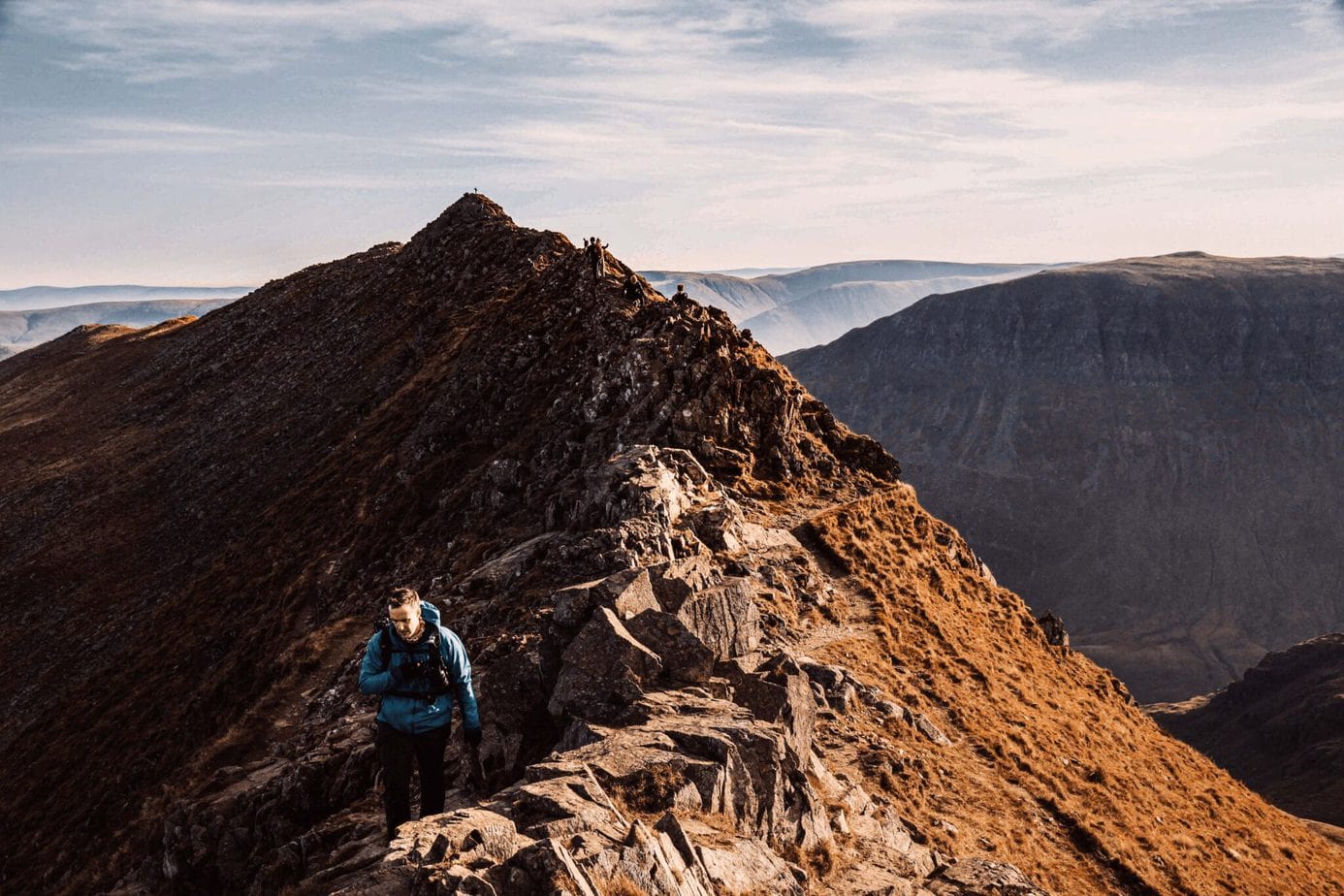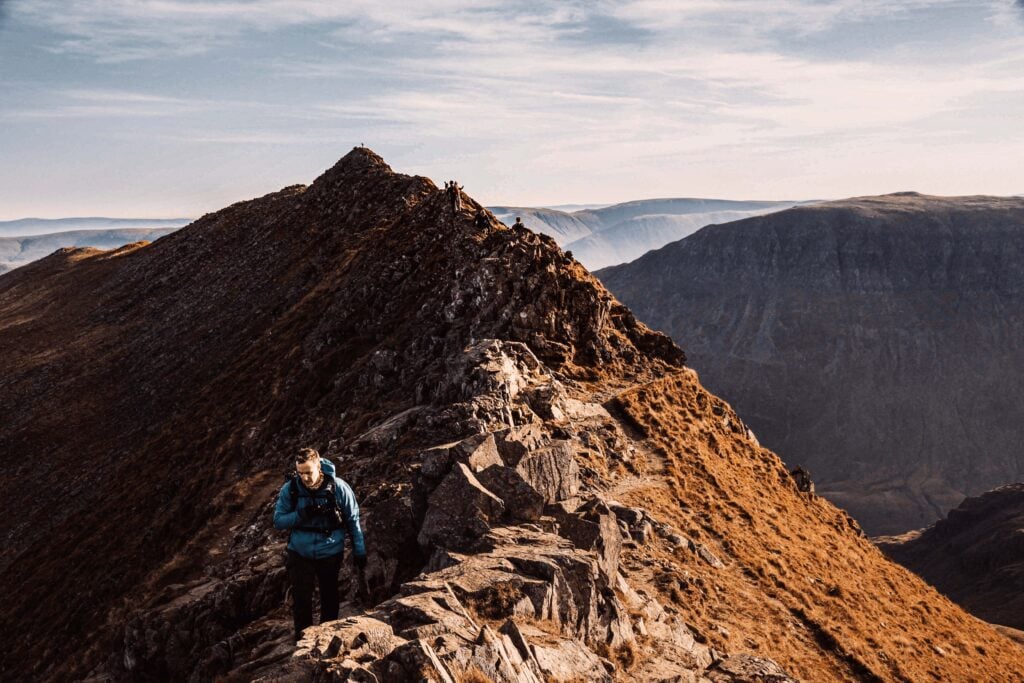 11. Catbells, Maiden Moor, and High Spy
Remember me praising Catbells as the best walk in the Lake District as #1 on this list? Well, this circular route includes Catbells, but continues on further to the next two peaks: Maiden Moor and High Spy.
This is definitely a good Keswick walk for those who have done Catbells before and loved it, but want something a bit longer and different. This route starts from the same little car park as the Catbells walk does (CA12 5UE).
Length: 10 miles, 5-7 hours
Difficulty: Moderate
Detailed directions: Read the full directions for the Catbells, Maiden Moor, and High Spy route here.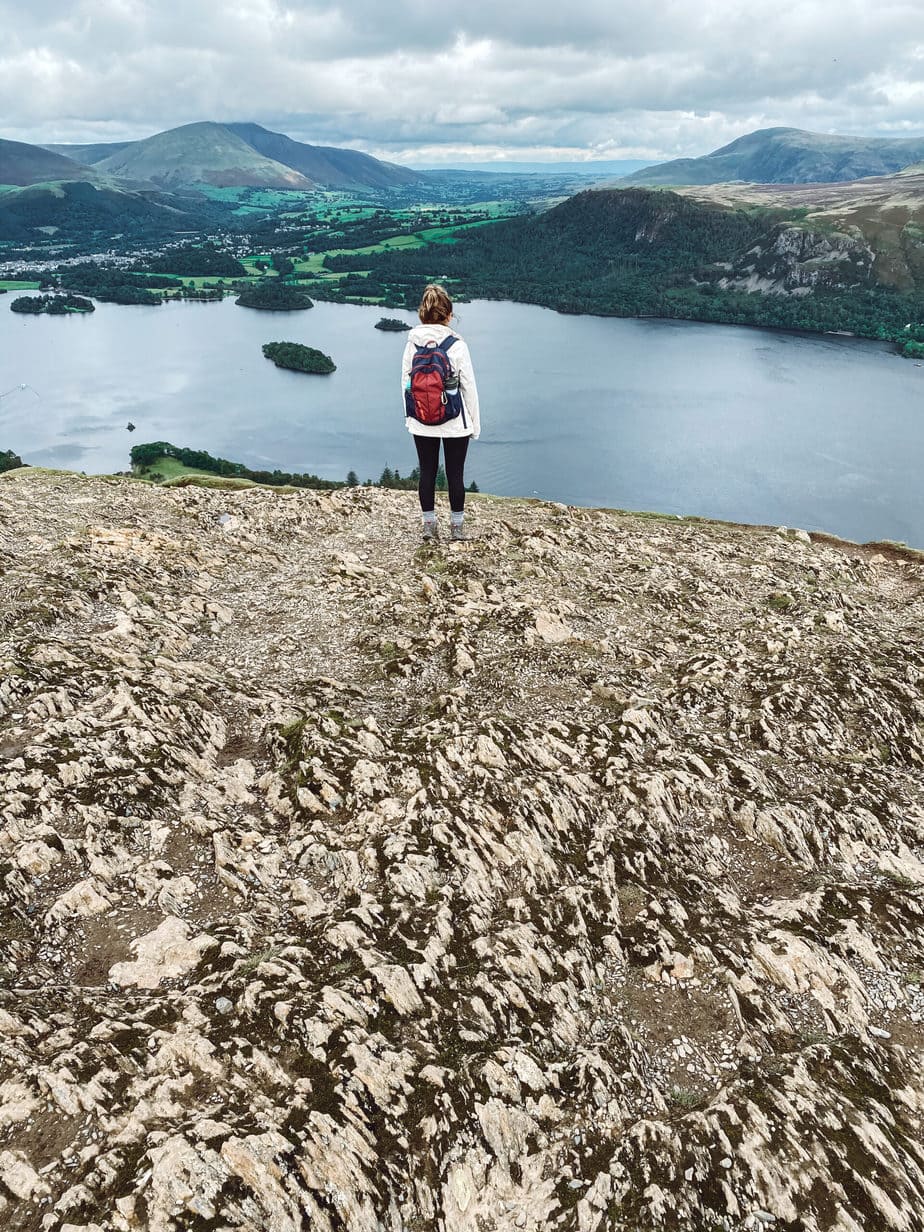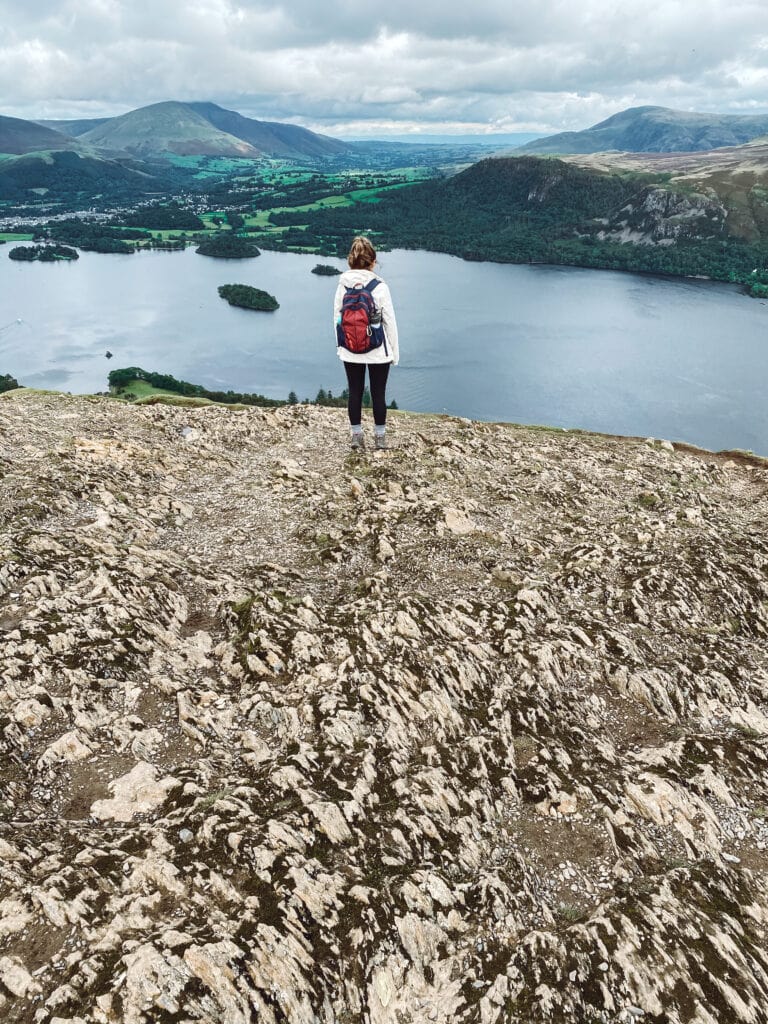 12. Blencathra via Sharp Edge
I rank Blencathra alongside Helvellyn and Scaffel Pike as the most difficult Keswick walks, and actually the most difficult walks in the Lake District. When ascended via Sharp Edge, this hike is pretty stunning. However, keep in mind that Sharp Edge is a grade 1 scramble and also the most exposed scramble in the Lake District. This is not a route for those who are afraid of heights.
Length: 5 miles, 5 hours
Difficulty: Difficult
Detailed directions: This article has very good directions for the Sharp Edge route to Blencathra.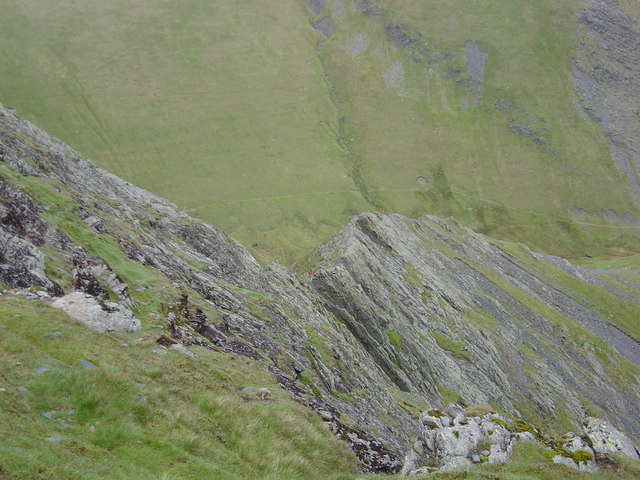 13. Warnscale Head Bothy
For the last walk near Keswick, I'm sharing this short route to the Warnscale Head Bothy. This isn't a classic Lake District walk by any means… in fact it's a small off-the-radar walk to a bothy that is just very scenic. A bothy is a small, uninhabited mountain hut. The Lake District bothies are rustic, and first-come first-serve for overnight campers. People often pack up food and sleeping bags and spend a night in a bothy, which would be a dream at Warnscale Head (the sunrise photos are phenomenal).
Length: 1 mile, 1 hour
Difficulty: Easy
Detailed directions: Park at Gatesgarth Farm, and use this article to guide you. It is the best I can find with directions to Warnsdale Head Bothy. The grid reference is NY205133.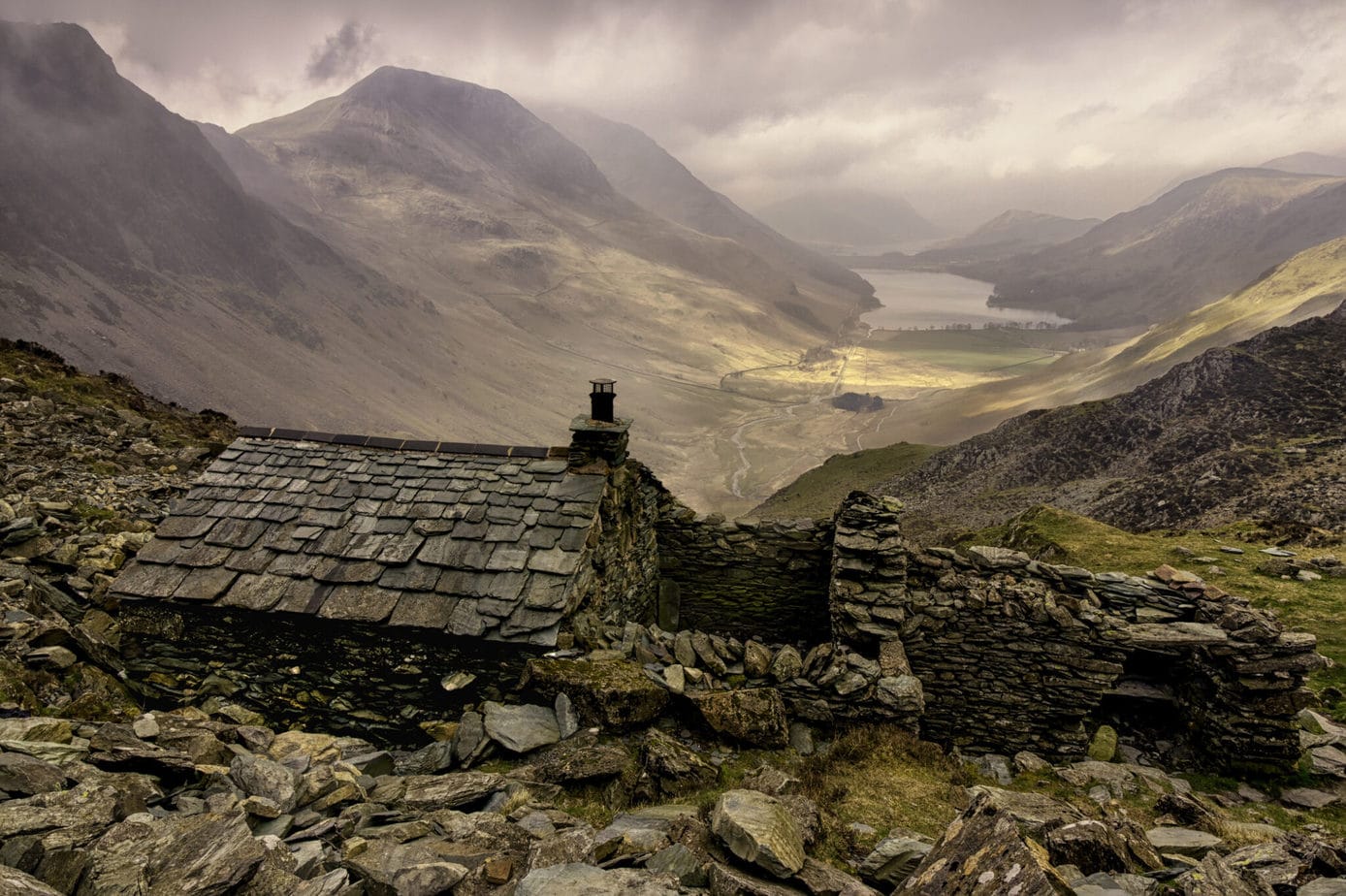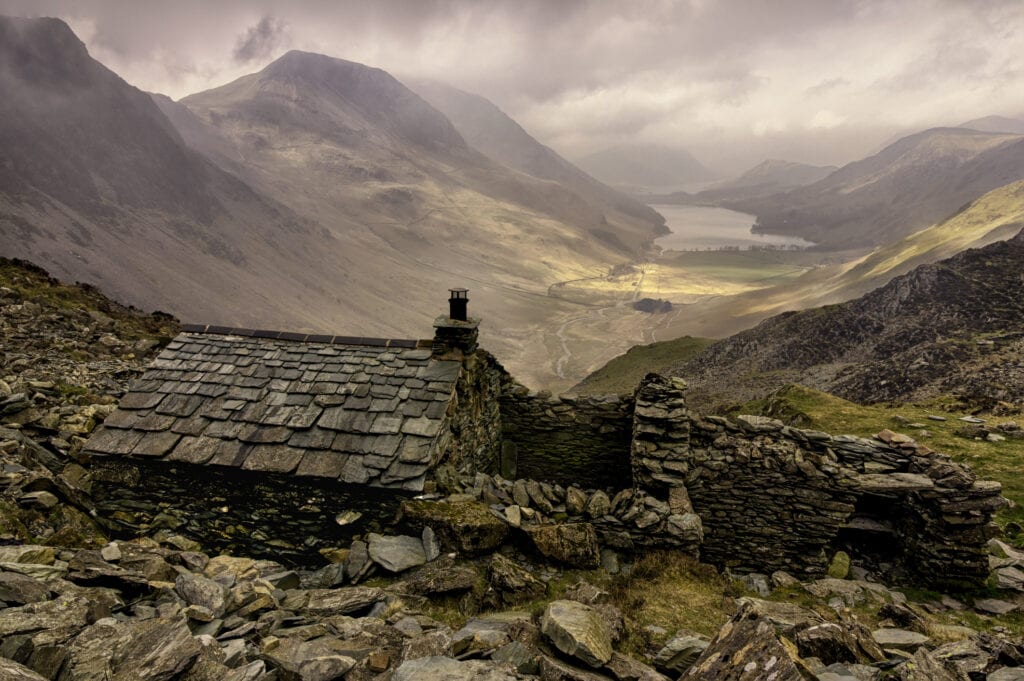 Where to Stay in Keswick
When in Keswick, I definitely recommend staying in a B&B. Here are my top recommendations:
Leonard's Field House ($$): My top choice! This cozy family run B&B has a great location and has a Free From awards winning gluten free breakfast.
LakeSide House ($$): Another B&B in central Keswick but quite close to Derwentwater.
Greystoke House ($$): A very centrally located B&B that's dog friendly.
Lodore Falls Hotel & Spa ($$$): For something a bit fancier, a stay here is the ultimate luxury spa getaway. A short driving distance from central Keswick and located on the shores of Derwentwater.
Check out these other posts while you're here…
7 Things to do in Frome, Somerset
15+ Things to do in Cheddar Gorge
I hope you enjoy these walks – you will definitely have to return to Keswick a few times to check these all off. As I mentioned, my personal favorite is Catbells, but there is a Keswick walk to suit every mood.

Pin it for later…