6 Adorable Charlevoix Mushroom Houses You Need to Stay In
If a "mushroom house" sounds adorable to you … you would be correct! When I first heard of the Charlevoix Mushroom Houses, a few months before my most recent trip to Charlevoix, Michigan, I knew I needed to learn more.​​​​​​​​​​​​​​​​​​​​​​​​​​​​​​​​​​​ Do they actually look like ​​​​​​​​​​​​​​mushrooms? Could you stay overnight in them?
It turns out there are 28 Mushroom Houses in Charlevoix. To many people (myself included) they would be better named "Hobbit Houses," because they look exactly like where a hobbit would live!
Currently, only six of the 28 houses are available as rental properties. However, if you want to see all 28 houses, just go on a Charlevoix Mushroom House Tour (it's rated as the #1 thing to do in Charlevoix – more info at the bottom of this post!).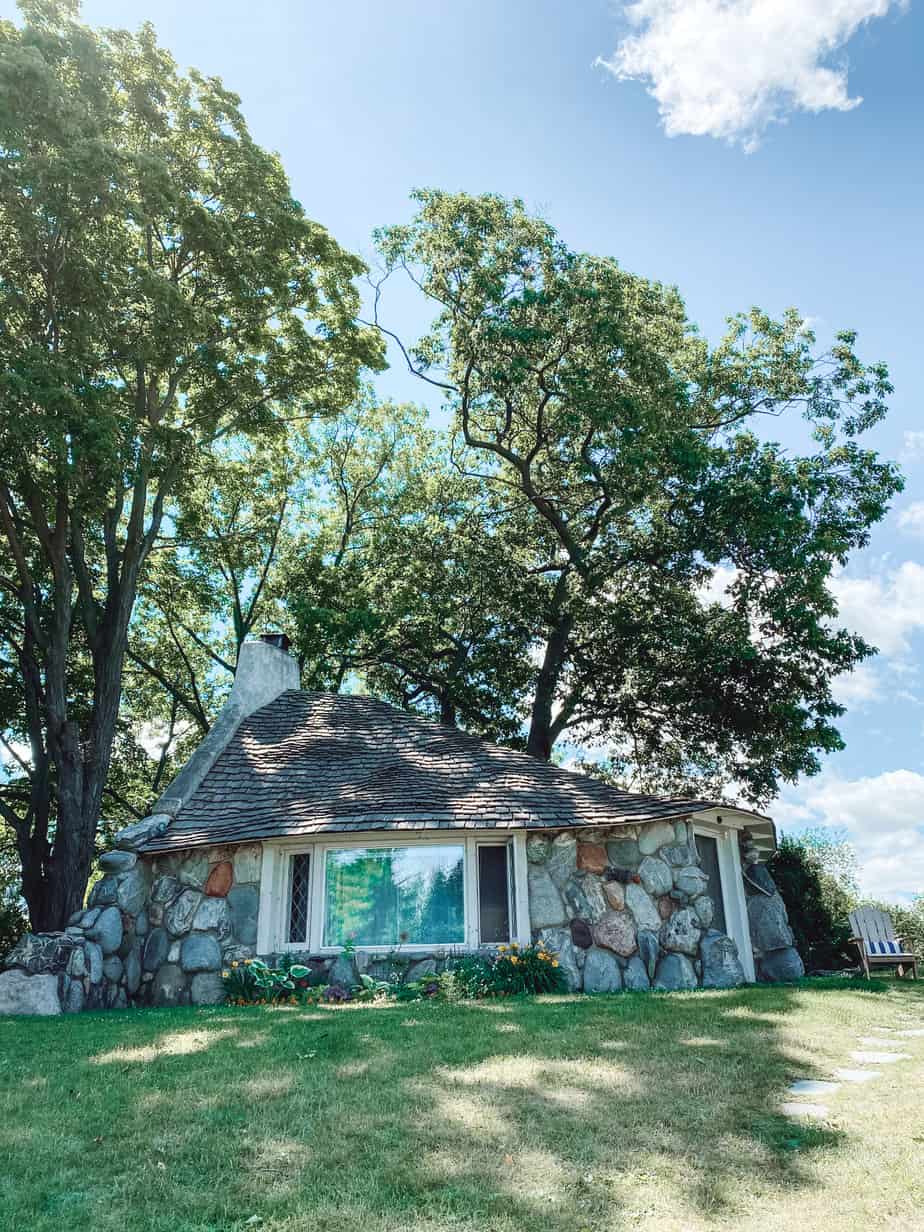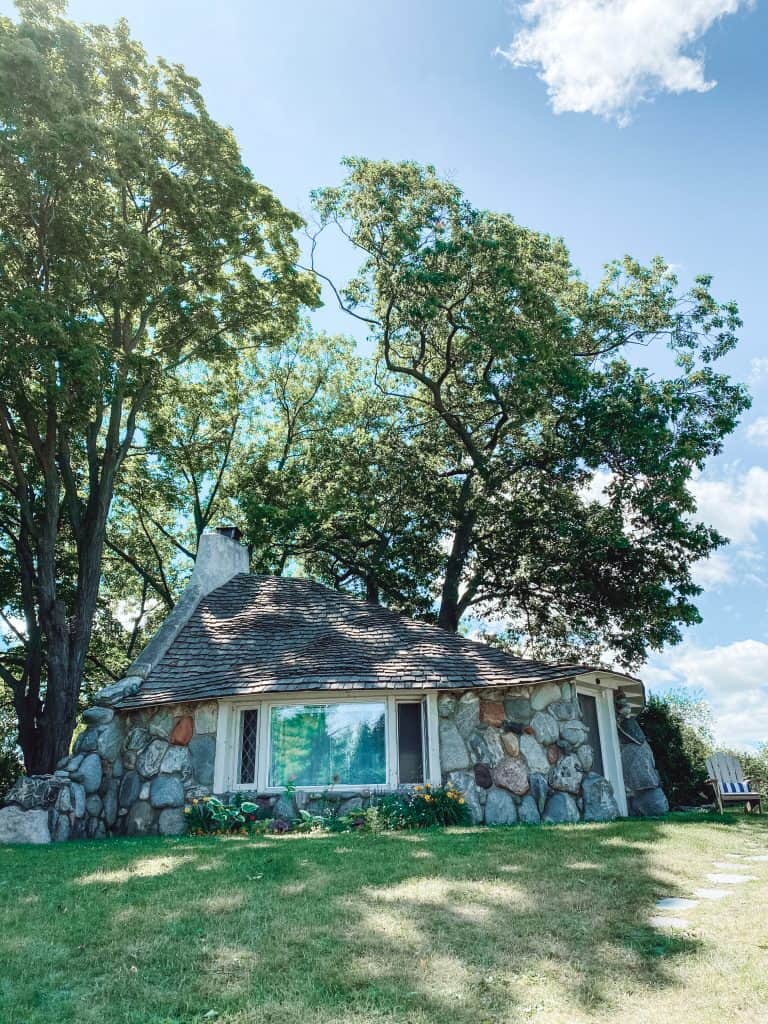 What are the Charlevoix Mushroom Houses?
The Charlevoix Mushroom Houses are a collection of houses built by Earl Young. Earl Young was an eccentric architect born and raised in Charlevoix, who was active from 1923-1975 and only ever designed houses in Charlevoix. He was actually a University of Michigan dropout and never became a registered architect!
Young was really inspired by Frank Lloyd Wright's philosophy of buildings blending into their surroundings. But while Wright's work is minimalist and open, Young's houses are recognizable for their organic, cozy, cottagey elements. Like I said, his houses all look like a hobbit lives there!
The Mushroom Houses are also all built from stones that Young dredged straight from Lake Michigan. They're all close (or on) Lake Michigan waterfront and centrally located just a few minutes from downtown Charlevoix.
There really is no more unique place to stay in Charlevoix – if you have the chance to stay in a Mushroom House you absolutely must take it!
Fun facts about Earl Young and his Mushroom Houses:
Earl Young was only 5 feet tall – but he was a force to be reckoned with!
The "Mushroom House" name is from one particular house, whose roof line is designed to look like a mushroom! The name became a way to refer to all of Young's houses.
Earl Young never ever drew blueprints. He etched his designs with sticks in the sand for his builders.
During building, he never leveled off the terrain, so all the houses look like they're growing from the land.
[su_row][su_column]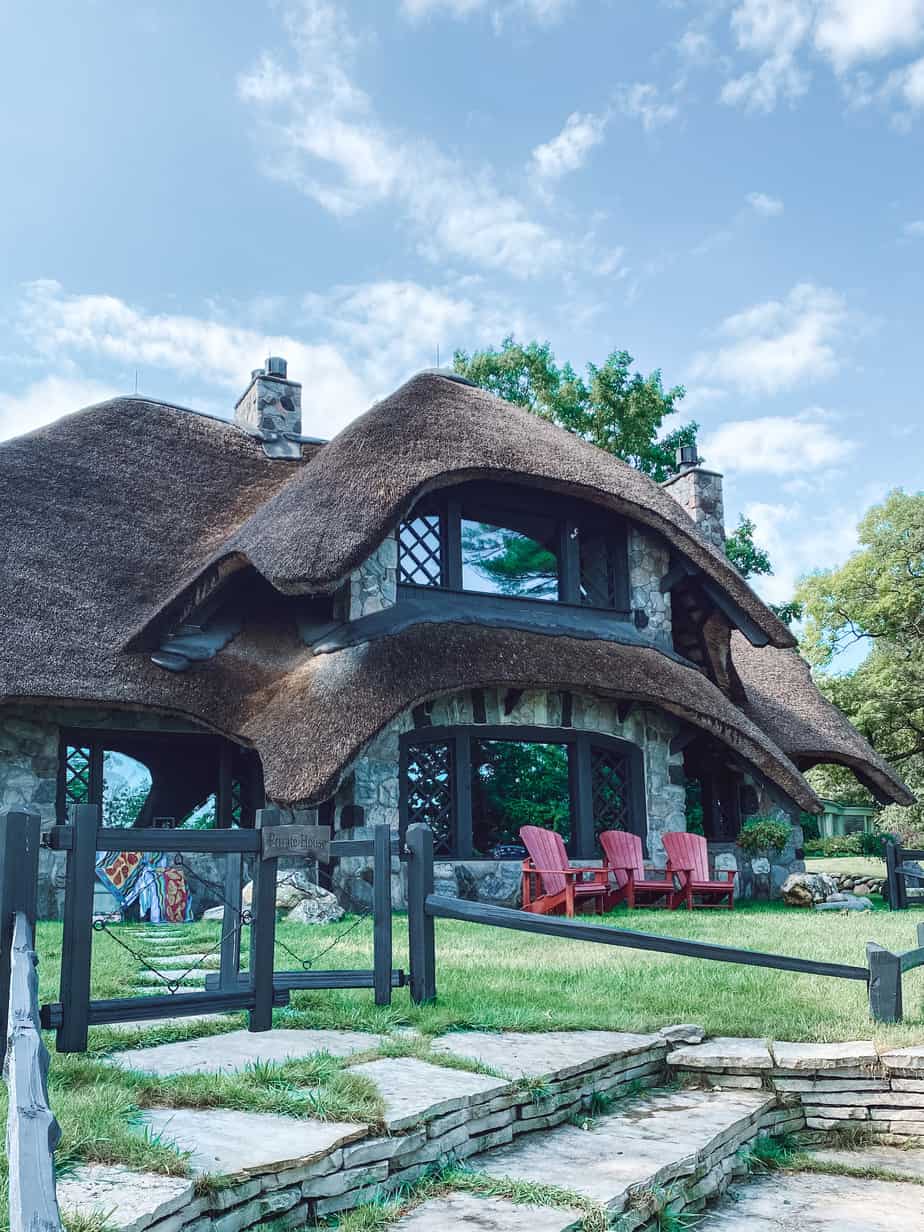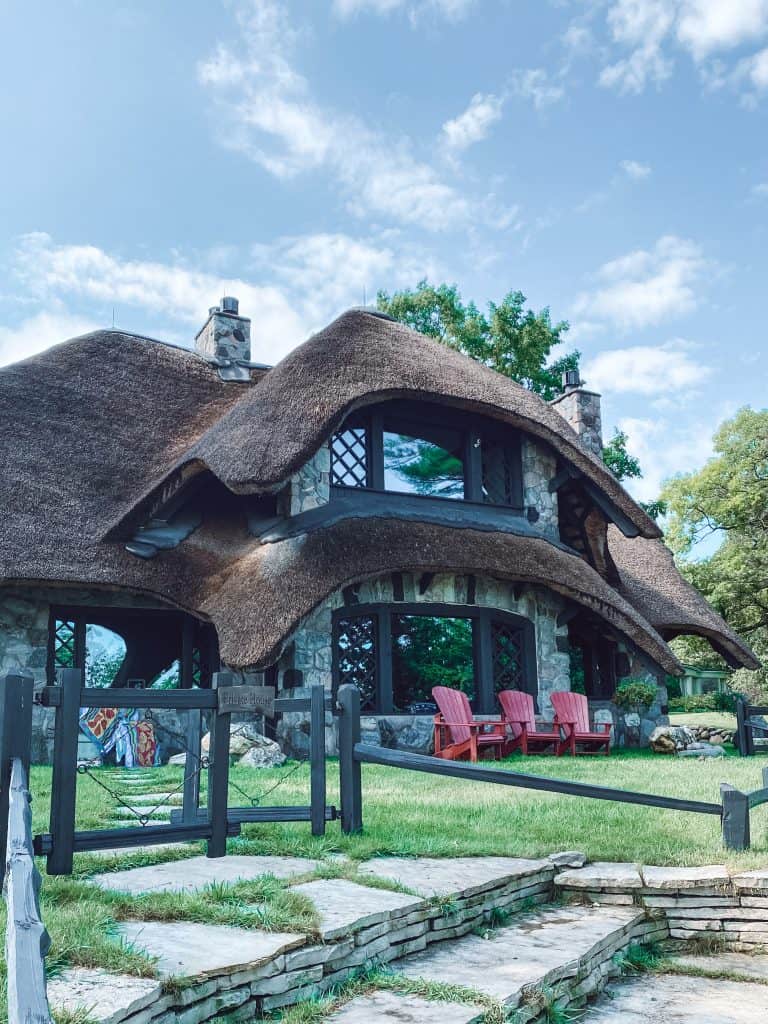 [/su_column][su_column]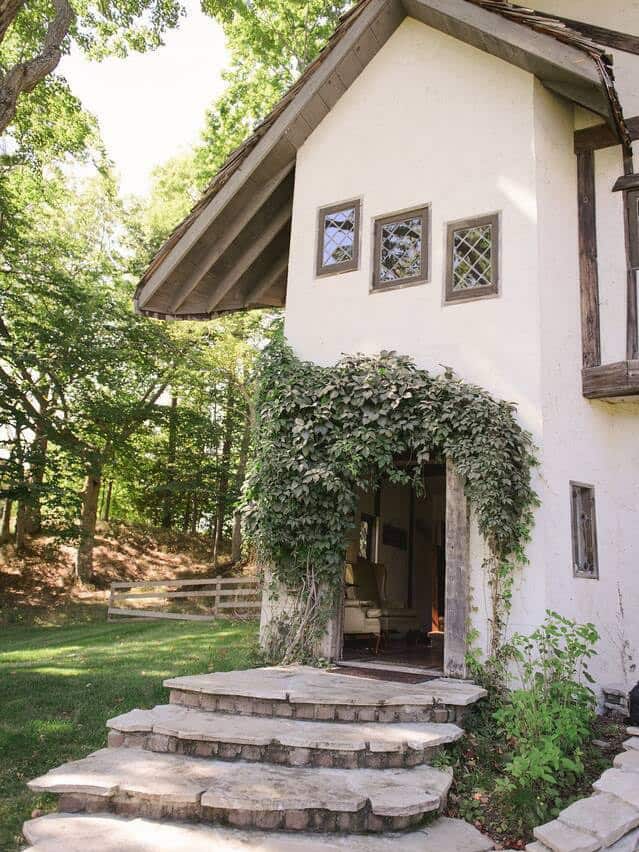 [/su_column][/su_row]
Want to sleep in a hobbit-style hideaway? Check out these 6 Charlevoix Mushroom Houses!
The six properties below are all available for overnight rentals. They are all listed on VRBO, which is a vacation rental booking platform that I have used many times myself and can highly recommend.
Let's take a peek inside Charlevoix's Mushroom Houses!
1. Thatch House
Sleeps: 2-14
The Thatch House is the most recognizable of all 28 Mushroom Houses, with its signature swooping thatched roof. It's located right on the corner of Park Avenue, overlooking Lake Michigan Beach Park, so it's also the most centrally located Mushroom House!
The Thatch House was originally designed by Earl Young, as you can tell with its stone walls (interior and exterior!), wood floors, and chimney. The thatched roof itself, though, was actually designed and built by Michael Seitz, a South African architect and the current property owner. Would Earl Young have approved of the fairytale thatched roof? Ehhh, probably not (he was a stickler for his own precise style). But I certainly think it's adorable!
The house itself is massive, with six bedrooms and five and a half baths. At capacity it fits 14 people (and the price reflects that).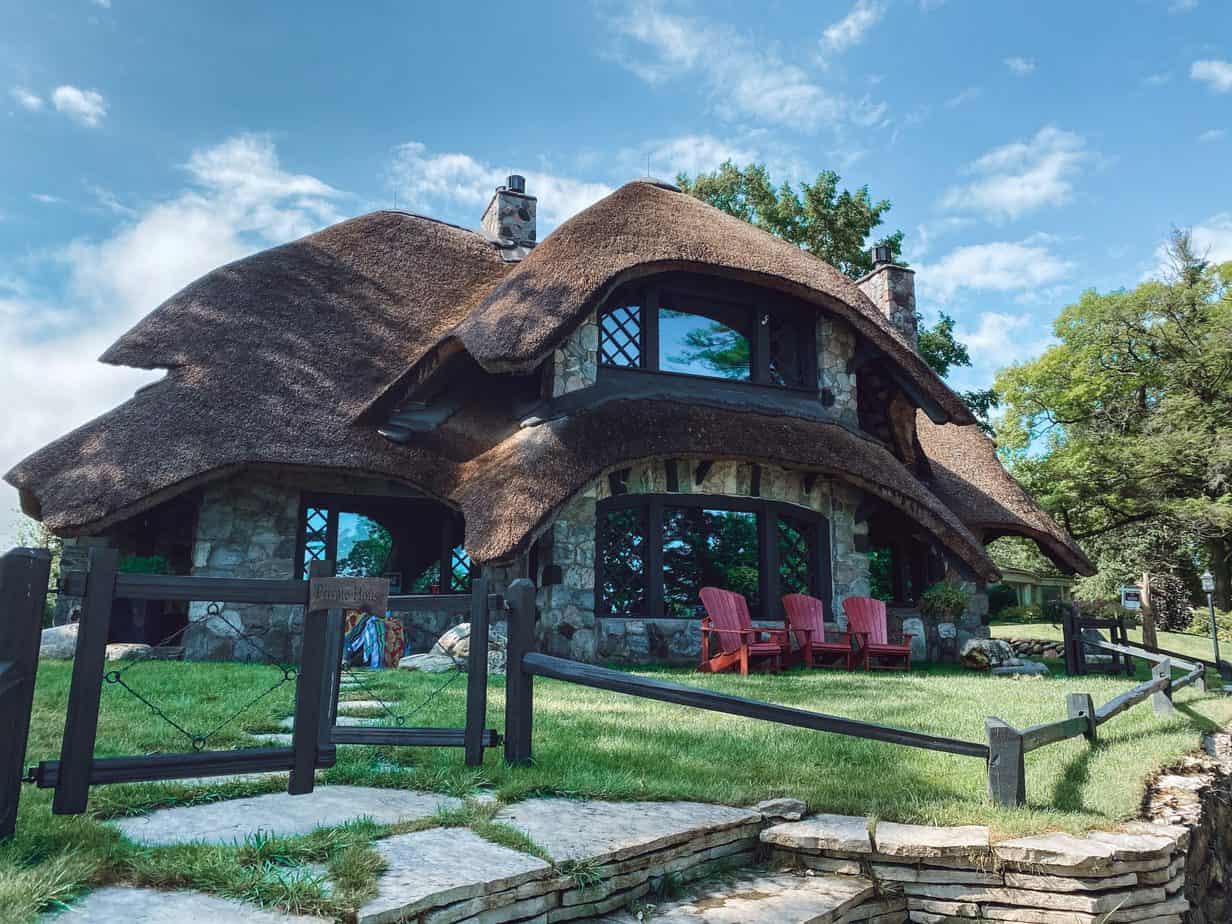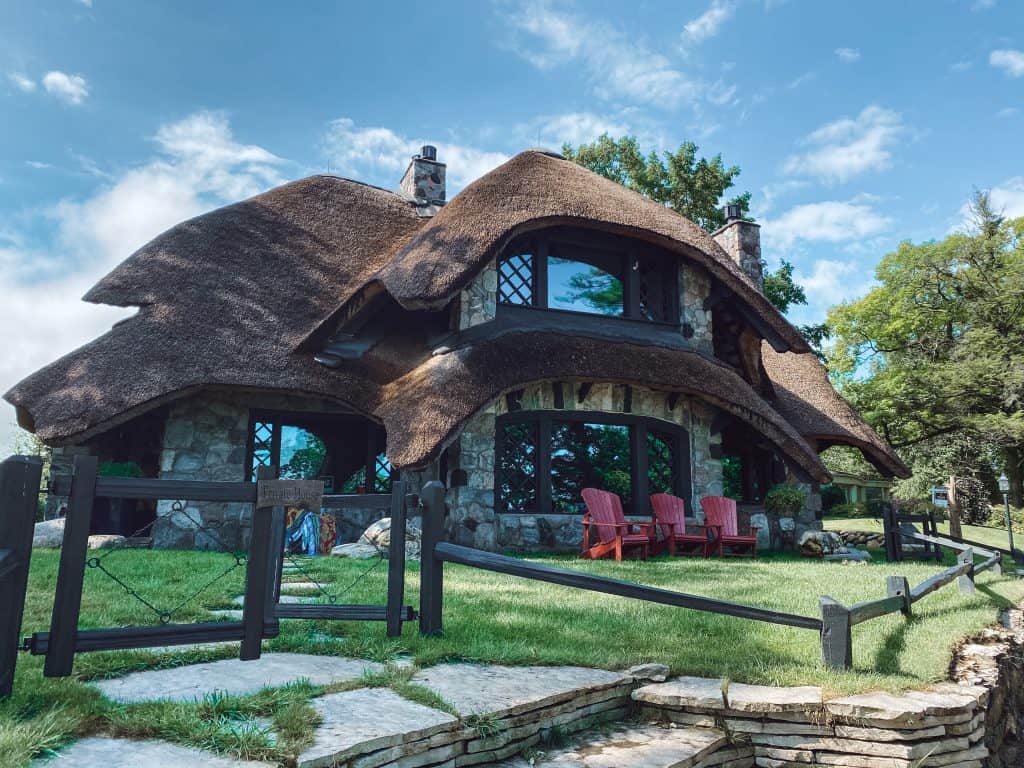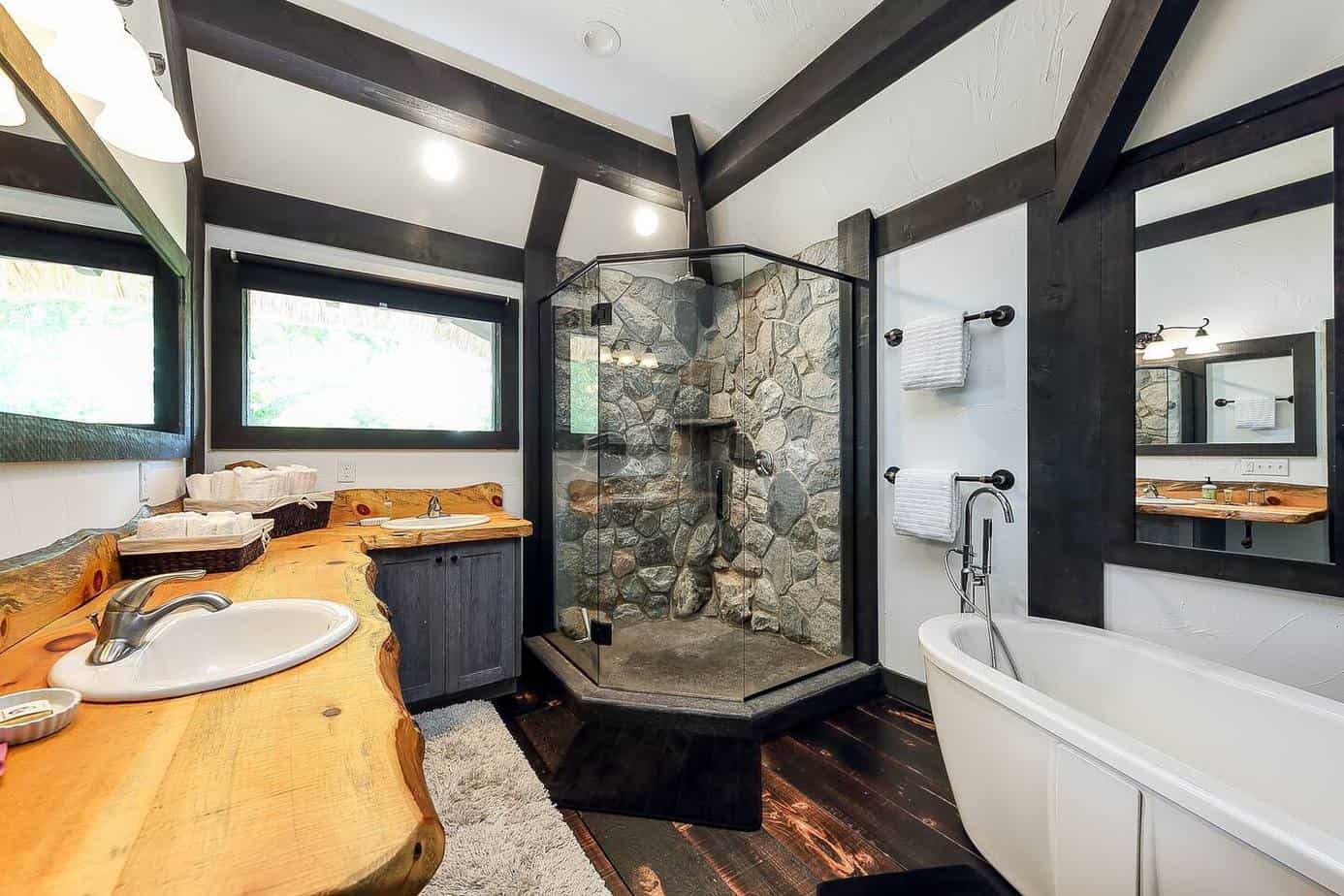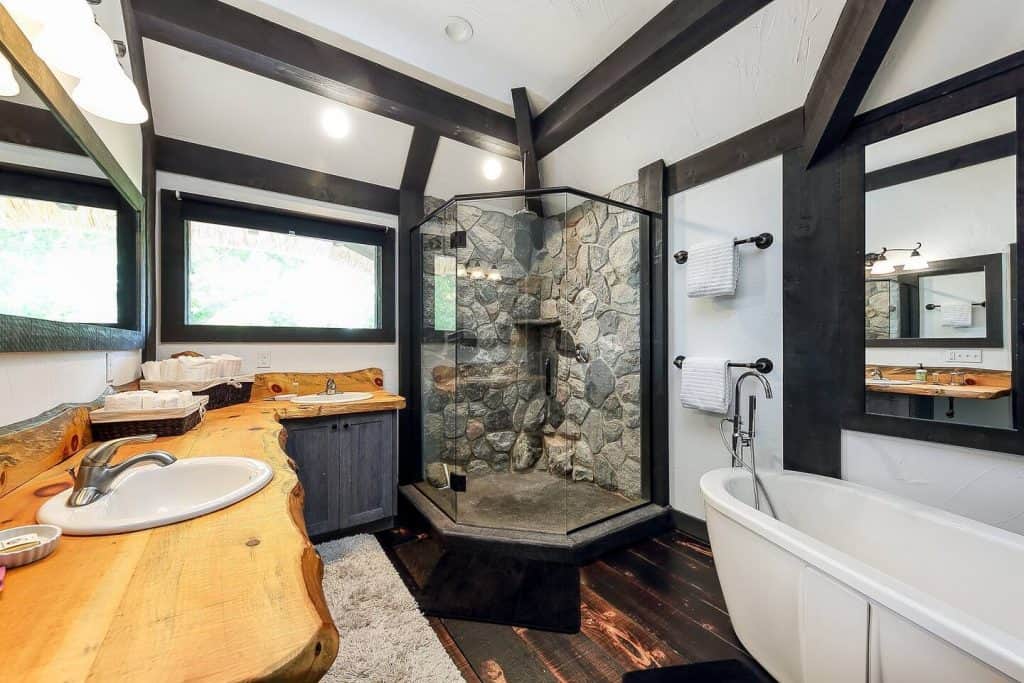 2. The Chalet​​​​​​​
Sleeps: 5
The Chalet is super unique. It is actually a tiny house that is built under the same sloping thatch roof as The Thatch House (above). Don't worry, though – it has a private entrance and the entire rental is just for your booking! It's also owned by Michael Seitz, who remodeled the house in recent years.
What The Thatch House has in spaciousness, The Chalet makes up for with its efficiency and whimsicality (and lower price point!).
There are two bedrooms – the first is a King suite which is perfect for a couple's getaway. There's a second bedroom with two twin beds, accessible in the loft with a cute library ladder.
The stonework and wood carved bar, counters, and stools make this place carry the 'Mushroom House' vibes indoors as well as out!
Related: 19 Tiny Houses in Michigan You Should Stay in on Your Next Vacation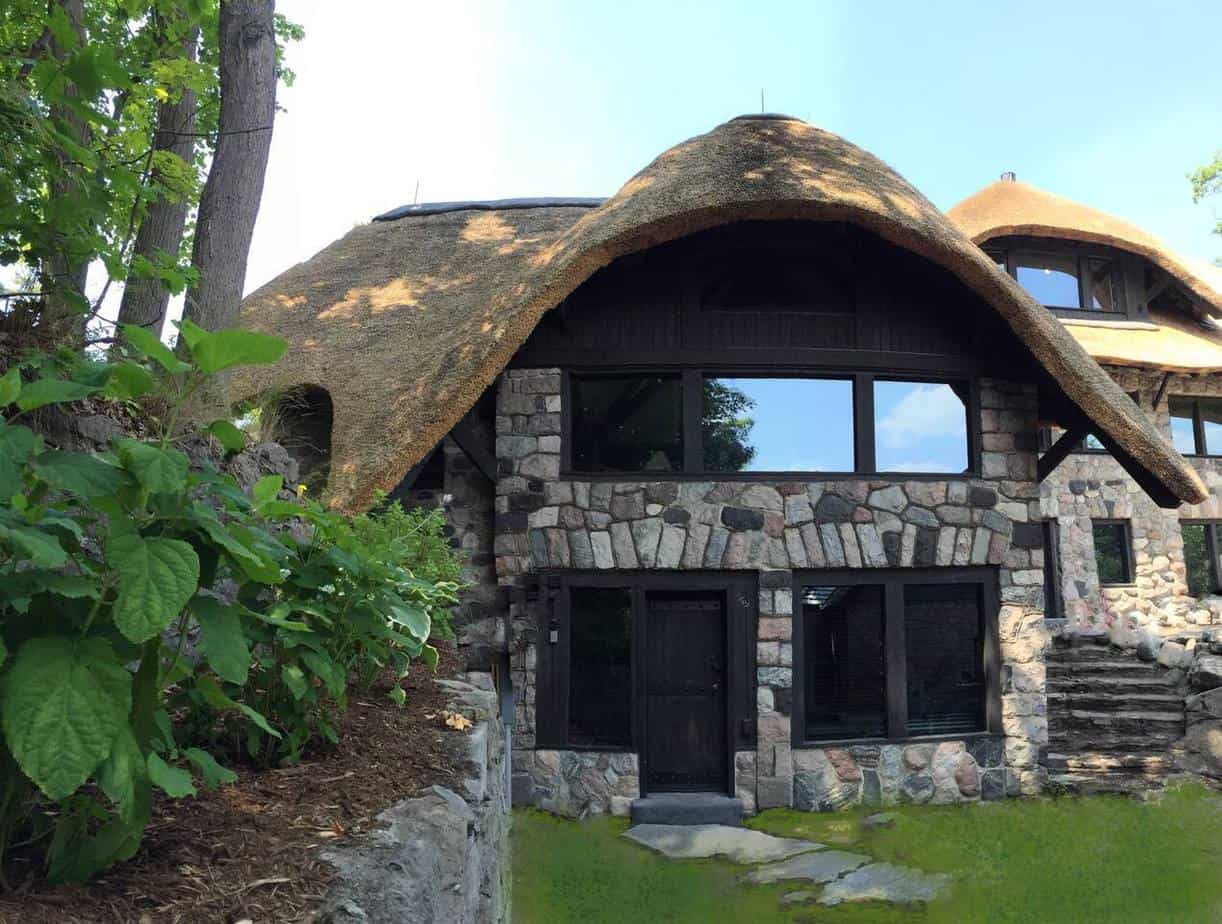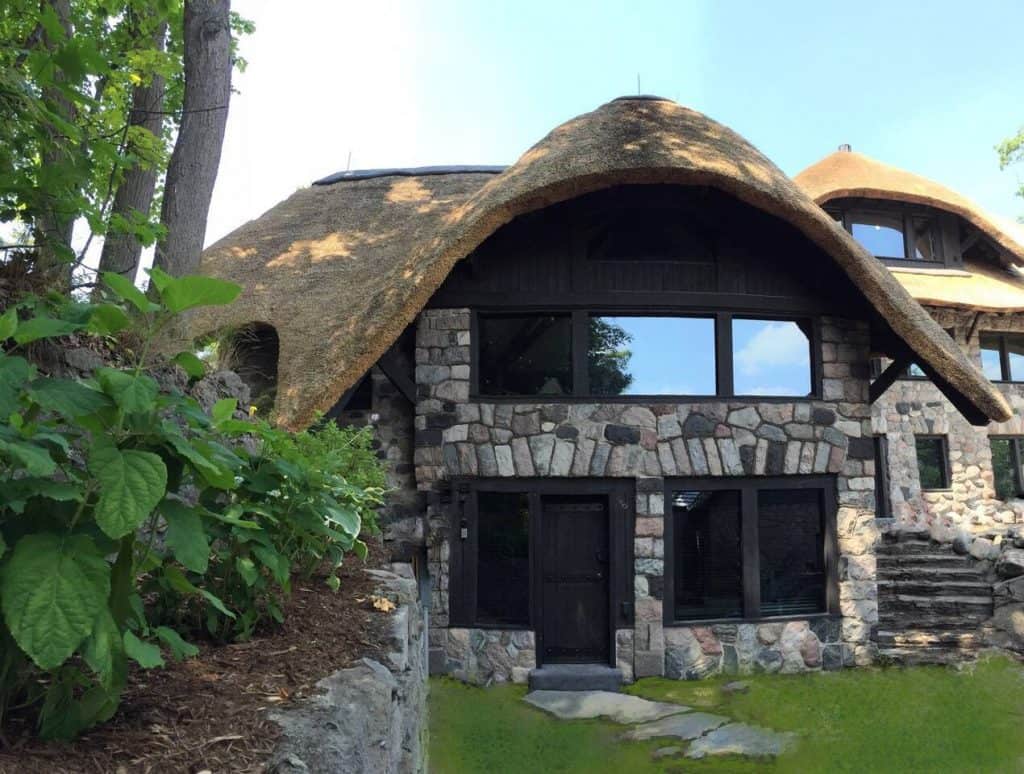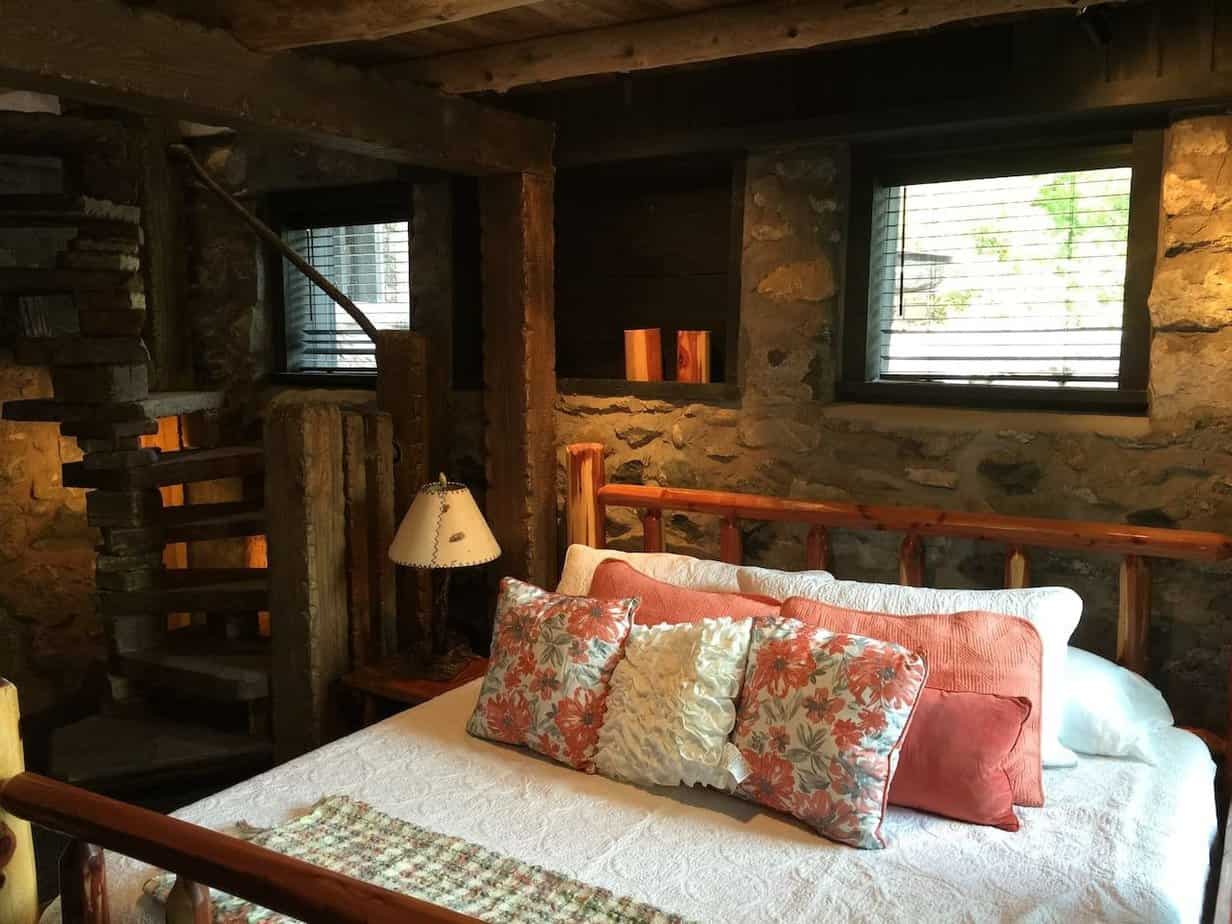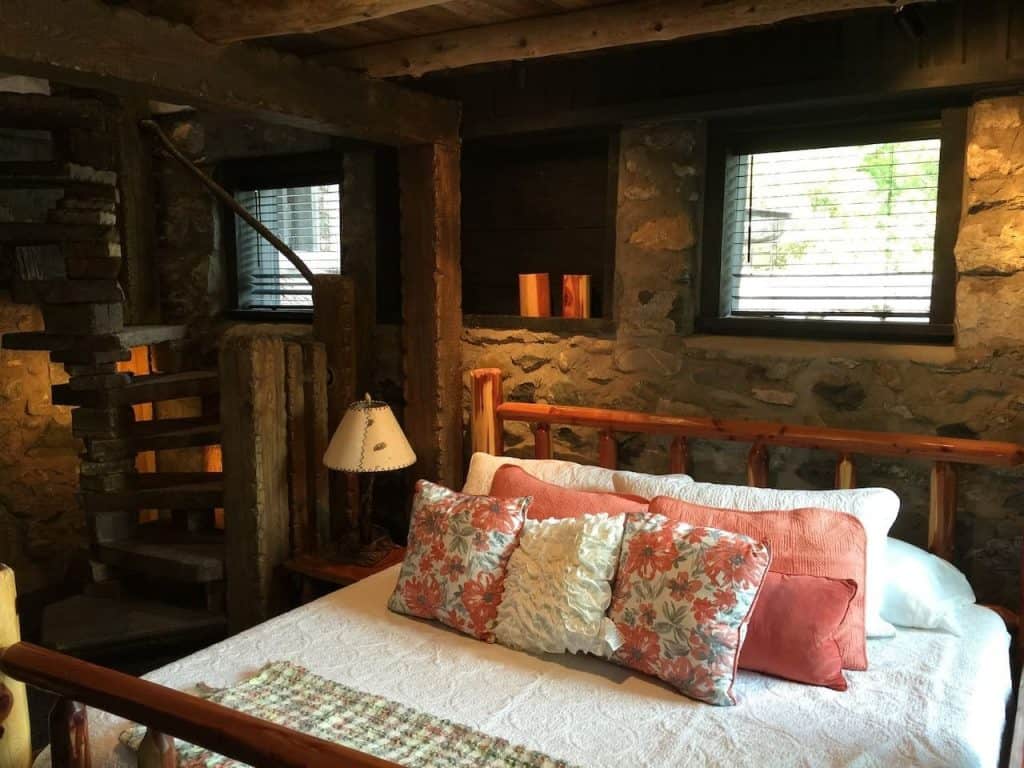 3. Applecore Cottage
Sleeps: 10
Applecore Cottage is sweet, cozy, and will make you feel like you wandered into an English fairytale book. It's considered one of the 'Mushroom Houses,' but was actually built by Earl Young's daughter, Virginia, who was also an architect and worked in Young's signature style.
The Applecore Cottage has a tudor exterior, instead of stone, but maintains the classic wavy and whimsical cedar shake roof. It also sits on about two acres, the largest property of the Mushroom Houses, which turns colorful with the Northern Michigan fall foliage.
It has three bedrooms, two of which have King beds and the third which has two bunk beds (perfect for families!). You'll also have three bathrooms, a lovely kitchen, and a peaceful loft with Virginia's original desk and window seat.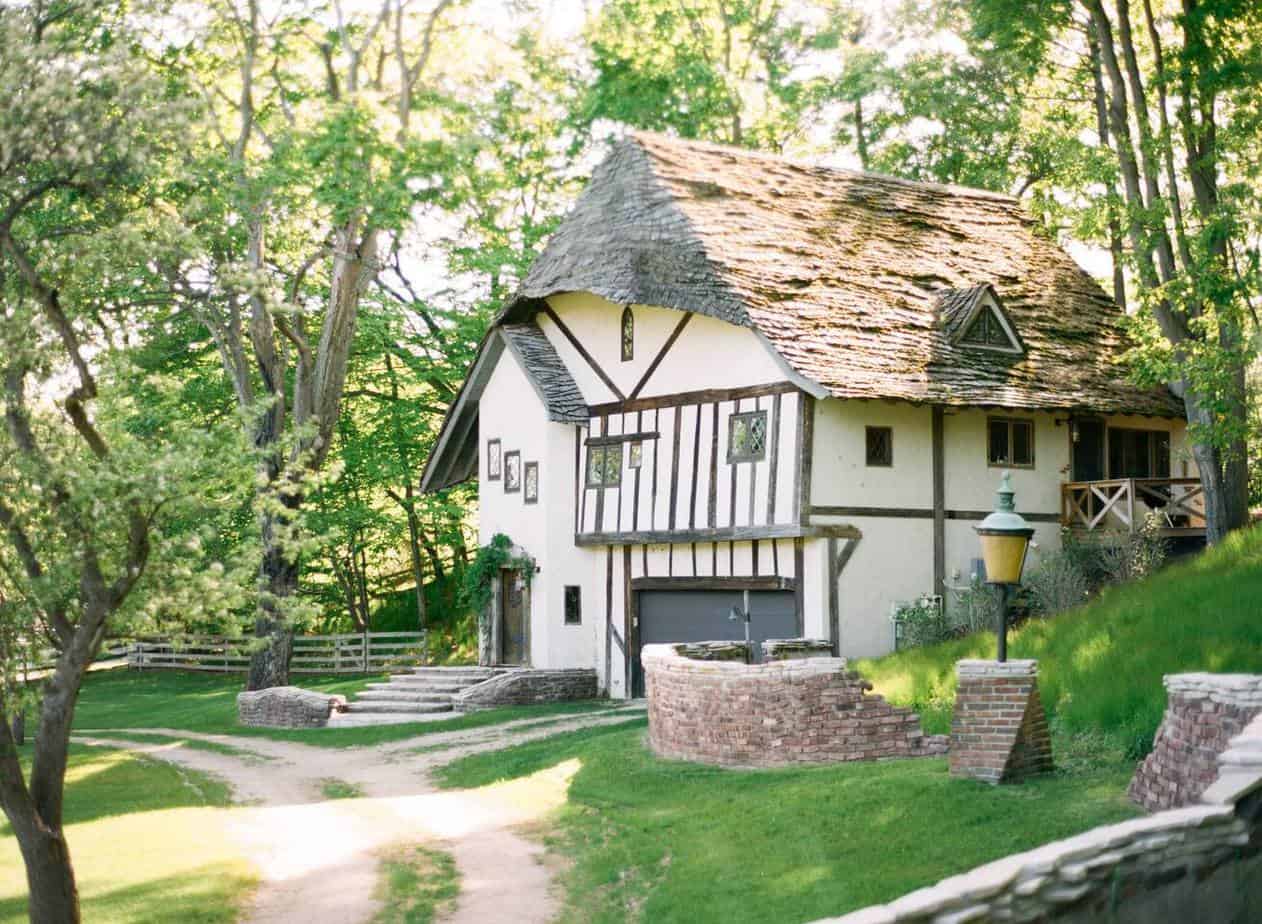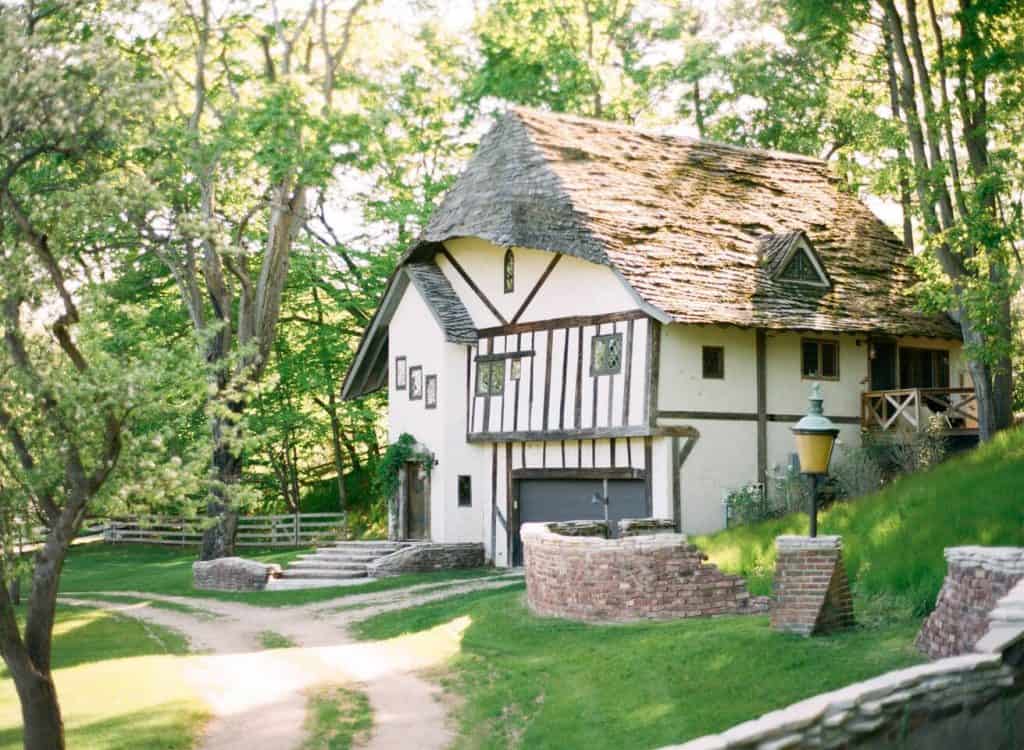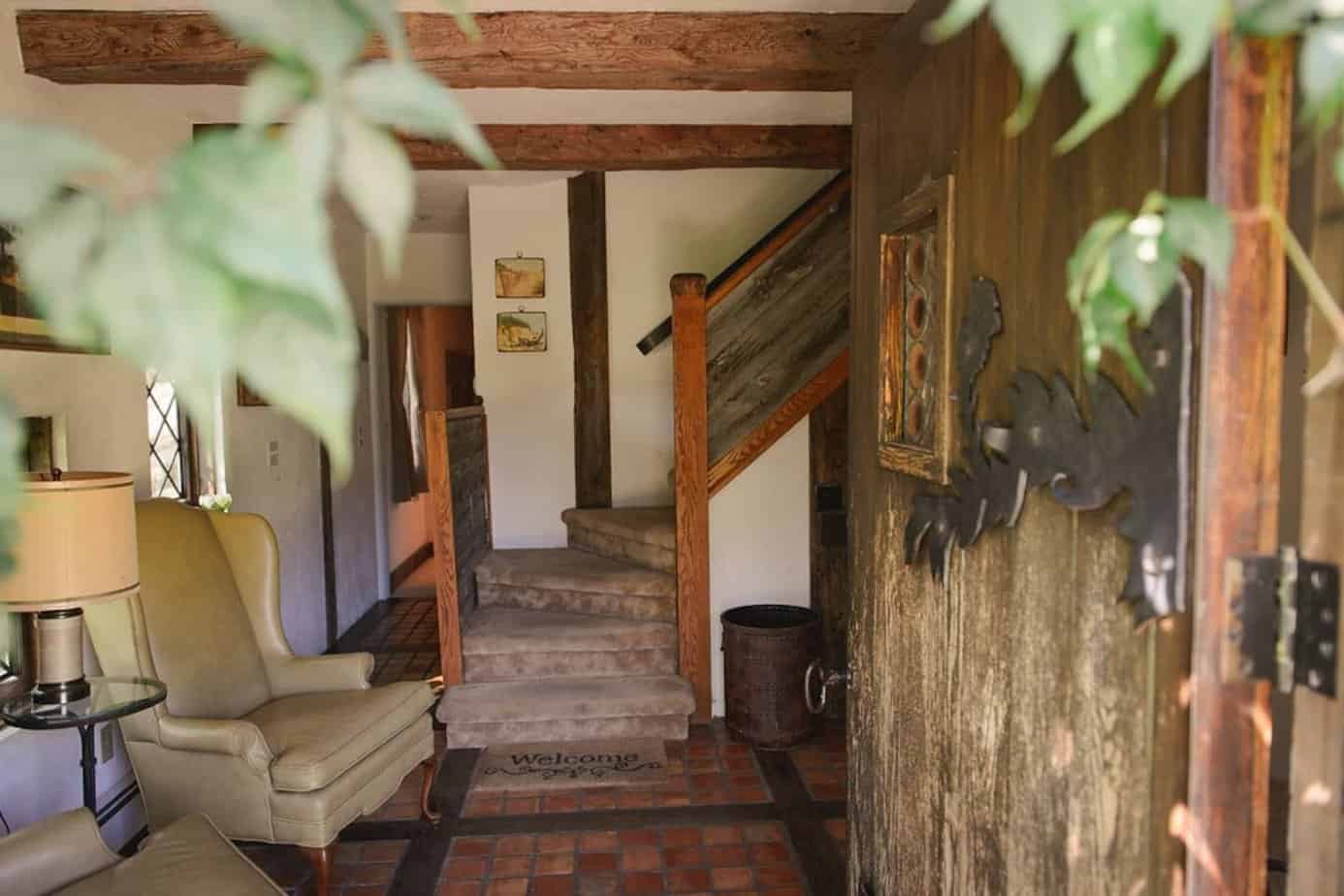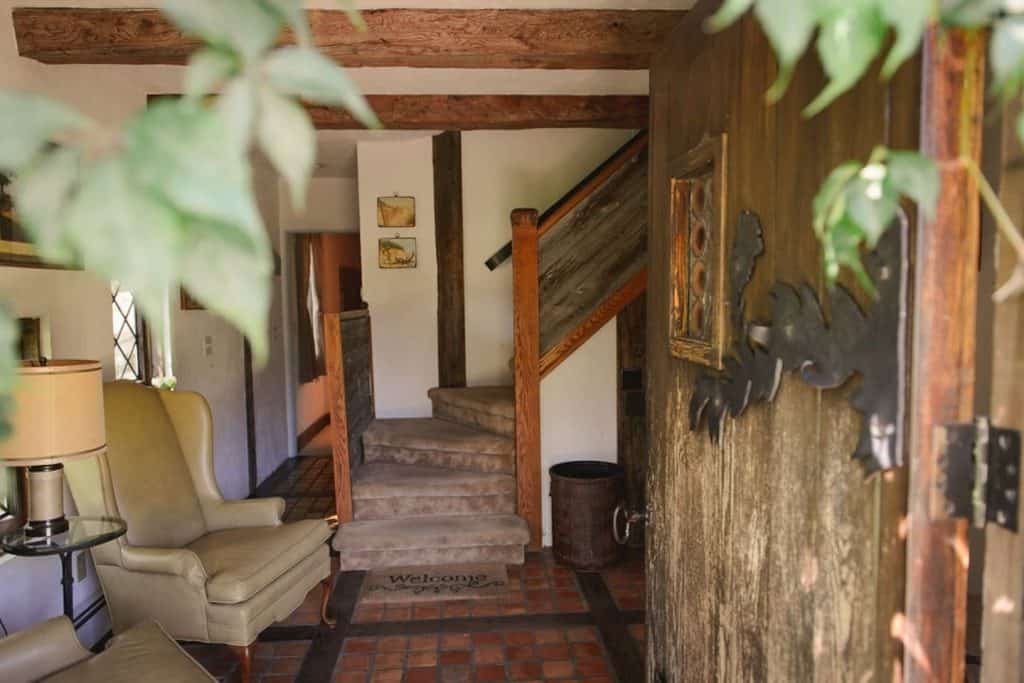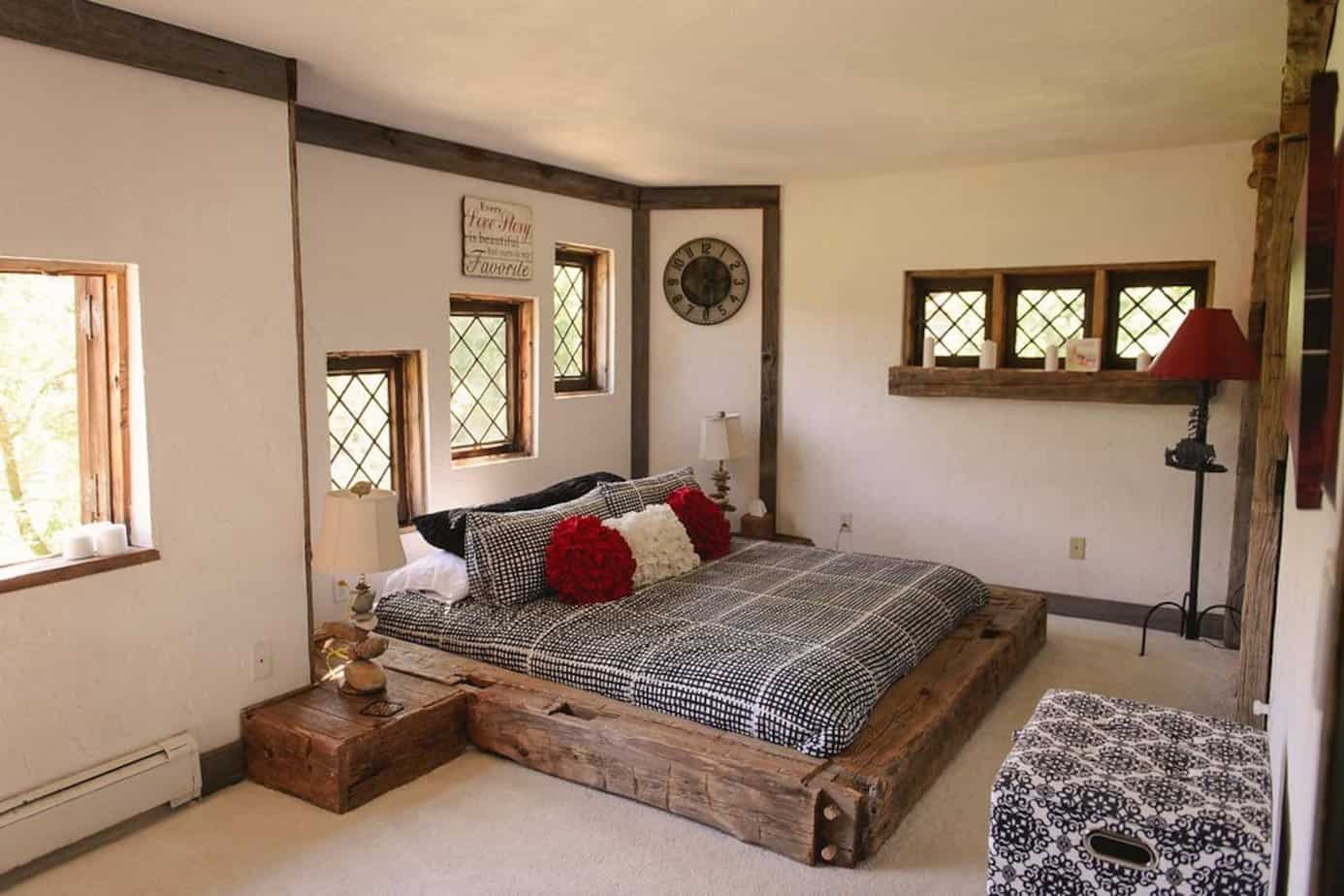 4. The Cottage
Sleeps: 7
The Cottage was built in the 1800s and Earl Young did a major remodel of it back in 1918. It is located directly behind The Thatch House, and also owned by Michael Seitz (the fourth Mushroom House to complete his collection).
It looks a little different from the other Mushroom Houses but still has many of Earl Young's signature techniques – like a cedar shake roof, and rope mortar between its stone exterior.
Just two blocks from Lake Michigan, and a few blocks from Bridge Street and downtown Charlevoix, it has a great location. It also has four bedrooms and two bathrooms, making this a great rental for a family getaway or reunion.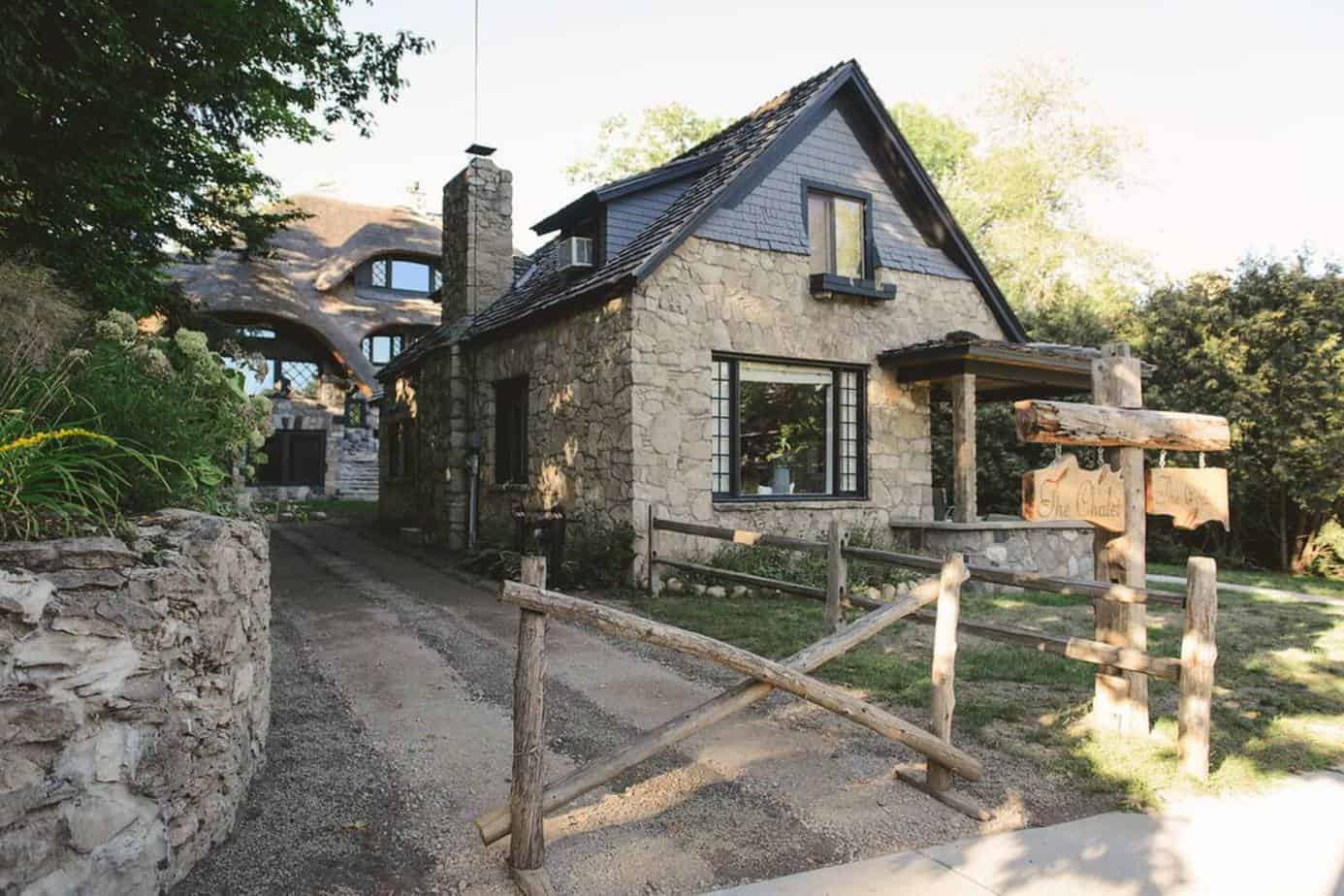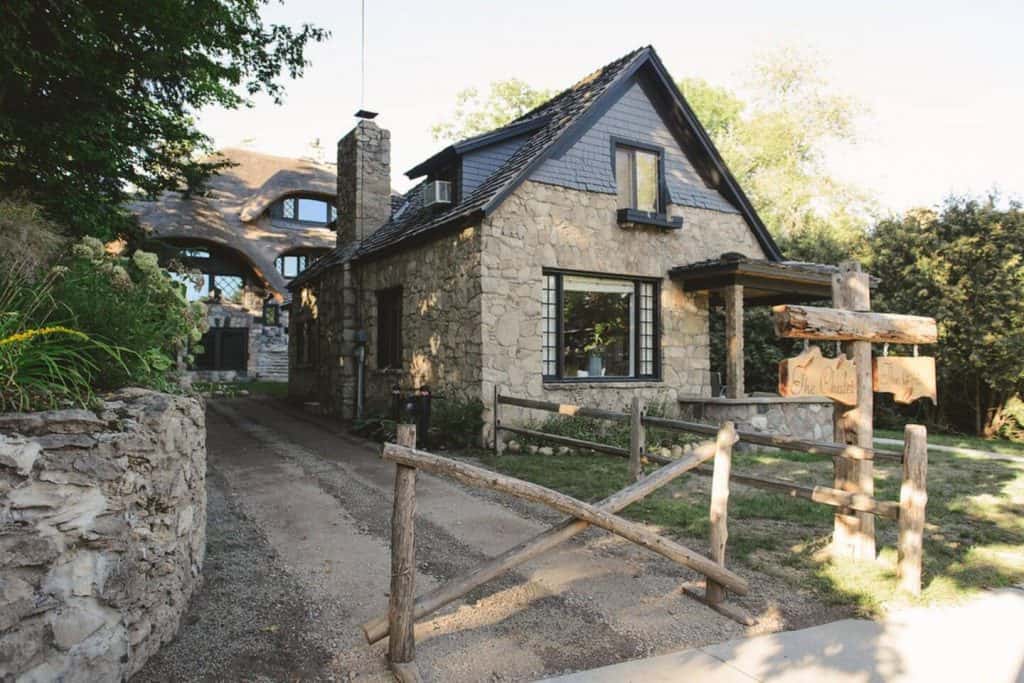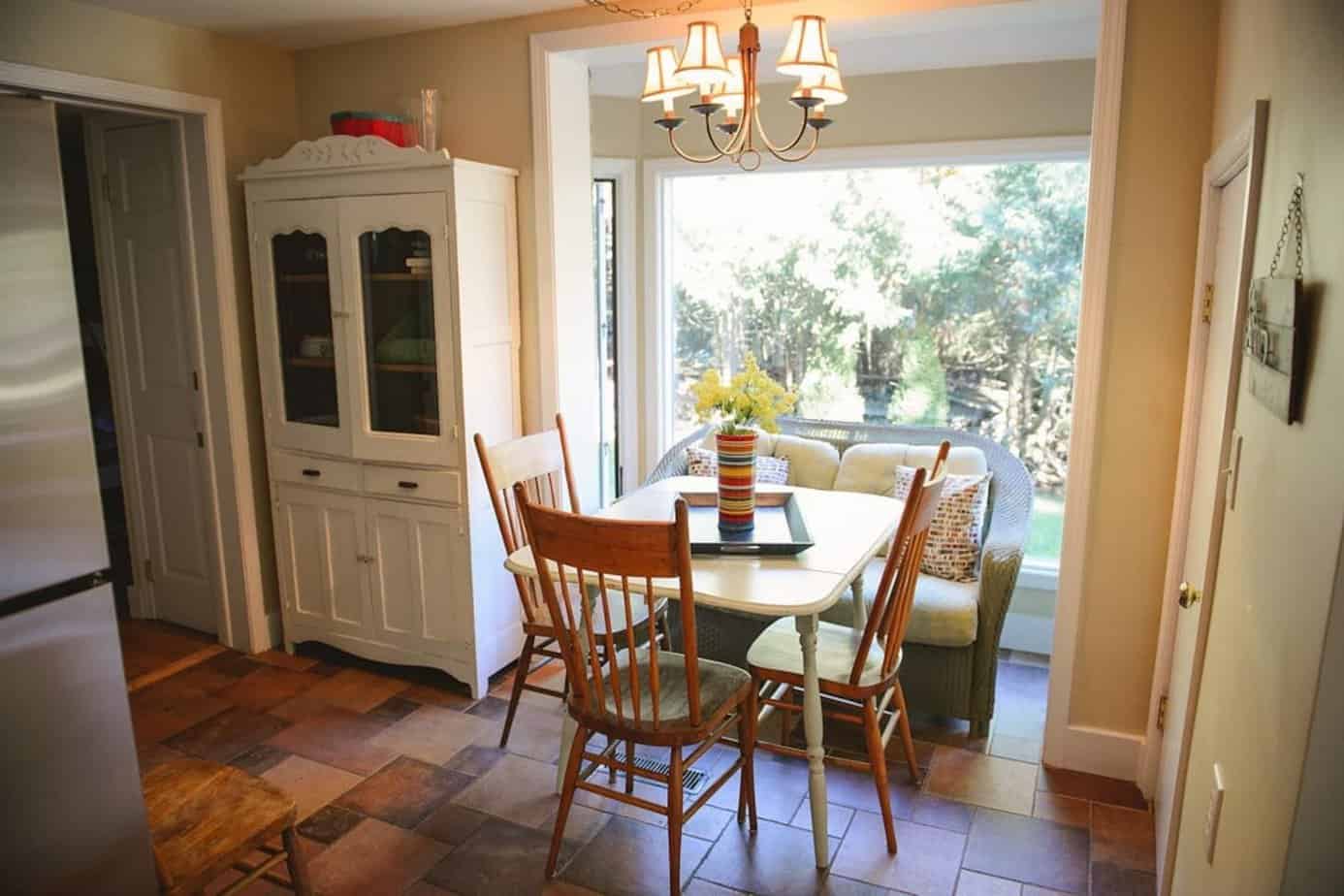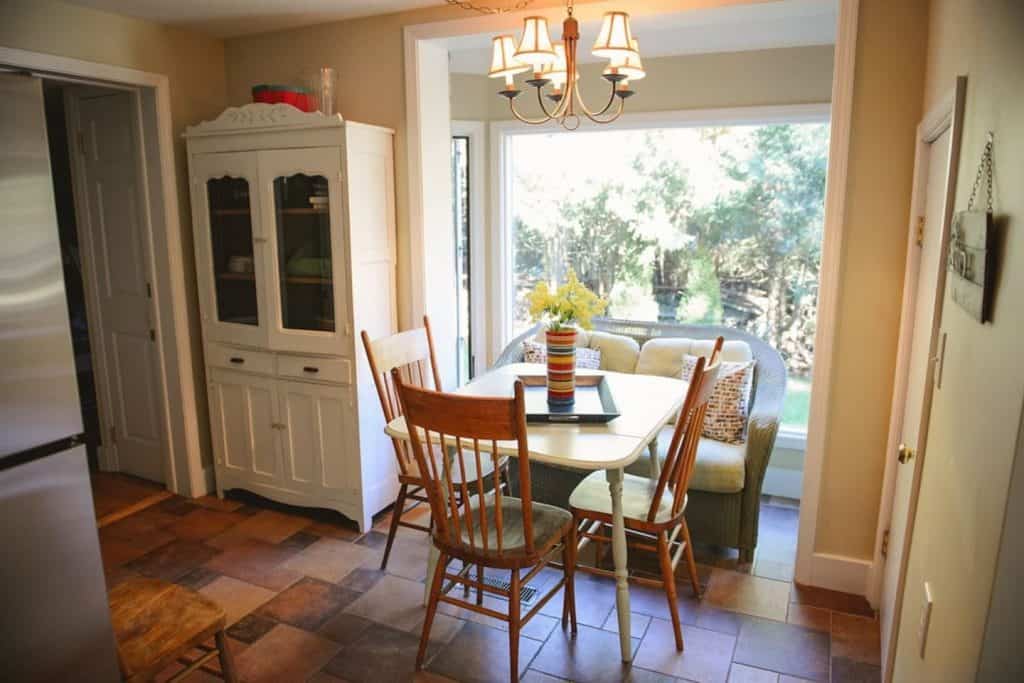 5. The Half House
Sleeps: 4
Aww, the Half House! I'll be honest – this is my personal favorite of all the Charlevoix Mushroom Houses. It's a quaint stone cottage with Young's classic cedar shake roof.
But… it's cut in half!
There's a funny story behind this house. When Young decided to build this house, the neighbor refused to sell their property to him. So he built this house to look like it was cut in half along the property line!
There are two bedrooms, a fireplace, a full kitchen, and views of Lake Michigan. Plus, this is definitely one of the most affordable Mushroom Houses to stay in.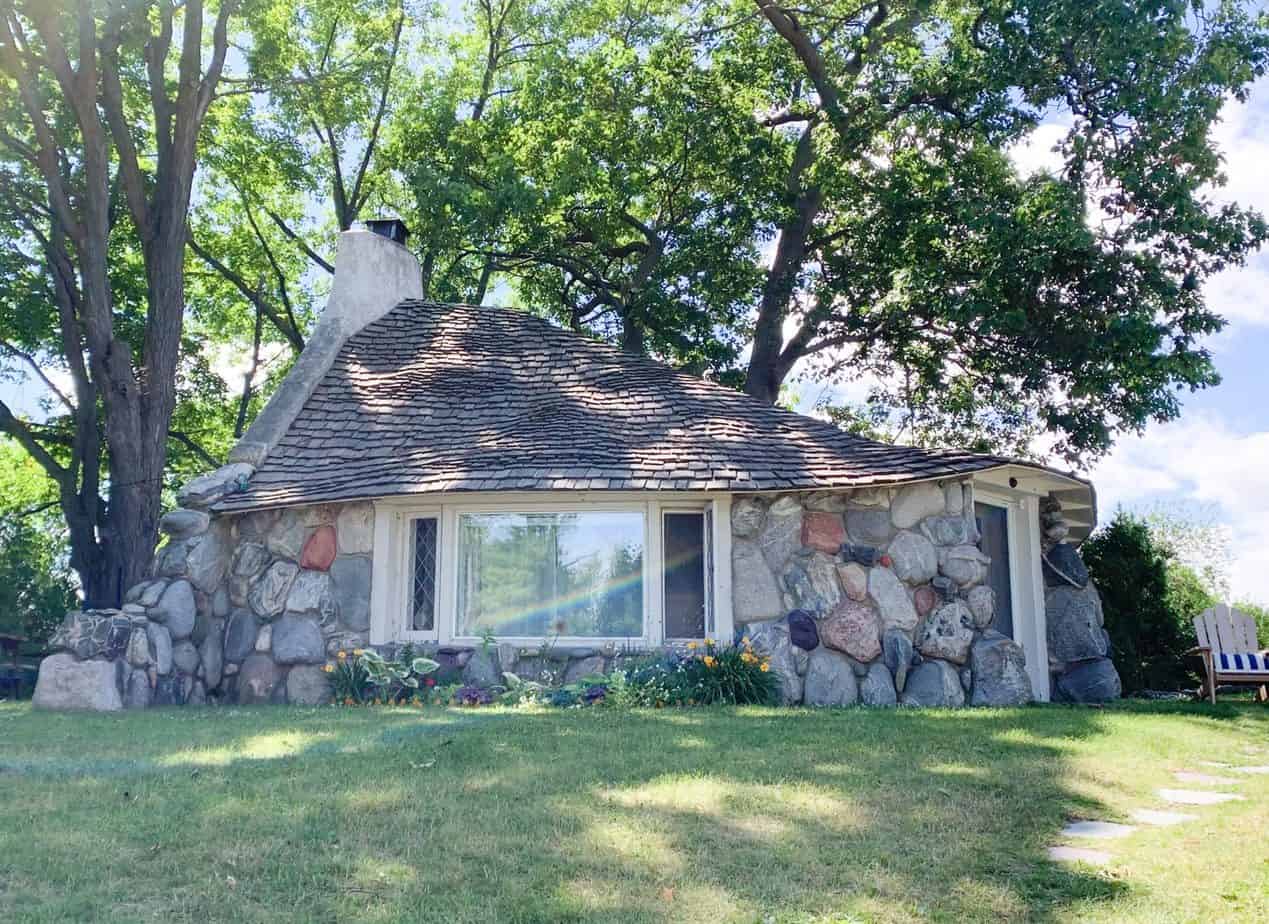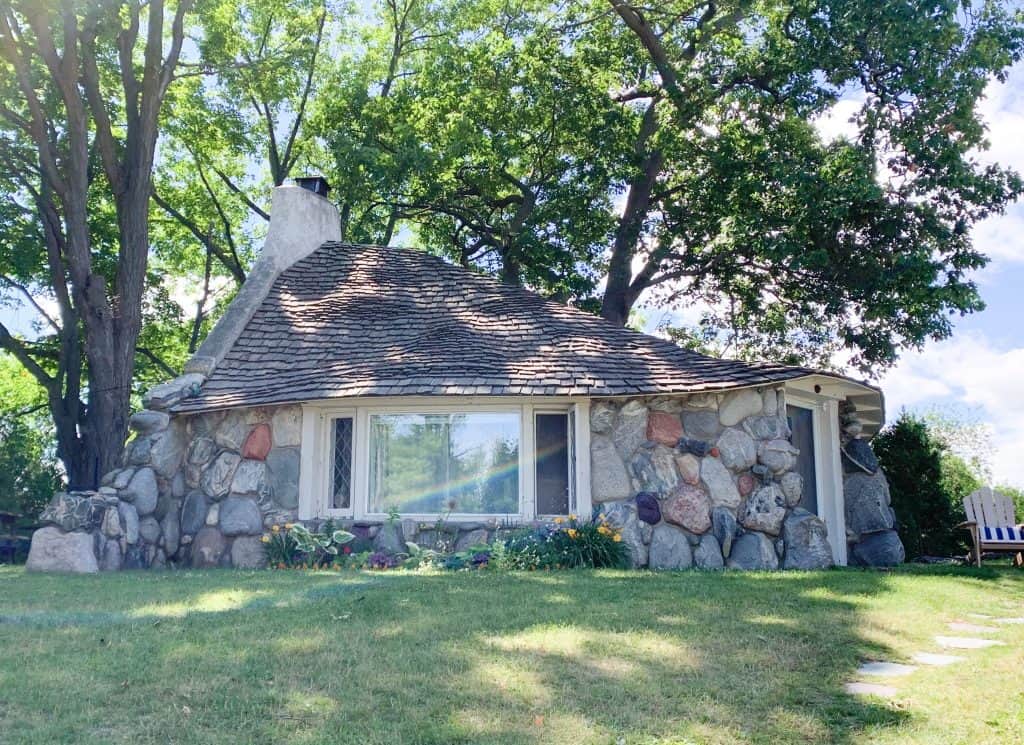 6. Boulder Park Cottage
Sleeps: 4​​​​​​​
The Boulder Park Cottage is the only Charlevoix Mushroom House rental that is directly on Lake Michigan, with gorgeous panoramic views through huge windows. It was built in 1928, so relatively early in Earl Young's career, and is also the only rental available in his historic Boulder Park neighborhood.
What is Boulder Park? Earl Young dreamed of making an entire village of fairytale stone houses. He bought the property and named it Boulder Park, but unfortunately had to sell large swaths of it during the Great Depression. Today, the neighborhood is peppered with his architecture (and modern-day copycats).
The Boulder Park Cottage is built from the signature massive Lake Michigan boulders, and the interior has stone accents and quaint open beams. The house has two bedrooms (a King and Queen), a huge kitchen, fireplace, flat screen TVs, a jacuzzi tub, and a six-person hardwood table.​​​​​​​​​​​​​​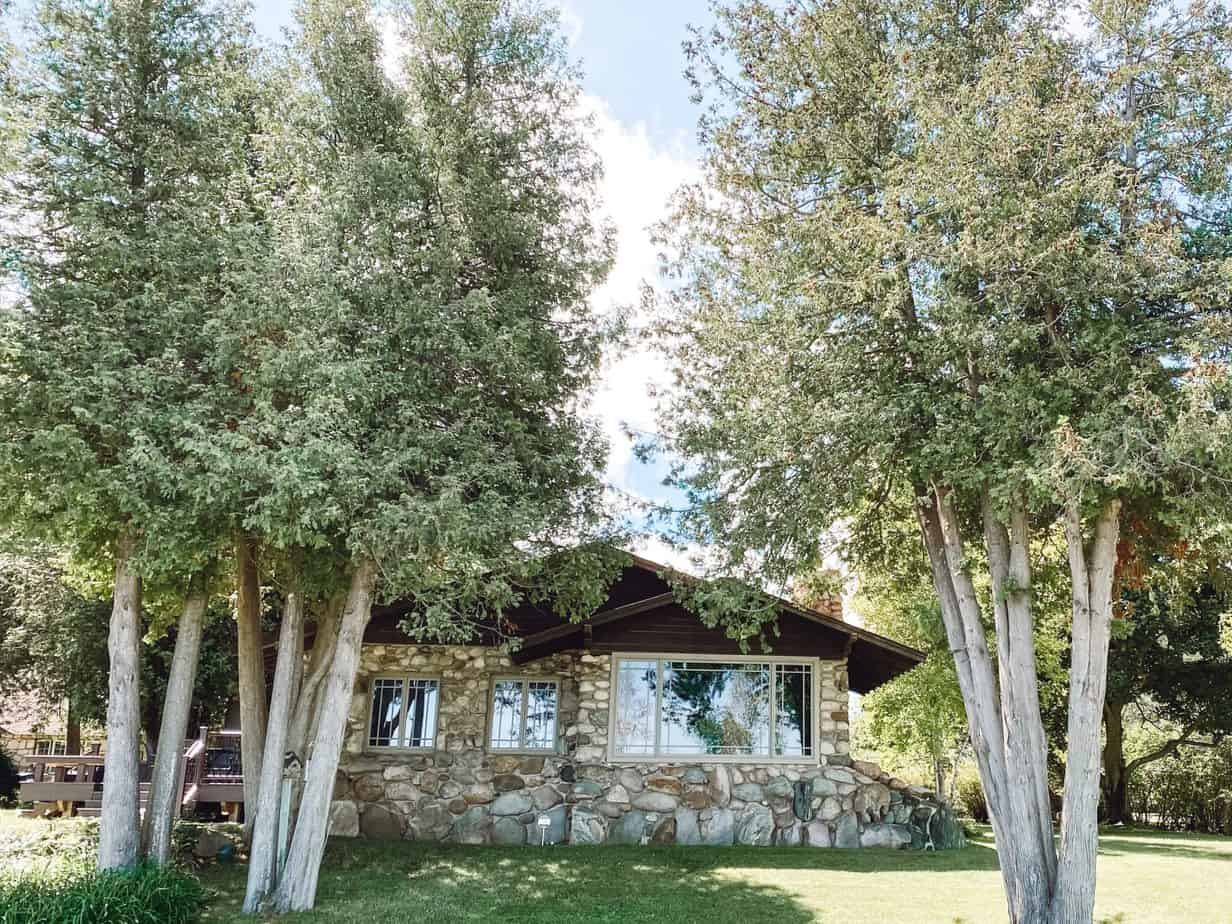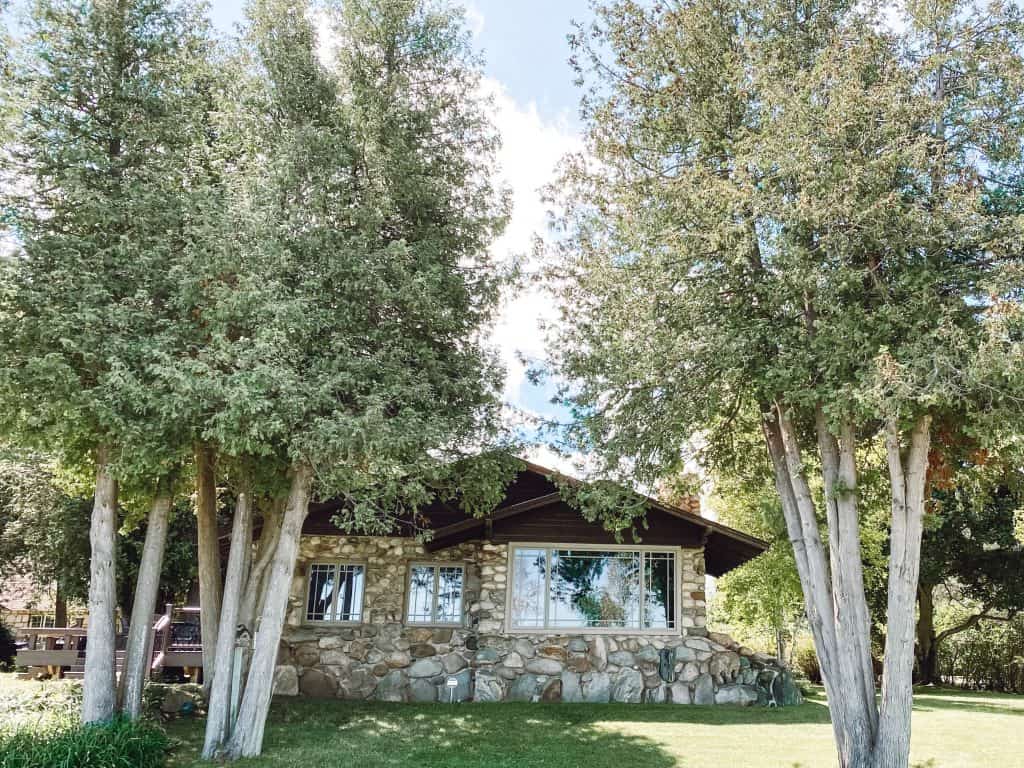 Can't stay overnight? Go on a Charlevoix Mushroom House tour!
If you can't stay in one of the Mushroom Houses on your next trip to Charlevoix… don't worry! There are definitely still ways to experience these magical homes. We went on the Charlevoix Mushroom House tour, and I couldn't recommend it more to anyone visiting Charlevoix.
In fact, TripAdvisor ranks it as the #1 thing to do in Charlevoix! In total, the tour is about an hour. You meet on Bridge Street in downtown Charlevoix, and board a  GEM car (which is kind of like a long golf cart, if you haven't used one before). Then, you drive around all 28 Mushroom Houses with Edith Pair, who's an absolute expert in Earl Young and each of these houses.
It was one of our favorite things to do in Charlevoix. Honestly, even if you're staying in one of the Mushroom Houses above, I'd definitely still recommend going on the full tour.
Book your Mushroom House tour here
So the only question now is… which Mushroom House do you choose?!
Check out my other Northern Michigan blog posts:
A Complete Guide to The Grand Hotel on Mackinac Island
10 Best Old Mission Peninsula Wineries
Michigan Dog Sledding with Nature's Kennel
Gluten Free Traverse City Guide
Gluten Free Mackinac Island Guide
And don't forget to check out my complete Michigan Bucket List with 50+ things to do all around the state!
Pin it for later…
[su_row][su_column]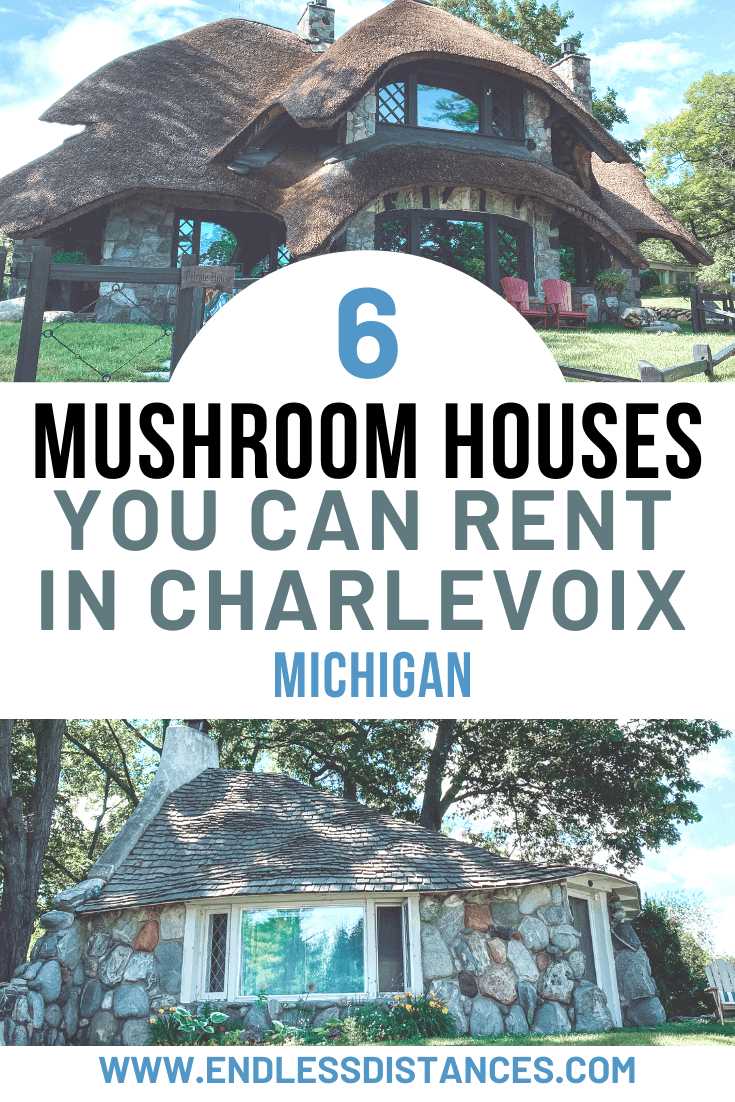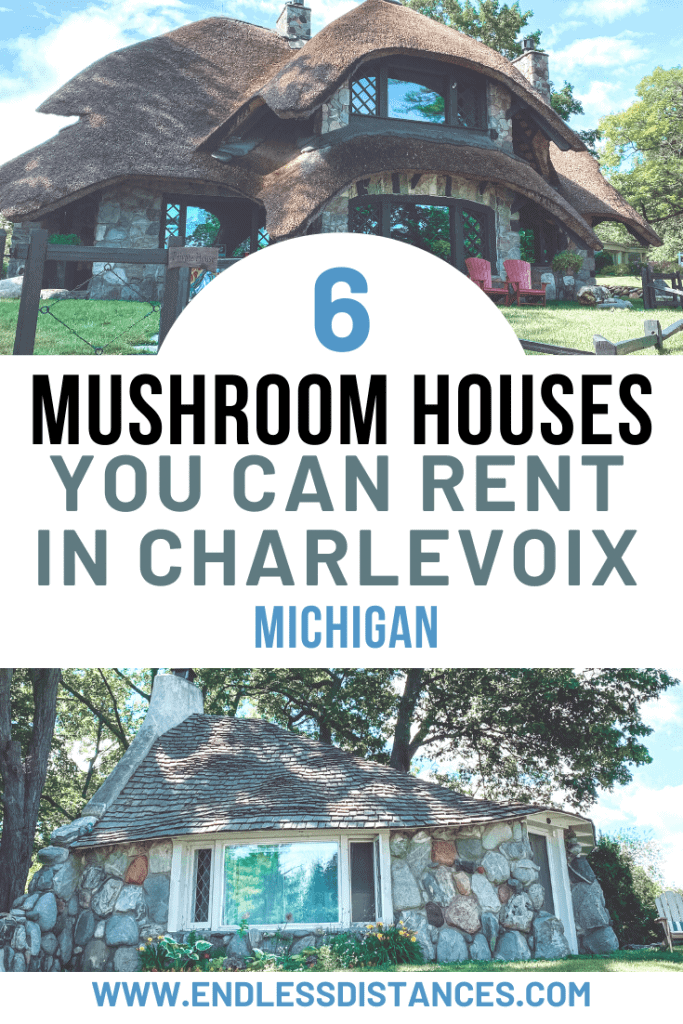 [/su_column][su_column]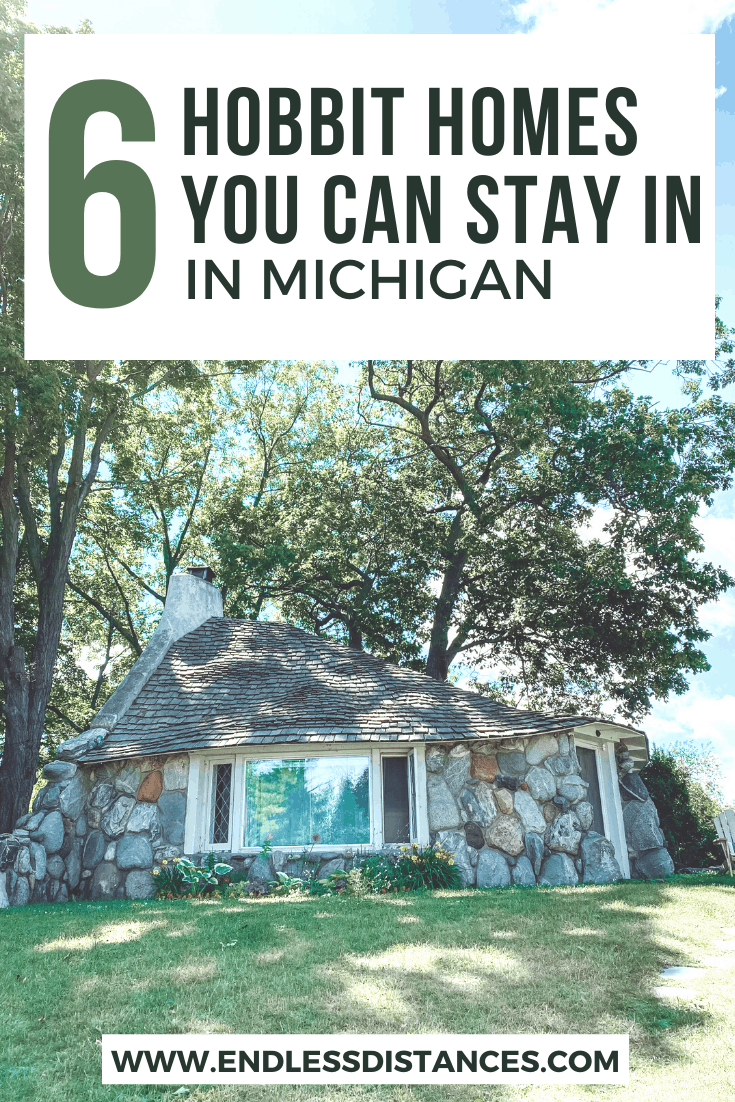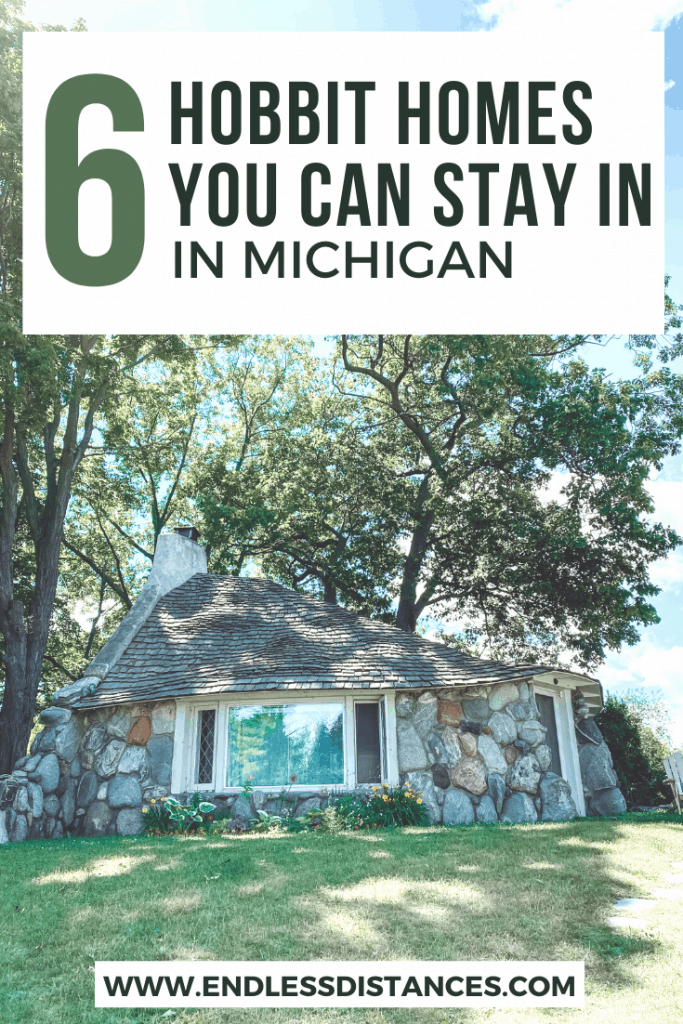 [/su_column][/su_row]