Gluten Free Charlevoix Michigan Restaurants: A Complete Travel Guide
Looking for gluten free Charlevoix Michigan options? I've got you covered with this blog post, after my most recent trip to Charlevoix – a gorgeous town tucked along Northern Michigan's Lake Michigan shores.
I have all these fond memories of childhood summer vacations in Charlevoix – playing on the sandy Lake Michigan beaches, splashing in Lake Charlevoix, watching the blue drawbridge open, trawling through the sand for Petoskey stones, and so much more.
This was my first time back in the nine years I've been gluten free, though, so I was interested to see if I had as pleasant an experience this time around.
I'm not gonna lie. The gluten free Charlevoix scene is patchy, and it takes some digging to not only find restaurants that have gluten free options, but knowledge of cross contact. Saying that, I ate very well in Charlevoix: gluten free crepes, gluten free ravioli, gluten free avocado toast, gluten free tacos and freshly fried corn tortilla chips… and more!
Hopefully with this guide, you'll also have a great time eating in Charlevoix.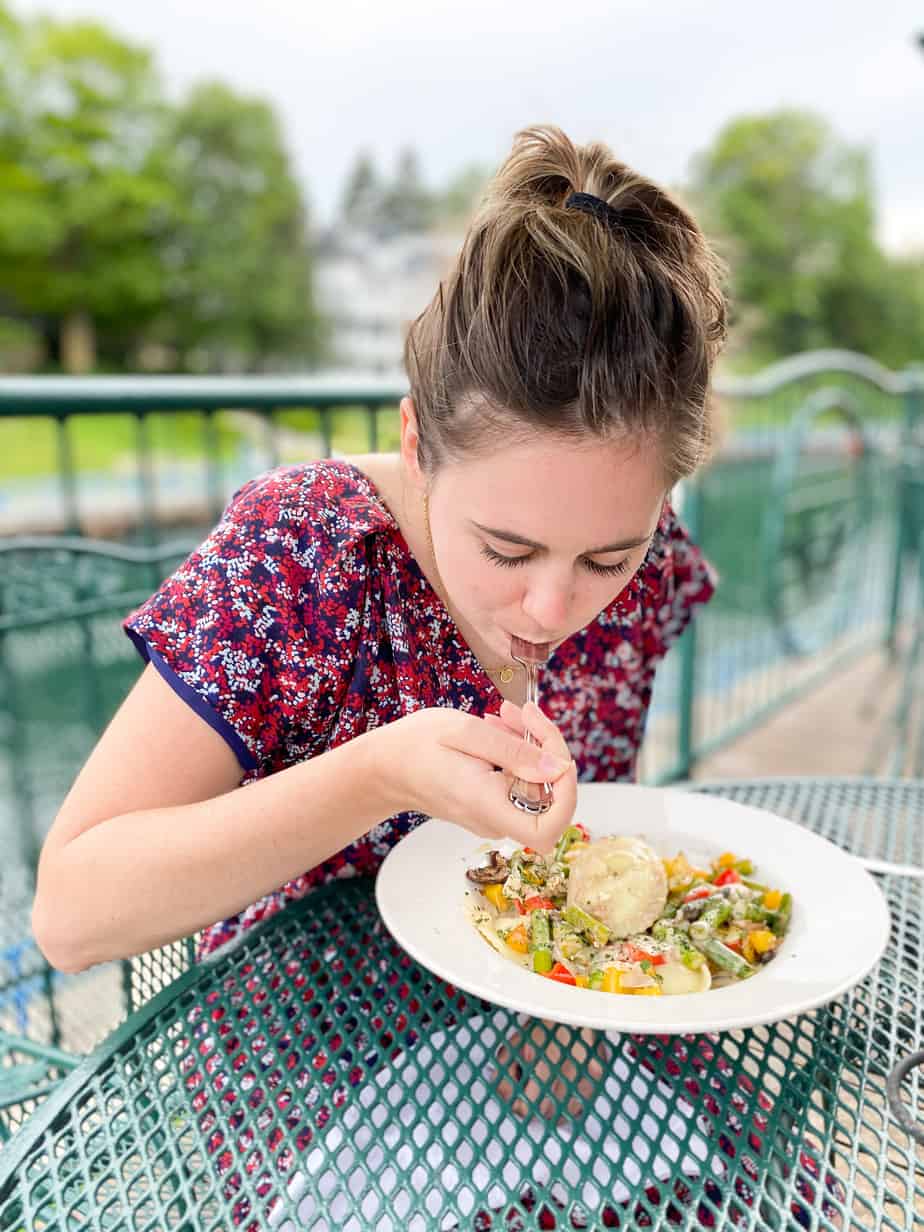 Where to stay in Charlevoix Michigan if you are gluten free
If you've read my other gluten free travel guides, you know that I believe choosing the right accommodation is really important to stress free gluten free travel.
Here are some places I recommend staying in Charlevoix, based on location (close to my recommended gluten free restaurants), and amenities (like kitchens and mini fridges).
Weathervane Terrace Inn & Suites
Weathervane Terrace Inn & Suites is where we stayed on our most recent trip to Charlevoix and it is the perfect location – a 1 minute walk to downtown, and you can even see the harbor and bridge from the hotel! It was built by Earl Young, who is a famous Charlevoix architect who also designed the iconic mushroom houses.
Besides being so close to all the gluten free restaurants I mention below, our room also had a full kitchen, mini fridge, and even a dining area. Perfect for gluten free travelers!
[su_button url="https://www.hotelscombined.com/Hotel/Weathervane_Terrace_Inn_and_Suites.htm?a_aid=200159″ target="blank" background="#007b92″ center="yes"]Book here[/su_button]
[su_button url="https://tidd.ly/2X6eSBg" target="blank" background="#007b92″ center="yes"]Check reviews here[/su_button]
Airbnb
If you'd prefer a home rental to a hotel, then Airbnb is a great option for gluten free travelers. Choose a property with a full kitchen and fridge if you feel more comfortable cooking your own meals. Below are some of my top picks in Charlevoix!
Dedicated gluten free Charlevoix Michigan restaurants
Unfortunately there are NO 100% gluten free restaurants in Charlevoix… yet. I think a dedicated gluten free bakery or cafe would be a great addition to the community, so I hope someone moves on this gap in the market!
However, there is a wonderful 100% gluten free bakery called Third Coast Bakery just an hour away in Traverse City. You can read all about it in my gluten free Traverse City guide. This is the only dedicated gluten free establishment in Northern Michigan. In my opinion it's well worth a visit to stock up before you land in Charlevoix.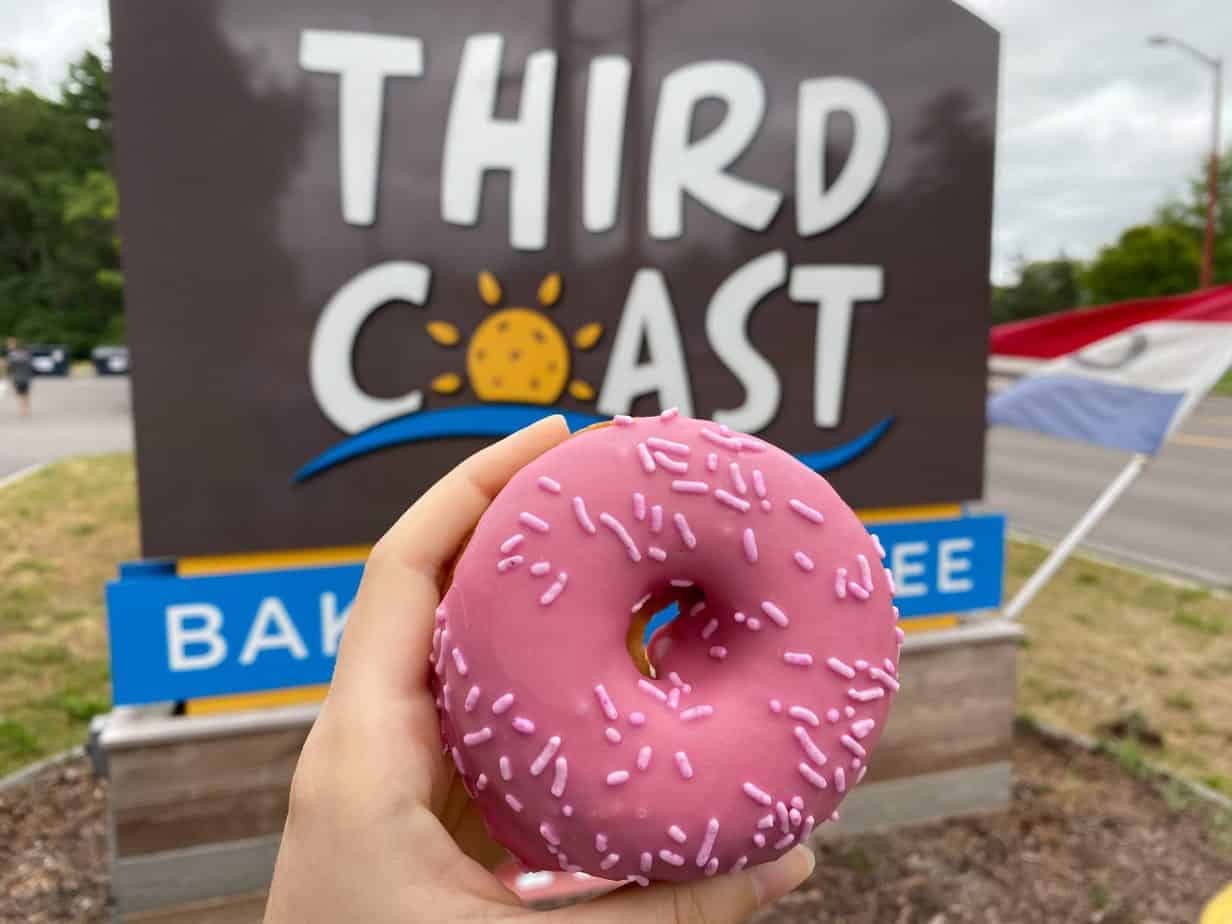 Restaurants in Charlevoix with gluten free options
While there are no dedicated gluten free restaurants, there are still a handful of restaurants in Charlevoix that can provide safe gluten free options. These are six restaurants I've eaten at and had a positive experience – but please read the questions I asked, and be sure to always ask about cross contact when you dine as things may change.
The Cantina
The Cantina is a super colorful, casual Mexican restaurant just off the main drag in Charlevoix. We had some of the best (and cheapest) food of our time in Charlevoix here! I emailed with the owner, Chris Rutkowski, before we ate here and he was extremely helpful.
When we dined, the staff were able to start a new, dedicated gluten free pot of oil to fry my chips in! This only took about 20 minutes and these were some of the best corn chips I've ever had. Be sure to call ahead or ask your server about this when you arrive.
All of the tacos are made with corn tortillas, that are produced in a facility free of any cross contact. I had the sweet potato taco with tequila cherries and pesto and… it was incredible! I'd also highly recommend the margaritas 🙂 The only menu items here that cannot be made gluten free are the flour tortillas (burritos) and the beer battered fish taco.
The Cantina // 101 Van Pelt Pl, Charlevoix, MI 49720
Note: Call ahead and ask if they can start a new gluten free fryer
[su_row][su_column]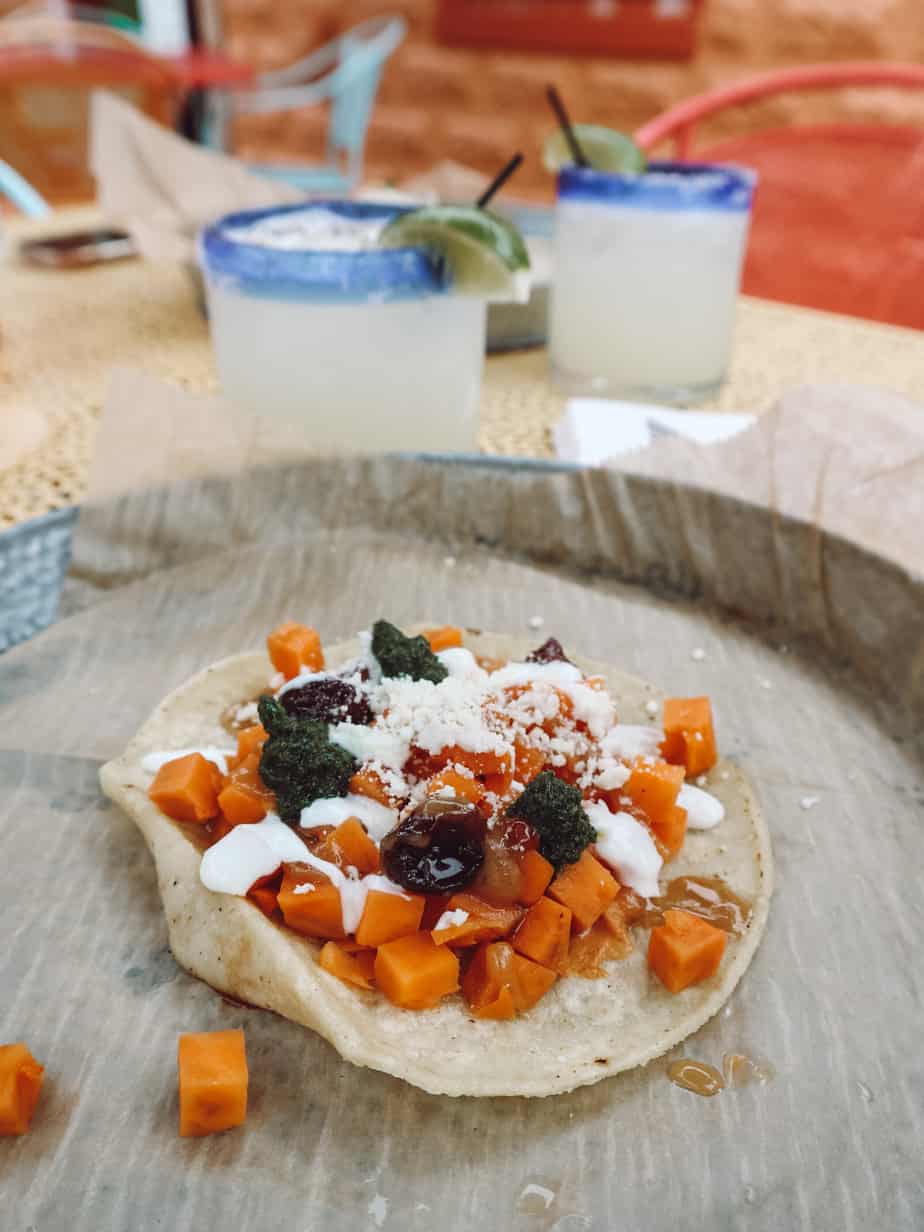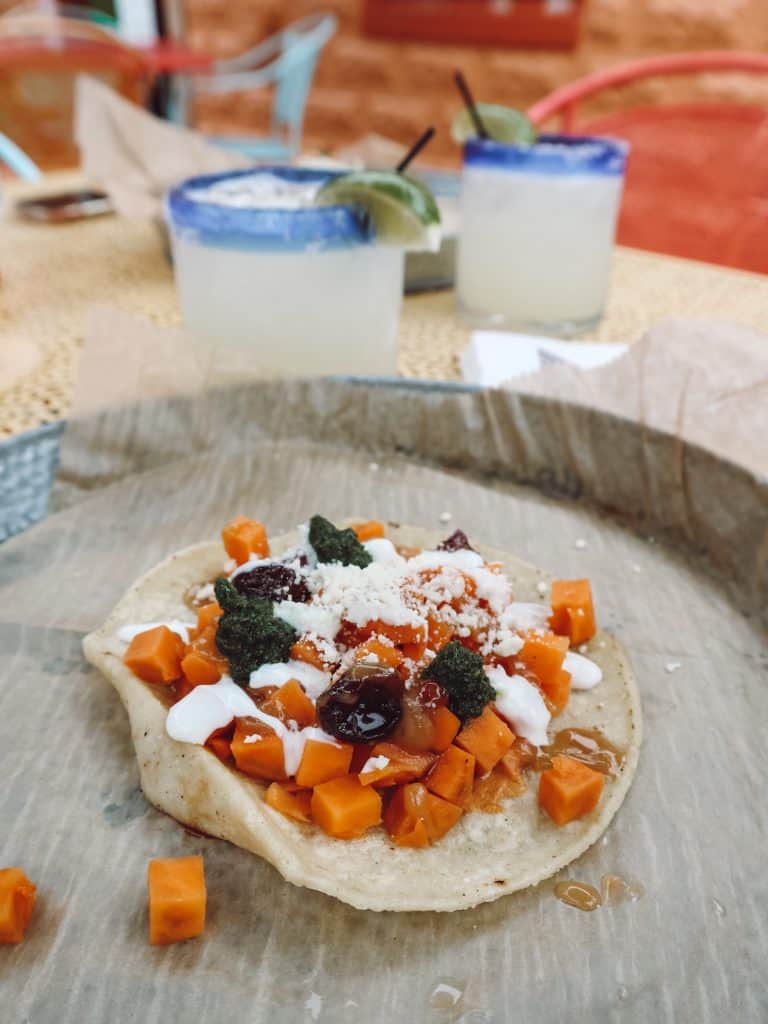 [/su_column][su_column]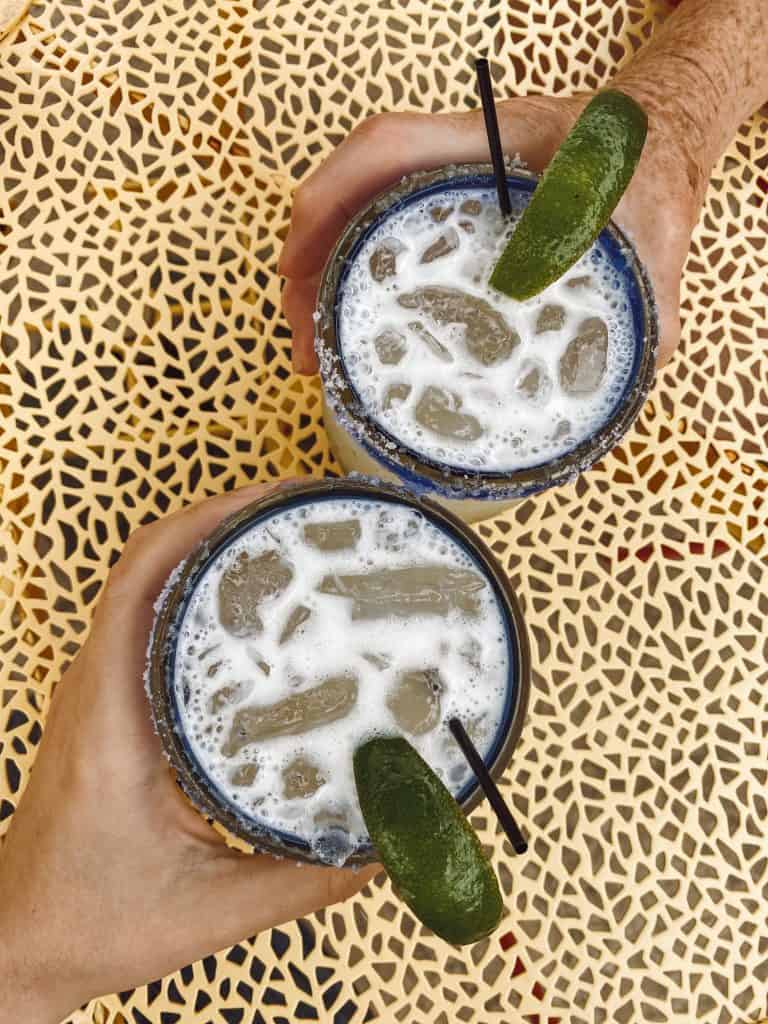 [/su_column][/su_row]
[su_row][su_column]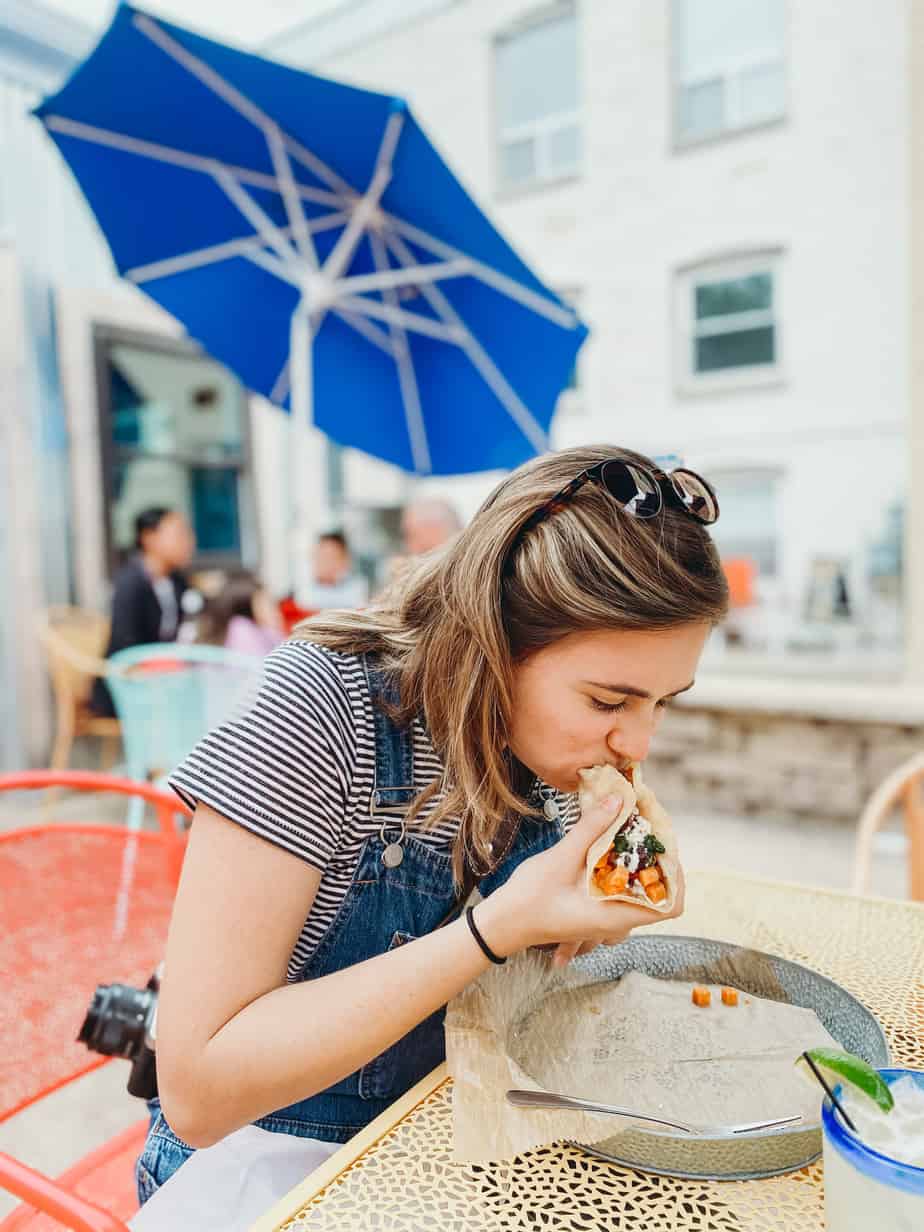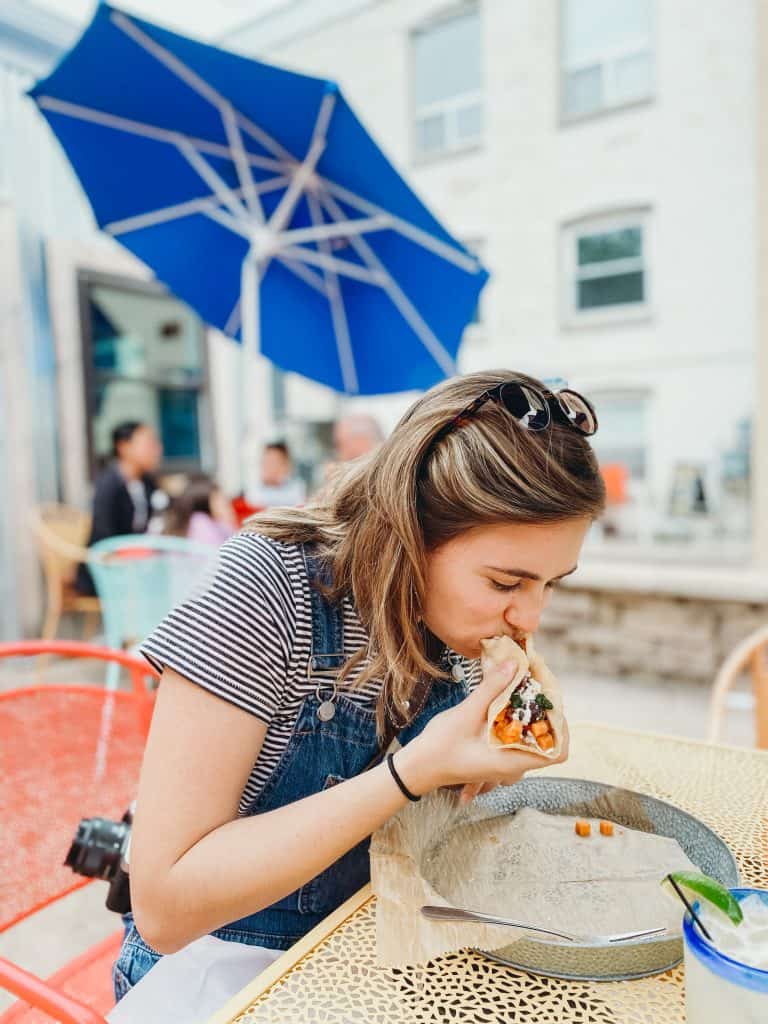 [/su_column][su_column]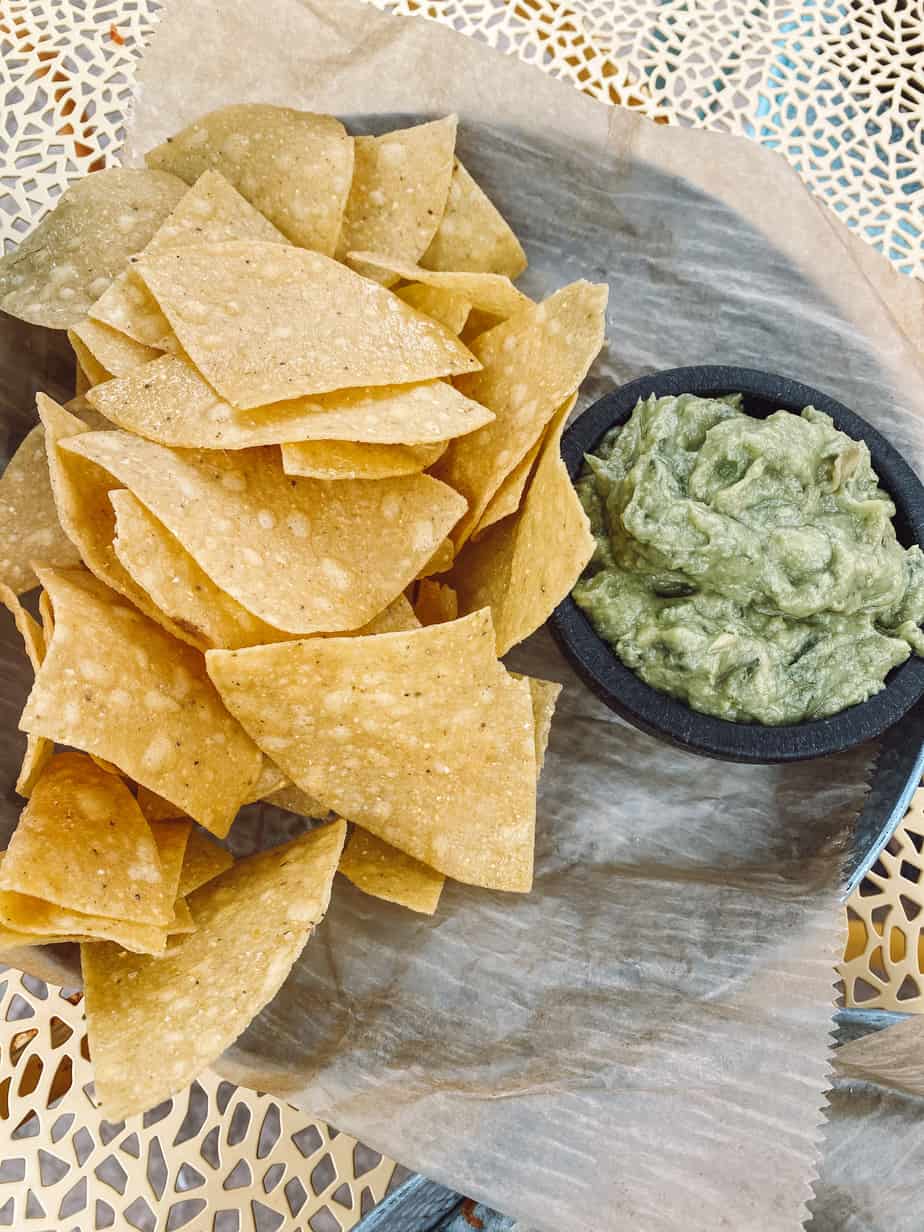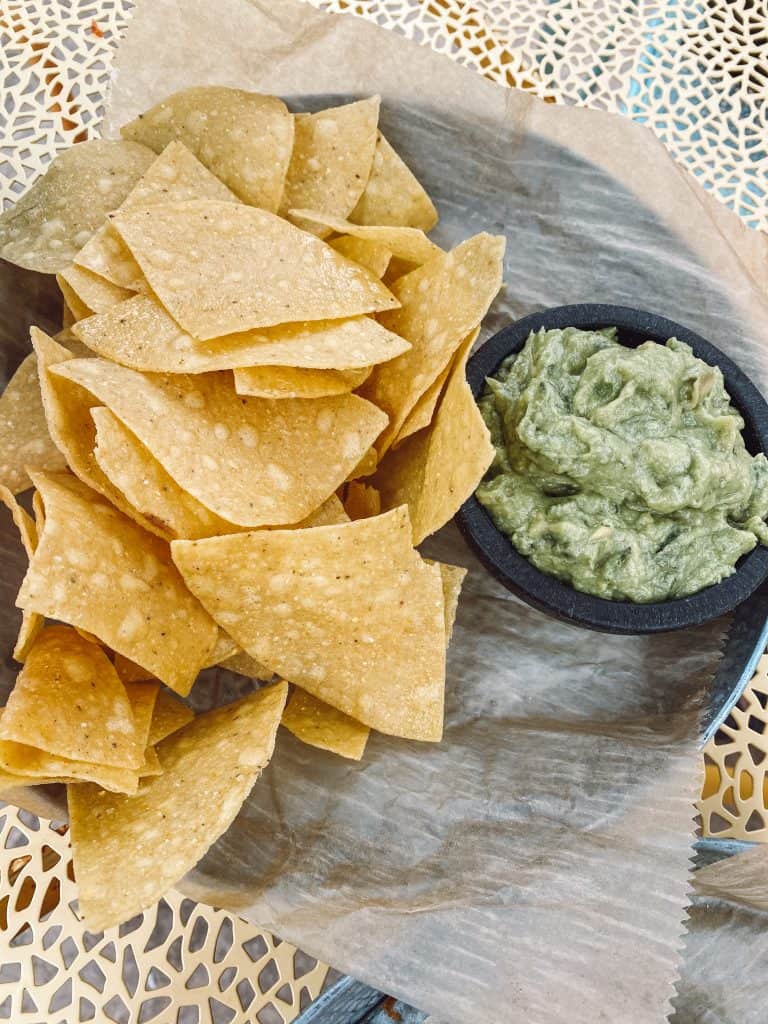 [/su_column][/su_row]
That French Place
That French Place is a very popular cafe and creperie located along the main drag in Charlevoix. I came here twice and both times people were lining up to make their orders – you can tell that both locals and visitors alike love it here!
They offer buckwheat crepes which are gluten free. The question then comes down to cross contact… I talked to the owners and That French Place does not have a dedicated grill for the gluten free buckwheat crepes, unfortunately. However they do have experience serving celiac customers and are able to wash down the grill and utensils on request.
I was still a little nervous to eat here and the owners recommended coming at the beginning of the day when they are less busy, and when the grill hasn't been used yet so it is super freshly cleaned. I arrived about 10 to 8 and was able to get the first crepe of the day (a gluten free buckwheat ham and cheese!). If you are also nervous about cross contact, but still want to eat here, I would recommend you do the same. This is also where I got the best cappuccino of the trip 🙂
That French Place // 212 Bridge St, Charlevoix, MI 49720
Note: Arrive first thing in the morning for the best chance to avoid any cross contact.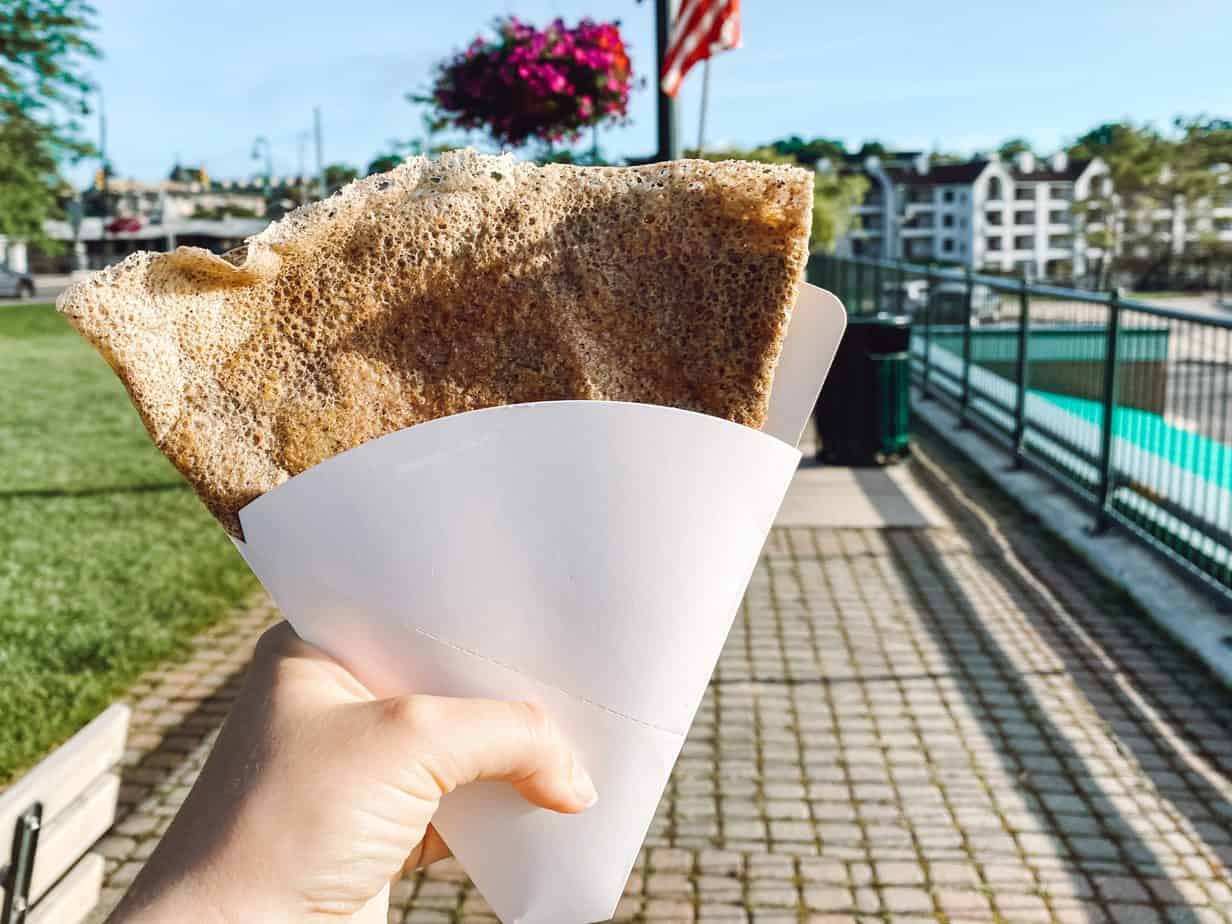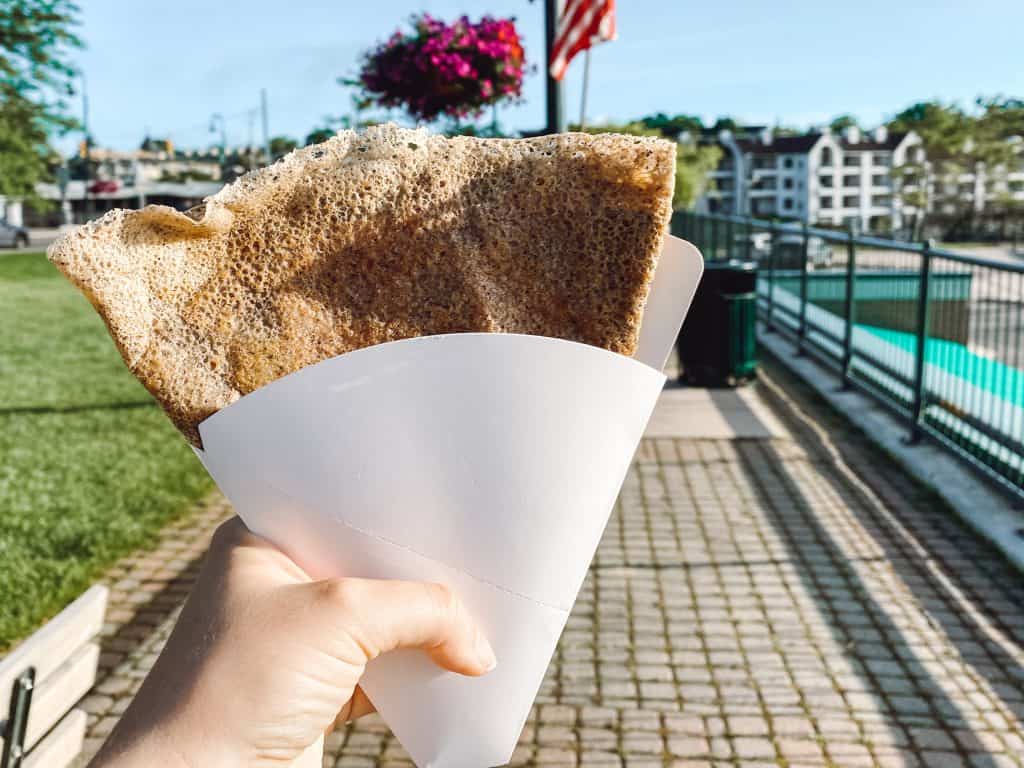 The Salad Fork
The Salad Fork is a perfect place to stop for lunch in Charlevoix. It's in an adorable little alleyway (same as The Cantina, and Bloom – a flower shop which always has gorgeous decorations).
I found the staff here really knowledgeable about celiac disease and their gluten free options. I ordered the Drawbridge salad which was naturally gluten free, and delicious. I love that all their salads have Charlevoix-themed names.
The Salad Fork ALSO carries gluten free bread! Yay! You should be aware of a few things, though. First, the gluten free bread is very small. Second, they do NOT have a dedicated panini press so there is really no way to make the sandwiches gluten free. However, the avocado toasts (there are four different flavor combos), can be done on the gluten free bread. I had the 'Depot' avocado toast which came with turkey and za-atar toppings and it was great.
The Salad Fork // 217 Bridge St suite b, Charlevoix, MI 49720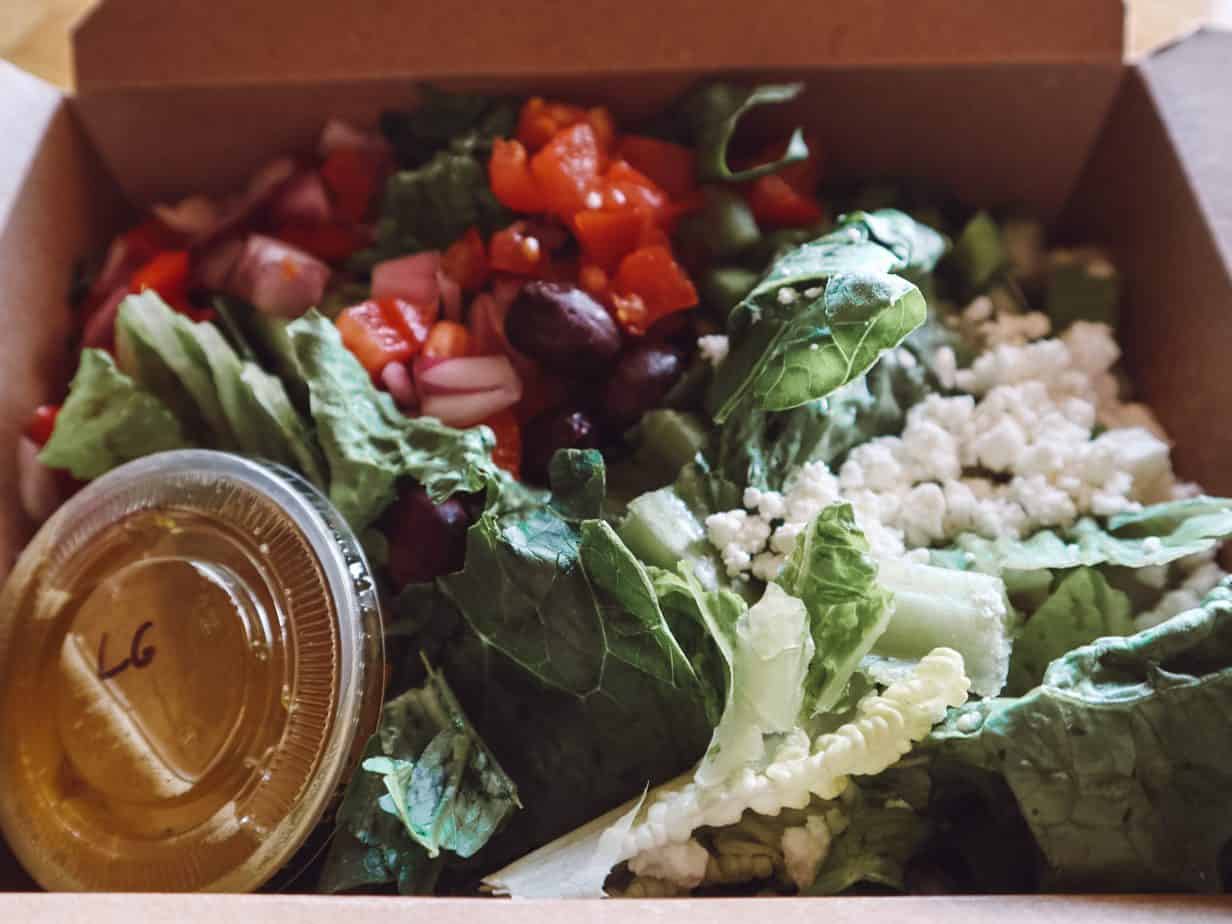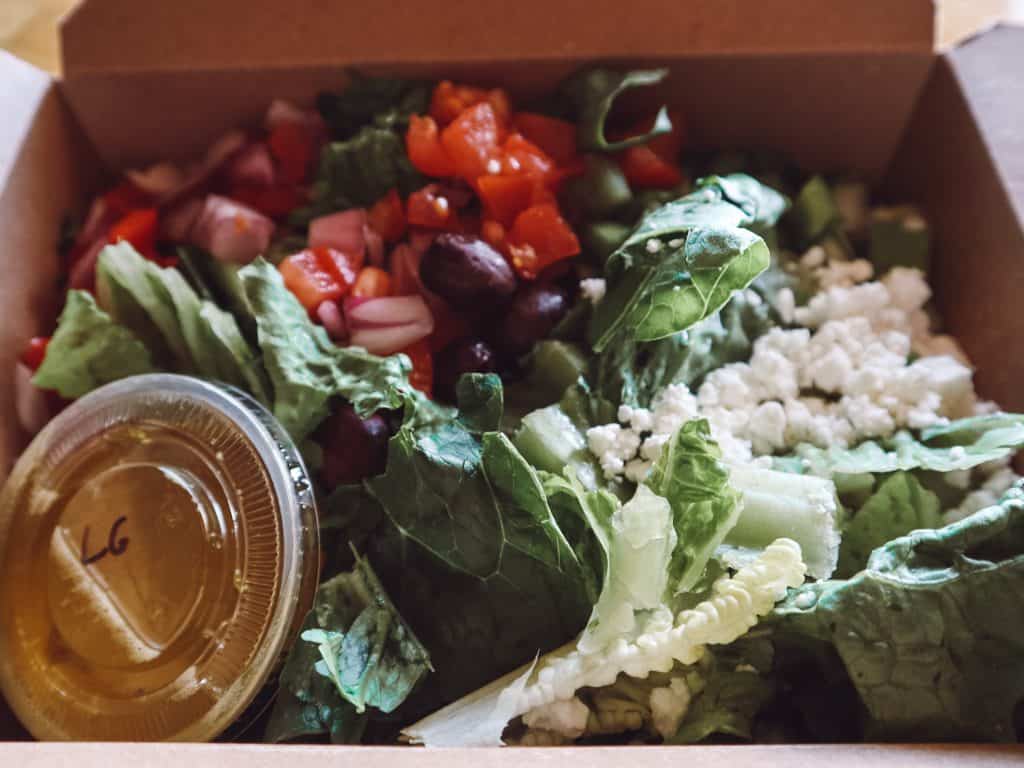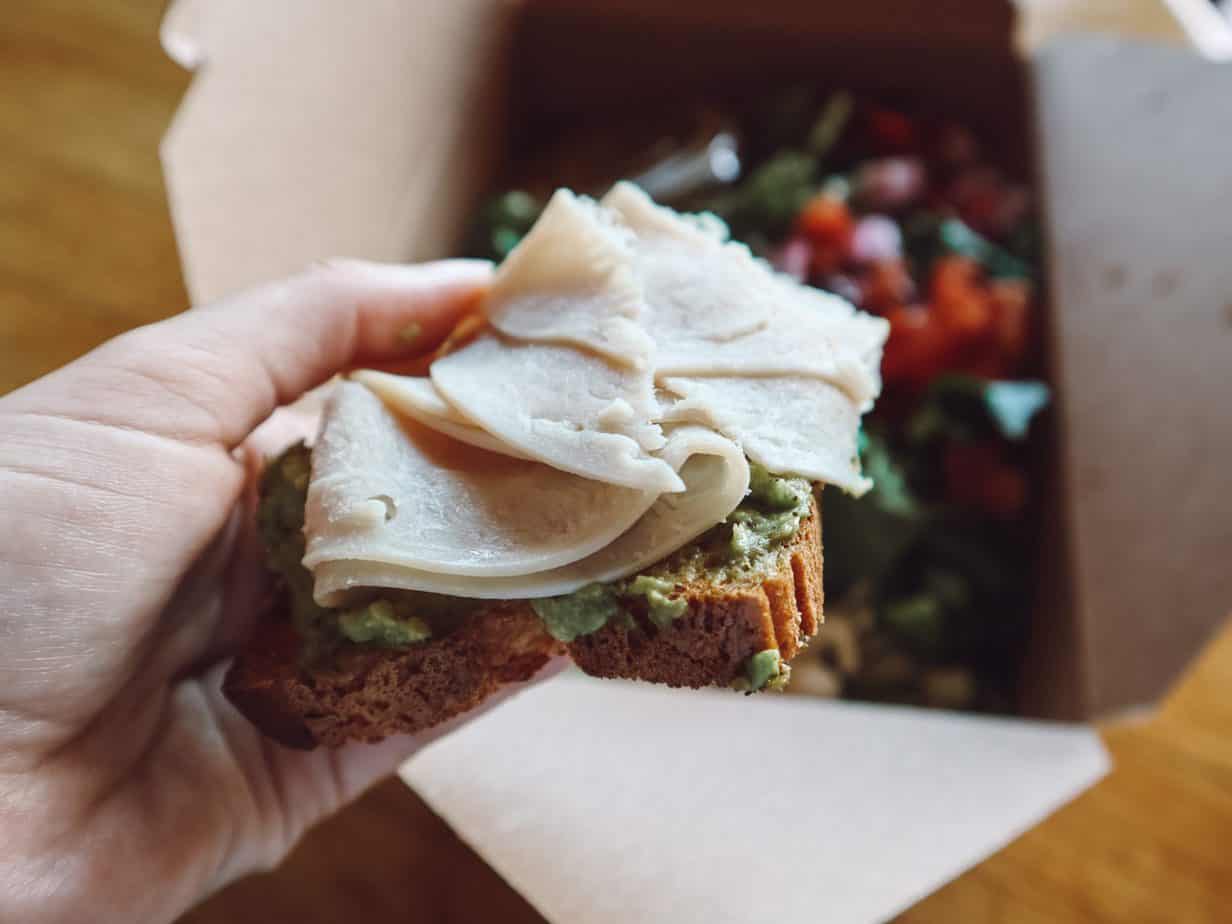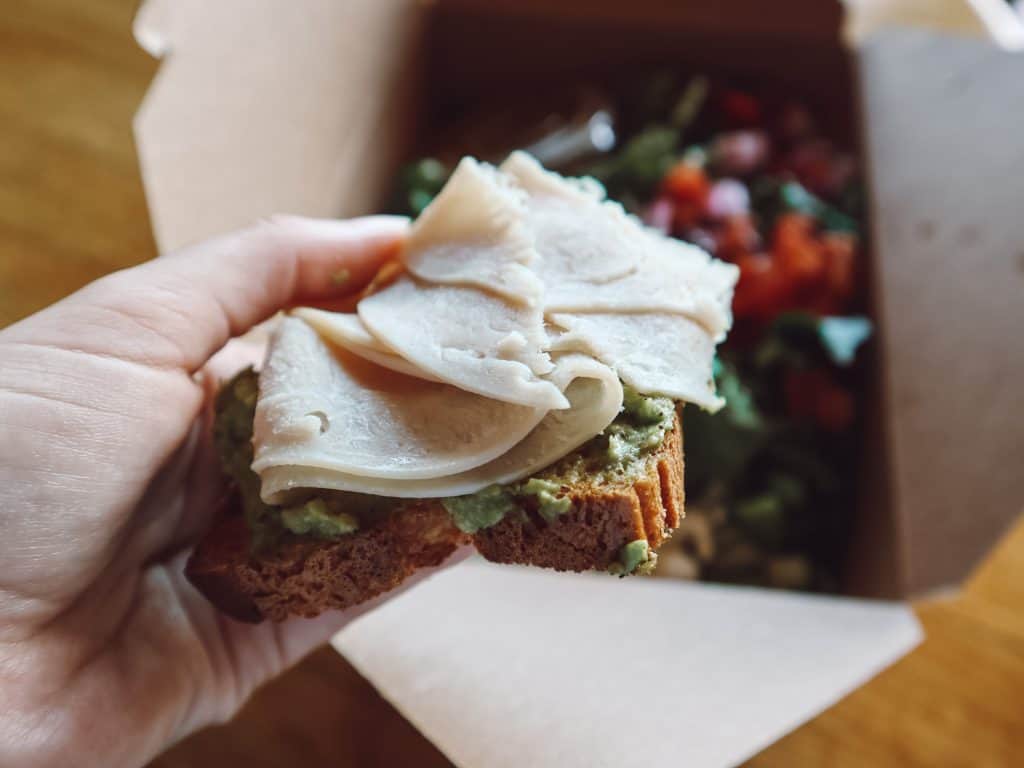 Stafford's Weathervane Restaurant
Stafford's Weathervane Restaurant is definitely the place to go in Charlevoix for a fancier lunch or dinner. It's just across from the Weathervane Terrace Inn, where we stayed, and designed by the same architect, Earl Young. You can tell from the swooping roof, which was actually designed to look like a seagull taking off into flight!
The restaurant has some great gluten free options, all of which are marked on the menu (this includes gluten free ravioli!). I read some mixed reviews on the Find Me Gluten Free app, though, so I decided to pop into the restaurant to ask some questions before we ate here.
The chef quickly came out and answered all my questions – the cooks are all allergy trained, and they take all the proper precautions like changing gloves, clean cutting boards, clean pots and water, and more. The chef even got the ravioli package for me to look up the brand (Conte's Gluten Free) and ingredients – I was really impressed!
We ate out on the terrace overlooking the channel and the bridge. The gluten free vegetable ravioli was phenomenal, as was the planked white fish, fresh from Lake Michigan. We even had gluten free carrot cake for dessert! I definitely recommend splurging on a meal here if you're gluten free in Charlevoix.
Stafford's Weathervane Restaurant // 106 Pine River Ln, Charlevoix, MI 49720
Note: Arrive around 5pm to put your name in for dinner as they are not taking reservations and are very busy!
[su_row][su_column]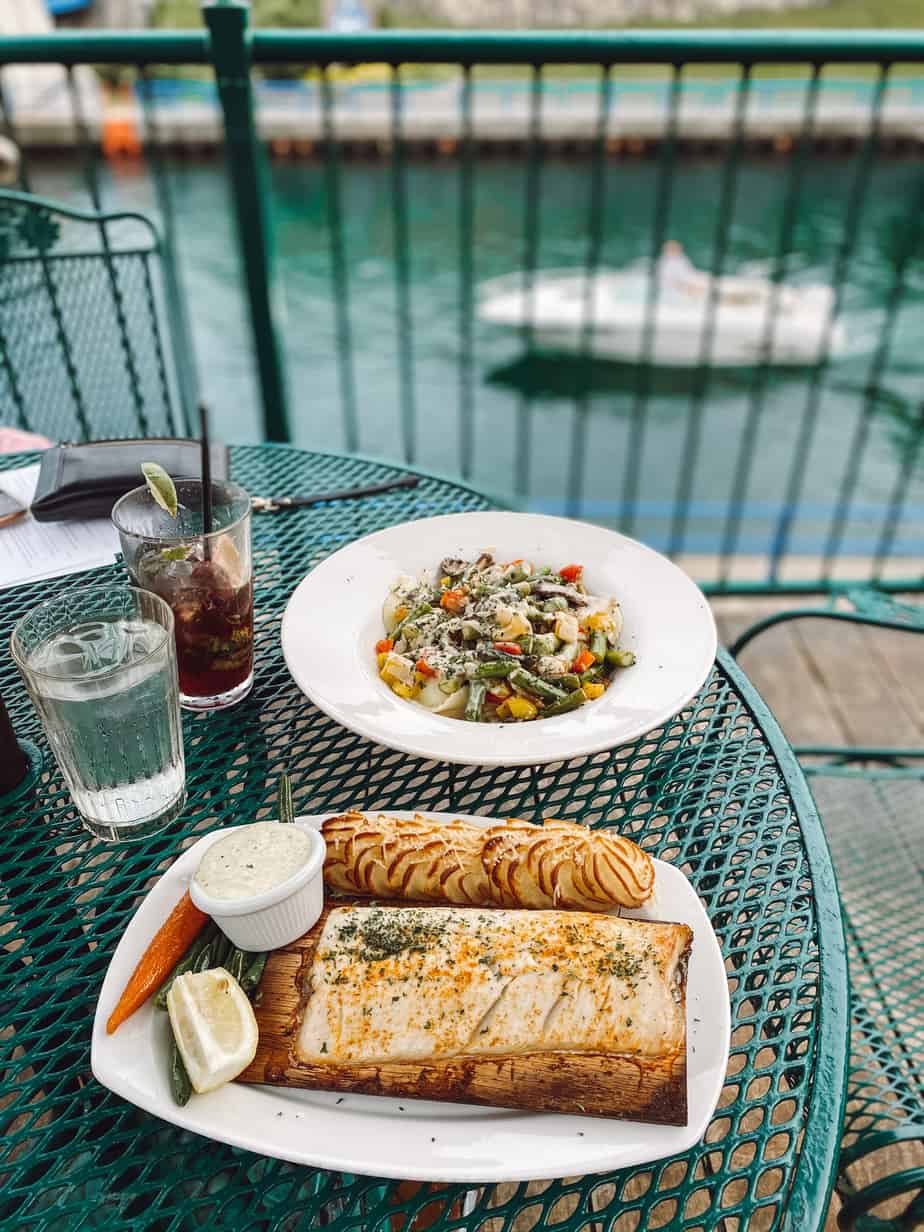 [/su_column][su_column]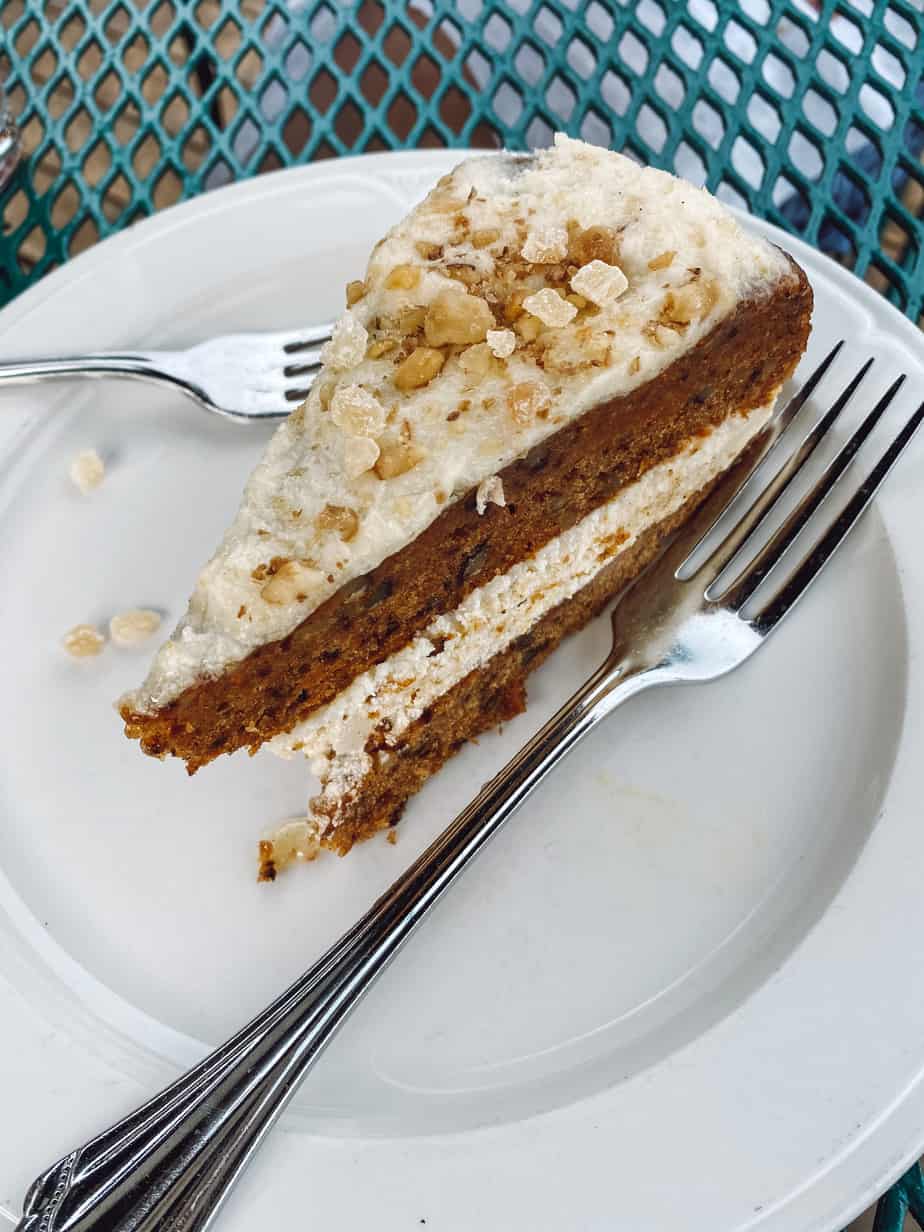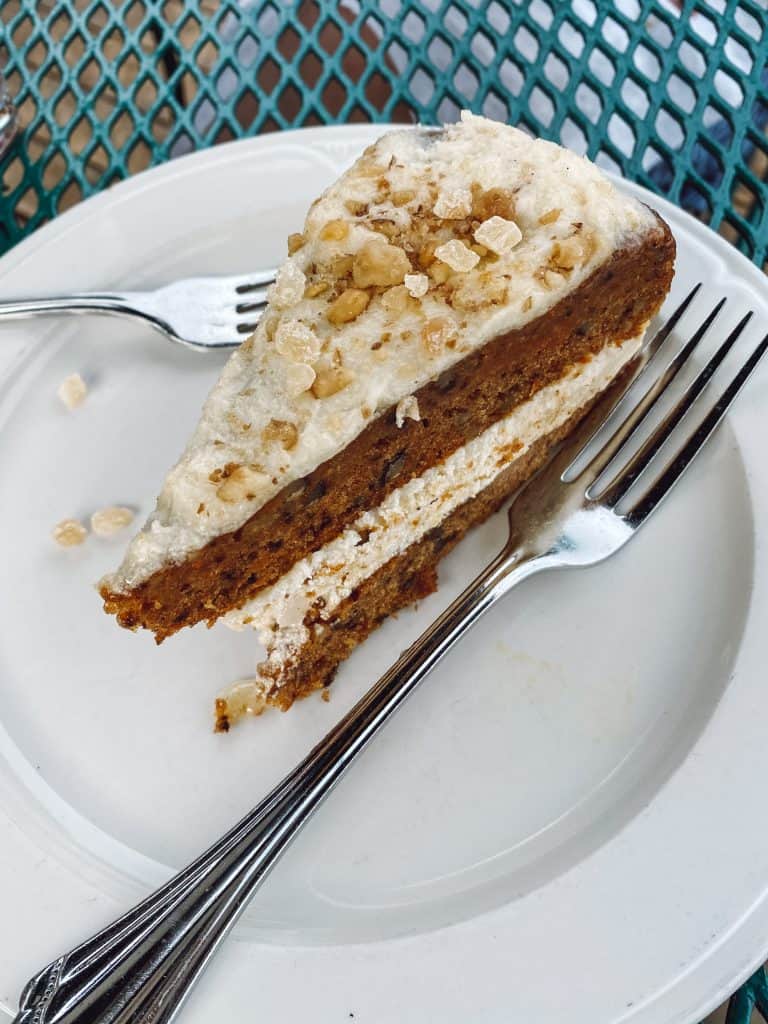 [/su_column][/su_row]
Smoke on the Water
Smoke on The Water is a great barbecue place in Charlevoix, set just off Bridge Street. I typically think of barbecue as dinner food (and you can definitely eat here for dinner), but I was actually recommended to check them out for breakfast.
There are tons of gluten free breakfast options at Smoke on The Water – both their barbecue meats and sauces are gluten free. I decided to go for the pulled pork hash, which came with super crispy hash browns, barbecue sauce, and a freshly poached egg. We also ordered coffee and fresh grapefruit juice on the side! It was all delicious.
I also appreciated how aware the staff are of gluten free needs. The server was able to check about gluten free ingredients in the meat and sauces. They also ensured that the grill was thoroughly cleaned before our meal was made, as pancakes are also prepared on the grill. I didn't even have to ask about this – they brought it up first – and that really impressed me!
Smoke on The Water // 103 Park Ave, Charlevoix, MI 49720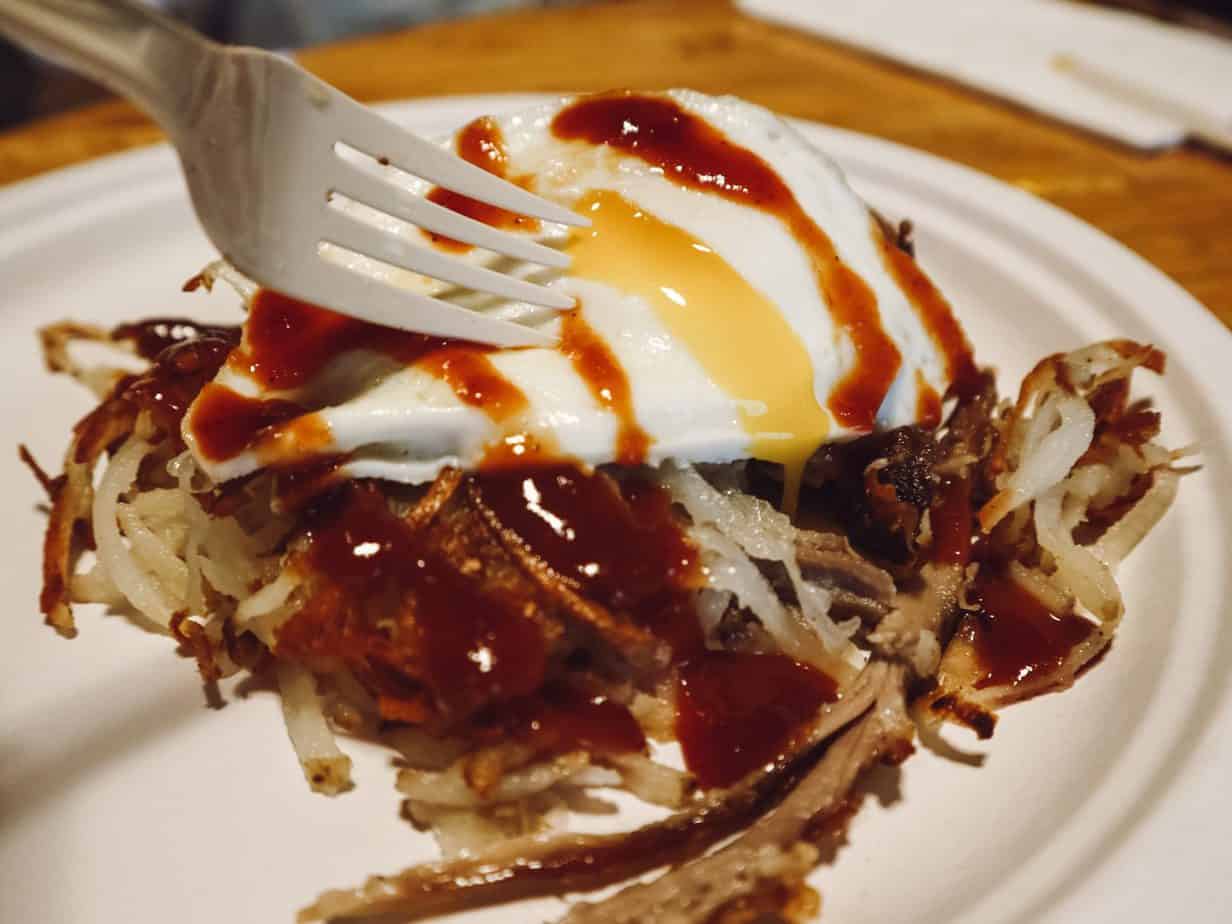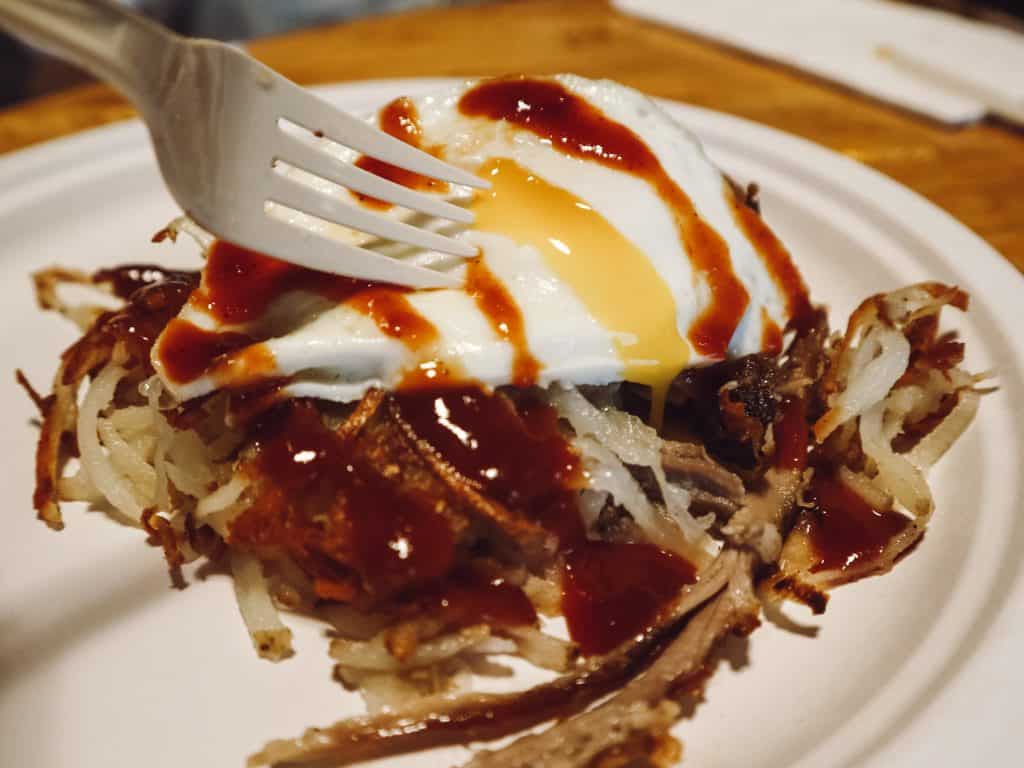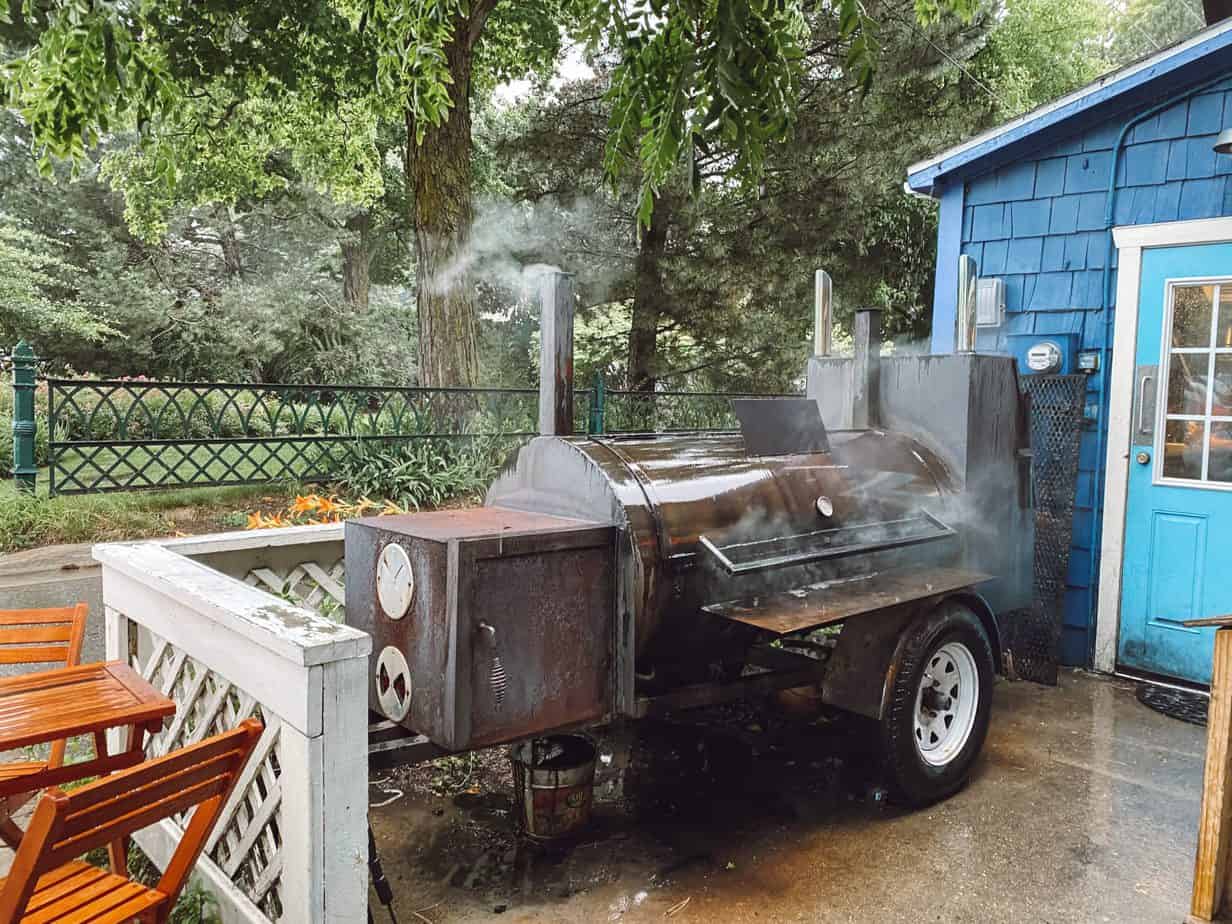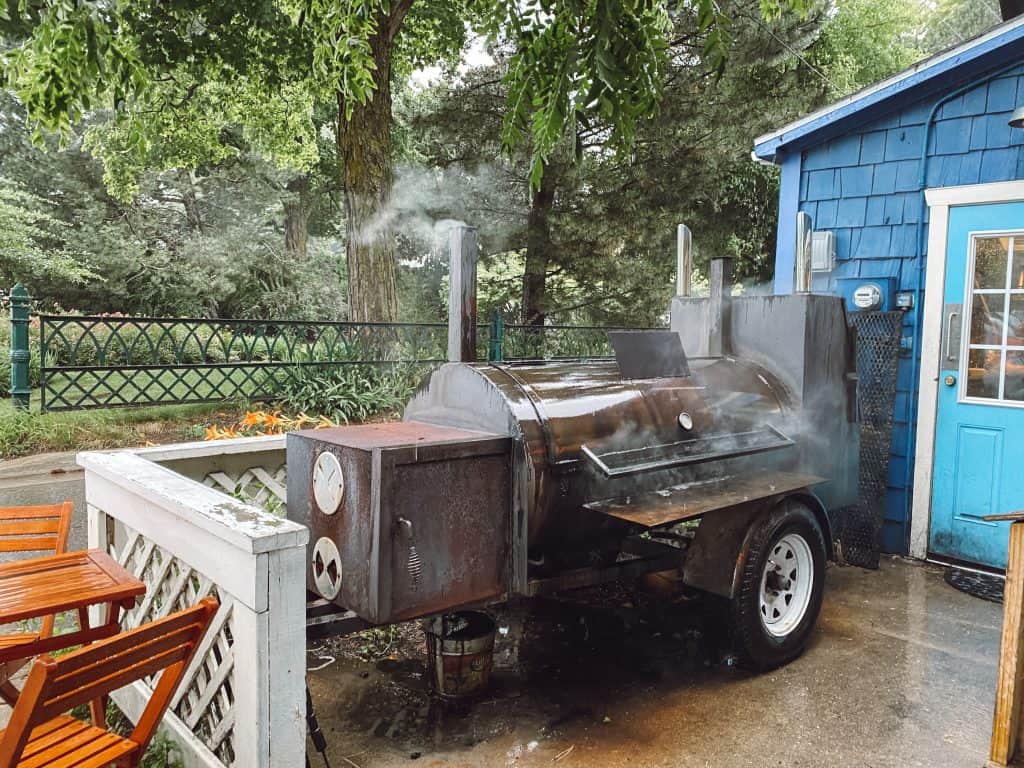 Red Mesa Grill (Boyne City)
Red Mesa Grill is a must stop for celiacs or anyone who is gluten free and visiting the Charlevoix area. It's actually located in Boyne City, which is about a 20 minute drive from Charlevoix. However the drive itself is lovely as you round the eastern shore of Lake Charlevoix and the surrounding forests. (Red Mesa also has a second location in Traverse City – which you can read about here!).
Red Mesa serves Latin American food, which tends to be pretty gluten free friendly, but they definitely go way above and beyond in catering to gluten free folks. First of all, I appreciated that they call their (completely separate) gluten free menu a 'celiac menu' – which gave me confidence in their knowledge!
I ordered the burrito in a gluten free tortilla because… I hadn't had a burrito in nine years! It was very good, and I actually had enough leftovers for two more meals.
The only downside is that Red Mesa does not have a gluten free fryer for their corn chips. These are therefore not an option. However, tell your waiter and they will get you some packets of certified gluten free corn chips and separate salsa. I loved this – what a great and inclusive touch!
Red Mesa Grill // 117 Water St, Boyne City, MI 49712
Note: You can also visit Red Mesa in Traverse City.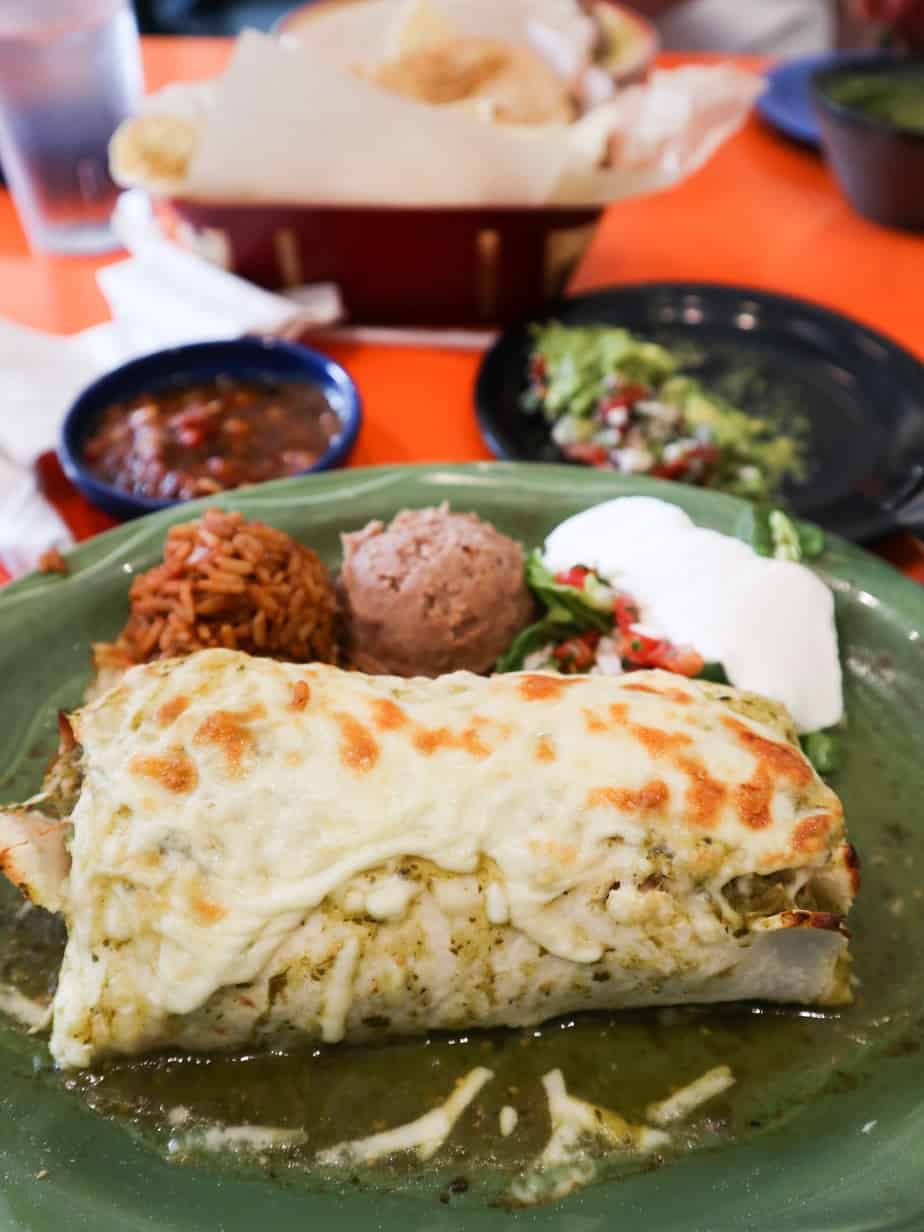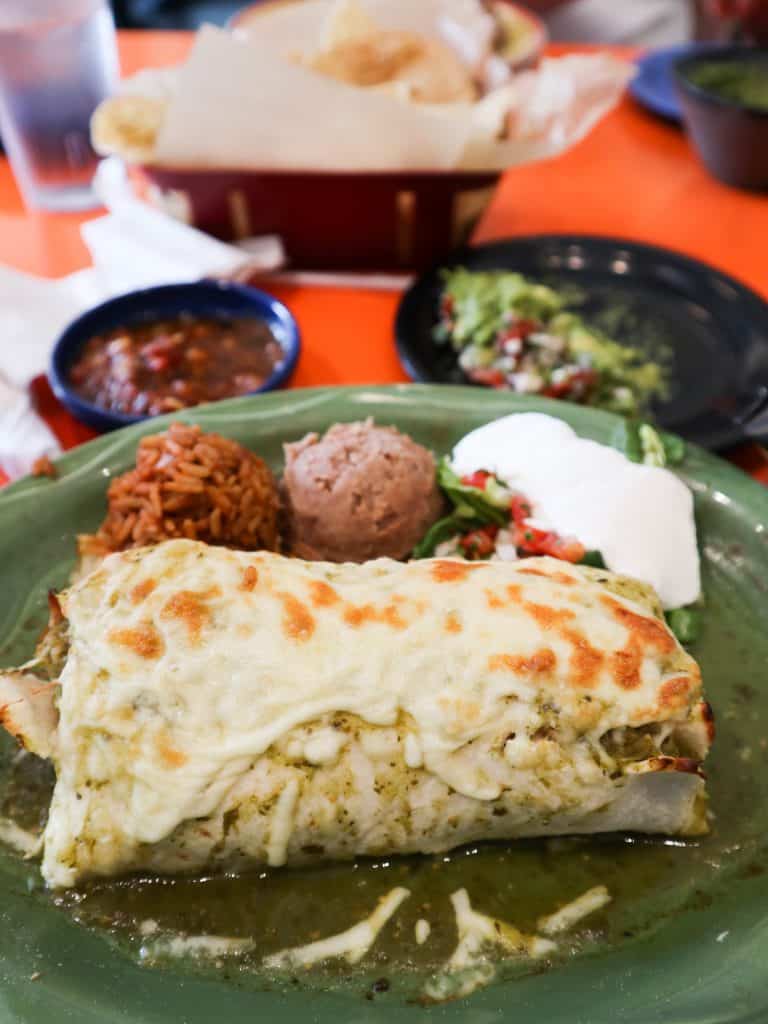 Gluten free Charlevoix Michigan: Other restaurants
Contrary to popular belief, my stomach is actually not a bottomless pit, which means I was too full to try all the restaurants in Charlevoix with gluten free options.
However, I don't want to limit you, so I am listing a few more gluten free Charlevoix restaurants below. According to my research and emailing owners, these restaurants can provide gluten free options. In terms of cross contact, I would encourage you to ask your server and make sure you're comfortable eating here.
*As I visit Charlevoix again in the future and eat elsewhere, I will be sure to update this post! If you've eaten at any of these restaurants, leave a comment below and let me know your thoughts and experience!
Scovie's Gourmet
Scovie's Gourmet is a popular deli on Bridge Street that carries gluten free bread. When I emailed with the owners, I was told there are no gluten free toasters but they can grill the gluten free bread to avoid cross contact, and they have celiac customers who are regulars.
My experience at the restaurant was a little different. When I asked the server if they could grill my bread instead of toast, they said… No. It was around 2pm and quite busy, so I asked if there was a less busy time I could come back tomorrow. They told me no, it's always busy. I didn't really know what to do with that, so we left.
If you order a gluten free sandwich here, you really need to confirm how it's being made if you are celiac or sensitive to cross contact. I would definitely call ahead and chat to the staff currently working to see if they can cater to you.
Scovie's Gourmet // 111 Bridge St, Charlevoix, MI 49720
Grey Gables
Grey Gables is a slightly more upscale restaurant in Charlevoix and could make for a gluten free dinner option. Their gluten free items are marked on the menu. But some of the dishes that are marked gluten free (like crab stick and couscous) are not gluten free, as we know… so I reached out to their management with some questions.
The manager, who actually has celiac disease herself, informed me that guests should inform their server they have an 'allergy' when ordering and the chefs will take precautions. She also said to remind them to change gloves. The fryers are shared so avoid anything fried.
She said the couscous could be replaced with whipped potatoes. However that just shows you should ask questions about the ingredients in dishes, even if they're marked gluten free on the menu (the marking seems more like a 'could be made GF on request' rather than 'GF as is' kind of designation).
Grey Gables // 308 Belvedere Ave, Charlevoix, MI 49720
Charlevoix Pizza Company
Charlevoix Pizza Company is a pizza place along the main downtown street in Charlevoix. They offer gluten free pizza bases. I cannot speak to their cross contact procedures as I have not eaten here myself. I would encourage you to ask questions before you order!
Charlevoix Pizza Company // 311 Bridge St, Charlevoix, MI 49720
Bridge Street Tap Room
Bridge Street Tap Room is a bar overlooking the harbor – it is extremely popular and multiple people recommended it to us while we were in Charlevoix! The menu notes that gluten free buns for the hamburgers are available. I reached out to their management by email to ask about other gluten free options, but didn't hear back.
Let me know in the comments below if you've had experience eating here!
Bridge Street Tap Room // 202 Bridge Street, Charlevoix MI 49720
[su_row][su_column]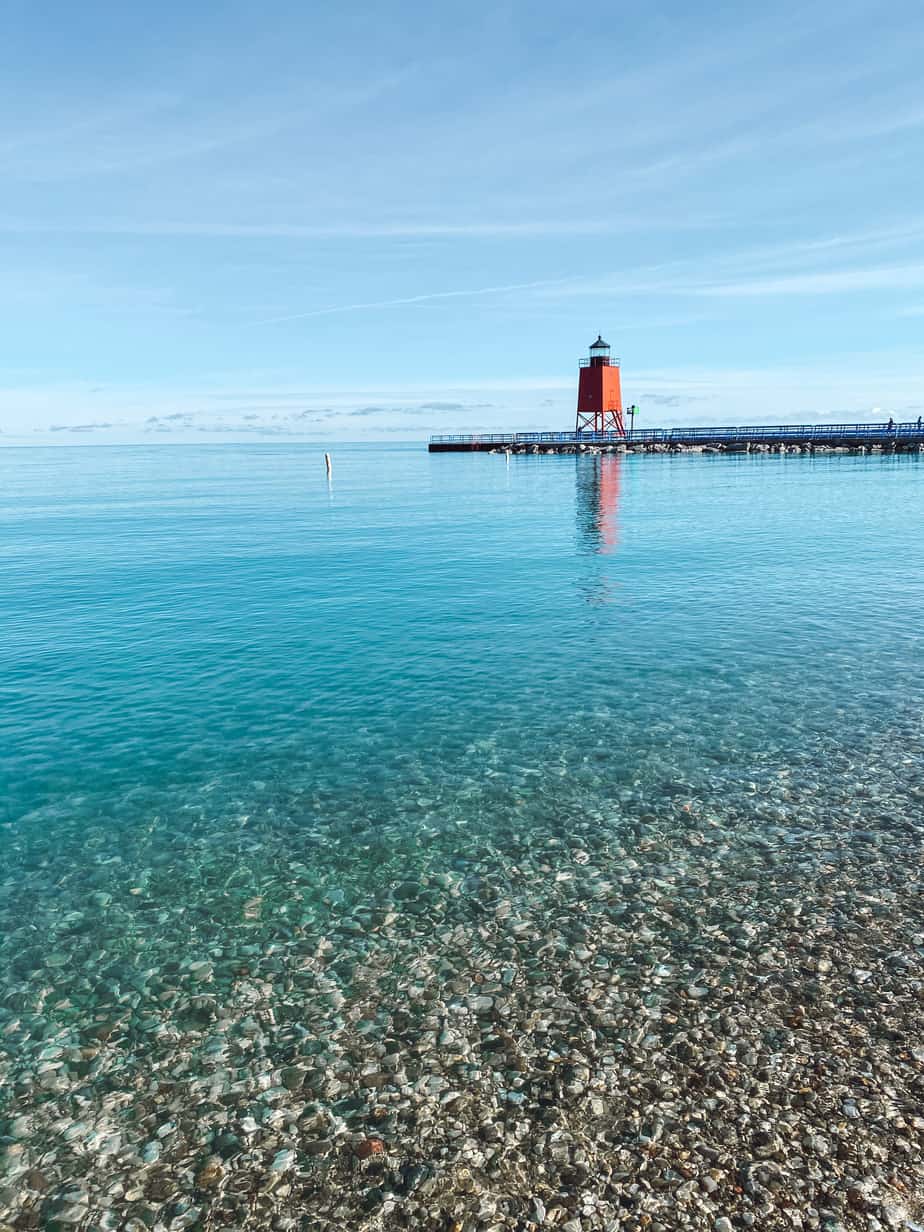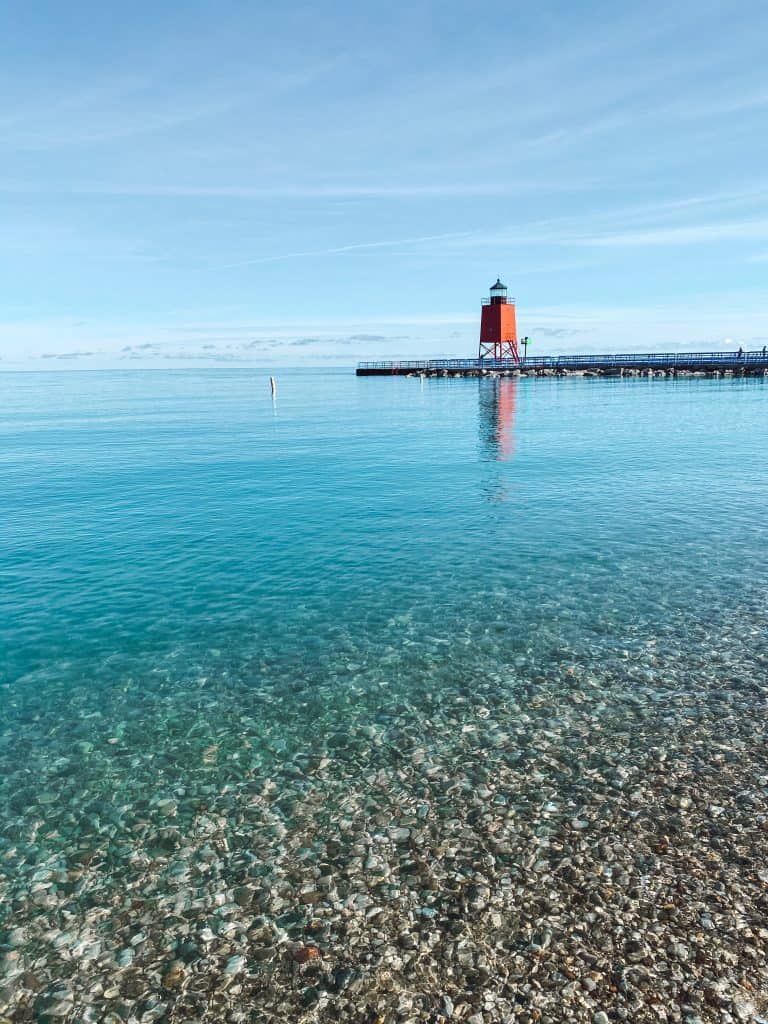 [/su_column][su_column]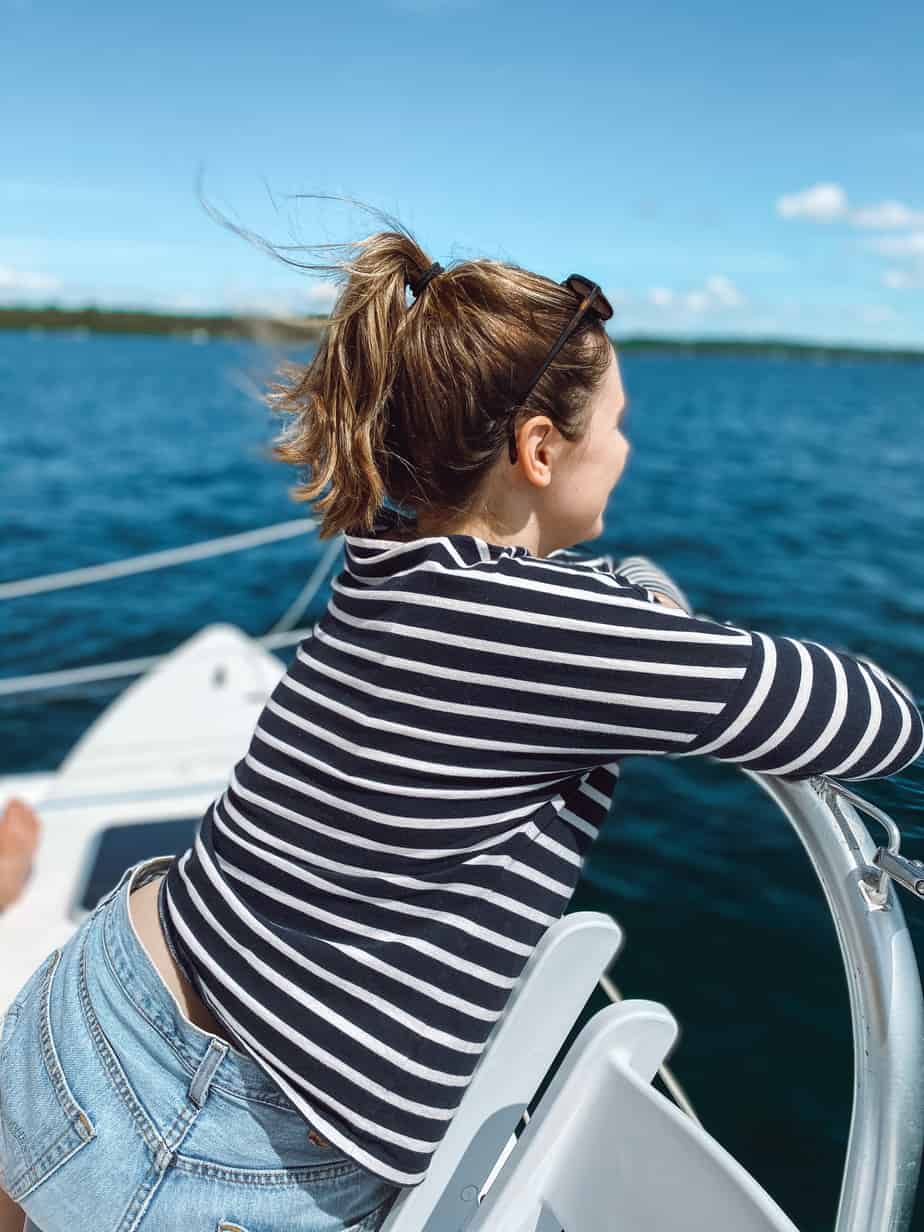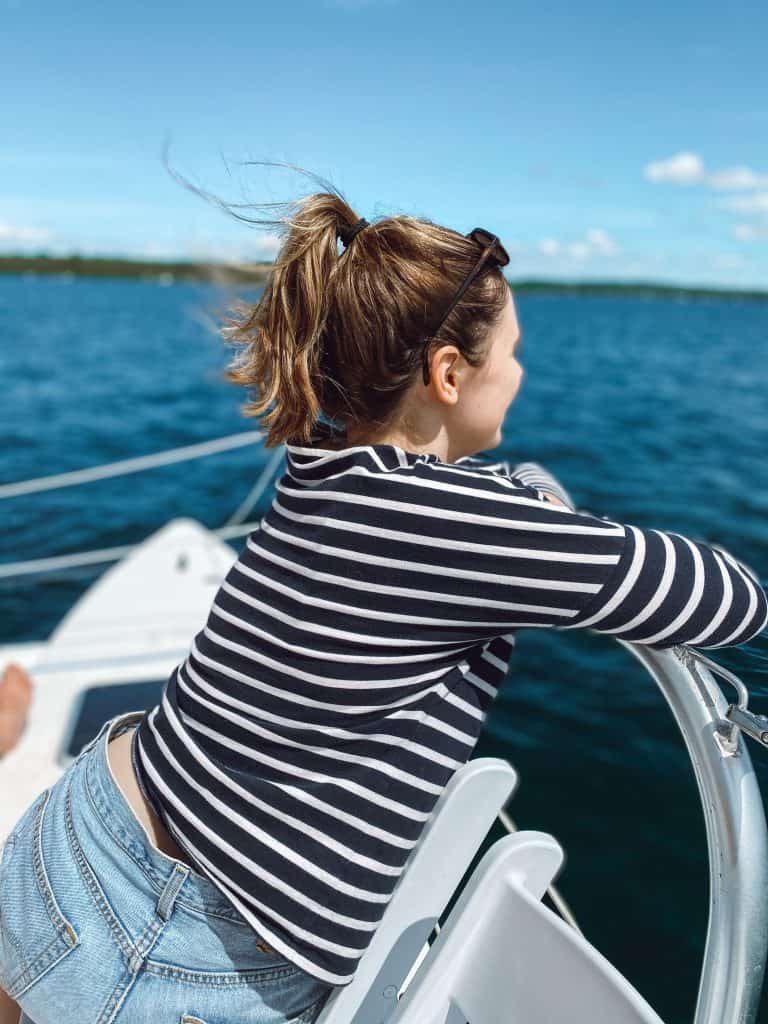 [/su_column][/su_row]
Exploring Charlevoix & Northern Michigan further?
There are honestly so many things to do in Charlevoix – it's the ideal destination for a weekend (or longer) getaway in summer. It's also a dreamy place to see the fall colors, or even go skiing or snowshoeing in the winter.
What to do in Charlevoix
I'm working on lots of Charlevoix blog posts so stay tuned – they'll be linked here shortly. As a quick overview, here are some of my top recommendations for things to do in Charlevoix:
Stay at The Weathervane Terrace Inn & Suites designed by Earl Young
Tour the mushroom houses
Shop along Bridge Street
Visit Lavender Hill Farm for a U-Pick or an event (we saw a movie in their 100-year-old barn!)
Spend a day sailing
Visit a beach (Depot Beach, Lake Michigan Park Beach, and Mt McSauba are my faves)
Go to Castle Farms
Search for Charlevoix stones and Petoskey stones
More gluten free guides to Northern Michigan
Why stop at just Charlevoix? There are so many towns and communities in Northern Michigan that could tie in perfectly with your trip to Charlevoix. Here are some gluten free guides that will help on your trip:
[su_row][su_column]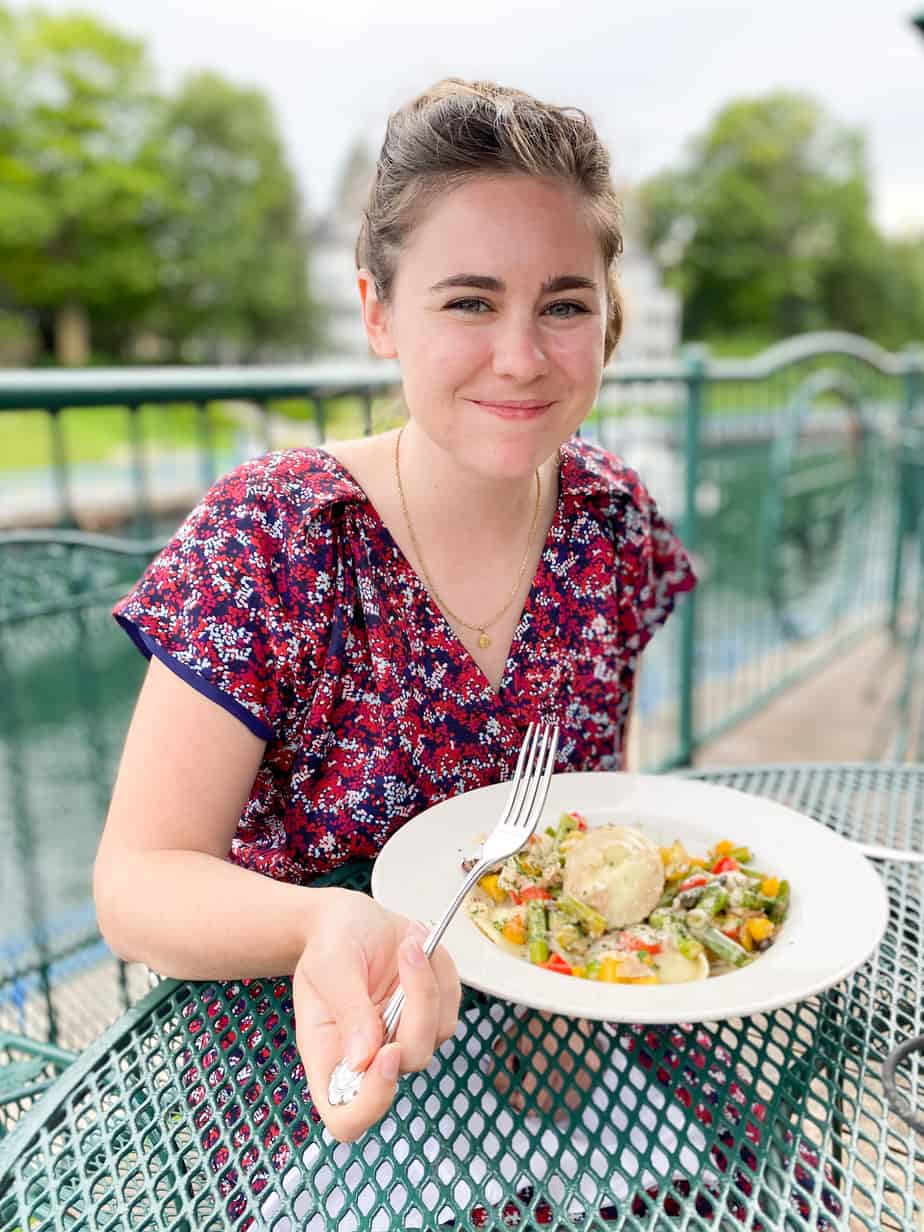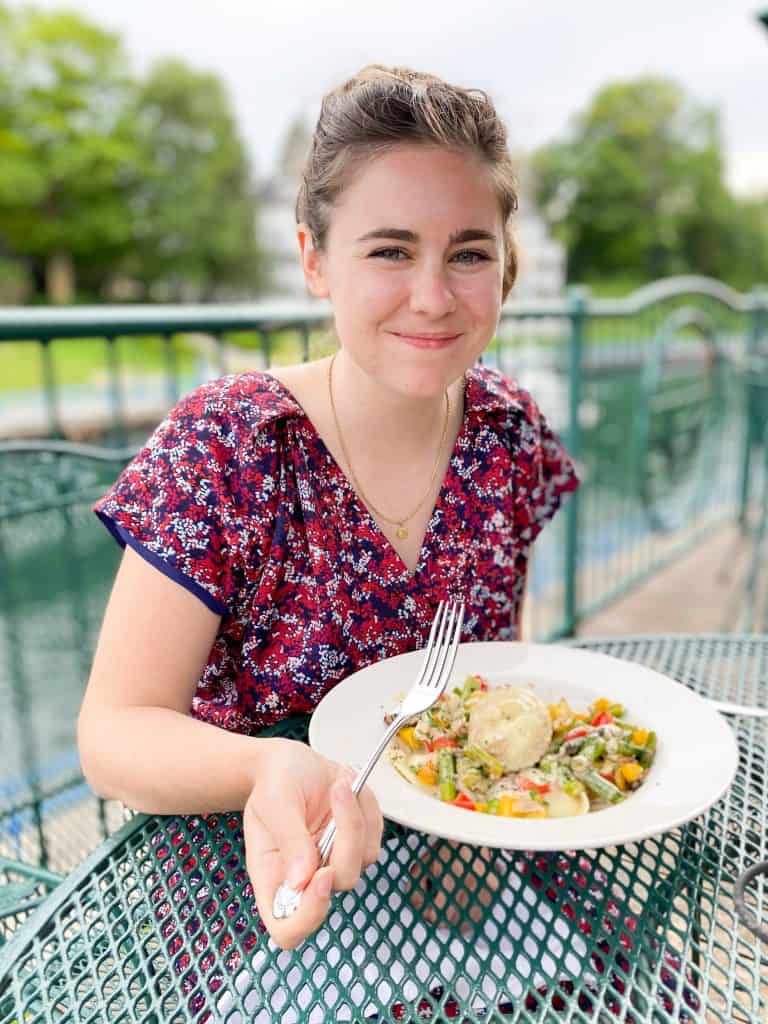 [/su_column][su_column]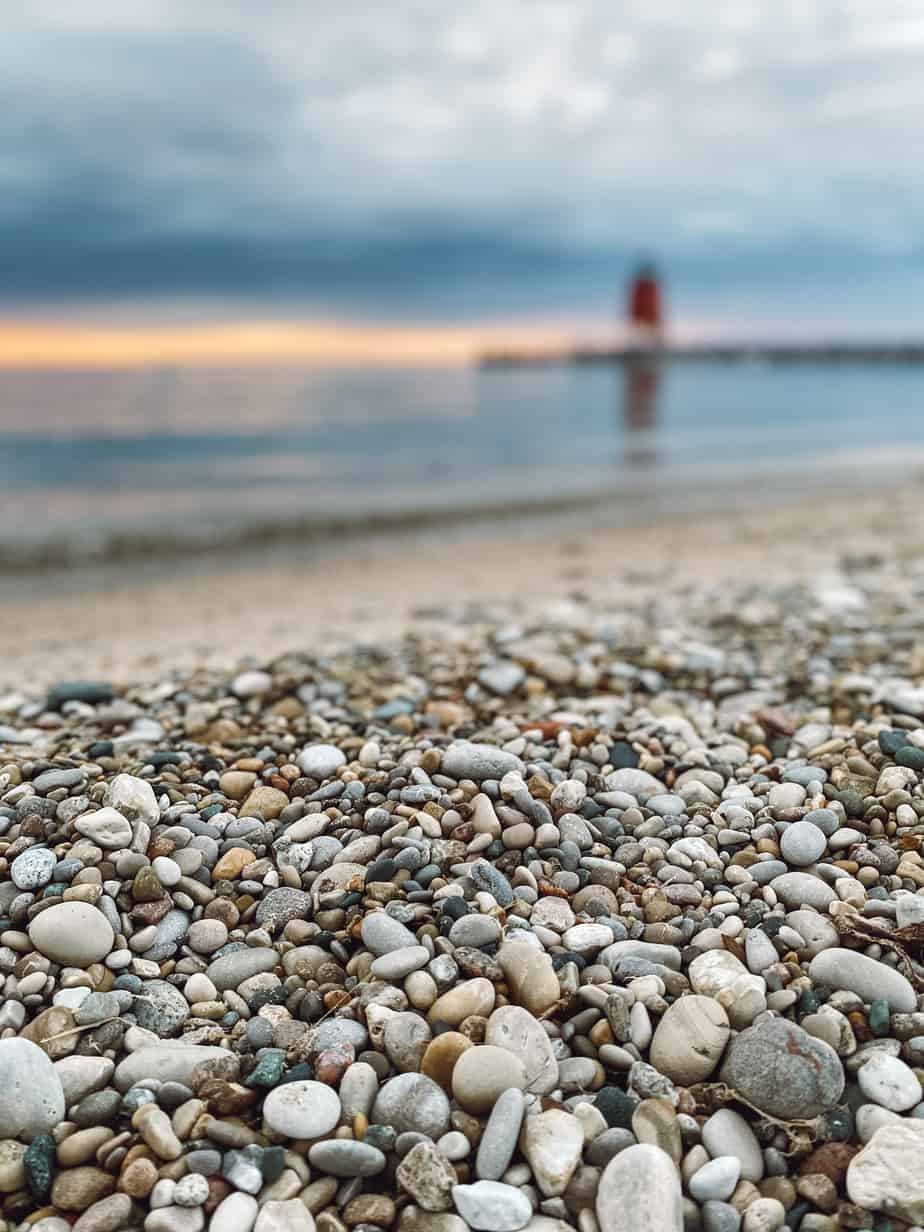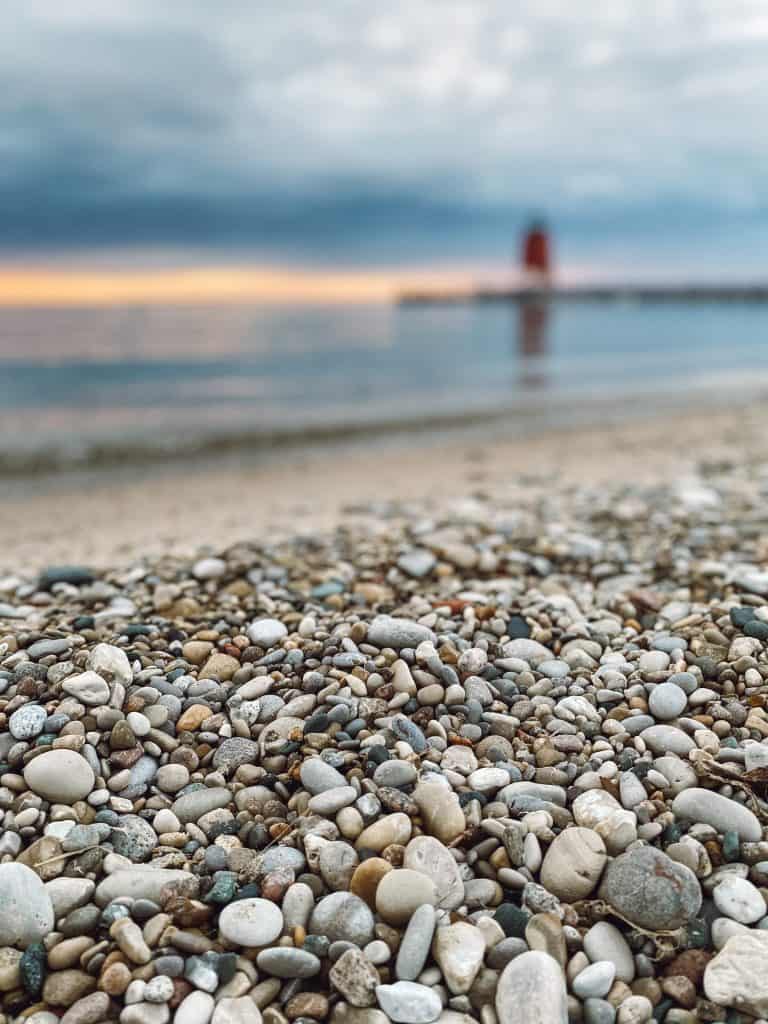 [/su_column][/su_row]
Gluten free Charlevoix map
You can use the Google My Map below to help navigate your gluten free Charlevoix adventure! The map is downloadable to your phone, and you can even use it without wifi or cell service (which… can be spotty in Northern Michigan!).
If you're curious how I found these gluten free restaurants, and eat safely on all my travels, I have TONS of resources for you on this site!
Yes, the gluten free options in Charlevoix are a little hard to find (especially those free of cross contact). But I hope I've done the hard work for you, and you use the resources in this blog post to have an easy, stress free trip!
Let me know if you visit Charlevoix and try any of these restaurants (or find any I haven't mentioned here).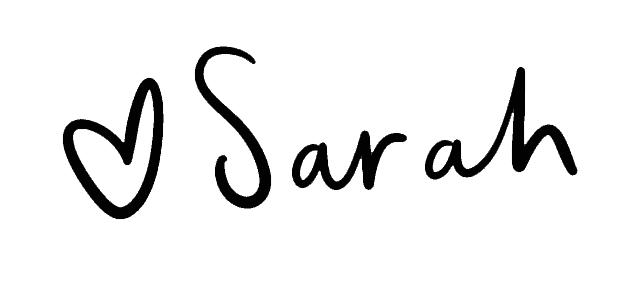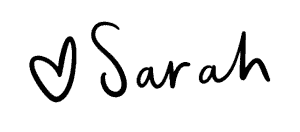 Pin it for later…