There is no better place to base yourself in Northern Michigan than Traverse City. But are there enough gluten free Traverse City options to really enjoy your visit?
YES!
I grew up in Michigan, and moved back as an adult in 2018. In total, I've spent 20+ years living this state, including 9 years exploring its gluten free restaurants. Traverse City has always held a special spot in my heart – I can't tell you how many times I've visited. So this gluten free Traverse City guide? It's a long time coming!
I'm happy to report there are MANY restaurants in Traverse City that can cater to celiacs – including one 100% gluten free bakery. However, please be aware that not all the restaurants that say they have gluten free options can actually cater to celiacs or people sensitive to gluten. Cross contact is rampant, as it seems to be everywhere these days!
That's why I've put together this Traverse City gluten free guide, to help you navigate your many choices and choose the ones that are most delicious (and safe).
In this guide you'll find:
Where to stay in Traverse City if you're gluten free
A 100% gluten free bakery
12 Traverse City restaurants with safe gluten free options
4 restaurants to avoid
2 places to shop for gluten free food
Recommended wineries and cideries for a gluten free day out!
Downloadable map of gluten free Traverse City
Let's get to it!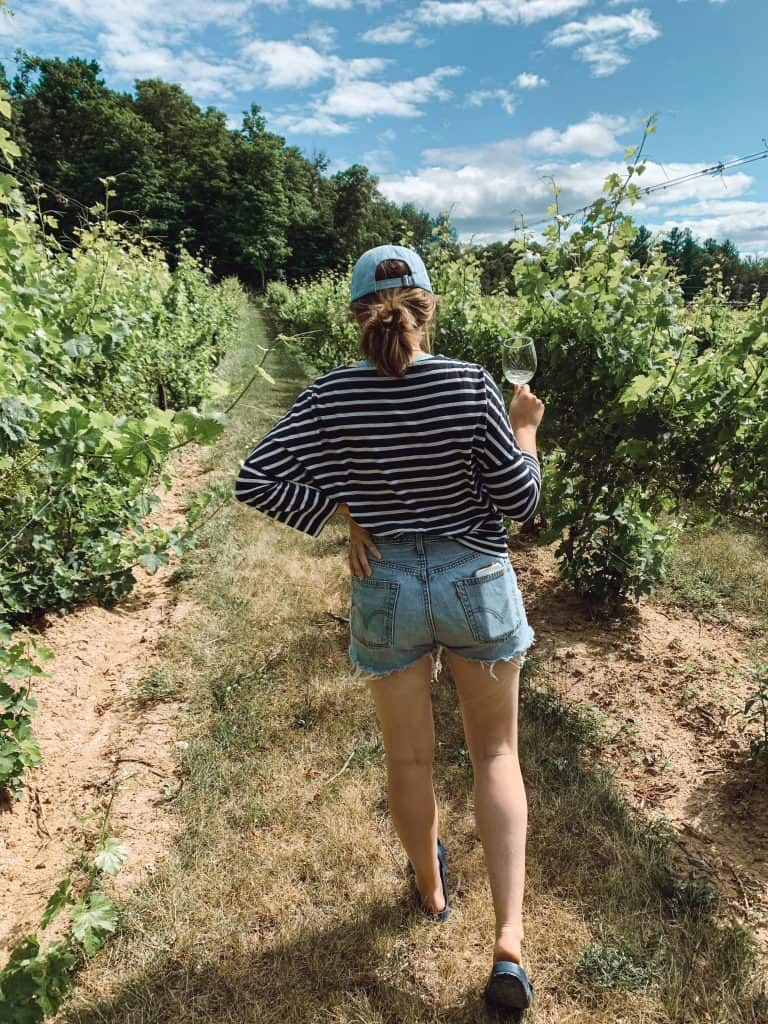 Where to stay in Traverse City if you're gluten free
Choosing the right accommodation can make a gluten free trip SO much easier. Here are my three top recommendations in Traverse City, that I've personally stayed at. I've taken gluten free amenities and location near gluten free restaurants into consideration:
Park Place Hotel
The Park Place Hotel is the only hotel of its kind in downtown Traverse City. The location is truly unbeatable. You'll be a 1-2 minute walk from many of the gluten free restaurants I mention below – not having to park in downtown Traverse City is a MAJOR perk that shouldn't be understated. Rooms also come with a mini fridge!
Cherry Tree Inn and Suites
Cherry Tree Inn and Suites is a resort complex located on the shores of Lake Michigan with incredible views over the bay, plus a swimming pool, outdoor hot tub (open in all seasons!), and in-room kitchenette. Close to 100% GF Third Coast Bakery, but you will have to drive and park in downtown Traverse City.
Dedicated gluten free Traverse City
Third Coast Bakery – 100% gluten free!
Third Coast Bakery is one of my FAVORITE places in all of Michigan! This bakery is 100% gluten free, and also dairy free, soy free, and vegan. It's not only perfect for celiacs, but for people with all kinds of allergies.
It's located on Munson Ave, east of downtown Traverse City/Front Street, so you have to drive here. But it's more than worth the drive! There is a big parking lot plus outdoor seating.
This is the go-to place in all of Northern Michigan for gluten free baked goods – donuts, cinnamon rolls, cookies, brownies, pies (including cherry pie!), cakes, and so much more. My personal order is the lemon or strawberry donut, plus their incredible Sleeping Bear latte (lavender flavored!). I always get a box of baked goods to go, too. Third Coast even carries certified gluten free oat milk.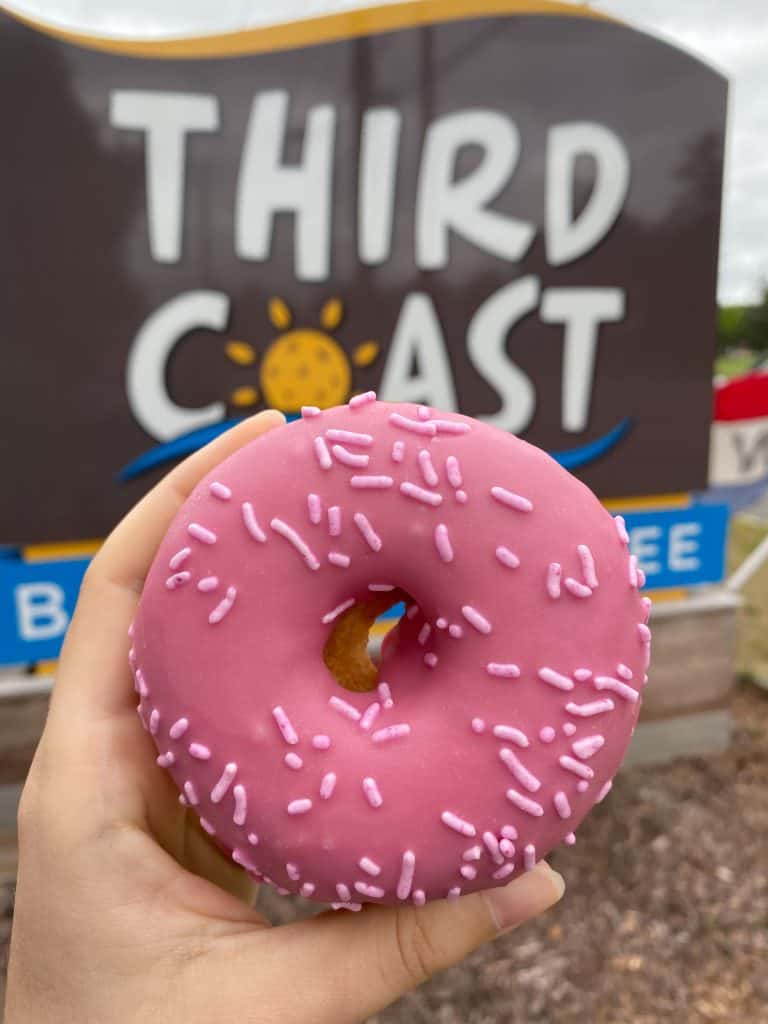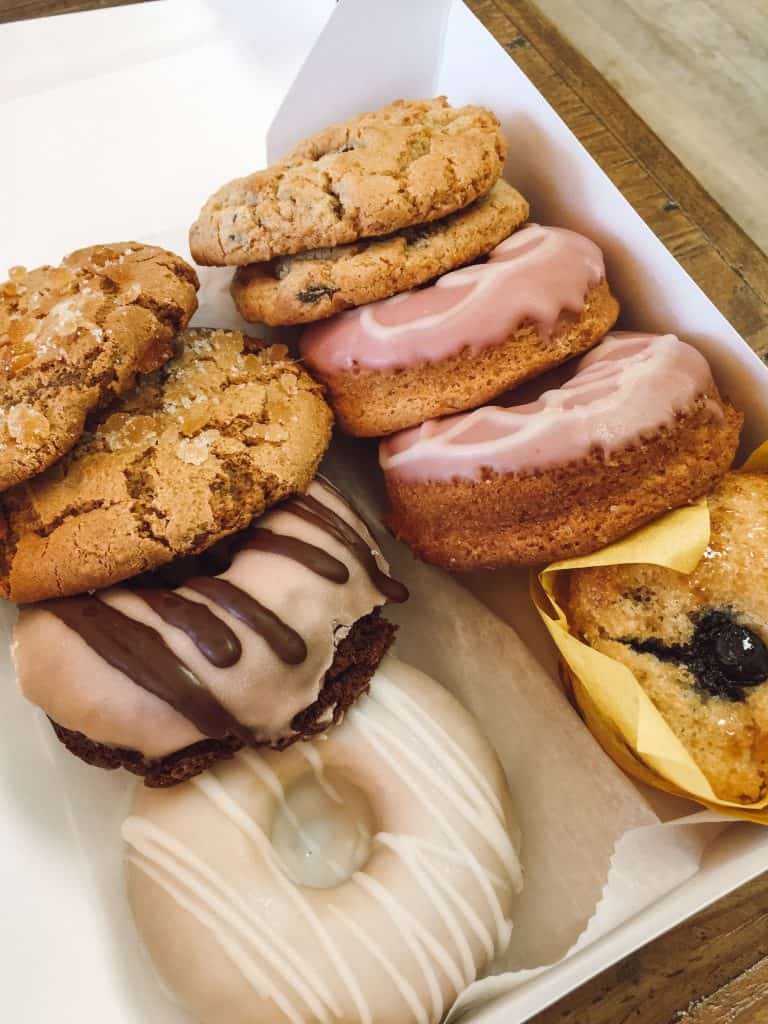 Restaurants in Traverse City with gluten free options
Taproot Cider House – celiac safe
Taproot Cider House gets first billing here because it is my favorite place to grab a meal in Traverse City! It is super celiac safe and has TONS of options. In fact, I usually eat multiple meals at Taproot when I visit Traverse City. It's hard to tear myself away from their menu, hence why it's taken me so long to put together this Traverse City gluten free guide to more restaurants than just this one!
Taproot is a farm-to-table restaurant, so when you eat here you are supporting tons of farms and local business in Northern Michigan. The menu does change seasonally but there is always a focus on gluten free (and vegan) options.
Gluten free options are marked on the menu. This includes gluten free pizza (I feel safe eating this as it is prepared in a separate space and separate oven – but tell them you have celiac disease). There is also a dedicated gluten free fryer, so fries and tater tots (!!!) are an option. There are gluten free buns for the burgers, which are grilled on a clean gluten free surface. So many options.
I also have to give a shout out to Taproot's truly extensive cider menu. Lucky for us, cider is naturally gluten free. One of my favorite things to do in Traverse City is come here for a flight of ciders (or in winter, order their mulled cider). After plenty of "research" I have to say the lavender cider is my fave!
Taproot // 300 E Front St #104, Traverse City, MI 49684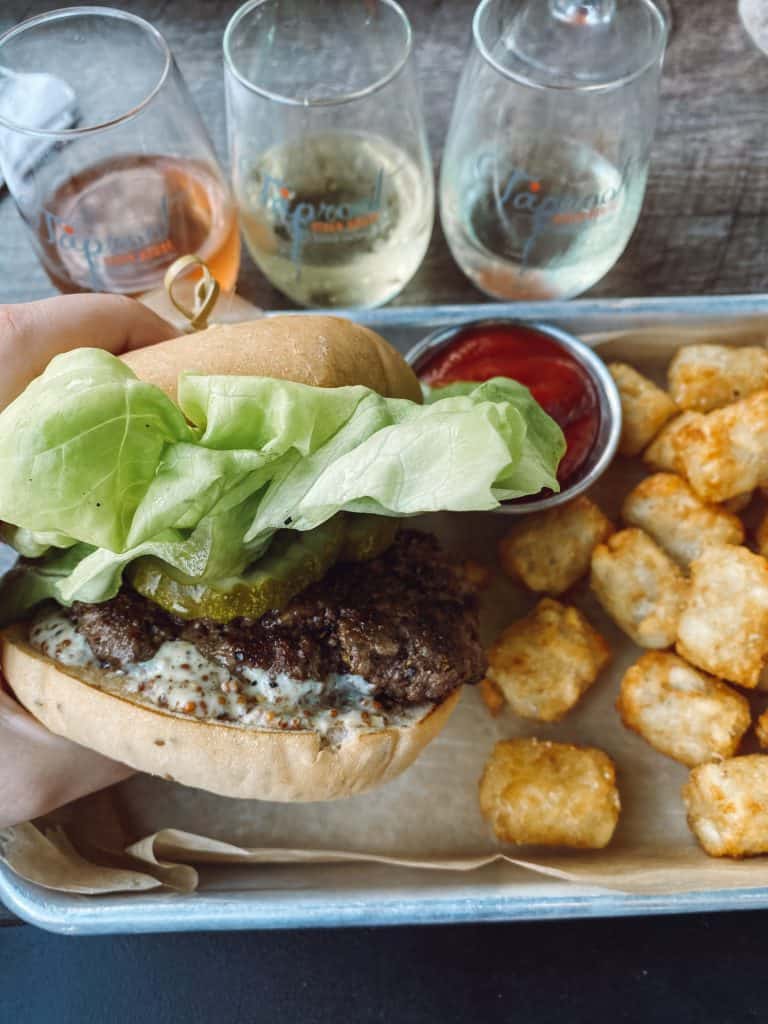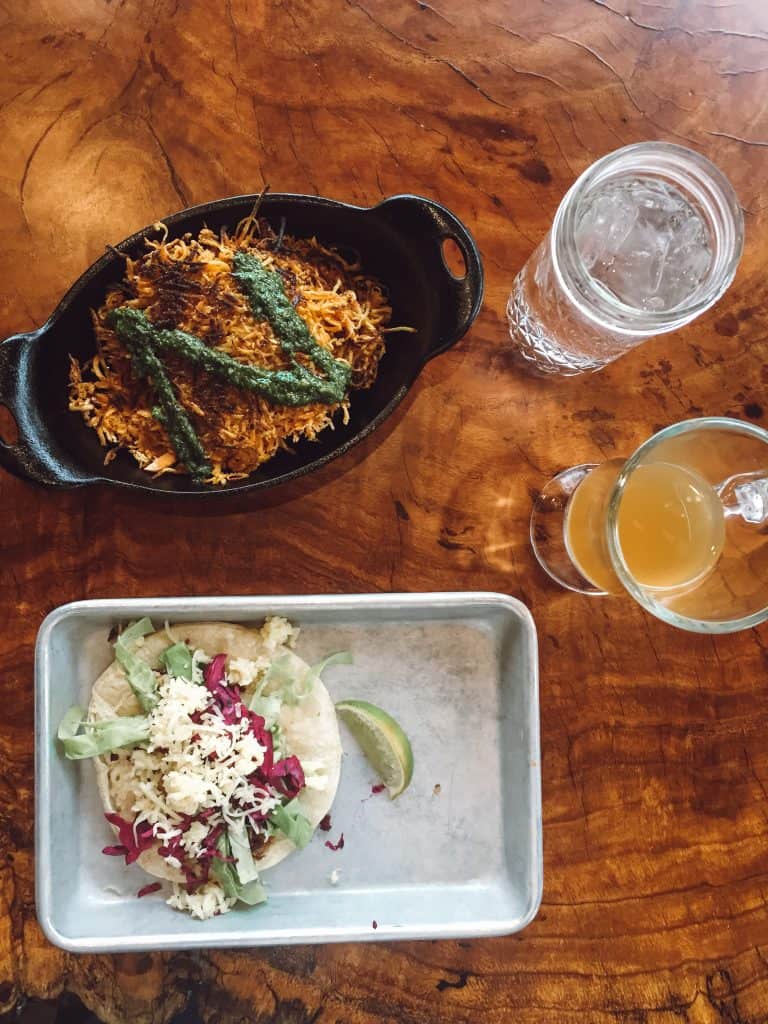 Amical – celiac safe
Amical is a European-style bistro located right on Front Street. This place had rave reviews for gluten free food, so I tried it out on my most recent visit to Traverse City! The menu here marks gluten free options, but you should inform your server that you have celiac disease (they will know what this means – yay!). The staff is all trained, and they take precautions with separate prep space, fresh water for the risotto, etc.
While there are MANY gluten free options on the menu, be aware these are all 'naturally' gluten free (no GF bread or pasta, for instance). I had the caprese salad and the risotto with pea shoots, goats cheese, and roasted rainbow carrots. It was delicious and I gobbled the whole thing down immediately. There is also a gluten free flourless chocolate cake here! It was very rich and great for sharing.
Amical // 229 E Front St, Traverse City, MI 49684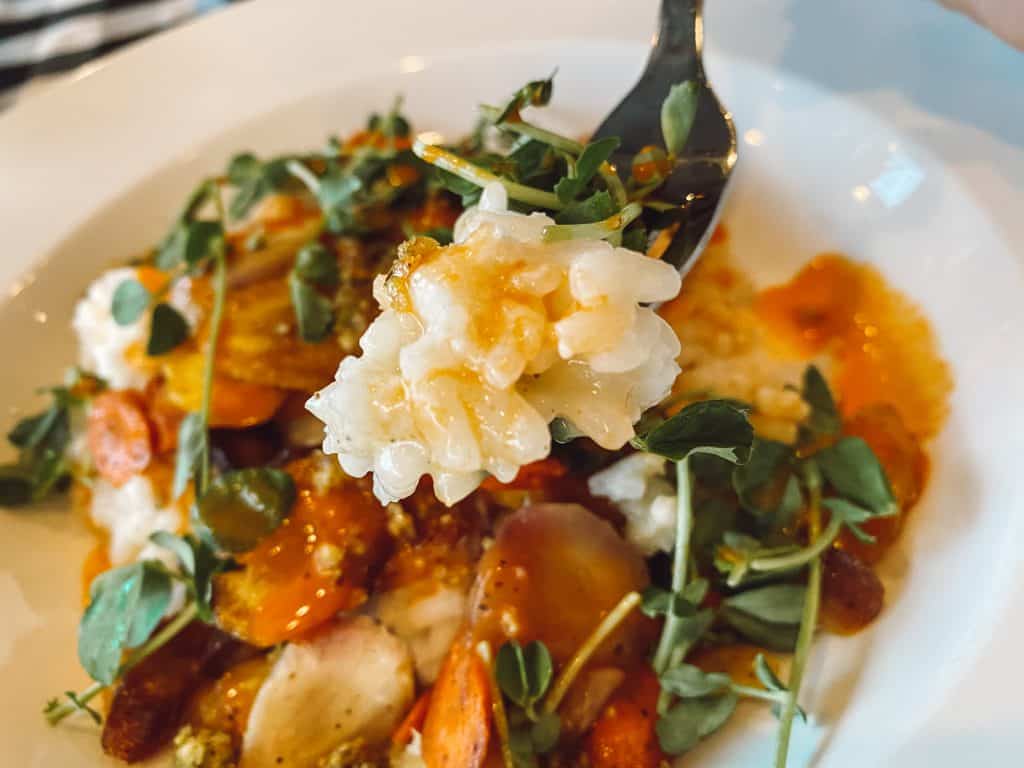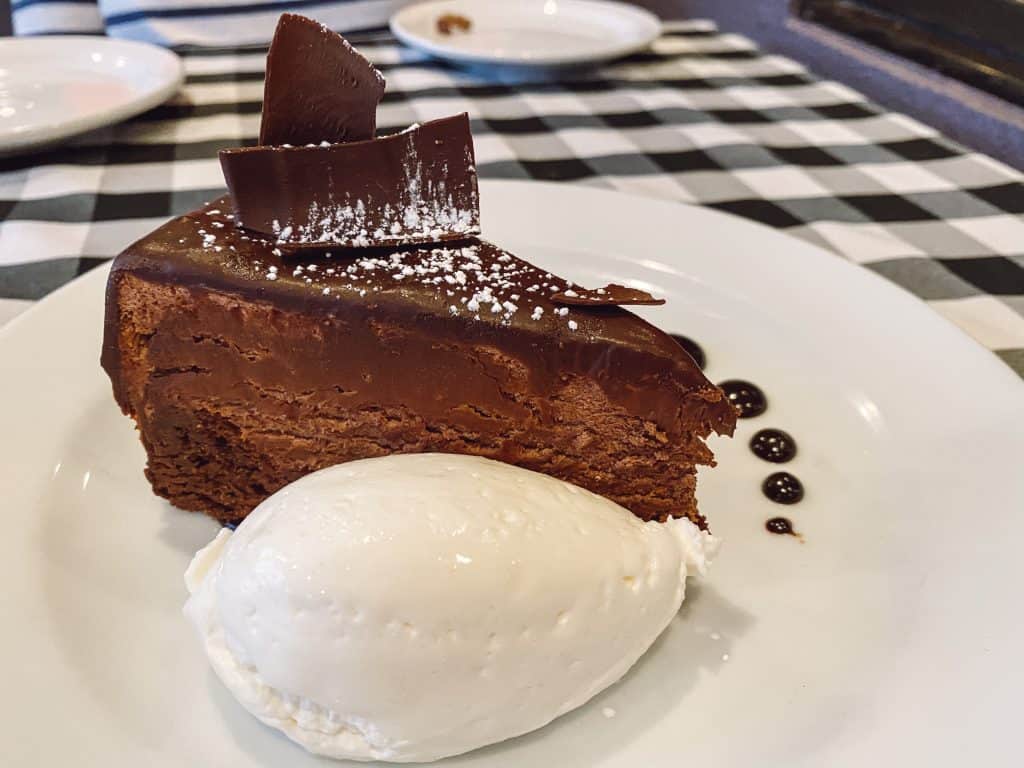 Spanglish – celiac safe
Spanglish is a fabulous Mexican restaurant with tons of gluten free options that are all celiac safe. It's located in The Village at Traverse Commons campus – which is a historic mental asylum that has been transformed into a community of boutiques, housing, and nature trails. It's a must visit when in Traverse City!
Spanglish labels all gluten free items on the menu, and there is no fryer so you don't have to worry about cross contact from that. They use fresh, gluten free corn tortillas. My favorite thing here is the pork tacos (there are other flavors too!) – which are maaaaassive but I guarantee you'll still devour them all at once. The tamales and tostadas are also gluten free!
Spanglish // 1333 Yellow Dr, Traverse City, MI 49684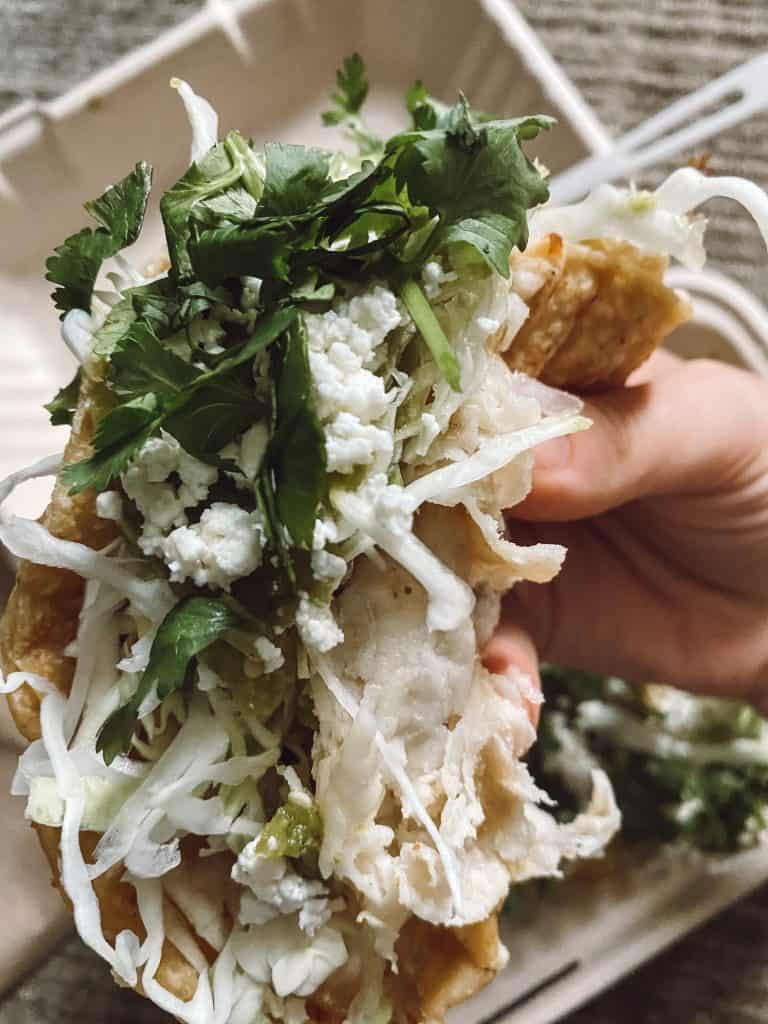 Red Mesa Grill – celiac safe
Red Mesa Grill is a Latin American restaurant in Traverse City that can cater to gluten free folks! It's located off US-31 east of downtown, so this is a restaurant you'll drive to rather than walk. It's worth the drive though because the staff here clearly understands celiac disease. In fact, they even call their gluten free menu a "celiac menu."
The menu at Red Mesa Grill clearly marks gluten free options, and there is also a dedicated gluten free fryer and dedicated prep space. Much of the menu is gluten free including all the tacos, stuffed shrimp, poblano, burritos (!), enchiladas, and more! Please be aware the tortilla chips are NOT gluten free (shared fryer), but they will give you packets of certified gluten free tortilla chips on request.
Red Mesa Grill // 1544 US-31, Traverse City, MI 49686
Note: There is another Red Mesa Grill in Boyne City, if you happen to also be in the Charlevoix area!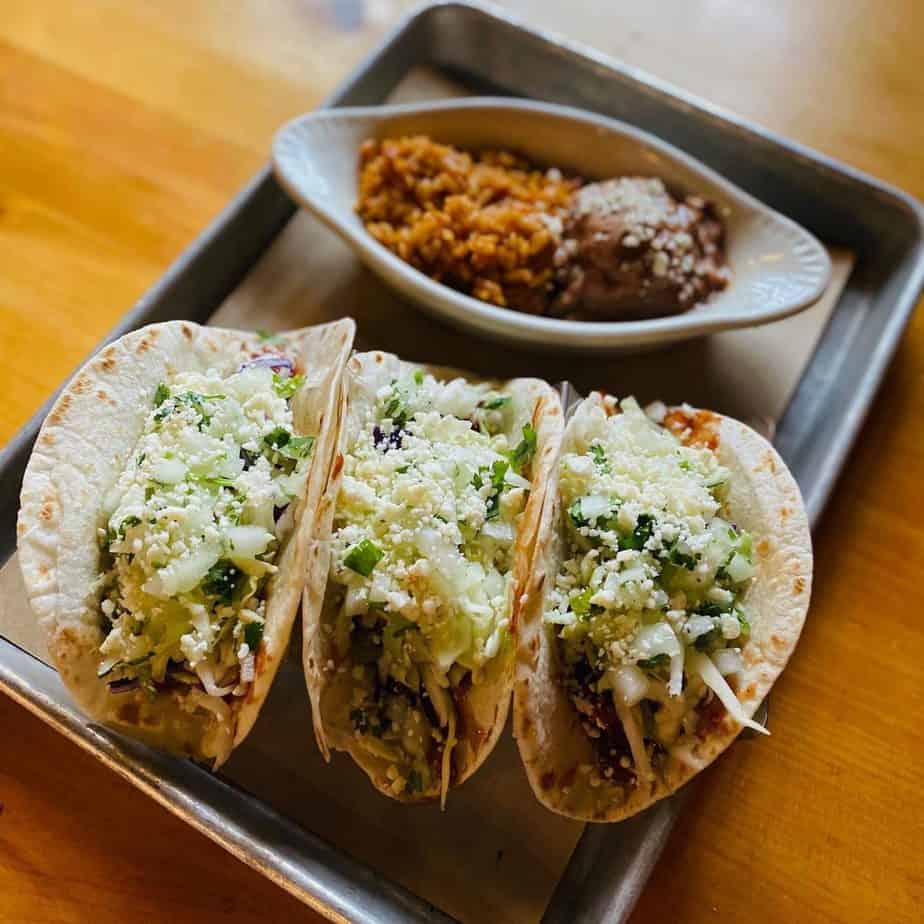 The Good Bowl – celiac safe
The Good Bowl is an up and coming Vietnamese restaurant in Traverse City (centrally located on Front Street). A lot of Vietnamese food can be made naturally gluten free, but The Good Bowl takes it a step further with items like gluten free tamari sauce and a dedicated gluten free fryer (both available on request).
Both the pho and the summer rolls are gluten free, but be aware the peanut sauce is not gluten free (they can exchange it with another sauce). GF items are not marked on the menu, but the staff here is really aware of celiac disease and will guide you through it!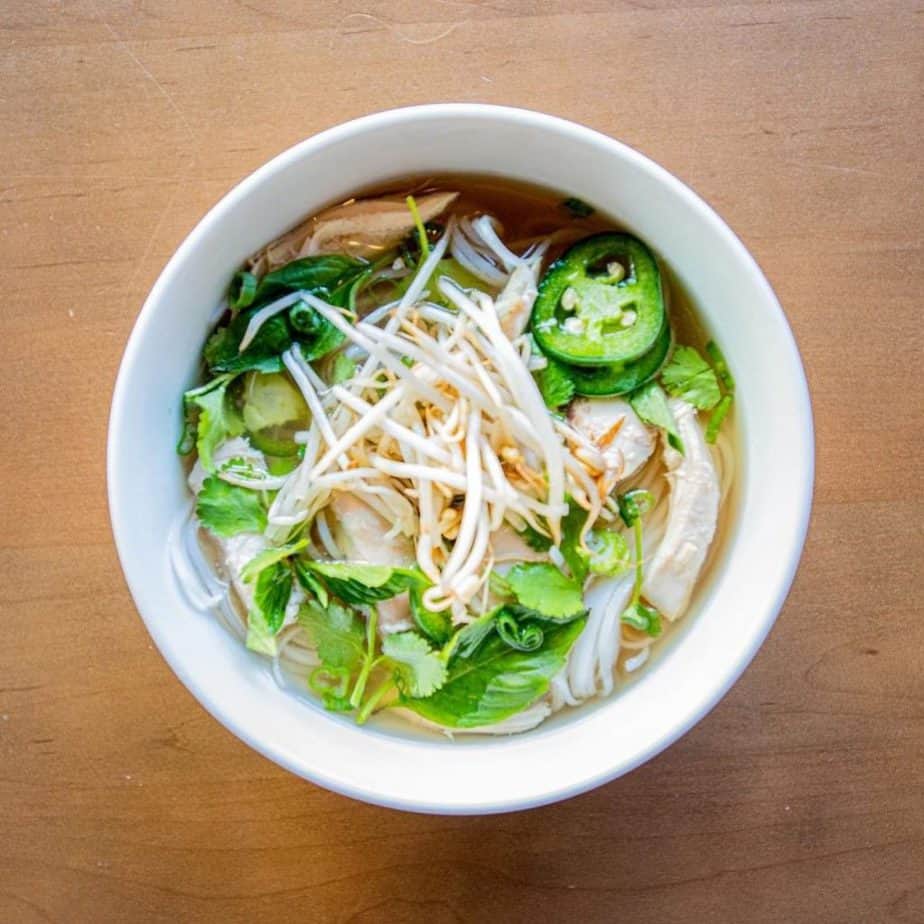 Mama Lu's Modern Day Taco Shop – limited options
Mama Lu's is a super popular taco restaurant on Front Street where I always pass a crowd of happy customers. Their gluten free options, however, are a little limited, despite the reviews you'll find on some sites like Find Me Gluten Free. There is no dedicated fryer here, which means the tortilla chips are not gluten free. There are still things you can eat – like the tacos – but you'll have to forego anything fried.
Due to the somewhat limited options at Mama Lu's, I have not gone out of my way to eat here yet.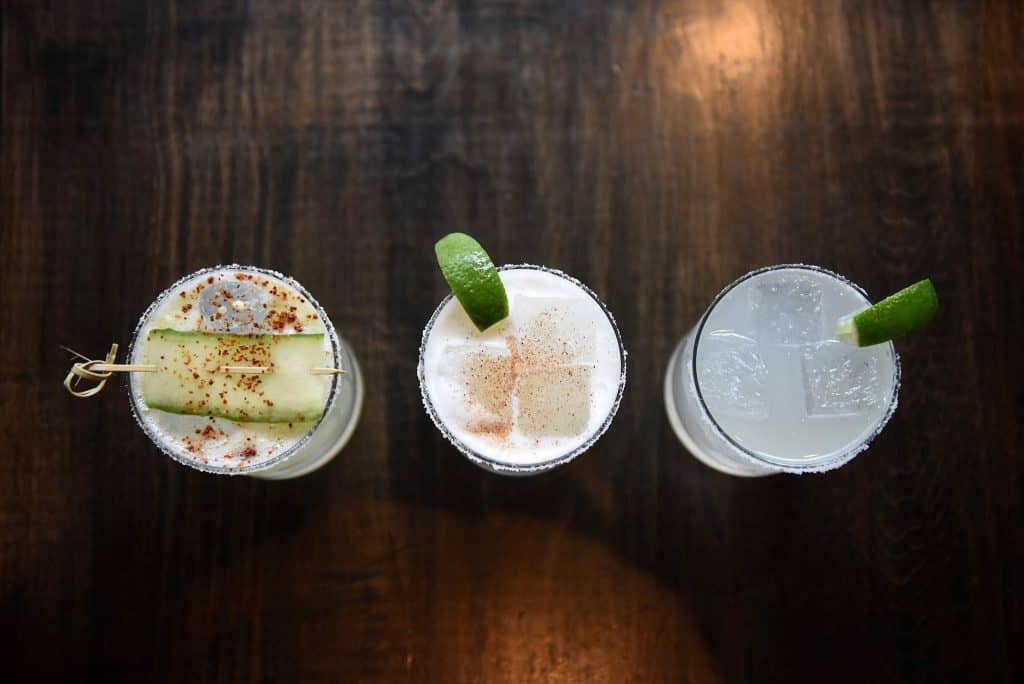 Georgina's – CLOSED
I'm only mentioning Georgina's because it often comes up in lists of gluten free Traverse City restaurants, and I don't want you to be led astray! This Latin-Asian fusion restaurant could make the entire menu gluten free, so it is unfortunate they closed in 2020.
Paesano's Pizza – chance of cross contact
Paesano's Pizza is an adorably old school pizza parlor on Front Street, a little east of downtown but still easily walkable. There's a pinball machine and everything – Dan and I spent a few happy evenings playing on that! Paesano's Pizza carries gluten free pizza bases (that are also corn free).
I have had mixed experiences here and would encourage you to be cautious if you decide to eat here. The first time I ate at Paesano's, the owner was working and showed me the pizza base and ingredient list, and ensured me they'd take precautions in preparation. The cooking area is open so I observed them cooking the pizza and was satisfied – it tasted great and I had zero reaction. We ate here again a few days later, and there was different staff. I'm pretty sure there was cross contact this time, which to be honest is extremely common anytime you order pizza from a shared kitchen (something I don't often do anymore). I had a reaction, and haven't eaten here since.
So… should you eat at Paesano's Pizza? Maybe. Like I said – I've had both positive and negative experiences. I would call ahead to make sure you are satisfied with the staff's understanding of celiac disease and ability to accommodate before you decide to eat here!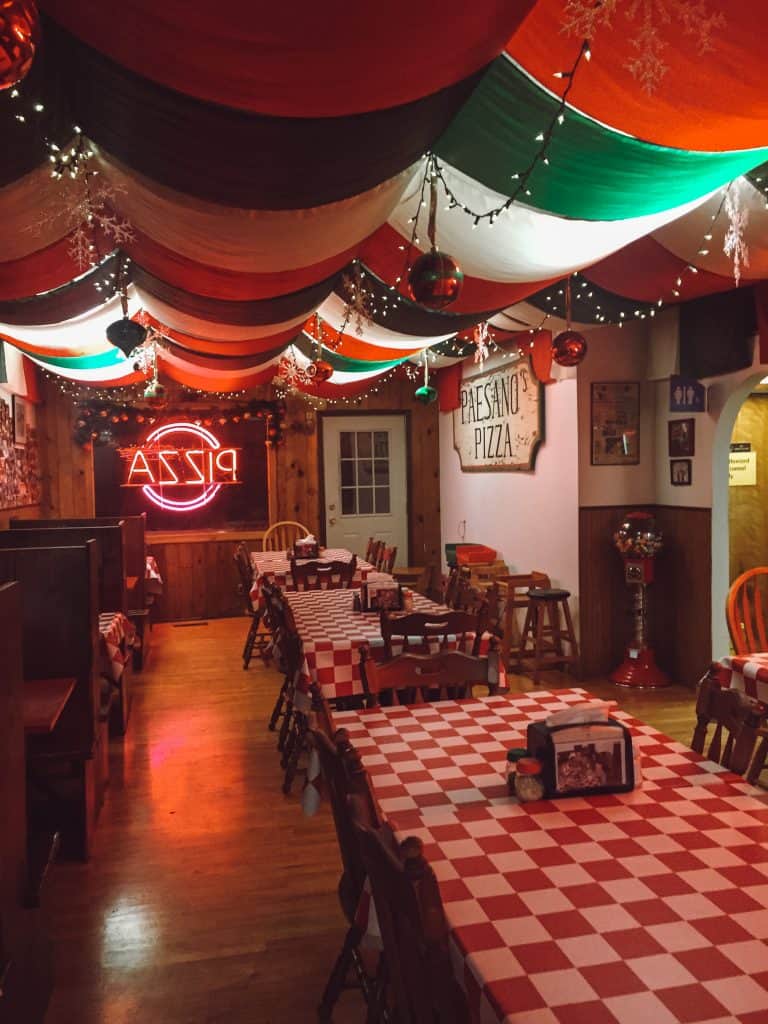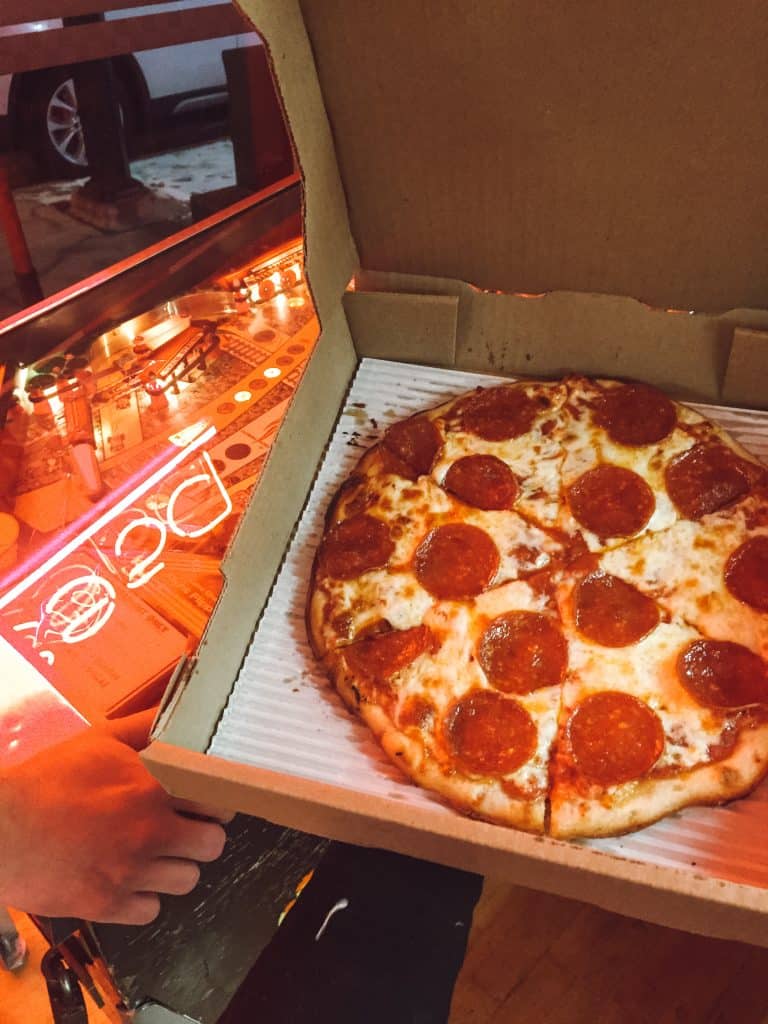 Gluten free Traverse City: Other restaurants
There are many more places to grab a gluten free meal in Traverse City! The seven restaurants above are my personal favorites that I regularly frequent because I know they take safe precautions.
I prefer sharing restaurants I've personally eaten at (usually multiple times) in my gluten free guides, for safety reasons. But I don't want to limit your options, so I'll include even more gluten free Traverse City restaurant options below:
Espresso Bay – A coffee shop I've frequented, which carries Third Coast Bakery 100% GF baked goods all prepackaged to prevent cross contact.
Peace Love & Little Donuts – A donut shop I've also visited, which carries Third Coast Bakery 100% GF donuts prepackaged on the top counter.
Milk & Honey – A sandwich and ice cream shop on Front Street. Will get a fresh tub of ice cream if you ask. Gluten free bread for sandwiches that can be grilled in the oven instead of toaster.
The Soup Cup: A Microsouperie – Soup restaurant in downtown TC that has a dedicated fryer for french fries.
The Towne Plaza – A brunch or dinner place. Informed me 50% of the menu can me made gluten free, this does not include any gluten free bread/pancakes/waffles, though.
NOT recommended for celiacs:
I'm going to assume you're on the Find Me Gluten Free app (me too!). It's a useful resource but I always take it with a grain of salt, because many reviewers don't take cross contact into account. Below are some Traverse City restaurants with decent reviews on the app, that I would NOT recommend eating at if you have celiac disease or are sensitive to gluten:
Grand Traverse Pie Company
Firefly Restaurant
Pangea's Pizza
Cherry Republic – some of their samples are okay but not the pizzas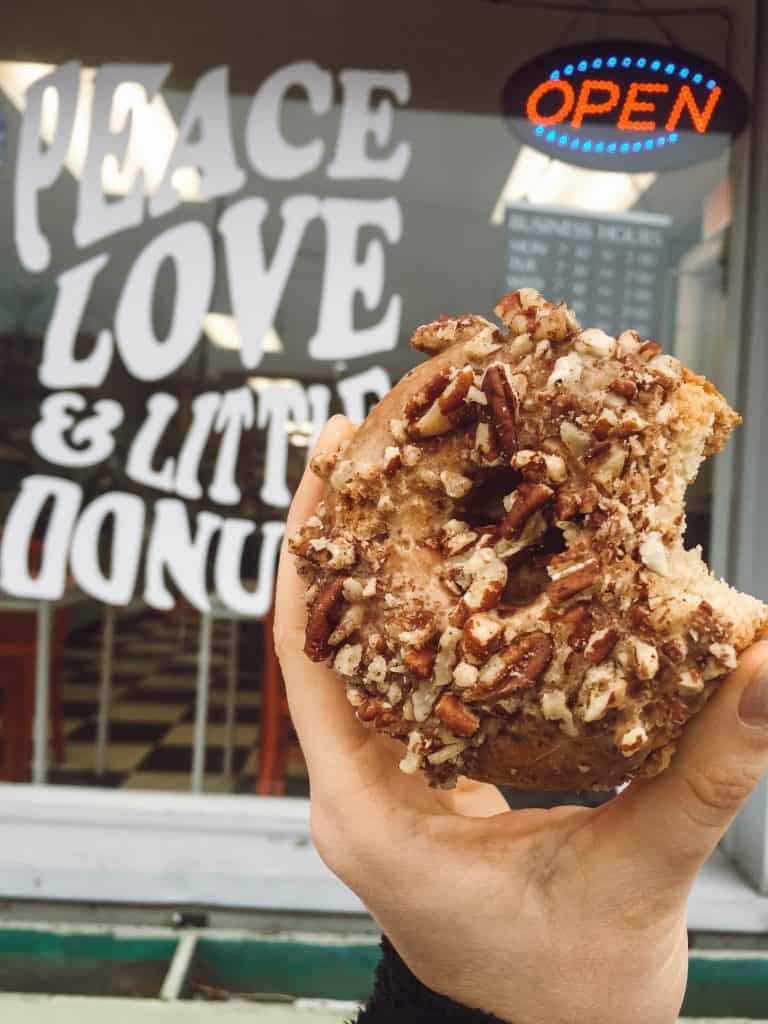 Gluten free food shopping in Traverse City, Michigan
Oryana Community Co-op
Oryana is a food co-op that is truly loved by Traverse City locals and visitors alike. I'm not exaggerating – this is my favorite grocery store in the world, and I always go here at least once when I'm in Traverse City.
Oryana carries many, many gluten free products and foods, including all your fave certified gluten free brands. There is also an entire freezer section of Third Coast Bakery gluten free baked goods.
The refrigerator section has tons of prepackaged salads, curries, soups, stews, etc. None of these are marked gluten free because the kitchen space isn't dedicated or certified. However many are marked "wheat free" and contain no gluten containing ingredients. I usually buy the curried peanut butter tofu and some of the salads and feel comfortable doing so, but it is a personal decision!
Oryana // 260 E Tenth St, Traverse City, MI 49684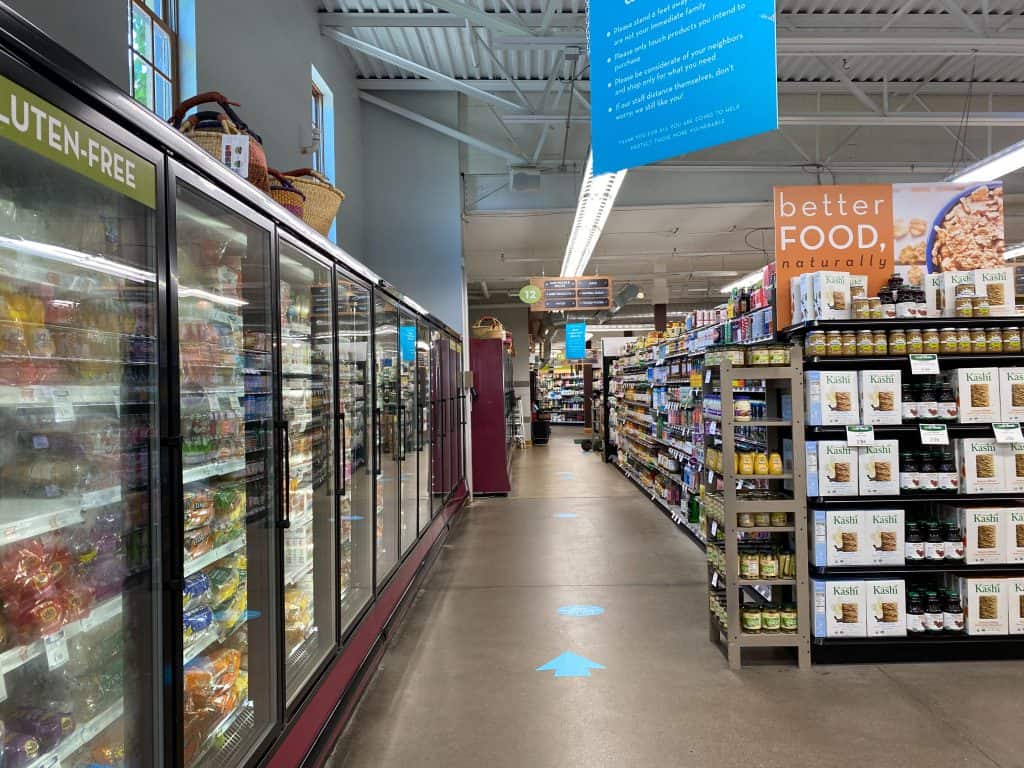 Sara Hardy Farmer's Market
You should also stop by the famous Sara Hardy Farmer's Market which, even in in 2020, is still running 7:30am-12pm each Saturday. There are tons of stalls with fresh, local produce. Traverse City is known as the "cherry capital" so you can find fresh, juicy cherries here in the summer!
There are also food trucks at the market on rotation. I've eaten safe gluten free tacos from the Grow Benzie food truck here, but they are not running this summer. Stay updated on the Sara Hardy Farmer's Market Facebook page for their current sellers.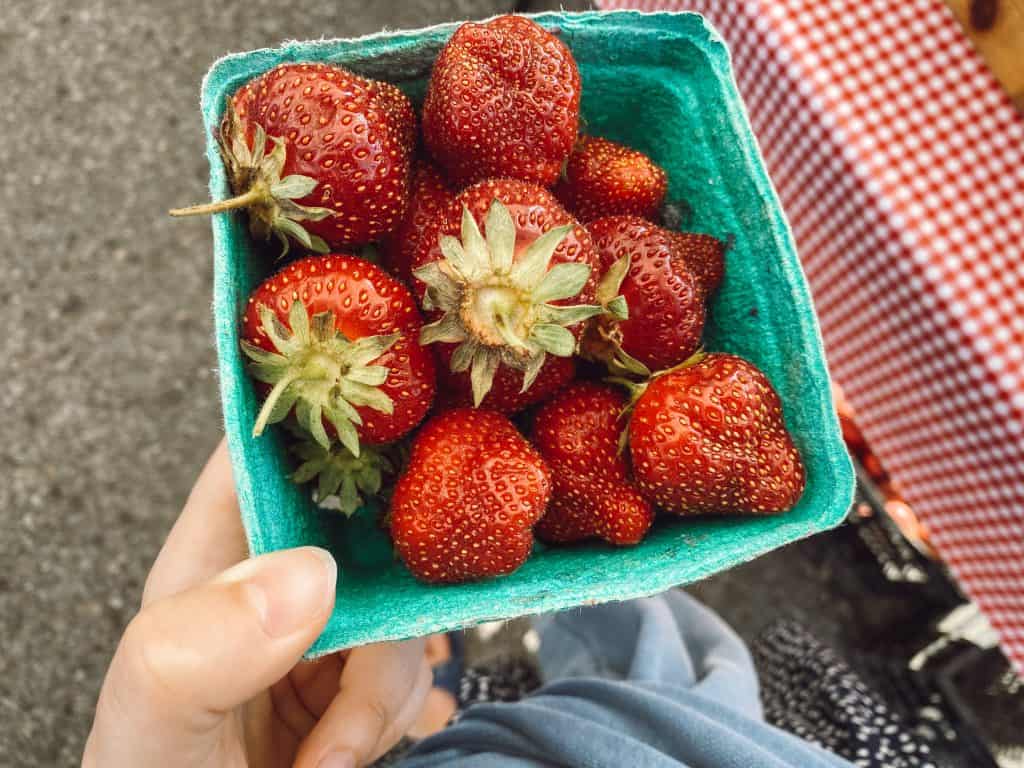 Wineries and cideries around Traverse City
When in Traverse City, you need to enjoy this incredible region… and that means WINE! Traverse City is located on the 45th parallel (same as Rhone Valley and Bordeaux France, and Piedmont Italy). Grapes love it here, and there are tons of vineyards in the Traverse City area to attest to that.
Luckily for us, both wine and cider are gluten free. This is one activity you won't miss out on for being gluten free! Check out my full blog post on the 10 best wineries on Old Mission Peninsula – my favorite day trip outing from Traverse City!
Here are some of my other favorite wineries in Traverse City and its surrounding peninsulas:
MAWBY (Leelanau Peninsula)
Tandem Ciders (Leelanau Peninsula)
Bowers Harbor Vineyards (Old Mission Peninsula)
Chateau Chantal (OMP)
Brys Estates (OMP)
2 Lads Winery (OMP)
Bonobo Winery (OMP)
Left Foot Charley (Village at Grand Traverse)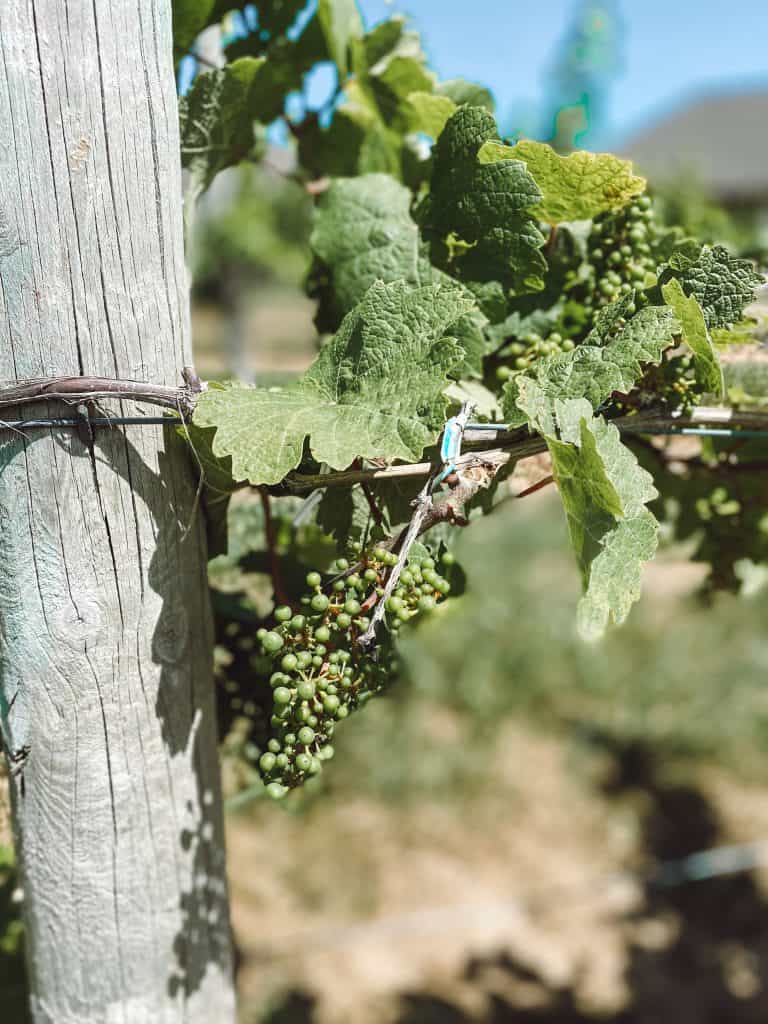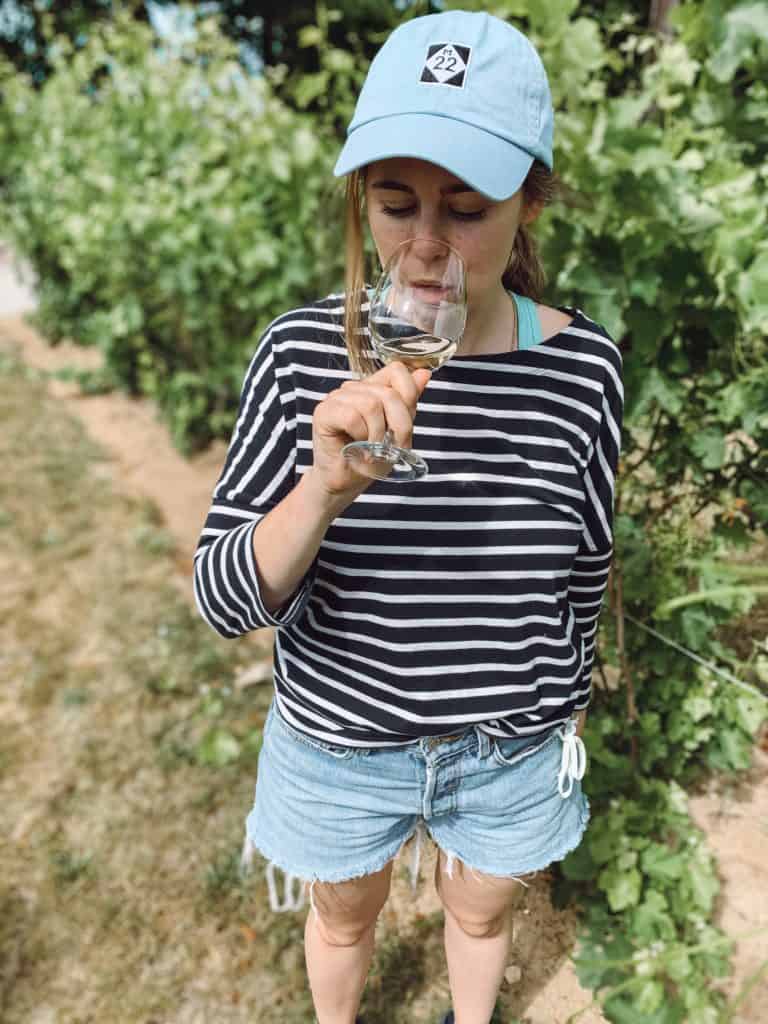 Exploring Traverse City & Northern Michigan further?
Northern Michigan is one of my favorite places in the WORLD and I'm a big advocate for exploring this region. Traverse City is the gem of NoMi and a perfect place to base yourself.
There are tons of things to do in the city, on Leelanau Peninsula and Old Mission Peninsula (which flank the city), and elsewhere in the region (like Charlevoix, Sleeping Bear Dunes, M-22 roadtrip, Empire, Petoskey, and obviously Mackinac Island).
I'm working on lots of blog posts about traveling in Traverse City and Northern Michigan so stay tuned! They'll be linked here shortly.
Map of Traverse City's gluten free options
Check out the map below for all the best gluten free Traverse City restaurants, bakeries, hotels, and more. It's a Google My Map, so you can save it to your phone and even use it offline!
If you're wondering how I find all these gluten free restaurants, and have eaten safely in 30+ countries around the world, I have a few resources for you!
And finally, download my guide to dining out gluten free, which has 50+ questions about cross contact, reviewed by Celiac Dietitian!
Of all the cities and towns in Northern Michigan, Traverse City is definitely your gluten free haven! I try to keep my gluten free travel guides regularly updated, but please let me know in the comments below if any restaurants close or change their gluten free options.
Pin it for later…