Gluten Free Mackinac Island Michigan Guide
Mackinac Island is one of the most unique places to visit in Michigan… but it also has all the makings for a gluten free traveler's nightmare. A remote island, only accessible by ferry, with one main road, no cars, and hours from any large grocery shops? That sounds like the kind of place where a gluten free traveler could waste away on limp salads and cross-contaminated side dishes. Could being the operative word. I am so pleased to say that my gluten free Mackinac Island experience was incredible.
As usual, gluten free travel doesn't come without its research, triple-checking, and quizzing of wait staff and chefs. But I hope that this post on gluten free Mackinac Island will help any future celiacs or gluten intolerant visitors to Mackinac Island!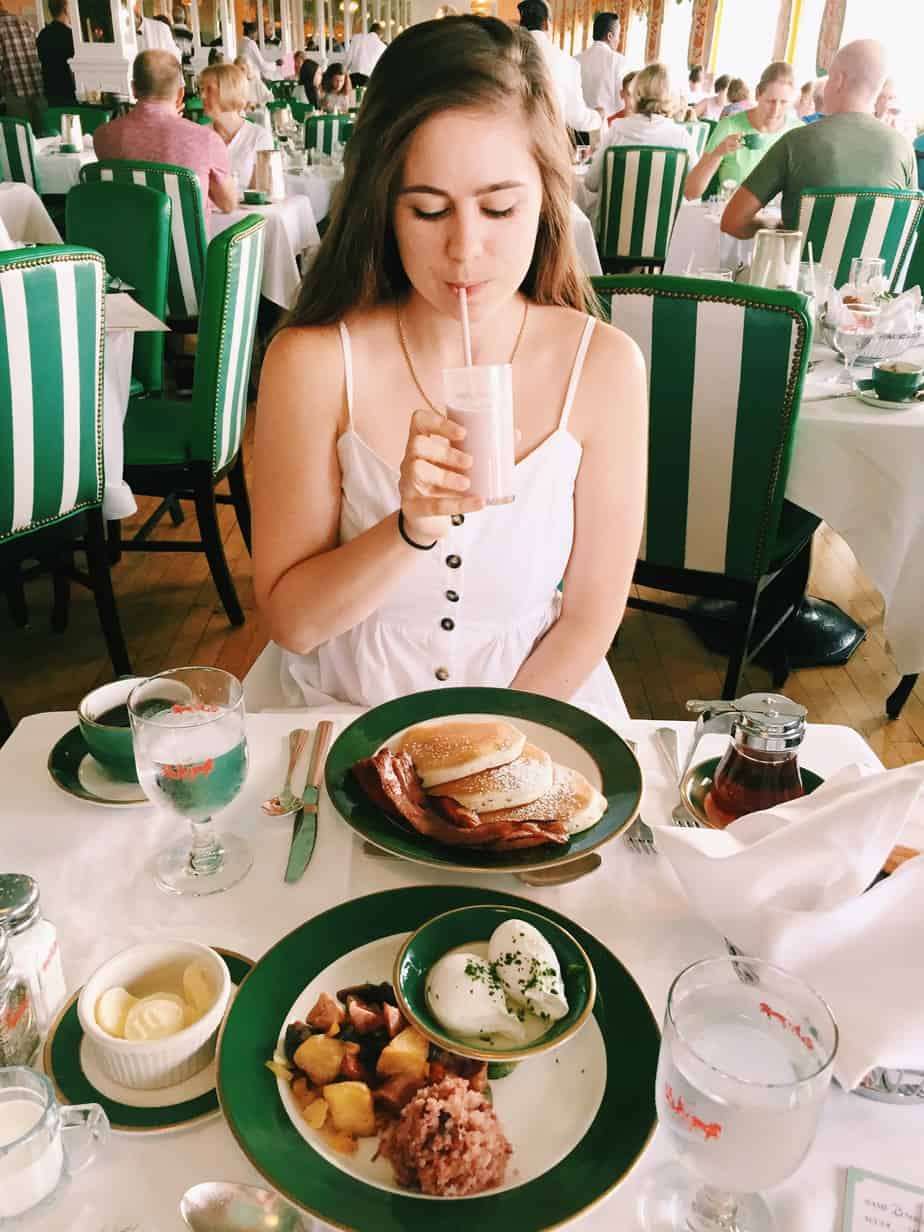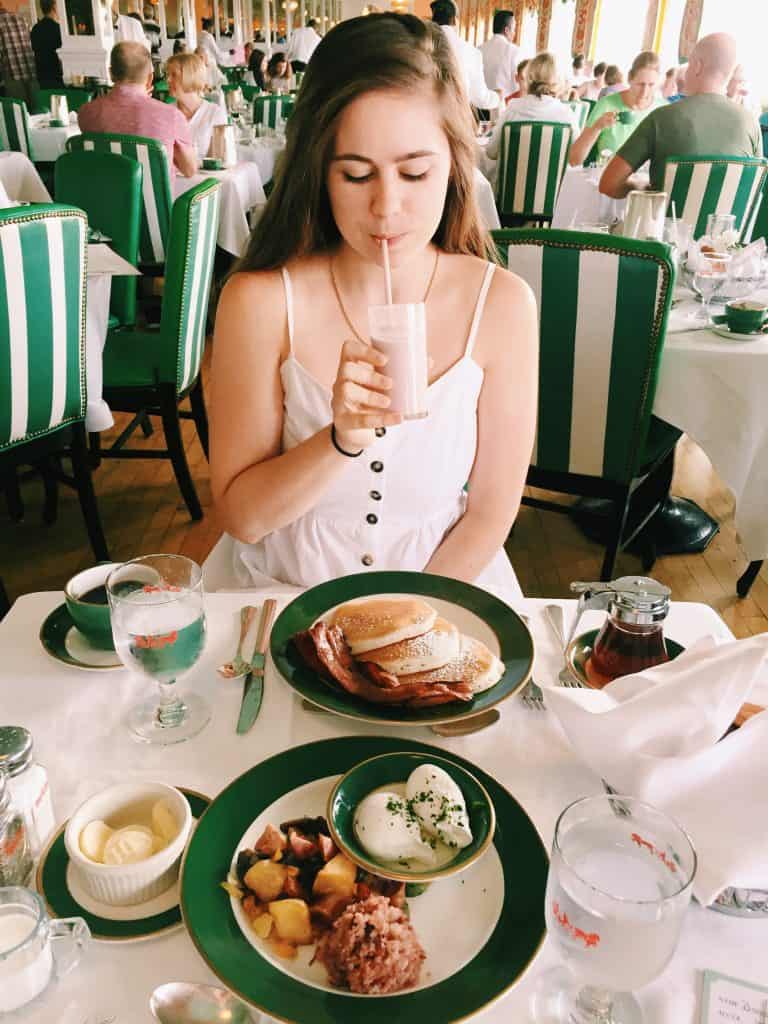 Gluten free Mackinac Island: Where to stay
In all my travel, I've found that where you choose to stay can have a big impact on your overall trip. Particularly for gluten free travelers. This has never been more true than for a place like Mackinac Island, which is so remote. By choosing accommodation that caters to your gluten free needs, you can focus on actually enjoying your trip, rather than worrying about where your breakfast or next meal will come from.
For the best gluten free Mackinac Island experience, I couldn't recommend any hotel more than the Grand Hotel. I've visited Mackinac Island four times, but my most recent trip with the Grand Hotel was a game changer regarding gluten!
At the Grand Hotel, both breakfast and a five course dinner are included with your stay. Trust me when I say you won't go hungry. Not only that, but there are so many gluten free options. Each course of each meal has gluten free options available. I was even able to have gluten free pancakes at breakfast which was such a treat (and we all know I'm kind of obsessed with gluten free pancakes).
Furthermore, the Grand Hotel is incredibly careful and considerate regarding cross contamination. Our first night, I informed the concierge that I was gluten free and enquired about options for dinner. She immediately went to get the head chef for the night. I then sat down with the head chef for 15 minutes, discussing their cooking practices and the menus. We marked up menus for both dinners I would be attending, and she handed me a copy to give my waiter when we ate. I was so impressed with this!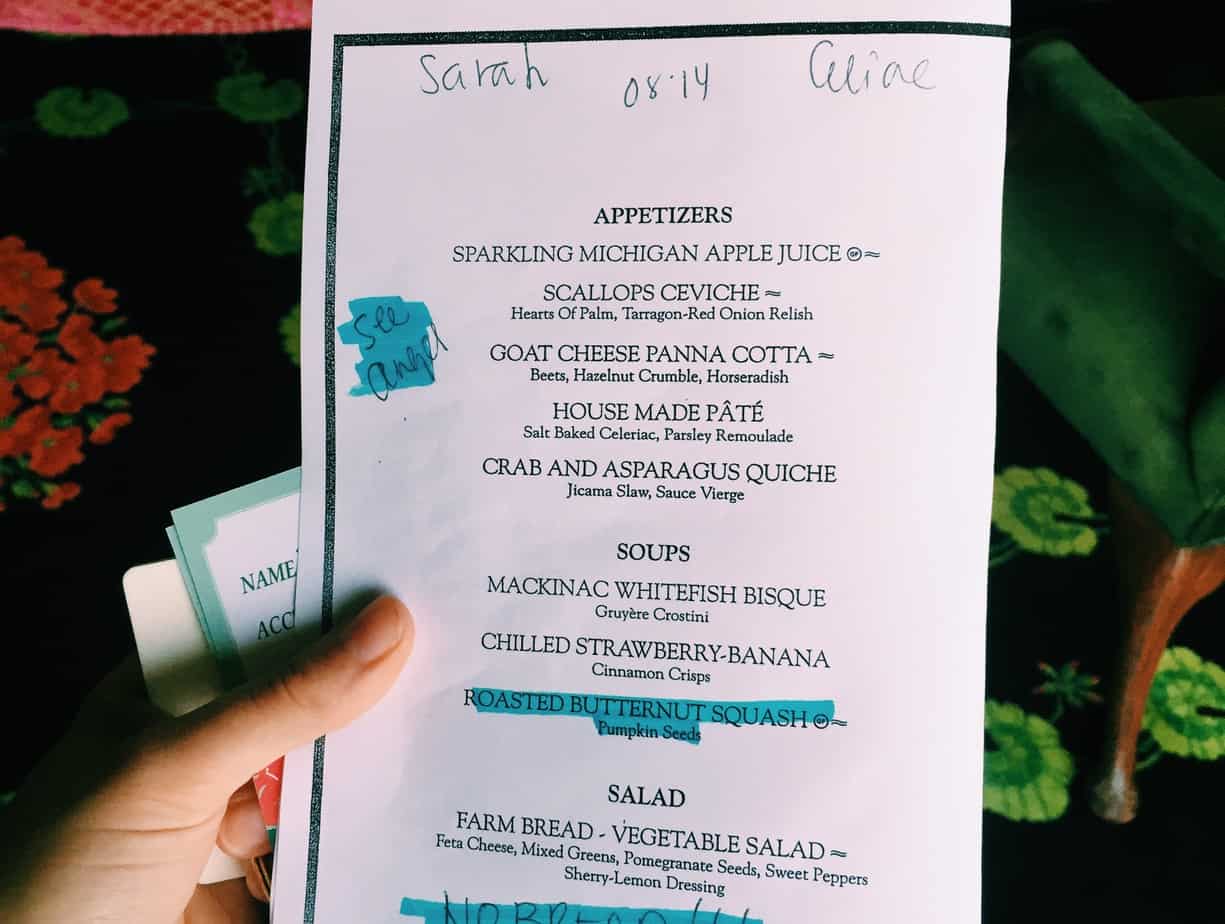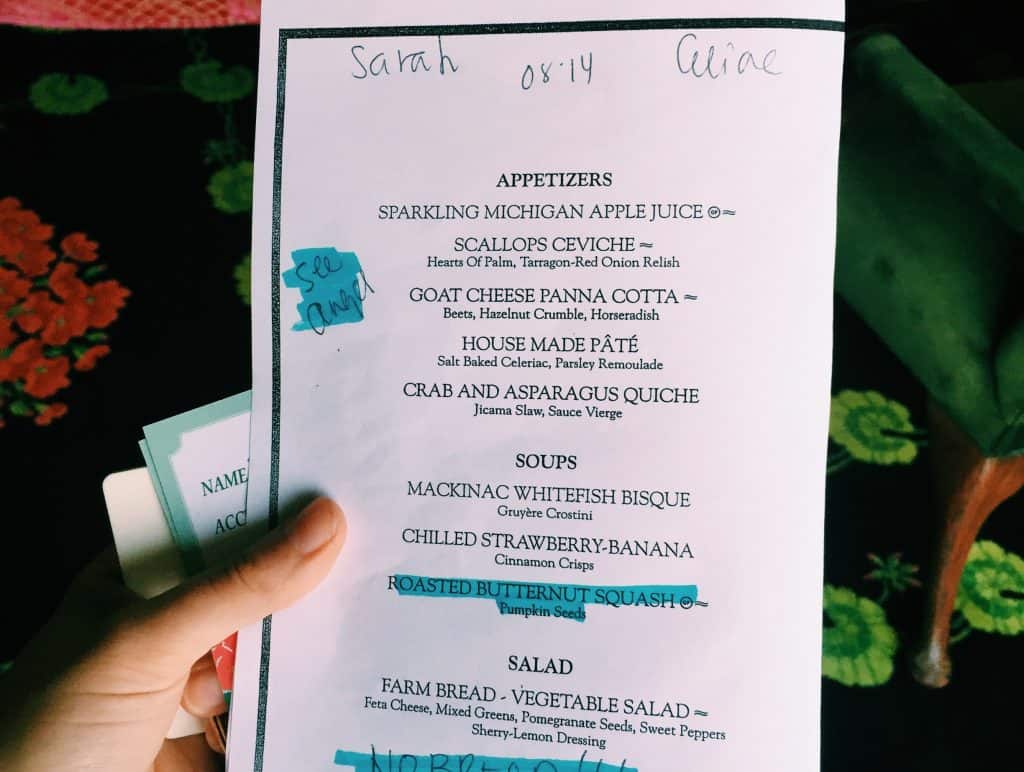 The Grand Hotel is expensive but it is details like this that make it so worth it. And, while it is expensive, you are also paying for your meals! There are actually ways to get fantastic deals to the Grand Hotel which I go into more in this blog post.
If you can't stay at the Grand Hotel, then I would recommend any self catering accommodation. Even if you are not a guest at the Grand Hotel, you can still pay to come in for a gluten free breakfast, afternoon tea, or formal dinner! Or you could visit one of their restaurants across the island. Which brings me to…
Gluten free Mackinac Island: Restaurants and Shops
Grand Hotel restaurants
The Grand Hotel has a franchise of restaurants across the island. I spoke to the management of the Grand Hotel, who ensured me that there are gluten free options at each restaurant! There are strict cross contamination practices in effect at each restaurant. You can read more about the menus here. Based on my truly outstanding experience dining at the Grand Hotel itself, I am sure the restaurants are equally amazing.
Read more about each Grand Hotel owned restaurant: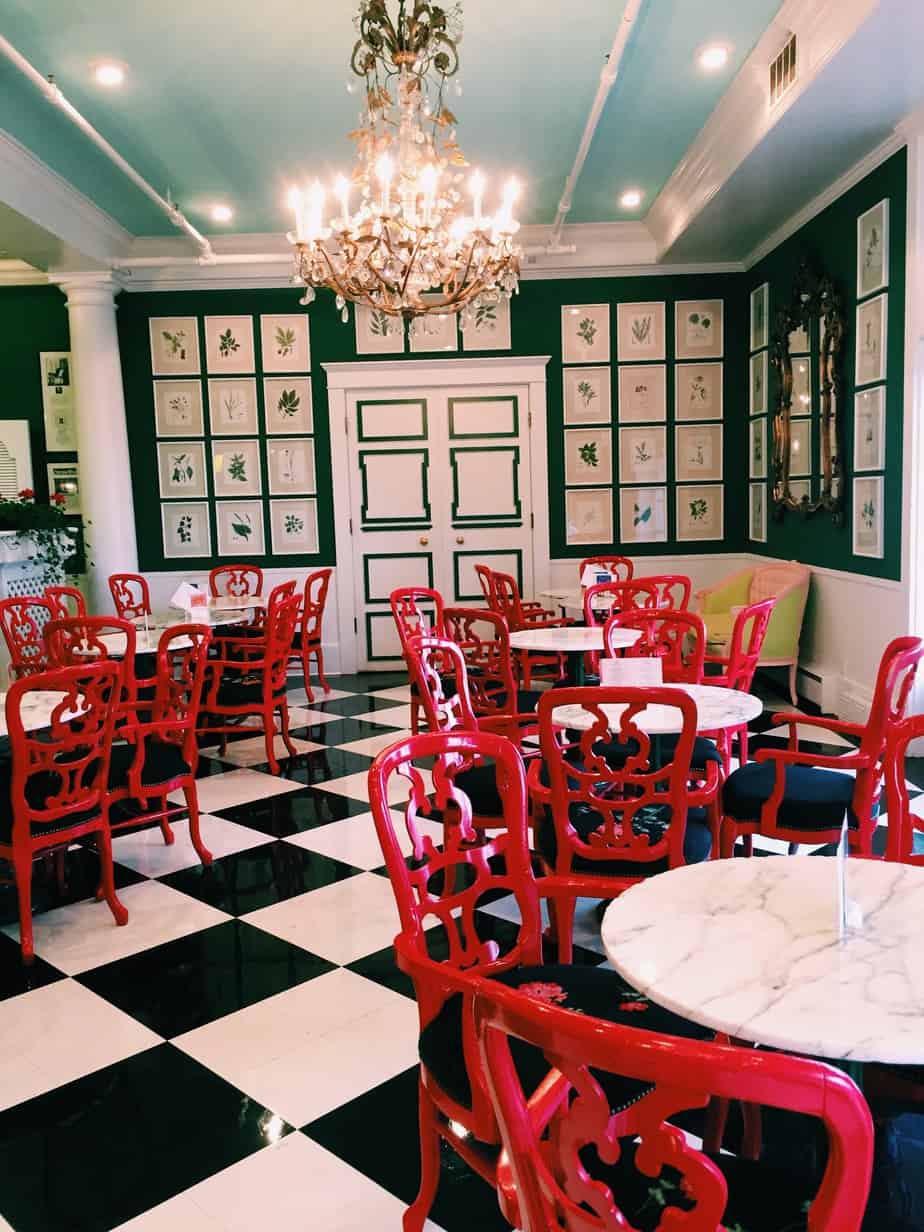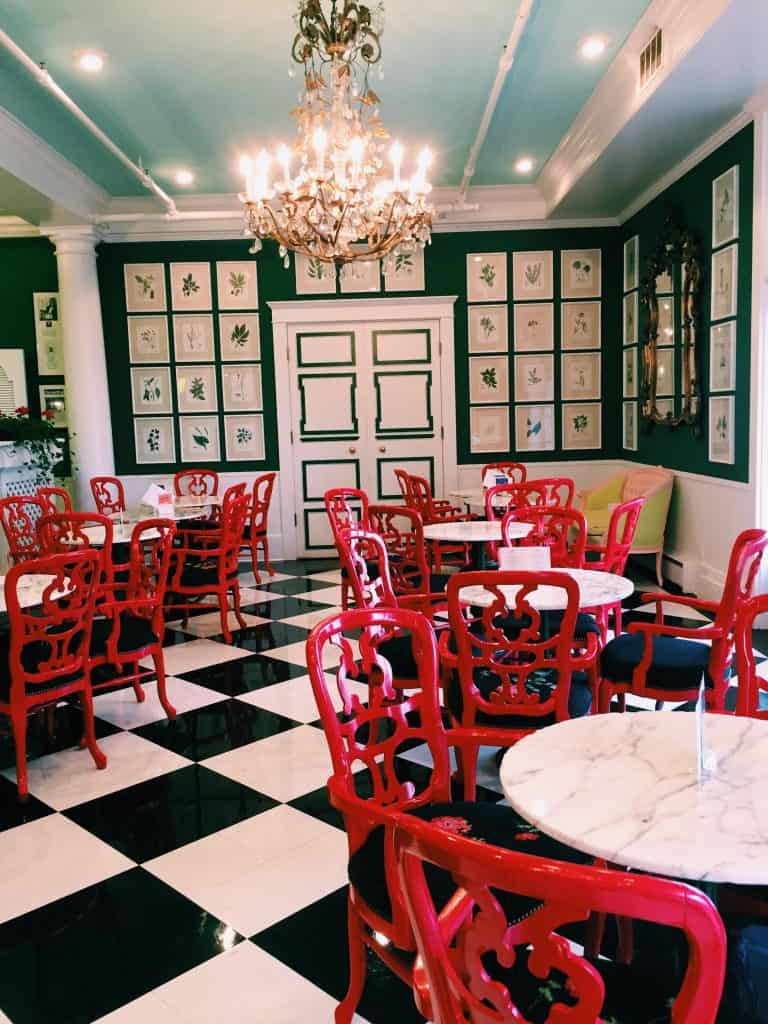 Doud's Market
This little market on Mackinac Island's main road is the oldest family-run grocery store in the USA! It is so charming and… wonderful for gluten free travelers! I really wasn't expecting much from a family-run grocery store on an isolated island, but I judged too son.
Doud's Market sells lots of gluten free products but the best part is the deli counter!! They can serve all of their deli sandwiches on gluten free bread. Just be sure to ask them to cook the sandwich using grease paper if you want it panini pressed, to prevent cross contact.
Island Slice Pizzeria
Island Slice Pizzeria, a little pizza restaurant on Mackinac Island's main drag, is a gluten free paradise. They serve gluten free pizza, sandwiches, and subs! It has a great reputation and was recommended to me by multiple celiacs who had traveled to Mackinac Island and eaten here safely.
Unfortunately I didn't get to test it out myself on this visit (too full from all our meals at the Grand Hotel!) but I'm really hoping to try it next time.
Gluten free Mackinac Island fudge
Mackinac Island is world famous for its fudge. The smell of freshly made fudge covers the island, and you can't walk more than a few feet on the main drag without being offered a fudge sample. Luckily, most fudge is naturally gluten free, although you should watch out for flavors that include additions like oreo crumbles or cookie dough.
The issue with fudge comes with cross contamination. It is difficult to ensure that each fudge shop uses proper cross contamination practices between each and every batch of fudge… which can be problematic for celiacs. That's why I was happy when I found…
Ryba's Fudge
Ryba's Fudge is a big fudge company on Mackinac Island with a couple locations along the main drag. What is special about Ryba's is that they create Mackinac Island's only vegan fudge. I know, I know, you are wondering how that relates to being gluten free… The thing is, they are very careful about cross contamination with the vegan fudge, for people with dairy allergies.
This means that the vegan fudge (which is a dark chocolate and completely GF) is made on a separate surface and even stored in their own boxes in a separate counter from all the other fudge. So if you are looking for gluten free Mackinac Island fudge, I would go with the vegan fudge from Ryba's. (Plus, it's so, so yummy!!).
Gluten free Mackinac Island map…
Download this map on your phone so you can access it during your trip! You can use it without data.
Happy eating and happy traveling, as always! With a little planning and preparation, Mackinac Island can be a dream trip for those of us who can't eat gluten.
Sarah xx
Pin it for later…
[su_row][su_column size="1/3″]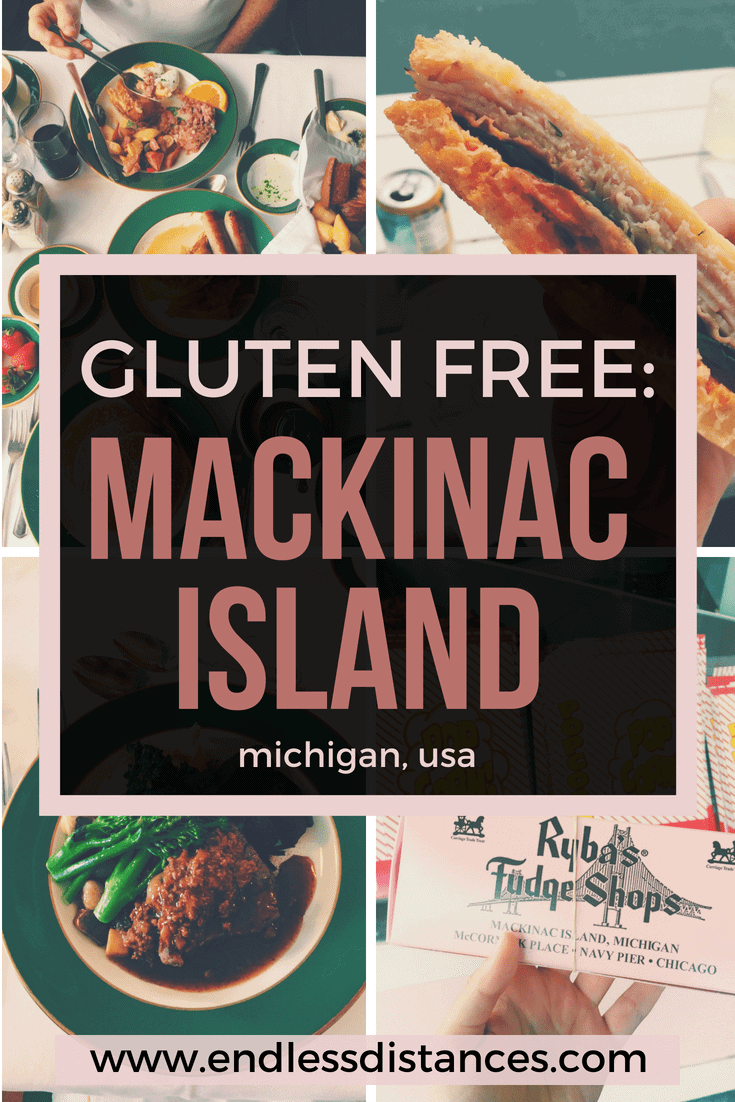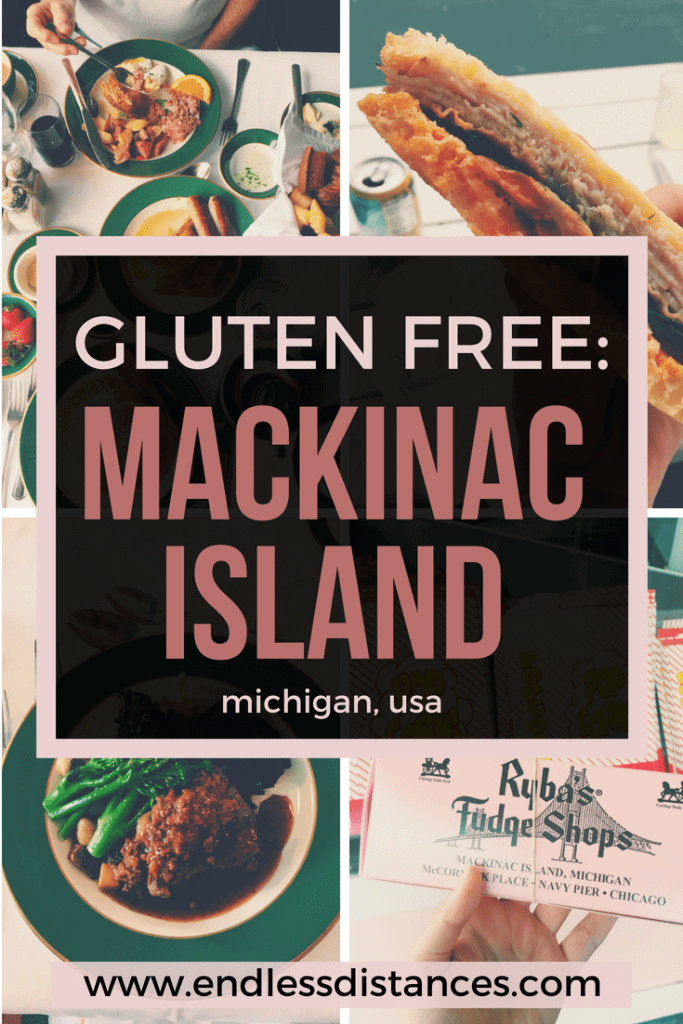 [/su_column][su_column size="1/3″]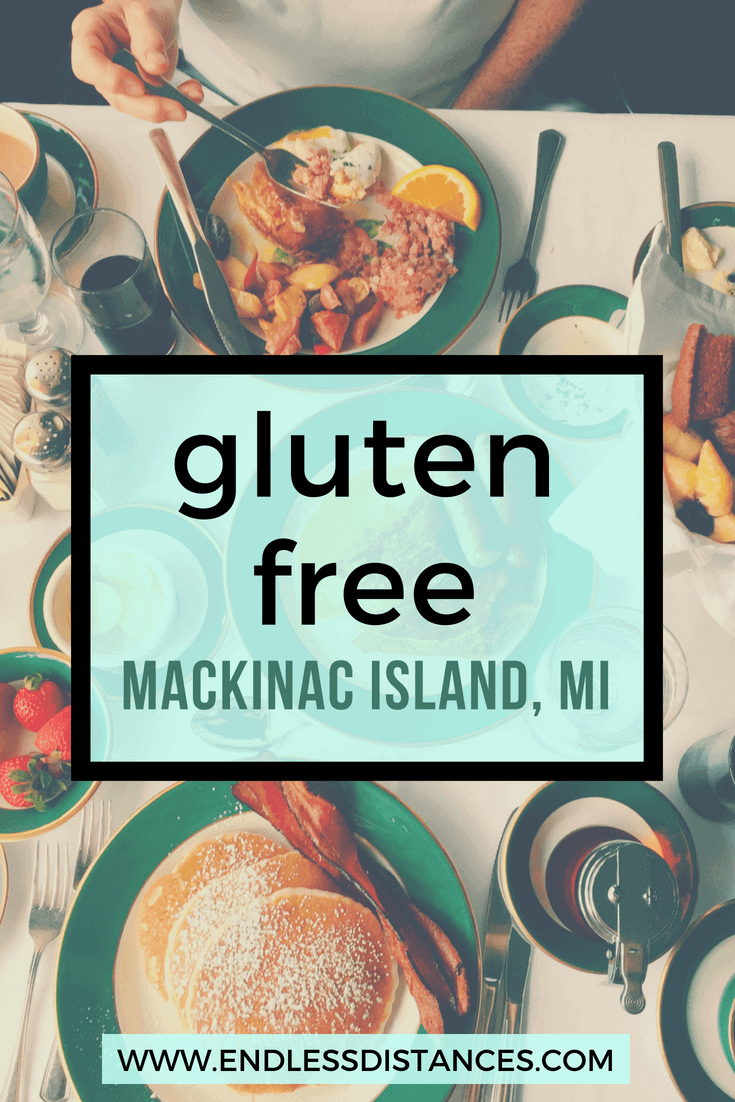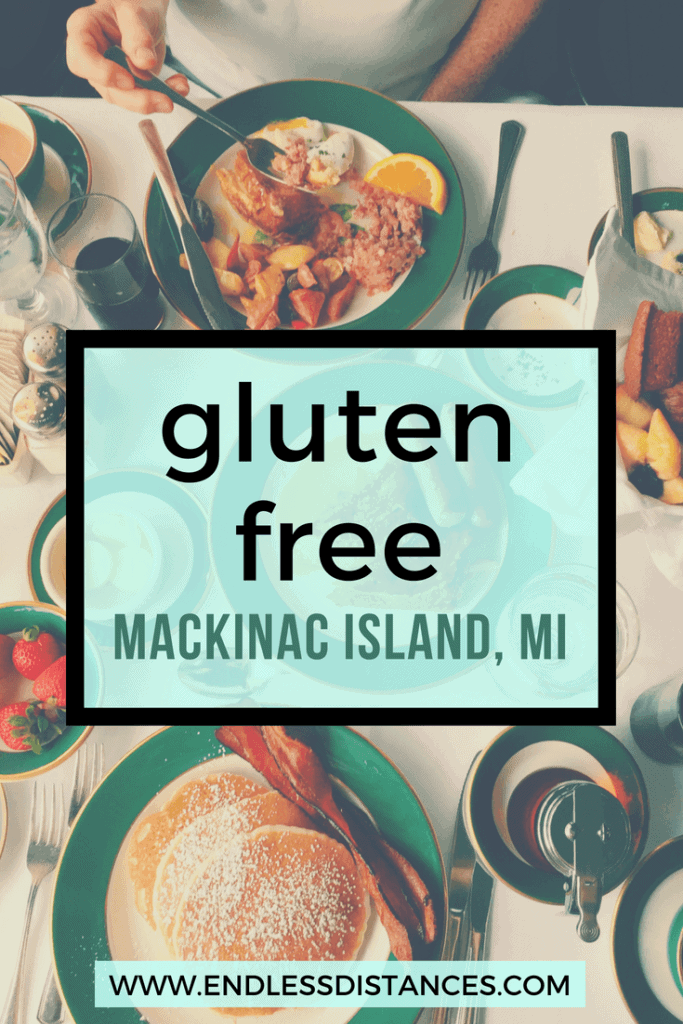 [/su_column][su_column size="1/3″]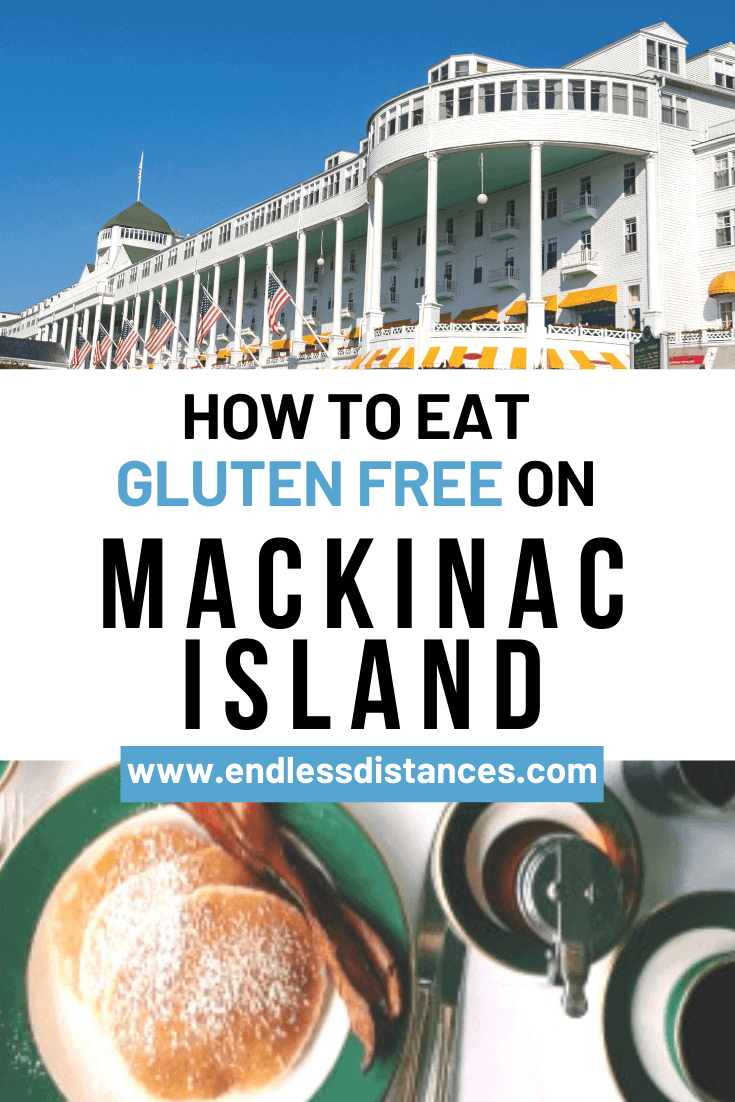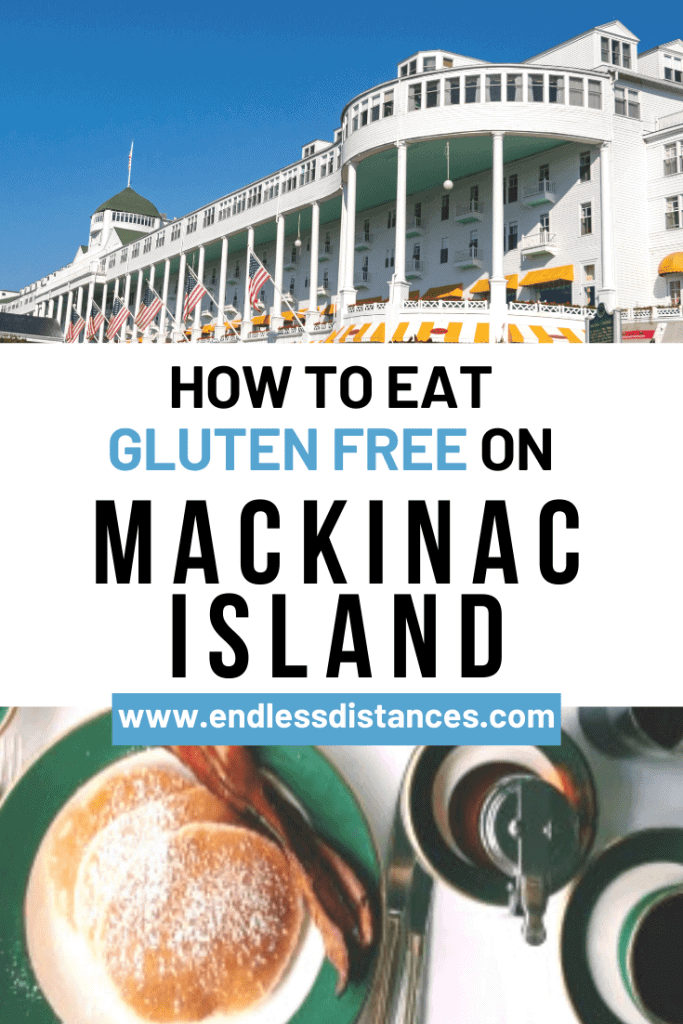 [/su_column][/su_row]
*Thank you to Grand Hotel who hosted my mom and I. Our first night was complimentary, and we received a media rate for our second night. As usual, all opinions are my own and I only promote brands and companies that I truly love. Especially when it comes to the safety of my gluten free friends!