20 Tiny Houses in Michigan You Can Stay in on Your Next Vacation
Have you ever considered staying in a tiny house in Michigan? Imagine it with me. The weekend hits, and you pack your car with your coziest knit sweaters, a bottle of wine, your swimsuit, and some board games. Then, you hit the road and head up north. In Michigan, this means driving through highways lined in pine trees. When you crest a hill, a turquoise blue Great Lake stretches out before you. Finally, you arrive at your home for the weekend: A tiny wooden cabin nestled in the forest. It's simple, but it's all you need.
The "tiny house" concept has taken the world by storm the last few years, and that's especially true in Michigan. Across Michigan, there are so many real estate and tiny house builders popping up. It makes sense, though. Michigan is certainly a state for nature lovers who just want to get away from it all. A stay in a minimalist tiny house can definitely help you with that.
I did the research for you and gathered 20 tiny houses in Michigan that will be perfect for your next getaway. Check them out below (or scroll to the bottom of this article for a map with price points).
First, though, let's talk about what a tiny house actually is, and some things you need to be aware of if you choose to stay in one!
RELATED | Michigan Bucket List: 50+ Things to do in Michigan
What is a tiny house?
The tiny house movement grew in response to people's discomfort with the overly materialistic style of American living. A tiny house is a lifestyle, not just a place to live, and it's all about minimalism and contentment with what you have.
So what exactly qualifies as a tiny house? When the movement began, any house under 1,000 square feet was considered a tiny house – but that's still pretty big by most tiny house standards these days.
As the movement expanded, different tiers of what could be a tiny house developed. Currently, there are two tiers:
Small house: 400-1,000 square feet
Tiny house: less than 400 square feet
With most "tiny housers" there seems to be a challenge of how tiny can you go. This necessitates getting creative with house layout, electricity, plumbing, sleeping arrangements, and more. Each of the 20 tiny houses in Michigan that I've listed below fits in the category of tiny house!
Sleeping in a tiny house in Michigan: Things to consider
If you choose to stay in a tiny house, there are some things to consider beyond the cozy atmosphere. Make sure a stay at a tiny house fits your travel style before committing.
Lofted beds
The main thing to consider when booking your tiny house is if you are willing (and able) to climb a ladder to access a sleeping loft. Many tiny houses maximize their space by lofting a mattress, which is accessible via a library-style ladder. This can totally add to the charm of sleeping in a tiny house, but could be an unpleasant surprise for those who are mobility impaired.
Not all tiny houses loft their beds, so don't worry if that's outside your comfort zone. You can definitely still have the experience of staying in a tiny house even if a lofted bed isn't for you! I've noted in the list below which tiny houses use a ladder for sleeping access.
Plumbing and electricity
Another major factor to consider before choosing your tiny house is the plumbing and electricity. There is a wide range of luxury when it comes to Michigan's tiny houses. Some of these houses feature the full amenities you'd find in any normal house. Others are more like glorified camping or "glamping" – and may lack electricity, plumbing, and indoor toilets.
I've noted in the list below which houses have limited or no electricity and plumbing. This is definitely something you should be aware of before booking your stay, and decide what level of comfort is your ideal.
A mini packing list for a Michigan tiny house getaway
Because tiny houses have these unique aspects, you might need to pack some extra bits and bobs than your typical vacation getaway. Consider the activities you plan on doing (like hiking, biking, or beaching), as well as the weather. You'll also want to check your house's heating or A/C status, proximity to supermarkets, and electricity or plumbing status.
As a longtime Michigan resident, here are a few things I'd recommend packing for your tiny house getaway:
20 tiny houses in Michigan
Choose among these Michigan tiny houses for your next weekend (or longer) getaway. Each one offers a cozy oasis – some with more luxuries than others.
1. Tiny House in NoMich
Charlevoix, Michigan
This 200 square foot tiny house, located just outside downtown Charlevoix, is one of my favorite picks among all the Michigan tiny houses out there. It's the ultimate hygge getaway with its woodland surroundings, outdoor fire pit, and cozily decorated interior.
There is both a sleeping loft and a storage loft, accessible via ladder, which makes the ground floor of this tiny house feel especially spacious. The house features a full kitchen and bathroom, and a reading (or cuddling) nook. It is also close to both bike paths and walking trails, and just a short drive (or 2.5 mile walk) from everything downtown Charlevoix has to offer.
A stay here will give you the quintessential northern Michigan experience!
2. The Oriole Tiny House
Saugatuck, Michigan
The Oriole is a tiny house that's part of the historic Bird Center Resort. At just 291 square feet, it somehow still feels spacious with its queen bed, full bath, and kitchenette. You'll also have access to an outdoor hot tub – that's open year round!
This tiny house is just a short walk (only three blocks) from downtown Saugatuck, where you can browse shops and galleries, dine out, or head to Lake Michigan beaches!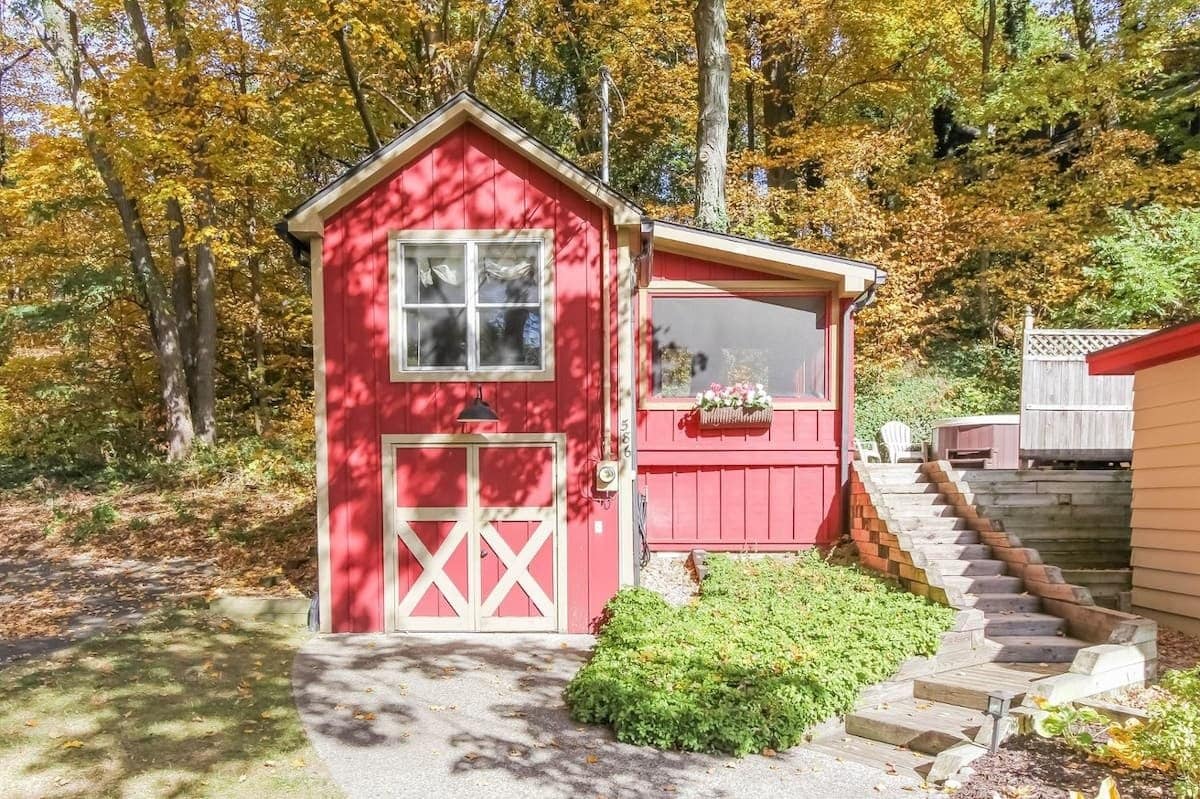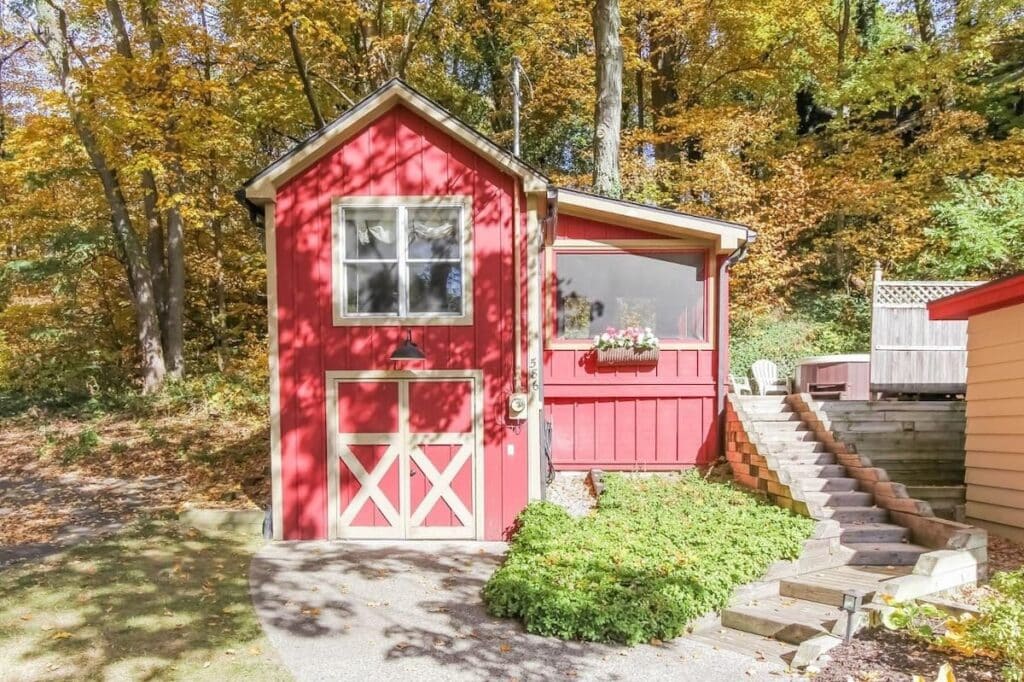 3. Leelanau Little House
Suttons Bay, Michigan
This tiny house, which can accommodate two people, is nestled in between forests and meadow on an eight acre property. Located in Suttons Bay, Michigan, it is just off the scenic M-22 roadtrip that snakes through Leelanau Peninsula. You'll be within easy access of Traverse City, Sleeping Bear Dunes, and all the wineries, beaches, and bike trails that Leelanau County has to offer.
The bed in this tiny house is lofted, and accessible via ladder. It also has a small kitchen and an indoor shower and bathroom, with fully functional electricity and plumbing.
4. Tiny House Under the Oak Trees
New Buffalo, Michigan
This tiny house is perfect if you're looking for a bit more luxury. The house features high ceilings, kitchenette, full indoor bathroom, wifi, TV with Hulu, and an outdoor grill perfect for the summer months.
This house qualifies as a tiny house based on its dimensions, but can accommodate three guests, making it one of the more spacious tiny houses in Michigan.
5. Petoskey Tiny House at a Small Farm
Petoskey, Michigan
Petoskey is one of the must-visit towns in northern Michigan, and this tiny house is the perfect accommodation for your visit. Located on a small working farm that is still just minutes from downtown Petoskey, you'll find the perfect balance of privacy and accessibility.
The tiny house itself has a spacious lofted sleeping area, plus a kitchen and indoor bathroom. There is no heating or air conditioning, but you will find yourself comfortable with a space heater or fan depending on the weather.
6. Fern Garden Tiny House
Interlochen, Michigan
The Fern Garden tiny house can accommodate two people, and is tucked away in the woodland near Interlochen, Michigan. It is close to hiking trails – just outside the door! – a brewery, a stone oven bakery, and a general store.
The house itself does not have electricity, making this more of a glamping experience for people who are happy to let go of modern luxuries in exchange for a cozy, secluded getaway.
7. – 11. Sand Castles Cottages
Coloma, Michigan
Sand Castles Cottages is an adorable collection of cottages just one mile from the public beaches near the stunning beach town of South Haven, Michigan. The family-owned property has a collection of nine cottages, all built in the 1930s-50s. Five of these qualify as tiny houses (cottages 1, 2, 3, 6, and 7).
Each tiny cottage has colorful trim and a screened in porch, and access to the property's campfire pits, woodland, and Adirondack chairs, plus games like bocce ball, corn hole, volleyball and more. This is the perfect getaway for a family, friend, or reunion group looking to stay close together in your own tiny homes.
12. Tiny House at Arrowhill Farm
New Era, Michigan
At 156 square feet, this cute house in New Era, Michigan is most definitely tiny. Here, you'll find yourself secluded on a 40 acre private farm, surrounded by 300 acres of public land. If you do decide to venture outside the property, it's just a short drive to Lake Michigan beaches, and the surrounding wineries and beach towns.
The sleeping area is in a loft space accessible via ladder. There is a wood stove to keep it cozy in the colder weather. This is definitely a more rustic stay with limited electricity and no indoor plumbing. However it is the perfect option for those looking to be at one with nature in a real working farm.
RELATED | 12 Best Coffee Shops in Grand Rapids, Michigan
13. Good Harbor Tiny House
Lake Leelanau, Michigan
This tiny house is located on the hosts' property, surrounded by their flower garden and backed by a forest. It is ideally located in northern Michigan, just a 25 minute drive from Traverse City, and easy walking distance to Good Harbor Beach.
At just 196 square feet, it certainly qualifies as a tiny house, although its ingenious design will still make you feel like there's space to relax. You can use this as your home base to explore the wineries and beaches along the Leelanau Peninsula, or perhaps drive the famous M-22 roadtrip down to Michigan's iconic Sleeping Bear Dunes National Lakeshore.
14. Tiny House in the Woods
Mount Pleasant, Michigan
Located near Deerfield Park and just 15 minutes outside Mount Pleasant, this tiny house has the perfect combination of seclusion and connection. You can either cozy up at the house itself, and enjoy the surrounding hiking trails, or use this as your home base to visit golf courses, Soaring Eagle Casino, and Central Michigan University.
15. Knackered Tiny House
Ann Arbor, Michigan
This is the only tiny house located in the Ann Arbor and Detroit area, and a perfect getaway for residents of southeast and mid Michigan. Located in the historical Old Westwide of Ann Abor, this tiny house is located on the back of the hosts' property. It is only a short walk from Ann Arbor's Main Street.
The tiny house itself is immaculately decorated and recently renovated, featuring a small kitchen, a lofted bed, and a TV. It's definitely one of the more luxurious and centrally located tiny houses in Michigan, and is ideal if you're looking to get out and explore while staying in a tiny house.
16. Laketown Hut
Holland, Michigan
This adorable tiny house is located halfway between Holland and Saugatuck – both popular lakeside towns in western Michigan. The Laketown Hut is open for rental in all seasons, and features a space heater in the winter. In the summer, you can enjoy an above ground pool, a campfire ring, and easy access to beaches and quaint coastal towns.
17. Rustic Tiny Barn Cabin
Traverse City, Michigan
There are tiny houses, and then there are tiny barns. This tiny barn is located near popular Traverse City in northern Michigan. It's a very unique place to stay surrounded by peaceful woodland.
Important to note is that this tiny house does not have running water or electricity. A small outhouse (pictured below) is available, but this stay will feel more like camping or glamping than staying in a hotel. Guests also need to bring their own sleeping bags.
The tradeoff is an extremely low nightly rate compared to other tiny houses in Michigan, and a relaxed and secluded experience.
18. Cozy Tiny House in the Woods
Freeport, Michigan
This cozy little place is one of the most affordable tiny houses in Michigan. Located in Freeport, this rental house is located on the same property as a main house and garage, yet still secluded back in the woods.
Inside the house, you'll have access to a small kitchen and bathroom, plus two beds (one lofted and accessible via ladder). In addition to surrounding woodland and a campfire pit, there is also Netflix and Amazon Prime, making this the perfect place to hole away for a weekend of relaxation.
19. Hephzibah's Haven
Gaylord, Michigan
Close to Otsego Lake in northern Michigan, Hephzibah's Haven is a teal blue A frame cabin. It's adorable and definitely qualifies as a tiny house. The bed is lofted and accessible via a library ladder. The cabin is surrounded by woodland yet only 45 minutes to an hour from many favorite northern Michigan destinations like Petoskey, Charlevoix, Traverse City, and Mackinac Island.
20. Harbor Country Cabins
Sawyer, Michigan
Harbor Country Cabins is a small resort of tiny cabins. In total, the resort can fit 28 people and can be rented out for group events like weddings or reunions. It's close to many southwest Michigan attractions like wineries, breweries, and Lake Michigan beaches.
Each cabin has its own screened in porch, and the property also has picnic tables, hiking trails, fire pits, and hammocks. It is the perfect retreat either to cozy up in your tiny cabin all weekend, or go explore the local Michigan sights.
The best tiny houses in Michigan
I know I'm biased as a Michigander myself, but there's nothing quite like a secluded getaway in this state. We have forests, hiking and biking trails, quaint towns, wineries perfect for dropping by, and the most stunning beaches and lakes!
With everything going on in the world, nothing sounds more appealing to me than a weekend retreat to one of these cozy Michigan tiny houses. The only question is… which one are you staying at first?
Pin it for later…