Grand Hotel Mackinac Island: A Complete Guide
The Grand Hotel on Mackinac Island is a luxurious Victorian-era hotel that hosts the world's longest front porch. It is verging on legendary in Michigan. I think every little Michigander grows up dreaming of one day staying at the Grand Hotel Mackinac Island.
…But it turns out it's not just the Michiganders who dream of the Grand Hotel. The Grand Hotel is ranked as one of the top 500 hotels in the world and the top hotel in Michigan by Travel + Leisure. In 2018 it was voted as a top 5 resort in the Midwest by Condé Nast. And if you've never heard of Mackinac (pronounced Mack-in-aw) Island, let this be your travel trend tip off. In 2018 Tripadvisor named Mackinac Island the top summer destination in the USA!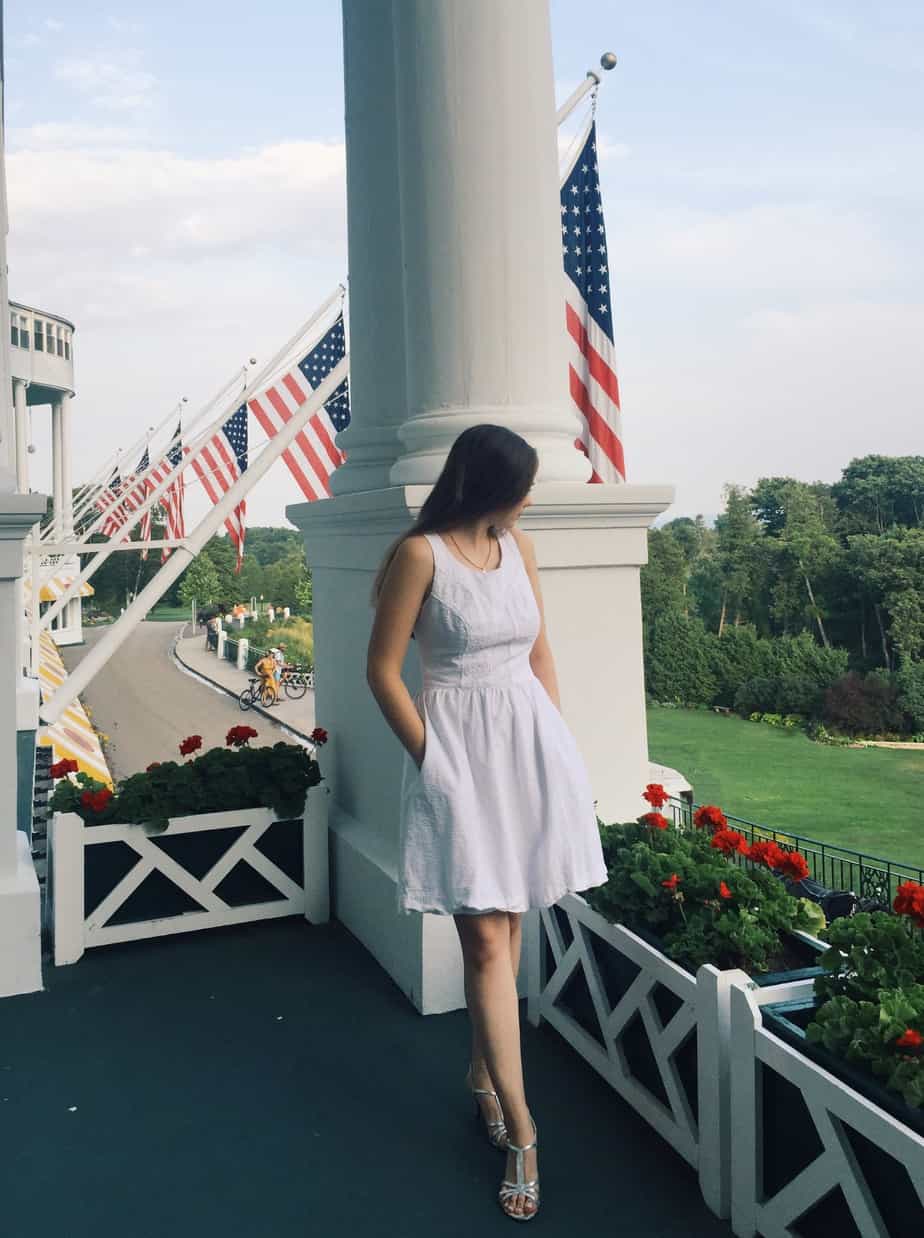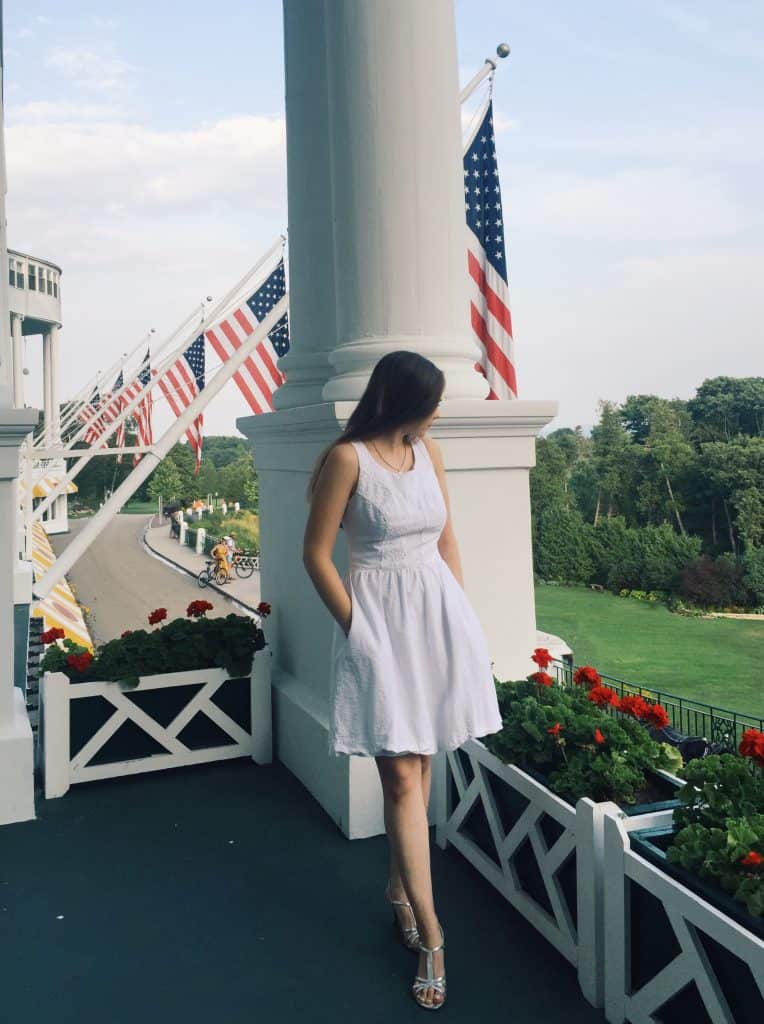 A tiny island in Lake Huron, accessible by ferry boat, Mackinac Island is only 3.8 square miles. Cars are banned and visitors traverse the island by foot, bike, and horse carriage. And what's more, the island is world renowned for its fudge. The tiny yet bustling main street is lined with colorful fudge shops.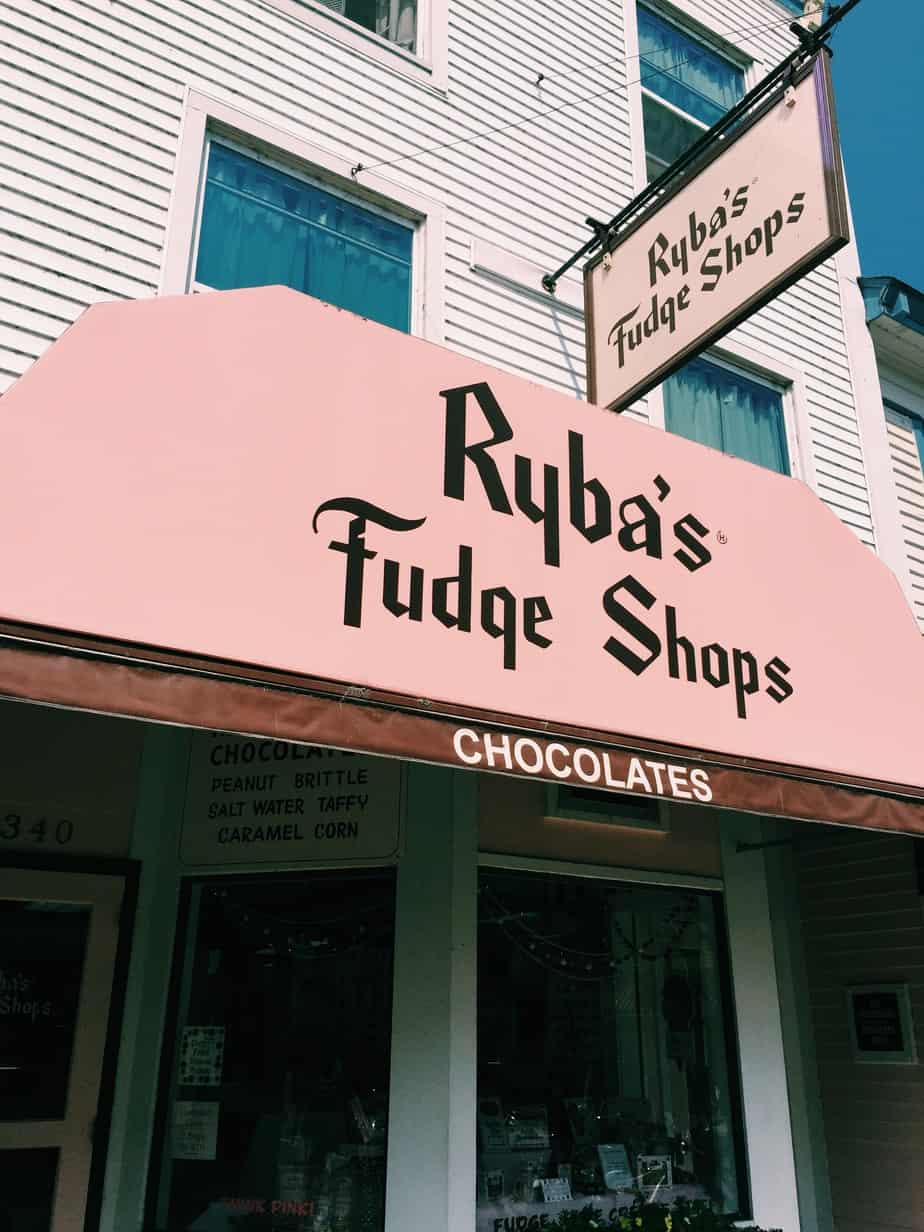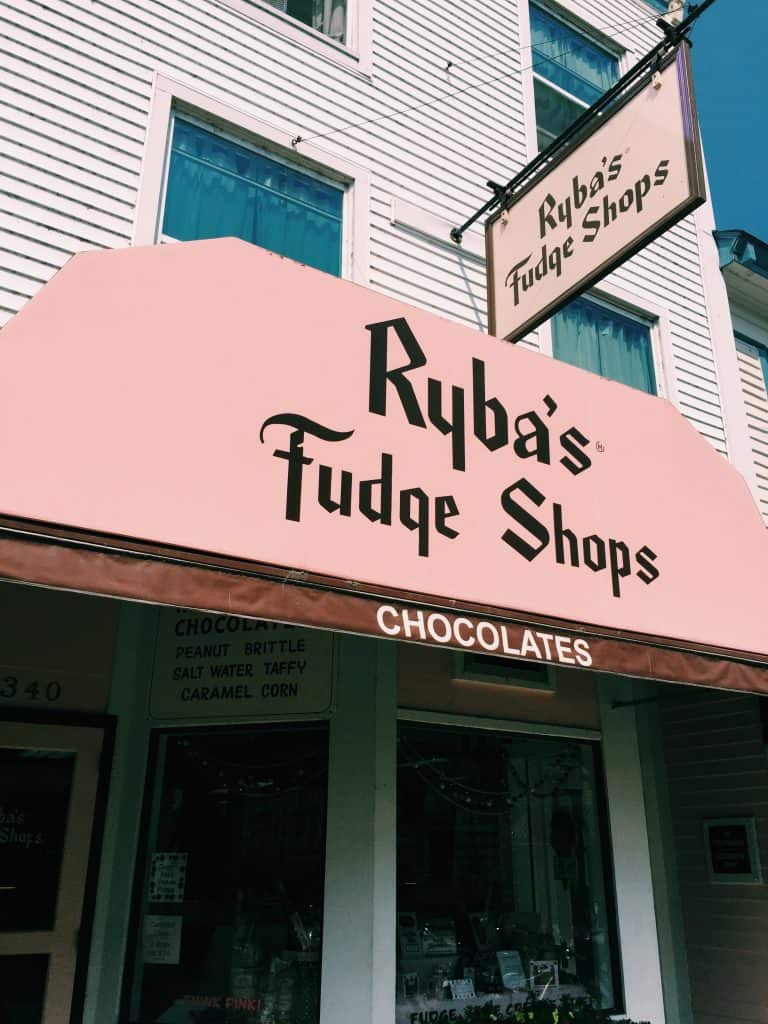 Does it sound like I am describing a fairy tale place? I am. But fairytales can be real life, right? I took my mom to the Grand Hotel on Mackinac Island for her birthday. She had stayed there once before but this was my first visit… and what a visit it was. I truly believe the Grand Hotel and Mackinac Island should be on every travel lover's bucket list, and here's why…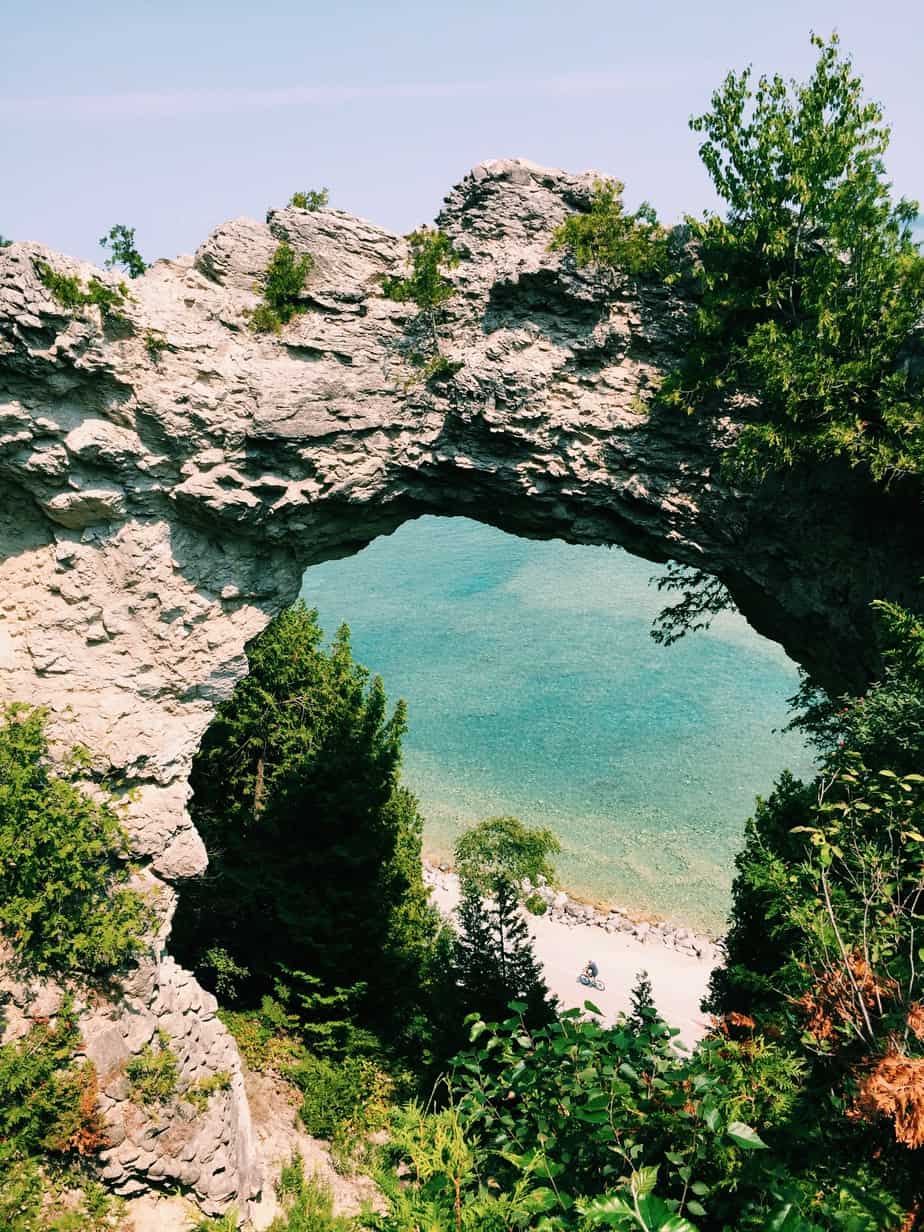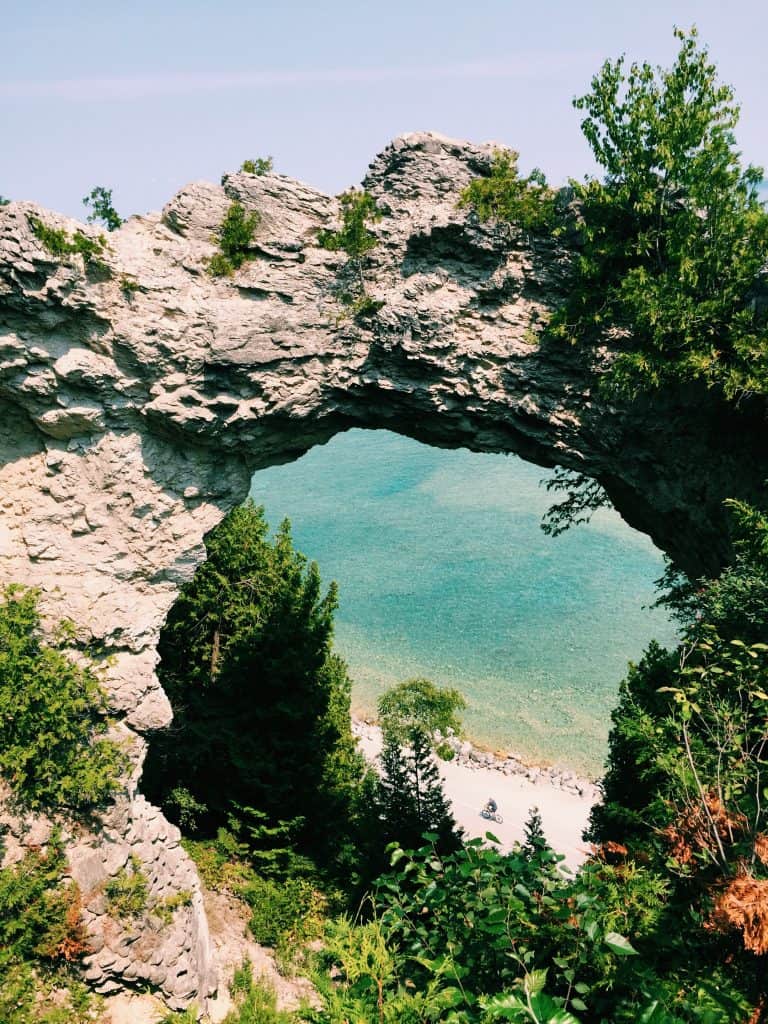 Why is the Grand Hotel Mackinac Island so iconic?
Staying at the Grand Hotel on Mackinac Island is not like staying at other hotels. It is not merely a bed for the night – rather, you go for the experience of being at the Grand Hotel. The closest thing I could liken it to is being on a cruise ship… but on land. I think this comes from the near sense of 'community' with all your fellow guests – everyone in awe of and grateful for where they are!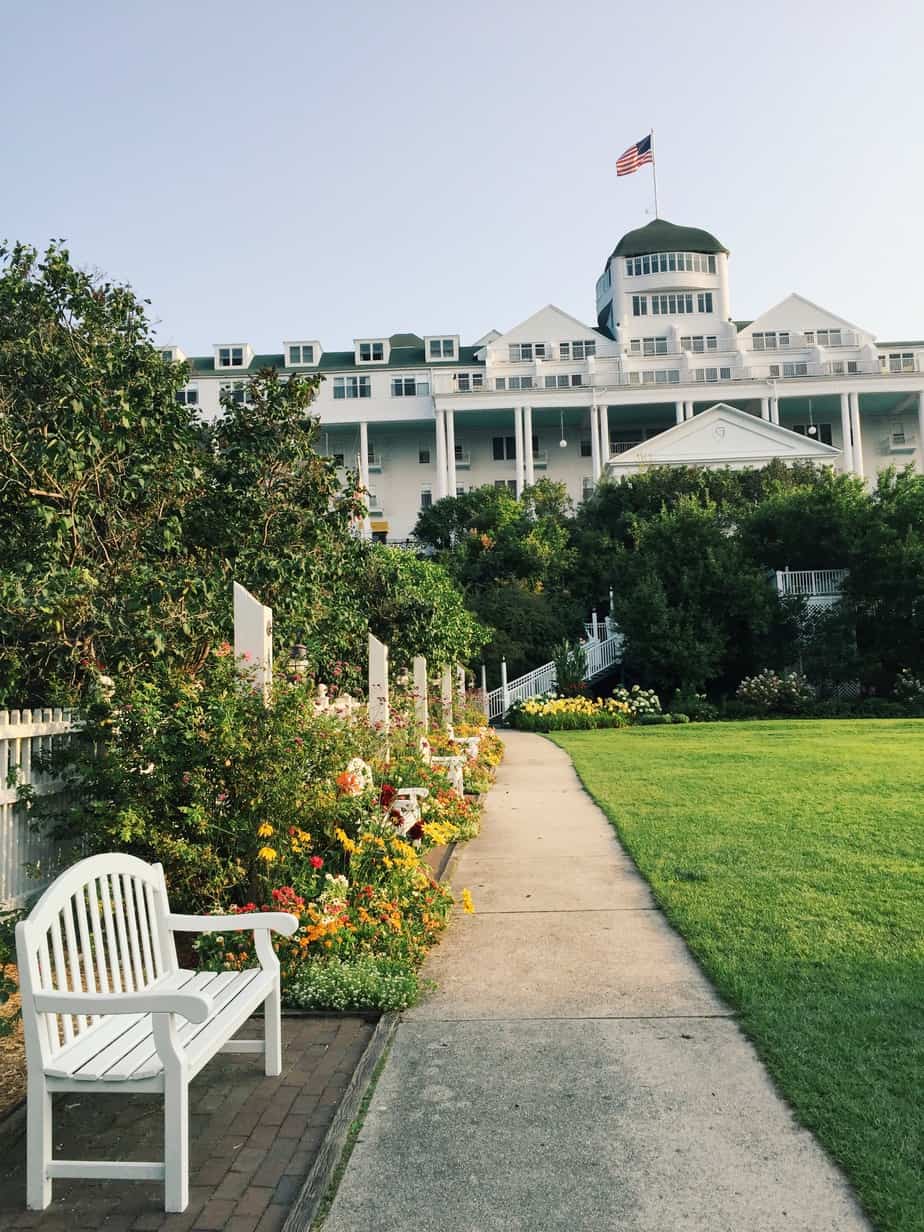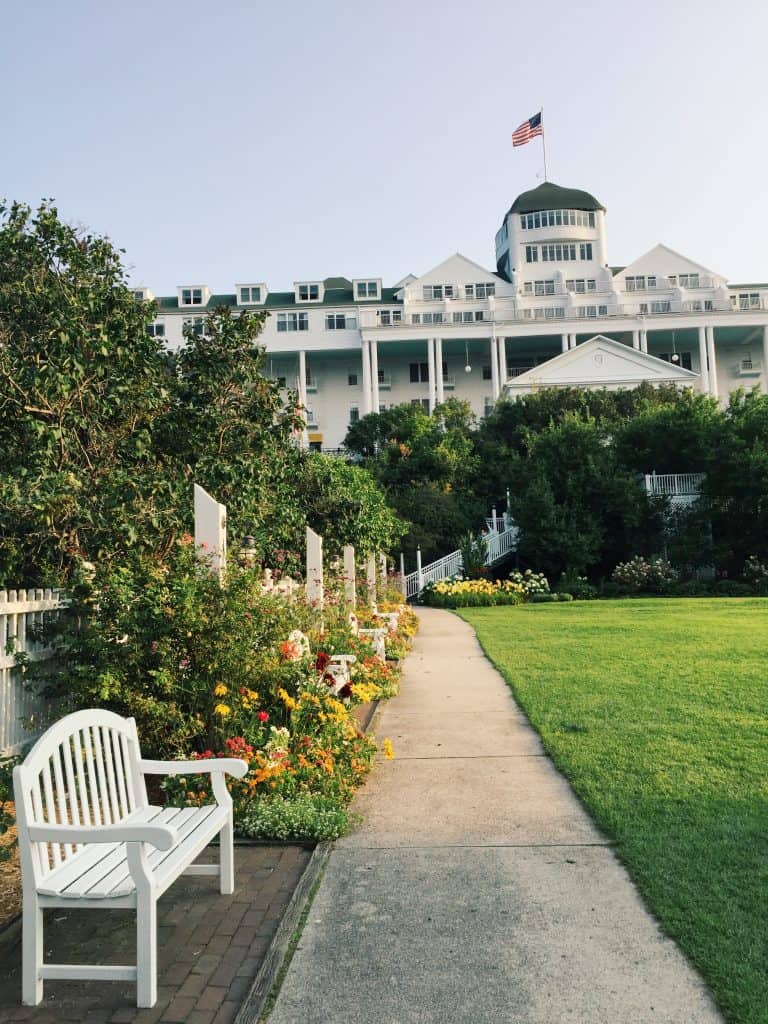 The Grand Hotel opened in 1887 as a summer resort. It was originally meant for families to stay at the hotel for the entirety of the summer. Family-owned by the Musser family for three generations, this hotel is steeped in tradition and history. Staying here is like going back in time, right down to the sound of horse and carriage clopping outside the wide front porch. Formal attire is required after 6:30pm every night, and you will see women in rustling gowns, gentlemen in suit coats, children in tiny tuxedos, and a harpist or pianist playing live music in the parlor.
Hearing the history of the hotel, you might presume it to be stuffy and pretentious. However, upon entering the Grand Hotel you are surrounded by pink velvet armoires, red checked sofas, bright green wallpapers and more. The entire interior of the Grand Hotel is outrageous and fun, and designed by Carleton Varney of Dorothy Draper & co.
Our unique room at the Grand Hotel Mackinac Island
There are 393 rooms at the Grand Hotel and no two are the same. When you open the door to your room, you are completely surprised by the room's design and antique furniture. We were really looking forward to seeing our room and couldn't wait to open our door (with keys… real keys! When did you last get a real key instead of a keycard at a hotel?!).
Each room comes with freshly picked real flowers, and two complimentary bars of the island's famous fudge.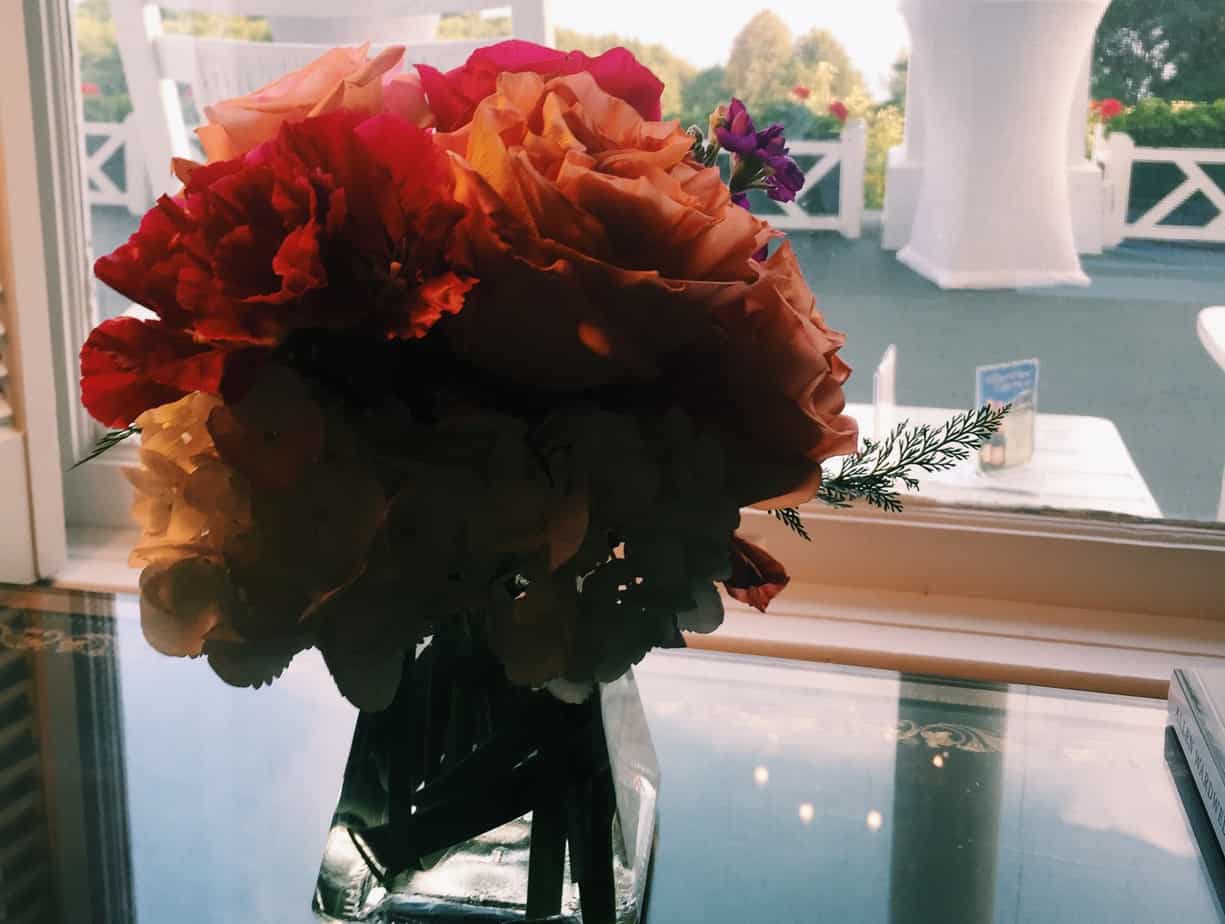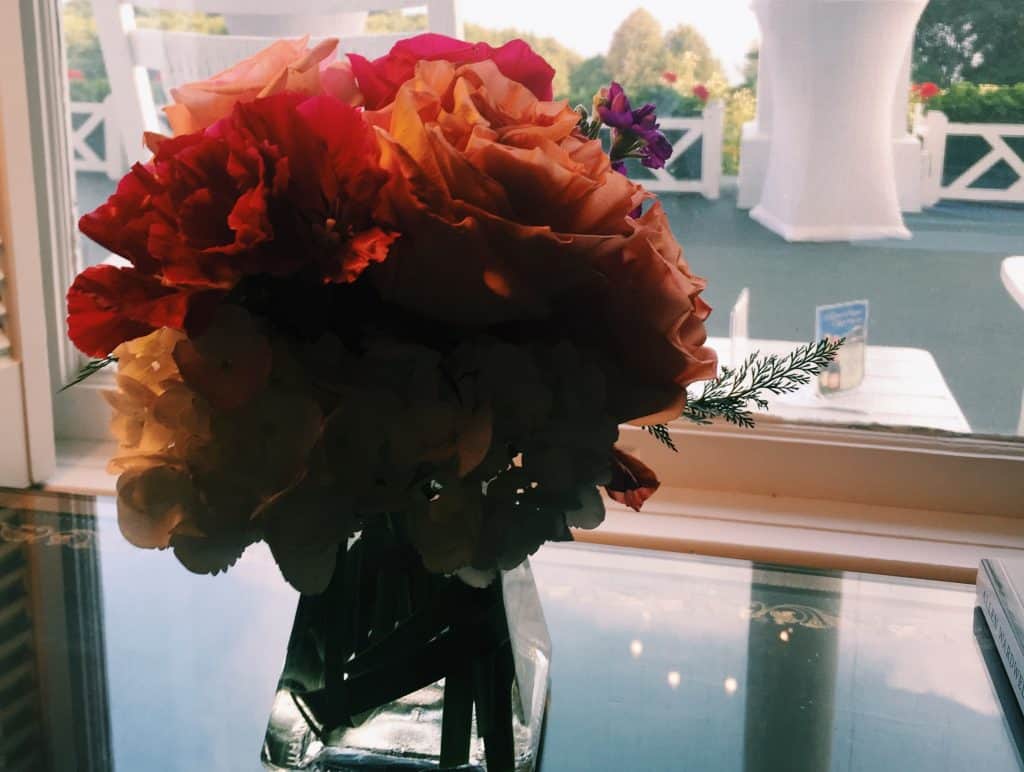 Our room had a massive four poster king sized bed that I immediately plonked down on after our long day of driving!
Every night there is a turn down service at the hotel, and we were left with small chocolates on the pillows.
The bathroom was spacious and stocked with the Grand Hotel's signature geranium scented toiletries. My mom still remembered the smell of geranium from her last visit to the Grand Hotel a decade ago!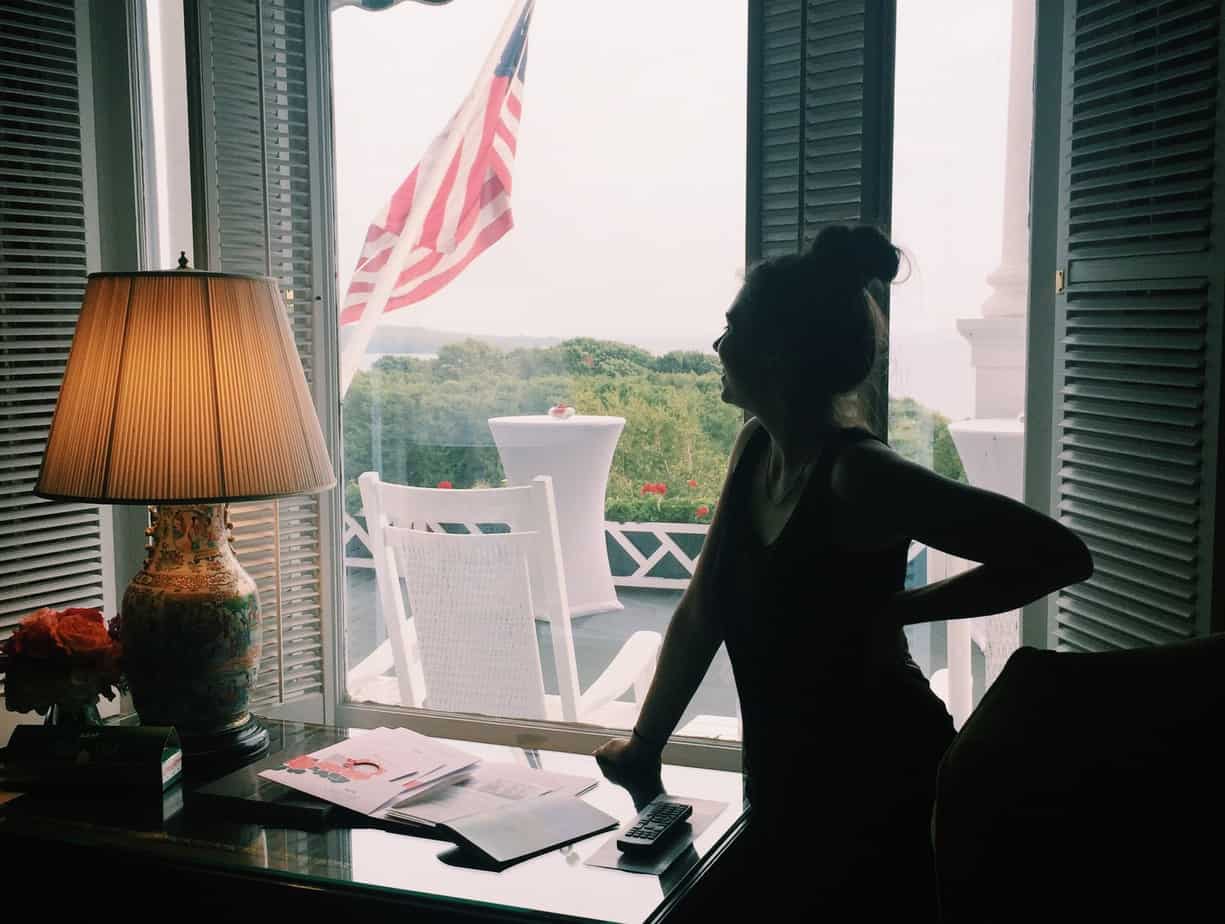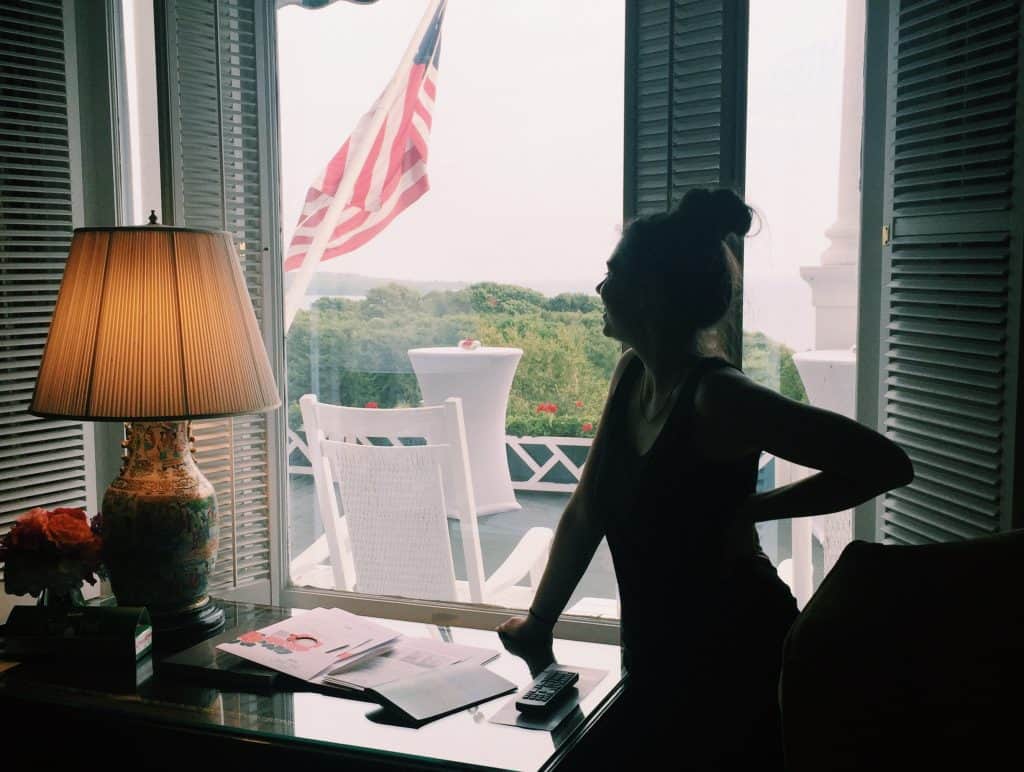 There is also the option to hang up your towels so they don't get washed daily, in an effort to save water.  Whilst there are more things I think the Grand Hotel could do to be environmentally friendly, I was pleased to see they were taking the initiative with laundry.
Dining at the Grand Hotel Mackinac Island
Like I mentioned, the Grand Hotel is an experience, not just a bed. Part of that experience is the dining! With each night you stay at the Grand Hotel, a formal five course dinner and a luxurious breakfast are included. For people who don't choose to stay at the Grand Hotel, you can pay $30 to come for breakfast, or $80 for dinner. I think that is a great option if you do not want to pay for a night at the hotel. It also shows you what value you are getting for your nightly accommodation fee.
For dinner, you must dress formally. We didn't manage to get window seats for either of our dinners at the Grand Hotel, because table reservations are only open to those staying for more than seven days. We loved all five courses of our meals – cooked to perfection and plenty of options for celiacs (stay tuned for a gluten free guide on Mackinac Island!).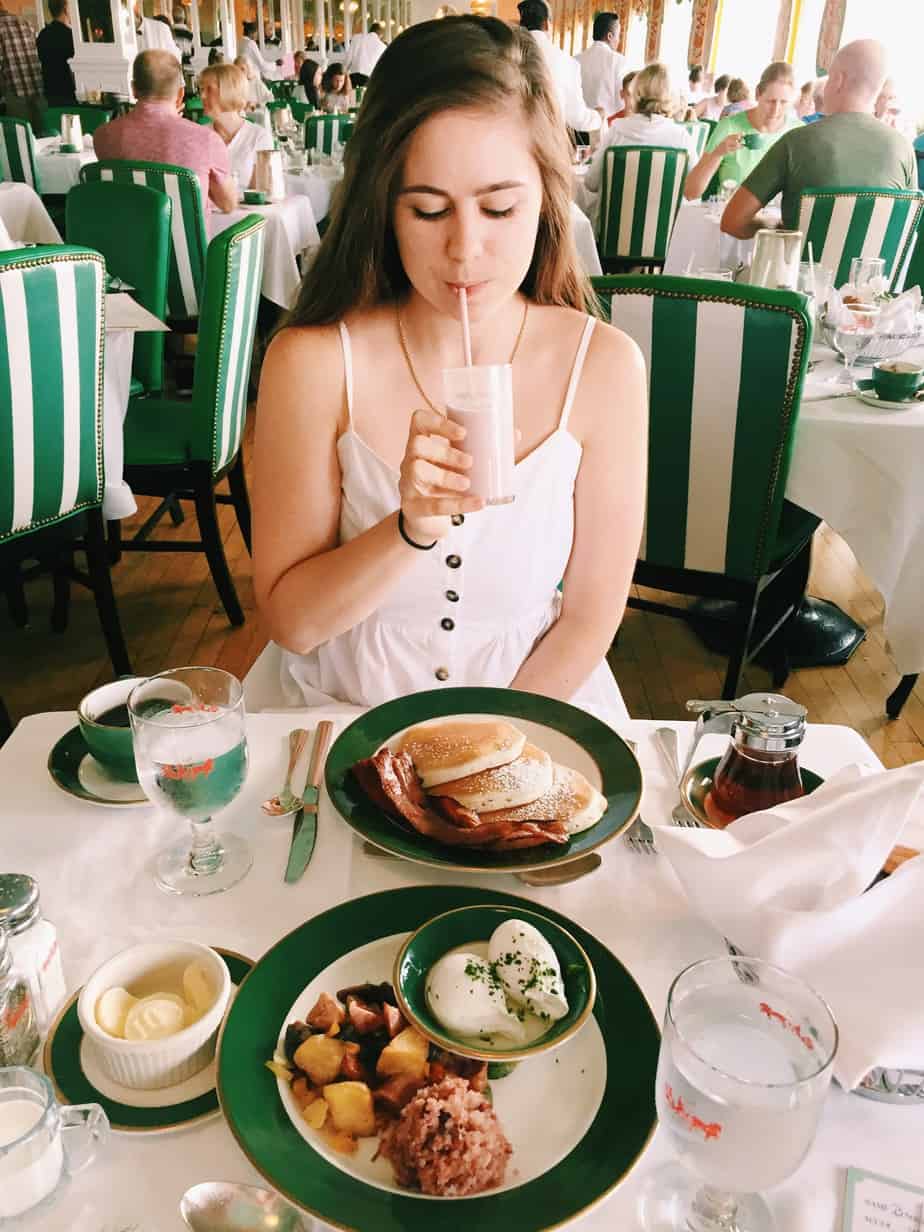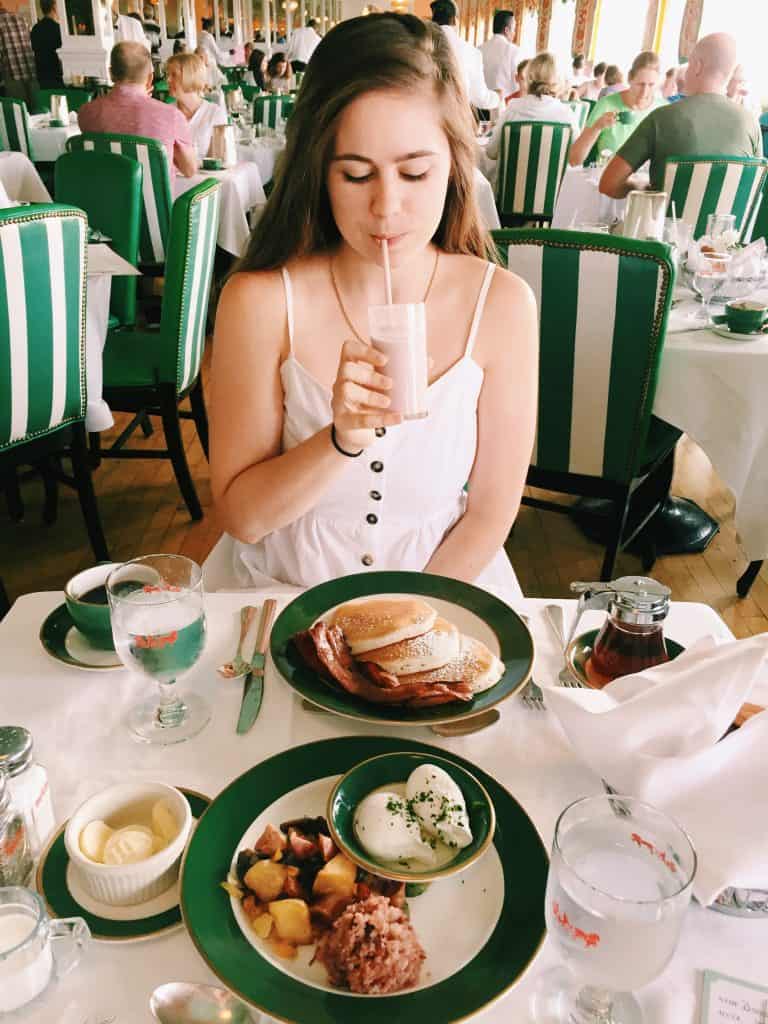 As lovely as the dinners were, I have to say it was breakfast that stole my heart.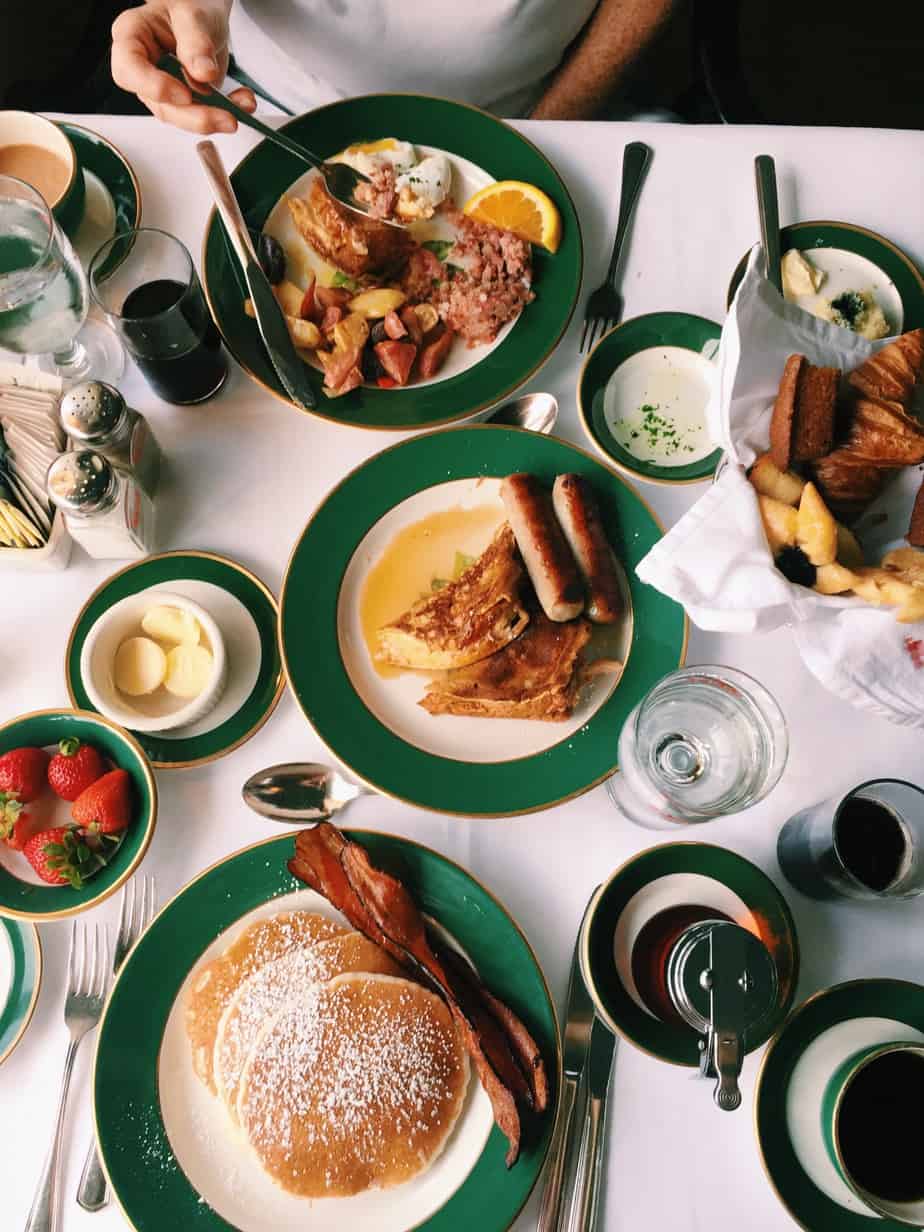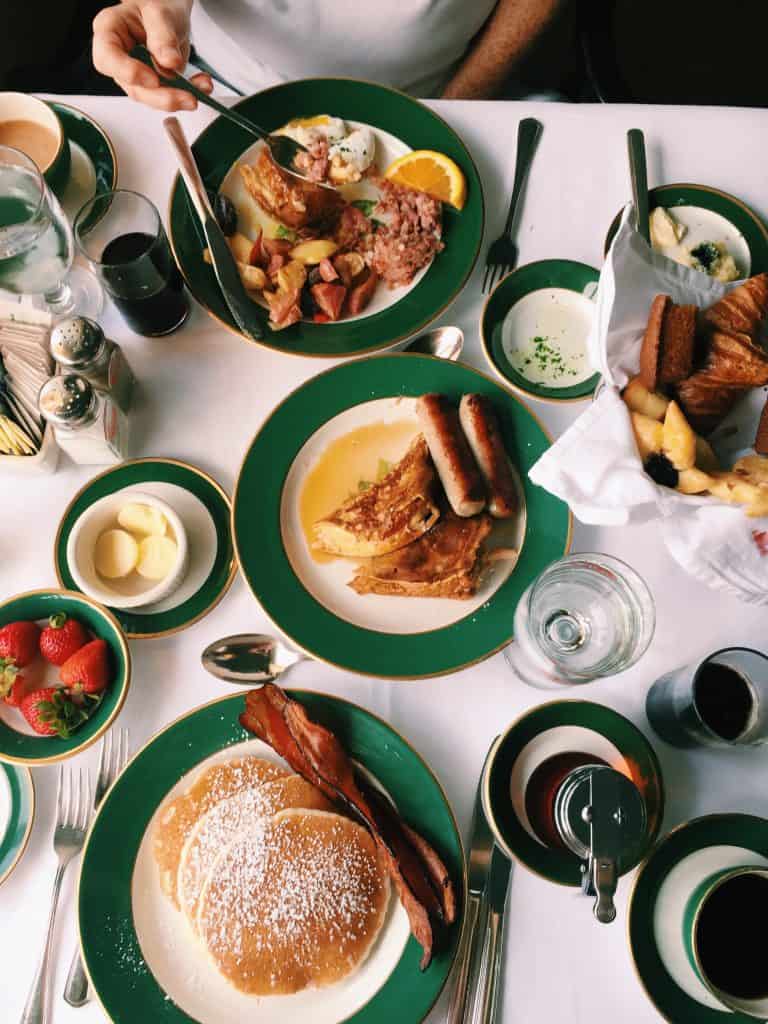 I mean look at that spread! There is a breakfast buffet if you can't wait for a meal to be prepared for you. You can also order straight from the menu, which I did both days. My favorites were the Wagyu corned beef hash and roasted potatoes with poached eggs, and the gluten free pancakes. My mom loved the coconut cream and strawberry parfait. Of course this is all included in your room stay (apart from any cocktails you might order!).
What to do at the Grand Hotel Mackinac Island
Every day, there is a schedule of events that you can pick up at the Grand Hotel concierge desk. There are also so many things to do on the grounds. Here are a few of our favorites:
Movie night: We watched Coco in the hotel, with complimentary popcorn, chips, lemonade, and sodas provided! So fun!
Afternoon tea: Every day 3:30-5pm in the parlor, available for guests and non-guests at $48pp.
Relax at the pool and jacuzzi
Explore the gardens or take a garden tour
Walk the length of the world's longest front porch
Play lawn games: Such as croquet, corn hole, or bocce ball
Play table games on the front porch
Climb up to the Cupola Bar for the best views of the island: I recommend going before 10am as the grounds are empty then giving you the best view!
Rent a bike: You can rent a bike for the same price as the rentals in town. We rode around Mackinac Island's 8.2 mile perimeter.
Go to the Grand Hotel gym: Open 24 hours a day with your room key
Explore Sadie's room in the parlor: A shrine to the Musser family's puppy that won the Westminster dog show!
Get an ice cream at Sadie's ice cream parlor: Named after said puppy!
Shop around at the shops on the Grand Hotel's ground floor: We bought some gorgeous geranium embroidered pillows
Tennis and pickle ball
Take a carriage ride to The Woods: One of the restaurants owned by the Grand Hotel, located out in the forest and perfect for cocktails and old fashioned wood pin bowling
And many more! Honestly, you could spend your entire trip to Mackinac Island at the Grand Hotel and be so content. In some ways, I was happy that this was my fourth visit to Mackinac Island as I didn't feel rushed to include everything on the island during our trip.
Social and environmental impact of the Grand Hotel Mackinac Island
When booking a hotel I think it is important consider the social and environmental impact you are making, in addition to factors like location, price, etc. We were hosted at the Grand Hotel and you all know that I will always share my honest opinion. We truly did love our stay and I would undoubtedly stay at the Grand Hotel again.  I chatted with the management at Grand Hotel to get some even deeper insight for you:
How environmentally friendly is the Grand Hotel? At face value, the Grand Hotel seemed adequately environmentally friendly, although I wished there were more public recycling containers, and less plastic straws. However, a lot goes on behind the scenes at the Grand Hotel! The hotel was actually awarded the Green Lodging Michigan 'Partner' certification back in 2009. They now have the 'Leader' certificate which is the highest possible. This is all due to incredible efforts by the Grand Hotel to recycle and compost – most of this happening back in the kitchen. They actually use the compost from the kitchen to plant the famous gardens each Spring!
How much diversity is there at the Grand Hotel? The Grand Hotel staff is very diverse – they have 700 employees from 27 different countries! I thought it was so interesting to chat with the staff from all over the world. Most of the workers on Mackinac Island (not just the Grand Hotel!) are from foreign countries and on seasonal visas, due to the isolation of the island. I've always thought that this gives the island such an open and multicultural vibe. The same cannot be said of diversity among the Grand Hotel guests. I am not the only one who noticed the lack of diversity among guests. I was encouraged by the Grand Hotel that whilst they do not have an intentional diversity effort, they do welcome everyone from all countries and ethnicities.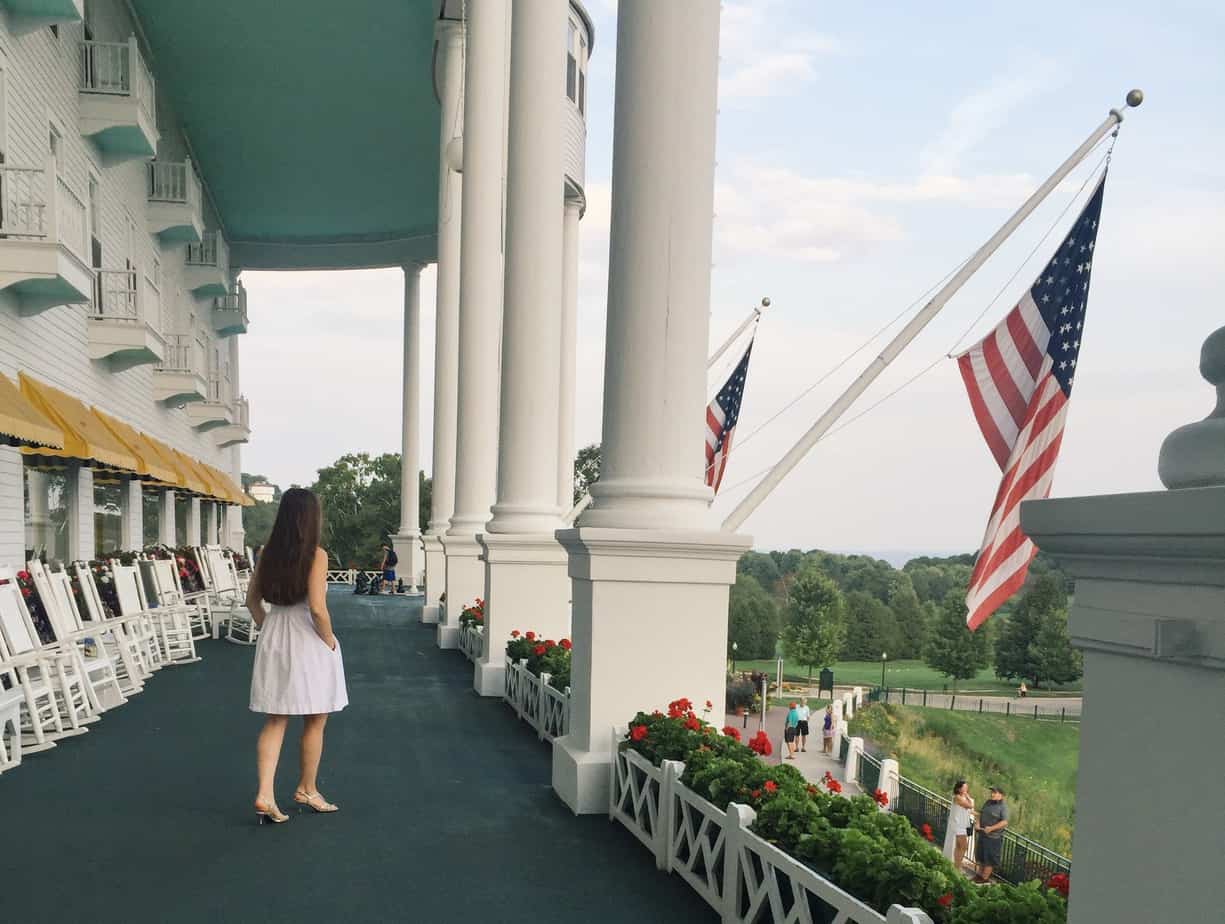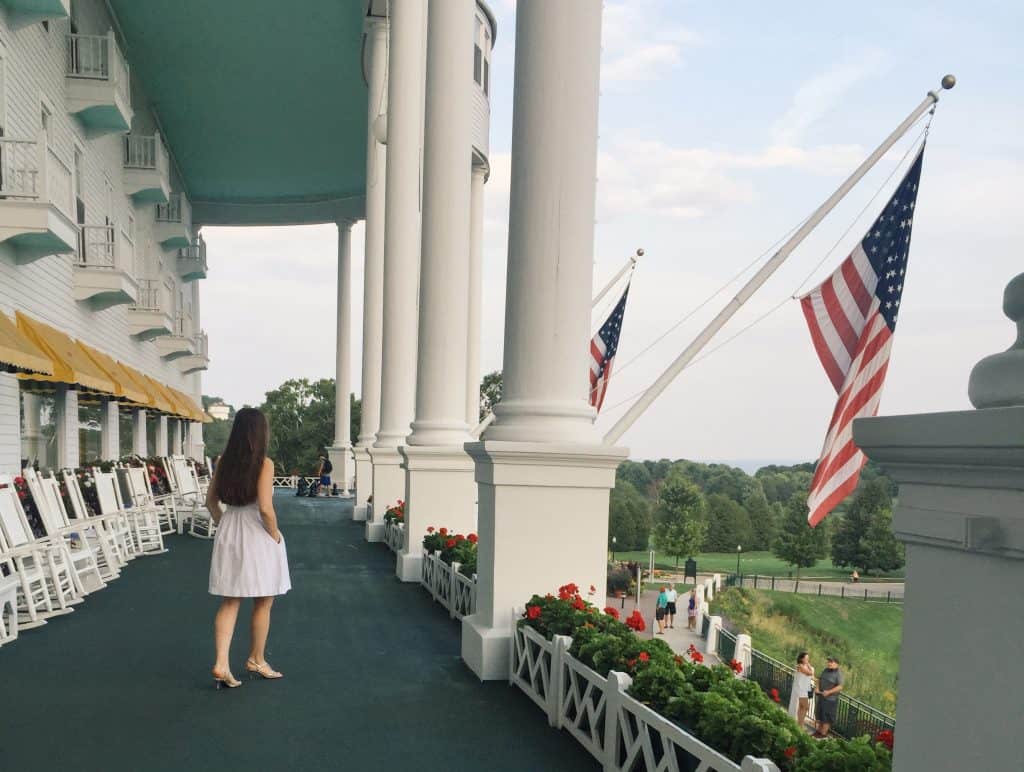 Finding deals for the Grand Hotel Mackinac Island
Being one of the best luxury hotels in the world, you are right in assuming that the Grand Hotel is expensive. However, after our stay I can truly say that you are getting tremendous value for your money, even with the meals alone!
Staying one night at the Grand hotel could cost upwards of $1,000.  I think many people give up right there, but I want to assure you that there are many ways to find deals at the Grand Hotel to make it accessible for your budget. Remember that when you are staying at the Grand Hotel, you are getting an experience. You will probably not be paying for much (if anything) else during your trip, besides transport, because everything you could need is included in your hotel stay.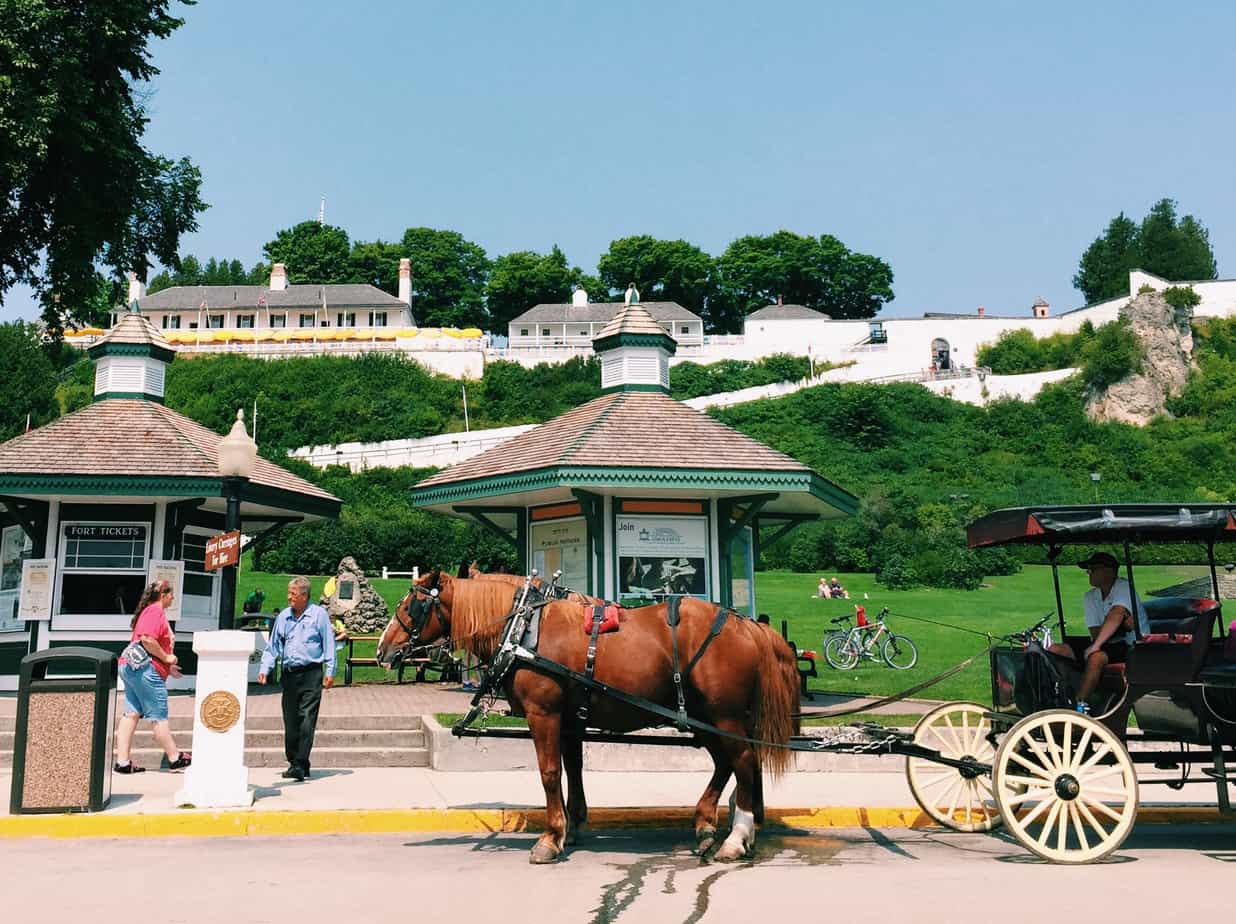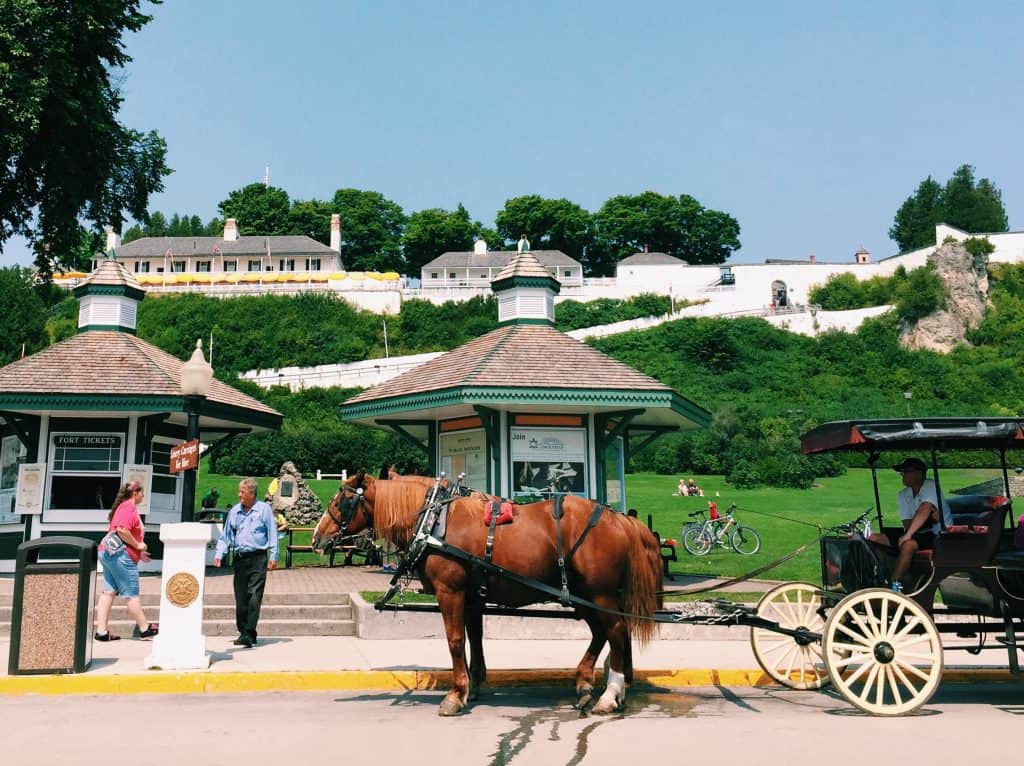 I encourage everyone to look at the Grand Hotel's 'specials' page when planning your trip. You can find deals as low as $160 per night (remember, this includes $110 value worth of meals!). Plan ahead and be flexible with your dates. Some of the best specials I've seen are the Opening Weekend, Closing Weekend, Mid-week, and Fall specials. There are over 15 specials listed on the website! When we were visiting there was a family special going on and many families were staying there for incredible rates!
If you really are not able to spend a night at the Grand Hotel, you can still experience it as a non-hotel guest. There is a $10 admission fee to walk along the grounds and on the Grand Hotel porch. For an extra $5 you can also enjoy the Esther Williams pool and jacuzzis. And of course you can pay for breakfast, afternoon tea, or the formal dinner.
The details
What? The Grand Hotel
Where? Mackinac Island in northern Michigan
When? The Grand Hotel is open through May-October. It closes in the winter.
How to get to Mackinac Island? Most people drive to Mackinaw City (lower peninsula) or St Ignace (upper peninsula), and then take a ferry to the island. From the ferry port it is a short walk to the hotel, or you can take a horse and carriage. More details on the Grand Hotel website.
Price? Prices vary at the Grand Hotel. Be sure to check their website for specials.
Book your stay at the Grand Hotel Mackinac Island directly, or find deals on Tripadvisor or Hotels Combined.
Sarah xx
Pin it for later…
[su_row][su_column size="1/3″]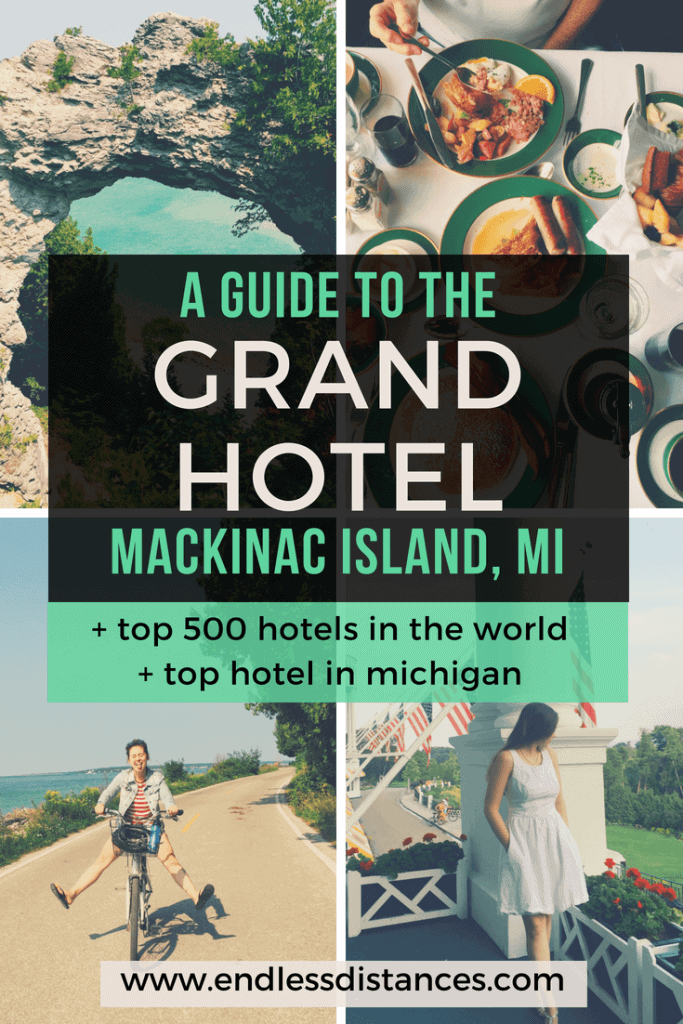 [/su_column][su_column size="1/3″]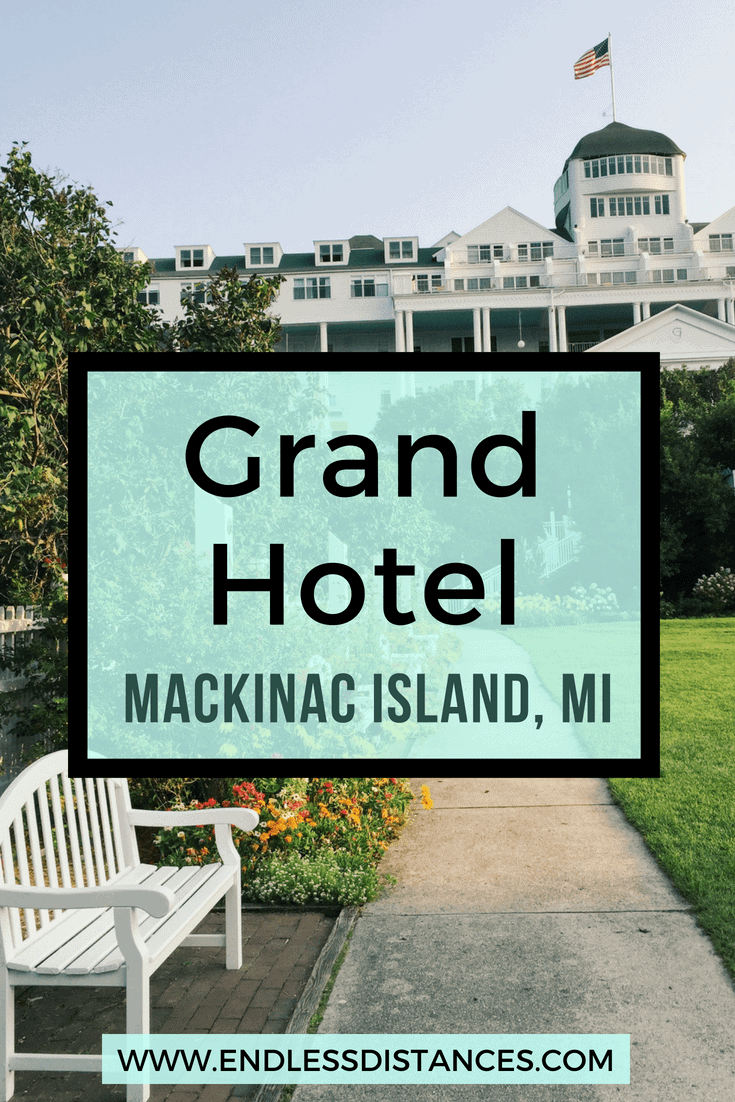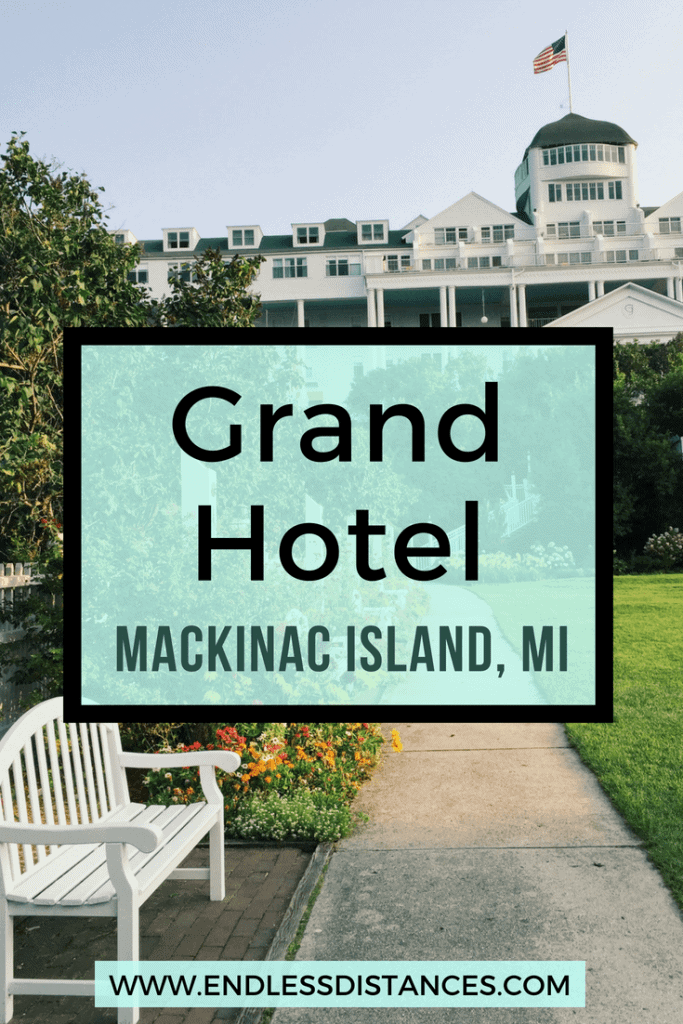 [/su_column][su_column size="1/3″]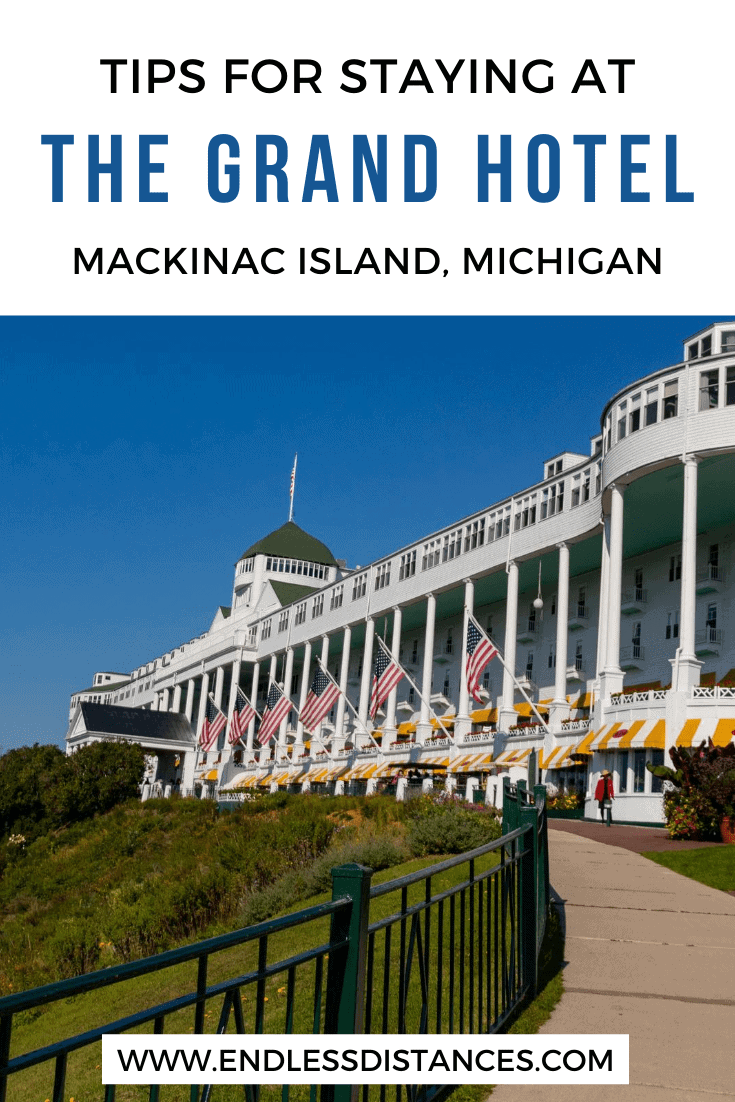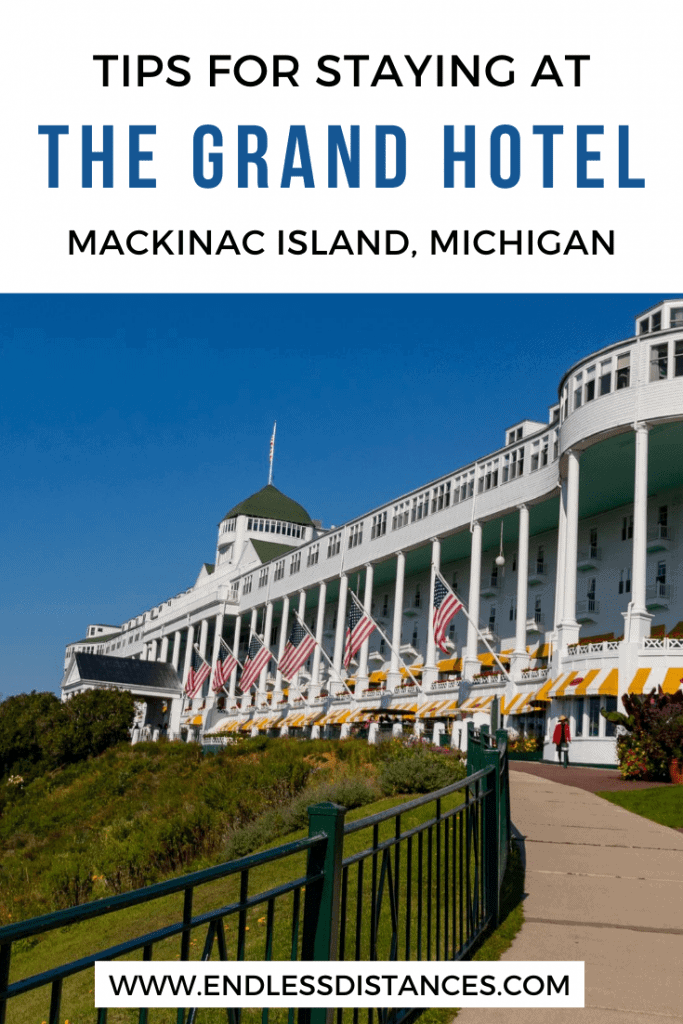 [/su_column][/su_row]
*Our stay at the Grand Hotel Mackinac Island was complimentary for our first night, and we received a media rate for our second night. All opinions are my own and I was not required to write about a certain viewpoint.