Old Mission Peninsula in Northern Michigan is my happy place. Add in any of the Old Mission Peninsula wineries below, and I'm set for a perfect day. You will be too!
The Old Mission Peninsula is a 19-mile stretch of land that, in my estimation, has it all. Driving down M-37, which bisects the peninsula, you're met with rolling green hills, rows of lush vineyards, rickety farm stands, cherry tree orchards, and turquoise Lake Michigan waters that stretch to the horizon. This is why I love Northern Michigan.
The peninsula, which is just a ten minute drive from downtown Traverse City, is the heart of Michigan's wine region (along with neighboring Leelanau Peninsula). I swear, the moment you drive onto the peninsula you'll feel like you've been transported to the wine valleys of France, Italy, or even Slovenia.
This is all thanks to the 45th parallel (which is the same as the Rhone Valley in France, or Piedmont in Italy). Wine grapes LOVE this parallel, which is why they thrive on Old Mission Peninsula.
PLAN | Visit my full Michigan page for more travel planning tips!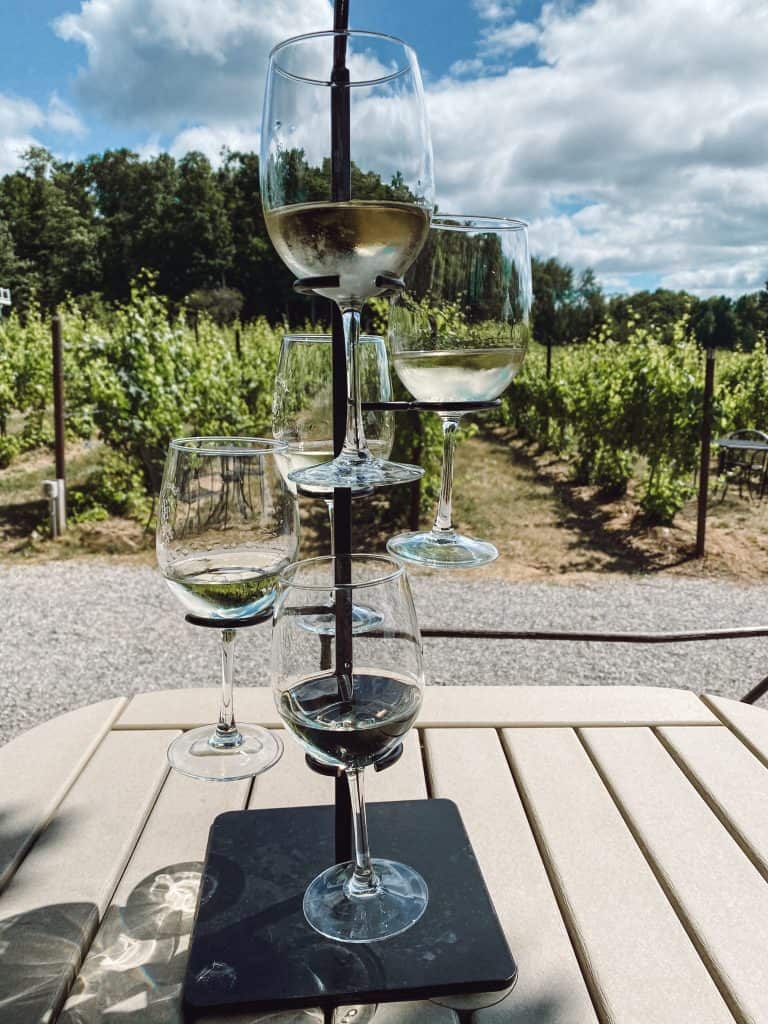 10 Best Old Mission Peninsula wineries
Below are ten of my very favorite Old Mission Peninsula wineries and vineyards. There are a few more on the peninsula, but these are the ones that I adore and have returned to many times over the years (as a Michigander, it's not summer for me without at least one trip to Old Mission Peninsula).
Stop by any of the Old Mission wineries below for a wine tasting, tour, or a wander through the vineyards.
1. Bowers Harbor Vineyard
2896 Bowers Harbor Road, Traverse City, MI
Bowers Harbor Vineyard is one of my very favorite Old Mission Peninsula wineries. It's located on lowland close to Bowers Harbor, so you don't get the panoramic views some of the other vineyards offer. Instead, you get a feeling of coziness, authenticity, and being surrounded by 20 acres of grapes.
Bowers Harbor Vineyard is unique because they also produce cider. You can get tasting flights of cider or wine, and wander their vineyard afterward before buying a bottle of your favorite.
Try: Gewurztraminer wine, or the Cherry Cider.
2. 2 Lads Winery
16985 Smokey Hollow Rd., Traverse City, MI
2 Lads Winery is another must visit Old Mission winery. It's located high on a hill with great views across the peninsula and over the vineyards and lake. I've come to the tasting room here in fall and winter, and the views are phenomenal.
The whole place has a very modern, a little bit funky feel. That's reflected in the wine, as well.
Try: Rose of Cabernet Franc, Reserve Chardonnay
3. Chateau Chantal
15900 Rue de Vin, Traverse City, MI
Chateau Chantal is the queen of Old Mission Peninsula wineries. It really should be your first stop if this is your first time wine tasting on the peninsula. Chateau Chantal is a winery, but it's also an inn and event center. It's quite a commercial operation, but what it lacks in the quaint charm you'd find at places like Bowers Harbor, is made up for with elegance, really good wine, and incredible views.
The views here just can't be beat: the winery is set on a hill, overlooking expansive views of farmland, vineyard, and lake on both sides of the peninsula.
Try: Late Harvest Reisling, Gewurztraminer
Stay: Chateau Chantal Inn – the winery has its own inn on site.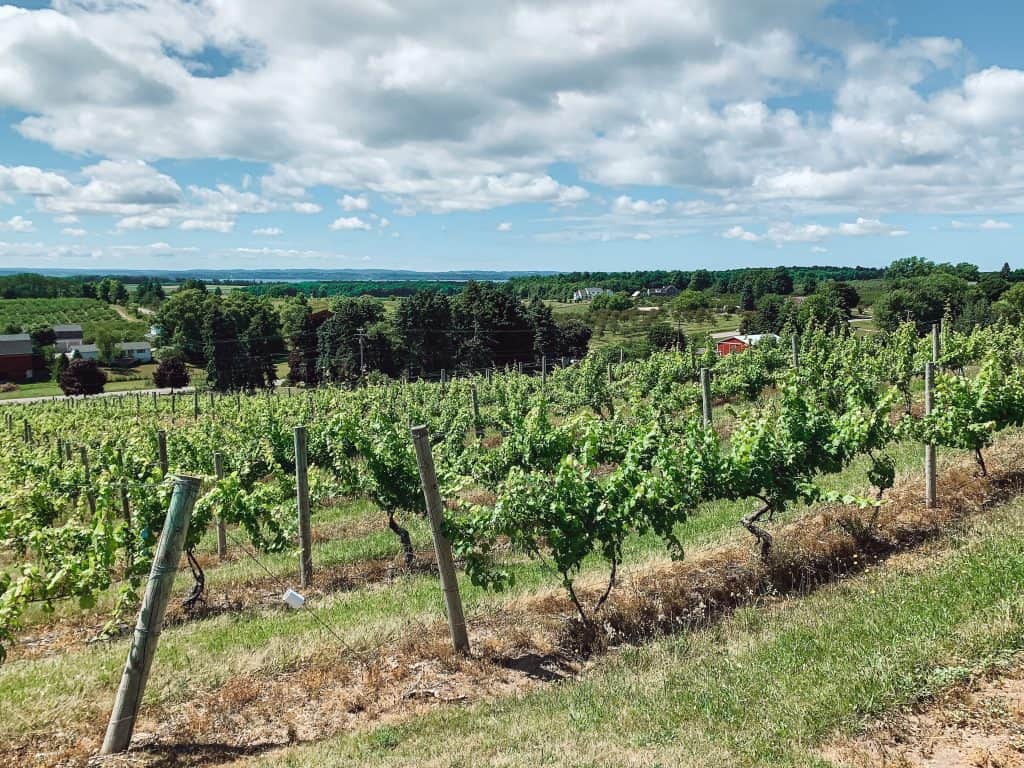 4. Black Star Farms
360 McKinley Road E, Traverse City, MI
Black Star Farms has a lovely wine tasting room on Old Mission Peninsula, but their actual vineyard and farm are located on neighboring Leelanau Peninsula (visit them there, too, if you have the time!). Even though you won't be strolling a massive vineyard here, it's still well worth a visit to the Black Star Farms tasting room. Wine tasting is offered daily,
Try: Arcturos Pinot Gris, Barrel Aged Chardonnay
5. Brys Estate Vineyard and Winery
3309 Blue Water Rd, Traverse City, MI
Brys Estate is a relatively new discovery for me, but has been operating on Old Mission Peninsula since 2005. After my first visit in 2020, they are now tied as my favorite Old Mission winery with Bowers Harbor.
This place is just beautiful, and impeccably designed (if you're looking for the most "instagrammable" Old Mission Peninsula winery, this is it). We did a wine tasting on their outdoor patio – be sure to walk onto the platform over the vineyard. The views over rows and rows of grapes extending to the tree line and turquoise lake are unbeatable.
Brys Estate also has a secret garden, if you make the drive down past their vineyards into the valley below. It's a gorgeous lavender garden which blooms mid July and sometimes through August. They sell products year round – I now have their lavender hand soap in my bathroom at home and couldn't recommend it more!
Try: Merlot Reserve, Pinot Grigio Reserve, and the Frose (pictured below) is super cute and delicious!
Stay: This private Waterfront Cottage is located on the lakeshore right below Brys Estates. You could also stay on the winery property at their Bed and Breakfast.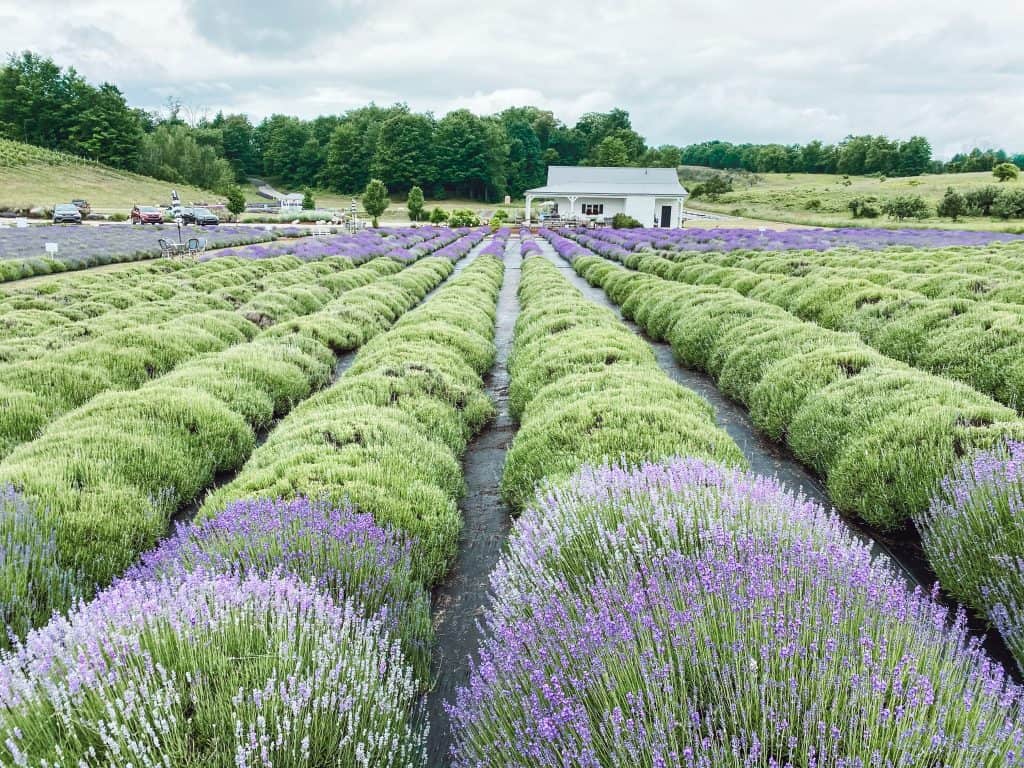 6. Bonobo Winery
12011 Center Rd, Traverse City, MI
Bonobo Winery has the tag line "evolved yet primal" and I think that's a good descriptor for the vibe of their tasting room and wine itself. This winery is located directly off M-37 (also called Center Rd) and has a huge open space warehouse as the tasting room.
There are great views, tapas style food to accompany the wines, and in addition to a wine tasting you can also get a tour of their vineyards.
Try: 2017 Pinot Blanc, Riesling, and Pinot Gris – all award winners!
7. Mari Vineyard
8175 Center Rd., Traverse City, MI
Mari Vineyard is just off M-37. As you enter you'll think you landed in Tuscany! The building and the drive leading up to it are both designed in the Italian style – it honestly feels a bit out of place on little Old Mission Peninsula, but you will definitely feel whisked away.
Wine tasting is offered daily here. Mari Vineyard uses sustainable energy and some unique techniques to extend the grapes' season. The result is wines that are quite different to other wines on the peninsula.
Try: Nellaserra red wines
8. Chateau Grand Traverse
12239 Center Rd, Traverse City, MI
Chateau Grand Traverse is another winery with a stunning view over the lake. In fact, there is a scenic turnoff from M-37 right above their fields, giving you views of the rolling vineyard fields. Of all the wineries on this list, this is probably the best one to catch a sunset view!
Chateau Grand Traverse has a patio and offers wine tastings, wine by the glass, charcuterie boards, and even informational tours of their vineyard.
Try: Pinot Noir Rose Vin Gris, Late Harvest Reisling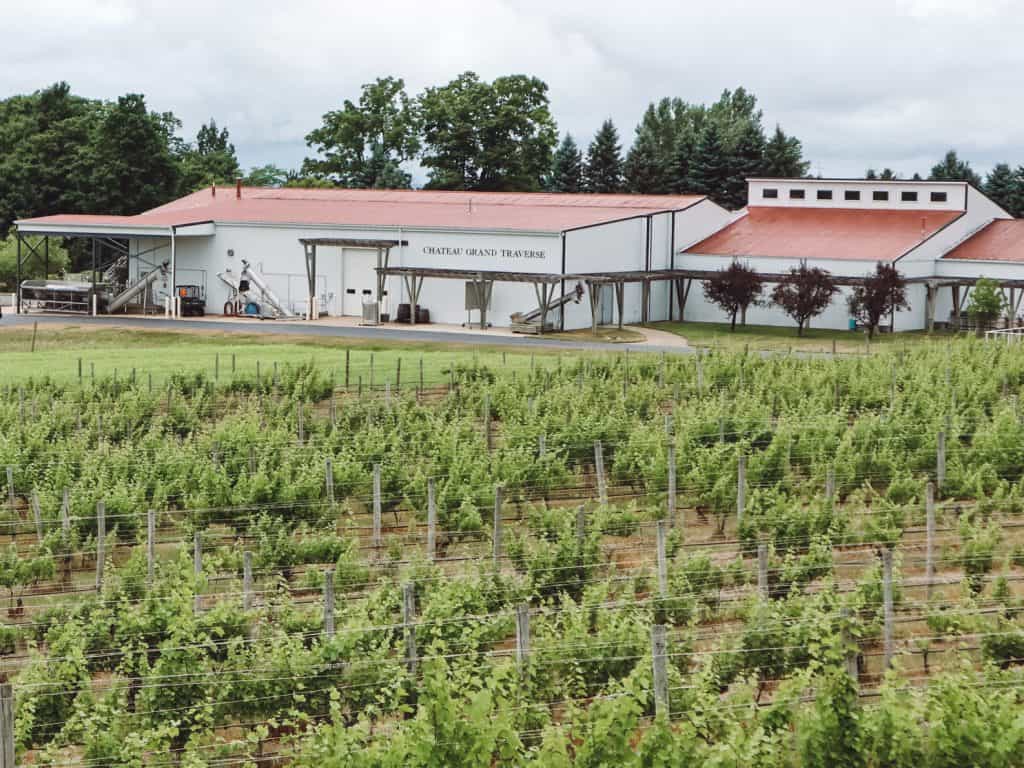 9. Peninsula Cellars
11480 Center Rd, Traverse City, MI
Peninsula Cellars is a family run establishment, which you can tell in the attention to detail. The Kroupa family has been farming this land for over a hundred years, and the current owners are the sixth generation in the family to farm fruit here! They take a minimalist approach to their wine making so the flavors are simpler and more fruit forward than you might find at other wineries on the peninsula.
One fun thing about Peninsula Cellars, that further sets them apart, is that the tasting room is in Maple Grove School, which is an adorable old one room school house! As a result, they've named some of their wines in the 'school' theme.
Try: Old School White, Exchange Student, Pop Quiz
10. Tabone Vineyards
14916 Peninsula Dr, Traverse City, MI
Tabone Vineyards is located off Peninsula Drive, and specializes in small batch estate grown wines. Their most popular wines are whites, like Chardonnay and Reislings. There is a tasting room here which is open throughout the week.
In the winter, Tabone Vineyards has been known to set up outdoor igloos where you can cozy up and enjoy a mulled wine. So if you plan to do your Old Mission Peninsula winery tour in the winter – this should definitely be on your list!
Try: 2018 Estate Chardonnay Oaked, 2017 Estate Sweet Harvest Reisling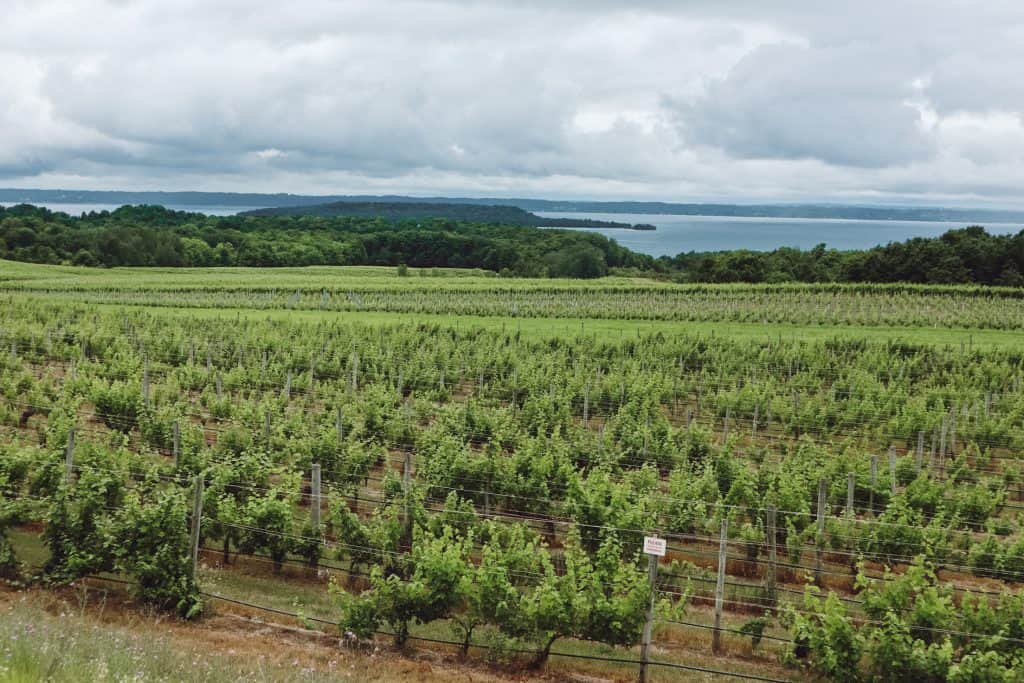 Planning your visit to the Old Mission Peninsula wineries
How many wineries should you visit?
If you choose to tour the wineries on your own, without a driver or tour company (which is totally doable!), the sweet spot is three wine tastings. Give it one hour per vineyard for a nice, relaxed afternoon out. You should consider your alcohol tolerance, and if you have a designated driver in your party.
However you could definitely visit more than three wineries in a day if you use one of the shuttle services I recommend below!
What are the best Old Mission wine tours?
I recommend this 5 hour Old Mission wine tour, which takes you to five wineries! It's the perfect way to see the peninsula, and the absolute easiest way to do wine tastings – you don't have to worry about designated drivers, etc.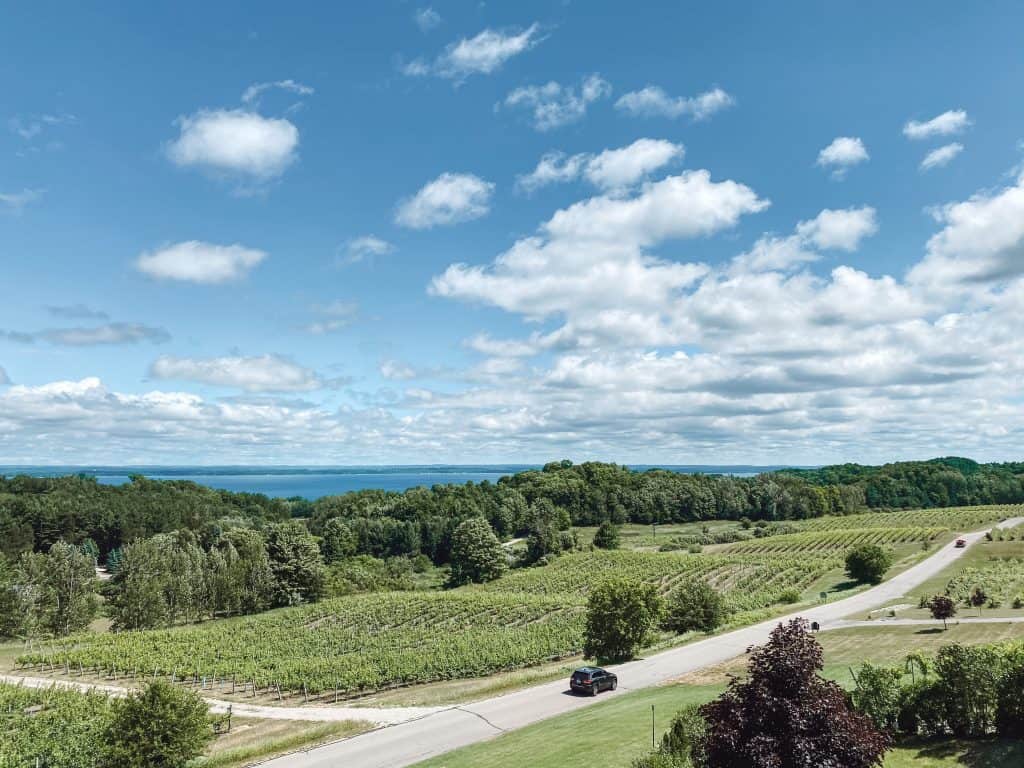 What are the best Old Mission shuttle bus companies?
If you have a big group, say for a wedding or a bachelorette party, and you don't want to book the tour above, you may want to book your own shuttle bus chauffeur.
Some companies include:
Do you need to make reservations?
In most previous years, the answer was no.
In 2021, the answer is still a resounding YES. The majority of Old Mission wineries I mentioned above have online bookings for wine tasting slots, or table reservations. These sell out, so don't wait until the last minute! Make your reservation at least a couple days in advance.
How much does a wine tasting cost?
This varies by wineries. You will have to pay for your wine tasting, and this could be $5-$15. You will typically get 3-5 wines to try.
Where should you stay on Old Mission Peninsula?
There are limited places to stay that are actually on Old Mission Peninsula. Most people prefer to stay in Traverse City for easier access to shops and restaurants. It is easy to stay in Traverse City and drive into Old Mission Peninsula for the day.
Where to stay in Traverse City:
Park Place Hotel ($$) – The only hotel with parking and walking distance of downtown Traverse City. I stayed here last summer and highly recommend!
Cherry Tree Inn & Suites ($$) – Hotel with lake access and hot tubs, short driving distance from both Old Mission and downtown Traverse City. I've stayed here a couple times.
Where to stay on Old Mission Peninsula:
Neahtawanta Inn ($$) – A sustainable inn with locally sourced breakfasts and yoga classes, located right on the water on Old Mission.
Want to stay at a winery? Chateau Chantal has an inn, and Brys Estates has a rental property on site.
Old Mission Peninsula wineries map
And finally, here is a Google Map of these top 10 Old Mission wineries. Use it to route your trip, and make things easier for you! As you can see, most wineries are off M-37 / Center Rd, and very easy to travel between.
You can use this map offline, as well, so save it for later!
Have I convinced you to go wine tasting on Old Mission Peninsula? Well, I bet you didn't need that much convincing… Just looking at the photos I'm sure you can see why this is one of my favorite days out in Michigan.
Any questions on these Old Mission Peninsula wineries? Just leave a comment below.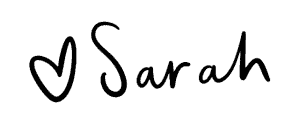 Pin it for later…