15+ Things to do in Cheddar Gorge on a Weekend Break
Looking for the best things to do in Cheddar Gorge? Dan and I just got back from a lovely few days based in Cheddar Gorge, exploring Somerset. When we arrived, we knew we wanted to do as many Cheddar Gorge walks as we could. However, we had plenty of time (and plenty of rain) to explore other activities in Cheddar as well.
After quite a bit of research, and lot of exploration on our part, here are my recommended things to do in Cheddar Gorge.
RELATED | 11 Cheddar Gorge Walks You Need to Try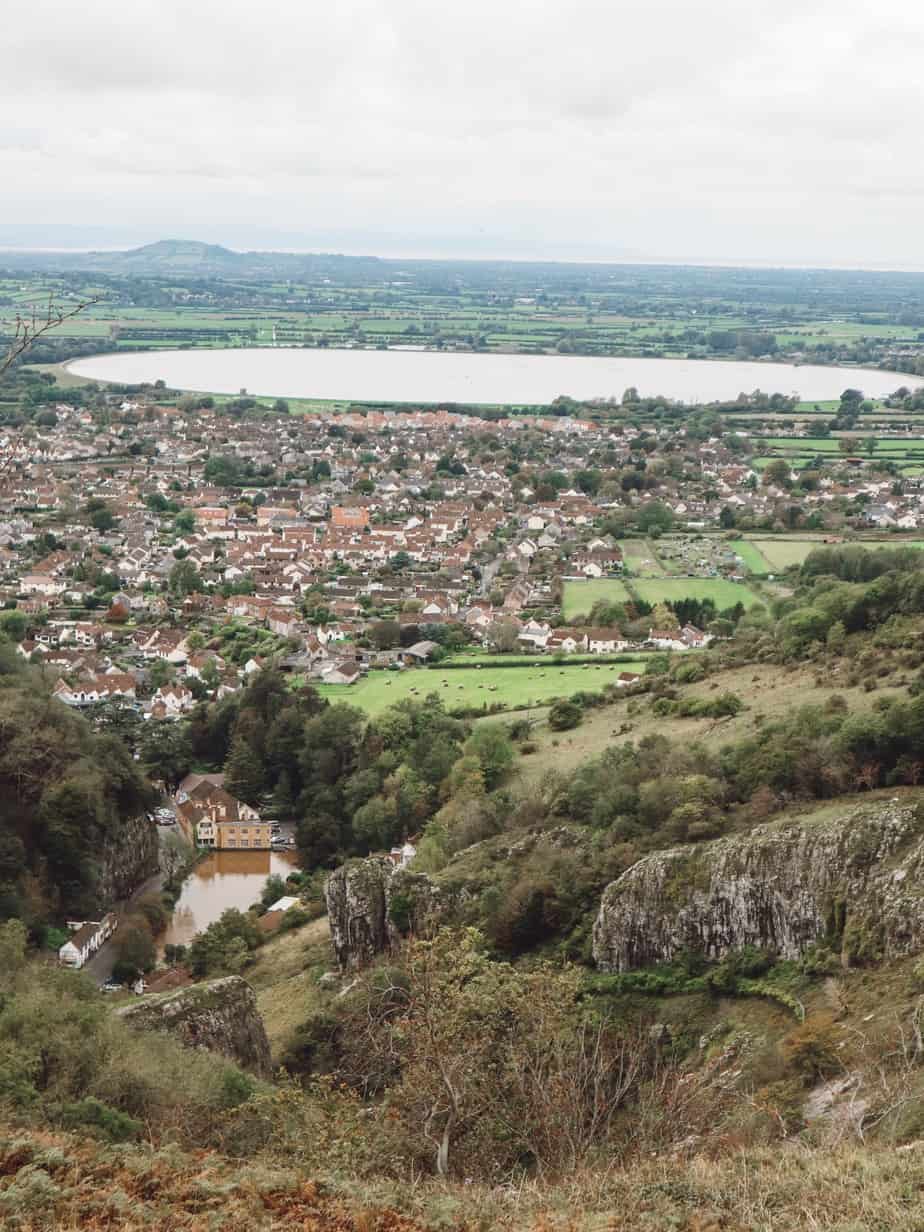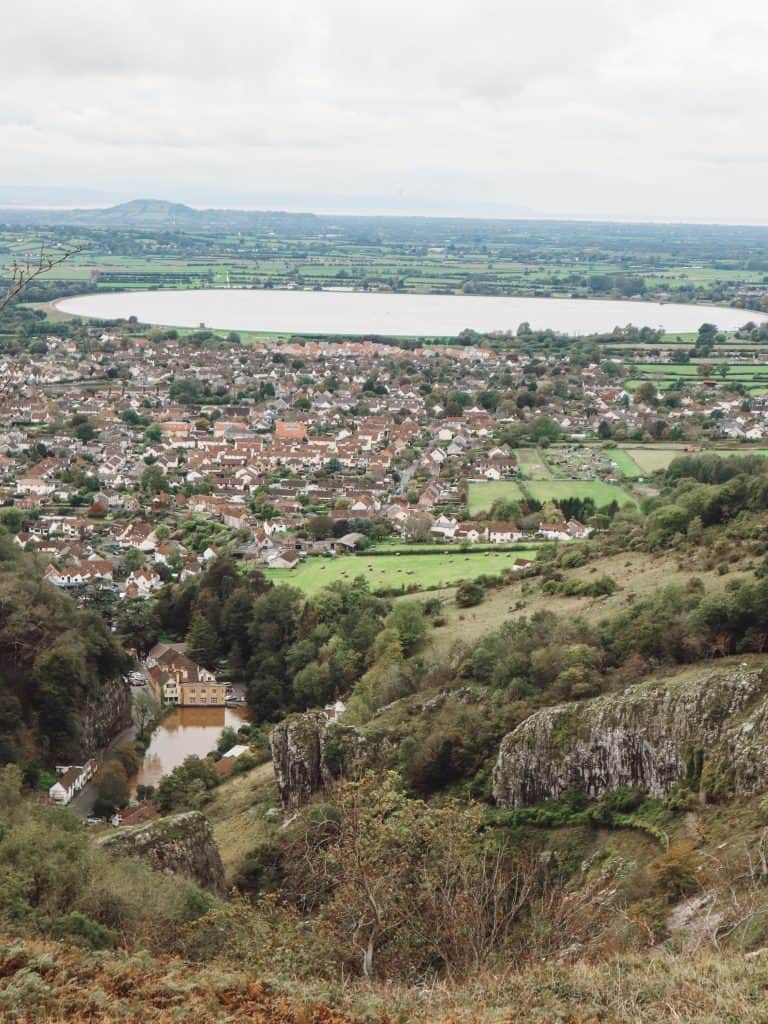 Why Visit Cheddar Gorge?
If you're still on the fence about Cheddar Gorge, and worried there aren't enough things to do in Cheddar, let me put your mind at ease! Cheddar is the ideal destination for a weekend break in the UK. The gorge itself is over 450 feet tall, making up the UK's largest inland limestone cliffs. It is also home to quite a few show caves, including where the famous 'Cheddar Man' skeleton was found (at 9,000 years old he's the oldest complete skeleton in the UK). Plus, it is a perfect place to position yourself if you want to explore day trips in Somerset.
This is just to say that Cheddar Gorge is quite an unusual sight in England and well worth a trip!
RELATED | 7 Things to do in Frome, Somerset That You'll Love
Things to do in Cheddar on a weekend break
1. Cheddar Gorge clifftop walk
Above all, our favorite thing we did in Cheddar Gorge was the clifftop walk! This circular walk is 4 miles and took us about 2.5 hours (we stopped a lot for photos and snacks). It takes you up to the top of Cheddar Gorge, where you get stunning panoramic views over the Mendip Hills, Somerset Levels, and the village of Cheddar. And if you're brave enough, you can look over the edge for views of the gorge itself!
Read more about how to do the Cheddar Gorge clifftop walk here.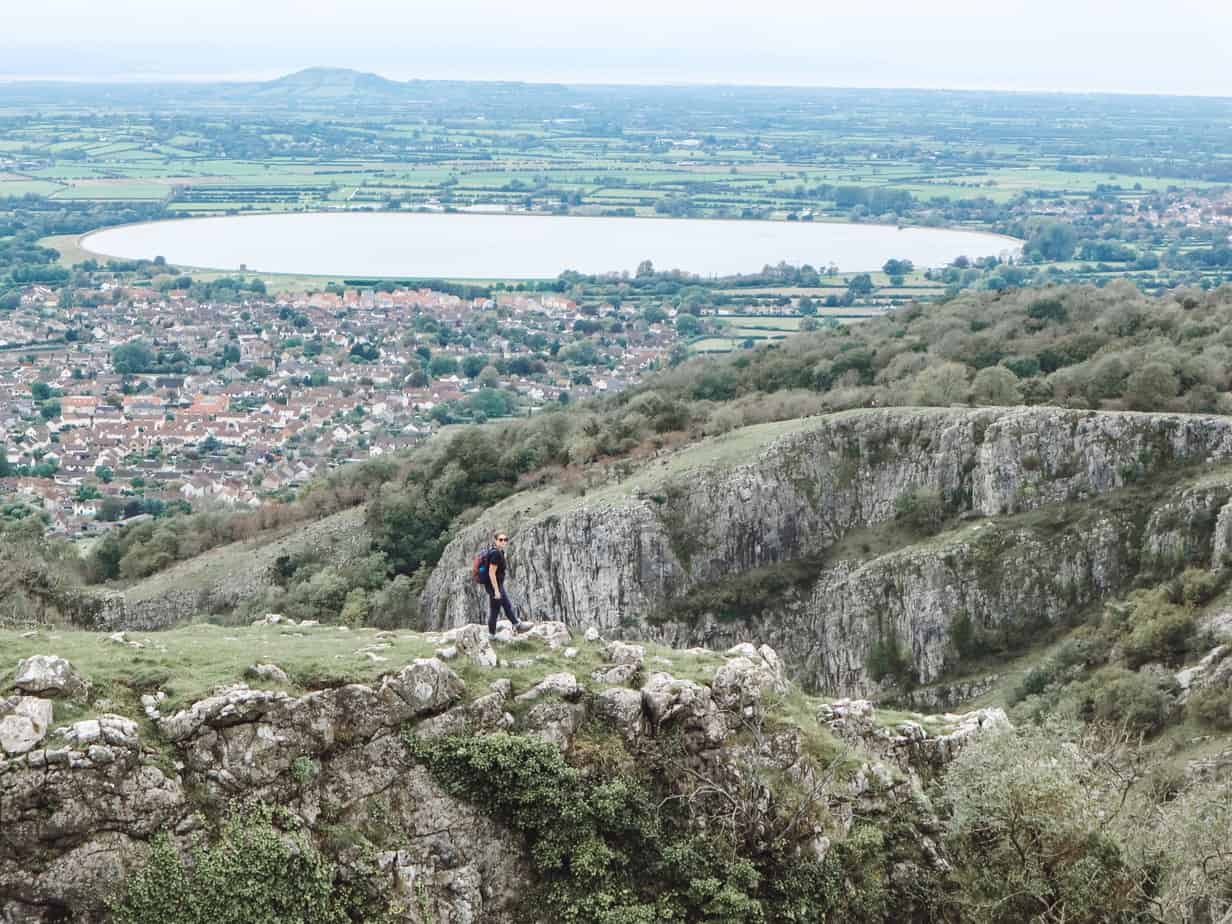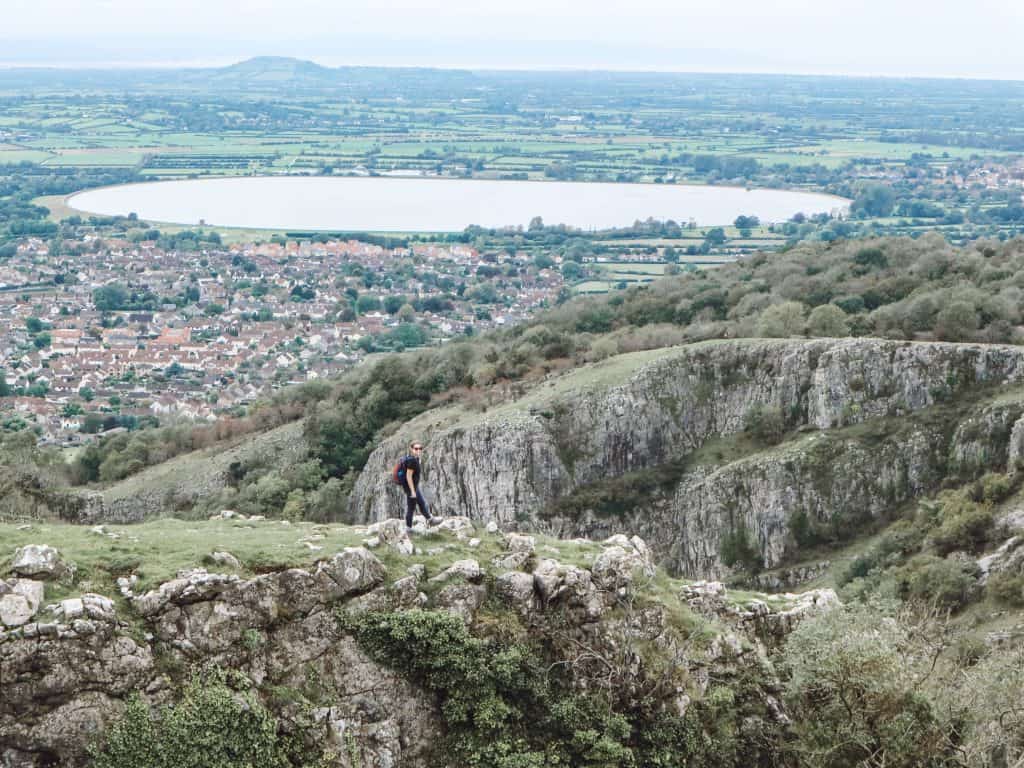 2. Walks in Cheddar Gorge
Pack your hiking boots because there are plenty of other Cheddar Gorge walks in addition to the clifftop walk. Cheddar Gorge is in the Mendip Hills, meaning it is surrounded by some beautiful heathland and rolling hills. Quite a few walks start right in central Cheddar – including the Black Down walk, the Strawberry Line, Cheddar Reservoir walk and more. If you have a car, drive a bit further for nearby walks like Glastonbury Tor and Crook Peak.
Read my full guide to walks in Cheddar Gorge here.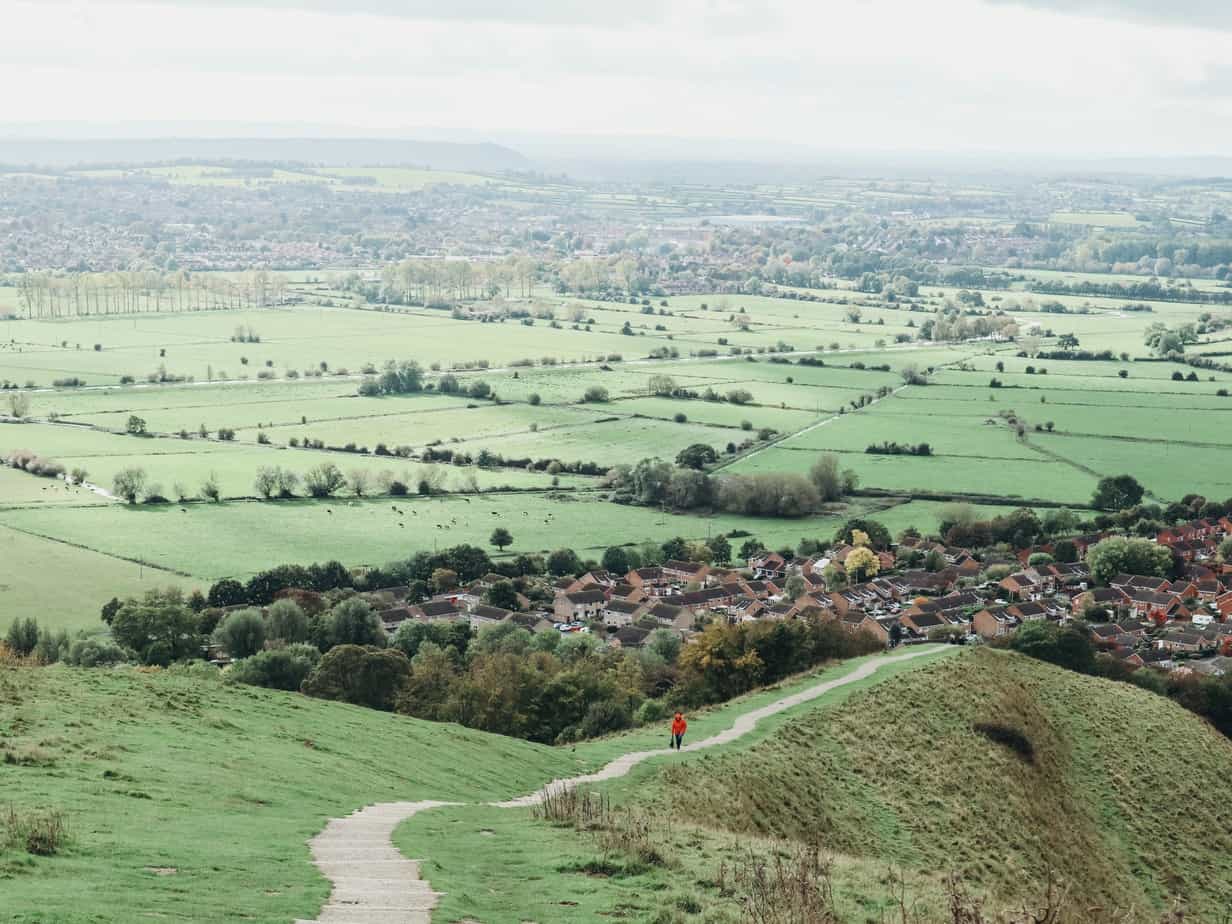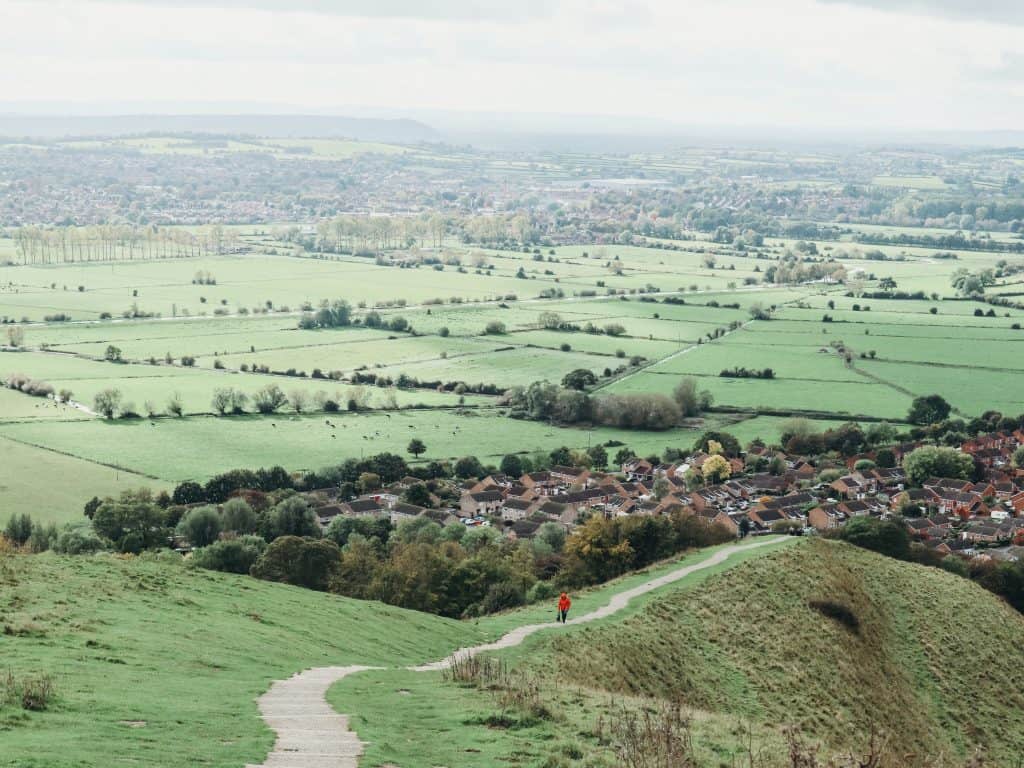 3. Cycle the Strawberry Line
I mentioned you can walk the Strawberry Line, but it is actually best known as a cycling path. The Strawberry Line is part of route 26 of the National Cycle Network, and passes through Cheddar. The entire trail is 10 miles long and extremely well kept – perfect for a day of cycling, or you can just complete a portion. 
Unfortunately Cheddar Cycle Hire is no longer in business, which means your easiest option is to bring your own bike. However, if that's not an option you can drive to nearby locations such as Brean Bike Hire (27 minutes away) or Strawberry Line Cafe (28 minutes away).
4. Afternoon tea at Lion's Rock Tea Rooms
One of our favorite meals in Cheddar was afternoon tea at Lion's Rock Tea Rooms in central Cheddar. This cafe is adorable both inside and out. On the outside, it's a picturesque baby blue and perhaps one of the most photographed buildings in Cheddar. Inside, it's full of cozy retro decor and a crackling fireplace. Be sure to visit upstairs which has even more knick knacks, and a secret garden patio. 
I was so pleased to find that there were tons of gluten free options at Lion's Rock Tea Rooms. I mean gluten free scones of all flavors, sandwiches, pancakes, cakes, and more. Dan of course partook in the gluten-filled variety of scones and loved them!
Lion's Rock Tea Rooms, The Cliffs, Cheddar BS27 3QE
5. Enjoy a post-walk roast at Edelweiss
Another of our favorite places to eat in Cheddar is Edelweiss – a cafe tucked away by the Cheddar Yeo river. The cafe has a somewhat German looking exterior and inside features a wooden beamed ceiling and plenty of seating (that's almost always filled). You can get a very well priced roast here (turkey, chicken, or veg), which for us totally hit the spot after a morning of drizzly hiking. 
On the gluten free front I was delighted that Edelweiss not only has gluten free gravy, but also gluten free yorkshire puddings! I hit the jackpot with this one.
Edelweiss Cafe, The Cliffs, Cheddar BS27 3QAOpen 9:30am-4:30pm daily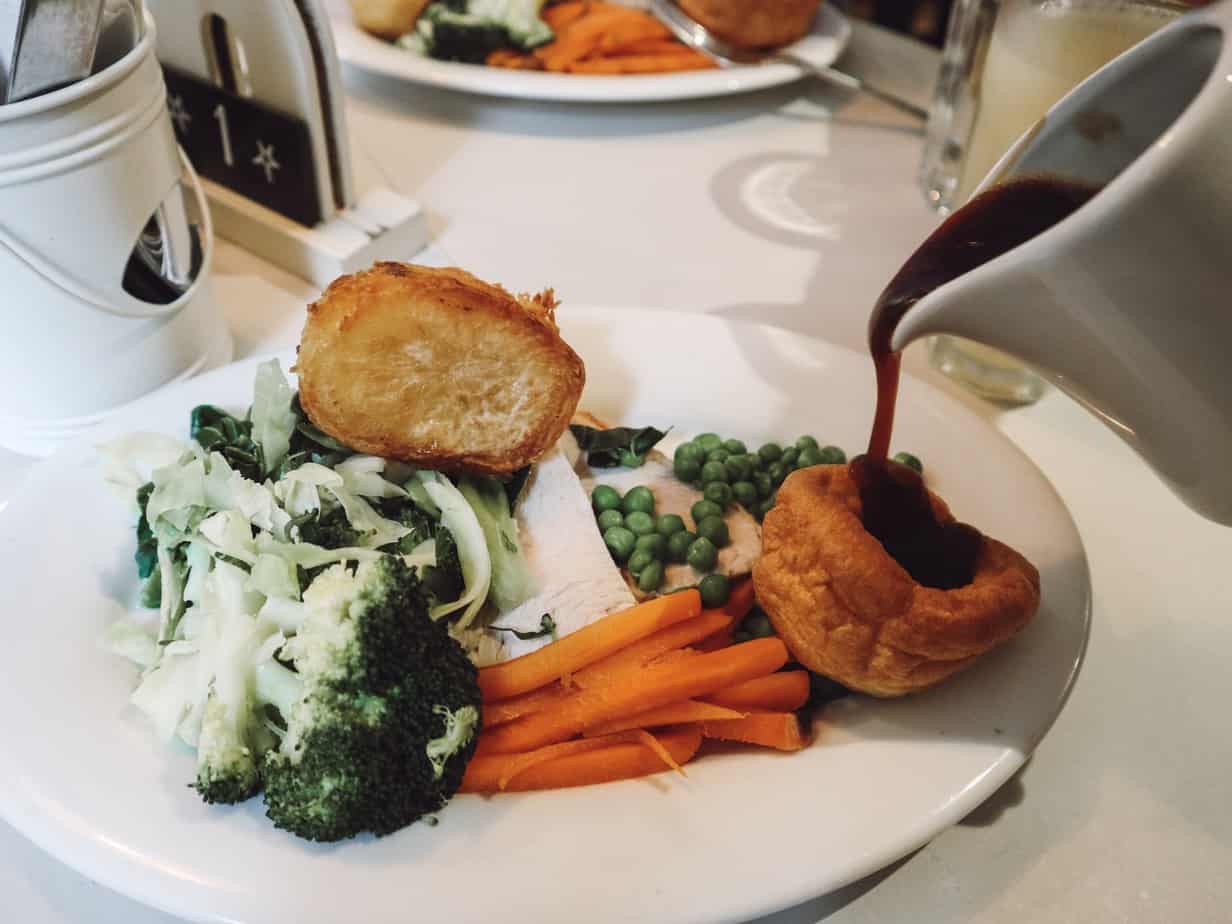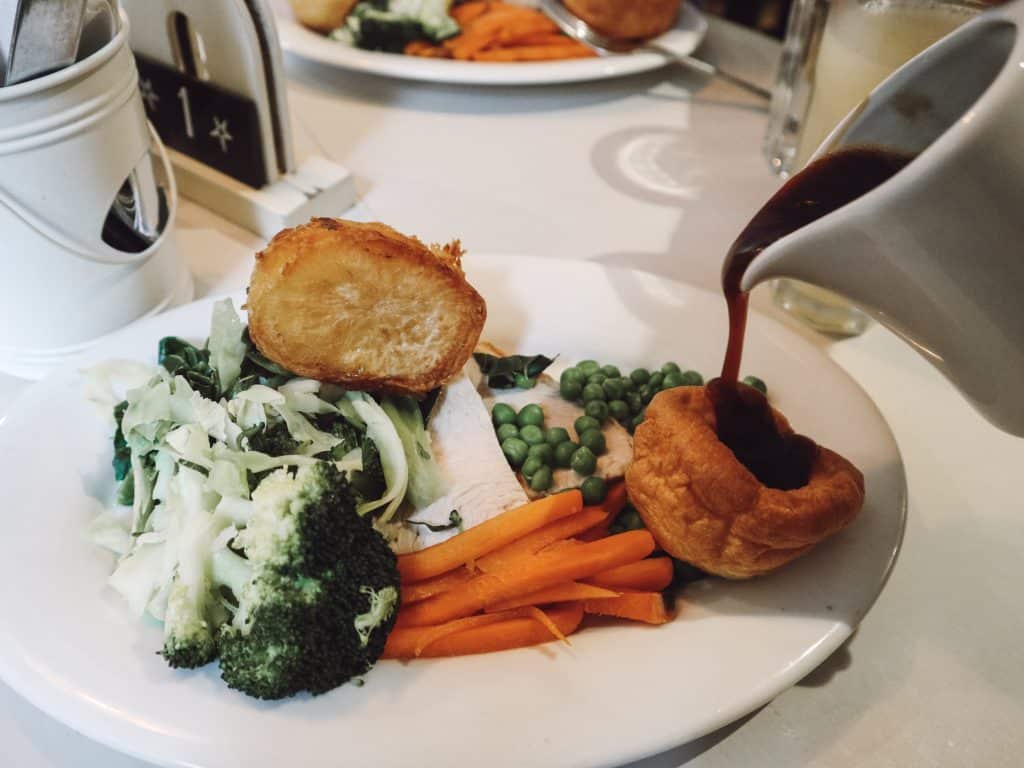 5. Play Skittles and cozy up at The Bath Arms
Our favorite pub in Cheddar Gorge, by far, is The Bath Arms. This is actually a hotel (which would be a great place to stay in Cheddar), with a pub and restaurant on the ground floor. It's a very quintessential British pub inside (although perhaps a bit cleaner and less rowdy than the average pub). There is a cozy fireplace and a Skittles board set up if you're in the mood to play!
Dan and I settled in with pints and cheesy chips to play cards all evening. It was the perfect way to escape the rain in Cheddar. I also want to note that 90% of the menu can be prepared gluten free! Woo hoo! There is a separate fryer, and they even do gluten free cider battered fish and chips.
The Bath Arms, Bath St, Cheddar BS27 3AA
6. Explore 500,000 year old Gough's Cave
Moving on to some of the most popular tourist draws in Cheddar – the show caves! Gough's Cave in particular is known as the cave where the Cheddar Man, Britain's oldest complete skeleton, was found. On a tour of the 500,000 year old Gough's Cave you are taken through the hidden chambers. You'll view stalactites and stalagmites, as well as shelves full of cheddar cheese (yes, this cheese is actually aged in the cave!).
Unfortunately, when Dan and I visited the cave was flooded!! This happens a couple times a year, apparently, so hopefully is not the case when you visit. For us, it's just a reason to return.
To visit Gough's Cave, you need a Cheddar Gorge & Cave Explorer ticket which can be purchased online for 15% off, at £16.95.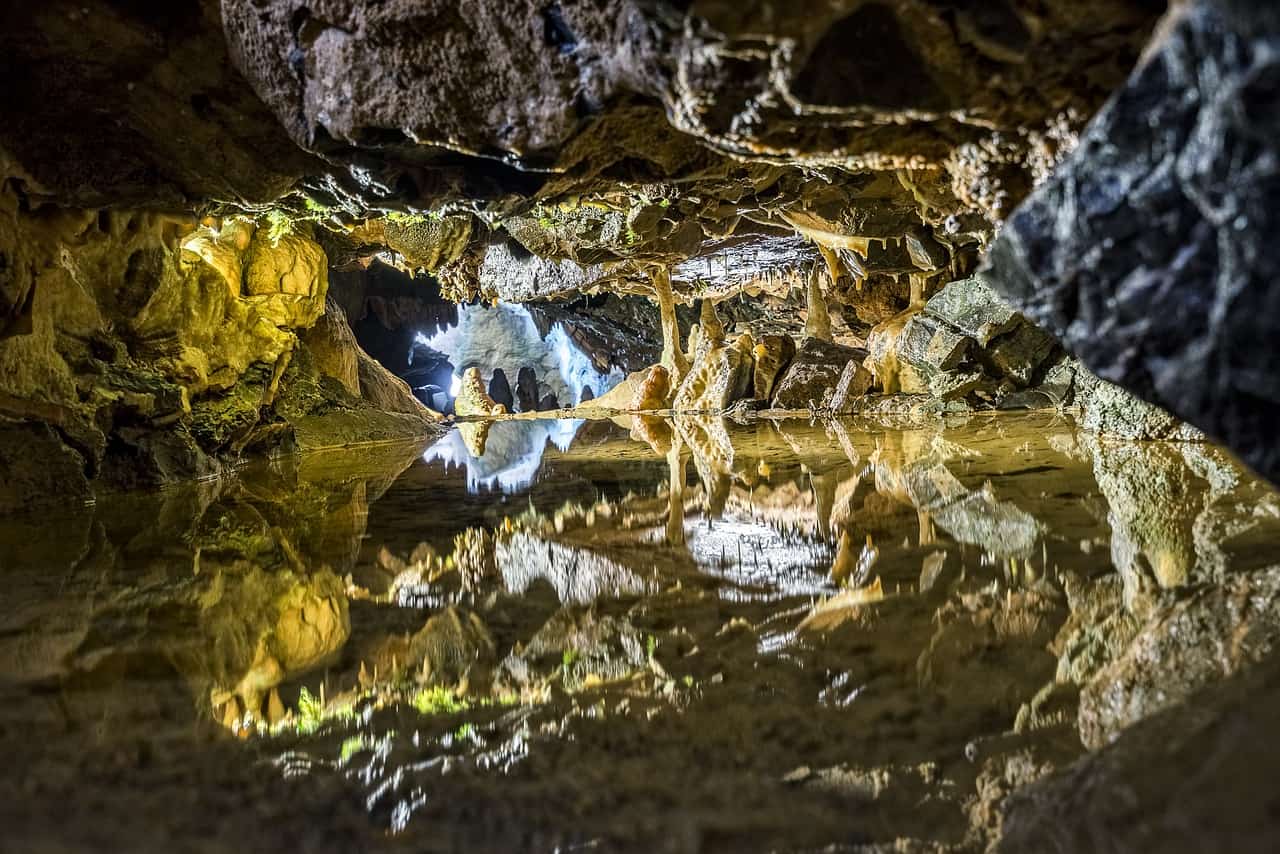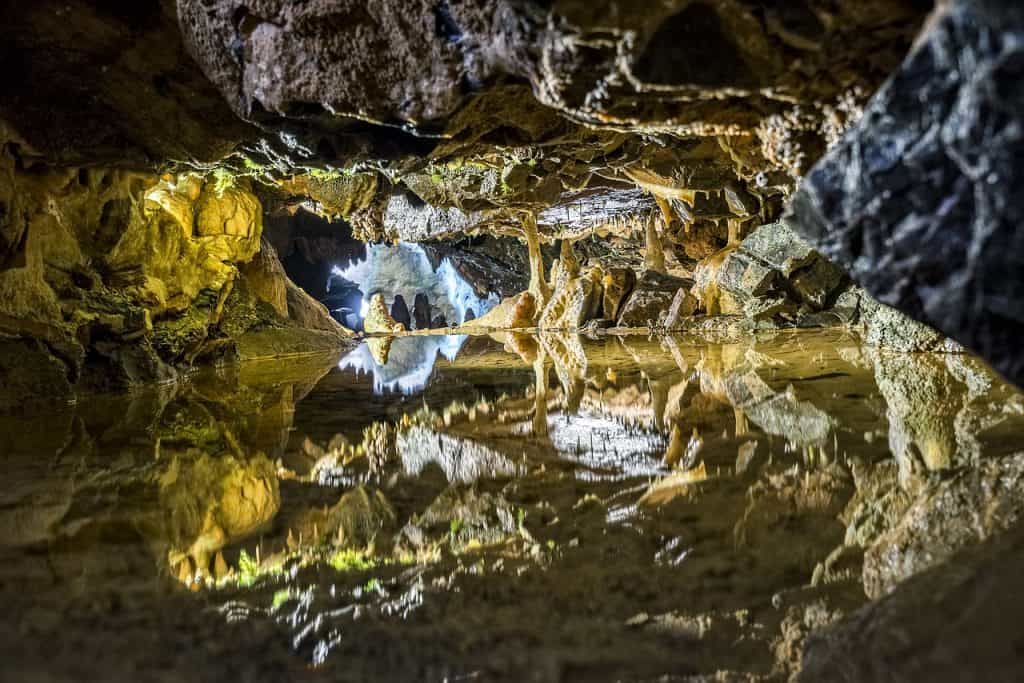 7. Dream hunters at Cox's Cave
Another show cave in Cheddar is Cox's Cave – named after the explorer who excavated the caves in the 1900s. Cox's Cave has been kitted out with a multimedia experience titled 'dream hunters,' which tells the story of the early hunters and gatherers who lived in the caves thousands of years ago.
To visit Gough's Cave, you need a Cheddar Gorge & Cave Explorer ticket which can be purchased online for 15% off, at £16.95.
8. Cheese tasting at The Cheddar Gorge Cheese Company
If you're like me, when you think of things to do in Cheddar, you automatically think CHEESE! Well, it's not coincidence that Cheddar Gorge shares its name with a cheese. At The Cheddar Gorge Cheese Company, you'll find the only cheese that is actually made and aged in the actual Cheddar caves! There are tons of different types of cheese for sale, and you can taste pretty much all of them (plus chutneys and relishes, too).
Our favorite cheeses were the mellow, cave matured, and smoked. Of course we had to buy a few slices to bring back to Dan's family.  The Cheddar Gorge Cheese Company, The Cliffs, Cheddar, Somerset BS27 3QAMonday-Friday 10am-4:30pm, Saturday-Sunday 10am-5pm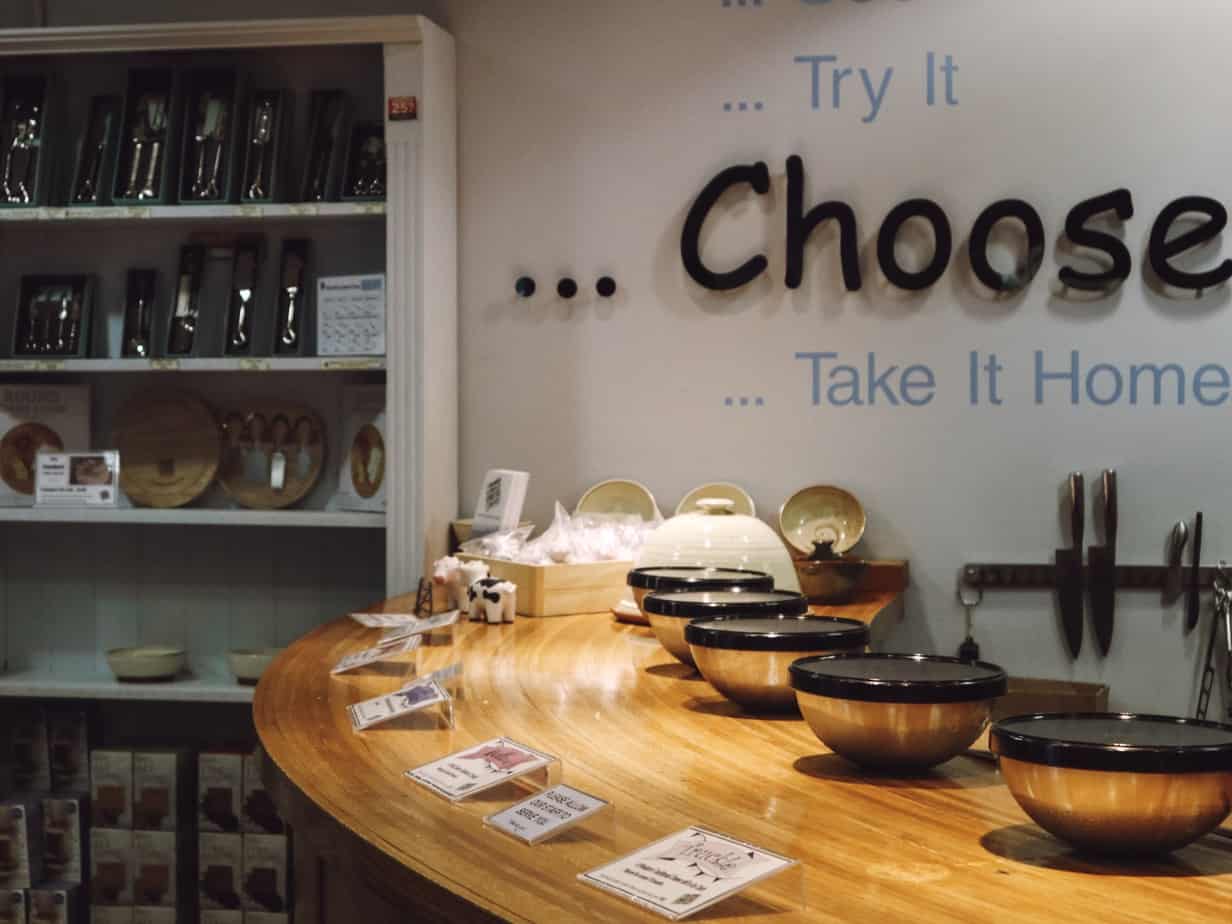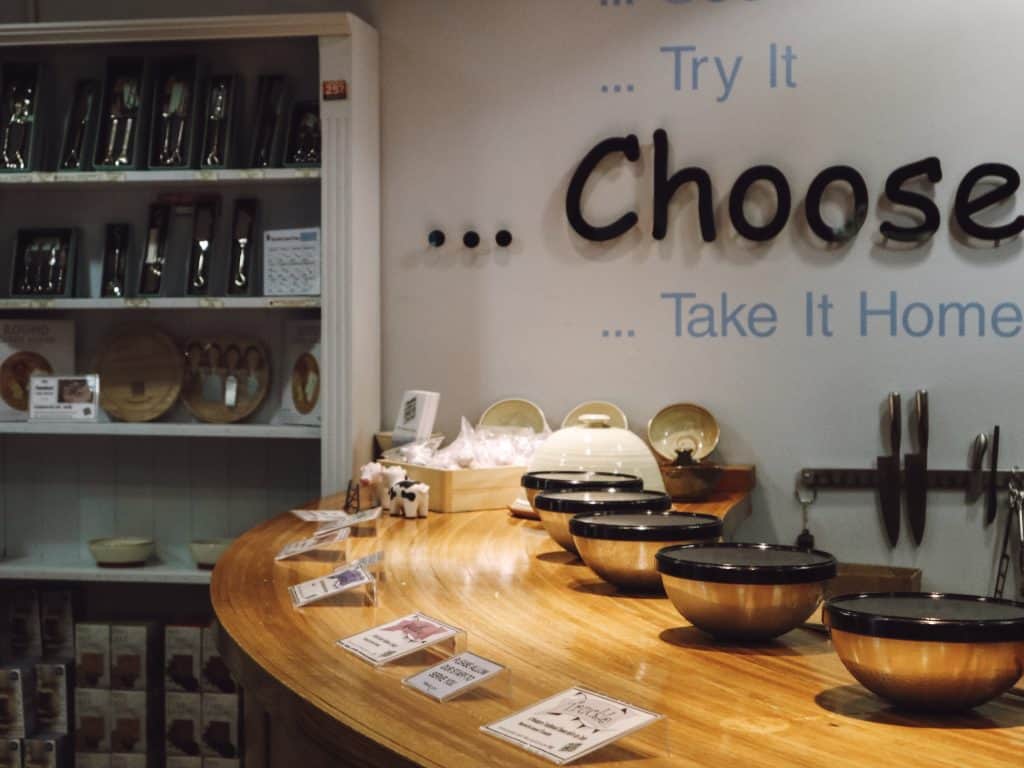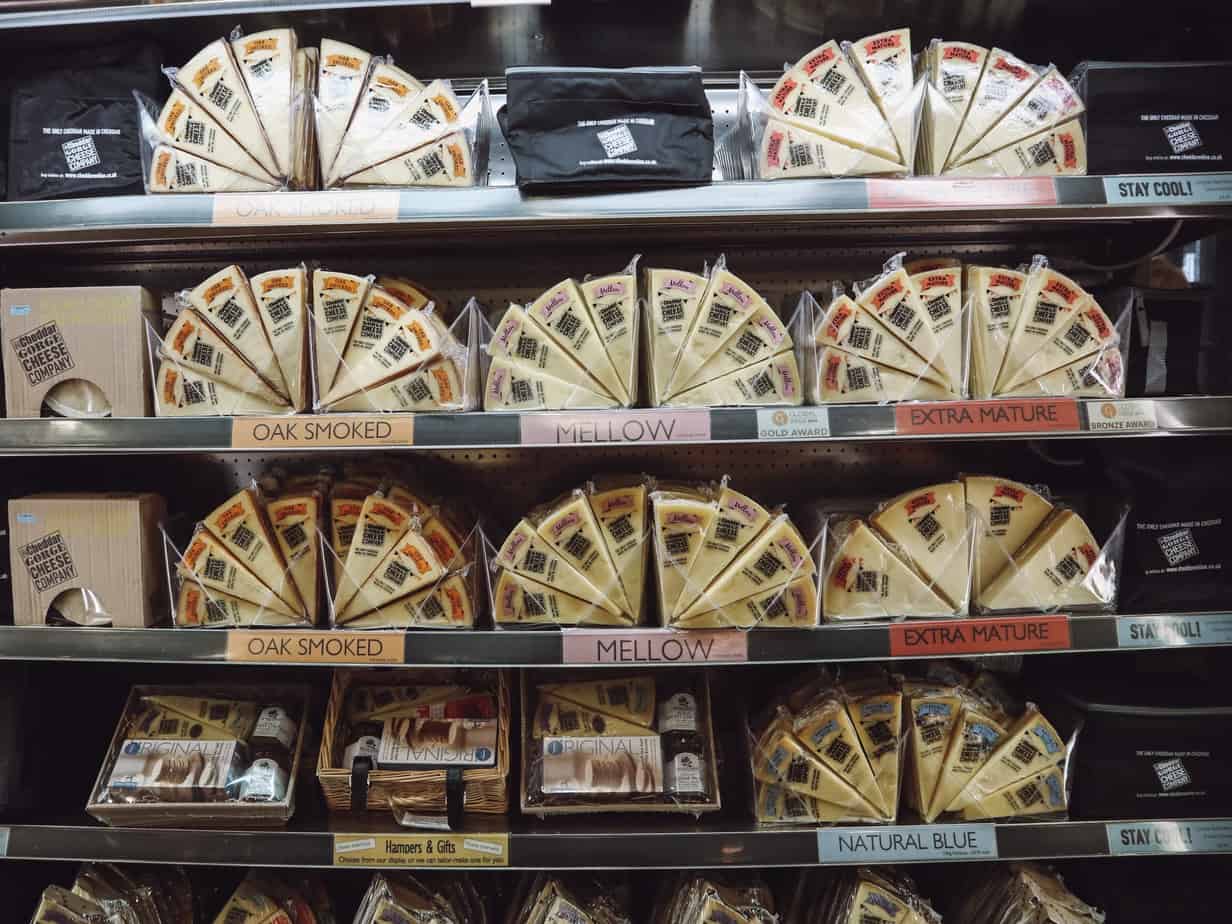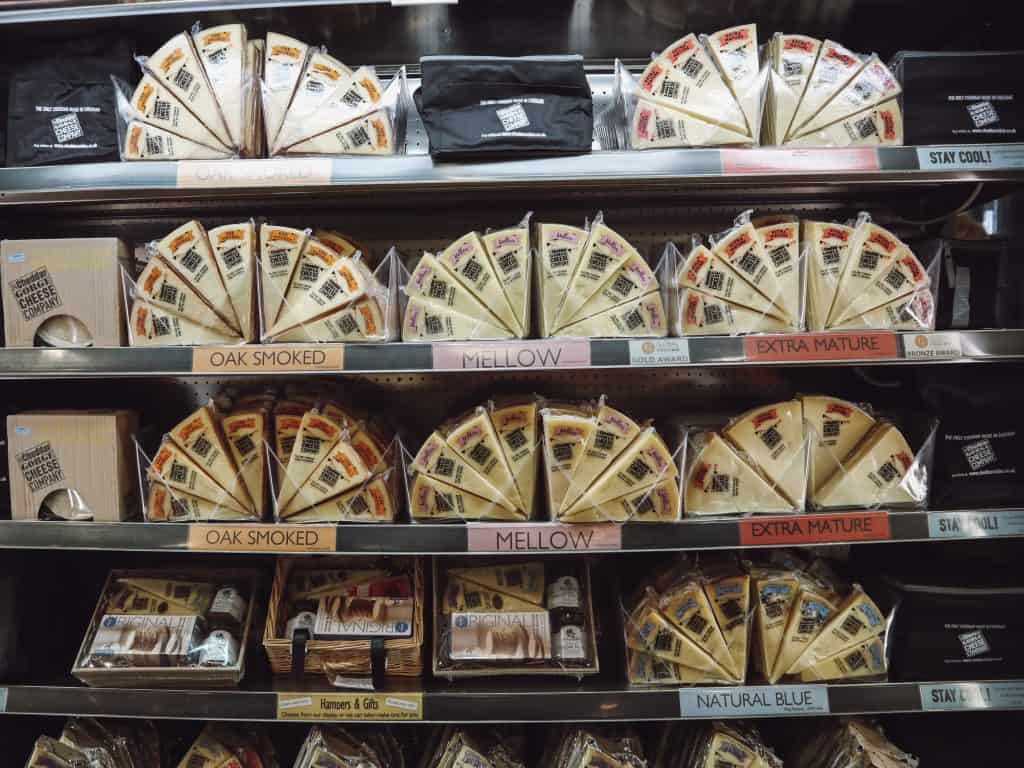 9. Visit the Museum of Prehistory
As another part of the Cheddar Gorge & Cave Explorer ticket, you get access to the Museum of Prehistory. This museum showcases some of the objects found during archeological digs of Cheddar Gorge and its caves and was newly designed in 2016.
To visit Gough's Cave, you need a Cheddar Gorge & Cave Explorer ticket which can be purchased online for 15% off, at £16.95.
10. Try a round of Cheddar crazy golf
Another really popular activity in Cheddar Gorge is crazy golf. This crazy golf ("mini golf" for us Americans) is pretty elaborate, with 16 holes and a complex course made of the gorge's natural limestone. It's appropriate and fun for all ages.
It costs £4.40 per person for one round of golf, and the course is open from Easter until the last week of September. 
Cheddar Crazy Golf, 7 Queens Row, The Cliffs, Cheddar BS27 3QE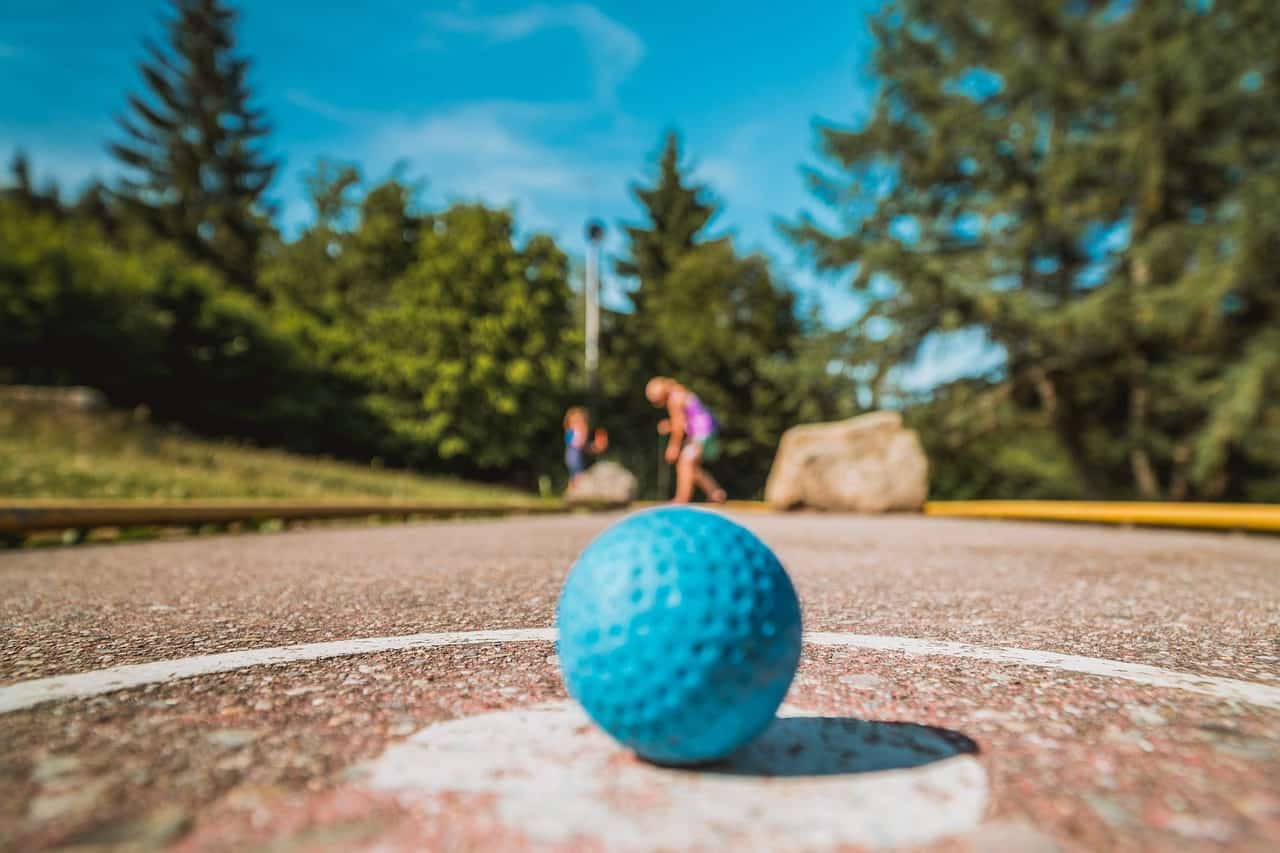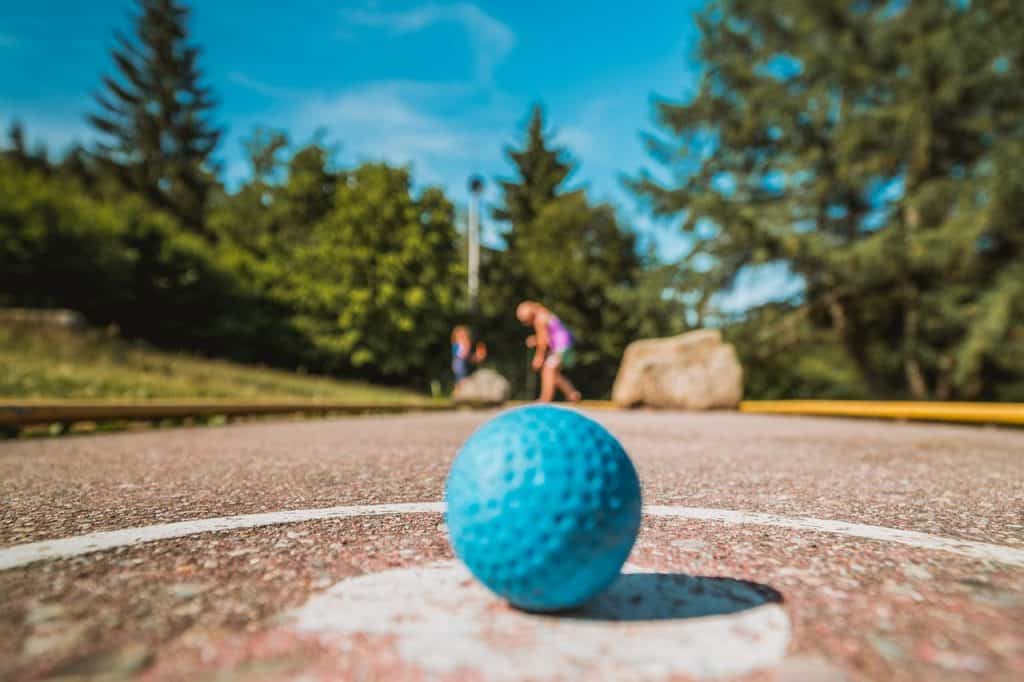 11. Go rock climbing on Cheddar Gorge
Yes, you can actually climb Cheddar Gorge itself! This is certainly one of the more adventurous activities in Cheddar. Don't worry, you don't need to have rock climbing experience, either.
Book through Cheddar Gorge & Caves, and you'll get a group rock climbing lesson for just £24.95 per adult.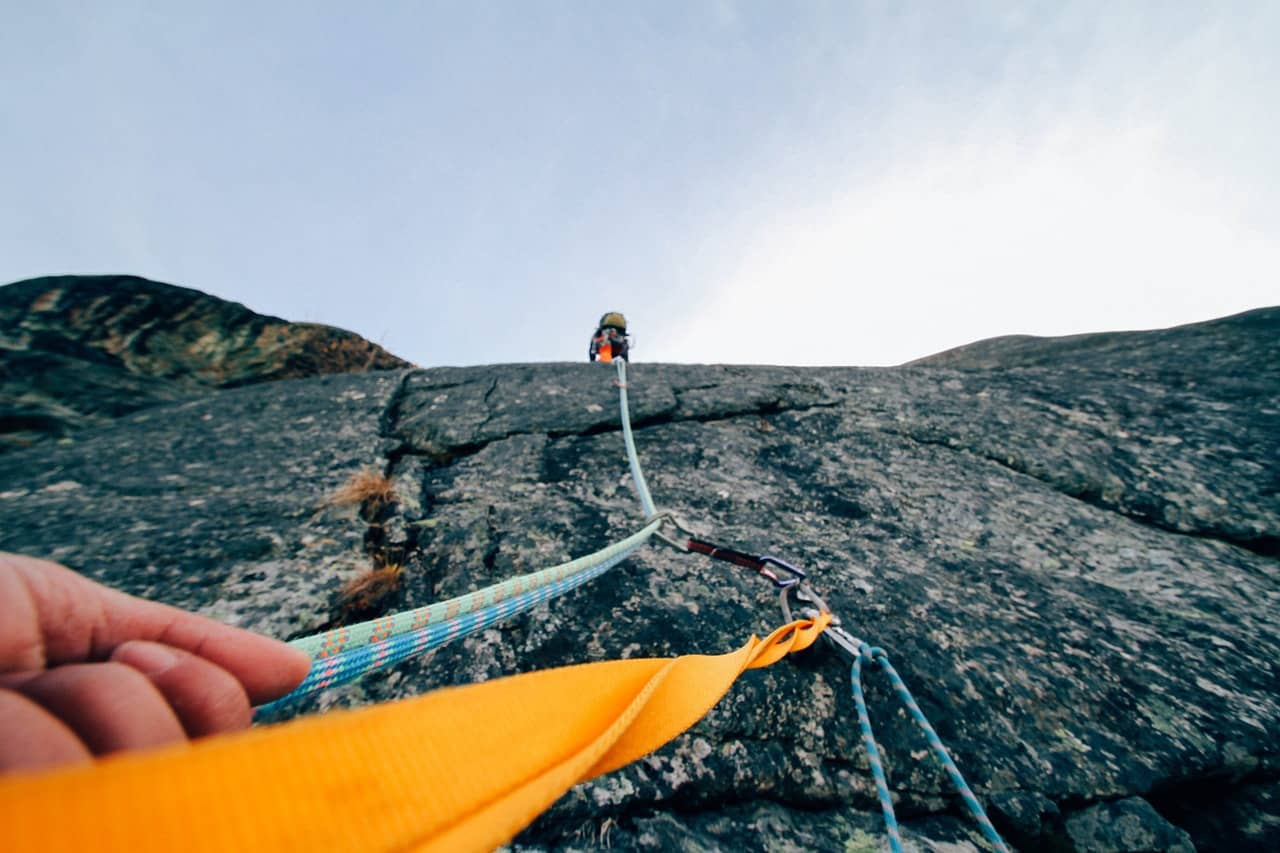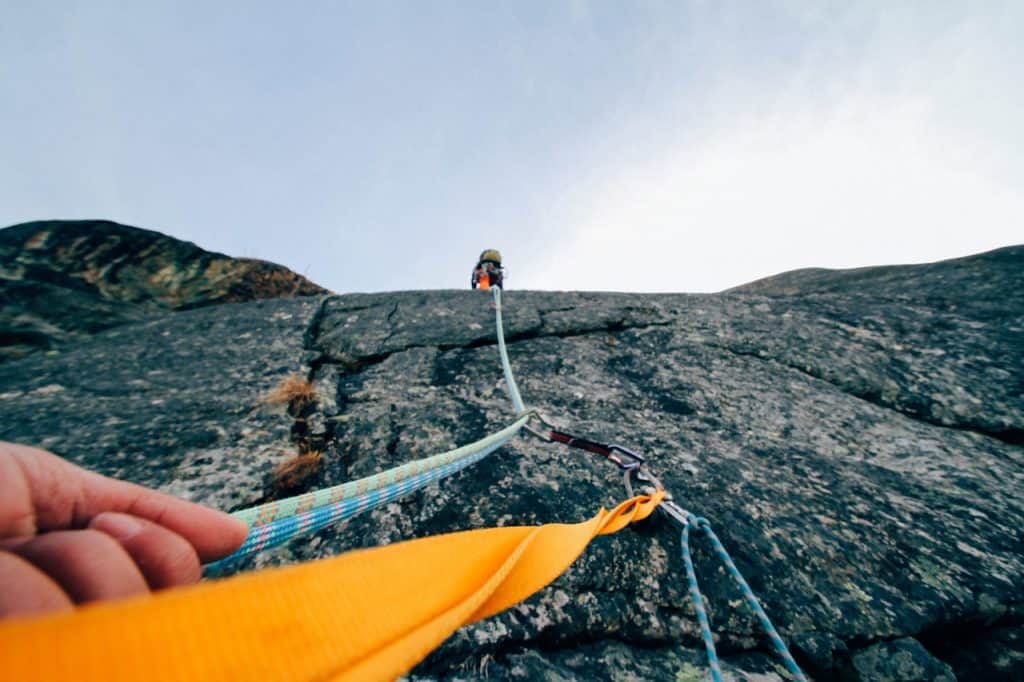 12. Take a leap of faith at the Black Cat Free Fall
If you're looking for other adventurous Cheddar Gorge activities, you should definitely book on to the Black Cat Free Fall. The Black Cat chamber is tucked away within Gough's Cave. You'll head back here with an instructor, who will help you climb a 30 foot ladder before leaping off into the abyss. You'll free fall toward the cave floor before coming to a halt and being safely lowered the rest of the way.
Book through Cheddar Gorge & Caves four weeks ahead of time (this is popular), and book on for £24.95 per adult.
13. Check out the dog bakery Cheddar Paws
All dog lovers need to stop by Cheddar Paws when in Cheddar Gorge! This dog bakery is always filled with wagging tails. In the past year, they've sold over 18,000 'pupcakes' – I'll let that sink in! Besides selling dog treats, there is also a very cute sit down cafe. They sell 'human coffees', host dog birthday parties, and human-dog afternoon teas, so it's definitely worth a stop.
Cheddar Paws, 8 Queens Row, Cheddar, SomersetMonday-Tuesday 11:30am-3:30pm, Wednesday-Thursday closed, Friday 11:30am-3:30pm, Saturday-Sunday 10:30am-4:30pm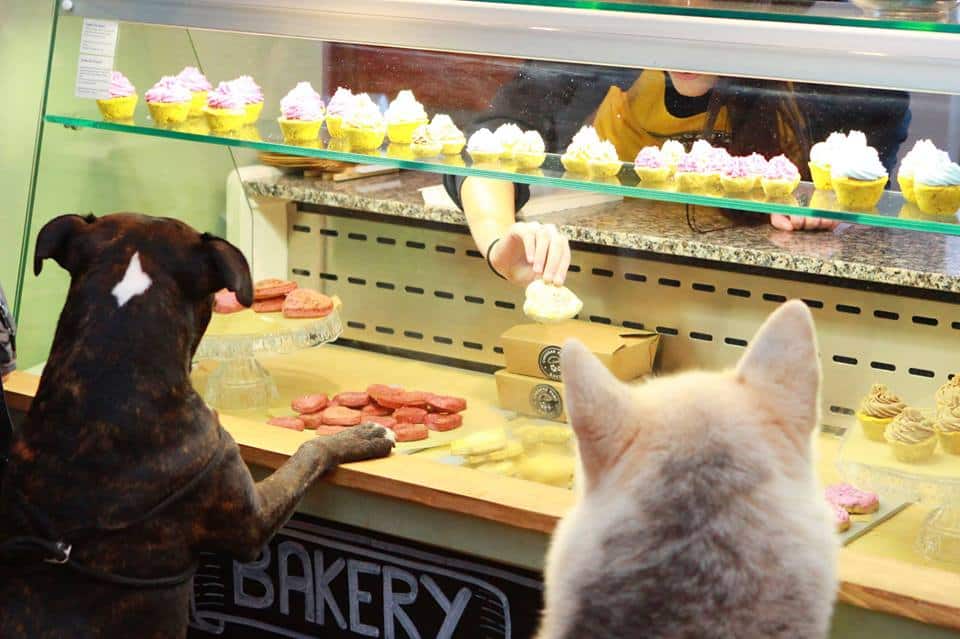 14. Escape an escape room
There are two escape rooms in Cheddar Gorge and obviously they are both themed after the caves themselves! The first escape room is more traditional, and takes place in a Victorian house. This is actually the house of Richard Gough, who first explored and excavated the caves now known as Gough and Cox. The second escape room takes place in a literal cave, and you race against the clock before being 'caved in' (don't worry… that won't actually happen).
Book a Cheddar Gorge escape room through Cheddar Gorge & Caves for £14.95 (house) or £24.95 (cave) per person.
15. Day trips from Cheddar Gorge
Finally, one of the absolute best reasons to stay in Cheddar Gorge is to take day trips! Cheddar is centrally located and the perfect base for exploring Somerset.
Some great day trips from Cheddar include:
Wells
Glastonbury
Frome – Read my full guide to Frome here
Bristol
Bath
And more! You can also drive to nearby attractions and activities such as Longleat Safari Park, Wookey Hole, Southwest Go Karting, the original Thatcher's Cidery and more. As you can see, plenty of options!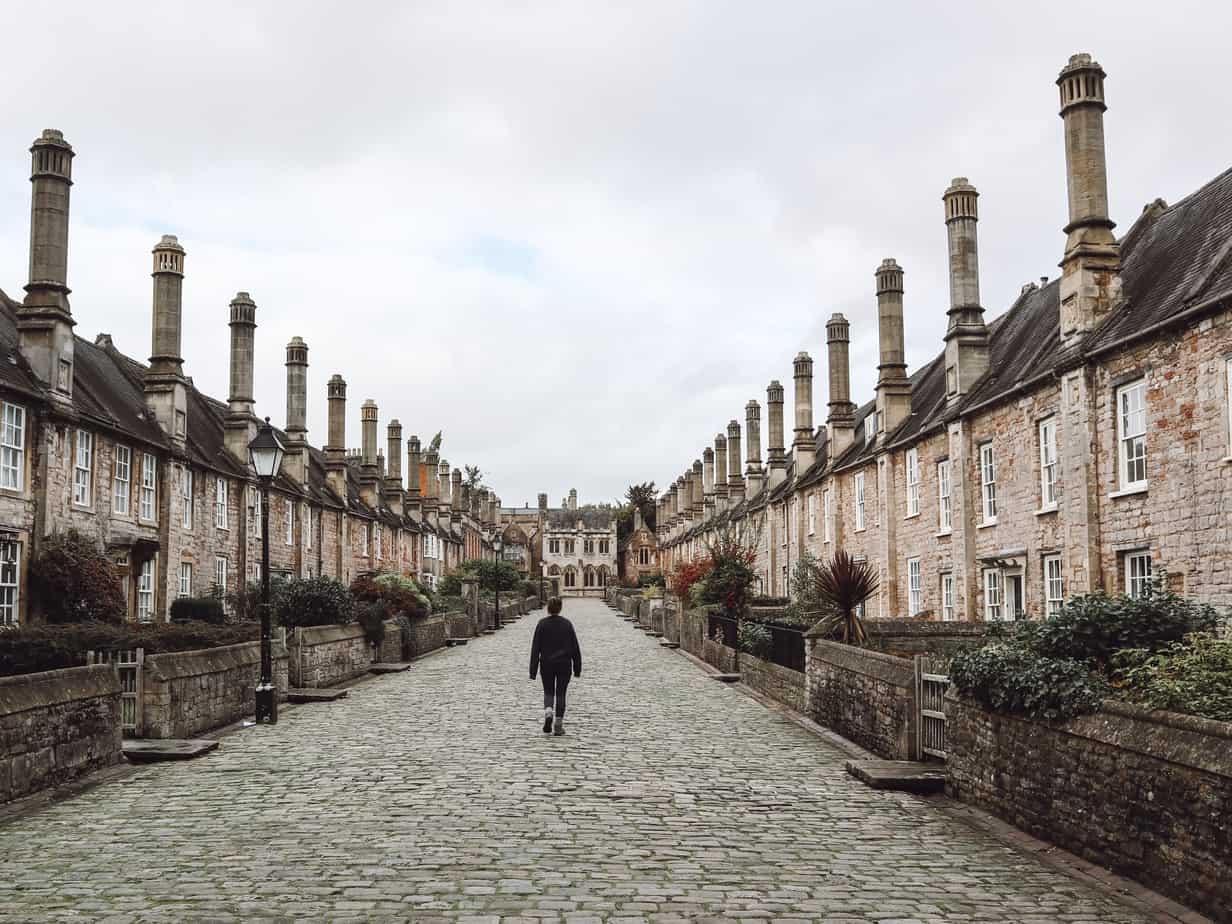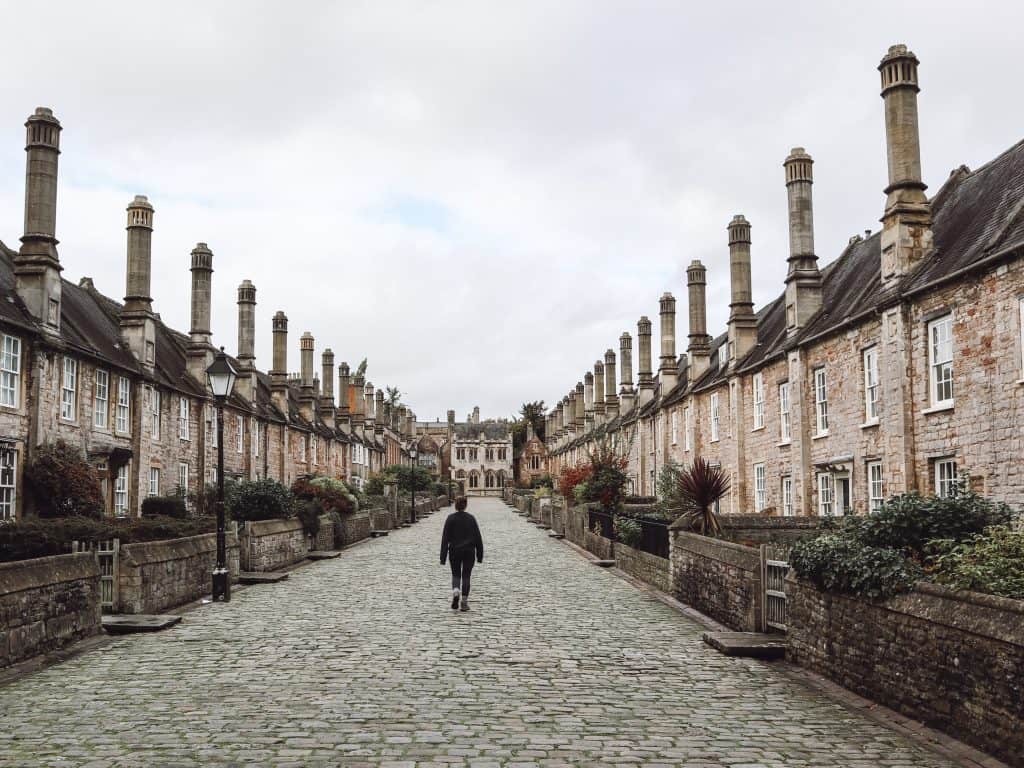 Where to stay in Cheddar Gorge
Can you do Cheddar Gorge in a day trip? Definitely. However, I'd recommend taking at least 2-3 days to explore, like we did, because there is just so much to do! Like I mentioned, there are plenty of Somerset day trips from Cheddar, making this an ideal base. 
Here are the places I recommend you stay in Cheddar Gorge:
The Details…
What? Cheddar Gorge
Where? The Mendip Hills of Somerset, England
When? We visited in mid October, but there is plenty to do all year round!
Have you been to Cheddar Gorge? Any thing that I missed? Let me know in the comments below!

Pin it for later…