7 Best Polaroid Cameras for Travel: What Makes a Travel Polaroid Camera
My travel style has changed over the years, but one thing that has remained constant is my love for travel polaroid cameras! I mean, who doesn't love the polaroid camera aesthetic? I know I do.
Capturing memories on a polaroid is so fun, but you might be hesitant to travel with one. After all, polaroid cameras are a bit clunky, right? Logic says they wouldn't make the best travel companions.
There is also the issue of traveling with polaroid camera film, which can be quite fragile.
I absolutely love to travel with my Instax or polaroid cameras, but you do have to be strategic about which models you choose.
In this post, I'm sharing why you should consider traveling with a polaroid camera, as well as the seven best polaroid cameras for travelers. Let's get to it!
In this blog post you'll find:
Why you should travel with a polaroid camera
What's the difference between Instax and Polaroid?
Can you take a polaroid camera on a plane?
Does the weather affect polaroid camera film?
5 best Instax polaroid cameras for travel
2 best Original Polaroid cameras for travel
Best travel polaroid camera accessories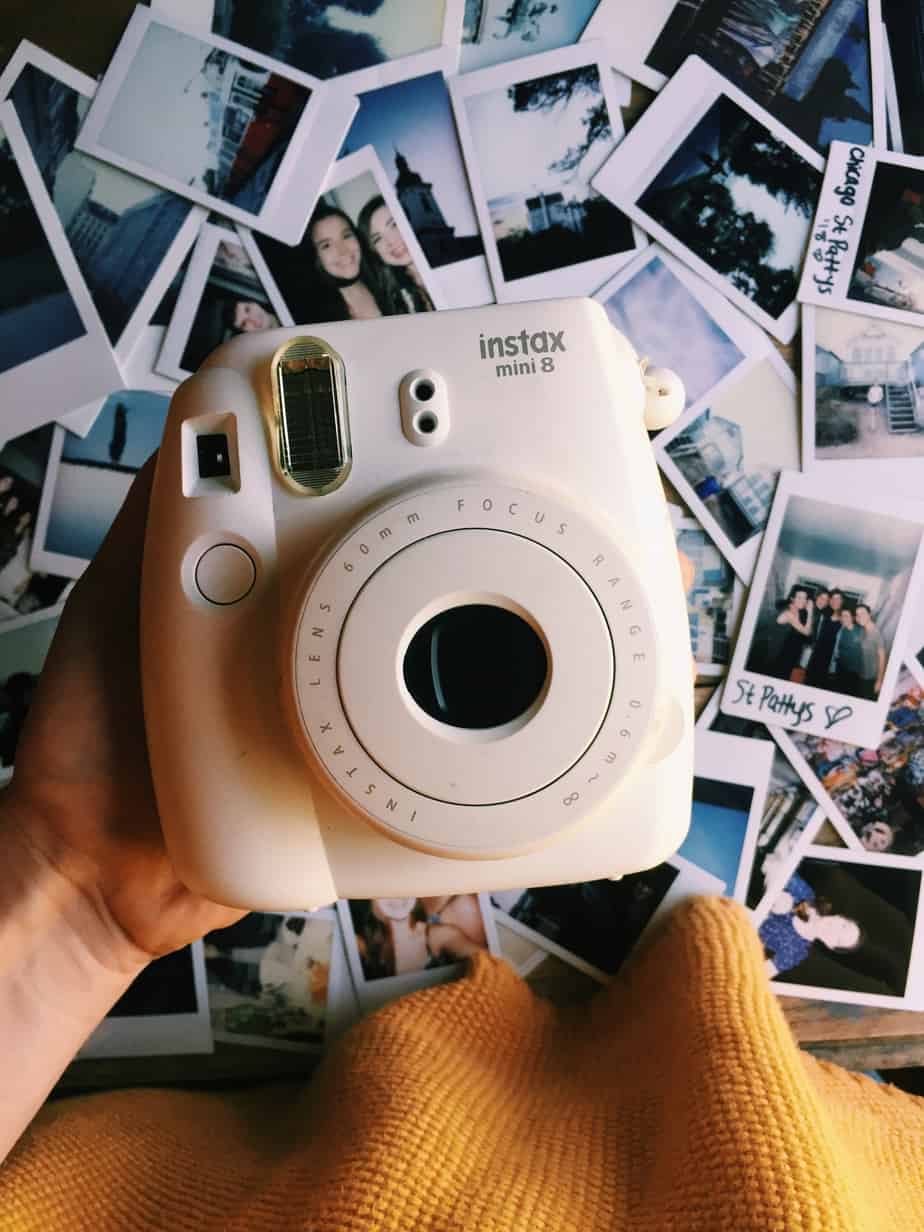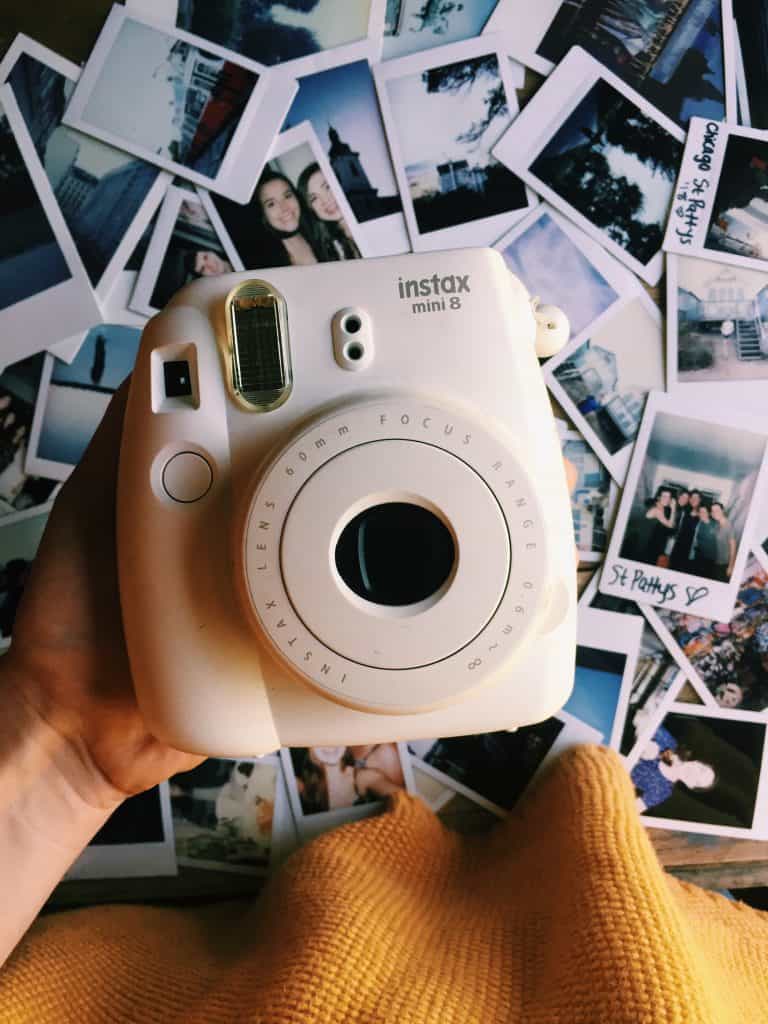 Why You Should Travel with a Polaroid Camera
There is no better travel souvenir than a little polaroid photo, easily tucked in a wallet or back pocket, to remind you of your adventures.
I first fell in love with traveling with a polaroid camera in Vienna. Dan and I went on a polaroid tour of Vienna, which to this day remains one of the best city tours I've ever taken. We learned all the details of polaroid, and then traipsed about the city chatting with a local and seeing the city through new angles.
This tour inspired me to continue traveling with a polaroid camera – if you look through my blog, you can see my polaroid photos featured in my other travels, such as trips to New York City or Prague.
Polaroids are just fun. They give you an opportunity to go back in time, to slow down, to change your perspective, and to PLAY!
Reasons to take a travel polaroid camera on your next trip:
A polaroid photo is the perfect travel souvenir
You can gift polaroid photos to locals (like your Airbnb host, or friends you meet on the road).
Bring travel into your home. String photos up above your desk or bed – this is the fairy light string I use!
You can see a city through creative and new angles
They are fun and memorable
Polaroid photos remind you that the best souvenir from travel is the EXPERIENCE!
What's the Difference Between Instax and Polaroid?
Yes, there is a difference between polaroid and Instax (although I've lumped them together in this post). These are the two main brands you'll consider when buying your camera.
Think of Instax as the new kid on the block, and Polaroid as the old guy making a comeback.
The main difference between Instax and Polaroid is in how the film develops.
For example, when you snap a photo on an original polaroid camera, you need to hide the photo from light sources so it develops properly. The same is not true for Instax, which develops fine in sunlight (one reason it is more user-friendly).
Is Instax or Polaroid Better for Travel?
I've used both Polaroid and Instax and both have benefits and drawbacks. But which one is better for travel with polaroid cameras?
Instax, produced by Fujifilm, is generally more user friendly and affordable. Their cameras are more lightweight. Instax also produces hybrid instant photography cameras that can connect to apps on your phone.
But everyone calls instant photography "polaroid" for a reason. After their bankruptcy in 2001, the Polaroid story gets a little convoluted, but as of March 2020 they began operating again under the official Polaroid name. Currently, they have some newer models of instant cameras that rival Instax in user (and travel) friendliness.
Keep reading below for my seven most recommended cameras for travel, from both Instax and Polaroid.
FAQs on the Best Travel Polaroid Cameras
After years of traveling with polaroid cameras, I've developed some opinions on the best options out there! Below, I share my top picks from both Instax and Polaroid. But first I'll answer some frequently asked questions.
Is it really practical to travel with a polaroid camera?
This depends on your trip style! I almost never regret packing a polaroid or Instax camera in my luggage. However I'm less likely to take them on whirlwind outdoor trips, like when I trekked to Everest Base Camp.
Overall, if you're like me, you'll more often wish you had your polaroid camera with you, than not!
There are some surprisingly compact models now like the Instax Mini LiPlay or Square SQ6 that are great for travel.
Can you take a polaroid camera on a plane?
Yes, you can take a polaroid camera on a plane. Instax and polaroid film can go through airport security X-rays perfectly fine.
Just be careful not to put pressure on the film or spill liquids on it in your luggage. A protective case like this one can help with that.
Does weather affect polaroid cameras?
Yes. Polaroid cameras are not waterproof – although you can buy waterproof cases for very select styles of polaroid cameras. I only take mine out in the rain if I have a purse.
Cold weather can also affect Instax film. If Instax film is exposed to weather below freezing it can become underexposed (dark). Extreme temperatures can also affect Polaroid film but the results are less predictable. For this reason, I would recommend travel polaroid cameras for warmer or average temperature destinations.
5 Best Instax Travel Polaroid Cameras to Buy
As I mentioned, Instax is newer on the block but it is also more user friendly and affordable. They make some great cameras for a variety of budgets.
Actually, I personally own four Instax cameras at this point, so I can assure you they are awesome!
These are my five favorite Instax cameras for travel.
1. Instax Mini 12
The Instax Mini 12 is my top pick from Instax cameras for travel in terms of budget, user friendliness, and weight, although it is still pretty simple in comparison to other Instax cameras that now connect to your phone.
This is an upgrade from the previous versions in that it has a selfie mirror and macro lens. This makes it easier to snap pictures on the go and not waste film! It comes in 13 colors.
Check prices for the Instax Mini 12 here.
Film: Instax Mini Film
2. Instax Mini 11
The Instax Mini 11 is one model older than the 12, and has since been discontinued by Fujifilm. However, this means if you buy it on Amazon, you can get it for a slightly cheaper price than the newer model.
The Instax Mini 11 is lightweight and great for travel – it doesn't have many special gadgets or capabilities besides taking instant photos, so it's the best option if you're looking for something simple!
Check prices for the Instax Mini 11 here.
Film: Instax Mini Film

3. Instax Mini 40 – Vintage Look
The Instax Mini 40 is my newest Instax purchase and so far I am loving it. This camera is special because it has that retro, black-and-silver look.
It also features auto shutter speed and auto brightness, so the photos reliably turn out great every time, no matter what environment you're in. (A useful feature, because the film can be expensive!).
Check prices for the Instax Mini 40 here.
Film: Instax Mini Film
4. Instax Square SQ1
The Instax Square SQ1 is one of the newest Instax models available. It is one of the thinnest and most compact Instax cameras out there – a perfect size for travel!
It uses an auto exposure, meaning your photos will turn out great (no more guessing with the film, like with some of Instax's other cameras… although that's part of the fun). There is also a self timer.
Check prices for the Instax Square SQ1 here.
Film: Instax Square Film
5. Instax Mini LiPlay
The Instax Mini LiPlay is the smallest Instax camera and therefore the best size to fit in your luggage or purse when you're traveling. It's the newest Instax on the market and is actually a hybrid Instant camera.
The camera connects to an app on your phone, and can print photos from your phone as well as those you take on the camera. It also lets you preview your images before you choose to print, and has up to 32GB storage.
The Instax Mini LiPlay isn't your typical instant photography camera, and traditionalists will want to stay away. But if you want more capabilities and a compact size, this is the best Instax for you.
Check prices for the Instax Mini LiPlay here.
Film: Instax Mini Film
2 Best Original Polaroid Cameras for Travel
If you want the real original, then I have to recommend Polaroid itself over Instax. These cameras are a bit bulkier and may take more getting used to than Instax, but the photos come out clearer and the exposure is usually better.
1. Polaroid Now i-Type
The Polaroid Now i-Type is the signature Polaroid camera. It's the simplest and most affordable of the lot, and I would compare it to the Instax Mini 12 in terms of budget and user friendliness.
However, it does have a few more capabilities than the Instax Minis. For instance, it has autofocus and a self timer, for a pretty similar price.
Check prices for the Polaroid Now i-Type here.
Film: i-Type Film
2. Polaroid SX-70
The Polaroid SX-70 is my top Polaroid pick in terms of size! It is ideal for travelers. The SX-70 is totally unique as the world's first single lens reflex camera that uses original Polaroid film. The photos are sharp and crisp.
Even better, this camera literally folds down so you can tuck it in your purse, backpack, or even a big coat pocket!
Check prices for the Polaroid SX-70 here.
Film: Color Film for SX-70
Travel Polaroid Accessories
This is film photography, so you will need to do the occasional restock! I promise it's worth it for those special souvenirs.
Here are some of my recommended accessories – from film to photo albums to cases – for traveling with a polaroid camera.
Film – make sure you have the correct type of film for your camera!
Camera case
Polaroid photo album – this is the one I have
Camera strap
Fairy light string and clips – I recommend buying this one, which I have hanging above my desk.
Polaroid Originals Printer – an alternative to having a camera. It prints photos from your phone on Polaroid film.
So… Which Travel Polaroid Camera Should You Buy?
Honestly, it is hard to pick when it comes to the best polaroid camera for travel.
I personally most often travel with the Instax Mini 12 or the Instax Mini 40 (vintage style). These are both on the affordable end, very lightweight, and take good photos in different conditions.
If you're really looking for a compact camera to travel with, then my top recommendation is the Instax Mini LiPlay. This is the smallest camera. It has some advanced settings like connecting to your phone, however this might turn you off if you're looking for something "old fashioned."
Without a doubt, if your top goal is authenticity, then you need to purchase an original Polaroid camera. They weigh slightly more and can cost more than Instax, but they're the real deal. Plus the SX-70 can fold down, and the brand new Now i-Type is a great combo of old fashioned brand with new technology.
I love my travel polaroid cameras. If you've never traveled with a polaroid camera, then I have to encourage you to try it! It helps you view a city through new eyes and new angles, and get off your phone. Plus, you get the perfect little souvenirs to take home.