25 Photos to Inspire You to Trek Everest Base Camp
If you're dreaming of the trek to Everest Base Camp but it's just that… a dream… I understand. To trek Everest Base Camp requires a huge commitment. It's a financial investment, is physically demanding, carries health risks, and will take you at least two weeks. This is not a vacation that you will return to work rested and rejuvenated from! For instance, I trained daily and had to quit one of my jobs prior to the trek in order to get the time to do it.
But I'll never forget gazing out at the Himalayas, sweat dripping down my neck and my back aching, and knowing that all those sacrifices were worth it. The trek to Everest Base Camp is not only stunning, but it challenges you to dig deep within yourself and find a power you always had. A power that you can take off the mountain and access for the rest of your life.
So if you're on the fence about making the commitment to trek Everest Base Camp… and you need a little nudge to take that leap and transform dream into reality… well, I am happy to be the nudger! I've already shared my diary from trekking Everest Base Camp, and now I'll show you the visuals.
25 photos that will inspire you to trek to Everest Base Camp…
The trek to Everest Base Camp begins in Lukla, home to a rather notorious airport. You'll hear horror stories about this airport, some are sensationalist and some are simply the truth. It's a dangerous place. But here's another truth: the majority of accidents happen in the home, so what better reason to get out and travel? We took a helicopter into Lukla, a safer alternative to airplane flights. It was beautiful watching the terrain of Nepal change from Kathmandu into the Himalayas.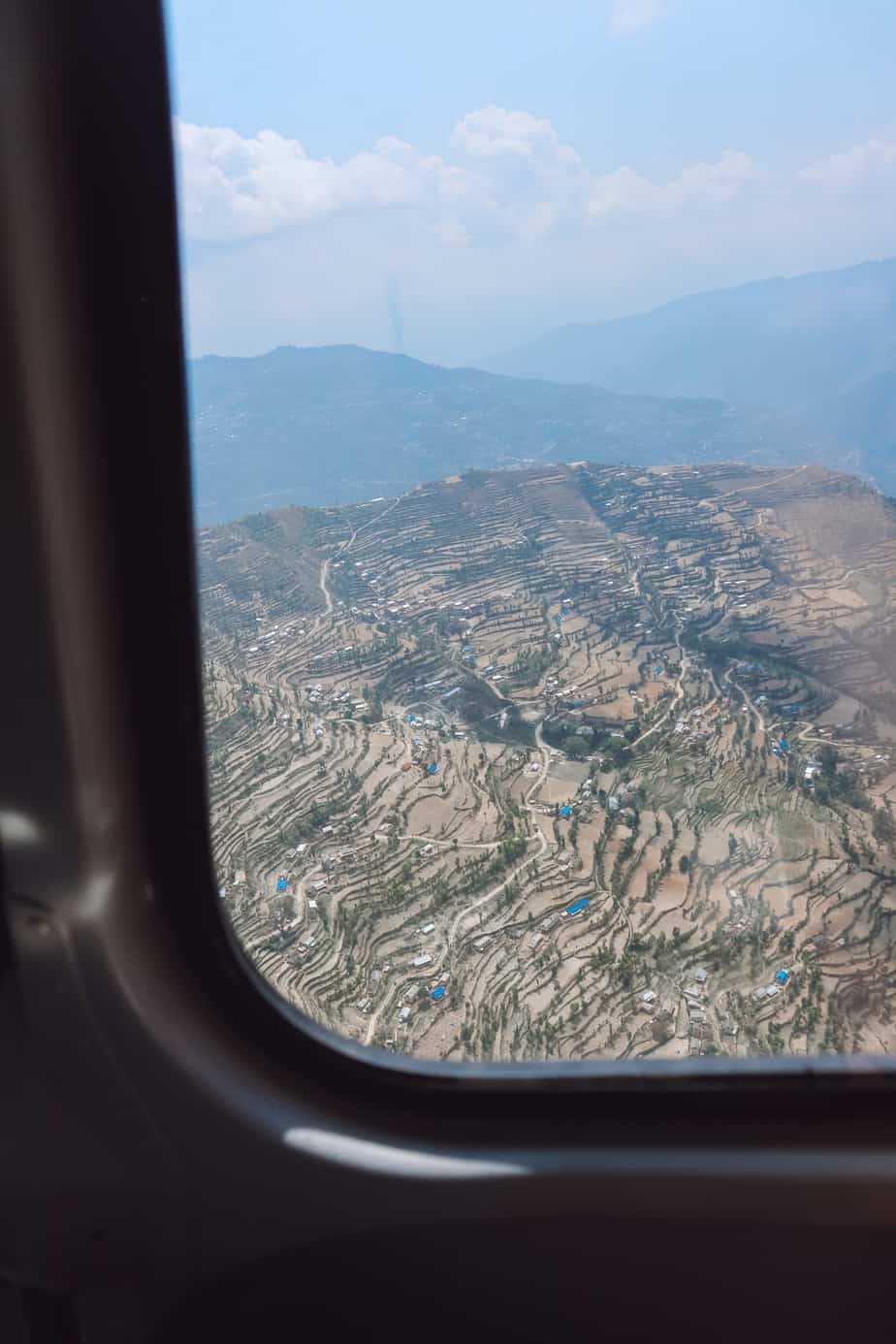 As the trek begins you'll see prayer flags strung everywhere. The idea is that the wind carries the good messages from the prayer flags across the land and to all people.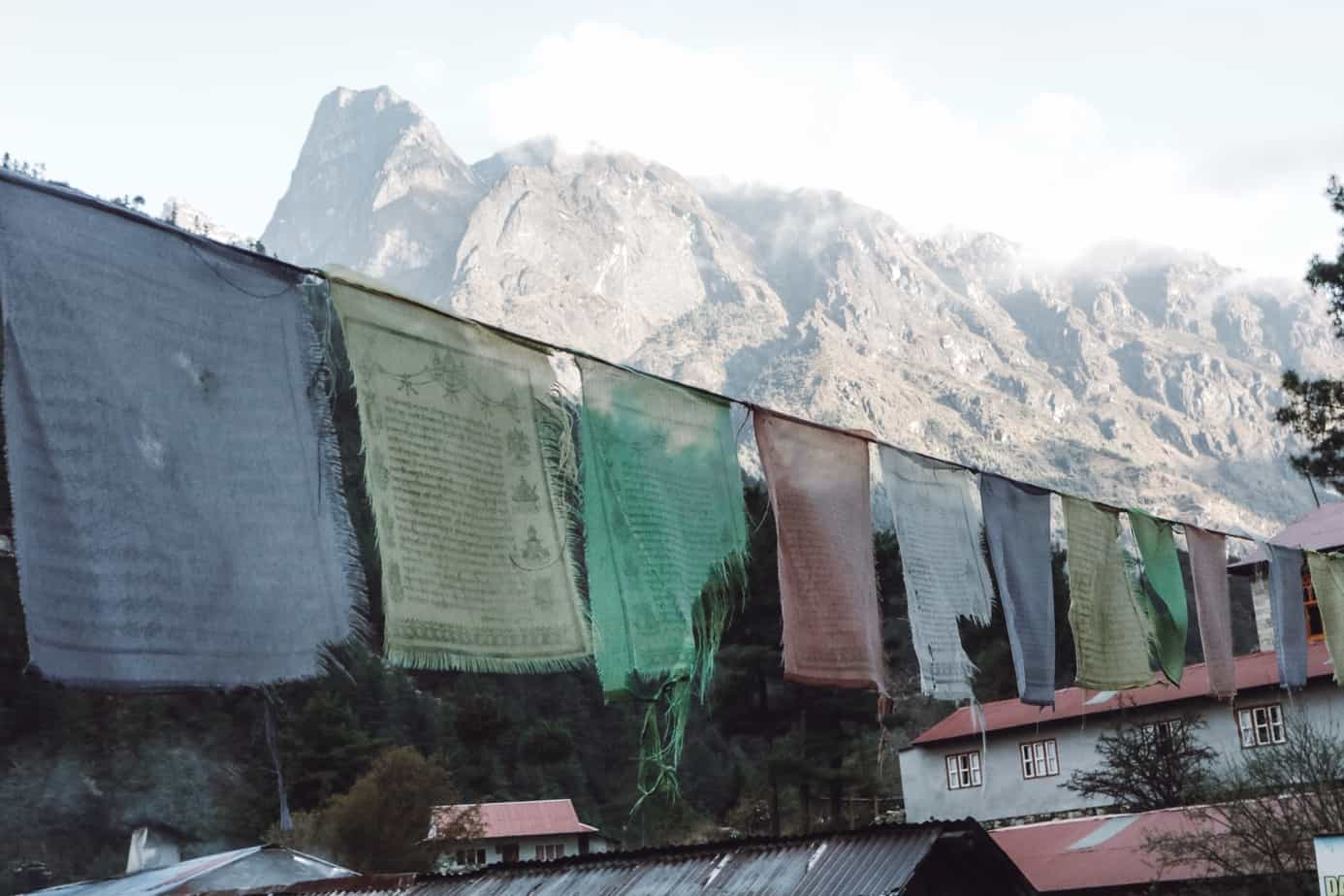 At lower altitudes, the path is surrounded by beautiful flora and fauna. In April and May we were lucky enough to witness the rhododendrons come into bloom.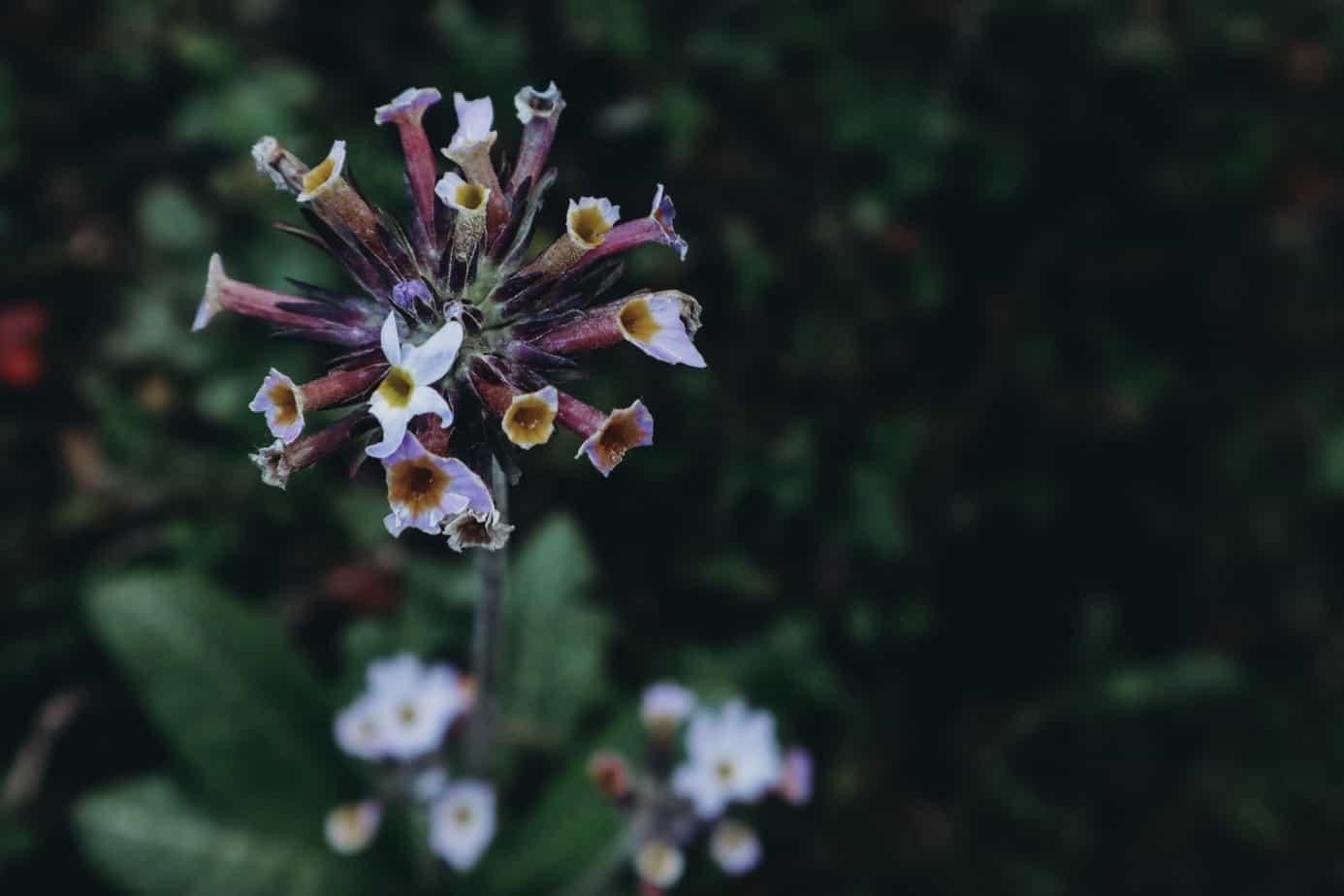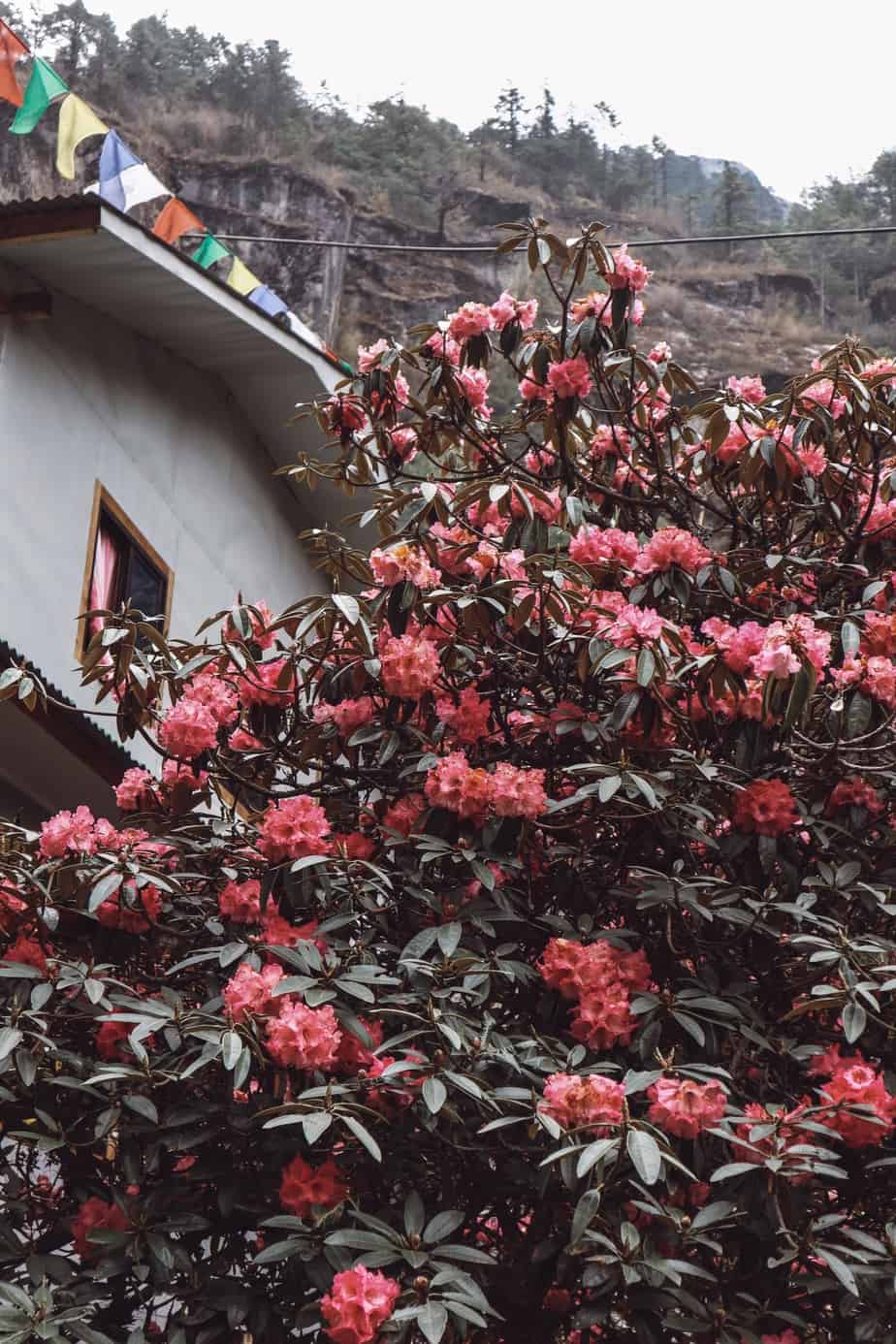 You'll also get the chance to cross the famous suspension bridges, slung across gorgeous glacial canyons, and lined with prayer flags.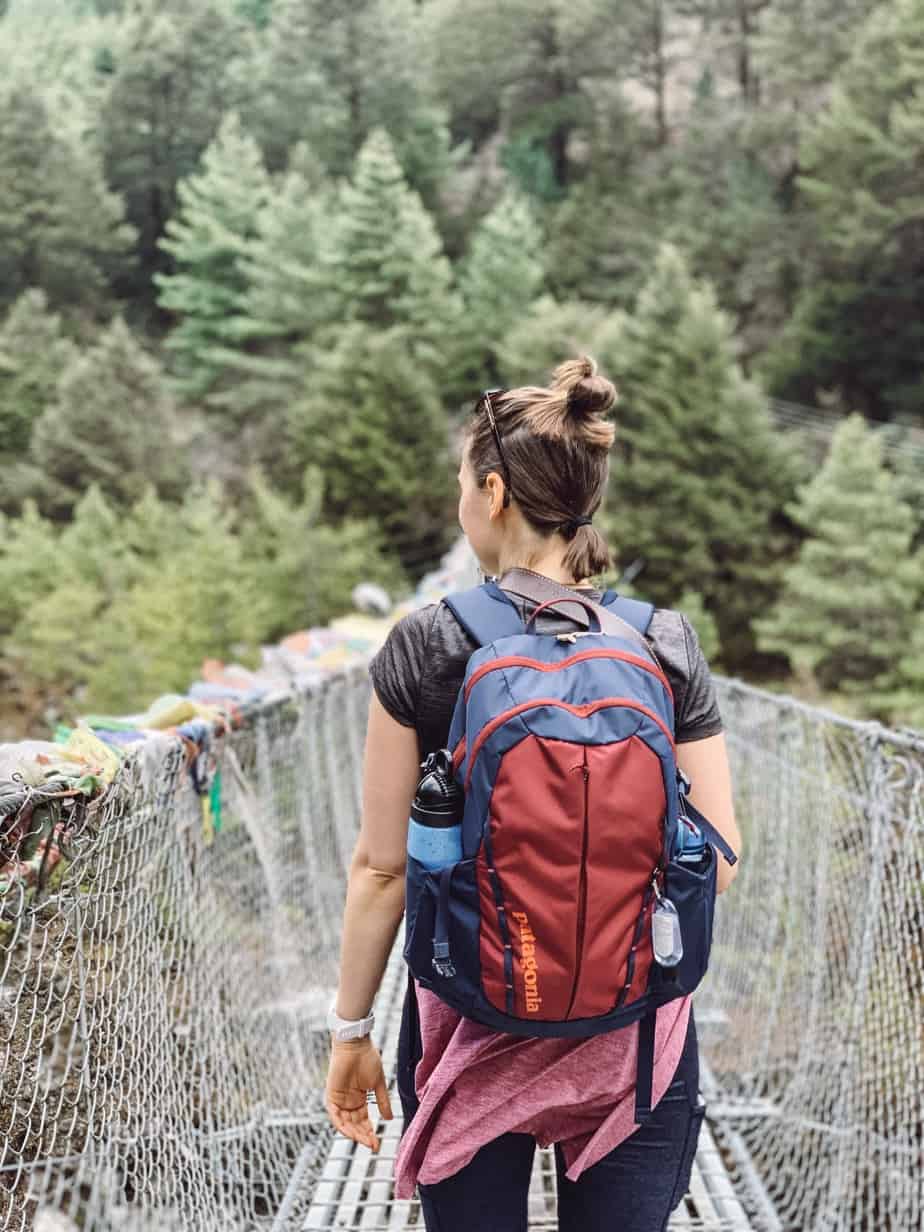 Just be careful to let the yaks, yows, and donkeys pass first!
Along the trail, you'll meet and connect with the incredibly kind, generous, and strong Nepali people, as well as the others in your trekking group.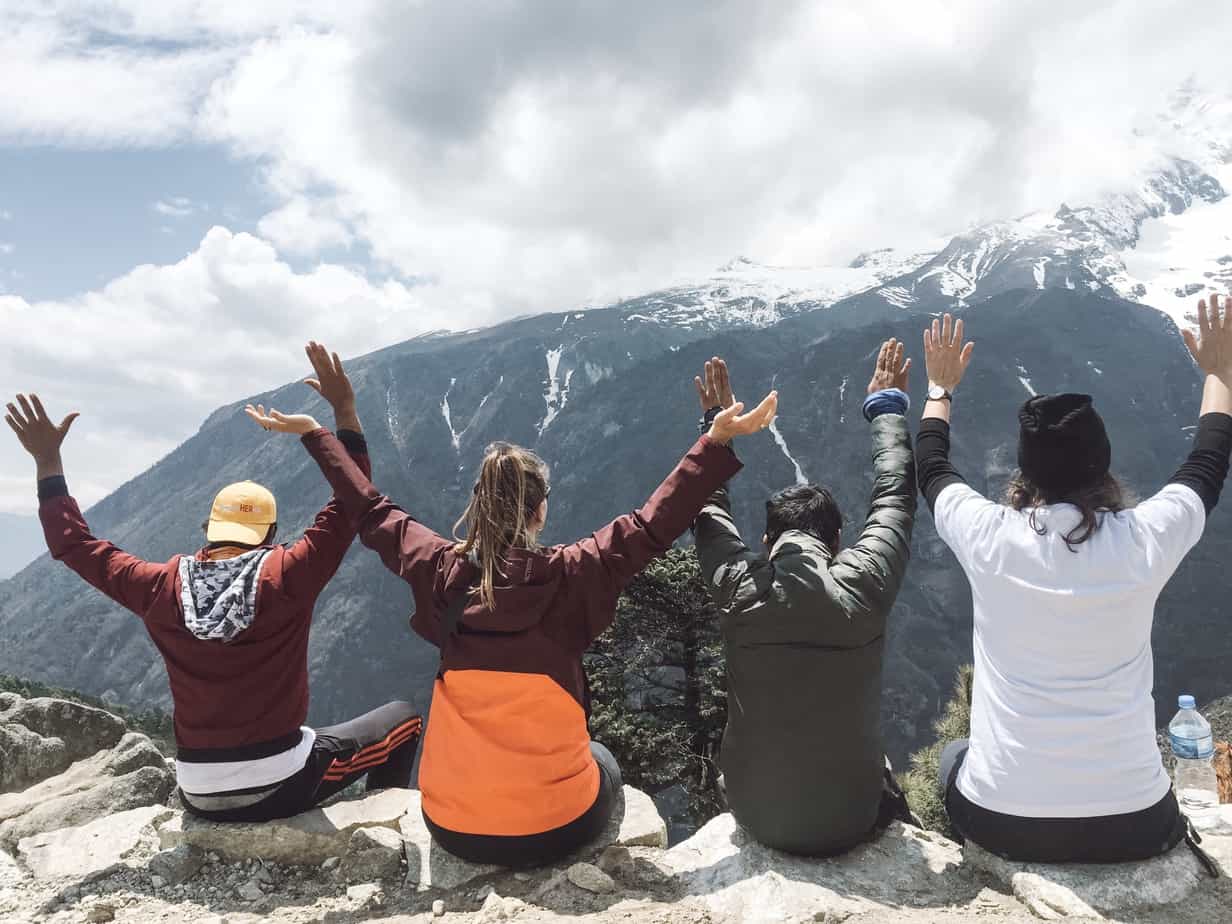 You may also make some friends of the more furry persuasion…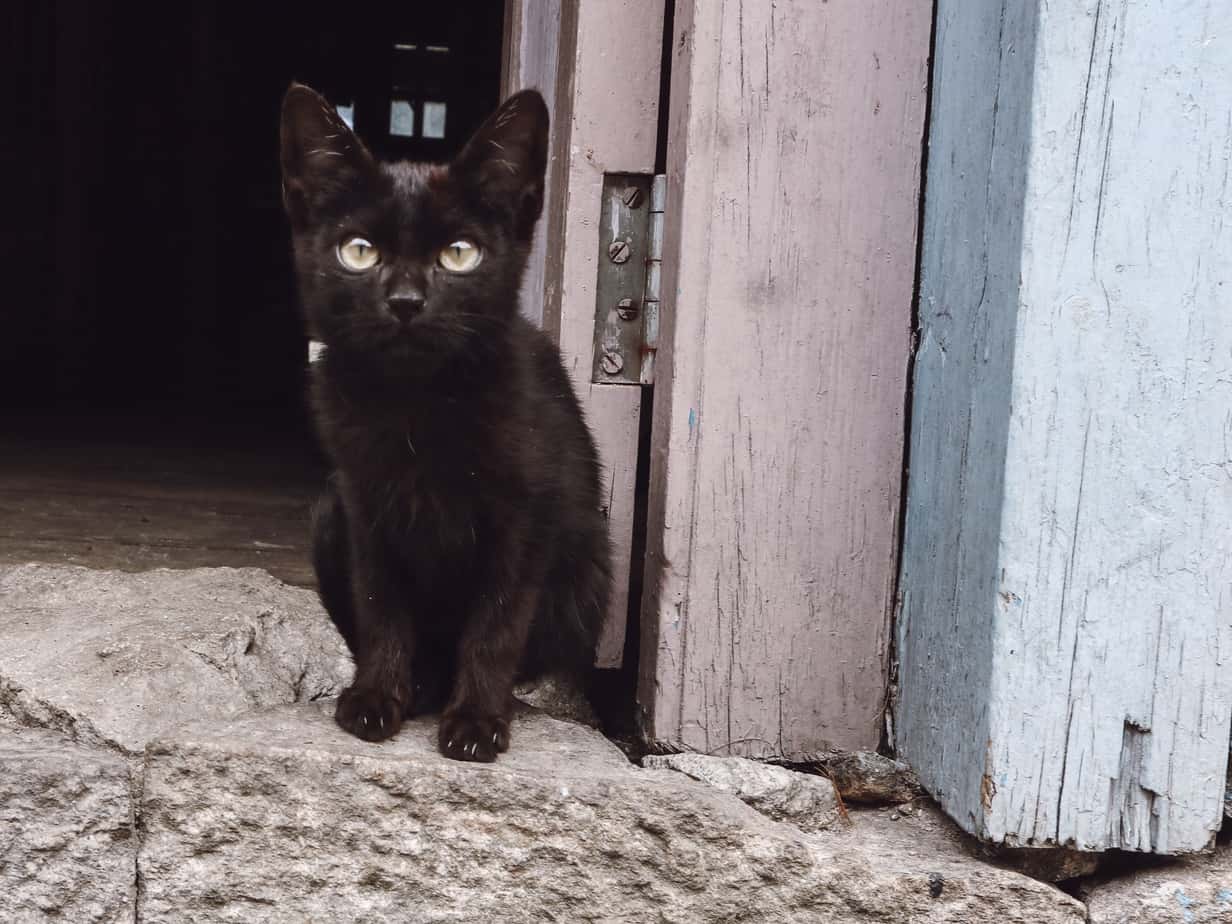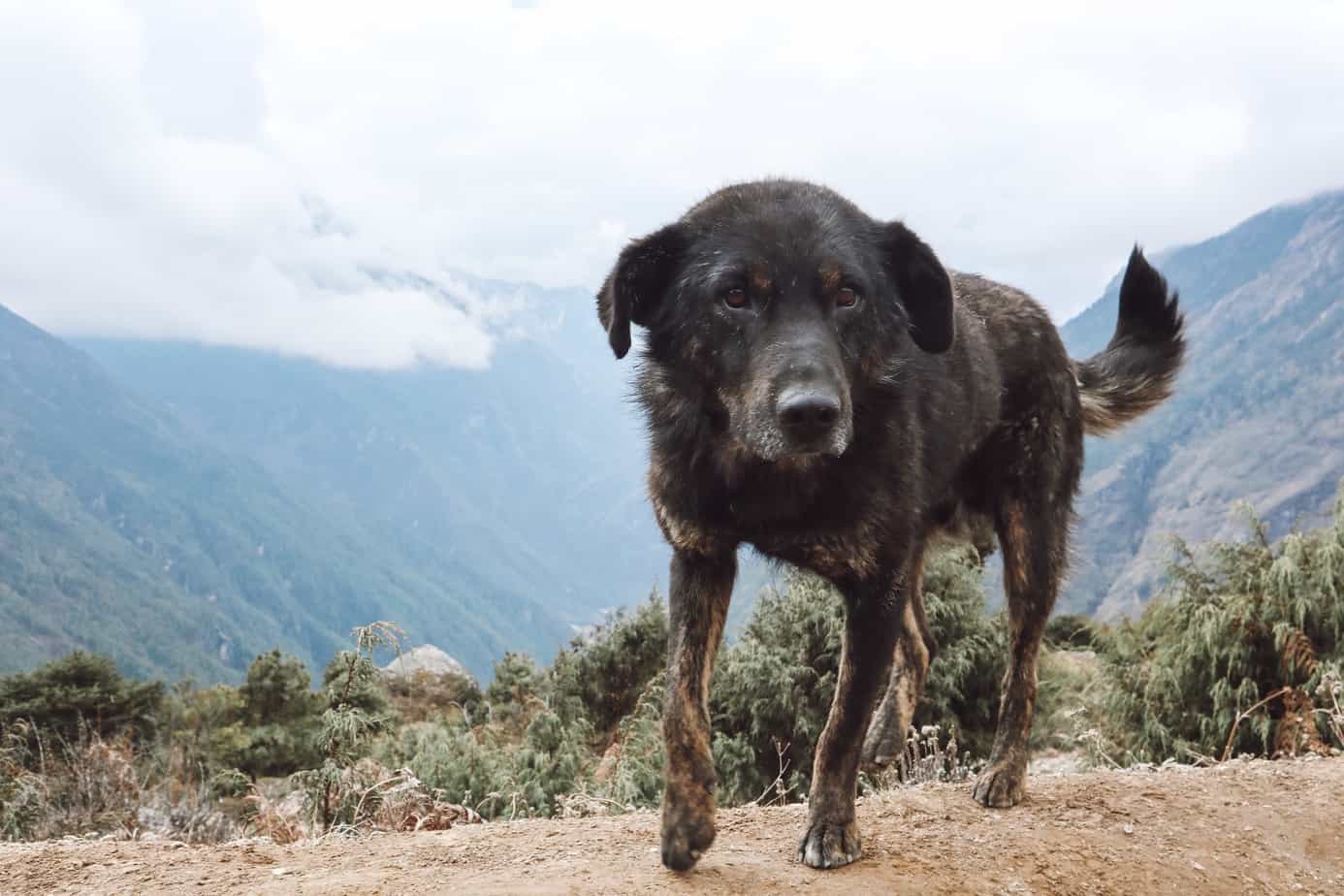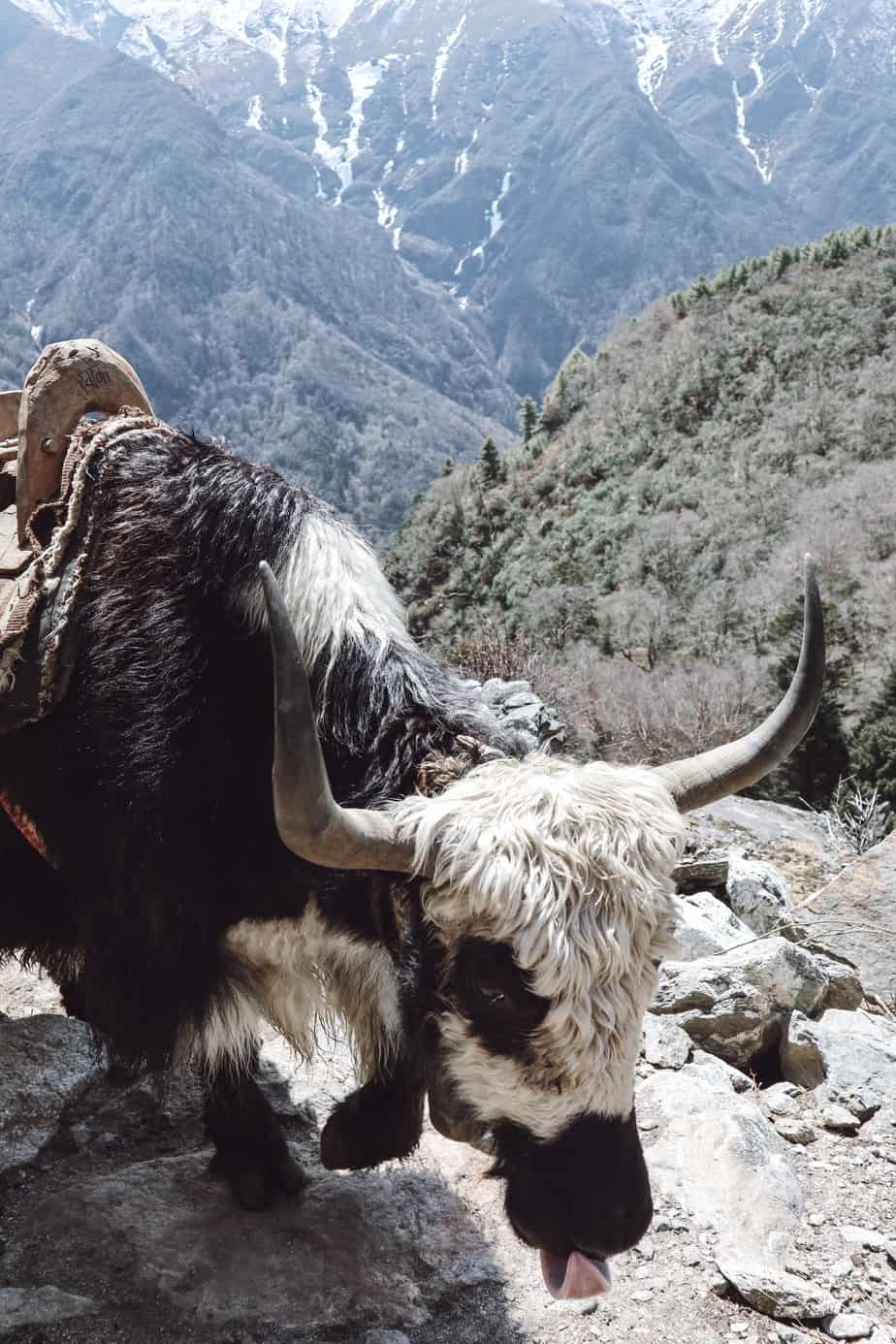 The trek to Everest Base Camp may be tough, but mountain views are the best painkillers I've ever found…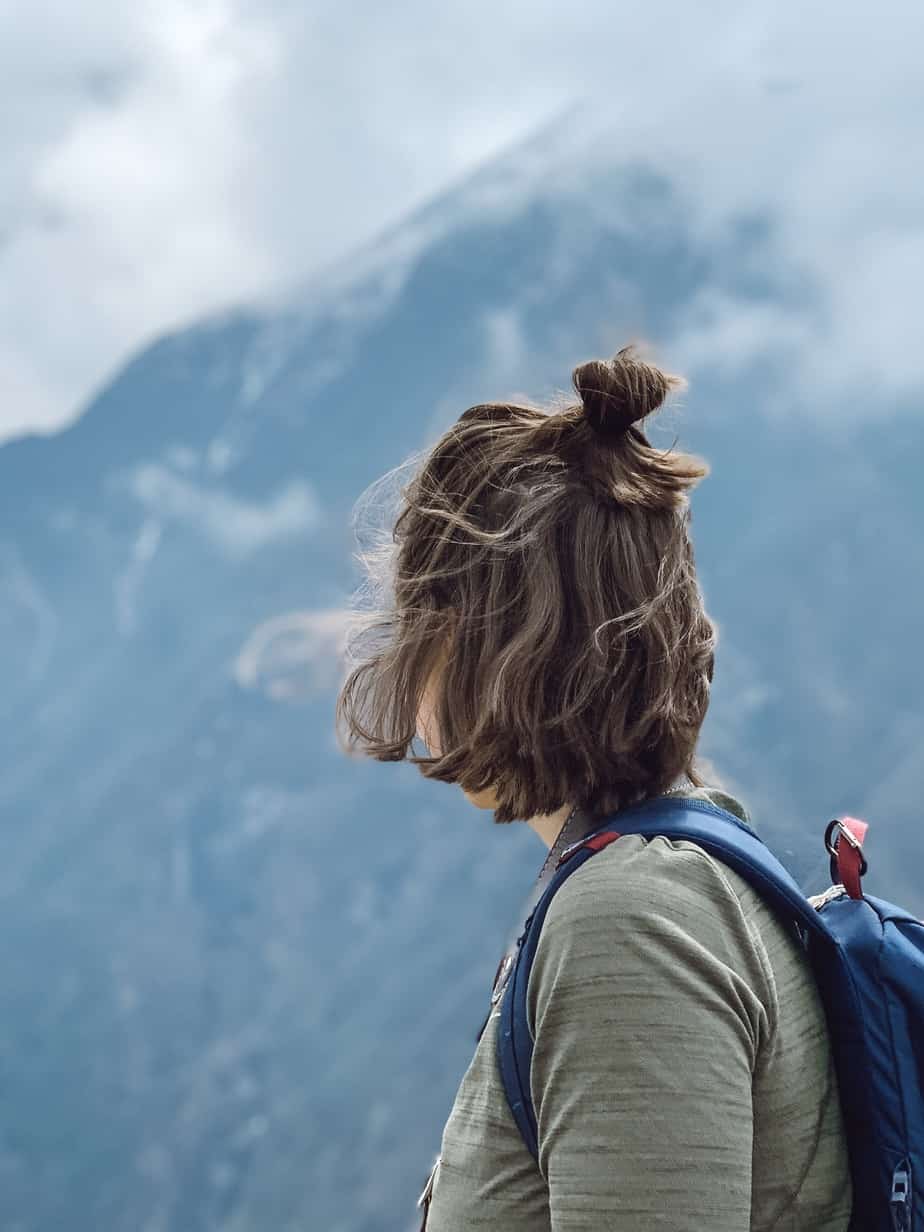 Along the trail you'll pass small settlements, villages, and towns. You'll spend each night in a teahouse which provides basic accommodation and food. Which means no camping! The last major village you'll pass that has markets and ATMs is called Namche Bazaar. You'll likely spend an acclimatization day here, where you can catch gorgeous views of the village…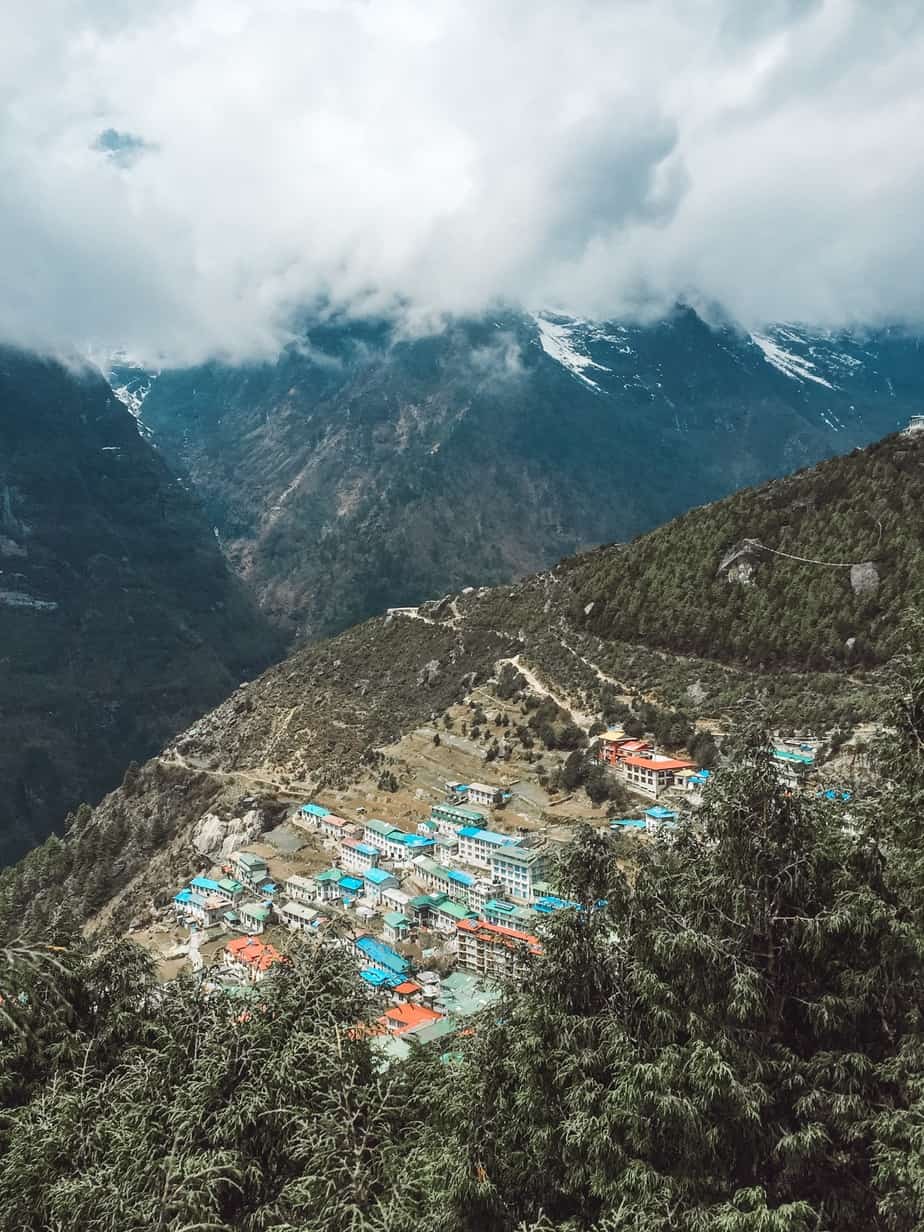 Some teahouses are more basic than others. There is no heating, besides a wood stove in the dining hall. There is also no hot water, although at some teahouses you can pay for a hot shower. You can also pay for (pretty spotty) wifi. So they may not classify as luxury resorts, but nothing can beat waking up to views like this…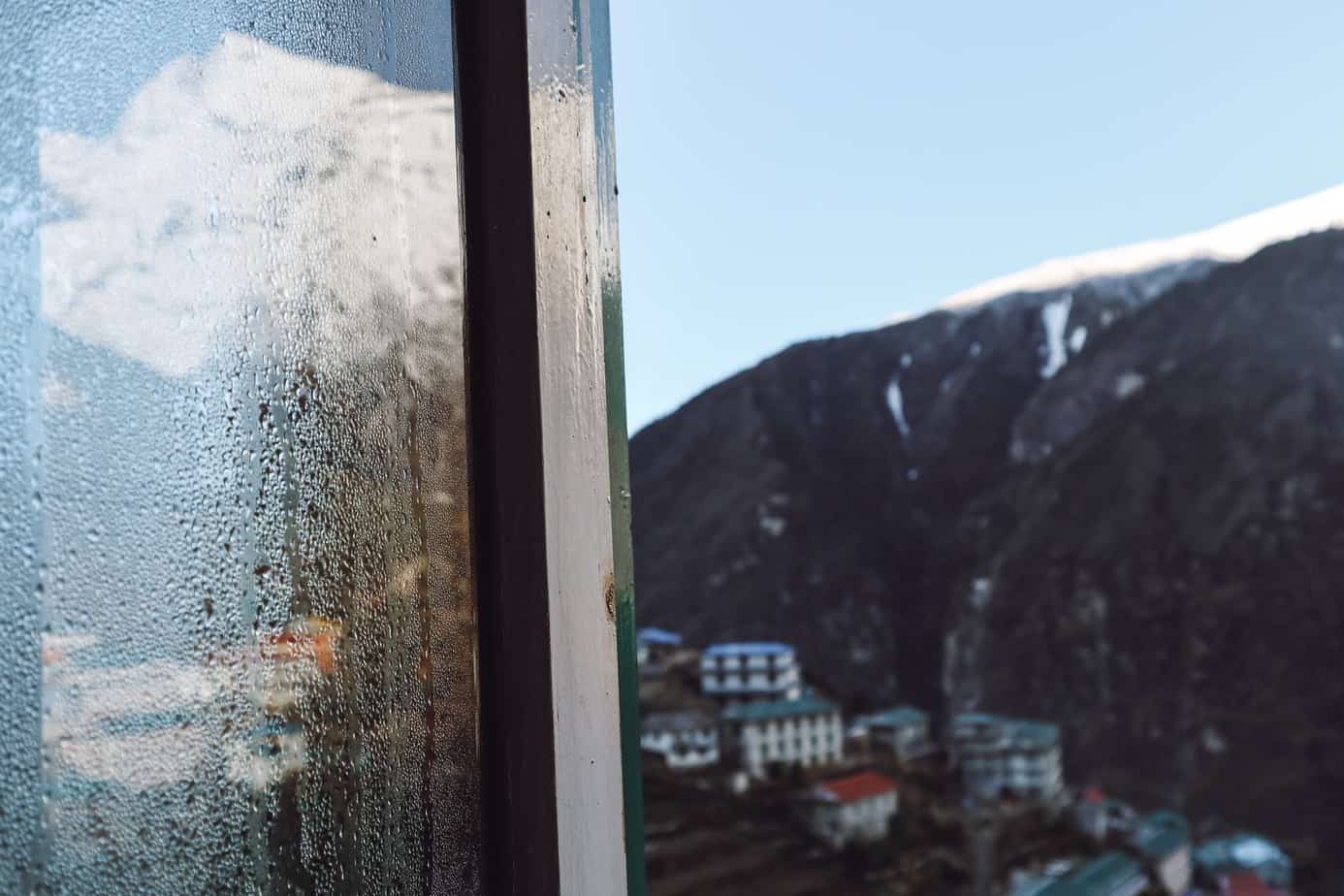 Teahouse views so beautiful you may feel inspired to sit down and paint them on your acclimation days…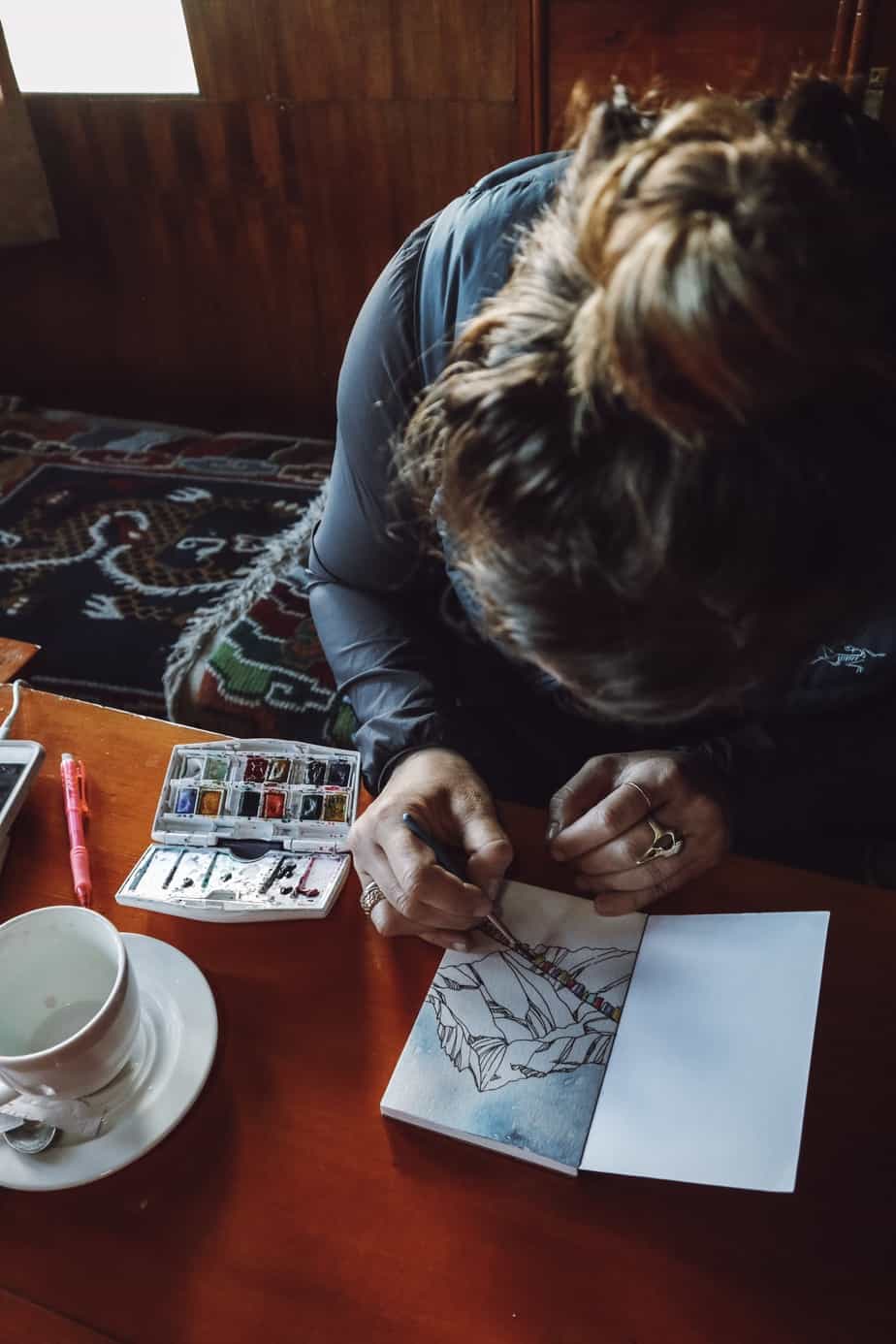 After Namche Bazaar, the terrain begins to change. The lush forests will turn rocky as you get closer to the tree line.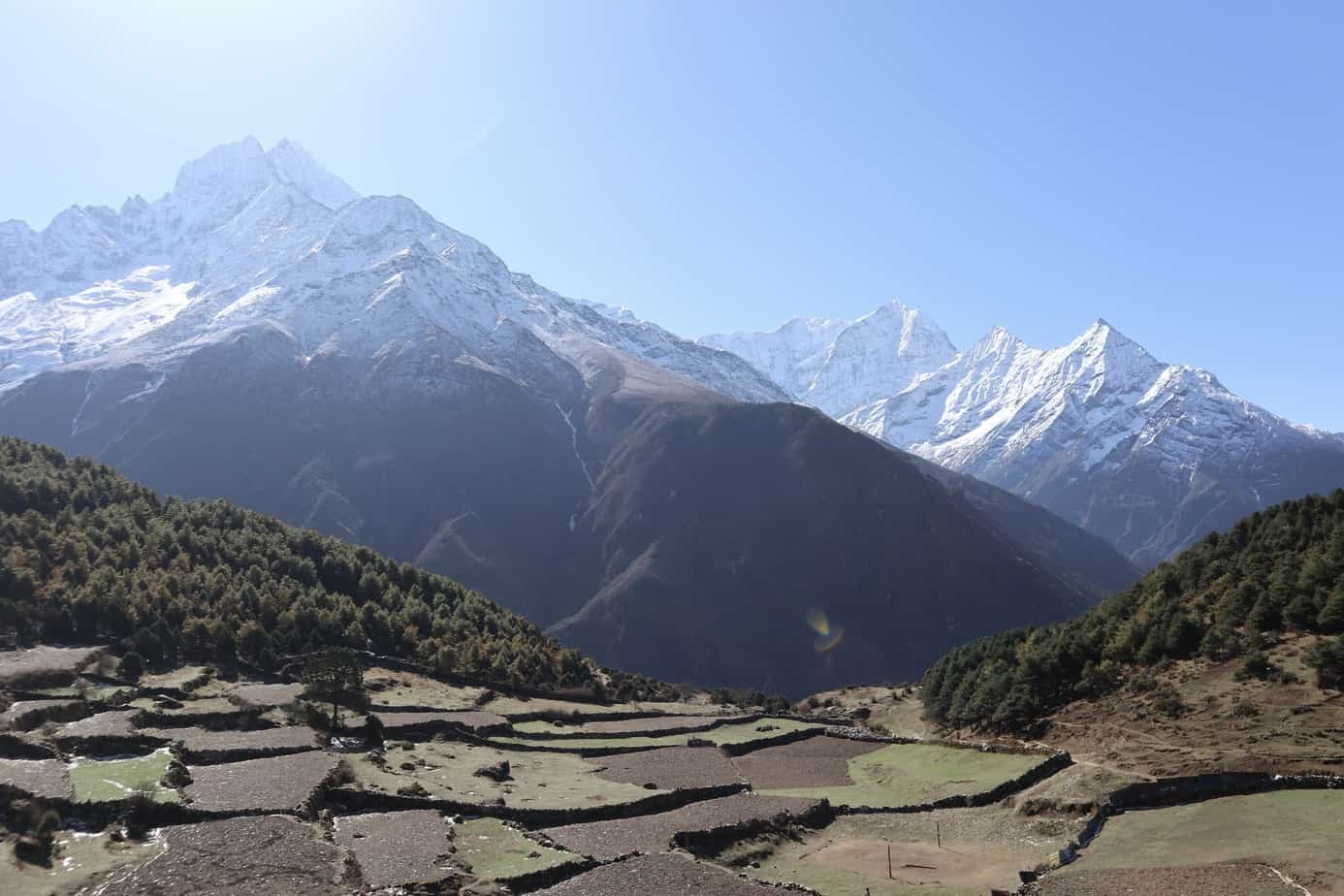 But all along the way you'll still see prayer flags whipping in the wind, encouraging you to keep going…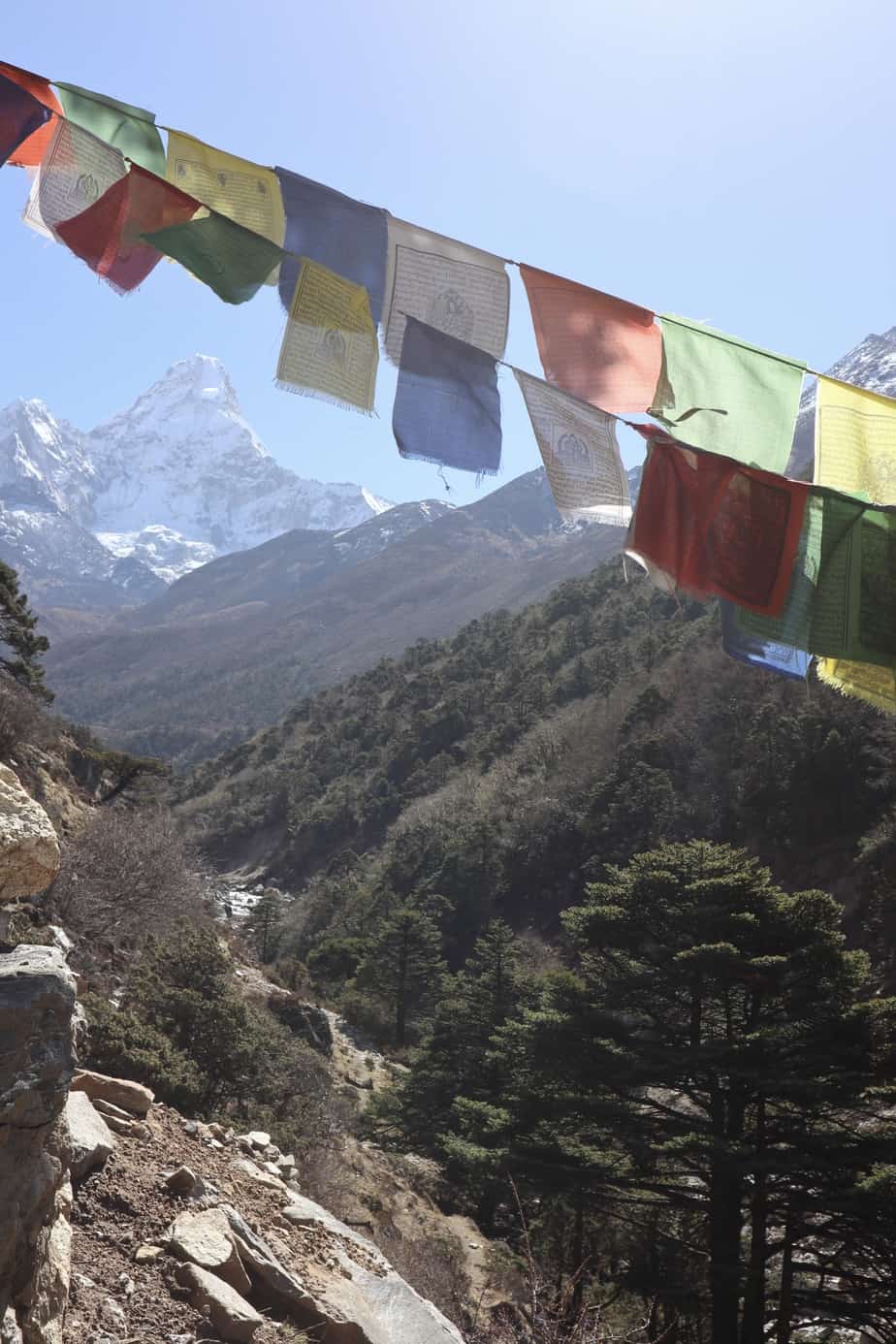 In Tengboche, set an early alarm to witness the most spectacular sunrise of the trek. It's worth huddling in the cold mountain air for half an hour, just for that first peek of the sun's rays of the mountain tops…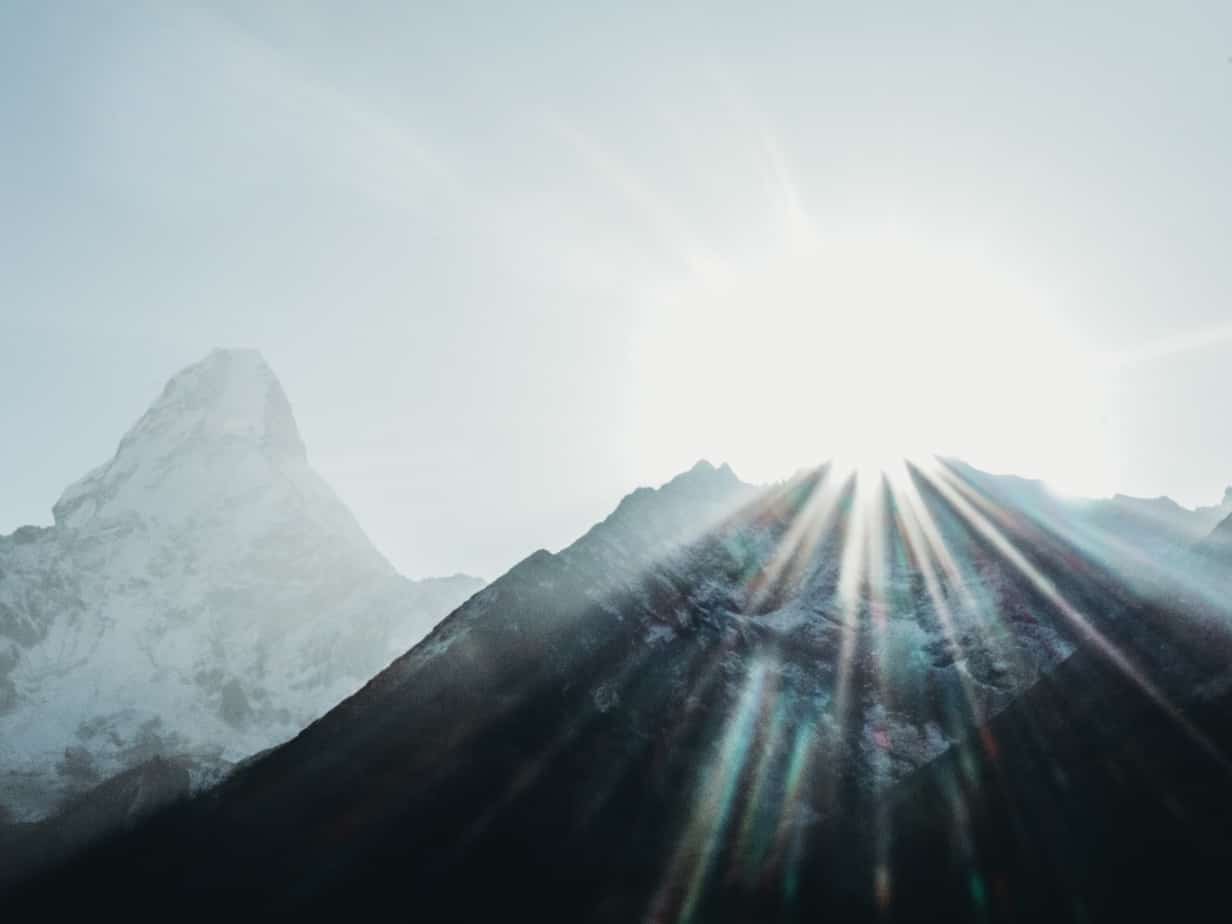 While you trek Everest Base Camp, you'll see many other famous mountains besides Everest herself. A personal favorite for many trekkers is Ama Dablam, an iconic double-peaked mountain that means "mother's necklace." You'll catch glimpses of Ama Dablam all along the trek…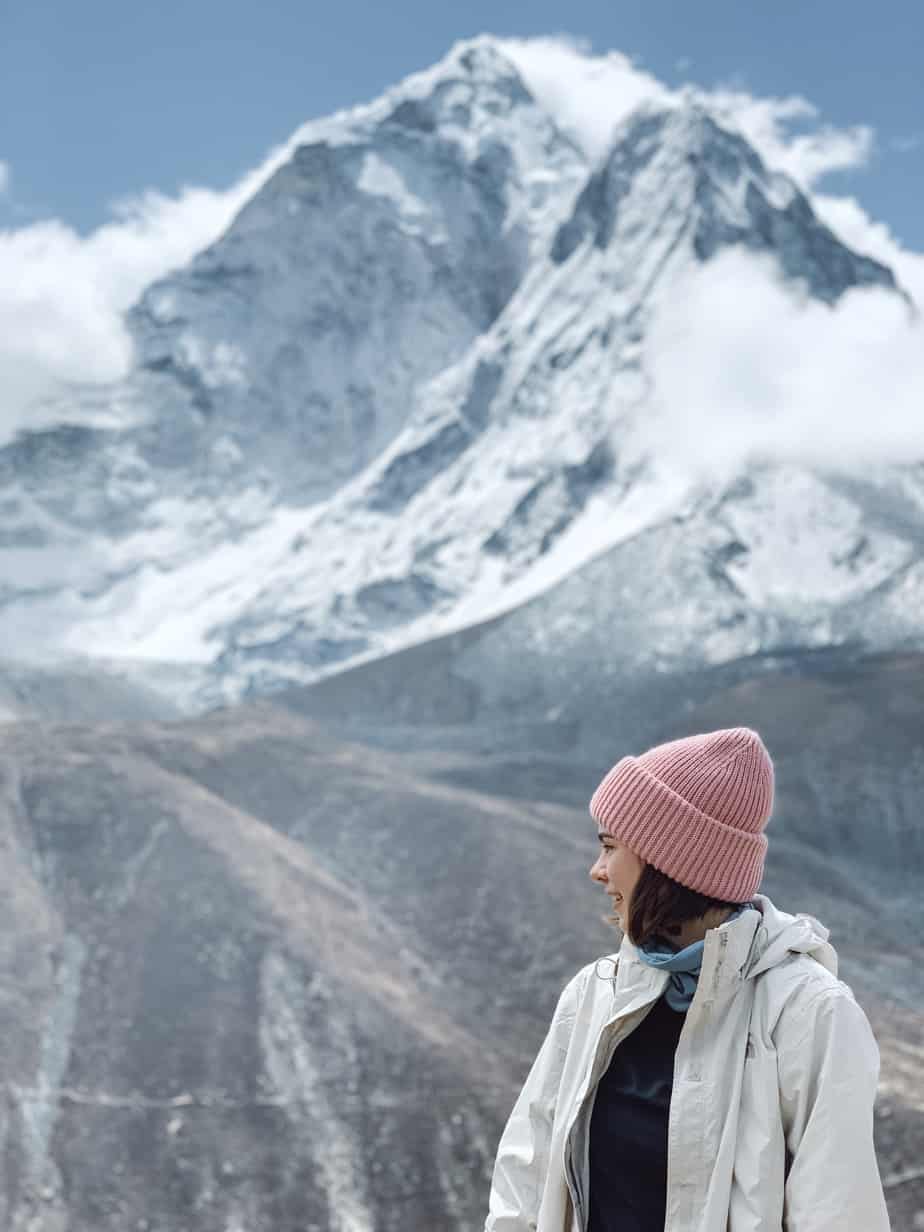 The trek to Everest Base Camp is no joke, thanks in large part to the altitude. Tell yourself "bistari, bistari" which means "slowly, slowly" in Nepali. One foot in front of the other…
Two benefits of going slowly: not getting altitude sickness, and more time to enjoy the views…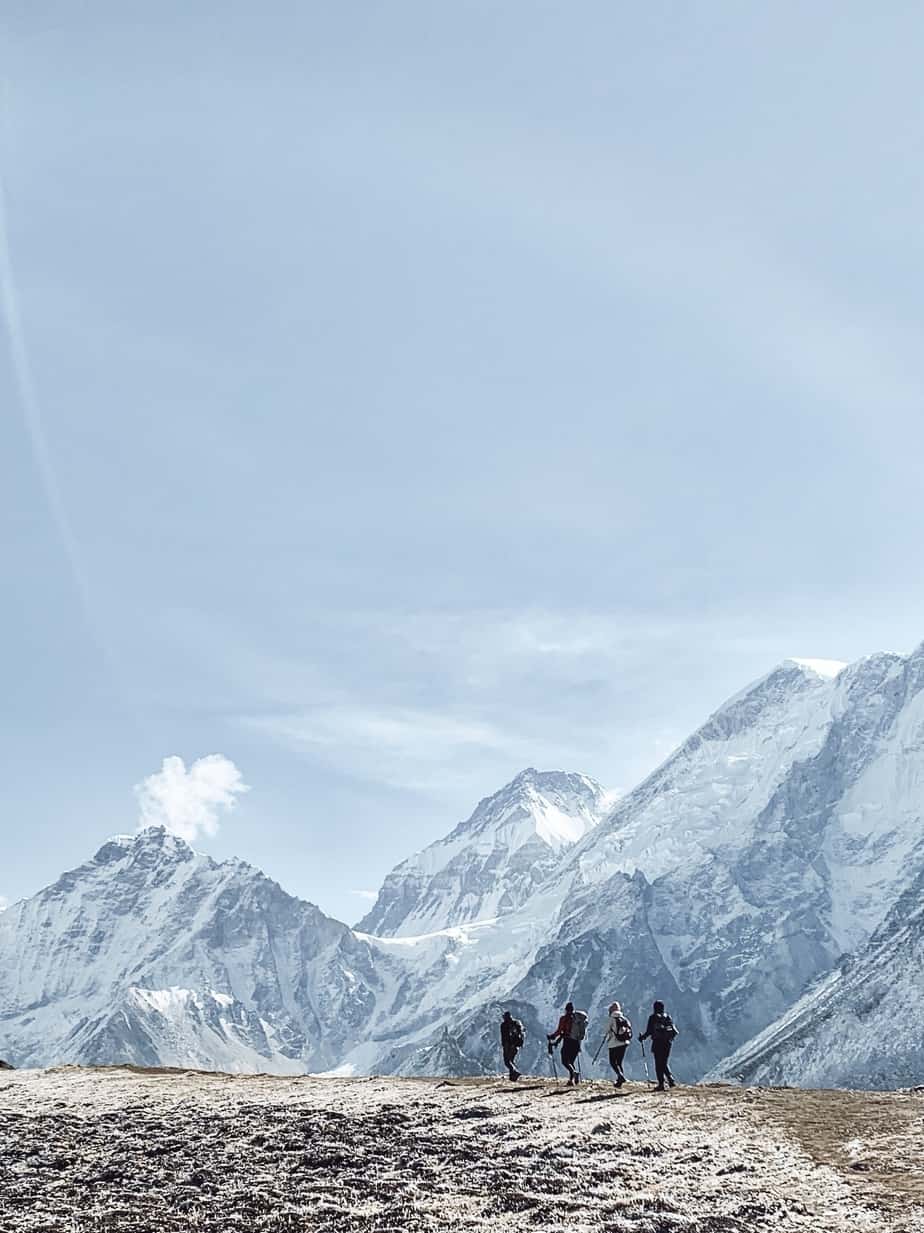 When you see this sign outside Gorakshep, you'll know you've almost made it…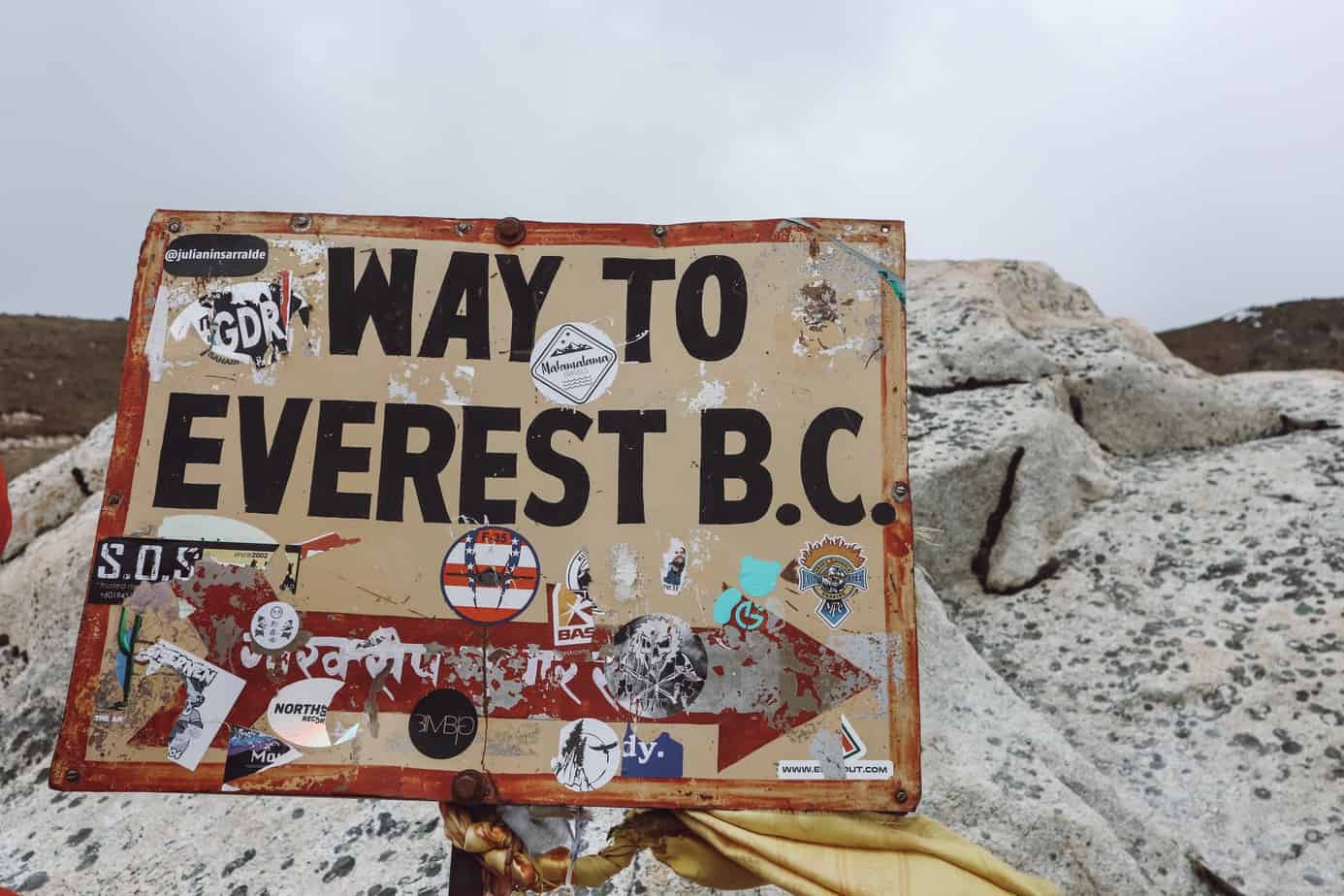 And whilst Everest Base Camp itself may not be that impressive, the feeling of accomplishment once you reach it is unparalleled.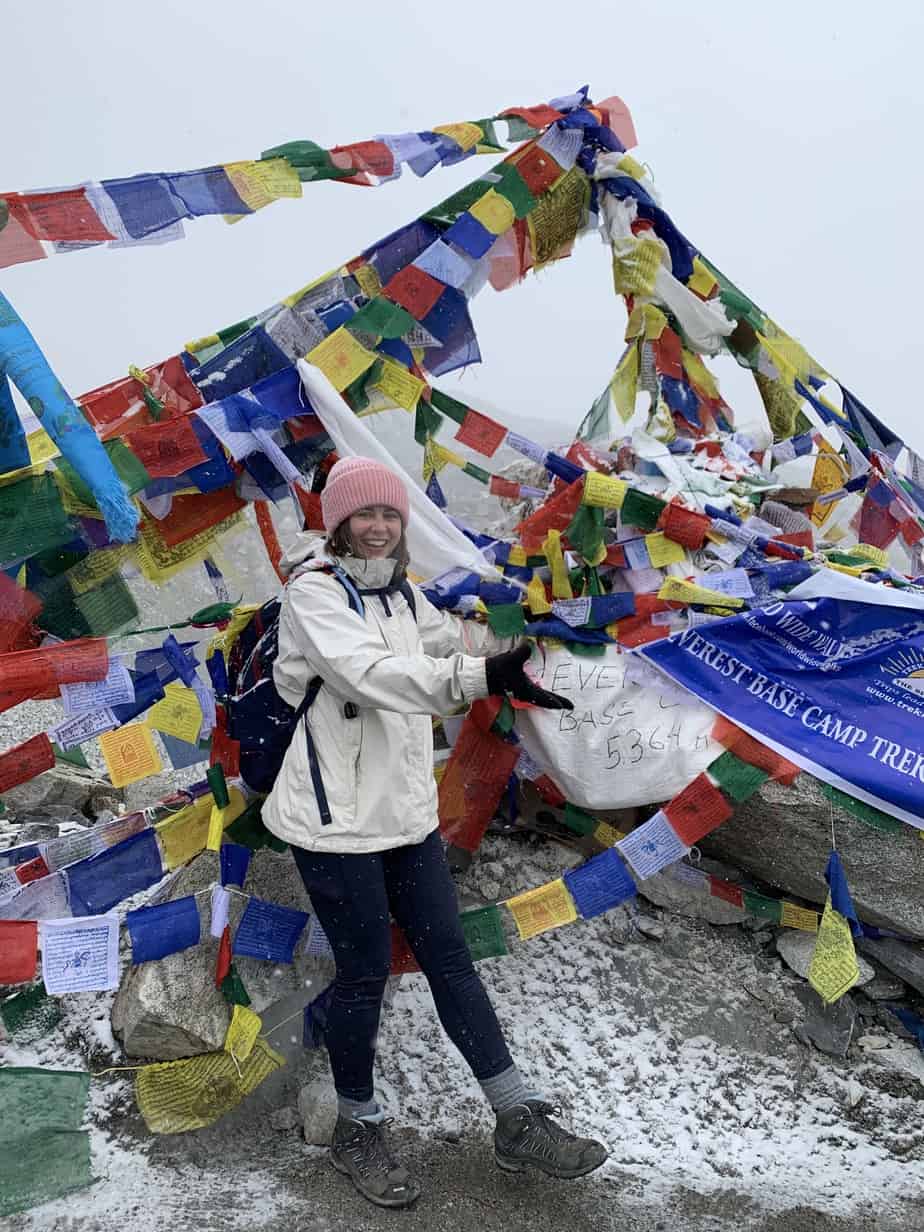 Of course, I couldn't inspire you to trek Everest Base Camp without showing you Everest herself. The original name of Everest in Nepali is "Sagarmatha," which means "Mother of the Earth." Ideal trekking seasons are March-May and September-November, but reaching the Mother of the Earth on Earth Day in April was pretty special!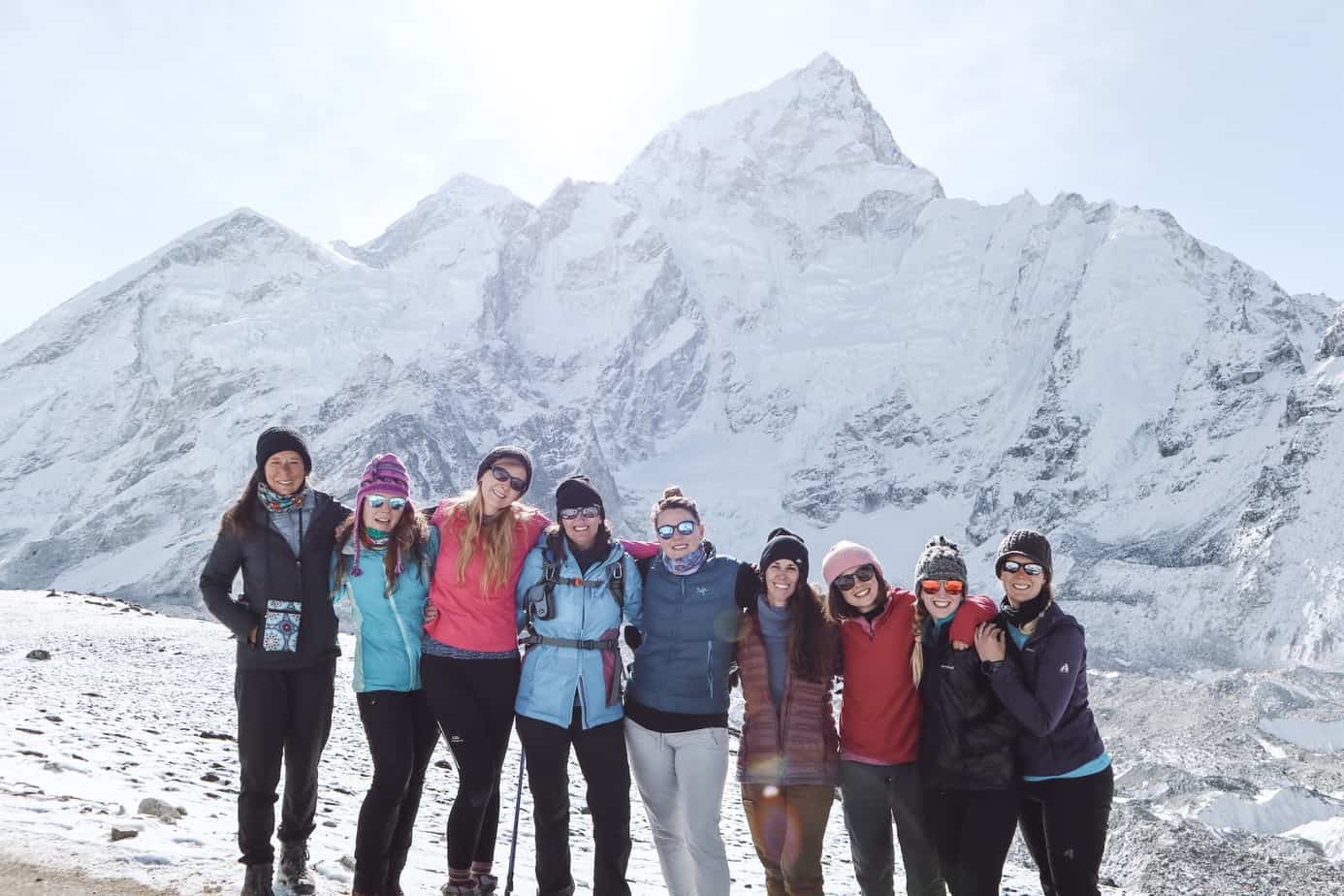 Sagarmatha/Everest is the smaller peak in the middle. She may not look the biggest here, but we all know what a beast she truly is…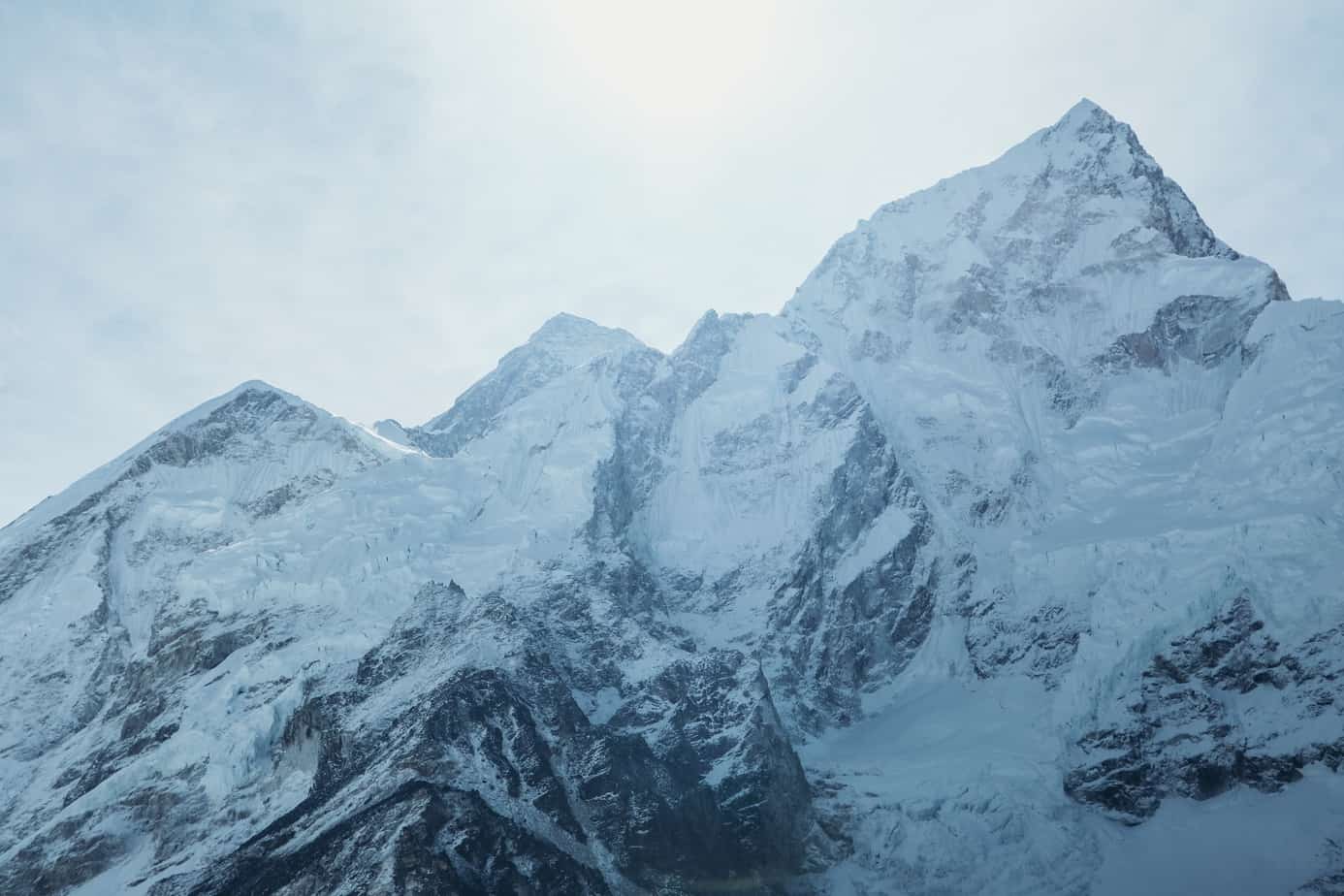 And on the descent, just try and soak up the mountains as much as you can. Even those last rays of light over the peaks in Lukla as you wait for you helicopter…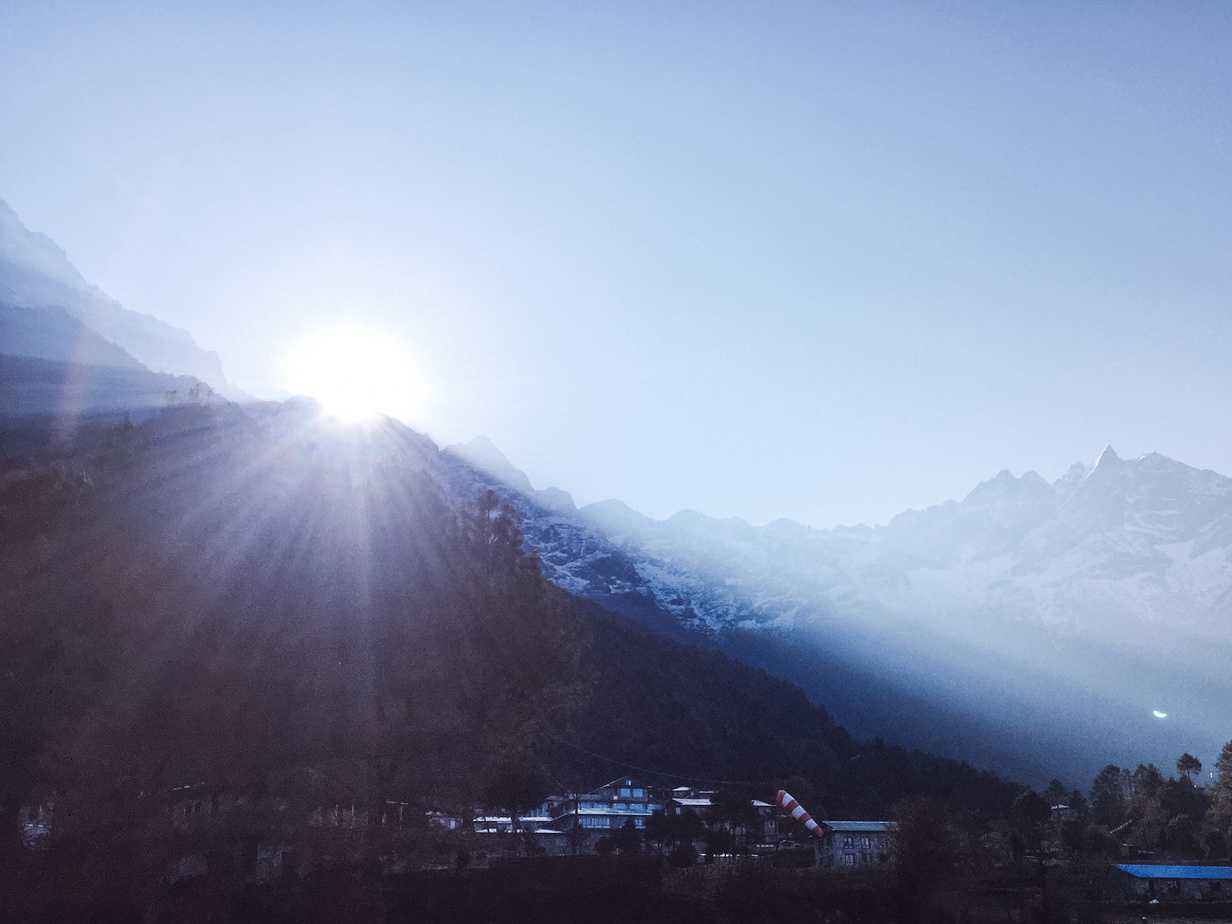 How to trek Everest Base Camp…
The practicalities of the trek to Everest Base Camp can be overwhelming. So now that you've got the inspiration, I want to set you up to make this dream happen. Here are some things to keep in mind for planning your trek…
What's the best season to trek Everest Base Camp?
There are two major trekking seasons which fall pre and post monsoon. These are March-May (pre-monsoon, benefits include the blooming rhododendrons in mid April. This is when I did the trek), and September-November (post-monsoon, benefits include generally clearer skies and potentially better views of Everest but it is colder).
Go with a tour company.
I recommend going with a guided tour company instead of attempting the trek alone. It is possible to trek Everest Base Camp on your own, but you will miss out on not only the inner connections the guides have with tea houses, but also the cultural connections and relationships that can be built. Similarly, you'll miss out on contributing to economic development in Nepal!
Choosing your tour company.
I went with Travel Her Way, an all women's travel group that donates a portion of their proceeds to sending Nepali children to school. There is no "right" or "wrong" when choosing a tour company but I highly recommend choosing one that fits these descriptions.
Is, or has a partner institution, that is Nepal-based. Support the local people and their economy and don't go with a group that brings in Western guides.
The itinerary should have two acclimation days, at minimum.
Pays fair wages. An important part of your guides' and porters' income is the tips you give them, but they should also receive a living wage. Don't just go with the absolute cheapest tour you can find. For example, if you find a tour under $1,000 you should consider the human cost of that price before committing. If you are unsure, contact the company and the guides to confirm.
Buy travel insurance.
Bad travel blogger confession, I know, but this was my first time purchasing travel insurance and I am SO GLAD I DID. It is not unheard of that you could need a helicopter down the mountain, medical treatment, or hospitalization. Be prepared! Luckily I did not need this but two people in my group did need medical care (medicine for one, hospitalization with pneumonia for another). I recommend World Nomads, which is what I used. Check the fine print that your travel insurance covers trekking to 17,600 ft altitude (the altitude of base camp).
Train prior to the trek.
You need to be fit to trek Everest Base Camp, even though it does not require any technical climbing skills. Training should include cardiovascular, weight training, and endurance training. I wrote a full blog post on my training plan that worked wonderfully for me. Check out my Everest Base Camp training plan here.
Packing list.
The packing for Everest Base Camp is no joke. You need to be ultra prepared. I shared my full Everest Base Camp packing list, including items I wished I'd brought (or brought more or less of!).
Avoid altitude sickness.
To a certain extent, altitude sickness is luck of the draw. But there are a few things you can do to avoid it. Include cardiovascular training, try an altitude gym, practice deep breathing, and take Diamox (a pill that can be prescribed by your doctor). During the trek go slowly, take acclimation days, and be sure to drink and eat something every 30 minutes while walking.
Feeling inspired yet? The trek to Everest Base Camp is both life changing and life affirming. If I can inspire at least one of you to take this trek then I will consider it a job accomplished! What's your favorite photo? Any questions on the practicalities? Leave me a comment below!
Sarah xx
Pin it for later…