I didn't set out to be an expert in long distance relationship gift ideas, but here we are! My boyfriend and I are in an international long distance relationship between the UK and the USA. Thousands of miles of distance sucks, but we make it work.
One of the ways we make it work? Giving pretty freakin' awesome long distance gifts! Below I'm sharing a curated list of 30+ of our favorite long distance relationship gift ideas. These are either items we've gifted each other and recommend, or items on our own wish lists.
Without further ado – here are 37 creative long distance relationship gift ideas!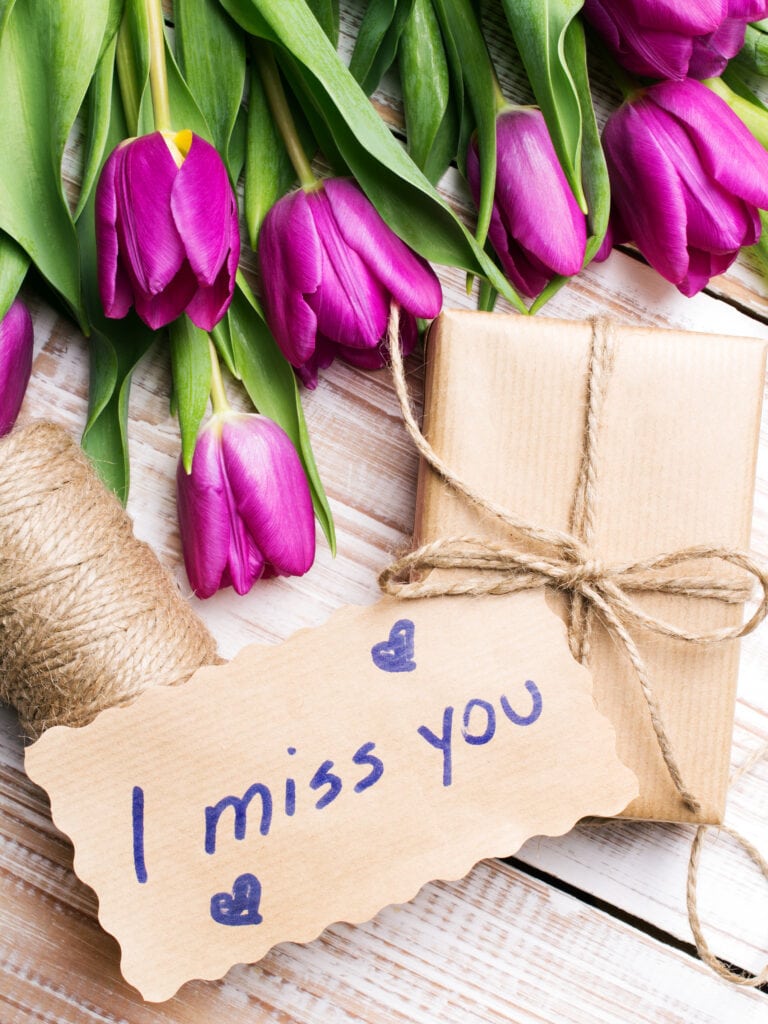 37 Long Distance Relationship Gift Ideas
1. Friendship Lamps
I am obsessed with Friendship Lamps so that is why they are #1 on this gift list! With Friendship Lamps, you get a pair of lamps, which can be sent directly to each partner. Once you connect them, when one person touches their lamp, the other person's lamp lights up in the chosen color!
I got these for Dan and I and they are so fun. We even developed our own little color code. Plus, I was just super impressed they can work across our 4,000+ mile distance!
Use code ENDLESSDISTANCES for 15% off!
2. Bond Touch Long Distance Relationship Bracelets
The Bond Touch bracelets were designed for long distance relationships. They come in a pair, and have a similar philosophy as Friendship Lamps.
Every time you touch your bracelet, your partner's bracelet will vibrate or light up (based on settings), no matter where they are in the world. Unlike Friendship Lamps, you can take these on the go everywhere you are.
3. Homesick Candle
Being in a long distance relationship, you probably know how it feels to be "homesick" for a person. Maybe, that also includes being homesick for a place! My partner is from England, and I live in Michigan, so anything British always reminds me of him.
Homesick Candles had the genius idea of creating candles with scents reminiscent of certain places. They have every U.S. state plus many countries. This makes a perfect LDR gift if your loved one lives in a particularly meaningful place.
4. Ultimate Game for Couples
Do you and your partner like game nights? One of the most popular posts on this blog is a guide to long distance relationship games. In that post I shared about the Ultimate Game for Couples and how to play it in a long distance format. We have this card game which is full of questions and dares. It's a really fun way to fill up an afternoon and a perfect LDR gift!
RELATED | 20 (Actually Fun) Long Distance Relationship Games
5. Charles-Hubert Dual Timezone Watch
This Charles-Hubert dual timezone watch has space on the watchface for two time settings – one for you, and one for your long distance partner! This is a men's watch, but in my opinion the minimalist, elegant design works for any gender.
6. Pocket Hug Token
This engraved pocket hug token is an incredibly cute and thoughtful gift idea. Every time your partner touches it they will think of you. There is even an option to engrave it with your initials.
7. Long Distance Relationship Personalized Map
This long distance relationship map can be personalized to include each of your locations, with hearts and a dotted line connecting them. The artist can offer any state, province, or country in the world!
8. If You Miss Me Hug This Pillow
I just love this pillow as a gift idea. There are a lot of LDR-themed pillows out there but I find most of them really cheesy and with poor design. I scoured the internet and this is my favorite one. It says "if you miss me hug this pillow" in a very nice, simple font. It's not over the top – it's just right!
9. Letters to Open When…
This gift is a beautifully designed book of prompted letters to send your long distance love. The Letters to Open When book includes prompts like "open when you need a good laugh," "open when you need to make a big decision," and more. There are also two blank letters to write your own!
10. You Are My Favorite Notification Card
This funny card is sold on Etsy and it's a perfect gift for long distance couples. If your LDR is anything like ours, there is a LOT of texting. This "you are my favorite notification" card is a cute nod to that!
11. BoldLoft "I Miss You" Mug
These BoldLoft mugs come in a pair – one for you, one for your partner. Each mug has a tasteful design of a person that says "I miss you." When the mugs are together, they match. When they're apart, it's just one more way to know your partner is thinking of you.
12. Samsonite Freeform Hardside Suitcase
Long distance relationships of course involve a fair bit of travel for those reunion trips! A sweet and really practical gift idea is to give your partner a suitcase – a really nice suitcase.
After traveling to 30+ countries I have converted to being a lover of hardside suitcases with spinner wheels. The Samsonite Freeform Hardside suitcase (carryon size) is my top pick for a beautiful suitcase that will easily fit down those airplane aisles and wherever else you need to go!
13. Body Pillow
If your partner misses cuddling, send them this body pillow. Its U-shaped design is perfect for snuggling into – even if it's not as good as the real thing.
14. Love Poems by Pablo Neruda
What's more romantic than love poetry? I am a huge poetry fan. A few years ago Dan gifted me this book and it was honestly one of his best gift ideas! Love Poems by Pablo Neruda (a Nobel Laureate and one of the most famous modern love poets) is not only beautifully designed on the outside, but it is filled with romantic poetry that even non-poetry lovers will enjoy.
15. Trtl Travel Pillow
If you're like us and live really far apart, then those long awaited reunion trips involve a lot of travel! Luckily, we love to travel… but those redeye flights can be pretty uncomfortable. The Trtl neck pillow is a practical and thoughtful gift for your long distance partner – perfect before their next trip to see you.
I bought this a few years ago and it is amazing. It has a unique design, different than any other neck pillow. I can now fall asleep even in an aisle seat!
16. Long Distance Relationship Keychain
This wooden keychain was designed for long distance relationships. Against an engraved world map, it says "I love you more than the miles between us." This is a nice, simple gift with many 5 star reviews stating how high the quality is.
17. Personalized Matching Necklace and Keychain Set
This matching keychain and necklace set is an adorable LDR gift: the heart on the necklace perfectly fits into the heart cut out on the keychain! Keep one for yourself and gift the other to your partner. It can be customized with your own initials on the necklace and quote on the keychain. You can also choose between different metals.
18. Count Down Clock
One thing all of us in long distance relationships have in common is counting the days until our next reunion. This digital countdown clock is a perfect gift.
It's a conveniently small size to have on a desk or nightstand, it can be reset for each visit, and it has the fitting text "counting the days." All in all, it is the ideal countdown clock for LDRs!
19. Truth or Dare for Couples
Everyone knows truth or dare, but this Truth or Dare for Couples game was specifically created to help couples get closer. It comes in a cute, small tin and is a perfect lightweight gift to ship long distances. You can also mix things up and play this game with your partner from a long distance via Zoom.
20. Fossil Passport Case
This gorgeous Fossil passport case is the perfect gift for your long distance partner, especially if you're in an international long distance relationship like us and reunion visits involve passport stamps!
Like everything Fossil makes, it is minimalistic and sleek. It is also pretty gender neutral in its design so everyone will like this one! Plus, it is RFID blocking so all your information will be kept safe.
RELATED | How to Make an International Long Distance Relationship Work
21. Love Knows No Distance Personalized Print
This Love Knows No Distance print is gorgeous and customizable. Each half of the heart will have a city map of whatever location you choose that is meaningful to you. You can also specify the colors, and choose from a variety of dimensions.
It's perfect as a gift now, AND you'll still want to admire it on the walls in your home once you've closed the distance!
22. Our Adventure Fund Piggy Bank
You're this deep into a post about long distance relationships so it's probably not news to you… LDRs are expensive as hell! Make saving up for those reunion trips a little more enjoyable by gifting your partner this Our Adventure Fund savings box.
23. Personalized Miles Keychain
This simple but beautiful keychain can be customized to say the number of miles between you and your partner.
24. Long Distance Messages in a Bottle
Ah, the classic message in a bottle – but with a long distance relationship twist! This gift includes 50 pre-written romantic messages inside capsules. Your partner can open one each day and think of you.
25. Eight Dates Book
The Eight Dates book by renowned relationship author John Gottman is a great long distance relationship gift idea. Gottman is known for his research on long lasting relationships, and this book includes eight date ideas and prompts to deepen your relationship.
RELATED | 27 Long Distance Relationship Date Ideas
26. Pre-Filled Personalized Long Distance Relationship Photo Frame
This photo frame is one of my favorite items on this list of long distance relationship gift ideas. The wood frame can be personalized by the seller to have any two countries or U.S. states engraved on it. Pre-fill it with any 5×7″ photo of the two of you, and there you have a really meaningful gift!
27. Big Wick Candle
Maybe it's just my sense of humor but I think this candle is kind of hilarious. In the stressful and emotional world of long distance relationships, it's good to give a gift that's humorous! The lavender scented candle says "hope my big wick compensates for this long distance relationship."
28. BoldLoft Matching Pillows
I've shared two other LDR-themed pillows on this list (#8 and #13), but this is the only one that comes in a matching pair! This pair of BoldLoft pillows has a cute design that goes together. While you fall asleep with one pillow, your partner will be drifting off with the matching pair (well, depending on the time difference…).
29. Love Coupon Book
This Love Coupon Book is a genius idea. It's got a nice design, so it doesn't look like you forgot to get a present (the way IOU gifts sometimes imply!). There are 27 blank "redeem for one" pages for you to fill out for your partner.
Fill it out with things to do on your next reunion trip, or with some long distance dates to keep the spark alive while you're apart. If you need some inspiration, check out my long distance date ideas blog post!
RELATED | 27 Long Distance Date Ideas
30. Fujifilm Instax Camera SQ6
There's just something special about polaroid photos. I always bring my polaroid camera on trips to see Dan, and we each keep a few of the shots we take. I have some from our most recent trip hanging next to my desk right now!
There are tons of digital polaroid cameras out there but my recommendation is the new Fujifilm Instax SQ6. This camera is the lightest weight and thinnest polaroid camera out there, so perfect for traveling with.
RELATED | 7 Best Polaroid Cameras for Travel
31. Long Distance State Keychain
This double state keychain is a really nice, simple gift for your long distance partner. I think it's an especially nice choice for men, or people who don't like "showy" accessories.
You can customize the keychain with two U.S. states of your choosing. It doesn't look like the seller does countries, so this is an option just for those American couples out there!
And because I know shipping can be a big expense in LDRs, here are a few tips. Many of my recommended gifts are small and lightweight, which helps limit shipping costs. For bulkier items, consider shipping directly to your partner (rather than you wrapping and then shipping).
So what do you think… which gift are you putting in your cart?